Last updated Jan. 26, 2022 by Peter Jakes
The world has finally gone digital on all sides. Companies back then used to hold conferences and seminars face-to-face with their team seated in a hall or room.
All thanks to technology that has brought an immense change to the world of meetings where meetings can now be conducted conveniently with thousands of people connecting virtually. Webinar software can also be used to pitch sales without having to sit physically with your client.
A webinar is the new normal as a replacement for physical meetings. Webinar as it sounds is a seminar held on the internet using an application or web page. People from different places at the same time can connect through the same webinar app to have a meeting.
Webinar applications or software are needed for webinars to run. Millions of organizations now have their meetings held online with these applications and software.
There are lots of good webinar software that can help create professional-looking online seminars that are convenient for both the organizers and all other participants
The coming of COVID-19 brought a paradigm shift to the world at large.
People having to work from home made the use of webinar applications and software a necessity.
Knowing the best webinar software to use depends a lot on the nature of what one wants to achieve. There is no "one cap fits all" when it comes to picking software for a webinar.
Based on usage, exposure and research, we have handpicked these best 27 webinar software with amazing features and benefits. The software is also reliable and affordable while some are even free, though with their terms and conditions. Before that,
Webinar as it sounds is a coinage from two root words, "web" and "seminar". It simply means a seminar done on the web.
A webinar can be broadcast live or on-demand.
Depending on the solution used, a webinar can bring together several people, even close to hundreds and thousands of participants from all over the globe.
A webinar is primarily intended to convey a message or communication from a limited number of stakeholders to a large audience.
Let's take a tour of our stream of carefully chosen webinar software for you.
EverWebinar
GotoWebinar
WebinarJam
LiveWebinar
BigMarker
WebinarNinja
GetResponse
Systeme.io
ClickMeeting
Demio
Zoom
MyOwnConference
Webinar OnAir
WPWebinar
On24
Livestorm
Google Meet
Skype
WebEx
Adobe Connect
Join Me
iLinc
AnyMeeting
Zoho Meeting
EasyWebinar
ezTalks
GlobalMeet Webcast
EVERWEBINAR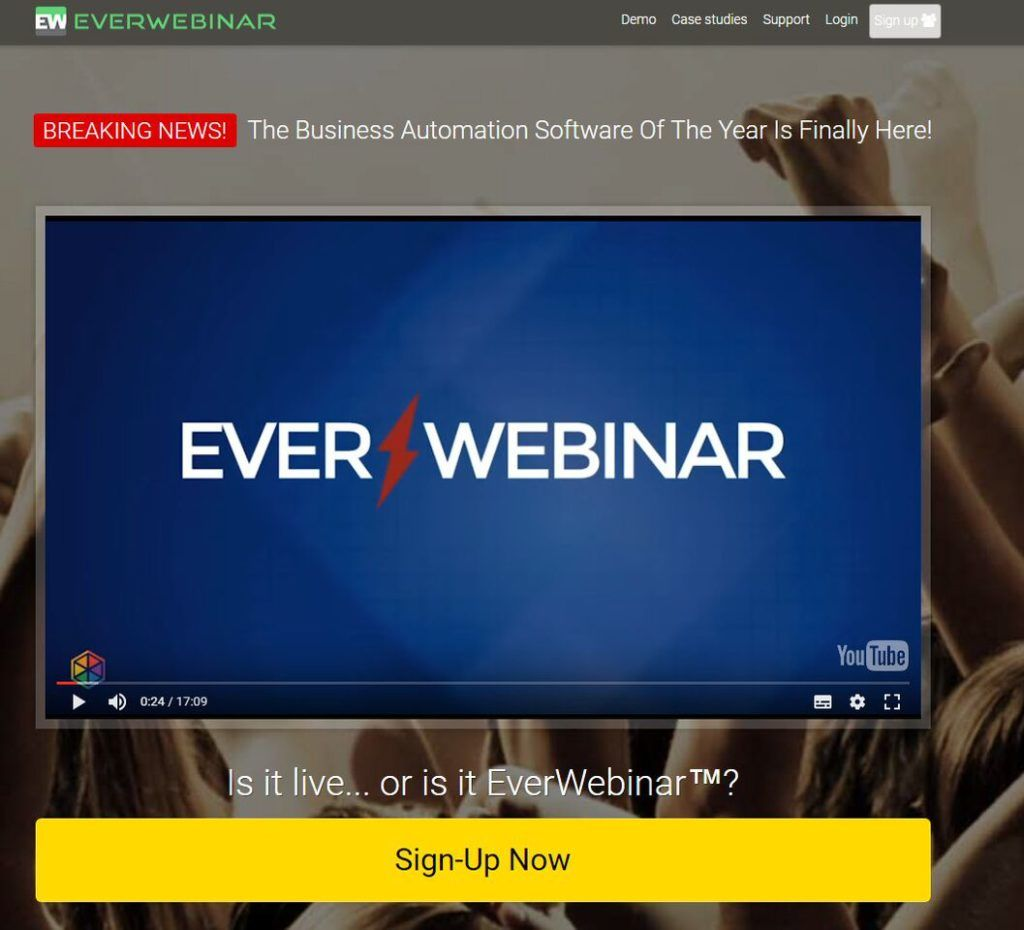 Features
Repeat Mode: EverWebinar is that webinar software that can let you have your meetings scheduled at intervals as you want. This, in a lot of ways, can help the participants connect irrespective of their busy schedules.
Autopilot: EverWebinar lets you do your meetings on autopilot even when you are not available. You can have your meetings configured and planned at a go so they can be played in different time zones.
Video Editing: EverWebinar allows you to edit your recorded videos when needed.
Follow up: EverWebinar lets you follow up with emails and messages. It also gives a detailed report on each webinar campaign to let you know those who register and those who attend.
Additional Features
EverWebinar comes with free training on purchase.
It has a chatbox.
It is affordable and comes with an amazing offer of 30 days trial period.
It is also good for online sales.
It provides you with videos, pages, and analytics.
PRICING PLANS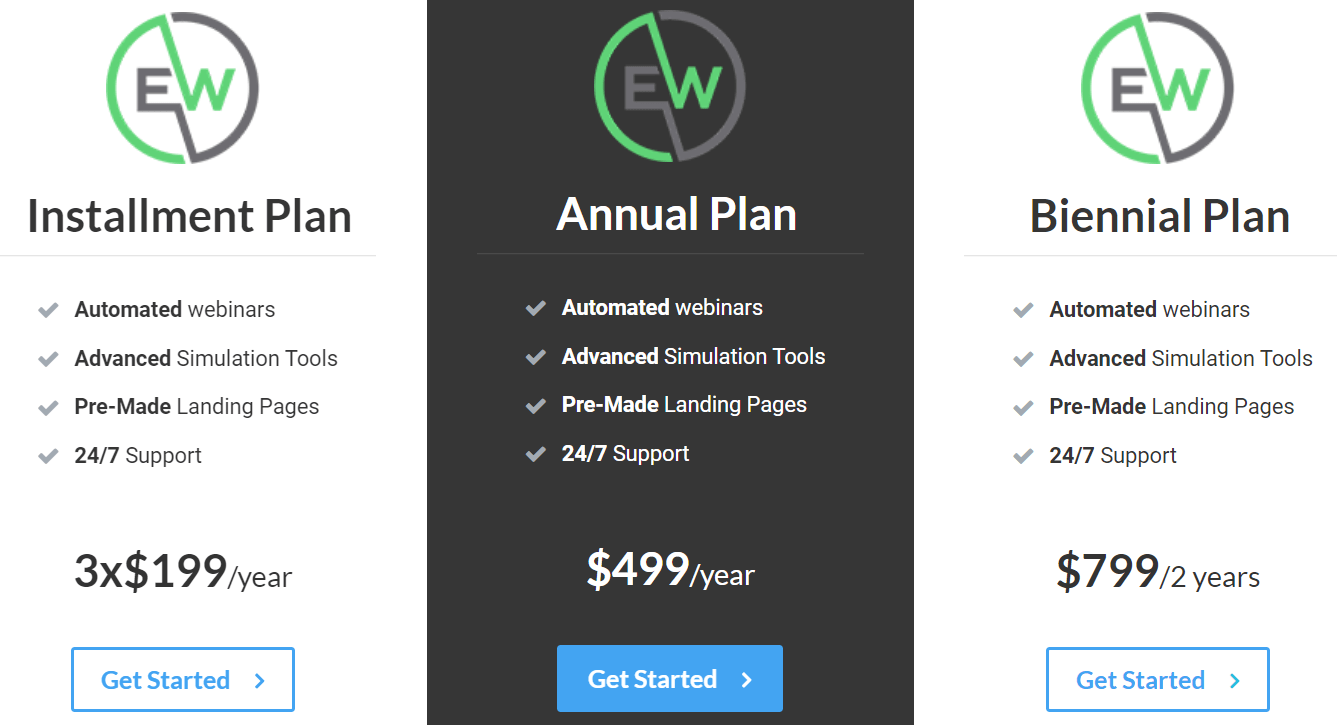 EverWebinar has three plans.
Installment Plan: the Installment plan allows you to pay $199 three times a year ($597).
Annual Plan: This costs $499 a year and saves you $98 off the installment plan.
Biennial Plan: This costs $799 to cover for two years.
This plan saves you $199 in two years off the annual plan and saves $395 off the installment plan.
Who should use EverWebinar?
Those who need pre-recorded webinar sessions. Check it out here.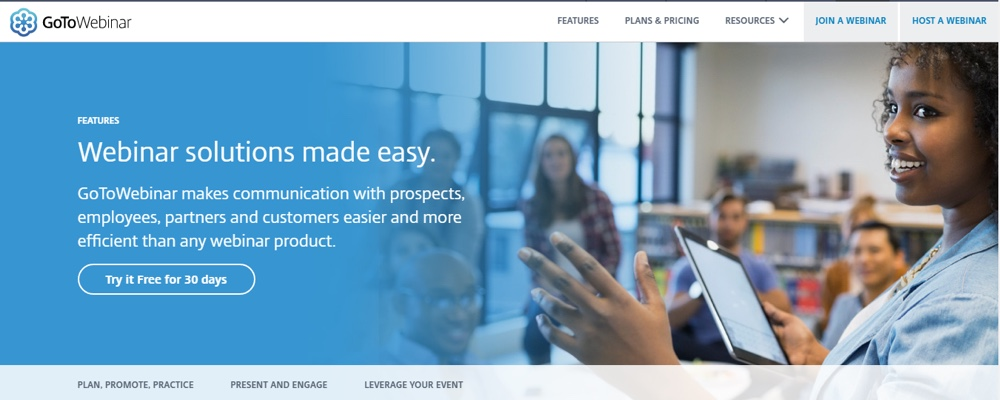 GoToWebinar has always proven itself to be an affordable webinar software over time.
It is a well-known option unlike WebinarJam, which allows you to stream webinars in real-time and send recorded meetings to attendees as soon as it's done.
More than 45,000 satisfied customers can testify to this. GoToWebinar is one of the best webinar platforms. It has a track record of over two million webinars every year and has other products such as GoToMeeting, GoToRoom, and GoToConnect.
GoToWebinar has amazing features that allow its users have great reasons not to look elsewhere.
Features
Affordable: Good for low-cost lead generation webinars. You can enjoy monthly pay-as-you-go features if you cannot afford a yearly plan.
You can equally subscribe for the trial period without having to use your credit card details.
Flexible scheduling: GoToWebinar allows you to create a one-time live event, a series of events as well as provide your clients with on-demand access.
Webinar Templates: It has webinar templates that can let you leverage your previous webinars to conduct new ones.
Branding: You can edit and adjust your landing page by adding your company logo, brand colors, and images to tweak your webinar interface to give an attractive look.
Customization: You can create questions and personal registration forms for participants to make your webinar sessions more interactive and engaging.
GoToStage: This feature gives you a platform to been seen and to attract more crowds.
Channel Pages: You can create channel pages and use the source tracking feature to know the most effective page.
Email alerts: This helps to create a reminder on your upcoming webinars.
Engagement Tools: GoToWebinar has hand raising, screen-sharing, live visits, polls and sends documents, etc. to make webinar sessions interactive.
Analytics: This helps to let you know how your webinar goes.
Attendees Report: GoToWebinar provides you a graphical chart of your attendees' participation.
PRICING PLANS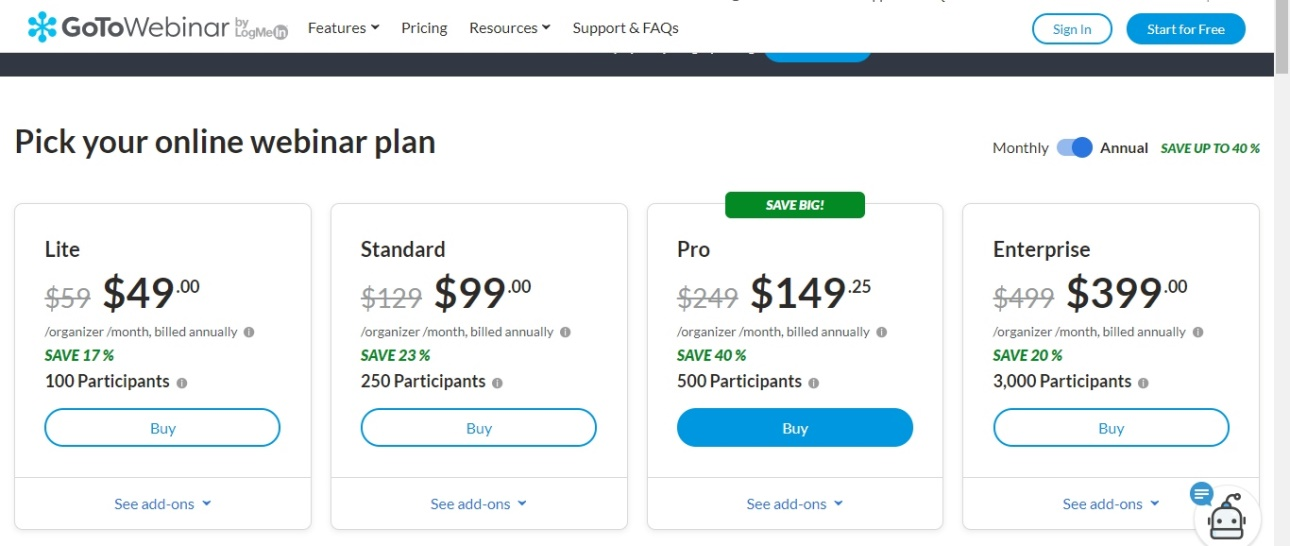 There are four different pricing plans to choose from, and you can save a good percentage for yourself if you opt for an annual subscription.
You can also test the software during a trial period of 7 days. Please note that the prices shown above are only monthly payments.
There are different sides to purchasing GoTo products. This page only sticks to GoToWebinar, not the other sides like GotMeting, GoToRoom, GoToConnect, etc.
There are limitations especially when you go for the starter package which gives you access to just 100 participants at a goal.
Below is a further breakdown of the pricing plans.
Free plan: This is a 7-day free trial period of the GoToWebinar software without the use of a credit card or any long-term commitment.
This is fair enough in a sense because lots of buyers do not like to give out their credit card details especially when they are not sure of buying the software in the long run.
$59 monthly if paid every month.
$49 monthly if paid yearly (saves $120 compared to paying every month).
The Lite plan is for small webinars of about 100 attendees or more. It includes all the major features like screen sharing, video, drawing tools, full-service signup, reporting, and analytics.
This is next to the lite plan.
$129 monthly if paid every month.
$99 monthly if paid yearly (saves $360 compared to paying monthly).
Not just that it admits over 250 members, the Standard plan differs from the Lite plan in the presence of video embedding options and a separate channel page.
$249 monthly if paid every month.
$199 monthly if paid yearly (saves $600 compared to paying monthly).
The Pro plan offers the best value for money and it is the plan that is most popular on GoToWebinar. This plan allows an audience of up to 500 and has some advanced features such as a video editor, recorded events, source tracking, and transcripts.
$499 monthly if paid every month.
$399 monthly if paid yearly (saves $1200 compared to paying monthly).
Enterprise comes with a full suite of features along with five-channel pages. It is the best for massive webinars, as it allows over 3,000 people as attendees.
Who should get GoToWebinar?
People with small crowds who need hosting alongside their webinars. Install yours now!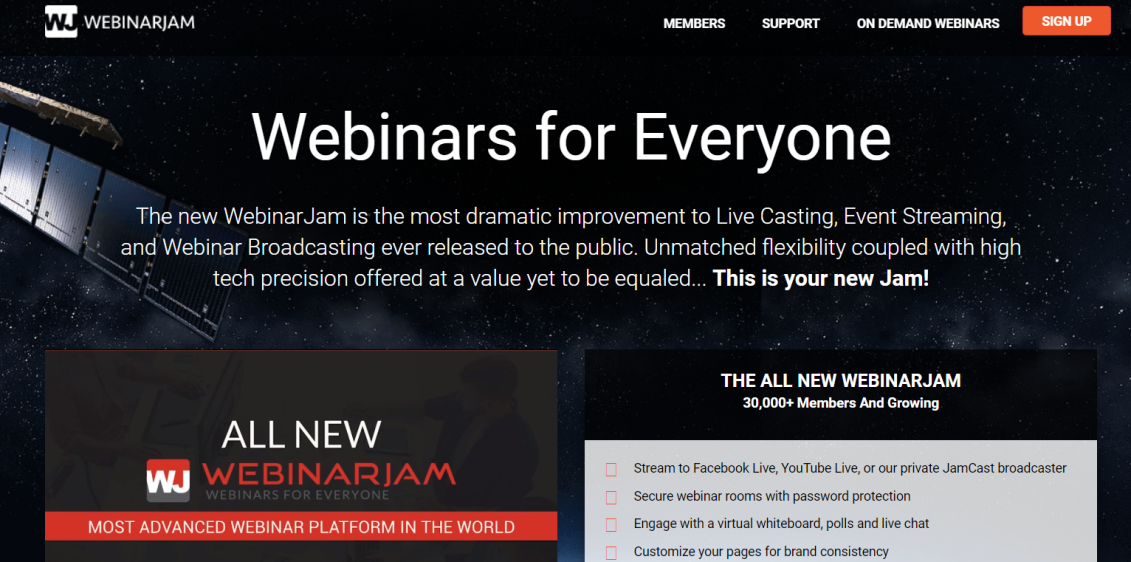 Features:
WebinarJam can take a large number of participants up to about 5000 for a meeting.
It also allows up to six presenters at a time.
It is compatible with all devices.
It allows live chats, questions, and answers, private comments, and sticky announcements.
It gives room for automated recordings especially for the sake of those who might miss a meeting.
It allows flexible scheduling.
It can let you do meetings on auto-pilot.
It allows passwords for rooms.
It also allows attendees to share screens and broadcast using their webcams.
There is a drawing board for illustrations and also permits file sharing.
A page builder, full email, and SMS support for reminders are part of the features.
It has ready-made visually captivating offers.
There is a panic button that can immediately open a fresh meeting page in case there is a problem during a particular meeting. This panic button moves everyone to the next page.
PRICING PLANS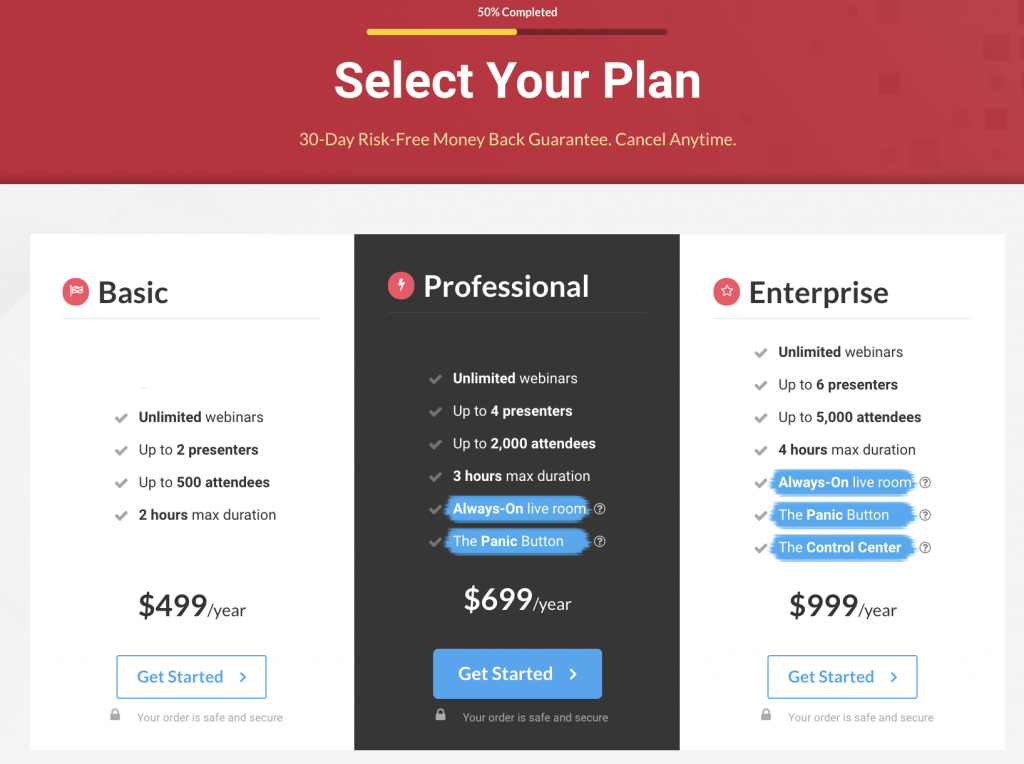 It has 3 plans.
Basic Plan:
It costs $499 per year.
Only 2 presenters.
Up to 500 attendees.
A webinar on webinarjam can only last for a maximum of 2 hours.
Professional Plan:
It costs $699 per year.
It allows about 4 presenters.
It can take about 2000 attendees.
A webinar in this plan lasts for 3 hours at maximum.
It has the panic button.
It has the "always online" button.
Enterprise Plan:
It costs $999 per year.
It allows up to 6 presenters.
It can take around 5000 attendees.
A webinar in this plan lasts for 4 hours at maximum.
It has the panic button.
It has the control center feature.
It has the "always online" button.
Who should get WebinarJam?
WebinarJam is suitable for presentations, coaching programs, sales, etc. Why not join the Webinarjam family to start enjoying yourself?
Live Webinar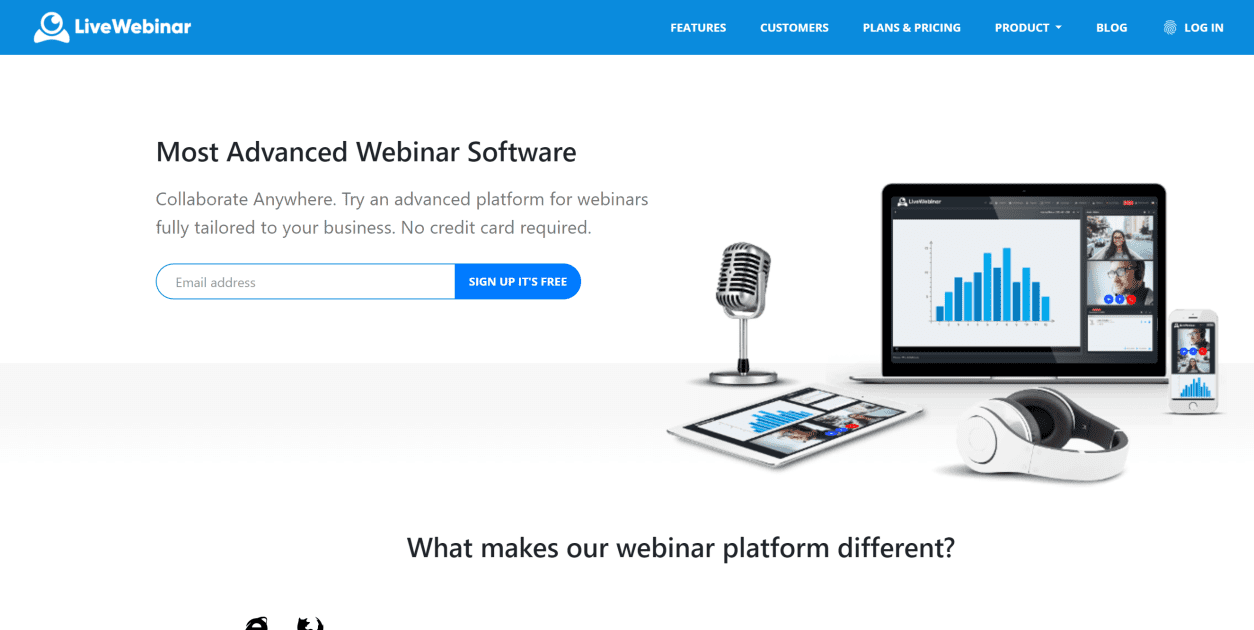 LiveWebinar is an exciting new cloud solution with superior screen sharing, live video streaming, and recording functions. They also have custom branding, social media streaming, and audience engagement analytics for your webinars.
Live webinars help you build your mailing list. When you automatically subscribe to a webinar, it leads to marketing automation tools, CRM. Get more results from your webinars. Live Webinar has integrations with leading companies like Aweber, Zapier, Mailchimp, and many more.
Features
Web-based: You do not require any download or plugin because it is entirely web-based.
Screen sharing: It enables screen sharing.
Live stream: You can do web streaming via YouTube, Periscope, Facebook, Vimeo, and Chat: It allows chatting during webinars.
Call to Action: It allows for lead conversions.
Email Invitation: It allows presenters to invite attendees via emails.
Whiteboard: Whiteboard are used during presentations.
Rooms: It is possible to break down Meetings into smaller rooms for better engagement.
Recordings: Webinar sessions can also be recorded.
Customization: Work is customized to suits the presenter's taste.
Integrations: It uses the following enhancements- MailChimp, FreshMail, ConstantContact, etc.
Devices: the software can be used on all devices.
PRICING PLANS

Free Plan:
It can take about 5 attendees.
Meetings can last for 2 hours.
Your screen can be shared.
You can take tests and polls.
It also gives you marketing automation.
Pro Plan:
It costs $14.99 monthly.
It can take around 100 attendees.
Meetings can last for 6 hours.
You can open sub-accounts.
It can use YouTube and Vimeo player.
It also enables chat translation.
You also have a 14-day trial.
Business Plan:
The Business plan costs $119 every month
500 attendees are allowed.
Meetings can last for 8 hours at maximum.
Participants can be tracked.
It has high-quality recordings.
The business plan comes with an ads banner.
Custom Plan
You can customize the plan to suit your particular webinar needs.
It allows up to 1000 attendees.
It allows live streaming.
Customized features and add-ons are part of the plan.
Who should get LiveWebinar?
Owners of Businesses and organizations with large team members.
BigMarker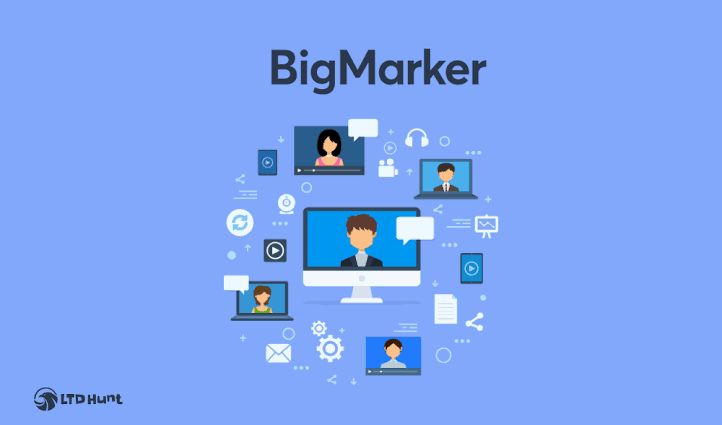 Features
Web-Based: It does not require download because it is completely browser-based. This greatly simplifies the work for both organizers and attendees.
Devices: One of the best webinar software solutions out there that perfectly utilizes both mobile phones and computers.
Multiple Tools: BigMarker is an all-around video platform that is perfect for corporate meetings, webinars, summits, virtual conferences, and for all business models.
Landing Pages: BigMarker users can host both live webinars and automated live sessions by making use of resourceful tools for webinar marketing which includes forms, email campaigns, and landing pages. You can also set up on-demand webinars.
Invitations and reminders via Emails: You can customize email invitations and send automatic reminders to everyone about scheduled meetings.
Participants' Capacity: You can host about 10,000 Visitors and this is dependent on your subscription plan.
Screen Sharing via HD: BigMarker provides you with a high definition view of your recordings and webinars.
Presenter Limit: BigMarker has no limit to the number of presenters per session. You are allowed to add an unlimited number of presenters and make a promotion for guests to present during your session.
PRICING PLANS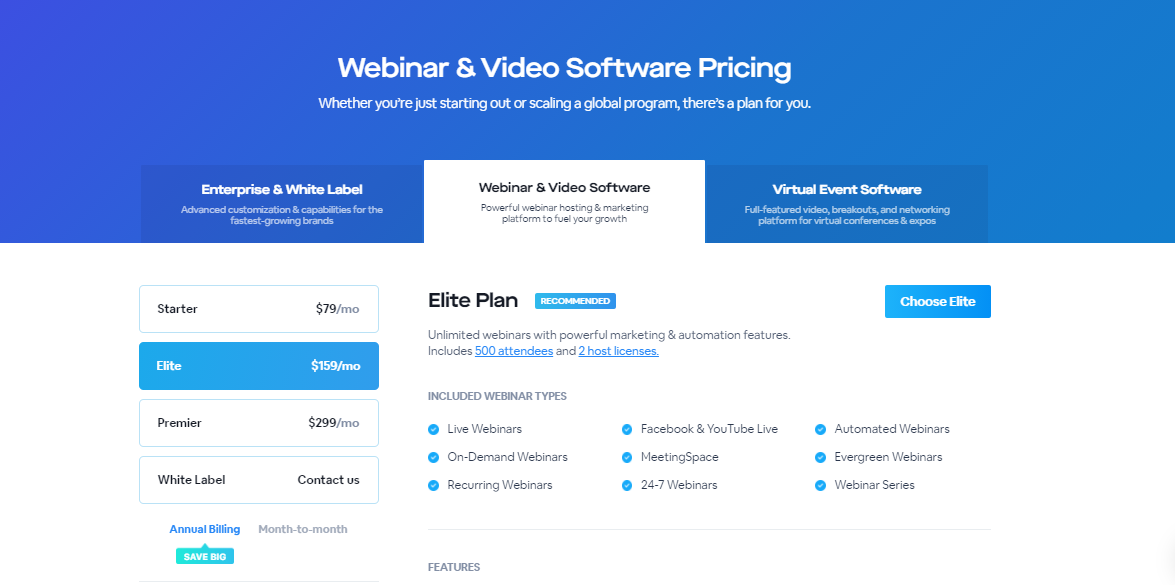 Free plan
BigMarker can be used for free for 7 days along with all its features. You do not need a credit card for registration.
$99 every month if paid monthly but $79 every month if paid once in a year ( this will save you some $240).
Starter Plan is an affordable plan that accommodates about 100 members and only one host license is issued. Several different types of webinars can be created using this plan and you can also use some basic functionality such as polls, templates for email marketing, Q&A, pop-up suggestions, analytics, and landing pages.
$189 each month if paid monthly but $159 each month if paid once in a year (saves $360).
The Elite plan adds other types of webinars, including a webinar series. It also comes with extra integrations like Stripe ticketing and over a hundred and thirty-five currencies. This plan accommodates up to 500 members and provides 2 host licenses.
$399 each month if paid monthly but $299 each month if paid once in a year (save $1200).
The Premier Plan has all the features that are found in the Elite Plan, however, it increases the number of members to 1000 and the number of host licenses to four.
White Label
You can only know the price of White Label price when you contact them.
White Label plan comes with a complete set of webinar marketing tools that can be customized, so prices may differ and are only disclosed after contacting support. It also includes an account manager and dedicated support, landing pages and white-tagged email, and some other perks not available with other BigMarker plans.
It also allows about 10,000 participants.
Who should get BigMarker?
BigMarkers is suitable for academic institutions, large companies, and organizations that are involved in product marketing and training. Sign up now!
WebinarNinja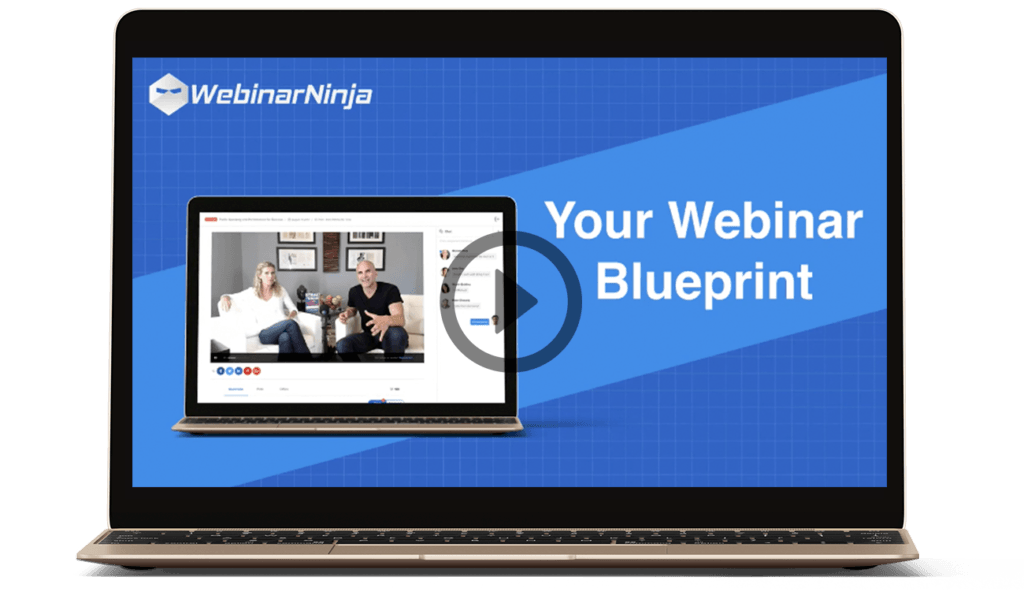 WebinarNinja prides itself on being the webinar software chosen by a plethora of well-known companies in many industries.
What stands WebinarNinja out is that they have a webinar search engine of their hence, people cannot just find you only on google but also with the webinar search engine and sign you up.
Features
The simplicity of Usage: WebinarNinja allows hosts to easily promote and sell their products and services in an attractive way that will be irresistible to clients.
Live Webinars: You can present your live seminar with the ability to create polls, upload slides, show screens, use chat, embed videos, block attendees, have an exclusive Q&A area, and use quick and responsive live chat, and more.
Automated Webinars: You can take a few seconds to schedule a webinar session through WebinarNinja and this only takes not up to a minute. The webinarNinja can host an automated webinar program for you if you create one. To do this, your video presentations should be uploaded and you can choose when and what time you want to make them available.
Email Notifications: Send automatic email reminders to your registered users with all the information that they will need for your presentation.
Media Library: You can store all your images, videos, logos, and templates in the WebinarNinja media library.
Statistics: It allows you to measure traffic, see how many people interact through the live chat, how many visitors took up on your offer, and other things.
PRICING PLANS

WebinarNinja offers four different pricing plans and also a free trial plan available to you when you register.
Free trial for 14 days.
Each WebinarNinja membership is granted a 14-day trial period. In this 14-day duration, all features of the webinar software are available for your use, and cancellation of your subscription can be done at any time.
If charged annually, the cost is $49 each month, but if paid once a year, the cost is $39 each month (saving $120).
For beginners, the starter package is the best option. For live webinars, you can have up to 100 participants, and for automated webinars, there are no limits. All major features, such as talk, Q&A, polling, statistics, and analytics, are available.
$95 each month if paid monthly but $79 monthly if paid yearly (saves $192).
With the Pro plan, you get about 300 attendees to live webinars and access dedicated tools like webinar series and summits and ad tracking on Facebook.
$159 every month if paid monthly but $129 monthly if paid yearly (saves$360).
With the Plus plan, your host can be up to 500 live attendees, and also opens hybrid webinars which means you can do at the same time, live hosting and pre-recorded videos.
$249 every month if paid monthly $199 each month if paid yearly (saves $600).
This is the most effective WebinarNinja plan because it includes all the features you've read about before in the other plans in addition to allowing a large team of up to 1000 webinar attendees in real-time. You can start exploring these plans right away!
Who should get WebinarNinja?
The software is suitable for podcasters and online creators.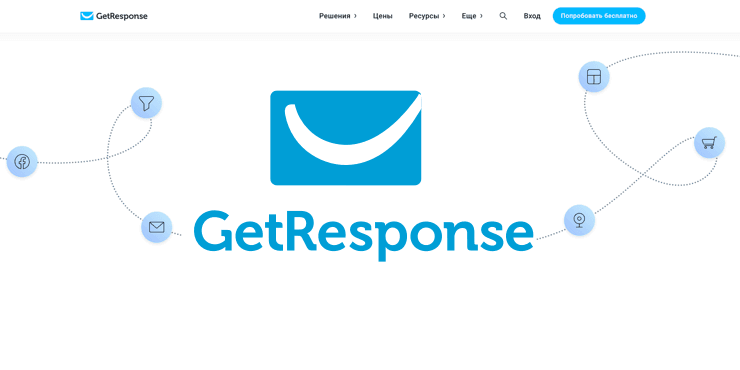 GetResponse introduces some great features for webinars especially for a platform that is primarily an email and automation tool for marketing. This is not a part of the basic webinars that showcase the devices, but it was never intended. Either way, this is a decent alternative if you want a universally useful demo robotization tool with some nice webinar features.
The software is an email marketing platform from a professional career perspective.
If you're looking for a single platform that provides email, webinar marketing, and basic automation, GetResponse is the best for you.
Features:
Quick Booking: You can choose a date, time and create customized URLs for your webinars in minutes.
Join YouTube: You can increase your viewership with YouTube coordination.
Recordings: Your webinars can be recorded, uploaded, and shared with anyone.
Participation: Your participants can be engaged with dynamic views, smart boards, recordings, and live visits.
Security: URLs encrypted with SSL and you can choose whether your webinars will be available to everyone or with a secret key.
Analytics: Reports and analysis of your webinar traffic and various dimensions.
Email Marketing: GetResponse is a great platform for emails.
Landing Pages: GetResponse can help create amazing landing pages especially for those into digital businesses.
PRICING PLANS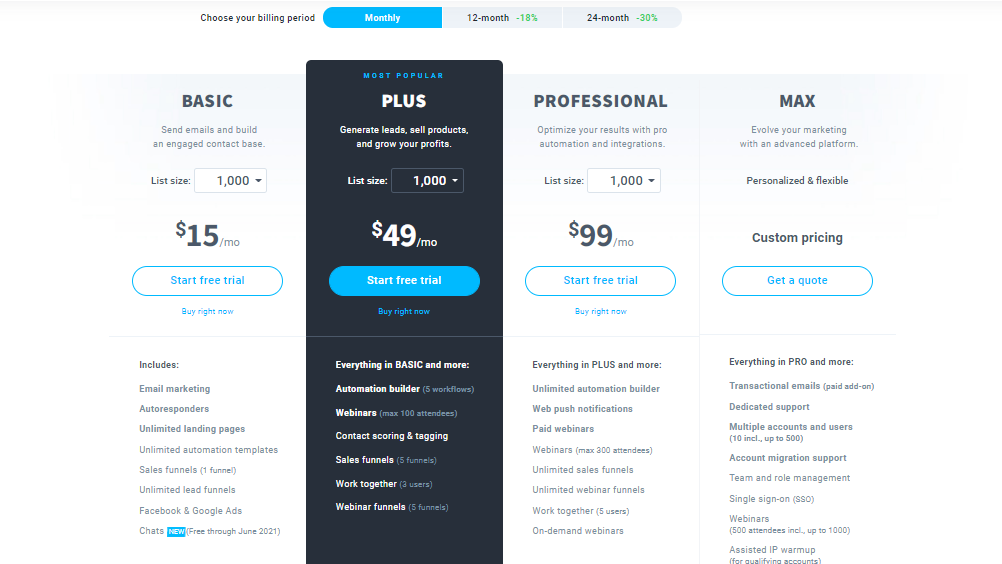 You can choose to pay monthly, yearly (saves 18%), or biennially (saves 30%).
It costs $15 monthly
1000 email list size
Unlimited landing pages
Unlimited automation templates
1 sale funnel
Auto-responders.
It costs $49 per month
It offers 1000 email lists
Automation builders
Webinar for 100 attendees
5 sales funnels
5 webinar funnels
It costs $99 per month
It offers 1000 email lists
Unlimited automation builder
Web push notifications
Paid webinars
Webinars for 300 attendees
Unlimited sales funnels
Unlimited webinar funnels
On-demand webinar
(It has all pro features with the following)
Transactional emails
Dedicated support
Multiple accounts and users (10-800)
Webinar for 500 attendees
Who should get GetResponse?
Entrepreneurs
Online Marketers
Advertisers looking for email and computerization promotions
Large Companies
Systeme.io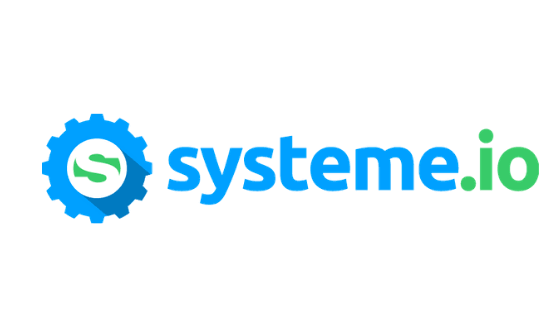 Systeme.io is more than just webinar software. It is a very sophisticated business tool/software in the sense that it has some marketing features integrated with it such as sales funnel, email marketing, product selling, and blog creation.
Systeme.io in itself is not a "strictly webinar" software but as a matter of necessity deserves to be mentioned on the list of webinar software.
Systeme.io does not have some basic webinar software features such as live broadcasts, automated webinars, and the likes but it allows evergreen webinar sharing.
Systeme.io allows one to design a great webinar interface and run it without any hitch.
Features
Sales Funnel: With Systeme.io, you can create amazing sales funnels for your work.
Unlimited Evergreen Webinars: When you choose the Enterprise plan, you will be given unlimited evergreen webinars.
Products Sales: It also lets you sell your products.
Design from the beginning: Create a customized webinar from the beginning to reflect your business style.
Online Courses: Systeme.io lets you set up your online courses.
Payment Integration: Connect Systeme.io with PayPal and other platforms like Stripe to advertise your products.
Live chat support 24/7: whichever plans you choose, the Systeme.io customer support team is always handy to assist you.
Unlimited File Storage: Store all files important to you securely in one place.
Unlimited Emails: Systeme.io gives you the leverage to send emails to your attendees without limit.
PRICING PLANS

Free plan
The 14-day trial version is free.
Startup Plan
It costs $27 each month.
Maintain up to 5,000 contacts and three membership sites can be gained using marketing automation, increase in orders, one-click additional sales, and other tips.
Webinar Plan
It costs $47 each month and comes with the following benefits;
3 webinars Coupon codes
10000 email subscribers
Unlimited number of emails
Unlimited sales funnels
Marketing automation
2 custom domains
Large file storage space which has no limits
Unlimited members
5 membership sites
Run your affiliate program
24/7 Support
Enterprise Plan
It costs $97 monthly.
The Enterprise plan includes unlimited membership sites, 15,000 contacts, and five custom domains. There are also unlimited evergreen webinars. To get started, get your 14-day free trial here.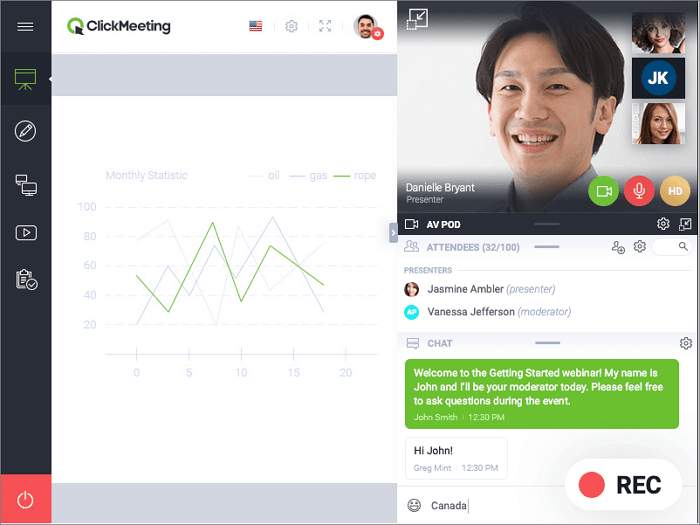 ClickMeeting is one of the world's leading webinar software for businesses.
ClickMeeting can be used for multiple purposes such as business meetings, online classes, and courses using just a browser.
It allows up to a thousand participants per meeting. It supports pools and polls as well as simultaneous chat translation.
It has moderate (questions and answers) as well as private chats. It has over 100,000 satisfied customers in about 161 countries of the world.
This software makes it easy to prepare a presentation and invites people with a simple form that can be completed within some seconds. You can run webinars, whether live or automated, seamlessly, without regard to the device or operating system you are using.
A major reason for this is the flexibility of the software pricing packages which allows a host to choose with clarity.
Another thing about ClickMeeting is that the pricing plans rely on the number of participants.
Features:
Video Conferencing: It allows Video conferencing to be a great webinar software.
Automated Webinars: If you don't have time for live meetings and events, you can let the automation tool run webinars that are pre-recorded for you.
Screen Sharing: It allows sharing of the screen during presentations for better interactions.
Registration Page: It allows one to create custom registration pages for more details about participants.
Surveys and Polls: Conduct webinar polls and polls on a topic of your choice to get useful information and feedback from participants.
Whiteboard: This feature helps for better illustrations during webinars.
Sub-Accounts and Multi-User Accounts: Allow your team members to host webinars at the same time and use multiple accounts in ClickMeeting.
File-Sharing: It allows sharing of files during webinars. This helps with additional information that might be needed.
Mobile app: ClickMeeting has a great mobile app that allows one to conduct webinars on the go.
Chat Translation: With Google's instant translation functionality, you can conquer any language barriers and awkward gaps in your foreign audience's understanding.
Package Integration: Easily integrates with MS Office, Adobe, YouTube, LinkedIn, Facebook, and many more.
PRICING PLANS
The app pricing is extremely flexible, allowing you to choose how much you'd like to pay depending on the number of participants and billing duration. A trial version with basic functions is also available to give you a taste of ClickMeeting's capabilities.
A 30-day free trial allows you to attract up to 25 members. It has 30 minutes of write storage, 500MB file storage, and just about every other feature available with paid plans.
Starting at $30 per month if paid monthly but $25 every month if paid yearly (saves $60).
This is the most affordable plan and will only cost you $25 every month if you have 25 members.
Unlimited number of meetings and webinars
It allows 25 cameras in meeting and 4 cameras in webinars
Only one host
One presenter
Recording storage of 6 hours
1 GB file storage
Screen sharing
Screen control
Whiteboard
Starting at $45 monthly if paid but $40 monthly if paid yearly (saves $60).
With the inclusion of an automated webinar cycle, an automated plan has all of the advantages of a life plan.
In comparison to the life plan, it also has a 10-hour recording storage capacity and a 2GB file storage capacity.
Personalized
For large companies looking to extend their webinar strategy, this is the best option.
This plan will accommodate up to 10,000 people.
It has its account manager.
It enables you to take one-on-one courses and training, as well as access streaming services. You can start right away!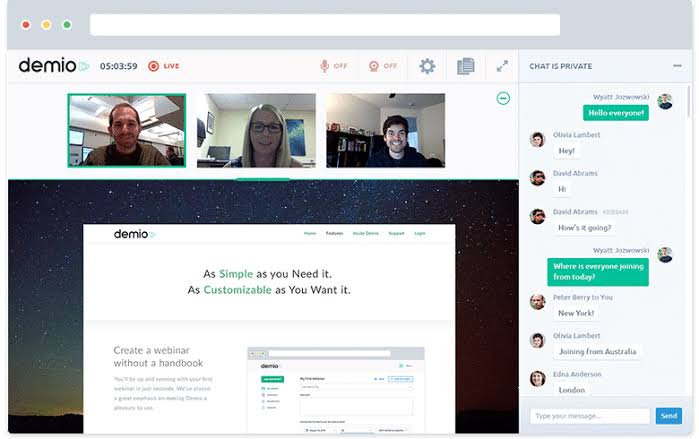 Demio is one of the best webinar software ever. It is very easy to use. It is usually referred to as "hassle-free" webinar software simply because it does not require any special download.
Demio is one of the 5-star rated webinar software. Demio is a perfect prescription for those who need to grow their businesses and probably want to record great sales.
Demio comes with convenience for both the host/organizer and the other participants. The software is completely browser-based which makes it easy and convenient to use.
Despite all the amazing features that Demio has, some people still find it somewhat expensive compared to some other webinar software.
Features
No downloads: It is entirely web-based; hence it requires no download. It is compatible with most browsers if not all.
Screen sharing: Demio allows you to share your screen with your audience for more detailed illustrations.
Slide and File Sharing: Upload slides or share videos right inside Demio.
Marketing Apps Integration: Connect Demio to tools you already use like Mailchimp, ConvertKit or Marketo, etc.
Stay Checked Series: Allows people to share information just once and the information remains valid even for subsequent webinars.
Private chat: Users have an alternative to send private messages to the organizers of the event or open the chat to the entire audience.
Branded Enrollment Page: Demio allows you to customize your webinar interface to your taste. It still allows you to add your logo if preferred to the interface.
Live Replays: Automate your webinar replays to create email recordings.
Multiple Session Types: Plays live streams, uses pre-recorded videos, or combines them.
Reminders: Demio allows you set an auto reminder for meetings.
Scheduled Meetings: Demio gives you the option of scheduling a series of live streams or allowing others to view your event.
Custom Registration Forms: Use a range of customization options to create beautiful and appealing registration forms.
Interactive Surveys: Demio allows you to ask the participants questions and see the results in a neatly packed statistics table.
Analytics: Analyzes the results of your webinar. Excellent analytics that is being regularly improved.
Handouts and GIFs: motivate your visitors to share handouts, presents, and bonuses.
Demio has so many other features that one might not find in any of its competitors
PRICING PLAN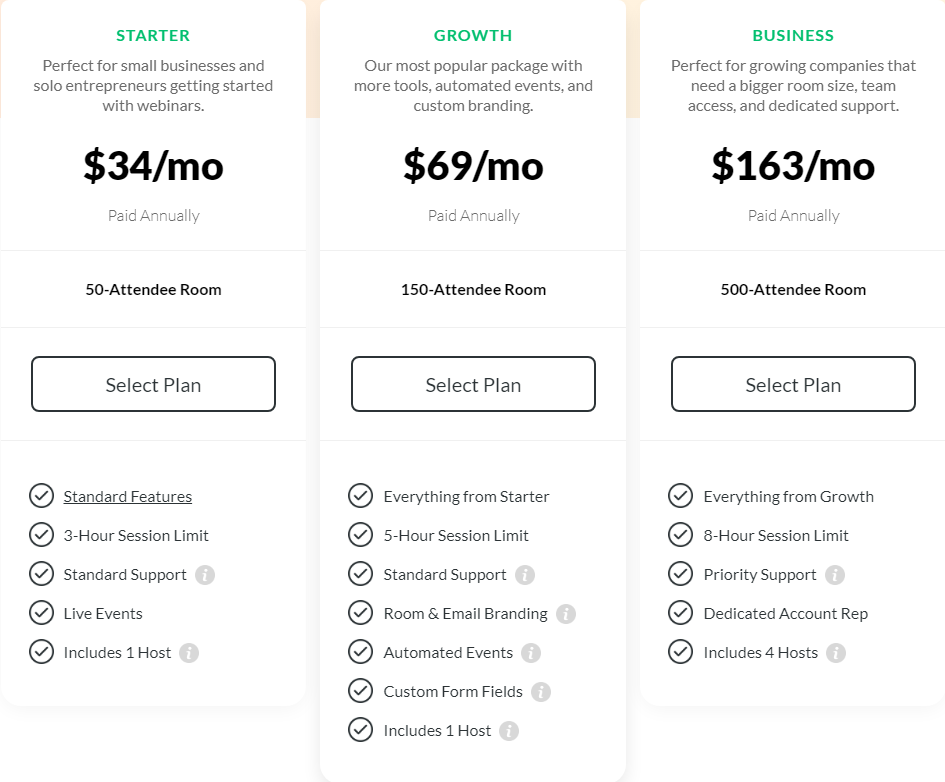 Demio packages depend a lot on the number of participants.
Demio offers a two-week trial period for whoever wishes to give it a try before finally buying.
There are three main paid packages.
14-day trial version.
The free trial is limited to 20 participants and an hour session limit.
$49 monthly if paid monthly but $34 monthly if paid yearly (saves $180).
The Starter Plan is made for small enterprises and beginner webinars.
3 Hour Session Limit
Standard Support
1 host
Live Events
Asides from the benefits mentioned above, it also comes with all the Demio's standard features which include;
Unlimited sessions
Unlimited registrations
Unlimited storage
24/7 chat and email support
Advanced event set up
Media sharing and slide upload
Customizable registration options
Room engagement tools
Detailed insights
Event localization
And more.
$99 monthly if paid monthly but $69 monthly if paid yearly (saves $360).
Growth is Demio's most popular plan and can also be tried in a trial version of the software.
150 participants in a webinar room
5-Hour session Maximum
Automated Events
Room and Email Branding
1 Host
Custom Form Fields.
Business
$234 monthly if paid monthly but $163 monthly if paid yearly (saves $852).
This plan is basically for startups looking for large webinar rooms.
The business plan gives;
Up to 500 Attendee Room
4 Hosts
8-Hour Session Maximum
Priority Support
Dedicated Account Representative
Marketo Integration.
Who should get Demio?
Business organizations who want to grow their businesses.
Advertisers are looking for a reliable robotic webinar replay and are focused more on live events. Give Demio a try!
11.  Zoom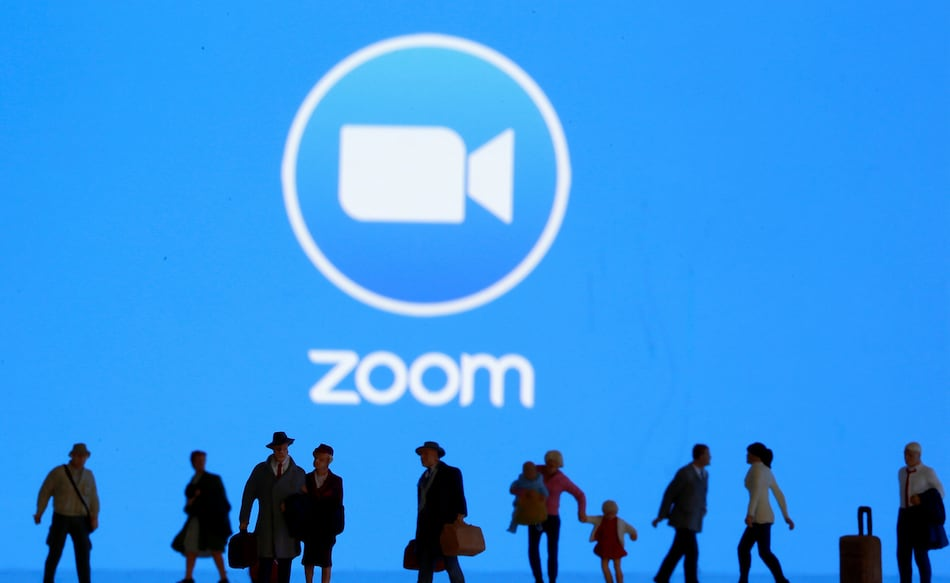 Zoom is a widely useful video tool for webinars, conferencing, and collaborations.
As beautiful as Zoom is, it does not allow the automation of webinars.
With several hosting plans that handle up to 50,000 guests, Zoom allows you to join and schedule a meeting in minutes.
Zoom started as a message and call service.
Many people, on the other hand, use Zoom because of its easy and low-cost webinar tool.
The best tool for low-budget webinars is often identified as Zoom Webinar. This webinar version is easy to use and includes some essential functionality, while the entry-level package is very inexpensive and includes additional features that you can find helpful. Zoom is perfect for beginners and people who haven't done a lot of webinars because the control panel is simple and practical. However, for more complex presentations, Zoom might not be the best option. As a video conferencing stage, Zoom is a rich-featured stage that solves the problems of most corporate organizations. As a webinar device, it works well for face-to-face communication, especially if you have a large board of speakers seated in one place for them to have a conversation.
However, Zoom is affordable, reliable, and delivers excellent streaming quality.
Features
Large Audience Capacity: Zoom allows the host to interact with as many as 50,000 participants with up to 100 real-time panelists interacting with the attendees.
Meeting Control: This option enables you to mute or unmute the microphones, giving you complete control over everyone in the room.
Reporting and data analysis: Determine the number of sign-ups and users, and follow up with surveys and Q&A.
Video and Audio Quality: Zoom's video and audio quality are adequate for a conference.
Interactive: Webinars with extensive speaker boards may have up to 100 intuitive participant recordings.
Whiteboard: Zoom lets the host use a whiteboard for better engagement.
Live Streaming Integration: To share your event on social media, use custom service integrations such as YouTube Live and Facebook Live.
Controls for the host: Choose the panelists and encourage them. The host can make a participant a host.
Hand Raising Tools: Zoom allows the raising of hands as well as clapping emojis.
Interactive: Polls, Q&A, and live visits to connect with observers.
Closed Captioning: Provide content captions for nearly deaf groups of viewers or people using gadgets in silence.
Event Support: With the aid of Zoom's team of experienced consultants, plan and rehearse your activities.
PRICING PLANS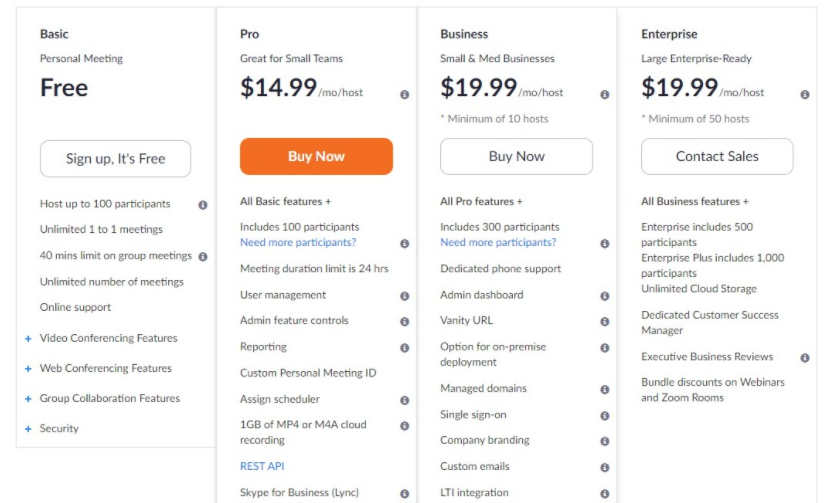 You can register for Zoom for free and use their simple personal meeting plan for no cost, but if you want to use any of the great webinar features, you'll need to upgrade to one of their paid plans.
The free plan (Personal Meeting)
100 participants
An unlimited number of meetings, although a meeting can only last for 40 minutes on a go if they're more than 2 participants.
Just sign up and get a basic face-to-face meeting plan that's free forever. Host up to 100 participants and receive unlimited one-on-one meetings.
Video and web conferencing features.
Group collaboration features
Pro (For small teams)
It costs $14.99 monthly
100 interactive video attendees
Unlimited meeting duration for all meeting sizes
Admin feature controls
Meeting ID customization
Scheduler assignment support
1GB of MP4 or M4A recordings.
Business (For small and medium businesses)
It costs $19.99 monthly
Minimum of 10 hosts
300 interactive video attendees
Unlimited meeting duration for all meeting sizes
Admin feature controls
Meeting ID customization
Scheduler assignment support
Dedicated phone support
Admin dashboard
Vanity URL
Option for on-premise deployment
Managed domains
Single sign-on
Company branding
Custom emails
LTI integration
Cloud recording transcripts.
Enterprise (For large companies)
It costs $19.99 monthly
Minimum of 10 hosts
500 interactive video attendees
Unlimited meeting duration for all meeting sizes
Admin feature controls
Meeting ID customization
Scheduler assignment support
Dedicated phone support
Admin dashboard
Vanity URL
Option for on-premise deployment
Managed domains
Single sign-on
Company branding
Custom emails
LTI integration
Who should get Zoom?
12. MyOwnConference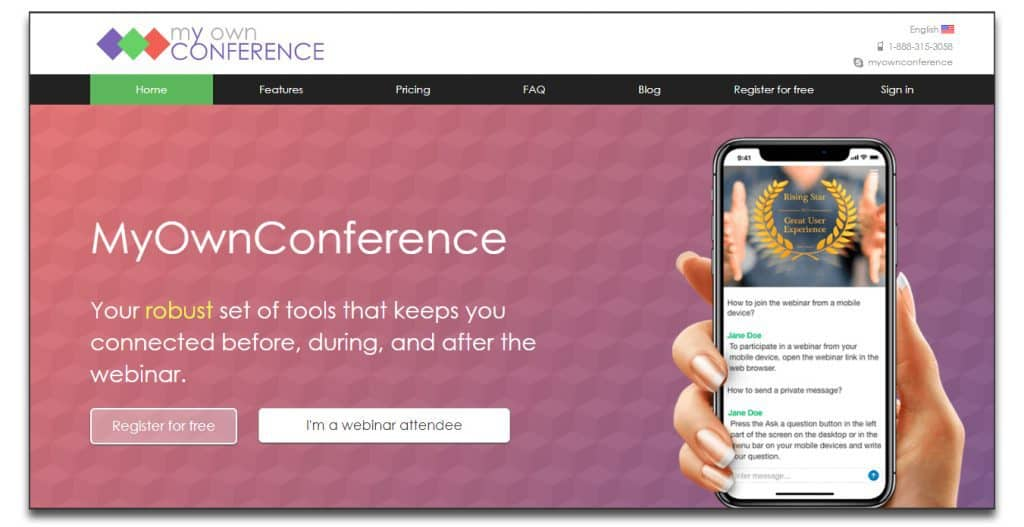 MyOwnConference webinar and video conferencing software are well known as a very dependable platform with series of attractive features anyone would need or require to host a professional and coordinated webinar.
The provider has 10 TIER-III data centers, 200 servers, and three cloud services. This allows them to provide customers with a safe and reliable service that is usually readily accessible at all times and anywhere.
Features
Video Recording
Device compatibility: This feature is a very good one. It lets attendees access the webinar content with just a click irrespective of the device they use provided that they have a good internet connection.
Screen Sharing: MyownConference allows screen sharing during the webinar.
Viewers' Optimization: MyOwnConference makes it very easy to optimize the number of viewers for better tracking.
Email Invitations: Email invitations and reminders can also be set up as fully automated in just a few seconds.
Customer Service and Support
Worldwide Coverage: MyOwnConference software allows the hosting of events for thousands of people around the world. The number of data centers and servers available ensures efficient connectivity.
Multiple speaker capacity: The platform supports joint webinars with up to ten separate speakers at once.
Private messaging for better interaction: This allows hosts to communicate directly with audience members and can also be used to encourage attendees to talk with one another.
Customization options: When hosting webinars, organizations can use their logos and branding.
Ability to record webinar content: Webinars can be recorded in real-time so that people who are unable to attend can watch them later. The total audience grows as a result of this. Depending on the subscription package, recordings can be made in SD, HD, or Full HD.
Convenient options for document exchange. The platform simplifies the process of sharing documents, slides, and other media files.
The ability to share videos: Video Document exchange options that are easy to use. The platform makes exchanging documents, slides, and other media files far easier.
The ability to share videos: Having the ability to share videos allows hosts to make their webinars more engaging. Since it supports YouTube and conventional video uploads, the MyOwnConference platform allows for seamless video streaming.
Access to surveys and testing: Organizations can monitor webinar outcomes and success in real-time using the software's built-in features. This involves the opportunity to ask the audience pertinent questions. This helps hosts make their webinars more engaging. The MyOwnConference platform provides seamless video streaming as it supports YouTube and traditional video uploads.
PRICING PLANS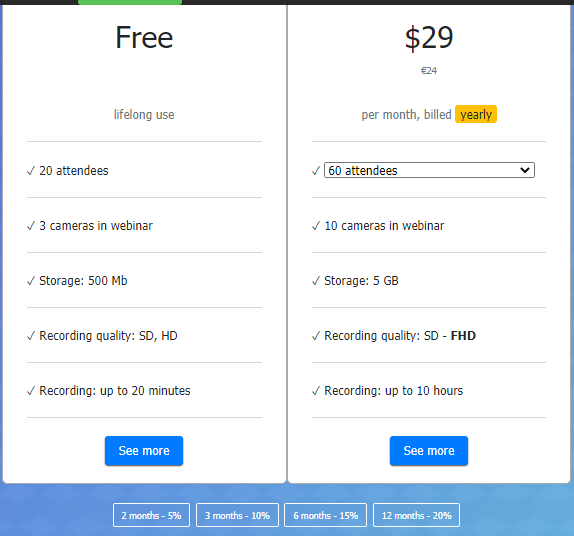 MyownConference webinar has two subscription packages, the free and the paid.
It allows up to 20 attendees
3 cameras in a webinar
500MB storage
Recording Quality: SD and HD
20 minutes of recordings.
The paid package has different sub-plans depending on the number of participants which ranges from 60 to 10,000.
The paid plans allow up to ten cameras and ten hours of recordings.
The storage size and cost depend on the number of attendees.
The minimum cost is $29 for 60 attendees. This price increases as the number of participants increases.
Who should be given access to MyOwnConference?
MyOwnConference is a powerful webinar platform that ensures maximum audience participation. Messages, screen sharing, and voting are all examples of ways to engage in this type of interaction. Start talking to thousands right now!
13. Webinars OnAir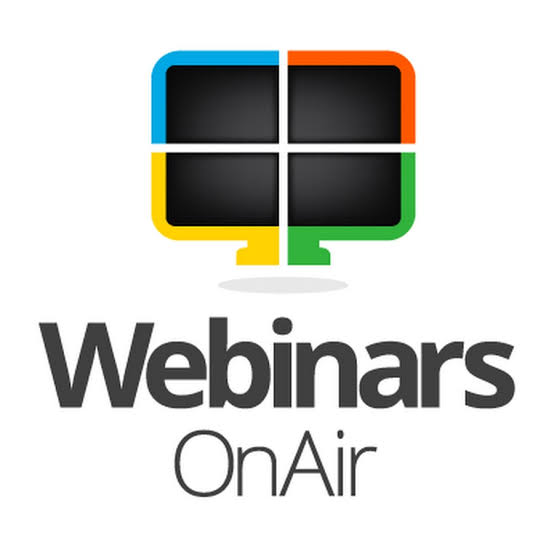 Webinars OnAir introduces itself as a webinar with all of the great functionalities that anyone might like.
All things being equal, Webinars OnAir has a long list of features as compared to its competitors.
Features
Increased Sales: It allows participants to buy your products without having to log out.
Tracking Pixels: This is an amazing feature that allows you to do a form of remarketing with AdWords.
High Traffic Generation: It allows your attendees to be directed to your sales page at the end of a webinar.
Automated Webinars: Webinars OnAir allows you to play your webinar in such a way that the participants will not even be able to tell if it is live or a replay.
Monetization Options: Encourage observers to switch with pop-up item suggestions.
Chats: It allows participants to interact during webinars.
Participation: Questions, surveys, and visitation opportunities to grab the attention of your group of viewers.
Audience Attention: It allows the host forced to redirect the attendees to a landing page at the end of the webinar.
Participants List Export: Webinars OnAir allows the host to collect and export the list of the webinar participants.
Get Paid facility: Webinars OnAir allows the host to present an offer during a webinar which all attendees have no choice but to see.
This in a way leaves the attendees with a very slim chance of not buying.
Payment before Service Offer: Webinars OnAir lets you set up a meeting such that participants cannot attend unless they pay.
PRICING PLANS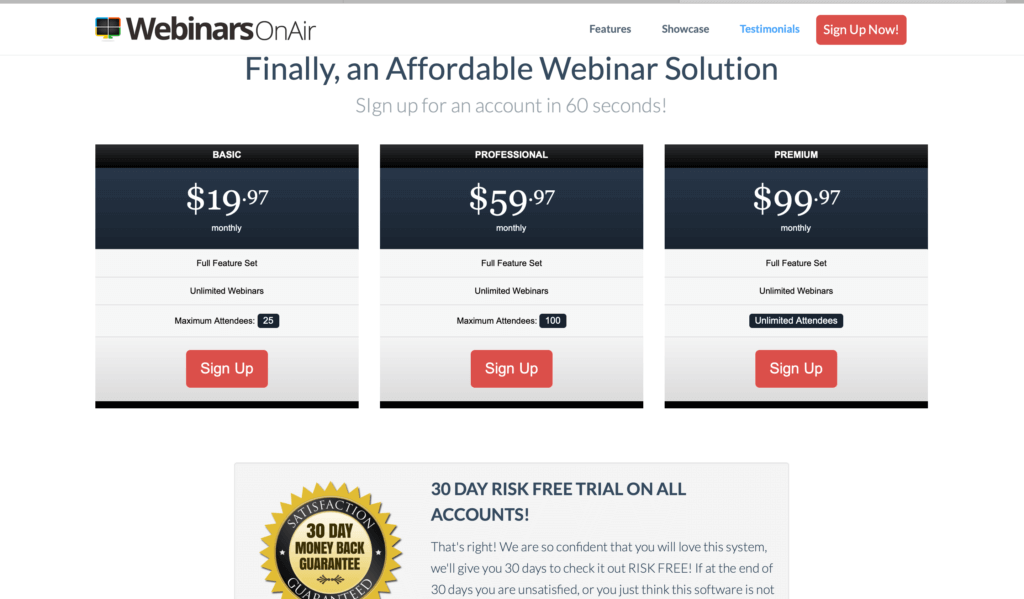 Another great feature on Webinars OnAir is that it offers a 30-day money-back guarantee.
It has three plans namely;
Basic
Professional
Premium
It costs $19.97 monthly and can take up to 25 attendees with unlimited webinars.
It costs $59.97 monthly with up to 100 attendees and unlimited webinars.
It costs $99.97 monthly with an unlimited number of attendees and unlimited webinars.
Who should get Webinars on OnAir?
Brands that need to conduct webinars with financial plan advertising. Check it out
14.  WPWebinar
WPWebinar is a WordPress web page. WpWebinar creates a registration form for existing pages.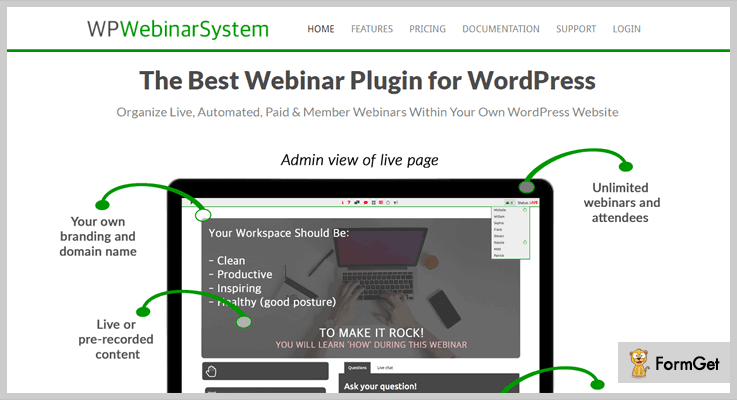 Features
All Devices: WPWebinar is compatible with all kinds of devices be it mobile or computer.
Live Webinars: WPWebinar lets you conduct live webinars.
Live Chats: It lets you participants chat during meetings.
Email Notifications: WpWebinar lets the organizers send automatic email reminders before meetings.
Custom Registration Fields: This lets you get more information about your attendees by using short codes to place a registration or login form anywhere on your website
Email Synchronization: WPWebinars synchronizes with email providers so you can collect attendees' names and emails when they sign up.
Supports: WPWebinar offers fast and helpful supports to clients.
Monitoring: It lets you see how many people are online during your meetings.
Sales Funnels: WPWebinar allows you to create sales pathways and evergreen content with automated webinars.
Page Customization: WPWebinar lets you customize the style and look of your webinar page.
Webinar Replays: WPWebinar lets you have a replay of your webinar for attendees that might miss the webinar.
Live Questions: WPWebinar lets attendees ask questions during webinars. It also lets you keep archive these questions.
Incentives: WPWebinar lets you to give away incentives during your live webinar or replay to your attendees.
PRICING PLANS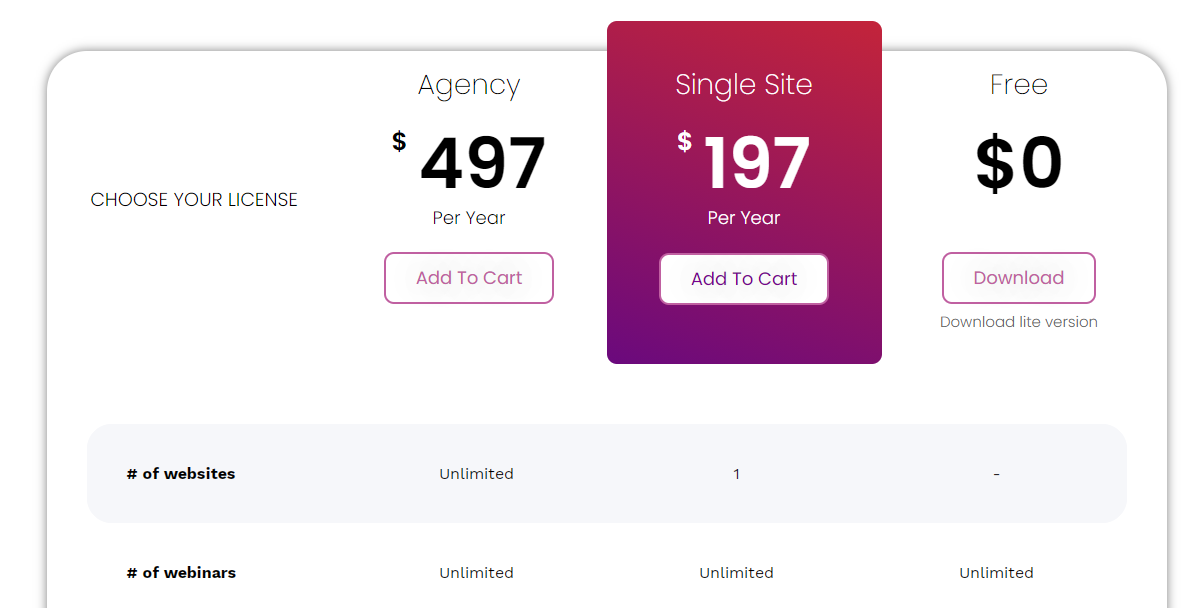 WPWebinar has a free plan as well as two paid plans.
No website
Unlimited number of webinars
Email reminders
14-day money-back guarantee
It costs $197 yearly
One website
Unlimited number of webinars
Unlimited number of guests
Email reminders
Webinar recording
Recurring webinar
Just in time webinar
Paid webinars
Raise hand
Importation of attendees
Online support
And more
It costs $497 per year.
Unlimited number of websites
Unlimited number of webinars
Unlimited number of attendees
Live webinars
Email reminders
Recorded webinars
Recurring webinars
Automated replays
Names of attendees
Live chat
Attendee raise-hand
Import attendees
Google and Facebook pixel integration
WordPress multisite
Online support
Who should get WPWebinar?
WPWebinar is needed by anyone who needs to organize live and automated meetings.
15.  On24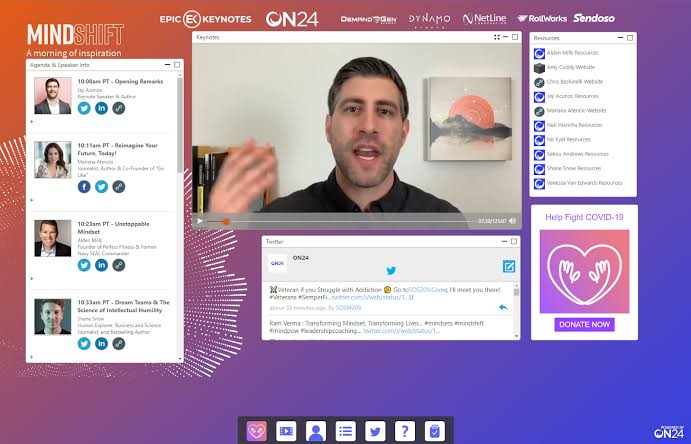 On24 webinar software is a high-level webinar software used mostly by people who use applications such as Microsoft and LinkedIn on their devices.
On24 has loads of amazing features that will always make it most preferable to many.
Despite the numerous tools and widgets, the program's interface is simple and straightforward.
With an oversize presentation area and widgets below, the webcast room is easy.
Members can close or open widgets whenever they want.
On24 software doesn't have some functions as the case may be. ON24 provides excellent support with 24/7 phone and live chat support, video, live training, and visitor guidance.
ON24 webcast software can always be customized to suit any user. It is very easy straightforward to use.
It allows you to make simple webcam webcasts or complex live events. While a number of the useful features found in other high-end webcasting services are missing, it's worth considering especially when you need a perfect high-quality webcasting service.
Features
Customization: On24 allows you to customize your console for corporate branding and logo for a better webinar experience.
Device Compatibility: On24 is compatible with all devices be it phone, tablet, or computer.
No Download: On24 does not require any download or plug-in.
Interactions: On24 is an interactive webinar platform integrated with social media tools.
Reports and Analytics: On24 gives real-time reports and behavioral analytics for lead generation.
Data Integration: On24 enables data integration with market automation and CRM systems.
Drag and Drop Tools: On24 is enabled with drag and drop tools for a better webinar experience.
Easy to Use: On24 has some easy-to-use tools for presenters and producers.
Pre-recordings: On24 lets you record your meeting for a replay. These recordings can be played with presenters appearing online for questions and answers.
Technical Team: On24 has a very responsive technical team always available to attend to clients' needs per time.
PRICING PLAN
Who should get On24?
Large groups with a predictable online class calendar.
16. Livestorm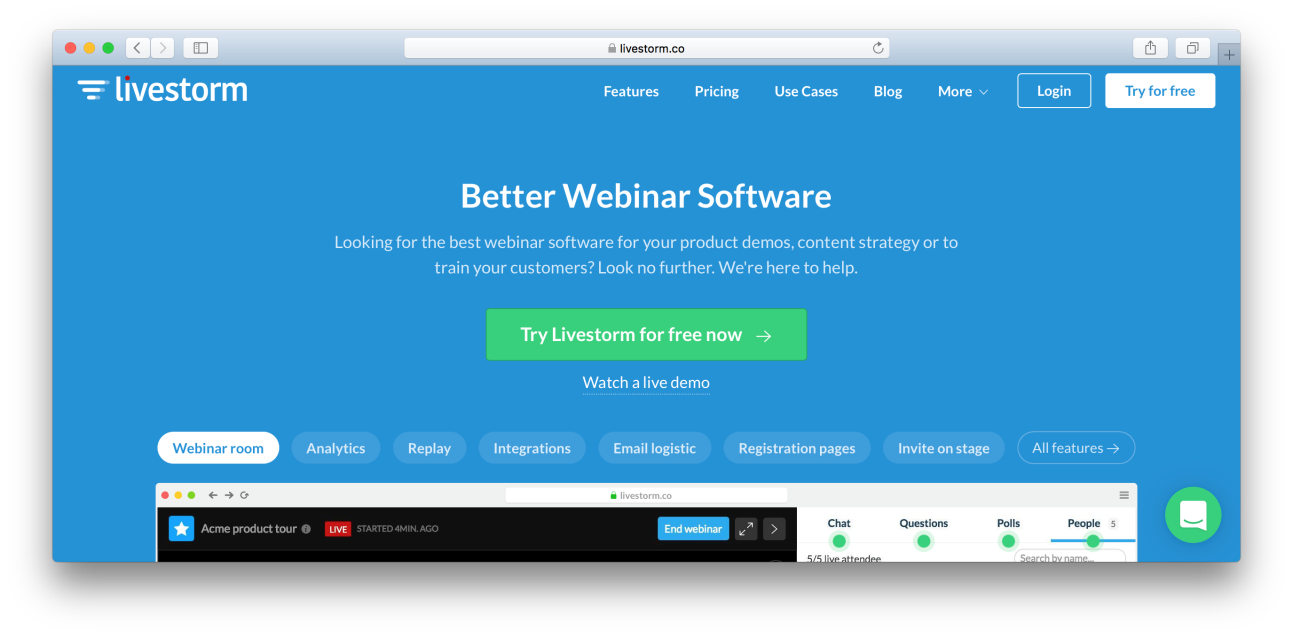 Livestorm is a powerful tool for productivity and powerful video communication.
Livestorm software works effectively with all browsers without any restrictions on the webinar size.
It can be easily accessed from any device be it laptops, desktop computers, tablets, or mobile phones.
With Livestorm, it is pretty easy for people to attend webinars.
Participants can join in one click and a good internet connection.
Livestorm comes with some amazing helpful tools that can allow one to run live as well as automated webinars as required per time. Livestorm can be used for all of the following;
On-demand webinars
Online courses
Video podcast interviews
Employee engagements
Automated webinars
And more.
Features
Themes: It provides access to highly adaptable webinar themes with an easy setup process.
One-Click Invitation: It comes with features like a one-click invitation that makes the joining of meeting easy for everyone.
Chat: It offers interactive chats, questions, and more for a better customer experience.
Product Demonstrations: Ideal for product demonstrations and one-on-one meetings to evaluate potential sales and improve your sales process.
Webinar Analysis: Integrate and analyze webinars and video meetings.
Automation: Livestorm provides a high level of automation with webinar sequences.
Multi-lingual Support: It offers comprehensive, multilingual customer support.
Screen Sharing: It allows the presenter to share the screen during meetings.
Registration Forms: It allows embedding of registration forms.
Resource Tracking: Livestorm provides detailed engagement analysis, reanalysis, resource tracking, and engagement report.
Call to Actions: View in-web CTAs to influence viewer action.
Recording: Livestorm allows unlimited record storage space.
Data Export: You can export your data as CSV or XLS.
PRICING PLANS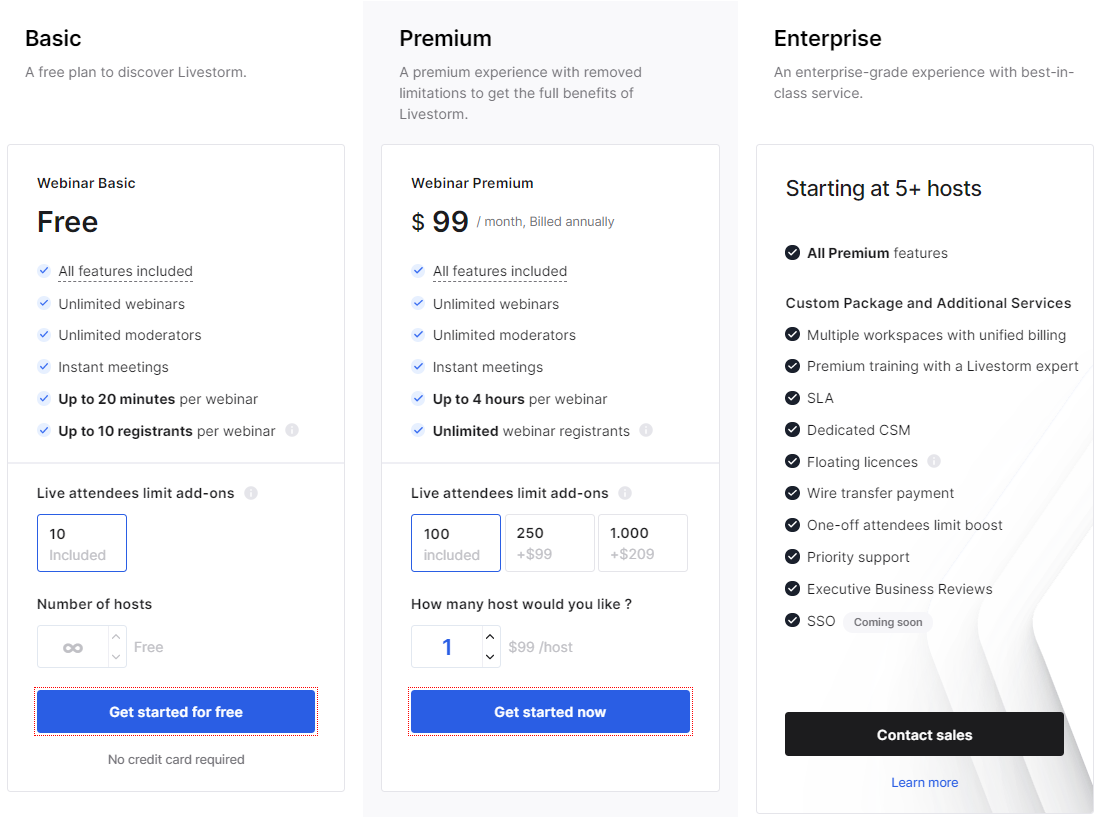 Livestorm offers three pricing plans.
Webinar Basic
It is free
Unlimited on-demand webinars
Unlimited presenters
It allows instant meetings
A webinar can take about 20 minutes with 10 attendees per meeting
Live attendees limit ad-on.
Webinar Premium
It costs $99 monthly
4-hour limit per webinar
Unlimited webinar but each webinar can only last about 4 hours at a go
Unlimited number of attendees
Live attendees limit add-ons
Enterprise
To get the cost, you will have to contact the sales department
It still comes with all the premium features in it
It starts with a minimum of 5 hosts
Multiple workspaces with unified billing
Premium training with a Live expert
SLA
Dedicated CSM
Floating licenses
Wire transfer payment
One-off attendees limit boost
Priority support
Executive business reviews.
Who should get Livestorm?
Livestorm is best for people who want to do product demos and live training. Start engaging your audience here.
17. Google Meet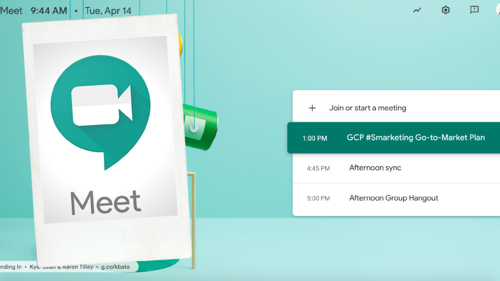 Google Meet is suitable for anyone or firm with a low budget but still needs to have a webinar.
Due to some downsides of Google Meet, it is not a good option for whoever needs to host a larger audience that is more than 250 at a go.
Google Meet has some very basic features that might not be a good catch for whoever needs some more sophisticated features.
It is a very affordable and advisable webinar tool for schools that want to run online classes.
Features
Maximum Number of Participants: Google Meet can take up to 250
Screen Sharing: Google Meet allows presenters to share their screen during meetings for the participants to see.
Recording Options: Google Meet allows the host to record a meeting which can be played later for those who might miss a meeting for whatever reason.
Gmail Business Email: Google Meet lets every participant open a special business email account. These emails can be customized for the business.
Whiteboard: Google Meet allows the use of the whiteboard for better illustrations during meetings.
Chat: Google Meet lets participants chat even while the meeting is on. This feature is always helpful especially when a participant has microphone issues. It can also help minimize interruptions during meetings.
Calendar: Google Meet enables calendar features.
Forms Survey Builder
2 Step Verification: This feature is essential for security.
Google Apps: Google Meet has direct access to all other Google suite apps such as Gmail, Google form, Google slide, etc.
Google Form: This particular feature is usually necessary whenever data is to be collected or a list of questions is to be set.
Google Slides: This is used to create lessons or details in any form that participants can always fall back to even after the meeting.
PRICING PLAN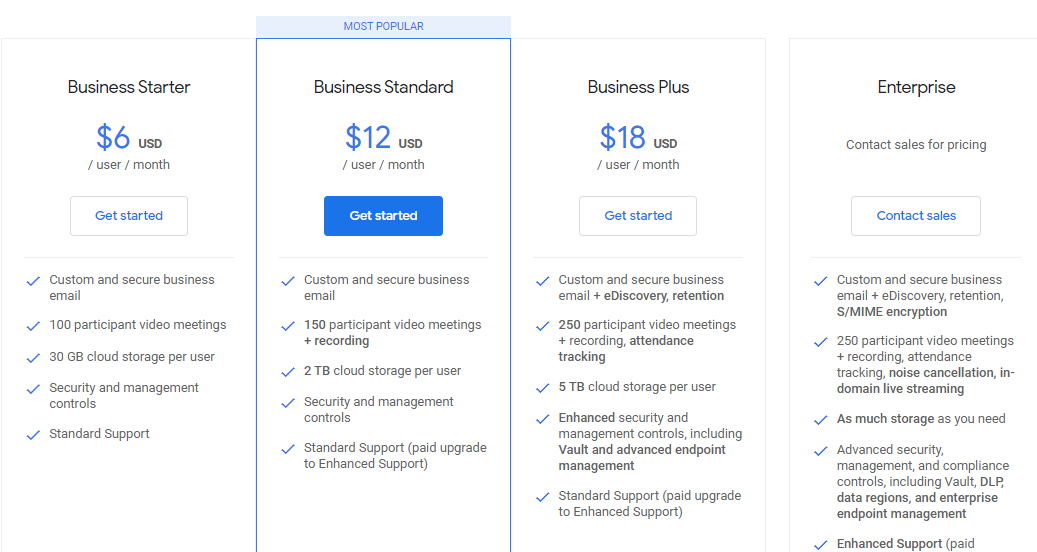 Google Meet has four paid packages.
It costs $6 monthly
Custom and secure business emails
It allows 100 participants
Each user is entitled to a cloud storage space of 30 GB
It comes with security and management controls.
Business Standard
It costs $12 per month
It allows custom and secure business emails
It allows up to a maximum of 150 participants
It also allows recording of meetings
It offers a total cloud storage space of 2 TB per user
It has good security and management controls
Business Plus
It costs $18 monthly
Custom and secure business emails plus eDiscovery and retention
It allows 250 participants
It allows recording of meetings and tracking of attendance
It gives 5 TB cloud storage to every user
It has enhanced security and management controls which include vault and endpoint management
Enterprise
The price is not disclosed and can only be known by contacting the sales department
Custom and secure business email, eDiscovery, retention, S/MIME encryption
It allows 250 participants
It also allows recording of meetings
It allows attendance tracking
It allows noise cancellation and in-domain live streaming
It offers unlimited cloud storage capacity
Advanced security management
Compliance controls which include Vault, DLP, data regions, and enterprise endpoint management
It offers enhanced support
Who should get Google Meet?
For users who only occasionally hold video calls and those who do not need an advanced webinar solution. Install Now.
18. Skype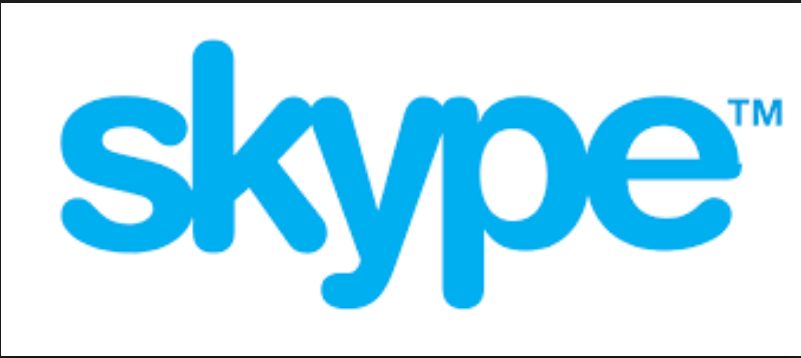 Being one of the pioneer webinar software since 2003, Skype is well recognized though it does not some sophisticated features compared to its recent counterparts.
Skype has been known also as one of the most popular webinar software for calling and video conferencing. Skype can be used for group meetings, seminars together with an online coaching platform. Skype also allows screen sharing along with group voice calls along with some other basic features.
Features:
Free: Skype is completely free
Voice Calls: It supports group voice calls for up to 25 people
Voice Messages: It allows participants to send voice messages
Video Calls: It also supports video call
File sharing: Skype allows file sharing during meetings
Device Compatibility: It is compatible with all devices
Screen Sharing: Skype allows screen sharing
Skype calls: It allows calls among participants
Instant Message Support: This can be used to send a message
Who should get Skype?
Skype is good for people with a low budget that want to conduct a webinar that does not require too many people. Start now!
19.  CISCO WebEx

WebEx cannot be pushed aside in the webinar world.
It goes beyond just the webinar phase by offering a broader range of features for meetings, events, training sessions, presentations, group coordination, and more.
These make WebEx stands out among its other counterparts
.
A user or presenter must have a hosting account for a meeting to take place; otherwise, the meeting may not take place.
A user can use Microsoft Outlook to generate an invite for a meeting.
WebEx also has a calendar that can be loaded into the Cisco Webex framework by going to Microsoft Outlook and clicking the Add Webex Meeting tab. Cisco WebEx has another exceptional feature known as WebEx Meeting Center. This feature gives room for users to schedule and host online meetings.
The host only needs an email address to invite participants to a meeting. It is that simple.
Subscribers can connect with all forms of devices, be it through a mobile phone, computer, or video system. Participants can also switch easily from one device to another.
Cisco WebEx also has a training center where maximum engagement is experienced.
With this feature, the software can automatically adjust the screen interface according to the type of file being used.
Let's take a more practical look, for a video file, a video presentation with a video management function automatically shows up while for a PowerPoint presentation, a slideshow with all the necessary commands immediately comes up on the screen.
Features
Screen Sharing: WebEx allows screen sharing
Webinars and Video Conferencing: This way you can host a wide variety of live events, meetings, and training meetings.
Device Compatibility: WebEx is compatible with devices of all kinds.
Chat and Conceptualization Tools: Whiteboard and various collaboration devices.
Live Questions and Answers: WebEx has a live chat feature that lets people ask questions and get instant responses.
Live Social Media Broadcast: It allows live broadcast via social media platforms during meetings.
Video Layouts: WebEx has amazing video layouts.
File-Sharing: The ability to share documents and applications to improve your workflow.
Raise Hand: WebEx has an electronic hand-raising feature that allows participants to raise their hands during meetings.
Call Back: Automated counts people invited to your webinars.
Message Pinning: WebEx lets you pin messages for easy and faster access.
Sound Filter: WebEx allows filtering of background noise for a better sound experience.
Private Chat: WebEx allows participants to chat privately when needed.
Screen Emoticons: WebEx comes with some beautiful emoticons for a more pleasant meeting experience.
PRICING PLAN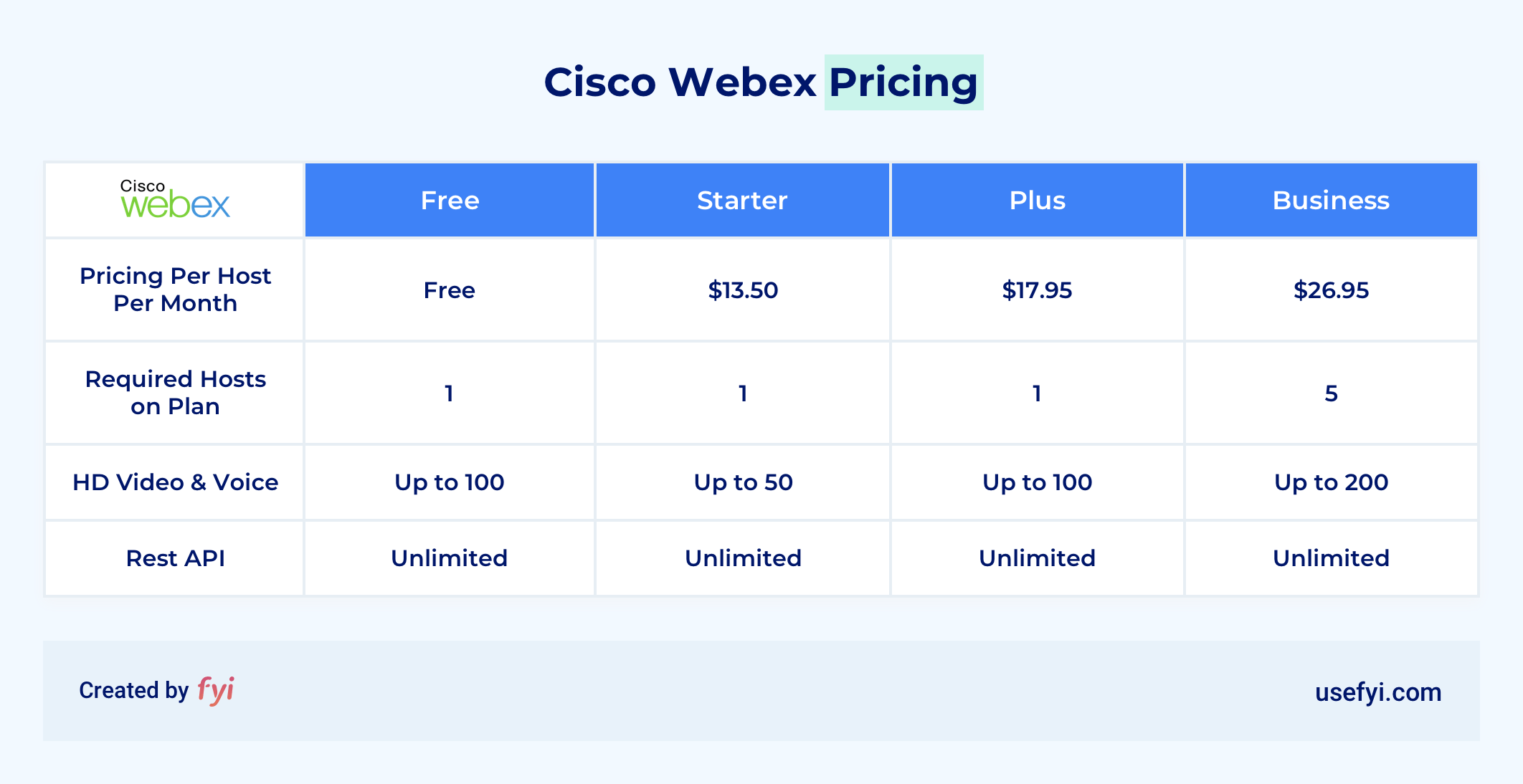 WebEx has three paid plans apart from the free plan.
100 participants in a meeting
Unlimited meeting time
Call-in for audio
Unlimited number of meetings
File sharing
Video conferencing features
WebEx team coordination features
Mobile features
Security features
Online support
It costs $14.95 monthly
It has all the free plan features
It accepts 50 participants per meeting
Unlimited meeting duration
It offers 4 GB of cloud storage
Recording transcriptions
Mp4 cloud recordings
File sharing
Whiteboard
Calendar integration
24/7 Customer support
Ability to assign another host
It costs $19.95
It has all the free and starter features
About 100 participants are allowed
Other persons can schedule meetings
It offers a customized WebEx site URL
It also has an administrative portal
Analytics and troubleshooting
Business (Large Teams and Businesses)
It has all free, starter, and the plus features
It costs $29.95
About 200 participants are allowed
10 GB of cloud storage
Single sign-on
Branding and customization is allowed
Domain claim
Optional add-on
Microsoft exchange and active directory
Who should get WebEx?
Organizations that need a one-stop, ad-free video calling platform should get WebEx. Sign up for free here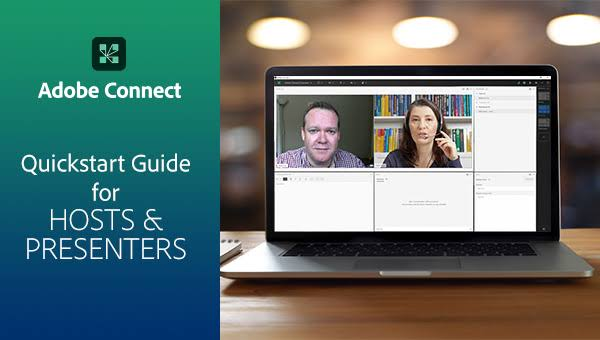 Adobe Connect is a simple webinar software. Adobe has been known for amazing graphics products so Adobe Connect being Adobe's webinar software can't be expected not to meet up with the standard.
Adobe Connect is quite new and is focused on providing users with a modern and easy-to-use platform for meetings, learning as well as video conferencing.
Adobe's multimedia and creative software products have always been known for their uniqueness in times past.
Adobe launched the Adobe Connect webinar software a few years ago.
Compared to other Adobe products, Adobe Connect tends to be a bit more expensive but it is by far one of the most content-rich video conferencing platforms. It has some outstanding features that can enrich webinars and presentations.
Features
Recordings: It lets you record your meetings
Video broadcast
Multidimensional polls
Registration: Manages registration easily
Video conferencing support
Integration: Integration with Microsoft Outlook
Mobile Compatibility: It allows full mobile collaboration
Sound: High-quality audio and video calls
Engagement Dashboard: It allows you to create engaging storyboards and grab your audience's attention with images, polls, quizzes, notes, and more.
Breakouts: It divides the main room into several smaller rooms.
Moderated Chats
Webcam Pause
Asynchronous Browse: You can open the URL in the browser of all your members. This is usually used to start a poll at the end of each session.
Host and Presenter Area: It allows the use of multiple hosts and has a virtual backroom where hosts can interact discreetly.
Prepare Mode: It lets you silently edit existing presentations without affecting the current session.
Content Library: It lets you store all your important files in a compartment known as the Cloud Content Library.
Event Analytics: It allows you to get detailed event statistics by viewing member status usage, chat and Q&A usage, and a full campaign report.
Whiteboard: It lets the presenter use the whiteboard for better illustrations.
Side Bars
Email Reminders: It allows you to send reminder emails to your attendees before the meeting.
LMS Integration
PRICING PLANS
Adobe Connect Pricing offers three entirely different subscription packages depending on what one wants.
It has the Meeting, Webinar, and Learning plans.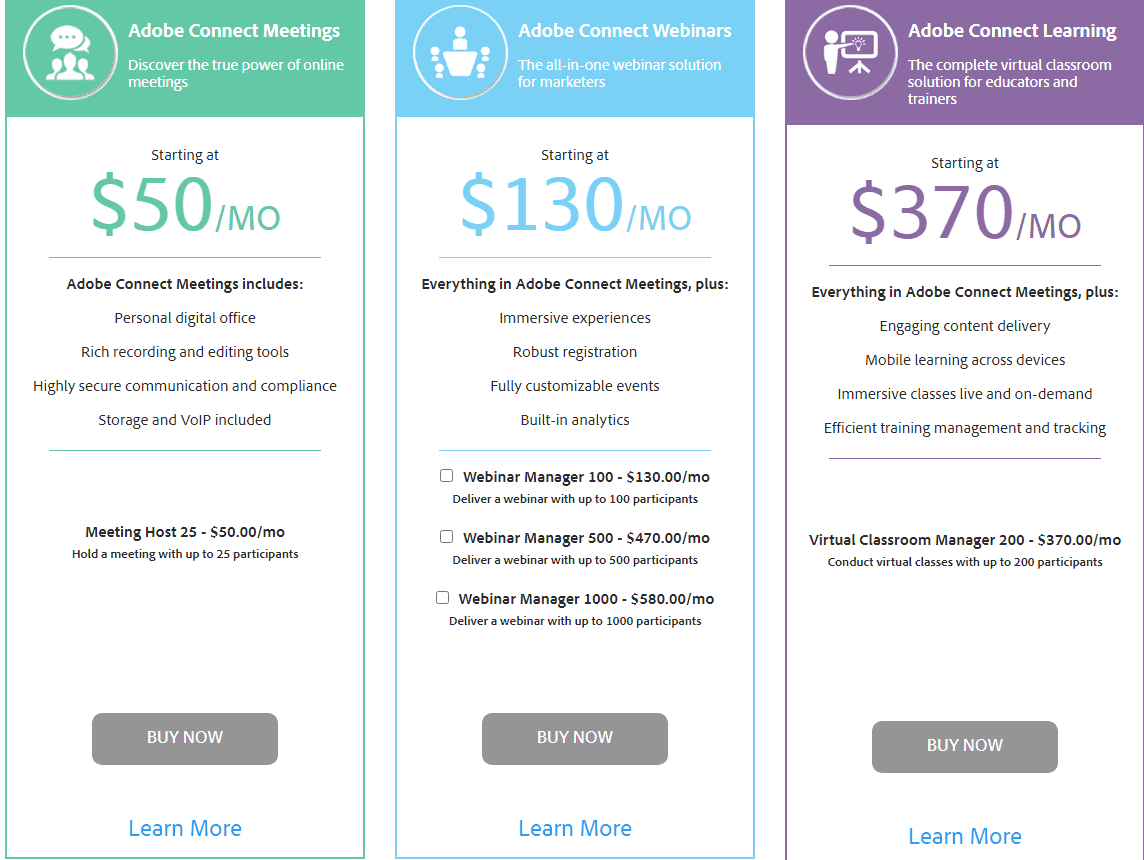 Meetings (from $50 monthly)
Personal digital office
It comes with recording and editing tools
It lets you host 25 people
Webinars (from $130 monthly)
Immersive experiences
Fully customizable events
Learning (from $370 monthly)
Engaging content delivery and lets you host up to 200
Mobile learning across devices
Immersive classes live and on-demand
Efficient training management and tracking
WEBINAR PACKAGE
It offers a 30-day free trial.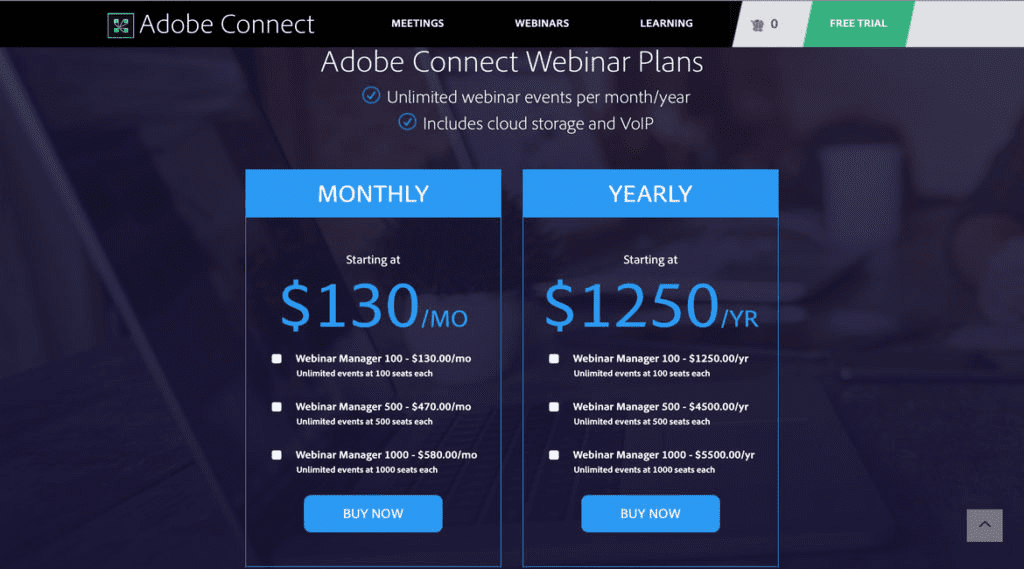 It costs $130 montlyh and $1250 yearly (saves $310).
It accepts 100 participants for $130, 500 participants for $470, and 1000 participants for $580) per month.
Alternatively, (100 participants for $1250, 500 participants for $4500, and 1000 participants for $5500) per year.
It also comes with unlimited webinars, cloud storage, and VoIP.
Who should get Adobe Connect?
Anyone who wants an unusual virtual experience. Download Adobe Connect here.
21.   Join Me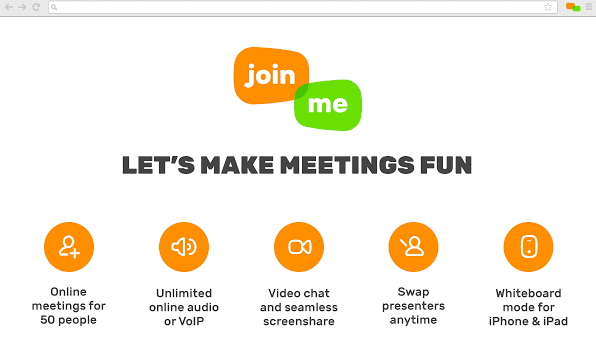 Join Me is another great webinar tool. It does not even require registration for participants.
Join Me comes with lots of great features.
Features:
Device Compatibility: Join Me works on all devices ranging from mobile phones to computers
Toll-Free Audio
File-Sharing: Join Me lets you share files
Screen sharing: Join Me allows presenters to share their screen during a webinar
Action Item Tracker
Desktop Browser Sharing
Meeting Controls: Join Me lets the host mute participants and remove participants during meetings
Internet Calls: Join Me allows conference calls
Meeting Tools: Annotations, multiple screen sharing, and change of presenter during meetings.
Recordings: Join Me lets the host record meetings
Calendar Management: Appointment Optimizer with Outlook Add-ins and Google Calendar Plugin
Customization: (personal URL and background)
Live Chats
PRICING PLANS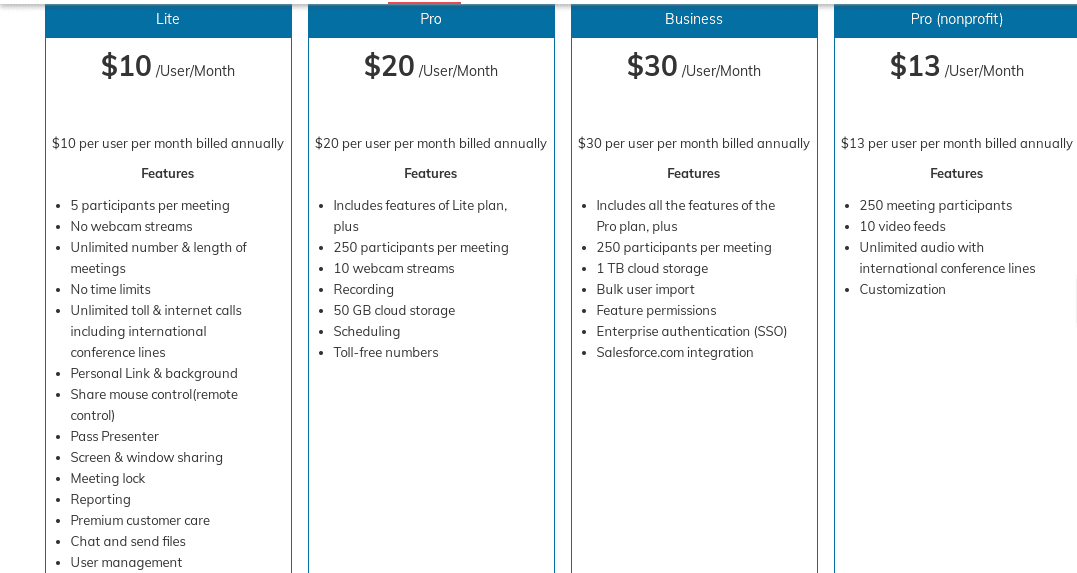 Join Me offers 4 different pricing plans to use its features.
It also comes with a 14-day free trial period.
Free Plan
Email Support
Screen Sharing
3 Video Channels
3 participants per meeting
Talking on the Internet
File Transfer
Mobile Applications
10 boards for iOS devices
Lite
It costs $10 per month
No webcam streams
It allows up to 500 participants per meeting
No time limits for meetings
Personal link
Allows you to share mouse/remote control
Allows chatting among participants
The host can lock the meeting
Allows screen and window sharing
Offers premium customer care services
It costs $20 monthly
It has all Lite features
It allows 250 participants per meeting
It allows 10 webcam streams
It also allows recording of meetings
It gives 50 GB of cloud storage space
It allows scheduling
Toll-free numbers
It costs $30 monthly
It has the Pro and Lite plans features
It allows 250 participants per meeting
It gives 1 TB of cloud storage space
It has the bulk user import feature
It allows Enterprise authentication
It costs $13 monthly
It has the Free plan features
It allows 250 participants per meeting
It gives unlimited audio with international conference lines
It also allows customization of the webinar.
Who should get Join Me?
Join Me is good for anyone who needs web conferencing too. Click and start your conference
22. ILinc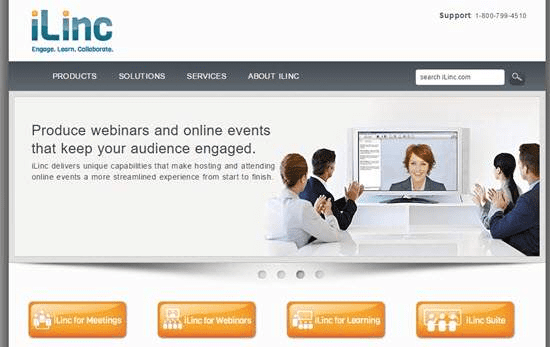 iLinc is another powerful webinar tool anyone would surely long to have for a great webinar experience.
It comes with loads of friendly features that would enhance a webinar.
Features:
Live Chat: This feature helps provides answers that questions that bother clients.
Reminders: iLinc lets you send reminder messages to your participants in advance.
Web conferencing solutions
Multiple Presenters: iLinc allows multiple presenters during a webinar session.
Online Payment: iLinc lets you pay online for hosting your webinar.
Device Compatibility: iLinc only works on computers, no mobile phone software yet.
On-demand webinar: iLinc allows you to host on-demand webinars.
Attendee Management: iLinc allows proper management of participants during webinars.
It comes with online training and virtual classrooms
PRICING PLANS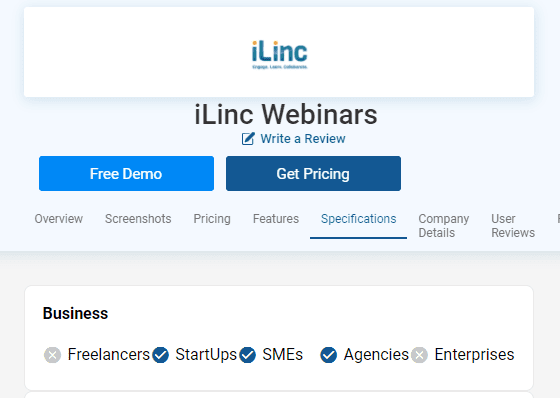 iLinc offers 3 pricing plans which are StartUps, SMEs, and Agencies.
Who should get iLinc?
iLinc is good for people who need to have a webinar with a large audience.
23. AnyMeeting
AnyMeeting is a webinar tool that enhances close collaboration sessions between hosts and clients.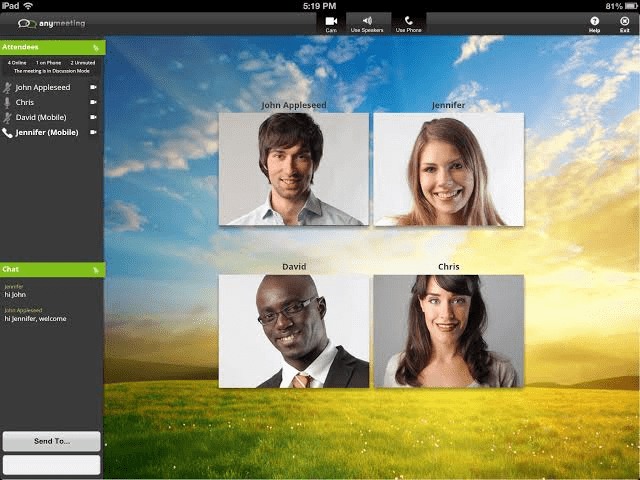 It is a powerful webinar platform for small businesses.
It is a very helpful tool for message broadcast to a large audience for sales, training, etc.
One unique feature of AnyMeeting is that it is very easy to use.
Features
Meeting Notes: AnyMeeting lets you take notes during a meeting.
Handouts: AnyMeeting lets you create handouts for your participants for proper understanding during meetings.
Integrated conference call
Slides
Chat Feature: It allows participants to chat during meetings.
Presentation Sharing: It allows different presentations during meetings.
Mp4 exchange
Screen sharing
Registrations and polls
Broadcast HD video
YouTube Sharing: AnyMeeting allows YouTube sharing of the webinar.
Mobile Attendee Access
Custom Meeting Branding: AnyMeeting lets you customize your webinar interface.
PRICING PLAN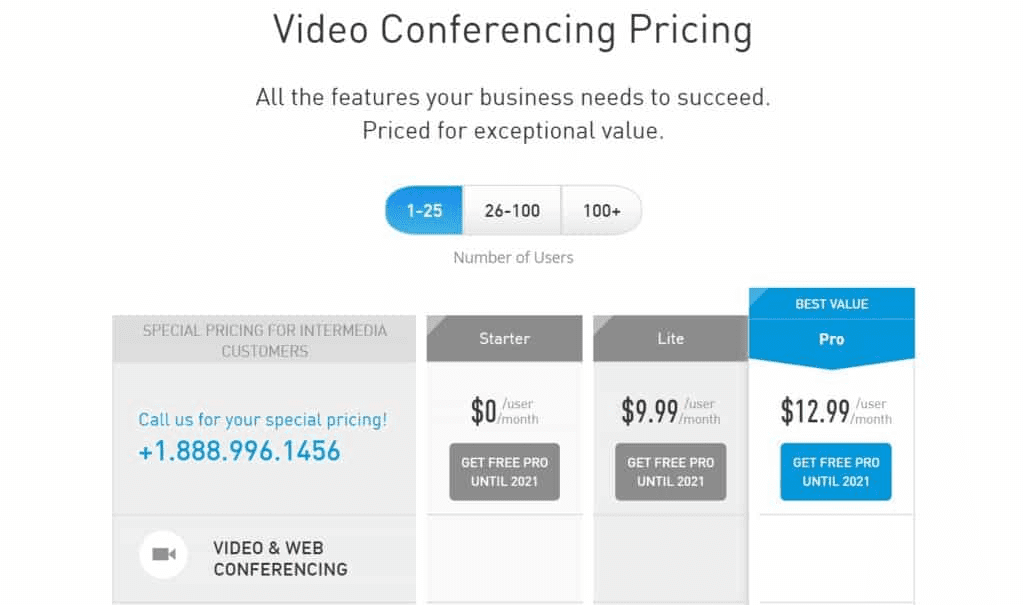 AnyMeeting has two paid packages and a free plan.
Starter
It costs $0
Lite
It costs $9.99
Pro
It costs $12.99
24. Zoho Meeting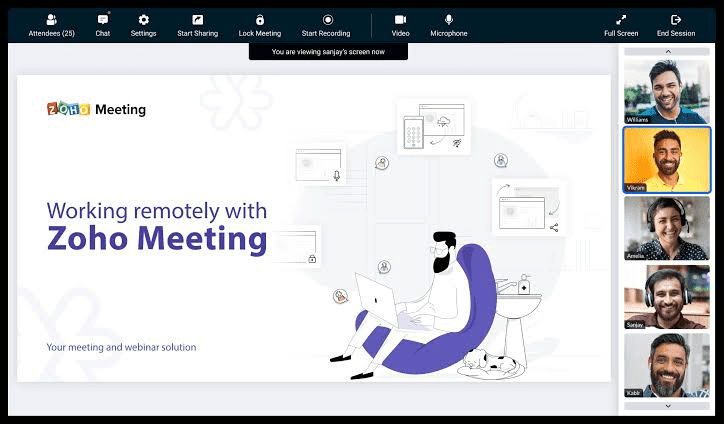 Another fantastic online meeting platform with 24/7 customer support is Zoho Meeting.
Besides, Zoho Meeting has a webinar app that enables people to connect with potential clients or customers.
Zoho Meeting includes several useful features, including HD video streams, recording storage, and flexible registration forms. Features
Interactive Collaboration Tools
Webinar Analytics: Zoho Meetings lets you download reports in CSV or XLS format to get an idea of the number of registered and visitors, questions and answers, and survey results.
Integration: It has deep integration with Zoho's ecosystem.
Custom Emails and Registration Forms: Zoho meeting lets you customize the emails and forms sent to participants. This means you can learn more about your audience by creating custom fields and questions on the sign-up form.
Mute Function: Zoho Meetings allows the host to mute participants during webinars.
Video-Sharing: Zoho Meetings allows sharing of videos during webinars for a much better experience.
Make Presenter Feature: This feature lets the host make someone else a presenter.
Raise Hand Function: Enable participants to silently ask questions to one of the organizers or co-organizers by raising their hands.
Moderate Registrants: Build a barrier between spammers and registrants who haven't met the requirements.
Screen Sharing: Zoho Meetings allows screen sharing where a presenter can see the presenter's screen.
Recording: Zoho Meetings lets you record and share your meeting recordings.
PRICING AND PLANS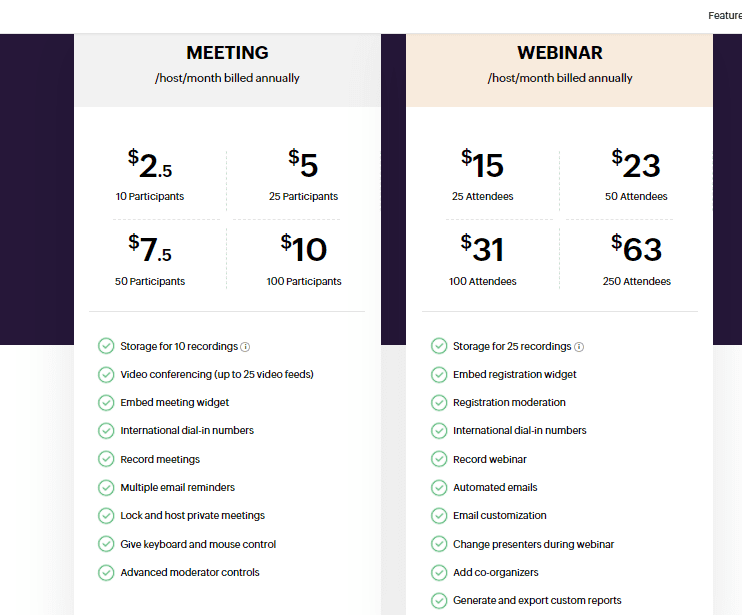 Zoho Meeting offers various plans, basically, meeting and webinar. It also offers a 14-day trial version.
Free plan
14-day trial version plus a full free plan with limited features.
It allows 10 participants
Custom Signup Forms
Webcam
Screen Sharing
It allows you to schedule meetings
Moderator Controls
No credit card is required.
Webinar
The price ranges from $15 to $79 monthly if paid monthly or $15 to $63 if paid yearly.
The amount paid depends on the number of participants as well as the payment plan selected.
The webinar plan has a different participant limit in the format below 25, 50, 100, and 250 participants.
The Webinar plan comes with the following features;
Embedded registration widget
Webinar recording
Screen sharing
VoIP
Webcam sharing
Vote
App sharing
Q&A
Deep analytics
Registration moderation
International phone numbers
Cloud storage
Create and export reports
Setting up the registration form
Automated emails
Generation and export of custom reports
Storage for up to 25 recordings
Meeting
The price ranges from $3 to $12 each month if paid monthly or $2.5 to $10 if paid yearly.
This is far cheaper compared to the webinar plan.
The amount paid here also depends on the number of participants.
Like the Webinar plan, the Meeting plan also has a participants' limit of 25, 50, 100, and 250 participants.
The Meeting plan comes with its features too.
10 recordings storage
Planning RSVP
Add to calendar
Chat room
Screen sharing
VoIP
Video conference (up to 25 video feeds)
App sharing
International dial-in numbers
Embed meeting widget
Meeting recording
Email Reminders
Change speakers
Calendar Integration
Block meeting and hosting of private meetings.
The entire Zoho Meetings comes with Organization Administrator Access which has the following features;
Adding and management of users to your account
Co-branding with name and logo
Setting up videos for an organization
Integration with other apps.
Who should get Zoho Meetings?
Zoho Meetings is best for people who want great business collaboration. Click here to sign up
25. Easy Webinar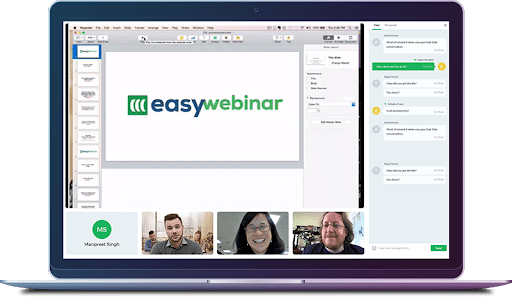 Easy Webinar, as the name suggests, is a webinar platform that assists in the creation of a visually appealing webinar interface and experience, especially for executives and businesses.
With Easy Webinar, you can build customized or interactive webinars to fit your needs.
As previously mentioned, Easy Webinar is one of the most intuitive and simple-to-use webinar tools available. Easy Webinar has been known for its well-structured teach-yourself pattern as shown below.
Create message
Promote your webinar
Interact with the participants
Sell product access
Get compensation for your input.
Features
Streaming: No delay streaming
2000 participants: Easy Webinar lets you invite 2000 people to your seminar if choose the Enterprise plan.
High-definition audio and video: Easy Webinar offers direct streaming and high-definition audio.
Webinar Archive: Easy Webinar lets you record, download, and keep your last sessions. These help a lot for future integrated webinars.
Live Streaming: easy Webinar lets you run a live stream of your webinar on social media simultaneously.
Reporting and Analytics: Easy Webinar lets have an insight into general statistics and visitors' engagement. It also offers you an option to export all your data to a CSV report.
Make Participant Presenter: Easy Webinar comes with this amazing feature that lets the host make any participant a host.
Screen Sharing: Easy Webinar allows screen sharing during webinars for a better engagement.
Multiple Presenters: Easy Webinar lets you have more than just one presenter at a time. This helps a lot with proper meeting management.
Powerful Slides: Easy Webinar lets you create powerful slides to be presented during webinars.
Chats: This is another great feature that usually helps reduce interruptions during webinars. The co-host finds it easy to monitor the chats while the presenter continues with the meeting.
Automated Webinars: Easy Webinar allows you to create automated webinars.
It also allows easy events moderation on the master controller.
PRICING PLANS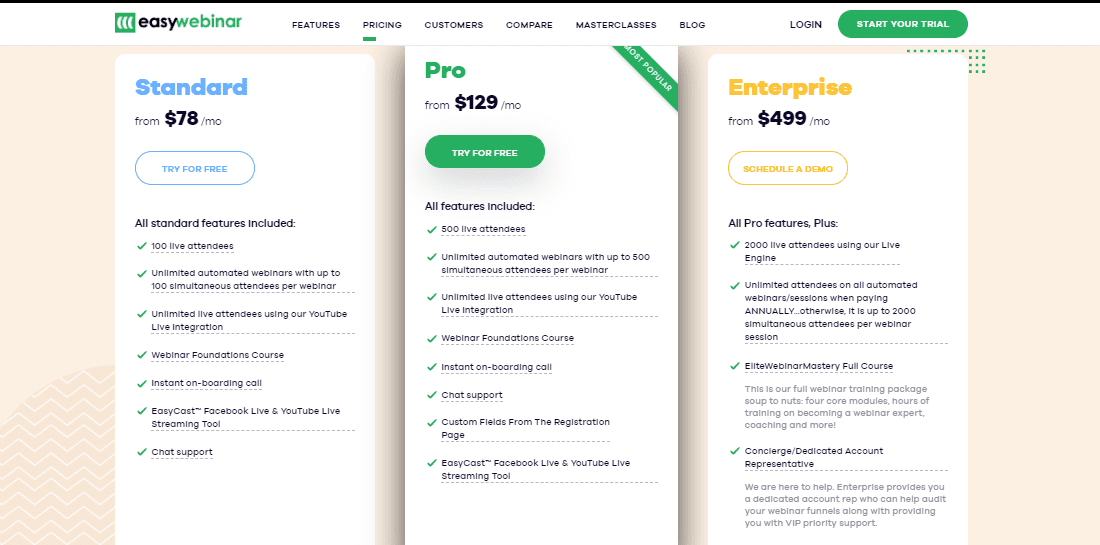 Easy Webinar plans look a bit on the high side when compared to other webinar platforms. However, opting for annual billing would let you get your first three months subscription virtually for free.
You can register with Easy Webinar for a 14-day trial version which comes with an option to cancel at any time during this period.
Easy Webinar offers 3 paid plans;
Standard
It costs $78 monthly if paid every month but $59 monthly if paid annually (saves $228).
This standard plan allows up to 100 attendees.
YouTube and Facebook Online streaming
Use of instant onboarding call
Webinars Foundation Course
Live chat support
It also comes with unlimited live attendees with YouTube live integration.
It offers unlimited automated webinars with 500 participants.
Pro
It costs $129 monthly if paid every month but $90 monthly if paid annually (saves $468).
This Pro plan is the most popular among Easy Webinar users.
It allows 500 attendees.
It offers unlimited automated webinars with 500 participants per webinar.
It also comes with unlimited live attendees with YouTube live integration.
Chat support
Webinar foundation course
Custom fields from the registration page
It also allows Facebook live and YouTube live streaming tools.
Enterprise
It costs $499 monthly if paid every month but $349 monthly if paid annually (saves $600).
It comes with all the Pro plan features.
It allows 2000 live attendees during live webinars.
It allows an unlimited number of attendees during automated meetings only for annual billings).
It offers Elite Webinar Mastery Full Course.
Who should get Easy Webinar?
Easy webinar is great for the business personnel. Start your webinar right away!
26. ezTalks Webinar

ezTalks Webinar is a tool that helps with video conferencing as well as web conferencing.
It can let you connect with 100 interactive video participants and 10,000 audiences in your online events.
Features:
Chats: ezTalks allows participants to chat during sessions. The chat function allows both personal and group chats.
Meeting Preparation Tools: ezTalks comes with meeting preparation tools for a better webinar experience.
Minutes management: ezTalks lets you take proper minutes of your even as though it is a physical meeting.
Training management
Hand Raising: This feature is usually very helpful in cases where participants need to ask questions during a webinar.
It helps avoid distractions so participants do not have to disrupt by unmuting.
Data Storage: It allows the storage of data for reference purposes.
Whiteboard: This is another engaging tool that lets the presenter pass some more information with illustrations on a virtual board.
Scheduled Meetings: ezTalks lets you schedule meetings as convenient.
Streaming: ezTalks allows the streaming of webinar sessions.
Playback and recording: It allows you to record your meetings and playback as an automated webinar.
Multiple Channel
Screen Sharing: ezTalks lets you share your screen. This s quite helpful because participants can easily access the screen of the host. This feature helps make the webinar experience a good one.
Instant Messaging: It allows instant messaging.
High Definition Videos and Audios: ezTalks provides its users with high-quality graphics and sounds.
Send Invite: ezTalks lets the host send an invite to other people.
PRICING PLAN

EzTalks comes in four packages.
Starter
Standard
Pro
Business
Starter (Personal)
It costs $0.
25 participants per webinar.
One presenter
A webinar can only last for up to a maximum of 100 minutes.
It allows live webinar sessions.
Standard
It cost $25 monthly per host.
It allows 50 participants per session.
It allows 4 hosts per meeting.
It offers 2GB of cloud storage.
Live webinars
Pro
It costs $32 monthly per host.
100 participants per meeting.
25 presenters per meeting.
It offers 4GB of cloud storage.
2000 recording online views per month
Accepts both live and automated webinars.
Facebook and YouTube live.
It comes with a custom thank you page.
It allows you to redirect your attendees.
Business
It costs $300 monthly per host.
It allows 1000 participants alongside 100 presenters per meeting.
It offers 10GB of cloud storage.
Live webinars are allowed.
It allows 5000 recording online views per month.
It allows on-demand, live and integrated webinars.
It allows Facebook and YouTube live.
It offers options for chats, reminder emails before webinars, and lots more.
Who should get ezTalks?
It is very good for whoever wants to host a business webinar for a different amount of participants. Click to install
27. GlobalMeet Webcast.

Global Meet is another very unique webinar tool. It allows you to create professional webinars within a short time frame. It offers lots of goodies for its subscribers. It also allows audio-only features depending on the client's choice. Despite all its great features, it does not allow automated webinars.
Features
Live Chat: This a great feature that saves clients of stress while navigating.
Screen sharing: This is quite essential for ease during webinars.
Email Reminders: This helps to keep attendees informed about meetings beforehand.
Multiple Presenters: It allows more than just one presenter at a time.
Questions and Answers
On-demand Webinars
Attendee Management
PRICING PLANS
GlobalMeet comes with different plans depending on a client's interest. These plans are grouped into three namely;
Collaboration (Audio Only)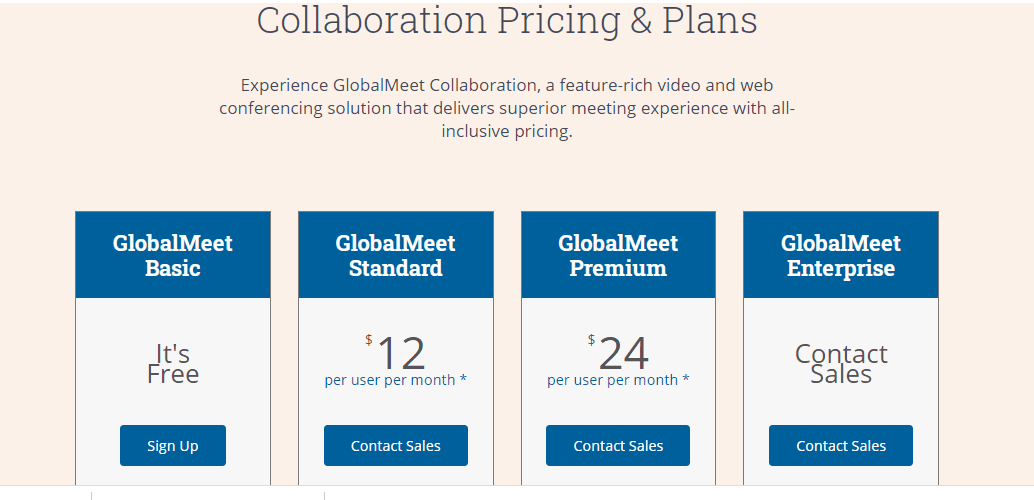 It costs $0.
Allows 125 attendees per meeting.
Offers unlimited meetings.
Presence of avatars for participants' profiles.
Integrated with Microsoft Outlook Calendar.
Offers integrated with Google Suite.
Offers online support for clients.
Provides high-definition videos and Dolby voice audio.
Costs $12 per user monthly.
Has all the Basic plan features.
Room for file storage.
Whiteboard for better engagement during webinars.
Let's you brand your logo to provide you with an amazing interface during webinars.
Remote desktop control.
Admin portal for better control.
Chat and email support.
Costs $24 per month per user.
Has all the features of Basic and Standard plans.
The price is not fixed which means one pays according to the features one wants.
It has all the features of the other plans embedded in it.
GlobalMeet Webcast
Essential: It allows 1000 viewers
Professional: It allows 3000 viewers
Enterprise: It allows 10000 viewers.
GlobalMeet Collaboration Integrations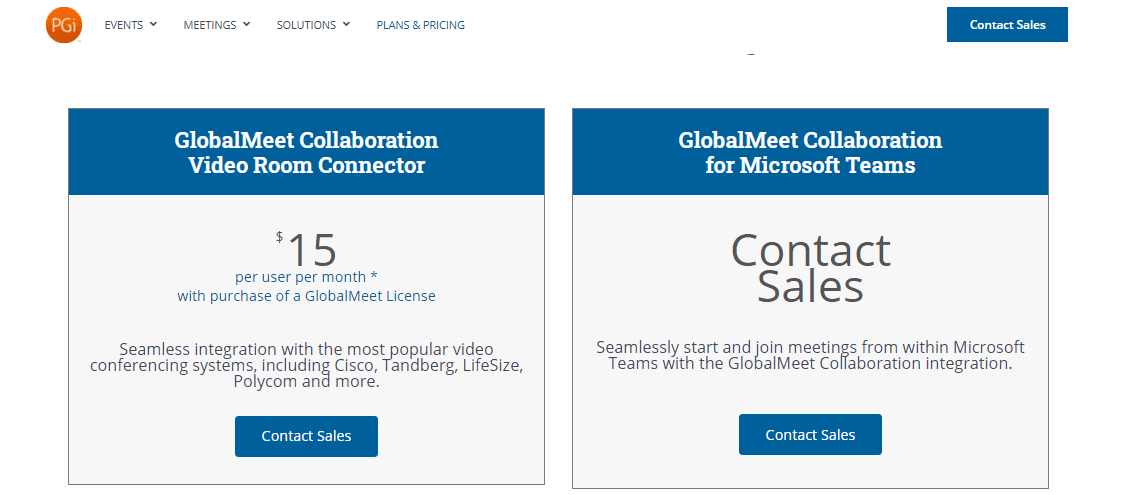 It is integrated with some other video conferencing tools like Polycom, Cisco WebEx, and more.
It costs $15 monthly per user.
It also lets you buy a GlobalMeet license.
Collaboration for Microsoft Teams
The price is not fixed. It only depends on the required features.
It allows one to join meetings from Microsoft Teams.
Who should get GlobalMeet?
GlobalMeet is a great choice for businesses of all levels ranging from small to large businesses. Sign up now!
Conclusion


What to consider before choosing which webinar software to use?
Cost
How easy or complex it is to use.
The number of participants allowed per meeting.
Branding
Webinar Software Specific Features.
Basic features to look out for in any webinar software.
Recordings
Replays
Customization
Screen and file sharing
Phone call-in options
Calls to action
Live chat
Webinar interface
Whiteboard
Analytics need
Integrations
Email reminders
Number of attendees
Free trial
Number of hosts
Cloud storage capacity.
Differences between Webinars and Video Conferences
Video Conferencing
Video conferencing is the process of adding a video stream to a traditional conference call. This makes it possible to enrich communication with non-verbal expressions.
Video conferencing makes it possible to replace a traditional physical meeting with an online meeting bringing together a limited number of participants (from two to ten participants).
Each of the speakers is likely to speak during the meeting.
It gives rooms for everyone to interact.
Video conference or webinar for beginners?
With webinars and videoconferences, you can carry out a multitude of activities remotely:
Presentation and demonstrations of goods or services;
Team meetings;
Seminars and training;
Job interviews;
Follow-up meetings with your clients.
Internal and external briefing.
Webinars and Video Conferences: Features

The main features are as follows:
Video streaming.
Oral communication via the web (or telephone relay).
Direct written communication with a messaging module.
Screen sharing.
Presentation, annotation, and sharing of documents.
Provision and downloading of files.
Questionnaires and surveys.
Advantages of Webinars compared to Physical Meetings.
More than just an online conference, webinars allow us to share and deepen our knowledge without leaving our offices or homes.
Webinars only require a good gadget and internet service for proper running.
Webinars can be held anywhere with people from all parts of the world participating seamlessly.
Webinars cost less to host when compared to physical meetings.
Costs of rentals, feedings, and the likes can be completely avoided with webinars since it does not require that attendees meet physically.
The Pros and Cons of Webinars
| | |
| --- | --- |
| Advantages | Disadvantages |
| Reduction of health risks, social distance maintained. | Technical problems can complicate the organization of the event, or even interrupt it |
| Cost savings (travel, catering, hotel) | Technical dependency (high-speed Internet access and computer equipment) |
| A large number of participants can participate simultaneously | Participants may be distracted by other activities |
| The presenter can exchange information and files with the participants' media and files | The presenter has no "direct" contact with his audience. |
| Content recording and re-broadcasting are made easier | O |
| | |
Some Few Tips for Webinar Hosts;
You plan to run a webinar for your contacts and prospects, but you don't know how to go about it. You can start by choosing a tool to set it up.
There are free webinar platforms as well as premium or paid webinar platforms.
To organize the event, from its preparation to its end, then follow all the key steps to make it a success.
Create a webinar and intelligently integrate it into a successful marketing approach by engaging your participants
Take an inbound marketing approach
Choose a format suited to your audience and their goals
Take care of the content
Test your presentation
Promote your webinar
Apply the right diffusion techniques
Offer an experience
Know how to communicate
Always say thank you, and especially "see you soon"
Assess quality and measure returns
Upload the replay
Send an email to extend the experience