Last updated Apr. 18, 2023 by Favour Chinaza
Your company or business requires an operating system that melts all ongoing business processes together and enables data flow to the required departments. This is where the necessity for ERP software comes in. In this article, 23 Best ERP Software for your Small And Large Business, we will review the best ERP to help you choose the best solution for your business.
What ERP(Enterprise Resource Planning) software does is pull detailed information from various departments of your organization like marketing, finance, human resources, processing, production, operations, CRM, E-commerce, supply chain, technology, cloud deployment, legal, customer service, warehouse management, logistics, Procurement, sales, Integration, and others. It ensures these various departments work hand in hand to ensure smooth and fluid operations.
What is ERP Software?
ERP is a business process management software that organizes a company's daily activities. It manages a business's core workflow, reporting, human resources, manufacturing, finances, and operations.
Related: 18+ Best CRM Software (Compared and Reviewed)
23 Best ERP Software for Your Small And Large Business
1. SAP Business One (Best AI & ML for advanced analytics)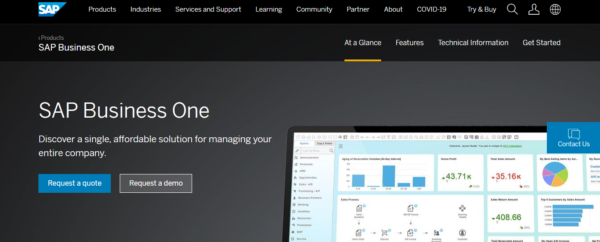 SAP Business One is a business management software that integrates and manages business activities containing accounting, sales, inventory, and operations. It targets small and mid-sized businesses and helps them automate their day-to-day activities. As a result, SAP gives you greater business control while lowering costs.
SAP Business One Features
Some of the key features you get with SAP Business One include;
Journal entries and cash-low accounts are integrated.
Marketing management tools help businesses track, monitor, and analyze productivity.
You can track your company's total spending and make changes. This will limit unaccounted expenses.
Fixed Asset Management has integrated tools to automate your business' accounting.
Procurement
Reports and Audits
Master Data Management
Warehouse and Accounting Integration
SAP lets you manage your organization's budget by tracking invoices, receipts, cancellations, and credit memos. With a cost record, you can plan and schedule your company's purchasing activities.
Pricing and Plans
SAP Professional license: For $3,213, users can access all Business One features. It costs $132/month/user. Cloud-hosted.
For $1,666, SAP Limited's license provides limited access to all features. $99/month per user. Cloud-hosted.
SAP Starter costs $1,357. It can serve five users or small startups. For companies that need continuous SAP access, cloud-hosted subscriptions are available. It's $110/month. Cloud-based.
SAP Partner Hosted Professional (monthly payment of $188 per user)
Advanced distribution: $1300 base fee. $305 Pro, $255 Limited per month.
What We Think of SAP Business One
SAP Business One is a user-friendly solution for financials, sales, CRM, analytics, inventory management, reporting, etc. This ERP solution meets all your department's requirements because it has a simple, powerful, and adaptable interface that immediately provides you with a unified view of your business.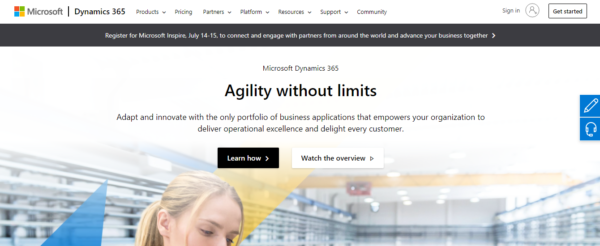 Microsoft Dynamics 365 helps startups and medium-sized companies optimize their production activities. It enables you to get a clearer vision of your business activities. One stellar characteristic of this software is that it is easy to configure, customize and personalize for your department's needs.
Microsoft Dynamics 365 integrates with all other Microsoft software as well as third-party apps such as Power BI, Yammer, ESB, HubSpot Sales, Zoom, Salesforce, Cisco Webex Scheduler, Mendeley Cite, IMPACT, FindTime, MIPA Personal Assistant, and others. You can also use their REST API to create your integrations.
Microsoft Dynamics 365 Features
The 365 software is hosted in Azure servers; users cannot have control of the servers and will not worry about data storage
Lack of user customization, but you can freely add applications from AppSource
Additional flexibility compared to the Nav software
Monthly subscription by users with updates from Microsoft without buying the whole package or version
MSD 365 is generally cheaper than Nav and also cost-effective
One of the key features is that it helps companies achieve a 360-degree view of their organization and facilitates seamless data sharing across all units, especially with bank reconciliation.
Pricing and Plans
ERP has different plans like human resources, marketing, sales, etc. Microsoft Dynamics 365 costs $65 per user per month for the first module and $20 per user per month for each subsequent module. MSD 365 also includes a 30-day free trial.
What We Think of Microsoft Dynamics 365
Microsoft Dynamics 365 gives businesses a set of business apps that they can use to track leads, boost sales, and improve operations. It uses AI, machine learning, and mixed-reality tools, and it can help with sales by predicting what will happen and protecting against fraud automatically.
3. Acumatica Cloud (Best ERP Software For SMEs)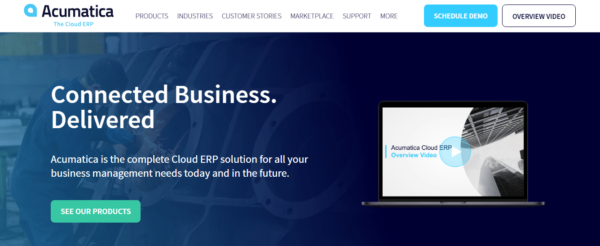 Acumatica enables users to automate business transactions and monitor financial activities in real time.
One of the key features of using Acumatica as your ERP software solution is that it targets companies or enterprises whose user base fluctuates, either through attrition, growth, or seasonal expansion. If the condition changes, these companies can easily transition from a cloud model to an on-premises installation and back to the cloud model if the need arises again. In addition, all of its features are accessible on all internet-enabled devices because it is a browser-based app.
Pricing Plans
You can purchase the software's full features for $13,000.00 per year, including annual maintenance. Users can also choose between two other licensing plans, which are;
Private Cloud: This subscription is billed at $850 per month,
Private Cloud Perpetual: This license is billed at a one-time fee of $30,000. Start now, and it is free
What We Think of Acumatica
Acumatica charges you only for the resources used, not the number of users. It offers flexible licensing plans and allows users to be added without purchasing additional licenses. It will enable you to expand your capabilities as your company grows.
4. Oracle NetSuite (Best ERP Software for Scaling & Growth)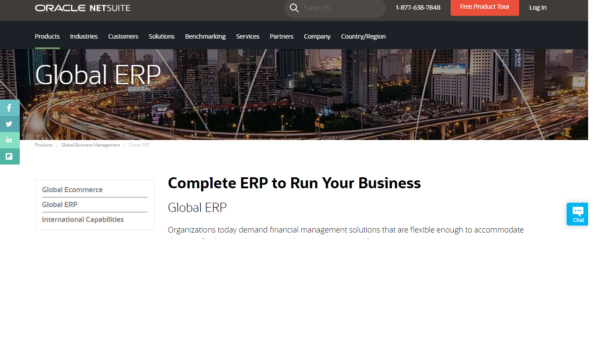 NetSuite, purchased by Oracle Corp, comprises five suites: ERP, CRM, E-Commerce, Professional Services Automation, and Human Capital Management, as well as NetSuite OneWorld, which allows NetSuite to be implemented across currencies and manage multiple subsidiaries of an organization.
It is a Cloud-based/SaaS software solution designed for medium and large businesses to plan, monitor, track, and manage their daily business transactions.
It provides a standard business management platform for companies with multiple subsidiaries that conduct large-scale business operations. It can only be obtained through a partner/reseller channel. When making a purchase, a one-year license plan is required.
Pricing and Plans
There are five licensing plans available $999/month and $99/user/month for additional users.
NetSuite provides support for all licensing plans. The support plans are–Silver, Gold, and Platinum. Start the free trial now
What We Think of Oracle NetSuite
NetSuite will make business processes more efficient. It has business intelligence built in that uses both data and visual analytics. It's a solution that can grow with your business, and you can easily add new features and change how they work.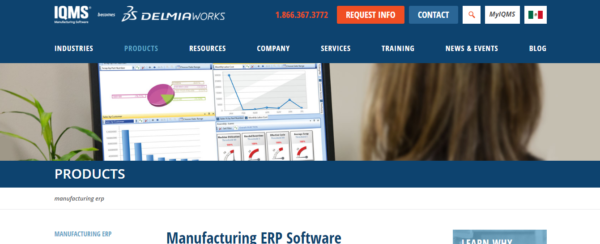 It is an ERP software solution that will merge all your company's plans and reduce the downtime spent on every business activity.
It mainly helps businesses with mixed-mode production achieve most of their managerial concerns.
Pricing and Plans
Usually, a one-time licensing fee of $25,000 per user is required, irrespective of the type of cloud storage and deployment selected. Learn more about IQMS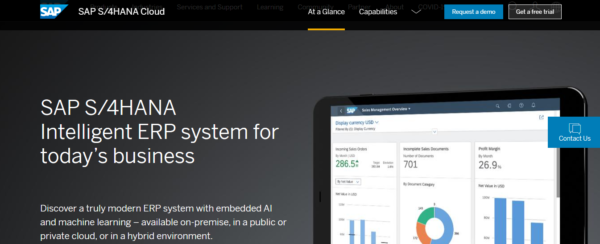 SAP S/4HANA helps companies speed up decision-making processes and incorporate the latest innovations in the business world into their operating system.
Pricing and Plans
SAP's licensing structure allows enterprises to pay for the features and capacity they require at a particular time. In addition, a free trial option is available to enterprises considering using the software.
The license plans are as follows;
Runtime Edition: Enterprises can use all the software's features for US$15,000 per year.
Database Edition: Pricing is according to the number of memory gigabytes required by the enterprise.(Note: 1 unit = 64 gigabytes)
0–10 units cost US$ 60,000
11–20 units cost US$ 50,000
21–50 units cost US$ 40,000
51–100 units cost US$ 30,000
101–150 units cost US$ 25,000
151–200 units cost US$ 20,000
201–250 units cost US$ 19,000
What We Think of SAP S4/HANA
SAP S/4HANA is a system that has AI built in. It makes reporting 100 times faster, offers advanced real-time analytics, and makes it easier to see data. In addition, it can be set up in different ways.
7. TallyPrime (Best ERP for SMBs)
It helps enterprises to track and manage all their accounting activities and also provides tools to help them record and create customizable business reports. In addition, it is suitable for use by small and medium startups.
One of its key features is that it doesn't require any technical product set-up. Once you download the software, then you're all set up.
Pricing and Plans
There are two licensing plans, and they are;
TallyPrime Silver: A standalone plan accommodates only one user and a one-time $241.65 purchase.
TallyPrime Gold: It is a multi-user plan and a one-time $724.95 purchase. See the free trial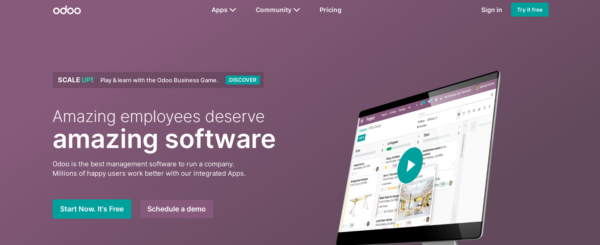 Odoo is an open-source ERP and CRM application. It is available for download or in the cloud. It has features to help you streamline your operations, build websites, manage finances, customize and develop, and so on. In addition, you can select between Cloud Hosting, on-premise, and Odoo.sh Cloud platform.
It integrates a company's chain of production with other business activities.
It is easy to install, and it has a minimalistic user interface. There is also 24/7 support and provision of resources for new startups.
Features
Odoo apps will assist you in automating business processes.
The apps will be fully integrated.
Odoo will assist you in automating and tracking everything.
You will receive a centralized solution that is accessible from any device and any location.
Pricing and Plans
Self-Service Plan: Users can choose between the monthly payment option of $6.00 or an annual payment of $72.00.
Success Pack: The billing starts at $977.50 annually.
With a Local Partner Plan: This license is perfect for companies with over 50 users. The billing starts at $330.00 monthly or $3,960.00 annually. Start now, and It's free
What We Think of Odoo
Odoo allows you to get started for free. CRM, Invoicing, Sales, and other apps are available. The cost of apps begins at $12 per month, which is fair. It also provides additional integrations such as FedEx Shipping and eBay Connector.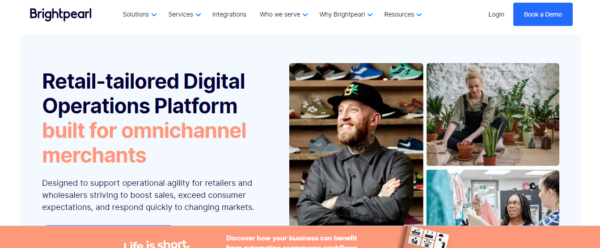 It is a multichannel ERP software solution that ensures the connection of all business transactions at intervals. It is software for medium to large-scale trading companies, retailers, and merchants.
Features
Brightpearl merges the following business operations:
Order management
Inventory management
Shipping and logistics
Accounts and invoices
Purchase and supply chain
Payments and receipts
Work Reports
Integration with E-commerce websites and providers.
Pricing and Plans
There are two pricing plans, and they are;
Brightpearl ERP System: It focuses on businesses with over 1,500 orders per month. It also accommodates an unlimited number of users. It costs $375.00 per month for only three users and an additional $5,938.49 as a set-up fee. Each additional user implementation costs $35.63. Request a demo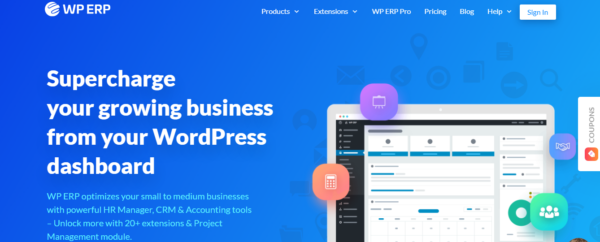 It helps small startups and trading companies optimize all ongoing business transactions.
One of the key features is that it has averagely billed licenses and no additional fees for the software's implementation. Enterprises can also get two months free when they purchase a yearly plan.
Pricing and Plans
Billing for the WP ERP Pro starts at $9.99 per month and $1 for every additional user. Their subscription package are as follows;
Payment Gateway: $4.99 per month.
Inventory: $4.99 per month.
11. ERPNext (Best free ERP software)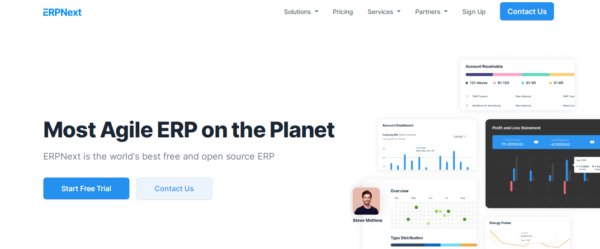 ERPNext is a free, open-source ERP software that is an excellent choice for small to midsize businesses with limited resources looking for free ERP software solutions. ERPNext is available in over 70 languages, has smart device apps for iOS and Android, and includes personalized training with any paid plan.
SMBs can track leads and customers, set up service subscription plans, create loyalty and rewards programs, and schedule appointments and meetings. They do this with your team for a low (or no) cost, as long as they don't mind self-hosting and troubleshooting on their own after the initial consultation call. You should know that their YouTube channel has more than 300 videos that can help you find your groove.
With a few exceptions, this tool is similar to Odoo because it is an open-source solution. ERPNext's documentation isn't nearly as complete or detailed, especially regarding the JS side of things (client end). But the free modules are easy to use and understand, so it makes sense as a freeware ERP solution.
ERPNext works with Amazon MWS, PayPal, Razorpay, Dropbox, LDAP, Braintree, Paytm, Stripe, Shopify, WooCommerce, Google Drive and Calendar, FairLogin, Plaid, GoCardless, and Exotel.
Features
It is a software solution that enables enterprises to manage daily business activities, including:
accounting
payroll
supply chain
HRM
production
sales
purchase, and CRM processes using a merged dashboard. One of the key features is that it is open-source and has many free features.
Pricing and Plans
The basic open-source software is free to use but may not include custom features.
Managed Hosting: The plan comes with a monthly subscription fee of $10.
Cloud-Based Hosting: $25.00 per month. This price only covers one feature, and every additional feature requires $25.00. The subscription plan covers a minimum of 5 users per month.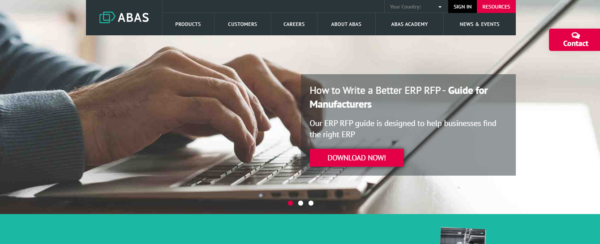 Abas ERP is a solution for small to medium-sized manufacturers and distributors. Abas has three main application offerings: Abas ERP, Abas Distribution, and Abas enterprise, a line of web-based e-business solutions.
Users can browse products, place quotes and orders, and view them in real-time through the customer portal, which can be customized to meet their specific needs.
Vendors can use the vendor portal to view and release purchase orders and requests and shipment and tracking information. It is adaptable and can be integrated with the Abas Workflow Editor to control vendor transactions released or updated.
This ERP solution is for you if your business or startup has between 50-2,000 employees. It operates via a browser-based web client and targets biomedical, processing, distribution, fabrication, and production enterprises, helping them streamline and optimize their accounting and production processes.
Pricing and Plans
There is no free trial, and pricing starts at $149.00 per month. abas ERP also provides users with unlimited software and licensing upgrades, interactive training, 24/7 support, and videos on how to use the software that comes with each package for every registered user through the abas academy. Request a demo.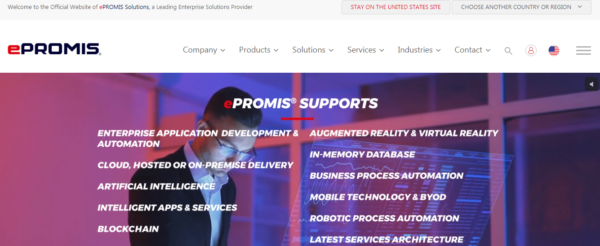 The ePROMIS enterprise resource planning (ERP) solution helps businesses run almost every part of their business from one place. In addition, users save time with the ERP system because it is a fully integrated solution that sends data automatically between different departments and processes.
Organizations of all sizes in the building, manufacturing, engineering, and healthcare industries can benefit from using ePROMIS. As a managed Software-as-a-Service (SaaS) ERP system, the application is hosted in the cloud. However, the vendor can also install ePROMIS on local machines for customers who need on-premises deployment. Since 1981, ePROMIS has helped a lot of people all over the world. Its main office is in Houston, Texas.
It allows enterprises to integrate AI-based features to monitor sales, accounts, customer service, production, invoices, supply, and dispatch. As a result, automating business processes saves you tons of working hours. Its features are customizable and run on a web-based client, Android, and iOS devices.
Pricing and Plans
It comes with a 30-day free trial service with no credit card details required.
The Express Plan is $25 per user per month. The plan covers 5 users and an additional $25 for every extra user. Request a demo here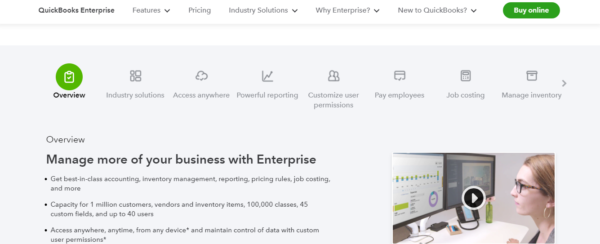 QuickBooks Desktop Enterprise, also called QuickBooks Enterprise, is accounting software that runs on a desktop computer. It has advanced tools for managing complex pricing and keeping track of inventory. In addition, Quickbooks has all the features of QuickBooks Pro and Premier, plus advanced features, like multilocation inventory tracking and fixed asset management. Also, like Premier, QuickBooks Enterprise comes in five versions for different types of businesses: retail, nonprofit, contractors, manufacturing and wholesaling, and professional services.
The QuickBooks software is very cheap and comes with many useful features right out of the box. For example, AR and AP functions are accessible to people new to the software. In addition, many pre-made reports help with weekly and monthly accounting tasks (Payroll, Vendor Payments, Sales, etc.). You can also add several extra features to the software by using plug-ins, which you can get for a small monthly fee.
It delivers a unique business management platform for construction, production, and design companies.
Pricing and Plans
Quickbooks Desktop Enterprise Gold: It is $1489.50 per year.
Quickbooks Desktop Enterprise Silver with Hosting:
It requires a monthly subscription of $118.20 per user.
Quickbooks Desktop Enterprise Platinum with Hosting: It needs a monthly subscription of $129.00.
Quickbooks Desktop Enterprise Diamond with Hosting: It requires a monthly subscription of $312.00 or a yearly plan of $3744 per user. Check it out now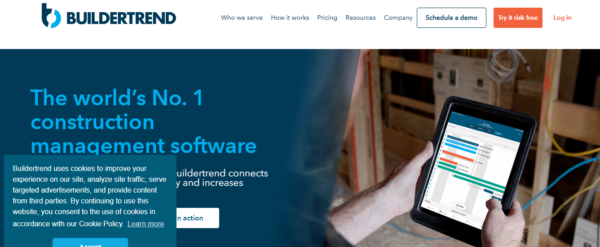 Its primary aim is to help construction and production enterprises have a unified platform for daily monitoring and managing production activities.
Features
Integration of all an enterprise's core production activities using a unified platform.
Streamlined data storage and improved onboarding for new users.
End-to-end project management.
Increased communication and transfer of data between employees and clients.
Improved budgeting and invoice collation through the provision of financial tools.
Pricing and Plans
Buildertrend Core: for $299 per month.
Buildertrend Pro: for a monthly subscription of $499.
The software also comes with a free trial period for intending users. Start the free trial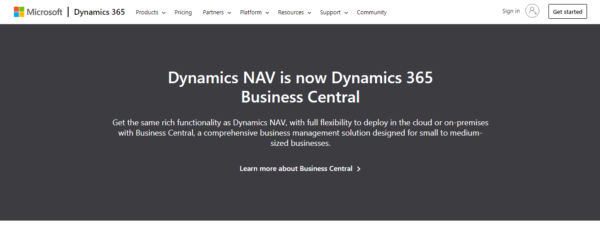 Microsoft Dynamics Nav is different from Microsoft Dynamics enterprise. They are purchased as an additional pack though they share the same databases. The key features exclusive to the nerve are Warehousing, cost accounting, and manufacturing. The Microsoft Dynamics Nav differs from Microsoft Dynamics 365 in the following ways;
restricted flexibility for each user, and each user must purchase their license.
High customization of the software using the source code by users
Users which to have their servers
Many businesses use it as an ERP software solution. It cuts down on time spent switching from one workflow to another. However, it is only available through a Microsoft Dynamics Partner or Value-Added Reseller (VAR). VAR dealers will assist you in installing, hosting, and launching the software package. If you choose to have the software installed on your premises, you will be responsible for providing the necessary hardware and infrastructure for hosting the software application.
Pricing and Plans
There are two subscription plans available, and they are;
Microsoft Dynamics NAV Starter Pack: for $5,000, which includes three users or tenants. Additional users cost $3,000.
Microsoft Dynamics NAV Extended Pack: The plan costs $10,000 and $3,000 for additional users and self-service users (users that do not require hosting and usage support) for $125.
Microsoft Dynamics NAV Cloud: pay $185 per user each month if you are on the starter pack and $400 per user each month if you are on the extended pack. Start the overview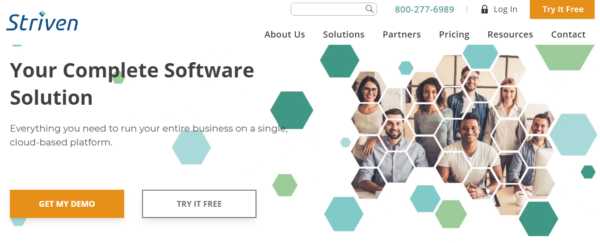 Striven is an ERP software solution that integrates accounting, CRM, project management, HR, operations, and other functions into a user-friendly interface. Striven is a versatile software solution that helps both front and back-office staff. Striven's highly customizable software suits many industries, including professional services, manufacturing, construction, and real estate.
Striven creates a unified platform that improves work visibility and communication between your business and its shareholders.
30-day trial service is available to intending users.
Features
Detailed financial and productivity reports generated in seconds
Communication portals for customers, vendors, and subcontractors
Project, task, and time management w/ interactive calendars
Full CRM dashboard
Applicant tracking system
Inventory management
Customizable dashboards for each employee
Employee biographies and a company newsfeed for remote culture building
Pricing and Plans
There are different pricing packages, and they are;
Startups can use Striven's free version to manage their finances. It handles 10 customers, vendors, and apps per month.
Customer Portal Pack: $20 per user plus $99 per month for hosting.
Vendor Portal Pack: $15 per user plus $299 per month for hosting.
Career Portal Pack: $10 per user plus $499 per month for hosting.
Plan-1 costs $49 per user per month for businesses. It supports 50 customers, vendors, and apps.
Plan-2 costs $99 per user per month for businesses. It supports 100 customers, vendors, and applications.
Plan-3 costs $199 per user per month for businesses. In addition, 500 customers, vendors, and applications are supported.
Striven Plan-4: $499 per user per month for enterprises. Unlimited users are supported. Try it free here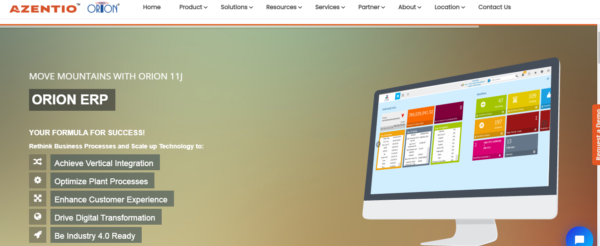 ORION Enterprise from 3i Infotech is a dynamic enterprise resource planning solution that helps organizations integrate teams, functions, processes, and systems that aren't always working together.
ORION ERP is an industry solution for growing and mid-sized businesses that is integrated, cost-effective, and works in the cloud. Built on a technology stack ready for the future, the item empowers organizations to improve their business processes and make smart decisions by giving them access to dashboards and analytics anytime.
ORION ERP is a trusted partner for more than 800 customers worldwide, with over 1,000 installations and more than 50,000 users in a wide range of industries. It helps you stay within your budget, organize your business with project planning, manage business activities, and utilize collaboration tools to speed up the workflow within an enterprise.
It is a complete ERP software solution that helps manufacturing companies and warehouses achieve optimal business processes.
Pricing and Plans
They do not have a free version plan or offer free software trials.
The software's pricing is a one-time payment of $250,000 per user. So purchase and add many users now!
19. Syspro ERP (Best For Manufacturers and Distributors)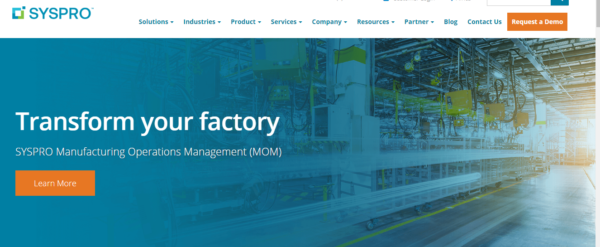 SYSPRO is a mature platform that has grown into a full-fledged solution with a history dating back to 1978. It is a global ERP leader focusing on crucial manufacturing and distribution industries.
Syspro distinguishes itself from other ERP systems by focusing on the manufacturing and distribution sectors and its technological approach. It makes Syspro an excellent choice for businesses that manage production, but it can also be adapted to a wide range of industries and business types.
SYSPRO is an ERP solution that assists small to medium-sized businesses (SMBs) in manufacturing and distribution. The system's modular design makes it simple to customize. Additional features like warehouse management and inventory control can be added as needed.
Features
Extraordinarily flexible and extensive ERP software solution that caters to enterprises of all levels.
It explicitly targets production, distribution, and manufacturing companies.
It does not include modules for human resources (HR).
Pricing and Plans
Enterprises have to pay $199.00 per month for software's basic features. Its pricing policy for on-premise software deployment is as follows;
Single user: $12,100 per month.
5 Users: $14,400 per month.
10 Users: $16,800 per month.
25 Users: $25,000 per month.
100 Users: $29,60 per month.
Enterprises pay between $25,0000 to $500,000 per month.
Transform your factory with SYSPRO
Epicor ERP aims at small, medium, and large-scale manufacturers, distributors, retailers, and service providers. Epicor offers active ERP and retail solutions and integration for POS, e-Commerce, and customer relations.
It also uses cutting-edge technologies such as BigData, cloud computing, and mobile technology. The look and feel of Epicor are very similar to that of Windows.
Epicor can be deployed on-premises or on-cloud. Data collected from PLCs or IoT sensors will allow you to monitor your shop in real-time.
It provides businesses with various tools to manage their teams and accounting activities.
Pricing and Plans
The license-based pricing generally ranges between $4,000 to $500,000 per year. There are two licensing options available, and they are;
Epicor ERP perpetual license costs $40,000 a year for 10 users.
Epicor ERP Subscription-based Pricing: It costs $175 per
month for each user to access the base system features. Start a free trial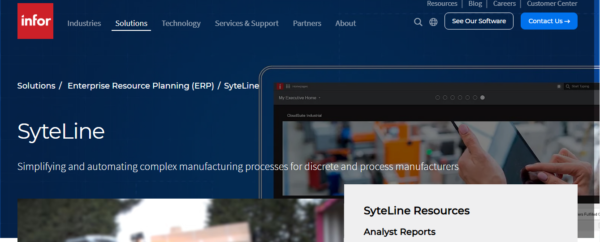 Infor is a global company that offers cloud-based software solutions for the manufacturing, distribution, consumer goods, government, energy, healthcare, hospitality, and service industries. Infor's business applications are made for specific sectors and give users everything they need to run day-to-day operations and grow their businesses over time. In addition, system features can help users make the most of insights based on data, adapt to new trends and challenges, and speed up their way to innovation.
The software offers certification and training for users, and the cost of certification programs starts at $250 per user. Each certificate is valid for 90 days, and the certification will be invalid unless users pass the exam for a new version.
Pricing and Plans
There is an option for a license or subscription-based plan.
On-premise deployment typically starts at $42,000 per year for 10
users, plus annual maintenance and support agreements. Start simplifying your manufacturing process now!
IFS sells ERP software to customers worldwide who make and trade goods, take care of assets, and run service-focused businesses. IFS makes products that are easy to use, flexible, and modular. IFS Applications business software gives you more ERP features, such as CRM, SCM, PLM, EOI, enterprise asset management, and MRO. IFS ERP's Enterprise Project Management, Enterprise Asset Management, and Service Management functions all have tools for planning and scheduling. It can be set up for many industries and works best in challenging situations.
They offer online training at $1,500 per user to $2,800 per user, ranging from 3 to 5 days.
Pricing and Plans
The software installation for mid-sized businesses ranges from $150,000 to $1M and $1M to $10M+ for large enterprises.
The price for a license ranges from a one-time payment of $1,000-$4,999 per user. Up to 40 users can use the license.
There is an IFS Application 8.0 that is specifically for large enterprises, and it ranges from a one-time payment of $300,000 to $2M for 40 to 5,000 users. Learn more
23.
Sage X3

ERP (Best For Medium-Sized Businesses)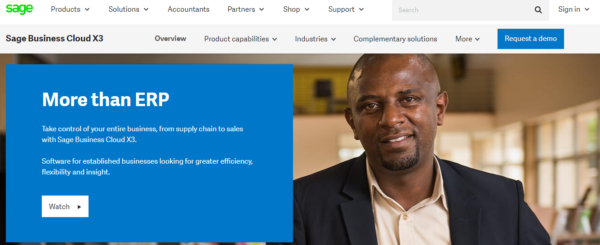 Sage X3 is one of three ERP software solutions provided by Sage. This ERP solution is intended for mid-market businesses.
Sage X3 is designed to help improve your company's total visibility while maximizing ROI, from managing finances to operations and inventory. Sage 300 streamlines your accounting. It's an excellent choice for businesses that deal with multiple currencies. If you have subsidiary companies or franchises, you can even use them for multiple businesses.
When you purchase Sage X3 for ERP, you will also gain access to various features in Sage's extensive product suite. Sage CRM, Sage Inventory Advisor, and Sage Payment Solutions are among the features available to you.
It helps enterprises achieve their business goals.
Pricing and Plans
A license costs $2,600 and $45,000/year per user. It can accommodate up to 10 users.
There are two licensing plans;
Perpetual license: It is available for $26,640 per year.
Sage ERP X3 Version 7: The cloud-based or SaaS model price starts at $2,600 per user. It has a user base of up to 1000+ and allows up to 3,300 installations. Explore Sage X3 ERP now
Benefits of ERP Software Systems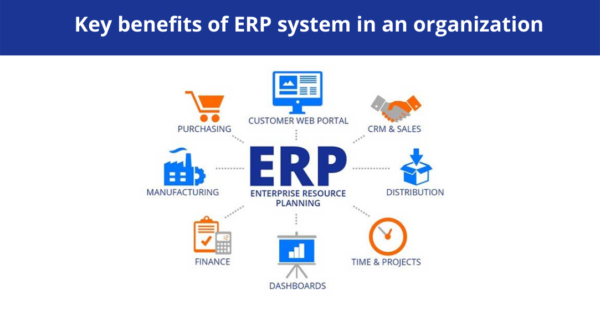 ERP software ensures that company-wide information is regularized and based on a common premise and user workflow.
ERP's central data collection from every department enables quick data distribution across your company's teams and work platforms.
ERP solution eliminates software overhead from a company's standalone databases. Data loss affects businesses when they expand their operations, human resources, and activities. ERP software stores, organize and makes data easily retrievable when needed.
Every business or organization task can unify data. Business silos are reduced.
Standard ERP software reduces data collection, collation, and analysis time. In addition, the software distributes the data to every person and system that needs it to improve workflow.
It reduces data loss by creating a secure storage and access platform. It is different from standalone databases.
Adopting a general integrated system reduces your organization's operational costs.
ERP tools improve communication between departments, unify team review data, and become the organization's single source of truth.
Read also, 8 Best Enterprise CRM Software (Ranked & Reviewed)
How Do You Choose The Best ERP Software For You?
#1 Your employee Capacity and Business Size
ERP implies enterprise, but not all solutions are for large businesses. You should see if their offerings fit your business's size. Small businesses can use SAP Business One. Sage 300 is popular with mid-market companies, and Acumatica targets SMEs. Large corporations wouldn't consider any of these options. Oracle Netsuite or Microsoft Dynamics 365 are better options.
#2 Your Business Industry
Some ERP software is also industry-specific. Example: Syspro. Manufacturers and distributors only. You can get a specialized solution based on your industry, like industrial equipment or electronics. Sage 300 is great for global e-commerce. Oracle Netsuite supports most business types and industries.
#3 ERP Features
ERP software is an all-in-one business solution. Software feature sets won't be identical, though. Knowing what your company needs and finding an ERP with those features is essential. ERP software features sales, CRM, accounting, and HR. Some of you may need supply chain, operational, and end-to-end inventory logistics.
Most ERP software is personalized. If the service provider has the features you want, adding them is easy. However, before starting, most ERP software requires a custom quote. This complicates set-up; hence, you'll need quotes and demos from multiple providers on your shortlist to compare options.
#4 ERP Set up
Once you choose a solution, make sure the initial deployment is straightforward. Some software must be bought from a third-party, which is annoying. These partners guide you through the set-up process better. Since most ERP software is cloud-based, you won't need to install anything on your servers, computers, or other devices. But not always.
What Features to Look for When Choosing ERP Software
What are we looking for when we select enterprise resource planning software for review? Here's a summary of my evaluation criteria:
User Interface (UI): Is it clean and attractive?
Usability: Is it easy to learn and master? Does the company offer good tech support, user support, tutorials, and training?
Streamlined Features: Are there built-in features to help with accounting, inventory & warehouse management, and marketing?
Reporting and Analytics: Does it offer customizable, robust reporting and analytics options to track business performance? Are reports easy to export, design, and share?
Integrations: Is it easy to connect with other tools? Any pre-built integrations?
Value for $: How appropriate is the price for the features, capabilities, and use case? Is pricing clear, transparent, and flexible?
On-Premise vs. Cloud ERP: These are the two common deployment options. Is the ERP software cloud-based or delivered as a SaaS? Would you need to work with the software vendors to undergo an ERP implementation and install it on-site?
Real-time updates: Does the system allow real-time updates on items like inventory, new purchase orders, or invoice payments? Keeping your software accurate and up-to-the-minute will improve efficiency and reduce miscommunication.
Types of ERP Planning Systems
Knowing the different ERP software types is very important when choosing the best software for you.
Proprietary versus Open source system ERP: Open source allows the users to alter the source codes and make other modifications. In contrast, the proprietary system allows only certified consultants or experts to do such alterations.
Suites versus Best of Breeds ERP
ERP systems can be based on different implementation methods and usage. Best-of-breed software brings all modules together. Therefore, it makes it hard for users to access individual features. On the other hand, Suites do separate modules and features; hence, users have more flexibility in the features to use.
Vertical or Generic ERP: A vertical ERP is tailored for a specific business, company, or organization. For example, it can be wholly manufacturing or warehousing for financial. The downside is that users can hardly modify it to suit any function different from the one it is made for. On the other hand, a generic ERP can be used by any business or company that does not have specific requirements. They can easily modify it to their desired features.
Development of Software: Some ERP systems control their products entirely and only allow users to create extensions and applications. In contrast, others give users the leverage to change modules and alter the source codes.
Implementation of ERP can either be through big bang or phased, which should also determine the best software to use.
Which One is the Most Well-Rounded ERP Solution?
In terms of features and capabilities, NetSuite ERP was the better choice. It stood out as a comprehensive ERP solution because it has a wide range of tools and functions that cover almost every significant business process and function.
On the other hand, Sage Intacct and Odoo are ERP powerhouses and great choices. The first is good accounting software, while the second is a great way to manage projects.
What is the Best ERP Solution For Your Website and Business
The best ERP software systems for small and mid-sized businesses are Sap Business One, Microsoft Dynamics, Odoo, ERPNext, WP ERP, Quickbooks Desktop Enterprise, Microsoft Dynamics NAV, and Orion ERP. The ERP systems for businesses of all scales are SAP S/4HANA, TallyPrime, abas ERP, Buildertrend, Striven, Sage X3 ERP, Epicor ERP 10, and Syspro ERP.
The best ERP solutions for large businesses are Acumatica, NetSuite OneWorld Global ERP, IQMS EnterpriseIQ, Brightpearl, ePROMIS ERP, IFS Applications, and Infor SyteLine ERP.
When choosing an ERP software system, there is no rigid set of rules, but the only thing required of organizations is to choose an ERP software carrier that has a solid reputation and the domain expertise necessary for your particular business. Not just that, the software must cover different aspects of your business, such as CMMS software integrations as much as possible.
Also, most times, the software will require some training from your workers. So do well to inquire if the package covers the training or if the software company has access to or can recommend trainers and trusted consultants for you rather than just selling you the software and leaving your company to grope in the dark. The smaller your business, the more flexible your plan should be
Related: 12 Best Accounting Software for Business
Conclusion
The ERP purchasing process is complicated, with numerous customization requests and questions about vendor capabilities. As a result, seeking third-party assistance for ERP implementation is common and usually required in the case of enterprise vendors.
Using similar assistance makes sense for product research as well. TechnologyAdvice connects you with the solutions your company requires. Fill out the form at the top of the page with your company's ERP requirements, and we'll contact you with a custom selection of software recommendations based on your feature requirements.
Frequently Asked Questions
Q: Are paid ERP platforms the best solution for small businesses?
That is entirely dependent on your company's requirements. Because free solutions tend to be simplified, a complex operation may necessitate using a paid program. You should carefully examine the features of any program you are considering to ensure that it includes all of the required tools and capabilities.
Q: Do I need to pay for installation?
Some applications come with free installations, while others require you to pay separately. Other applications already have the installation fee included in the licensing plan.
Q: Do I get free training and support with each purchase?
Some applications offer free training, while others charge a fee for training and provide soft copy certification.
Q: What are the limitations of a free ERP system?
The storage space available is limited in free versions, and there is a limit on the number of users. On the other hand, open-source platforms such as iDempiere and Apache OFbiz are entirely limitless.
Q: Is there an option for requesting a custom quote?
Yes, you can contact customer service for the software you want.
Q: Does every software solution provide a free product trial option?
Some applications offer free trial periods, while other applications don't. You have to ask for this before purchasing a plan