Last updated Jan. 9, 2023 by Favour Chinaza
With the best OCR software, you can easily digitize and securely store all paperwork. OCR tools can convert any printed item, such as an invoice or a book excerpt, into an editable digital file. This article, '21 Best OCR Software Scanner (Free and Paid Tools),' will review the best tools to choose from for you.
The Optical Character Reader/Recognition (OCR) technology combines image recognition and AI technology to convert images containing written text into machine-readable text data electronically. OCR software can search and sort various image types and convert them to different file formats such as excel, word, and plain text.
OCR Software allows you to scan and save invoices, receipts, resumes, photographs, and other official documents to cloud storage. In addition, OCR promotes paperless offices, allowing users to swap physical files for online-based files easily. The benefits of cloud-based offices are numerous.
How Does OCR Software work?
The OCR software combines hardware and software to convert paper files and documents into digital text. The hardware, an optical scanner or a specialized circuit board, works to translate and process the written text in the document under examination.
When the text on the documents is scanned and translated, the OCR software converts the document to a bi-color, or black and white, format. Images on scanned files or documents are examined for light and dark areas.
The dark areas are converted into a machine-readable format that allows digital systems to decipher further and separate the text code as recognizable alphabetic characters or numeric digits.
How Does OCR Software Identify Characters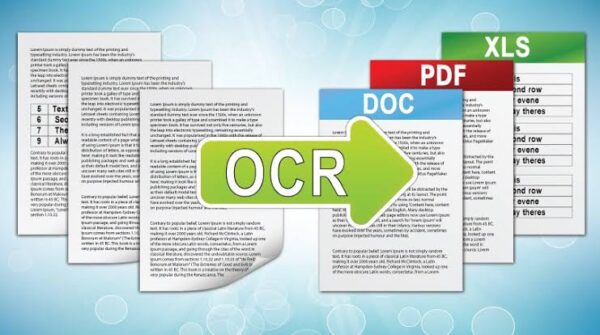 Computer systems can recognize the characters in two distinct ways:
Pattern recognition – This method of identification works when there are pre-existing databases to search. The existing data is then compared to the new data entries to sort and process them effectively.
Feature detection – OCR programs recognize and process the available characters in a scanned file by applying pre-existing rules about the features of a specific letter or code.
The light areas are then processed simply as the background. The entire procedure is based on selecting a character or group of characters at a specific time.
Related: 16 Best Screencasting & Screen Recording Software
Types of OCR Software
There are 3 major types, which are:
Optical character recognition (OCR) analyzes typewritten text, one character at a time.
Optical word recognition – It analyzes typewritten text for languages that use a space as a word divider, one character at a time.
Intelligent character recognition (ICR) analyzes machine or handwritten texts and documents one character at a time.
21 Best OCR Software Scanner (Free and Paid)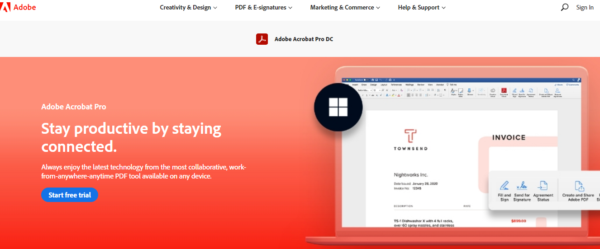 Adobe Acrobat Reader is a well-known brand that was introduced to the public on June 15, 1993, and provides quality resources to help you manage and maintain your documents
It is a one-of-a-kind OCR software that combines machine learning and image recognition to produce high-quality data. You should check out its many excellent features, and the DC in the product name stands for document cloud.
The pro version includes all of the features found in the free version and all of the standard OCR features found in the pro version.
The following are the system requirements for installation:
Microsoft Windows 7/8/8.1/10 operating systems
RAM must be at least 1 GB.
A minimum of 1 GB of free storage space.
A 1.5 GHz Intel Pentium processor or later is required.
Adobe Acrobat Reader Features
Your local or cloud storage documents can be viewed, commented on, and printed.
Its integrated AI technology makes it simple to edit PDF text and images.
Scanning of high-level documents containing a large number of glyphs and texts.
Cloud storage provides security for all connected files, ensuring seamless document usage and conversion.
It has a mobile version to help with file access from any location and at any time.
It is available in over 30 languages to users.
Scanner Integration: No
Combine PDF: Yes
Screenshot Translation: Yes
Split PDF: Yes
Supported Platforms: Windows, macOS, iOS, and Android
Pricing
They offer a 7-day free trial but no free license subscription.
Their licenses include the following:
Adobe Acrobat Pro DC
It costs $14.99/month and $179.88/year. Windows and Mac users can use this plan.
Adobe Acrobat Standard DC
It costs $12.99/month and $155.88/year. This plan is Windows-only.
Both plans:
Nanonets is an intelligent document-processing OCR software that lets you use AI to eliminate the long process of entering data by hand. Instead, Nanonets uses AI to pull data out of documents and images. As a result, it gives your employees more time to work on more important tasks instead of spending hours entering data by hand.
In seconds, you can capture and organize the critical information from your PDFs, papers, and images. Nanonets uses AI to understand documents in a few easy steps and digitize them in minutes.
You can also get information from documents that don't follow a standard template, like invoices, purchase orders, tax forms, insurance forms, medical forms, id cards, etc.
Nanonets Features
Reduce employee time spent on time-consuming tasks like manually entering data from paper documents into a spreadsheet, ERP, or database. The AI learns from your use to improve accuracy as you validate document data.
AI-based OCR captures precisely what you want.
Cloud-based platforms allow you to create custom workflows and automate repetitive tasks.
Add fields to get all the needed data.
Freely archive your data on the platform
Integrates with Salesforce, Netsuite, Yardi, Entrata, Dynamics, MySQL, PostgreSQL, etc.
Nanonets has a Zapier connector that lets you import data from your: Inbox, Email, Chat, Dropbox, Box, Google Drive, Microsoft Outlook, and JotForms; run the model; and export the captured data to Quickbooks, FreshBooks, and different Google Sheets templates or notify a team member using Facebook Chat.
Scanner Integration: No
Combine PDF: Yes
Screenshot Translation: Yes
Split PDF: Yes
Supported Platforms: Windows, Mac, and Ubuntu
Pricing
Users can test this product for free to see if it meets their requirements.
Following the expiration of the free trial, the pricing plans are as follows:
Pro: $499 per month, per model.
Enterprise: Based on your requirements, get a custom quote.
3. ABBYY FineReader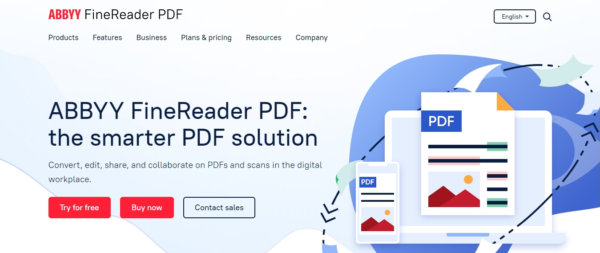 We searched long and hard before putting Abbyy FineReader in the No. 2 spot. But, we had to double-check it to determine if some other moderately priced OCR software beat its versatile features.
ABBYY FineReader is an easy-to-use and comprehensive digital document conversion tool. Powered by AI-based OCR, it can manage all document file formats, including paper documents and images in the digital workplace.
It is a versatile OCR software for managing, indexing, comparing, editing, and saving document files created by the ABBYY group of companies.
It was initially released in July 1993 and has continued to gain momentum and win the hearts of many users worldwide.
Features
It is compatible with Windows, Mac, and Linux operating devices.
With ABBYY FineReader, you can add comments and markup and manage the appearance and order of document folders and individual pages.
The built-in editor tools offer paragraph-level editing to users for digital and scanned file formats without needing prior conversion into an editable format.
It has a functional cross-format document comparison capability that aids in identifying different file formats. This feature is convenient and time-saving.
Scanner Integration: No
Batch Processing: Yes
Audio Files Conversion: Yes
Barcode Recognition: Yes
Combine PDF: Yes
Screenshot Translation: No
Split PDF: Yes
Pricing
Three subscription plans:
FineReader PDF 15 Standard– One-time payment is $199, and upgrading costs $129.
FineReader 15 Corporate has various productivity tools to convert up to 5 pages per month digitally. One-time payment is $299, and upgrading costs $199.
FineReader PDF for Mac– One-time payment is $129.99, and upgrading costs $84.99. Freebies for upgrading from a lower or previous subscription plan.
FineReader PDF 15 Corporate is a one-time payment price of US$299 and US$199 for users upgrading from a lower or previous subscription plan.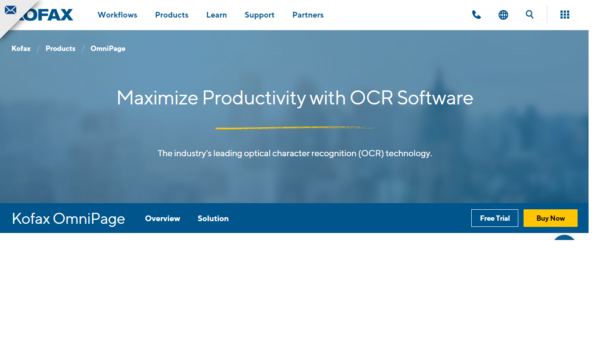 OmniPage offers digital camera equivalent OCR accuracy and reproduces documents into multiple formats. It also helps you schedule many files for batch processing from emails or folders. All this happens with undocumented automation to ensure the real-time processing of documents.
Integration with all types of scanners, including mobile scanners, also comes in handy for processing documents.
OmniPage Features
Mobile Document Capture converts photos taken with a smartphone into text.
It supports over 120 languages so that you can edit, process, and store documents from anywhere.
OmniPage Server speeds up document processing for data analysis and archiving. In addition, it can process large document loads regularly.
Cloud Connector integrates Microsoft SharePoint, Google Drive, and Box with the software.
Advanced OCR software quickly recognizes complex documents.
Scanner Integration: No
Batch Processing: Yes
Audio Files Conversion: Yes
Barcode Recognition: Yes
Combine PDF: No
Screenshot Translation: No
Split PDF: Yes
Supported Platforms: Mac, Linux, and Windows
Pricing
OmniPage Ultimate has a one-time fee of $499. You will also receive a 15-day free trial to familiarize yourself with the OCR software.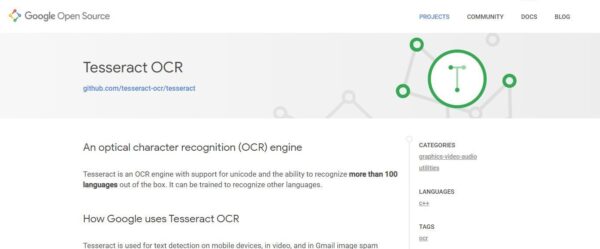 Tesseract is a freeware optical character recognition engine that works on various platforms, including Mac, Linux, and Windows. It includes features for analyzing document layouts and processing multi-columned texts, characters, and images.
Google created it to improve OCR digital tools' overall usability and accuracy. It is run through a computer's command-line interface, which increases its speed and accuracy.
Tesseract Features
It has language support for over 40 languages. It encourages its use among non-English users and businesses.
It has a refined and easy-to-use user interface.
It can process right-to-left texts, such as Arabic or Hebrew, with near-perfect language accuracy.
It can process document data into various supported file formats.
It has preset parameters that allow users to optimize their OCR workflow and data results fully.
Pricing
Tesseract is OpenSource and free-to-use software that is compatible with major operating systems. It's also suitable for backend processes. Check it now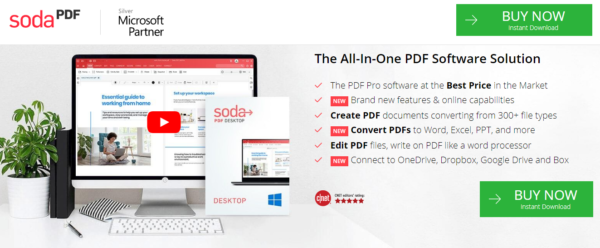 It is an innovative software program to open, process, view, create, convert, edit, secure, share and collaborate document files. It integrates the major file formats that are currently available.
SodaPDF Features
It has an embedded animation flipping tool that enables users to go through document pages as they would in real life.
Document file sizes can be modified using an in-built slider.
Documents containing multiple colors, grayscale and monochrome elements can be edited, merged, and processed successfully.
Why Choose SodaPDF
insert stamps, whiteout, highlight paragraphs, remove extra spaces, and optimize images.
Change or remove selected text areas in documents.
split their files into single pages or individual file formats
It provides companies and individuals the ability to:
Quickly convert multiple files.
Secure the uploaded files with a password, set user permissions, and archive all stored data for further referencing.
Pricing
The OCR software has Soda PDF 360 STANDARD and Soda PDF 360 PRO.
The standard is billed at US$10.50 per month.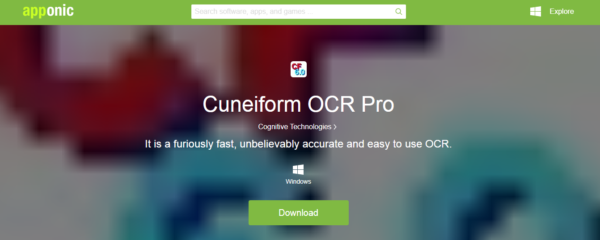 Cuneiform is a freeware multi-language optical character recognition system developed by Cognitive Technologies.
It, too, processes file data through text segmentation, character localization, character recognition, and post-processing, just like Tesseract.
Cuneiform Features
It is appropriate for backend processes and can handle more complex OCR tasks and reviews.
Cuneiform can convert document data to a variety of supported file formats.
It keeps the file data structure and formatting intact.
The processed data can be edited in most text editors and Office applications.
The OCR supports over 20 languages.
It includes a wealth of helpful resources, features, FAQs, and technical support that can be accessed with a button.
It is a simple digital tool.
Cuneiform optimizes data entries by utilizing a small portion of the storage memory on a device.
It is capable of recognizing and processing characters from 23 different languages.
The database is designed to allow offline access to previously stored information and analyzed document files.
Why Choose Cuneiform?
To recognize printed fonts on any document, including laser files, books, newspapers, and magazines, use the OmniFont system.
Examine poor-quality printed texts and documents.
Scan and recognize file data in batches.
Perform OCR scans on black and white, grayscale, and color images
Pricing
It is free-to-use software that is compatible with major operating systems.
8. Foxit PDF Reader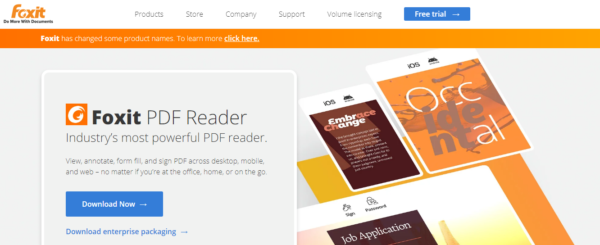 Foxit PDF Reader is modern and lightning-fast software that enables image search, form filling, and data entry in various file formats. It is available on Windows, macOS, iOS, and Android. It is also optimized for businesses and mainstream workflows and data needs.
The operating system requirements are; Windows, Mac, Linux, and Citrix.
Foxit PDF Reader Features
ConnectedPDF, a cutting-edge technology that powers cloud-based services for document files, folders, and services, powers it.
Users can use this technology to grant or revoke access to their stored files and track, merge, and edit files for teamwork collaborations.
Users can quickly add team members to files for collaboration and team reviews.
It is lightweight and comes with a slew of interactive editing tools.
Document files can be signed in handwriting by users.
Why Choose Foxit Reader
This server-based OCR solution handles daily data entry.
It protects cloud storage and connected devices from security vulnerabilities.
Uses XFA (XML Form Architecture) to add digital signatures to documents and files quickly.
Uses pre-installed JAWS to provide text-to-speech to visually impaired users. This technology gives them access to digital signatures, cloud storage, and edits.
This lets users index PDFs quickly, collaborate, and edit files in the cloud.
Pricing
It has a payment price of US$494.37 per year.
A free version also allows users to perform basic file searches, indexing, and editing.
Foxit PDF Editor Pro comes for US$219.56 per year
Explore the free trial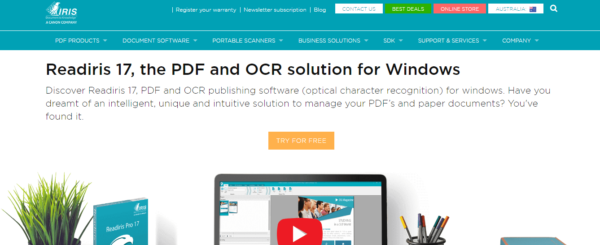 Readiris 17 is the best and most advanced OCR software for Windows and Mac.
IRIS, which Canon owns, makes the best portable scanner, PDF, OCR, and document classification software worldwide. Since 1987, IRIS experts have helped clients worldwide solve their most significant business problems by scanning, capturing, and analyzing data.
This software is an all-in-one solution for the everyday book, image, document, file, and picture slides scans. You can split, edit and sign your documents and files in batches.
Readiris Features
It can be used to process document folders in batches.
It can import and scan files from a user's local storage device and supported operating systems.
In scanned files and images, it can recognize 138 languages.
It allows you to manage and sync all of your saved file folders.
Scanner Integration: Yes
Batch Processing: Yes
Audio Files Conversion: Yes
Barcode Recognition: Yes
Combine PDF: Yes
Screenshot Translation: Yes
Split PDF: Yes
Supported Platforms: Mac, Windows, Linux, and iOS
Pricing
Readiris PDF 17 is $49. This plan includes a free trial and a 30-day money-back guarantee.
Readiris Pro 17 is $99.
Readiris Corporate 17 PDF is US$199
Check the free trial here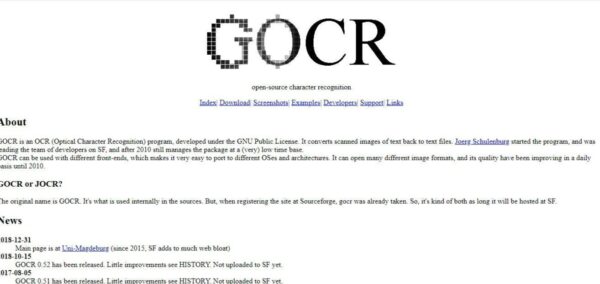 GOCR is an optical character recognition program that converts images with embedded text to text file formats that can be read. It converts processed text documents to ASCII, UTF, HTML, XML, PDF, and other file formats.
It is a distinct type of OCR that you can use from the command line of any supported device.
It is a versatile program used as stand-alone software or with other OCR tools and hardware devices.
Features
It's portable and simple to use.
Light and quick OCR
The final results are consistently high resolution.
It is a software program that is font-independent and simple to use.
Extensive user support system.
It is open-source, and changes are made regularly to improve the software program's processing capabilities.
Why Choose GOCR?
Software that is compatible with the major operating systems is available for free. In addition, users can thoroughly scan cheques, receipts, forms, and barcode characters with the free plan.
Create documents with lovely font styles.
To improve data analysis, easily port to different architectural data packages.
It is helpful for debugging print patterns and information.
Pricing
GOCR is open-source and free to use.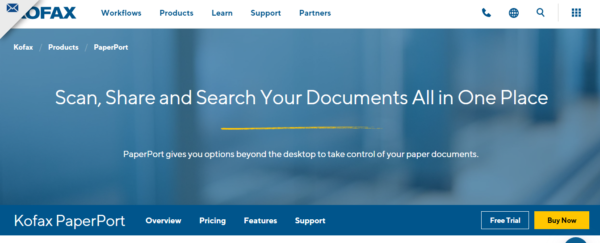 PaperPort by Kofax is an OCR software that satisfies core data requirements.
PaperPort combines AI-assisted screen capture, data automation, image enhancement, text translations, and color optimization to produce high-resolution scan results, file conversion, and storage.
PaperPort Features
It includes a cloud connector option for seamless file transfer across all supported devices.
It allows you to edit, comment, and annotate document files. In addition, it can capture scanned data from any scanning device.
It has customizable features allowing long-term document management solutions for individuals, teams, and businesses.
Users can quickly access recently scanned or closed files and folders using the history manager.
Pricing
All of the subscription plans come with a 30-day money-back guarantee.
PaperPort 14.7 Enterprise –costs US$199.
PaperPort 14.7 Professional – US$99
PaperPort 14.7 Standard – US$59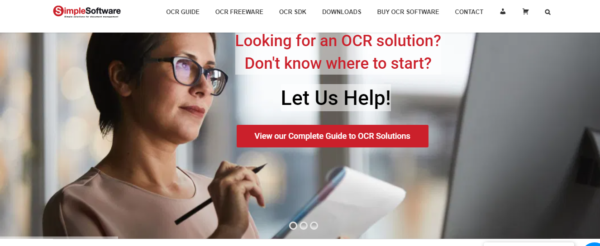 SimpleOCR is one of the best PDF conversion tools with a good and easy OCR. There are no limits to what you can do with this tool, whether you want to use it for personal, educational, or even business purposes. The fact that you can get this software for free makes things even better.
Even though this app is simple, that doesn't mean it isn't powerful. It tries to keep the original formatting, including multi-column layouts, low-quality images, fonts that aren't standard, and even low-quality color images, thanks to the built-in OCR feature.
SimpleOCR gives third-party developers access to a royalty-free OCR SDK. These developers can also integrate this program into their apps to convert scanned or image-based PDFs. We all like tools that work well, and SimpleOCR is no different. Tasks can be done quickly and easily in a matter of seconds.
Simple OCR Features
It offers a powerful batch processing of documents.
It has a server feature that enables data capture speed
It has a simple user interface.
Real-time scanning, editing, merging, and saving of document files.
Why Choose Simple OCR?
Simple OCR can scan and process documents with multi-column layouts, non-standard fonts, tables, and poor image quality.
separate colors into their sche
It saves time retyping documents when connected to a scanner or other supported devices.
Pricing
Simple OCR is open-source and free to use.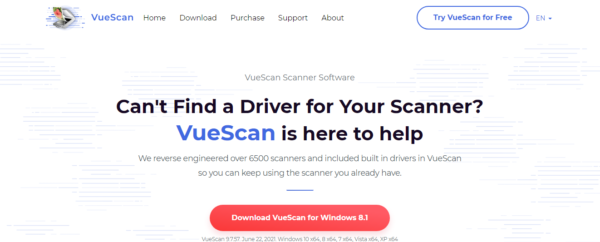 VueScan is software that scans, edits, and signs documents, pictures, and slides in conjunction with an optical recognition hardware device. It can also be used to fine-tune images, add color balance, and perform other significant image edits.
It is free to use, but a license must be purchased to remove the inbuilt watermark feature permanently. It is stable, and the most recent release was in October 2020.
VueScan Features
It produces better results than the pre-installed drivers found in most scanners.
When connected, it detects external hard drives and devices automatically.
Has the exact version of the program with all of the scanners supported by the program.
The processed results are available in small file sizes and formats for download.
Integration for the Photoshop photo and video editing software to help with image editing.
It supports 28 different languages.
To keep all data entries optimized, the software is regularly updated.
Compatible with over 6500 hardware scanners and devices.
Why Choose VueScan
It utilizes the pre-installed presets to crop, filter, color, and add overlays to images.
Edit image negatives and images that only contain black and white colors.
Scan film, photographs, tables, web pages, and picture slides.
Optimize color calibration in scanned documents with the software's integration of AI technology.
Pricing and Plans
A VueScan license can be purchased for US$80.
The free version is also perfect for minor to medium document scans and edits.
Scanitto is simple and supports most professional and open-source hardware scanning devices. In addition, processed files can be saved in various supported formats.
It works seamlessly with Windows to provide a comprehensive document management environment that is both user-friendly and creative.
Scanitto allows users to create multi-page PDF or TIFF files, store them, and organize them into folders.
Scanitto Features
Image borders can be automatically detected, scanned, and sorted.
Document parts must be manually selected for scanning. This manual selection enables users to integrate the software into their daily lives fully.
Images can be copied directly onto the user's hardware device for printing.
It correctly analyzes the appearance of a page or document.
Pricing
It has a 30-day trial version to help new users get used to the interface.
A single-user license–It can be purchased for US$29.95,
A site license–It can be purchased for US$199.00.
SilverFast is a digital imaging software that allows processing of images from written text and docs. It has advanced Ai technology that is individually adapted and designed to get the best results from each supported hardware device.
It includes various features that optimize image scanning, processing, editing, storage, and transfer of finished results.
SilverFast 9 Features
Detects borders in image and text files.
Recognizes and processes the original frame of every document it scans and processes.
It has adaptive color restoration and image detection pinpointing.
Provides screen printing filters.
Separates color schemes and processes image negatives.
Works with the majority of hardware devices, printers, and scanners.
Why Choose SilverFast
You can carry out batch scanning and processing.
Tailored scanned results based on the document type and file format.
Imports raw DNG and TIFF file formats into the workspace.
Makes use of the optimized tools, controls, and features to achieve improved document results and edits.
Pricing
With this plan, you get all the basic functionalities plus a lot of free resources for US$99. Try SilverFast here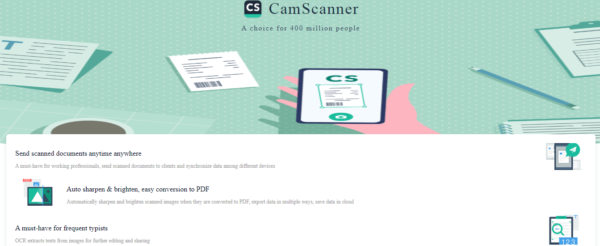 CamScanner is very well-known. More than 700 million people have downloaded it on different platforms, which says a lot about how reliable and well-designed it is.
The app automatically crops images, scans documents, and changes their format without any trouble, making changes easy. CamScanner also has a great text recognition feature that works with 40 languages.
CamScanner enables users to scan documents and share the resulting photo as a JPEG or PDF.
It is a mobile app created in China that allows iOS and Android devices to scan documents while on the go. Unfortunately, it does not support Windows, Linux, or Mac operating systems.
CamScanner Features
More than 60 languages are supported.
Users receive 1000 credits per month, which can be used to purchase and customize tools and presets.
Users receive a free 10GB of cloud storage to meet their data needs.
Collage feature that allows you to combine multiple pages into a single document.
Numerous quality filters, including Black&White, Low Enhance, Sharpen, Distort, and others.
It can detect the page corners automatically and estimate the actual required size of the document.
Why Choose CamScanner
Images and text from paper documents can be converted into various file formats.
Use the sharing options to send files and documents via Bluetooth, emails, Evernote, DropBox, and other supported sharing platforms.
Send and print documents via fax or AirPrint.
Using the Auto Cropping feature, they can manually edit their documents, images, or makeup.
Quality boosting feature to auto-enhance blurry images and documents.
When taking pictures of documents, adjust the flash and image settings on the device's camera.
Upload automatically to Box, Google Drive, and other cloud storage services.
Share files with a password-protected, time-limited link.
Set a password to protect saved scans uploaded to cloud storage.
Pricing
Subscription costs US$4.99 per month or US$49.99 per year.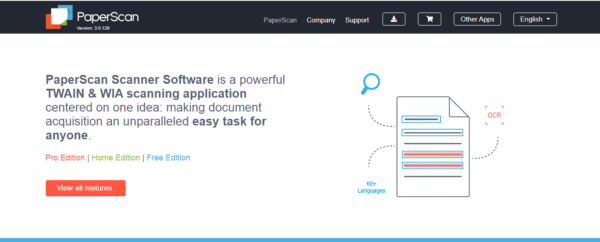 This is another entry in our "what paper can do" list. The possibilities created by OCR technology in data automation are endless.
It has end-to-end encryption that enables the seamless transfer and merging of documents.
Features
Automates the task of document acquisition.
It allows users to make precise edits and fine-tune selected document areas and elements.
Supports 30 different languages and translations.
It supports up to 100 file formats and structures.
Information about the resolution, size, and color mode of an image can be accessed by users. It helps to increase the resolution and quality of scanned documents.
Files can be encrypted individually. This ensures the privacy of processed documents.
Why Choose PaperScan
utilize OCR recognition to read and translate encrypted file formats.
Pre-use the fast web view feature for data accessibility.
Create documents using the Fast Web View mode.
Scan documents in batches by using separator sheets.
Edit various document parts using area selection, resize, crop, dodge, and burn tools for precise document scans.
Make precise document edits and corrections with the magnifying tool.
Manage and modify the pre-installed software configuration.
Utilize the feature for adjusting color and making bitonal color reductions to create flawless files and images.
Utilize the freehand pen and rubber stamp to make immediate changes to the scanned files.
Pricing
The PaperScan Home Edition
The PaperScan Professional – is priced at US$149 per license.
The PaperScan Professional Site – is billed at US$79.
It also has a Free Edition that can be used on any supported device.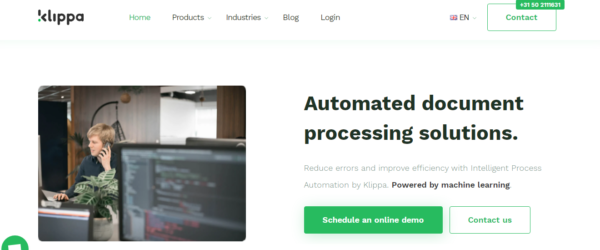 Klippa is an OCR solution that includes an automated document processing solution. Its primary function is to process invoices, receipts, and other financial documents for robotic accounts. It also performs KYC checks and legal document processing.
Klippa Features
All imported files and documents are cross-validated.
For recently scanned files and archived data, optimal document management is required.
It includes a function that optimizes databases and workflow.
With its pinpoint OCR technology, documents can be converted to text.
All significant document file formats can be used to extract data.
Pricing
Klippa basic and Klippa Pro are priced at €3.99 per month or €34.99 per year.
All plans come with a 30-day free trial service.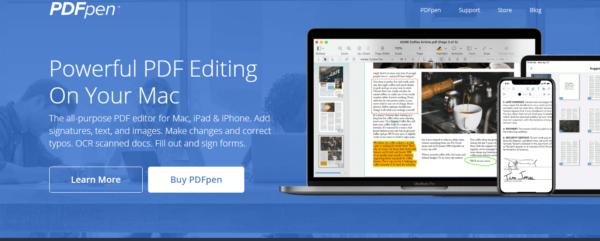 PDFpen by Nitro PDF Pro is a powerful PDF editor for Mac with OCR technology and other helpful software. In addition, it includes a macOS cleaner and performance booster to help users improve the performance of their devices.
PDFs can be marked up with notes, highlights, and drawings. You can change the text in a document or add to it, including filling out forms and signing them. You can even turn paper documents into PDFs that can be searched. Unfortunately, PDFs are often considered files that can only be read.
It's almost like PDFpen gives you a superpower that experts used to have. PDFpen can even change a PDF into the DOCX format used by Microsoft Word, which makes it easy to edit. In addition, there is a "Pro" version that has more advanced features.
It includes a feature for capturing videos, processing GIFs, and taking screenshots anytime and from any location. Furthermore, it is only available for Mac and iOS users. PDFpen supports video-to-text conversion. It converts embedded images and text into video files, then sorts and indexes each file separately.
Features
Users can sign documents, delete or move pages, merge multiple documents into a single file, and remove sensitive information.
It allows users to store and index their files in its cloud storage.
Pricing
The pro version offers users billed at $9.99 per month.
a 7-day free trial for users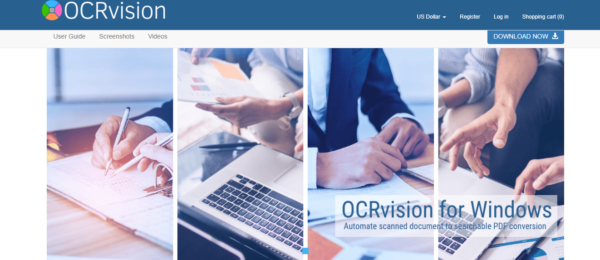 OCRvision is a program that searches local storage for newly scanned files, highlighted images, and texts.
The OCR software converts documents in bulk to searchable file formats and runs in the background to ensure that all new files are keyword indexable.
You can use OCRvision searchable pdf converter with supported hardware scanners and devices to convert scanned output files into fully searchable, archive-quality files.
OCRVision Features
schedules file searches and conversion processes to run during a specific time of the day.
It can also constantly check specific folders for newly scanned documents or image files.
Detect multiple languages within a single scanned document or image file.
OCRvision can be used to detect the MICR line of bank cheques.
Automatic multi-page scanning.
Regular software updates.
Pricing
OCRvision can be purchased for US$721.89. Learn more here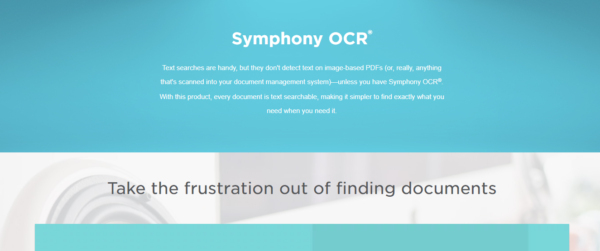 Symphony OCR enables users to manage their existing document database effectively. It also allows quick text search of scanned documents.
The OCR software automatically applies OCR to stored documents filed in the local or cloud storage, making them text searchable and giving them web indexing. This feature can scan documents (PDF and TIFF files), e-faxes, email attachments, and legacy files.
Symphony OCR Features
It has security features that protect all the files in the device's management system.
It has improved text-searching technology.
Fast and friendly customer support.
There are a lot of resources and tools.
Scanner Integration: No
Batch Processing: Yes
Audio Files Conversion: Yes
Barcode Recognition: Yes
Combine PDF: Yes
Screenshot Translation: Yes
Split PDF: Yes
Supported Platforms: Windows
Why Choose Symphony OCR
paragraph-level editing for both digital and scanned document files to users. The files do not require any prior conversion into editable text formats. Symphony OCR covers both issues.
Cross-format document comparison capabilities for quick file identification and indexing.
Pricing
What Is the Best Free OCR Software
There is free OCR software that does some of the jobs as paid ones listed in this article. These free solutions convert photos, PDFs, TIFFs, and scanned documents into editable text. They use OCR engines like Tesseract. Even though they can't handle complex business documents, they're suitable for simple documents with easy formatting.
These free OCR solutions are web-based apps, stand-alone programs, or a small part of a document-editing service. Unfortunately, free OCR software can't handle handwritten documents, multi-column tables, long text lines, or low-quality images or scans.
Below are some of the best OCR tools you should consider:
PyPDF2 (Tesseract Based)
OCR using Microsoft OneNote
Google Drive OCR
Why is OCR software Important?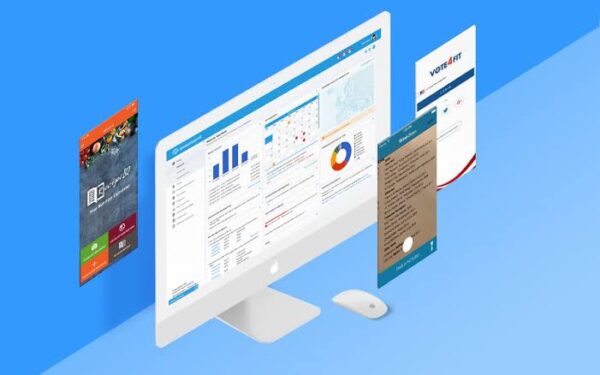 OCR tools are used in a massive number of different fields. And even though they are all different, they all have one thing in common: why they need it.
#1 It saves time.
Why spend time typing out information from scanned images and documents by hand? With OCR software, you don't have to do any hard work. It will turn all the text into a format that can be changed. Just give it a quick proofread to make sure there aren't any mistakes. This will save you and your company a lot of time.
#2 Reduces errors.
It's always a good idea to proofread documents that have been converted using OCR. So, this software can help cut down on mistakes when data is handled by hand. In addition, the software will get what is written on the page, so no printed text will be wrong.
#3 It Automates Business Processes
You can tag, sort, and file documents with the help of advanced software—all with a few mouse clicks. In addition, you can set up rules to automatically organize your files, saving you a lot of time.
#4 Enhances Batch Processing
Don't have the whole team type in data from hundreds of scanned documents, emails, or receipts. OCRs can handle more than one document at once. So, process files in groups, which may have taken hours to do before.
What are the Common Issues With OCR Software?
The issues recorded by many OCR software users are;
User interfaces that are occasionally buggy.
The app's watermark removal tool may malfunction, resulting in the mass production of low-resolution images.
The default sharpening features can be overly aggressive at times.
The option for multi-exposure document scans does not provide many benefits.
Image cropping and border analysis are inaccurate.
Complex user interfaces and inadequate product documentation.
In some applications, the toolset is limited and restricted.
It can take up a significant amount of storage space on the working device.
How to Choose the Best OCR App
Every OCR app is different, so it's essential to pick one that fits your needs. Here's what you need to know after trying out other ideas.
Scanning or opening documents one by one is not a big problem for individuals and small businesses. So, please choose the best software based on how well it does other things.
But people who deal with many documents should look out for batch processing, which automates a lot of things at once.
● Accuracy Features
Regarding printed text, OCR programs today are all very accurate. Software that stands out has extra features like proofreading and making images look better. The second cleans up a scan to improve the OCR results. Not being able to fix text that was read wrong is a big mistake.
PDF is the most common format and is often best for OCR. It looks good on any device. Still, source file format and openability are most important due to editing.
Have static scans or files? Table or Word document? Unknown? The software should open PDF files or nearly every image and document type and edit it, like some audio editing software that translate audio to text files. Some let you use OCR and make changes before exporting from PDF.
The best PDF OCR software lets you search for text in a document, copy it, edit it, and change how it looks. Even though not everyone needs an advanced editor, it can be helpful if you find mistakes when scanning or if you plan to make changes to the document in the future.
It's even more useful for digitally filling out blank forms. Also, some software lets you sign a contract with a digital signature, so you don't have to print it out and sign it by hand.
● Its Deployment
Windows has the most OCR software, but macOS has more than enough options. But what if your business uses a mix of different operating systems or the cloud? Things are moving in the direction of web-based software and cloud integrations, which is good. A small number of solutions also have apps for phones.
Most OCR technology is used to scan documents in an office setting. It makes it easier to store and find digital documents.
Suppose your business is more about collecting data. In that case, you may want to use image-reading software that automatically pulls data into your workflow, so you don't have to worry about keeping the document itself safe. Pay attention to Nanonets, Docparser, and Rossum.
● OCR Software Price
The prices of the best solutions vary a lot. A lifetime license is the best choice if you can pay for the software simultaneously. Subscription services are also standard, and business users find them easier to use. On the other hand, the price of software goes up the more niche features it has.
Do OCR Tools Work with Storage Software?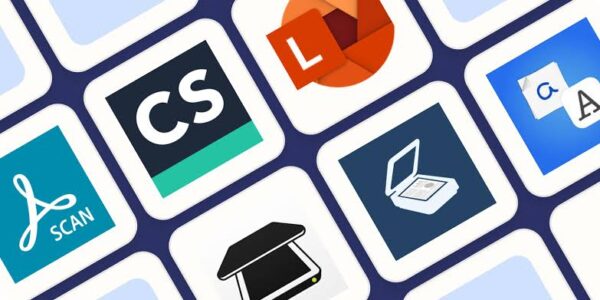 Most OCR tools include their storage capabilities, frequently hosted in the cloud. However, many OCR software options include integrations with third-party storage services such as Google Drive, iCloud, and Dropbox. The policies for each tool will differ, so double-check for each.
What Is An OCR Engine?
An OCR engine is a component of OCR software. It is the component responsible for character recognition. OCR engines extract data from images and scans by analyzing the pixels and determining which characters they represent.
Is OCR Available in Microsoft Word?
No, Microsoft Word does not have its OCR software. Initially, you could upload image files and have them converted to text. This feature, however, was removed with the 2010 update. However, numerous OCR software allows you to convert files into MS Word. Microsoft's own OCR is also known as part of the Office 365 suite and the Office Lens app.
Do Tools For OCR and Storage Work Together?
Most OCR tools come with storage space, usually in the cloud. But a lot of OCR software can work with other storage services like Google Drive, iCloud, and Dropbox. The rules for each tool will be different, so you will need to check each one twice.
Does Windows 10 Have OCR Software?
Windows 10 has an OCR tool that can work with images with a small amount of text. However, if you want to scan a picture with a lot of text, you need to use software that can read text.
What is the Ideal Cost for OCR software?
It all depends on what you want. Most free plans won't give you the most. The free plans provide basic scans and image scans. Still, suppose you wish to quality edits and scans, full coverage, top-tier tools preset, cloud storage space, effective file collaborations, and archiving. In that case, you should consider purchasing a licensed application or selecting a comfortable subscription plan.
Related: 18 Best ERP Software (Systems Ranked & Compared)
Bottom Line: Which OCR is Best For You
You should consider what you need when deciding which OCR software to download and use. Sometimes, free platforms only offer basic options, so if you need to use advanced tools, you may find that a paid platform is much more worthwhile. Also, free and cheap software may not have as many tools as higher-end OCR software, so make sure you know what features you need.
Frequently Asked Questions
Q: What is the difference between an OCR and a scanner?
A scanner takes a picture of a piece of paper and saves it as a digital file. The text in a scanned image can't be changed. However, with an Optical Character Recognition app, the digital image file is turned into a document that can be edited.
Q: What is the best OCR software for Windows?
SimpleOCR is the best OCR software for Windows. It has exceptional precision and speed, supports over 130 languages, including those written from right to left, and is highly user-friendly.
Q: What is the device requirement for major OCR software?
There is adequate support for a lot of devices. The average application requires a 1GB device storage capacity without fancy operating system modifications. So you don't have to worry about your device's capabilities.
Q: Can OCR apps read handwriting?
Most Optical Character Recognition programs can tell which fonts are used in standard documents. However, they don't know how to read handwriting. You need a special handwriting OCR app to find handwritten text in documents.
Q: Which OCR is best for handwriting?
SimpleOCR is the best OCR for extracting information from handwriting. This free engine could easily understand and capture text from handwritten images.