Last updated Jan. 15, 2023 by Peter Jakes
The best screencasting and screen-recording software can help in simplifying the complex tasks involved in screen recording. But you need to choose the best screen recording software to get good audio and video production.
This article will reveal the 16 best screencasting and screen recording software for quality results. So let's dig in.
Before that, it's essential to know what screen-recording software means. So let's see to that.
What Does Screen Recording Software Mean?
Screencasting and screen recording software are designed as screen capture applications embedded with advanced tools that assist you in recording your computer screen's output. And its relevance has increased in recent times, as people often use the tool to render numerous tasks.
Why Do You Need Screen Recording Software?
Since screen recording software enables users to execute complex tasks, you can use them to simplify your day-to-day working activities.
The following demands will inspire you to download screen recording software.
When you have a presentation to make, you have to record your screen to explain basic terms to your audience. However, you'll need a good screen recorder to get the best outcome and make the right choice of sentences as well.
If you are a YouTuber organizing video tutorials for your subscribers, you can use a screen recorder to explain complex terms and simplify the learning process.
Now that I've talked about that let's look at 16 top screencasting and screen-recording software.
16 Best Screencasting & Screenrecording Software
You need to work with the best screen recorders to get good results since there are numerous low-quality screen recorders out there.
The 16 best screencasting and screen-recording software include the following.
#1. PassFab Screen Recorder (Windows)
The PassFab Screen Recorder is a piece of window software designed to give users high-quality screen recordings whenever they play video games. Hence, the PassFab screen recorder is specifically designed for people intending to record their video gaming sections on their PCs.
It is a multi-featured, powerful software that allows users to record their computer screens in HD. This enables you to capture your entire screen at once. You can also use it to capture a specific section of the screen.
Despite its powerful features, the PassFab Screen Recorder is easy-to-use software. Both professional and amateur users will never experience difficulty in handling the software.
Aside from recording video games, you can use them for video tutorials, music videos, and other purposes. PassFab Screen Recorder is not free software as it goes for $14.99. You can check it out here
Features You'll See In The PassFab Screen Recorder
Some of the features of PassFab Screen Recorder include the following:
Game Recording
Screen and Webcam overlay recording
Schedule a recording for business
HD Screen recording
Real-time drawing during the recording
It supports different multiple output formats like MKV, MP4, and more.
An inbuilt video editor
#2. VideoProc (Windows and Mac)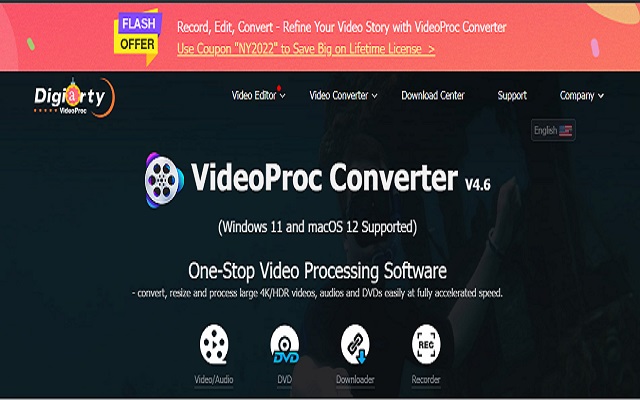 VideoProc is screen recording software that enables users to create the best tutorials, gameplay, podcasts, and streaming recordings. Unlike some applications on this list, VideoProc is available in three editions for Windows and Mac.
VideoProc has a recorder that lets you capture quality videos directly from your webcam or computer screen. It also has a video editor that offers merging, rotating, cutting, and more tools.
When you use this software, keep in mind that you can use it to type, highlight, draw, add voiceover, and execute other tasks. So, you'll have to decide on your recording quality and set the software accordingly before use.
VideoProc allows its users to purchase a one-year license for $29.95. If you are not comfortable with this, you can buy a lifetime license for $42.95 or a family license for $57.95. Before paying for this service, you can download and use the free trial version.
Compare pricing plans here.
Some Features of VideoProc
A fascinating video editor that can crop, rotate, cut, and merge the recorded screen.
Powerful focused media converter.
It comes in 3 recording modes, including recording video using a webcam, capturing a desktop or Mac screen, and creating a picture-in-picture video.
It can download music from numerous websites.
Application of Green Screen.
#3. iSpring Cam Pro (Windows)
iSpring Cam Pro is one of the best screencasting and screen-recording software for video courses, tutorials, and other tasks. The software was created for professional usage online.
iSpring Cam Pro lets you record your web and screen together using a picture-in-picture mode. And you can also record audio narration, the entire screen, webcam, and other tasks.
iSpring comes with an inbuilt video editor to boost the final output of your video quality. This video editing tool removes useless fragments, applies transition effects, de-noise, and performs other tasks. Click here to learn other tasks you can perform with iSpring cam pro.
Despite the powerful features that come with this software, you can get it for the price of $227 per year. Keep in mind that this price is strictly for single users only. So if you would like to get multiple accounts, you should create multiple accounts and pay the annual subscription fee again.
Features of the iSpring Cam Pro
The ability to accommodate annotations, images, shapes, and more.
Ability to record the webcam, screen, and audio narration.
It comes with no recording time limits.
Ability to edit the output video.
#4. Camtasia (Windows & Mac OS)
Camtasia is a professional screen recorder software with built-in templates, themes, and video editing features. The software also comes with other sophisticated tools that make a screen recording an easy and simple task.
As you edit your videos on this platform, you will have access to tools that enable you to record audio or add music to your videos. During the video editing stage, you can add quizzes to your video to improve engagement.
You can also capture your voice directly using a built-in microphone feature added to the system. Camtasia is one of the best screencasting software to consider, especially when searching for the best tool for screen recording and creating interactive quizzes. It comes in at $299.
Features of Camtasia
Comes with built-in templates and themes.
Supports 16 file formats such as BMP, MPEG, Avi, GIF, MP3, and MP4.
Record high-definition quality videos.
#5. Movavi Screen Recorder Studio (Windows & Mac OS)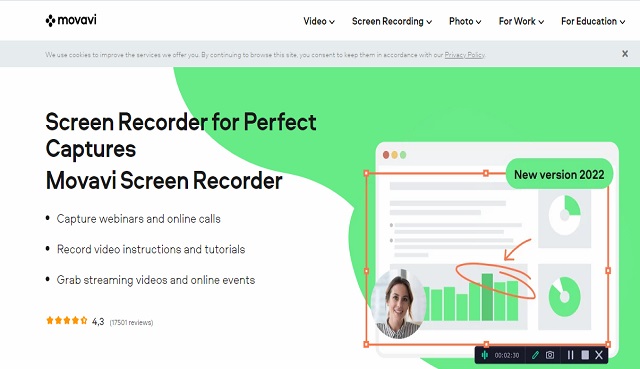 Movavi Screen Recorder Studio is one of the best software programs used to record and edit video files. When you compare the Movavi screen recorder with other applications, you will realize that the software is designed with one of the best video editing tools.
You can create unique videos and special effects with high-quality features such as stickers, blur, filters, and more. The software is mainly used for presentations, screencasting, live streaming, and the digitization of VHS tapes.
When you use the top-notch features of this video editor, you can create several unique videos to share across several online channels. The video created by this software can be optimized for smartphones, TVs, and other screens.
Hence, you can create videos that meet the demands of all your listeners. The price of Movavi Screen Recorder is estimated at $59.95.
Features of Movavi Screen Recorder Studio
Allows you to record sounds directly from your microphone.
Professional core editing tools to meet the demands of your audience.
Does not have a time limit on any video length.
It supports more than 180 formats, such as MP4, MP3, ACC, AVI, MKV, MOV, and more.
#6. Snagit (Windows & Mac OS)
Snagit is a powerful screen recording tool that enables you to capture videos and images of your computer screen. The software is one of the best tools for technical documentation and screen recording activities.
Snagit is built with more sophisticated editing features. You can use this editing application to conduct great video tutorials or presentations for your audience.
The software enables you to annotate and edit screenshots using highlights and other features to ease up the process. Hence, you can capture several screenshots using this software. Snagit pricing starts at $62.99.
Features of Snagit
Captures webcam
Record screenshots and high-quality videos.
Supports GIF and MPEG-4.
Capture audio from the system or microphone.
#7. Aiseesoft Screen Recorder (Windows & Mac)
The Aiseesoft screen recorder is one of the easiest screen recording tools to use for snapshots. The software captures your screen activities on both Windows and Mac computers.
You can record your Skype calls, webpages, video games, and other screen activities. It also comes with top-notch video editing tools for screen recording.
What's more? The Aiseesoft screen recorder can be used to capture webcams, online lectures, snapshots, video tutorials, and other on-screen activities. The software has high-quality features that give creators additional skills to produce the best recordings.
Keep in mind that the Aiseesoft screen recorder has three pricing options, and they include a 1-month license (which comes at $25), a 1-year license (which comes at $31.20), and a Lifetime License ($49.96).
Features of the Aiseesoft screen recorder
Captures only the internal audio of your computer.
Has multiple formats to save the captured videos, such as MP4, WMV, MOV, and more.
Supports multiple formats to save recorded snapshots in several formats such as png, gif, jpeg, BMP, and more.
Comes with real-time HD video encoding technology to give you the best videos and images.
#8. ShareX (Windows Only)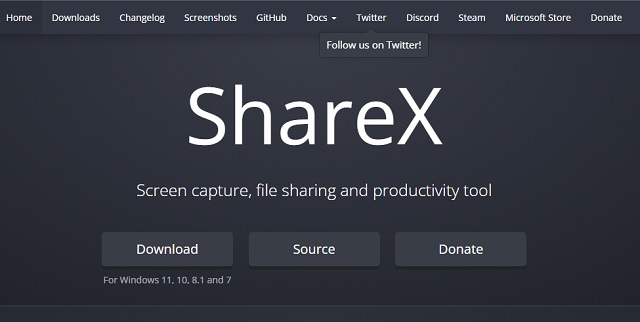 ShareX is a screen recorder that lets you record any part of your screen with a single key. The software allows you to include text and visual effects in your recorded files.
You can upload the recorded file into online storage spaces such as OneDrive, Amazon, Google Drive, and more. ShareX comes with basic screen capture features. You may be thinking that its basic features can not give you a professional outcome.
However, when you begin using ShareX for your screen recording activities, you'll realize that ShareX is exceptional software. Despite coming with great basic tools, ShareX is completely free.
So if you don't want a screen recorder that will cost you some money, you may consider going for ShareX.
Features of ShareX
Comes with several productivity tools.
Gives you the ability to share files online.
#9. Flashback Express (Windows Only)
Flashback Express is a free screen recording software to consider. It's one of the best screencasting and screen-recording software that enables you to record webcams, gaming videos, and other tutorial videos.
Flashback Express provides several professional tools to enable its users to capture videos. Although the application is free, it still has several beneficial features that will guarantee your success in recording screens.
Keep in mind that the final output of this video recorder does not attach watermarks to the videos. Keep in mind that Flashback Express also has a premium version. If you want the premium version to work effectively, try to budget $59 for the purchase.
Features of Flashback Express
Supports WMV, MP4, and AVI video formats.
Does not have a movie-length limit.
Offers HD recording.
The final video outcome does not have watermarks.
#10. CyberLink Screen Recorder (Windows Only)
CyberLink Screen Recorder is used for video streaming, desktop recording, and other tasks. The software has several powerful tools for video editing, game streaming, and other activities.
The CyberLink Screen recorder has an all-in-one solution that is essential for professionals in different fields. Vloggers, gamers, Youtubers, streamers, and other experts can use this software to produce highly engaging content for their audience.
The software has a high-quality screen recording technology to record HD videos and images. CyberLink can be considered one of the best online screen recordings. The CyberLink Screen Recorder is priced at $34.99. However, you can download it from the internet for free.
Features of the CyberLink Screen Recorder
Guarantees easy live streaming.
Enables a smooth recording and editing process.
Has user-friendly editing tools.
#11. Open Broadcaster Software (Windows, Mac OS, and Linux)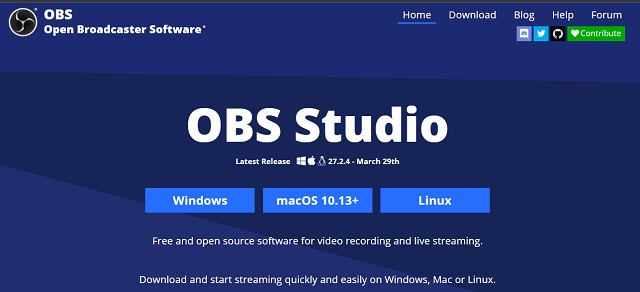 Open Broadcaster Software is created with a powerful free video recording application. The software can upload your videos directly to your Twitch and YouTube accounts. The Open Broadcaster Software is one of the best live streaming and video game screen recording software to consider.
The software can also assist in creating other educational videos. And unlike most software applications, the open broadcaster software records audio and videos from several sources, such as system audio, mics, and other video recording devices.
You can use some of its tools to include a transition to your videos by deploying an intuitive audio mixer. The software is easy to use as it does not involve any complicated stages and is completely free.
Since it can work on Windows, Mac OS, and Linux, you are less likely to experience difficulty installing and using the software on your computer.
Features of open broadcaster software
Has a high-definition game recording.
Has the ability to track multiple scenes, which can be used at once.
Has a powerful real-time audio and video editing tool.
Comes with an intuitive audio mixer.
#12. Adobe Presenter (Windows Only)
Adobe Presenter is a window-based software application with advanced features you may not discover on other platforms.
The software assists in creating regionally high-quality videos for their audience. Remember that you can stream videos online by simply using this software. When you are done creating videos on Adobe Presenter, you should proceed to save the videos with the aid of the Adobe Connect Server.
The software is fully licensed at $499. However, you can opt for a $14.99 monthly subscription when you cannot afford the full license. At this price, you will realize that Adobe Presenter is quite expensive.
But the price is actually worth it, as you will be given several video editing tools that will help to customize your video. The software enables you to zoom in and trim your video files. You can also perform other operations on the platform.
You can check here to learn more on Adobe presenter.
Features of Adobe Presenter
Enables the ease of selection of predefined images.
Offers smooth video editing tools.
#13. Screencast-O-Matic (Windows, Mac OS, Chromebook)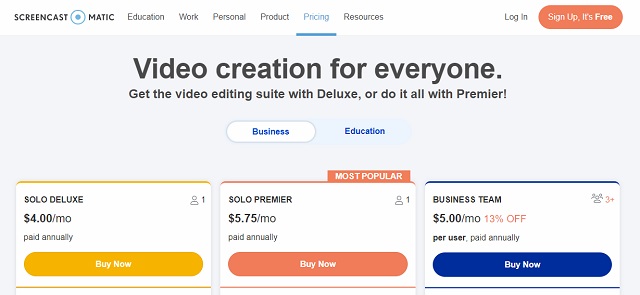 Screencast-O-Matic is an online software application that allows you to design outstanding videos with great quality. Many experts refer to this platform as one of the best screen recording applications for screencasting and other video tutorials.
Using this app makes it easier to edit videos like a professional. The software also allows you to include narration for the recorded videos. With its zoom-in-and-out features, you can enjoy your screen time while using the software to edit your videos.
Screencast-O-Matic allows you to bring in files such as videos, audio, and images from other sources. Keep in mind that you can also customize your videos using overlays and other features provided by the platform.
This software has three subscription plans, including a free mode, $1.5 per month, and $4 per month.
Features of Screencast-O-Matic
Cloud hosting services.
Provides speech-to-text captioning.
Captures system audio.
#14. Filmora Scrn (Windows & Mac OS)
Filmora Scrn is another of the best screen recording programs to use for video recording and editing. The software has powerful tools that allow you to edit your online courses, video tutorials, and other tasks.
Filmora Scrn can record only a particular section of your entire screen, and you can also improve more than 50 different file formats at once. The software provides you with several features, including intuitive design, custom recording fields, picture-in-picture, and more.
Filmora Scrn comes with two different plans, including a lifetime license at $29.99 for a PC and a 1-year license at $19.99 per PC.
Features of Filmora Scrn
Ability to record screen and webcam together.
Easy-to-use editing tools.
Fast recording.
#15. Fraps (Windows Only)
Fraps is a window-based software application that enables you to create screen records of your video tutorials. This software gives you access to several high-tech tools that can be used to accomplish complex tasks.
Fraps are specifically created for window users alone. You should note that Fraps has two subscription plans, including a free plan and a pro plan that costs up to $37.
Features of Fraps
Comes with easy-to-use editing tools.
Speedy screen recording.
#16. Ezvid (Windows Only)
Ezvid is screen recording software that allows you to create video content for your social media platforms. When you intend to organize a video tutorial class for your followers on a budget, you should consider using Ezvid.
Unlike most platforms, Ezvid is a free screen recorder where you are not required to pay for the basic services rendered by the platform.
Features of Ezvid
Ability to upload videos on Youtube, Facebook, and other online platforms.
Advanced video editing tools.
Final Opinion
The 16 best screencasting and screen recording software listed above has been carefully selected to enable you to make a perfect choice. And you'll find them easier to use without stress.
Just ensure that you look out for errors before exporting the recorded video or audio from the software.