Last updated Sep. 16, 2023 by Charles Zemub
10 Best Tax Software
According to the IRS' Estimates on Taxpayer Burden, filing a Form 1040 takes the average taxpayer 9 hours, even more with state filing. If you run a business or side hustle, you can spend up to 23 hours filing your taxes.
Filing your tax returns manually gives you control over the process; however, using software to do the heavy lifting can be more effective and less time-consuming. So, which software is best for filing tax returns? And what should you look out for in ideal tax software?
What to Look Out for When Selecting a Tax Software?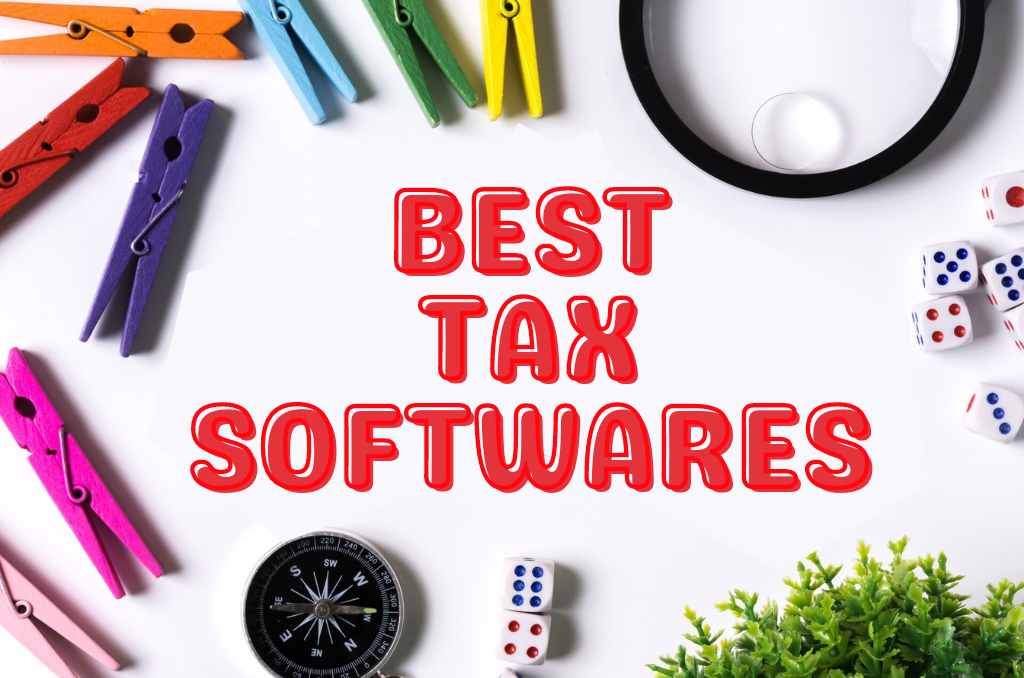 The most ideal software for you should have an easy-to-use interface, be cost-effective, and fulfill all your tax filing needs, business or individual. For complex taxes, an easy-to-navigate software would help make the tax filing process easier.
If you're not confident handling your taxes personally, you should go for software with extensive support or an option to get expert help. Some tools come with a library of helpful resources you can use.
Related: 9 best tax software to file for free
Below is an in-depth review of some of the best tax software. From our research on 100+ tax apps, we've curated a list of the top 10 we recommend.
1. TurboTax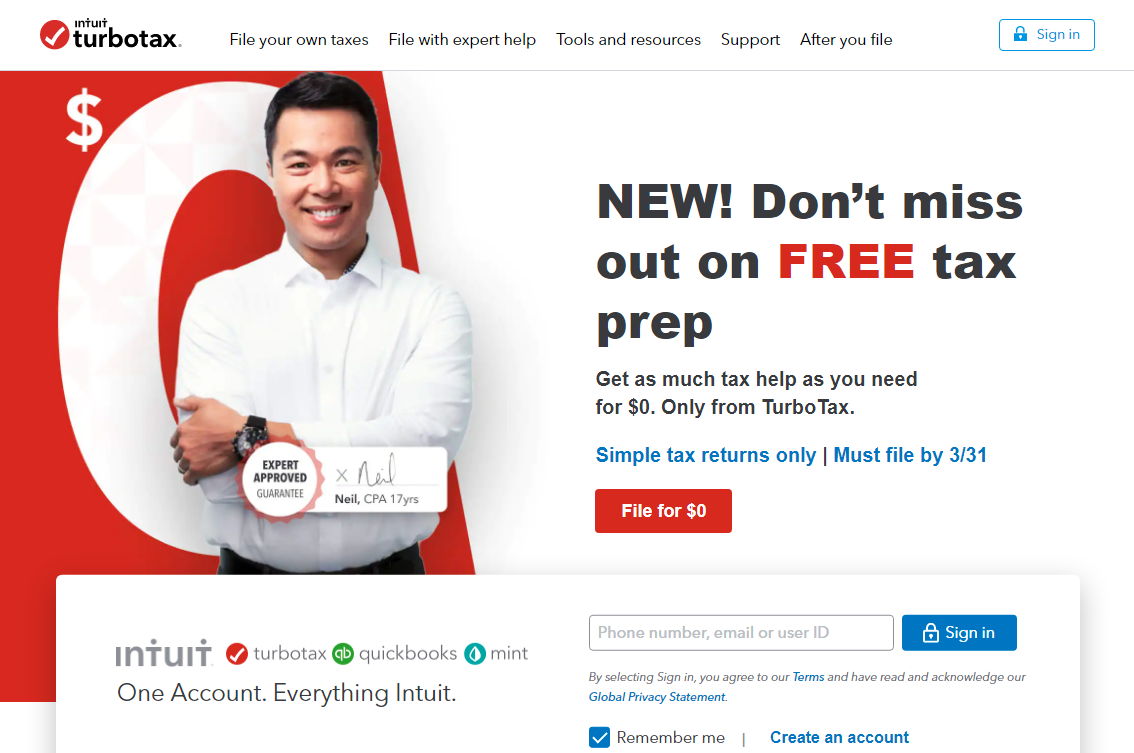 TurboTax is one of the oldest tax preparation software on the market. The software was developed in 1993 by Michael A. Chipman under the software company Chipsoft. It was later sold to Intuit in 1993. Ever since, the software has gone through a lot of improvement and upgrades by Intuit.
Despite being an old dog, TurboTax is one of America's leading software solutions for filing income tax returns, rivaled by TaxAct and H&R Block Tax Software.
What does TurboTax have to offer?
Three options to file your tax: TurboTax provides users with three approaches to getting their tax done. You can either choose to DIY following instructions from the software, have an expert put you through the filing process live, or leave everything to a tax professional.
File on the go with the mobile version: You can file your taxes anytime, anywhere, with the mobile app. You can also switch between the web and mobile versions seamlessly. The desktop version doesn't support this feature.
Upload and import tax forms with ease: The software allows you to import multiple tax forms from investment companies and banks. You can also take pictures of forms on the mobile app and upload them.
Comprehensive help resources: Impressive customer support service, a library of helpful resources, and FAQs related to everything tax.
Professional Support: There's an option to access expert support for an extra fee. You can connect with a professional to either work you through your tax filing process or do it for you.
Multiple refund options like prepaid debit card: TurboTax allows users to receive their federal refund via prepaid debit card, check, or direct deposit. You can also request for refund of advance loans, which would be deducted from future refunds.
Accuracy Guarantee: TurboTax claims to handle your tax returns without any errors. They would pay any IRS penalties and fees due to calculation errors. However, errors due to wrong input from you are not covered.
How much does TurboTax cost?
TurboTax is one of the most expensive tax preparation software on our list. The price varies depending on whether you choose the mobile or desktop version, you're doing the filing online by yourself, or request expert help. Pricing starts at $0 and peaks at $389, depending on your need.
There's a free edition on all versions except for the desktop software. And, no discount is available on all pricing plans.
See full pricing plans below:
Do It Yourself

With Expert Help or Done For You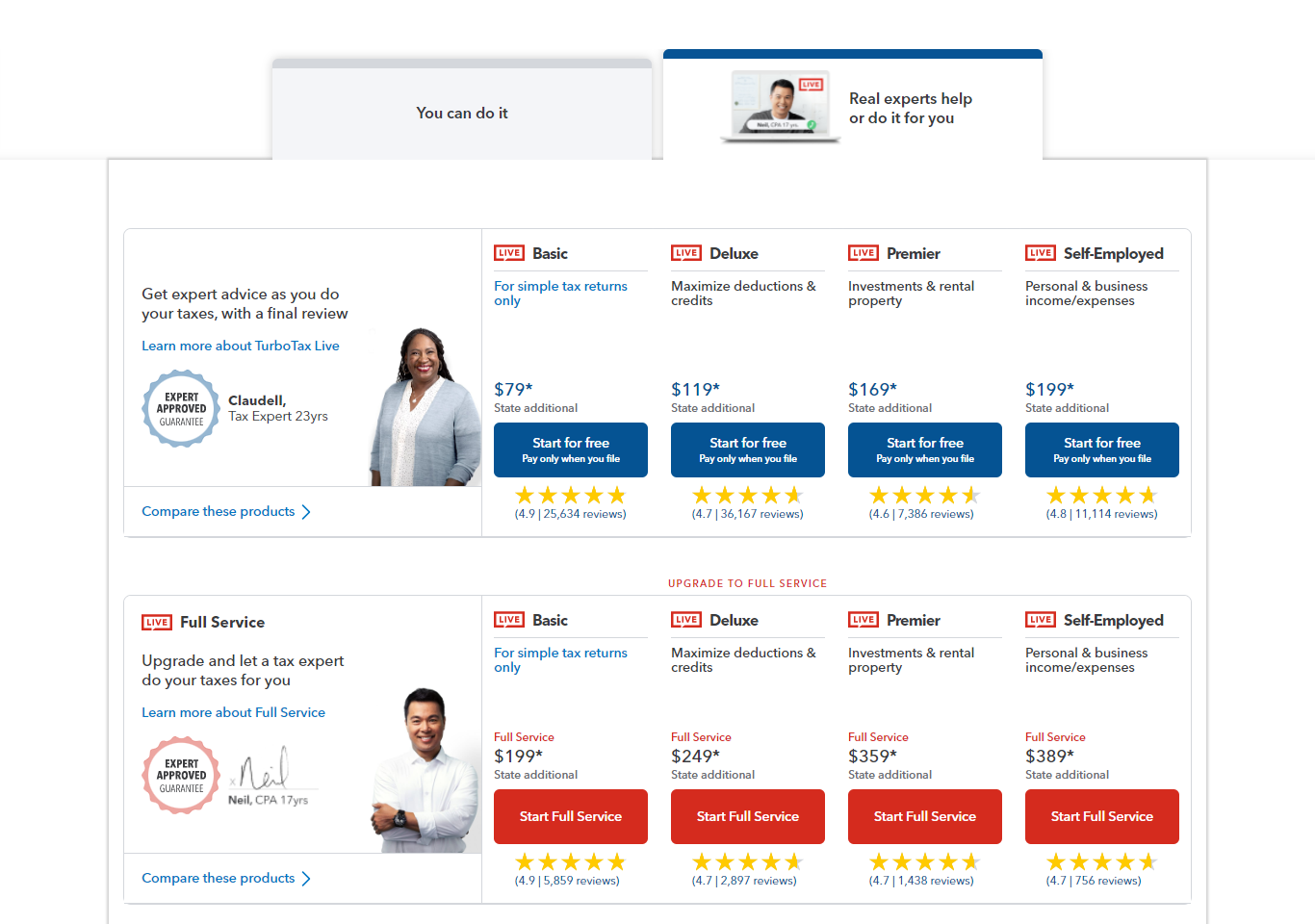 Pros and Cons
Pros
Easy-to-navigate interface, forms, and deductions.
Access to other Intuit products like Credit Karma, QuickBooks, etc.
Professional help is available.
Cons
TurboTax is an expensive option
Not an advisable solution for a student-loan borrower or college student.
Customer service and product support are low for lower-tier subscriptions.
Why We Recommend TurboTax
TurboTax is better suited for investors and business owners. Although the prices can be on the high side, the option of having a professional file your tax with you or for you is worth splurging for.
If you qualify for the free version, the tool can be a useful online solution to your tax needs. We don't recommend TurboTax if your priority is saving money on tax preparation.
Website: https://turbotax.intuit.com/
2. Jackson Hewitt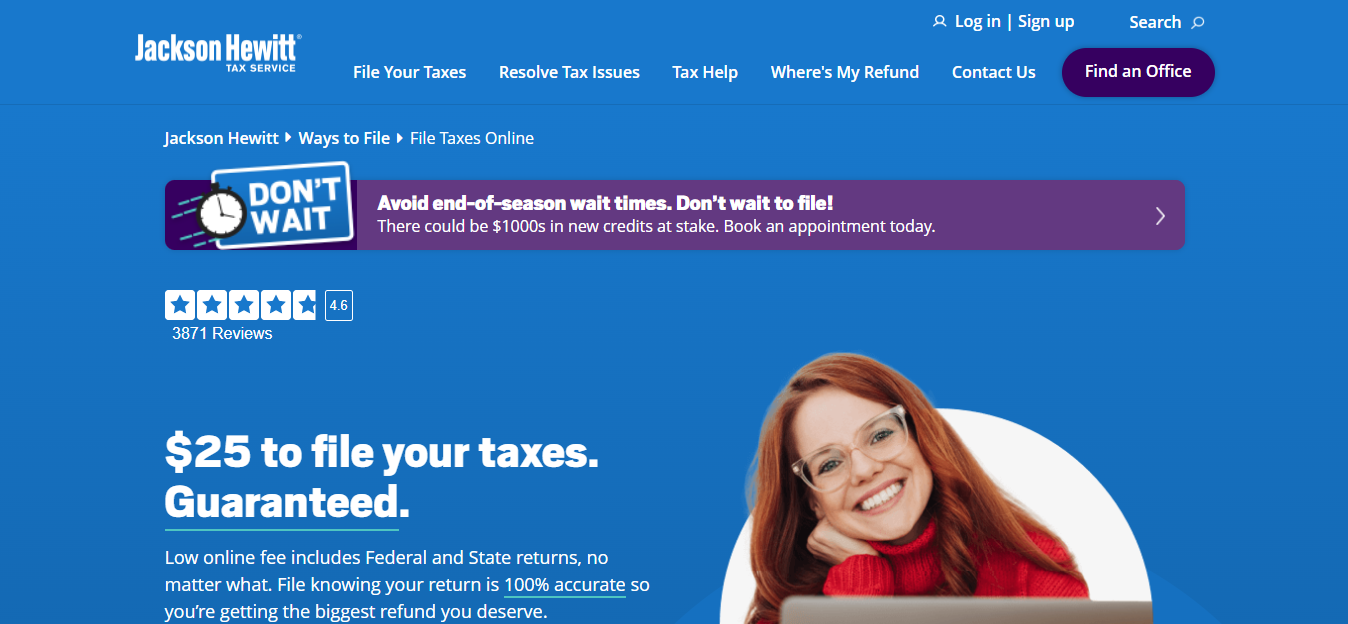 Headquartered in New Jersey, Jackson Hewitt Tax Service Inc. has helped prepare 2 million+ tax returns, income, state and federal, in the United States. The software company is the second-largest service provider for tax preparation.
What does Jackson Hewitt have to offer?
Document checklist: Jackson Hewitt automatically determines the forms required for your tax filing after you fill out a simple document checklist.
Mobile app: The app version is available for easy access. You can also switch between the web and mobile versions with ease.
Tax return record: All finished tax returns are stored for about three years in your account before being deleted. Read also Best Savings accounts and Interest rates.
Accuracy guarantee: Jackson Hewitt would foot the calculation errors resulting in IRS penalties and fees of up to $20,000. If the penalty was a result of your mistake, this guarantee won't be valid.
How much does Jackson Hewitt cost?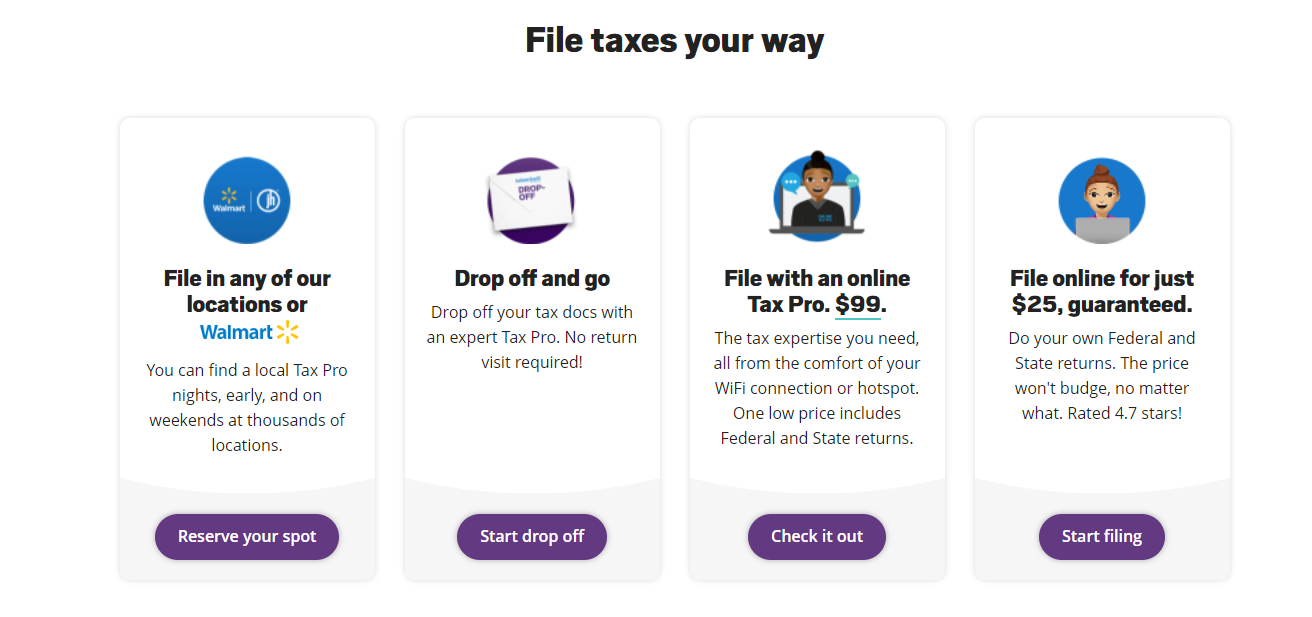 Jackson Hewitt Tax software prices can vary depending on your needs and whether you need a professional assistant or not. Here's a breakdown of the packages available:
Standard (Standard deductions, simple returns) – $69.00
Deluxe (Itemized deductions, slightly more complex returns) – $179.00
Premier (self-employed filers, most complex returns) – $249.00
Additional fees may include:
Federal Returns – $25 (Do It Yourself)
State Returns – $24 (Do It Yourself)
W2 Form – Joint W2 (0 dependent) – $150.00
W2 Form – Single W2 (0 dependent) – $150.00
Unfortunately, Jackson Hewitt does not offer any free version.
Pros and Cons
Pros
Clean, easy-to-navigate interface
Affordable tax preparation solution
Professional assistance is available.
Great user experience
Cons
Can't import or upload a document
Isn't ideal to handle tax returns in a complex business ownership scenario
There's no option to talk to a tax expert for personalized guidance.
No free version.
Why We Recommend Jackson Hewitt
One of the main reasons we recommend Jackson Hewitt software is its intuitive interface and straightforward approach to tax preparation. Most users also appreciate its ability to process unlimited state returns.
If you don't qualify for free federal filing, this tax software solution can be a cost-effective alternative for you. Taxpayers who are used to preparing their taxes personally would enjoy the platform; inexperienced filers might not due to the limited pro help available.
Website: https://www.jacksonhewitt.com/
3. TaxSlayer Pro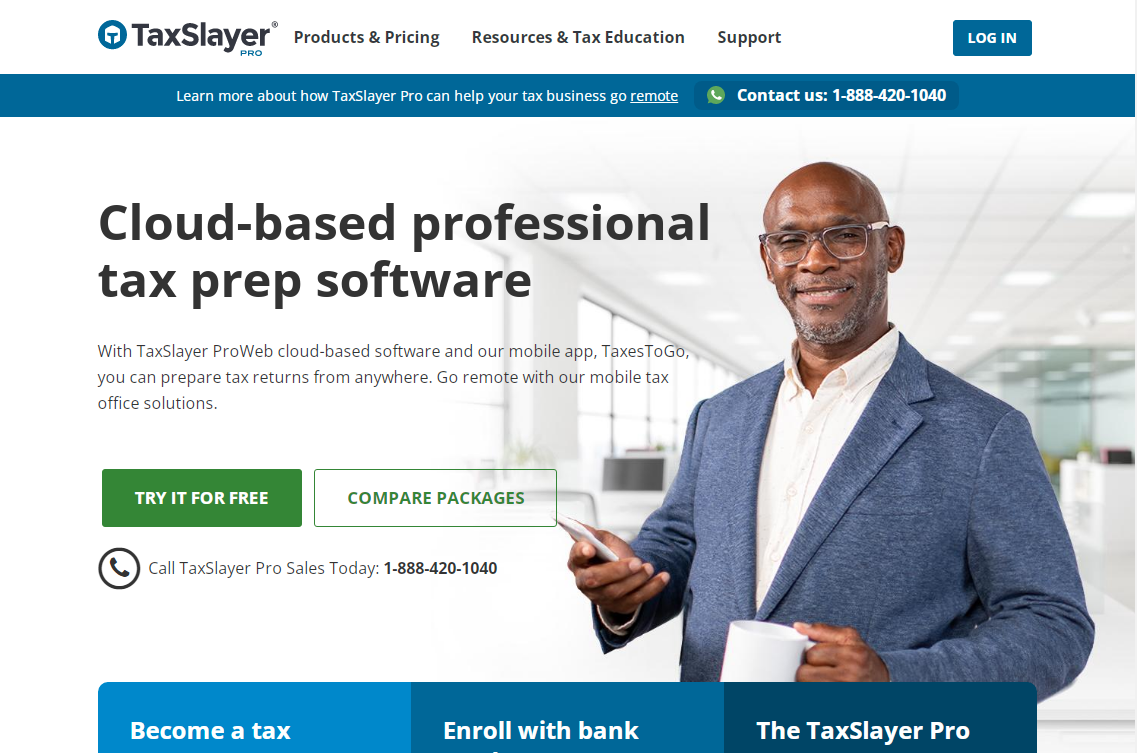 TaxSlayer Pro is a Georgia-based financial technology and tax preparation company. Professionals make the company's online tax preparation technology for professionals. Tax professionals and American consumers can easily file their federal and/or state returns with the software.
What does TaxSlayer Pro have to offer?
Advanced help features: Support is mainly through email and phone services. However, TaxSlayer Pro also provides first-class benefits for users who subscribe to their Self-Employed or Premium packages, including IRS audit support and contact with a tax expert.
Supports various mobile devices: You can easily access help services, estimate your tax due or refunds, and file state and federal returns with a few swipes and clicks.
Multiple refund payout options: Payments can be received via check or direct deposit for all your federal refunds. Payment to a prepaid debit card is the only available option with state refunds.
Error-free guarantee: The company would cover IRS fees and penalties resulting from calculation errors made by TaxSlayer Pro. This guarantee would be void if the mistake is due to wrong input on your part.
How much does TaxSlayer Pro cost?
The price for TaxSlayer Pro services varies depending on your support preferences, life situation, employment status, as well as whether you'll need professional help or go through the filing process yourself.
Pricing is divided into three main packages:
Web (Cloud-based) for $1,495.

See more information about the package here.

Premium for $1,595.

See more information about the package here.

Classic for $1,295.

See more information about the package here.

Pros and Cons
Pros
The free plan covers student-loan interest deduction and education credits
A straightforward approach to tax filing
Can handle complex tax situations
Cons
Tax preparation software solution on budget
User experience is not seamless
The interface is not intuitive
Little expert support for inexperience tax filers
Document upload or import feature is not available
Limited customer support for lower-tier packages.
Why We Recommend TaxSlayer Pro
We recommend TaxSlayer Pro for tax filers who are looking for a low-cost tax preparation solution. If expert guidance is not your priority, then you'll find this software useful. However, if you don't have prior experience filing complex taxes, you might be better off considering other tax software options.
4. Intuit ProSeries Tax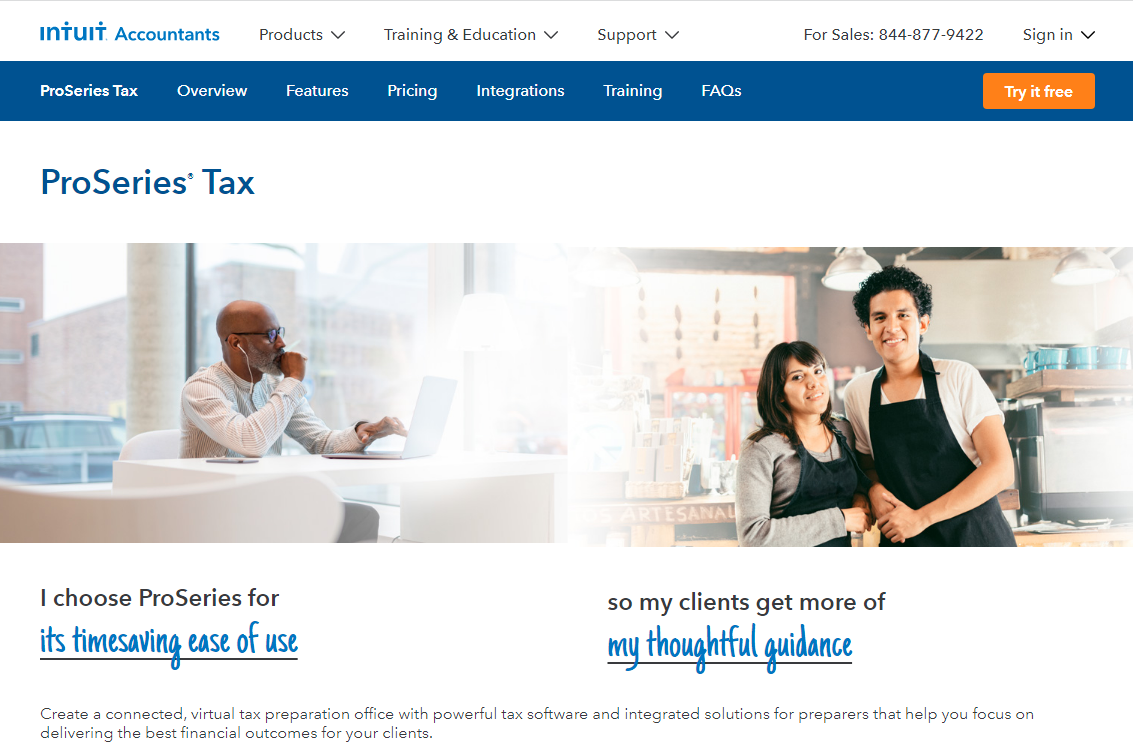 Another impressive application that Intuit offers is ProSeries Tax Software. The tax filing software was created specifically for tax experts to help speed up their tax preparation time. And with the series of recent updates and upgrades, there's been an improvement in the software functionalities.
What does Intuit ProSeries Tax have to offer?
Interoperability: The software is interoperable with other Intuit software like QuickBooks. You can import account information related to tax return fields in QuickBooks directly into the software's appropriate lines.
Users can manually enter trial balance information and make modifications using the built-in trial feature. Customers who are converting from Intuit's TurboTax can easily import their information into ProSeries from the TurboTax software.
Paperless Transition: Tax Import is another add-on solution that provides a technical framework for immediately importing scanned documents into ProSeries. The documents are scanned and then uploaded to Intuit by the users.
Remote Access: The only method to use ProSeries Tax is through a traditional desktop installation. ProSeries can only be accessed remotely using various hosting options.
How much does Intuit ProSeries Tax cost?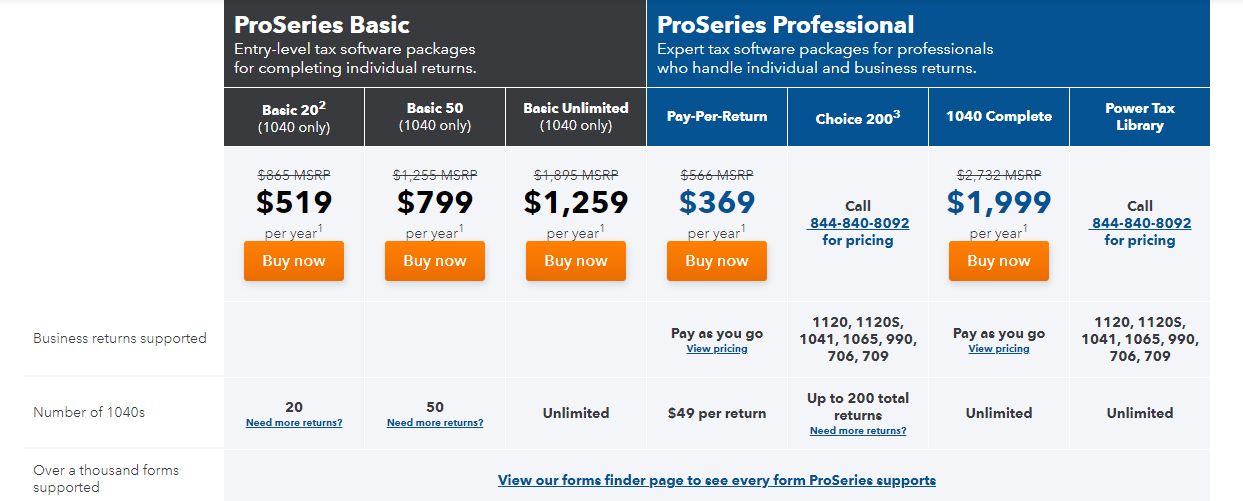 There is two product version of ProSeries available currently: ProSeries Professional and ProSeries Basic. Prices range from $519 to $1,999 depending on the version you opt-in for and your tax needs.
The ProSeries Professional is designed to cover a wide range of return types and handle high-volume accounting operations. In contrast, ProSeries Basic is better suited for handling simple tax returns and is often used by entry-level tax professionals.
Pros and Cons
Pros
Intuitive and easy-to-navigate interface
Interoperability with TurboTax and QuickBooks
Ability to import scanned data directly.
Cons
Remote access limitations
Has fewer review tools.
Why We Recommend Intuit ProSeries Tax
Intuit ProSeries Tax is a form-based e-filing solution with many useful features that small businesses would find beneficial, specifically in the accounting and financial services industries.
Accurate Financial Services is a popular company that uses Intuit ProSeries Tax.
5. H&R Block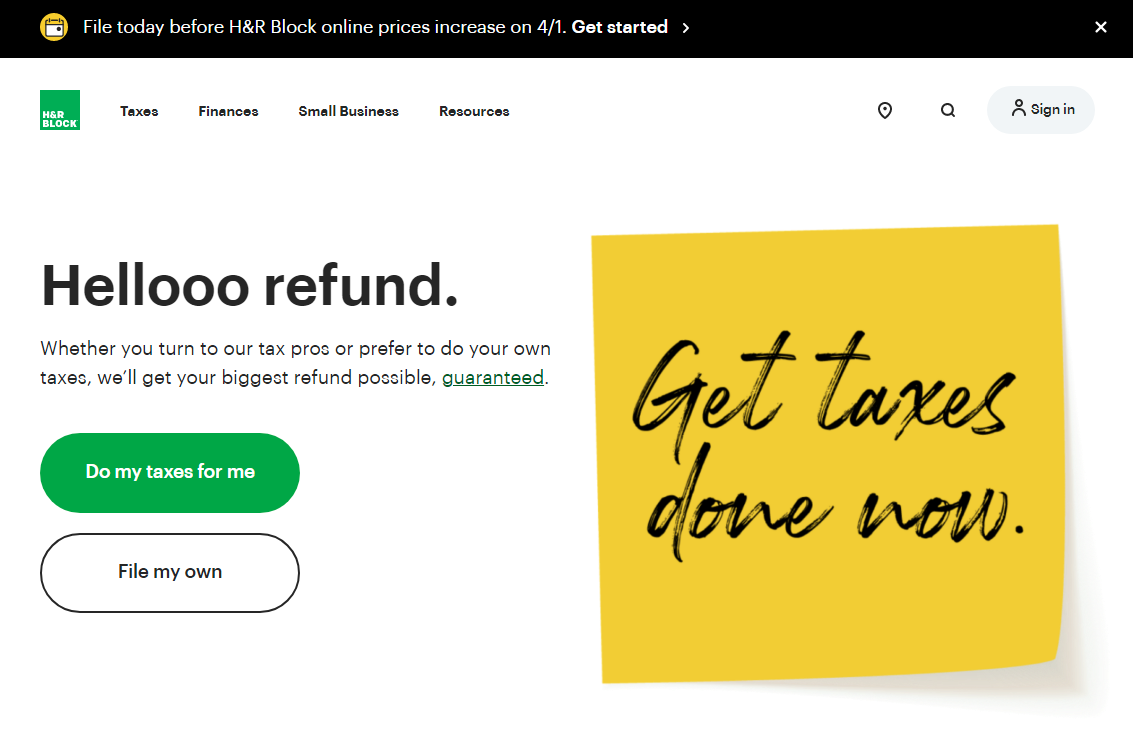 H&R Block is a tax preparation firm based in the United States that also has offices in Australia and Canada. Their e-filing software is simple and intuitive to use, and the free edition includes a large number of forms.
In the congested tax software market, the software is a strong contender. It's not the most expensive of the tax software companies we looked at, but it's also not the cheapest.
What does H&R Block have to offer?
Seamless uploading and importing of tax forms: You can upload a PDF version of your tax form or import one from your workplace, bank, or investment firm in seconds. This feature helps users save time.
Supports mobile devices: File your taxes from the comfort of your home.
Step-by-step guidance: H&R Block is particularly good at this. When you're asked to answer a question or offer a number, a sidebar will appear with a helpful explainer that explains what it means in layman's words.
Live Pro support: There's an option to consult a tax specialist or have your documents prepared for you by a professional for an extra fee.
Multiple refund options: Your federal refund can be loaded onto a prepaid debit card, mailed to you in the form of a check, or transferred into your bank account. Refunds can also be used to purchase an Amazon gift card in $100 increments, qualifying you for a 3.5 percent bonus from H&R Block.
Tax return storage: Your finished tax returns are stored for six years before getting deleted.
Accuracy guarantee: H&R Block will cover up to $10,000 of the costs for calculation errors resulting in an IRS penalty. However, the guarantee does not apply if it is determined that you entered information incorrectly.
How much does H&R Block cost?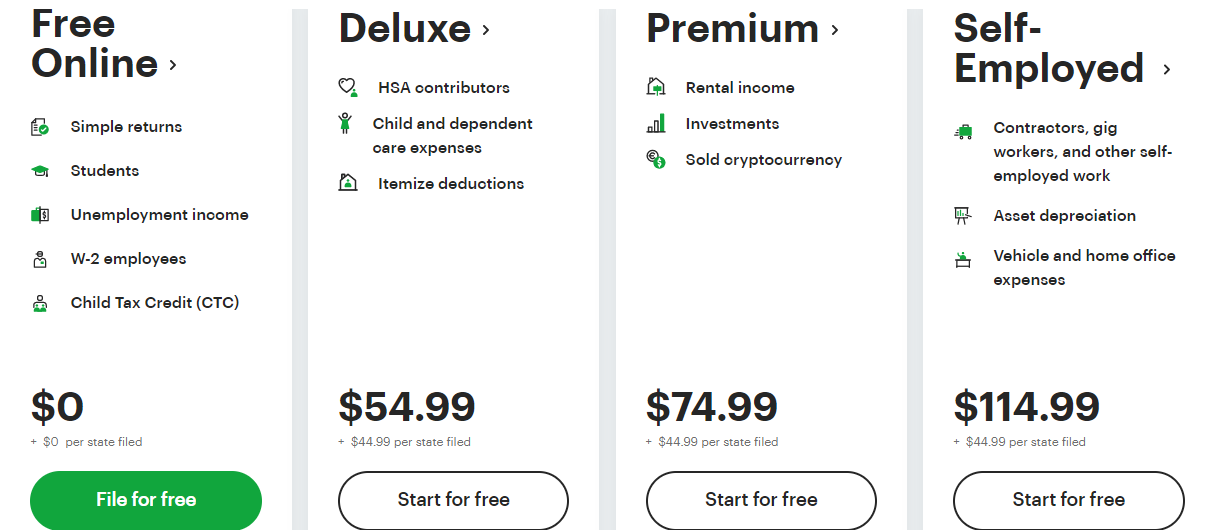 H&R Block pricing depends on your tax needs and situation. Pricing starts from $54.99 to $114.99. A free forever plan is available for students, W-2 employees, and students.
Pros and Cons
Pros
Has a free filing option suitable for students
Clear explanations and step-by-step guidance on tax concepts
Pro support is available
Clean and modern digital interface
Cons
Not the lowest-cost option
Why We Recommend H&R Block
H&R Block might be for you if you're willing to pay for convenience while doing your taxes. There are different types of service options, and you'll find one that suits your tax needs.
The guidance H&R Block provides can also benefit inexperienced filers and people who just underwent a major life change.
6. ATX Tax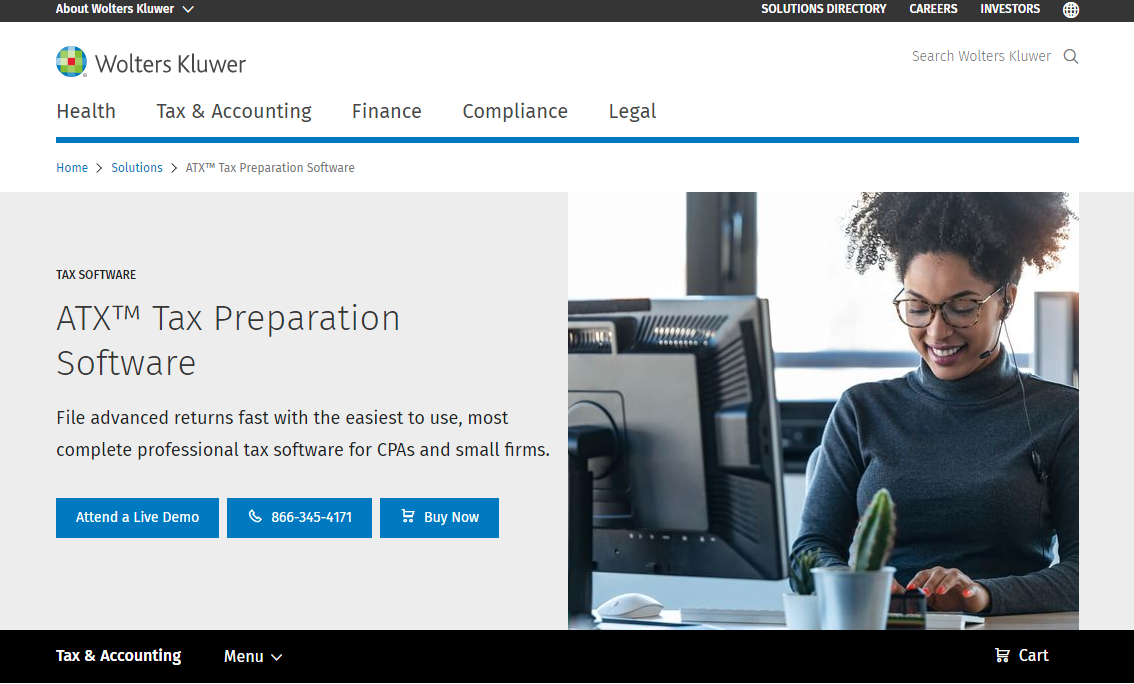 ATX is a premier tax return preparation software that was developed by Wolters Kluwer's CCH Small Firm Services.
The features available on this tool can come in handy for small accounting firms, CPAs, freelance accountants, and business finance teams. You also get a tax compliance form library available on the desktop version.
What does ATX Tax have to offer?
Comprehensive Forms Library: With over 7,000 forms at your disposal, meeting tax compliance is easier. This library also makes it easier for accountants to meet employers' or clients' specific tax needs.
User-Friendly Interface: The platform's learning curve is short, and non-techy users won't have a problem working around the software's interface.
Checking & Interview Tools: Mistakes while filing are minimized with the help of a review feature that helps users double-check for errors and omissions.
Multi-Tasking Platform: The interface can be segmented into tabs that allow users to switch seamlessly between different forms and increase productivity. You can work on multiple forms, up to three, at the same time, allowing you to work faster.
Exceptional Support: If you ever encounter any technical difficulties while using ATX, you can count on their extensive knowledge library and support team for assistance. Users also get frequent practice aids, newsletters, and productivity tools to help them maximize the usage of the software.
How much does ATX Tax cost?

ATX offers different packages depending on your tax needs, including a free trial across all plans. Pricing plans include:
ATX Pay-Per-Return ($529)
ATX 1040 Package ($669)
ATX Max Package ($1,579)
ATX Total Tax Office ($1,579)
ATX Advantage ($3,949)
Pros and Cons
Pros
Wide range of forms in a built-in library
Checking and interviewing tools
Easy-to-use interface
Multi-tasking capabilities
Excellent customer support
Cons
Tax planning capabilities are limited
Doesn't support mobile devices
Requires EFIN to file online returns
Why We Recommend ATX Tax
ATX is a powerful tax program that incorporates all of the features required for tax filing. Hosting ATX in the cloud not only improves its functionality but also increases its flexibility of the cloud.
The advantages of storing ATX software on the cloud include remote access, simplified tax data interchange, and better data security.
7. Drake Software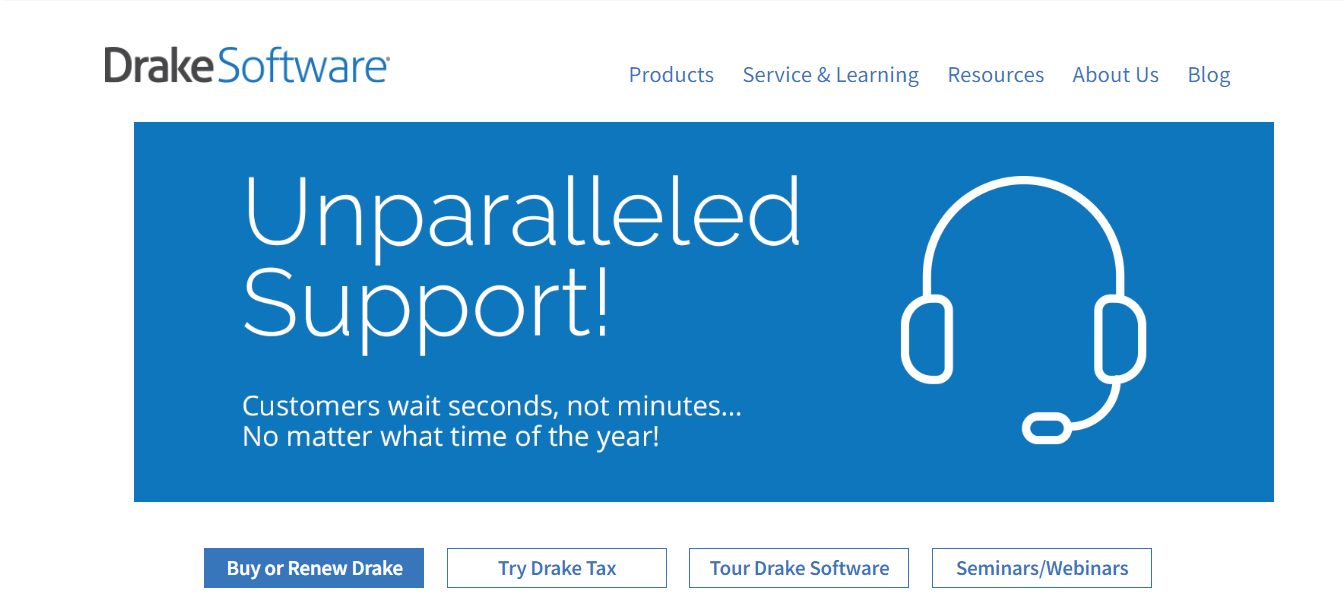 Drake Software is a comprehensive tax software package that provides tax professionals and accountants with the tools they need to file federal, state, business, and personal tax returns.
The company prides itself on having a comprehensive tax compliance system that a wide range of organizations can use. It's utilized all around the country to help with client write-up, document management, analysis, tax planning, and more, all in one convenient bundle.
What does Drake Software have to offer?
Data Conversion Services: Easy data conversion boosts professionalism and allows you to keep client data in its proper state and location.
Multi-State Returns: Drake Software makes preparing and returning files for all states possible. Over 6,000 federal and state forms are supported by the program.
Ease of Use: The software has an intuitive, simple-to-learn, and navigates interface that allows users to get up and running quickly. Users may easily and conveniently follow their clients with either an EIN or an SSN.
Easy Back-Ups: It is possible to restore data as well as custom settings from a SecureFilePro account that has been integrated into the software.
Integration with Other Tax Programs: Client Write–Up, GruntWorx, and Secure File Pro are just a few of the major tax programs that Drake Software works interoperably with.
How much does Drake Software cost?

Drake Tax pricing is divided into three straightforward plans:
POWER BUNDLE: ($1,745), unlimited returns.
UNLIMITED: ($1,625), unlimited returns.
PAY-PER-RETURN: ($345), includes 15 returns and costs $23 per additional return.
See full pricing details on the Drake Tax website.
Pros and Cons
Pros
Cost-Effective Taxing Software
Easy-to-Learn Software
Great Customer Service
Helps Simplify the Taxing Process
No Hidden Costs/No Extras
User-Friendly Software
Cons
Not all state policies are covered
Importing data into the platform can be difficult
Inexperienced tax filers would have problems using the software
Lacks some important forms
Why We Recommend Drake Software
Drake Software will be useful for small to mid-sized firms that will handle Form 1040 and business returns for their clients. The platform's solutions were created expressly to support the growth of small to mid-sized businesses and help them better serve their customers.
8. Cash App Taxes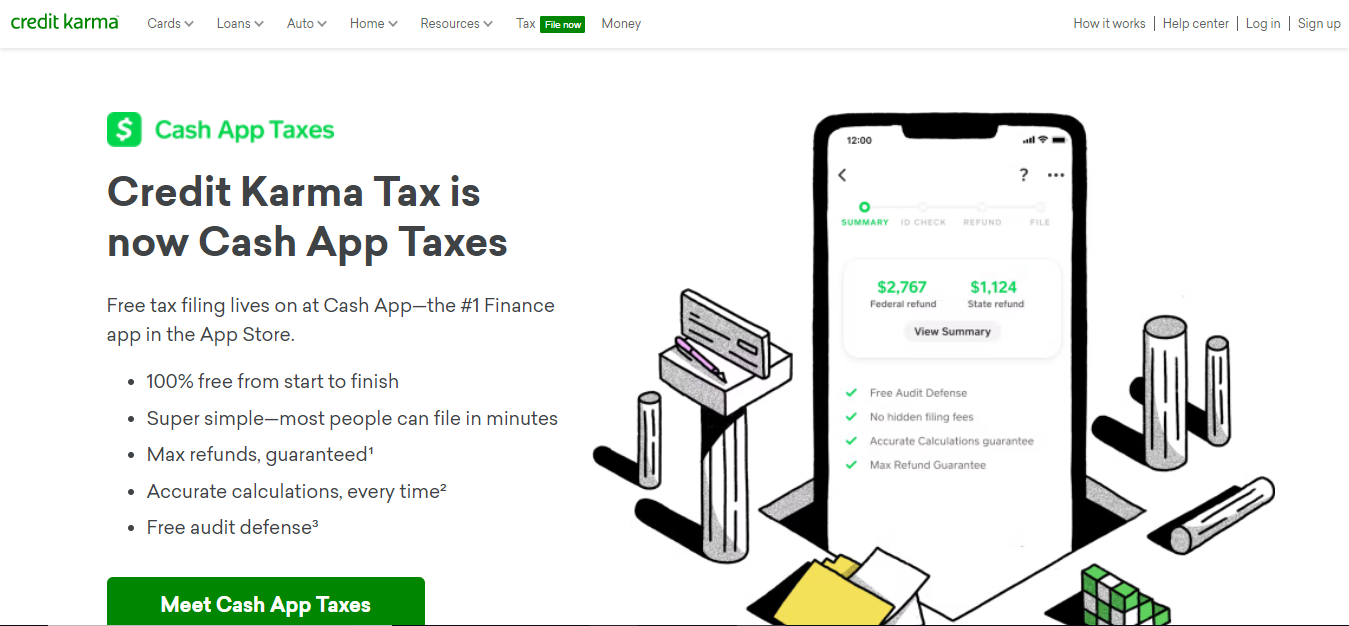 While the name "Cash App Taxes" is new in the world of DIY tax software, the software is not a new offering. Credit Karma's free DIY tax filing service was acquired by Square, Inc., the parent firm of the financial services app Cash App, and the site was rebranded to Cash App Taxes.
What do Cash App Taxes have to offer?
Ability to import: Cash App Taxes can import last year's 1040 and pull your personal information and adjusted gross income from the prior tax year if you filed using other tax software such as TaxAct software, H&R Block, or TurboTax.
Access to schedules and forms: Major IRS forms and schedules are supported. As long as your tax position isn't too complicated, the application is likely to meet your needs.
File on the go: Using the software, you can file your taxes from anywhere, including your phone.
How much do Cash App Taxes cost?
Cash App Taxes is completely free, with no add-on features or paid tiers.
Pros and Cons
Pros
100% free federal and state filing
Free audit defense
No tax preparation fees are deducted from your federal refund
Cons
Can't file multiple state returns
Must download the Cash App app to file your tax return
No phone assistance and limited email customer service
Why We Recommend Cash App Taxes
Cash App Taxes is a good choice for people who have uncomplicated tax returns and just need to file one federal and one state return.
However, people who claim foreign tax credits, have received a K-1 from a trust or estate, work in multiple states, or have lived in different states who be better off considering other tax software solutions.
9. E-file.com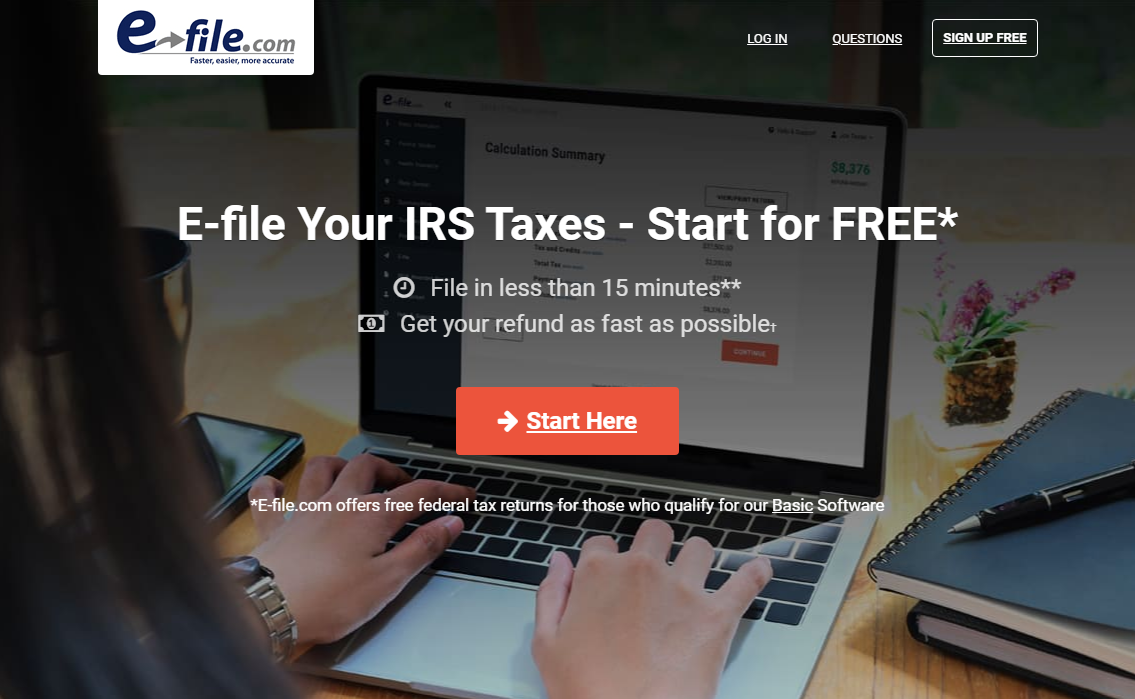 eFile claims to do a better job than H&R Block or TurboTax at a lower cost. Its service menu is more condensed and streamlined than that of other heavyweight tax software, making the platform less intimidating. While it does offer a free option for federal taxes, it does have some drawbacks.
What does E-file.com have to offer?
Helpful reference library: There's no access fee charged to view eFile's extensive library of tax explanation articles.
Tax calculators: Over a dozen tax calculators help you figure out what credits and deductions you are eligible for. This feature is also free.
Low-price guarantee: If you can locate a company online that offers "the same tax service" for less money, the platform promises to lower your charge.
Tax return storage: Your completed tax returns will be saved for up to eight years in your account.
Accuracy guarantee: eFile will cover any IRS penalties or fees incurred as a result of computation errors. The guarantee does not apply if it is determined that you entered information incorrectly.
How much does E-file.com cost?
There are three DIY packages offered by eFile in addition to a free forever plan.
Free Basic ($0): If your taxable W-2 income or unemployment income is less than $100,000, you qualify for the free plan. However, if you have investment income, freelancing income, or want to claim anything other than the earned income tax credit, you'll need to upgrade. Only the single and joint filing statuses are supported by this plan.
Deluxe ($39.95): You'll be able to use the Deluxe plan if you have dependents, a mortgage, or retirement income. However, your taxable income must be less than $100,000.
Premier ($49.95): Anyone with $100,000 or more in taxable income from any source, including trusts and business partnerships, is eligible for this plan.
Additional costs may include:
State filing costs: Even if you qualify for the Free Basic plan, eFile charges $28 for unlimited state returns. This amount is significantly less than what other tax software companies charge per additional return.
Pros and Cons
Pros
A cheaper alternative to H&R Block and TurboTax
Simple-to-use interface
Ability to file multiple state returns
Cons
Document uploading and importing feature is not available
Absence of Expert help option
The free plan is limited
Not the cheapest solution on the market
Below-par customer support.
The App version is not available
Why We Recommend E-file.com
eFile is an excellent alternative for preparing your tax return if you value affordability and are confident in your tax knowledge. If you don't require hands-on assistance from a CPA to prepare your tax return, eFile is a viable option.
10. EzTaxReturn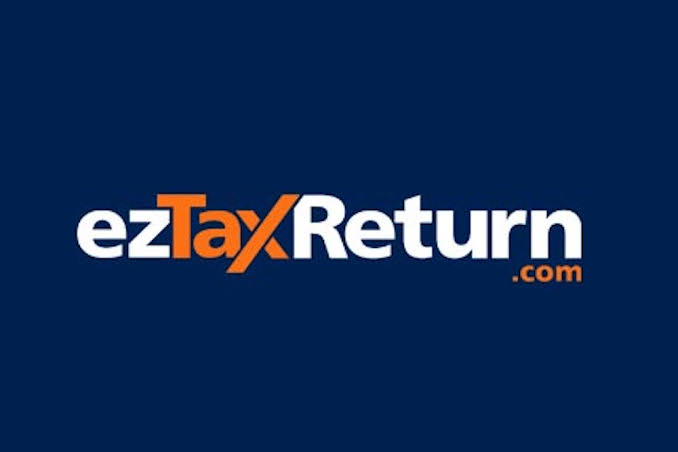 The ezTaxReturn software solution is a web-based tool that allows tax filers to quickly and easily calculate their taxes and returns. It offers services and makes it simple to calculate taxes such as income tax, property tax, tax on investment, and other minor and basic tax computations. It also provides services such as data error checking and auditing.
What does EzTax Return have to offer?
Guided Navigation: EzTaxReturn guides users through the software via questions and answers. The questions are worded to make it simple for filers to respond accurately.
Robust Error Detection: Error detection is integrated into ezTaxReturn to prevent users from putting information in the incorrect box or entering the incorrect value. Thanks to error detection, users can't move further without first checking for errors. Error messages are detailed enough to assist users in resolving the issue.
Simplicity: From the onset, the developers of this software set out to produce a tool that would allow you to submit your tax return quickly and accurately.
They realized early on that keeping things simple was the key to delivering a faultless product. Instead of attempting to assist everyone, they concentrated on one component of tax returns. This resulted in the production of software that's easy to use and will assist you in quickly generating and filing your return.
Support: Full technical help is available via email and through the company's phone center. You have the option of purchasing Audit Support as an add-on.
This service is available to those who are being audited. A tax specialist can assist you in professionally dealing with your audit. They'll help you submit the correct information to the IRS and, if necessary, negotiate.
Access to Previous Tax Returns: Free access to previous returns is an excellent service that the company provides that you don't see everywhere. You can view up to three years' worth of returns on their website.
These returns are available for free download. For a fee, you can have physical copies mailed to you. You can acquire returns for longer than three years if you pay a fee.
How much does EzTax Return cost?
The price is determined by whether you have a straightforward return or not. If you don't have any dependents or tax credits (other than the Earned Income Tax Credit and the Recovery Rebate Credit) and your income is under $50,000, you may be able to file a basic return for free. It will cost $19.95 to file with the state.
If your tax position isn't quite that straightforward, you have three options;
Federal: $29.95
State: $19.95 per state
State and federal: $39.95
There are other costs to consider as well.
Audit support: You'll have to pay $39.95 for this extra. Support services continue until the audit is finished.
Online access: The company provides three years of free access to returns submitted with them. During this time, you can download or access them for free. You will be charged $9.95 if you want to download a return that is older than three years.
Copies: You can choose to receive a copy of your return by mail. Regardless matter how much time has elapsed, you will have to pay for this. The cost is $19.95 for regular mail and $34.95 if you want it sent overnight.
Insurance: You have the option of purchasing Amended Return Insurance. This will set you back $9.95 per return. If you don't have this in place, you'll have to spend $19.95 to file an amendment.
Pros and Cons
Pros
Cons
Why We Recommend EzTax Return
For tax filers with basic tax situations, ezTaxReturn has a great user experience that makes filing simple. It does not have imports, which would improve usability, but it is simple to use the software overall.
Other Alternatives Worth Exploring…
Frequently Asked Questions
1. What is the average cost of Tax software?
Based on this review, the average cost for Tax software is $20 and can go up depending on your tax needs. The more complex your situation, the more expensive the package you may need.
2. Is using Tax software better than hiring an accountant?
Even though most tax systems are simple to use, they all have their own set of limitations. If your financial position becomes complicated, spending the extra money to employ an expert can save you money in the long term.
3. Can filing using tax software be wrong?
Using online tax programs to file your returns can help you avoid many mistakes that can lead to receiving IRS penalties. In a report by the IRS, paper returns had a 21% error rate, compared to less than 1% for e-filed taxes.
Conclusion
The above are our top recommended tax preparation software. No tax software is perfect; each has its strong points and drawbacks. However, some software gives you little to no headaches, while others waste your time and hard-earned money.
This list should help you shorten your research for good tax software; however, you must do additional research online if you're considering alternative options to the ones discussed above.
Remember that the main reason for using tax software is to make tax preparation easier; your ideal choice should be able to achieve that.
Also, consider the availability of expert help even if you're confident about filing your taxes personally. There are certain situations where you might need to seek the assistance of a professional.
You should also check to see if you qualify for the IRS Free File program, which can save you the cost of paying for premium tax software.
Qualification depends on your income. You might not qualify for the program if you own a business, run a side gig, or have multiple investments.