Last updated Jul. 25, 2023 by Favour Chinaza
Moz vs. SEMrush vs. Ahrefs: Which SEO Tool Is Best?
Modern business owners are constantly looking for new methods to outperform their competitors. Search Engine Optimization (SEO) can give you the advantage you seek. But which is the best SEO tool? Moz vs. Semrush vs. Ahrefs?
The SEO industry is worth roughly $80 billion. In recent years, business executives have recognized the necessity of strong SEO, which has propelled the industry's growth.
The question is, where should your SEO cash be invested? Should you hire a company to help you, or should you invest in SEO tools?
If you decide to invest your money in the proper tools, you will face another challenge. Which best SEO tool should you purchase?
Other options exist, but it typically comes down to Ahrefs vs. SEMrush vs. Moz. These three contenders have been vying for the title of the best tool for quite some time. Each has a passionate fan base.
But when it comes down to it, who truly wins? This tutorial compares the three leading tools based on a range of criteria. So much for the parallels!
This article will pit them against each other to see which one outperforms the others. So, enough of that!
Why Moz vs. SEMrush vs. Ahrefs?
Why, of all the tools available, are these three? It has something to do with their adaptability.
There are numerous SEO tools available that specialize in a certain purpose. That's excellent, but it may necessitate the purchase of seven or eight different tools.
Instead, if you want a tool that can do multiple things, you should check out one of these platforms.
Each of Ahrefs, SEMrush, and Moz has unique strengths and weaknesses. So, which one will provide you with the best return on investment?
This guide compares and contrasts the features of each platform. It also examines price arrangements and the company's strengths and weaknesses. Using these criteria, it is easy to identify a clear overall winner.
Invest in one-month subscriptions and/or free trials of all three to gauge the relative performance in your specific category.
From there, you can choose the best tool(s) for you based on your particular verticals, budget, and goals.
Also, when testing out tools for your specific industry and needs, don't just look at keyword sizes.
Size, accuracy, user experience, customer support, technology integrations, and so much more can also be considered.
In summary, the 3 SEO tools can stand out in the following way:
Moz: Best All-around SEO solution for small businesses
SEMrush: Best for Keyword Research and Content Marketing
Ahrefs: Best for Backlinks Analysis
Good Read: 25 Best SEO Tools (Honest Reviews and Free Options)
Moz SEO Tool Review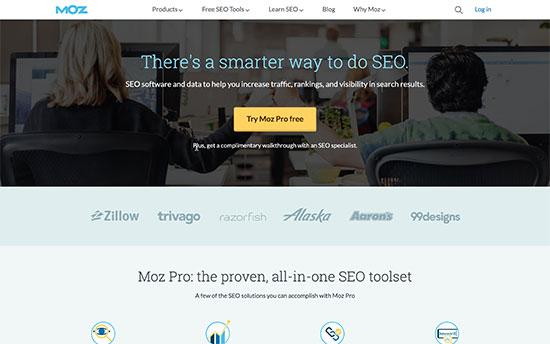 Moz has two SEO packages available: Moz Pro and Moz Local. However, for the sake of this Moz versus Ahrefs vs. SEMrush comparison, the emphasis will be on Moz Pro.
Founded in 2004 as an online community named SEOmoz, it later evolved into a consulting firm and then an SEO toolkit.
Moz uses SEO metrics like Domain Authority and Page Authority to provide information on link equity, keyword rankings, page optimization, and other topics.
It is primarily an SEO and data management program focusing on keyword categorization and prioritization and delivering intuitive keyword suggestions based on a large database. Simply put, it is an all-in-one SEO program.
Their professional toolkits can benefit small businesses, SEO specialists, and agencies.
Features of Moz Pro
● Keywords Research Tools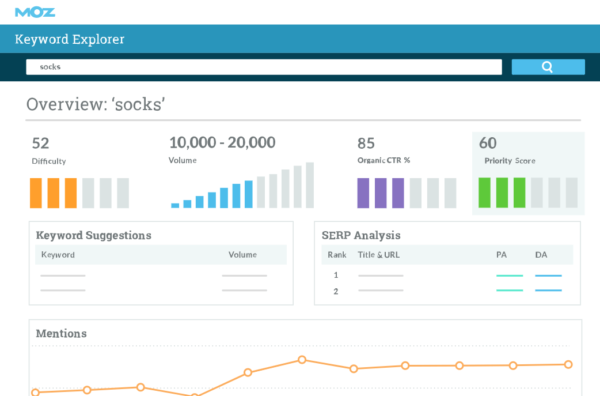 To rank high on Google search results, your content must revolve around what people are actively looking for. This is where the Keyword Research and rank tracking tool becomes important.
With Moz, you can identify what keywords people are searching for, how difficult it is to rank for a keyword, the popularity of a search term, and other unique keywords.
Moz also allows you to discover the strength of websites using a specific keyword.
Moz also offers you a unique keyword research functionality called Page Authority (PA). This feature tells you how high your page will rank on search engine results pages if you use a particular keyword.
With this feature, you can analyze and compare keywords to determine which one helps you rank higher.
You can also generate, save, and export keyword lists and suggestions with Moz.
● Link Research Tools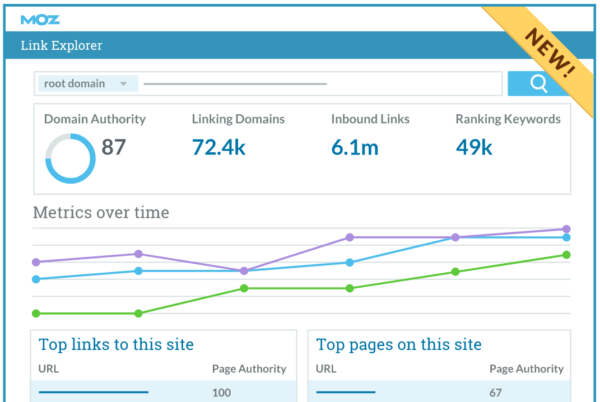 Having other sites vouch for your content sends a clear message to Google that your page is legit.
With that message being loud and clear, Google will show favoritism to your site when ranking sites on search engine result pages (SERP).
With Moz, you can easily analyze your website's link profile. This analysis will enable you to identify high-quality and low-quality site links that are pointing to your website.
Analyzing your site's link profile on Moz provides insight into the number of backlinks on your site and that of your competitors.
You get also to see the number of broken, new, spammy, and lost links.
Moz also offers a Link research functionality that lets you compare your site's link profile to your competitors.
And to supplement this functionality, Moz provides you with a link tracking list feature that enables you to set goals as you create multiple lists for building links.
● Rank Tracking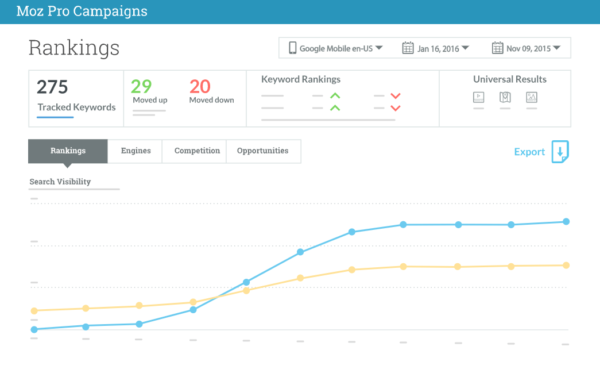 Tracking your website's position on Google search engine pages is vital to understanding what better decisions can be made to elevate your site's ranking.
And thankfully, you can track your site's keyword ranking with Moz. Not only that, but you can also see each keyword's performance on Google SERP. With this functionality, you can make better decisions when choosing keywords.
Aside from knowing how well you rank on SERP, Moz also provides insight into how well your competitors rank. With this data, you can identify and cover up the loopholes in your strategy.
With Moz, you can get up to:
30,000 monthly keyword reports
4,500 keyword rankings
Ability to track 50 campaigns
Access to 40 users
Using Moz also lets you view and optimize your ranking on mobile and desktop devices.
● Site Crawl Feature
Moz's website crawling tool has everything you need to ensure your site passes Google's crawling and index test.
Here's an overview of the features offered by Moz Site Crawl Tool:
Finding and Fixing of Issues: Moz allows you to identify and solve any technical SEO errors that may prevent you from ranking high on Google SERP.
It also allows you to fix site issues that hinder your page from getting indexed by Google.
Efficient Crawling of Site: Moz performs routine crawls on your site to keep track of any recent or recurring errors.
It also presents you with a detailed overview of issues in colorful charts, making it easy to spot opportunities that lead to better SEO performance.
Provides Help and Support: When an error is discovered on your site, Moz alerts you of its existence while summarizing its impact on your SEO performance and how to get it solved.
● On-page SEO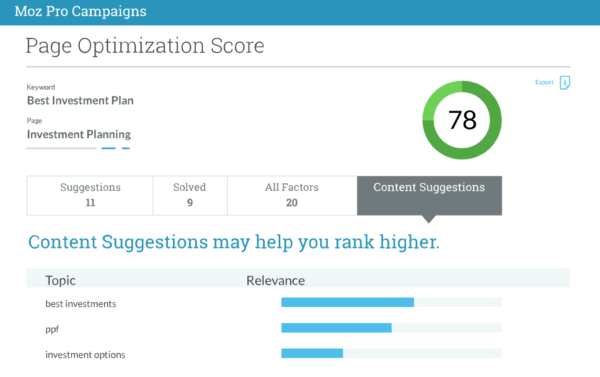 When visitors click on your site's content, what they think about your site matters a lot. If they can easily get the information they want, Google will assume that your site is worthy of a higher position on SERP so that it will rank you higher.
For this reason, Moz provides an On-page optimization tool that optimizes your site to give Google a better understanding of your site's content.
Additionally, whether it is suitable as an answer to a searcher's query, Moz also provides you with an SEO recommendation list and suggestions on how best to optimize your content for SERP.
● Generate Custom Reports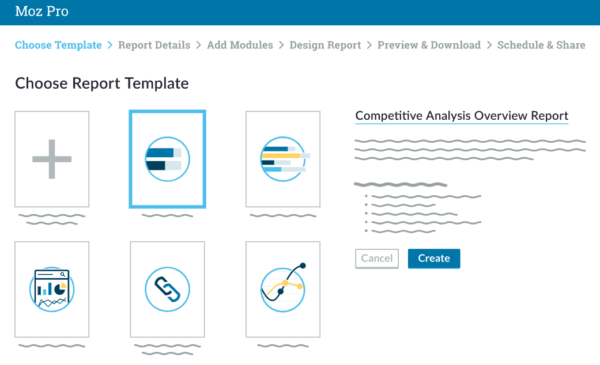 This Moz feature enables you to generate custom reports of your site's performance over some time. This report could be about your site's ranking, website crawl data, backlinks data, and more.
This report, which can be converted to pdf or CSV, can be easily shared with your team and clients. In addition, you can decide how often reports get sent to anyone.
Moz also allows you to customize your reports by offering you templates to choose from. You are also entitled to input charts and graphs into the reports.
Additionally, this Moz feature permits you to add comments to a report.
Pros and Cons of Using Moz
Pros
● ✅Ease of Use
If you are new to SEO tools, using Moz might be a great idea due to its many intuitive features.
Moz has a simple and easy-to-navigate interface that enables anyone to get the hang of what they are doing, even if it's their first time.
Moz also provides a beginner guide manual explaining everything you need to know about SEO.
● ✅Free Plan
Moz offers a free plan that gives you free access to powerful SEO tools. But you can only utilize these tools on a limited basis.
On Moz's free version, you can conduct keyword research, find your competitors, do link research, and more.
Moz Pro premium plan also comes with a 30-day trial period that lets you see for yourself the powerful features of Moz.
✅Moz recommends Fixing" is a useful feature incorporated into their Site Audit tool where Moz's SEO experts recommend steps for fixing critical issues on your website
✅The Page Optimization feature allows you to fix on-page issues and improve search rankings easily
Cons of Using Moz
❌Pricey: Moz's pricing plan ranges from $99/month to $599/month and can be a bit pricey for the small businesses it is supposed to cater to.
❌No Mobile Application: Moz SEO tool does not have a mobile application.
❌Search volume data could be improved
❌The site audit reports often struggle to find common SEO errors
❌Not always accurate backlink data
❌Moz takes time to master
❌The user interface doesn't follow the latest trends
Moz Pricing Plan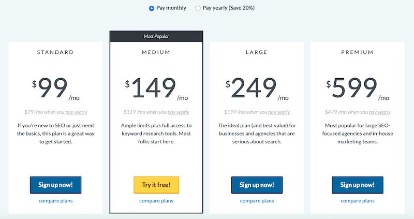 Moz offers five pricing plans, but the fifth one being negotiable, will not be considered here.
Moz Standard Plan: This is Moz's cheapest plan, costing one user $99/month.
You can access all of Moz's features except speed crawls, report templates, and branded reports on this plan.
But note that some limitations are placed on the accessible features of the standard plan.
Moz Medium Plan: This plan costs $143/month for two users when billed annually.
The only feature absent from this plan is the speed crawls, but it compensates subscribers of this plan by increasing the limits placed on the number of keyword searches and lists to be used.
Moz Large Plan: This plan costs $239/month for three user seats when billed annually and offers no speed crawls. But it offers an increased number of keyword searches and lists.
Moz Premium Plan: Users of this plan pay the sum of $479/month for five users. There's a speed crawl feature, and the number of keyword searches and links greatly increases.
Note: All of Moz's paid plan offers a 30-day free trial period.
Should You Go for Moz SEO Tool? Verdict
Moz offers a free 30-day trial, allowing you to test things out first. Compared to the services above, they are stronger regarding technical audits and have recently implemented many system enhancements.
Furthermore, Moz outperforms SEMrush regarding backlinking and has a far stronger API platform than Ahrefs.
They also provide exceptional customer service, and their Page Optimization capabilities help address on-page concerns.
However, Moz's backlink data falls short of Ahrefs', their competition data and the API platform falls short of SEMrush.
It is also not the best tool for beginners because there are numerous elements that users must learn and comprehend to use the platform efficiently.
However, given the latest modifications made by Moz, we'll see if they can modify this in the future.
SEMrush SEO Tool Review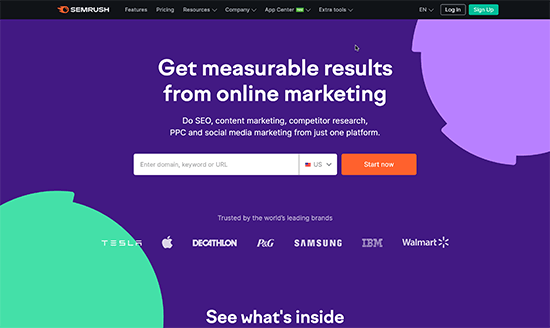 SEMrush was founded in 2008, at a time when SEO was just getting started. It is now one of the most widely used platforms for SEO tools. It is also one of the best website traffic trackers for your website.
Consider it a "Swiss army knife," covering practically every facet of your SEO requirements.
SEMrush is the most well-known online SEO tool. It is widely regarded as the world's best keyword research tool and can also be used for backlink development.
You can also use it for
competitor analysis
technical SEO audits,
PPC,
social media, and
content marketing initiatives
It gives comprehensive assistance and is appropriate for beginners and those with little expertise or understanding of the subject.
With SemRush, you can determine the current trends in your business.
Clients such as eBay and Quora demonstrate the importance of this all-in-one digital marketing solution in achieving greater SERP positions and niche dominance.
SEMrush features allow you to see what your competitors are up to. You can conduct keyword research and monitor the performance of your own website.
PSEMrush gets points for usability and the vast amount of services it offers.
Features of SEMrush
● Domain Analysis
SEMrush allows you to check out the quality of your website and that of your competitors.
All you have to do when performing the analysis is to input the domain name into the Domain Overview section.
SEMrush domain analysis feature provides you with the following:
authority score of the site you want,
numbers of paid and organic search traffic per month,
the total number of backlinks the site has,
the site's top-performing keywords, competing sites,
organic traffic and organic keyword stats,
top organic keywords and their search intent.
There is a lot of other information provided in this overview section, and it is good to note that the domain analyses feature is free.
The data provided in the domain analyses section lets you know which sites to get backlinks from and where your site is lacking.
● Backlink Audit, Link Building tool, and Backlink Gap Feature
As your site's position on Google search engine result pages depends on the number of backlinks you have, SEMrush offers you three backlink functionality that assists you in ranking higher –
backlink audit,
link-building functionality, and
backlink gap.
The backlink audit functionality allows you to inspect the external links pointing to your site to help you identify harmful links.
With the link-building tool, you can discover and reach out to strong sites for a chance to feature your site on their page.
The backlink gap functionality enables you to compare 5 domains simultaneously.
This tool also gives you a platform to analyze your competitor's backlinks, find opportunities that could boost your ranking, and make better SEO decisions.
Link Monitoring
Backlinks are an important part of a good SEO strategy. SEMrush provides a tool for toxic links monitoring and penalty recovery.
These links can hurt your SEO scores. SEMrush is one of the only platforms that analyzes link toxicity. That makes it easier to identify harmful links.
It also offers outreach options, which can help you recover from SEO penalties.
● Keyword Research Tool
SEMrush's keyword magic tool, keyword manager, and keyword gap tool are keyword research tools offered by SEMrush to enable you to make the right decisions when choosing keywords.
The Keyword Magic tool comes with a database of over 20 billion keywords, allowing you to build master lists of keywords, get fresh keyword data, and discover content ideas.
With the keyword gap functionality, you can analyze the keyword profile of your competitors.
The keyword manager, on the other hand, gives you an in-depth analysis of up to 1000 keywords at the same time.
Aside from showing you how difficult it is to rank high with a keyword, SEMrush also provides keyword intent data.
The keyword intent functionality gives you data on your visitor's purpose for browsing through your site. It labels your keyword as informational, navigational, commercial, or transactional.
● Rank Tracking Tool
This SEMrush position tracking tool helps you to discover your position on search engine results pages when you use a particular keyword.
The data it provides gives you an insight into the areas you're lacking and the ways to overtake your competitors.
Moz's rank tracking function analyzes the SERP standings of your website. This enables you to track web pages and keywords.
It also provides a detailed list of keywords with their SERP rankings that you have been tracking over the month. You don't have to manually check the SERP rankings, which saves a lot of time.
To discover and track your position on SERP, navigate the SEMrush interface to the rank tracker section. Then input your domain name and the keyword you would like to track.
You can also enter your competitor's domain name to determine how they rank for a particular keyword.
SEMrush also provides email notifications and alerts when a trivial or significant change is noticed in your ranking.
● Website Audits for on-page SEO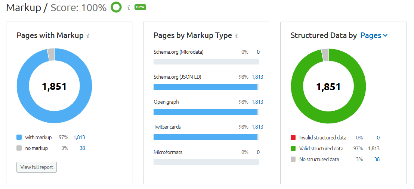 A site with crawl errors, overused keywords, SSL content, a slow-loading page, and other technical SEO issues can't be considered by Google for SERP.
So SEMrush site auditing tool does well to help you discover and eliminate any vulnerabilities that may affect your site's health.
This all-in-one auditing tool SEMrush offers frequent checks for over 130 website issues.
When an issue is discovered, you'll receive an alert that tells you about it, why it should be solved, and how it can be solved.
SEMrush also sends notifications on your site's crawl-ability performance, internal linking, page speed performance, International SEO, HTTPS, markups, and more.
● Reporting and Analytics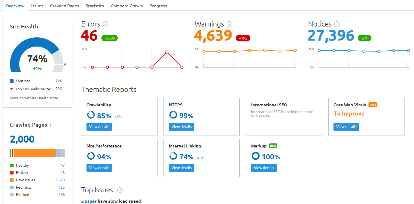 With this feature, you can create a custom report of your SEO progress from scratch or select a SEMrush template to build a report with.
SEMrush reporting feature, just like Moz, allows for white labeling, scheduling of reports, and branding.
SEMrush allows you to organize your data and track your KPIs easily. Integrations with other platforms ensure you have access to the data and reporting formats you need.
The branded and white-label SEO reporting option makes SEMrush a great agency choice.
Content Market Integration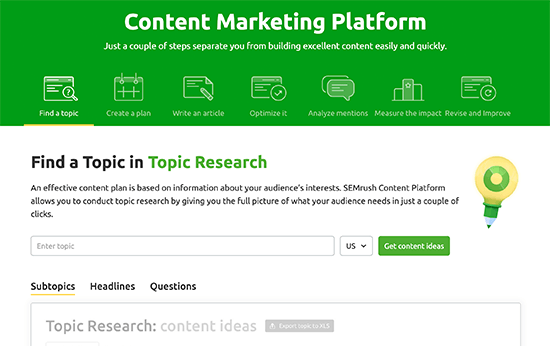 Content is perhaps the core of SEO. Without content, what are you ranking for? That's why SEMrush offers a host of tools that integrate with your content marketing.
You'll find support for the following:
Brand auditing
Post Tracking
Content auditing
On-page SEO templates
SEO friendly writing
These tools can help you ensure your content creation meets the markers for great SEO.
Pros and Cons of Using SEMrush
Pros
● ✅Ease of Use
Although SEMrush isn't as beginner-friendly as Moz, its clean interface gives it a pass.
On the SEMrush interface, you can easily find any menu option since they are all placed in categories at the side of the interface.
In addition, SEMrush visualization of data makes it less overwhelming when interpreting data. The use of bright colors when presenting stats and data is relieving.
✅Value for Money: SEMrush isn't the cheapest SEO tool, but it offers value worth the amount you pay. Every of its feature has no missing functionality.
✅Provides insight into your competitors' SEO and PPC efforts.
✅Includes the On-Page SEO Checker Tool, which provides recommendations on how to maximize your keyword rankings, which semantically related phrases to add to your content, and content length and readability recommendations.
✅The Site Audit Tool is the main advantage because it finds SEO issues and recommends steps you can do to improve your website's general SEO health.
✅With the Keyword Magic Tool, it is one of the best online keyword research tools.
Cons of Using SEMrush
●    ❌Hard to Use on Mobile Devices
The SEMrush interface isn't responsive and optimized for mobile devices. Users who log into SEMrush on a mobile device will have to zoom and pinch to get the most out of it.
When using SEMrush, it's best that you use a desktop device.
●    ❌Provides data for only Google search engine
Your main focus is on ranking high on Google search engines. But Google isn't the only search engine people use.
Amazon, Bing, Yahoo, DuckDuckGo, and Baidu are popular search engines people use. So when optimizing your site for search engines, your focus should not only be on Google.
Unfortunately, SEMrush only provides you with data from Google search engines.
●    ❌Extra Costs
SEMrush's competitive intelligence feature that enables you to analyze your competitor's websites can only be accessed when you purchase the SEMrush Trend add-on, which costs $200/month per user.
This is extremely expensive, considering the fact that SEMrush's cheapest plan costs $119/month.
Additional user option costs $100/month, and the agency growth kits also cost $200/month.
SEMrush Pricing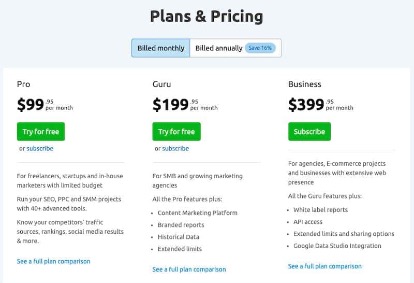 SEMrush comes with a Free plan and three other paid plans.
The PRO plan costs $119/month and allows you to track up to 500 daily keywords. It comes with a keyword, domain, and backlink analysis feature.
Therefore, the content management feature is unavailable in this plan and only suitable for freelancers and small businesses.
The GURU plan costs $229/month and includes a content marketing platform as well as other features of SEMrush. This plan is more suitable for marketing departments and larger teams.
The Business Plan, which comes at a hefty price of $449/month, allows you to manage up to 40 projects, track up to 5000 keywords, and crawl your pages for up to a million times a month.
All plans offered by SEMrush come with a 30-day trial period and a 17% discount when billed annually.
Should You Go for SemRush SEO Tool? Verdict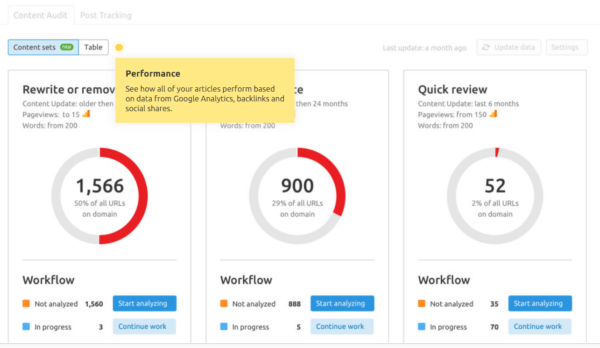 SEMrush is the greatest competitive intelligence tool on the market in terms of pros. Its ability to reveal rival strategies and behavior can be highly beneficial to small firms wanting to increase their organic search reach.
Its On-Page SEO Checker, in addition to being simple to use, gives techniques to optimize your rankings using target keywords.
Furthermore, their site audit tool assists in identifying SEO issues and maintaining the SEO health of your site.
SEMrush has piqued your interest. You can begin by creating a free account.
Furthermore, SEMrush likely offers the greatest API. API is an abbreviation for Application Programming Interface. It enables you to select specific tools and features without opening the complete program.
Essentially, the platform will do the grunt work for you by reducing the amount of code that developers must write.
While all three of these services provide an API platform, SEMrush is the most robust.
In terms of drawbacks, SEMrush's prices might be quite high, particularly for API plans. The most serious concern would be its backlinking analysis, which can sometimes be inaccurate.
Overall, SEMrush provides a plethora of valuable tools that can assist you in taking your company's SEO to the next level.
Ahrefs SEO Tool Review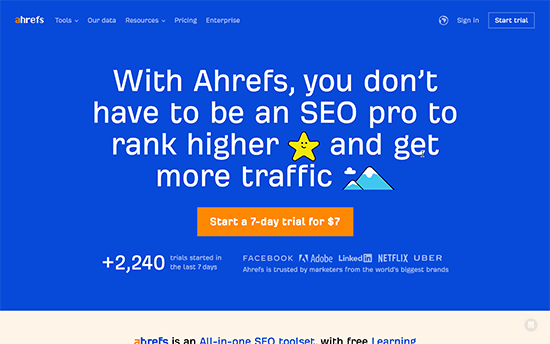 Founded in 2011, Ahrefs is among the new and few SEO tools in the market that have earned a top place in the SEO tools world.
As a tool that was originally created for the sole purpose of making backlink analysis, Ahrefs has evolved into a more advanced tool for SEO.
If you want to develop high-quality backlinks for your website, Ahrefs is the tool to use. It is regarded as one of the top backlink analyzers and has a good reputation as a backlink authority checker.
It has one of the most comprehensive databases of live connections and crawling tools to reconstruct your website from the perspective of a search engine.
Ahrefs delivers the greatest link indexing among all SEO tools, whether you use it to discover your competitors' backlink profiles or to develop your own backlinks.
Aside from backlink creation, Ahrefs excels at monitoring your Google results, technical audits, and keyword research with its powerful Keywords Explorer tool.
Although it is best recognized for its backlink analyzing feature, Ahrefs has evolved into a fully-fledged SEO software suite over time.
Features of Ahrefs
● Keyword Research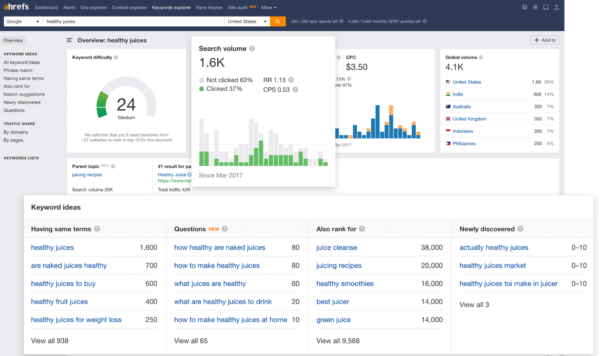 Like the other two SEO tools in this article, Ahrefs has a keyword research feature that gives you relevant data about everything you need to know about a keyword.
It performs keyword research and shows you data on:
keyword's difficulty level
average and global monthly search volumes of a keyword,
the rate at which a user searches for the keyword again
the cost per click that advertisers pay to appear for a keyword.
But it doesn't only stop there. Ahrefs also allows you to generate keyword data for Google and perform keyword research in up to 10 search engines.
With Ahrefs, you can rank high on search engines like Youtube, Amazon, Bing, Yahoo, Baidu (China), Naver/Daum (South Korea), Yandex (Russia), and Seznam (Czech Republic).
You just have to switch from Google to other search engines to see the monthly search volume for a keyword.
● Backlink Checker
Ahrefs has continuously claimed to have the best backlink database in the SEO tool industry. And from research, they really are the best.
Here's an overview of what you can get when using the Ahrefs backlink checker:
Domain and URL rating feature: This feature lets you view the backlink strength of a site.
With Ahrefs, you can discover the number of backlinks a site has and the number of its referring domains.
Ahrefs allows you to see every page linking to your site or that of your competitors.
With Ahrefs, you can also view the number of organic traffic a site gets due to the referrals from your site.
With Ahrefs, you can see the most linked-to pages of your competitors.
Ahrefs also provides you with an analysis of all outbound links.
Additionally, Ahrefs gives you a complete picture of backlink anchor texts, followed and no-followed links, and disavow link spam. You can also export reports to PDF or CSV.
● Competitive Analysis and Click Data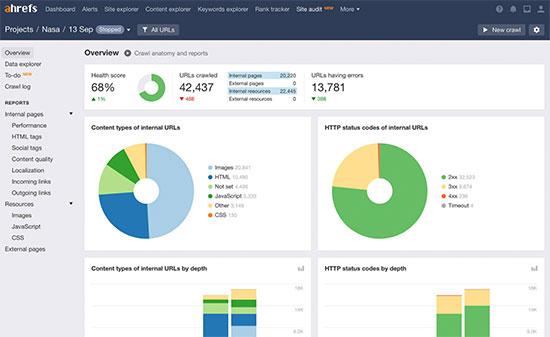 Ahrefs provides a competitive analysis functionality enabling you to analyze your competitors' websites.
With Ahrefs SERP position history feature, you can view a competitor's keyword's total search traffic potential.
You can also view how long a competitor has ranked high for a keyword to help you understand whether they are tough and whether you stand a chance to overtake them.
Additionally, the Ahrefs keyword explorer tool goes beyond showing you the search volume of a keyword.
This tool also provides you with data on the number of clicks your competitors have for using a keyword. With this feature, you can find keywords that give you clicks.
● Reporting and Analytics n Ahrefs (Rank Tracking)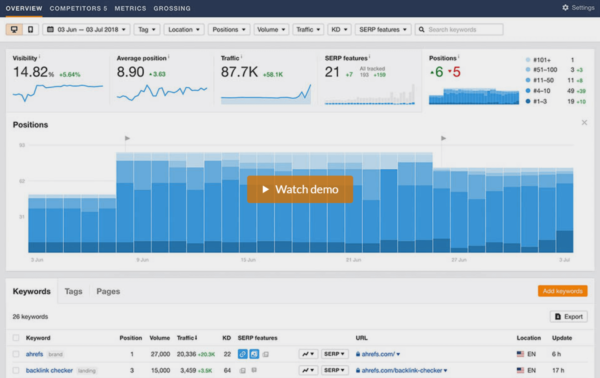 Ahref's rank tracker is a one-in-all package tool that helps you to track a site's performance across all search engine results pages.
You can monitor Google SERP rankings on mobile and desktop across 170 countries and get all the related reports delivered right into your inbox.
You just need to import or input the list of keywords, add countries, and enter competitors' URLs. And voila, it will start tracking your SEO data and send you updated reports regularly.
You can also view the following:
percentage of traffic a site accumulates,
the percentage of clicks for a tracked keyword,
the number of times a site moved higher on search engines, and
the number of clicks a tracked keyword attracts.
Moreover, it lets you analyze the percentage of traffic from organic search and check your progress over a particular period. You can also track your rankings segmented into different groups.
You can segment your data to see only what you want to see if you have an extensive list of keywords.
Ahrefs also provides a Batch Analysis tool that can pull SEO metrics for up to 200 URLs at once.
● Site Audit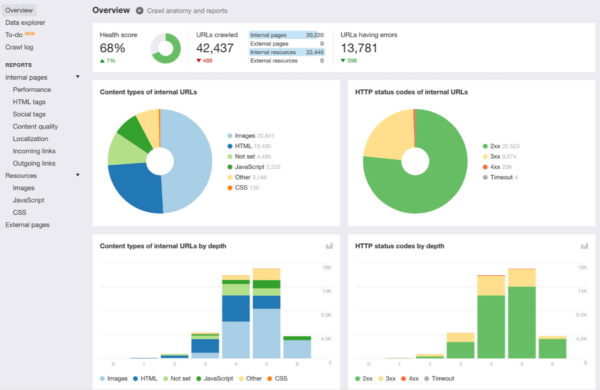 Ahrefs crawls every page on your site and then provides you with detailed chart-styled data on your site's SEO health score.
During the crawling process, Ahrefs checks for issues such as:
slow-loading pages,
missing or duplicate tags,
too large CSS,
incomplete or missing tags and cards,
duplicate pages,
Hreflangs issues,
broken pages, and more.
With Ahrefs, you can also view the SEO score of other sites.
Pros and Cons of Using Ahrefs
Pros
✅Excellent analysis of backlinks
✅Rank tracker that is extremely accurate and dependable
✅Email alerts keep you up to date on new and lost backlinks, as well as your website's keyword rankings.
✅Its Keywords Explorer produces high-quality keyword research results.
✅Excellent outreach tool to use in conjunction with other marketing platforms such as Mailshake, Buzzsumo, or Ninja Outreach
Cons of Using Ahrefs
❌It takes a long time for Site Audit to deliver an audit report.
❌More SEO reporting options could be added to the software.
❌There are less expensive link-building solutions available (Majestic SEO and Linkody, to name a few).
❌Ahrefs does not provide a free trial. It will cost you $7 for a week of testing.
Ahrefs Pricing Plan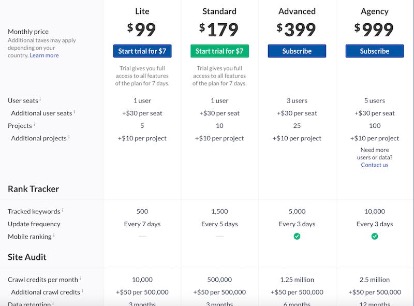 Aherfs offers four pricing plans – the lite plan, the Standard plan, the Advanced plan, and the Enterprise plan.
The Lite plan costs $99/per month and has features such as an SEO dashboard, site audit, keyword explorer, rank tracker, site explorer, and alerts. It is tailored for small businesses.
The Standard pricing plan costs $199/month and comes with all the features offered in the Lite plan. Its additional features, including SERP updates, position history chart, batch analysis, and domain comparison, make it suitable for In-house marketers.
The Advanced plan costs $399/month and is recommended for expanding businesses. Its features include everything the standard plan offers, 2 years history view, Google data studio, and dashboard folders.
The Enterprise plan costs a hefty sum of $999/month and is only ideal for large corporations.
Should You Go For Ahrefs SEO Tool? Verdict
The advantage of Ahrefs is that their Rank Tracker, as well as their Keyword Explorer and competition analyses, are extremely accurate.
Ahrefs also provides the most effective backlinking tools. If your primary goal is to build high-quality backlinks, this is the tool for you.
Ahrefs has superior backlinking than SEMrush, but the two platforms' technical and competitive audit features and keyword research functions are generally equal.
However, Ahrefs' API platform is far inferior to that of SEMrush. Ahrefs, like SEMrush, is a costly tool your company should examine.
However, with powerful competitive analysis and backlinking tools, Ahfers stands out as a great SEO tool and a growing market competitor.
Moz vs. SemRush vs. Ahrefs: Which Has Better Additional Functionalities?
Most programs can provide you with additional functions besides the conventional SEO kit.
Remember that there is frequent data that SEO tools do not display, and if you want all of the information, you may need to employ a third-party service.
When we look at what our chosen tools can do, Semrush comes out on top. It effectively gives a complete marketing solution for running your firm.
While Moz does not have this type of feature, it is designed for website optimization. This means it includes all the standard SEO tools, such as a keyword explorer, ranking tracker, and content optimizer.
However, the feedback and insights obtained from its toolset can be utilized in your marketing, so it is up to you to make the most of what is available.
Ahrefs, on the other hand, isn't as marketing-focused, but it's an indisputable SEO powerhouse.
The list of features and how to use them may be a topic in and of itself. However, we must note Ahrefs' competitive analysis functionality.
Ahrefs is unrivaled in terms of competitor tracking and contains the most thorough and accurate third-party data of the three.
Moz vs. SemRush vs. Ahrefs: Which SEO Tool is Best for Keyword and Competitor Research?
Ahrefs is the clear winner here, with a database of over 7 billion keywords segmented by 171 countries.
It includes everything you need for keyword and competition research. Furthermore, the dashboard is simple to access and use. To drive visitors to your website, you must target the correct keywords.
Every page on your website should target one major keyword and include it in the title, URL, headings, and throughout the page's content.
Finding the proper keywords is akin to discovering the sweet spot of your accomplishment.
Each SEO tool (Moz, SEMrush, and Ahrefs) is decent at keyword research, with Ahrefs coming out on top.
Ahrefs is powered by a vast database of over 7 billion keywords that is updated monthly. The data is also divided into 171 countries.
It can estimate keyword volume for Amazon, Baidu, Bing, and YouTube in addition to Google.
The added keyword research data provided by Ahrefs makes it stand out. You can look at the SERP Position History to see how the top five sites ranked for a certain keyword in the last six months.
You may also see the top 100+ ranks for a given phrase to see competitive analytics on specific domains, such as how many links lead to their content, their Domain Rating (DR), their Ahrefs Rank, and more.
This SEO software is ideal for bloggers because it combines keyword and competitor data in one location.
More information on how to undertake keyword research when choosing your niche can be found in my comprehensive guide to learning how to create a blog for beginners.
Moz vs. SemRush Vs. Ahrefs: Which SEO Tool is Better for Analytics and Reporting
All of these SEO tools offer distinct statistics and reporting features. However, SEMrush takes the prize for its ability to generate these reports for you or your clients.
SEMrush quickly examines the performance of websites. It is simple to compare traffic with competitors or partners.
In addition, track trends and identify leaders based on competition traffic monitoring.
SEMrush also offers statistics on various marketing KPIs, including keyword ranks, backlinks, sponsored search placements, and more.
Create – Use the drag-and-drop function to create reports quickly.
Brand – Use your company's identity to make your reports stand out.
Schedule and deliver reports to receive critical insights on a regular basis.
You may also track user activity across numerous platforms and compare it to desktop vs. mobile.
SEMrush also allows you to compare your viewership to that of your competitors, assess prospective growth, and uncover user preferences.
You can also investigate your competitors' "Entry Sources." This function determines the focal point of their digital marketing initiatives.
SEMrush also tracks top items, popular themes, and blogs to help you optimize your content strategy.
It equally determines the top-performing channels, expenditures, affiliate performance, and your success across geographies.
Moz vs. SemRush vs. Ahrefs: Which SEO Tool Has Better Ease of Use
We understand that not everyone who uses an SEO tool is an expert with years of experience.
Fortunately, all three solutions are highly popular, and plenty of guidelines and explanations should be available online.
Because of their ubiquity, there are a lot of skilled freelancers who already know how to utilize these technologies. However, this does not immediately testify to their inherent user-friendliness.
Moz will most likely be the most perplexing for newcomers, and you may need some time to get used to all of the capabilities.
Fortunately, the interface is color-coded, making it easy to navigate the data.
Ahrefs has a messy style yet is incredibly user-friendly.
A graph, color-coded results, and data can all be used to display information. We believe this is the easiest tool for beginners to grasp and apply effectively.
Semrush has a reputation for having a difficult learning curve. However, this is most likely owing to the high amount of data displayed. Navigation should be considerably easier once you've learned where everything is.
Moz vs. SemRush Vs. Ahrefs: Which SEO Tool is the Best for Advertising & PPC Research?
To reach potential customers, it is critical to conduct keyword research for marketing campaigns.
Advertising in the wrong geography or with the wrong terms will merely waste your money and produce no results.
As a result, it's critical to examine your competitors and marketing strategies to increase sales and ROI.
The versatility of Ahrefs to produce keyword ideas in numerous formats makes it an ideal choice.
On the other hand, SEMrush's market explorer and advertising research tool provide it a tiny advantage over both Ahrefs and Moz.
Ahrefs comes in second place since it gives search query ranking on platforms other than Google, making it a diverse alternative.
SemRush differs from Moz and Ahrefs in that it examines competitors' PPC expenditure and marketing approach from a serious standpoint.
You may examine how much money your competitors spent on advertising and how much traffic they received from PPC.
It provides you with a clear picture before you invest in internet advertising. If you wish to go deeper, you can read the competitor's ad-spending pattern across the year to better optimize your budget.
Then there's SEMrush's market explorer function, which provides information on certain themes to attract targeted audiences, market demographics, and more.
Moz vs. SemRush Vs. Ahrefs: Which SEO Tool is Best for Technical SEO?
SEMRush and Ahrefs are neck and neck. However, SEMrush comes out on top due to its ability to provide structured on-page SEO improvement suggestions.
SEO optimization can also be prioritized on websites with higher organic ranking potential by digital marketers.
SEMrush is notable for its technical SEO ideas.
The program delivers all of the technical faults that need to be fixed and a site score based on your site crawl.
It is critical to keep your technical SEO free of faults. A fast-loading, well-structured, and professionally implemented website is essential.
As a result, it is critical to undertake regular site audits in order to identify and address issue areas as soon as possible.
These three tools each provide a unique perspective on and approach to these difficulties.
You normally submit your domain to their site audit tools, where you will discover common errors like duplicate meta descriptions, missing picture alt text, sluggish pages, 404s, and more.
SEMrush's SEO Checker assists you in getting the greatest results from web pages.
It assesses the elements that influence your Google ranking, compares your website to top performers, and generates an actionable report based on the results.
SEMRush also examines your pages to determine whether they adhere to on-page/off-page SEO elements.
It assesses the effectiveness of your content's relevance and quality, the legitimacy and reputation of your backlinks, the body of text, page titles, H1 tag, meta descriptions, and other factors.
Furthermore, it provides an organized list of changes to assist you in implementing technical SEO in a planned approach.
SEMrush compares your website to top websites to provide you with relevant data.
Moz
Moz offers step-by-step guidance to optimize your on-page content. You just have to enter the keyword and page combination to get prioritized SEO recommendations that could improve your rankings.
You can also prioritize your pages depending on the page optimization score. It also runs instant audits to optimize your page with relevant keywords and audits.
Moz helps you with your site's SEO in the following ways:
Track and monitor ranking potential
It provides content suggestions from other top-ranking sites
On-page optimization
Crawls & audits your sites
Issues alerts regarding new site crawl issues
Ahrefs lets you see under the hood and identify precisely what's stopping your website from ranking higher.
It crawls all the pages of your website to provide details like:
SEO health score
Key data analytics
SEO issues
Actionable recommendations to improve your on-page SEO
You don't have to worry even if you have a huge website. Just verify your domain and crawl all the pages for fast SEO checks. You can also skip the crawling of irrelevant pages.
Furthermore, it provides solutions to over 100 pre-defined SEO issues.
Here are some of the prominent ones:
Flags out large HTML or CSS and slow pages to enhance performance.
Duplicate, missing, or non-optimal length of meta descriptions, H1 tags, and title tags.
Missing or incomplete Twitter cards or open graph tags.
Duplicate pages or low word count.
Issues with Hreflang for better localization.
Identify nofollow link issues and orphan pages.
Links to broken pages and redirects.
Issues with CSS, images, and JavaScript.
External page issues.
Apart from this, SEO professionals get total control over a hundred data points on all the pages through Ahrefs' Data Explorer tool. Simply put, you get all the relevant SEO metrics in one place.
Why Is An SEO Software Tool Important For Your Website?
Unfortunately, most people who aren't web developers or digital marketers struggle to understand the complexities of SEO.
Making your website more search engine friendly will result in a higher ranking. Therefore it should be a focus.
Fortunately, there is an easy method to convey how important your rank and SEO are:
Consider the last time you scrolled past the first page of search results. Isn't it a long time ago?
Businesses that do not control their SEO and do not rank on page one of Google for their targeted keywords may as well not exist.
Nobody will find them unless their SEO is optimized, no matter how powerful their brand identification or how well-designed their logo is.
SEO tools can help you locate relevant keywords, monitor your competition, and track your rank.
If you just buy one tool for your web business, make it an SEO software tool. Nothing is more cost-effective than SEO for consumer acquisition.
Facebook and Google ads are excellent, but they are costly. You are charged for each click.
SEO, when done correctly, generates free targeted clicks to your website.
A solid SEO tool will usually assist you in the following ways:
Spy on your Competitors
Look behind the curtain to uncover what growth strategies your competitors are employing.
Semrush, Ahrefs, Moz, and GrowthBar allow you to see which keywords are driving traffic, conversions, and sales for your competition.
In most cases, you simply enter your competitor's domain into the tool, which returns the results.
You will also be able to improve your content optimization, view backlinks, and devise a strategy to outrank the competition.
Good SEO Tool Helps You Get Backlinks
High-quality links from other websites to yours can be 1) beneficial to audience growth and 2) beneficial to SEO.
The greatest SEO tools should assist you in identifying actionable websites from which to obtain links!
Find the Best Keywords to Rank For
Look for SEO keywords with a high search volume yet minimal competition.
These are new opportunities for your content to rank higher and shine brighter. A good SEO tool will inform you if the term is worth pursuing.
Grow your Business & Optimize Spend
These four tools will guide you to the most effective channels with the highest ROI, more than compensating for the monthly subscription fee.
Spend your money on what works, not what doesn't. Following SEO best practices will save you a lot of time in the long run by allowing you to avoid making silly mistakes.
What are The Best SEO Tools for Your Business
There's no reason not to use SEMrush over Moz or Ahrefs, with a variety of free choices to get you started and more powerful reporting features.
Of course, Moz and Ahrefs continue to have advantages. Moz, for example, could be an excellent fit for a casual blogger or a small business.
Moz has lagged in recent years, but their local tool remains one of the best available.
Moz may be a decent choice if your money is tight.
Ahrefs is a wonderful option for an SEO practitioner seeking link data. Even still, it's difficult to suggest Ahrefs above SEMrush. SEMrush provides a more detailed backlink analysis.
The dearth of free options from Ahrefs, along with the fact that SEMrush is virtually always releasing new capabilities, cement SEMrush's victory in this epic battle of SEO tools.
When comparing SEMrush vs. Ahrefs vs. Moz, it's evident that SEMrush is the clear victor.
SemRush is a definite choice for practically everyone who wants to do SEO because it has a long list of killer features, the most accurate databases, and plenty of free possibilities.
Of course, SEMrush is not without limitations. You'll need more specialist tools if you want to learn more about content marketing or forensic, technical SEO.
Using the correct SEO tools is one approach to increasing traffic to your website. If you want to learn more about boosting your rankings or gaining more visitors, read through the past for more in-depth articles and research.
The correct knowledge can inform a better approach. As a result, you can maintain your company progressing toward a brighter future.
Moz vs. SemRush vs. Ahrefs: Which SEO Tool Should You Choose
We've covered all comparable features to offer you a thorough picture of Moz, Ahrefs, and Semrush's capabilities.
Want to know which tool is the best among Semrush, Moz, and Ahrefs?
So, before I deliver the overall conclusion, let me first give the verdict for each category. Here are my top picks in each category:
Semrush is the apparent victor in this category due to the sheer quantity of functions that it provides.
Rank Tracking: All three provide identical degrees of information, but I'll opt for Ahrefs in this category. It offers a wealth of information in a well-organized dashboard.
Site Audit: Moz and Semrush SEO audit tools are easier to use than Ahrefs, although Semrush delivers more complete data and insights.
Semrush takes the prize in this area because it combines the complex functionality of Ahrefs with the simplicity of Moz.
On-page SEO: Moz and Semrush are both excellent. Ahrefs falls short in this area since, despite having these features, there is no easy-to-find, dedicated tool.
Backlinks Analysis: Because they have a larger live backlinks index, Moz and Ahrefs are both equally good in this sense. Moz, on the other hand, is slightly more accurate.
Competitive benchmarking: Semrush is my particular choice in this category. However, Ahrefs offers nearly identical features. In this category, Moz does not even come close to these two.
Semrush is the clear victor in this category. Moz lacks specific content tools, while Ahrefs' Content Explorer pales compared to Semrush's content toolset.
Are you Ready to See Who Wins the Semrush vs. Moz vs. Ahrefs debate?
When considering the number of features available for the price, Semrush emerges as the clear victor. Not to mention its advertising and content marketing capabilities.
When it comes to SEO, both Semrush and Ahrefs are on par.
So, if you have considerable SEO and content marketing needs, I recommend getting Semrush. Both of these complement one other, with Semrush's content marketing capabilities assisting with SEO and vice versa.
Good Read: 31 Best Website Traffic Trackers of 2023 (Check Other Website Traffic)
Bottom Line
At this point, it is clear that Moz, SEMrush, and Ahrefs offer similar features, making it difficult to decide which is the best. But although they provide similar features, you can notice that some features offered by Ahrefs are more advanced than SEMrush and Moz.
Ahrefs keyword research tools offer you the chance to rank high in Google search engines and other search engines. In order words, using Ahrefs equates to more organic traffic to your site. The competitive analysis feature offered by Ahrefs incorporates every tool you need to discover the secrets behind your competitor's success and performance. So it might be best for you if you need an advanced tool for checking out your competitors.
SEMrush, on the other hand, clearly performs well in Keyword research and analysis due to its database of over 20 billion keywords. So if your focus is on a tool with Advanced Keyword research, then SEMrush is your guy! Finally, Moz, as a jack-of-all-trades master of none, is best for you if you want an SEO tool with an all-in-one package. Moz features are simple and give you what you need.
Frequently Asked Questions
Q: Is there a special discount for non-profit businesses?
Semrush – There is no particular discount. However, you may save 16% on an annual membership.
Moz – Yes, a 75% discount. There is a 20% discount on the annual subscription for all other sorts of businesses.
Ahrefs – There is no special price. However, you can save 20% on a yearly subscription.
Q: What is the difference between Moz and Ahrefs?
The difference in bothered tools is Tracking our backlinks. Both Moz and Ahrefs offer great backlink trackers, but while Moz is focused on who linked you (and offers more limited filters), Ahrefs shows you who linked and overall trends, displayed as graphs on the dashboard.
Q: What is The best SEO tool for monitoring backlinks
Ahrefs is the undisputed king of SEO backlinking tools. It allows you to configure monitoring for your website, competitor websites, and even specific web pages. Set up a new alert; voila, you'll get an email alert every time that page procures a new backlink. You can implement a similar mechanism for broken backlinks. This helps maintain your link equity proactively.
Q: What are the Best SEO Tools for Advanced Metrics
SemRush is the most effective tool for advanced metrics. This is the best option for commercial customers looking for sophisticated capabilities such as "referring IP addresses," "lost links," and international keyword data. It also includes a set of tools for content marketers and social media marketers. As a result, everyone in your organization will benefit from it.
Q: Is Ahrefs or SEMrush more accurate?
Both Ahrefs and Semrush are actually evenly matched in terms of accuracy, but Semrush has a slight edge because it refreshes more frequently. Ahref and Semrush's data generally correspond and even out, but Semrush will give you visibility into virtually real-time changes.
Q: Do I get API access with all subscriptions?
Semrush – No. The standard API package is offered as a Business plan add-on. The Traffic Analytics API is a stand-alone solution that may be purchased independently of any subscription plan.
Moz – Yes, all Moz community accounts have free API access. The paid API, on the other hand, is a separate product that is marketed independently from Moz Pro and Moz Local.
Ahrefs – Yes, the free API with limited functionality is available with all subscriptions. However, you must pay an additional fee for their commercial API services.
Q: What is the best SEO tool for agencies
Semrush is the most effective agency tool. As an agency, you require all of your data in one location. The finest agency tool should enable you to swiftly navigate between each client campaign to check rankings, backlinks, and other metrics. Furthermore, an agency-grade technology should allow you to automate your reporting and create client dashboards simply. Semrush handles all of this. Semrush enables you to prospect for agency leads by filtering on organizations that have significantly grown their marketing budget, among other indicators.
You can also use Semrush's API to stream any data into a custom report and display it on dashboards for your entire workforce and client list.
Create bespoke reports with your agency logo (white labeled) so that client reporting is as simple as a few clicks. You may also schedule these reports to be delivered automatically.
Q: Which SEO tool provides the best on-page optimization tips and recommendations?
Semrush and Ahrefs provide extensive capabilities to aid in improving website optimization regarding on-page SEO ideas and recommendations. On the other hand, Moz is well recognized for its site auditing and keyword research services.
Moz stands out with the following:
Moz's Site Crawl and On-Page Grader features assist in identifying on-page issues, while the On-Page Grader provides optimization recommendations based on targeted keywords and content analysis.
Moz's Keyword Explorer tool provides insights into keyword potential and recommendations for enhancing your content.
Q: Between Moz, SemRush, and Ahrefs, Which tool provides more accurate and comprehensive backlink data?
Among Moz, Semrush, and Ahrefs, Ahrefs is typically regarded as the tool that delivers more accurate and comprehensive backlink data. Ahrefs has established itself as a prominent authority in backlink research, with a massive and constantly updated backlink database. Here's why Ahrefs is frequently regarded as superior in terms of backlink data:
Backlink Index Size: Ahrefs has one of the largest backlink indexes, spanning an enormous number of domains and web pages. Its large database allows users to obtain a wide range of backlink information and effectively track their own and competitors' backlink profiles.
Freshness and Updates: Ahrefs continuously crawls the web to discover new backlinks and updates its database regularly. This guarantees that customers can access the most recent backlink data, making it a dependable tool for monitoring and analyzing backlink profiles.
Backlink Analysis Features: Ahrefs provides comprehensive backlink analysis features, including information on referring domains, anchor text, do follow/nofollow links, historical data, and more. These tools provide users with useful information about their own and their competitors backlink profiles.
Q: Which tool is better to use in SEO, Ahrefs or SEMrush?
Semrush outperforms Ahrefs in all three categories: backlink database size, reports and tools, and auditing and creation. As a result, Semrush is a better alternative to consider.
Q: Do Moz, Semrush, or Ahrefs offer additional tools or services beyond SEO?
Yes, Moz, Semrush, and Ahrefs provide various tools and services besides SEO. While their primary concentration is SEO, they have broadened their solutions to meet a larger range of digital marketing requirements. Here are some extra tools and services offered by each platform:
Moz:
Moz Local: Assists businesses manage their internet presence across many local search engines and directories.
Moz Pro: Enhances keyword research, rank tracking, on-page optimization, and site audits.
MozBar: A browser extension that provides SEO metrics and insights while browsing web pages.
Semrush:
Advertising Toolkit: Offers capabilities for managing and improving online advertising campaigns, including Pay-Per-Click (PPC) ads.
Social Media Toolkit: Aids in social media management, content creation, and scheduling.
Content Marketing Toolkit: Provides content research, development, and optimization tools.
Ahrefs:
Content Explorer: Allows users to discover popular and trending content ideas to help them with their content marketing efforts.
Site Explorer: Provides information about website traffic, organic search exposure, and high-performing content.
Ahrefs Webmaster Tools: Provides website owners with data and insights to help them optimize their sites for search engines.