Some of the links in this article are "affiliate links", a link with a special tracking code. This means if you click on an affiliate link and purchase the item, we will receive an affiliate commission.
The price of the item is the same whether it is an affiliate link or not. Regardless, we only recommend products or services we believe will add value to our readers.
By using the affiliate links, you are helping support our Website, and we genuinely appreciate your support.
Last updated Jun. 10, 2022 by Favour Chinaza
Moz vs. SEMrush vs. Ahrefs: which SEO tool is best? Well enough with the comparisons!
This article will put them head to find out which one outperforms the others. So enough talk!
But to feed your curiosity, here's what each of the SEO tools is best for:
Moz: Best All-around SEO solution for small businesses
SEMrush: Best for Keyword Research and Content Marketing
Ahrefs: Best for Backlinks Analysis
Moz SEO Tool Review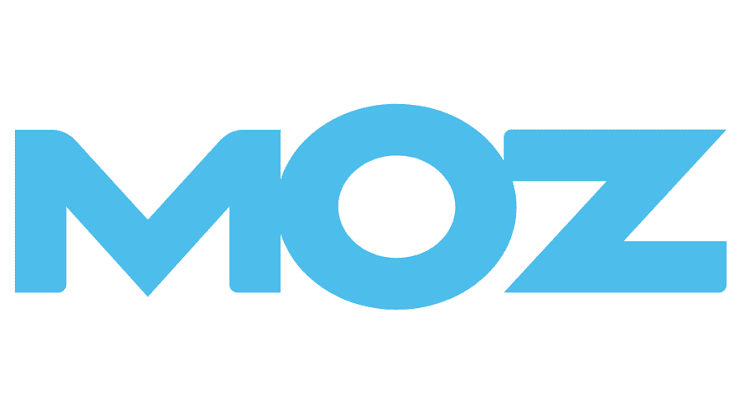 Moz offers two SEO products – Moz Pro and Moz Local. But for the sake of this Moz vs Ahrefs vs SEMrush comparison, the focus will be on Moz Pro.
Features of Moz Pro
1. Keywords Research Tools
To rank high on Google search results, your content must revolve around what people are actively looking for. This is where Keyword Research tool becomes important.
With Moz, you can identify what keywords people are searching for, how difficult it is to rank for a keyword, the popularity of a search term and other unique keywords. Moz also allows you to discover the strength of websites using a specific keyword.
Moz also offers you a unique keyword research functionality called Page Authority (PA). This feature tells you how high your page will rank on search engine results pages if you use a particular keyword.
With this feature, you can analyze and compare keywords to find out which one helps you to rank higher.
With Moz, you can also generate, save, and export keyword lists and suggestions.
2. Link Research Tools
Having other sites vouch for your content sends a clear message to Google that your page is legit. With that message being loud and clear, Google will show favoritism to your site when ranking sites on search engine result pages (SERP).
With Moz, you can get an accurate analysis of your website's link profile. This analysis will enable you to identify high-quality and low-quality site links that are pointing to your website.
Analyzing your site's link profile on Moz provides you with insight on the number of backlinks on your site and that of your competitors. You get to also see the number of broken, new, spammy, and lost links.
Moz also offers you a Link research functionality that enables you to compare your site's link profile to that of your competitors. And to supplement this functionality, Moz provides you with a link tracking list feature that enables you to set goals as you create multiple lists for building links.
3. Rank Tracking
Tracking your website's position on Google search engine pages is vital to understanding what better decisions can be made to elevate your site's ranking.
And thankfully, you can track your site's keyword ranking with Moz. Not only that, but you can also see each keyword's performance on Google SERP. With this functionality, you can make better decisions when choosing keywords.
Aside from knowing how well you rank on SERP, Moz also provides you with insight into how well your competitors rank. With this data, you can identify and cover up the loopholes in your strategy.
Using Moz also allows you to view and optimize your ranking on mobile and desktop devices.
4. Site Crawl Feature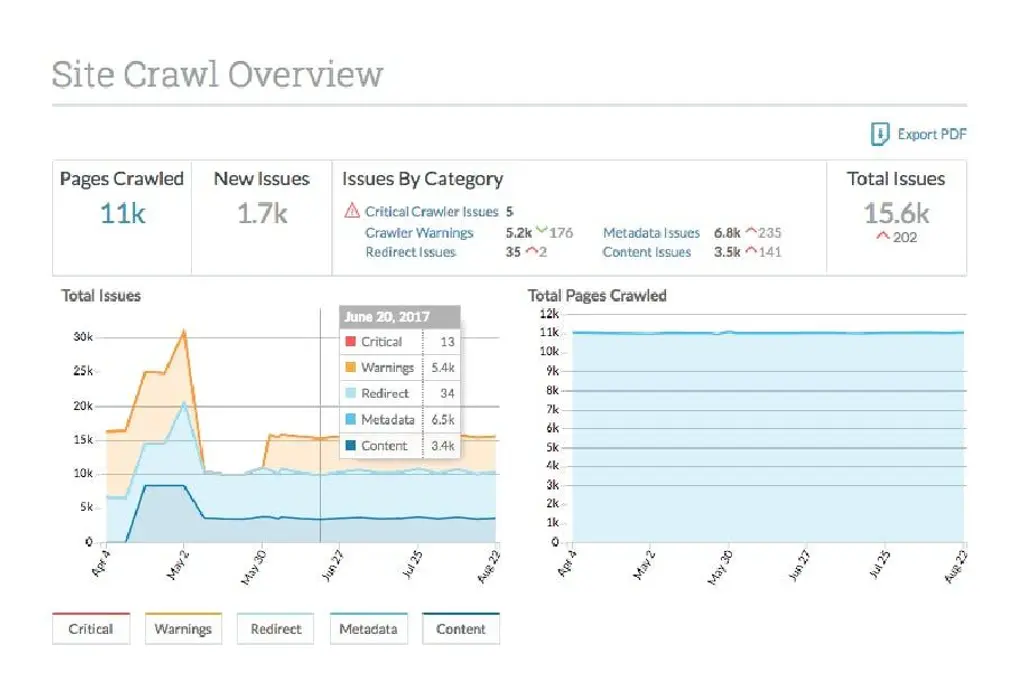 Moz's website crawling tool has everything you need that ensures that your site passes Google's crawling and index test.
Here's an overview of the features offered by Moz Site Crawl Tool:
A. Finding and Fixing of Issues: Moz allows you to identify and solve any technical SEO errors that may prevent you from ranking high on Google SERP. It also allows you to fix site issues that hinder your page from getting indexed by Google.
B. Efficient Crawling of Site: Moz performs routine crawls on your site to keep track of any recent or recurring errors. It also presents you with a detailed overview of issues in colorful charts thereby making it easy for you to spot opportunities that lead to better SEO performance.
C. Provides Help and Support: When an error is discovered on your site, Moz alerts you of its existence while giving you a comprehensive summary of its impact on your SEO performance and how to get it solved.
5. On-page SEO
When visitors click on your site's content, what they think about your site matters a lot. If they can easily get the information they want, Google will assume that your site is worthy of a higher position on SERP and so it will rank you higher.
For this reason, Moz provides an On-page optimization tool that optimizes your site in order to give Google a better understanding of your site's content, and whether it is suitable as an answer to a searcher's query.
Moz also provides you with an SEO recommendation list and suggestions on how best to optimize your content for SERP.
6. Generate Custom Reports
This Moz feature enables you to generate custom reports of your site's performance over a period of time. This report could be about your site's ranking, website crawl data, backlinks data, and more.
This report, which can be converted to pdf or CSV, can be easily shared with your team and clients. In addition, you can decide how often reports gets sent to anyone.
Moz also allows you to customize your reports by offering you templates to choose from. You are also allowed to input charts and graphs into the reports.
To add to that, this Moz feature permits you to add comments to a report.
Pros of Using Moz
1. Ease of Use
If you are new to the world of SEO tools, using Moz might just be a great idea due to its many intuitive features.
Moz has a simple and easy-to-navigate interface that enables anyone to get the hang of what they are doing even if it's their first time.
Moz also provides you with a beginner guide manual that explains everything you need to know about SEO.
2. Free Plan
Moz offers a free plan that gives you free access powerful SEO tools. But you can only utilize these tools on a limited basis.
On Moz free version, you can conduct keyword research, find your competitors, make link research, and more.
Moz Pro premium plan also comes with a 30-day trial period that lets you see for yourself the powerful features of Moz.
Cons of Using Moz
1. Pricey
Moz's pricing plan which ranges from $99/month to $599/month can be a bit pricey for the small businesses it is supposed to cater for.
2. No Mobile Application
Moz SEO tool does not have a mobile application.
Moz Pricing Plan
Moz offers five pricing plans but with the fifth one being a negotiable plan, it will not be considered here.
Moz Standard Plan: This is the cheapest plan offered by Moz and it costs $99/month for one user. On this plan, you can have access to all of Moz's features except speed crawls, report templates, and branded reports.
But note that there are some limitations placed on the accessible features on the standard plan.
Moz Medium Plan: This plan comes at the cost of $143/month for two users when billed annually. The only feature absent on this plan is the speed crawls, but it compensates subscribers of this plan by increasing the limits placed on the number of keyword searches and lists to be used.
Moz Large Plan: This plan costs $239/month for 3 user seats when billed annually, and offers no speed crawls. But it offers an increased number of keyword searches and lists.
Moz Premium Plan: Users of this plan pay the sum of $479/month for five users. There's a speed crawl feature, and the number of keyword searches and links is greatly increased.
Note: All of Moz's paid plan offers a 30-day free trial period.
SEMrush Review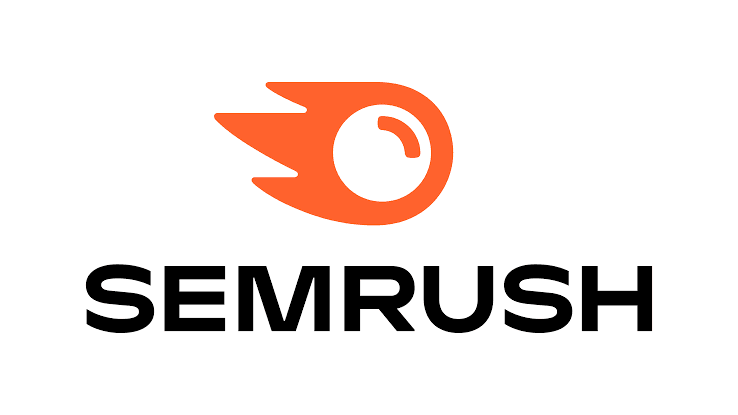 Features of SEMrush
1. Domain analysis
SEMrush allows you to check out the quality of your website and that of your competitors.
All you have to do when performing the analysis is to input the name of the domain into the Domain overview section.
SEMrush domain analysis feature provides you the authority score of the site you want, numbers of paid and organic search traffic per month, the total number of backlinks the site has, the site's top-performing keywords, competing sites, organic traffic and organic keyword stats, top organic keyword and their search intent.
There is a lot of other information provided in this overview section and it is good to note that the domain analyses feature is free.
With the data provided in the domain analyses section, you can know which sites to get backlinks from, and where your site is lacking.
2. Backlink Audit, Link building tool, and Backlink Gap Feature
As your site's position on Google search engine result pages depends on the number of backlinks you have, SEMrush offers you three backlink functionality that assists you in ranking higher – backlink audit, link building functionality, and backlink gap.
The backlink audit functionality allows you to inspect the external links pointing to your site in order to help you identify harmful links.
With the link-building tool, you can discover and reach out to strong sites for a chance to feature your site on their page.
The backlink gap functionality enables you to compare 5 domains at the same time.
This tools also gives you a platform to analyze your competitor's backlinks, find opportunities that could boost your ranking, and make better SEO decisions.
3. Keyword Research Tool
SEMrush's keyword magic tool, keyword manager, and keyword gap tool are keyword research tools offered by SEMrush to enable you to make the right decisions when choosing keywords.
The Keyword Magic tool comes with a database of more than 20 billion keywords thereby giving you the opportunity to build master lists of keywords, get fresh keyword data, and discover content ideas.
With the keyword gap functionality, you can analyze the keyword profile of your competitors. The keyword manager, on the other hand, gives you an in-depth analysis of up to 1000 keywords at the same time.
Aside from showing you data on how difficult it is to rank high with a keyword, SEMrush also provides you with keyword intent data.
The keyword intent functionality gives you data on your visitor's purpose for browsing through your site. It labels your keyword as informational, navigational, commercial, or transactional.
4. Rank Tracking Tool
This SEMrush position tracking tool helps you to discover your position on search engine results pages when you use a particular keyword. The data it provides gives you an insight into the areas you're lacking and the ways to overtake your competitors.
To discover and track your position on SERP, navigate the SEMrush interface to the rank tracker section. Then input your domain name and the keyword you will like to track.
You can also enter your competitor's domain name to find out how they are ranking for a particular keyword.
SEMrush also provides you with email notifications and alerts when a trivial or significant change is noticed in your ranking.
5. Website audits for on-page SEO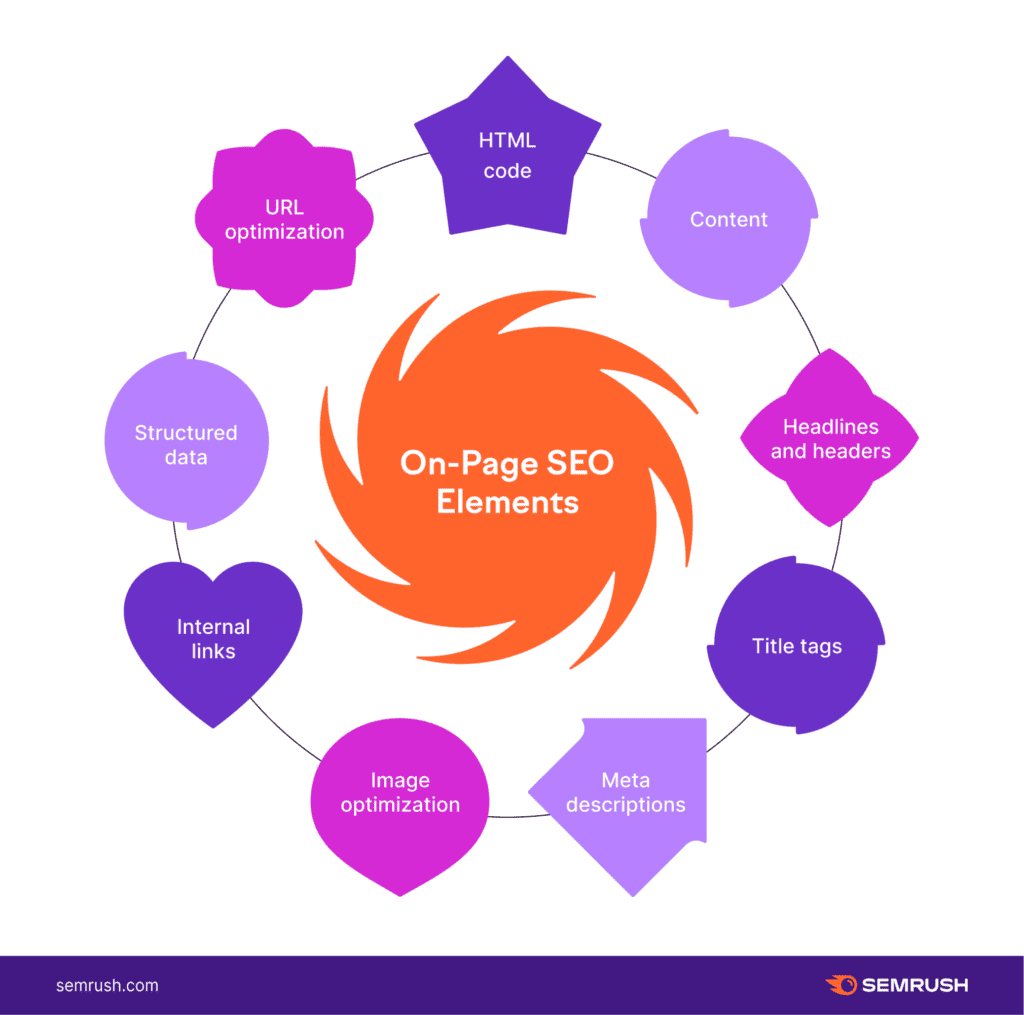 A site with crawl errors, overused keywords, SSL content, slow-loading page, and other technical SEO issues can't be considered by Google for SERP.
So SEMrush site auditing tool does well to help you discover and eliminate any vulnerabilities that may affect your site's health.
This all-in-one auditing tool offered by SEMrush frequently checks for over 130 types of website issues. When an issue is discovered, you'll receive an alert that tells you about the issue, why it should be solved, and how it can be solved.
SEMrush also sends you notifications on your site's crawlability performance, internal linking, page speed performance, International SEO, HTTPS, markups, and more.
6. Reports
With this feature, you can create a custom report of your SEO progress from scratch or you can select a SEMrush template to build a report with.
SEMrush reporting feature just like Moz allows for white labeling, scheduling of reports, and branding.
What is a CRM? A Beginner's Guide to CRM systems
PROS of Using SEMrush
1. Ease of Use
Although SEMrush isn't as beginner-friendly as Moz, its clean interface gives it a pass.
On the SEMrush interface, you can easily find any menu option since they are all placed in categories at the side of the interface.
In addition, SEMrush visualization of data makes it less overwhelming when interpreting data. The use of bright colors when presenting stats and data is relieving.
2. Value for Money
SEMrush isn't the cheapest SEO tool, but it offers you value that's worth the amount you pay. Every of its feature has no missing functionality.
Wix vs Squarespace: Choosing the Best Website Builder
Cons of Using SEMrush
1. Hard to Use on Mobile Devices
The SEMrush interface isn't responsive and optimized for mobile devices. Users who log into SEMrush on a mobile device will have to zoom and pinch to get the most out of it.
When using SEMrush, it's best that you use a desktop device.
2. Provides data for only Google search engine
It's true that your main focus is on how to rank high on Google search engines. But Google isn't the only search engine people use.
Amazon, Bing, Yahoo, DuckDuckGo, and Baidu are some popular search engines used by people. So when optimizing your site for search engines, your focus should not only be on Google.
Unfortunately, SEMrush only provides you with data from Google search engines.
3. Extra Costs
SEMrush's competitive intelligence feature that enables you to analyze your competitor's websites can only be accessed when you purchase the SEMrush Trend add-on that costs $200/month per user.
This is extremely expensive considering the fact that SEMrush's cheapest plan costs $119/month.
Additional user option costs $100/month, the agency growth kits also costs $200/month.
SEMrush Pricing
SEMrush comes with a Free plan and three other paid plans.
The PRO plan costs $119/month and allows you to track up to 500 daily keywords. It comes with a keyword, domain, and backlink analysis feature. The content management feature is unavailable in this plan therefore is only suitable for freelancers and small businesses.
The GURU plan costs $229/month and includes a content marketing platform as well as other features of SEMrush. This plan is more suitable for marketing departments, and larger teams.
The Business Plan, which comes at a hefty price of $449/month allows you to manage up to 40 projects, enables you to track up to 5000 keywords, and allows you to crawl your pages for up to a million times a month.
All plans offered by SEMrush come with a 30-day trial period and a 17% discount when billed annually.
Ahrefs Review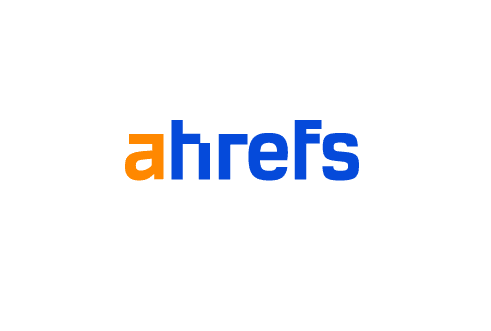 Founded in 2011, Ahrefs is among the new and few SEO tools in the market that have earned a top place in the SEO tools world.
As a tool that was originally created for the sole purpose of making backlink analysis, Ahrefs has evolved into a more advanced tool for SEO.
Features of Ahrefs
1. Keyword Research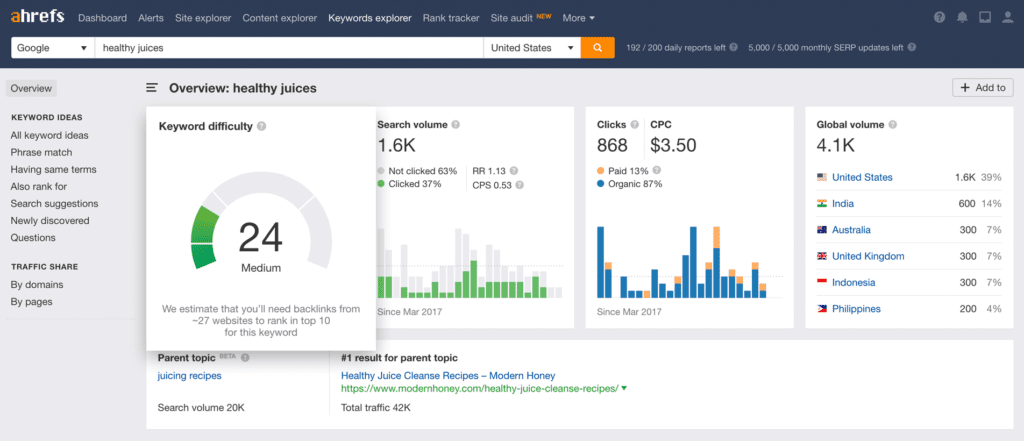 Like the other two SEO tools in this article, Ahrefs has a keyword research feature that gives you relevant data about everything you need to know about a keyword.
It performs keyword research and shows you data on a keyword's difficultly level, average and global monthly search volumes of a keyword, the rate at which a user searches for the keyword again, and the cost per click that advertisers pay to appear for a keyword.
But it doesn't only stop there. Ahrefs also allows you to not only generate keyword data for Google but also perform keyword research in up to 10 search engines.
With Ahrefs, you can rank high on search engines like Youtube, Amazon, Bing, Yahoo, Baidu (China), Naver/Daum (South Korea), Yandex (Russia), and Seznam (Czech Republic).
You just have to switch from Google to any other search engines to see the monthly search volume for a keyword.
2. Backlink Checker

Ahrefs has continuously claimed to have the best backlink database in the SEO tool industry. And from research, they really are the best.
Here's an overview of what you can get when using the Ahrefs backlink checker:
a. Domain and URL rating feature: This feature lets you view the backlink strength of a site.
b. With Ahrefs, you can discover the number of backlinks a site has, along with the number of its referring domains.
c. Ahrefs allows you to see every page linking to your site or that of your competitors.
d. With Ahrefs, you can also view the number of organic traffic a site gets due to the referrals from your site.
e. With Ahrefs, you can see the most linked-to pages of your competitors.
f. Ahrefs also provides you with an analysis of all outbound links
Additionally, Ahrefs gives you a complete picture of backlink anchor texts, followed and no-followed links, and disavow link spam. You can also export reports to PDF or CSV.
7 Best Lead Generation Software (to Get More Leads)
3. Competitive Analysis and Click Data
Ahrefs provides a competitive analysis functionality that enables you to analyze your competitor's websites. With Ahrefs SERP position history feature you can view the total search traffic potential of a competitor's keyword.
You can also view how long a competitor has ranked high for a keyword to help you understand whether they are tough and whether you stand a chance to overtake them
Additionally, the Ahrefs keyword explorer tool goes beyond showing you the search volume of a keyword. This tool also provides you with data on the number of clicks your competitors have for using a keyword. With this feature, you can find keywords that give you clicks.
4. Rank Tracking
Ahref's rank tracker is a one-in-all package tool that helps you to track a site's performance across all search engine results pages.
With this tool, you can monitor how high a site ranks on mobile and desktop devices in 170 countries.
You can also view the percentage of traffic a site accumulates, the percentage of clicks for a tracked keyword, the number of times a site moved higher on search engines, and the number of clicks a tracked keyword attracts.
5. Site Audit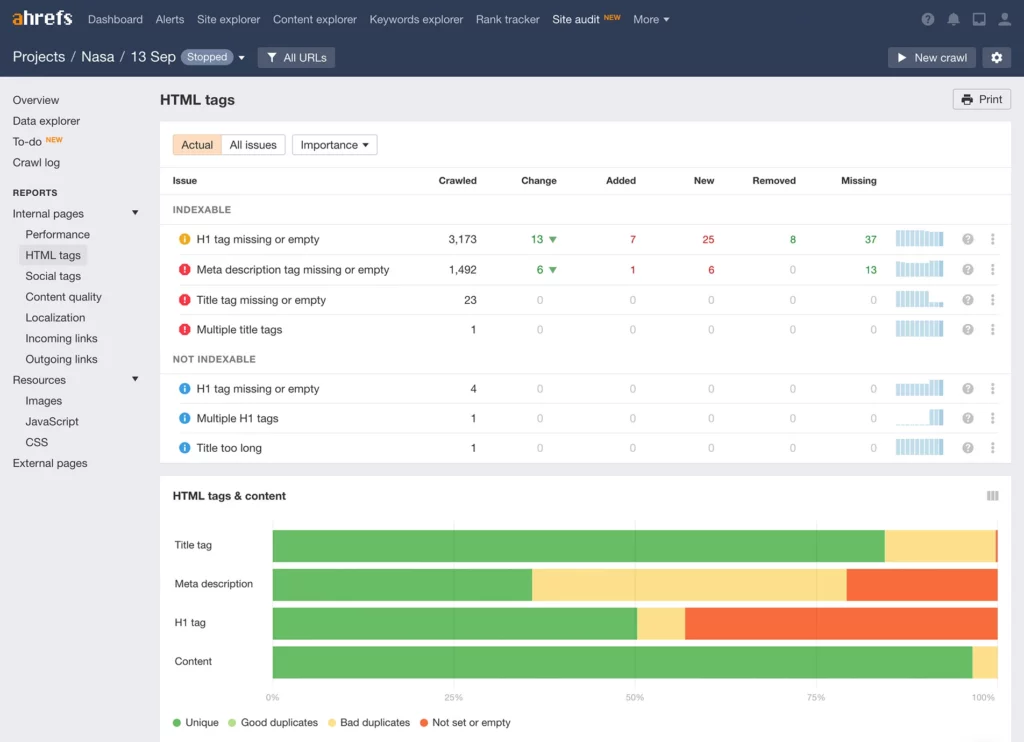 Ahrefs crawls every page on your site and then provides you with detailed chart-styled data on your site's SEO health score.
During the crawling process, Ahrefs checks for issues such as slow loading pages, missing or duplicate tags, too large CSS, incomplete or missing tags and cards, duplicate pages, Hreflangs issues, broken pages, and more.
With Ahrefs, you can also view the SEO score of other sites.
Ahrefs Pricing Plan
Aherfs offers four pricing plans – the lite plan, standard plan, advanced plan, and the Enterprise plan.
The lite plan which costs $99/per month comes with features such as SEO dashboard, site audit, keyword explorer, rank tracker, site explorer, and alerts. It is tailored for small businesses.
The standard pricing plan costs $199/month and comes with all the features offered in the lite plan. Its additional features which include SERP updates, position history chart, batch analysis, and domain comparison makes it suitable for In-house marketers.
The advanced plan costs $399/month and is recommended for expanding businesses. Its features include everything offered in the standard plan, 2 years history view, Google data studio, and dashboard folders.
The enterprise plan costs a hefty sum of $999/month and is only ideal for large corporations.
Final Verdict
At this point, it is clear that Moz, SEMrush, and Ahrefs offer almost similar features making it difficult to decide on which is the best.
But although they offer similar features, you can notice that some features offered by Ahrefs is more advanced than SEMrush and Moz.
Ahrefs keyword research tools offer you the chance to not only rank high in Google search engines but in other search engines as well. In order words, using Ahrefs equates to more organic traffic to your site.
The competitive analysis feature offered by Ahrefs incorporates every tool you need to discover the secrets behind your competitor's success and performance. So it might be best for you if you need an advanced tool for checking out your competitors.
SEMrush, on the other hand, clearly performs well in Keyword research and analysis due to its database of over 20 billion keywords. So if your focus is on a tool with Advanced Keyword research, then SEMrush is your guy!
Finally, Moz, as a jack of all trades master of none is best for you if you want an SEO tool with an all-in-one package. Moz features are simple and give you what you need.