Last updated Aug. 26, 2023 by Favour Chinaza
7+ Best Green Screen Software (Chroma Key Reviews)
Are you a YouTuber, a professional videographer, or someone who simply enjoys creating videos?
Whatever the case may be, if you need to create green screen content on the fly, you'll need an app on your phone. Using a green screen can be difficult but rewarding, especially if you utilize the appropriate equipment.
With so many online apps accessible today, selecting the best green screen video editor tool for your needs might be difficult. Some apps are fantastic for novices, while others are more for experts.
To alleviate your agony and assist you in finding a superb video editor app with a green screen effect, we have compiled a list of the 12 finest ones for you!
How Important is Green Screen in Video Editing
The background you choose for a video is vital, so choose the best green screen software available.
Numerous professional video editing software on the market, such as a green screen, provide outstanding effects and capabilities.
However, these video editing software can be prohibitively expensive, difficult to use, and have a steep learning curve.
Adobe Premiere, for example, includes the Chroma keying tool, but you must pay $19.99/month if billed annually and spend some time figuring out how to use a green screen overlay video.
A green screen software allows you to alter the original background to a virtual image of the location where you can't get it, all from your phone.
Consider yourself in the Amazon jungle, on a hot air balloon, or on the brink of a skyscraper roof. Doesn't it appear realistic? And, in fact, you are currently filming the video in your front yard, office, or on the bus.
We've chosen the top seven free apps to help you take and share realistic films and photographs on the run and boost the reach and engagement of your material.
If you only wish to edit home movies, those programs will be useless to you.
In this situation, we've chosen some free and basic green screen video editing software, including extensive editing tools such as chroma keying or green screen. Finally, we'll have a bonus video showing how to make a green screen video.
As a video editor, you require green screen software that is not simply feature-rich. Lightweightness, ease of usage, and dependability are some traits to seek for in green screen software.
Good Read: 43 Best Video Editing Software (Edit Videos quickly)
What Is Green Screen Editing?
Have you ever wondered what goes on behind the scenes of video or image production? If you answered "yes," you have undoubtedly seen a large piece of green stretched synthetic cloth in the studio.
Weather predictions, movie sequences, and photo shoots for a fashion gloss are frequently filmed in the background.
This canvas is modeled after a green screen, which photo and video editors use to change pictures during the video production process.
Special effects video editors generally modify the background with photo or video editing tools. They begin by removing the green screen.
After that, a translucent background is left, and the video/photo material is super-imposed on a separately filmed background that integrates smoothly into the main topics of the shot.
As a result, a natural impact is achieved, similar to that seen in real-time. Chromatography is the name given to this creative process.
Not just the camera is useful while taking photos or filming films on a green canvas. Certain details necessitate special attention.
The fabric should be well-stretched and free of creases to get a consistent green screen.
It is also critical that bright light be focused on the object. Get the finest green screen software for Android and iPhone if you require assistance.
Green screens were first utilized in the film industry in 1940. Famous Hollywood masterpieces were created with their assistance.
And currently, this canvas is actively employed during video editing in circumstances where the required locations for filming are not available or for building imaginary locales, such as Middle-earth from the classic trilogy The Lord of the Rings.
Why is Green the Preferred Color in Chroma-Keying?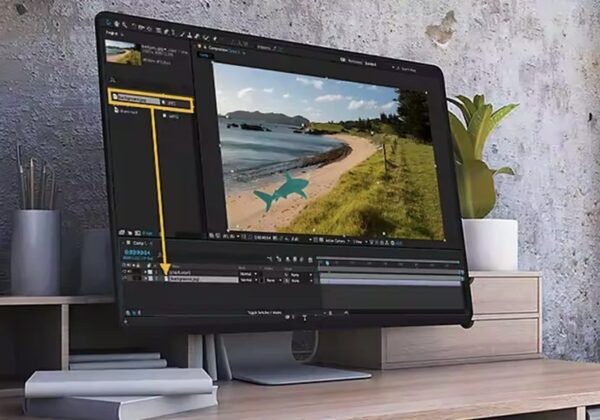 The reason is relatively simple: green screens are green because this is not a color that's widely used in everyday life.
The green that's used to add chroma-key effects isn't found in nature, so it can be easily filtered using the software.
Here, you might argue that people can wear green clothes, but you can remedy that with a change of clothes.
The only thing to remember when using a green screen is that it should be a single solid color that doesn't match the color of any other scene elements.
Initially, green screens used to be a solid blue. Larry King first used the technique in his Academy Award-winning movie, The Thief of Bagdad, and back then, the screens were blue. Even today, you can use blue as a substitute for "green" screens.
Green and Blue Screen: What is the Difference?
A blue screen is also used in video production, but less often. It is most suitable for shooting night landscapes and scenes in the dark.
Thanks to using this background, you get cleaner edges and colorless spills. But to make a video or photo on this background, you need more lighting.
So, shooting, in this case, is more expensive than using the green screen.
A green screen is usually used in video production if the budget is limited. It is a tool that helps to get great shots on sunny days while requiring less light. But in this case, there is one problem – color spill.
How to Choose the Right Green Screen Software?
First, examine the state of your film to see whether you can conduct basic keying or whether you require something more complex.
Should you use a standalone program, a professional NLE (Non-Linear Editor), or a plug-in for your current editor? In this circumstance, there are a few things to consider.
How did you get the footage for these videos? What medium did you employ? Was it a MOV, MP4, AVI, MPG, or another format?
The ability to use a program is determined by how the files are saved and your operating system.
You can see a preview of your footage before it goes to post-production if you have an iOS or Android phone.
You can use the software that came with your camera or another editing program with chroma key features to ensure that the lighting is correct on set or to share a fast clip with a distant producer.
Which of these three resolutions did you shoot in (720p, 1080p, or 4K)? Not all chroma key tools, especially free or trial ones, support 4K movies.
If you wish to use it, you may need to downconvert your material or upgrade to software that supports 4K.
What is the quality of your video? Is there a clear subject in the foreground and a clean, evenly lit green background?
If this is the case, you can frequently use a simple key and leave your photo alone.
However, if your green screen contains camera movement, hot spots, wrinkles, or shadows, or your subject has flyaway hair or other portions that display green reflection (spill), you may want more advanced Luma and chroma capabilities to correct it.
7+ Best Green Screen Software
1. Adobe Premiere Pro CC: Best Professional Green Screen Software
2. Camtasia: Best for Web Cam Users
3. iMovie: Best Free Green Screen Software for Mac Users
4. Adobe After Effects: Best Green Screen Software for Animation
5. OBS Studio: Best Streaming and Video Recording Green Screen Software
6. Wondershare Filmore: Best Green Screen Software for Beginners
7. Lightworks: Hollywood Standard Green Screen software
8. OpenShot: Best for Open-source editing
9. Power Director: Best Green Screen Software for performance and Background Rendering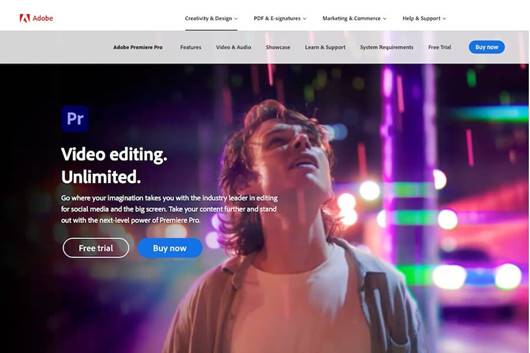 Adobe Premiere Pro is one of the best green screen software programs available. Its extensive features set it apart from other green screen software.
Adobe Premiere Pro has Sensei AI technology and an automatic option that allows you to auto-frame your topics, make exact selections, fix grainy videos, match music length to video, edit quickly, and smartly trim videos.
Adobe Premiere Pro is the best green screen software for Mac and Windows since it is a timeline-based video editing software with an amazing timeline.
It includes an attractive, user-friendly interface that makes video editing easier by decreasing the amount of work required to organize and import footage.
In addition, Adobe Premiere Pro has advanced capabilities for audio, graphics, titles, color correction, motion graphics, time remapping, noise reduction, and chroma keying (green screen).
Other noteworthy features include drag-and-drop functionality for seamless clip transitions and resizable window frames for optimal viewing on any screen size.
For example, Adobe's 360° immersive video playback shows your virtual reality content in amazing 4K quality at 60 frames per second on practically any device set up with no plug-ins required!
It can do advanced chroma-keying and high-quality video editing at up to 10,240 8,192 resolution and 32 bits per channel color in both RGB and YUV.
It also supports 360-degree video editing, audio sample-level editing, 4K editing, VST audio plug-in editing, Multicam editing, and 5.1 surround sound mixing.
Key Features of Adobe Premiere Pro
Simultaneous Project
Limetric Support
Animated Motion Graphics
Allow for Import and Export
Video Titling & Graphics
VR editing and VR Rotate Sphere
Software Integration
Libraries, motion graphics templates, and more.
Video Effects
Pros
Smooth Interface
Multiple file support
Synchronized Editing
Integrations
Cons
Subscription-based models
Beginners may have difficulty trying to get the hang of the interface.
Supports only Strong Computer system
High RAM usage.
Pricing
Adobe Premiere Pro offers a subscription-based service.
Adobe Premiere Pro single app costs $27.62/month, and the Creative Cloud all-app plan costs $69.72.
For students and teachers, Adobe Premiere Pro costs $26.30/month, while a business plan costs $50.50/month per license.
Premiere Pro's plans come with a 7-day free trial period.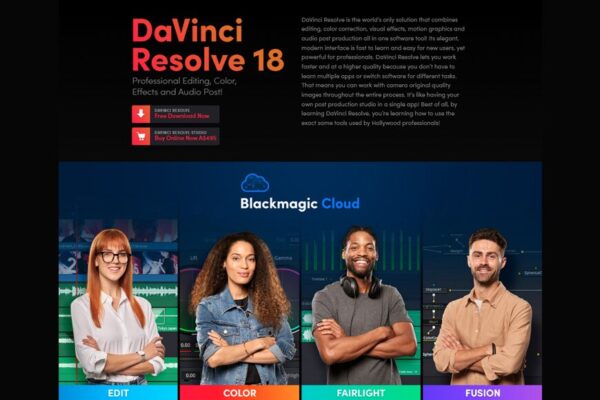 DaVinci Resolve 15 is a powerful Green Screen editor available for Windows, Linux, and Mac.
With the aid of this software, you can simply apply the Chroma Key effect or the Green Screen effect to your images and movies.
Along with this unique feature, you can also apply a variety of Transitions and Effects to your photographs and videos to make them look even more beautiful.
This software also supports Multi-Camera Editing, which allows you to make your everyday films look more professional.
DaVinci Resolve 15's Video Stabilisation function is available to make the Chroma Key effect even smoother and finer.
After applying the Green Screen effect to your preferred files, you may import many other visual effects from this software's After Effects application to further enhance the quality of your modified images and videos.
DaVinci Resolve 15 includes the Blur Radius effect to assist you in integrating the new background with your original image while fine-tuning photos and videos that have been enhanced using the Green Screen effect.
Pros
All-in-one green screen and video editing software
Multi-user collaboration functionality
Hundreds of GPU and CPU effects, including blurs, light effects, and noise
You can purchase the software outright for a lump sum
Cons
Its user interface can seem overwhelming for beginners
The free version has limited features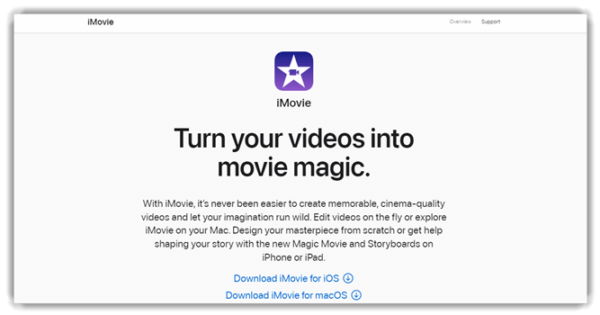 IMovie is a green screen software that allows you to animate titles in various styles. It will enable you to modify the speed of your shots.
This green screen software can be used to give a final touch to a video, such as color correction. It is a free video editing app for iOS and Mac that specializes in creating the Green Screen effect.
Apart from basic video editing features like cutting, cropping, splitting, and so on, this program is also highly efficient in advanced features like Chroma Keying.
This software supports a wide range of input formats such as MP4, MOV, MPEG-2, AVCHD, DV/ HDV, and so on, and output formats such as MOV, JPEG, DV, AIC, AAC, and so on.
It offers a very simple and easy-to-use interface that is ideal for beginners. Despite its simplicity, it is far too good for creating professional-looking videos.
iMovie is chroma-key software that comes standard with every new Mac. It has a green screen effect that allows you to eliminate any video's backdrop image.
It also allows for advanced audio editing, 4K video capability, and Hollywood-style effects. As you create videos, the storyboard tool offers you predefined video templates.
iMovie also includes 13 video filters to add a theatrical touch to your projects. It also has over 100 intelligent soundtracks.
Key Features of iMovie
This app includes built-in music, sound effects, and voiceover recording.
It enables you to create movie trailers from easy-to-use templates.
Offers MP4, MPEG-4, VOB, MPEG-2, and JPEG formats for green screens
You can export your green screen in MP4 and MOV
Seamlessly integrate with Aimersot
Offers editing functions like Trim, Split, Crop, and Rotate
Supports social platforms like YouTube and Facebook
Offers filters like Coastal Hike
Provides Pre-built themes & backdrops, HD support, Video effects & transitions, Open multiple projects simultaneously, and Automated video editing
Offers AI Motion Tracking, 3D Design, Color Adjustments, 360/VR Videos, Blending Modes, Audio effects, 3D animation, 4K support, and Chroma Key
It provides customer support via Chat and Phone.
Pros
Clean interface and easy-to-use
Available on mobile and desktop devices
Seamless audio and video transitions
Cons
Limited to Apple users.
Requires large hard drive space
Importation of MP4 files is cumbersome.
Pricing
iMovie is a video editing application and green screen software that comes preinstalled on every macOS, iOS, and iPadOS device.
It is a free video editing software, so every Apple user doesn't have to pay for it.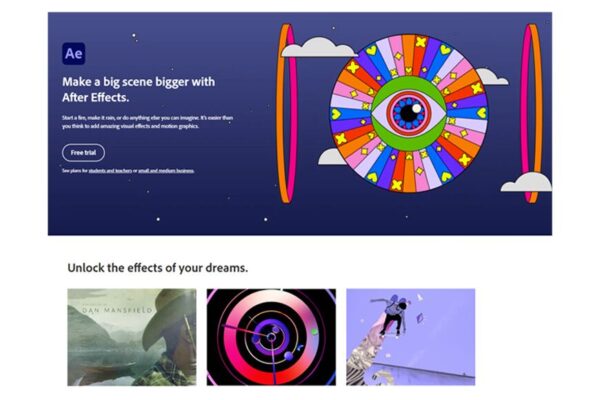 Adobe After Effects is a powerful, advanced chroma-key green screen software for professional video editors. And it is compatible with Windows and Mac devices.
The unique thing about Adobe After Effects is that it is a 3-in-1 package that comes with solutions such as animation, green screen video production, and video editing.
With Adobe After Effects, you can create virtual reality videos, cinematic movie titles, intros, transitions, and motion graphics. It also enables you to animate logos or characters and design in 3D space.
Key Features of Adobe After Effects
Provides an intuitive way to select, track, and isolate objects easily.
This tool enables you to create cinematic film title transactions and intros.
It has a green screen wizard that helps you to navigate 3D visuals easily.
Provides templates for Motion Graphics
Offers MPEG, AAC, AIF, MP3, WAV, GIF, and PDF formats for green screens
You can export your green screen in MPEG, AAC, AIF, MP3, WAV, TIFF, PSD, and JPEG
Seamlessly integrate with Adobe Stock video
Offers editing functions like 2D Vector Animation, Character Animation, Kinetic Typography, UI/UX mock-up animations, and Visual Effects
Supports social platforms like TikTok, Instagram, and Facebook
Offers filters like Night, Outline, Sharpen, Soften, and HDRLayer
Provides One-click keys, Video compositing, Rotoscoping, combining layers, VR environment, Applying lighting and color effects
Offers AI Motion Tracking, 3D Design, Color Adjustments, 360/VR Videos, Blending Modes, Audio effects, 3D animation, Chroma Key, and Time effects
It provides customer support via Chat and Phone
Pros
VR and 360 video support
Seamless integration with other Adobe products
Enables the creation of Animation videos
Cons
Can be pricey since it sometimes needs to be integrated with Adobe Premiere Pro
Complex interface and steep learning curves
Not suitable for beginners
Pricing
Getting Adobe After Effect as part of Adobe Creative Cloud costs $20.99/month.
It offers a subscription model pricing, which is unavailable for a one-time purchase. Adobe After Effects doesn't have a free forever plan but offers a 7-day free trial option.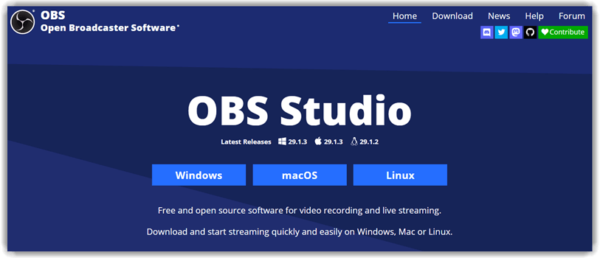 OBS Studio is an open-source green screen software that provides video editing tools like other video editing software, chroma-keying, live streaming capabilities, screen casting capabilities, and recording.
It is a free cross-platform software suitable for beginners and semi-pros. It supports Linux, Mac, and Windows devices.
Although its green screen features are pretty basic, it is still a powerful software to check out if you have no knowledge about green screen software and are a beginner in video editing.
The tools it offers are customizable, and it provides a wide array of easy-to-use configuration options.
Key Features of OBS Studio
This free green screen editor offers intuitive audio.
OBS Studio allows you to preview the scene before making it live.
This green screen photo editor allows you to rearrange the UI according to your desire.
You can capture video in real-time.
Offers easy-to-use configurable options.
This green screen software for photos supports lots of plug-ins.
Provides templates for Layout, project, Clone, and Podcast
Offers MP4, MOV, FLV, MKV, AVI, GIF, and AAC formats for green screens
You can export your green screen in MP4
Offers editing functions like Split and Merge
Supports social platforms like Facebook and Twitter
Offers filters like Compressor, Expander, Gain, Invert Polarity, Limiter, Noise Gate, and Noise Suppression
Provides Audio Capture, Collaboration Tools, File Management, Multi-Screen Recording, On-Demand Recording, Screen Capture, Screen Recording, and Video Capture
Offers AI Motion Tracking, 3D Design, Color Adjustments, 360/VR Videos, Blending Modes, Audio effects, 3D animation, 4K support, and Chroma Key
It provides customer support via Chat and Email
Pros
Allows you to mix an unlimited number of video and audio tracks
Simple and clean interface which is suitable for beginners
Stellar customer support
Absence of watermarks even when free.
Open-source platform
Cons
Not suitable for professionals
Basic chroma keying capabilities
Not available on Android device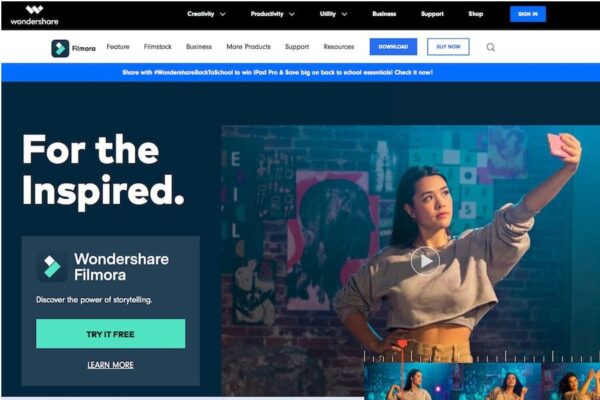 Wondershare Filmora is video editing software that allows you to manipulate any type of video effortlessly. It also has a chroma key that lets you quickly access the green screen tool.
Filmora 9 is essentially a video editor with complete Chroma Key functionality. Applying the green screen effect to your images and videos only takes a few seconds using this software.
All you have to do is import both the original image or video and the new background image or video into Filmora 9, choose the part you wish to replace, and then use Filmora 9's Green Screen tool to apply the new backdrop to it.
Furthermore, this software allows you to Save and Share your work across many social networking platforms such as Facebook, YouTube, and others.
Filmora is most known for being a simple and user-friendly software for editing green-screen films.
Filmora provides access to filters, video effects, and animated elements.
Key Features of Wondershare Filmora
You can quickly fade your audio.
Allows you to save time by applying color correction settings across multiple clients.
This tool enables you to split video.
Provides a keyboard shortcut for ease of access.
You can add transactions, filters, and titles.
Provides templates for PDF
Offers WMV, MP4, AVI, MOV, F4V, MKV, TS, 3GP, WEBM, GIF, and MP3 formats for green screens
You can export your green screen in MP4, WMV, AVI, MOV, F4V, MKV, GIF, and MP3
Seamlessly integrate with Vimeo
Offers editing functions like Rotate, Trim, Split, and Merge
Supports social platforms like YouTube, Twitter, Instagram, and Facebook
Offers filters like Shake, Faux Film, Split Screen, Sepia Tone, Background Blur, and Distortion
Provides Keyframing, Speed Ramping, Screen Recorder, Instant Mode, Auto Beat Sync, Title Editing, AI Smart Cutout, Audio Ducking, and Silence Detection
Offers AI Motion Tracking, Color Adjustments, 360/VR Videos, Blending Modes, Audio effects, 4K support, and Chroma Key
It provides customer support via Chat and Contact Form
Pros
Multiple effects and presets
Offers many online resources and tutorial videos for beginners.
It has an intuitive interface and is easy to use.
Offers royalty-free music
Cons
To unlock all features on Filmora, you'll need a premium account.
Offers new effects every month for only paid plan users
Presence of watermarks in the free version
Pricing
Filmora offers a free forever plan that comes with limited features. And it offers different pricing plans for different sets of people.
For individuals, the pricing plan ranges from $44.99 to $77.99/year, and for students, the pricing plan ranges from $19.99 to $49.99.
The pricing plan for teams and businesses starts at $155.88, and for a bundle plan, the pricing plan ranges from $5.07 to $7.32/month.
Filmora offers a 7-day free trial period for its entire plan.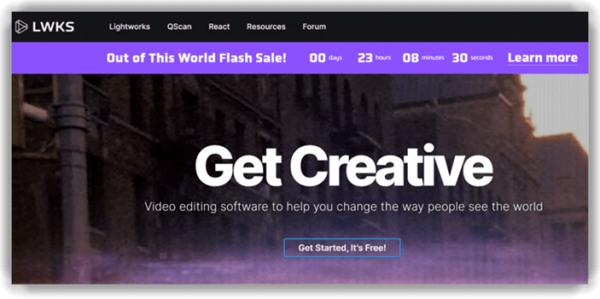 Lightworks is an award-winning green screen program that is utilized in Hollywood post-production facilities.
It is a sophisticated and powerful piece of software that allows you to generate professional-looking green-screen videos.
Lightworks is a Green Screen editor that is available for Windows, Mac, and Linux. Because this software is specifically created for professional video editors, novice users may find it challenging to use.
Aside from Chroma Keying, you can use Lightworks to add a variety of other video editing effects to take the excellence of your videos to the next level.
This software also allows you to easily publish your altered videos to other sites such as YouTube, Vimeo, and others.
Lightworks allows you to make and edit videos in 4K quality, 2K resolution, 8K media, and HD format. Despite its expensive features, Lightworks is ideal for both amateurs and pros.
Key Features of Lightworks
You can easily edit the video timeline and trim it.
Lightworks supports English, German, Italian, and more languages.
You can easily customize the shortcuts.
You can make 2D and 3D titles.
Provides templates for Social Media and Measuring
Offers AVI, MTS, MPG, MP4, ASF, and VOB formats for green screens
You can export your green screen in WMV, MOV, and AVI
Seamlessly integrate with TotalFX, Boris Continuum, ERA Bundle, Waves, and Titler Pro
Offers editing functions like Trim and Cut
Supports social platforms like YouTube, Twitter, Instagram, Facebook, and LinkedIn
Provides Proxy Workflows, Powerful Timeline, Keyboard Shortcuts, Hardware Support, Drag-And-Drop Interface, and Video Routing
Offers AI Motion Tracking, Color Adjustments, Audio effects, 3D animation, 4K support, and Chroma Key
It provides customer support via Contact Form and Email.
Pros
Compatible with Windows, Linux, and Mac
Instant Autosave
Flexible editor
Cons
Steep learning curve
Absence of a video stabilization feature
Pricing
Lightworks has a free forever version and a pro version.
The pro version costs $23.99 monthly and $239.99 yearly. For a one-time purchase, it costs $389.99.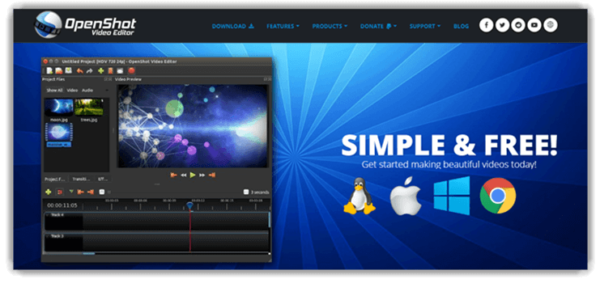 Openshot is a free Green Screen software that supports chroma-keying.OpenShot is a chroma key/green screen software that is free and open source. It is cross-platform and supports FreeBSD, Linux, Mac, and Windows.
It allows you to quickly and easily create a green-screen video. You may enhance your video by combining 3D animation with chroma-critical effects. You don't need to be concerned about the interface because it is simple to use.
It is a cross-platform application that works with Linux, Windows, Mac, and Chrome OS. It's a fantastic free green screen editor we should try.
Key Features of Openshot
You can create as many layers as you want.
OpenShot software for green screen provides video transactions with real-time previews.
You can quickly adjust the font and color of your titles.
This tool has a drag-and-drop feature.
Provides templates for Title
Offers WebM, AVCHD, HEVC, MP3, and AAC formats for green screens
You can export your green screen in MP4 and AAC
Offers editing functions like Clip resizing, scaling, trimming, snapping, rotation, and cutting
Supports social platforms like Facebook and Twitter
Provides Cross-Platform, Trim & Slice, Animation & Keyframes, Unlimited Tracks, Video Effects, Audio Waveforms, and Simple User Interface
Offers AI Motion Tracking, Color Adjustments, Blending Modes, Audio effects, 3D animation, 4K support, Chroma Key, and Time effects
It provides customer support via Email and Phone
Pros
Openshot is an open-source platform enabling users to use, modify, and distribute its source codes.
Simple Interface
3D titles
Absence of watermark
Supports over 70+ languages
Completely free
Cons
Limited editing features
Slow video rendering speed
Frequent crashes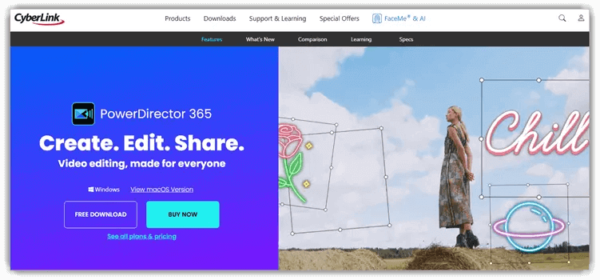 PowerDirector is a green screen software that allows you to add customized shapes and objects in video. This tool supports motion graphics and animated titles. It will enable you to import and edit video shots on camera.
Key Features of PowerDirector
Helps you to customize the motion graphic title.
Allows you to perform Hollywood-style green screen editing.
PowerDirector enables you to produce video in a 1:1 output ratio.
This is one of the best chroma key software that allows you to import 8K videos.
You can add shapes to your video.
It provides numerous ready-made templates.
This tool offers slow-motion and fast-motion effects.
You can correct color distortion in a clip.
It can stabilize shaky footage.
Provides templates for Easter, Beauty, Business, Education, Events, Family, Fashion, and Food
Offers MOV, MP3, MP4, and MPG formats for green screens
You can export your green screen in MVC, MPEG-1, WMV, DV-AVI, WAV, WMA, and M4A
Seamlessly integrate with Asknet
Offers editing functions like Cut, Crop, Refine, and Zoom
Supports social platforms like YouTube, Twitter, Facebook, and LinkedIn
Provides AI Body Effects, AI Object Detection, AI Sky Replacement, Speech To Text Transcription, Video and Title Masks, Keyframe Controls, and Audio Ducking
Offers AI Motion Tracking, Color Adjustments, 360/VR Videos, Blending Modes, Audio effects, 3D animation, 4K support, and Chroma Key
It provides customer support via phone
Pros
Straightforward application
Fast camera stabilization
Cons
Absence of a free plan
Absence of free trial
Pricing
PowerDirector offers no spelled-out pricing plan. It operates on a quotation-based system.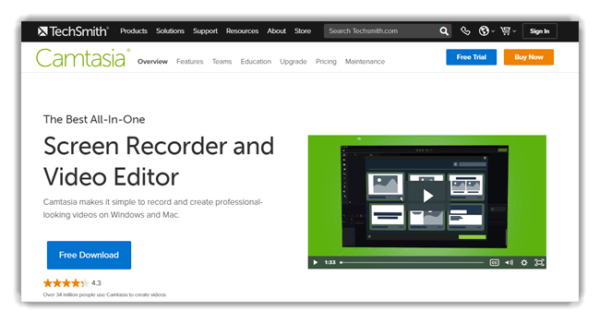 Camtasia is a green screen software with an intuitive interface and features that enable you to create the best videos.
Although it is one of the best screen recording software that offers basic video editing tools, Camtasia still stands out for its green screen background feature.
With Camtasia, you can record anything on your screen, create on-demand training videos, and add animated backgrounds to your videos.
It also offers a simple drag-and-drop editing tool and multiple customizable templates.
Key Features of Camtasia
Record your screen and edit videos with ease.
This green-screen photo software offers eye-catching titles, annotations, and callouts.
You can add quiz questions and interactivity to measure learning videos.
This is one of the best chroma key software that allows you to zoom in and out and pan animation.
Camtasia Studio enables you to record and import your presentations.
Create images and videos to give feedback.
Provides templates for Video, Education, Social Media, and Marketing
Offers MP4, AVI, WMV, MPEG-1, MP3, WAV, and WMA formats for green screens
You can export your green screen in MP4, MOV, and GIF
Offers editing functions like Split, Trim, and Crop
Supports social platforms like YouTube, Twitter, Instagram, Facebook, and LinkedIn
Offers filters like Blur
Provides Camtasia Packages, Simplified editing, Pre-Built Assets, Camera capture, Annotations, and Closed captions
Offers AI Motion Tracking, 3D Design, Color Adjustments, Blending Modes, and Audio effects
It provides customer support via Chat, Phone, and Contact Form.
Pros
Easy to use
Advanced screen capture feature
Good asset library
Mobile version
Multiple customizable templates
Allows editing of 4K resolution videos
Cons
The green screen feature is only available with webcam capture
Limited customization tool
Pricing
Camtasia comes at the cost of $299.99. It offers a 30-day free trial period and a 30-day money-back guarantee.
11. VSDC Free Video Editor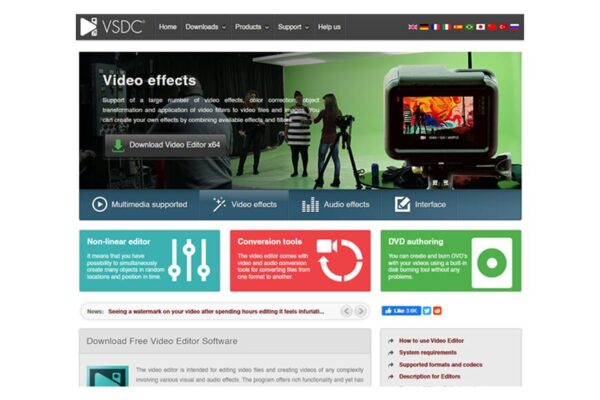 VSDC Free Video Editor is a Green Screen software that is available for free on the Windows operating system.
The nicest thing about this software is its name: unlike many other professional video editors, it is free with no hidden subscriptions or costs.
Along with the Chroma Key feature, VSDC has a plethora of other video and photo editing tools, such as sketching, coloring, selection, trimming, and lighting.
You may also apply various filters, transitions, and effects to your photographs and movies.
Another excellent feature of this software is its modest size, which allows you to easily download it on your machine without worrying about running out of storage space and begin using it immediately.
The user interface of this app is quite friendly and easy. By importing several backgrounds, you may create a full-fledged Green Screen video.
Furthermore, the VSDC free video editor allows you to use its Picture in Picture feature, which allows you to overlay one image or video on top of another quickly and have an exceptionally enjoyable photo and video editing experience.
Pros
Professional editor
Lightweight software
Great for PIP videos
Cons
Not suitable for inexperienced users
12. Blender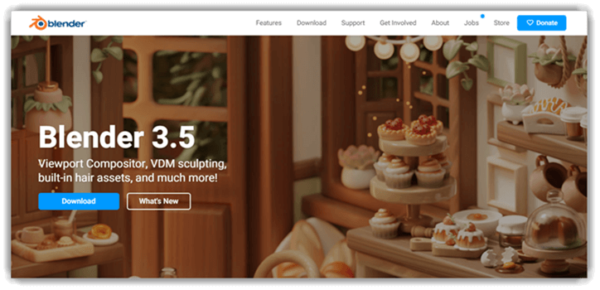 Blender is a green screen software application that allows you to replace the video background with a solid color. You can use this tool to customize the program by using the blender's API for Python script.
Key Features of Blender
This Chroma key software provides animation support with onion skinning.
Blender allows the user to customize window layout and shortcuts.
Provides more than 32 slots for adding video.
Offers live preview of edited video.
Provides templates for Operator Menus, Panels, Directory Layout, Properties, and Nodes
Offers JPEG, PNG, TIFF, AVI, MPEG, and SVG formats for green screens
You can export your green screen in ABC, USD, OBJ, FBX, PLY, and STL
Offers editing functions like video cuts, splicing, video masking, and color grading
Supports social platforms like YouTube, Twitter, Instagram, Facebook, and LinkedIn
Offers filters like Strobe, Reverse, Deinterlace, Saturation, Multiply, and Convert to Float
Provides Rendering, Modeling, Sculpting, Animation & Rigging, Story Artist, VFX, Simulation, and Video Editing
Offers AI Motion Tracking, 3D Design, Color Adjustments, 360/VR Videos, Blending Modes, Audio effects, 3D animation, 4K support, and Chroma Key
Benefits of Using Green Screen
So, here are some useful hints for editing videos using a green screen on your computer.
In Producing Movies
Consider the last time you went to watch a movie that was a major hit with the public. Green screen effects and chroma key editing made the film more intriguing.
Green screen special effects were used in all of these situations, whether it was an Avenger fighting aliens, Godzilla terrorizing the citizens of Tokyo, or Leonardo Di Caprio flaunting his wealth in The Wolf of Wall Street.
Using a green screen allows anyone to shoot with a background that looks like a professional did it.
Green screens are commonly used to create more complex backgrounds. You may also use them to create a clean white background for more formal business settings.
Make it Easier For You to Make a Brand.
Green screen backdrops in promotional videos can help businesses. This is because it allows them to put company logos in the background of the videos.
You may quickly trademark your video by adding textures, colors, and other backdrop components. This will set your video apart from the crowd.
The Chroma Key editing program allows you to apply a watermark or branding to your videos to prevent them from being copied without your permission.
You are Free to Relocate Whenever You Want
Due to legitimate worries about expense and access, filmmakers may require assistance in creating fantastical stories set in exotic locations. This is because they must cope with numerous issues.
Amateur filmmakers are unlikely to pay much money to rent out a mansion to produce a parody of The Great Gatsby. They will not be willing to go across the Polar ice caps to make a penguin documentary like the ones on Animal Planet.
Using green screens and the " chroma-key " editing process can be beneficial in this case. Green screens make changing the background of a video simple and quick.
Movie directors may easily transport characters to whatever location they wish, such as Iceland's glaciers or India's Taj Mahal, with a few mouse clicks.
When a filmmaker uses these tactics plus their video editing talents, it may appear as if a fabricated event is fully real.
People who make videos will always have ideas for skits and sketches because there are many ways to change the background with a green screen.
How to Use a Green Screen to Add Visuals or Any Background?
When creating live-action movies with bespoke backgrounds or special effects that appear like they belong in Hollywood, using a green or blue screen to capture videos could be a game changer.
To use a green screen while shooting, you must film or apply effects to a person while they stand in front of a solid color.
The scene can then be dropped into any background you desire in post-production by digitally eliminating or "keying out" that color.
You will be able to do so as a result of this. "Chroma keying" is another term for removing a colored background from an image.
Why did we choose green for the background? It's easy to remove because it doesn't match the person in front's skin tone or hair color and doesn't need gripping any portion of the person in front.
If you need to match a background with less light or if your project requires you to employ a green prop, a blue screen is the ideal option.
Cheaper online green screen kits will not suffice on their own. These kits typically contain only one or two lights, but they are plenty to illuminate your topic. This will result in a spotty background.
Furthermore, it will be difficult and time-consuming to repair in your video editor. This kit may appear to solve all your issues, but it will create new ones.
After filming your video clip with a green or blue screen, you can erase the colored background and replace it with your new scene using a video editing program or green screen software.
How Do You Shoot a Green Screen Video?
1. Select the Backdrop
Obtaining a green screen is the first stage in recording a video. As previously stated, you can also use a blue background for this reason.
Pre-made cardboard or a fine cloth such as muslin would suffice.
Remembering that the screen color should never match the surroundings is critical. Therefore, avoid wearing green or other colors that match the background.
2. Select the Proper Camera
The second step is to choose a camera capable of shooting high-quality video. Check that the camera (or webcam) can shoot videos in resolutions ranging from 720p to 1080p at a minimum of 24 frames per second.
Check to see if the camera can capture and save video in a specified file format.
If necessary, you can film the videos using your iPhone or an Android phone equipped with a high-quality camera.
3. Make Provisions for Appropriate Lighting
Next, I propose you devote some effort to correctly arranging the lighting.
The goal is to eliminate shadows on the backdrop, which can cause errors in the green screen recording process. To avoid this, ensure that you illuminate the recording area from all directions.
Employing different light sources for the topic and the background is important. This allows you to alter the screen's color saturation and intensity. Backlights and filters must be adjusted until no shadows remain.
Another thing to keep an eye out for is "green spills." Green spills appear when there is too much light in the background.
This causes light hotspots on the subject and reduces the effectiveness of the keying process.
4. Maintain a Straight Screen
The screen must be as tight as possible when capturing green-screen videos. Unwanted shadows might be cast by wrinkles or folds in the screen. Such shadows may obstruct the chroma-keying process.
To remove creases from a textile screen, I recommend using an iron. Ironing should remove any imperfections that could cause distortions.
5. Keep Shutter Speed in Mind
Consider shutter speeds while purchasing a camera. Shooting a fast-paced action scenario with a slow shutter speed can blur motion.
If your camera has a slow shutter speed, you must ensure that the subjects move slowly.
6. Make Use of the Appropriate Green Screen Software
Finally, after filming is over, utilize the appropriate green screen editing software to replace the green background with the desired one in post-production.
Any of the tools mentioned above can assist you in accomplishing this with a few mouse clicks.
What Features Should I Look for in Green Screen Video Editing Software?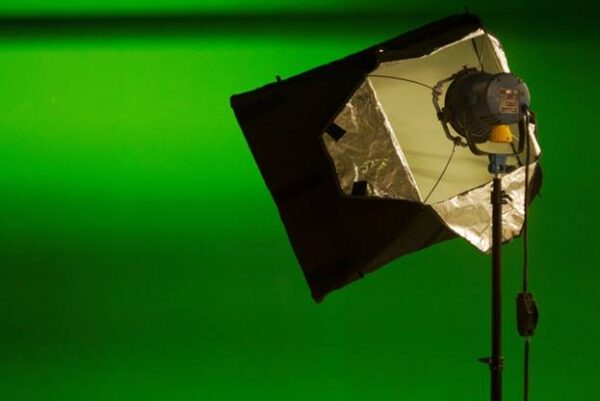 Here are some of the features to look for while looking for the finest green screen software:
First and foremost, you'll want software that's easy to use. Nothing kills the creative vibe faster than battling a clumsy interface. You want something that will make your life easier, not more difficult.
Then you should investigate its keying skills. Does it completely remove your green screen?
Can it handle difficult areas such as hair or transparent materials? The greatest software will disappear from your green screen as if it never was.
Then there's spill cleanup. The green screen can sometimes cast an odd shine on your skill. Top-tier software will have options to eliminate color splash and keep your colors looking true to life.
Look for anything with powerful compositing tools as well. This gives you a choice over how your talent and new background merge. You should be able to tweak the lighting, shadows, and edges so that everything blends together smoothly.
Also, don't forget about motion tracking. If your talent is moving or your camera is unstable, you'll need software to keep up. It should be able to detect movement and modify the background as required.
Finally, assess the software's compatibility with your existing equipment. Is it compatible with your editing software? Is it compatible with the video formats you use?
The best green screen software will seamlessly integrate into your workflow.
How Does the Green Screen App for iPhone or Android Work?
Technologies are rapidly evolving. Previously, photo and video editors could only edit footage on desktops and laptops.
Even smartphones may now complete this duty flawlessly. Developers produced green screens and editing tools that are compatible with Android and iOS devices.
You might imagine it to be similar to a green screen at a real film studio. The green screen background app, on the other hand, operates on a somewhat different concept. An image can be edited in two ways:
You tap the target object on your smartphone's taken video or snapshot. The background is then deleted and replaced with a green one.
Your green content is super-imposed on other video or photo resources.
If you use existing content, it must be of high quality. In addition, if the main topic is green, you can use another color for the missing background, such as pink, yellow, or blue.
In fact, there are numerous applications for green screen apps. Aside from changing the background, these programs frequently include additional instruments and special effects such as a multitrack timeline, color correction, masking, etc.
Consider the top free green screen apps that we have hand-picked for you.
How to Choose the Best Green Screen Editor
Numerous excellent green screen editors are available, and no two are comparable. Here are some things to check for when looking for green screen software.
Skill Level – Our selection ranges from simple one-click solutions for beginners to advanced alternatives used by video effects specialists.
Choosing the best green screen editor for your ability level is critical to ensuring you have the right level of control without a steep learning curve.
Price – Choose a budget for your green screen videos and stick with it! If you have to spend money on a green screen, camera, lighting, and other equipment, the last thing you want to do is overpay for green screen software.
Particularly when there are low-cost alternatives that include everything you need to make professional-looking green-screen videos.
Green Screen Features – You may not have a dedicated green screen in your home. If not, you should use green screen software with Chroma Key so you may remove other colors.
For unplanned green screen videos, you may want software with video overlay and AI-powered backdrop removal.
Other Editing Features – You'll likely need a full-featured video editor rather than just a program to remove backdrops.
Ensure that the green screen editor you select provides the tools you need for all your projects, such as royalty-free music, slow-motion effects, picture-in-picture tools, motion titles, and more.
Good Read: 15 Best Audio Editing Software ( Best Audio Editing Software for Podcasts )
Bottom Line
The free green screen apps listed above are some of the best on the market. As you can see, most offer limited video editing capabilities, and the interface is not intuitive or current. As you may have heard, the most expensive thing is always free.
The bulk of the green screen editors on our list contain powerful and precise chroma key functions. They are, however, constructed with professionals in mind. Due to the complexity of the editing tools and the high expense of using them, beginners, amateurs, and content creators for social media platforms are compelled to look elsewhere.
These free chroma keying tools may meet your basic video editing needs, but professional green screen software is the way to go if you require more advanced features. If you are looking for the finest green screen video editors, we have written another post based on that viewpoint.
Frequently Asked Questions
Q: What Is the Best Green Screen Editor?
Adobe After Effects and PowerDirector is the best green screen editor. These two provide simple one-click solutions for novices as well as advanced users with precision adjustment tools. It features multiple ways to apply green screen effects and a chroma key tool to remove any color, not just green. PowerDirector also includes advanced effects and editing tools to help you produce your video from start to finish.
Q: What is a Green Screen?
A green screen is a vividly colored backdrop that is used to remove things from a scene. Green screen software super-imposes a person on a background using a chroma key. A video editor selects a specific color in the video (usually green or blue) and then uses the chroma key to make the color translucent. Any backdrop colors that are uniform and identifiable can be used in the chroma key. The most common are green and blue since they differ the most from every human skin and hair color.
Q: Is green screen software free?
Yes. There are free chroma key software applications available, such as VSDC. However, the majority of green screen editing software programs are paid products that you can either buy outright or subscribe to on a monthly or yearly basis.
Q: What Is Chroma Key Editing?
Keying is the process of removing the backdrop from a video. Chroma and Luma's keying are the two types of keying. The most prevalent is chroma keying. It divides the movie into layers depending on color and deletes one of them. If you're employing the effect in an outside scenario with a lot of foliage, you need to remove a color other than green and shoot in front of a blue or purple screen instead. Luma keying splits video layers based on brightness rather than color.
Q: How do I use a green screen on my PC?
You can make your own green screen footage with camera software, a photo store green screen, and a green screen app. The following actions you take will be determined by the software you choose to employ for your project.
Q: How Do You Edit a Green Screen?
It is simple to edit a green screen. Simply click on the green screen background with the color picker tool in your green screen software, and the background will be replaced with the background you set on the editing timeline.
Q: How Does a Green Screen Work?
A green screen is a background placeholder. The action occurs in front of the screen; subsequently, a green screen editor locates and removes the color. Actors avoid green since it will be eliminated. If you want an actor to appear missing a body part, you can cover it in green; it will disappear when the green screen effect is done.
Q: What is the best software for chroma key?
The greatest green screen editor on the market is Adobe After Effects. It's the one I recommend for both novice and experienced video editors for any job involving a green screen, as it effectively balances beginner-friendliness and advanced features.
Q: What Is Tiktok's Green Screen?
TikTok's green screen feature allows users to alter the background of their videos with images. You don't need an actual green screen to achieve this effect. Simply touch "+" to start a video, then pick "Effects," then seek for the # green-screen icon under the "Trending" section. Next, select a photo from your phone's library to serve as the background and press record. TikTok has recently released a new effect called Green Screen Video. Users can use this effect to shoot over videos that are playing in the background. You may also utilize TikTok video editing applications to composite a green-screen video.
Q: Can a White Background Work as a Green Screen?
Technically, you can use any solid color, but white would be problematic because it is more typically found in clothing and on bodies. The green screen effect, for example, would make the whites of eyes, fingernails, and any white hair or beards disappear.