Some of the links in this article are "affiliate links", a link with a special tracking code. This means if you click on an affiliate link and purchase the item, we will receive an affiliate commission.
The price of the item is the same whether it is an affiliate link or not. Regardless, we only recommend products or services we believe will add value to our readers.
By using the affiliate links, you are helping support our Website, and we genuinely appreciate your support.
Last updated Jun. 8, 2022 by Jessica Green
The background you use for a video is important, so when choosing a green screen software, go for the absolute best.
As a video editor, you need a green screen software that's not only packed with advanced features.
Light weightedness, ease of use, and reliability are also the features to look out for in a green screen software.
Here's a review of the 7+ best Green Software in 2022.
1. Adobe Premiere Pro CC: Best Professional Green Screen Software
2. Camtasia: Best for Web Cam Users
3. iMovie: Best Free Green Screen Software for Mac Users
4. Adobe After Effects: Best Green Screen Software for Animation
5. OBS Studio: Best Streaming and Video Recording Green Screen Software
6. Wondershare Filmore: Best Green Screen Software for Beginners
7. Lightworks: Hollywood Standard Green Screen software
8. OpenShot: Best for Open-source editing
9. Edius: Best Green Screen Software for performance and Background Rendering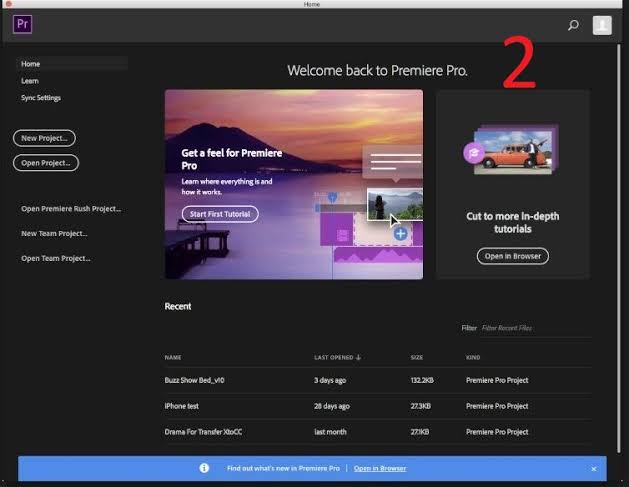 Adobe Premiere Pro is one of the best green screen software in the world.
The advanced features it offers sets it above other green screen software.
Adobe Premiere Pro provides you with a Sensei AI technology and automated option that enables you to auto frame your subjects, make precise selections, improve grainy videos, match music length to video, easy edit in quick mode, and smart trim videos.
It supports advanced chroma-keying and high-resolution video editing at up to 10,240 × 8,192 resolution, at up to 32 bits per channel color, in both RGB and YUV.
It also provides support for 360-degree video editing, audio sample-level editing, 4K editing, VST audio plug-in, Multicam editing, and 5.1 surround sound mixing.
Main Features of Adobe Premiere Pro
1. Simultaneous Project
2. Limetric Support
3. Animated Motion Graphics
4. Allow for Import and Export
5. Video Titling & Graphics
6. VR editing and VR Rotate Sphere
7. Software Integration
8. Libraries, motion graphics templates, and more.
9. Video Effects
Pros
1. Smooth Interface
2. Multiple file Support
3. Synchronized Editing
4. Integrations
Cons
1. Subscription-based models
2. Beginners may have a hard time trying to get the hang of the interface.
3. Supports only Strong Computer system
4. High RAM usage.
Pricing
Adobe Premiere Pro offers a subscription-based service.
Adobe premiere pro single app costs $27.62/month, and the creative cloud all app plan costs $69.72.
For students and teachers, Adobe premiere pro costs $26.30/month, while a business plan comes at the cost of $50.50/month per license.
All the plans offered by Premiere pro come with a 7-day free trial period.
Camtasia is a green screen software with an intuitive interface that provides you with features that enables you to create the best videos.
Although it is a screen recording software that offers basic video editing tools, Camtasia still stands out for its green screen background feature.
With Camtasia, you can record anything on your screen, create on-demand training videos, and add animated backgrounds to your videos.
It also offers a simple drag-and-drop editing tool and multiple customizable templates.
Main Features of Camtasia
1. Visual effects such as motion blur effect, corner rounding effect, transition effect, and more.
2. Audio effects
3. Standalone project files
4. Versatile transition
5. Animation
6. Media mats and Audio Emphasize
7. Look Up Table feature that enables you to color a video
Pros
1. Easy to use
2. Advanced screen capture feature
3. Good asset library
4. Mobile version
5. Multiple customizable templates
6. Allows editing of 4K resolution videos
Cons
1. The green screen feature is only available with webcam capture
2. Limited customization tool
Pricing
Camtasia comes at the cost of $299.99. It offers a 30-day free trial period and a 30-day money-back guarantee.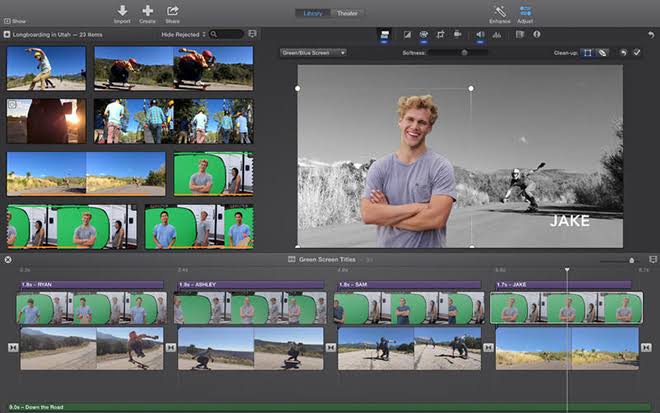 iMovie is a chroma-key software that comes with every new Mac device.
It contains a green screen effect that enables you to remove the background image of any video.
In addition, it also enables advanced audio editing, support for 4K videos, and Hollywood-type effects.
The storyboard feature provides you with premade video templates as you make videos.
iMovie also comes with 13 video filters that give a cinematic touch to your videos. And it also comes with over 100 smart soundtracks.
Main Features of iMovie
1. 13 High video filters
2. Supports 4K resolution video
3. Hollywood type effect
4. More than 100 smart soundtracks
5. Custom graphics and logos
6. Voice recording feature and sound effect
Pros
1. Clean interface and easy to use
2. Available on mobile and desktop devices
3. Seamless audio and video transitions
Cons
1. Limited to Apple users.
2. Requires large hard drive space
3. Importation of MP4 files is cumbersome.
Pricing
iMovie is a video editing application and green screen software that comes preinstalled on every macOS, iOS, and iPadOS device.
It is a completely free video editing software and so every Apple user don't have to pay for it.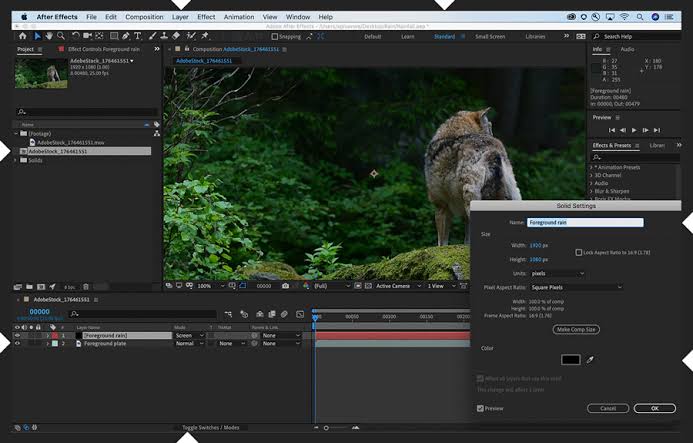 Adobe After Effects is a powerful and advanced chroma-key green screen software for professional video editors.
And it is compatible with Windows and Mac devices.
The unique thing about Adobe After Effects is that it is a 3-in-1 package that comes with solutions such as animation, green screen video production, and video editing.
With Adobe After Effects, you can create virtual reality videos, cinematic movie titles, intros, transitions, and motion graphics.
It also enables you to animate logos or characters and design in 3D space.
Main Features of Adobe After Effects
1. Faster multi-frame rendering
2. Accelerated exports
3. Powerful 3D design space
4. Content-Aware Fill
5. Media replacement in Motion Graphics
6. Separated Dimension Preference
7. Frame.io integrations
8. Native Apple Silicon support
9. Extended viewer
10. Motion graphics templates
11. Scene edit detection
12. Binding indicators for 3D layers
13. Compositing tools for VR/360 videos
Pros
1. VR and 360 video support
2. Seamless integration with other Adobe products
3. Enables the creation of Animation videos
Cons
1. Can be pricey since it sometimes needs to be integrated with Adobe Premiere Pro
2. Complex interface and steep learning curves
3. Not suitable for beginners
Pricing
When you get Adobe After Effect as part of Adobe creative cloud, it comes at the cost of $20.99/month.
It offers a subscription model pricing, so it is not available for a one-time purchase.
Adobe After Effects doesn't have a free forever plan, but it offers a 7-day free trial option.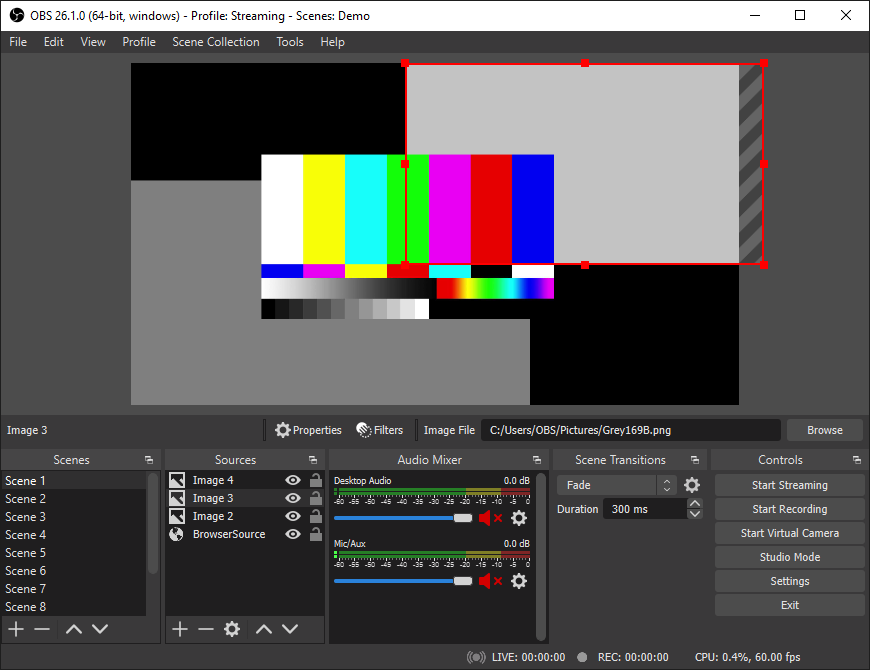 OBS Studio is an open-source green screen software that provides video editing tools, chroma-keying, live streaming capabilities, screen casting capabilities, and recording.
It is a free and cross-platform software that is suitable for beginners and semi-pros. And it supports Linux, Mac, and Windows devices.
Although the green screen features it offers are pretty basic, it is still a powerful software to check out if you have no knowledge about green screen software and if you are a beginner in video editing.
The tools it offers are customizable, and it offers a wide array of easy-to-use configuration options.
Main Features of OBS studio
1. Multiple video sources filters
2. Video/audio capturing and mixing
3. Powerful and advanced configuration tools
4. Multiple screen support
5. VST plugin support
6. Undo/Redo support
7. Noise removal feature
8. Advanced display capture
9. Source visibility transitions
10. Enables Hotkeys setup
11. Branding and personalization feature
12. High-level view feature
13. Intuitive audio mixer
Pros
1. Allows you to mix an unlimited number of video and audio tracks
2. Simple and clean interface which is suitable for beginners
3. Stellar customer support
4. Absence of watermarks even when free.
5. Open-source platform
Cons
1. Not suitable for professionals
2. Basic chroma keying capabilities
3. Not available on android device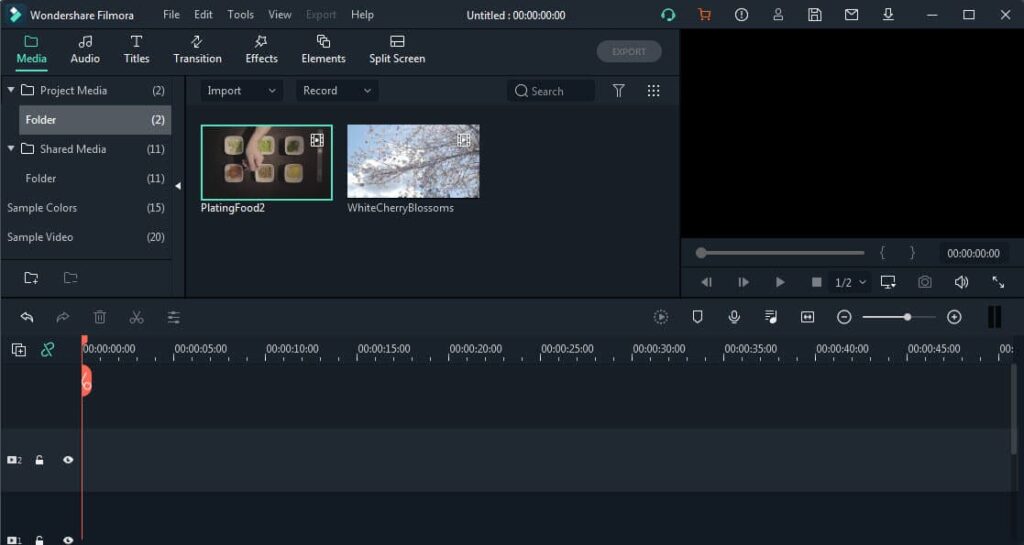 Wondershare Filmora is a video editing software that enables you to easily manipulate videos of any kind. And it offers a chroma key feature that enables you to access the green screen tool with a few clicks.
Filmora is best known for being an easy-to-use and beginner-friendly platform that is used to edit green screen footage.
With Filmore, you can have access to filters, video effects, and animated elements.
1. A drag-and-drop editor that enables you to easily move graphics into a video.
2. 4K editing, noise removal, video stabilizer, and scene detector
3. GIF support, color tuning, advanced text editor
4. Audio mixer and an audio equalizer
5. Built-in templates
6. Auto beat sync
7. Speed ramping
8. Multiple screens
9. Motion tracking and keyframing
10. Screen recorder and auto reframe
11. Chroma key
12. AI portrait
13. Speech to text and text to speech
14. Auto ducking and auto synchronization
15. Silence detection, and more.
Pros
1. Multiple effects and presets
2. Offers many online resources and tutorial videos for beginners.
3. Intuitive interface and is easy to use.
4. Offers royalty-free music
Cons
1. To unlock all features on Filmora, you'll need a premium account.
2. Offers new effects every month for only paid plan users
3. Presence of watermarks in the free version
Pricing
Filmora offers a free forever plan that comes with limited features. And it offers different pricing plans for different sets of people.
For individuals, the pricing plan ranges from $44.99 to $77.99/year, and for students, the pricing plan ranges from $19.99 to $49.99.
The pricing plan for teams and businesses starts at $155.88, and for a bundle plan, the pricing plan ranges from $5.07 to $7.32/month.
Filmora offers a 7-day free trial period for its entire plan.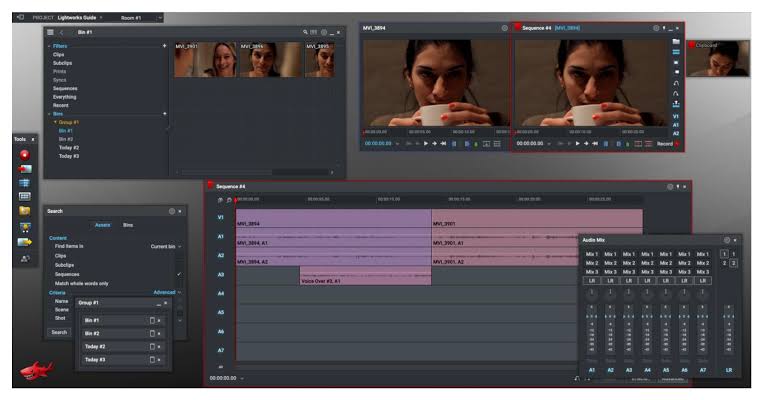 Lightworks is an award-winning green screen software that matches the software used in Hollywood post-production studios.
It is an advanced and powerful software that enables you to create professional-looking green screen videos.
With Lightworks, you can create and edit videos in 4K resolution, 2K resolution, 8K media, and HD format.
Although it comes with premium features, Lightworks is still suitable for amateurs and professionals.
Main Features of Lightworks
1. Support for OpenFX
2. Support for a wide array of plugins like VST3, AU, LADSPA, and more
3. Integrated cloud support
4. Unmatched format support
5. Shared Projects
6. Titling & motion graphics
7. Powerful timeline
8. Advanced Metadata
9. Speed optimizer
10. Multi-cam editing with unlimited sources.
11. Dedicated hardware support
12. Fully customizable interface
13. Boris graffiti for text effects
14. Enables export to MPEG4/H.264
Pros
1. Compatible with Windows, Linux, and Mac
2. Instant Autosave
3. Flexible editor
Cons
1. Steep learning curve
2. Absence of a video stabilization feature
Pricing
Lightworks has a free forever version and a pro version.
The pro version costs $23.99 monthly and $239.99 yearly. For a one-time purchase, it costs $389.99.
Openshot: Best for Open-source editing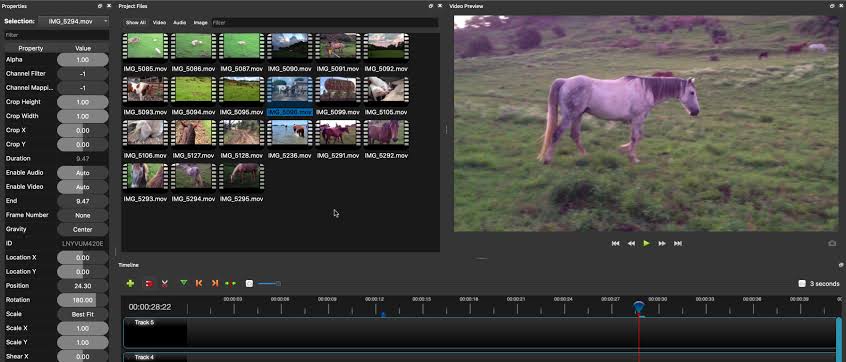 Openshot is a free Green Screen software with chroma-keying capabilities.
It is a cross-platform that is compatible with Linux, Windows, Mac, and Chrome OS.
Key Features offered by Openshot
1. Audio Waveforms
2. Unlimited tracks
3. Animation & Keyframes
4. Trim & Slice
5. Over 400 transitions
6. Slow-motion and Time effect
7. 3D animation effect
8. Title editor
9. Video editing timeline
10. Video effects
11. Drag-and-drop support
Pros
1. Openshot is an open-source platform that enables its users to use, modify and distribute its source codes.
2. Simple Interface
3. 3D titles
4. Absence of watermark
5. Supports over 70+ languages
6. Completely free
Cons
1. Limited editing features
2. Slow video rendering speed
3. Frequent crashes
Edius: Best Green Screen Software for performance and Background Rendering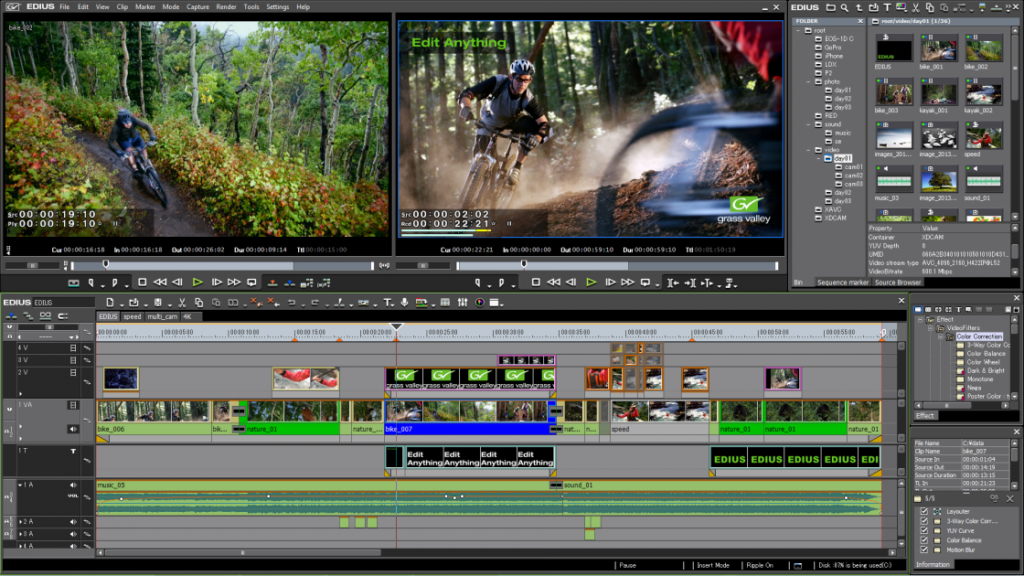 With Edius, you can change the background of a video with a few clicks. Its 3D editing tool enables you to stabilize images, add video effects, preview edits, and more.
Main Features of Edius
1. Audio and Video capture
2. Speed adjustment
3. Supports HD resolution
4. Split/merge
5. RAW decode
6. Multi-cam editing
Pros
1. Straightforward application
2. Fast camera stabilization
Cons
1. Absence of a free plan
2. Absence of free trial
Pricing
Edius offers no spelled out pricing plan. It operates on a quotation-based system.