Last updated Aug. 13, 2023 by Favour Chinaza
HubSpot vs. Salesforce: Which CRM is Best?
When it comes to CRM solutions, HubSpot and Salesforce are the clear leaders in the industry. Salesforce and HubSpot are widely considered two of the best marketing CRMs available today.
Salesforce is a complex CRM that offers sophisticated tools unmatched by any competitor.
The downside is that complexity comes with a high price tag and a long learning curve. HubSpot is more user-friendly and somewhat more budget-friendly, but that's because it doesn't have Salesforce's extensive features.
While many CRM options exist on the market, Both platforms provide large sales teams with a robust solution that can scale with growth.
However, the differences start to emerge when you look at how both platforms were built and how that foundation contributes to ease of use and adoption.
They both come with well-packaged features to help you manage your customer relationships. And because they're both so good, choosing between them becomes difficult.
This article will help you decide which one is best by giving you a comprehensive review of its features and differences.
What is HubSpot?

Hubspot is a US-based software company focusing on sales, marketing, and customer service applications for businesses of all sizes and at all stages of development.
Hubspot has over 150,000 users in more than 120 countries. Its enterprise clients include Walmart, GE Appliances, and the US Air Force.
Hubspot, Just like most of the best Enterprise CRM software, offers several popular CRM solutions, including free CRM software and three paid CRM platforms:
Marketing Hub,
Sales Hub, and
Service Hub.
Content management system (CMS Hub),
operations software (Operations Hub), and
CRM suites that bundle all five products for a discounted rate.
Pricing tiers include Starter, Professional, and Enterprise plans. Hubspot CRM suites cost around $45 per month for the starter plan, $1,600 per month for the professional plan, and $5,000 per month for the Enterprise Plan.
The Hubspot CRM is known for its intuitive, user-friendly design, which makes it a popular choice for small or growing businesses—and many business owners find they can implement this CRM without hiring a specialist.
Hubspot also maintains Hubspot Academy, which offers free online training and certifications in marketing, sales, and customer service.
The Hubspot Community is also a company-moderated help center and forum where users can ask questions, share resources, and connect with an international cohort of industry professionals.
Good Reads: 18+ Best CRM Software (Compared and Reviewed)
What Does HubSpot Do?
HubSpot is a cloud-based customer relationship management (CRM) platform that provides sales, support, marketing, and content management software to help expanding businesses flourish.
It delivers a single source of truth, allowing your front-office personnel to enhance client relationships and create a best-in-class experience.
HubSpot was developed in-house on a single code base, resulting in a unified experience that is easy for your team to learn and use.
Who is HubSpot Best For?
Because of its simplicity and all-in-one approach, HubSpot is ideal for small to medium-sized enterprises prioritizing a user-friendly experience.
HubSpot's simple user interface, powerful marketing tools, and seamless connection possibilities make it an excellent choice for businesses prioritizing inbound marketing.
What is Salesforce?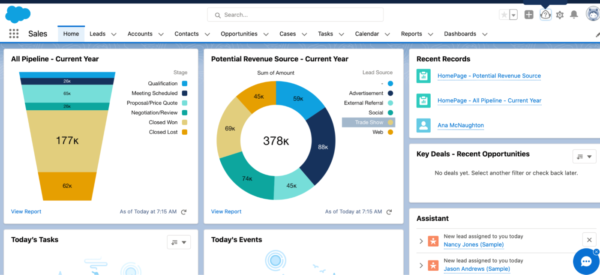 Salesforce is a SaaS (software as a service) corporation based in the United States that offers sales, customer support, marketing, and analytics software to organizations.
Salesforce, valued at around $150 billion, is one of the world's largest technology businesses, with over 150,000 clients worldwide.
Adidas, Spotify, Amazon Web Services, Toyota, and Macy's are among the enterprise-scale Salesforce customers.
Salesforce, like Hubspot, provides various CRM products, three of which are Sales Cloud, Marketing Cloud, and Service Cloud.
Salesforce has purchased a number of competitors and SaaS providers throughout the course of its nearly 20-year history, including Slack, Pardot, Mulesoft, Direct Target, Tableau, and Quip.
Over 200 products are currently available from the company, many of which were acquired by Salesforce.
Salesforce, like Hubspot, has a Trailhead academy. It provides free online marketing, sales, service, design, and customer service training and certifications.
It also has the Trailblazer Community, a company-moderated help center and forum where users may ask problems, share resources, and connect with an international cohort of industry professionals.
Salesforce CRM is well-known for its extensive reporting and sales forecasting capabilities.
The Sales Cloud Salesforce Dashboard displays a company's full sales pipeline at a glance, including the number of leads, the projected value of each, and the likelihood of conversion per lead.
What Does Salesforce Do?
Salesforce is a cloud-based customer relationship management (CRM) platform that includes apps for sales, service, marketing, and other functions that assist in connecting customers and businesses. It is one of the best CRM software platforms for businesses.
Salesforce was formed through acquisitions, so the experience and relationships may differ depending on the products you use.
As a result, Salesforce may have a steeper learning curve and require more administrative resources or funding to get systems operating together.
Who is Salesforce Best For?
Salesforce's sophisticated capabilities and customization choices make it an effective tool for huge corporations and rapidly growing businesses.
Its robustness, scalability, and broad set of features and capabilities may meet the complicated CRM requirements commonly accompanying larger organizations.
Salesforce vs. HubSpot At A Glance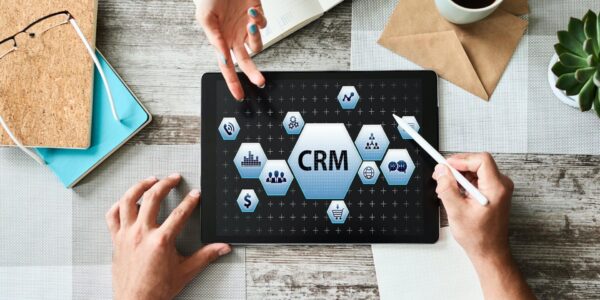 HubSpot is best known as an inbound marketing tool, while Salesforce is known as sales automation software, but they both offer similar sets of features:
CRM
Sales forecasting and analytics
Customer service features
Contact scoring
VoIP
Marketing features
In the coming sections, I'll walk through some of the core differences between HubSpot and Salesforce in-depth, but here's a quick breakdown of how some of their key features compare.
| | | |
| --- | --- | --- |
| | Hubspot | Salesforce |
| Sales reporting & forecasting | ⭐⭐⭐⭐⭐ Highly advanced sales reporting and forecasting, available in baseline plans | ⭐⭐⭐⭐ Advanced sales reporting and forecasting, but requires an upgraded paid plan. |
| Ease of use | ⭐⭐⭐⭐⭐ Strong onboarding with step-by-step instructions; improved dashboard and navigation. HubSpot's design philosophy favors a simple and user-friendly user interface, making it a great platform for companies of all sizes. | ⭐⭐⭐ Strong onboarding with a demo-like account; the layout is initially less intuitive Salesforce is a powerhouse of features and functionalities, catering to a diverse range of business needs. |
| Marketing features | ⭐⭐⭐⭐⭐ Extensive marketing features available with the free and Starter plans In HubSpot, truly personalized messages for any audience are done by marketing automation. The marketing tools, like collected forms, lead flows, and lead analytics, create lead pipelines and move the leads toward the sales team. | ⭐⭐⭐⭐ Extensive marketing automation features are available in pricier scaled plans. It offers a robust Marketing Cloud product. The Marketing team passes leads to the sales team with the marketing and automation tools. It offers a seamless experience across all customer touchpoints. |
| Scalability | ⭐⭐⭐⭐ HubSpot's scalability is robust, supporting businesses as they grow with its comprehensive suite of tools and features that can accommodate an increase in demand. | ⭐⭐⭐⭐ Salesforce's tiered pricing, extensive features, and adaptability make it a go-to choice for fast-growing and large enterprises. |
| Integration | ⭐⭐⭐⭐ HubSpot offers an integration library with 270 out-of-the-box integrations. It integrates with apps like Slack, Jira, Mail Chimp, etc. | ⭐⭐⭐⭐ Salesforce offers internationally supported integrations with SAP, Google Cloud, Intuit Quick books, etc. |
| Sales automation and Pipeline Management | ⭐⭐⭐ HubSpot's strength lies in its robust sales automation capabilities. Its easy-to-use workflow builder allows users to automate repetitive tasks and effectively manage leads. Additionally, the sequences feature enables users to automate follow-up emails, freeing up more time for personalized engagement. | ⭐⭐⭐⭐ Salesforce's sales automation is powered by its AI-powered tool, Einstein. This smart feature automates routine tasks, like lead scoring and data entry, thereby enhancing productivity. Its predictive analytics provide insightful forecasts, ensuring businesses can stay ahead of their sales targets and deliver personalized customer experiences. |
| Applies Best For | ⭐⭐⭐⭐ It is a CRM meant for small and medium businesses, which does not require complex CRMs. | ⭐⭐⭐⭐ Salesforce works on a multi-tenant model which serves companies of all sizes. |
| Features | ⭐⭐⭐ HubSpot Offers Marketing Automation Integration but does not come with social media integration. | ⭐⭐⭐⭐⭐ Salesforce comes with the following features but not HubSpot: Internal Chat Integration Mobile Access Social Media integrations Quotes/Proposals Territory Management |
| Implementation | ⭐⭐⭐⭐ HubSpot is a free CRM and can run in a few minutes. It allows importing all contacts as CSV. | ⭐⭐⭐⭐ Salesforce offers a paid plan but after a 14-day trial period. Salesforce needs external help, such as an in-house expert or specialist. |
| Training | ⭐⭐⭐⭐ HubSpot is way ahead of Salesforce in terms of free content resources and has its own comprehensive HubSpot Academy. | ⭐⭐⭐ Salesforce offers content in the form of its e-learning hub called Trailhead. |
| Pricing | ⭐⭐⭐⭐ Extensive free plan, including a free CRM and baseline features; plans include specific product bundles; pricing packages can be customized and scaled by the user | ⭐⭐⭐⭐ Charges per user per month; many features come as standalone apps accessible by purchase; plans are highly segmented; similar functionality can be much more expensive |
HubSpot Pros and Cons
Pros
User-friendly platform.
Seven-day free trial.
Extensive blog to help educate customers.
All-in-one CRM tool.
Core software is free.
Real-time notification of lead behaviors.
Personalized email sequences for both leads and existing customers.
Highly customizable.
Huge library of templates.
Cons
Requires a 12-month contract.
Can be costly at scale.
Limited to one email per contact.
Charges a graded premium beyond certain numbers of leads.
Customer support is an add-on.
Salesforce Pros and Cons
Pros
Add and remove features as needed.
Nearly all sales reps understand the platform.
Highly customizable dashboards.
Built-in social media functionality.
Easy-to-navigate UI.
Plenty of integrations.
Salesforce Database helps organize and digitize company sales records.
Allows for integration with any data source.
Supports security standards and controls.
Highly scalable.
Cons
Expensive.
Add-ons aren't free.
Configuration is complex.
Steep learning curve throughout.
Generating reports can be tricky.
Costly data storage.
HubSpot Core Features
● Contact Management
Hubspot allows you to store more than a million contact information, and it also makes it easy for you to dig out a contact's information.
The customer data you can store on Hubspot include contact information, your interactions with the contact, purchases made by the contact, how the contact found your business, and more.
● Customizable Dashboard
Hubspot CRM provides a dashboard that enables you to view your entire sales pipeline in one place.
At a glance, your team can get data about the number of leads in a sales pipeline, their status in the sales pipeline, their activities, and how you have made progress.
In addition, Hubspot CRM allows you to customize how data appear on your dashboard.
● Task Management
With Hubspot CRM, you can manage your tasks efficiently. Hubspot makes it easy for you to create tasks, schedule tasks, track tasks, and send scheduled emails to customers.
● Gmail and Outlook Integration
You can integrate Gmail and Outlook into your Hubspot CRM and import your email interactions with contacts into the Hubspot CRM.
Additionally, Hubspot allows you to track an email to enable you to gain insight into the bounce and click-open rate of emails.
● Email Marketing
With Hubspot CRM, you have access to tools that enables you to create an effective and personalized email marketing plan.
The drag-and-drop editor tool of Hubspot enables you to create customized emails, and with the pre-built templates, your marketing team can personalize an email.
You can also segment your contact list to make targeted messaging easy.
● ROI Analytics
Hubspot CRM lets you view and measure your team's performance in one place.
With Hubspot CRM, you can track a customer's entire journey with your business and view the impact of your marketing campaigns on them.
You can also analyze and see data on your website's performance. In addition, you can also get reports on the performance of your marketing campaigns.
● Lead Generation Tools
Hubspot CRM is one of the best Lead generational software and provides tools that enable you to generate and manage leads.
With Hubspot's forms, you can capture leads who visit your site and turn them into high-value customers.
Hubspot's lead capture software generates leads for your sales team, and it sends the lead information into your Hubspot CRM, where all your business units can access it.
The segmentation feature also allows you to collect and organize leads into lists. With Hubspot CRM, your team can also score and prioritize leads.
● Automation
Hubspot CRM automates the manual tasks carried out by your team. It creates a seamless and effortless work process for all departments in your business.
Its automation feature allows you to make changes to campaigns and processes in seconds. It also allows you to deliver the right information to the right people at the right time.
Hubspot CRM provides sales automation, marketing automation, data quality automation, customer service automation, and more.
● IT Ticketing system
The IT ticketing system feature of Hubspot CRM enables your team to access customers' purchase history, deal information, and historical conversations with contact.
Other function it performs includes ticket routing, management and prioritization of issues, tracking of ticket volumes in all communication channels, and more.
● Live Chat
You can seamlessly manage your Hubspot CRM contact with the Live Chat tool.
This tool lets you communicate and keep leads engaged as they browse your site. You can also take notes from the Hubspot dashboard, create meetings and support tickets, make calls, and do more.
The Hubspot live chat tool also comes with a chatbot builder that enables you to create personalized conversations.
● Social Media Integration and Management
Hubspot CRM seamlessly integrates with social media platforms like Facebook and Linkedin. This enables you to connect with your leads on all social platforms.
This feature also enables you to create marketing campaigns on all social platforms, monitor mentions, and manage your social media activities.
● Application Programming Interface (API)
With Hubspot CRM, your team can build robust integrations easily and quickly.
● Customer Support
The Hubspot CRM software comes with tools that enable you to provide impressive customer service.
It also comes with self-service functions such as a knowledge base and a customer portal.
Additionally, Hubspot allows for inbound calling, Omnichannel messaging, and VoIP calling.
Salesforce CRM Core Features
● Quote Management
The quote management feature of Salesforce CRM enables you to simplify your sales and business process.
Your team can create, submit and track quotes and invoices with it. Salesforce CRM also comes with a built-in quoting mechanism that automatically quotes a client's data and sends it to them as a PDF file.
● Contact Management
Your team can easily organize contacts, schedule tasks, and manage deals with Salesforce CRM.
The Salesforce contact management software also gives you a complete view of your interaction history and contact details.
The Salesforce CRM is also tailored to enable you to share relevant documents with team members in the different business units.
In addition, you can also keep track of how a contact moves along a sales pipeline.
● Opportunity Management
Salesforce CRM's opportunity management feature provides tools that enable you to drive deals further into the sales pipeline.
It gives you insight into the activities of your competitors, the status of your deal, and the right step to take in order to win a deal.
With the opportunity management feature of Salesforce, you can also keep track of the products which are part of a deal. Additionally, you can set revenue and quantity schedules.
From your mobile device, Salesforce CRM also allows you to update your team on a deal's status.
● Lead Management
Salesforce lead management tools include:
Lead tracking tools enable you to discover how a lead found your business and how you can manage the lead.
Activity timeline tool that gives you access to up-to-date contact data.
Automatic lead routing and scoring tool.
Marketing campaign tracking tool that enables you to manage and track your leads across all communication channels.
● Mobile
Since Salesforce CRM is optimized for mobile, you can access the complete Salesforce CRM solution from your mobile devices.
The activities you can perform from your mobile device include tracking of deals, conversation management, access of files, file sharing, approval of contracts, task management, and more.
Salesforce mobile CRM also enables you to schedule calls, join meetings, and update your CRM data.
With Salesforce mobile publisher, you can build your own custom-branded mobile app. This can be done through coding or with drag-and-drop developmental tools.
Salesforce CRM also permits you to publish your app so employees can download it.
● Einstein Analytics
Einstein Analytics is a visibility tool offered by Salesforce CRM that lets you view every activity occurring in your Salesforce atmosphere.
This tool uses graphs, reports, and dashboards to give you in-depth insight into the operations carried out by your employees.
● Trailhead
The Trailhead feature of Salesforce CRM is a tool that shows you how to use Salesforce CRM.
This tool is a learning platform that teaches your team how to navigate, manage, and customize the Salesforce CRM software.
● Customization
Salesforce CRM is best known for offering advanced and powerful customization tools. With Salesforce CRM, your team can have control over everything in their Salesforce environment.
● Pipeline and Forecast Management
From the Salesforce CRM, you can view your entire pipeline and get data that enables accurate forecasting.
With this feature, your team can get insightful data that can guide your business's decisions.
The Salesforce CRM also boosts your business revenue by enabling you to make forecasting that drives sales. With this feature, you can also view the health status of your business pipeline.
● File Sync and Share
With Salesforce CRM, you can save all your files in one place in order to make them easily accessible. This feature also allows you to share and track a file.
When you share or collaborate on files, Salesforce CRM allows you to view any updates or edits made to the file.
● Reports and Dashboard
Salesforce report and dashboard feature give you real-time visibility into the performance of every department in your business.
Salesforce CRM also gives you control over the layout of your report.
With the Salesforce reporting/analytics tool, you can customize reports, make changes to dashboard components, and view every activity in your business pipeline.
Other Salesforce CRM features include marketing automation, territory management tools, activity management, process automation, and data management.
1. Hubspot vs. Salesforce: Which is Better For Ease of Use
Hubspot CRM has an intuitive interface that makes it easy to understand.
You can easily navigate the software without needing technical support. This is what makes it ideal for small businesses.
HubSpot is Easier to Use Than Salesforce
While having a large feature catalog is a big asset for Salesforce, it also adds a lot of extra labor, which can substantially hamper ease of use – especially for novices.
We discovered that the platform is riddled with very specific language that must be learned before it makes sense, which could result in a significant learning curve for individuals inexperienced with the software.
HubSpot provides a comprehensive, clear design that is simple to use, even if you are unfamiliar with CRM software.
The most appealing aspect of managing business connections with HubSpot is the clean user interface where you can examine all the information about a contact.
HubSpot has created a simple way to provide a comprehensive perspective of who your contact is, what interactions you've had with them, and where they work.
Simply put, HubSpot is designed for simplicity, with a straightforward structure that allows you to access all of the platform's functions effortlessly.
A small help symbol at the bottom of some panels will give you personalized advice on how to proceed.
In fact, HubSpot is so committed to increasing usability that they tested their software on drunk users to ensure it's as simple as possible, no matter how impaired you are.
Salesforce CRM, on the other hand, has a very high learning curve. Its numerous advanced features can make it challenging for your staff to master.
As a result, before employing it, you may need to train your personnel or hire technical help.
Salesforce CRM has a feature called Trailhead that can help your team. With this tool, your staff will be able to browse the Salesforce CRM.
2. Hubspot vs. Salesforce: Which Has Better Customization?
Both HubSpot and Salesforce provide excellent technologies for rapidly growing enterprises.
Your CRM must be able to develop and change with your business as it evolves.
With this in mind, having the ability to customize your CRM is essential. See why and how HubSpot's Global Sales team transitioned from Salesforce CRM to the HubSpot CRM Platform.
Salesforce Has Better Customization
When it comes to personalization, Salesforce CRM is unrivaled. And, while Hubspot CRM allows for some flexibility, it still falls short of Salesforce in many ways.
Salesforce allows virtually limitless flexibility for even the most complicated organizations.
Less connected CRMs, on the other hand, become clumsy as additional people, data, and processes are added. It slows you down just as you need to accelerate.
This level of customizability enables detailed forecasting and reporting dashboards. These features, however, may necessitate more admin and developer resources.
This makes it difficult for enterprises to update and adapt their Salesforce instance over time.
Your team may customize its sales and service processes with Salesforce CRM, combine customer data sources with Salesforce, add an extra layer of security to your apps, develop quicker with Sales environment and DX, and Power Up with AppExchange.
Furthermore, Salesforce CRM includes coding capabilities allowing you to create a feature your company requires.
On the other hand, Hubspot CRM does not support coding but has customized workflow and automation.
HubSpot does not trade off strength for usability. Customize it to match your business needs without adding complexity – and scale up gracefully without needing months of custom development work.
HubSpot provides a flexible data structure for your CRM with custom objects, making custom implementations simple. You can remain agile while scaling, quickly reacting to anything the world throws at you.
3. Hubspot vs. Salesforce: Which Has Better Integration?
HubSpot and Salesforce offer lots of integrations with other software. While both HubSpot and Salesforce are considered two of the most robust CRM options on the market, they can't do it all.
In that case, you might be interested in integrating these platforms with other third-party apps that can, in fact, do it all.
Fortunately, both Salesforce and HubSpot offer a lot when it comes to integrations, so there is no need to worry there.
Both HubSpot and Salesforce offer massive app stores that can unlock a wide range of functionalities for your business. They can integrate with Google Workplace, WordPress, FreshBooks, Eventbrite, and dozens of others.
HubSpot Has Better Integration Features
If you really can't decide between the two, HubSpot has a peculiar feature that allows you to sync information from Salesforce into HubSpot and then back again.
This is very different from the usual features that let you import data from Salesforce in order to migrate to a new platform.
It seems curious to offer deep integration with a competitor, but this integration could become useful in some situations.
If you already use HubSpot's Marketing Hub, for example, but the sales team is on Salesforce, then this integration could help bridge the gap between the data held by the two teams.
HubSpot's integration is bi-directional, which means you can send information to Salesforce and pull it from it.
There are limits to how much data you can pull from Salesforce on any given day, depending on how many API calls your contract with Salesforce allows.
This feature is nice enough if you need it, though having both teams on the same platform would be much easier and offer more seamless data sharing.
Salesforce integration is not available on the free or Starter tiers, requiring at least a Sales Hub Professional.
4. Hubspot vs Salesforce: Which Has Better Reporting Analytics?
HubSpot offers standard reporting features that cover most businesses needs. This includes reporting on sales activity, sales forecasting, website activity, and individual email performance.
However, you need to upgrade to their professional or enterprise plans for more advanced reporting.
Salesforce Has Better Reporting and Analytics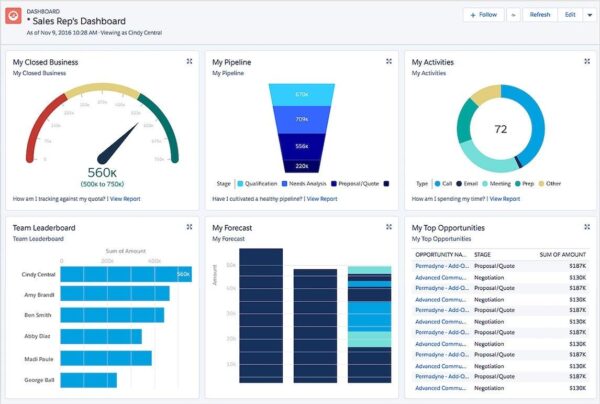 As expected, Salesforce's robust feature catalog has equally robust reporting and analytics functionality.
The built-in system is widely customizable, just like the rest of the platform, giving you complete control over what you track and how you track it.
We found that the best part of Salesforce analytics was that it allows you to store large levels of information, including emails, tasks, call logs, contact information, outreach campaign data, and lead information.
Plus, with the new analytics add-on Tableau, you'll be able to get a full 360-degree view of how your customers interact with your business, giving you more actionable insights for improving sales.
HubSpot also offers a lot of reporting tools, and they're quite comparable to Salesforce, actually.
However, viewing revenue data is the only metric you get in every plan. At the same time, other features like custom reports and sales forecasts are only available in the more expensive plans, which means you'll have to pay a lot to access the same features.
5. Hubspot vs. Salesforce: Implementation Process
The implementation method differs between Hubspot CRM and Salesforce CRM.
However, setting up a Salesforce CRM requires the assistance of a technical specialist. Furthermore, your team will need to train to get the most out of Salesforce CRM.
Setting up a Salesforce CRM can take up not just your resources but also your time. Setting up a Salesforce CRM can take weeks or months.
HubSpot Has Simpler Implementation and Training
Because HubSpot is so simple to use, getting started is a breeze. You won't have to spend hours configuring your metrics, analytics, or integrations because most of them will be configured for you during installation.
If you do require assistance, you may sign up for onboarding sessions for your entire team for between $1,500 and $5,000, which is obviously not inexpensive.
More particularly, the first phase of the HubSpot onboarding process — when you watch a demo — is simple to follow and provides hands-on knowledge on how to use the platform.
With Salesforce, you're much more likely to need assistance getting started, and the firm provides various helpful tools to help you do it.
You'll be taken care of, thanks to the online user community and the strong support team – and you'll need it, given the CRM's complexity.
Salesforce also provides training sessions, which normally cost around $4,500. Again, this is not the cheapest option.
In fact, our research discovered that the Salesforce setup procedure was three minutes longer than that of HubSpot, owing to the clunkiness of the Salesforce platform and the ease of customer data import on HubSpot.
It is extremely simple to implement a Hubspot CRM in your company. The installation, configuration, customization, integration, testing, training, and adjustment processes are simple, and you may not require professional assistance at all.
Hubspot's CRM installation will walk you through all of the steps required to set up a functional CRM software. It also offers online training materials.
6. Hubspot vs Salesforce: Which Has Better Customer Support?
Your team can obtain help from Hubspot CRM through online training, traditional one-on-one support channels, and community forums.
Hubspot CRM's free plan includes support services like several certification tracks, blogs, user documentation, Inbound.org, local and in-person user groups, Hubspot Academy, eBooks, white papers, and interactive downloads.
More services, including 24/7 phone and email assistance, are available with Hubspot's premium and professional plans.
Salesforce has Better Customer Support.
While Salesforce may be weak in terms of usability, the customer support options are extensive, making the effort worthwhile.
Not only does Salesforce provide a vast library of online documentation and tutorial videos to assist you in resolving any issues, but you'll also become a member of the big Salesforce community of users who can assist you in resolving any issues.
HubSpot also does not provide live support 24 hours a day, seven days a week on any of its plans, even those that cost thousands of dollars a month.
On the other hand, Salesforce charges a fee for it and includes it in its Unlimited subscriptions.
You're also covered if you need someone to walk you through the complexities of Salesforce.
Once logged in, you can contact representatives via phone, email, or live chat to work out the details of your issue, eliminating the need to rely on forms and forums.
Salesforce CRM includes online training, certification pathways, how-to manuals, forums, e-School courses, and multi-channel support.
However, only the most expensive enterprise package includes 24/7 support and configuration services.
7. Hubspot vs Salesforce: Which is Better at Automation?
Because CRM software is based on automation, HubSpot has solid alternatives but a little less consolidated.
Automation possibilities are available in tools such as lead and contact management, with basic "if this, then that" functionality allowing you to automate where you see fit.
Nonetheless, our analysis discovered HubSpot automation workflows to be difficult, which is regrettable given their importance to sales and marketing teams.
Salesforce Has Better Automation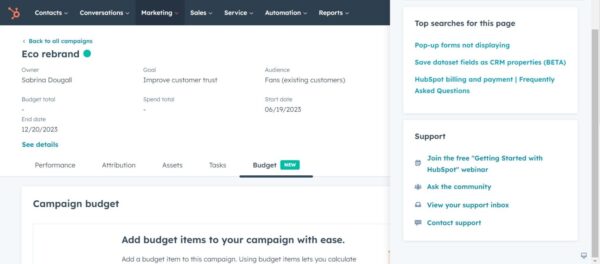 The usage of automation to make business life easier is one of the key reasons why a company would sign up for CRM software.
These artificial intelligence-powered features can significantly free up time and resources for human employees to accomplish their jobs properly.
This is a close match, but Salesforce's Einstein comes out on top. With the resources of a world-leading firm behind it, the AI-powered tool may assist you in automating a wide range of operations, from lead management to client onboarding.
Even better, these automated tools are significantly less expensive than HubSpot, which is always a plus.
On the other hand, Salesforce has a gimmick in the form of Salesforce Marketing Cloud Account Engagement.
This technology, part of the larger Salesforce Marketing Cloud, may automate sales funnels for new prospective clients and give Salesforce's marketing capabilities a competitive advantage.
8. Hubspot vs. Salesforce: Which Has Better Marketing and Sales Features
Because Salesforce and HubSpot are considered high-end CRM options, they provide a plethora of functions for a wide range of applications.
As we've said before, it all comes down to what you need those features for, which we'll go through in this part.
Salesforce Has Better Marketing Features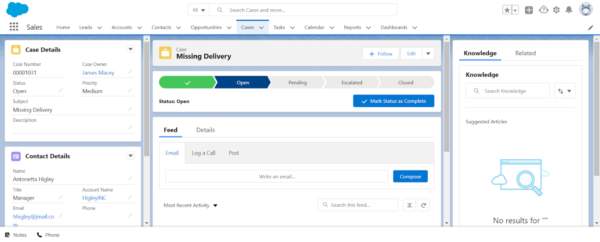 When it comes to individual functionality, Salesforce Marketing Cloud clearly outperforms HubSpot Marketing Hub.
Because of its wide range of marketing channels, including content, social, email, and paid, HubSpot Marketing Hub is our top option for CRM marketing.
Furthermore, HubSpot provides more customer assistance, including onboarding new customers and improved customer support when a problem arises.
Salesforce has some pretty basic options for channels such as social, sponsored, and content, which is why we give HubSpot the edge here. When it comes to marketing automation,
Salesforce makes use of artificial intelligence. This utility is known as Pardot. Pardot manages all interactions with incoming leads and prepares them for handover to sales agents.
Furthermore, it aids in the qualification of those leads, ensuring that only the most potential prospects enter the sales pipeline.
Pardot is particularly effective for B2B marketing, which occurs when your potential customer is another business rather than an end user.
More marketing automation options for email marketing and digital marketing, including social media ads, are also included.
Hubspot Has Better Sales Features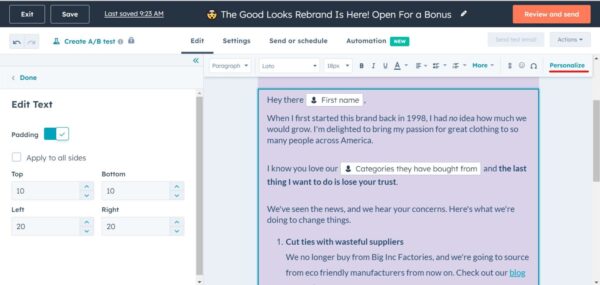 With a name like Salesforce, you'd assume the popular CRM would easily take the cake regarding sales functionality.
On the other hand, HubSpot more than holds its own, providing many possibilities for your organization.
In reality, HubSpot outperforms Salesforce in areas like lead capture and conversion.
Still, Salesforce provides superior customer service, so it's a toss-up between these two popular solutions.
Salesforce Has Better Service Features
HubSpot's Sales Hub is an excellent platform for sales management. It provides sales representatives with numerous outreach options, such as email templates and call tracking.
It creates complete customer profiles for all of your contacts in Gmail or Outlook. Sales automation is used with meeting scheduling and live chat alternatives.
A series of sales management playbooks is also available, which includes sales scripts and positioning recommendations.
Sales pipeline management makes it simple to establish deals and tasks and track the status of active sales possibilities.
Finally, you get a quote tool as well as sales data.
This is where Salesforce truly shines. Salesforce Service Hub has customer support CRM features that are deeply ingrained, providing it an advantage over HubSpot's Service Hub.
It has more communication channels, ticketing channels, and offline capabilities than HubSpot.
The CRM's only shortcoming when it comes to customer care capabilities is the lack of client feedback tools, such as surveys. However, this should not deter you because the other benefits more than compensate for this minor flaw.
Salesforce Sales Cloud is a full-service selling solution.
It combines contact and opportunity management to help prospects become possible deals.
Lead management allows you to route leads to the most qualified sales professional. You also have complete visibility into all of their current sales pipeline activity.
Furthermore, you can set up automatic sales reports to be shared via email, which are also easily configurable by drag and drop.
Salesforce features highly predictable revenue forecasting, which is very adaptable if your KPIs change.
Which is Best For You?
The top sales tools in HubSpot are less cluttered and easier to learn than those in Salesforce, which means your sales team can start selling sooner. Of course, this advantage may fade after the initial learning period.
9. Hubspot vs. Salesforce: Which Mobile Version Is Better
HubSpot
The HubSpot mobile app is available for download from the Apple App Store or Google Play.
It has a simple UI and is adequate for most basic CRM tasks. You can create and edit tasks, make reminders, and work on deals.
You receive all of your contact information, including correspondence history. Their mobile app includes emailing and other outreach functions. There's even a comprehensive caller ID screen.
You can dictate notes using the mobile app's microphone. It will also notify you in real-time whenever there is an update within your team or on open offers.
Salesforce
Salesforce has a mobile app for both Android and iOS. The software is designed with lightning speed in mind, although this is dependent on your internet connection.
It provides you with detailed CRM customer data.
There are numerous excellent mobile tools available to help teams collaborate more effectively. A to-do task tracker is also available.
Furthermore, you can easily customize the mobile app based on your needs or the data or tools you want to put front and center, and you don't need to know any code to do so.
Which is Best For You?
Both smartphone apps are effective. However, regarding customization, Salesforce's mobile app outperforms the HubSpot mobile app in this area of their general comparison.
Furthermore, the Salesforce app's reporting dashboard looks slightly better than HubSpot's, despite HubSpot's overall superior design.
Hubspot vs. Salesforce: Pricing
HubSpot Sales Hub Pricing Structure
Hubspot's CRM has a pricing plan that ranges from $45/month to $3200/month. And it also has a free plan that provides the same features as the paid plans.
But the features offered in the free plan contain some usage limitations.
Nevertheless, the free plan is best for small businesses that are testing the waters in CRM. The paid plan comes with a 30-day free trial.
Hubspot Has Better Pricing Plans
Free Plan: Not technically part of any hub, this includes key features like a CRM, live chat, conversational bots, email marketing, landing page creation, customer service ticketing, and more. HubSpot branding is included.
Starter ($50/month): This starts with two users and scales up by the number of users. It'll remove HubSpot branding and add features like conversation routing, task queues, goals, automation, and chat support.
Professional ($500/month): This tier starts with five users and scales up per user from there. With Professional, you also get bonuses like:
sales analytics,
CRM interface configuration,
forecasting,
video messaging,
eSignature, and additional automation.
Enterprise ($1,200/month): This tier scales up starting at 10 users per month. Enterprise access gives you
custom objects,
sandboxes,
advanced permissions,
conversation intelligence, and
predictive lead scoring.
Salesforce Sales Cloud Pricing Structure
Salesforce CRM pricing depends on the Salesforce CRM product that your team needs.
And since Salesforce CRM offers multiple products and add-ons, its pricing becomes more expensive than Hubspot.
The add-on feature of Salesforce CRM also incurs additional costs for businesses.
Salesforce CRM's Pricing plan ranges from $25 to $15,000 per month, and it offers a 30-day free trial.
No free plans or features.
There is a free trial if you want to test it out.
Essentials ($25/month/user): The baseline offering gives you basics like
email integration,
account/contact management,
custom sales processes,
custom reports and dashboards, and
an activity feed.
Professional ($75/month/user): This tier adds
forecasting,
quote, and sales order tracking,
unlimited custom applications, and
contract management.
Enterprise ($150/month/user): At this level, you get
workflow approval automation,
sales console apps,
dedicated sales teams,
custom opportunities within forecasting,
territory management,
opportunity scoring, and
advanced reporting capabilities.
Unlimited ($300/month/user): At the highest tier, you'll get everything (and more) mentioned above, plus
sales insights,
a premier success plan,
lead scoring,
pipeline inspection,
conversation insights,
the Developer Pro Sandbox,
premium activity capture, and
sales cadences.
Salesforce also allows you to pay separate fees for select features, so if just one key capability is available at the tier above the one you're looking at, you can add it on.
Salesforce Vs. HubSpot: Free Versions
HubSpot
HubSpot is well-known for providing free CRM software and other associated toolsets.
Forms, email marketing, ad management, landing sites, and other marketing tools are available.
Live chat, rudimentary bots, and team email are free sales tools. Free customer service services include ticketing tools, email scheduling, shared inbox, and phoning.
Salesforce
HubSpot vs. Salesforce, free versions comparison is simple because Salesforce does not provide any free versions of its software.
There are, of course, free trials for Salesforce packages, but this is not the same as a free plan.
Which is the Best Option For You?
HubSpot provides free services, whereas Salesforce does not. Furthermore, HubSpot users get access to a plethora of features and tools through their various free plans.
HubSpot CRM vs. Salesforce CRM: Which Is A Better CRM?
f you're seeking free or affordable CRM software that's fairly easy to learn, HubSpot might be the better choice.
Meanwhile, if you want to invest time and money into highly powerful and customizable CRM software, Salesforce could be the way to go.
Just a tenth of a tenth-of-a-point separates HubSpot and Salesforce in our rating of the Best CRM Software of 2023.
Also, they share similarities concerning tech support – both have robust peer support communities, and 24/7 phone help is available with more expensive plans or for extra fees – but other areas set them apart.
Salesforce wins out on features. It offers a variety of products to help you manage multiple aspects of your business.
It goes beyond the pillars of sales, service, and marketing to assist users with e-commerce, mobile apps, analytics, and more.
It's the CRM of choice for many large companies that can invest in multiple Salesforce products. It also offers plans designed for small businesses – a good option for companies that expect to grow.
Customer reviews say Salesforce can take time to master, though they complement its wide range of functions. In contrast, HubSpot gets high marks from users for its intuitive design.
And its Marketing, Sales, Service, and CMS hubs come with all the features most small or mid-sized businesses will need.
In most cases, HubSpot is the more affordable option of the two. HubSpot offers free CRM software with many helpful tools for very small companies, including landing pages, ticketing, quotes, and more.
Some companies will find that investing in multiple CRM products makes sense, whether they go with paid services from HubSpot or Salesforce.
Within its Sales, Marketing, and Service hubs, HubSpot offers plans with starting prices that range from $50 per month to $3,200 per month.
Meanwhile, pricing for Salesforce products can vary dramatically and sometimes requires quotes. Both companies offer a variety of add-ons, though Salesforce has many more to choose from, which can lead to enhanced functionality and higher prices.
It's also worth noting that HubSpot offers discounts to some users who pay annually instead of monthly. Meanwhile, Salesforce typically requires users to pay for the year.
Regarding training, HubSpot and Salesforce offer many of the same resources, including paid coaching and free and paid courses.
But like its product offering, training resources from Salesforce can be a bit more robust, while paid learning opportunities from HubSpot tend to be more affordable.
Hubspot vs. Salesforce Alternatives
With respect to Salesforce alternatives, Microsoft Dynamics 365 is the most similar platform to Salesforce on this list.
Microsoft Dynamics 365, like Salesforce, includes excellent reporting and business intelligence services and the flexibility to develop a customised solution using add-ons and apps simply.
If security is a primary concern, Microsoft Dynamics has role-based, record-based, and field-based security features that allow you to manage who can view specific data.
Pipedrive– Best for Sales Forecasting and Automation
Pipedrive, a CRM software primarily aimed at sales teams, is a robust solution that would suit any small-to-medium-sized firm.
Despite the numerous customization choices and dashboard features, Pipedrive's interface is simple to use and a great tool for users of all skill levels.
We put Pipedrive and HubSpot to the test in a thorough comparison and discovered that there wasn't much of a difference between the two products; they both have strong reporting features, are well-designed, and provide adequate multi-channel support.
Freshsales– Best for Affordability
Freshsales is the way to go if you want to try a CRM but have a limited budget. You can use the deal management, lead capture, and record-scope functions even on the free plan.
Its noncommittal intentions also make it excellent for testing various platforms to discover which one works best for your team.
Freshsales is a 100% free plan, ideal for businesses that want to start organizing contacts without spending money. In addition, the free plan includes built-in email, chat, and phone assistance.
Monday.com – Best for Kanban-style tracking
Monday.com is the ideal alternative if Kanban boards are your chosen method of organizing information.
It allows you to organize all of your workflows into Kanban boards and implement automation to help you track each stage of your pipeline more effectively.
It has a free plan for up to two users and a Pro plan that costs $16 per user monthly. The Pro plan and automation, connections, and customizable pipelines offer time tracking too.
ActiveCampaign is praised for its emphasis on automation. If you're a marketing-focused company or want to focus on automating your operations, ActiveCampaign has options to assist you in doing so, even on its most basic subscription plan.
You can easily assess the effectiveness of entire email campaigns, automate campaign sends and reporting, and send auto-responses.
Zoho – Best for Growing Businesses
Zoho CRM, like Hubspot, is a well-known brand in the CRM sector. In addition to the ability to establish workflow rules and page changes and automate your marketing funnels, Zoho's extensive integration suite allows you to develop an even better system.
Zoho offers a free plan as well as a low-cost lite package for small or new businesses. The free plan allows you to add up to three users and access some of the most critical CRM functions, such as contract, marketing, and event management.
HubSpot vs. Salesforce: Which is Best For You?
In the end, HubSpot and Salesforce provide many of the same CRM, sales, and marketing resource management tools—they just come in different packaging. To summarise their differences in a nutshell:
When it comes to reporting and personalization, Salesforce has the upper hand.
HubSpot features a lower learning curve, a nicer interface, and more comprehensive marketing and sales capabilities at a more affordable price range (not to mention a free tier).
Because both alternatives provide similar benefits, the best place to begin is to compile a list of price-influencing parameters such as must-have features, number of contacts, and number of users. This will give you an estimate of the price package you'll require.
If you decide to utilize both tools—for example, if you want to enhance Salesforce's CRM and sales skills with HubSpot's free marketing tools—you can set up a HubSpot Salesforce integration with Zapier to do things like create new Salesforce leads anytime someone fills out a HubSpot form.
Good Read: 8 Best Enterprise CRM Software (Ranked & Reviewed)
Bottom Line
Salesforce has a robust feature set that distinguishes it as a top CRM. However, it isn't for everyone because of its complicated architecture and rather large price tag. The platform is best suited for mid to large-sized enterprises that require a strong solution for managing sales leads and analyzing sales possibilities. Large sales teams will appreciate Salesforce's collaboration and opportunity appraisal tools.
HubSpot is a user-friendly CRM that offers a free plan with limited features, making it inexpensive for small startups. Paid subscriptions include feature upgrades that can cover most client relationship management requirements. Nonetheless, HubSpot falls short of Salesforce in terms of total features. HubSpot is an excellent CRM solution for small to medium-sized businesses.
There is no apparent winner in the Hubspot vs Salesforce CRM duel. Both CRM software packages include advanced functionality. If you own a small business and require an advanced CRM for all-in-one Inbound marketing, the Hubspot CRM is ideal for you. Salesforce CRM software is suitable if you have a large company with several units and want a CRM with extensive sales and forecasting capabilities.
Go for Hubspot if…
If your company is on a tight budget, HubSpot, with its lightweight architecture, is a better option, considering the many capabilities and connectors this free CRM offers. HubSpot is more suited to small enterprises that plan to scale later on.
Go for Salesforce if…
On the other hand, Salesforce is the perfect choice within the restrictions of needs, structure, and goals if your organization has a wider community to service and increased features. Many businesses use both CRMs for separate and complementary objectives.
Frequently Asked Questions
Q: Is HubSpot or Salesforce better?
Salesforce and HubSpot are both excellent CRMs, but each has advantages and disadvantages. Salesforce, for example, offers a broad collection of complex capabilities and deep sales forecasting and analytic tools, but Salesforce is far more difficult to use than HubSpot. While HubSpot is easy to use, it lacks the breadth of tools that Salesforce provides.
Q: Why would I need a CRM?
A CRM is required if your organization involves handling sales and prospects. A CRM will assist you in tracking sales leads, developing personal interaction with your customers, and providing data-driven insights that you would otherwise overlook.
Q: Is Salesforce good for small businesses?
Salesforce offers a relatively low beginning price of $25 per user per month, which puts it within the financial reach of many small firms. Nonetheless, its broad capabilities and somewhat difficult-to-use layout can be a bit intimidating for small enterprises. HubSpot is a better option based on its ease of use, economical options, and free forever option.
Q: Who is bigger, HubSpot or Salesforce?
It is difficult to identify which company is larger than the other. HubSpot and Salesforce are both huge, publicly traded enterprises with a global footprint. Salesforce has a higher total revenue and market capitalization, whereas HubSpot focuses on the small and medium-sized business market.
Q: Is HubSpot similar to Salesforce?
Both HubSpot and Salesforce are customer relationship management (CRM) platforms; however, their features and services differ. HubSpot is a marketing, sales, and customer care platform, whereas Salesforce is a cloud-based CRM. Both systems can manage client connections; however, HubSpot focuses on marketing and sales automation, while Salesforce focuses on customer care and support.
Q: Is HubSpot cheaper than Salesforce?
HubSpot provides a free option, while Salesforce does not, giving HubSpot a clear price advantage for its basic package. However, both CRMs include advanced plans and additional services that can be costly. Make a list of the features you desire and price out those options on each platform to decide which solution provides the best value for your needs.
Q: Is Salesforce free to use?
Salesforce does not have a free forever plan. Thus, you will have to pay a minimum of $25 per user per month to use the platform for an extended period. On the other hand, Salesforce offers a 30-day free trial, which should be enough time to get a feel for the product before committing.