Some of the links in this article are "affiliate links", a link with a special tracking code. This means if you click on an affiliate link and purchase the item, we will receive an affiliate commission.
The price of the item is the same whether it is an affiliate link or not. Regardless, we only recommend products or services we believe will add value to our readers.
By using the affiliate links, you are helping support our Website, and we genuinely appreciate your support.
Last updated Jun. 10, 2022 by Favour Chinaza
When it comes to CRM solutions, HubSpot and Salesforce are the clear leaders in the industry.
They both come with well-packaged features to help you manage your customer relationships. And because they're both so good, choosing between them becomes difficult.
This article will help you decide which one is best by giving you a comprehensive review of its features and differences.
Here's an overview of what will be covered in this article:
Hubspot CRM Feature Review
Salesforce CRM feature Review
Difference between Hubspot CRM and Salesforce CRM
Final Verdict
Hubspot CRM Feature Review

1. Contact Management
Hubspot allows you to store more than a million contact information, and it also makes it easy for you to dig out a contact's information.
The customer data you can store on Hubspot include contact information, your interactions with the contact, purchases made by the contact, how the contact found your business and more.
See also Wix vs Squarespace: Choosing the Best Website Builder
2. Customizable Dashboard
Hubspot CRM provides a dashboard that enables you to view your entire sales pipeline in one place.
At a glance, your team can get data about the number of leads in a sales pipeline, their status in the sales pipeline, their activities, and how you have made progress.
In addition, Hubspot CRM allows you to customize how data appear on your dashboard
3. Task Management
With Hubspot CRM, you can manage your tasks efficiently.
Hubspot makes it easy for you to create tasks, schedule tasks, track tasks, and send scheduled emails to customers.
4. Gmail and Outlook Integration
You can integrate Gmail and Outlook into your Hubspot CRM, and you can also import your email interactions with contacts into the Hubspot CRM.
Additionally, Hubspot allows you to track an email in order to enable you to gain insight into the bounce and click-open rate of emails.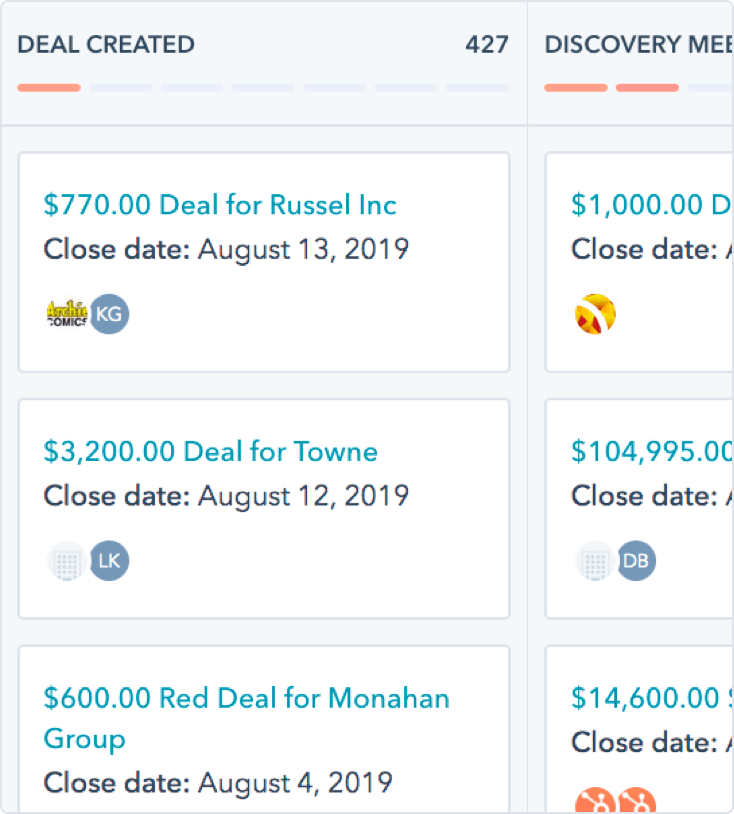 5. Email Marketing
With Hubspot CRM, you have access to tools that enables you to create an effective and personalized email marketing plan.
The drag-and-drop editor tool of Hubspot enables you to create customized emails, and with the pre-built templates, your marketing team can personalize an email.
You can also segment your contact list in order to make targeted messaging easy.
5. ROI Analytics
Hubspot CRM allows you to view and measure the performance of your team in one place.
With Hubspot CRM, you can track a customer's entire journey with your business, and you can view the impact of your marketing campaigns on them.
You can also analyze and see data on your website's performance. In addition, you can also get reports on the performance of your marketing campaigns.
Read our detailed beginner's guide to CRM systems
6. Lead Generation Tools
Hubspot CRM provides tools that enable you to generate and manage leads.
With Hubspot's forms, you can capture leads who visit your site, and you can turn them into high-value customers.
Hubspot's lead capture software generates leads for your sales team, and it sends the lead information into your Hubspot CRM where all your business units can access it.
The segmentation feature also allows you to collect and organize leads into lists. With Hubspot CRM, your team can also score and prioritize leads.
7. Automation
Hubspot CRM automates the manual tasks carried out by your team. It creates a seamless and effortless work process for all departments in your business.
Its automation feature allows you to make changes to campaigns and processes in seconds. It also allows you to deliver the right information to the right people at the right time.
Hubspot CRM provides sales automation, marketing automation, data quality automation, customer service automation, and more.
8. IT Ticketing system
The IT ticketing system feature of Hubspot CRM enables your team to access the purchase history of customers, deal information, and historical conversations with contact.
Other function it performs includes ticket routing, management and prioritization of issues, tracking of ticket volumes in all communication channels, and more.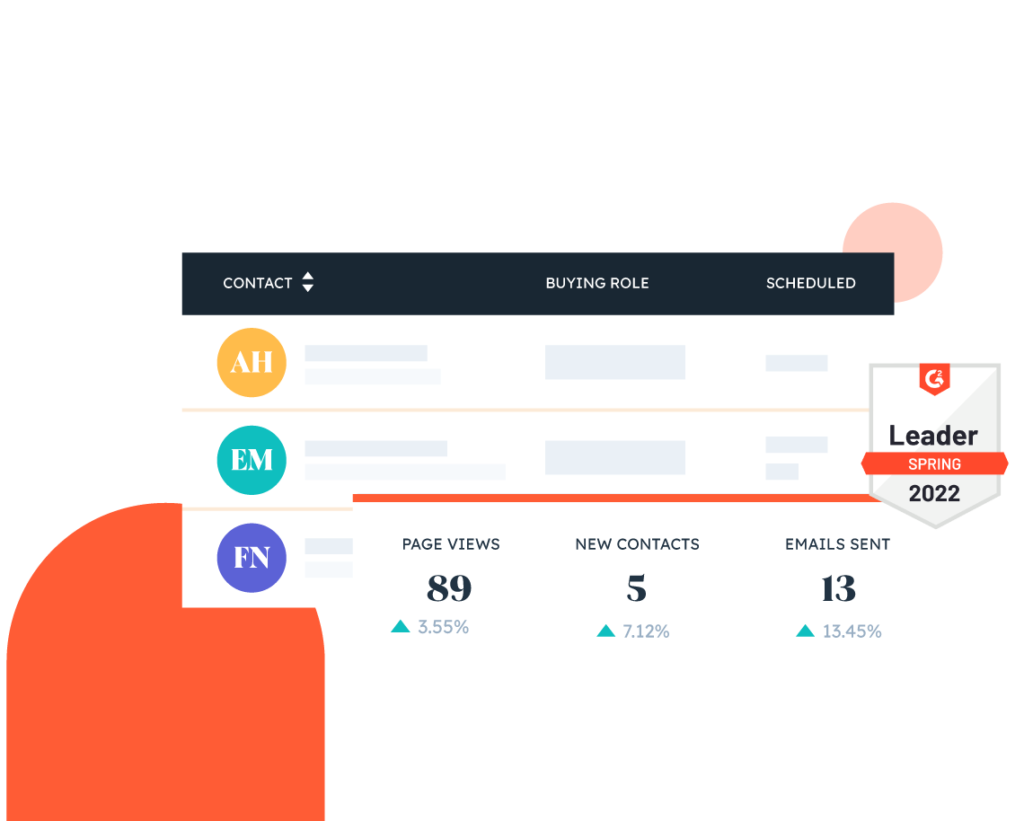 9. Live Chat
With the Live Chat tool, you can seamlessly manage your Hubspot CRM contact.
This tool enables you to communicate and keep leads engaged as they browse through your site. From the Hubspot dashboard, you can also take notes, create meetings and support tickets, make calls, and do more.
The Hubspot live chat tool also comes with a chatbot builder that enables you to create personalized conversations.
10. Social Media Integration and Management
Hubspot CRM allows for seamless integration with social media platforms like Facebook and Linkedin. This is to enable you to connect with your leads on all social platforms.
This feature also enables you to create marketing campaigns on all social platforms, monitor mentions, and manage your social media activities.
11. Application Programming Interface (API)
With Hubspot CRM, your team can build robust integrations easily and quickly.
12. Customer Support
The Hubspot CRM software comes with tools that enable you to provide impressive customer service.
It also comes with self-service functions such as a knowledge base and customer portal.
Additionally, Hubspot allows for inbound calling, Omni-channel messaging, and VoIP calling.
Salesforce CRM Feature Review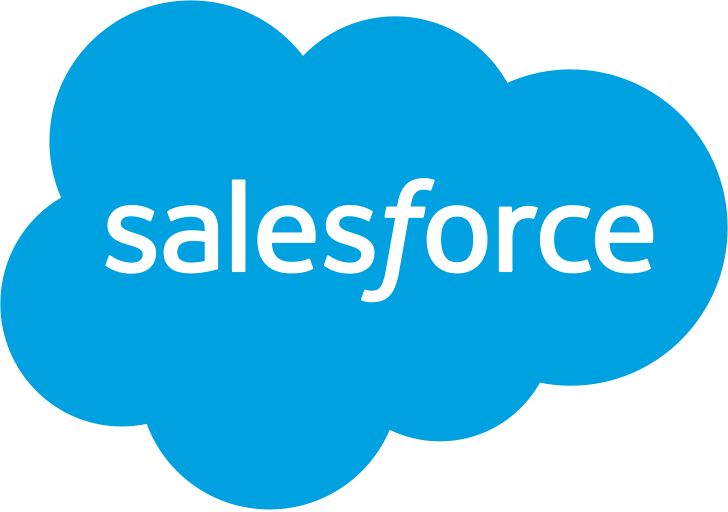 1. Quote Management
The quote management feature of Salesforce CRM enables you to simplify your sales and business process.
With it, your team can create, submit and track quotes and invoices. Salesforce CRM also comes with a built-in quoting mechanism that automatically quotes a client's data and sends it to them as a PDF file.
2. Contact Management
With Salesforce CRM, your team can easily organize contacts, schedule tasks, and manage deals
The Salesforce contact management software also gives you a complete view of your interaction history and contact details. The Salesforce CRM is also tailored to enable you to share relevant documents with team members in the different business units.
In addition, you can also keep track of how a contact moves along a sales pipeline.
3. Opportunity Management
The opportunity management feature of Salesforce CRM provides you with tools that enable you to drive deals further into the sales pipeline. It gives you insight into the activities of your competitors, the status of your deal, and the right step to take in order to win a deal.
With the opportunity management feature of Salesforce, you can also keep track of the products which are part of a deal. Additionally, you can set revenue and quantity schedules.
From your mobile device, Salesforce CRM also allows you to provide your team with updates on the status of a deal.
4. Lead Management
Salesforce lead management tools include:
Lead tracking tools that enable you to discover how a lead found your business, and how you can manage the lead.
Activity timeline tool that gives you access to up-to-date contact data.
Automatic lead routing and scoring tool.
Marketing campaign tracking tool that enables you to manage and track your leads across all communication channels.
See this 7 Best Lead Generation Software (to Get More Leads)
5. Mobile
Since Salesforce CRM is optimized for mobile, you can access the complete Salesforce CRM solution from your mobile devices.
The activities you can perform from your mobile device include tracking of deals, conversation management, access of files, file sharing, approval of deals, task management, and more.
Salesforce mobile CRM also enables you to schedule calls, join meetings, and update your CRM data.
With Salesforce mobile publisher, you can build your own custom-branded mobile app. This can be done through coding or with the drag-and-drop developmental tools.
Salesforce CRM also permits you to publish your app so that it can be downloaded by employees.
6. Einstein Analytics
Einstein Analytics is a visibility tool offered by Salesforce CRM that enables you to view every activity occurring in your Salesforce atmosphere.
This tool uses graphs, reports, and dashboards to give you in-depth insight into the operations carried out by your employees.
7. Trailhead
The Trailhead feature of Salesforce CRM is a tool that shows you how to use the Salesforce CRM.
This tool is a learning platform that teaches your team how to navigate, manage, and customize the Salesforce CRM software.
8. Customization
Salesforce CRM is best known for offering advanced and powerful customization tools. With Salesforce CRM, your team can have control over everything in their Salesforce environment.
9. Pipeline and Forecast Management
From the Salesforce CRM, you can view your entire pipeline, and you get data that enables accurate forecasting.
With this feature, your team can get insightful data that can guide the decisions your business makes.
The Salesforce CRM also boosts your business revenue by enabling you to make forecasting that drives sales. With this feature, you can also view the health status of your business pipeline.
9. File Sync and Share
With Salesforce CRM, you can save all your files in one place in order to make it easily accessible. This feature also allows you to share and track a file.
When you share or collaborate on files, Salesforce CRM allows you to view any updates or edits made to the file.
10. Reports and Dashboard
Salesforce report and dashboard feature give you real-time visibility into the performance of every department in your business.
Salesforce CRM also gives you control over the layout of your report.
With the Salesforce reporting/analytics tool, you can customize reports, make changes to dashboard components, and view every activity in your business pipeline.
Other Salesforce CRM features include marketing automation, territory management tools, activity management, process automation, and data management.
Moz vs. SEMrush vs. Ahrefs: Which SEO Tool is Best?
Differences Between Hubspot CRM and Salesforce CRM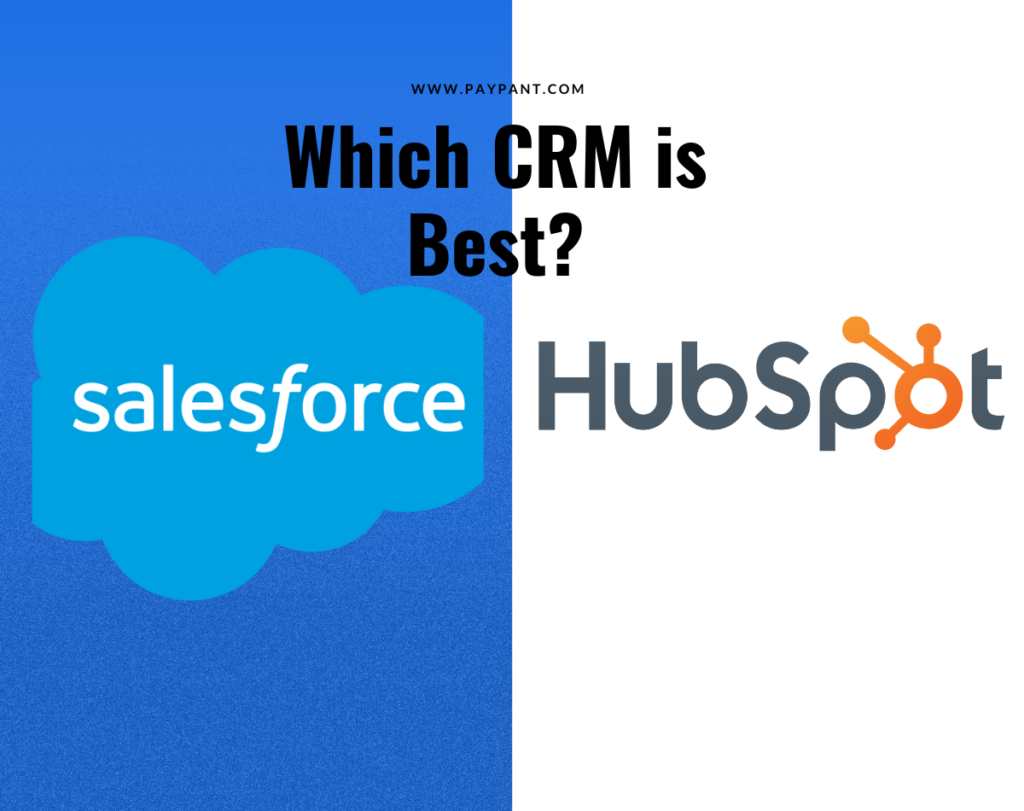 1. Ease of Use
Hubspot CRM has an intuitive interface that makes it easy to understand.
You can easily navigate the software without needing technical support. This is what makes it ideal for small businesses.
Salesforce CRM on the other hand comes with a steep learning curve. The many advanced features it offers can make it difficult for your team to get the hang of it.
So before using it, you may need to train your team or employ the services of a technical support.
To assist your team, Salesforce CRM offers a feature called Trailhead. With this tool, your team can understand how to navigate the Salesforce CRM.
WINNER: Hubspot CRM
2. Customization
Salesforce CRM is the best when it comes to customization. And although Hubspot CRM allows for a certain level of customization, it still lacks a lot when compared to Salesforce.
With Salesforce CRM, your team can customize its sales and service process, integrate customer data sources with Salesforce, add an extra layer of security to your apps, innovate faster with Sales environment and DX, and can Power Up with AppExchange.
In addition, Salesforce CRM offers coding capabilities that enable you to develop a function that your business needs.
Hubspot CRM, on the other hand, offers no coding capabilities but it allows for a customizable workflow and automation.
WINNER: Salesforce CRM
3. Pricing
Hubspot's CRM has a pricing plan that ranges from $45/month to $3200/month. And it also has a free plan that provides the same features as the paid plans. But the features offered in the free plan contain some usage limitations.
Nevertheless, the free plan is best for small businesses that are testing the waters in CRM. The paid plan comes with a 30-day free trial.
Salesforce CRM pricing depends on the Salesforce CRM product that your team needs. And since Salesforce CRM offers multiple products and add-ons, its pricing becomes more expensive than Hubspot.
The add-ons feature of Salesforce CRM also incurs additional costs for businesses.
Salesforce CRM's pricing plan ranges from $25 to $15,000 per month and it offers a 30-day free trial.
WINNER: Hubspot CRM
4. Implementation Process
Another difference between Hubspot CRM and Salesforce CRM is their implementation process.
It is relatively easy to set up a Hubspot CRM in your business. The process of installation, configuration, customization, integration, testing, training, and adjustment is easy, and sometimes, you won't need to employ technical support.
Upon Installation of the Hubspot's CRM, Hubspot will guide you through all the processes you need to set up a functional CRM software. It also provides online training resources.
But the process of setting up a Salesforce CRM requires the services of a technical expert. In addition, your team will have to undergo a training process that will enable them to get the best out of Salesforce CRM.
Setting up a Salesforce CRM can consume not only your resources but your time too. It takes weeks or months to completely set up a Salesforce CRM.
WINNER: HUBSPOT CRM
5. Customer Support
With Hubspot CRM, your team can get the help they need through online training, conventional one-on-one support channel, and community forums.
In the free plan, Hubspot CRM offers support features such as multiple certification tracks, blogs, user documentation, Inbound.org, local and in-person user groups, Hubspot Academy, eBooks, white papers, and interactive downloads.
With Hubspot's paid and professional plan you can access more features like 24/7 phone and email support.
Salesforce CRM comes with online training, certification tracks, how-to guides, forums, e-School courses, and multi-channel support.
But its 24/7 support and configuration services are only available in the highest enterprise plan.
WINNER: Hubspot CRM
FINAL VERDICT
In the Hubspot vs Salesforce CRM battle, there is no clear winner. Both CRM software offers advanced features.
The Hubspot CRM is best for you if you are running a small business, and if you need an advanced CRM that is best for all-in-one Inbound marketing.
Salesforce CRM software is best for you if you have a large business with multiple units, and if you want a CRM with advanced sales and forecasting features.