Last updated Mar. 3, 2023 by Peter Jakes
The concept of the education and learning process has changed greatly over the years. This transition is enhanced by the rapid development of the internet and new technologies.
Online learning (e-learning) is taking over the world by storm and is replacing the traditional method of education that requires physical presence. Owing to the incidents and restrictions imposed by the government during the Covid-19 pandemic, e-learning has become even more popular.
This factor presents itself as a reasonable substitute for physical learning methods because the online learning industry is increasingly growing with over $176 billion been generated in global revenue in 2017. These figures are expected to rise to over $375 billion by 2026.
That's a positive development for online instructors, trainers, authors, and edupreneurs who are looking to capitalize on the increasing market trend and the increase in the adoption of online learning platforms as a tool for both learning and teaching purposes.
There are lots of online learning platforms out there and that makes it difficult to choose the right one. To help you narrow down the list, I studied and examined a lot of online learning platforms and came up with a list of the 23 best online course platforms that you can use for a high-quality learning experience.
A List Of Some Of The Best Online Learning Platforms You Can Find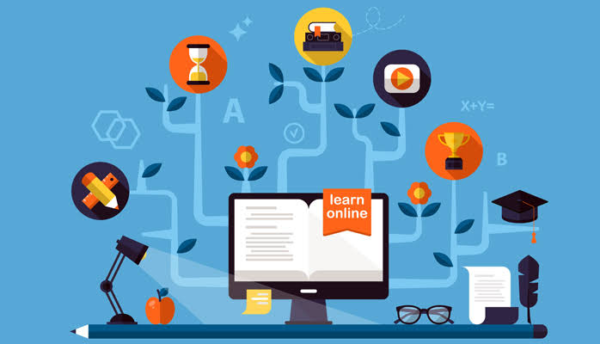 #1. Teachable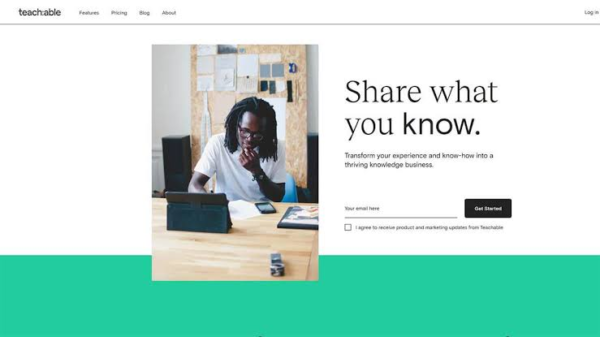 Teachable is a well-known course creation management solution and boasts a user base of over 68,000 active course creators including big companies like Shopify, Penn Law, The New York Times, Intuit, and more. Perhaps one of the big players if not the biggest in its league of platforms.
This e-learning platform is utilized by over 18 million active online learners and has made over $338 million in sales. It is a simple to use, reliable platform with an intuitive interface and easy navigation system that allows learners to find and use your course materials with ease.
Teachable has a variety of niche-specific themes that you can choose from and with the option to brand your website. The platform also offers a lot of essential tools that aid the selling of courses, is video-inclined and promotes visual content more than written ones.
Teachable gives course creators more customization and branding options to their e-learning website and offer gives code experts the freedom to add custom CSS. It also features blogging functionalities that allow you to post blogs on your e-learning site.
Another perk of teachable is that it also comes with a custom domain option across all its paid plans. Perhaps its best feature is its ability to seamlessly integrate with third-party software like Articulate, Storyline and Adobe Captivate.
Pricing Plans
Teachable offers their clients a free plan and three different paid plans. It has its payment processor (Teachable Payment), so you don't have to worry about adding another payment gateway.
The core features of Teachable that are available across all plans including the free plan include: no transaction fees on free courses, basic quizzes, discussion forums, integrated payment processor, and unlimited courses, students, and hosting.
Free Plan: This plan can be a great way to test the waters of Teachable and get used to the platform's interface before opting in for their paid plans. Like other free versions, Teachable's free version comes with some limitations when it comes to selling your online courses.
Basic Plan: This plan costs $39/month when paid monthly or $29/month when billed annually. It comes with some extra features like a reduced transaction fee of 5%, allows up to two admin users, custom domain, third party integration, email marketing tools, and other features.
Professional Plan: This plan costs $119/month or $99/month when billed annually and you get everything on the basic plan. You also get the removal of transaction fees, course completion certification, more advanced analytics, advanced themes customization, and many other things.
Business Plan: This plan is priced at $299/month or $249/month when billed annually, and here you'll get all the features that Teachable offers in its professional bundle. You'll also get additional features like custom users, bulk student enrollment, manual student imports, and up to 100 admin users which is best for large companies with lots of staff.
Teachable's ideal clients are those with little or no tech experience as it offers an easy-to-use course builder with lots of important features and functionalities. Its payment plans give you a lot of value for your money.
#2. Thinkific
Thinkific is one of the top leading cloud-based LMS solutions in its industry. The platform claims to have all you will ever need to create, market, and sell your branded online courses from scratch to publishing.
Thinkific features a drag and drops customizable themes editor to give your online learning site the look and feel of your brand. It also provides tech experts full access to edit the website's HTML and CSS to their preferences.
The number of features available in the free version of the platform is astonishing. Perhaps, its most exceptional feature is its automated promotional and marketing tools whose automation feature reduces the amount of input required from you to save you time.
With Thinkific, you can choose to drip feed your course content and control when your students access your courses. You can also schedule, automate emails being sent to your students, and receive payment directly the moment someone enrolls for your course.
This e-learning platform can be used for many purposes including online course modules, internal training of staff in an organization, and also by universities who want to create their online courses. Thinkific has been tested and trusted by many big companies and universities including Hootsuite and York University.

Pricing Plans
Free plan: This plan is good for people who are looking looking for very basic features, and with it, you get access to everything you'll need to create, market, and sell your courses. Some of these essential features include instant access to your funds, Stripe/PayPal payment gateways, basic integrations, and content hosting.
Basic Plan: Thinkific's basic plan costs around $36/month and has all its core features plus additional course prices, bulk emailing, up to three-course admins, basic Zapier integration, analytics, intermediate integrations, course bundles, custom domain, among other features.
Pro Plan: This plan is priced at $99/month and gives you unrestricted access to a lot of services. Some of these services include source code editing, direct Infusion, Soft integration, priority support, 5-course admins, 3 site admins, support for 2 site administration accounts, and many more.
Premier Plan: This is the most expensive option of Thinkific's payment plans and costs about $99. This plan gives you access to lots of important features including up to 50-course admins, 5 site admins, advanced marketing and sales tools, and allows you to create exam/quizzes for your course.
It has a lot of advantages in its pricing model even with the free plan.

#3. LearnWorlds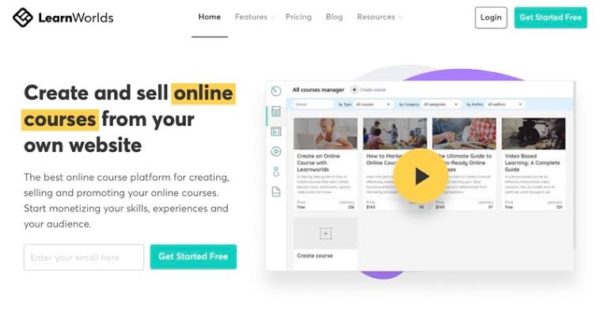 LearnWorlds is an online learning platform that gives companies, instructors, trainers, and solopreneurs the capability to create and sell online courses. This online course platform has an array of sales tools, advanced analytics, and tons of integrations to the third-party marketing tools.
LearnWorlds' unique factor would be the flexibility it gives instructors to engage and interact with their students. It also simplifies the course-building process with its intuitive drag and drops editor and content import tool so you don't have to worry about having any coding background.
It features a suite of amazing pre-made templates for you to choose from explicitly designed for sales pages making the creation process seems easy.

Pricing Plans
LearnWorlds has three packages. And the price you pay and the features you get depends on the package you opt-in for.
Its core features that you can have access to when subscribing for any of its plans include the following. Conversion tracking, analytics, lead capturing tools, theme editor, access to over 400 pre-made responsive templates, and unlimited courses.
Starter Plan: This plan costs $29/month or $24 when billed annually plus a transaction fee of $5 every time you sell a course. Here, you'll get the following features 24/7 email support team, the ability to drip-feed your course content, a free SSL certificate, a custom domain, and many more.
Pro Plan: This plan costs $99/month, and $79 if billed annually, removes the transaction fee and has all the features that come with the starter pack. It also has additional features like priority support, onboarding calls, affiliate marketing tools, a custom certificate, a complete website with a blog, and many more.
Learning Center Plan: That's the peak of what LearnWorlds offers and it's priced at $299/month or $249 when billed annually and with this plan, you get to enjoy everything that LearnWorlds has to offer. These include 24/7 support, 2 hours of premium onboarding, single sign-in, custom iOS, and Android app, automatic customer insight, Webhooks integration, advanced affiliate management, full white-label options, and others.
NB: You should note that big companies whose requirements are more than the pricing model can cater to can contact LearnWorlds to get a custom quote.
#4. Teachery
Although Teachery is a newbie in the course building arena, it is quickly gaining its ground in this ever-advancing industry. The platform purportedly gives clients the ability to create, market, and sell amazing online courses within minutes and doesn't require any transaction fee.
One thing of note is their wonderful tech support that you can rely on when things get sour technically.
Pricing Plans
Teachery offers a two-week free trial for new clients and afterward, requires a monthly payment estimate of $49 or $470 if you choose to pay yearly. With this, you get all Teachery features including email integration with MailChimp and ConvertKit, promo code, membership site, payment gateway, and unlimited , lessons and students.
You also get a beautiful course editor, custom styling, wide range of sales tools, sales pages, landing pages, payment gateway, membership, promo code, email integration like MailChimp and CovertKit.
#5. Podia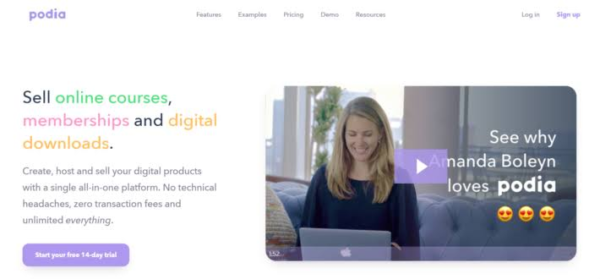 Podia was reviewed by its users to be a great all-around online learning platform where you can sell courses, digital products, and membership programs. For a large number of features present in this e-learning platform, it's surprisingly easy to use and has a very intuitive navigation system.
Major features present on Podia across all payment plan include customer-centric 24/7 live chat support, powerful e-mail marketing tools, intuitive design tools, and seamless integration with Zapier.
Pricing Plans
Unlike what many other e-learning platforms offer, Podia doesn't include a free version or trial period. However, it offers users two payment options:
The Mover Plan: This plan comes with all the major features that Podia offers including important ones like embedded checkout option, membership site, and affiliate program. What"s more? You can access this plan with a monthly payment of $39.
The Shaker Plan: This the highest version of Podia you can get. With this plan comes unrestricted access to all that Podia has to offer. This plan costs $79 and it's billed monthly.
Some of the reasons why Podia is considered as one of the best is because of its great customer support service that users have come to appreciate plus its fairly affordable prices that's worth the money.
#6. Systeme.io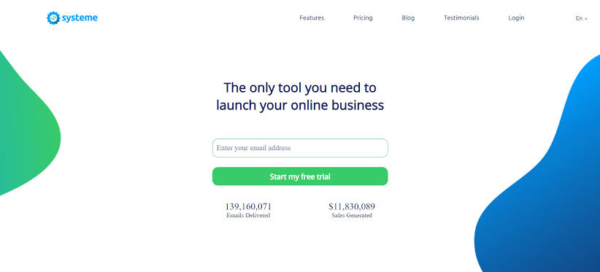 Systeme.io is a type of learning management system that lays more emphasis on the marketing aspect and aims to be a one-stop marketing platform. System.io is a complete platform that enables you to create membership sites, webinars, sales funnels.
The platform has all the fundamental tools and features you will need to run your entire online business easily and effectively in this super-competitive digital world.
Systeme.io is created to cater to the needs of businesses of all types, small, medium, and large enterprises. It also lets you sell physical products, send bulk emails to your audience, and create affiliate programs.
Some of the key features that make system.io special include affiliate management, blogging tools, automation, contact management system, and sales funnels. It's got a "what you see is what you get" type of drag and drop editor that allows you to customize pre-made beautiful templates that convert. It also offers a powerful funnel builder to help you build beautiful, high-converting sales pages.
Pricing Plans
You get a free 14 trial period to test run system.io features and to determine whether it is a perfect fit for you. System.io offers 3 paid payment options.
Startups Plan: As its name implies, this plan is suitable for small businesses and startups. It currently costs $27/month and with this plan you'll get all the core features of system.io plus 3 membership sites, unlimited members, storage space, funnels, and an email sent, and up to 5000 email subscribers.
Webinars Plan: The difference between this plan and the startup plan that it includes all the features in the Startups Plan plus A/B testing, coupon codes, 3 webinars, 2 custom domains, 5 membership sites, and 10,000 email subscribers.
This plan costs $47/month.
Enterprise plan: This plan is priced at $97/monthly. You get all the features that System.io has to offer plus an additional one-hour 1 on 1 coaching session, 5 custom domains, unlimited membership sites and webinars, and 15,000 email subscribers.
#7. Kartra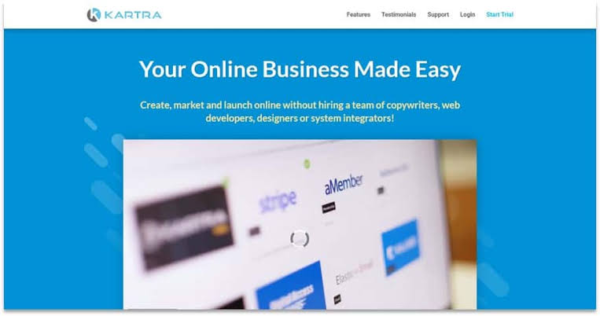 Katra is one of the prominent figures in the e-learning industry. The cloud-based LMS is self-hosted which means you don't need to host your course on an external site.
Katra claims to have everything you'll ever need to create your online business. And some of its amazing features include AB testing, a cart checkout option, great email marketing tools, and more. You can even create and manage your webinars on the platform.
Katra was developed with both tech-savvy and newbies in mind. That's why it boasts an extensive suite of highly customizable templates that you can choose from.
Pricing Plans
Kartra's Starter plan: This is the cheapest price that Katra offers its user. You can assess this plan for a reoccurring payment of $99 billed monthly.
This payment option is better suited for small to mid-sized businesses whose email list contains fewer than 2,500 subscribers. And some of the benefits that come with this plan include two membership sites, custom domain, automation for up to 100 emails, 50GB bandwidth space every month, and many more.
Kartra's Silver Plan: This plan offers users more features than the previous plus an increment of the number of custom domains allowed to three, 125GB bandwidth space every month, 12,500 email subscribers, unlimited membership sites, and email automation. You can opt-in for this plan for a monthly payment of $199.
Kartra's Gold Plan: There isn't much difference between the features in this plan and the previous but that this plan allows the addition of up to 25,000 email subscribers. Other upgrades that accompany this plan are increased bandwidth space to 200GB and 5 custom domains.
This is best suited for larger businesses. Currently, the price for this plan stands at $299 billed monthly.
Kartra's Platinum Plan: This plan accommodates a bigger email list of up to 50,000 subscribers, up to ten custom domains, and 500GB bandwidth space. You can opt-in for this plan for a monthly fee of $499.
Karta Enterprise Plan: This is Kartra's provision for big companies and corporations. Here, you'll have to consult with their company to get a custom quote.
#8. Ruzuku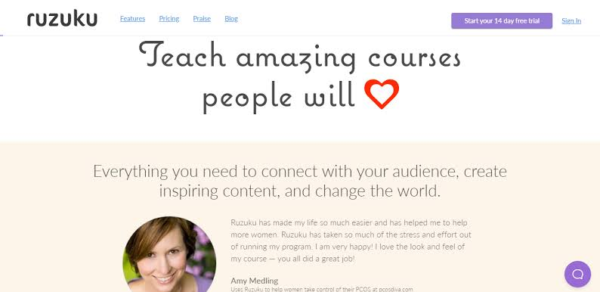 Ruzuku is perhaps one of the best online learning platforms around. This e-learning platform showcases many features for both the student and the teacher.
Ruzuku simplifies the process of creating a course with amazing tools to help teachers, online tutors, and trainers. The platform was created with non-tech savvy people in mind with the background and layout arimilar to that of WordPress which makes it easy to use.
Pricing Plans
Ruzuku comes in two versions, a free version, and two paid versions. Even though Ruzuku has a free plan, you will however need to subscribe to one of their paid plans to be able to fully utilize their product. The features you get depends on the plan you opt-in for.
The Bootstrapper Plan: This plan costs $79 per month if you choose to pay monthly and $497 if you pay annually. And with this plan, you can get an unlimited number of students and courses.
Ruzuku offers a hosting service inside this plan so you can host your website with them and with that, you can have total control over how much you charge for your courses. This plan also offers client support via chat, email, and phone which can come in handy in case of technical problems.
The up-and-eat plan: This plan gives you access to all features available at Ruzuku but for $129 per month and an option to pay $997 when billed annually. This plan comes with a lot of additional functions that make it worth the bucks.
#9. Kajabi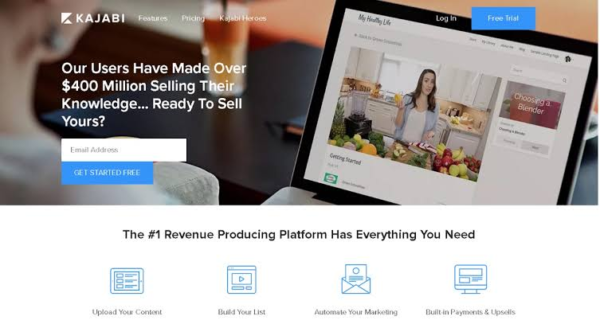 Kajabi market itself is an elite "one-stop-plug" software for selling online courses that allows users to create, market, and sell their courses all with one platform. This online course platform has all the tools you need including essential marketing tools to promote your courses, automated marketing campaigns.
Kalabi also has funnels to grow your online course business, and seamless integration with payment platforms like PayPal and Stripe. They've got an amazing analytics tool that you to track your student's progress and structure your e-learning business for growth
With Kajabi, you can store all your courses and crucial information on your website. It has an array of beautiful pre-made templates that makes the website creation process easy.
You can also have a custom domain and brand your website to look more professional and students can easily find your courses. Even though Kajabi focuses a lot on the marketing aspect, it has excellent creation tools that help users create, manage and scale their e-learning website.
It integrates with Blueprints, which is used in lead capture, product launch, and building website sales funnels.
Pricing Plans
Kajabi comes in three packages.
This plan costs $13 paid monthly or $119 if billed annually. This plan allows users to have three products and pipelines. The plan features include an unlimited number of landing pages and marketing emails, 10,000 contacts, 1,000 active members, and one admin user. Also, and unrestricted access to key automation.
The Growth Plan: Priced at $199/year if paid monthly, or $159 if paid through the annual subscription. It is the most popular plan, which increases the number of products and pipelines to 15.
This plan allows up to 25,000 contacts, 10,000 active members, and 10 admins for one website. You also get a custom domain, 24/7 chat support, and more advanced automation options.
The Pro Plan: With this plan, you get all the features in the growth plan plus an increment to 3 websites for 25 admins, 20,000 members, 100,000 contacts, and100 products, and pipelines.
#10. LearnDash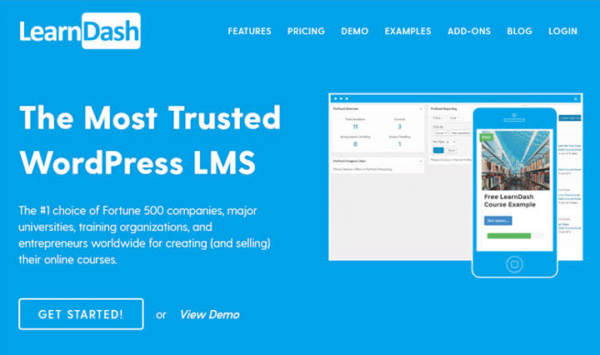 LearnDash is a WordPress learning management system (LMS) plugin that is mainly used by professional training and organizations higher education institutions. The platform claims to be the most trusted WordPress LMS. It gives users the ability to create branded online courses and sell them to their students.
It also offers an array of important administration tools plus seamless integration with the latest tools for your classes. LearnDash is more suitable for anyone who wishes to have their WordPress site turned into a learning management system including educational institutions like universities, companies that want to train their workers, and organizations looking to offer professional training.
Some of LearnDash's notable clients include the University of Washington, ProBlogger, University of Michigan, WP Elevation, Digital Marketer, InfusionSoft, University of Florida, etc.
Pricing Plans
The LearnDash features you get differs depending on the package selected.
The Basic Package: This plan is priced at $199 paid annually and lets users create unlimited courses and have unlimited members. It's course content is locked and only accessible to members and you can also drop feed your courses, which you schedule when your members can access the course content.
With this package, you also get free integrations of other programs and email notification options, badges to reward students, certificates of completion, and certificates.
The Plus Package: This plan offers all that is in the basic plan plus support for up to 10 different sites and ProPanel (which gives you analytics data about how your students interact with your course including quiz results and students' progress). It costs about $229 per year which is only $30 more than the basic package.
The Pro Package: This plan is very similar to the plus Package except for the increment of the supported website to 25, and is priced at $369 billed annually. The company offers users a 30-day money-back guarantee in case they decide the company isn't the right option for you.
The package you opt for renews automatically every year, and you are allowed to cancel anytime you want.
#11. Zippy Course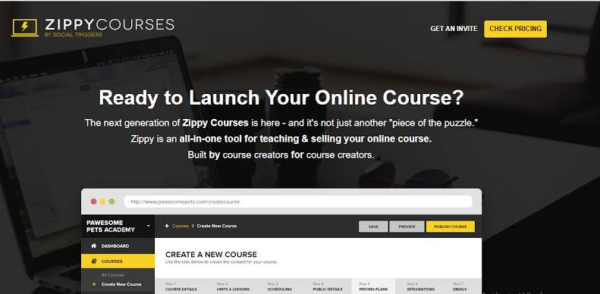 ZippyCourses is a WordPress plugin that makes the process of creating, marketing, and selling your online courses easy. It is purportedly an all-in-one tool that has all you need to create, market, teach, and sell your online course.
It can be said to be created by course creators for course creators. While some learning management systems focus on the selling part (optimized for sales), others are optimized for teaching.
The creators of Zippy aimed to bridge the gap in between. Zippy offers you a blend of both. It's an all-in-one complete tool that you can use to create, sell, and effectively run your online course.
ZippyCourses integrates well with any well-built WordPress theme and makes the process of creating your e-course quick and easy with no web developer or coding skills required. All you need is to click "create a new lesson" and add your course content, it's that simple. You can also update, edit and rearrange your course content anytime you wish.
Click here to see some FAQs on Zippycourse.
Pricing Plans
The entire features of Zippy Course are available for $199 billed annually. When you purchase Zippy Course, you receive a lot of features that give more value for your money
Some of the features you get include Zippy Courses WordPress plugin valued, one Full Year of Support and Updates, the basic ZippyCourses WordPress theme plus unrestricted access to their support team. You can also opt-out of their subscription at any time you want.
#12. Udemy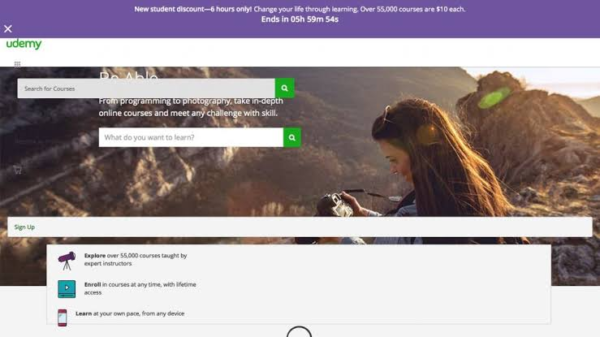 Udemy is an online educational platform created to give users the ability to learn something new when they would naturally not have the means or time to do so. The platform provides users the means to gain information and knowledge right in the comfort of their homes.
Udemy is created such that learners can learn and relearn new skills. Also, it provides the platform for skilled professionals to publish paid and free courses for the improvement of people willing to learn.
Since its inception in 2010, it has grown to become one of the biggest e-learning platforms we see now. Presently, there are over 35 million students (as claimed by Udemy) enrolled and with more than 100,000 courses available.
Udemy prides itself to be an online learning platform where you can learn about almost anything. You can learn a variety of things on Udemy from hobbies like gardening and taking care of your plant to actual professional skills.
Many big companies including Eventbrite, Pinterest, and Adidas have taken advantage of Udemy online courses as a means to educate their workers. The reason why Udemy can offer such a wide range of subjects and courses is that it allows anyone to publish a course. This allows topics like how to play video games to be seen on their learning platform.
Pricing Plans
One great thing about Udemy is that it doesn't require any form of payment for instructors to create and publish a course. And you can easily create and publish an unlimited number of free and paid courses.
Also the platform's overall price for students is reasonably priced with courses with harder subjects and long run time been more expensive than others.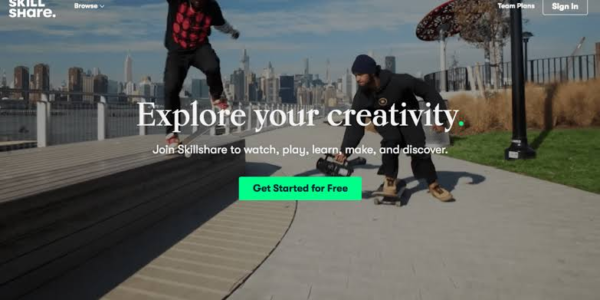 Skillshare is an online learning platform that was created as a means for students and learners to be exposed to online courses being taught by professionals, entrepreneurs, creators, and world experts. It's a platform where you are allowed to teach on almost any topic.
Although there is no course on Skillshare that teaches you how to enjoy the learning process the entire model of this platform revolves around that. Skillshare was founded in 2010 in New York City and at that time, Skillshare was offering below 20 courses.
Now, they have got over 26,000 (with 2,000 of them being free) courses available throughout their platform. They allow almost anyone to publish a course on the platform with an intuitive interface and course creators guides to creating a successful class on the platform.
Pricing Plans
Over 2,000 courses are free on Skillshare covering a lot of careers, hobbies, and everything in between. You can easily get access to these courses with just your free membership.
Most Skillshare courses are paid and require users to subscribe to their premium membership. And the best part is that you get a free 2-month free trial before making any payment.
At the end of this free trial, you are given the option to subscribe to their paid membership which is priced at $15 per month or $99 if billed annually. You should know that these payments are non-refundable.
Currently, Skillshare only accepts payment through credit cards and do not support payments with PayPal or prepaid cards although there is a payment plan for teams or colleagues with their Enterprise plan. This plan costs $99/user/year and allows up to 19 users, offline access to courses, analytics reporting, access to admin panel, and personalized discovery algorithms.
For large groups with over 20 users, initial consultation with Skillshare would be required to discuss requirements and eventually agreed on a custom price. Skillshare also runs a "Refer a Friend" promo which can be a great method to extend the period of your free plan membership.
You are required to refer your family and friends via Twitter, Facebook, or email. And for every one of your friends who subscribe to Skillshare's Premium plan, you get a month free premium plan.
#14. Coursera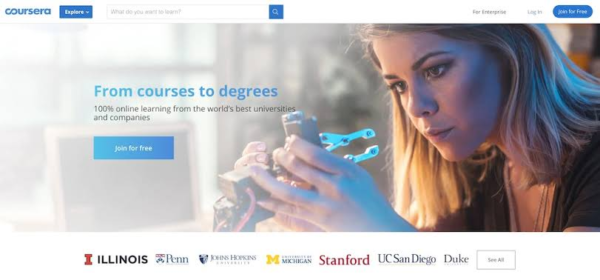 Coursera is a 100% online-based learning platform that centers around giving college-level education. This online course platform has transformed the normal internet learning practices by offering a way for learners to get quality higher education at affordable prices.
Coursera gives users higher-level education that is taught by professors from prestigious institutions. With it, you get access to real classes, a large number of which have been tested and tried at physical institutions.
Furthermore, for an affordable charge, you can acquire a certificate showing that you've finished a course. The platform has collaborated with many universities, for example, Yale, Johns Hopkins, Rice University, Princeton, the University of Michigan, and some more.
So, the schooling you get is astounding. With more than 4100 courses accessible, you're certain to discover something that you would be passionate to learn about.
Pricing Plans
You can get lots of amazing courses and learning materials for free. You also have the freedom to study them at your learning speed. And in case you want to get a certificate after completion of a course, you will be required to pay a fee.
The pricing model is somewhat tangled, however here are your available choices:
Individual Course Certificate: Courses available in this package costs a one-time payment between the range of $49 and $99.
Specializations and Professional Certificates: The plan is billed monthly and costs between $39 and $79/month.
MasterTrack Certificates: The starting price is around $2000.
Degrees: Expect degrees to cost $15,000 and up.
Coursera Plus: Coursera Plus is a new package that was introduced in 2020. You get unlimited access to more than 3000 courses for a yearly membership. Presently the price of the package stands at $399 billed annually.
The features that come with the Coursera Plus include specializations and professional certificates and regular courses. However, the drawback of this package is that it doesn't include the MasterTrack Certificates on the online degrees.
This package is a perfect choice for learners who need to expand their perspectives and take different courses. Across a year, you could obtain a few certificates from top colleges and tech firms.
#15. Linkedin Learning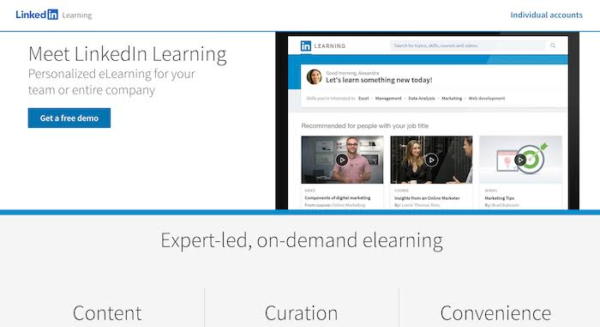 LinkedIn Learning is a revenue-driven video-based learning platform that revolves around teaching experts the abilities they need to excel in their field. This online course platform offers an array of profession-related courses, for example, personal branding, Excel, public speaking, leadership, and a lot more.
LinkedIn Learning's main form of delivering its courses is through audio and video presentations. It does this by using high-quality visual demonstrations, software navigation, and slideshows.
LinkedIn Learning offers video seminars on different career-related material with a wide range of subjects and materials to show its capability to cover almost any topic. LinkedIn Learning courses are available in seven languages including English, Portuguese, Chinese, Simplified Japanese, German, French, Spanish.
Pricing Plans
When you subscribe to a LinkedIn Learning package, you get unrestricted access to over 11,000 educational videos available on the platform plus a premium subscription to the parent platform, LinkedIn.
LinkedIn Learning offers new users a free trial period that lasts for one month, there afterward, continuing users are charged $29.99/month or a yearly subscription of $239.88. And unlike other online course platforms that charge users by course, a subscription to LinkedIn Learning gives you unrestricted access to all materials on the platform.
#16. Academy of Mine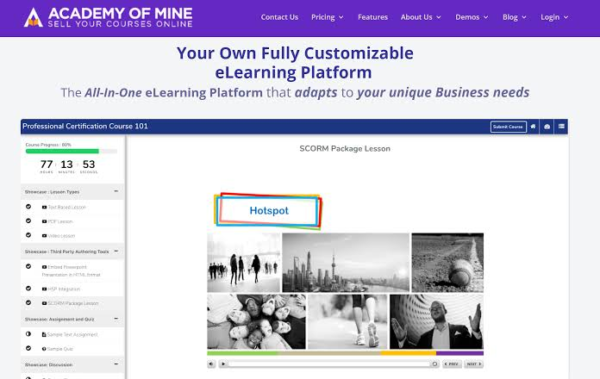 Academy of Mine is phenomenal compared to other online course pages that you can find. And it's specially designed for course creators that need to deal with a large number of classes and students.
The course creation features help set up a completely online course. You can use it whether you're a newbie with no form of web design or coding experience. Furthermore, whenever you're finished setting up your course on Academy of Mine, you can design your page to getaway.
You should know that taking time to design your page will increase your conversion rates since clients will be more inclined to enroll. And it comes with intuitive drag and drops editors which users can find handy.
Some of the features that the Academy of Mine offers include third-party integrations, analytics, and user management. Also, security on this platform is outstanding and user's information is properly stored and secured.
At Academy of mine, you can create unlimited courses and then upload as many additional resources as you want to go with them. The platform's outstanding multilingual feature allows course creators to set up online courses in various languages to make learning more open to different places around the world.
Teachers can also set an online meeting with their students to assist them with learning. They can encourage online courses through a live video and let students ask questions. It seamlessly integrates with video platforms like Zoom, GoToWebinar, and more, to achieve a better teaching method.
Pricing Plans
Academy of Mine offers first-time users a free trial period upon sign up. After the trial period elapses, there is an option to opt-in for their paid version which starts at $9,997 which is billed annually.
When you subscribe for Academy of Mine, you get a lot of features including activity and audit logs, bulk importing and exporting of data, custom payment options, SSO (Single Sign-On), online community discussions, 24/7 customer service, webinars, web, and sales pages builder, eCommerce tools, quiz and assignment options, unlimited users and courses.
#17. WizIQ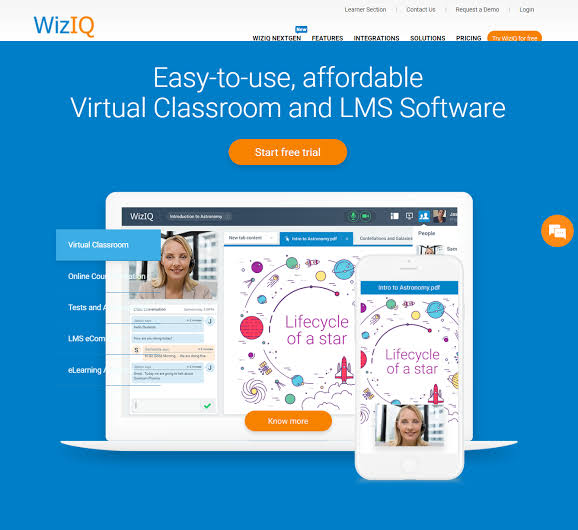 WizIQ is a cloud-based learning management system that makes the initially tedious process of creating and delivering course content seem like a breeze. The online learning platform comes with a suite of seamlessly integrated tools that create and deliver content that is ideal for both physical class-based learning and self-paced online courses.
WizIQ has an interface that makes integration easy for an organization that wishes to integrate the platform into its customer relationship management (CRM), learning management system (LMS) or, or existing website. The platform purportedly provides organizations with all the tools they need to develop and deliver learning materials on one intuitive interface.
Some of WizIQ's core features include content authoring, video streaming, cloud storage, mobile learning, reporting & analytics, tests & assessments, and virtual Classroom. The platform also focuses on providing a scalable learning management solution to non-governmental organizations (NGOs), corporations, and educational institutions.
Some of its biggest clients include ICICI Securities, Intellitek, Liberty Medical Scheme, Planet Tutor, Tooba University, Menachem Education Foundation, Jamaica Stock Exchange, Eshav Books, EffiScience, and Chatham University.
Pricing Plans
Like other e-learning platforms, WizIQ offers its first-time users a free trial period after which it offers it paid plans. These plans include VCC ESSENTIAL (costs $27/month), VC EXTENDED ($43/month), VC ENTERPRISE ($68/month), LITE ($60/month), ELITE ($80/month), and INFINITE ($107/month). So, the features you get depends on the type of package you subscribe to.
#18. TalentLMS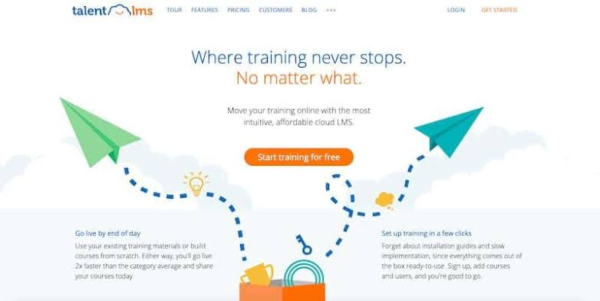 TalentLMS is a cloud-based learning management system (LMS) that helps you to create and provide fun and highly interactive online course content to channel partners, employees, or customers. It is a popular software stuffed with useful tools that go beyond the traditional management, delivery, and creation of online courses.
Some of the features include reporting and analytics, web conferencing, email communications, and e-commerce selling. In addition to being cloud-based, the platform removes the burden of users having to all the technical parts of the course creation and selling process with an efficient and user-friendly interface.
TalentLMS's interface allows you spend the time that you would have wasted trying to the codes producing online learning content that gives value and brings good profit. It also comes with a lot of important and amazing features including security, customer support, detailed analytics, course authoring and others.
What makes TakentLMS different from other LMS out there is its highly easy-to-use course authoring feature.
Pricing Plans
With all the amazing features that TalentLMS has, it is surprising that its pricing is very much flexible and affordable. It also has a free version that lets you create a fully-functional LMS except for the exclusion of some advanced e-commerce features although it's limited to only 10 courses and 5 users.
This is plan is suitable for small businesses to check out its features before making financial commitments. Its paid version comes wrapped in two packages with the option for you to pay either monthly or annually. That means the right plan for you depends on the size of your business.
The standard plan features a limited amount of users you can accommodate, but you are allowed to create unlimited courses.
The unlimited plan however gives you the ability to create unlimited courses and allows unlimited users. It also gives you more specialized e-commerce features.
There are still some restrictions with the plan as there's a limited number of active users that can access your courses per month. It is however important to note that you get a 25% discount if you choose to for an annual subscription on any plan available.
#19. LifterLMS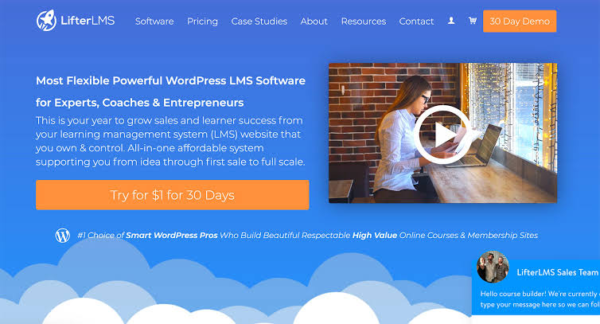 LifterLMS has become one of the best WordPress LMS plugins, and a very good option to be considered when choosing an online learning management system. Based on its features, LifterLMS has proven beyond doubt to be a top challenger among other LMSes.
It could be a very expensive choice when compared to others and it's not suitable for people who are working on a tight budget. The free version is very generous with its features more than other LMS plugins, and depending on your needs and wants, can be a cheap alternative, which is what makes LifterLMS fascinating.
What LifterLMS does, in the end, is to help you through the creation and delivery process of your online courses.
Pricing Plans
LifterLMS gives its users a free version (plugin) that includes major features of the course management functions. A drag and drop editor comes along with the free version and gives you the creative ability to design and organize your courses with the option to add quizzes and assignments.
You can also decide who has access to your classes, requiring your student to register for your classes before they can access them. You can also create personalized emails automated to be sent according to user's activities, like finishing a course or flunking a quiz.
Other examples include award performances or downloadable certificates, drip out course content to keep students coming back, like offering a new lesson for every week of a student's membership. For more features and options to sell your courses, you can use a lot of paid extensions to include features.
Some of these features include group/team access to course content, private coaching, social learning, more advanced quizzes, and assignments, email marketing integrations, WooCommerce integration, and payment gateways.
The core LifterLMS plugin is available for free at WordPress.org, but most course creators will probably also need some of the paid add-ons.
#20. Docebo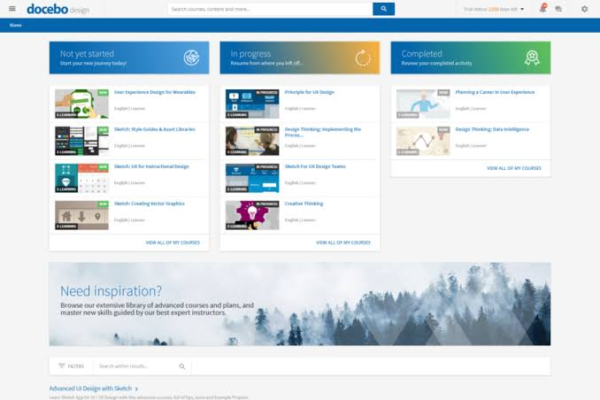 Docebo has a complete learning management system that fits many businesses ' requirements. The cloud-based platform is learner-centric and when it comes to learning experience their AI algorithms personalizes everything.
Docebo boasts of providing their solutions to big names like Bloomberg and Sharp. Big enterprises, human resource departments, and human resource professionals are the ones who can get the most from this e-learning solution.
Pricing Plans
Docebo offers their clients a free trial of their platform that lasts for 14 days. After this period, users can opt-in for two paid plans.
Growth Plan: This plan was created for businesses and organizations with members fewer than 300.
Enterprise Plan: This plan is ideal for businesses and organizations that plan to house more than 300 members and needs advanced e-learning features.
#21. LearnUpon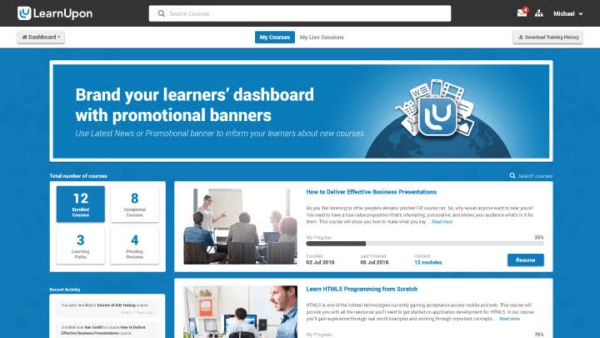 Like most LMSes in the online learning industry, LearnUpon is cloud-based. Its e-learning solution is better suited for corporations or businesses looking to train their staff or team.
Aside from having a suite of impressive features and easy to use interface, this platform's unique selling point is its powerful multilingual function. LearnUpon also has AI algorithms that personalize the user experience for each member of the team.
Some of their biggest clients include Booking.com and TripAdvisor. This platform is mainly built to cater to big corporations and educational institutes.
Pricing Plans
LearnUpon offers new users a free trial period for their solution and the option to pay for continual usage of their platform. It is not a cheap option and the main difference across its paid versions is the number of users allowed.
Basic: This plan can accommodate up to 50 members on a single learning portal. This plan costs a reoccurring payment of €599 billed monthly.
Essential: With this plan, you can cater to 250 members across two learning portals. The price of this plan is €999 per month.
Premium: This plan is priced at €1,699 billed monthly and accommodates up to 500 members across three learning portals.
Enterprise: This plan is for clients who intend to house more than 500 members and need more than three learning platforms. You'll need to consult the company to get a custom quote based on your needs and requirements.
#22. TutorLMS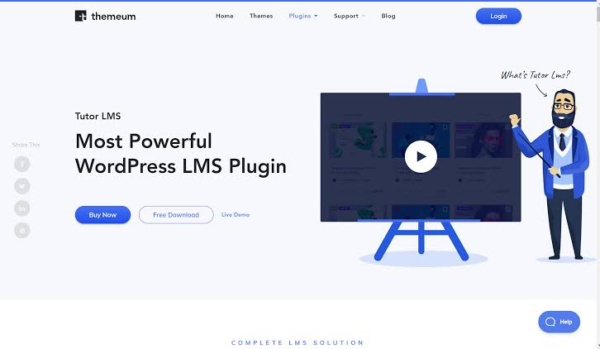 Tutor LMS claims to be the most powerful WordPress LMS plugin around. It allows you to create, brand, and launch your online courses which are hosted on the WordPress site.
It was first introduced to the market in March 2019 and quickly rose to over 1,000 installs, a feat that is extremely rare in the WordPress LMS plugin category. Experts say the reason why TutorLMS became so successful is because of its appealing designs and intuitive interface. The fact that it's free-to-use makes it enticing to users.
TutorLMS offers its users a lot of amazing features like an intuitive drag and drops course builder, a quiz creator, video integration in courses, and integrated monetization via WooCommerce or Easy Digital Downloads. TutorLMS is more like having a tool that lets you create a clone of Udemy on WordPress.
Pricing Plans
Although TutorLMS is free, if you want to get access to its more advanced features you'll need to pay for their premium version. The free version is quite robust enough to take care of your basic needs during the process of creating and launching your online courses.
Without making any payment, you'll still have access to TutorLMS's course builder, video integrations, and many more. Some of the features that come with the premium version include analytics reports, more options with their quiz creator, email notifications, multimedia attachment, and many more.
#23. Treehouse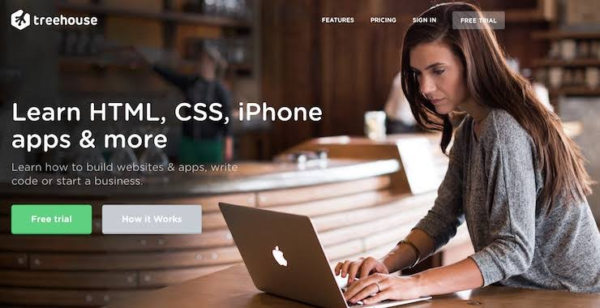 Treehouse is a tech-centric online learning platform where newbies can learn coding, web design, and development, game development from industry experts. The online course platform offers users entrepreneurs classes so they can learn to market their skills.
One of the things that make Treehouse different from its counterpart is its streamlined classes that aim to achieve a short learning curve for aspiring programmers and web designers. This online learning platform is suitable for tech enthusiasts who are looking to learn programming and designing skills from beginner level to advanced.
Learners can also utilize their wide range of available courses to expand and develop their tech skills.
Pricing Plans
New users are given a 7-day free trial period to test out the platform and see if the courses and system of learning on Treehouse suit them before making any financial commitments. You can take advantage of this to personally review the site from your point of view and preference.
You should also take note that there is an option for you to pause your account when in case you'll not be using the platform for a long time, and you won't be billed until you start using the platform again.
After the trial period, to continue using Treehouse, you'll have to opt-in for one of their payment options.
Basic Plan ($25/Month): This plan is the cheapest price Treehouse has to offer. It is best suited for learners who are still contemplating whether to fully pursue a career in coding. This is the best plan to start with if you fall into this category as it let you discover yourself as an aspiring tech expert.
The main challenge with this plan is that you can't download the videos offline to watch later.
Pro Plan ($49/Month): This plan offers users all features present in the Basic plan plus unrestricted access to their course library. Unlike the basic version, here you can download the course for offline view, and you can learn at your pace, anytime anywhere.
This plan is more suitable for learners with previous knowledge of coding who are looking to increase their knowledge.
Techdegree ($199/Month): This is the peak of all that your can experience with the Treehouse online learning platform. Here, you'll have access to all the features in their Basic and Pro plan plus the ability to do a live project and get feedback, reviews, and commendations from top experts in the field.
This plan is more ideal for learners who want to dive into the tech field fully and want to get advanced learning features.
Choosing The Right Online Learning Platform For You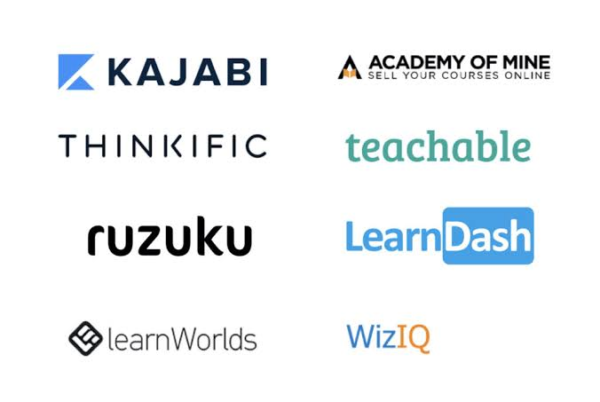 There is no perfectly built online learning platform but there are platforms that perfectly fit your needs. Whether as a corporation or individual, the suitability of the online learning platform for you would be influenced by different factors including cost, customer support service, simplicity, among other factors.
You should probably take advantage of the free trial period offered by some platforms to personally evaluates their solution and decide if they are the right fit for you. But if you consider fairly low price and fairly reliable platform, i'll say you'll go with Teachable for launching online courses and Kajabi online marketing and e-courses.