Last updated May. 3, 2023 by Charles Zemub
best web hosting companies for WordPress sites( best hosting websites)
Do you want to create a WordPress site? Are you confused and can't seem to decide on a choice web hosting platform? How do you determine the best WordPress site for you? Do you have a list of web hosts to choose from with a lot of plans offered and you do not know which one will serve you best?
That's understandable as there's a wide pool of web hosting platforms available around all promising heaven and earth. Besides, if you want to get your website, pay particular attention to your web hosting because this is like the home of your website.
If at the end of the end, your site does not have a good and protected haven, it may be prone to fail. A lot of people are more concerned about domain names but fail to pay particular attention to web hosting.
No doubt, the website hosting provider you choose can be beneficial or detrimental to the overall performance of your website. You must look before you leap when it comes to web hosting sites, especially WordPress sites.
Web hosting determines your SEO. WordPress sites come in a lot of forms. It can be a managed WordPress, shared host, free host, Dedicated, and Managed hosting.
This article will guide you in choosing the best. However, note that every WordPress site comes with one single click install, this is why WordPress is a simple and lightweight script.
No worries. This is a complete and unbiased review of carefully handpicked best of the best when it comes to website hosts that offer specialized WordPress hosting services. We extensively reviewed 46 different web hosting providers and had the best pick just for you.
The main aim of this article is to guide you towards making the best choice for your WordPress site whether you are a business owner handling a setup, or you want to run a personal blog.
The criteria used in selecting the featured WordPress hosting provider include features, performance, speed, uptime, customer support, pricing, and so on. We use Load impact to determine the strength of the site against increased connections and requests.
We used Pingdom for the speed test, to determine the web host's speed against other web hosts. Bitcatcha was also used to determine which geographical location is best for which site e.g United States, China, Japan, Nigeria, South Africa, Germany, Canada, and Australia
Let's get down to the review.
1. Bluehost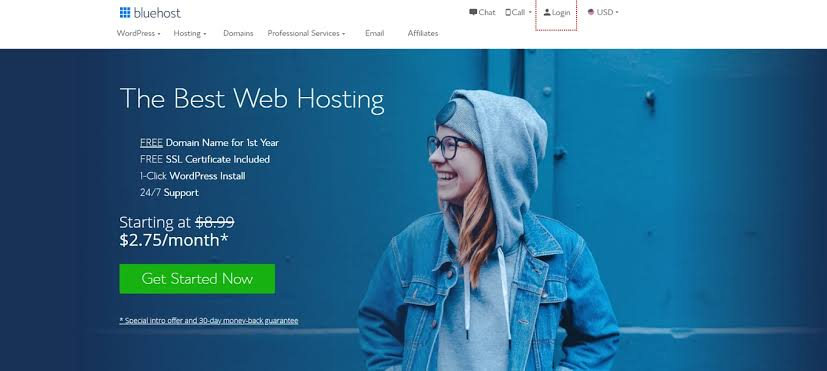 Bluehost is the obvious first choice when it comes to hosting WordPress sites. Bluehost is obviously the first go-to. Bluehost to websites is what the HP brand is to computer systems.
This website host is very famous, especially among small business owners and bloggers. Also, they are one of the few web hosts that WordPress endorses for its users. It also is always up to date with new functionalities and features.
With Bluehost, you get a lot of value for your money with its high-level standard of features and offerings. Features you get along with their hosting service include a free SSL, a free domain (for the first year), one-click install (WordPress).
In terms of performance, Bluehost offers a guaranteed average uptime of 99.95% and a load time speed of 249ms.
Although there are few chances you will run into a performance/technical issue while using their service, they offer a first-class support service through phone, 24/7 live chat, and an extensive knowledge base.
Bluehost offers a low introductory price of $2.75/month for their 3-year plan with a renewal price of $8.99/month. There is also a 30-day refund policy in case you don't like that service.
2. HostGator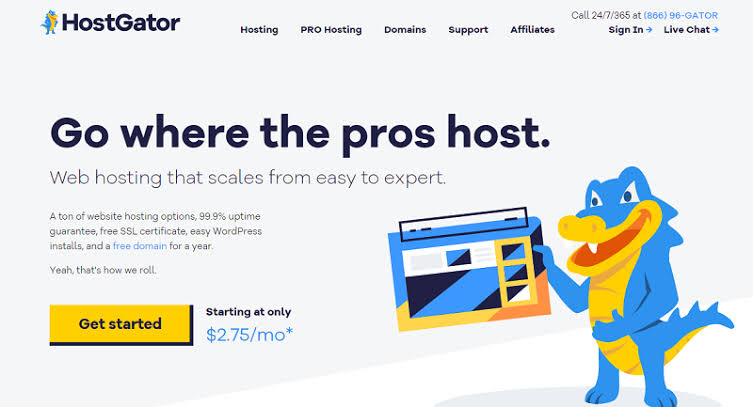 HostGator is proudly home to over 10,000,000 domains and that's because they are good are what they are doing.
With HostGator, you get free backups and site migration, unlimited storage, and bandwidth, email accounts, and many more. Speed is not an issue as you are guaranteed uptime of 99.97 and a fast-speed load time of 267ms.
Support is via an extensive knowledge base of articles and blog posts, phone, and 24/7 live chat.
Like other website hosts, they offer a low introductory price of $5.95/month (for their 3-year plan) and can be renewed at $9.95/month. You can take advantage of their coupon code to get the introductory price for less. There is a full money-back guarantee for unsatisfied clients which is only valid within the first 45 days of purchase.
3. Hostinger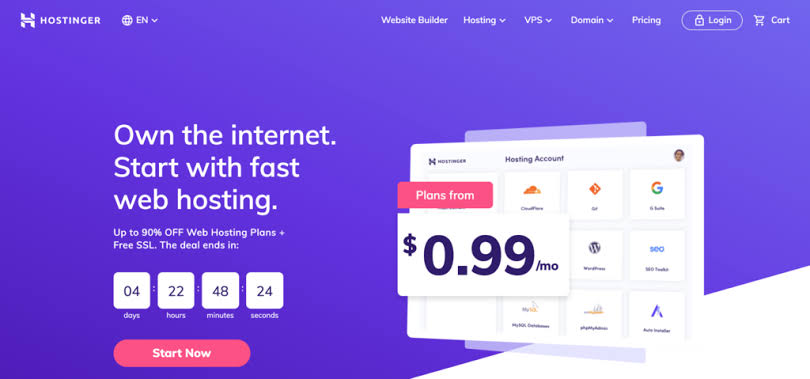 Hostinger is well-known for offering one of the best WordPress hosting services for down-to-earth prices the cheapest. They have three data centers in three locations including Europe, Asia, and the USA.
Being cheap doesn't stop Hostinger from delivering top quality, its offerings are up to the standards of other expensive options like HostGator and A2 Hosting.
With Hostinger, you get a guaranteed uptime of 99.74%, free SSL, a fast load speed of 345ms, extensive WordPress hosting tutorials and guides, free email accounts, and 24/7 live chat support, among others.
Their WordPress hosting plan is available for a low price of $1.99/month (for a 4-year subscription plan). Renewal is set at $3.99/month. Features include 30GB disk space, 100GB bandwidth, an SSL certificate, free site migration, and one email account. There's also a refund policy for unsatisfied valid only within 30 days of purchase.
4. SiteGround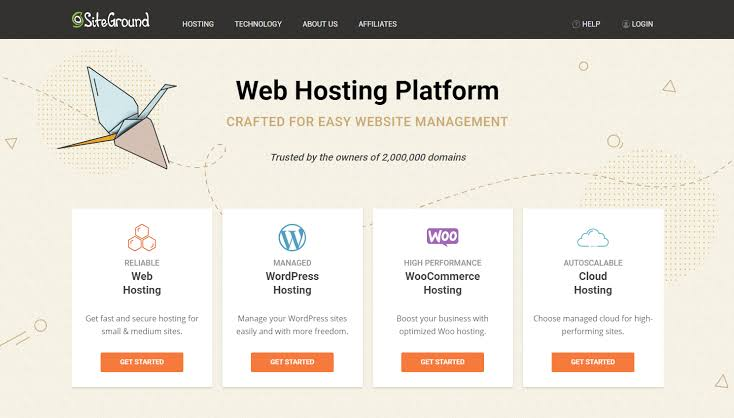 SiteGround has been around for a long time and is very popular for its specialized WordPress hosting services one of the best. Apart from the fact that they are endorsed by WordPress.org, their offerings are very impressive and have housed more than 800,000+ domains.
With SiteGround, you get free HTTPS (SSL), free WordPress site migration, Google cloud servers, free email, CDN, and many more to enable your WordPress for a fast internet experience.
They promise a guaranteed average uptime of 99.99% and a fast load time of 756 ms which is very rare to find elsewhere only beaten by Bluehost and Host Gator.
Their support service is industry-standard and offered through a live chat on their website. It is handled by a team of professionals which past users reviewed to be quick in answering questions and would help you fix any technical problem in a jiffy.
SiteGround's WordPress hosting services are not cheap. The WordPress hosting plan is priced at $6.99/month (for their 12-month plan) and even gets higher with the renewal peaking at $14.99/month.
They don't offer their customers a free domain name. If you want to register a domain name with them, you can with a fee of $15.95/year. They have a refund policy that allows you to cancel your subscription within the first 30 days of purchase.
5. A2 Hosting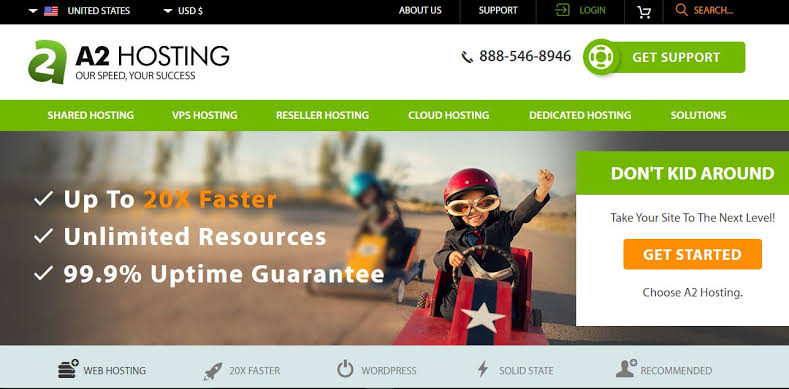 A2 Hosting is very clear when it comes to its offering high-quality hosting services at a cheap price. People who have already subscribed to another website host, claim that they can make your website 20x faster. Is it all a bluff?
Let's find out.
Features available on their specialized WordPress hosting plan include free Cloudflare CDN, free SSL, unlimited bandwidth, 100 GB SSD storage, and fast servers which are very essential for the success of your WordPress website. The only three data centers are located in Singapore, the USA, and the Netherlands.
When it comes to features, A2 Hosting comes packed with them. For their specialized WordPress hosting plan, you get unmetered bandwidth, 100GB disk space, unlimited email accounts, and free website transfer, among others.
True to their claim, A2 hosting is one of the fastest WordPress hosting providers only second to HostGator with a fast load time speed of 279 ms. They offer a guaranteed uptime of 99.97%.
Their customer support service isn't great but still industry-standard. Support is via a 24/7 live chat, phone, and an extensive library of articles and information relating to web hosting.
A2 Hosting's shared WordPress plan costs $2.99/month (3-year plan) with the renewal costing $8.99/month. They offer a unique money-back guarantee that allows you to cancel your subscription at any time. This shows how confident they are in their capabilities.
6. GreenGeeks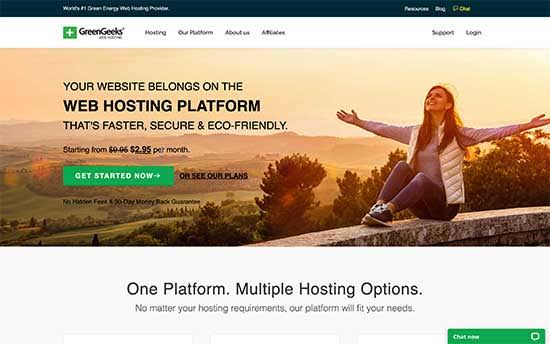 GreenGeeks is well-known as a fast, secure, eco-friendly website hosting provider. Their approach to website hosting is very eco-friendly and claims to replenish twice the renewable energy it uses. They also offer WordPress hosting for their customers. Ther customer support also stands them out.
With GreenGeeks, you get unlimited email accounts, unmetered bandwidth and storage, free CDN, free SSL, free website transfer, automatic updates, and more.
When it comes to performance, GreenGeeks offers quality services with a guaranteed uptime of 99.95% and a fast load time speed of 465 ms. Their support service is through a library of WordPress hosting guides and tutorials, phone, and 24/7 live chat. Past client reviews on customer services indicate that their support team is swift and accurate.
Their specialized WordPress hosting plan is priced at a $2.95/month plan which can be renewed after the first term for $9.95/month. They have a refund policy valid within 30 days of purchase for unsatisfied customers' terms and conditions applied.
In case you decide to request a refund, their "free domain name" offer would be dissolved and a fee of $13.95 would be deducted from your refund for the initial free domain name registration.
7. InMotion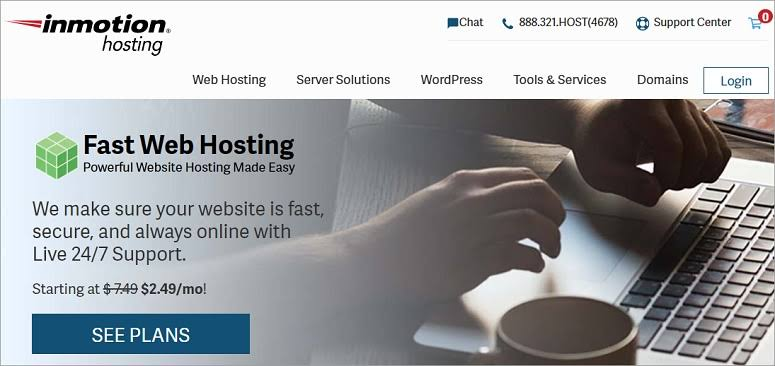 InMotion is a US-based website hosting provider that offers specialized WordPress hosting services. They openly boast on their website to have hosted over 350,000 domain names across the globe.
InMotion is a great choice for WordPress users and here is why. They offer to their customers 200 free pre-made WordPress themes, free website builder, free SSL, unlimited email accounts, free website transfer, free CDN, and more.
A performance test runs on the web host provider shows that you get a guarantee of 99.93% and an average load time speed of 460 ms.
Support services are through their knowledge base (articles, guides, and tutorials) available on their website, phone, and 24/7 live chat.
The only noticeable black spot InMotion Hosting has is that it does not have instant account access. This creates lots of hassles for international customers when it comes to account verification for new users.
InMotion is reasonably priced with their multiple WordPress hosting plans set at $4.99/month for their 3-year plan (renewal at $7.99/month).
This price can go as high as $22.99 depending on the bandwidth size, storage space, and several websites you want to host. They have a refund policy that can be activated within 90 days of purchase.
How to Choose the Best Web Hosting for Your WordPress Site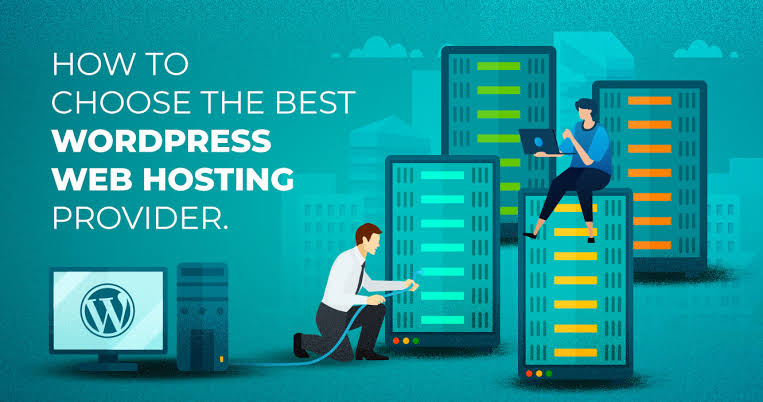 Before committing to a website host and hosting your WordPress site there, there are certain factors you should consider. These include:
Speed: For optimal performance, I'll recommend you go for web hosts that offer less than 300 ms load speed.
Uptime: The minimum requirement for the website host you should choose should not be less than 99%.
Customer Service: This is very important in case you run into a technical problem or need some information that requires expert knowledge.
Your Needs: There is also the factor of your requirement to consider, go for a website host that can cater to your business type and size.
The best web hosting for your WordPress site would probably fit into all the above requirements. Note that there is no perfect website host but you can find the right one for you.