Last updated May. 5, 2023 by Charles Zemub
13 best web hosting sites in the UK (best hosting companies in the UK)
Have you been looking for the best web hosting in the UK? Look no further, you are at the right place!
In this web hosting review, I'll be comparing the 13 best web hosting providers in the UK based on features, uptime, speed, customer support, pricing, servers, and many more.
This review is a product of in-depth research about what these web hosting providers offer and what their users are saying about them.
Let's move on to our first pick, Bluehost.
1. BlueHost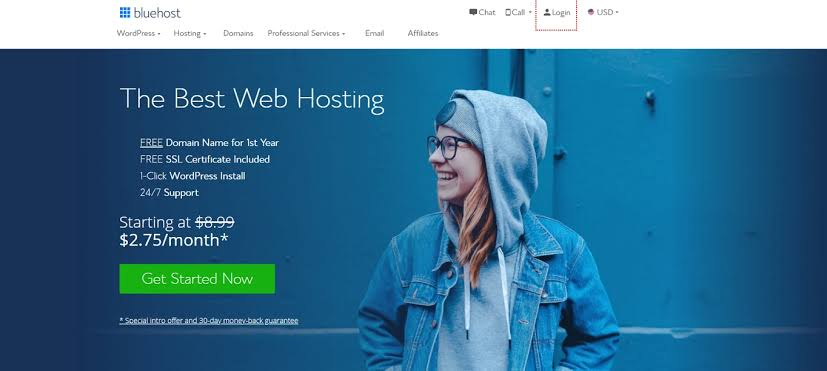 Among the tops on the web hosting list is Bluehost. It is one of the biggest in the industry. Bluehost web hosting provider is home to over 2.5M websites globally, no wonder WordPress majorly recommends it as the go-to web hosting site.
Bluehost isn't popular for no reason, this experienced player offers users lots of essential features for a reasonable price.
With Bluehost, you get a free domain name, SSL certificate, 99.99% uptime guarantee, unmetered bandwidth, industry-standard 24/7 customer support, single-click install (WordPress), and many more for as low as £3.19/month.
Although Bluehost is not the fastest web host around, it's not far behind either with a great speed of about 550ms. This is a result of the web host's easy Cloudflare integration which allows you to load your website at lightning speed.
2. SiteGround
Placing second on our list is also in the list of the frontrunners in the web hosting industry. This is another web host recommended by WordPress. SiteGround has been in use for some time now and has hosted over 1.5M websites all over the world.
They have servers in different locations including the U.K., United States, Netherlands, and Singapore.
The fact that they are the third most recommended web host by WordPress speaks volumes about their capabilities. SiteGround's unique selling point, which is similar to Bluehost's, is a wide range of features and benefits that has been developed and perfected over the decade.
With SiteGround, you get low starting prices, impeccable uptime of 99.95%, fast load time (455ms), industry-standard customer support, and single-click installs (WordPress).
3. HostGator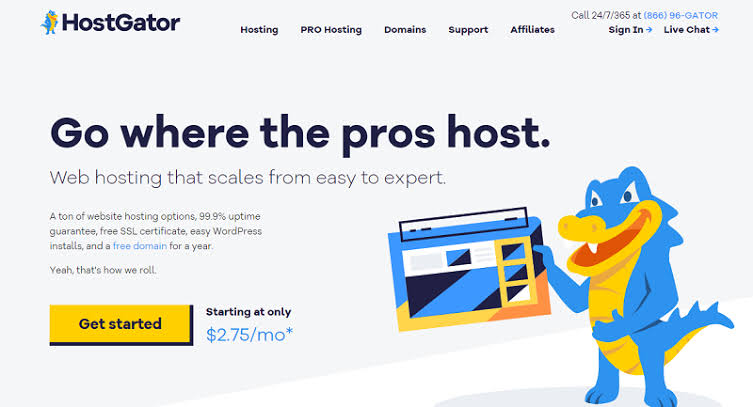 This review would be incomplete without mentioning one of the pioneers of shared web hosting HostGator. The web hosting provider has been in existence since 2002 and boosts to have hosted over 1.5M websites around the world.
HostGator standout feature lies in its new cloud hosting option which is great for security, speed, integrated caching, scalability, and many more.
The web hosting provider sure has a lot to offer its users including unmetered storage, 1-click WordPress install, and low introductory pricing, to mention a few.
Their cloud hosting plan is priced at £3.90/month and comes with 2 core CPUs, a site performance dashboard, a single domain, a free SSL certificate, and 2GB of disk space.
4. Hostinger
Talk about high-quality web hosting service rendered for a cheap price does Hostinger ring a bell? This cheap web hosting provider defiles the belief that you get what you pay for by offering users industry-standard features plus 24/7 support, a cPanel control panel, 100GB bandwidth, a 1-click install (WordPress), and an uptime guarantee of 99.9% awesome.
Their shared web hosting plan has an introductory price of 80p/month which was slashed from an original price of £7.99/month.
Speed is not a problem for Hostinger as it offers a load speed of about 730ms through its UK-based servers.
Their only drawback is they do not offer a free SSL certificate or domain name and they have to up their minimal storage. Apart from that, this is a great choice for UK website owners.
5. A2 Hosting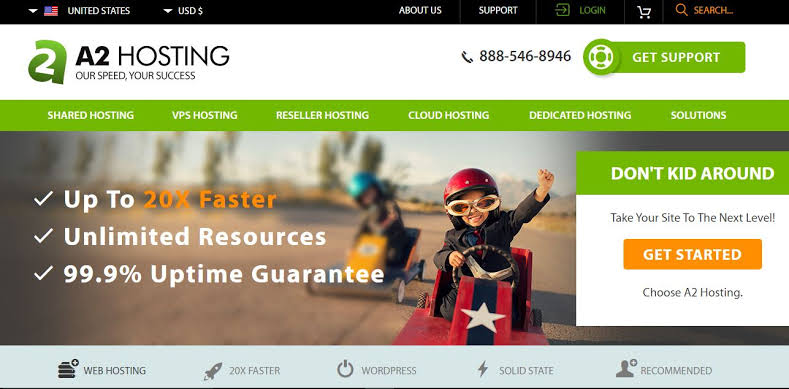 A2 Hosting may not command authority like the top shots on the market but when it comes to offerings and features, they rival most of these providers.
The web hosting provider offers high-quality services including 99.91% uptime, unlimited disk space, and bandwidth, 1-click install (for Joomla, Drupal, and WordPress), and 24/7 customer support, among others.
They also offer the benefit of having servers located in multiple places around the globe, including Singapore, the USA, and the Netherlands.
A2 Hosting is reasonably priced with its beginner shared plan available for £3.10/month. However, you might be disappointed with the fact that they do not offer a free SSL certificate or domain.
6. GreenGeeks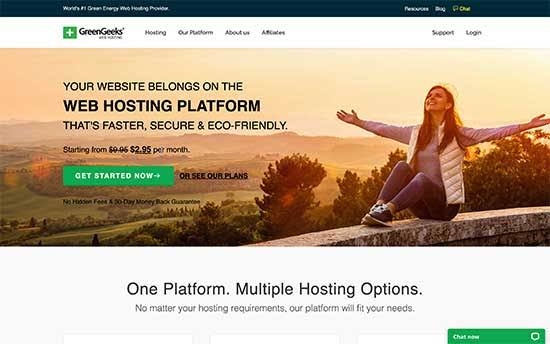 Claiming the sixth spot of our best UK web host is the "best carbon-positive web hosting provider", GreenGeeks. They claim to replenish at least twice the renewable energy they consume.
Surprisingly, GreenGeeks excels in a lot of areas including features, server locations, and pricing. Website load speed is of the essence and GreenGeeks offer just that with a speed of 300ms and an uptime guarantee of 99.90%.
When it comes to pricing, GreenGeeks offers extreme value for money. Their shared plan is priced at £3.00/month.
7. HostPapa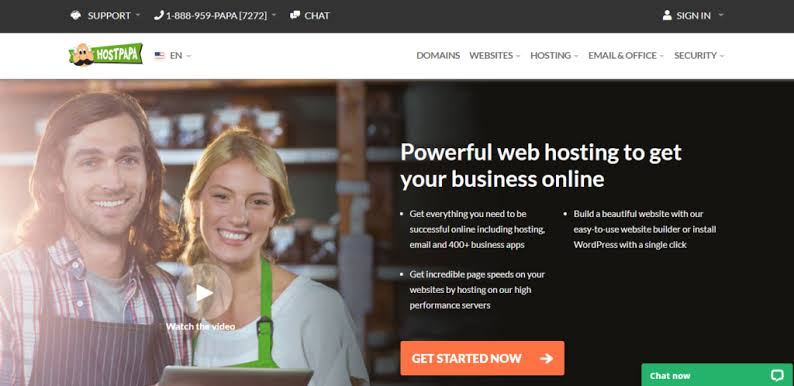 Another great choice, if you are looking to create a UK website, is HostPapa. Although the web hosting provider is headquartered in Canada, they offer their services to customers around the globe.
Hosting your site on HostPapa comes with lots of benefits including free site transfers, Linux servers, 99.96% uptime guarantee, free CDN, unmetered bandwidth, free SSL certificate, Free domain (.com and .co. UK), two websites, and more.
HostPapa's shining point is its multilingual support for other major languages like German, Spanish, and French.
The web hosting provider offers high-value services for a cheap price of £1.95/month in their lowest plan.
The only drawback with HostPapa is its "not fast enough" load time speed which falls below other big players on the market.
8. WebHostingUK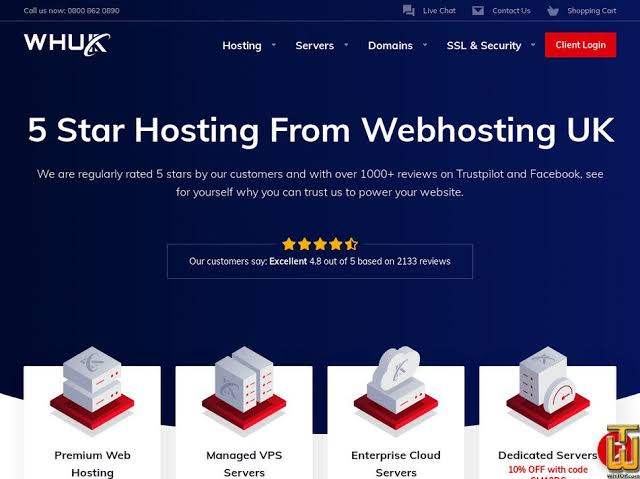 This UK-based web hosting company was created in 2001 and is undisputedly the best UK-based web hosting provider. Presently, they have a customer base of over 35,000 loyal customers and have proudly hosted over 2 million sites.
WebHostingUK offers its services through different servers located in Manchester, Wakefield, Nottingham, Reading, and Maidenhead.
The web hosting provider offers unmetered databases and bandwidth, an uptime guarantee of 99.9%, and free .me.uk, .co.uk, and org.uk domain names best options specifically for UK websites
The only drawbacks with this web hosting provider are their limited storage (a measly 5GB SSD storage) and a "not-so-easy" to navigate the site.
9. Fasthosts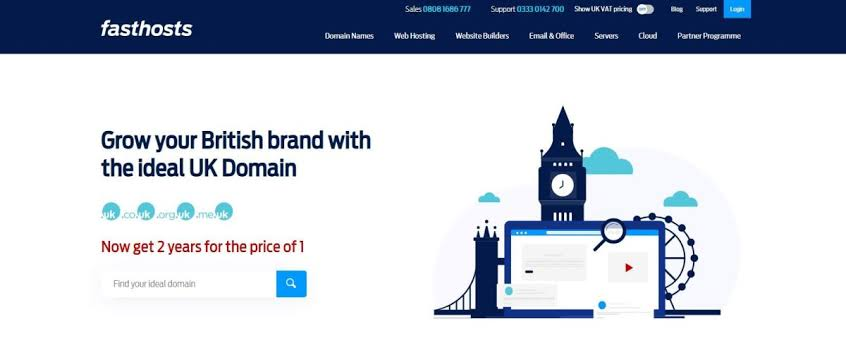 Finding a place in the lower half of our list is another outstanding UK-based web hosting provider, FastHosts. They have been in business for over 15 years and are currently home to over 1.5 million websites and serve more than 200,000 customers. This UK-based company also has offices in different locations including Wales and London.
In terms of quality web hosting service, FastHosts offers one of the best you can find. They offer a lot of features including unlimited bandwidth, 5 email boxes, Windows servers, PHP 7.3, free .co.uk, .uk, .london domains, and 10GB SSE storage for a low introductory price of £2.50/month. The price changes to £5.00/month after the first term.
10. Heart Internet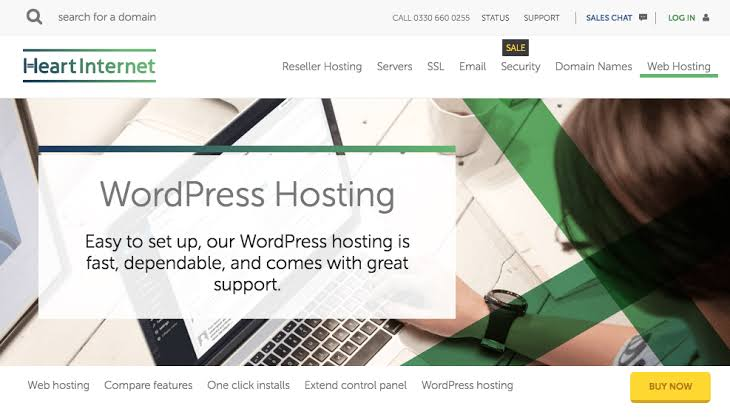 Heart Internet is a UK-based web hosting provider that seems to focus on being a cloud hosting service.
Their shared cloud hosting plan comes with 1,000 mailboxes, 50GB monthly bandwidth, 10GB storage, 1 website, and many more all for a small price of £3.99/month.
Some of the downsides of this web hosting provider are their ridiculous £10 setup fee and the absence of MySQL databases. Also, there are many plan restrictions on their pricing model that force you to upgrade to their higher plans, however, this web hosting is a decent choice for UK websites.
11. SeekaHost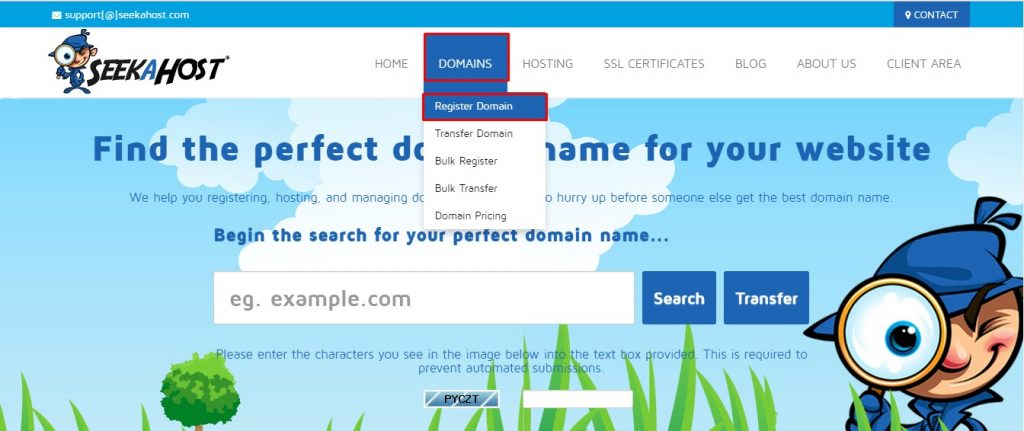 SeekaHost is another UK-based web hosting company that offers web hosting solutions to personal websites and businesses. They stated clearly on their website their mission to provide smart web hosting services at bottom prices.
Some of the features integrated into SeekaHost hosting services depending on the hosting plan you opt-in for includes pre-installed antivirus software, 100% uptime guarantee, SSL, free domain, unlimited email accounts, unlimited disk space, and unlimited data transfer, among others.
The cheapest plan of SeekaHost web hosting packages is priced at £0.53/month which is down-to-earth and cheap for the quality services they are offering. Also, on the off chance that you are not satisfied with their services, there are arrangements to ensure that you get 100% of your money back.
12. TSOHost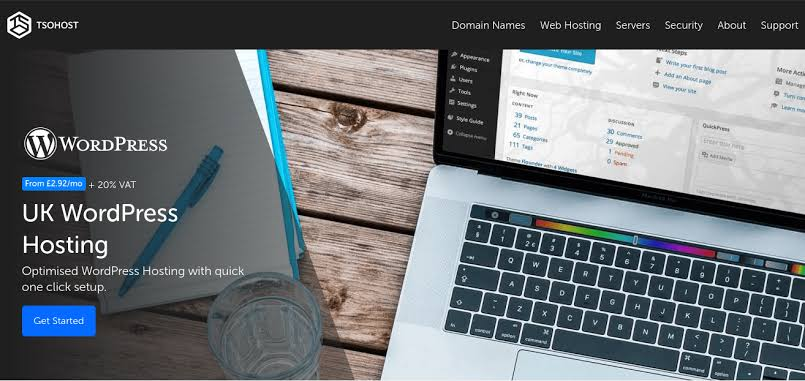 TSOHost is a UK-based web hosting provider that offers great hosting services at cheap prices. Although they are not as popular as big website hosts like Bluehost and HostGator, their performance and features offered are on par with most of them.
They currently have four data centers in Asia, North America, Strasbourg, and Amsterdam which you can choose from.
The web hosting provider only offers four web hosting plans including dedicated server hosting, Virtual Private Server hosting, managed WordPress hosting, and shared hosting.
TSOHost pricing is very transparent and straightforward. Their cheapest plan is priced at £3.99/month for their 12-month subscription plan. They also offer a 30-day money-back guarantee for unsatisfied customers.
TSOHost is suitable for business or blog owners of all sizes and types.
13. Easyspace
Easyspace is well-known for its domain registration and web hosting services. The web hosting provider offers five hosting plans including dedicated server hosting, VPS hosting, cloud hosting, email hosting, and shared hosting.
The web hosting provider has all of its six data centers in the UK; London, Leicester, Nottingham, Maidenhead, Manchester, and Glasgow, making it a good option for hosting websites for UK users.
With Easyspace, you get a guaranteed uptime of 100%, a response time of 639 ms, advanced security features, unlimited bandwidth, a free domain name, SSD storage, and more. Customer support is through 24/7 ticket and email support.
Easyspace pricing ranges between £3.18 to £37.16 depending on the hosting plan you want to subscribe to.
Conclusion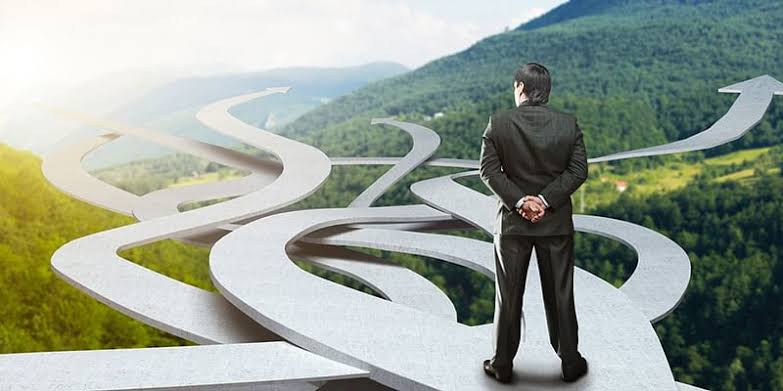 There are other options out there but we've listed out the best you can find at reasonable pricing. The main reason why it's recommended that you should choose a UK-based web hosting provider especially if you're creating a website in the UK is for faster connection speed.
I hope this article is helpful towards your choice of web hosting company in the UK and you can make an informed decision.