Last updated Mar. 11, 2023 by Peter Jakes
Finding great earning apps like Sweatcoin is a good option if you want a convenient way to earn extra rewards online for free.
You can earn money from mobile apps by answering surveys, completing micro-tasks, and testing new apps.
However, some unique mobile apps that provide various opportunities emerge from time to time. Read on in this article, "Sweatcoin Review: Is it a Scam or Legit?" to learn more.
Sweatcoin is one software that would merely pay you to walk or run. So is Sweatcoin legitimate and a safe means to earn money, or is it a scam to avoid?
I joined and thoroughly tested it myself, and this Sweatcoin review will give you an inside look and show you everything it has to offer so you know exactly what to expect before deciding whether or not to use it.
What is Sweatcoin?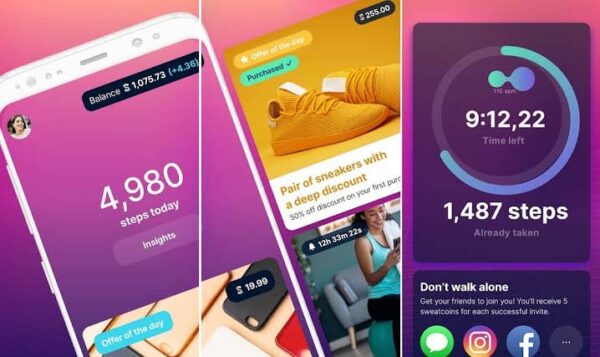 Sweatcoin is a free app that pays you to walk and gives you rewards when you do so. When you walk, you earn Sweatcoins that you can use to buy things, get rewards, cash, or give money to charity. So you're making money basically while you walk.
Sweatcoin was started in 2016 in the UK to get and keep people moving. It is the best health and fitness app in the UK and the US. Sweatcoin aims to give people a reason to get up and move when users download Sweatcoin, the number of things they do increases by an average of 20%.
A lot of people have wondered if Sweatcoin is a cryptocurrency. No, Sweatcoin is not a kind of digital currency. Right now, they are not on a blockchain. However, Sweatcoin's creators want to make it possible to trade Sweatcoins in the future, so never say never.
Related: Swagbucks Review: Is it Worth Your Time?
How Does Sweatcoin Work?
1. Download the App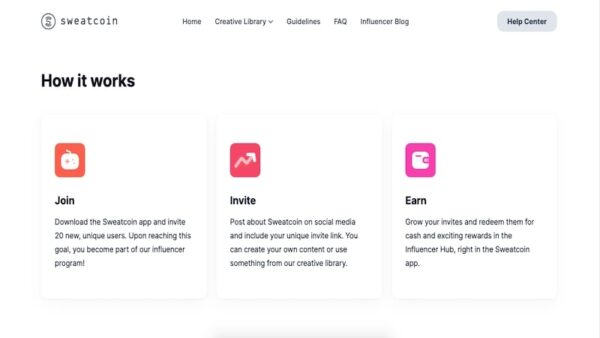 First, you have to download the app to your phone. You can, and it will only take a few minutes before you are ready to start making Sweatcoins.
2. Start walking
After setting up the app, you can go for a walk. You will need to let the app run in the background and let it track your steps. Sweatcoin will track how many steps you take every time you walk outside and reward you. Every 1,000 steps, you earn 95 Sweatcoins. 95 Sweatcoins isn't a considerable amount, but if you keep using the app, every step adds up, and in a few weeks, you'll get one of the offers!
3. Exchange Coins
When you have earned enough Sweatcoins, you can trade them for one of the many rewards in the daily offers.
4. Start Earning Rewards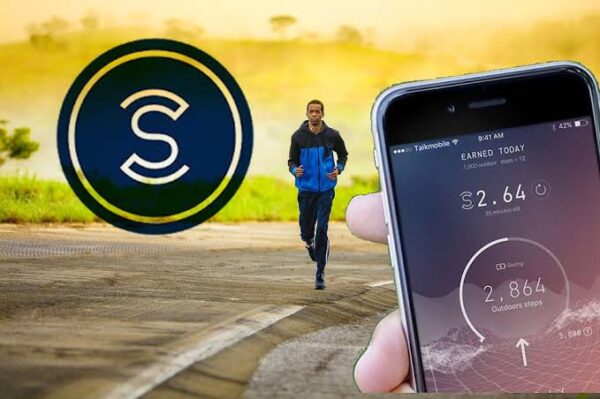 Rewards are probably the best part of the app since this is how you "exchange" the steps you walk for real money or other prizes. Unfortunately, there are different kinds of rewards, so you have to look for a while until you find the one you want.
When Sweatcoin first started, most of the products were related to fitness. Now, you can get discounts at restaurants, vouchers for vacations, and even amazing deals like an iPhone, an Apple Watch, or a Samsung TV for 20,000 Sweatcoins!
How Does Sweatcoin Make Money?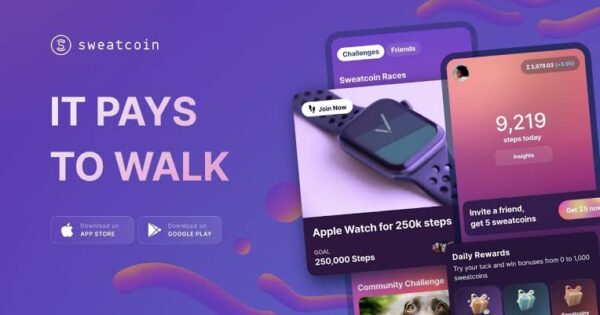 Now that we know how Sweatcoin works and that it is safe, we want to know how they make money.
They reward people who have downloaded the app and are walking around to earn Sweatcoins. How could that be? How can they keep doing that for a longer time?
Here is how Sweatcoin will make money in 2023:
● Through Ads
Sweatcoin uses ads to make money, just like many other platforms. If you go to the platform's "daily bonus" section, you can watch ads to earn rewards. Sweatcoin makes a small amount of money every time you watch an ad. Think about how much money you could make if millions of people watched your ads and you only got a small share.
● Partnerships
Some brands pay Sweatcoin to be on the site. It is because many people use Sweatcoin, and brands want to be a part of that. It is an excellent platform for health and fitness brands because it has a particular audience.
● Investors
Sweatcoin primarily relies on investors who contribute funds to the platform's growth. They are essentially stockholders that purchase a portion of the company hoping their money will grow in the long run.
See also, Survey Junkie Review: Is it a Scam or Legit?
Sweatcoin Review: Pros
Knowing that you can earn Sweatcoins for walking motivates you to walk more! It may appear stupid, but having this app remind you that they pay for walking helps you increase your fitness level! An app that rewarded employers who increased their physical activity found that more than half of the participants increased their fitness level!
When you utilize the app with friends and family, you may quickly and effectively save for the prizes.
Sweatcoins earned through the app never expire. Ever.
You can keep track of your steps both inside and outside. They no longer track your GPS location.
You may quickly earn some excellent incentives if you utilize the app and share the Sweatcoins you earn with family and friends!
The latest version of the Sweatcoin software now allows you to track indoor steps without using your GPS location. You only need to enable this option when downloading the app.
Sweatcoin Review: Cons
Your phone must constantly have the app open. It stops monitoring your steps if you swipe up or force quit. Fortunately, it offers a power saver option enabled by default when installing the app. Some say it drains the battery, but Dan and I use it all the time and haven't noticed any difference (on both iPhone and Android).
Sweatcoin may be forced to switch off its app by some phones to save battery life. Unfortunately, this means you must remember to open the app every time you go for a walk.
If you're having difficulties monitoring your steps with the app, customer service can be sluggish to respond.
How To Spend Your Sweatcoins?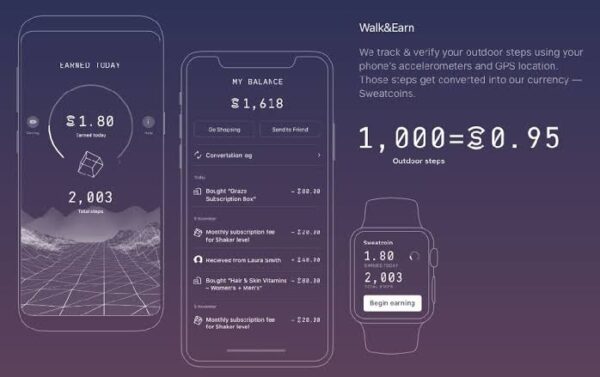 On the Sweatcoin Marketplace, there are several ways to spend your Sweatcoins:
Digital Offers
Digital offers are usually low-cost opportunities to try apps or other digital products.
Pay With Sweatcoins
You can buy things that say "Pay with Sweatcoins" with your Sweatcoins. Since the beginning of the year, when I started using Sweatcoin, there has been daily stuff that you can buy. You can do a lot of different things with Sweatcoin. There are many products and services to choose from.
Physical Products
Offers for physical products are ways to get a discount or a free physical product sent to your door.
Sweatcoin For Good
With Sweatcoin for good, you can do good things and give your Sweatcoins to charity. I've used this myself more than once. It makes you feel so good to give money to these good causes.
Don't miss SurveyClub Review: Is it Legit or a Scam?
Sweatcoin Review: Is Sweatcoin Worth Anything?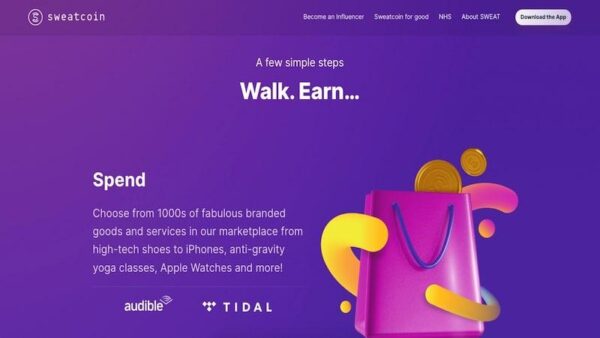 The Sweatcoin app is not a scam; the coins you earn are worth something. But one Sweatcoin isn't even close to worth as much as one US dollar. For example, one Sweatcoin is worth about $0.05, but this number could change. We can find out what you can do with your Sweatcoin by going to the app's marketplace.
The things or services you can buy with Sweatcoin will differ depending on where you live. However, it would be best if you had a lot of choices. For example, you can get beauty products, earphones, or snack subscription boxes.
Is Sweatcoin Legit?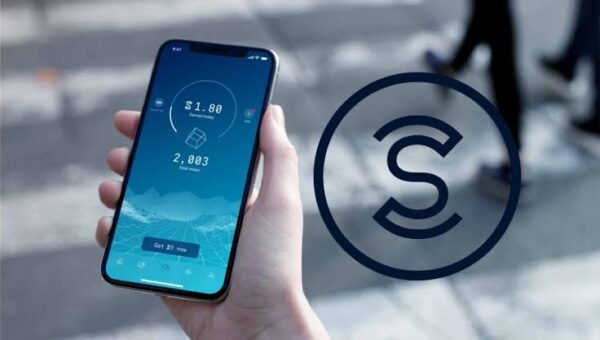 You can get discounts on online educational courses or gym memberships if you want to save money on services. Sweatcoin also gives you coupons for Amazon and PayPal, which you can use to get a discount on any product you want.
In addition, some deals give you significant discounts if you spend a certain amount of money on a site.
You can use Sweatcoin to bid on big items like smartwatches, gaming consoles, and gift cards worth hundreds of dollars in the app's auction.
Bidding works like a regular auction, where you bid your Sweatcoins until you win the item or get your Sweatcoins back if you lose. But keep in mind that bids on these big prizes are usually very high. So before you go in, you'll want to ensure you have a lot of Sweatcoin in your wallet.
The same is true when you use your Sweatcoins to buy things. As we already discussed, you must take 1,000 steps to earn one Sweatcoin. For example, a $20 Amazon gift card costs 8,000 Sweatcoins, so you'll have to walk a lot if you want to buy this item.
But some products are much cheaper than others, especially free beauty products and subscription discounts.
How Much Does Sweatcoin Cost?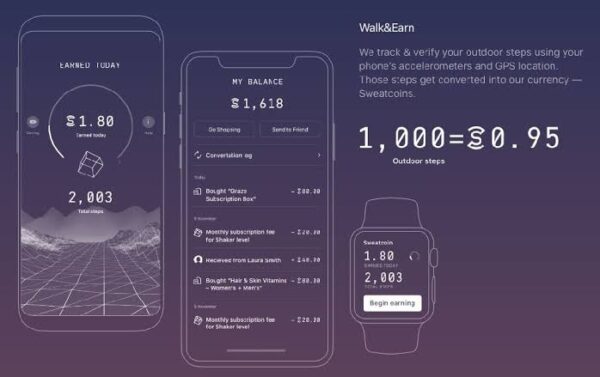 As we said above, it's free to get the app. Sweatcoin does have more than just the free level of membership, though. The "paid" levels don't cost actual money, though. Instead, you pay for them with Sweatcoins. Here are some details about each type of membership you can choose:
Mover
The Mover level doesn't cost anything. But you can only earn up to 150 Sweatcoins per month with it.
Shaker
The Shaker level costs 4.75 Sweatcoins per month, and when you use it, you can get up to 300 Sweatcoins per month.
Quaker
The Quaker level costs 20 Sweatcoins per month and lets you earn up to 450 Sweatcoins per month.
Breaker
You can earn up to 600 Sweatcoins per month at the Breaker level, which costs 30 Sweatcoins per month.
How Many Sweatcoins Is a Dollar?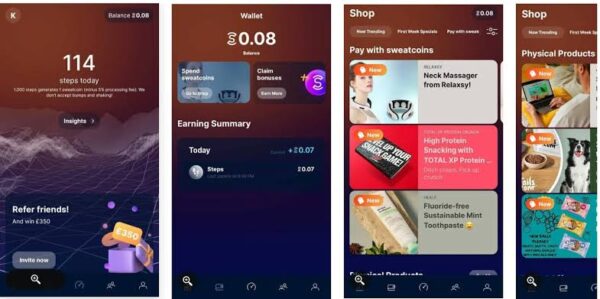 In addition to the 3,650 Sweatcoins for $50 choice, there is a 20,000 Sweatcoins for $1,000 option. 1 SWEAT equals 0.016717 USD
How Do I Withdraw Money From Sweatcoin?
Once you have a certain number of Sweatcoins, you can turn them into cash via PayPal or Amazon credit. Sweatcoins can also be given to charity or spent in the app's store.
Can You Get the real Money From Sweatcoin?
Sweatcoin is a fitness app that keeps track of how many steps you take and how much you work out. Even though there is no direct way to cash out on Sweatcoin, you can use rewards. But it's rare for rewards to give you real money through PayPal or Amazon.
Related: StockX Review: Is It Legit or a Scam?
Is Sweatcoin Safe?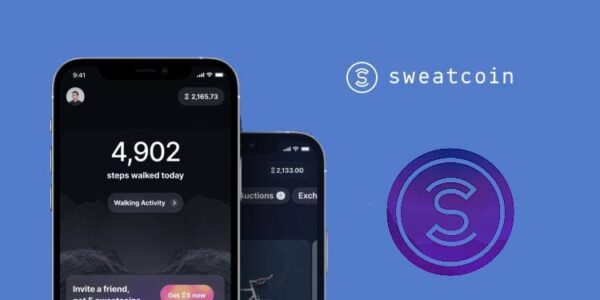 You want to know whether or not Sweatcoin is real. You probably also want to know if Sweatcoin is safe. It is very safe to use Sweatcoin. They no longer track steps with GPS. It means that they are counting steps inside, and the battery usage decreased significantly.
Sweatcoin Related Questions
Does Sweatcoin Sell Your Data?
Sweatcoin doesn't give your information to other people; they use it to track how many steps you take. Also, when you sign up for Sweatcoin, you don't have to give out any personal information.
How Much Does Sweatcoin Pay For 10000 Steps?
One Sweatcoin is equal to 1,000 verified steps, less a 5% cut the business takes. So, if you walk 10,000 steps daily, you will earn 9.5 Sweatcoins.
Sweatcoin works by using your phone's accelerometer and location services and the health apps you already have on it (both iOS and Android). The app turns your steps into "Sweatcoins," like money. One Sweatcoin (SWC) is worth about 1,000 steps, and you can take up to 10,000 steps daily.
Related: Philo Review: Is the Low-Cost Streaming App Worth it?
Are Sweatcoin Rewards Real?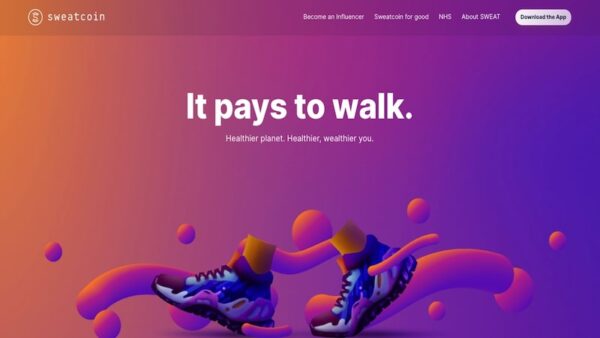 Sweatcoin is a digital currency that you earn by walking or running. Members of SweatCoin Rewards can talk to other members, get more followers, and trade Sweatcoins. You can get Sweatcoin by using an app on your phone. The app keeps track of how many steps you take outside during the day and gives you about 1 SWC (1 Sweatcoin) for every 1,000 steps. With the coins, you can get prizes from well-known brands.
Ways to Earn Rewards Within The SweatCoin App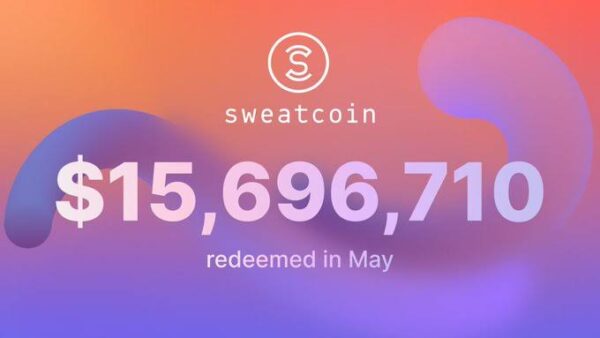 But now comes the following question: how do you earn rewards with Sweatcoin, and what are the ways to get benefits?
Invite friends
The best way to get rewards from the app is to invite your friends. It's easy, and you can earn good bonuses or a decent amount of money. You can even become an influencer for Sweatcoin. Fill out a form and invite at least 20 people to the platform.
Watch ads
One of the best ways to get a lot of rewards is to watch ads. Because the app makes money, they will give you some of it.
Walk 5,000 steps a day
Walking 5,000 steps daily is the most common way to use the app to earn rewards. However, you can get there slowly but surely by taking your daily steps.
Complete Daily Tasks
You can get some bonuses daily, but they are part of the ads. Each day, you can watch up to three videos.
Subscribe to the Premium Plan
You can take up to 10,000 steps if you pay for a premium. But that's not the only benefit. You can also get rewards that free members can't reach.
How To Earn Maximum Sweatcoins?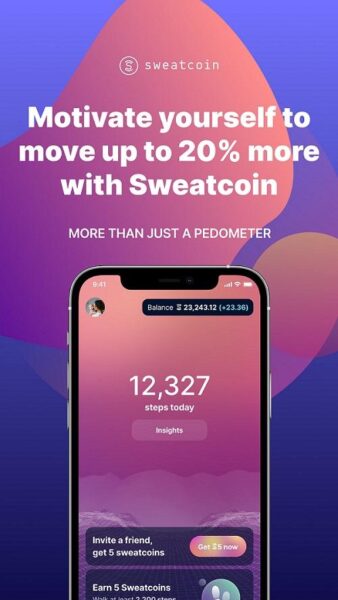 If you want to get the most out of your Sweatcoins, there are a few things you can do:
Make sure you move every day and get into good habits. Every step counts, so moving will earn you Sweatcoins and help you make the most money possible.
When you go for a walk, bring your phone. If you don't, your steps won't help you reach your daily goal.
You can upgrade your account when you meet the daily step goal every day. In the long run, you'll earn more Sweatcoin if you upgrade.
Open the app every day to get bonus points. For example, if you watch the ads, you can earn between 0 and 1000 SWC for each one you care about.
Refer your friends and family to get 5 SWC for each person you send their way.
Read also, StudySoup Review: Is This a Legit Way to Make Money in College?
Is Sweatcoin a Scam?
When a cryptocurrency project makes it onto our list, we first make sure it is real. Unfortunately, many people have been "bitten" by mega-promising scams. So, the first part of our review is to find out if we can trust this coin.
Sweatcoin is 100 percent real. Sweatcoin is not a scam but a real way to make extra money daily. Sweatcoin has been reviewed all over our site, and we use it, as do over 30 million other people worldwide.
Yes, it can take a while to get enough Sweatcoins to cash out, but since most of us walk every day, it's like free money.
The app gets 4.4 stars out of 5 in the Google Play Store and 4.7 stars out of 5 in the Apple App Store, which is a very high score.
We must warn you that Sweatcoin gets terrible reviews on forums, mostly from people with too high of hopes for the currency. You can make money and get paid to walk, but walking won't make you a millionaire.
Sweatcoin Alternatives
HealthyWage
HealthyWage is an online app that rewards people with prizes if they lose weight. The app lets people set goals and bet money on themselves to reach them. Then, if they reach their goals, they get back the money they put on the line.
Runtopia
Runtopia is the app for you if you want to make money online but don't think blockchain is a way to do so. Instead, Runtopia uses the blockchain to reward people for living a healthy lifestyle with cash.
Winwalk
Winwalk is a gamified walking app that rewards users for every mile walked. Even better, the more daily miles individuals walk, the more money they earn. It's a great alternative to Sweatcoin, giving a coin every 100 steps.
Earth Miles
Earth Miles is a business that compensates you for walking and physical activity rather than simply passing the time. It motivates you to get active by providing simple tracking tools and rewards you with points redeemable for savings at significant merchants. Unlike many other applications, you may cycle, walk, or even run for cash!
Bottom Line
Sweatcoin is safe and legitimate, but it is not for everyone. Sweatcoin is not a fraud, and you can earn things for free or at a discount by having your steps counted. However, the app still has limitations regarding what you can buy and where you can buy it, so if you're searching for real money, it will disappoint you.
Sweatcoin is a terrific alternative if you're an active walker or runner or want to motivate yourself to get moving. However, keep in mind its current flaws to avoid being disappointed.
Don't miss out on this Stash Review: Pros, Cons, Cost, and More
Frequently Asked Questions
Q: How Much Is One Sweatcoin?
Sweatcoin offers 0.95 SWC for every 1,000 validated steps. That is, 1,053 steps equal one Sweatcoin. 1 Sweatcoin will take you little more than 10 minutes to manufacture.
Q: How do I turn my Sweatcoins into cash?
So far, Sweatcoin can't pay out through PayPal or a bank transfer. But it works with PayPal, which means you might see offers for PayPal gift cards or other things like vouchers. Sweatcoin is thinking about adding a cash option, but it isn't there yet as of this writing.
Q: Can you get Amazon Vouchers with Sweatcoin?
If you want to get Amazon gift cards without spending any money, Sweatcoin might be a good option for you. For the most part, all you have to do to earn rewards is walk. More bonuses can be made the more you walk. But it would help if you didn't have too high of hopes beforehand. After all, Sweatcoin is meant to get people outside to do things.
Q: Which walking app pays the most?
Achievement: Earning points and getting paid in cash.
StepBet: Achieving your fitness goals by putting real money on the line.
Million Steps: Earning money while tracking your daily steps.
Rover: Making money while walking dogs.
Others are LifeCoin, PK Rewards, FitPotato, and EarthMiles.
Q: Can you cash out Sweatcoin to PayPal?
For starters, you can pay for things on the marketplace with your rewards. For example, if you want to turn your Sweatcoins into a PayPal balance, you can buy a PayPal gift card on the market or sell your Sweatcoins for PayPal money that they will send directly to your bank account.