Last updated Jan. 9, 2023 by Favour Chinaza
With over 1 million stores, Shopify is one of the largest e-commerce platforms that has exploded in popularity. Because more and more consumers are shifting to online shopping, store owners are opening themselves up to a massive revenue opportunity. In this article, I will teach you everything you need to know to start earning with Shopify.
Sellers who discover effective methods of making money online and marketing their service or product gradually build their reputation and increase their sales.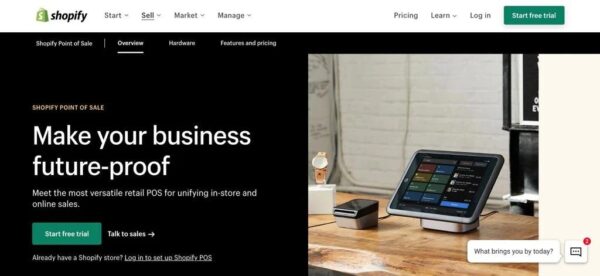 Shopify is one of the most straightforward and optimized platforms for sale. Thanks to it, sellers and online entrepreneurs can now make their products visible worldwide and make sales easy, comfortable, and affordable.
Shopify is very versatile and allows users multiple possibilities. For example, you can sell used goods over the internet, dropship natural skin care products, or even create an online vegetarian store with Shopify. And these are just some of the trendiest ways people use Shopify today, and there are tons of other ways to use the platform. Key areas we'll be looking at include what Shopify is (and is not), how the platform works, cost of use, and more.
What Is Shopify?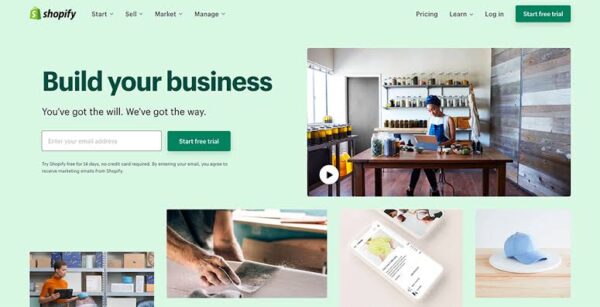 Shopify is a platform where you can generate income by working from home or anywhere in the world. This platform allows you to create an online store and sell to people from different places worldwide.
Shopify was created in 2004 by Tobias Lütke, Daniel Weinand, and Scott Lake. They needed to develop a website for their online snowboard equipment store, and after many tests with various web design programs, they didn't find any that could allow them to build it quickly.
Realizing that many other online entrepreneurs were facing the same problem and that there were tremendous market possibilities, the opportunity for Shopify's birth came.
Join 60,000+ others to make money online on Shopify!
How Does Shopify Work?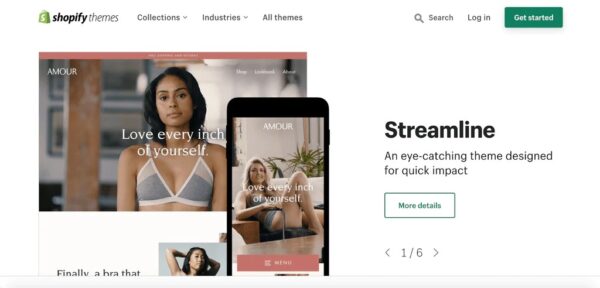 Shopify centralizes your product data, customers, and operational tasks in a single system seamlessly connected to all your sales channels. Once the fundamentals are in place, Shopify simplifies experimenting with new product lines and sales channels.
From initial setup to managing sales, here's a step-by-step look at how Shopify works.
1. Register for a 14-day free trial of Shopify.
For two weeks, you can try Shopify risk-free. Shopify does not even ask for your credit card information upfront.
2. Integrate Your Sales Channels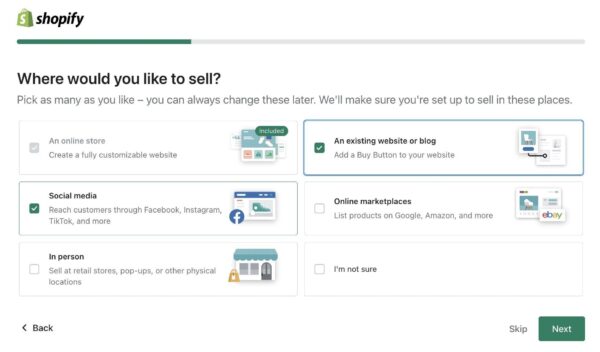 The account setup wizard connects your initial sales channels, which you can later change and expand.
You can also connect your social media accounts in the setup wizard if you want to sell through them. There are many social media management tools to help you navigate setting up your social media accounts.
3. Enter Product Information or Look for Items to Sell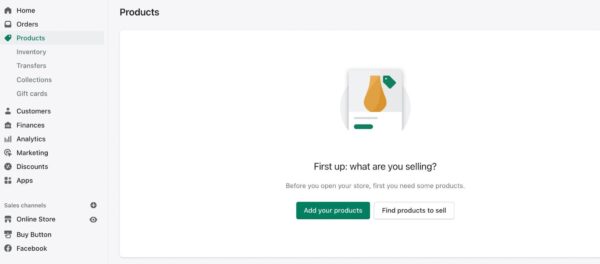 Enter product details, pricing, and images for items you make, source yourself or use Shopify's Handshake wholesale network and dropship vendors to find things to sell.
Many sellers combine items they make or source themselves with related dropship products to provide a well-rounded collection. Find out how to start a dropshipping business.
4. Set Up Your Payments
You can activate Shopify Payments and start accepting payments immediately or connect your payment processor to your dashboard with a single click. Shopify collaborates with over 100 payment processors. Check out the best credit card processing companies to help you decide.
5. Set up Shipping and Taxes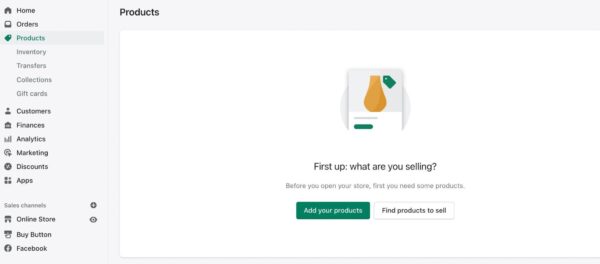 Under the Settings tab, configure your shipping methods, fees, and applicable sales tax information.
You can begin selling right away while building your Shopify online store. With Steps 1 through 5, you're ready to sell on various social media and marketplace channels and in person with the POS card reader.
6. Establish Your Shopify Online Store
Setting up your Shopify online store is the next step if you want to sell through your branded website. Again, Shopify makes this simple with various plug-and-play themes that require only a little setup and content to make them your own.
Shopify provides nine free e-commerce theme templates, each of which comes in two or three different versions, giving you a good percentage of template alternatives from which to choose. However, the number of packaged templates available is limited compared to other e-commerce website builders such as 3Dcart, Wix, Magento, or Squarespace.
The packaged themes are visually appealing and 100% responsive, and you can automatically adjust their layout to fit the size of your device. If you don't like the free templates, you can use a paid or Shopify premium version theme.
These themes range from $100 to $180 and are functional, like the free themes.
7. Order Processing, Shipping, and Tracking
You'll manage orders from your Shopify dashboard as they come in. The built-in tools in Shopify make it simple to create efficient workflows for managing orders you ship yourself, drop ship products, and even virtual items such as e-books and music downloads. Shopify also automatically emails order status and shipment tracking information to your customers.
Once you've completed your setup and workflow, you're ready to dive into Shopify sales boosting features like email marketing, abandoned cart remarketing, and blogging.
Shopify isn't just made to let people buy things online. Also, Shopify has a point-of-sale, or POS, a system that enables you to manage your digital and in-person payments in one place. With the Shopify system, you can also keep track of your inventory for both online and in-person stores. And, maybe even more importantly, you can take orders online and fill them in stores if needed.
Shopify Pricing and Plans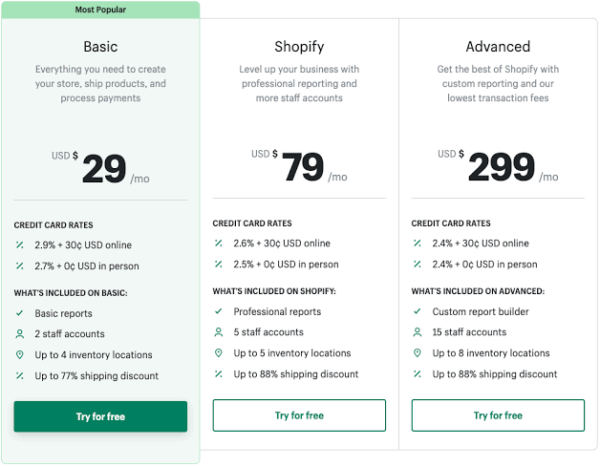 Shopify's pricing is based on your subscription plan and includes monthly fees and extra fees for payment processing, shipping labels, and advanced POS needs.
Costs of a Shopify Subscription
Each of Shopify's five online store plans has unlimited products, orders, and customers, data security, Payment Card Industry (PCI) compliance, 24/7 support, and complete sales and business management tools.
Shopify also gives discounts if you pay ahead of time. For example, if you pay annually, you can save 10%, and if you pay every two years, you can save 20%.
Disadvantages of Shopify
Shopify Plans
Basic, Shopify, and Advanced Plans ($29, $79, and $299 per month):
Each of Shopify's online store plans offers omnichannel sell-anywhere features and a full suite of order, customer, and business management essentials. As you move up the plan levels, you pay less to process payments, save more on shipping, and get access to more advanced marketing, management, and reporting tools.
Shopify Lite costs $9 per month: This plan has fewer features than other Shopify plans. For example, you can use it for in-person POS sales and an online Buy Button tool for websites, blogs, and emails that don't use Shopify. However, Lite doesn't have an online store, social media channels, or a seller marketplace like the other plans do.
Shopify Plus (starting at $2,000 per month)
It has enterprise-level features for high-volume, multi-location, and multimillion-dollar sellers. At this level, a plan's price, terms, and features are negotiated based on the number of sales and the needs of the business.
Shopify Payment Processing and Transaction Fees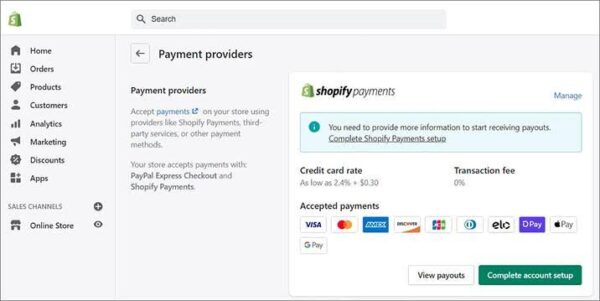 You can connect your payment processor to Shopify, or you can use the one that comes with Shopify. Shopify adds a transaction fee of 0.5% to 2% of the total charge to every online sale. If you use Shopify Payments processor, you don't have to pay this fee.
Shopify Payments offers flat-rate payment processing with prices based on your subscription plan, as shown in the table above. Shopify Payments also works with Shopify's mobile POS app, retail store POS system and other mobile payment apps for small businesses for in-person sales.
Shopify Shipping Costs
You can use Shopify's built-in shipping label printing on any plan if you ship orders. You'll get competitively discounted rates from USPS, UPS, DHL, and other carriers. As you move up to higher-tier plans, your discounts will improve.
The shipping fees are added when you process an order and print a shipping label. These fees are charged to your credit card when charges reach a certain threshold based on your average shipping volume. On the other hand, shipping charges are added to your monthly Shopify bill if you only ship a few orders per month.
Pros of Using Shopify
Overall ease of use: Rank beginners can set up a beautiful Shopify store, multiple sales channels, and order processing workflows in the morning and start selling by the afternoon.
Competitive monthly fees: Entry-level plans have low monthly fees, and higher plans have competitive rates.
Shopify's fully managed platform takes care of your technical details, so your technology is safe.
Seamless mobile and retail sales in person: Fully integrated POS features for mobile and retail stores let you sell anywhere in person.
Built-in product sourcing: Shopify's dropship and wholesale networks make it easy to stock your store with little or no money upfront.
Built-in email marketing: Shopify just like many other market automation tools gives you notifications for abandoned carts. It also manages your automated email marketing to help you increase sales with just one click.
Shopify is home to some of the biggest online brands and is ready to handle sudden and long-term growth.
Shopify has Tons of apps:
There's an app for almost everything in the Shopify App Store. Some apps help you a countdown, remove the background from an image, find products, and more. Some apps cost money, but you can get many for free.
You don't have to add an app to your website. But if you want to sell more things in your store, you might want to check out the DSers app (the Basic plan is free and includes up to 3,000 products in your store).
Shopify is Easy to get started:
It's not easy to start an online business. But it is much simpler now than it was 20 years ago.
Did you know that when Amazon started, people had to mail checks to the company? Those days are over; that's true. And the truth is that it will get even easier over time to start an online business.
Shopify is leading an effort to make it easier for business owners to open online stores. If you compare Shopify to other options, you'll see why so many people join the platform yearly.
In the back end of your Shopify store, you'll find a lot of reports and features that tell you how your online store is doing.
You can find out which of your product pages do the best. You can see at a glance how many orders there are. You can even look at your website visitors in real-time to see where they are in the sales funnel.
Cons of Using Shopify
Cost: If you're on a tight budget, you can find Shopify alternatives that are free or very cheap.
Transaction fees: If you don't use Shopify Payments, every sale made with a credit or debit card will cost you a fee.
Simple themes: Shopify themes tend to be pretty simple, and adding more advanced features and functions requires coding skills.
Fewer options for search engine optimization (SEO): Compared to platforms like WordPress, Shopify's online stores have simple SEO tools.
Simple blog tools: Shopify doesn't have as many blog features as WordPress, Squarespace, or Wix.
Shopify alone won't guarantee your success.
Shopify has a lot of great tools and apps that make it easier to run an online store than to make something from scratch.
The catch is that you have to run a successful store. You have to be in the right frame of mind to learn. You have to know how to market your business better than your competitors.
The results don't show up right away:
When you build a Shopify store, you're building a business, not a way to make money without doing anything.
And starting a business isn't always a simple task. It takes months of experimenting to figure out how to use Shopify and build a store that makes money. It might take you a while to figure out where each part of your store is in the Shopify dashboard.
But Shopify is easy to use most of the time. You need to do it a few times.
Compare Shopify Pricing Plans Here!
What is The Shopify POS System
Shopify POS, or Point of Sale, is an app that lets you sell things in person. For example, Shopify POS enables you to sell items in person at a store, a trade show, a pop-up shop, or another event.
The Shopify POS integrates both in-store and online sales. In addition, Shopify's hardware works in tandem with the software to enable sellers to accept payments at meager credit card rates.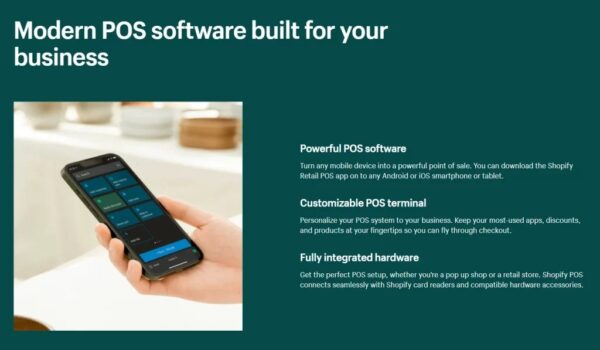 If you already have a physical store, you can boost your sales by bringing it online with the Shopify Point of Sale (POS). This easy-to-use POS software with superior features enables store owners to sell from anywhere, both online and in person.
It enables you to sync your offline and online stores. As a result, it simplifies tracking orders, customers, and inventory across multiple sales channels is simplified.
Easy store management: You can add as many products as you want, and they will automatically be grouped. You can also make different versions of each product based on size, material, or color. As was already said, keeping track of your inventory and managing each staff member's sales is also easy.
Direct Reports and Analytics: With the Shopify POS system, you'll get a complete picture of your business, including retail sales, cash flow, finances, and discounts.
Functional customer management: The Shopify POS system lets you make a profile for each customer and customize it to fit your needs. With a complete record of what each customer has bought, it's easy to put them into groups, which is very helpful for holiday sales campaigns.
Checkout is easy with the Shopify POS system: Shopify POS comes with a "smart grid" system that can be changed and speeds up the checkout process. It also makes it easy to find any product in the store and add discount codes when you check out.
Why Create your Blog and Sales Channel on Shopify?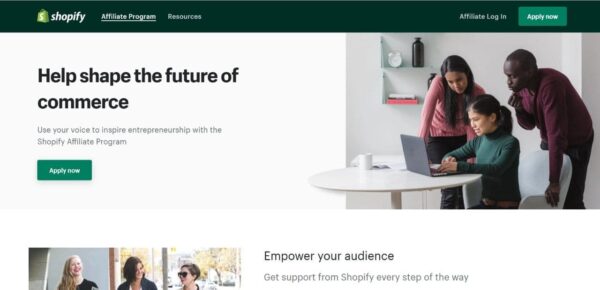 It would help if you had a blog for any e-commerce site. So, if you thought you could bypass this step, you were mistaken. A blog will boost your brand's credibility, help you attract organic traffic, and sell more.
Creating a blog will also allow you to establish a community where customers can voice their opinions, share their experiences, and much more. The important thing here is to include original content relevant to the product you are selling and keywords that can help you position your e-commerce on the first page of major search engines.
You could also try writing articles with compelling stories to entice your readers. Making them identify with the brand is a great way to turn them into customers.
You can add yours to the "Blogs" section of the "Online Store" tab, choose a good title, and write your content.
Examples of Shopify Sales Channels
The interface allows you to create and operate various sales channels like:
Shopify online shop: this is your primary website and can be hosted on your domain.
Facebook: a tab on your Facebook page from which visitors can search and purchase your products.
Messenger: In Facebook Messenger conversations with customers, you can directly sell to them and make provisions for order and shipping notifications. You can also respond to customer inquiries and questions on Facebook messenger.
Buy Button: Using 'buy buttons,' you can integrate e-commerce features on any blog or website.
Amazon: Amazon helps manage your Amazon listings and Shopify items in one place.
Instagram: This enables you to create posts that viewers can click on or buy from.
Tools That Boost Your Shopify eCommerce Performance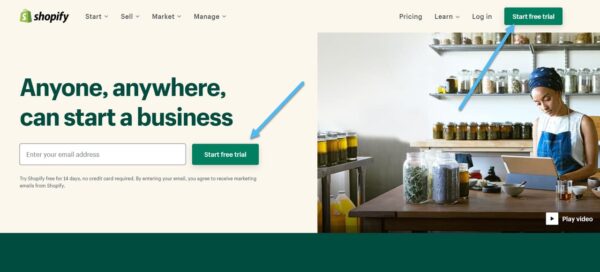 With these tools, you can give your eCommerce as many features as possible.
Yotpo: Reviews are a vital part of making sales go up. With Yotpo, you can manage your customers' comments about your products and share them on your social networks. The app will increase your credibility and show potential customers that they can trust you.
Oberlo: It is a good choice if you have a Shopify store but don't know what to sell. You can add products to your online store and start selling them immediately. Oberlo also takes care of billing and shipping.
Kit: Having e-commerce is useless if you don't get people to visit your site. And if you want traffic, you must develop a digital marketing plan that fits your goals. With Kit, you can manage your ads and email marketing campaigns to attract more potential customers while you sleep.
SEO Site Audit, Benchmark Hero: Getting your eCommerce site to the top of Google should be one of your main goals. This tool makes your store more visible by analyzing what's working and not. Then, you can make the right changes and increase conversions.
Klaviyo: To segment your email lists, you need to send specific email marketing campaigns based on what your customers do in your eCommerce. With Klaviyo, you can plan and set up your campaigns and then tweak your strategies based on how your clients respond.
How to Make Money With Shopify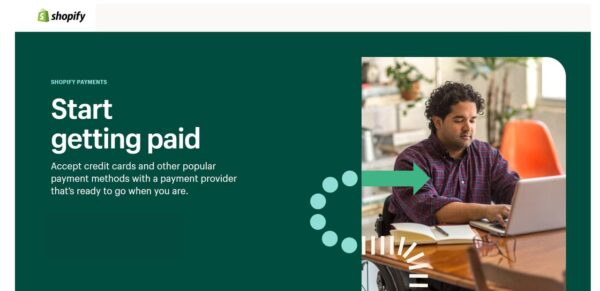 With Shopify, there are many ways to make money. For example, you can sell clothes, consulting services, art, etc. But before you set up your Shopify store, you should first know that there are different ways to make money with the platform. So here's what you need to know about Shopify.
1. Set up a Shopify Online Store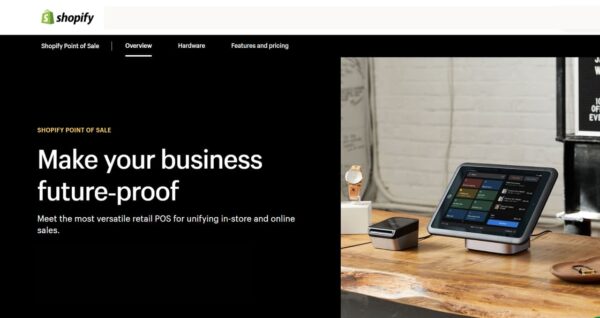 One of the best things about Shopify is that it makes it easy for users to set up an online store. You can sell just about anything, whether it's something you've made or something you're reselling. Shopify is a platform that makes it easy to add items, organize them, and make it easy for your customers to check out.
With Shopify Starter, it's easy to add links to different platforms where people can buy something. So even if online sales aren't the main reason you have a website, adding a small Shopify store to your existing website or social media account is accessible.
2. Start a dropshipping business.
Dropshipping has recently become a popular way to sell things online. With drop shipping, business owners don't have to buy and store their inventory. Instead, they can hire someone else to fulfill and ship orders made through their website. Dropshipping makes selling goods easier because you don't have to worry about finding warehouse space or losing money on inventory that doesn't sell.
Shopify also makes it easy to start a dropshipping business. Through your Shopify account, you can set up your product catalog, add prices, and send orders to your dropshipping partner without holding onto a single product.
3. Monetize your social media
Another great way to make money on Shopify is to turn a loyal social media following into a revenue stream. Monetizing your social media is similar to the affiliate program. The basic Shopify plan emphasizes social selling, which lets you put links to products you want to sell on Instagram and Facebook posts.
If you or your business have made the most of social media marketing and want to turn these social channels into revenue streams, selling on Instagram with Shopify could be a great way to make some extra cash.
4. Join as an Affiliate
Of the time, you don't even have to sell anything to make money on Shopify. Through the Shopify affiliate marketing program, you can make money every time a customer you send to the Shopify platform through your account can make a purchase.
The more sellers you can get to use Shopify's platform, the more money you will make. Remember that a solid online following is likely essential for your success here. If you or your business already have a large group of passionate fans, you're more likely to make money from conversions than if you're starting.
5. Develop a niche product for a small market and market it
Most people ask, "Can you make money on Shopify?" as a separate question, but let me tell you, it's not just about the platform you use to sell your products.
It has benefits, but you still need to know your niche and how to market your product.
You can make a unique niche product for a specific group of people. A niche product will help you figure out who your customers are and how to talk to them. Marketing is easier to make for a small, specific group than a large, diverse group.
6. Provide Freelancing Service.
Getting paid for something you're good at may already be something you do. On the other hand, building a Shopify site can help your freelance business grow and look more professional.
Whether you're a freelance writer, designer, illustrator, etc., you can use Shopify to list your services as products and turn off shipping since it's not physical.
7. Become a Shopify expert
If you've already succeeded with Shopify, you can become a Shopify partner and make money by helping other merchants build and grow their online businesses. This could mean helping with design, development, marketing, SEO, photography, image optimization, and more!
Shopify says that one in three merchants reaches out to a Shopify Partner every six months. So this could be a great side job (or even a full-time job!) for you to try! As a Shopify Partner, you'll also have access to deals on extra tools that other Shopify merchants don't have.
8. Build and flip Shopify stores
Building a Shopify store and then selling it for a profit is another way to make money with Shopify. You decide how much effort to put in, but the more effort you put in, the more you're likely to get out. Before selling the store, you could develop a business idea, a domain name, and a template, or you could take it a step or two further by creating a social media presence and spending money on marketing to make the store more appealing and profitable.
How much you can get for your Shopify store depends on things like:
what stage your business is in and
how much it is worth on the market.
Some Shopify businesses for beginners sell for as little as $50, while established six-figure stores can sell for more than $1 million!
9. Turn your Shopify experience into products
Make the most of your Shopify knowledge by monetizing what you've learned using the platform. For example, you could start a blog specializing in Shopify entrepreneur success tips or create training courses, digital marketing materials, or YouTube tutorials – be as creative as you want and spend time marketing these 'products,' and you'll soon reap the benefits.
10. Start a Shopify Thrift Store
Thrifting has emerged as a new phenomenon in the eCommerce industry, with the emergence of 'green living,' which refers to an ideal way of life aimed at sustainability.
According to Shopify, a thrift store owner can earn up to $6,000 monthly selling old-but-gold items, so why not you? It is one of the fastest ways to make money with Shopify because you can start with what you have or that of friends and neighbors. So it could be your correct answer to how to make money on Shopify!
Thrift stores are known as retailers selling used clothing or reselling items for a profit at low prices. These items are still usable, undamaged, and bear the marks of their ages. There are numerous reasons why more people, particularly teenagers, are thrifting these days. It aids in the reduction of textile waste, the creation of a one-of-a-kind wardrobe, and the acquisition of high-quality goods at low prices.
If you're thinking about opening a thrift store on Shopify, consider the following:
Collect high-quality items: Clients come to you and spend their hard-earned money on old-but-gold items, so prioritize the quality of your items.
Provide reasonable prices: To maintain your brand's image, keep your costs neither too high nor too low. Furthermore, carefully categorize your inventory for upcoming holiday sales, such as the BFCM.
Concentrate on the presentation: You can tell a story from the items and imagine your clients in it with an eye-catching theme and excellent presentation. Do not simply post pictures of your clothes. Instead, style an entire outfit with appropriate accessories to demonstrate how certain items work together.
Draw attention to one-of-a-kind items: Many customers come to your online store looking for vintage items. Make the most of this opportunity by setting aside a portion for vintage items. The more appealing these items are, the more likely they will become loyal customers.
Fastest Ways to Boost Sales on Shopify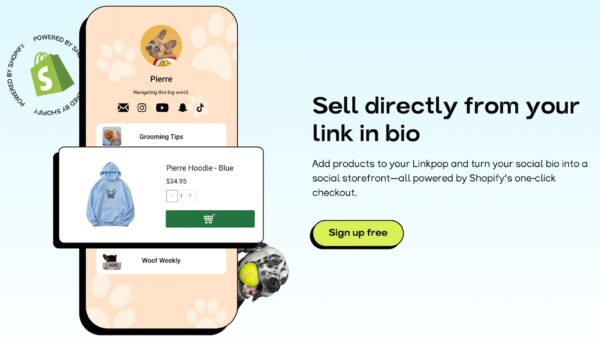 #1 Do Market Research
Keep in mind that there will be much competition because both Shopify and the eCommerce industry are snowballing. Many people are finding the answers to how to make money on Shopify.
So, it's essential to do market research to find out what your customers think. What do people buy from online shops like yours? Do their needs get met by your product? Before making plans, ensure you know the answers to these questions well.
It's also important to price your product competitively. Look into your competitors' pricing strategies, compare them to yours, and decide if you should charge more or less. Then, find a way to be competitive and make money simultaneously, if you can.
#2 Build Trust
Customers are more likely to buy from you if they trust you, so prioritize collecting reviews from satisfied customers and adding them to your Shopify store as you go along to reassure and entice new customers. Take care to provide excellent customer service, from promptly responding to customer inquiries to ensuring that items are shipped on time.
#3 Be Proactive and Open-minded.
Even though you did a lot of research on the market and think you know what your customers want, their actions might be different or change over time. So keep up with what's happening in the market and be willing to change your store, prices, or marketing plan. You can use your store's analytics or talk to your customers to find out what to change and why.
#4 Ensure Faster Shipping Time
The most common mistake made by dropshippers is that the product takes 15-60 days to arrive from the country of origin to the country of destination. You risk irritating customers and receiving negative feedback if it takes too long. You must be transparent about your shipping times so that your customers are aware and do not have unrealistic expectations.
#5 Display Your Products/Services Clearly
Customers want to know everything about your products before they spend their hard-earned money on them. So, for instance, you could talk about the benefits your customers might get and whether or not your products can solve their problems.
Your products and services should be easy to understand to get people to buy from your store. Use clear, stylish photos and information about your products to get your customers' attention. Tell them if there are any other measurements, different colors or sizes, or unique features.
#6 Make your Store mobile
Most internet users spend more time on their phones than on computers. As a result, you must ensure that the theme you use for your Shopify store is mobile-friendly. It will also be necessary to develop a mobile and iOS app. If you cannot do so, ensure that your online store is user-friendly so that pages load quickly. In general, mobile traffic outnumbers desktop traffic.
Making your store mobile-friendly can increase sales through mobile devices and decrease visitor abandonment. More mobile-specific Google searches will boost your website's ranking; additionally, customers can easily add products to their cart on mobile and report a better user experience on mobile.
#7 Offer Great Customer Service
Getting new customers is good, but keeping the ones you already have is even better. The Pareto Principle also called "The 80/20 Rule," says that 80% of your income comes from 20% of your most loyal customers. Because of this, it's important to give excellent customer service from the start.
Make it easy for customers to get in touch with you right from the beginning of the buying process, and be quick to answer any questions. If you can, add a live chat tool to your site to talk to customers immediately. Or, put your contact information clearly on your website and give them a list of frequently asked questions (FAQs).
#8 Sell More Products
Consider selling more products if you want to make more money with Shopify. Amazon used this strategy to outperform physical bookstores when it first started.
You can find more products to sell by researching how to group your products and what complementary or similar products you can launch to satisfy your target audience. People are seeing more valuable and appealing products to buy as they browse your website.
Popular products that sellers are selling well can be found. Look through Amazon's customer reviews to find obscure products that people adore. Thoroughly research your options and ensure that you are versatile in your product offerings. Always ensure that whatever you're offering is highly relevant to your brand, but don't limit yourself.
#9 Promote Your Store
You should develop good marketing plans to make your store stand out from the rest and reach more potential customers. We cover everything from content and email marketing to social media channels, Search Engine Optimization (SEO), and Pay-per-click (PPC). You need to know their pros and cons to find the best way to market your online store.
How to Grow Your Shopify Store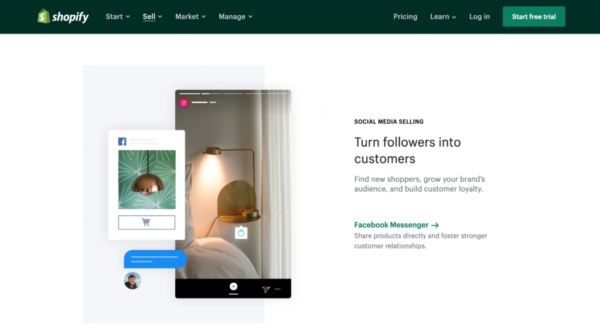 ● Create ads
You can run ads on Facebook, Google, and almost every social network. You should choose the platform where most of your audience spends time.
It's also essential to choose a platform that gives you many targeting options to precisely find your ideal customer. Of course, Facebook and Google are the most popular places to put ads right now. But you should choose the one that works best for your niche.
● Utilize SEO
SEO is one of the best ways to get relevant traffic to your website. Unfortunately, almost all new store owners don't use search engine optimization (SEO) as a way to grow.
When new business owners often want to make money quickly, they focus on ads. But after spending money on ads for a while, they realize that the cost of getting a new customer is too high.
You can get people to visit your eCommerce site with SEO and content marketing without paying for ads. With the right plan, you can also lower your acquisition costs and increase the number of people who buy from you.
● Test Your Mobile Settings
Let's face it: when it comes to online sales, mobile devices are the new frontier. Tablets and smartphones are now the most popular ways to look at the internet and buy things online. So make sure your online store works well on mobile devices if you want to do well in the online marketplace.
● Add Positive Reviews to Your Site
When a customer isn't sure whether or not to buy your product, social proof can help them decide. Good reviews and star ratings make it easier for shoppers to make decisions quickly and confidently. Your sales increase if people say good things about your products and services in reviews.
Encourage your customers to write reviews of your products and services to get that third-party validation. Good reviews can boost sales because people read customer reviews, and even if people wrote them, they don't know.
● Create a Rewards and Loyalty Program
A rewards and loyalty program is an excellent strategy for increasing customer retention, which is critical to the long-term health of any online business.
Existing customers can recommend your store to others, allowing you to increase sales at a low cost. In addition, you can use referrals, pop-ups, personalized perks, exclusive marketing campaigns and discounts, and loyalty points to engage and interact with your existing customer base.
Referral Candy, Smile Rewards, Bold Loyalty, and Swell are some great Shopify apps that make running a loyalty program a breeze.
● Put Shipping Tracking on Auto
By letting people track their packages, you give them real-time updates on where their packages are and peace of mind that their packages are on their way. When you buy a shipment tracking system, one of the best things about it is that you can significantly cut logistics costs. Shipment tracking can help you save money because it gives you and your customers more information about where a package is.
● Add Blog Posts
You can add blogs to your online store to tell customers about new products and services and to keep them up to date. Your blog posts can also bring people to your site by improving the SEO of your store. They can also turn visitors into customers and get people more involved with your business. Content marketing can get people to your store without paying for ads, which could hurt your bottom line.
How Can I Can Save Money on Shopify
If you want to use Shopify, there are a few things you can do to get the product at the best price when you sign up for the free trial.
When your trial period is up, pay for your plan on a yearly or bi-annual basis to receive a cost reduction of 10% or 20% fee reduction.
If you can, use Shopify Payments as your primary payment processor. Shopify permanently removes transaction fees via this payment mode
What Products Can I Sell on Shopify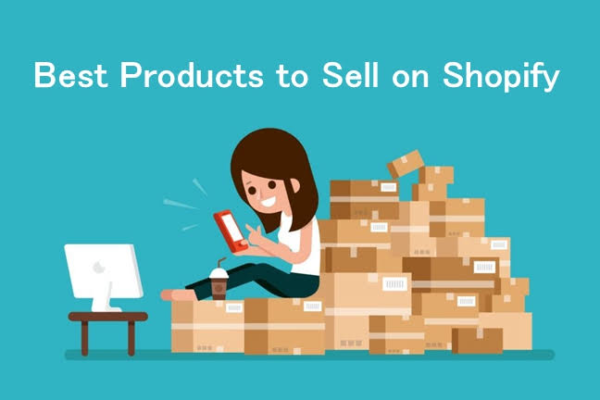 One of the great features of this platform is the ability to sell physical products of all kinds. It makes no difference whether you are a craftsman or a retailer as long as you can offer a high-quality product that people value.
However, you can also provide other services such as online courses through teaching software, digital products, real estate rentals, or digital downloads—the possibilities are limitless.
On the platform, you can mix and run multiple products or services. For example, if you offer an online English course and are a company, you can sell T-shirts or caps related to your teaching academy.
You can also make special offers or provide discounts on your courses. Membership sites and inquiry services are two other types of services you can provide. The latter is an excellent option if you specialize in a particular field. You can provide consultations online.
Another way to sell on Shopify is through charities, which sell various products in exchange for donations to a specific cause. You can also sell event tickets as an additional product. Of course, you are not required to print or send them in person. Instead, you can safely send a receipt to the person who paid for your ticket email address. As you can see, the possibilities for selling any of your products on Shopify are limitless.
Things You Can't Sell on Shopify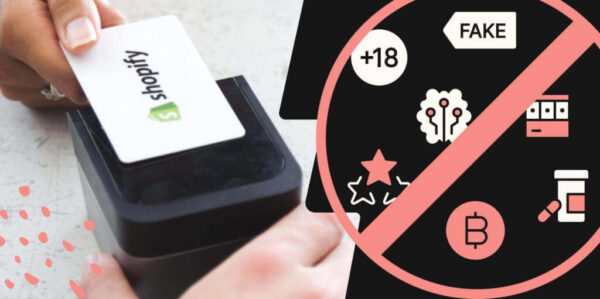 Shopify does not support the following types of businesses:
Investment, credit, money, or legal services.
Virtual currency services.
Adult content.
Gambling.
Drug paraphernalia.
Psychic services
Travel services.
Extended warranties.
Multilevel marketing.
Products that make unverified health claims
Cannabis, tobacco, e-cigarettes, and online pharmacies.
Fireworks.
How to Choose the Best Products to Sell on Shopify?
Competition, market saturation, and buyer immediacy can influence your product selection. Before adding products to your store, if you don't have products or a clear idea of what you want to sell, review what you should and shouldn't sell on this sales platform.
What Should You Avoid When Trying to Sell a Product on Shopify?
1. Identical product to your competition, but at a lower price
Price competition is a factor that should be considered, but it should not be the only factor you consider when setting your prices. So, avoid selling your product at a lower cost than your competitors, as this could backfire and lead to failure before you've even tested the sales potential. This is because people do not buy products simply because they are cheaper, mainly if they have not determined their worth.
2. Selling Products with a meager profit margin
Although this situation is similar to the low-price competition, when selling any product online, you should remember that most prospective customers have no prior experience with the product you want. Because they haven't seen it before, it's easier to set the price for a higher return percentage. You also avoid incurring additional costs if the product is returned to you in this manner.
What Products are Shoppers Looking For Online?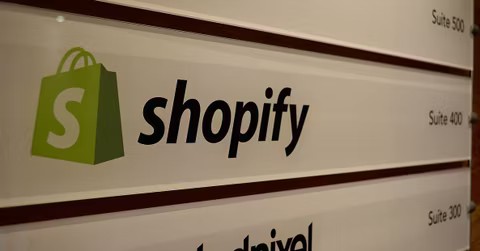 They can be high-demand and popular or niche products that appeal to specific customers. Combining products can help you reach a wider audience.
Some categories you can explore include:
Clothing
Shoes
Hairstyling tools and beauty accessories
Crochet handworks
Electronic
Handheld mobile devices
Books, movies, and games
Cosmetics and body products
Wallets and accessories
Auto accessories like upholstery and car seat covers
Food and drinks
Lingeries and other body accessories
Toilet and bathroom accessories
Kitchen equipment
Audiobooks and PDFs
Home equipment
Sports and outdoor
Home décor and lightening
Toys and baby products
Hobby Products
DIY, gardening, and pets
How Much Can You Make From Shopify?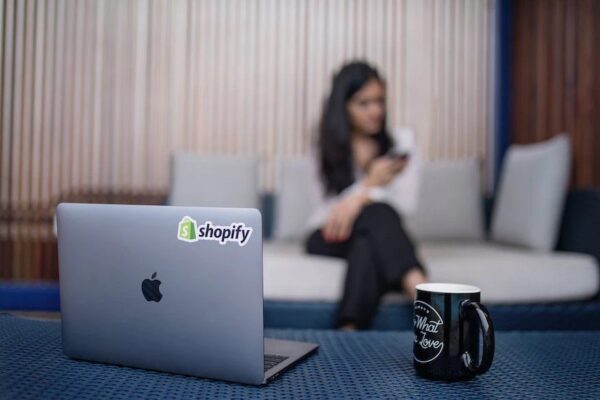 Today, thousands of Shopify store owners make a lot of money on the platform. The amount varies depending on the store owner. There is no definitive answer because several factors influence how much profit you can make with a store.
According to a statistical report, you can earn between $1000 and $1500 per month on Shopify with the right product, proper planning, and marketing strategy. If you combine selling your product with dropshipping, this figure can rise to $10,000 per month.
Do I Pay Taxes From My Shopify?
Can I choose My Domain Name With Shopify?
If you buy a domain through Shopify, it will automatically work with your primary domain. For example, when you sign up for Shopify, your primary domain will usually look like ***.myshopify.com. However, if you want to change the domain customers see when browsing your online store, you can add a custom URL like www.****.com.
You can also use a domain you already own if you have a custom domain from a third-party provider. You can connect your custom domain to your online store or give Shopify control over the domain.
Can I Use Shopify on My Phone?
Yes, You can use Shopify on your smartphone. You can log in to your account and run your online store from your phone by downloading the Shopify app. Your staff can also use the Shopify app, but they will only be able to do certain things. For example, they can only see parts of the Shopify app to which they have access. But if they have the proper permissions, they can look at orders, products, customers, etc.
Can I Pause My Shopify Subscription?
If you own the store and your store is eligible, you can use your Shopify admin dashboard to stop your store or shut it down for good temporarily. You have two options for pausing your store. You can pause your store and keep working on it, or you can pause it entirely and leave it alone.
Are Shopify Stores Profitable?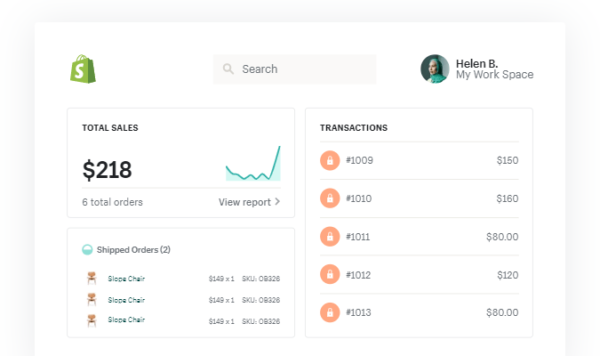 Yes, the profitability of your Shopify store will be determined by the type of business you're starting, the value of your products or services, your profit margins, expenses, the saturation of your specific market, and how you promote your store, among other factors.
A small, established business can earn approximately $1000 to $1500 per month from Shopify. Dropshippers can earn up to $10,000 per order due to lower overhead costs, and a Littledata survey conducted in May 2022 discovered that the average revenue per customer for Shopify was $92.
Bottom Line
Just keep in mind that building a brand or a business that lasts takes time, knowledge, and marketing. So before you jump into e-commerce, make sure you have a well-thought-out business and marketing plan.
Entrepreneurs who want to start an online business should consider the best solution for their budget and time frame. Shopify is a good fit if you want an easy-to-use and dependable platform with extensive integrations to other marketplaces that allow you to sell across multiple sales channels. Although there are some disadvantages (limited features, SEO tools, app operation costs, etc. ), researching and getting acquainted with the 14-day trial may be an excellent first step before launching an actual store.
Frequently Asked Questions
Is Shopify suitable for beginners?
Yes, you can! Shopify is an excellent way for people who are just starting to sell. The platform already has a store structure built in, so all you have to do to get your shop going is add the other things (theme, products, etc.) on top. Shopify lets anyone start an online store, from college students to people in their golden years.
How long does it take to make money on Shopify?
Even though this is a question that many Shopify merchants have, no one answer works for everyone. It depends on many things, like your market niche, competitors, the season, and the market itself. For example, you may need patience when working on your dropshipping business. However, if you put effort into your work, the result will be what you want.
Is Shopify legit?
Yes, Shopify is safe and legal in every way. Shopify has come a long way since its humble beginnings in 2006. Since then, it has added many features to help regular people set up online stores. People's Shopify reviews show they are thrilled with its technology and ecosystem. So you can be sure that you get a real solution when you sign up for Shopify.
Is Shopify better than Amazon?
Amazon is a vast marketplace that can help you get a lot of exposure. However, Amazon's seller fees and fierce competition among sellers may make people want to build their online store with Shopify instead.
But you don't have to pick one or the other! By linking the two, you can sell from your Shopify store and your Amazon seller account.
What exactly does Shopify do?
Shopify enables merchants to sell anywhere they want and centralizes all sales, customers, products, and business data. As a result, many sellers create an online store on Shopify, then supplement it with other sales channels such as Facebook, Instagram, Amazon, a physical store, or in-person mobile sales. You can, however, choose to concentrate solely on social media sales, marketplaces such as Amazon and Walmart, or combine an online store with pop-up shops.