Last updated Mar. 12, 2023 by Favour Chinaza
Creating a website is easy! All you need is the right website builder. With the right web builder, you can build an impressive-looking site without the knowledge of web design and coding. But before you choose a web builder, you need to be clear on your needs.
The days of hiring a professional coder to build a website for yourself or your company are long gone. All you need now is a website builder and some spare time. There are several website builders available to assist you in creating your professional and user-friendly website.
Squarespace, Wix, and Weebly are all services that can help you quickly and easily create your own sleek, polished site that can help you take your business to the next level. However, you don't have to stick to the basics because some website builders include more advanced features such as email marketing and e-commerce. These are important features if you want to grow your audience or monetize your website.
Can I Build My own Website?
It is now easier than ever to create your own website without any coding knowledge thanks to website builders. There are even site builders designed specifically for specific purposes, such as e-commerce stores and blogs. The best website builders are simple to use, inexpensive, and provide room for expansion.
The most popular options include templates or themes, which provide a foundation for your design. This makes it much easier to add your own images or content and then quickly publish. The majority of the website builders on our list are all-in-one solutions that include web hosting, domain registration, and an integrated editor for a single monthly fee.
Different web builders come with other web-building solutions and tools. So you need to choose one that is tailored to meet your needs.
What is a Website builder?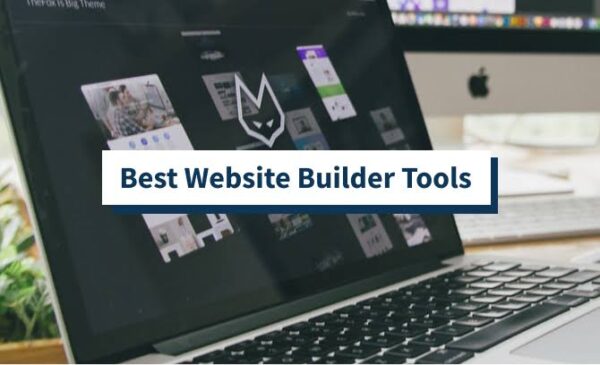 A website builder is a platform with a drag-and-drop interface that makes it easy for people who don't know how to code to make their websites. In addition, these web building platforms usually come with built-in storage for photos and videos, the ability to add a custom domain, hosting options, ready-made themes, and more.
There are often also third-party integrations like marketing automation tools that let you add shopping carts and lead capture tools. Plans with more features may even come with custom email addresses and SEO analytics tools for marketing campaigns that are a step above.
There are two different ways to build a website: online and offline. An offline website builder is software you download to your computer and use to make a website. Online website builders are based on the web and let you build and change your site on the company's server. This article is about website builders like Squarespace, Wix, and Weebly that you can use online.
How Does A Website Builder Work?
Your drag-and-drop instructions are turned into code by a website builder. Your website can be hosted by the company or connected to your hosting provider. Most website builders have a variety of themes or templates for different kinds of websites. For instance, an e-commerce store would use a different template than a portfolio.
After you choose a template, you'll be able to change a lot of it. Depending on the website builder, this includes the font, layout, text, and image sizes. You might also be able to embed videos and add contact forms. Many of the most popular web builders don't require you to know how to code, but most let you change the HTML and CSS to fit your needs.
This article reviews 19 website builders that serve different purposes like eCommerce, blogging, selling online, etc.
Related: 27 + Best Web Hosting Services Providers (Ranked)
1. Wix (Best website builder for your first website)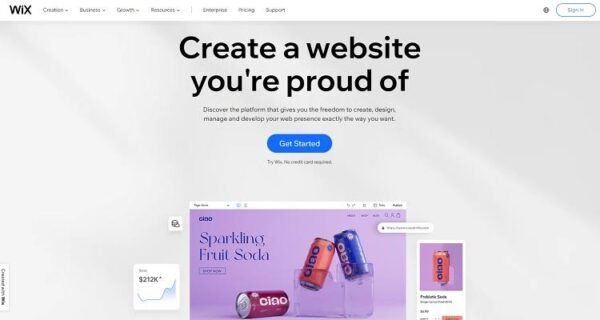 Wix is one of the most preferred website builders for small businesses. As a small business owner, Wix provides beginner-friendly tools that enable you to create and design a website that reflects your brand image.
Wix is the clear leader in the race to be the best website builder though there are Wix vs. Shopify comparisons and which platform is the best. Wix has built over 110 million websites, making it the biggest player. This website builder is very popular and has the most tools, features, and freedom.
Wix offers a wide range of easy-to-use tools, like the AI-powered automatic website builder ("Wix ADI") that requires little work from the user. They also have "Wix Corvid," an open development platform for advanced apps like Javascript, databases, and data-driven dynamic pages.
It is home to 100 million users and offers over 500 pre-built customizable templates for the design of your site.
Features of Wix
Powerful and Intuitive Editor: Wix's drag-and-drop editor is flawless, enabling you to create a website of your choice easily.
Multiple Responsive Templates: Wix offers over 800 customizable templates. This makes it different from other web builders. With Wix, you have a wide range of options to choose from. Wix also provides templates for e-commerce sites and any site.
Blogging Tools: Wix offers blogging tools such as keyword planners, title generators, analytics, blog templates, and more.
Wix ADI: This is an AI tool created by Wix. It designs your website for you according to your specifications.
Velo by Wix: With this tool, you can gain total control over the design of your website.Built-in SEO Tools
Other features include mobile optimization, e-commerce integrations, and more.
Pros
Clean and intuitive interface
Affordable pricing
Presence of a free plan
Mobile-friendly
Cons
Impossible to switch templates after launching a site.
Wix's free forever plan comes with the Wix branding logo
Some premium plan comes with limited features.
You need to upgrade to higher plans to access some features.
Pricing
Wix's pricing plan starts at $4.50/month. The pricing plan for e-commerce sites starts at $17/month.
Why We Recommend Wix
Overall, Wix provides the best combination of usability and customization of any platform we examined. Of course, it's not the cheapest option, but everyone seemed excited about the sites they were constructing. The themes are diverse and wonderful. You'll also have the tools to tailor its look and feel to your specifications—or something close.
Wix offers the option of having their AI site builder create your website. That is an incredible feature that no other website builder we reviewed provides. It takes the guesswork out of everything, which is especially useful if you want to get a website up and running quickly.
If that isn't enough, Wix also provides rock-solid security and dependability. It includes:
high-grade security compliance,
24/7 monitoring for cyber threats,
a reliable 99.98 percent uptime rate,
e-commerce security measures that meet the highest industry standards, and
A global data and backup center to keep your site's information safe and secure.
So, no matter what type of website you create, you can rest easy knowing it is secure without you having to do anything.
Check Out My Complete Review of Wix: Wix Review: Top 13 Reasons to Use Wix
2. ZYRO (Best Budget Web Design builder )
This popular website builder has proven to be effective in helping website owners without coding ability achieves their website dreams. It is packed with powerful features and amazing templates that appeal to users who want a basic site.
Features of Zyro
Intuitive Drag-and-drop Editor: Zyro has a drag-and-drop feature that gives you total control over the design of your site. This feature enables you to create a professional-looking site as a beginner.
E-commerce Functionality: Zyro offers tools for the creation of an online store. It comes with multiple eCommerce templates, shipping services, reporting tools, and CRM software.
Domain and Hosting: Zyro enables you to connect your existing domain to Zyro, and it also offers free hosting, free domain, and cloud hosting.
Security and Support: Zyro offers 24/7 professional support, SSL security, a knowledge base, and transaction security.
SEO tool: Zyro has encrypted SSL security, automatic meta tags, mobile optimization, AI rewriter, analytical tools, and more.
Integrations: With Zyro, you can easily integrate with Google Analytics, Google tag manager, Facebook, Pinterest, and more.
AI Tools: Zyro offers artificial intelligence tools such as an AI logo maker, an AI heat map, and more.
Zyro offers multiple payment options, guarantees an uptime of 99.9%, and offers a 30-day money-back guarantee.
Cons
Limited templates and designs.
Slow customer service response time
Why We Recommend Zyro Website Builder
Zyro is, without a doubt, the best option for a low-cost, simple-to-use website builder. You'll pay less than a cup of coffee each month for a fast, dependable website. Would you like to change the store hours or hold a special sale? You can do it yourself in a matter of minutes.
If you know you'll always need a website, there's not much downside to signing up for an extended plan, especially when the price drops by hundreds of dollars over time. Zyro provides you with everything you need for your website and tools that anyone can use immediately.
3. Squarespace (Best for Website Customization)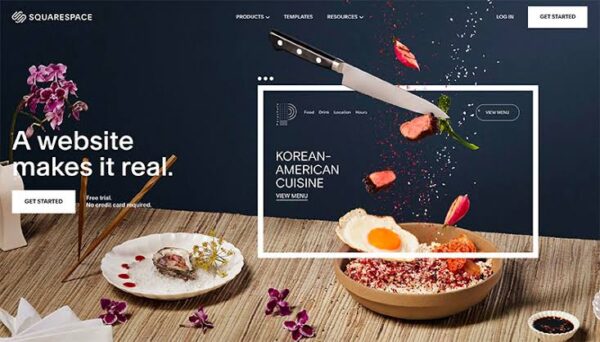 Squarespace is a popular and powerful website builder for small businesses. It comes with tools that enable you to create a website, build an online store, and market your business.
The marketing tool it offers sets it apart from many website builders. In addition, this platform provides unique features that serve the needs of a variety of users. These features include social media templates, email marketing tools, and eCommerce functionality.
Features of Squarespace
Multiple Templates: Squarespace offers over 140 responsive and customizable templates. It also comes with pre-built layouts, customizable content layouts, design tools, duplicate pages, custom CSS, a design panel, a page lock, commenting system, and more.
Blogging Tools: Its blogging tools include a scheduled posts tool: podcast support, email campaign integration, RSS blocks, customizable URLs, and more.
E-commerce Tools: It offers e-commerce functionality such as multiple payment options, inventory management tools, and more.
Email Marketing: Squarespace has a built-in email marketing tool that enables you to generate and grow leads. It offers email listing, integrated email analytics, and more.
Other features include
Search Engine Optimization
Live support
Squarespace Video Studio App
Pros
Beautiful, responsive designs that work on mobile devices
In dedicated sections, Fluid Engine makes the design more intuitive.
Deep e-commerce capabilities, including the ability to sell digital downloads
Allows you to use custom code
You can schedule posts using a blogging tool.
Excellent assistance and analytics tools
SSL certificate for free
All plans include unlimited storage and monthly data transfers.
Cons
Slow page speed
No Autosave feature
Pricing
Squarespace pricing starts at a low price of $16/month.
Why We Recommend Squarespace
Aside being one of the best website traffic trackers, Squarespace allows you to create an eye-catching blog or portfolio with ease. Of course, it might not be the best for people who want a million interactive features on their site. But if you prefer a minimalist look or you need to showcase images and videos–Squarespace should be your top choice.
The website builder's gorgeous templates and creator-friendly features earned it a spot on our list. Their designs truly can't be matched.
4. Weebly (Best for Easy Page Editing)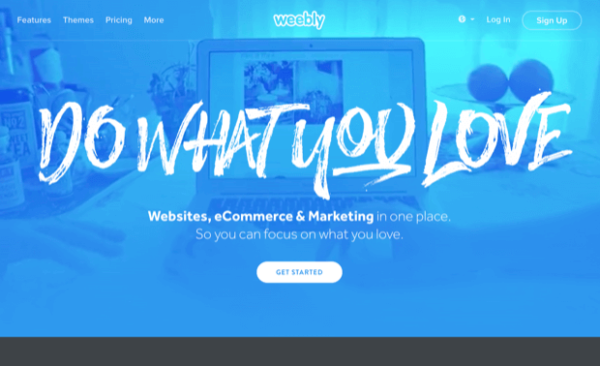 Weebly is a website builder with a free forever plan. Its free plan is suitable for personal purpose sites and those testing the waters with Weebly. Weebly doesn't get as much attention as Wix, which has 50 million websites, but it has some great options depending on your needs. Weebly is a good strong, but small fighter to Wix's Big and all-encompassing features.
If you want a simple and easy-to-use DIY website editor, a large site (more than 25 to 30 pages), unlimited storage, the ability to move your site, and powerful yet affordable online store features. It is trusted by over 40 million of the world's population and comes with web hosting tools.
Features of Weebly
Fast site speeds: Test results have shown that Weebly has outstanding site speed.
Tons of themes: This site builder offers a wide range of themes and allows for the importation of themes.
Other features offered by Weebly include
blogging options
SEO
e-commerce integration
site search tools
drag-and-drop editor, responsive themes
mobile site optimization, and more.
Pros
Themes with appealing, responsive design
Complete commerce capabilities, including the ability to sell digital goods
Site statistics are included.
It allows you to change themes without having to rebuild your site.
All plans include unlimited data transfers.
Exceptional uptime
Has a free plan.
Cons
Your pricing plan determines the help and support you receive from Weebly.
Users of Weebly's free plan have no access to 24/7 customer support.
Presence of the Weebly Logo in the free plan.
Why We Recommend Weebly
Website Builder Weebly provides users with a simple website design experience that allows them to sell goods and services. Most e-commerce users should go with Shopify, but freelancers, consultants, and solopreneurs looking for a simple suite of services should look into Weebly.
Weebly, like Squarespace, lacks the extensive customization and scalability of WordPress. However, Weebly is far more approachable than WordPress from the start.
5. Shopify (Best for E-commerce)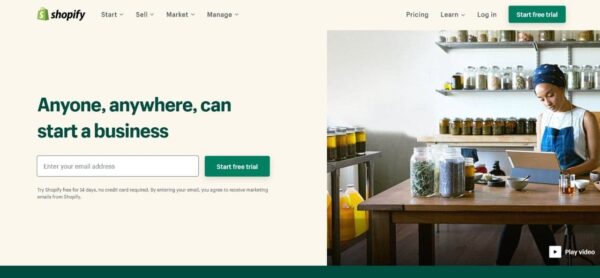 Shopify is a powerful website builder for users interested in creating an e-commerce store. The website builder comes with advanced eCommerce functionality and offers thousands of apps, integrations, and themes. In addition, it is beginner-friendly and straightforward.
Shopify is a fully hosted eCommerce software that does everything for you, so you don't have to worry about managing software, installing updates, or keeping backups. Shopify handles everything for you. It includes a payment solution called Shopify Payments that allows you to accept credit cards. You can also accept payments through third-party payment gateways.
Features of Shopify
Mobile app: People who are constantly on the move can use the Shopify mobile app to access the Shopify dashboard and manage orders. There are also two other apps available: Shopify POS for offline transactions and Shopify Inbox for customer chat.
Third-party apps: Over 4,000 free and paid apps are available in the Shopify App Store to help you improve your online store. Printful, ShipStation, and Snapchat Ads are some of the apps available.
Built-in SEO tools: SEO tools are built into Shopify stores. Some SEO elements, such as canonical tags, the sitemap, and robots.txt files, are automatically added. Users can also change the title tags, meta descriptions, URLs, and alt text for images.
Multichannel selling:
Users of this website builder can sell products through various channels, including point-of-sale or offline channels, online marketplaces such as Amazon and eBay, social media platforms such as Instagram and Facebook, and buy buttons.
Marketing automation: Email marketing, Google Smart Shopping, and Facebook Ads are some marketing tools that Shopify offers to launch ad campaigns.
Built-in shipping tool: Shopify Shipping, the company's native shipping suite, works with various couriers, including USPS, UPS, and DHL, to provide discounted shipping rates. It also displays real-time shipping rates during the checkout process.
Local payment processor: Shopify Payments is the payment gateway used by this online store builder. This eliminates the need to connect third-party payment providers to your online store, although Shopify allows it.
Multiple third-party payment gateways: It is compatible with over 100 third-party payment gateways. PayPal, Authorize.net, and Amazon Pay are a few examples.
Multiple currency support: Shopify Payments accepts a variety of currencies from around the world, including the Euro, Hong Kong Dollar, and US Dollar.
Multilingual support: Translate the store into multiple languages for international eCommerce. Except for enterprise-level merchants, who can sell products in up to 20 languages, all users can sell in up to five languages.
Other features offered by Shopify include:
built-in SEO
advanced integration,
multi-language function,
cross-border selling, and more.
Pros
It includes a payment solution called Shopify Payments that allows you to accept credit cards.
You can also accept payments through third-party payment gateways.
Shopify, as an eCommerce website builder, offers full inventory management,
unlimited products
powerful stats, and
simple marketing solutions all under one roof.
They have hundreds of designs, and no code is required.
Cons
Limited free themes.
To access professional-looking themes, you have to purchase them.
Some add-ons and plugins incur additional charges.
The phone support feature is only available for US, UK, New Zealand, and Australian users.
Users in regions outside the listed countries can receive help through email or from the forum.
Pricing
Shopify offers a 14-day free trial, and its pricing starts at $24/month.
Why We Recommend Shopify
When it comes to online sales, it doesn't get much better than Shopify. If you want to make money on Shopify, this online sales platform has all you need. Founded in 2006, the platform has become the go-to builder for businesses looking to establish an online selling presence, ranking third with a score of 4.2 out of 5.
Shopify's popularity is well-deserved. Regarding website features, Shopify stands out, scoring an impressive 4 out of 5 in our research. It includes many high-quality sales tools that will assist your online store in growing in all the right ways.
6.
Web.com

(Best for Website Building with Hosting Options)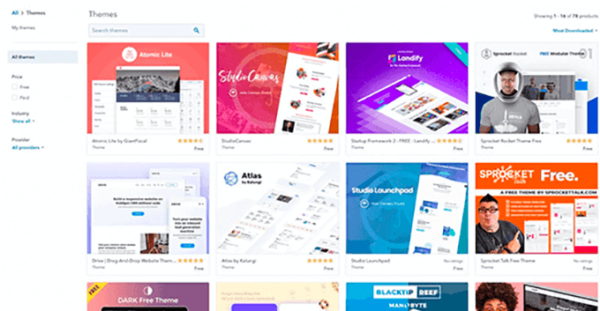 This is one of the largest website builders, with millions of users worldwide, and provides marketing solutions and e-commerce features for online stores. Web.com offers pre-designed content blocks, forms, analytical tools, and everything you need to stand out.
Features of Web.com
Customization: This website builder allows you to customize your site with a drag-and-drop editor, block editors, and multiple templates.
Amazing eCommerce feature: Its e-commerce tool lets you gain insight into your store's activities. With its tools, you can view your top-selling items, the number of views a page occurs, and more.
Other features include:
Online Marketing Tools
Drag-and-drop editor
Pre-deigned Templates
Customizable Social media button.
Pros
Website templates are 100% mobile-friendly, and the design can be customized for various devices (desktops, tablets, and mobile phones).
Beautiful pre-made website templates and customize the design powerful drag & drop website builder that's easy to use for non-techy business owners.
Photo galleries, videos, testimonial sliders, contact forms, map locations, social media buttons, and more can be added.
You can add an unlimited number of pages to your website and customize the design of each page individually.
Cons
Absence of Free Plans
DNS functions are available only through customer support.
Slow customer service response time.
Impossible to switch Templates
Places limitations when listing products on your e-commerce store
Pricing
Web.com offers an affordable pricing plan that starts at $4.95/month.
7. GoDaddy (Best for Marketing and SEO Tools)
Godaddy is a popular web-building service provider trusted by over 21 million websites. It offers web hosting, domain registration, e-commerce, blogging, and marketing solution. Godaddy is best known for its easy-to-use features, making it one of the best website builders for beginners.
Godaddy Features
GoDaddy Insight: This tool compares and scores the performance of your site in comparison to other sites in your industry. It allows you to choose a few business objectives based on anonymous data from millions of websites.
Search engine visibility: In the Marketing drop-down menu, select SEO, and GoDaddy will walk you through a wizard. The wizard generates keyword and phrase suggestions, metatags, and page titles.
Website design: GoDaddy provides custom website design; however, you must contact the company directly for a free consultation and pricing information.
Hardware options: If you have a physical store or need to accept payments in person, GoDaddy provides both a card reader and a full POS system.
Unlimited storage and bandwidth: There's no limit on file storage or bandwidth for your GoDaddy website.
Accept payments: With the E-commerce plan, you can accept payments through GoDaddy Payments or several other payment processors such as PayPal, Apple Pay, Google Pay, and Venmo.
Blog: Create a blog for your GoDaddy website; the builder includes popular blogging features such as category management and blog commenting.
Email marketing: All plans include a free one-year business email address. Depending on your plan, you will receive between 100 and 25,000 email sends per month.
Pros
Mobile-friendly.
Presence of personalized marketing tools
Web Hosting
Easy and simple to use.
Artificial Intelligence.
All-round solution for marketing and blogging tools for content creators.
Email Marketing
Cheap plans compared to other website builders.
Free Domain
Cons
Limited Customization
Absence of an app marketplace
E-commerce functionality is only available in upgraded plans
SEO options are limited compared to other web builders.
No email support
Pricing
Godaddy's pricing plan starts at $5.10/month.
Why We Recommend Godaddy
GoDaddy Website Builder is an excellent choice if you need to build a simple website without coding or investing in complicated infrastructure. It provides all of the necessary tools and features without the frills. There are also built-in SEO, analytics, and email marketing tools for beginners. GoDaddy Website Builder meets the basic needs of any website with solid support, competitive pricing, and optional e-commerce features.
8. BigCommerce (Best for Large Scale Websites)
Bigcommerce is a web builder suitable for the creation of big online stores. Most of its features target users who need an advanced tool for building an e-commerce store. This web builder is a B2B and B2C commerce solution provider. With Bigcommerce, you can build a flexible, scalable, and agile e-commerce store.
Bigcommerce offers a pricing plan that starts at $29.95/month.
Key Features of Bigcommerce
SEO tools: Improve SEO performance by utilizing various SEO tools, such as customizable URLs, built-in metadata, and robots.txt editing.
Product selection: Enhance the user experience and make it easier for customers to navigate products using attributes such as color, size, price, and reviews.
Third-party integrations: Hundreds of free and paid integrations are available on its official eCommerce Apps Marketplace. Mailchimp, ShipStation, Justuno, and ShipperHQ are examples of apps.
Mobile app: The BigCommerce mobile app, available for iOS and Android, allows you to manage your online store from anywhere.
Numerous payment gateways: BigCommerce accepts over 60 payment methods and serves over 200 countries. Amazon Pay, Apple Pay, Stripe, and PayPal are a few examples.
Multiple currency support: It was designed to accept payments in over 100 different currencies, allowing for global transactions.
Multichannel selling: Sell on top marketplaces and social media platforms online. eBay, Google Shopping, and Amazon are a few examples.
Pros
BigCommerce has more native sales features than other eCommerce platforms, so users rarely need plugins or extensions.
Sales transaction fees are not added.
Great eCommerce themes.
The best eCommerce builder themes combine conversion principles with modern design.
Cons
Payment upgrade is automatic.
Only 12 Design templates are available.
Why We Recommend GoDaddy Website Builder
GoDaddy might be a good option for you if you want to build a website quickly and easily and don't plan on doing much maintenance. It's an excellent option if you're a busy, on-the-go professional or someone who is limited in the ways they can create their website and is looking for a dead simple website builder to get the job done.
In any case, Gabriel is more than happy to tell you how pleased he is with GoDaddy, which makes it an excellent choice, in my opinion.
9. WooCommerce (Best for WordPress Website Owners)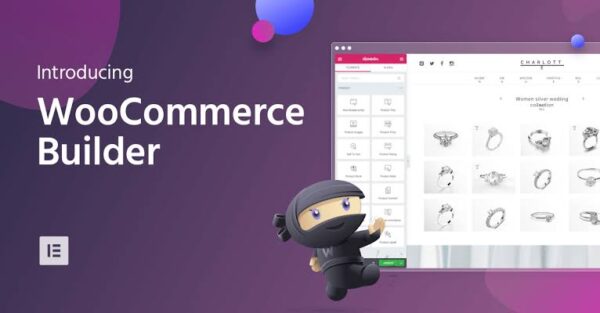 WooCommerce is a free, open-source plugin for WordPress that adds eCommerce functionality, and has one of the best integrations for WordPress hosting sites. It is one of the best eCommerce website builders available. To get started with WooCommerce, create a WordPress website, search for it in the official plugin directory, and install it. Begin uploading products and content to the platform once it has been activated.
WooCommerce provides a helpful guide consisting of six main steps to follow such that a new online store owner won't be confused about where to start:
Save information,
Add my products,
configure payments,
configure tax,
configure marketing tools, and
personalize my store.
WooCommerce Features
Built specifically for WordPress: Because the plugin was designed for use on WordPress, it will always be compatible with the most recent version of this CMS.
Third-party extensions: Hundreds of free and paid extensions are available on the official WooCommerce marketplace to help you expand the capabilities of your eCommerce site. Jetpack, Google Analytics, and Zapier are a few examples.
Mobile app: Users can manage stores and process orders from anywhere with the WooCommerce mobile app for iOS and Android.
Marketing automation: Increase your marketing efforts by selling products on Google Shopping, promoting your online store on Facebook, or sending newsletters through Mailchimp.
Multilingual support: WooCommerce is available in more than 20 languages, including French, Danish, and Spanish.
Multiple currency support: Sell to international customers using extensions like WooCommerce Payments, allowing them to see prices and payments in their home currency.
Product blocks: Use WooCommerce Blocks to easily display products from your eCommerce store on different pages and posts. Filter products by category and change display options such as the number of rows or columns.
Numerous payment options: WooCommerce accepts major credit cards, cash on delivery, checks, bank transfers, and other payment methods. Over 100 compatible payment gateways exist, including PayPal, Amazon Pay, and Apple Pay.
Pros
WooCommerce offers ticket-based 24/7 live chat, email support, documentation, and a public support forum.
One of the most affordable WordPress plugins, WooCommerce, doesn't charge transaction fees.
The eCommerce site design is completely customizable.
Since WooCommerce is open-source, you own your entire online store.
Cons
No phone support.
The interface may take time to learn.
Pricing
The minimum cost of developing an eCommerce website with WooCommerce is estimated at around $16.98.
10. HubSpot (Best for Website Building with CMS Tools)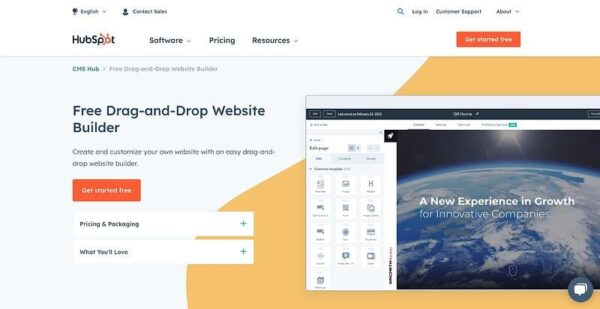 Hubspot is a Hubspot product that enables you to build a free website. In addition, it comes with a marketing solution that enables its users to build high-converting sites. Hubspot's marketing solution is second to none, making it one of the top marketing automation and best CRM software out there.
Creating a visually appealing brand website does not have to be difficult. If you want to build your website but don't have any coding experience, try HubSpot's drag-and-drop website builder.
It includes everything you need to create a website, including CMS tools, themes and templates, security features, and a built-in content delivery network (CDN) to ensure pages load quickly.
Hubspot Features
Some of the features offered by Hubspot CMS include:
monetization capabilities,
a custom report builder,
embeddable video,
messaging tools, and
multi-language support.
Pros
Drag-and-drop editor
Responsive website themes
Enables CRM integration
SEO options
Exceptional speed
Strong security.
Reliable uptime of 99.99%A/B Testing
Reporting tool
Cons
Not suitable for e-commerce sites
Slow customer support response time
Low level of control over site design
A little pricey
Pricing
Hubspot CMS is a free-to-use web builder. It offers a paid plan that starts at $23/month.
11. Webflow (Best for No-code Website Builder)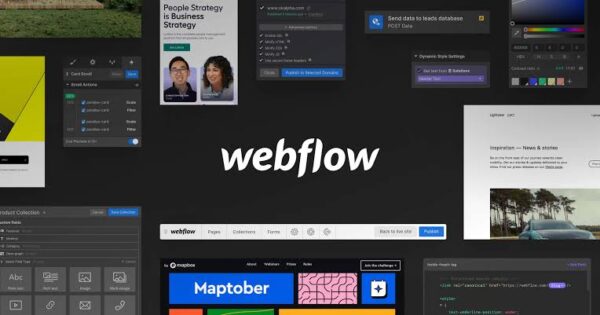 Webflow is a website builder that allows a great level of customization. It enables you to gain control over the design of your website. Additionally, Webflow comes with eCommerce functionality. Some of the e-commerce tools it offers include multiple payment options, social media integration, an automatic tax calculator, and more.
Pros
This web builder eliminates the need for multiple plugins
Webflow makes it easy to create landing pages
Wide range of customizable templates
Over 400 free responsive templates
Advanced SEO options
Enables integrations
Presence of back-ups and security
Collaboration tools
Cons
Webflow has a steep learning curve due to the powerful features it offers.
Expensive pricing plan
Absence of phone support and live chat feature
Pricing
Webflow offers a free plan that gives you access to 1GB and 50 CMS items. Its paid plan starts at $12/month.
12. Elementor (Best WordPress Website Builder)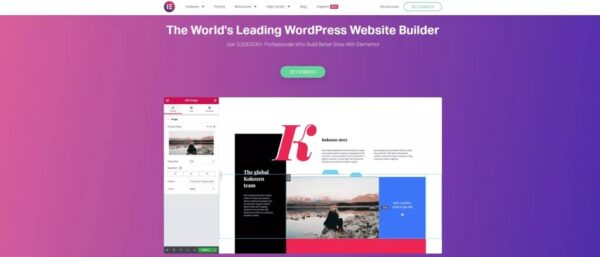 Elementor is a website builder with solutions that enable you to build landing pages, sales pages, e-commerce stores, and promotional pages.
It is an all-in-one platform that enables you to build a professionally-looking site without needing multiple plugins. Elementor is unique because it is a WordPress plugin that functions as an easy-to-use website builder. In addition, there is a free version that is quite capable for the price of nothing and premium products.
The interface is extremely simple and streamlined, allowing you to drag and drop whatever elements you want into place while viewing the results in real time. We set up our test site in minutes and encountered no problems. There are a lot of widgets and pre-designed templates available, and as you might expect, the paid-for plans have a lot more content (even the basic 'Essential' package has 300+ templates).
The Pro plans include more features and support running across multiple websites and premium tech support (or live chat for the top-end subscriptions). In addition, you get a lot of editing tools here, and a lot of customization is available for your website creations.
Pros
Access to 100+ widgets.
300+ template designs
Live and responsive designs
Drag-and-drop Editor
Easy to customize
Live editing tools
Presence of Marketing Solutions
Cons
It can't handle too many websites
Elementor is hard to learn for beginners
Pricing
Elementor offers a pricing plan that starts at $99 per year. This plan includes web-building tools, hosting, SSL certificates, and CMS tools.
Why We Recommend Elementor
Elementor is one of the most popular website-building platforms, and it's easy to see why. Elementor is a useful tool for creating your professional website, thanks to its helpful front-end page builder, live editor, and a wide variety of pre-designed templates.
Instead of blindly working your way through WordPress and hoping for the best, the front-end builder approach allows you to see the changes you're making to your website. In addition, it is clear as you edit, making even the free option an ideal partner for anyone looking to build a site.
13. Jimdo (Best for Cheap Pricing Plans)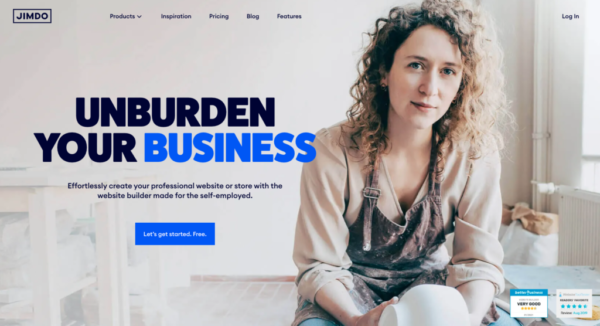 Jimdo is a website builder designed to meet the needs of small businesses and online stores. Jimdo comes with flexible layouts, mobile-optimized tools, a free image library, and more. Its e-commerce functionality includes shipping options, multiple payment methods, discount options, and social media integration. With Jimdo, you can efficiently manage your orders in a centralized dashboard.
In addition, Jimdo offers a free logo maker that enables you to design your business logo.
Jimdo Features
Multiple language options
It gives access to your site's HTML & CSS codes.
Over 40+ templates
Mobile-friendly
Allows the transfer of an existing domain to Jimdo
Cons
Limited templates
Unattractive templates
Why We Recommend Jimdo
Most of the time, Jimdo is only good for making simple sites. But that can also be seen as a good thing because a simple site usually loads quickly for the user, and Google gives sites that load higher rankings rapidly.
On the free plan, you get all the basic tools you need to make a website, but your site will be full of Jimdo ads, and its URL will end in.jimdosite.com. If you switch to a paid plan, you'll get your domain and no ads.
Jimdo is great for beginners because it is easy to use. However, there is no live chat or phone support, and you may have to wait up to two days for an email reply. Still, the interface is so easy to use that you probably won't need help in the first place.
14. Duda (Best for Integrating SaaS Platforms)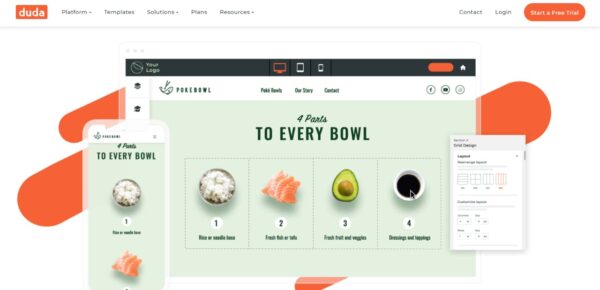 This website builder enables small businesses to build impressive sites that generate high-quality leads. Duda comes with CMS tools, collaboration tools, automated workflow, integrations, and more.
Duda Features
Duda offers features such as:
white labeling
e-commerce functionality,
widget builder,
responsive templates,
ability to customize mobile sites, detailed data analytics (including advanced metrics like form submissions, time on page, and bounce rate), and
User personalization makes it easy to show users different messages or offers based on the time of day, where they are, or what they've been looking at on your site.
It's also known for being able to work with more than one language and for having a free add-on that lets you sell up to 10 products online. Admittedly, Duda is a little pricey, but it fills some of the gaps that the big players don't have, like analytics, multilingual support, better personalization, and mobile customization.
Pros
Numerous apps and widgets to select from.
Easy to customize
Drag-and-drop editor.
Enables access to your site's HTML and CSS.
It allows a decent level of creativity within the template's limits.
Cons
No Free Plan
Limited SEO options
Limited templates
Pricing
Its paid pricing plan starts at $14/month and ends at $44/month. In addition, Duda offers a custom plan that enables you to customize your features.
15. Pixpa (Best for Creative Beginners)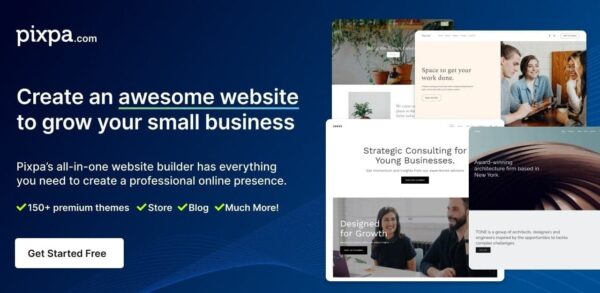 Pixpa is a website builder for photographers, artists, and designers that does not require coding. It enables designers to easily create and manage a beautiful, professional website with an integrated online store, blog, and client galleries. In addition, it allows you to grow your business by showcasing, sharing, and selling your work online.
This web builder enables photographers, creators, artists, and designers to build an impressive site that showcases their art. In addition, it is created to help small business owners grow and monetize their sites.
Pros
Beautiful template design.
Amazing integrations
Awesome proofing system.
E-commerce functionality24/7 live support
Affordable pricing
Cons
Limited font options
Absence of a drag-and-drop feature, unlike other web builders
During the trial period, you can't publish content
Pricing
Pixpa pricing plan starts at $5/month. When billed annually, Pixpa charges $2.50/month. For bi-annual users, Pixpa charges $1.88/month.
16. Volusion (Best for Data-Oriented Business Owners)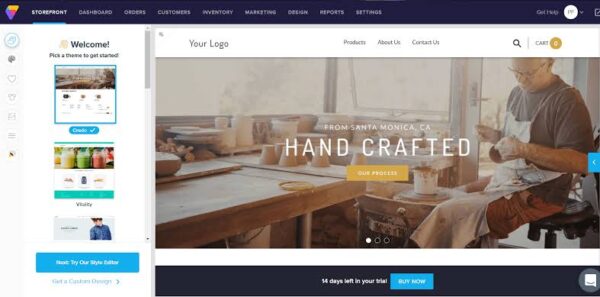 Volusion is a website builder for eCommerce sites with many features on the back end. For example, the platform has great tools for keeping track of inventory that help users run their stores. In addition, it has a variety of pre-made themes that are responsive and look good. There are 11 free, and more than 30 paid themes with many features that start at $180.
With its easy-to-use drag-and-drop editor, users can change the colors and fonts of the storefront, make or upload a custom logo, add products, and change how the site moves around. You can set up product pages, process orders, choose shipping options, manage inventory, offer discounts and gift cards, and figure out taxes from the dashboard.
Users can also set up a dropshipping system and import products by uploading CSV files. They can also sell subscription-based products with recurring payments. With CRM, you can keep track of reviews, customer accounts, and sales tickets.
Volusion also lets users set up different admin roles and permissions, and the admin history is easy to find so that stores can run smoothly. Business analytics tools in Volusion let you track your return on investment (ROI) based on newsletters, affiliates, purchases, product views, and ad campaigns. It's data generation helps with business analytics and coming up with profitable business ideas for users.
Volusion Features
Affiliate functionality: Customers can become affiliates of your store using this built-in feature. When people sign up for the affiliate program, they receive custom URLs that lead to your shop and are paid for each person who visits your site via the affiliate links.
Business tools: Some free business resources Volusion's Terms and Conditions Generator, Small Business Loan Calculator, Privacy Policy Generator, CPM Calculator, Barcode Generator, Profit Margin Calculator, and Return Policy Generator are among the tools available.
SEO tools: Volusion includes a sitemap, robots.txt file, meta descriptions, title tags, and customizable URLs for optimizing your site for search engines.
Numerous payment processing methods:
Cash, credit cards, wire transfers, electronic checks, money orders, Amazon Pay, PayPal, and Stripe, are all accepted by Volusion.
Integrations and applications: Browse the Volusion marketplace for various free and paid apps for marketing, customer management, and payment processing. Privy, ShipStation, and SnapEngage are a few examples.
Mobile app: The Volusion Mobile App allows users to manage their stores from anywhere. Both iOS and Android versions of the app are available.
Selling via multiple channels: Sell products on popular marketplaces and social media platforms such as eBay, Amazon, and Facebook using Volusion.
Social media marketing tools: Connect social media accounts to the store and post to Twitter and Facebook from the Volusion admin dashboard.
Email promotion: With customer segmentation, send newsletters and abandoned cart recovery emails to specific groups of people.
Multiple currency support: It allows users to display different currencies on their storefronts and accept payments in the default currency of the store
Pros
Its simple dashboard and website editor make navigating the various customization and business tools easy.
Volusion does not charge any extra transaction fees.
Cons
You must upgrade to the next subscription tier once your site begins to generate a certain amount of revenue.
Volusion does not include blogging tools, which may harm SEO and the promotion of your eCommerce website.
There are only a few third-party apps. However, its app marketplace offers dozens of third-party apps, significantly fewer than its competitors' thousands of apps and extensions.
Pricing
There are three plans to choose from: the Personal plan, which costs $29 per month; the Professional plan, which costs $79 per month; and the Business plan, which costs $299 per month.
The plans' automatic yearly revenue cut-offs are $50,000, $100,000, and $500,000, respectively. Volusion has created the Prime plan for online stores with a gross merchandise value of more than $500,000.
17. UCRAFT Website Builder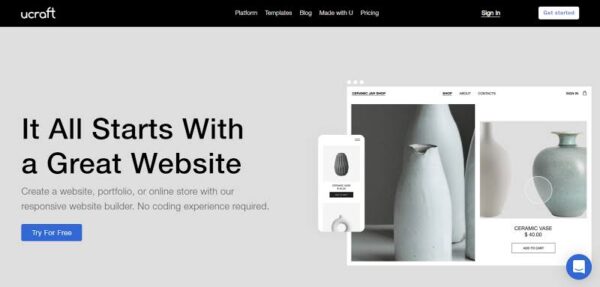 This web builder is easy to use and offers impressive design features. With its drag-and-drop editor, you can find an amazing site even as a beginner. For e-commerce sites, Ucraft offers multiple payment options, fulfillment services, and more.
They also include SSL security at no extra cost, but remember that the free plan is limited to 15 pages. Their most affordable paid plan is Pro, which starts at $10 per month and includes pro features like multilingual sites.
Ucraft is a more advanced website builder that allows you to customize styles such as fonts, colors, and spacings. Overall, we found it more difficult to use than other free website builders because the editor isn't as self-explanatory. Some of the unique tools offered by Ucraft include logo maker, blogging tools, landing page builder, customizable templates, and more.
UCRAFT Features
Drag-and-drop editor
Free HostingPresence of a free forever plan
Adaptive web design
Built-in security
Prompt customer support
Analytics
Cons
Few features, unlike other platforms
It does not connect to a third-party server.
Not suitable for a complex website.
Pricing
Ucraft's $10/month plan comes with SSL security, unlimited pages, e-commerce functionality, multiple shipping methods, integrations, blogging tools, and more.
Why We Recommend Ucraft
It's just that Ucraft has an easy-to-use interface that will make you have a lot of fun. Just get started, and the rest will feel very natural to you. Along with the many templates that Ucraft gives you, the drag-and-drop builder lets you change the layout in any way you want. Any way you want to do it, whether it's complicated or simple and clean, Ucraft can help you make it happen.
18. Gator By HostGator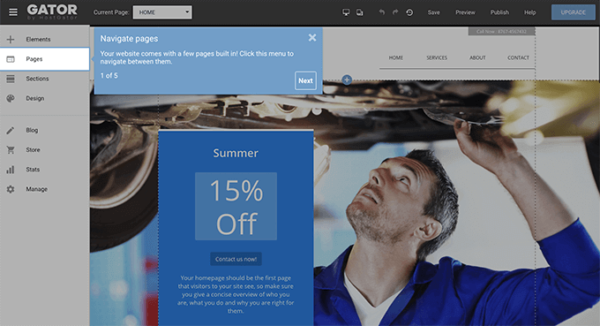 Gator is a popular online website builder developed by HostGator, one of the world's largest web hosting service providers. The Gator builder is an all-in-one website building and hosting solution, making it ideal for small businesses.
Gator should be on your radar if you want to create your feature-rich website in minutes. The website builder has excellent desktop and mobile site creation tools, intuitive e-commerce features, and small business-friendly pricing. This, combined with rock-solid uptime, makes Gator an Editors' Choice pick for website builders, alongside Duda and Wix.
Anyone interested in creating an online marketplace should look into Gator. All tiers include e-commerce capabilities and unlimited monthly data transfers and storage. Stores also support subscription memberships and digital downloads. Of course, you'll need more expensive plans to sell more products, but the money you spend on Gator can help you make money in the long run.
Pros
Strong uptime
Well-designed interface
Attractive, modern site templates
It lets you easily switch themes
Royalty-free stock photography
Allows you to sell digital downloads
Excellent prices
All tiers accept some form of payment
Cons
Lacks a free plan
Few photo-editing options
Cannot schedule blog posts
Tiny app store
Pricing
The Gator Express Start plan, which starts at $4.99 per month and includes three email marketing campaigns, a three-product online store, and unlimited storage and monthly data transfers, is the most basic option.
Why We Recommend Gator
Not only does Gator's strong interface and stock photography library allow you to create beautiful sites, but it's also one of the few website builders that allows you to switch themes easily. That means you won't have to start from scratch if you decide to change the direction of your site. Of course, HostGator is already a great web hosting provider, so we're not surprised that the company also knows a thing or two about website builders with this fantastic offering.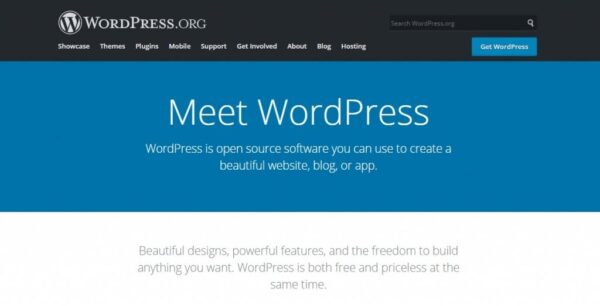 WordPress.org (also known as self-hosted WordPress) is the most popular website creation platform on the planet. WordPress powers over 43% of all websites on the internet.
It's important to note that WordPress comes in two flavors: self-hosted WordPress CMS and WordPress.com. Because of its popularity, powerful features, scalability, and ease of use, the self-hosted WordPress content management system (CMS) makes it to our list of best website builders.
WordPress is a website builder that is both free and open source. This means you have the most control over your website of any online website builder on this list. With WordPress, you have complete control over your website, with no third-party interference, giving you total privacy. It is also easy to find good hosting companies for WordPress due to its popularity.
WordPress.com is frequently mixed up with WordPress.org. The main distinction between the two is hosting. WordPress.org requires you to host your site, whereas WordPress.com includes hosting and makes it easier to get started.
WordPress.com is both a website creation platform and a content management system (CMS) (content management software.) It makes creating websites, forums, membership sites, resumes, portfolios, blogs, and other content easier.
Pros
Includes content management tools as well as smart tags.
Drag and drop functionality and intuitive design capabilities
Provides a free plan
Numerous themes and plugins are available to help you deploy any website without programming knowledge.
Cons
Potential plugin conflicts
WordPress is highly customizable, but it is also easily broken. If you don't know what you're doing, it's easy to mess up your site.
A steep learning curve, but you can always save things as drafts and not publish them until they're finished.
Plugin versions do not always match the WordPress version.
Users on free plans cannot install plugins unless they upgrade, and custom code is frequently not included in free website builder plans.
Pricing
A free plan is available; premium plans begin at $4 per month. The E-commerce plan is the most expensive, costing $45 per month.
What Are The Types of Website Builder
There are two types of website builders –offline and online web builders. An offline web builder is a downloadable software that enables you to build a website without an internet connection. An offline web builder allows you to download the tools for creating your website. When these tools are downloaded and installed, you can use them to design your website. An offline web builder is suitable for professionals as it allows you to write HTML codes and CSS manually.
On the other hand, an online web builder is an online platform that allows you to build a site from a provider's server. The web builders reviewed above are all examples of online web builders.
Free Website Builder for Small Businesses
You can create an online presence for your small business with a free website builder. Here is a free website builder for small businesses or personal purpose sites.
Wix
Wix is the overall best free website builder for small businesses. Its free plan includes SEO options, marketing tools, artificial intelligence, social media integration, and multiple customizable templates. The only downside of Wix's free plan is the Wix Logo, which can only be removed when upgrading to a paid plan.
Weebly
Weebly is the best option for small businesses looking to create an e-commerce store. Weebly free plan offers powerful e-commerce functionality suitable for small companies and comes with a branded logo. Features of its free plan include social media integrations, gift cards, phone support, unlimited product display, and more.
Godaddy
Godaddy is a popular free website builder. It comes with the basic tools you need to build an impressive site.
The free plan on Godaddy comes with chatbots, a sales tracking dashboard, SSL certificates, marketing tools, and more.
Jimdo
Jimdo is a free web builder for online stores. It comes with a free hosting solution and professional-looking designs and layouts. With its free plan, you can access social media integrations, responsive designs, contact forms, SSL security, and more.
Site123
Site123 is another powerful website builder with a free forever plan. The free plan provides 250 MB storage and 250MB bandwidth. With the Site123 free plan, you can create a website that serves the basic needs of your small business.
Webflow
Webflow's free plan is designed for personal purposes site. Therefore, it does not provide the features that appeal to small businesses. Nevertheless, the free plan comes with 1GB of bandwidth and 50 CMS items. Its paid plan starts at $12 per month.
How To Choose The Best Website Builder
There is no one-size-fits-all solution for selecting the best website builder. Instead, you must strike the right balance of price and features to meet your requirements. To help you narrow things down, ask yourself the following questions:
Is it enough to display information, or should visitors be able to interact with the pages?
Are you planning to sell products or services or collect potential customers' contact information?
Will you manage your website yourself or hire a third-party service provider?
Are you willing to pay more for additional features?
How much flexibility do you require in terms of layout and design?
Do you need to develop custom functionality like quizzes, forms, or newsletters?
When comparing products, keep these factors in mind, and you'll soon find a service that meets your needs.
Website Builder vs. Web Design Software?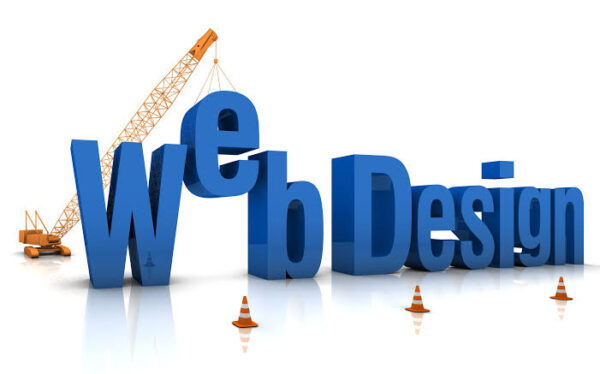 There is a lot of overlap between website builders and web design software. Both can be used to create beautiful, professional-looking websites with all of the features your company requires. The key distinction is how they are delivered and the prior knowledge needed to use them.
In general, website builders are online platforms that are frequently available in free versions and place a strong emphasis on simplicity, typically offering drag-and-drop editors. On the other hand, web design software is typically more complex, with some aimed at experienced programmers and offering the option of coding a site line-by-line.
Another significant distinction between web design tools like Adobe Dreamweaver and website builders like Squarespace is the cost. Web design tools are frequently more expensive, and there may be no free option, as with most website builders. In addition, although web design tools will attempt to provide an intuitive experience, it is probably a good idea to have some coding knowledge before using them. Finally, whether a website builder or web design software is right for you will determine your experience level and the type of site you require. A simple website builder will suffice in most cases, but if you want to tinker a little more, there's no harm in trying a web design solution.
Website Builder vs. Web Hosting: What's the Difference?
Website building differs from website design, just like various Web hosting software. Most online users are probably thinking of websites located at their respective addresses. In reality, websites must also be stored physically on servers somewhere. The provision and maintenance of these physical servers are referred to as web hosting.
Every website requires a web hosting provider to run the physical infrastructure that allows it to remain online. The fact that there are various types of web hosting available further complicates matters. Shared hosting is ideal for smaller sites because it allows them to share resources with other websites in exchange for lower fees. Dedicated hosting is more expensive but offers more customization options, increased bandwidth, and improved security.
In its most basic form, a website builder only provides the tools for designing a web page and has no involvement with physical web hosting. However, many website builders also offer web hosting at an additional cost. Of course, anyone who does not use a website builder to create their online portal will have to find their web hosting provider. Simply put, a website builder influences how a website looks, whereas web hosting indicates where a website is physically stored.
Do I Need a Website Builder?
If you want to make a website but don't know how to code, the easiest way to do it is with a website builder. Of course, you can also build your own website, but you'll need to know how to code or hire someone who does. Of course, when you hire someone, you have full control over how your website looks.
When using a website builder, you will probably run into design problems that the website builder can't help you with. For example, let's say you want a drop-down menu, but your theme doesn't have that feature. Or, you might love a template but find that you can't change the colors.
Each website builder and theme has its own limits, and you usually don't know what they are until you start using them. However, if you don't need full creative control, the best website builders will give you more than enough tools to make a professional website.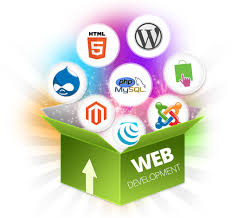 Add-on services such as:
email marketing services,
business phone services,
professional business email addresses,
SEO tools, and
other third-party extensions/apps that you may require are the hidden costs of building any website (varies based on the type of site).
We have written a comprehensive guide on how much it costs to build a WordPress site (with tips on how to keep it low budget). Storage space, bandwidth, domain renewal costs after the first year, higher renewal pricing on some platforms, and aggressive upsell from the sales team are other common hidden costs in website builders.
2023 Website Design and Building Trends
If you're a web designer, keeping up with design trends can help you give your most demanding clients what they want on the first try instead of the fifth. So here are some of the biggest web design trends we think will be big in 2023.
Motion Design Trends
The biggest change we've seen is a move toward designs that include movement in some way. Active design elements are a great way to get people's attention and interest in your site. Since there are so many ways to add them, you're sure to find something meaningful and fun.
Putting Download Speeds First:
Google did a study and found that if a website takes more than three seconds to load, more than half of mobile users will leave it. So making sure download speeds are very fast will give users a better experience, make them more likely to stay on your site, and increase your sales potential.
Content Loading
When a user visits a website, it can either load all its pages at once or only load the ones they want to see. This is called "smart loading" or "lazy loading." By using smart loading, a company's website can run faster and more efficiently than those of competitors who don't use smart loading.
Individualized Content
Using user data trends and location services can help web developers give a company's customers a more personalized online experience, increasing the company's chances of making a sale.
Accessibility and Availability
More and more people want digital content to be easy for everyone to access and use. For example, when designing a website, it's important to think about how to help people who are neurodivergent, have disabilities, or have trouble seeing or hearing.
Key Features to Look Out for When Choosing a Website Builder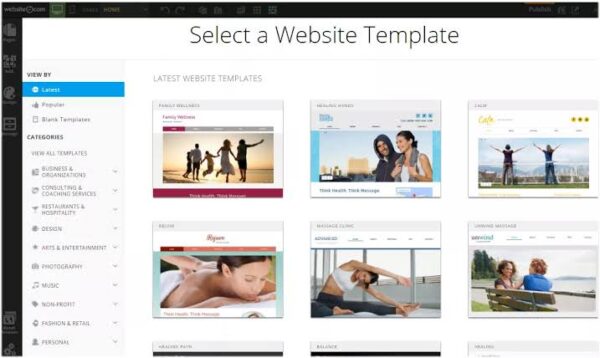 A website builder makes many complicated parts of a website simple and easy to understand. Here are some of the most common characteristics.
Drag-and-Drop Interface: You can design a website with many website builders by dragging and dropping its parts, like putting together a collage. This could be text, pictures, videos, or anything else on your site. Each website builder gives you a different range of options for making changes. Some companies use themes that are hard to change, while others let you change almost everything on the website without any coding at all.
Compatibility with mobile: Because so many people use their phones to surf the web, websites need to be mobile-friendly. Many website builders automatically add this feature and let you see the mobile version of your site as you make changes. Some can even change your site's elements automatically so that a single design works well on different devices.
Domains and Hosting: In addition to design, you need a website host and a domain name when you build a website (the URL used to navigate your site). Many people who build websites offer all three. If you already have a domain name but want to use a different website builder (for example, you bought your domain name through GoDaddy but want to design your site with Wix), you'll have to move your domain to the new platform.
Integrations from third parties:
Adding third-party apps like social media management tools or shopping carts is easy when you use a website builder. Lead capture forms are another type of integration that is often used. These forms let potential customers or clients give you their information and send it straight to your CRM or data repository.
Analytics for SEO: Although many people use Google Analytics to measure traffic, most website builders use their own, easier-to-understand way to measure traffic. This will tell you which websites send you traffic and how people found your site. You may need to spend money on analytics software if you are trying to improve your SEO and get more people to visit your website. But for most people and small businesses, the information they get from their website builder is enough.
Business Email: Most website builders let you set up an email address with your domain name as the extension. However, some always charge extra for this feature, while others give you one or two emails free and charge for each one after that. Make sure you choose the best plan for your needs.
Pictures and Video Storage: Using a website builder makes it easy to add images and videos. With Squarespace, for instance, your account gives you access to an image gallery. So, you'll be able to change and remove photos and videos from different pages but still keep them and use them in the future. In addition, most subscription plans have different amounts of storage space.
How to Build a Website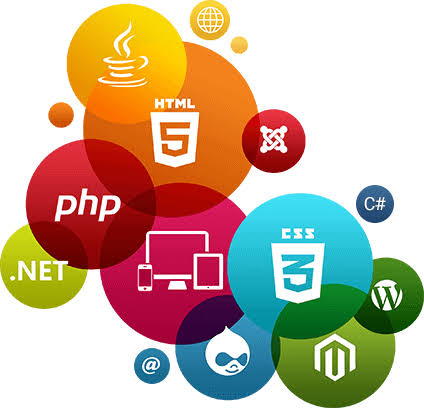 How to Create a Website in 4 Steps
With the right website builder, you can create an amazing website. Below are the steps on how to create a website.
1. Choose a domain name and register it
The first step to take when creating a website is to decide on a domain name. This name should be memorable and must reflect your brand image.
A domain name is a name that differentiates you from other sites. To register a domain name, you have a reliable domain registrar and purchase your name.
2. Choose a Web Builder
A web builder enables you to build a website without having coding experience. Before choosing a web builder, you need to research to understand the web builder that provides the solutions you need.
3. Choose a Web Host
Web hosting software is a platform that hosts your site on a server. It provides secured storage spaces and a good uptime guarantee.
Most website builder provides web hosting services. But if your favorite doesn't, you need to search for a web host service provider.
4. Start Designing and Launching it
After creating a domain name and choosing a web builder, the next step is to design your website. Choose your theme, add content pages, organize it, customize it, and launch it to make it visible to the public.
Related: Best Web Hosting companies for WordPress Sites (Best hosting websites)
Bottom Line
Your specific requirements determine the best website builder for you. There are many options, so combing through all free providers for a simple website and all of the e-commerce website builders for a more sophisticated business website can be time-consuming. However, because of the industry's complexity and growth, you have more options than ever, and you can easily find the best website builder tailored to your wants and needs.
Frequently Asked Questions
Q: What is the #1 top website builder?
Weebly gets the top spot for one of the best website builders because of its low cost, flexibility, and ease of use.
Q: Why do you need a website builder?
You need an online website builder to create a site if you have no coding experience. For example, you need a web builder if you know nothing about HTML codes and CSS.
Q: What's the easiest way to build a website?
A website builder is the most convenient way to create a website. However, because they use templates, website builders frequently have design limitations. Still, many people find that the capabilities and features are more than enough to create a professional website without investing in professional web development services.
Q: How much should I pay for a website?
If you don't mind using a subdomain and displaying advertisements, you can create a free website for a personal project. To create a small business website, you should budget between $200 and $300 as an initial investment, with monthly maintenance costing between $5 and $50, depending on whether you have an online store.
Q: Are website builders worth it
Overall, website builders are a very cost-effective way to create a website. Instead of paying thousands of dollars to hire a web developer, you can build your website for a low monthly fee using the simple drag-and-drop interface provided by website builders.
Q: Can I customize my website?
Yes! You can customize your site. But you will need a website builder that offers customization features. Most web builders give you total control over the design of your site.
Q: Can I add a shopping cart to my website?
Yes! You can add a shopping cart to your website. Web builders like Shopify, Bigcommerce, and Weebly enable you to add shopping cart functionality.
Q: What is the most user-friendly website builder?
According to our research and Testing, Wix is the most user-friendly website builder. Its simple editor and helpful hints make it simple to understand. Many users discovered that they could quickly set up a website with Wix! GoDaddy is another excellent option. With its ADI builder, all you have to do is answer a few questions, and GoDaddy will build your website for you – simple!
Q: Can I Create a Website For Free?
Yes, you can build a website for free, but if you need a professional website, the answer is no. Although there are free website builders available, you will still need a budget to get things up and running because free versions:
Q: Are SEO tools included with website builders?
Yes, many top services provide tools to help you improve your site's visibility in search engines. For example, most builders include infrastructure that allows search engines to find information easily. Furthermore, many platforms have tools for customizing your site's meta descriptions, automated data markup, and simple social media integration to assist you in sharing your content across platforms.