Last updated May. 3, 2023 by Favour Chinaza
50+ Best Money-Making Apps
Everyone is looking for ways to make money without doing much work. But what if all you had to do was lift a finger to make extra cash?
You can get apps that help you make money and put them on your gadgets. They can help you make extra cash, gift cards, and cashback on purchases.
You can quickly and easily make money by making online purchases, playing games, or filling out surveys.
Can I Make Money from These Apps?
Many money-making apps are available, and while it is possible to earn some money using these apps, the amount you can make is generally small and may not be enough to replace a full-time job.
The amount you can earn will depend on factors such as the app you use, the tasks available, and how much time and effort you are willing to put into using the app.
Some popular money-making apps include those that pay you to take surveys, complete tasks, watch videos, or test products.
While some apps may pay you a few cents or a few dollars for completing these tasks, the amount you earn may be limited by how many tasks are available and how much time you are willing to spend on them.
It's important to note that not all money-making apps are legitimate, and some may be scams that could potentially steal your personal information or money.
Before downloading and using any app, be sure to research it thoroughly and read reviews from other users to ensure it is safe and legitimate.
Overall, while it is possible to make some money using money-making apps, it is unlikely to be a reliable or substantial source of income.
Good Read: 86 Creative Ways to Make $100 A Day (Side Hustle)
Best Money-Making Apps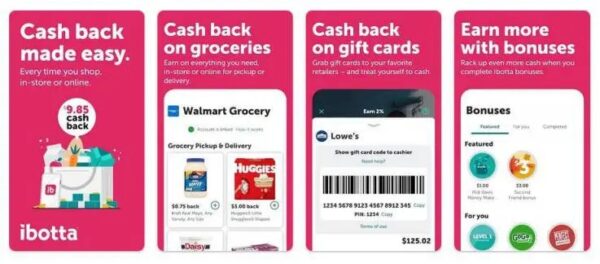 Ibotta is one of the cashback rebate sites that allows you to earn cash back on in-store and online purchases from over 2,000 participating shops.
It began with groceries and has now extended to include apparel, entertainment and dining out, pet supplies, and other areas.
Offers can be product or retailer-specific, and some will be applied automatically. Others will require you to complete an additional job, such as watching a movie or voting in a poll.
There are three ways to get cashback in stores:
After your shopping trip, add offers and submit your receipt in the app (you have seven days to send in your receipt through the app)
Link your retailer loyalty accounts, or
Purchase a retailer gift card using the Ibotta app.
Online purchases are made using the app or the Ibotta browser plugin on your PC.
Payment options include PayPal, digital gift cards, and direct deposit into a bank account.
Pros:
You'll get cash back on in-store purchases immediately – usually within 24 hours.
Ibotta also provides new customers a welcome incentive, referral bonuses, and several payment ways.
Cons:
Making money might be a time-consuming procedure.
To redeem your earnings, you must have at least $20 in cash back (some gift cards demand at least $25 in earnings).
The pending period for receiving cash back on online purchases varies per retailer.
Inactive (no activity in 6 months) or canceled accounts are also subject to an account maintenance cost.
The cost is collected from your account balance rather than your bank account.
2. Rakuten (Formerly Ebates)

Rakuten is a legit cashback site and one of the most popular cashback programs, offering bargains from a variety of stores as well as enticing signup and referral rewards.
Although you must spend money to make money, the app allows you to get some cash back on purchases you would have made regardless.
After registering, users may browse cashback deals at thousands of businesses, including Target, Best Buy, and Kohl's.
Then, simply click into a merchant from the app or website and place an order to receive rewards.
You can also get cashback for in-store purchases by selecting the deal in the app and attaching your card before you buy. However, you will not be able to collect cashback unless you first complete these steps.
Depending on the vendor, cashback rates range from 1% to 40%. The Rakuten app allows you to search for available retail, brand, and category cashback deals.
After spending $25, new customers are eligible for a $10 welcome incentive. You can also get a $30 referral incentive if you suggest new customers who spend $30.
Every three months, users are paid by PayPal or cheque. You must have at least $5 in cashback to be eligible for a reward.
This money-making application also assists computer users in saving money.
The cashback button applies all valid discounts instantly, saving you the effort of comparing coupons. It also shows cashback potential in Google search results and updates regarding lower prices at other stores.
Pros
Up to 40% cashback on purchases at thousands of qualifying retailers
$10 welcome bonus for spending $25
$30 bonus for referring new users who spend at least $30
Browser extension offers additional perks and features
Cons
Cashback rates as low as 1%
Users have reported app freezing issues
Must accrue $5 in cashback to redeem
Payouts occur every three months
Uber is an app that enables you to earn from driving people around the city. If you own a car, you may consider registering with Uber and earning passively from such an action.
Uber is the best app for car drivers who want to make money because it gives users two ways to make money, pays them right away, and makes it easy to accept new jobs.
This driving and food delivery giant makes it easy for anyone with a car to make money whenever they want, as long as they meet the requirements. You must:
Meet driving rules in your area, such as having a current driver's license.
Drive in the U.S. for at least one year or three years if you are under 25.
Have a four-door car that meets Uber's standards in your area.
Give the required paperwork, such as proof of address, insurance, registration, and more.
Go through the hiring process for drivers
As an Uber driver, you can accept ride requests from riders or bring food through Uber Eats, all through the same app.
You can withdraw money up to five times a day. Your gains for each trip depend on several things, such as:
Standard trip fare: A base rate that changes by city and is based on the length and distance of the trip.
Price hikes: Earn more during busy times when demand is high.
Keep all of the tips that customers give you.
Don't forget that you'll have to pay for your car's upkeep as a driver. Uber also takes a service fee out of the drivers' money before they get paid.
Since Uber drivers are considered independent workers, you'll have to pay taxes on the money you make.
Pros
Earn money on your schedule by accepting work when you want
Drive passengers and deliver food through one driver app
Cash-out up to five times per day
Make $10 to $20 per hour after expenses
Cons
Model year requirements can prevent participation
Drivers must pay a service fee, which varies based on factors like cost and time
Earning potential is limited by location and demand
The driver app can be finicky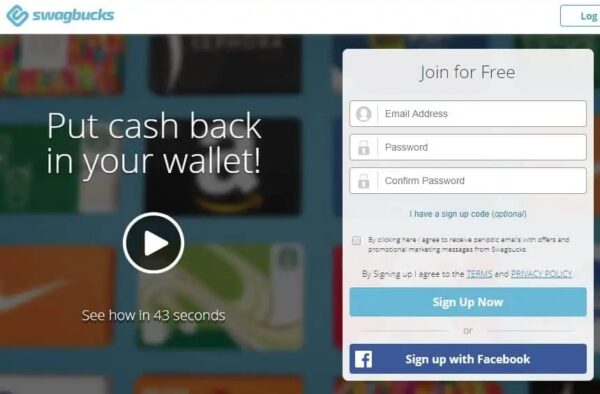 Swagbucks is a platform that pays you $5 for signing up. You are guaranteed to earn up to $1000 on Swagbucks.
With the Swagbucks app, you will be required to execute certain tasks on the platform to earn more money. Swagbucks often give its users surveys.
When you complete each survey, the platform pay from $0.25 and $0.50. However, some surveys can fetch you more points.
You can only withdraw when your accumulated point reaches 1000 points, which is equivalent to $10.
Swagbucks is a simple way for anyone with a smartphone to make extra money by doing odd jobs or getting cash back. It won't pay as much as other side jobs, but it's easy, and anyone can do it. It's best for odd jobs.
This app can make money because it works with marketing companies to pay users. You can earn Swagbucks (SB) by buying things, watching videos, taking surveys, playing games, and using search engines.
It's easy to get started, and you don't need to give any money information. Users can keep track of ways to earn with the daily schedule.
You can get cash back on store purchases when you link a credit card. In addition, new users can get a $10 bonus for signing up if they spend $25 at store partners. Swagbucks also has rewards for referring friends.
Swagbucks lets you exchange points for prizes right away, but it could take up to 10 business days to get cash through PayPal or gift card codes.
Pros
Easily earn points
$10 joining bonus for users who spend $25
Earn 10% Swagbucks through referrals
Redeem points for gift cards or for cash via PayPal
Motivated users can earn $100 or more per month
Cons
Swagbucks aren't very valuable; 100 SB=$1
Most tasks don't award many points
Surveys may disqualify you during the process due to demographics
Receiving rewards takes up to 10 business days
Highest-paying surveys only available to specific audiences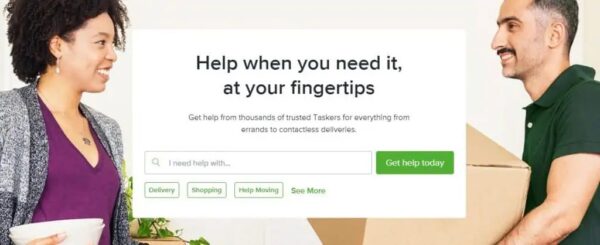 TaskRabbit is a good option to make money, besides being an online marketplace that connects freelancers with people who need help in their area. As a Tasker, you do simple chores and errands for people in exchange for money.
You get paid for your time and skills, which is a great way to make money.
Some things you might do include moving, putting together furniture, being a helper or shopper, cleaning, and doing handy work.
How Does TaskRabbit Work?
You can sign up to be a Tasker on the website or by downloading the app, which works on both iOS and Android devices.
You will be sent to a training session after you sign up and register. Last, you'll make a resume that shows off your skills and tells people how much you charge for jobs.
Then, app users can look around the app and book Taskers by the hour.
The number one tip experienced Taskers give people who are just starting out is to not forget about the customer service part of the job.
If you do your job well and charge reasonable prices, users will likely hire you again for other tasks. They might also add you to their list of favorite Taskers, which could help you get more jobs.
Toluna is a platform to make money while having fun.
You will perform tasks such as responding to surveys and earning up to $15. You can receive your payout in the form of gift cards and PayPal.
Toluna Influencers works with different brands, service providers, and retailers to find out what customers think about their goods and services.
You can also make surveys about current events, questions about the best or most recent tech gadgets, and so on.
You can get more points on the app if you make your own poll.
How can You make money with Toluna App?
You may not know exactly how much you will earn after 50 Toluna surveys, but to start, sign up first. The Toluna app is easy, and you make money on it or the Toluna website.
You will need to give your account some basic information. Then, after you've signed up, you can sign up for the different polls.
When you have enough points, you can go to the rewards center and get cash or gift cards in exchange for them.
Make your own polls with the app to get more points. Then, invite your family and friends to join Toluna, and you'll get points.
Try entering the contests or playing the games on the page for community content to win points.
Instacart is an app that lets you get groceries delivered right to your door. It works with several big grocery stores to do this. Working for Instacart as a shopper can help you make money.
How Can you make money with the Instacart Shopper App?
All you have to do to become an Instacart buyer is sign up through the app or website.
You will have to prove your age, give some personal details, and show your driver's card. You will also need to put in your bank account information to get paid.
When customers place orders online, you'll get them through the app on your phone. You'll then shop for the groceries and bring them to the customers.
Using this app doesn't have any tricks, but you can shop for only the things you want.
MyPoints is one of the best platforms to consider while hoping to make money online.
The platform allows you to earn by completing surveys, playing games, watching videos, and shopping online.
You can transfer your payout to gift cards or directly to your PayPal account. In addition, you can access the platform on your Android and iOS devices.
Users can earn points by filling out surveys, shopping online through the app, getting coupons, playing games, and watching ads or videos.
MyPoints is to do a market study with different brands like Walmart, eBay, Macy's, Target, and other stores.
How can You make money with MyPoints App?
To join MyPoints, you must go to the website, enter your email, ZIP code, gender, date of birth, and password, and you'll be set up.
You can also sign up using the MyPoints app, which is available for iOS and Android devices.
You can get points by shopping online, filling out surveys, reading emails from BonusMail, watching videos, browsing Yahoo, or getting coupons from the MyPoints app.
You can try getting more points and rewards by telling a friend about MyPoints and taking advantage of deals on the app.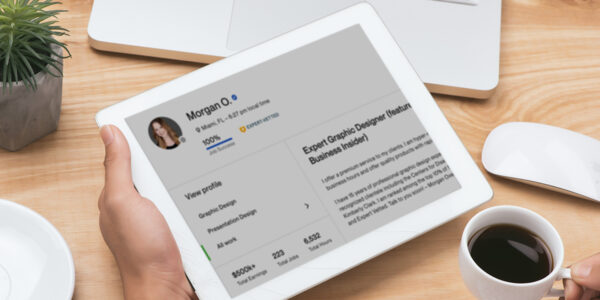 Upwork is another Marketplace for freelancers. The platform has features similar to Fiverr, and you can make a fortune depending on the skills you are selling.
Customers are willing to buy from you once you provide professional services to them. Then, you can sign up on the platform and get ready to earn from your skills.
It can be a little bit hard to earn on Upwork as a beginner, so you need to learn how to get your first job on Upwork.
No matter your experience, Upwork makes it easy to make a profile and apply for new jobs.
Freelancers can find work in over 1,600 areas, such as digital marketing, writing, translation, administrative work, and more.
You can do anything on Upwork that you can do on a computer.
You can apply for one-time jobs or find long-term work with clients through Upwork.
You'll be a more attractive choice for jobs in the future if you get new reviews and your Job Success Score goes up. Freelancers who meet the requirements may be invited to special chances.
Upwork's Payment Protection program holds money for a project in escrow. This helps make sure that workers are paid safely and on time.
You can get paid in several ways, such as by direct deposit, payment, money transfer, etc. Unfortunately, the fees for freelancers run from 5 to 20%, which is not good.
Fee percentages go down the more money you make from a single client. This is because your account doesn't get the money until 10 days after the end of the weekly billing run.
Pros
Simple profile set-up to find work in over 1,600 skills
Attract new clients based on reviews, total earnings, and score
Pursue ongoing or one-off projects by applying directly or receiving an invitation
Payment protection ensures payment for successful work
Cons
Service fee between 5% and 20%, depending on total earnings per client
Payment is delivered 10 days after the billing period ends
Clients can easily shop for and select lower rates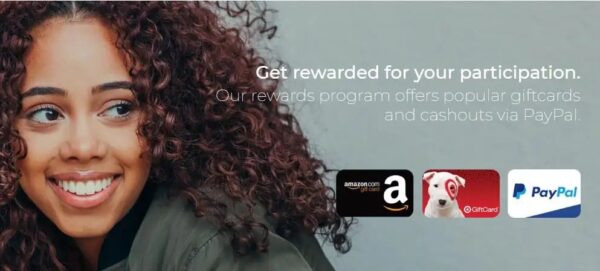 Survey Junkie is one of the best sites that pay you to do completely offers and take surveys and offers. Survey Junkie enables you to partner with brands and works as an influencer. In addition, you will execute tasks such as rendering survey tasks to earn a profit.
Survey Junkie works with brands and market research companies to give people a chance to take surveys in exchange for points.
This can be used right away to get gift cards or money through PayPal.
Because of this, Survey Junkie is the best survey app for getting money.
The process of signing up is easy. First, you make a profile by answering questions, which lets Survey Junkie show you polls that might interest you.
How Can You Make Money with the Survey Junkie App?
Each poll gives you certain points that can be turned into cash. Whether you choose to cash out with gift cards or PayPal, 100 points will get you $1. You need at least 500 points to cash out, or $5.
On average, it takes 15 minutes to finish a survey. All of the polls are voluntary.
On the dashboard, you can see which polls are available, though some of them may no longer be open.
Some polls have repeated questions to make sure you are who you say you are.
Note that Survey Junkie has the right to disqualify users who don't meet certain criteria at any time during the poll and give them only some points.
In addition to surveys based on demographics, this money-making app lets you apply for more surveys based on how you use it.
The Survey Junkie Pulse feature is available on both the mobile app and the browser extension.
It keeps track of things you do online, like searches, websites, shopping, and more, to find new surveys for you.
Pros
Make money by completing relevant surveys for marketing and research companies
It also offers users the option to make money by sharing browsing data
Submits data anonymously to protect your identity
Redeem points for cash via PayPal or online gift cards
Cons
Pre-survey identity confirmation can become annoying
May receive invitations to expired surveys
Some surveys include repetitive questions to confirm the validity
Partially completed surveys may be terminated if you don't meet desired criteria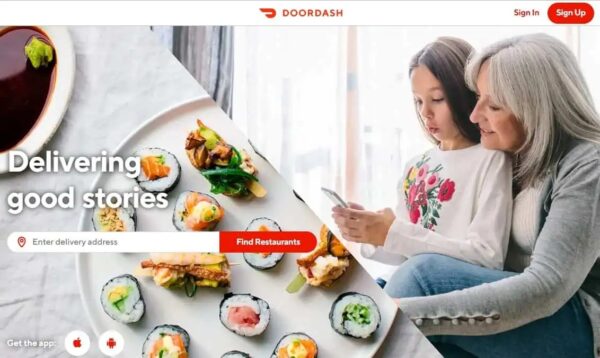 Working as a delivery helper for DoorDash or UberEats is a great way to make money. And you can find the best food delivery apps for making money near you.
The app makes it pretty easy to sign up and become a partner. You can sign up with multiple food service partners to start making money.
How To Use DoorDash App to Make Money
To become a delivery partner for DoorDash or UberEats and make money, you must sign up on the app.
You will need to give your name, address, license number, and insurance information.
After DoorDash or UberEats checks your past, all you have to do is sign the delivery agreement. You can also put your bank information. You w
Delivering for DoorDash doesn't have many money-making tricks. However, you can try to avoid deliveries with small tips and places with long wait times.
OfferUp, which bought a competitor called Letgo, makes it easy to sell things online with a store that is simple and easy to use.
OfferUp is the best app for selling old things to make money because it makes it easy to list items and lets users choose whether to sell locally or across the country.
Users can add a new product by uploading a picture, writing a description, and setting a price.
You can set a firm price that will go to the first interested buyer or an asking price that can be negotiated.
Through the app, viewers can talk directly with the seller to ask questions or show interest.
How Does the OfferUp App Work?
OfferUp is mostly used for local sales, but users can also send items. You can set an item to "buy now" and set a price for shipping, so you don't have to keep an eye on deals and messages.
Since most deals happen close to home, sellers usually pay in cash.
When an item is shipped, buyers have two days to look at it and decide if they want to buy it. The money is then sent to the seller within five business days.
Promoting your things helps people who might want to buy them find them.
You can promote your item by making a one-time payment or buying a ticket.
Users can show that they are who they say they are by verifying their contact information or linking a Meta account.
For local transactions, OfferUp protects users by suggesting safe public places to meet based on lighting, security, and more.
Pros
Message potential buyers directly in the app
Simple to upload an image and sell
Set either a firm price or an asking price, with room for negotiation
Receive cash payment for local transactions or ship products nationwide
Cons
Unless you choose to ship, you're responsible for delivery
Search results favor Promote Plus members and other promoted items
Shipping an item incurs a 12.9% fee (or a $1.99 minimum fee)
Robinhood is an investment app that pays users free stock whenever they sign up.
Robinhood is an investment and trading app that lets customers and users trade stocks, ETFs, and cryptocurrencies without paying fees or commissions.
This platform is great for new investors because it has low fees and gives users straight access to the money they put in.
How Does the Robinhood app work?
Before using the Robinhood app, you must sign up for it.
You will need your Social Security number and information about yourself and your bank accounts to start earning with the Robinhood app.
Even though there are no costs to sign up, make an account, or keep your account up to date, you still need to fill out an application.
Robinhood will review this application, and if you're accepted, you can use the service in just 4 minutes.
You can start spending a small amount of money and make low-risk investments like stocks and exchange-traded funds (ETFs).
Robinhood gives people different ways to invest and handle their money.
The best thing you can do to get started with investing apps is to do some study. First, you need to know how to put your money to work best.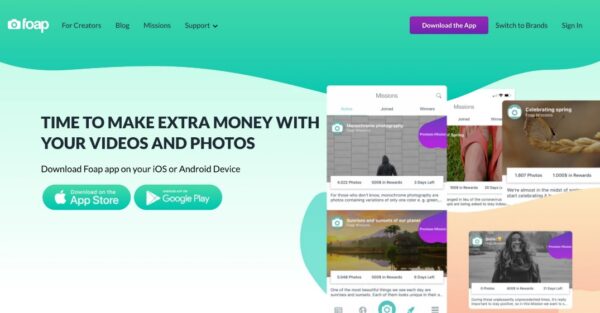 Foap is a platform that allows you to make money by selling your photos online. Foap provides one of the best easy ways to get paid to take pictures.
A particular photo can be sold several times to different clients. Hence, you can earn passively from this platform.
This app is great for both expert and amateur photographers who want to make money with little or no work.
This crowdsourcing app lets you sell photos you take with your phone and make money. Basically, you would sell your pictures to Foap.
Brands, advertising companies, and marketing firms would then buy these photos from Foap to use in ads, blogs, reviews, and other places.
How to Make Money with the Foap App
Get the app and sign up for an account. Then you can start uploading clear, high-quality pictures.
The registered community will rate these pictures, and the more stars they get, the more people will see them on Foap.
For every picture Foap sells, you get anywhere from $5 to $100. Brands and agencies will also sometimes send out "missions" asking for certain photos and videos.
Foap only sends money once a month through PayPal.
Encourage more of your friends and family to join and rate. Make your account easy to find on social media to get people to rate your photos and videos when they come.
Use the tasks to your advantage and do your best when you take part in them. For example, rate the photos and movies of other people to get more points.
ShopKick pays you to visit stores. However, you don't have to purchase before the platform rewards you.
You can also make extra points when scanning some genuine store items. Check out the platform to see how to earn from visiting online stores.
There are more than 250,000 places where you can get prizes, which is a pretty big number.
The coolest thing about Shopkick is that you can get prizes just for looking around. Some rewards require you to scan the barcodes of products as you walk through the store, but sometimes you just get paid for going in the front door.
You can earn more rewards in the app just by watching videos or filling out polls. You can also get rewards for shopping.
Why Make Money with the ShopKick App
They have partnered with more than 250,000 shops and will give you "kicks" for doing things like:
walking into those stores,
scanning barcodes for certain items,
buying items with a linked card, and
buying items and
scanning the receipt.
Here's how people who shop online can get free stuff: going to online stores, looking at certain goods, buying things with a mobile device, and watching videos,
This is one of the market research apps where people can make money by taking surveys and doing chores.
It changes how jobs are done based on your preferences and how you usually use things.
Users answer questions about products and services they use and say what they think about them. They are also asked to try out goods and services.
How Does the IPoll App Work?
You sign up for the app and give it basic information, such as your tastes and shopping habits.
Once you've done this, you'll get messages about new jobs and surveys.
You will get "iPoll currency" as a prize, which can be turned into a gift card or cashed out through PayPal starting at $10.
You can be honest about what you think about goods and services by taking quick polls and trying out prototypes.
IPoll app's surveys aren't too long, so try to do as many as possible.
Since the app can be changed, try to list hobbies that you can easily get to. When you sign up, you are instantly entered to win a $10,000 prize every three months.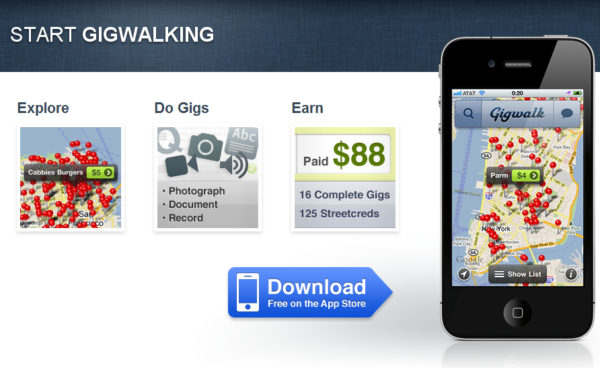 This platform has similar features to the field agent app. It pays you for executing a particular task within a given time.
At the moment, there are more than 1.7 million Gigwalkers who get paid to do different jobs.
Most jobs have to do with a brand. For example, you might be asked to check that a product is priced or displayed properly in a store.
Signing up is simple. Set up an account, answer a few questions about yourself, and then link your PayPal account to start getting paid.
The app keeps track of all your work, and you can set your schedule based on what jobs you want to do. Tasks can take from a few minutes to a few hours.
Pros
It lets you choose gigs that interest you
Offers simple 5-minute gigs
It doesn't have fees outside of Paypal
Has high earning potential for some tasks
Cons
Only offers Paypal payments
Has limited opportunities in smaller cities
CoinOut is an app that gives users cash back for shopping when they share a picture of their receipt as proof of purchase.
Unlike other shopping apps that give cash back, this one says that users can get some money back when they shop anywhere, not just at certain shops.
How it works: You can get this app for free on both iOS and Android. Then you'll need to sign up for the app using a phone number.
After you sign up, you can go shopping, take a picture of your receipt, send it to the CoinOut app, and get cashback whenever you want.
You don't have to wait until you reach a certain amount with a coin out. You don't have to reach a certain amount before you can cash out.
How Much Can You Make with the CoinOut App?
You can make anywhere from $0.001 to $0.15 per ticket. The amount is chosen at random. It has nothing to do with how much you paid or how much is on your receipt.
You can get cash back through direct payment, PayPal Cash, or Amazon gift cards.
Use the online cashback portal for CoinOut, which lets you upload e-receipts and can help you make cashback automatically from stores like Walmart or even eBay.
You can also try to get more cashback by using the badges on the site. There are a number of badges, like "Limited Offers" and "Partner Offers," that give you extra cashback.
As a member, you can also get prizes when you buy certain items. You can make money when you sign up for the newsletter or tell your friends about CoinOut.
19. RocketMoney (Formerly Truebill)
The first question is, Can Rocketmoney(Truebill) automatically cut your bills? Rocketmoney is a platform created to help people save money regularly and cut their bills.
RocketMoney enables you to save money using unique smart saving goals. It also has automatic transfers to increase your chances of reaching your financial goals with time.
Have you ever signed up for a service, like an online magazine or an odd video streaming service, and then forgotten you did?
If the fee is small enough, you might not notice it for a while.
How Does RocketMoney Work?
Connect your main savings account or any other bank account to the free app, then let it do its job.
The app will look at how you spend your money and find regular charges you might want to eliminate.
You can keep paying a bill if you want to. However, rocket Money can end the subscription for you if you don't.
And this app has more to offer. For example, rocket Money can talk to your service providers and try to get your regular fees lowered.
The service can also keep an eye on your services, like your cable, so you can report outages and try to get your money back.
Pros
Free version available
Will catch old subscriptions and forgotten service charges
Offers trends, insights, and price reductions
Cons
Keeps a large percentage of your savings (free version)
Must allow access to bank account and transaction history (although very secure)
OneOpinion is a market research app where people can earn money by taking surveys and doing other jobs related to the market.
It changes how jobs are done based on your preferences and how you usually use things.
Users answer questions about products and services they use and say what they think about them. They are also asked to try out goods and services.
How it works: You sign up for the app and give it basic information, such as your tastes and shopping habits.
Once you've done this, you'll get messages about new jobs and surveys.
How To Make Money with the OneOpinion App
You will get "iPoll currency" as a prize, which can be turned into a gift card or cashed out through PayPal starting at $10.
You can be honest about what you think about goods and services by taking quick polls and trying out prototypes.
This app's surveys aren't long, so try to do as many as possible. Also, since the app can be changed, list hobbies you can easily access.
When you sign up, you are instantly entered to win a $10,000 prize every three months.
This is a cashback platform that pays people for shopping at stores that are partners. Most of the stores are small, local shops.
The Dosh app also lets you get money back from some internet stores. When users link their bank or credit card to the app, they get cash back on purchases without doing anything.
You can get cash back when you eat out, stay in a hotel, buy gas, or shop online.
How to Get Started with Dosh
You can get the Dosh app for both iOS and Android. You can use your personal information on the site to make an account and link your debit or credit card.
Once you've done this, you can start shopping at rebates sites to earn cash back. However, this app's cashback only works when you swipe the card tied to the app in a store.
You can also use the Dosh app to make purchases for online shopping and get cash back.
When you book a hotel through the app and confirm your stay, you can also get cash back on some hotels.
If someone signs up through your link and makes a buy, you can get $10.
This is a good way for all these apps to make money by getting people to use them.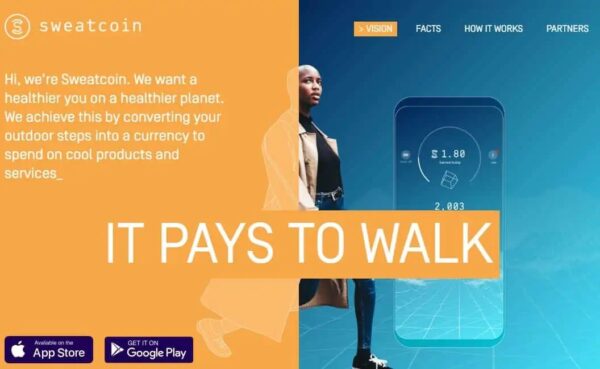 Sweatcoin is created as a fitness tracker app that helps you earn extra cash while staying fit. However, you must earn enough Sweatcoin before the platform pays you your earnings.
How is it that Sweatcoin can pay you to walk? Easy: They make money by putting ads on the app's store page.
How To Make Money with the Sweatcoin App
For about 1,000 steps, you'll earn 0.95 Sweatcoins, worth about $.05. This won't make you a lot of money unless you run marathons, but if you're healthy, why not make a little extra cash?
You can cash out early if you want, but be patient because you can get more money if you meet certain goals.
You can get $100 in cash for just over 7,000 Sweatcoins or $1,000 in cash for 20,000 Sweatcoins. That's a much better payoff for all your hard work!
The app is smart enough to detect when you participate in outdoor sporting activities and when you participate in indoor activities.
You can earn up to $1,000 when you make 200 million steps around your neighborhoods. Hence, you must find a secure neighborhood to enjoy this beneficial app.
You should not rely just on one app to make money staying fit, and there are other apps like Sweatcoin that pay you to walk. You can sign up on several of them to maximize your earnings.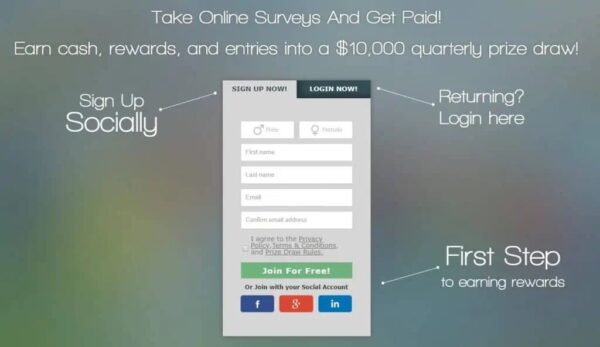 Opinion Outpost is a survey app allowing you to earn and receive payment via Amazon gift cards or PayPal. You can cash out when your money reaches $5.
Opinion Outpost is another market research site where people can make money by telling different companies what they think about their goods and services.
You can also make money on the app by testing goods and watching ads. Opinion Outpost has teamed up with big brands and companies to help them improve their goods, services, and apps.
When you sign up for the app, you give personal details like your email address and create an account with a password.
How To Start Making Money with Opinion Outpost
Once you've signed up, you'll be asked to review ads and goods and give your thoughts on them. You can earn points by participating in ad survey studies, focus groups, diary entry studies, etc.
The invitation tells you what the poll is about and how long it might take you to answer.
Panel members can make points by taking surveys, but you can also test products, give feedback on ads, and take part in surveys based on where you are, like in-store experience surveys.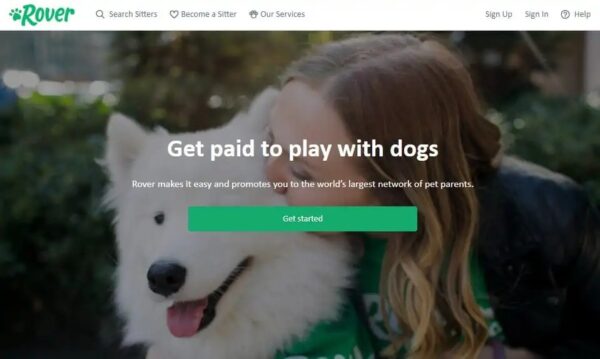 If you love animals and want to make extra cash taking care of pets, You can make money with Rover, and this could be your site to enjoy your hobby if pet sitting is one of them.
Rover offers dog walking, pet/house sitting, boarding, drop-in visits, and daycare for dogs.
After Rover's team checks your past and approves you, you can make a profile and start booking gigs.
Pet owners who have used your services can leave reviews on the site, which can help build your image and reputation.
Rover says pet caretakers who offer boarding make up to twice as much as other pet sitters.
Rover lets you set your own prices, but it takes 20–25% of your charge.
Even though you could market your pet-sitting business on your own and avoid these fees, paying for the ease might be worth it. Rover lets you pay online in a safe way.
Pros
Has high earning potential
Lets you set your schedule
It takes a smaller commission fee than Wag
Provides pet care education and vet tech assistance
Cons
It doesn't offer direct deposits
Charges a $5 fee on payments unless you use Paypal
This list will not be complete if Fiverr is excluded. In fact, Fiverr is one of the best platforms to make thousands of dollars per month.
Fiverr App is created to connect professionals with high-paying clients across the world.
You can literally sell any skill on Fiverr. But the most purchased services on Fiverr include writing jobs, video editing, graphic designs, web design, and more.
After making a free account, you can make a biography that tells people about your skills, services, and prices.
How Do You Make Money on Fiverr?
On the site, buyers can look at your profile and book jobs. Then, when the job is done, you get paid.
Users can get paid through a direct transfer, PayPal, or a pre-paid Fiverr card.
The more sales you make, the more levels you can move up to. As a top-rated seller, you can post more items and get help from customers faster.
Freelancing can be a great way to make a lot of money. A site like Fiverr could help you start your job and earn you more money than doing online surveys or delivering packages.
Pros
Has a high earning potential
It doesn't require you to bid on projects
Provides a wide variety of project needs
Fiverr lets you set your rates
Cons
Charges sellers a 20% commission
First gigs can be hard to land
Google Opinion Reward is a platform that pays you to execute short surveys.
With 10 minutes, you can run the tasks involved in the survey and earn. The maximum payout from this platform is $1.
This app could be a good choice for you if you like giving your opinion and want to get paid for it.
To use it, you'll need to download the survey app and fill out short questions about hotels, TV shows, stores, and more whenever you have a few minutes to spare.
How Do You Get Paid on Google Opinion Reward?
You'll get paid for each poll you finish with Google Play credits or through PayPal. It pays between $0.10 and $1 per survey, and both Apple and Android users can participate.
The idea is easy to understand. Fill out a quick survey about a wide range of themes.
You can take the polls while waiting in line for a cup of coffee because they are always short polls.
You can make extra money with Google Opinion Rewards by telling them how you use TV and the internet. Just keep doing what you normally do, like watching TV online.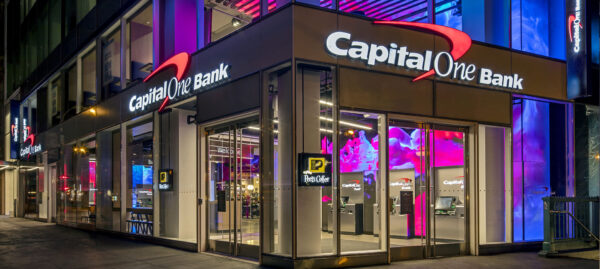 With the Capital One Shopping platform, you can earn more shopping credit to buy more items and save more money whenever you are shopping online.
You can add this platform to your Google Chrome extension and stand a chance to generate more shopping credit for yourself.
The app links to your email inbox to track what you've bought. If the price drops, Capital One Shopping will help you make a claim and put the difference in your account.
How to Start Earning with Capital One App
In addition to Price Protection, the Capital One Shopping app lets you earn rewards when you shop online, applies coupon codes automatically, and compares the prices of the same goods at different stores.
Also, when shopping in a store, you can read barcodes to look for deals on that item online.
You can compare prices at different online stores, find better coupon codes, and even find better deals among the different sellers on Amazon.
When you buy things online through Capital One Shopping, you can earn points that you can use to buy gift cards.
For example, you can get 1% back when you shop at Dell.com, 2% back when you shop at Walmart.com, 9% back when you shop at JCPenney, or 4% back when you shop at Groupon.
Pros
100% free to sign up and use
Makes in-store comparisons with free mobile app
Automatically adds promo codes at checkout
Price drop alerts on wishlist items
Cons
Tracks your online activity (although very secure)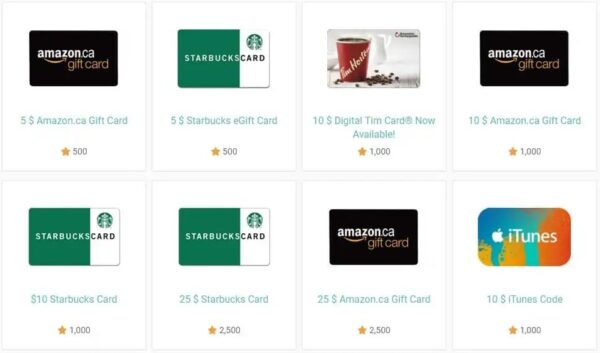 Ipsos iSay is a site where you can take paid surveys and get paid for your thoughts on goods and services from different companies.
Ipsos, a market research company, runs the iSay app, which gives users a lot of ways to win rewards.
How Does Ipsos iSay Work?
You can sign up for iSay for free on their website or through the i-Say app, which works on both iOS and Android devices.
The app can be used in almost 100 countries. All you have to do is make a login and tell the app where you are. The main way to get rewards is to fill out surveys.
When you do so, the app gives you points, which you can exchange for rewards in your own money. Most of the time, you get $1 for every 100 points.
You also need at least 500 points to be able to get money out of the app. Then, depending on where you live, you can use PayPal or different gift cards to get your benefits.
There are no special ways to make points on the app, but you can use the referral program to get more points.
Fetch Reward is a platform that pays you to make a purchase online. The platform will reward you in points as you buy from any store.
The only downside with this platform is that you can only receive your reward through gift cards. However, you can still convert the gift card to real cash.
Users only need to share their receipts, whether they bought something at Walmart, Target, or even Dollar General.
The Fetch app works with records from any store, so where you shop doesn't matter.
How it works: All you have to do to get started is sign up for the app on Google Play or the App Store.
After signing up, you can win points whenever you upload a shopping receipt.
To cash out, you should know that every 1,000 points is worth $1, and you can cash out once you have at least 3,000 points.
Tricks: You can get points by referring a friend or taking advantage of the daily deals to save a little extra money.
Betterment is a robo-advisor investment app that makes it easy for you to save money and make investments.
You can set financial goals, invest in a portfolio that fits your needs, and win rewards. The app has several tools to help you learn how to save money and invest.
You can also use the app to get perks like cash back when you use your Betterment Checking and Visa Debit Cards.
How Does the Betterment App Work?
To start using the app, you will need to create an account and give some basic information, like your age, money, and social security number.
After you sign up, you will be asked to choose a few of your money goals. Lastly, Betterment will send you a set of investments that are made just for you and your goals.
This robo-advisor uses a method to manage your money based on your financial goals. How your money is handled will depend on what your financial goals are.
The app also explains how Cryptocurrency and exchanges work and makes them easy to handle. It also lets people with taxable accounts collect their tax losses.
When you use your Betterment Checking account and Visa Debit Card to make purchases, you can earn cash back and get your bank fees back.
Honeygain is an app that pays you to share your unused Internet connection.
When you use this service, you will earn a free $10 Amazon gift card for every 1,000 points you make.
Honeygain review shows that you can reward yourself by shopping with this app.
It is the first crowdsourced online intelligence network in which users are compensated based on the volume of traffic they share.
Various firms require such traffic to make pricing comparisons, brand protection, etc.
Honeygain always takes strict security precautions to protect the public online data it collects.
Honeygain's particular features, such as the Referral System, Lucky Pot, JumpTask mode, and Achievements, can help you increase your profits. Simply download the software and keep it running in the background to get passive cash!
Pros
100% FREE to join and make passive income right now
A starting $5 gift for new users
Multiple opportunities to boost your earnings
Cons
Add up to 10 devices with different IP addresses
Decluttr is similar to Poshmark but with a difference. Instead of selling clothes and accessories, the website allows you to sell your technological goods, such as laptops, phones, tablets, video game consoles, DVDs, and Blu-Rays.
Decluttr is simple to use. Once you've signed up, simply scan the barcodes on your CDs, video games, and DVDs to see if they're accepted.
Decluttr will offer you tech devices like cell phones and computers based on their manufacturer, model, and condition.
You have assured the original price offered by Decluttr, or you can have your tech items returned for free.
The app works best on newer and in good-condition devices. Consider an alternative platform if you want to get rid of a cumbersome cell phone from the early 2000s or if you have retro games or consoles.
Pros
Shows current most popular resell items on the site
Offers free shipping
Provides quick, direct deposits, Paypal, or charity donations
Has solid BBB and TrustPilot ratings
Cons
Requires at least 10 media items or 1 tech item per order
Offers are subject to change upon inspection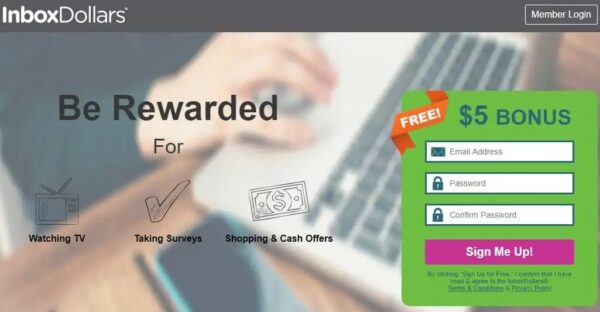 InboxDollar is another app that pays you to watch videos online. Upon registration, you can win a $5 signup bonus. However, unlike other platforms, the InboxDollar app pays you real money.
InboxDollars offers prizes and gift cards for watching videos and playing smartphone games in addition to short and simple surveys.
You can do other things in the name of market research besides giving out surveys. Some of these are more fun than others, like watching a movie or playing a game.
Others, like reading emails, are not as fun. With InboxDollars, you can also make money using their search engine or doing quick scratch-offs through the app.
InboxDollars a real way to make money?
Some polls pay more than $5 for your time, but most pay less than a quarter. Because of this, InboxDollars is less of a way to make money while you sleep and more of a way to save some money.
You must have made at least $15 with InboxDollars before you can cash out. However, when you sign up for an account, you'll get $5 just for joining, which will help you get started.
After your first withdrawal, you only need $10 to be able to cash out.
You can earn points to redeem for PayPal cash, pre-paid debit cards, and gift cards from companies like Apple, Target, eBay, and Amazon, among others.
This money-making program is accessible for both macOS and Android, and our InboxDollars review will teach you everything you need to know.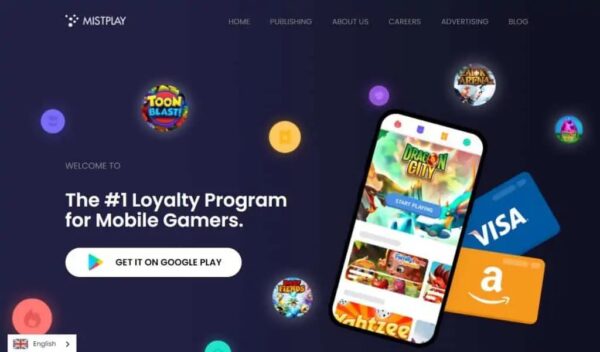 Mistplay is a money-making app that lets you make money just by allowing different mobile apps and games to use your user info to make them better.
If that sounds good to you, it's the app for you. Each month, you'll play different games and use various apps to earn prize points.
Once you've earned enough rewards points, you can get paid for your time.
How Does Mistplay Work?
This differs from other apps requiring you to do specific tasks to win cash rewards.
After you get the app from the Google Play Store and set up a new account, you can start making money.
If you already like to play games on your phone, Mistplay's card games and strategy games will be a nice addition to what you already play.
You must be at least 13 years old and live in the U.S., Canada, or many European countries to use Mistplay.
You should also know that the app only lets you earn up to $50 monthly. This $50 can buy things like Steam cash or store gift cards.
However, you can sell gift cards for money and enjoy the same benefit. The creators of this platform are yet to add the PayPal payment option.
But earning gift cards is a smart way to get started.
Your points can be redeemed for gift cards to major retailers like Amazon, Starbucks, and the Nintendo store.
Minimum withdrawal: 1,500 points, which is roughly equal to $5 in value.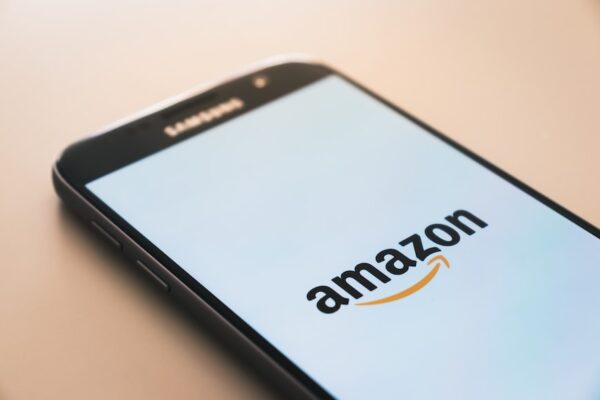 This platform allows you to access FBA, which means fulfillment by Amazon.
You can use the Amazon Seller app to scan the barcodes of products and see their actual worth. You can make hundreds of dollars per month from this platform.
There's a reason all those Amazon Prime packages arrive on time. Amazon Flex is looking for package deliverers!
If you want to be a part of the team that makes it happen, you might earn between $18 and $25 per hour.
You'll be able to establish your hours and create your own schedule while delivering smiles.
It was unusual to see our Amazon box being delivered at 7:30 p.m. in a typical town car.
However, after some research, we discovered Amazon Flex and how individuals generate extra money by handling our deliveries!
Acorns is one of the few apps on this list that lets you trade money, but it's also a sneaky way to save money.
Once you've set your financial goals and linked your bank account, you can make small investments in the stock market that grow slowly thanks to your contributions and compound interest.
What does Acorns do to make this happen? It does this by adding up your spending and investing the difference.
How To Make Money with the Acorns App
For example, if you buy something at Target or Walmart for $43.18 and Acorns rounds it up to $44, it will invest the difference of $0.82.
When you use Acorns, it doesn't give you free money like some other sites do, but it does let you save some spare change in a way.
The only big difference is that thanks to stock market gains over time, your money may grow faster in this account than in a separate piggy bank.
Acorns also give you a $5 bonus when you sign up for an account, and there are often bonuses for getting other people to sign up.
Even so, with fees ranging from $3 to $5 a month, you may lose a lot of money in the beginning until you've saved up more money.
M1 Finance gives you a variety of tools to help you keep track of your money, investments, and loans.
It also helps you manage your wealth and keep it in balance. In addition, its smart automation gives you the best ways to spend your money and the cheapest ways to borrow money.
With only $10,000, you can open a credit line that lets you borrow money for as little as 2%.
It also lets you get back 1% of every dollar you spend. M1 Finance also has an APY that is 25 times the national average. It enables you to earn the same amount in two weeks as you would from a big bank in a year.
Pros
You can pay back your loans on your own time.
It puts the money that has been paid into your bank account immediately.
It lets you borrow money at very low base rates.
You get a nice cashback on some purchases made with your bank card.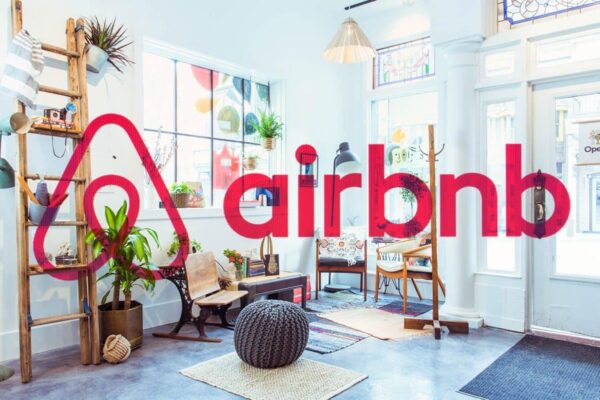 If you have a vacant room to rent out, you can list the item on Airbnb. The platform was created to help connect house owners to clients in need of vacant apartments. You can earn up to $750 per month from this platform.
Since Airbnb is so famous, you don't have to worry about advertising or marketing.
Airbnb takes care of everything for you, from promotions to getting bookings. So you can easily rent out your empty property and make some money.
Airbnb protects your home and things with $1M in insurance against property damage and $1M in accident insurance for every booking.
Pros
Make money renting unused space, rooms or while traveling
Set your own rates, manage your own schedule
Quick to set up, easy to manage via the free mobile app
Trustworthy company with rating systems, well-vetted applicants, and security deposits.
Cons
Heavily regulated in some locations
Highly competitive industry in some locations
Risks involved with theft, damage, and wear to your home
StepBet is one of the best apps that pay you to exercise. StepBet is built as a pedometer app to enable people to reach their fitness walking goals and earn from this activity.
Once you visit the platform, you will have to set up your account using your real information.
Once you adhere to various instructions issued on the platform, you should get ready to start earning.
You may not earn enough from StepBet, but the platform will inspire you to exercise more regularly.
StepBet app for exercise that lets you set your own goals and get rewards for reaching them. It also encourages you to walk more and make money at the same time.
There are several games on nStepBet where you need to take a certain number of steps to win prizes.
The app looks at your past activity to figure out how many steps you need to take.
You have to make a bet based on the game and win both prize money and bet money if you reach your goal. It works with Apple Health, FitBit, Garmin, Google Fit, and Samsung Health.
Pros
Get the money back whenever the package doesn't get delivered on time through Amazon Late Shipping.
Use its ShopRunner Membership to get 2-days shipping and returns.
It offers a free version that tracks your shopping.
Earny comes powered with two-factor authentication and data masking for added security.
GetUpside is a platform that gives you incomparable deals on gas. In addition, you can earn some cash back whenever you purchase gas from a gas station. So if you love to drive, you can use this app to save money on gas.
You can save up to 25 cents at every gas stop by using GetUpside. It also tells you where to get the best deals on food and gas and where the cheapest gas is in your area.
With GetUpside, you only need your phone and ticket to find the best gas prices, grocery prices, and restaurant deals.
You can make as much as you want and use it with other discounts, coupons, and loyalty programs.
People who use this free app save an average of $124 per year. How it works is as follows:
Get the best gas price, restaurant, or grocery offer by claiming your deal.
Just take a picture of your receipt or paper.
You can get cash back and withdraw it through PayPal, a gift card, or a check whenever you want. So if you ever needed a real money-making app, this is it.
Fundrise is a real, much better, and more desirable way to spend money than the stock market. With Fundrise, you buy and sell real estate on the private market, which lets you spend just like the most successful institutions.
It lets you trade in real estate with just a few clicks. You can do this no matter how much money you have or how much you are worth.
Last year, investors made an average of 8.7–12.4 percent on their money by putting it into real estate investments. Moreover, they did this without having to paint walls or deal with bad renters.
There's a reason they have more than 300,000 users right now: this app really pays you.
Fundrise is a very easy-to-use app that lets people invest in real estate through crowdfunding. This choice is best for people who want to make money consistently and let their money make it for them.
HealthyWage is a health app that gives cash prizes for finishing fitness and weight loss challenges. It's the best way to get you to lose weight.
The website helps you lose weight by giving you money and cash prizes, good peer pressure, social motivation, and competitions.
The HealthyWage tool can help you determine how much weight you need to lose. The calculator also tells you how much money you can make if you lose weight or complete other fitness tasks.
After you sign up, you must place your bet, and you'll be on your way to losing weight.
Team Challenge: You can join a team if you don't want to lose weight alone. You can also bet big as a group and make more money.
Corporate Challenge has a free program for employers and government partners that you and your office teams can use to start losing weight.
Pros
It gives you a $40 bonus every time a friend signs up for the Challenge.
You can improve your chances of making money by taking part in more challenges.
You can bet any money that you can afford.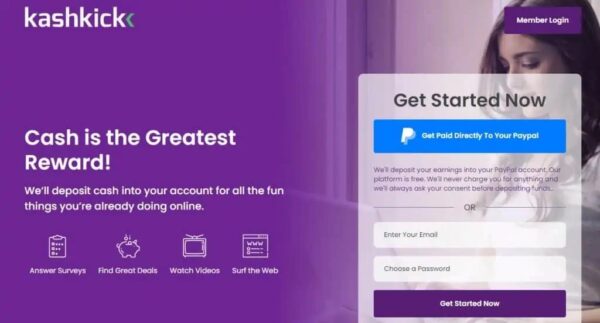 KashKick is a platform that pays you to run surveys using your smartphone. Apart from completing surveys, you can also execute other tasks to earn more from the platform.
KashKick is one of the best platforms to consider signing up for, as the platform gives you access to a specific number of survey tasks that you may not find in other survey apps.
However, you must render the tasks fast enough, as you may compete for survey tasks with other users.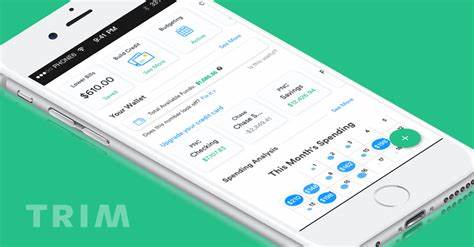 In the United States, the Trim platform works like a personal helper and helps you save money on your cable, phone, internet, and medical bills.
The service automatically negotiates your accounts to ensure you're paying the lowest price for the service. For instance, it can help you pay less for Comcast to get credit.
Just Connect your money accounts to Trim. Send Trim your most recent bills, and they'll work with your source to get you the best deal.
According to Trim, the average user saves $276 (Trim keeps 33% of this amount). The service can also help you find and stop services you don't want.
This app gives you money back when you buy things at gas stations, food stores, restaurants, and convenience stores that work with it.
It depends on where you are and which partner stores are in your area. Because of where you are, you may not be able to get some deals.
How it works: You can get the Upside app for both Android and iOS devices. However, you may need to fill out the information to make an account, like your Apple ID, Google, or Facebook login.
You must also let the app know where you are to show you deals from partners in your area.
You can choose a deal from places like restaurants, gas stations, grocery stores, and convenience shops. Once you find a deal you like, you can click "claim" on it, make a purchase, and share the receipt within a few hours.
To finish the deal, you must buy the item within the time limit and pay for it with your credit card. If you can't complete the deal in time, you must cancel it on the app before it runs out.
Lastly, you can get your money back by tapping the "Cash Out" button on the app. Which will go to your PayPal account, digital gift card, or bank account.
Tricks: In some stores, you can get cash back without uploading a receipt if you use the "check-in" function. Compare deals in your area before you claim one.
You may find that you can get a better deal somewhere else. Lastly, you can get extra benefits from the app by referring friends to it from your account.
Freecash is a relatively new app but one of the sites where you can make money online that has grown the fastest.
They promise the biggest payouts, fast cashouts, or low minimum withdrawals.
They also promise a simple, modern, easy-to-use design, active direct support, featured offers (deals with reliable payouts), and worldwide signups.
You can make money by doing jobs, signing up for offers, filling out surveys, and playing games. Users have already made more than $19,000,000.
You can get your money immediately by using PayPal, digital currencies like Bitcoin, Litecoin, Ethereum, or Doge, or gift cards from famous stores like Amazon, Google Play, Netflix, Spotify, Zalando, Play Station, and Xbox.
They also offer other cash-out ways, such as buying skins for popular games like CS:GO, Fortnite, League of Legends, or Valorant.
Freecash is also one of the best apps for students to use to make money.
Receipt Hog is a platform that converts your receipts into money.
Hence, as you upload more receipts on the platform, you can increase your chances of earning from the platform.
Receipt Hog rewards you in coins. You have to consider the app as it's classified as one of the top-rated apps to earn from.
You can earn extra coins and attain greater financial freedom by making regular purchases.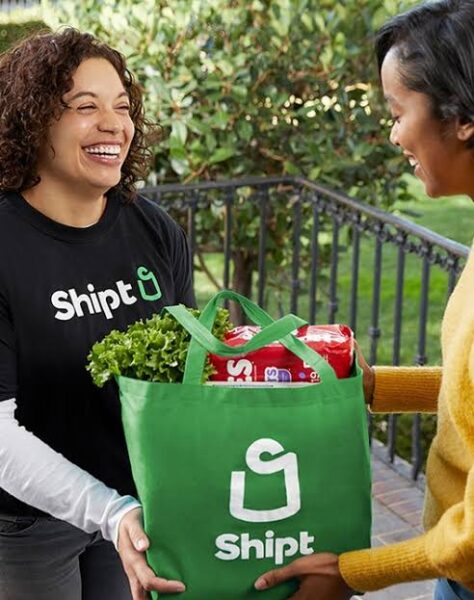 Shipt is a platform that renders grocery-related services, including shopping and delivery services.
The platform mostly works on a membership basis. Hence, customers tend to pay you for the services provided.
The platform says drivers can make up to $22 per hour. Sometimes, they can earn more money. You can check out the platform and see how to get started to earn from shopping for others.
Bonus: Legit Money-making Apps That Pay You Real Money
Another great app you should consider is Prize Rebel. This platform gives you surveys and provides you with points.
You can use the points to purchase gift cards from iTunes, Amazon, and more. But you can request a direct payout to your PayPal account or your bank.
Microsoft Rewards is one of the fastest apps that pay you. On this platform, you can shop for goods to earn extra points.
These points are often redeemed through gift cards and other payment options.
If you use this platform more actively, you can earn decently and attain your financial goal fast.
Banatic is a great platform that rewards game lovers. You cannot only enjoy playing games to earn money. The Banantic platform will also allow you to task games to make.
Unlike most platforms, Banatic has its own unique virtual currency called "Bananas." You can easily install this app on your mobile phone and earn from having fun.
StickK is an app created to enable you to earn from exercising activities. So when you are more focused on losing weight, stickK is a great app to consider.
However, you have to fill out their Commitment Contract and work to lose about 1 pound every week for the next few weeks before you can be qualified to earn from this app.
Earny is created to allow you to earn from your frequent purchasing activities. However, you must pay about 2$ every month to access the platform.
The good news is that you can make up to $75 a month from using this app. Average users have reportedly made more than this amount from using the platform.
Fluz is a platform created to enable people to earn from engaging in several shopping activities. Whenever you shop with the Fluz app, you can earn up to 1-35% cashback. Hence, this is an amazing offer you should consider.
Bookscouter is a great app that lets you earn from selling used books online. You have to scan the book's ISBN to find companies willing to purchase such a book from you.
Other Apps To Earn Money Fast
Evidation is a favorite app that allows you to earn from fitness activities and conducting a survey. In addition, the app has the potential to sync other fitness apps on your smartphone. If you love sporting activities, you may consider Evidation.
FieldAgent is an app that enables you to earn from performing random tasks such as shopping, capturing products, and more tasks.
Lyft is another great app to consider if you want to earn from freelance driving. Again, you can do this as a side hustle and still stick to your main hustle.
S'more is a platform that allows you to monetize your lock screen. This platform enables you to earn by placing ads on your screen. To learn more about earning money with the S'more app, check out the S'more review.
Cashyy is an Android-based app designed to help people earn from playing games. Once you accomplish a mission, the app pays you for the achievement. You can redeem your earrings through gift cards and other payment options.
The Mercari app enables you to earn from selling items for profit. Its mode of operation is similar to Poshmark. You can check out the platform to see how to get started.
Blackout Blitz is a unique iOS-based app that converts classic games into real money. When you play each game, you can earn up to $20 before almost every weekend.
If you are searching for the best ways to make money every week, Blackout Blitz should always be on your mind.
Respondent is a platform that pays you for answering surveys. On this platform, you can make up to $100 per hour if you work consistently.
You can receive your payout via PayPal when due. Respondent is one of the best sites to consider, as you can make fast cash from it.
Free Money-making Apps
Groundfloor is an app that renders real estate crowdfunding services. Hence, you can get started with real estate investment using this platform. Groundfloor allows you to start investing with a minimum of $10. You can use this amount to invest in renovations, house floors, and other real estate services.
Handy is a platform that offers home cleaning services. If you are good at rendering home cleaning services, you may consider creating a profile on this platform to earn extra money.
The platform may demand your personal information to build better trust between clients and service providers. Handy is a platform to entrust; you can make this hustle a full-paying income with time.
Bambino is an app created to help connect parents to babysitters within a particular location. If you have a skill in looking after children, you may consider signing up with this platform to earn from your professional.
You have to create your account with your real information to enable the platform to match you faster with suitable jobs. When the platform recognizes your profile as genuine, you will be connected to a client for the job.
Topcashback is a great app that allows you to earn 105 percent cashbacks whenever you complete a certain transaction. For example, with the services provided by this platform, you will get paid to purchase an item online.
This is one of the best cashback apps you should consider if you hope to save money while shopping.
Drop is created as a simple intuition app to enable people to earn from their daily expenses. However, once you download and install the app on your device, you have to connect your credit card to your profile to shop without stress on the platform.
As you make your daily expenses, your points accumulate on the platform until they are due for cash out.
PeoplePerHour is another top freelancing Marketplace to consider.
But before you land your first client on this platform, you must prepare your portfolio to prove your expertise in a particular field. Your payment highly depends on the skills you provide for clients.
Yelp is a review site that allows you to earn cashback whenever you purchase at a restaurant. So when you prefer to eat out, you may consider signing up with the platform to earn from your regular expenses.
AppNana is a platform that rewards you for downloading and using different apps. Once you install the app, follow the onscreen instructions to earn from downloading and playing games.
Whaff is built as an Android app to allow people to earn from taking maths quizzes, playing games, and performing other tasks.
The app is available on Google Play Store. You can see various ways to earn from doing what you love most.
Facebook is a big platform that will help you gain financial freedom with time. The platform has a Marketplace that allows you to sample items for people to buy.
With Facebook Marketplace, you can earn from selling everyday household items. You can also work as an influencer on the platform to earn more money.
What To Look Out for when Searching for Money-making Apps
When making money with apps, there are a few things you should watch out for.
Some apps will tell you you can make more money than you can, so it is important to know a few things.
● How to use the app to get your points or prizes
Some apps don't put money into your account. Instead, they give you gift cards or discounts at certain shops. Watch out for apps like this because nothing is worse than saving up points for cash and getting a gift card instead.
In this way, you should also know that with some apps, like Money App, it is up to the marketers and partners, not Money App, to pay out rewards. So if something went wrong with the app, Money App wouldn't have to pay.
● How long will it take to pay out
Each app has its own rules about how points and prizes can be cashed out.
You need to be aware of these because some apps won't let you cash out until you've earned a certain number of points. In addition, some only give out money at certain times of the year.
● How do you get points or prizes from people you refer
Some apps that help you make money will ask you to refer a friend. Your friends can either sign up through the link you send them or mention you through the app by name and account.
On some apps, your friend has to spend money or use the app before you can get points or cash back. Find out how the app's promotion system works before you start telling your friends about it.
Good Read: 9 Ways to Make Extra Money on the Side (Fast & Legitimately!)
Bottom Line
As the world gets closer to fully accepting the growing gig economy, there are more and more apps that can help you make money on the side or even replace your full-time job. You have many choices depending on what you want to do and what you like.
Rakuten is the best place to get cash back quickly and easily, while Swagbucks has cash back and other easy ways to make money. The Uber app makes it easy for drivers to make money by driving or delivering on their own time.
But Upwork's independent marketplace is the best way to make money in the long run. Freelancers can apply for as many jobs as they want and build a good name for themselves, leading to more jobs and better pay.
Frequently Asked Questions
Q: How do you avoid scams when downloading apps to make money?
User reviews are an excellent tool to identify scam apps to generate money, which is typically available on your Google Play or App Store. You may also utilize Reddit to get more honest user reviews – people may seek help or disclose issues with a money-making app there.
Q: Are money-making apps safe?
These apps are generally safe, but they do capture a substantial quantity of user data. If you are uncomfortable with having your financial information uploaded on the site, utilizing your PayPal account is often the best option for security. Read each money app's privacy policy to learn how they use your information; ideally, you should understand how the app safeguards your data.
Q: What Apps Make You the Most Money?
This article is a list of the finest money-making apps. Taking surveys is a quick and easy way to generate money. Collecting cashback benefits on your purchases is also beneficial which can be more lucrative than store loyalty cards.
When you have a $5 registration bonus or even a $10 signup bonus and may earn compensation, these purchases can be advantageous, especially if you plan to buy those things anyhow.
Q: What Is the Best App To Get Free Money?
You are aware that there are numerous ways to get extra money using one or more money-making apps! For example, look for registration incentives or limited-time offers to take advantage of free money.
For example, Rakuten offers a $10 bonus for signing up and completing a purchase, while a retailer where you usually shop may offer 40% cash back for a few days at random. Cashback apps are among the top money-making apps accessible.
Q: Do Any Apps Pay You?
Yes! There are numerous ways to earn money online by using apps. For example, you can earn gift cards, have cash sent straight into your bank account, or pay using your PayPal account. So, whether you use a cashback app, opt to make money selling stuff, or conduct surveys while watching movies, these apps will always pay you back.
Q: Do money-making apps really work?
Yes, money-making apps are effective. You should, however, download programs that pay on time and are entirely legitimate. Popular apps such as Survey Junkie, Uber, and Capital One Shopping, as well as the ones mentioned above, can be trusted. There are numerous fraudulent money-making apps on the market. As a result, you should exercise extreme caution when downloading legitimate software to make money.
Q: What apps pay you cash instantly?
You will be paid immediately by Airbnb, Facebook Marketplace, TaskRabbit, and Nextdoor. There may be a minimum threshold amount that you must reach before being paid. Apps that enable you to sell something (products/services) usually pay quickly.
Q: Do money-making apps pay through a direct deposit?
Some money-making applications pay via direct deposit, while others may pay via a different means, such as PayPal or a gift card. Therefore, reading each app's terms and conditions is critical to decide how you will be compensated.
Is my information secure when using the apps above?
In terms of financial security, all applications on this list use encryption to secure your banking information and other data. However, some personal information may be collected if you use Mistplay or do market research assignments.