Last updated Apr. 18, 2023 by Favour Chinaza
Learning how to get your first job on Upwork is exhilarating and terrifying. Many new freelancers quit after a few months of struggling to get Upwork clients because they couldn't convince anybody to take a risk on them.
We know the prospect of starting an Upwork freelancing career can be daunting. However, this guide will show you how to find employment on Upwork, one of the most popular freelance marketplaces, and help you make the most of your freelancing career.
Remember that Upwork is only one option among many for obtaining work. However, here we will concentrate on getting employment via that platform.
Good Read: How to Become a Virtual Assistant
How Does Upwork Work for Freelancers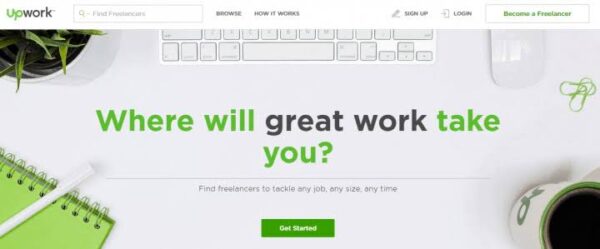 Upwork is a gig economy platform that connects freelancers with clients and businesses needing assistance. Following registration, freelancers create a profile with a photo, a list of skills, and a portfolio of work samples.
Users can then search through the site's tens of thousands of job opportunities organized into various categories.
Note* When you find a job that interests you, you submit a proposal that typically includes your desired rate, a brief cover letter, and brief responses to a few questions about your skills, experience, and suitability for the project.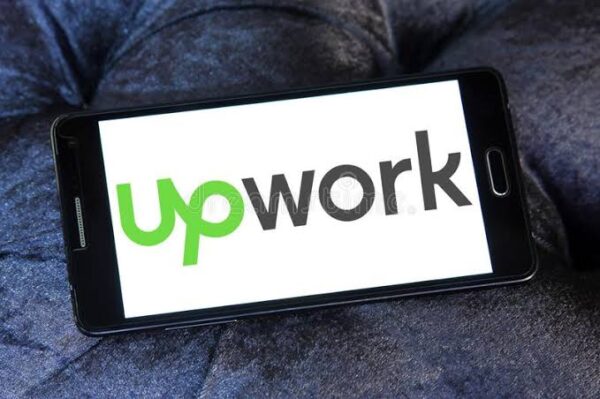 Clients (people looking for freelancers) can also look for freelancers who may be a good fit for their projects. After being invited to apply, the process seems the same: you review the details and submit a proposal.
Freelancers and clients communicate on Upwork via a built-in messaging platform that supports chat, voice, and video calls. Unlike on other freelancing platforms, off-site communication (such as email) is not explicitly prohibited.
Upwork handles billing and payments, giving both parties peace of mind. Most clients must deposit project funds into an Upwork-managed escrow account to initiate a contract.
Upwork charges freelancers a percentage of their earnings
Upwork charges freelancers 20% of the first $500 billed to a client, but after that, the fee drops to 10%.
Some jobs pay an hourly rate, while others pay a flat fee. You should be able to negotiate the rate and terms during the proposal process.
Freelance Job Types on Upwork
There are over a hundred different freelance job types on Upwork and these selection of easy freelance jobs for beginners is a good place to start.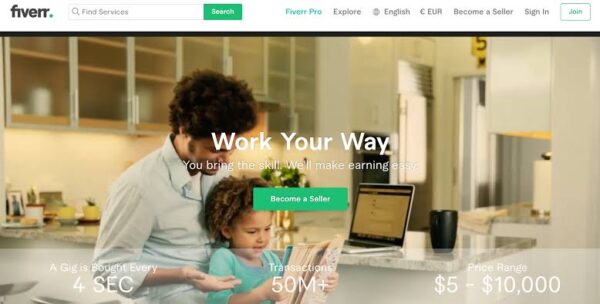 Freelancing jobs are frequently associated with writing, graphic design, creating a WordPress site, and editing.
There are plenty of those jobs on Upwork. Still, there are also hundreds of others, such as web design, mobile app development, data entry, copywriting, remote customer service, and virtual assistant.
There are even listings for "professional" careers such as architecture, chemical engineering, and law. So I was surprised when I saw a listing for "Junior Attorneys in New York."
So, in addition to finding one-time writing gigs to supplement your current income, you can also find legitimate Upwork careers!
And many freelancers do: rates on the platform are relatively high, so freelancers can often build a full-time income with just a few clients.
Upwork Ratings
Upwork's rating and feedback system is based on a five-star rating system. This feedback is prominent when you apply for a job, as shown in the image below, which shows how it appears on your profile.
When a project is finished, freelancers and clients grade one another and can leave a publicly visible comment.
These ratings act as social proof, demonstrating that you have successfully completed projects and will not waste a client's time and money.
They also contribute to your "Job Success Score" (JSS), a publicly visible metric used by Upwork to determine how satisfied your clients are with your work.
When clients are looking for freelancers to invite to projects, they can filter potential applicants by JSS (Job Success Score) (often choosing only people with a score of 100%).
Now, as a beginner, how do you navigate getting your first job on Upwork without experience or rating? Find out more in this article.
Steps To Get Started on Upwork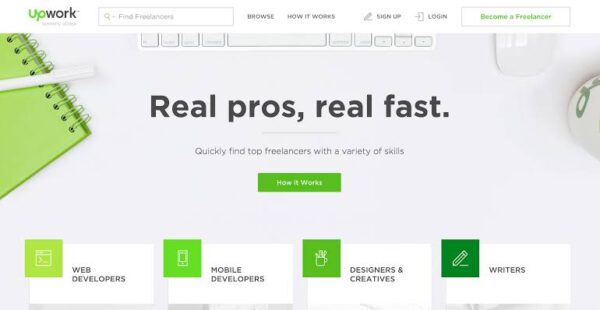 Getting your first job on Upwork starts with creating a wonderful profile. Before I broke through with Upwork, I had two earlier profiles I had to delete. So you need to get your profile creation right from the get-go.
Making your Upwork profile perfect
I should emphasize the need to set up your Upwork profile before we get started on your first job. Before applying for jobs and making pitches to prospective clients, ensure you make your Upwork profile excellent.
This entails adding a polished profile picture, crafting a detailed bio, using keywords in the title, and including many work examples in your portfolio.
If you don't know how to create a good Upwork account, see these steps:
Step 1: Go to Upwork.com and click the "Sign Up" button.
Begin by clicking the "Sign Up" button in the top right corner of Upwork.
Step 2: Sign up with your work email, Apple ID, or Google Account.
You can also use your preferred email address to create a separate login that isn't linked to any other services.
Step 3: Fill in your personal information
Finish the first part of your account setup by adding a few more details:
Your given name and surname
A username and password for your account
Your current location
Indicate your desire to "work as a freelancer,
When you finish filling in your personal information, click "Create My Account" to proceed to the next step: creating your Upwork profile.
Step 4: Begin your Upwork profile by telling us about your work.
You must complete 100% of your profile before you start applying for jobs on Upwork:
A nice photograph of yourself
Your job title
Your profile summary
Work experience
Skill tags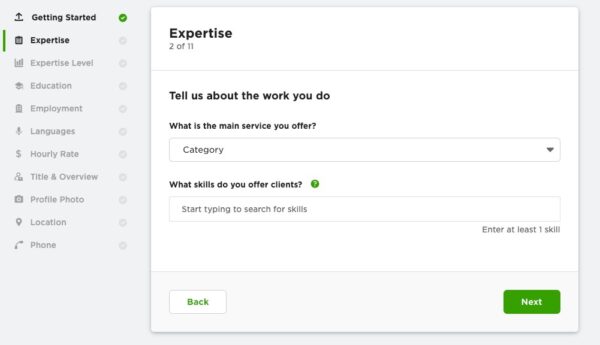 There is always room to keep fine-tuning your profile. So take your time but be thorough.
Provide info on the services you provide:
Your overall work category
The specific abilities in which you excel
How much experience do you have
You have the option of selecting up to four work categories.
You should select the most powerful, specialized, and in-demand. While the categories you choose will influence how clients find your profile, you can apply to jobs in any category.
You can highlight up to ten skills from Upwork's extensive list.
Step 5: Highlight your educational background
We recommend including the following:
The degree obtained, even if it has not been completed
The field of study
Additional information, such as awards or recognitions received or extracurricular activities (teams, clubs) in which you participated
Step 6: Highlight your past work experience
Your previous work experience can help you establish credibility with a potential client, especially if you're new to Upwork. It can highlight not only your level of expertise but also industries or subject areas with which you are already familiar.
You could include the following:
Companies you've previously worked with Projects completed prior to joining Upwork
Projects you can share from other freelancing sites
Step 7: Add your language proficiency
While self-assessing language skills, try to be as accurate as possible to set the right expectations with potential clients.
Step 8: Set your hourly rate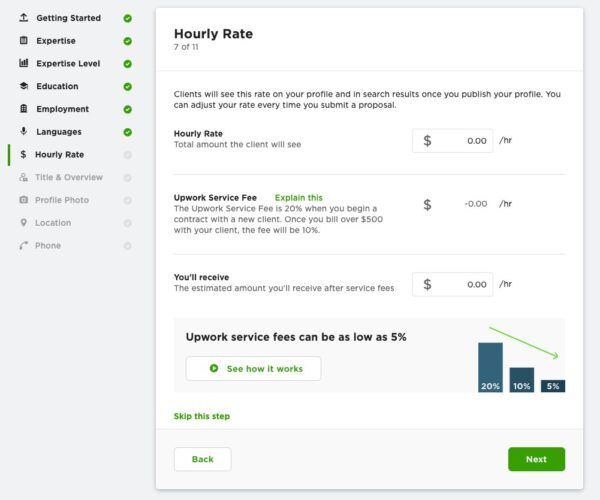 If the question of setting your rates makes you nervous, keep these two things in mind:
You have the option to change your overall rate at any time.
Every time you submit a proposal, you can change your rate.
Step 9: Indicate your title and overview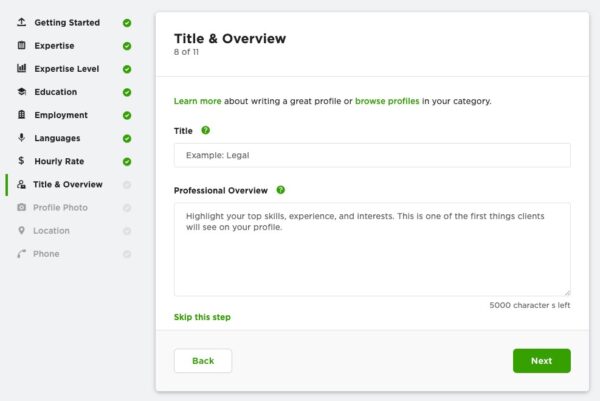 Because they are among the first things clients see, a good title and overview can make a difference in the responses you receive. To begin, consider what clients will see in search results: It's essentially an advertisement for your services.
Step 10: Include a profile photo
Businesses want to work with people they can entrust critical work to. Does your profile picture make you feel confident? Don't leave your photo blank or replace it with another image.
Step 11: Include your contact information.
You provided your location earlier in the sign-up process, but we now require additional information, including your address and phone number, to help verify your identity.
Before submitting your profile, please review it.
You're almost finished!
On Upwork, trust is essential, and freelancers must be who they say they are. Therefore, you must first verify your identity before applying to any projects.
Valid government-issued identification
A visual verification online
Step 12: Start freelancing.

You're a freelancer on Upwork! With your Upwork account established, you can begin working on your first project.
The following section will discuss best practices for making a good first impression and winning new projects.
How to Get Your First Job on Upwork
1. Craft A Killer Upwork Profile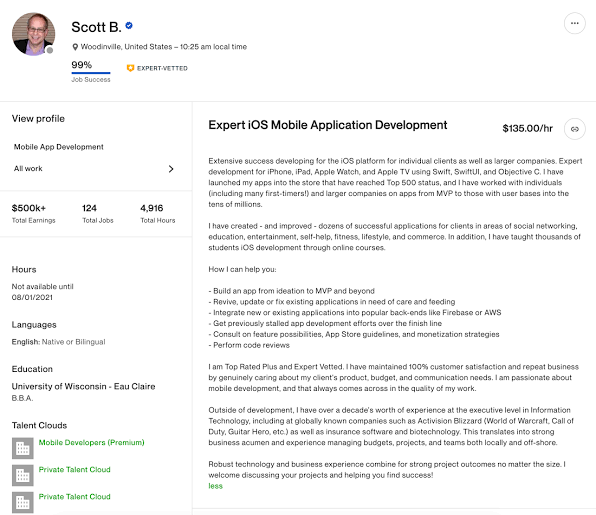 Getting your first job on Upwork begins with a stellar profile. When you lack experience, feedback, and a Job Success Score, your profile is scrutinized more closely.
It is your primary means of selling yourself to potential clients as a new Upwork user. However, many newcomers make the mistake of rushing through the profile creation process, making them significantly less competitive.
Here are the keys to creating an outstanding Upwork profile that will entice clients to learn more about you.
How Do You Craft a Killer Upwork Profile?
● Use a semi-professional photograph.
First impressions are important, and an appropriate photo should be included in your Upwork profile.
Because the photos on the site are small, you'll want a close-up of your head and neck (and possibly the tops of your shoulders).
Because freelancing is not the same as a traditional job, a suit is inappropriate for an Upwork profile. However, if any of your clothing is visible in the photograph, keep it business casual.
You also want your photo to be approachable. But, again, you're not posing for your passport but attempting to attract potential clients.
Smiling and a confident posture can significantly influence clients' perception of you, according to research into what makes an effective profile photo.
Pay close attention to your Upwork profile photo
With freelancing, seeing your client in person and making an impression on him is rare. But the crucial element that will link you and your client is your profile image.
Through your photo, your Upwork client can form a first impression of you. However, remember that a picture is worth a thousand words. Thus, it is crucial to give your profile image careful consideration.
Do not upload any solemn, austere, or restrained images of yourself. Everyone like happy faces. After all, a client prefers a cheerful face to a thousand words.
● Create a catchy, keyword-rich job title and summary.
Whether you're looking for your first Upwork job or your 100th, you want to make it simple for potential clients to find you.
This entails writing a detailed description of your skillset, with keywords relevant to the jobs you want to be hired for. Also include an overview of your experience.
In these sections, you should also emphasize the benefits.
You may not have a niche when you first start. However, you can emphasize the advantages clients would gain by hiring you. Don't just say what you're good at; consider how your abilities translate into specific, measurable results.
That being said, you should always consider your future niche (s). Because there is so much competition on Upwork, targeting a specific niche within your larger area of expertise can help you win more clients and earn higher rates.
For example, if you're a social media expert who has worked with various restaurants, emphasize that fact.
● Consider including a video introduction.
The majority of the jobs on Upwork are done from home. As a result, you're unlikely ever to meet a client in person, and you might never even speak to them on the phone.
Most of the time, it's impersonal and transactional: you get an assignment, complete it, and turn it in.
Adding an introductory video to your Upwork profile can help you stand out and feel less anonymous. It's a rarely used option, but it can significantly impact the success of your proposals.
Try and make the videos professional. You can use one of these best video editing software to preserve an attractive video on your profile.
Tell potential clients
who you are,
what services you provide, and
how long you've been in your profession in your video.
Take note of the types of projects you want to work on and the types of clients you want to work with.
● Match your "skills" to the job you're looking for.
Many new freelancers on Upwork make the mistake of putting down their 10 best skills, even if they don't know what they are. But since you can only list 10 skills, you must think carefully about which ones are most relevant to your desired job.
For example, you worked as a content writer for five years but now want to start your own business as a freelance graphic designer.
Most likely, the skills you learned as a content writer are some of the best skills you have. But a client looking for a graphic designer probably doesn't care about those skills, so you shouldn't list them.
Here, it would be best to consider what qualities clients value and choose your skills based on that. Then, if you're not sure, look at a few listings in your target category to see what's in demand. You're probably good at at least some of those things.
● Upload samples of relevant work
Your portfolio is the most important part of your Upwork profile because it lets clients see examples of your work and get a sense of what you can do. You don't need to put dozens of things in your portfolio; 3 sample is enough
But what if you don't have one? Start one! No rule says a portfolio can only show paid work.
If you want to get Upwork jobs but have never had anything published, write articles about the niche topic you know the most about.
Work that is published is always better. In the above example, you could write a few articles and offer them as blog guest posts.
They'll get free content, and you'll get a valuable byline that will help you get clients.
As a beginner, you can say you made samples just for your portfolio. This shows that you took the initiative, and as someone who has hired a lot of freelancers on Upwork, the initiative is something that I don't see enough of in job proposals!
● You might want to add a project.
For example, if you want to offer a specific skill on Upwork, like logo design or Unbounce landing page design, you can list it as a fixed-price service (which will then appear on your profile).
Creating an Upwork project is another great way to get noticed by clients and land your first job on Upwork. It's similar to having a pre-packaged service that Upwork clients can select from.
It outlines what you intend to do for the client. For example, "I will write a blog article for you and then go over what will be involved, the number of words, the time required, whether it is SEO optimized, and the cost."
Another cool feature of a project is that it allows you to create three plans within the offer, such as a basic, pro, and pro max plan, and you decide what each plan entails.
The client can then review the offer and choose to contact you directly rather than send you a proposal. You can create up to 20 projects on Upwork.
So, use this feature to create various offers for your services, increasing your chances of being seen and attracting clients.
2. Search Only for Suitable Jobs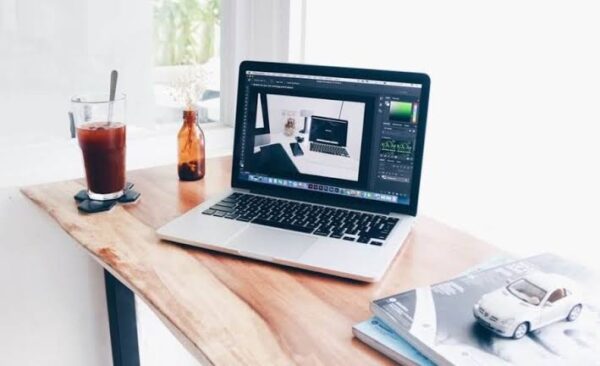 How Do You Search For Suitable Jobs on Upwork
Getting your first job on Upwork is the most difficult part of learning how to get jobs on Upwork.
However, once you land your first job and receive positive feedback on your profile, you become less of a risk to potential employers.
The simplest way to get feedback on your profile is to look for a low-paying job that poses little risk to the client if you mess it up (for whatever reason).
Going for a job with a budget of $20-$50 will not make you wealthy, and it will not take much convincing for a potential client to spend that much money on an unknown freelancer like yourself.
● Be patient and selective with your job search
On Upwork, there are a lot of jobs, and new ones are added every minute. So the first time you look for Upwork jobs in your field, you might be shocked by how many there are.
But if you want to get your first job, you need to be a bit strategic and resist the urge to send a proposal for the first job that seems like a good fit for your skills.
Yes, there are many possibilities on Upwork for you. But there are also a lot of freelancers, and most of them have good Job Success Scores(JSS) because they have feedback and a lot of hours billed.
Those freelancers already have a leg up. So, when you choose which jobs to apply for, you need to be realistic.
It is not advisable to apply for every job
As a freelancer, your time is your money. You could waste hours and connects applying for jobs you can't get, so that's not a good way to spend your time but equally a good way to get burned out and be discouraged.
Also, you pay to apply for work with connects. For example, when you submit a proposal on Upwork, you must spend tokens, which they call "connects."
Each one costs 15 cents, and most jobs need two to be submitted. That's not much, but if you apply for dozens of jobs every day, it will add up quickly.
At first, loaf up on connects but do not use it to apply for every job you see. You may end up applying for jobs you aren't qualified for, wasting connects.
● Pay attention to small, one-time projects.
Your goal is to get a few quick wins to build a feedback profile. Unfortunately, to do that, you'll probably have to bid on jobs for less than what your time is worth.
Getting clients to try you out is easier if your services are cheaper than those of other freelancers. Yes, you might be a risky hire, but it might be worth it if they can save money by taking that risk.
Why Should You go for One-time projects
It limits your exposure to exploitative rates. Working for less than you're worth stinks, but it can quickly help you get a foothold on these platforms.
It's better to work on several small projects than one big one because a five-star review means the same whether the job took 30 minutes or three days. A profile with five great reviews from clients is more competitive than a profile with one great review from a client.
Remember that you only have to use this method a few times.
Then, once you've finished even two or three projects successfully, you can raise your rates and compete for better jobs.
Don't Set Your Rates Too Low
Note that freelancers who set their rates too low come across as unprofessional.
I can attest to this because I also hire freelancers for my business – and I don't even open proposals with ridiculously low rates.
Millions of freelancers send copy-paste proposals for $5/hour – but they are NOT your competition. As a result, the majority of clients ignore those applications.
Instead, look at our table of average rates for various fields and see what other beginner freelancers charge.
Generally, as a beginner, don't charge less than $10 per hour.
You shouldn't set your rates too high, especially if you're starting.
You risk turning away numerous clients due to their limited purchasing power. So, make a reasonable offer to get your first Upwork job.
Also, keep in mind that if your rates are too low, clients will assume that the quality of your job is likewise quite poor.
Many clients evaluate a freelancer based on how quickly they work. So, while bidding, you must choose your rate carefully. Check out other workers' rates if you're unsure what your rate should be.
● Pay More Attention to Returning Clients
Keeping a good returning client is much easier than finding a new one.
And from the client's point of view, the same is true: they would rather work with the same SEO expert, copywriter, or editor on each project. It takes time to put up a job ad, sort through the applications, and hire someone new.
When you look at a job listing on Upwork, you can see what other jobs the client has hired for in the past.
So, when you're just getting started, it's a good idea to go after clients who often hire on the platform. For example, if you're a graphic designer, try to find a client who has previously hired freelancers for graphic design projects.
If a client has never been hired on Upwork or usually hires outside of your field or niche, it is much harder to build a long-term relationship.
3. Send an Attractive Proposal.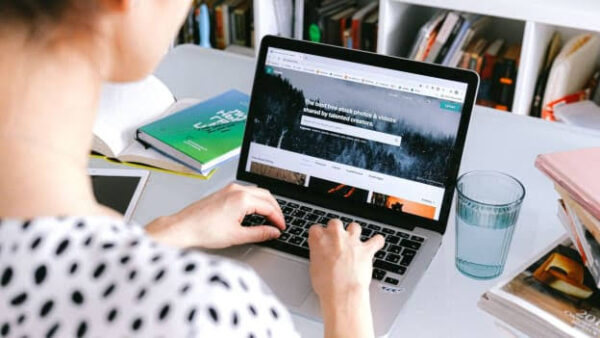 This is your chance to "wow" the client with your proposal. Use the opportunity to show off your skills and tell them why you're the best person for the job.
How to Submit an Attractive Upwork Proposal
● Read the job description in full
Some job postings on Upwork are pretty simple and only have a few lines. Others are involved in a lot more.
Be sure to read the full description of the job. You don't want to take a job for which you aren't qualified or require you to do things you'd rather not do.
More importantly, you want to make sure you're making a custom proposal that meets the client's needs.
Also, some clients have code words in their job adverts. They put it to ensure you read through the job ad before applying.
So when you send your proposal, you can include the code words to show them you read through the ad and pay attention to details.
Yes, that's right. Many clients put a code word somewhere in the job posting and tell you to include it in your proposal. If you don't, you're already out of the running.
● Provide social proof
Social proof includes things like feedback and ratings. But since you are a beginner gunning for your first job on Upwork, include some of your qualifications.
Adding them to your proposal will be a form of social proof.
Even though these qualifications might be in your Upwork portfolio, you should mention them in your cover letter.
You can attach your doc samples if you don't have published examples.
Publish your work for free on medium and Substack
You can now use the medium and Substack samples to submit your proposal. Other online platforms allow freelancers to publish their work for free. You can take advantage of this.
Optimize Your LinkedIn and Twitter accounts
Also, remember that once you start messaging a client, they can see your last name. That means they will probably look at your LinkedIn and Twitter accounts.
Stop at nothing in optimizing your social media accounts. You can use the best social media management tools and app to do this.
So, it's a good idea to ensure your social media presence is active and professional, giving clients confidence that you can do the work they're looking for.
Remember that any work you make for your portfolio can show off your skills, but it is not social proof.
From the client's point of view, a published article with your name is very different from the same article uploaded as a Word document.
And the same goes for sending a resume: it's better to put this information on your LinkedIn profile than to send a PDF resume because putting it online makes it more credible.
Suppose you're worried that you don't have enough social media proof. In that case, you should build an active and professional online presence on LinkedIn and Twitter to support and fuel your confidence in submitting proposals.
● Link to similar work you've already done.
Many applicants don't follow the advice above and send proposals unrelated to their past work. But even those who do often make another common mistake: they send samples that have nothing to do with the project.
Suppose I want to hire someone for UX design or digital marketing. In that case, I want to see design or writing samples showing they can write about digital marketing, not gaming, crypto, or even academic writing.
Your samples don't have to match each other perfectly.
Using the above example as a guide, writing an article about the business, economics, the stock market, global trade, or anything else along those lines would be fine.
The better you match your samples to the client's needs, the more likely you will get hired.
● Suggest an actionable next step
By sending your proposal with a clear next step, you make it easy for the client to say "yes" to continue the conversation. This makes it easier for them to make a decision.
Bad Actionable next step in your Upwork proposal is:
"Thanks, and if you have any questions, feel free to get in touch!"
What if the client has nothing to ask? Or what if they liked your idea but weren't totally convinced? This closing isn't actionable because it doesn't say what you want to happen clearly and directly.
Good Actionable next step in your Upwork proposal:
"We can/Let's talk about the project by phone or video chat."
Here, you're clarifying what should happen next and giving the client a clear "Yes" or "no" choice. Why not agree to a quick call if they're interested?
A perfect Actionable next step in your Upwork proposal:
"Let's talk about the project by phone or video chat. I'm free every day this week between 10 and 12:30 a.m. GMT, or we can set up a time that works for you."
In the above example, you're not only deciding the next step but also taking charge of how long it will take and how quickly it will happen.
That limits the amount of back-and-forth that could happen ("when works for you," etc.).
Also, the client can confirm the call in the next message because you gave specific times. This makes it much more likely that you'll get the interview.
● Prepare yourself to answer more questions.
You may not be done when you write and send in your proposal.
Some companies that hire through Upwork need you to answer more questions. These can be questions made just for the project, or clients can be asked to answer questions from a list on Upwork.
Examples of Upwork Screening questions to expect are
What part of this project do you think will take the most time?
Do you have suggestions to make this project run successfully?
Do you have any questions about the job description?
What part of the project appeals most to you?
Why did you apply to this particular job?
What past project have you done that is almost like this one?
What questions do you have about the project?
Which of the required job skills do you think you are strongest at?
What challenging part of the job are you most experienced in?
These questions and answers help figure out who did and did not read the job proposal. They are from the client's side. So you should know about them, study them and prepare your answers should your proposed client pick any of them to ask you.
Even though you want to give the most value in your proposal, provide any screening questions some thought. Most of the time, two to three sentences should be enough.
Only a small number of freelancers take the time to answer these additional questions. So please do not write "N/A" or "see job proposal."
Whether clients like it or not, it's a red flag right away when they see something like that. But, on the other hand, that's good news because it gives you another way to stand out.
4. Ace Your Upwork Interview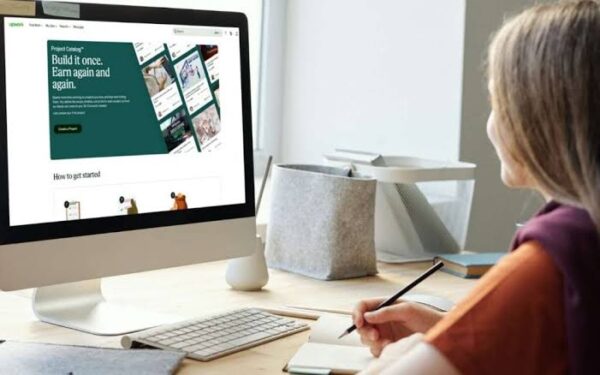 Many freelancers complain that the client didn't reach out to them after the interview, though they submitted a good proposal for the job.
This is because, most time, beginner freelancers on Upwork don't prepare for interviews. Instead, they think the work ends with submitting a good proposal.
A client can contact you because of the killer Upwork proposal but will lose interest after your interview. Instead, they could try checking other proposals submitted and dumping you midway.
How do you ensure that you pass the interview after writing a catchy proposal?
How to Ace Your Upwork Interview
A good proposal will not necessarily get you hired immediately, but it will get you an interview for the job. This is your last chance to land the job, so put your best foot forward.
Here are four quick ways to ace an interview on Upwork:
● Research Your Client
Before you begin the interview, thoroughly research your client and their company. Some clients will include their company names or links in the job description, so take advantage of this to research them. This will demonstrate to your clients that you are well-prepared to handle their projects.
● Demonstrate your expertise.
Identify and express your core skills that fit the job well during the interview. Then, prepare samples centered on these skills and present them to the client during the interview to demonstrate how the skills will meet their needs.
● Concentrate on the client's requirements.
Use the interview to demonstrate to the client that you understand their needs and know how to meet them.
Provide a few suggestions for opportunities that would benefit the client or a solution to a problem they may be experiencing. You want to appear proactive in taking the initiative. This is certain to impress them.
● Ask the Right Questions
Interviews are also an excellent opportunity to learn more about the client's goals. Again, this will assist you in determining whether you are a good fit.
Remember that the goal is not simply to land a client but to do a good job and receive a positive review. Conversely, you'll do a mediocre job if you don't fully comprehend the role. So use this opportunity to ask questions about the job.
There are other guides to answering interview questions that will help you wow your Upwork client or ace any job interview.
Tips To Increase Your Chances of Landing a Good First Client on Upwork.
#1. Be Ready to Invest in the Process
This entails devoting time (and potentially money in the form of Connects—but you can also earn free Connects) to applying for jobs daily.
Paypant.com recommends starting with at least a dozen proposals per day. Beginning with a high volume increases your chances of finding the right match and being hired for your first freelance job.
And once you've landed your first job, don't stop looking. To gain new clients and freelance work, it is critical to continue sending proposals daily, even if the volume decreases.
This is something I still do! It's an investment in my freelance business that I'll always make.
Searching for jobs on Upwork is much more targeted than finding freelance jobs among full-time in-office and remote work listings on LinkedIn or a traditional job site.
So, if landing your first freelance job seems difficult, know it's a challenge you're up for. Nevertheless, your first client has arrived, and you will find them.
#2. Don't be afraid to say no to jobs that don't fit you.
I remember the allure of taking a first freelance job—any job—even if it wasn't quite the right fit. Looking back, I strongly advise waiting for a job that is a good fit for you.
This entails waiting for the right freelance client and the right freelance job. If you can't wait and must accept the first job that comes your way, remember to follow Upwork's guidelines for identifying potential scams.
The Upwork platform does an excellent job of filtering out bad actors, but you should be aware if one slips through the cracks.
#3. Keep your applications brief.
Don't bore the client by making them read your voluminous proposal. Most clients will simply ignore it. So instead, limit yourself to two to three paragraphs.
The key to writing a good proposal is to keep it brief. Don't belabor the point; stick to content relevant to the job. Don't get carried away; include your entire resume in the proposal.
The goal is to pique the client's interest enough for them to check out your fantastic profile.
#4. Apply to Recently Posted Jobs
Create your job feed and include categories for jobs in your niche. Use this feed to find newly posted jobs and apply before other freelancers. This means the client will receive and review your job application before it becomes too competitive.
Applying to recently posted jobs also gives you an advantage, especially if a client is looking to hire immediately.
This means they are not interested in reviewing many applications but in finding a suitable freelancer as soon as possible.
As a result, clients will most likely notice the first few applicants, even if they are inexperienced.
#5. Ask Friends and Family to Hire you on Upwork
The more jobs you have and reviews you have on Upwork, the more likely you will be hired. But what if you can't seem to land that elusive first Upwork gig? Look beyond Upwork.
You may already have family and friends who want to collaborate with you. Request that they hire you through Upwork.
You can gain experience and increase your chances of getting more jobs this way.
Remember to request feedback from them once you have completed a task. Feedback helps your profile rank higher, allowing more clients to find you and inviting you to apply for jobs.
#6. Network with other freelancers in your field.
In addition to sending proposals every day, you can use Upwork to start connecting with other self-employed people.
So many wonderful freelancers on Upwork are eager to share their advice on landing your first freelance gig. The Upwork Community is an excellent place to start making these connections.
#7. Find your Niche
The more you concentrate on specific skill sets, the easier it will be to expand your business.
Therefore, it may appear to be backward advice to not apply for any jobs. However, as you grow your freelancing business, it's critical to be strategic about your services.
Specializing establishes you as an expert in that field, and you can create a portfolio that showcases your abilities. For instance, if your niche is writing, start learn how to become a freelance writer.
In addition, clients will see how you can help them with their problems if they look at your previous work history because you've done it many times for other clients.
#8. Focus on the client
Clients want to hire freelancers who can help them solve problems they can't solve on their own, and they want to know how you can do it. So keep your attention on the client and their situation.
Describe how you will add value to the client's life. Make your profile, proposals, and communication about them rather than about you.
#9. Develop Client Relationships
When you begin a project with a client, don't think of it as a one-time event. Instead, form long-term relationships with current and previous clients to get repeat business.
You could do more of the same for the client or recommend an additional service that adds value to the client's life.
For example, if you're a freelance writer who writes blog posts for clients, you could offer to write press releases, create whitepapers and case studies, or update website content.
Another advantage of developing a relationship with your clients is that they can assist you in finding new opportunities.
For example, after completing a project, you can request a testimonial or referral to other businesses that could benefit from your services.
#10. Don't Copy and paste your Upwork proposals
Writing proposals for Upwork jobs is a skill that requires practice. Use templates sparingly, and don't copy and paste the same thing for each submission.
Project proposals should be unique and focused on how you can assist the client.
Tell the client why they should choose you by emphasizing how your experience matches their project objectives.
Keep your pitch brief and to the point; typically, 100-300 words will tell the client everything they need to know.
If you receive a response from a potential client, you must respond within 24 hours. As they evaluate candidates for the project, many clients will message you with follow-up questions.
You can distinguish yourself from the other candidates by responding quickly and thoroughly to the client's questions.
#11. Be active on the Upwork Platform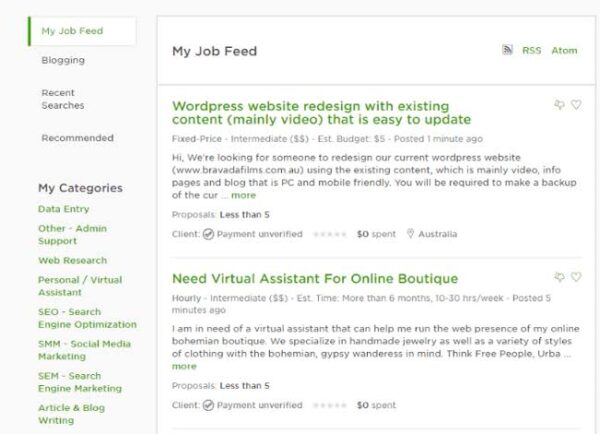 The goal is to have clients seek you out, but you must first be active on the platform. You should review the newly posted opportunities on Upwork regularly.
When you find a job posting matching your qualifications, submit a proposal using your Connects. You increase your chances of being included in Upwork search results by submitting proposals regularly and being active on the site.
#12. Perform test and display results
You are aware that some Upwork clients take your Upwork Tests seriously. Freelancing necessitates several tests. It would be best to take exams specific to your field of work.
Upwork Tests demonstrate your area of expertise. Therefore, you must take exams to let clients know your skills and capabilities. The best way to do this is to display your results at the top of your profile.
Impressing your clients and landing your first Upwork gig can be extremely beneficial.
#13. Always Respond Quickly
You know what? Everyone appreciates a quick response. As a result, whenever your client attempts to contact you, you must respond quickly.
Don't make him wait too long. Otherwise, your client will hire a different worker for his project. As a result, your response time is extremely important to your clients.
#14. Keep Learning
Take note of the skills clients in your field are looking for as you apply for jobs on Upwork. Then, go ahead and learn a new skill if it will make you more valuable to clients.
Examine the top-rated freelancers and discover what makes them so special. Read their biographies and take notes from them.
Examine the jobs they apply for and the feedback they receive. What did they do that impressed clients? Try to provide such value.
Optimizing Your Upwork Basic Plan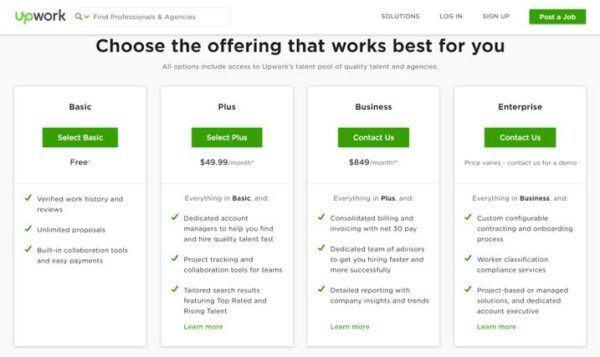 Upwork Basic Plan
Although the Upwork basic plan is free, remember you must pay to connect with potential clients.
Freelancers on the basic plan get 10 free "Connects" per month, the platform's internal tokens used to submit proposals to clients.
We advise you to buy lots and lots of connects because you will need them. Getting your first job on Upwork is a long numbers game; you should be ready to play it.
You can also pay $0.15 per additional Connect, available in bundles of 10, 20, 40, 60, and 80. In addition, connects can be earned, and Upwork occasionally gives them away during promotions.
Unused Connects can be carried over to the next month but will expire if not used within one year.
If someone contacts you, you don't need to use any Connects. The more complete your profile appears, the more likely you will receive job offers from potential clients.
Putting your best work on display or emphasizing specific work experiences can help you stand out. Volunteer experience is also valuable if you are new to your field.
The basic plan also includes payment protection for hourly and project-based payments.
Upwork Plus Plan
This plan costs $14.99 per month and includes everything from the basic plan as well as the following:
80 Connects per month.
Visibility into what price competitors have bid for a job.
Option to keep earnings private.
Ability to customize your profile URL.
Your profile is never hidden due to inactivity
Best Upwork Jobs for Beginners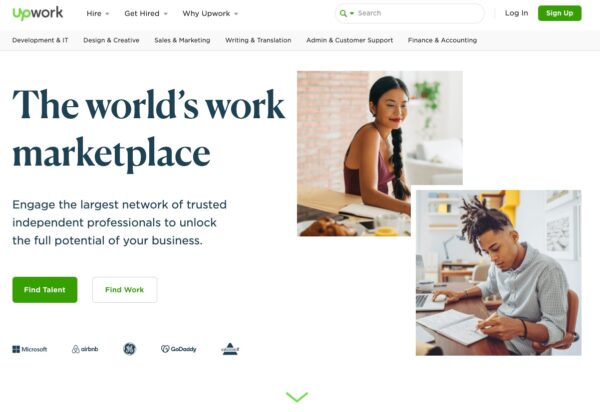 Optimize an Excel spreadsheet
Upwork has a wide range of Excel projects, from entering data to modeling data. If you know intermediate to advanced Excel, you might find it easy to build macro tables and make interactive dashboards.
Or data entry may be more your preference. No matter how good you are at Excel, you can find a small project to start on Upwork.
Write blog posts
Writers often start a project by researching the subject. So, there are a lot of easy writing projects to choose from, but it takes practice to know how long each one might take.
You can learn how to become a freelance writer and get Upwork jobs. There are many ways to make money as a freelance writer, and this is one of them.
Design Custom Swag
If you're a graphic designer, you might find it easy to make custom T-shirts or mugs for a client's event or as thank-you gifts for a team.
Easy projects for beginners could also include updating templates and content to match a business's latest brand design and making icons for presentations.
Transcribe a Conversation
As more digital content is shared and more virtual events are held, businesses have more and more content that needs to be transcribed.
Transcription is easy because you can do it on your own time and don't have to talk to clients much. And there are many online transcription jobs for beginners.
Polish a PowerPoint Presentation
By making well-designed presentations, you can help your clients tell interesting and impactful stories.
For example, you could offer general services or focus on certain presentations, like investor pitch decks.
Or, you could use your background and work experience to your advantage by focusing on PowerPoint presentations for a certain industry, like aerospace, or function, like finance.
Proofread or Edit Content
Proofreaders fix problems with grammar, spelling, punctuation, and general layout. Editors do all these things and suggest changes to make the text clearer and easier to read.
To proofread or edit, you don't need a college degree. But you must have a very strong command of your editing language.
Test and Update Websites
Some easy jobs in software development are testing websites, keeping code up to date, and fixing small bugs.
You will help development teams, allowing you to learn about different parts of software design and coding. And the more you do it, the better you get at coding.
How to get Jobs on Upwork- Summary
Read the job description. Carefully. Several times.
Address the client by name.
Be truthful.
Include a relevant sample of your work (or, at the very least, describe something similar you've previously worked on).
Instead of talking about yourself, discuss the problem and how you can contribute to its resolution.
If the client is interested, invite them to discuss the project further with you.
Check out Other Freelance Online Jobs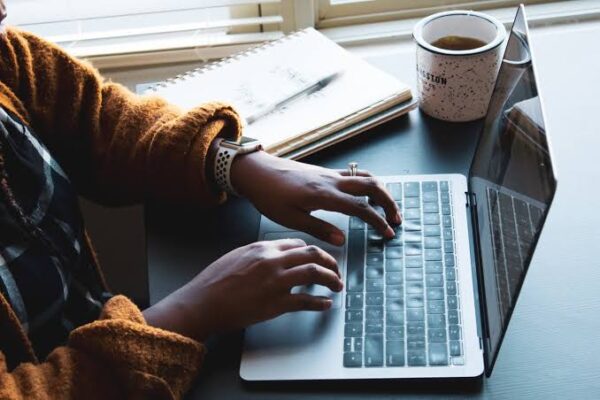 There are equally other best jobs to get rich. Side hustles like DoorDash can provide a great side income.
Still, Upwork provides a valuable opportunity to leverage your talents and abilities into a long-term freelancing career that can equal or exceed the average wage you'd receive in a typical workplace.
Be intentional about Freelance Job search
Although networking is an excellent way to make professional connections, you should still do a job search and participate in networking events.
There are numerous helpful tools and programs available to you online, which you may use on your computer, as well as on your mobile device.
Some are completely devoted to Upwork job hunting, while others incorporate aspects such as social media and networking into their design.
Utilize freelance job sites to research available freelance jobs near you. You may even start showing some of your abilities, talents, and expertise by creating an online professional networking profile and posting it on job boards.
Bottom Line
If you take time through this article, you should know everything needed to land your first client on Upwork and getting started. If you're new to freelancing, want to expand your skill set, or want to transition from 9-to-5 to full-time freelancing, this site will be a valuable resource for you.
When you first start, think beyond the pay and strive for more than just the money.
Remember that having a client list and positive feedback is more valuable in the long run than one job that pays you a couple of dollars. Once you have a track record of successful jobs, you can raise your rate to what you are comfortable with.
Good Read: 15 Ways You Can Make Money With Facebook
Frequently Asked Questions
Q: How do Upwork beginners make money?
Freelancers in the United States make an average of $20 per hour, according to a study from 2020. According to Indeed, $8.20-$63.91 per hour on Upwork. However, web/mobile development, marketing, law, accountancy, and other specialized services pay freelancers an even higher average compensation of $28 per hour.
Q: What is the good hourly rate for Upwork beginners?
As a beginner on Upwork, your hourly rate should be between $20 to $30 per hour. Remember, the rate can be lesser than this and increases as you grow. No matter what your hourly rate is as a beginner, ensure you provide quality work that exceeds the expectation of your clients. That's the easiest way to increase your Job Success Score and land more clients on Upwork.
Q: Is Fiverr better than Upwork?
Upwork is more expensive than Fiverr, as it's a freelancing platform that offers a wider range of services on more topics. Typically, clients use Upwork for long-term projects and Fiverr for a one-off cheaper job.
Q: How long did it take you to get your first job on Upwork?
Usually, we will say two days. However, as you could have guessed, it varies depending on the clients. Some Upwork clients respond in less than ten minutes and employ you after a discussion. However, some clients could neglect their jobs or let the job amass proposals for up to a week to find the ideal match.
Q: Is Upwork hard for beginners?
Upwork is not hard for beginners if you follow the rules. Every freelancer on Upwork making thousands of dollars yearly started somewhere. Upwork is the best place to start if you want to pursue freelancing. The tips in this article will help you easily land your first job on Upwork.
Q: What are the easiest jobs to get on Upwork?
Polishing PowerPoint presentations, Writing blog posts, articles, and other types of content takes time. Because most clients don't have the time to do it themselves, they hire content writers who are dependable, precise with their budgets, and highly experienced.
Q: How do beginners get clients on Upwork?
Aside from having a good profile, a killer proposal, and asking your friends to hire you, you can also establish an affiliate link for your account with Upwork Support's assistance. Following that, you must ask your client to join using your link so that he may employ you and pay you no service costs.
Q: How do I work for Upwork with no experience?
To get a job on Upwork with no experience, do the following:
Get a Good Profile Picture.
Your Language Skills are Important
Create Samples.
Low-Paying Jobs Can be a Great Start
Don't Be Too Desperate.
Stay Active
Build Your Portfolio.
Getting your first job on Upwork is the most difficult step in learning how to get employment there. However, if you get your first job and receive compliments on your profile, you begin to look less risky to future employers.
Q: Why am I not getting jobs on Upwork?
Freelancers struggle to get clients on Upwork for reasons like either:
They're applying for the incorrect positions,
Only talk about themselves and how amazing they are in their proposal,
Submitting copy-and-pasted proposals,
Not giving any indication in their proposal that they can do the job, or
If THEY don't stand out from the competition.
Q: Which skill is best for Upwork?
The skills best for Upwork are those skills that you excel at. If you find your niche, you can browse the best skills for them and add them to your profile.
Q: Which freelancing site is best for beginners?
The best freelance websites for beginners are:
1) Upwork.
2) Toptal.
3) Freelancer.
4) Fiverr.
5) Guru.
6) Servicescape.
7) PeoplePerHour.
8) Hubstaff Talent.