Last updated Aug. 31, 2023 by Favour Chinaza
24 Best Social Media Management Tools, Apps, and Software
Everyone now relies on social media for engagement, getting leads, and marketing purposes. As a result, they engage in various social media activities across various social platforms.
"How do they manage to stay on top of all these activities?" is the question. The solution is to use social media management tools.
It's easy to see why most businesses use social media as a marketing tool. Social media platforms with billions of users include Meta, X (formerly Twitter), Pinterest, and Instagram.
A consistent social media presence enables businesses to reach out to their customers in novel ways.
However, managing multiple social media accounts can be extremely challenging with many popular platforms.
After all, business owners would have to devote time and energy to logging into multiple social media accounts, writing a post for each, and scheduling them as needed throughout the day.
This is simply not feasible for many small businesses with only a few employees. With this in mind, many small businesses turn to social media management platforms that enable them to create a comprehensive social media strategy they can manage from a single location.
With more people using social media daily, the business social media landscape has rapidly evolved. In fact, 59% of the global population uses social media, with a daily average of 2 hours and 29 minutes.
Businesses are aggressively shifting their focus to their social media strategies to get their products and services seen by as many people as possible.
Companies must focus on what they need to do to improve their social media ROI and measure their marketing efforts.
They want monitoring and listening tools, as well as analyzing and engaging tools, for all social media networks. Businesses must rely on social media management tools that can benefit their bottom line.
Good Read: 25 Best SEO Tools (Honest Reviews and Free Options)
What is Social Media Management?
Social media management is the process of managing your brand's presence across all social media platforms.
It's not just for large corporations; small businesses and solo creators must also manage their social media.
Planning and scheduling posts, interacting with followers, answering questions, staying current with trends, and analyzing performance are all part of social media management.
If that seems like a lot, it's because it is! Using technology (also known as social media management tools) to manage social media can assist you in the following ways:
Make and schedule social media posts ahead of time.
Respond to comments and direct messages from multiple social media profiles in a single inbox.
Track your analytics across numerous accounts and platforms from a single location.
Create and distribute comprehensive performance reports.
Make audience and industry research more automated (via social listening and brand monitoring).
Keep your creative assets organized and accessible to the entire team.
Enhance your social customer service processes, response times, and customer satisfaction ratings.
A social media management tool can range from a simple photo editing app to an all-in-one dashboard (e.g., Hootsuite).
What Is Social Media Management Software?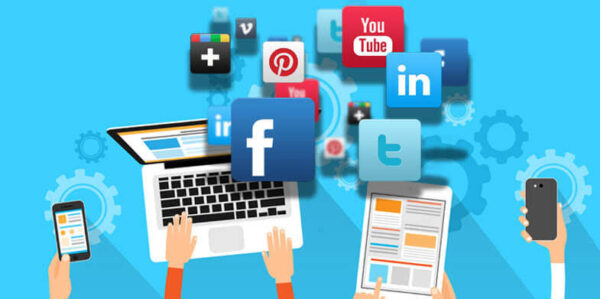 Users can use social media management software to connect multiple social media accounts and post social media content to those accounts in advance from a single interface.
It enables a restaurant marketing manager, for example, to schedule posts to the restaurant's Twitter, Facebook, TikTok, and Instagram accounts a week, month, or year in advance.
Social media management software typically includes features such as analytics tools, brand awareness campaign tools, and communication tools to assist marketing departments in making the most of social media marketing campaigns.
What Does Social Media Management Software Cost?
The price of social media management software varies depending on various factors, such as the number of users, the number of social media channels, analytic features, automation features, and so on.
Buffer is one of the less expensive software platforms. Buffer's paid plans begin at $5 per month per channel and include tools for planning and publishing, analytics, engagement, and a landing page builder.
The Agency plan is the most expensive, at $100 per month for 10 channels, and includes unlimited team members and clients and draft collaboration tools.
While Sprout Social has one of the highest-paid plans, Sprout Social's paid plans begin at $249 per month for five social media channels.
This includes an all-in-one social inbox for monitoring comments across all social media channels, a social content calendar, and monitoring of profiles, keywords, and locations.
Its Professional plan costs $399 per month. It includes unlimited social media channels, competitive reports for Instagram, Facebook, and Twitter, scheduling for optimal send times, response rate and time analysis reports, and other features.
The amount you spend on social media management software is determined by the amount of revenue you generate from social media.
If your company only posts a few times per week to a few social media channels, purchasing the most expensive plan with all the automation and analytical bells and whistles may be overkill.
However, if you are an e-commerce store that posts multiple times a day to multiple channels, invest in an all-inclusive plan that will assist you in posting at the optimal time.
It will also help you respond to multiple customers throughout the day, and tracking your social media ROI is probably worth the extra money.
Why Do You Need a Social Media Management Tool?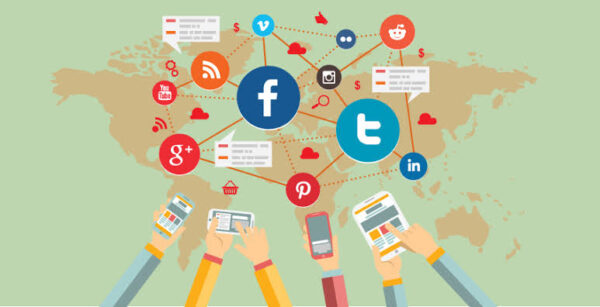 Whenever marketers tap into a new tool, they want to find one that adds value to their marketing tech stack rather than more bloat. Here are some factors to consider to narrow down your choices as you're deciding between tools.
1. Pricing and Budget
Whether or not you can get by with free social media management tools depends on your business' size and scope.
For solo businesses and up-and-coming agencies, free or freemium tools might serve as a stepping stone toward paid ones.
But often, "you get what you pay for" rings true. That's why assessing which features matter most to your business and what your non-negotiables are is important.
And when in doubt, testing out tools (like with social media tola with a 30-day free trial and seeing what they can do firsthand is always a safe bet.
Sprout Social is also the only tool on this list that provides a 30-day free trial; most of the others only offer a 14-day trial.
2. Automation and Time-saving Features
"How is this tool going to save me time?" Just like the best marketing automation software, the social media management tools you add to your tech stack should be able to answer this question for you and your business.
Features ranging from publishing and scheduling to a social media calendar, automated responses, and content ideation can seriously free up your schedule.
Another key consideration is whether or not your tool of choice integrates with the rest of your marketing stack.
This can serve as a massive time-saver in and of itself.
3. Collaboration Features
From scheduling content to responding to customers in real-time, the best social media management tools make collaborating easy.
How many users can work within the tool at once? Can you easily set up permissions to onboard new members to your social team?
How many slots a social media management tool has is crucial, especially if you're outsourcing part of your social or plan on scaling your team.
4. Reporting and Analytics
We can't stress enough how much analytics matter. The easier it is to highlight your performance and KPIs, the better.
Whether you're reporting on behalf of clients or presenting data to stakeholders yourself, in-depth and easy-to-read reports are an absolute must-have.
Additionally, reporting can help highlight what's working and what's not in terms of your social presence.
Before investing in any tool, make sure that it monitors the social metrics that matter most to your business.
24 Best Social Media Management Tools, Apps, and Software
This social management software has a robust feature set that makes it suitable for businesses of all sizes.
Can you blame us for putting ourselves first? Sprout Social is a comprehensive social media management tool that enables businesses of all sizes to manage all aspects of their social media strategy.
You can manage your entire presence in a single dashboard by integrating with Facebook, Instagram, TikTok, Twitter, LinkedIn, Pinterest, YouTube, and other platforms.
You can also manage reviews from Google My Business and Facebook and create shoppable posts integrated with Facebook Shops and Shopify catalogs.
Do you want to turn your employees into brand advocates as well? Our Employee Advocacy tool provides a curated feed of content for your employees to share across their social networks, increasing your company's reach.
Key Features
Social media publishing, scheduling, monitoring, analytics, reporting, and more all in one user-friendly dashboard.
Access to our ViralPost feature to ensure you publish your content when your followers are most likely to engage, automatically increasing visibility and reach.
Smart Inbox collects all your incoming messages from various social media platforms, providing a comprehensive view of all your social interactions.
The ability to identify the most relevant hashtags for your content. Custom URL tracking to gain a more detailed understanding of how your posts perform in terms of referral traffic and conversions
Social Listening
Collaborative tools
Advanced Reporting
Automation Tools
Multiple Reporting Templates
Helpdesk Integration
Engagement Reporting
Mobile Engagement
Automated Conversational Workflow
Other features include a collaborative content calendar, advanced post scheduler, custom inbox views, bulk scheduling, custom URL tracking, and more.
It has a clean interface, and a centralized dashboard enables you to manage your social media activities from one place.
Sprout Social provides a 30-day free trial, while its monthly price is $99.
Pros
Dashboard lets you manage your social networks in one place
Utilizes Social media optimization tools
Analytics and reports help manage user engagement and ROI
Scheduling tools make creating posts a breeze
Free 30-day trial
Cons
Expensive, standard plan
Limits to how many social profiles you can manage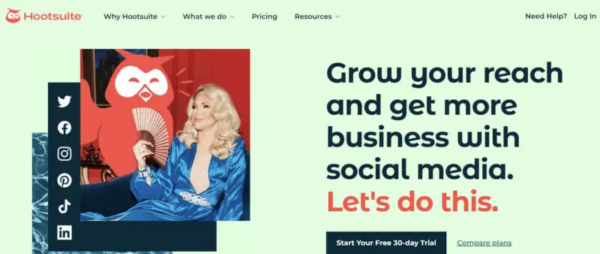 Hootsuite is your go-to social media management app for creating, scheduling, and organizing posts across your social media platforms.
Hootsuite includes a social media scheduler, content calendar, and features to help you perform better on social media.
It is one of the best social media management tools for multiple accounts available.
Hootsuite is the way to go if you're looking for a one-stop shop for your social media management needs.
It's an all-in-one social media app: you can use it to schedule messages, create and manage potential posts, monitor your various inboxes, run boosted post advertising campaigns, and pretty much anything else you'd want a social media management app to do (within the limitations imposed by the respective social media companies).
It works with Facebook, Twitter, YouTube, Instagram, LinkedIn, TikTok, and Pinterest, and it has some of the most user-friendly analytics of any app we tested.
What Stands Hootsuite Out?
While the full suite of analytics tools is only available with one of the more expensive plans, they can help you understand how your social media accounts perform.
Hootsuite also pulls statistics from other businesses in similar industries so you can see how you compare.
Hootsuite's "Streams" approach to viewing your social feeds (along with any keywords or competitors you want to track) allows you to customize a powerful social media dashboard exactly how you want it.
You won't find anything unique here, but it is better laid out and, at least for marketers, potentially more actionable.
Hootsuite is primarily geared toward businesses that can turn social engagement into revenue.
It's one of the more expensive apps on this list, and it can become even more costly if you include any paid apps.
Its distinguishing features are not so much what it does as they are how it does it. It's quick and simple to use, and it's one of the most popular social media management apps for good reason.
Hootsuite's Key Features
Easy integration with over 35 social networks
Delegates tasks and approves workflows to keep your teams collaborating
Easy managing and sharing of social media content
Hootsuite Pricing
The Hootsuite Free plan includes 1 user, 3 social profiles, and 30 scheduled updates (though it's only available after a trial); from $49/month (billed annually) for the Professional plan that includes 1 user, 10 social profiles, and unlimited scheduling; team plans start at $249/month for three users (billed annually).
Its paid plan starts at $29 per month.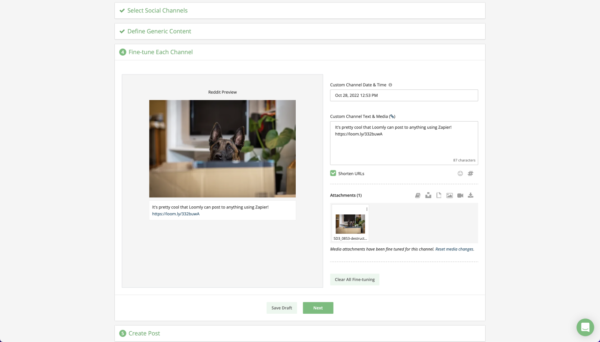 Loomly is software that allows you to publish, measure, collaborate, and manage your social media content (both organic and paid) from a single platform.
Loomly is a good social media management tool with one ridiculously cool feature: you can create a custom social network that allows you to post to almost any service as part of your social media management.
It covers all the bases regarding scheduling, having a multi-service inbox, and basic analytics, but this feature propels it to the top of our list.
You can use Loomly to create multiple scheduling calendars for your various social media needs.
You can also add a Facebook, Twitter, Instagram, Pinterest, LinkedIn, Snapchat, YouTube, and TikTok account to each calendar and a Custom Channel.
This means you can use it to post to other sites such as Reddit, email your boss, or do anything else you can think of. I won't even pretend to be clever enough to think of all the possibilities.
There are other ways to automate posting to Reddit or emailing your boss. What's intriguing about Loomly is how it integrates with your other social networks.
It lets you post simultaneously to Twitter, Instagram, and your custom network without managing multiple apps.
It's the app you use to store, organize, and use your photos, videos, notes, links, and post templates in a primary library.
Loomly Pricing
From $35/month for the Base Plan with 2 users and 10 social accounts.
Loomly offers a 15-day free trial.
Key Features of Loomly
Generating post ideas based on the latest trends, RSS feeds, events, and the best social media practices.
Offering guidance to users on how to make posts and ads.
Automated generation of posts and ad previews.
List view, calendar view, and notifications.
Post Scheduling.
Commenting system, post & ad history, and collaborative review.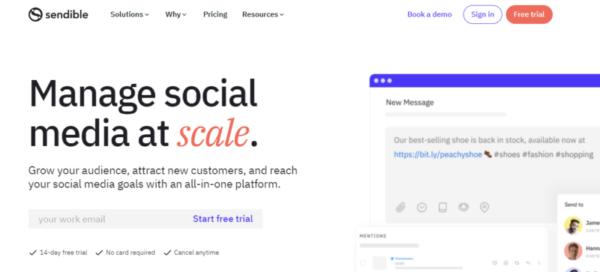 Sendible is a social media management tool that integrates with over 20 different social networks and supports multiple integrations.
Although Sendible has Micro and Small plans, its target market is agencies, where its Medium plan is aimed. It bills itself as the most effective way for teams to manage social media for multiple clients.
Sendible provides each brand with a unified social inbox. It consolidates all social messages from various profiles into a single filterable stream.
Sendible includes an intelligent content recommendation engine that analyzes clients' profiles to determine the best content for their specific audience.
Facebook, Twitter, LinkedIn, Instagram, YouTube, WordPress, Blogger, and Tumblr are just a few of the social networks and blogging platforms you can connect to. It also supports Canva, Google Drive, YouTube, and Dropbox.
What Stands Sendible Out?
Sendible lets you schedule posts either individually or in bulk. You can schedule repeats of your best-performing content.
It also has social listening abilities. You can track keywords to see what customers are saying about each brand. It emphasizes whether a given mention is positive, negative, or neutral.
Sendible allows you to create detailed reports quickly. It contains over 250 charts. You can use one of their pre-designed templates or create your own.
It includes a CRM, allowing you to treat social interactions as leads. It displays the entire history of your conversations.
Sendible has done an excellent job of niching down and tailoring its social media management software to agencies and other large businesses with multiple social media profiles.
They also provide several useful integrations to help users manage their social media accounts as easily as possible.
It allows you to increase your social media followers and interact with old and new customers. Using this tool, Using this tool, You can
Sendible provides a 14-day free trial, and pricing starts at $24 per month.
Key Features of Sendible
An all-in-one dashboard that makes it easy to see your overall social media performance at a glance
Collaboration tools that allow your team to create content and then send it to the client or team leader for approval
Presentation-ready reports to showcase the ROI of your social media efforts to clients
A mobile app that lets you monitor and manage your social media accounts on-the-go
Enables customization and previewing of posts on all social platforms.
An interactive calendar to help you plan and review your social media campaigns.
Enables you to manage all your social media activities from one place.
Other features include Autopost RSS feed, bulk scheduling, content suggestions, smart queues, content library, and more.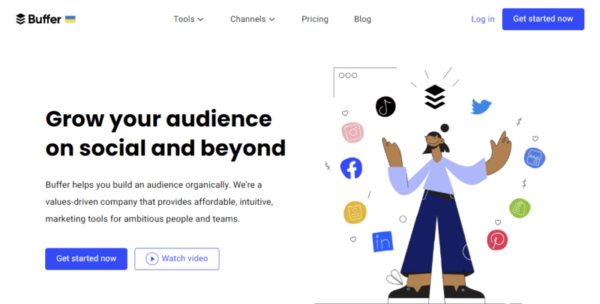 Buffer is a well-known social media management tool popular among influencers, solopreneurs, and business owners.
Buffer is a user-friendly, streamlined social media management platform used by small businesses and independent creators to drive meaningful engagement and results on social media.
Buffer is one of the longest-running social media tools for scheduling posts, though it has undergone numerous updates, shifts, and iterations to keep up with the times.
Facebook, Twitter, LinkedIn, Instagram, TikTok, and Pinterest are now supported, as well as Google My Business Pages.
Free users can connect up to three social accounts, including Facebook Pages and groups, but you can only schedule ten posts per channel.
What Stands Buffer Out?
While Buffer's free plan is sufficient for small businesses to schedule posts for a week or so, if you want a more comprehensive social media management solution or control over three social media accounts simultaneously, the Essentials plan costs $6/month per social channel.
This unlocks detailed analytics and engagement features, allowing you to interact with your audience directly from Buffer. (Buffer charges $12 per monthly social channel if you want to add team members.)
Buffer offers its own "link in bio" service called Start Page in addition to the core scheduling, analytics, and audience management features.
This lets you quickly create and update a small mobile-friendly website with your most recent content or products for sale.
It's not a novel concept, but having it as part of your social media management app is useful, especially since it allows you to get real-world results from your social media posts.
Buffer's Publish tool has a straightforward and user-friendly interface that allows you to schedule posts across multiple social media platforms.
As a result, you can plan and publish content for all of your social media platforms from a single platform.
Buffer also allows you to track your social media performance and generate visually appealing reports.
The advanced analytics reporting feature provides insight to help you grow your audience, increase sales, and engage customers.
Buffer Publishing Tool
The publishing tool offers pricing that starts at $12 per month, while the analyzing tool offers pricing that starts at $28 per month.
While the free version is fairly standard, Buffer is a great tool to start out with if you plan to scale your social media marketing efforts up. Take a look at some of the perks of its paid options.
Buffer's free plan includes:
Posting schedules. Set the next content in your queue to automatically publish on the next scheduled day and at the time you choose.
Shuffle queue. Especially if you create social media content in batches on the same topic, you may want to shuffle your posts so they're published randomly and add variety to your feeds.
Google Analytics Campaign tracking. See how much traffic your social media posts drive so you can adjust your strategy accordingly.
Start Page. Create short landing pages to tell people about your business, direct them to your website and content outside social media, or provide information specific to your latest social media marketing.
Scheduling tools
Customization
Collaboration tools
Instant Publishing
Calendar and Queue view
Analytics and Reporting tool
Buffer allows you to do the following:
Make a preset publishing plan for each social media account
Customize your posts for each social network
Specifies how frequently you should post the most engaging content.
Buffer Pricing
Forever free plan. Paid plans start at $6 per month per channel with a 14-day free trial.
MeetEdgar is the ultimate social media autopilot for your accounts.
It does a lot of the heavy lifting for you when it comes to adjusting and creating posts for various social networks, and it is compatible with Facebook, Twitter, LinkedIn, TikTok, and Instagram.
However, this is not an analytics tool; rather, it is a scheduling tool.
What distinguishes MeetEdgar is how much it automates. The app can (theoretically) pull quote-worthy text and images from any links you provide and then compose updates to go with them.
Simply click Suggest Variations after pasting your link, and MeetEdgar will generate four alternative updates based on the content.
Even better, it can repurpose previously successful content by generating new variations on previously successful updates. That is, you can repost content without having it be identical.
MeetEdgar lacks analytics tools, but it does use A/B testing to determine which posts work best for your audience; additionally, you can track clicks using the built-in ed.gr link shortener.
It's sufficient for determining which content receives the most attention, but it doesn't provide the same high-level overview Hootsuite does.

If you want to delegate social media management to someone in your organization, you'll have to pay a significant premium for the privilege with many apps in this category.
Hootsuite, for example, charges nearly $3,000 per year for a three-person team and almost $9,000 per year if you want some post-approval workflow.
(You could always share your Hootsuite login credentials with others to save money, but this raises many security concerns.)
On the other hand, the Small Team plan with SocialPilot starts at $50/month and includes two other team members who can manage up to 20 social media accounts. This is 80% less expensive than Hootsuite.
While the user interface of SocialPilot is simple, it is fully functional and supports Facebook, Twitter, Instagram, YouTube, LinkedIn, TikTok, and even Tumblr.
The sidebar includes tabs for managing your posts and accounts, accessing your inboxes or analytics, aligning content from RSS feeds, configuring your team and client setup, and even running advertisements.
What Stands SocialPilot Out?
All the features you'd expect from a good social media management app are present, but the Team options are the most appealing.
Different roles can be assigned to team members based on what you want them to be able to do.
For example, you can require content creators to submit all posts for approval or allow managers to edit and schedule while retaining final approval (again, features).
Hootsuite charges thousands of dollars for this service). This allows you to delegate responsibilities to your coworkers without giving them complete authority.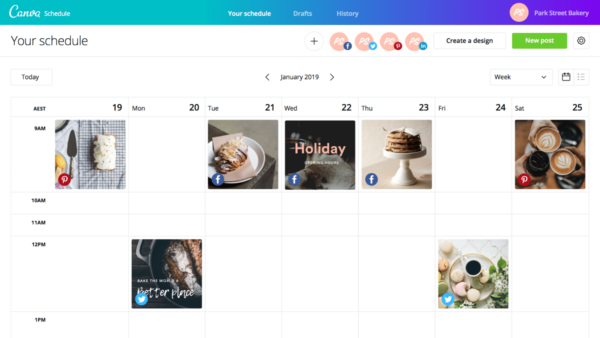 Canva is a well-known social media management tool that offers various templates and images that can be easily customized to make your posts stand out.
You already know that Canva is the best friend of the design-savvy social media manager.
Canva, an easy-to-use graphic design tool, has transformed how we create content, so it has been permanently added to the Hootsuite dashboard.
Canva templates are integrated into Hootsuite Composer.
Canva Pro, on the other hand, includes a social media scheduler and planner. It currently supports posting to Facebook, Instagram, Twitter, and Linkedin.
You can also track engagement, likes, clicks, impressions, and other metrics in the Canva Pro dashboard to see how you're doing.
It offers a free plan to all social media experts. It also has a paid plan starting at $10.99 per month.
Key Features of Canva
There is a variety of stock photos and graphics that you can choose from
Has a wide range of templates to suit your kind of content
Has more than 100 design types, such as social media posts, presentations, letters, and more
Later is a popular marketing platform for all of your social media content.
Later, like Hootsuite, it is a social media management platform. It includes several features, ranging from analytics to scheduling tools.
However, it shines as a platform for smaller brands and creators who visualize and preview social media content before posting.
Later, it has some interesting extras if you want to spruce up your Instagram feed. They provide an Instagram feed planner that lets you see how your Instagram grid will look after your post.
It's a nice way to rebrand your grid and make it stand out quickly. Although Later has tools for monitoring other channels, its analytics are most effective on Instagram.
View the performance of your grid posts, Reels, and Stories to strategize better how you're performing across Instagram.
It does more than schedule social media posts. Later, it allows you to create content tailored to the right audience. It also drives and monitors all of your traffic.
It has reporting features that provide you with information about all of your social media campaigns. It has a free and paid plan that starts at $9 per month.
The Key Features of Later
Planning out your content with a drag-and-drop builder
Enables easy access to import media
It can find and share user-generated content
It enhances the easy creation of a shoppable Instagram feed
SEMrush is one of the best SEO tools with over 30 features, one of which is a social media tool kit that allows you to discover your competitors' social media strategies.
SEMrush is best known as an all-in-one SEO software platform. Still, it includes useful social media management tools for Facebook, Twitter, Instagram, Pinterest, LinkedIn, and Google My Business.
You can schedule and post to these social media platforms using the social media poster.
It includes an image editor, UTM-builder, and link shortener to help you customize your posts, which you can publish immediately or on a schedule.
There's also the option to manage ads across multiple platforms, including Facebook, Instagram, Messenger, etc.
What Stands SEMrush Out
The social media tracker then allows you to track cross-platform user engagement, collecting analytics for reports in a single dashboard. This includes both responses to posts and mentions elsewhere.
You can also monitor your competitors to see how frequently they post.
The most significant advantage is that SEMrush allows you to integrate your social media management with your overall SEO and marketing strategy and provides a useful platform that brings everything together in one place.
Furthermore, SEMrush allows you to identify the best-performing content and easily manage your social media activities.
With SEMrush, you can quickly determine which social media platform will produce the best results and how your competitors generate content. SEMrush also suggests the best times to post and hashtags to use.
SEMrush's paid plan starts at $83.28 per month.
Key Features of SEMrush
Built-in Image editor, link reducer, and UTM builders
Tools for monitoring competitors' social media activities and performance.
Content Idea Generation tool
Advanced Analytics Reporting
Automatic Email Reporting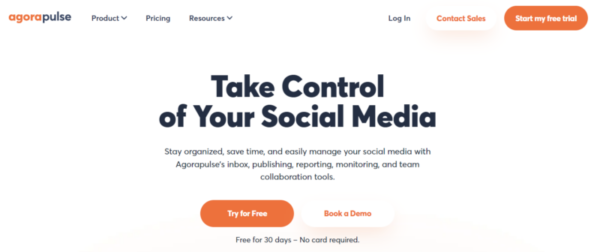 AgoraPulse has not only made a name for itself in recent years but has also evolved into a powerful social media management tool for social media experts and beginners.
Agorapulse is yet another dedicated social media management platform designed to assist agencies and businesses in posting and monitoring their posts across multiple social media websites.
Using the flexible scheduling tool, you can queue, reschedule, or bulk upload posts.
A social inbox is also available for monitoring responses to your posts, mentions elsewhere, and other important messages.
Of course, there's a reporting tool where you can glean content and engagement data analytics, with the option to download as CSV or PPT files.
Agorapulse is also intended to work with teams, allowing individual members to be assigned specific posts, comments, or other tasks.
There's also an interesting feature for creating a CRM database of followers and other social media users to track and add notes.
Pricing is primarily determined by the number of social profiles and users required, though different plans have varying levels of data retention.
Agorapulse is an excellent platform for agencies with more demanding social media management and monitoring needs than the average business.
Its "Inbox Zero" feature makes collecting, organizing, and managing messages and comments a breeze.
AgoraPulse is also a suitable social media tool for businesses of all sizes, with monthly fees ranging from $39 to $239.
Key Features of AgoraPulse
Easy integration with Facebook marketing API for you to see and regulate the comments that people leave alongside the other messages.
Intuitive Publishing: Enables you to schedule, collaborate, and plan your social media content.
Social Listening: Enables you to identify social trends, customer behavior, and competitors' activities.
Reports and Analytics: Gives you insight into your social media campaign performance. You can also create actionable reports.
12. Falcon.io (Formerly Brandwatch)
Falcon.io is a cloud-based social media marketing and customer experience management solution with tools for social media listening, engagement, content publishing, measurement, and customer data management.
They take pride in being a flexible social media management tool for any marketer, whether a solopreneur or a digital agency.
Their tool, which includes Auto-Queue posting and visual planning, can be used for monthly planning across multiple social channels.
In addition to social monitoring and listening, they have a Social Inbox feature. They do not have an Influencer Search feature, but they are a comprehensive tool that can serve businesses of any size.
Falcon.io provides users with a content calendar that allows them to collaborate with marketing teams to plan, create, and schedule content.
It also makes it easier to create pages with the campaign builder, including pre-designed templates and APIs that deliver metrics on social data, audience, and content to integrate with existing client CRM, CMS, and analytics systems.
This social media management software provides support via online guides, tutorials, email, and a ticket submission portal 24 hours a day, seven days a week.
Pricing starts at $129 per user/month and increases based on custom features.
Home to Unilever and Nestle, Falcon.io enables you to do the following:
Manage channels, workflows, and campaigns.
Collaborate on data-driven content.
Monitor threats. It alerts you when there is a problem with your social media activities.
Simplifies your customer engagement process
Enables you to gain insight into your social media campaign and progress
Falcon.io pricing starts at $129 per month with a 14-day free trial.
Key Features of Falcon.io
Storing assets for repurposing.
Arrangements of multiple feeds to create an inbox that suits the user.
Mapping, briefing, rolling out, and teaming on end-to-end campaigns.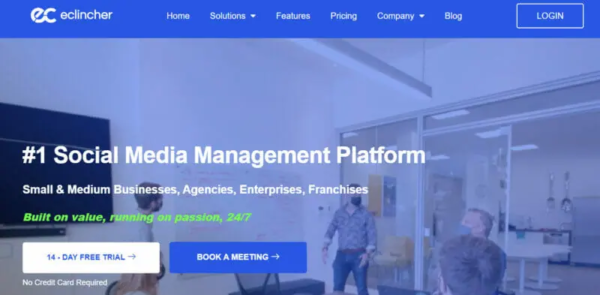 eClincher makes social media management easier. It allows you to schedule and publish posts to multiple social channels and profiles at the same time.
A visual calendar, auto post with smart queues, bulk scheduling, bulk uploading, reputation management tools, and collaboration tools are also included.
The link shortener and tracking tool are two of its standout features. This feature automatically shortens your links using Google UTM.
This highly rated, powerful social media management tool, also known as a platform, includes everything you need to carry out your social media marketing strategy.
If Instagram scheduling is important to you, you'll appreciate the Insta Link traffic driver, custom Instagram grid planning, and the ability to schedule Instagram posts, stories, and carousels.
The inbox of the eClincher or a social media CRM is designed so that you never miss an interaction, message, comment, or review. All interactions are automatically consolidated into a single inbox.
After you respond, you can finish the item and "clean" your inbox.
Furthermore, eClincher assists you in discovering relevant content and easily curating and publishing articles to your social media profiles.
Monitoring keywords and hashtags, social media analytics, Google Analytics integration, URL shorteners, campaign tracking, and other features are also included.
What Stands eClincher Out
This social marketing tool has everything you need to keep campaigns fresh and organized while catering to multiple social media accounts.
Other integrations worth mentioning include Yelp, Canva, and Wave.video, Zendesk, Bitly, Feedly, and Unsplash. Slack will be available in 2023, and TikTok for Business will be available in 2021.
Because of their grassroots 'word of mouth' content marketing efforts, eClincher may be the best-kept secret in social media. eClincher has been described as "the Swiss-army knife of social media" by brand advocates.
They provide more value and functionality to businesses, marketing agencies, and larger teams than competitors.
Customer service may appear to be a given. However, eclincher's support team takes the clients' service expectations very seriously in the SaaS world.
Their customer service is consistently and prominently awarded best in class by sites like G2Crowd, Capterra, GetApp, and others.
You'll generate significant social media ROI using eClincher's social media management tool. Using a single dashboard, eClincher helps marketers and social media managers save time by focusing on marketing automation.
A comprehensive content scheduler and publisher, drag and drop visual calendar, campaign tracking, competitor analysis, and omnichannel customized social media post-editing are also available.
Compared to social media management tool behemoths such as Hubspot, Sprout Social, and Sprinklr, eClincher is the best choice for scaling large accounts with multiple locations or brands.
Key Features of eClincher
Seamless integration of all your social media accounts and third-party tools.
Organizing your posts to various social networks, profiles, and pages
Bulk scheduling
Publishing from smart queues and RSS feeds
Collecting and responding to all social media interactions in one inbox
Automated and custom analytics reports & team collaboration workflows.
Publishing of posts automatically via smart queue
It has a social inbox that enables you to manage all your social interactions in one place.
Advanced Analytics Reporting
Content Suggestion
Pinterest Integration
Media Library and cloud storage
Local SEO tools
They offer:
24/7 live chat support
1 on 1 demos or meetings
Listen to their customer's feedback.

Coshedule is a social media management software with calendar features that allow you to organize and schedule your social media posts easily.
This social media management tool prioritizes content and scheduling while emphasizing social performance.
With its calendar feature, CoSchedule provides effective social media content management. It has a ReQueue feature that automatically fills the queue with the best-performing posts.
CoSchedule supports the social media platforms Facebook, LinkedIn, Instagram, Pinterest, and Tumblr. You can also connect your WordPress and Hubspot accounts to this social media management tool.
When it comes to pricing, CoSchedule is a little pricey. In their Marketing Calendar plan, you can connect up to 10 social media profiles with 10 team members for $39/month.
If you are an agency with multiple clients, you must use their Marketing Suite to manage everything in one place.
It has a social media inbox feature that allows for quick responses to customer inquiries. It also has features enabling you to establish a strong online presence.
You can use this software to identify trending content, measure campaigns, and track the progress of all your social profiles.
Its pricing starts at $9 per month.
Key Features of Coshedule
Marketing Calendar: This feature enables you to view the status of your marketing campaigns in one place.
Marketing Suite: This feature comes with marketing tools that manage marketing requests, eliminate content bottlenecks, and enable an effective marketing plan.
Headline Studio: This feature enables you to create better social media headlines. It also suggests high-converting headlines.
Marketing Institute Feature: This feature improves your marketing skills and simplifies your social media marketing activities.
Other sets of features include:
Custom social media calendar
ReQueue to autofill your posting schedule
Team collaboration
Bulk scheduling
Social campaign templates
Integrates with 9 tools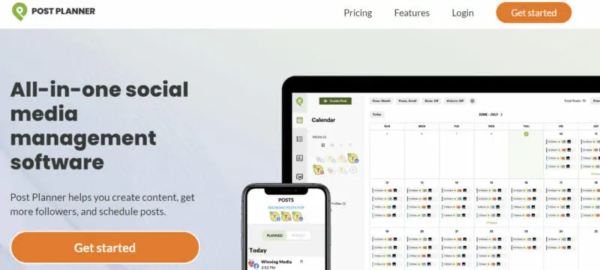 Post Planner makes it easy to plan and schedule your social media posts.
It offers a variety of plans based on your needs, starting with the Starter plan for those with basic social needs (3 social media accounts, 30 daily posts to your Facebook page and Twitter profile, and 10 daily posts to Facebook groups).
The Love plan is the most popular small business plan, with 10 accounts, 100 posts per day, and 1000 posts planned.
The most popular of the large plans is the Agency plan, which allows for 100 accounts, 1000 posts per day, and unlimited planned posts. The Agency plan includes 11 team members.
Post Planner's core features include a content discovery engine that assists you in building your queue of posts to share. It enables you to re-use your best content.
You can create custom posting schedules that share content at the optimal time for each social network. All of your content is managed through a centralized social management dashboard.
Even the most basic plans enable you to assess the performance metrics of your social posts.
The more expensive plans include additional usability features. For example, starting with the Love plan and up, you can use the Canva Design editor to improve the look of your posts.
They also provide you with access to a Smart Share bar to help you with your social sharing.
The better plans also include bulk scheduling, organic post-targeting, and team collaboration.
SocialBee is a comprehensive social media management tool that centralizes your social marketing efforts by addressing your needs in one place.
It is compatible with all major social media platforms, including Facebook, Instagram, Twitter, LinkedIn, YouTube, TikTok, and Google Business Profile.
With the help of its AI integration, SocialBee streamlines your post-creation efforts. This enables users to create new content, customize it for different platforms, and repurpose their older, high-performing content to reap new benefits.
The content curation feature allows you to share content on trending topics of your choice by bringing up the most recent blogs from many online resources.
With access to all of the latest posts made available by SocialBee, you will never run out of posts to share.
The following are SocialBee's features:
Content categorization to facilitate posting
Visualization of content strategy using an intuitive content calendar
Create simple social media posts with AI integration.
Socialbee's pricing plans are divided into two categories: solo entrepreneurs and small businesses and larger businesses and enterprise-level organizations.
SocialBee Pricing
The Pro plan, which costs $99 monthly and allows three users to manage 25 social profiles, is the best option for smaller agencies. SocialBee's Pro150 plan, which costs $449 per month, will enable you to manage up to 150 social profiles.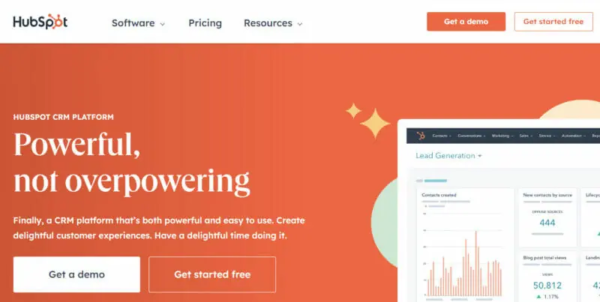 Hubspot Social Media Software is a collection of social media management tools found in the Marketing Hub. It is also one of the best CRM software.
The goal is to save time by prioritizing the most social connections you value across multiple social media platforms, including Facebook, Twitter, Instagram, YouTube, and LinkedIn.
Various management features are available, such as publishing and sharing content, monitoring mentions, and reporting to show engagement levels and how these translate into actual business metrics.
These tools are available as part of the Hubspot Marketing Hub so you can combine them with other targeted marketing tools.
As previously stated, this entails monitoring and managing your social media and ensuring that the work you put in translates into some form of measurable business return.

SocialFlow by Piano is a fantastic optimization platform that comprehensively views your social media accounts.
One notable feature of SocialFlow is that its advanced algorithm recommends content that is most likely to capture consumers' attention. You can work with your entire team and manage their workflow.
This social media management tool also allows you to monitor aggregated metrics from platforms such as Twitter, Facebook, Instagram, and LinkedIn.
You can even track the engagement of different types of content and the growth of your following across multiple social media profiles.
You can also use RSS feeds for more content outsourcing and easily sequence them. You can even repurpose old posts to generate engagement around the clock.
The following are SocialFlow's characteristics:
Optimization of Content
Predictive Modeling
Data Observation
Individualized Reporting
SocialFlow does not offer a free trial. If you are interested, you can contact the team directly for a quick product tour and customized setup.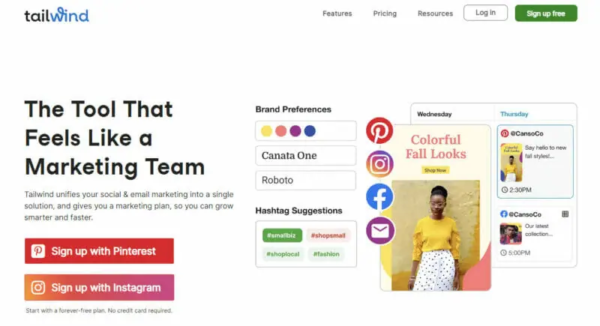 Tailwind is a Pinterest and Instagram social media management tool. Tailwind provides recommendations for improving your Pinterest and Instagram performance and assisting you in scheduling posts, monitoring conversations, and measuring results.
Tailwind assists you in mastering your Pinterest and Instagram efforts. It can be used to find content, schedule posts, monitor conversations, increase reach, and analyze results.
Its Plus plan best suits bloggers and small businesses with less than 25 employees.
Because of the significant price difference between the Plus and Professional plans, businesses with fewer than 25 employees will want to use the free trial first to determine whether it is a worthwhile investment for them.
If you have the Plus or Pro plan, you can only work with one Pinterest or Instagram profile, but enterprises can work with as many as they need. However, you can create additional accounts for a fee on the lower two plans.
You can schedule 400 monthly posts if you pay for the Plus account. You can have unlimited scheduling if you pay for that plan annually or are on the Pro or Enterprise plan.
What Stands Tailwind Out
You can customize post-scheduling and bulk upload. Those on the Enterprise plan have the option of scheduling with auto-optimization.
You can track the page of your brand and receive basic profile metrics. Profile trend reporting, as well as virality and engagement benchmarks, are examples of these.
The Pro plan includes competitor benchmarks, whereas the Enterprise plan includes industry trends. Tailwind provides primary board metrics and trend reporting if you have a Pinterest account.
You can also track your domain's / organic activity on Pinterest using a variety of analytics, with more added at the Pro and Enterprise levels.
Tailwind provides data to optimize your content strategy, with the Plus plan limited to analyzing your last 5,000 posts but unlimited post analysis on higher plans. The Pro and Enterprise plans include a few more analytical tools.
Tailwind is ideal for Pinterest and Instagram marketers because it offers a variety of Pinterest and Instagram-specific features, such as Pinterest content promotion and Instagram UGC content management.
Tailwind Free Features
Some great features of Tailwind's free plan include:
Photo and video support. Stop users mid-scroll with eye-catching images and videos. (Most other social media management software only allows video and images for paying users.)
Post designs. Upload images, and Tailwind Create will automatically design professional-quality posts according to your brand colors, fonts, and logos.
Bulk uploads. Stop copying and pasting posts into the scheduler one by one and save tons of time with bulk uploads.
Is your social media strategy heavy on visuals and videos? If this is the case, and you don't use more text-based platforms like LinkedIn, Tailwind is an excellent choice.
Especially since you can create multiple post types from a single design, saving significant time.
Tailwind Paid Plans & Features
Tailwind's paid options are as follows:
Pro at $19.99 per month: Includes up to 100 posts per month, 200 post designs, advanced analytics, and more.
Advanced at $49.99 per month: Includes up to two accounts each for Pinterest, Instagram, and Facebook, up to 1,000 posts per month, unlimited post designs, two users, and so on.
Max at $99.99 per month: Includes up to three accounts per social network, unlimited posts, and up to five users.
Sprinklr is one of the most expensive social media management tools available, but it has some powerful features that may help you stay organized and active on social media.
Sprinklr, like Hootsuite, allows you to post to all your social media networks in one place. It also includes a unified social media inbox where you can monitor incoming messages from all your channels and a robust analytics dashboard for tracking your progress.
Sprinklr has one of the best social media listening tools (second only, of course, to Hootsuite's). Every day, it allows you to listen in on millions of conversations using AI-powered social listening software.
Track keywords, phrases, hashtags, and other relevant information about your brand or industry.
Many of the same social listening tasks can be accomplished with Hootsuite Streams and Hootsuite Insights (powered by Brandwatch). Furthermore, Hootsuite is significantly less expensive than Sprinklr.
Sprinklr is more of a front-end management platform than a standalone social media management solution. Furthermore, they accomplish this with a cloud-based customer experience management solution for social media, content marketing, and paid advertising.
Key Features
Advertising: Sprinklr allows omni-channel planning for other non-social campaigns across a comprehensive timeline. Marketers can plan campaigns and access real-time data on all campaigns.
Smart Response: Marketers can use an intuitive system to generate replies while conversing with audiences, saving them time.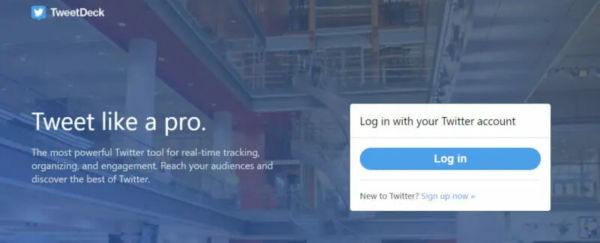 Tweetdeck has evolved into the go-to Twitter management tool for many users.
It allows you to filter messages from followers better and provides a single dashboard from which you can monitor Tweets, messages, notifications, and trending hashtags. It is provided directly by Twitter.
Search tips, shortcuts, and various settings are also provided to help you manage your monitored content.
If Twitter is your primary social media platform,
TweetDeck could be ideal for managing your social media accounts. It resembles paid products such as Hootsuite but is limited to the Twittersphere.
You can use this interface to create multi-column views of different streams from your Twitter account and do almost everything related to your account. TweetDeck is the official analytics and management tool for Twitter.
What Stands TweetDeck Out
It has the potential to improve your Twitter experience significantly. It can schedule tweets, multiple user support, real-time updating, and a powerful search and filtering engine.
TweetDeck's customizable dashboard allows you to personalize your Twitter interface. You can create and manage multiple custom timelines from a single interface.
You can make timelines for specific groups of users, such as those who have sent you direct messages. You can also quickly filter out tweets from people whose tweets you do not want to see.
You can configure intelligent keyboard shortcuts to make navigating the TweetDeck dashboard easier and more intuitive.
TweetDeck allows you to schedule tweets to post them when you specify automatically. You can configure customizable alerts to receive notifications about specific types of activity.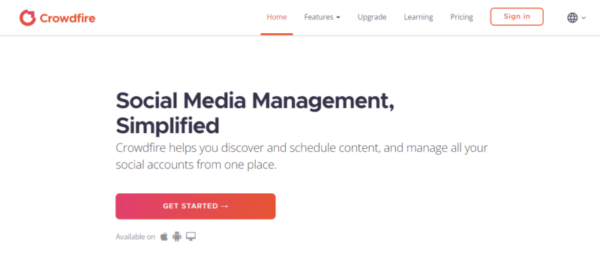 Crowdfire is a useful tool for organizing your evergreen content in one place and saving time by scheduling your posts ahead of time.
Crowdfire is best suited for social engagement, although it includes necessary scheduling features.
Both articles and images can be easily curated for your social accounts. You can start curating articles on your dashboard by adding any RSS feed. It offers image recommendations to help you curate shareable Instagram images.
The Free plan is intended primarily for people who want to experiment with Crowdfire's features. It supports one account per social network (except Pinterest) and allows you to schedule up to ten posts per account.
However, it provides most of the product's content curation features. For one day, it provides social and advanced analytics (but not post analytics).
Crowdfire allows you to schedule and publish content to Twitter, Instagram, Facebook Pages, LinkedIn, and Pinterest all from one location. Each post is automatically tailored to the appropriate social network.
It includes a queue meter indicating whether your timeline will appear active in the next seven days.
Crowdfire can help you keep track of your competitors' followers and follow them. You can also follow accounts that post about specific keywords of interest to you.
It also monitors inactive accounts, track all your followers you don't follow back, and engages with them by following them back.
It comes with extensive analytics, such as post-performance metrics, engagement metrics, and other advanced analytics.
Premium and VIP accounts also track Twitter account mentions in your team inbox. You can respond to all mentions with images and gifs.
This fantastic platform increases engagement by listening to social media and tracking keywords that should be included in your content. Furthermore, it analyzes feeds and enhances social CRM.
Other features that can come in handy:
Direct Message Marketing
Analytics for Twitter
Competition analysis
Apps for Ios and Android
Hashtag tool
Un-followers and inactive user identifier

This social media management software includes various features that allow you to maintain consistency with the messages you post on social media.
If you want a good free tool to help you schedule your tweets, SocialOomph should be a good choice. Free SocialOomph offers comprehensive features for managing up to five Twitter accounts.
You can schedule tweets to go out whenever you want, so you don't always have to be glued to your computer. You can save draft tweets, frequently used phrases, and URLs and re-use them as needed.
You can use the free SocialOomph to set up alerts and track tweets that contain your keywords. You can also keep track of your @replies, @mentions, and retweets.
You can view predefined Tweet interests' channels with SocialOomph, zooming in on your interest.
What Stands SocialOomph Out
If you manage more than five Twitter accounts, you can upgrade to Twitter Unlimited, which allows you to perform all of the tasks listed above on as many Twitter accounts as you want.
Twitter Unlimited (and Professional) customers also have access to a few other Twitter-related features. You are free to create your own channels and groups.
Tweet COCKPIT allows you to manage multiple accounts from a single integrated console. This will enable you to integrate your timelines and even filter them to show only tweets from people who genuinely interest you.
Of course, most businesses and agencies use more than just Twitter. Here's where SocialOomph Professional comes in.
It extends the social activity available in the app to various other social networks, including Facebook, Pinterest, LinkedIn, Tumblr, RSS feeds, blogs, and Plurk!
SocialOomph Key Features
It comes with different tools that are designed for individuals and teams.
SocialOomph allows post queues, RSS feeds, webhooks, and post tags.
SocialOomph offers a limited free plan, while its monthly price is $15.
It also offers a 30-day free trial period.
SocialOomph's Primary Features
It allows teams to work on chosen social profiles and blogs
Bulk Uploading
Enables Self-destructive posts
It automatically creates social and blog posts from the RSS feed.
Enables Precise Scheduling

Mav Social is a social media management tool that excels at handling visual content. It names its most basic plan Advanced, in an unusual move.
The Advanced plan allows for a single user and ten social profiles (from Facebook, Twitter, YouTube, Instagram, LinkedIn, and Tumbler).
You can have 3 users and 30 social profiles with the Pro plan. The Business plan allows for five users and 50 social profiles, while the Enterprise plan allows for 20 users and 70 social profiles.
Mav Social has an easy-to-use campaign calendar that you can use to schedule your posts. To maximize reach, reschedule your best evergreen content.
It has a social listening feature that allows you to track the success of one of your campaigns by monitoring trending topics.
Mav Social lets you view your entire engagement history, messages, and comments in a single window. You can sort these however you like and respond directly from the app.
Mav Social also offers detailed reports on your social performance. You can analyze your post-engagement data and distribute detailed reports to your team members.
It includes a content curation module that assists you in finding content for your posts, whether it's user-generated content or one of the millions of images available in Mav Social's stock image market.
You can create eye-catching visuals by adding effects, stickers, and filters to your photos.
SocialHub is a sophisticated social media management tool that automates your social media posting. An analytics dashboard can help you keep track of your engagement metrics.
With real-time data and insights, you can assess your reach and growth. You can monitor your team's performance and evaluate your online presence with SocialHub.
Understand their response time and rates during business hours. You can optimize your services during peak engagement hours to avoid missing out on important conversations.
Investigate how your content affects your target audience. Find the best-performing ones by comparing paid and organic reach to get a sense of the overall effectiveness of your content strategy.
As a result, SocialHub is among the best tools for social media managers.
Features of SocialHub are as follows:
Smart Inbox
Monitoring and Publishing
Analytics
Team Collaboration
SocialHub pricing starts from $99 per month for a single user. You can request a demo before making the final call.
Other Social Media Management Tools and Software
Iconosquare is a social media management tool that makes it easy to regulate, publish, and examine your social content. It comes with a very stylish, navigable, and intuitive dashboard.
Iconosquare can assist you in planning Facebook statuses, single-image and video posts, Instagram stories, and more.
In addition, Iconosquare offers a categorization feature that enables you to categorize your content based on certain factors.
This feature lets you easily retrieve images, videos, and social content.
Pricing for Iconosquare starts at $29 per month.
Key Features of Iconosqaure
Advanced Analytics
Multi-profile management from one dashboard
Strong security and post-validation to keep your brand safe.
Powerful Scheduler
Helps you save captions for future use
Enables you to monitor competitors
Allows sharing of your social media campaign performance
GoDaddy is popularly known as a web hosting service provider. Still, the GoDaddy Studio is a social media management software that enables you to design beautiful, intriguing, and eye-catching content.
This platform has multiple built-in customizable templates that can be used to brand your social media content.
GoDaddy has a free forever plan. Its paid plan has a starting price of $69.99 per year.
Key Features of GoDaddy
Rich library of trending videos, graphics, and fonts.
Easy upload of logos, fonts, and the saving of custom color palette
Logo Maker
Customizable Link in Bio
Email Marketing tools.
Foursixty is the best social media management tool for e-commerce businesses. It provides you with tools that let you display your products in nice-looking galleries and stores.
In addition, it enables you to customize and display your content on product pages, email newsletters, and other sites.
Foursixty has a 21-day free trial with pricing starting from $50 per month.
Key Features of Foursixty
It allows you to customize your Instagram galleries
Enables easy integration of fully customizable Instagram shops and UGC galleries.
Enables the showcasing of product-specific Instagram galleries on your product detail pages.
BuzzSumo is a cloud-based SEO platform that offers multiple products. One of its products is the social media management tool.
This tool monitors your social media account reputation and tracks customer trends and updates. With BuzzSumo, you can monitor your competitor's activities.
In addition, BuzzSumo gives you a detailed report of how your content performs on social media platforms like Reddit, Facebook, Twitter, Pinterest, and more.
BuzzSumo has a pricing plan that starts at $79 per month. This pricing plan suits social media experts working on a strict budget but wanting an advanced management tool.
Key Features of BuzzSumo
It effortlessly conducts content strategy research to help you understand the kind of content that your online community will resonate with.
It has an inbuilt influencer search feature that helps your content reach a wider audience.
Adobe Spark is an all-rounder social media management tool that assists you in creating social graphics, web pages, and short videos in minutes.
This software also comes with multiple customizable templates that enable you to create beautiful and impressive social media posts.
Adobe Spark has a limited free plan. However, pricing starts at $9.99 per month (including 1-year loyalty) for its paid plan.
Key Features of Adobe Spark
The abundance of free professionally designed fonts
It has a wide array of layouts and colors
It allows you to share your content through social media and emails.
SOCi is one of the best social media management tools suitable for multi-location marketers.
This platform helps you to supervise your local presence. It also enables you to create, host, and share libraries of branded content across various locations.
Additionally, SOCi provides location grouping, planning, and approvals to assist you in sharing your content to various pages simultaneously.
With SOCi, you can easily manage all your social media comments, reviews, and notifications from one platform.
SOCi offers a quotation-based pricing system.
Key Features of SOCi
Retaining accurate and consistent information across business listings and platforms
It helps you instantly deploy conversational chatbots across all local Facebook Messenger accounts.
Asset Management
Smart Scheduler
Other features include escalation, competitive analysis, customer engagement tools, engagement tracking, social sharing, multi-channel campaigns, email alerts, sentiment analysis, trend tracking, audience targeting, and more.
This social media management app keeps your old content alive. It enables your old content to drive traffic to your site.
It simplifies the process of sharing content on different social accounts and platforms. It also lets you decide whether to share just titles, hashtags, or links.
With Revive Old Post, you can control your social shares. The pricing starts at $75
Key Features of Revive Old Posts
Sharing posts, pages, media, and customized post types
Automatically adds customized hashtags
Click Tracking Tool
It helps repost your posts over and over again
Addition of multiple custom messages and hashtags
Tag Filtering tools
Wistia is a social media management software with features that enable your videos and podcasts to meet your target audience.
Experts often use it to keep their videos and playlists organized. It also comes with a recording and video editing tool known as Soapbox.
Wistia offers a free forever plan that comes with limited features. The paid plan starts at $99 per month.
Key Features of Wistia
Video Player Customization
Advanced Integrations
Retargeting existing users with ads on Facebook, Instagram, and Google
Its ad-free
Enables you to create videos and podcasts from one dashboard.
Automatically send engagement CRM and marketing team.
Google's Campaign URL builder is the best social media management tool to use if you are an influencer who teams up with creators on social media.
This software is free and doesn't offer paid plans.
It focuses mainly on generating custom campaign parameters for any advertising URLs. In other words, Google Campaign URL builder lets you know the source of all your traffic.
Key Features of Google's Campaign URL Builder
Organize your campaign data frequently.
Tracks and reports the performance of your social media campaigns
Enables you to gain insight into your best-performing social media marketing campaigns.
Snaplytics is a popular social media management tool amongst brands. This is because it offers a centralized platform for managing, scheduling, and publishing snaps and Instagram stories.
Snaplytics offers a quotation-based pricing system. Contact the Snaplytics team to get a price quotation.
Snaplytics Key Features
Easy tracking of your stories and your followers count to know which posts have the most effect.
Creation of an archive to save all your stories from disappearing
Has listening features that help you monitor your competitors' social media account
Sked Social is one of the best social media management tools available today. It allows you to plan, schedule, and examine Instagram posts and stories to boost engagement with your followers and turn them into loyal customers.
Sked Social offers users a 7-day free trial while its monthly pricing starts at $21.
Sked Social's Key Features
Numerous accounts and unlimited users
It has more than 60 filters, cropping tools, stickers, texts, and overlays
Instant scheduling tools
StatusBrew offers another social media management platform for use across sales, marketing, and customer care teams.
As well as campaign management, there are also reporting and analytics features to keep track of your engagement and overall brand health.
On top of that, several popular integrations are available, such as Slack, Zendesk, Mailchimp, and Shopify.
Facebook Pages Manager is an app for Android and iOS that allows you to directly manage your Facebook pages on the go from your phone or other mobile device.
This lets you get notifications, read and reply to messages, and link Facebook and Instagram accounts together.
The app can also manage standard page management features such as settings, performance, and reach.
How To Choose the Best Social Media Management Tools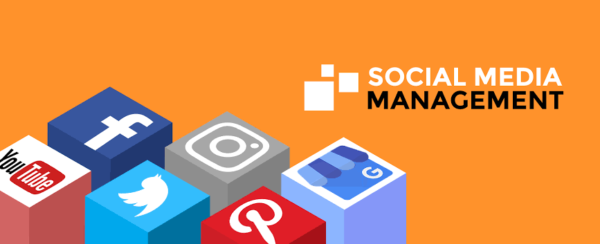 Because there are so many software options, it can be hard to figure out which social media management tool is best for you.
How do you choose the best tools to manage your social media accounts?
When choosing the best social media management tools for yourself, you should start by figuring out how big your business is and what parts of social media management you want the tools for.
Some tools can help you track and plan your social media posts, while others are better at analytics and can be used on a larger scale.
Also, if you have a team of people using these tools, it will be helpful to use one with strong features for working together.
Social media monitoring is also an important part of these tools because it lets you monitor what users say and what your competitors and targeted hashtags are doing.
Lastly, you should consider the user interface, how easy it is to learn, how much it costs, and how good the customer service is.
The best way to choose the right social media tool for you is to figure out your priorities and goals.
How many social media sites can you realistically post content to regularly?
How much time do you want to spend on social media each week? How much money do you want to spend on social media?
Once you know the answers to these questions, finding software features that meet your needs will be easier.
What Are the Essential Features to Look Out For in a Social Media Management Tool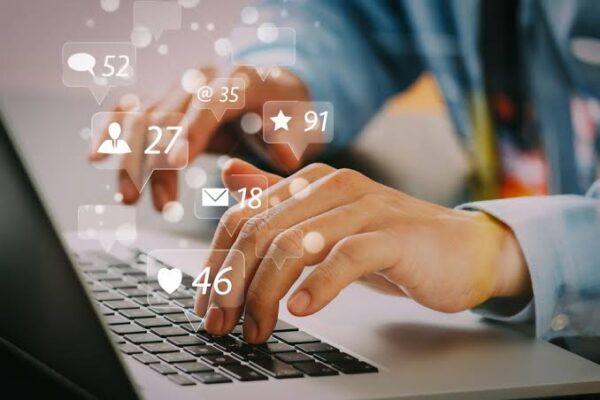 Your social media management tools should assist you in capturing new followers' attention while driving engagement with your current followers.
To accomplish this, you must post frequently and know when to post. There are a few features that will assist you in doing so.
Keeping up with Facebook, Twitter, Instagram, TikTok, Pinterest, and other social media sites is too much.
When shopping for social media management software, ensure that it allows you to manage all of your social media platforms from a single dashboard.
✅Visual content calendar
You can plan all of your social media posts and campaigns with the aid of a visual content calendar.
This saves time, organizes your social media marketing strategy, tracks how your social media content performs and promotes consistency in posting.
This will allow you to plan out a week's, month's, or even a year's worth of social media content at once.
✅Scheduling Tools
One of the most important features of good social media management software is scheduling tools.
Once you've decided what you'll post in a given time frame, scheduling everything at once is a good idea. Scheduling posts ahead of time frees up your time to focus on creating engaging content.
✅Post optimization Tool
Creating great content is useless unless you post it when your target audience is online to see it. Because social media audiences differ, so do the best times to post on each platform.
Finding a social media management tool that can share your content at the optimal time for your specific audience will ensure that your content reaches as many people as possible.
✅Analytics and Reporting Tools
Analytics is critical in determining which social media strategies are working and which are not.
✅Keyword Monitoring
Because no one can always be on social media, keyword monitoring tools come in handy. Keyword monitoring allows you to find all conversations in which your brand is mentioned so that you can participate if you wish.
✅Managed Account Types and Amounts
Most social media management software now works with Twitter, Facebook, YouTube, Instagram, and LinkedIn, some of the most popular social media sites.
SocialPilot was one of the first companies to work with the popular video-sharing site TikTok. But over time, most of the other software platforms have caught up.
A cross-platform messaging app like WhatsApp doesn't work with all social media management software.
Some platforms, like Buffer and SproutSocial, let users automatically schedule and send text, images, audio, video, and PDF files to their customers via WhatsApp, but others, like Zoho Social, don't.
Check Your Business Size / Team Size Before Getting a Social Media Management Tools
How many features you need in your social media management software will depend on your business size.
For example, suppose you are a solopreneur in charge of your Instagram and TikTok accounts.
In that case, you will need very different software than a social media manager in charge of all eight other social media platforms for 10 different brands.
Solopreneurs or marketing managers with limited time who are in charge of their company's social media channels will look for a software platform with several automation features.
Automation tools help you save time by letting you schedule posts ahead of time, share new blog posts automatically on your favorite social media platforms, and customize posts for each social media platform.
Small businesses need a social media scheduler that lets them set it and forget it. They also need it to be cheap.
Some social media management software, like Buffer, has a strong free plan that may be more than enough for solopreneurs or small businesses to manage their social media accounts.
Most social media managers work in teams, especially if they are in charge of large accounts or accounts for more than one company or brand.
If this is the case, you need to find social media management software that lets your team work together without stepping on each other's toes or doing the same work twice.
When comparing social media management software, look for the following features that allow teams to work together:
Assign various team members different tasks.
Assign various team members tasks to do.
Account permissions give different levels of control over the account to different team members.
Collision detection tools to avoid a situation in which multiple team members reply to the same message with the same or different answers.
✅Look out For Reporting and Analytics
If you are going to spend time and effort making content for social media, you should know if that content is helping you.
Most software for managing social media comes with tools for reporting and analyzing. These tools can help you figure out the ROI of your social media strategy.
It can tell you if it's a good idea to keep posting on Twitter, which social media post got the most interaction, how many new followers you get every month on Facebook, and which network helped a new product launch get the most attention.
Some of the best reporting tools on the market are built into Hootsuite. The platform gives users a 360-degree view of all their social networks from a single dashboard where they can set performance benchmarks and track improvements over time.
Users of Hootsuite can also make custom reports, get updates on the best times to post to get the best results and look at easy-to-read graphs that show how your social media channels and campaigns drive leads, conversions, and sales.
Another platform with powerful analytics and reporting tools is Sprout Social. The software lets users set demographic and geographic measurements to see how their audience interacts with their content.
Sprout Social can track keywords across all social media platforms and let users know when their name is mentioned.
It can also analyze audience growth, demographics, engagement, and impressions across all social media platforms.
Users can even compare how well they do on social media to how well their competitors do on social media.
Should You Go for Free vs. Paid Social Media Management Software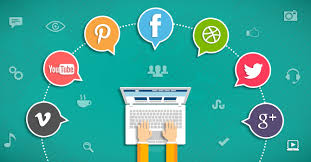 Some of the best social media management software platforms, like the ones we listed here, are free forever. Most of the time, these plans have fewer features and functions than others.
They might limit how many social media accounts you can post to, how many people can use your plan, or how you can access analytics.
For example, Buffer's forever-free plan lets users schedule posts on up to three social media channels.
The free plan for Zoho Social is more full-featured. It lets users post to seven social media channels, use the zShare browser extension, and add one team member to their Zoho Social Portal.
Even though these restrictions might not be a problem when you're just starting, they can make it hard to grow if you don't switch to a paid plan.
Before you sign up for a free plan, you should look into the software's paid plans.
Do they have the features you think your business will need as it grows? How much does its most expensive plan cost compared to its most basic plan?
When making a business plan for the next five years, when do you think you will need to upgrade to paid social media management software, and what features do you think will be most important for your business?
Try to find software with a free plan for now and paid plans that will help your company reach its goals in the future.
Which Social Media Management Tool Is Best For A Small Business?
Small businesses have fewer resources and a smaller customer base than larger corporations. The average American small business earns only $53,000 per year.
eClincher stands out as the best option for small businesses among the various social media management tools we discussed.
The interface is extremely user-friendly.
Capabilities for advanced scheduling
AI-powered content curation tools
Analytics monitoring
In general, small businesses should consider their target audience before deciding which social platform to advertise.
Facebook and Instagram have the largest audiences and are excellent options for small businesses looking to reach out to potential customers.
Which Social Media Platform Is Best?
There is no such thing as the "best social media" for every business. The truth is that your target audience and demographic determine it.
TikTok, for example, maybe the way to go if you want to target a younger audience!
However, Facebook (now known as Meta) remains the largest fish in the pond.
Meta has billions of users and is one of the most popular and effective platforms for targeting ads to a specific audience.
Good Read: 20 Ways to Make Money from Your Hobby
Bottom Line
We live in an impulse-driven society, with various forms of artificial intelligence at the forefront of technological innovation. This is true in the world of social media management services as well. Your specific business requirements, budget, and preferences will determine which type of social media management platform is best for you.
We recommend selecting a partner to save you and your team valuable time automating social media marketing processes, collaboration workflows, and actionable insights.
This list of free and paid social media management tools will allow you to manage your social media presence easily. However, we recommend choosing a tool that can adapt to your changing needs. One that accomplishes more in less time while not burning a hole in your pocket. Examine the table above again to determine which platform is best for your company and supports all the social media channels you require. Make a list to prioritize your business's needs and see which option checks the most of your requirements, whether it's a fully integrated end-to-end solution to boost your engagement and brand awareness, a lead-generation machine, or a content monthly planner for social media content and blogging.
Frequently Asked Questions
Q: What Is Social Media Management Software?
Social media management software integrates across multiple social media platforms, collects data about a company's or brand's impact, and saves time and money by creating and scheduling posts from a single location. This software also offers useful engagement tools and feedback, such as idea generation, analytics, and integration with other software.
Q: What types of social media tools are there?
Social media is constantly changing, as are the tools businesses can use to streamline their social media workflow. Content curation tools, social media scheduling apps, content creation tools, and social media analytics tools are among the new social media tools.
Q: What Are the Expected Costs of Social Media Management Software?
Social media management software can be obtained for free, but the free basic plans provided by some companies include few tools and are typically only suitable for one user. More features and the ability to integrate with more platforms or manage more accounts will cost you anywhere from $5 to $600 monthly. You may have to pay even more if you have a large company and require many user profiles or access to more social media accounts across multiple brands.
Q: How do I manage multiple social media accounts?
Having multiple social media accounts does not have to be difficult. With content creation calendars, features that help automate postings, and chatbots to respond to messages, social media management software like Hootsuite and Sprout Social simplify managing multiple accounts.
Q: What are the best social media management tools?
Three of the best social media management tools are Hootsuite, Sprout Social, and Buffer. Hootsuite is ideal for businesses that use multiple social media channels, whereas Sprout Social has excellent analytics features. Buffer is perfect for businesses looking for low-cost social media management software.
Q: What Tools Do Social Media Managers Use?
A social media manager oversees a company's or brand's online identity and presence. Social media managers use various tools to increase brand awareness online, including platforms such as X, Instagram, and Meta's Facebook, as well as Google Analytics and other online software programs such as those listed above.
Q: Does Google Have a Social Media Management Tool?
Google does not provide a dedicated social media management tool. Still, it does provide tools such as Google My Business (GMB), Google Analytics, and Google Drive, which can be integrated using social media management software such as Sendible, which can integrate with multiple platforms, including those hosted by Google.
Q: Why are social media management tools important?
Marketing managers, small business owners, and content creators can save time by scheduling social media posts in advance to multiple accounts, viewing top-level metrics, and generating viable leads from social media using social media management tools.
Q: What is the purpose of social media management software tools?
Social media management software users can pre-post content to multiple social media accounts from a single user interface (UI). Depending on the software company and plan, additional features such as analytics tools, brand awareness campaign tools, and communication tools are also available.
Q: Why Should I Buy Social Media Management Software?
A social media management tool can help you streamline your social media presence by posting to multiple accounts, boosting your online profile, and scheduling out posts if you own a business. Using the tool may help to raise brand awareness and reach out to more potential customers. A social media management tool can help a company save time and money.
Q: How do I manage a business social media account?
To properly manage a business social media account, you must first understand the company's brand, target audience, and business objectives for the social media account. Create a monthly and yearly content calendar to help you meet your business goals, then post engaging content and analyze social media metrics to see if your content is helping you meet your business goals.