Last updated Aug. 11, 2023 by Favour Chinaza
8 Best Enterprise CRM Software (Ranked & Reviewed)
How do you choose the finest enterprise CRM software out of the many options available? CRM software is revolutionary.
According to one report, it increases efficiency by up to 34% and allows you to record consumer information, follow existing and new customers, design marketing campaigns, and automate practically every operation.
The features of an enterprise CRM software package are much more powerful. However, the CRM world may be extremely perplexing with so many service providers, varied systems, and distinct features.
Small organizations may manage this through spreadsheets, email, workplace communication, and intranet technologies like Slack and Rocket.
However, manually controlling the sales process becomes overwhelming after a certain point.
That's where enterprise CRMs come in.
Enterprise CRMs assist major organizations with large sales activities in managing their sales processes consistently and efficiently.
SDRs may assign deals to teammates, track deals, and communicate with team members from one interface.
Sales managers can use an enterprise CRM to track team productivity, communicate progress to the C-suite, reassign deals, anticipate income, and collaborate with customer support to resolve customer issues fast.
This article evaluates and reviews the top eight enterprise CRM software products on the market. So take a look around and decide which one best meets your requirements.
What is an Enterprise CRM Software?
An enterprise customer relationship management software is CRM software that is specifically developed to satisfy the needs of large businesses in terms of customer relationships.
An enterprise CRM is a comprehensive customer relationship management solution built for larger businesses with extensive sales operations.
The greater the size of a sales department, the greater the requirement for communication, collaboration on deals, and for the sales leader to be able to track everyone's performance.
This CRM software makes it easier for sales and marketing departments, customer care departments, help desk teams, and accounting departments to collaborate.
Enterprise CRMs, such as Microsoft Dynamics, Salesforce, and Netsuite, are intended to provide a more comprehensive customer relationship management experience directly inside one interface.
Especially for larger sales teams with significant data points, team members, deals, and customers to manage.
Good Read: What is a CRM? A Beginner's Guide to CRM Systems
Enterprise vs. SMB CRM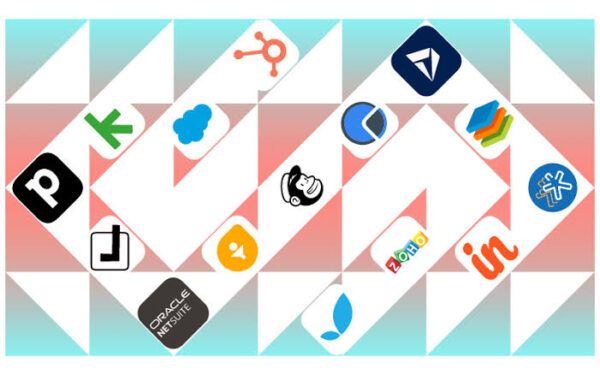 What distinguishes an enterprise CRM from other CRM solutions? To respond, it is best to examine them in terms of functions.
To begin, corporate operations can cover numerous nations or territories as well as multiple product lines.
On the other hand, small-scale enterprises typically cater to a certain region and offer restricted items.
As a result, in order to efficiently sustain their operations, a major firm needs a platform with extensive contact management and scheduling functions.
Another consideration is intricacy. SMB sales and marketing departments often utilize CRM software to coordinate campaigns, lead generation, and promotions, but corporations require platforms with greater features.
This is because they have multiple business units with multiple sales and marketing teams that connect with existing clients and prospects on a frequent basis.
Key Differences Between Enterprise and SMB CRMs
Hundreds of CRM software alternatives are available to your team, either geared for small and medium-sized organizations or larger enterprises.
So, which Enterprise CRM should you go with?
The primary objective of SMB customer relationship management software is simplicity and convenience of use.
They're intended to provide increasing sales teams with the essential capabilities they need to manage the sales process, collaborate, and close deals with as little frills as possible.
These include basic sales features like:
Contact management
Sales management
Task management
Forecasting and reporting
Small and Medium-sized Business CRM software suppliers attempt to equip SDRs(Sales Development Representatives) with enough functionality to close deals without getting in the way with a bloated platform full of difficult-to-use features and widgets.
Enterprise CRMs, as the name suggests, are intended for larger firms with extensive sales operations.
They provide a broader set of capabilities meant to address every use case that a larger team would meet, such as task automation, collaboration with customer success, and integration with third-party applications.
This allows growing enterprises to customize as they see fit.
In addition to the basic features SMB CRMs offer, enterprise CRMs also provide:
Customer opportunity management
Advanced contact management
Sales analytics
Sales automation
Marketing automation
Sales forecasting
SMB CRMs are designed to be easy to use and to prioritize simplicity over functionality. In essence, you get the basic features you need to get your sales operation running.
Enterprise CRMs are designed to serve as more comprehensive solutions that meet every use case a larger sales organization may require.
8 Best Enterprise CRM Software (Ranked & Reviewed)
1. Zoho CRM — Sales Force Automation That Transforms Productivity to Business Growth
2. NetSuite CRM — Configure, Price, and Quote Complex Products and Services Immediately
3. Salesforce Sales Cloud — Use AI-Powered Insights and Machine Learning in Your Processes
4. Hubspot Sales Hub — Revolutionize Your Business with a True End-to-End Platform
5. Zendesk Sell — Build Automation to Eliminate Manual Work and Repetitive Tasks
6. Microsoft Dynamics 365 –
7. Freshworks CRM-
8. Pipe drive – Best easy-to-use enterprise CRM
1. Salesforce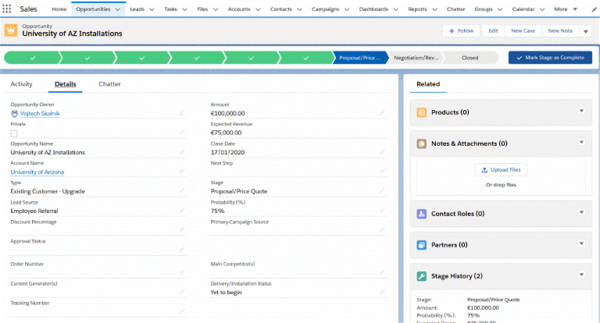 Salesforce provides a comprehensive customer relationship management platform to help large teams manage leads, engage prospects, coordinate with your customer support team, track sales, conduct marketing campaigns, and keep tabs on your performance metrics.
From Microsoft Outlook to Gmail, Salesforce integrates extensively with the tools you already use across your stack. It makes it easy to manage sales actions outside Salesforce and still has everything organized in one source of truth.
If you're expecting or already experiencing enterprise-level growth in your sales operations, Salesforce was designed for you.
Key Features of Salesforce
Lead Management: Salesforce enterprise CRM is also one of the best lead generation software that enables you to track and identify quality leads, route leads to the right agents, create and track email, track marketing campaigns, and generate leads from web visitors.
Salesforce enterprise also allows for lead registration: a feature that enables you to transfer leads to your business partners.
Account and Contact Management: With Salesforce, your team can manage opportunities, customize its own sales process, and create a calendar for any object. You can also view how customers engage with your business from a single dashboard.
Aside from allowing you to view the customer history, contact information, and communication history of leads, Salesforce also allows you to view the individual data of each lead.
It also comes with a sales console app, work queue, and inbox feature.
Sales Forecasting: Salesforce gives you a platform that enables you to look into your business's entire pipeline. It also comes with an enterprise territory management feature.
Its predictive forecasting feature, which uses automated machine language to make accurate predictions about your business, is available for purchase.
Additionally, Salesforce allows you to view forecasting data on mobile devices and track the total efforts of your sales team.
Quotes and Order Tracking: With Salesforce enterprise CRM, your team can manage contract approval, renewal, and sales orders. Your team can also manage quotes and product price catalogs.
Sales Insight: Salesforce enables the following:
Customization of reports and dashboard
Pipeline movement tracking
Lead and opportunities scoring.
Identification of change in pipeline movement.
In addition, salesforce enterprise CRM offers conversation insights and advanced reporting features, including cross-filters, bucketing, history tracking, and joined reports.
Collaboration tools: Salesforce allows different departments in a business to share files and recommendations. It also provides for internal and external collaboration.
Workflow Automation: Salesforce enables automation for almost every business process.
Integrations: You can integrate your Google apps into Salesforce, and you can also integrate your email with Outlook.
By allowing customers to access knowledge articles and FAQ pages, Salesforce reduces the volume of requests your customer service unit receives. It also offers case management features.
Cons
Poor Customer Support
Expensive Pricing
Additional costs from add-ons purchase
Salesforce's Enterprise Pricing
Salesforce enterprise CRM costs $150/month per user when billed annually. It comes with a 30-day free trial.
2. Hubspot Sales Hub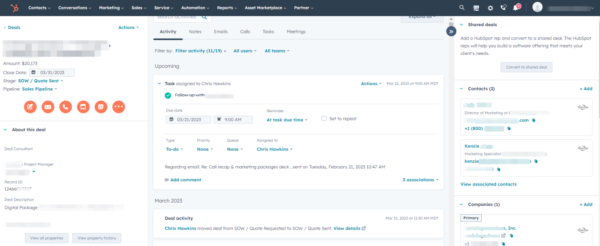 HubSpot is the most complete CRM platform reviewed in this guide, with more features than any other system available across its four core products: Marketing Hub, Sales Hub, Service Hub, and CMS Hub.
HubSpot is an excellent alternative for sales teams looking to increase their performance by centralizing data from diverse software suppliers, thanks to the new Operations Hub's thousands of integration opportunities.
Customers can easily link third-party applications to sync and sanitize customer data while automating business processes to help your team work more efficiently.
Your HubSpot CRM records sales funnel data, activity insights, productivity, and performance throughout your sales activities once you've integrated your other software platforms.
HubSpot integrations also assist firms in centralizing lead information in one location.
Every engagement with a lead, regardless of the platform used, is saved in a neat timeline so you always know where a discussion left off the next time you or another team member picks it up.
HubSpot records practically every client interaction and makes data easy to track and use by integrating with Gmail, Outlook, and social media platforms.
In terms of features, the only platform that comes close to HubSpot is ActiveCampaign, which offers almost 90% of the same features on its enterprise plan.
The difference is that pricing starts at $399/month for 10,000 contacts, which gives you access to everything on ActiveCampaign.
The additional 10% of features in HubSpot's enterprise plans primarily comprise more complete inbound marketing tools, powerful social media and paid advertising features, and significantly more customization choices.
If you pay for the CMS Hub, you'll get the most capabilities that aren't available on ActiveCampaign because there isn't an analogous offering.
Key Features of Hubspot
The features offered by Hubspot enterprise CRM can be categorized into the following:
Enterprise-grade CRM
AI-powered Sales Acceleration
Connected CPQ tools
Streamlined Sales Reporting
Enterprise-grade CRM
The following features fall under the Enterprise-grade CRM:
Custom Objects: Hubspot provides tools that enable you to customize how you store and structure your data.
It also lets you link any data of your choice to any Hubspot object (contacts, tickets, tasks, products, and more).
Advanced Permissions: With this feature, you can protect your data by controlling who has access to your business CRM objects and tools.
Account-based Marketing: This feature brings your marketing and sales team to one place and enables them to focus on leads with high-purchasing capabilities.
AI-powered Sales Accelerator: This feature which simplifies your team's activities, contains the following features:
Artificial Intelligence: This feature analyzes the lead's email and provides your team with contact information about the lead.
Sales Engagement Tools (Sequences): With this feature, your team can easily send a series of timed and targeted emails. This tool also enables you to enroll bulk contacts into your database.
This tool lets your team gain insight into email bounce and reply rates.
Hubspot Mobile App: Hubspot CRM is optimized for mobile devices.
Quotes: Hubspot enables you to customize your quote templates.
Product Library: With Hubspot, you can track your sales and see reports of what you are selling, when you are selling it, and to whom you are selling it.
It also enables you to store SKU and custom properties of products. This feature also allows you to use multiple currencies to price your products.
Streamlined Sales Reporting
With this functionality, your team can gain insight into their performance. Tools under this feature include:
Sales Analytics: This tool brings your data to one place and lets you gain deep insight into your sales performance.
Forecasting App: This app collects data about your sales activities and makes accurate predictions that can guide your decision-making process.
Hubspot's Enterprise PricingHubspot's enterprise plan costs $120 per month per user. It offers a 14-day free trial period. Marketing Hub – starts at $3,200/month for 10,000 marketing contacts (plus a $6,000 onboarding fee)
Sales Hub – starts at $1,200/month for 10 users (plus a $3,000 onboarding fee)
Service Hub- starts at $1,200/month for 10 users (plus a $3,000 onboarding fee)
CMS Hub – starts at $900/month
For the all-in-one platform, including all four of the products above, your enterprise fees are going to start at $6,500/month, plus a $12,000 onboarding fee to get the system set up for you.
That means you're paying $102,000 to start using HubSpot's enterprise offering for a sales team of 10 people and a marketing list of 10,000 contacts.
3. Pipedrive CRM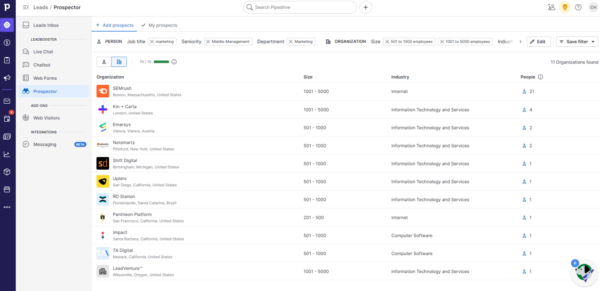 Pipedrive is CRM software designed for large teams looking to manage their sales funnel.
Pipedrive abandons the standard CRM style in favor of a visual pipeline management system that focuses on nurturing prospects as they progress through your funnel.
This can be beneficial for businesses that lack database administration skills, teams that simply do not get along with traditional CRMs, or fast-shifting sales teams that must regularly train new reps.
For teams of 10 or more people, the firm provides an Enterprise package for $99/month per person, which includes full access to the platform's functionality, as well as tailored onboarding to get you up and running and enterprise support to help you get the most out of Pipedrive.
Pipedrive allows your team to generate lead profiles and track a lead's contact with your company via a sales pipeline, giving you control over the activities that drive sales.
Key Features of Pipedrive
Sales Pipeline Management: Pipedrive gives you insight into your sales momentum and priorities. It enables you to manage sales opportunities and keep track of consumers in their different sales pipeline stages.
This feature prevents you from losing a lead.
Email and Communication tracking: Pipedrive tracks your emails, calls, and chats with a contact and then gives you a visual history of the interactions to enable better communication with contacts.
Functionalities under this feature include a contact map, contact timeline, group email, email scheduling, email sync, email tracking, and more.
Contact Management: With one click, Pipedrive gives you actionable insight into the lead's name, contact information, purchasing capabilities, preference, and more.
It also enables you to view contact profiles and communication history. With Pipedrive, you can organize contacts into segments, automate two-way email sync, track contact information, and keep contact data safe.
Lead Generation ChatbotPipedrive's chatbot keeps an eye on your web visitors and lures them into your sales pipeline by having live conversations with them as they browse through your website.
Mobile App: Pipedrive is optimized for mobile devices. With Pipedrive CRM, you can access your data on or offline on your phone, and you can also find leads and see contact history.
Invoice and Billing: This feature makes closing a deal with Pipedrive easy. The invoice and billing feature of Pipedrive simplifies the process of creating, viewing, and sending invoices to an invoice app.
Lead Qualification: Pipedrive analyzes data about leads and identifies the leads with high purchasing abilities. With this feature, your team knows which lead is worth their time.
Customization: Pipedrive allows you to customize your pipeline stages, email templates, quotes, dashboards, reports, fields, API, language, and workflow automation.
Insight Revenue Forecast Report: This Pipedrive enterprise CRM feature enables you to make predictions about your future revenue. It also gives you insight into closed, unfollowed, and deals that need to be closed.
With it, you can build a reliable business strategy.
Other features of Pipedrive enterprise CRM include
progress tracking
precision forecasting
activity-based planner
account manager
sales action playbook
sales coach
sales reporting
email integration
task management
insight and reporting
integration with over 300 applications,
workflow automation and scheduler.
Cons
Pipedrive's Pricing Plan
Pipedrive enterprise CRM costs $59.90/month per user when billed annually and comes with a 14-day free trial period.
4. Zendesk
Zendesk Sell (previously Base CRM) is Zendesk's enterprise customer relationship management approach.
Which is undoubtedly an attempt to integrate Zendesk's product suite into a unified marketing, sales, and customer support suite for growing teams.
Zendesk Sell provides a customized pipeline for deal monitoring, personalized email marketing, and a digital phone system for sales conversations.
Wherever you are, you can access Sell via iOS and Android mobile applications, which allow you to carry your pipeline with you.
This is a significant advantage over offline or spread teams who may be working remotely due to the new normal.
Key Features of Zendesk
Custom Team Roles and Permissions: Zendesk allows for coordination in your business by providing features that enable you to assign roles to team members.
You can also determine who gets permission to make add, update, and delete lead information.
Full Customer View: Zendesk enterprise CRM offers a centralized platform to enable easy access to leads, contact, and account information by all departments in your company.
Agents in your company can also disseminate data to other departments with ease.
Reporting and Analytics: With Zendesk, your team can predict revenue growth, identify problems in the sales pipeline, customize reports and dashboards, analyze leads, and view sales performance metrics.
Email Integration: Zendesks allows for email integration. It also enables email tracking, email notifications, and email template customization.
Sales Engagement tools: You can segment leads based on certain attributes that will enable you to send out targeted and personalized emails.
Other features include self-service, task player, sequences, marketplace, bulk outreach, sales trigger, API access, mobile app, and more.
Zendesk Enterprise CRM pricing
Zendesk enterprise CRM costs $150/month per agent when billed annually. It comes with a 14-day free trial period.
The more powerful enterprise plan costs $215/month per agent.
5. Freshworks
Freshsales CRM software is both intuitive and versatile, with built-in tools designed to improve communications and customer understanding.
Freddy, the intelligent AI assistant, is designed to assist you in developing a more comprehensive picture of your consumers based on historical sales data, actions, and engagement.
Freshworks also includes a basic VoIP phone service with toll-free local numbers available for purchase in over 90 countries and the flexibility to call from any device.
Freshsales makes it easy to better understand and deliver your customers' targeted products and services once you have your pipelines, workflows, and forecasting tools in place.
You can launch personalized bulk email marketing campaigns, manage deals, anticipate deal performance, forecast income, and strategically engage prospects from within the platform.
Freshsales CRM can also automatically create contact profiles for your prospects, identify bad deals, and revive cold leads with potential.
Key Features of Freshworks
Custom Modules: This feature enables you to tailoFreshwork's CRM to meet the needs of your business. With this feature, your business can create personalized fields and custom fields.
AI-based Forecasting Insight: Freddy AI – an artificial intelligence developed by Freshworks analyzes your business data and makes accurate predictions that can boost your sales productivity.
Audit Logs: Freshworks records every activity carried out by agents to enable you to keep track of any configuration changes they make.
Account Management: Freshworks gives you a 360-degree view of your account hierarchy, conversations, tickets, deals, and related data.
Email Campaigns: You can create and design emails with the Freshworks drag-and-drop editor feature.
Freshworks also allows you to schedule emails, view email campaign performance, and optimize email for different devices.
Marketing Analytics: Freshwork's marketing analytical tool gives you insight into the performance of your marketing campaigns. It also enables you to create personalized marketing reports.
Customer Segmentation: You can group your leads into segments based on their user properties, like behavior, demographics, and location.
This is to enable your marketing team to create targeted emails that convert.
Other features include
multi-currency and multi-language,
auto-assignment rules,
sales sequences,
territory management,
task management,
holiday routing,
auto-profile,
chat campaigns,
account management,
activity timeline,
lead scoring,
weighted pipeline,
IP whitelisting, and more.
Freshworks Pricing
Freshworks enterprise CRM plans cost $69 per month per user when billed annually. It comes with a 21-day free trial period.
6. Oracle Netsuite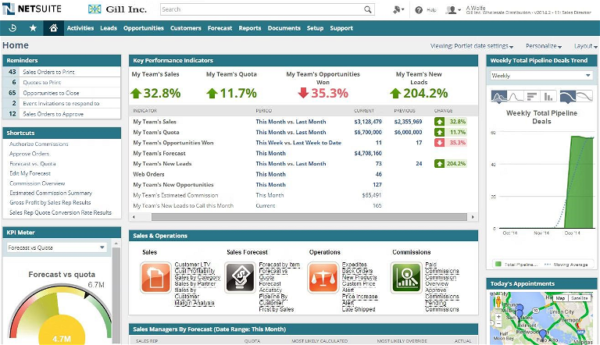 Oracle NetSuite is a cloud-based ERP software with CRM capabilities that is ideal for business owners looking to give the best possible customer experience. Midsize e-commerce businesses that rely on repeat customer business require a CRM platform to understand their consumers' shopping behaviors better.
The CRM module assists businesses in maximizing the value of each client encounter at each touchpoint. NetSuite organizes, automates, and synchronizes customer interactions across marketing, sales, customer service, and technical support departments.
That is, any employee can engage in a dialogue with any customer as though they have been the primary point of contact since the initial interaction.
NetSuite's dashboard provides a 360-degree view of your customer data and a clear picture of what's happening throughout your customer-facing departments.
Key performance metrics, ongoing campaigns, new leads, monthly data analysis, and other useful tools are all available on the dashboard.
NetSuite marketing automation is available for campaigns across many channels, including forecasting tools that predict deal outcomes and assist you in meeting company objectives.
The mobile app enables for seamless work from any internet-connected device, and its native shipping integration can assist with the time-consuming labeling and shipping tasks.
It is cloud-based and provides a full view of customers as well as smooth information flow across sales orders, opportunity, fulfillment, upsell, cross-sell, renewal, and support.
It includes a shop for apps, a customer portal, marketing automation, an e-commerce connection, and mobile access.
Customers, partner relationships, commissions, quotations and orders, quotas, contacts, and opportunities can all be managed with it.
It serves a wide range of industries, including finance, energy, information technology, retail, manufacturing, education, and others. Oracle NetSuite is also one of the good accounting software for businesses to try.
Key Features of NetSuite
Sales Force Automation: Netsuite enterprise CRM strengthen your sales department by giving them real-time insight into customer relationship data like order history, contracts, inventory, and contact information.
With this data, your team can make accurate forecasting and better sales decisions.
It also enables your team to manage opportunities, orders, and quotes efficiently and upsells.
Marketing Automation: Netsuite allows you to automate your marketing campaign across all communication channels.
In addition, it lets you track, measure, and analyze your marketing campaigns.
Aside from allowing you to align your marketing and sales goals, Netsuite also provides a segmentation feature that categorizes your leads based on certain criteria.
Configure, Price, Quote: With Netsuite, your sales team can automatically generate sales proposals for different products and services.
The Netsuite CPQ software, when integrated with Netsuite's ERP and e-commerce solution, can streamline the sales to delivery and bill of material generation process.
Netsuite also provides your sales team with functions such as accurate discounting, efficient sales-to-delivery process, 3D visualization of products, and more.
Partner Relationship Management: Netsuite boosts your collaboration with other businesses by providing a unified view of sales activities performed by your team and theirs.
It also enables you to conduct joint marketing campaigns and lead generation.
With Netsuite enterprise CRM, you can easily distribute marketing and sales data to your partners through different communication channels.
You can also access your partner's sales forecasts, commissions, and royalties.
Customer Service Management: With Netsuite, your customer service team can provide a stellar customer experience without eating into your business revenue.
Netsuite also provides tools for better case management. Netsuite also enables self-service functions and knowledge-based centers.
Reporting and Analytics: Gain real-time reporting and analytics of your team's performance.
Mobile: Your remote team can perform their normal day-to-day sales activities from a mobile device or tablet.
Cons
No free trial.
NetSuite CRM is a package of four different modules, and you can't buy an individual module depending on specific needs.
Doesn't integrate with G-Suite, Office 365, Facebook, Twitter, or LinkedIn.
You can access these through connectors or third-party integrations.
Can't explore the capabilities before making a purchase decision, as a free trial isn't available.
Netsuite Pricing
Netsuite Enterprise CRM doesn't offer standard pricing. It uses a quote-based system.
7. Zoho CRM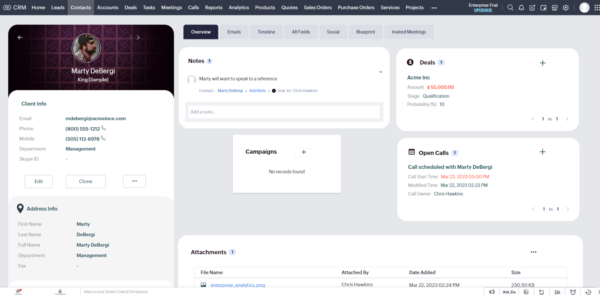 Zoho CRM enables remote workforces to accomplish more together while on the go and in diverse places.
Zoho is designed to help you generate more leads, close more sales, and properly measure performance with ease and efficiency. It is also a good Enterprise resource planning software.
Zia, the AI-powered assistant, forecasts leads and deals finds potential consumers for conversion, and provides user-friendly direction to huge sales teams.
With its gamification features that encourage friendly rivalry, Zoho is also a tempting alternative for remote workforces.
Every lead, call, and deal can be turned into a trophy that fosters a competitive and stimulating sales environment, regardless of where your team members are situated.
With Zoho, creating a personalized and user-friendly platform with hundreds of possible integrations and a customizable dashboard is simple.
Helpful features, such as the Feeds notification module, are simply available and can be uniformly emphasized across the dashboards of all team members.
Other useful tools include SalesSignals, which records client interactions across many channels and alerts team members to valuable and time-sensitive potential leads that must be acted on right away.
Over 150,000 organizations in 180 countries use Zoho CRM. They are excellent at fulfilling the demands of organizations of all sizes, and their services scale perfectly for enterprise-level businesses.
They'll even assist you in migrating to their platform, assuring a smooth transition from your previous system to theirs. Zoho CRM has four subscription levels; acquiring more than the enterprise-level plan offers is possible.
The Ultimate bundle has increased feature limits and better business intelligence.
Key Features of Zoho
ZIA AI: ZIA – an AI-powered feature of Zoho CRM analyzes your leads and sales pattern to provide recommendations on products to cross-sell. It also identifies leads with high purchasing capabilities.
This artificial intelligence also tracks emails and sends timely emails to leads as well.
Its functions include predictions, lead generation, charts, report generation, detection of anomalies, and lead routing.
Advanced Customization: With Zoho CRM, you can control multi-page layouts, custom components, fields, views and filters, validation rules, currency, language, and more.
Canvas: This feature offers a drag-and-drop editor tool that enables you to brand and design your CRM.
Sales performance managementZoho's sales performance management software enables you to make sales predictions, identify best-selling products, set different currency prices for a product, track web visitors, and more.
Journey Orchestration: This feature gives you insight into the lead's journey with your business. It shows you their problems and how your team resolved them.
It also enables you to analyze the efficiency and effectiveness of your customer service unit.
Remote Work: Zoho enterprise CRM provides tools that enable your remote workers to perform their jobs effectively.
With Zoho CRM, you can host online meetings and webinars to keep in touch with remote workers.
Other features include sales force automation, customer service, predictive sales, marketing automation, mass emails, scoring rules, automated workflow, multiple pipelines, web-to-case forms, sales signals, multi-channel marketing, and more.
Cons
Zoho Enterprise CRM Pricing
Zoho enterprise CRM costs $35/month per user when billed annually. It offers a 15-day free trial period.
8. Microsoft Dynamics 365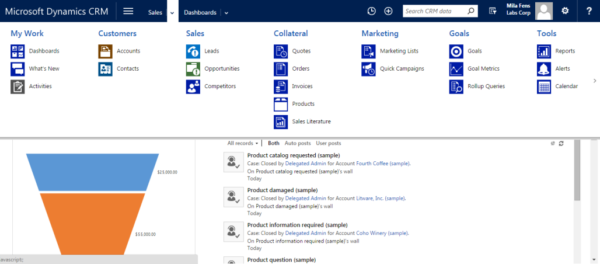 Microsoft Dynamics 365 is a CRM system designed to meet the needs of large organizations. It is not a full-fledged CRM; instead, it allows you to select from its suites of several CRM solutions if your firm does not require all of them.
Dynamics 365 Sales, built on the Common Data Service platform, assists businesses in gaining actionable insights, nurturing client connections, and closing deals.
Using enterprise-ready mobile apps, it provides integrated solutions to boost sales, manage partner relationships, automate field service, track leads, and optimize operations.
It can be implemented in the Microsoft cloud, a partner-hosted cloud, or a private on-premise cloud.
It is appropriate for companies of all sizes in various industries, including healthcare, automotive, manufacturing, government, financial services, and retail. It is compatible with the web, mobile devices, and tablets.
You can use Microsoft Dynamics to select a stand-alone program to match the needs of a department, or you can mix the many CRM solutions.
Key Features of Microsoft Dynamics 365
Sales Insight: With this feature, your team can better understand how sales are made, sales performance, and how to guide a consumer into making a purchase.
This feature also enables advanced forecasting, pipeline, and relationship intelligence.
Dashboard: With Microsoft Dynamics, you can create an interactive dashboard for Account management, Lead management, and contact management.
Marketing: This feature of Microsoft Dynamics allows you to run campaigns on multiple communication channels.
With this feature, your team can also nurture and prioritize leads, target matched audiences, and personalize a customer experience.
Lead Management feature: This feature of Microsoft Dynamics enables you to identify leads, assign leads to suitable agents, and communicate with leads on multiple communication channels.
This feature also lets you discover your competitor's interaction with your target leads.
The lead view functionality also gives you insight into opened, closed, and all leads.
Sales Engagement: This feature enables your team to generate sales from leads, predict sales, and run and track marketing campaigns.
Opportunity Management: Microsoft Dynamics keeps you on top of your game by providing relevant information about leads that could drive sales.
Other features include
collaboration tools
mobility,
integration with Linkedin sales navigator and Outlook,
smart search,
on-premise and cloud hosting options, and
sales playbook.
Cons
Limited data storage
Glitchy performance on a mobile app
Microsoft Dynamics Pricing Plan
Microsoft Dynamics pricing plan depends on the CRM tools you select. Each CRM feature offered by Microsoft Dynamics 365 comes with its price tag.
Other Best Enterprise CRM Software
Monday.com- Intuitive Workflow Organization
Monday is a CRM platform for enterprises that provides straightforward workflow organization and simple collaboration.
Monday's CRM item page is for you if you want everything laid out clearly. It enables users to conveniently read all relevant information about items on a single page and access related activities or chats with a single click.
This allows teams to quickly come up to speed on projects and collaborate with one another without having to seek for essential information.
The CRM item page also has customizable fields that may be customized based on user preferences, making it ideal for customizing workflows across teams.
Furthermore, Monday's Deal phases Widget provides a visually appealing way to track deals as they go through their many phases. Users may instantly monitor each agreement's status and make necessary changes.
This streamlines the process of tracking critical client information and enables users to keep on top of vital sales indicators.
The platform also includes seamless interfaces with major business tools like Salesforce and Outlook.
This makes it simple to sync data across systems and access all the information users require from a single location. However, with just 250+ pre-built connectors, it may not be able to meet all needs.
Keap- User-friendly Solution
Keap is an appealing solution for organizations experimenting with CRM software for the first time, thanks to its user-friendly interface and straightforward setup.
Keap is meant to help people learn rapidly without presuming they are CRM gurus.
The all-in-one CRM platform centralizes all customer activity and automatically integrates all client interactions to improve your team's ability to sell and provide support efficiently.
With a single click, your staff can SMS, email, book appointments, process purchases, and add invoices directly from the dashboard.
Keap elegantly automates contact management from activities across many platforms to make establishing your business easier.
In small business circumstances, Keap may be set up in about 20 minutes, and all customers receive a personal support manager to assure the software's success.
Keap will help your business grow by providing prefabricated and customized templates for new pipelines and useful video instructions that illustrate the software's capabilities.
You can use automatic activities to assist in converting leads into sales without any coding knowledge.
You may also organize the material chronologically or by category for easier navigation. Keap also provides simple analytics and helps with revenue trends, email marketing performance, and list growth.
Act! — All-in-One CRM Platform for Marketing Teams
Act! has been in the CRM industry for decades, and its all-in-one platform has helped marketing teams develop.
Act! offers robust account management capabilities that enable marketing organizations to maintain consumer profiles and track interactions effortlessly.
Users can keep complete records for each customer, including contact information, activity history, notes, documents, and marketing campaigns. This makes tracking the customer's journey and pursuing prospective opportunities simple.
Furthermore, with Act!'s calendar and activity monitoring, users can easily monitor customer activities and arrange follow-up tasks. This makes it easy for marketing teams to keep organized and avoid missing out on possibilities.
The cost can be high, but Act! makes it worthwhile with its dynamic sales funnel management and insight analytics. It also interfaces with common software such as Microsoft Outlook and Google Calendar, allowing users to instantly exchange customer data without having to enter it again.
Sage CRM – Exceptional Client Experience
Providing an exceptional client experience does not end when you make a sale. You must maintain your customer relationships and respond fast when problems arise.
The customer care tools in Sage CRM can assist your workers in providing support and monitoring resolutions without leaving the CRM platform.
Team collaboration capabilities provide metrics on case histories and resolution timeframes to assist you in identifying service gaps, and reporting tools enable you to build detailed visual charts and reports.
Sage CRM features a central repository for storing common problems and solutions. For consistency and speedier case resolution, you can add solutions as you go or keep evaluated and preapproved solutions in the knowledge base.
You can also establish a web self-service portal to assist your clients in resolving their own issues, lessening the pressure on your support crew.
Thryv – Internet Cross-referencing Capabilities
The Thryv platform enables businesses to meet all their customers' expectations with a single application. The platform assists your business in acquiring clients, managing your relationships with them, receiving payments, and obtaining credit.
Thryv's internet cross-referencing capabilities allow you to acquire insights regarding each customer.
The software scans the internet, collects data from numerous online databases and social media profiles, and then associates the information with your records.
Thryv offers a genuinely end-to-end service to assist your company in managing everything. CRM capability assists you in managing contacts, engaging and nurturing leads through planned communication, and gaining insights through data analytics.
The appointment scheduling and booking management features allow you to schedule one-on-one sessions, group classes, and large-scale events.
Thryve can also assist you in establishing an online presence by listing your company on over 60 recognized websites.
You may also manage your internet reputation by monitoring online reviews and ratings and responding to comments fast, all from the same platform.
Thryv works with a variety of programs, including Zoom, Quickbooks, Mailchimp, Constant Contact, and Typeform.
SugarCRM – Strong Marketing Automation Technologies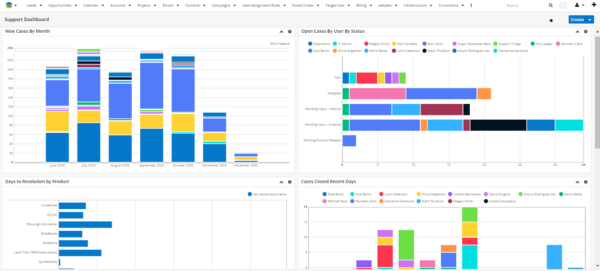 SugarCRM is a platform that combines customer relationship management and strong marketing automation technologies.
You may use workflows to build your customer's journey, nurture each lead through your funnel, and provide an outstanding experience after they convert.
Your sales teams may communicate with prospects via SMS and email via bespoke messages, automate actions, and track their performance throughout the lifecycle.
SugarCRM gives AI-powered predictive insights to enterprises to help them optimize their sales pipeline and effectiveness.
The automated system can collect data through operations such as calendar syncing and customer information updates. Your interactions with clients can influence the real-time prompts provided by the AI, as well as your recommendations for CRM upgrades.
SugarCRM connects with numerous third-party applications, including Slack, Authorize.net, Quickbooks, and Stripe.
How Much Does CRM Cost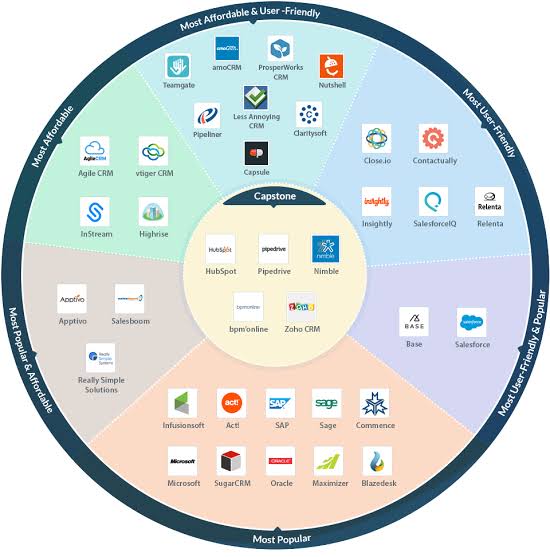 Most enterprise CRM software is charged per person per month. Many businesses choose annual billing to streamline the payment process and save money.
(Most services offer a monthly pricing reduction if you pay annually rather than monthly.) With that in mind, the following are the basic pricing tiers to expect:
$10 to $15: Low-cost enterprise CRM packages are an excellent choice for small organizations with limited demands, and several firms charge only $10 to $15 per user per month.
These low-cost systems typically do not necessitate significant in-house technical assistance. If you need a quick answer with minimal fuss, this pricing bracket is a fantastic place to look.
Just make sure the storage options fit your requirements; low-cost enterprise CRM software typically has a limit on the number of client records that can be stored.
$20 to $40: An enterprise CRM in the $20 to $40 per user per month range will likely suit your needs for extra capabilities and a greater choice of integrations with third-party systems.
The bulk of Enterprise CRM software we tested falls into this pricing range because it is geared to fulfill the demands of small and medium-sized businesses.
Check for constraints on the number of supported users and storage caps that may require upgrading to higher-priced plans as you go through possibilities in this price range.
$50 to $75: Enterprise CRM software that falls between $50 and $75 per monthly user is typically intended for enterprise use.
These systems frequently feature options for integrating with legacy systems and offer more customization than conventional CRM software. As powerful as these systems are, they are not required for most small enterprises.
$250 or more: High-end enterprise CRM systems frequently include substantial training, customization, and software setup services.
Another reason for the high cost of these solutions is that they are not cloud services; instead, they can be housed locally, which is advantageous for organizations with specific security requirements.
What Type of Buyer Are You?
Enterprise CRM buyers have specific requirements and complicated processes. Knowing what to expect when shopping for business CRM software might help you find the best option for your needs.
Healthcare organizations: Hospitals and other organizations require CRM solutions that link them to their patients and enable departmental collaboration.
They should seek for features that simplify communication workflows, aid in regulatory compliance, and offer access to data from numerous sources.
Professional service organizations: These businesses should choose CRM features that strengthen their client relationships. They should look for elements like scheduling, task management, and financial reporting that are automated.
Interaction tracking and contact management can assist these buyers in identifying new prospects, increasing lead conversion, and improving customer satisfaction.
Retail businesses: Enterprise CRM software lets retailers personalize interactions with a big consumer base.
Retail organizations should use CRM systems to forecast and uncover new opportunities as new customers discover their products. They should search for data-rich analytics reporting options to analyze client behavior, and design targeted marketing.
Features To Look Out for in Enterprise CRM Software
In addition to the fundamental sales functions offered by SMB CRMs, Enterprise CRMs offer more comprehensive tools for managing your pipeline, engaging with team members, and tracking productivity and statistics.
When looking for the best enterprise CRM, consider how well it manages the unique features your sales organization requires, especially since enterprise CRM software requires a long-term financial commitment that may lock you into a contract for months or years.
Here's a rundown of the five primary characteristics you should look for in an enterprise CRM solution and how they can help you.
1. Sales forecasting
Sales forecasting assists sales teams in predicting future sales performance based on opportunities in the pipeline.
It takes into account characteristics such as lead scoring and pipeline volume to forecast how many leads in the pipeline will convert to successful agreements and how much money will be generated.
Salespeople spend an average of 2.5 hours per week on projections (often manual) that are less than 75% correct.
An enterprise CRM can go into your pipeline, evaluate leads to assess their likelihood of conversion, and use all of that data to automatically produce more accurate predictions that will assist you in determining your expected income.
2. Marketing Automation
With CRM workflows built to trigger precise activities to engage prospects further once they take certain steps, an enterprise CRM may take the guesswork out of your marketing processes.
Enterprise CRM workflows can be created to do the following:
When prospects sign up, send them welcome emails.
Send NPS surveys to prospects after they've used your product for a while (say, 90 days).
If new customers visit your pricing sites, provide them with further information about your product tiers and off discounts on your premium plans.
When prospects or existing customers take particular actions, enterprise CRM marketing workflows use if-then logic to activate engagement actions automatically.
3. Sales Process Automation
Enterprise CRMs also include sales process automation technologies that initiate an action when prospects take specific steps or meet a condition.
Sales automation allows sales development reps to focus on completing deals by
automatically following up with leads,
pre-qualifying opportunities,
assigning deals to the best-suited SDR
sharing pre-recorded demos and
sales literature to further engage prospects until they close.
Sales process workflows, for example, can be built to:
When prospects visit your website for the first time, invite them to sign up for your newsletter.
Send follow-up emails to prospects automatically if they go silent (for example, for 36 hours) after receiving a quote from one of your agents.
Assign different SDRs to leads based on ticket size.
Sales process workflows use logic rules to carry out a pre-programmed next step without the need for direct input from your sales staff.
4. Sales Analytics
An enterprise CRM may mine multiple data points and refine them into metrics that you can use to monitor the effectiveness of your sales staff.
These include performance indicators such as:
Sales growth
Sales target
Opportunities
Product performance
Conversion rates
Quote-to-close, etc.
Instead of manually calculating these metrics in a spreadsheet, an enterprise CRM can dig into all your data points and surface them on dashboards that clearly show your sales operation's health.
5. Advanced Lead Management
Some Enterprise CRMs also doubles as good Lead generation software. They make collecting and maintaining information about individual prospects easier, simplifying lead management. This includes the following:
Using email, SMS, or phone to communicate with prospects
Meetings must be scheduled.
Making notes, reminders, and action items
Contact information can be updated directly from your CRM dashboard.
Your prospects are the focal point of your sales activities. Enterprise CRMs make it easy to engage them across different channels, record their pain areas, and maintain their information up to date, all from a single interface.
What are the Advantages of Enterprise CRM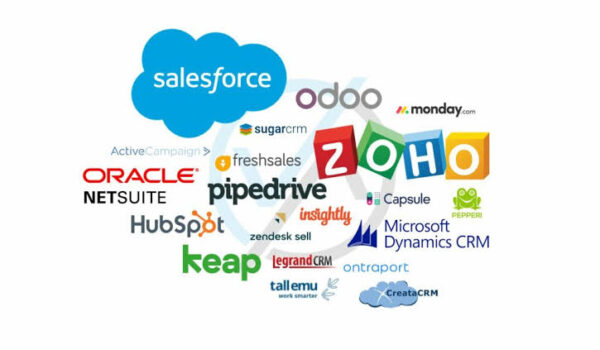 A central area where your workers can log all customer conversations and create marketing campaigns can help your company in a variety of ways. An enterprise CRM provides your firm with the following capabilities:
Organize and maintain customer information.
CRM software is useful for businesses that require current data to satisfy their clients. This is the most fundamental yet critical benefit that CRM software may deliver for your company.
Forecast your sales process.
CRM software allows you to forecast future sales based on previous sales data. Sales reports and insights are critical for businesses to forecast future demands and expenditures.
Streamline and scale your sales cycle.
You may optimize your sales process and eliminate needless steps by using the data provided by CRM software. You'll discover which modes of communication work and which don't. CRM software can also assist you when it comes to scaling up your sales process.
Automate your workflow.
CRM software automates data entry and administrative processes, freeing up your team's time to focus on developing real client interactions. Workflow automation also reduces the possibility of human error.
Build customer relationships.
CRM software enables your staff to engage with customers and establish long-term relationships. Using the information in your CRM, your team can track client information and tailor interactions to each customer's specific needs and preferences.
Enterprise CRM Software vs. Mid-Market CRM Software
There are various solutions for customer relationship management (CRM) software depending on the size and needs of your firm.
Enterprise CRM software and mid-market CRM software are two of the most frequent varieties.
Enterprise CRM software is intended for large organizations with complex requirements, such as several departments or locations, extensive sales cycles, and a high number of clients.
These systems are often more expensive than other CRM solutions since they are more customized to fit unique corporate requirements.
Salesforce, Microsoft Dynamics 365, SAP CRM, Oracle CX Cloud, and Zoho CRM are some of the best enterprise CRM software solutions.
Mid-market CRM software, on the other hand, is designed for small to medium-sized enterprises with fewer sales procedures and customer contacts.
These systems are less complicated and more affordable than enterprise CRM solutions. HubSpot CRM, Freshworks CRM, Insightly, Pipedrive, and Apptivo CRM are some of the best mid-market CRM software solutions.
There are a few key distinctions between enterprise and mid-market CRM software. Enterprise CRM software is typically integrated with broader business applications like ERP systems or marketing automation tools.
These systems also include advanced reporting capabilities and enhanced security features to safeguard sensitive consumer data.
Mid-market CRM software, on the other hand, is often easier to set up and operate, with more intuitive interfaces and streamlined feature sets.
The ideal CRM software for your company is determined by its size and complexity.
Organization CRM software may be the best choice if you have a large organization with sophisticated sales processes and customer interactions.
Mid-market CRM software, on the other hand, is likely to be a more practical and cost-effective solution if you have a smaller organization with more particular needs.
How to Choose Enterprise CRM Software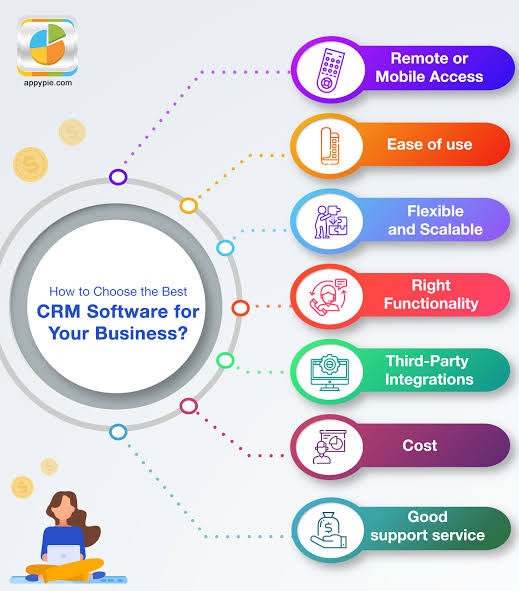 1. Create a budget.
CRM prices range from zero to more than $1,000 per month, so planning ahead of time is wise. Before diving into feature sets and service plans, narrowing down your alternatives is easier by eliminating CRM software that's out of your pricing range.
2. Make a list of features.
Even the most basic CRM system can be daunting regarding capabilities and functions. To be clear, list the CRM elements that are required and those that are desirable but not essential.
This is an excellent moment to solicit feedback from other employees who will be using the CRM. They may suggest characteristics you hadn't considered or eliminate ones you assumed were necessary.
3. Gather referrals from businesses like yours.
Choosing the correct CRM in a crowded sales technology market might be difficult. Recommendations from experts who are well familiar with the needs of your sector are priceless.
4. Assess the current market.
As technology advances, the CRM space evolves quickly, and high-profile solutions you've heard of in the past may no longer be the best option. Small business advice websites and trade journals are the finest places to see what's hot right now – and what isn't.
5. Read reviews.
Take the time to read any customer evaluations you come across as your CRM candidate list expands. Reading about particular solutions on the vendors' websites will provide you with further insight into how they operate in practice.
6. Test your top choices.
At this point, you should have a good idea of which CRM software has the most promise, so give each of these candidates a spin. Most companies have free trials, so try as many as you can before investing in a long-term solution.
Sales representatives are usually glad to answer your questions or show you a sample of their product, but keep in mind that it is their duty to showcase their CRM in the best light possible, so testing it yourself is the best way to do it.
7. Make your decision.
After you've completed your research, it's time to make your final decision. It may take some time to complete all these processes, but it is time well spent on such a vital investment.
Should I Consider a Free Enterprise CRM?
The obvious advantage of using a free CRM is that it is free. When it comes to what free CRM software can offer, systems like HubSpot shift the needle, boosting business processes and organization at no expense.
Free programs often include restrictions on the number of users, integrations, and campaign design options.
They provide just enough functionality to indicate that you may require more. In other words, they are good beginner programs to employ while determining exactly what you want.
However, you may come across inadequate security measures or a lack of automatic backups. Free programs can be broken or lost, and they don't provide much assistance to growing businesses.
Choosing the Best Enterprise CRM For You
However, remember that even if it is the best solution in terms of functionality, usability, and scalability, it may not be ideal for your firm.
Other factors to consider in selecting include corporate culture, end-user capabilities, and personnel preferences.
Furthermore, you should consider critical elements such as your workforce's digital literacy, openness to change, your company's core capabilities, and your current operating structure.
Given these additional factors, please remember that while HubSpot CRM may be the best CRM solution for large organizations in terms of capabilities, it may not be the best fit for you.
Some businesses require a great level of customization and flexibility. As a result, these businesses may be better suited to using Monday.com.
Others who already use NetSuite will be in a better position if they adopt NetSuite CRM with improved connectors. If your company is focused on sales, Pipedrive or Salesforce might be the best fit.
The point is that the finest one is the most appropriate. This depends on your organization, mission, and the culture you want to cultivate.
Another critical factor to consider is that the CRM and customer service technology landscape is rapidly expanding in terms of technology and practices.
As a result, it's a good idea to check in on a frequent basis to see if your software supplier is likewise up to speed on CRM software trends and best practices.
Make certain that, whatever platform you choose, developers not only assist you in gaining a competitive advantage now but are also forward-thinking enough to assist you in navigating the market of the future.
Recent Trends in Enterprise CRM
CRM software will continue to be an important component of hybrid and remote work environments when firms rethink their work environments in 2023, two years after pandemic-related shutdowns. The CRM sector is expected to increase dramatically in the next years.
According to Technavio's most recent analysis, the market will develop at an accelerated rate between 2022 and 2027, with a CAGR of 13.43 percent and a year-over-year growth rate of 12.6 percent.
The CRM market was worth $57.83 billion two years ago. It is expected to expand by $59.4 billion during the estimated period (2022-2027). Experts say North America will account for 52% of industry growth.
CRMs will become increasingly focused on client self-service in 2023. According to Salesforce statistics, approximately 80% of service professionals indicated their clients boosted their use of self-service during the epidemic.
Self-service examples include FAQ pages, support centers, and secured customer profiles where returns may be processed and orders can be traced.
More integration with the Internet of Things (IoT) will take the shape of CRM links to IoT feeds. By 2030, the number of IoT-connected devices is estimated to exceed 25.4 billion.
Estimates imply that by 2025, 152,200 IoT devices will be connected to the internet every minute. Developers who capitalize on these developments while maintaining or improving user experience will be successful in the coming decade.
Good Read: 18+ Best CRM Software (Compared and Reviewed)
Bottom Line
There is a plethora of popular yet overrated business CRM software available. Make no rash decisions. This article contains all of the information you need to make an informed decision. Now that you know the best enterprise CRM solutions, you may expand your research. Our free comparison report allows you to match products to your needs in order to speed up and simplify your search.
But no matter which CRM a business chooses, they must put things like ease of use, scalability, strong data management, customization options, connection capabilities, and reliable customer support at the top of their list. By giving these things careful thought and making sure they fit with their business goals, companies can provide their sales, marketing, and customer service teams the tools they need to build meaningful relationships with customers, increase efficiency, and, in the end, achieve long-term success in today's highly competitive market.
Ensure you are completely clear about your specific business requirements so that the software you select is worth your time and money. Implementation and technical support, usability, integration choices, pricing, and security features are all significant considerations when deciding.
Frequently Asked Questions
Q: How much does a CRM cost?
The cost of business CRM software varies depending on various aspects, including your organization's size, specific features, and customization needs, and the vendor you choose. Licensing fees, implementation charges, and continuing maintenance fees are often included in prices. If you require capabilities other than those included as standard, you should contact CRM vendors directly to obtain exact pricing details specific to your business needs.
Q: What is the first step in the CRM process?
The CRM process begins with research. Take the time to learn about your target audience and how to contact them. You want to know their interests, how they prefer to be contacted, their demographics, and what kind of communication they prefer. Then, separate your target audience into groups so that you may market to them directly based on their preferences. Gathering and categorizing leads is a vital first stage in the CRM process, as it allows you to understand better the marketing strategy you need to develop to convert them into customers successfully.
Q: Does everyone need enterprise CRM software?
Enterprise CRM software is designed for large organizations with complex sales processes, vast amounts of customer data, and a requirement for enhanced automation and analytics. A minimal CRM system or package may be sufficient for smaller firms or those with fewer needs.
Q: Has your business scaled enough to need enterprise CRM?
This is determined by criteria such as your client base's size, the complexity of your sales and marketing activities, and your growth ambitions. Discover that your existing CRM solution limits your capacity to manage client interactions efficiently or stifles your business's growth. It may be time to explore deploying an enterprise CRM system.