Some of the links in this article are "affiliate links", a link with a special tracking code. This means if you click on an affiliate link and purchase the item, we will receive an affiliate commission.
The price of the item is the same whether it is an affiliate link or not. Regardless, we only recommend products or services we believe will add value to our readers.
By using the affiliate links, you are helping support our Website, and we genuinely appreciate your support.
Last updated Jun. 9, 2022 by Jessica Green
Here's a Wix review that gives you the top 13 reasons to use Wix.
In recent years, Wix has aggressively continued to add features and functions that have now earned it a top place in the world of Web builders.
But even with all of its achievements and features, it is common to see people act skeptical about using it.
So if you're one of those people, here are thirteen reasons you should probably use Wix when building your website.
1. Drag-and-Drop Editor
When building a website, you need to have some coding skills and knowledge that can enable you to build an impressive site that meets today's standards.
But Wix understands that not everyone can be good at coding, hence it offers a pure drag-and-drop editor function that enables the design and publishing of custom websites by anyone, even total beginners.
Wix's drag-and-drop feature is a tool that simplifies the whole process of web designing. With this feature, you can design and publish your custom website in minutes.
And unlike other website builders, Wix's drag-and-drop feature is extremely intuitive. This means that you can get the hang of it by just looking at Wix's interface.
The drag-and-drop editor works by clicking on an element and then dragging it into a premade template or content block before dropping it. This whole process is easy and reeks of simplicity.
So if you're a first-time website creator or someone who wants a simple method of creating a website, then this is one reason you should check out Wix.
2. Wide Array of Templates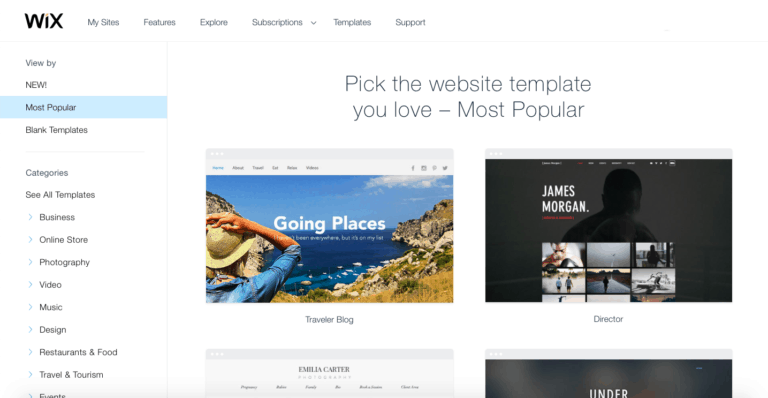 Whether you're building a personal website, a portfolio website, or an e-commerce website, the type of template you use matters a lot. This is because your template decision affects your website's fonts, colors, responsiveness, background, and more.
Fortunately, Wix has a wide array of customizable pre-built templates that allows you to build an impressive website that keeps visitors stunned.
Wix's about 800+ pre-built customizable template gives it an edge over other website builders like WordPress, Squarespace, Weebly, Shopify, and more.
With Wix's multiple templates, you don't need to consider making your own template and you definitely don't have to worry about having the same template designs as others. This is due to the customizable feature of each template.
Wix allows you to tweak and modify templates in a way that fits your brand image. So there you go! Another reason to use Wix.
3. Beginner-Friendly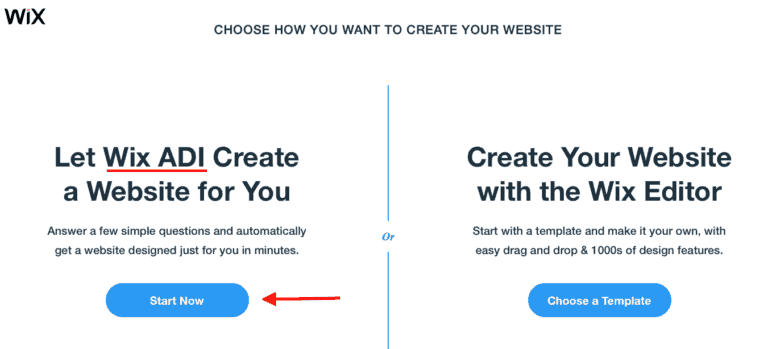 Everything about Wix is beginner-friendly. So whether you're concerned about optimizing your blog for SEO, or about your web designs, Wix got you covered.
For the setup process, Wix has a feature called Artificial Design Intelligence (Wix ADI). This tool simplifies the whole process of web creation. With this tool, you can create a website that suits your needs without having to engage in any web creation process.
All you have to do is provide this tool with information about your website needs and preference and then watch it create a website that fits your criteria.
Wix also simplifies the whole process of website-building by providing hosting services. With Wix, you don't need to pay hosting companies to host your site because Wix does it for you even on a free plan.
Wix also caters to the maintenance of your site. So you have nothing to worry about anything. All you need to do is focus on your site and leave the rest to Wix.
4. Advanced Built-in SEO tools
You must be eager to know whether Wix is good for SEO. Well, Yes!
Recently, Wix has been adding a wide range of useful SEO functions to its features making it a big contender to website builders like WordPress and Weebly.
This implies that your website will have no trouble ranking high on Google search pages when you use Wix.
Here's an analysis of Wix's SEO feature
A. Meta titles: This function performs the job of telling search engines about your page to enable it to rank higher.
B. Meta Description: This feature gives visitors a snippet of your page's content thereby encouraging them to click on it.
C. Headings & Subheadings: This tool reveals to search engines and visitors the structure of your page's content.
D. Custom URLs: With this, you have control over how your page's URL is written. This means you can customize your URL to make the Google search engine understand it.
E. Image alt text: this SEO feature enables you to describe the images that appear on your page's content.
F. 301 redirects: this function informs web browsers of any change in your page's URL and it also directs them to your page's new URL.
G. Good Site Speed: web browsers who click on your page will discover that your site loads fast.
H. SSL Certificates and SSL Encryption (HTTPS): With Google search engines having a preference for sites with SSL certificates and HTTPS, Wix provides your site with a secure socket layer and HTTPS.
I. Sitemap: this function gives Google information about the structure of your page's content and also tells it which part of your content is the most relevant.
J. Google Analytics: On a premium plan, Wix's SEO function allows you to track every of your website activities.
K. Google Search Console: this feature offered by Wix tells you your site's performance in search results.
L. Social Media Integration: this feature permits web browsers to share your page's content on their social media accounts.
M.Canonical Tags: this function helps Google search engines to differentiate between your blog's original page and the master copy page.
N. Mobile Friendly: This SEO feature allows you to edit your site's content on mobile and desktop devices.
5. E-commerce
If an e-commerce site with a very affordable pricing plan is what you want, then Wix's your guy!
It offers all the essential features you need to sell subscriptions, physical and digital goods, and services online.
In addition, using Wix's e-commerce platform leaves you exposed to benefits such as a user-friendly interface, a variety of customization options, the absence of sales fees, and various advanced e-commerce tools.
Wix's intuitive drag-and-drop allows you to create a stunning product page and its abandoned carts functionality has become more advanced.
The point-of-sale functionality enables the acceptance of payments from different countries, and there's a Wix function that allows you to integrate and advertise your products on your social media account.
6. Blogging Tools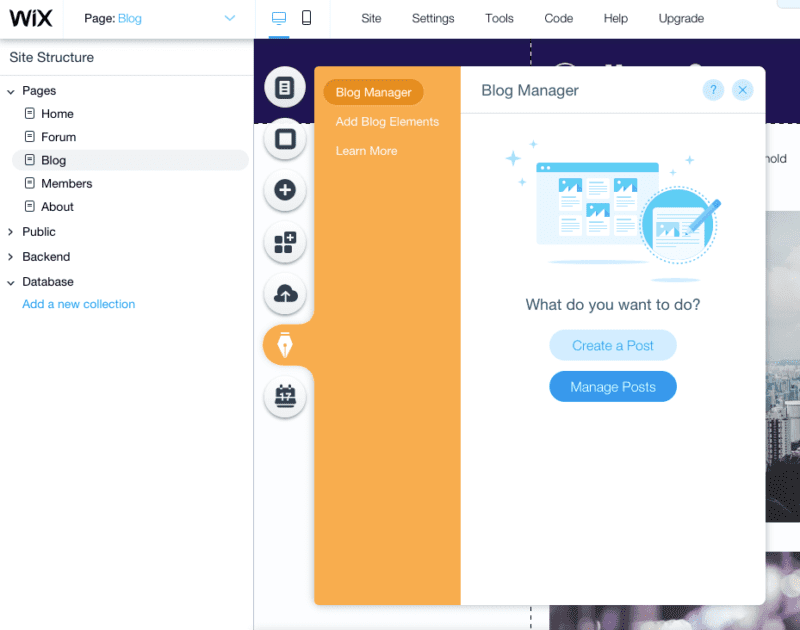 As a blogger, your main goal is to have as many visitors as possible to your site. And in as much as your blog's content can keep the visitors coming, the way your website looks as well as its functionality is also important to visitors.
And so, it is at this time that you have more reasons to choose Wix. This is because of the must-have blogging features of Wix.
Wix's multiple and attractive blog templates give you a lot of choices to make for your different categories of websites. Its beginner-friendly interface enables you to input resourceful menus to your site.
Wix also has provisions for email subscriptions, social media channeling, commenting options, blog translation, blog monetization, different posting formats, blog analysis, SEO, security, and more.
7. Marketing Tools
As Wix continues to dominate the world of website building, one feature it has continuously hammered on is its marketing features that help you to promote your business online and bring customers to your door.
Its built-in email marketing services are top-notch, and its lead generation and automation features are very impressive.
With Wix's email marketing function, you can create and send newsletters, product updates, offers, invitations, and more to your prospective customers. With its social sharing tool, you can easily promote your site on social media.
Its video marker features allow you to create promotional videos and sales announcements. And it also has other marketing features such as coupons that bring in happy customers, a Chat system that enables you to connect with your customers, and forms that enable you to gather information about your site visitors and customers.
Wix also enables marketing integrations.
8. Value for Money
From the multiple customizable templates it offers to its highly intuitive drag-and-drop editor, from the advanced SEO features it offers to its amazing e-commerce features, there's no doubt that Wix offers services that are worth your money.
With Wix, you can never feel like you're paying too much for too little. Everything about Wix feels right!
Wix has an eight-pricing plan which includes a free forever plan, and each of these plans contains features that are targeted at different people.
From the connect plan which is $4.50/month to the VIP plan which costs $35/month, Wix offers you value for your money.
9. Ease of Use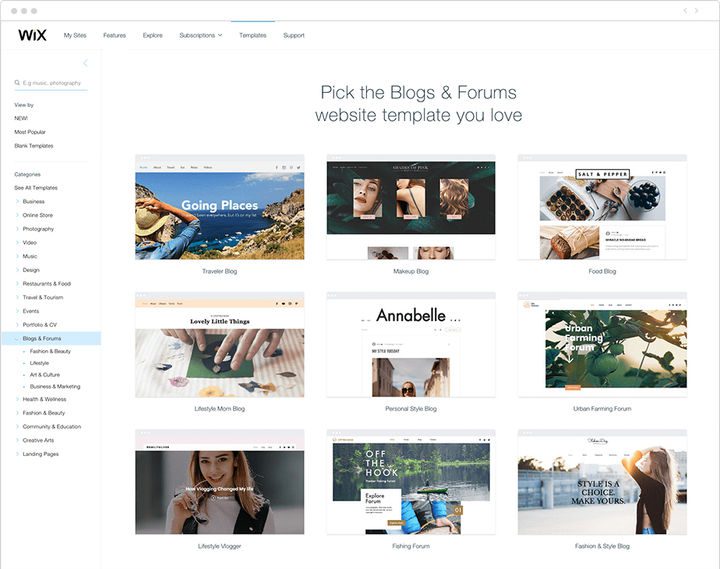 Everything about Wix exudes simplicity. From your site setup process to the marketing activities you perform, everything is done with ease.
Of what use is a website builder with powerful and advanced features if you can't harness its potential due to its steep learning curve? Exactly! Of no use.
This is why you should use a website builder that makes things easy for you while giving you the best. Wix is that website builder!
Aside from Wix's drag-and-drop editor that allows you to create a website of your choice with ease, every other feature of Wix is also built with the aim of making you do your thing with ease.
10. Help & Support
Before you decide to choose a web builder, one of the most crucial things to look out for is the help and support you can get from the web builder. This is important if you want to save yourself from a lot of stress.
And Wix happens to be a great provider of help and support. It offers you support through its information-packed forum and educating video tutorials. Its blog posts, articles, and social media are also packed with information on whatever you might need when building a website with Wix.
With Wix, you don't need to worry about your site. If you encounter any technical problems, you can always send an email to the Wix's team and they'll sort them out for you. Wix also enables phone support and on-page support to help you out when you need help, unlike other web builders.
11. Design Flexibility
Another good reason to use Wix is because of the high degree of flexibility it offers you when designing your site. With Wix, you have the freedom to manipulate elements as you like.
Wix's wide range of pre-built templates is highly customizable, so there's no need to worry about having the same look as some other websites. But if you don't need the templates that are made available, you're free to build your website from scratch.
12. Not Vulnerable to Hackers
Wix is a closed source platform that prevents anyone, even you from accessing their source codes. Therefore the possibility of hackers having access to your website is very slim.
Wix takes your site's security seriously that's why it prevents you from taking part in the technical aspect of your site.
Unlike some web builders, Wix provides you with a free Secured Sockets Layer (SSL certificate) that enables an encrypted connection to your website. This function keeps your website safe from hackers.
For e-commerce stores, Wix security features come with PCI DSS Level 1 which is the highest level of compliance that keeps your transactions secure.
Wix also comes with a two-step verification process that prevents unauthorized access to your Wix account.
13. No Constant Updates
A website builder like WordPress demands that you regularly update your plugins in order to remove vulnerabilities that give hackers the chance to access your website.
But this isn't the case when using Wix.
With Wix, you don't have to make regular updates to your Wix apps. The only time you make updates is when you want to get the updated features of the apps in the Wix App Market.
In addition, Wix does a good job of masking any vulnerable area of your site, so you need not worry about loopholes that can get your site hacked.
Final Words
If you want to build a website for personal purposes or for your small business, Wix is a great choice. It has all the functionality you need as you now know.
It is a website builder trusted and used by over 170 million people in the world. All these people can't be wrong, can they?