Last updated Jul. 13, 2023 by Favour Chinaza
Wix Review: Top 13 Reasons to Use Wix
Wix is among some of the most popular website builders in the market. That could be due to its three different types of editors, hundreds of themes, and thousands of plugins.
And so, for most people looking for a platform to make a website, this might look like the right option to choose.
In recent years, Wix has aggressively continued to add features and functions that have earned it a top place in the world of Web builders.
But even with all of its achievements and features, it is common to see people act skeptical about using it.
Wix is an all-in-one website builder that lets you quickly create attractive websites without design or coding experience. Wix is popular among bloggers, entrepreneurs, and small business owners.
If you're looking to build a website without a large budget, Wix's affordable plans are worth a closer look.
Wix offers free and paid plans, hundreds of design templates, built-in search engine optimization (SEO), and a full range of in-demand features that help you create a functional and attractive online presence.
Wix Review: Is Wix a Good Website Builder?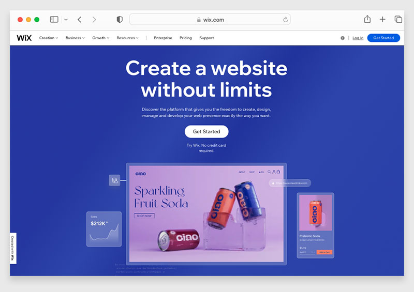 If you don't have time to read our Wix.com review, let us respond right away. Yes, Wix is fantastic!
It has an easy-to-use drag-and-drop interface, hundreds of templates, and strong search engine optimization (SEO) capabilities. Let's take a closer look to evaluate how good Wix truly is.
For a good reason, Wix has emerged as (one of) the best website builders for small businesses in recent years.
With its simple drag-and-drop interface, even individuals with no prior design or coding skills can quickly and effortlessly construct great websites.
Wix is an all-in-one website builder.
This all-in-one website builder is accessible from any location with an internet connection, allowing you to easily create, update, and promote your website.
Wix provides a large number of templates (over 800) that are completely free to use. Wix has you covered whether you want to start an e-commerce business, a blog, create a portfolio, or an appointment booking site.
Its extensive media library and international capabilities make it an excellent alternative for creative businesses seeking to increase their worldwide reach.
Wix offers many options for eCommerce enterprises, including the ability to sell unlimited products, an abandoned cart saver tool, dropshipping, and support for over 95 payment methods.
Wix's advanced SEO features will assist you in increasing your website's visibility on search engines and attracting more users.
While a free version of Wix allows you to construct a rudimentary site, you can always upgrade to one of the paid plans to access more sophisticated features.
Benefits of paying plans include access to more advanced services, additional storage, and enhanced bandwidth.
Overall, Wix is a versatile website builder with a diverse user base. Wix gives you the tools to create a professional-looking website, whether you're a small business owner, blogger, or eCommerce entrepreneur.
Good Read: Wix vs. Squarespace: Choosing the Best Website Builder
What Is Wix?
Wix is a beginner-friendly, all-in-one tool that makes it easy to create a professional-looking website.
Wix offers over 800 design templates that allow you to customize a site for various blogging and small business needs.
Connect to more than 300 third-party apps to add advanced features to your website, such as online scheduling or event booking.
How Does Wix Work?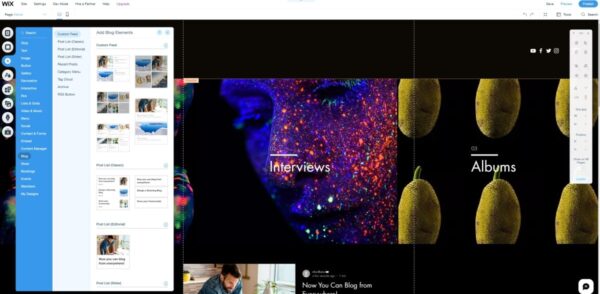 So, what exactly does Wix do? It allows you to build websites from the ground up using a simple drag-and-drop interface.
Numerous adjustable themes and design elements are available to help you construct the website of your dreams.
You will be able to develop a distinctive and professional-looking website in minutes without exaggeration.
The platform also contains a variety of features and tools, such as SEO optimization, eCommerce capabilities, and social media platform integrations.
When utilizing tools like Wix, it isn't easy to think that once upon a time, creating a professional-looking website required advanced coding abilities.
Wix is a great option for small business owners who don't have the funds or time to engage a professional web designer or developer.
Instead of wasting crucial time constructing your website, especially if you're not technically smart, you can easily create a fully-functional website and use the time you save to run and grow your business.
Why Use Wix?
To summarize, why use Wix? Wix is an excellent website builder, especially for individuals who appreciate simplicity.
Wix makes website development simple with a user-friendly design and a very intuitive drag-and-drop editor.
Wix also provides Wix ADI, which allows you to have a custom website made for you if you prefer a hands-off approach.
Wix outperforms the competitors in terms of features. Wix gives all the functionality you need to create a successful website, with many built-in features such as email marketing tools and analytics.
Its 800+ customizable themes let your imagination run wild, and its generous free plan allows you to use it for as long as you like.
Overall, Wix compared to Squarespace, we strongly recommend Wix to anyone looking for a simple, pleasurable construction experience without sacrificing design or capabilities.
Because of its in-house functionality, SEO tools, and robust marketing features, Wix is a fantastic solution for small enterprises.
Wix Core Features
Website Builder and Templates
Wix provides three editors for building a website. Each has unique advantages.
The Wix Artificial Design Intelligence (ADI) editor is great for those who are unsure where to begin.
The Wix ADI will ask you a few questions before creating a basic site for you in a matter of minutes.
The Wix standard editor is the second editor. This option allows you to select and change a Wix template using the normal Wix drag-and-drop editor.
You can start using the ADI editor and switch to the normal editor whenever you like. You can turn on or off a mobile-friendly display of your website using either editor option.
Editor X is the third editor. Editor X, released in 2020, allows you to construct a fully responsive website that looks and operates amazingly on all types of devices.
Editor X was created with designers in mind and has a comprehensive set of sophisticated features such as scalable font sizes, grid layout, stack and scale media, custom breakpoints, docking, and extensive scaling control.
Because of their drag-and-drop feature, these user-friendly editors allow you to rapidly add or delete content, modify the font, and customize your site without understanding coding languages.
Don't worry if you're not a design expert; there are over 800 design templates to choose from.
SEO Tools
Wix is one of the best SEO tools, and it has an SEO tool that allows you to optimize your website for Google Search. The SEO tools guide you step by step through the process of optimizing your site.
It also offers suggestions and tactics for enhancing your site's position.
SEO features include meta tags, canonical tags, robots.txt files, mass 301 redirects, instant Google crawling, URL structure, patterned meta tags, and an XML sitemap.
All photos are automatically resized, compressed, and converted to WebP, which helps your site load faster (essential for SEO). One of the most intriguing aspects is the opportunity to create your own site logic.
This means you can modify your SEO data across all your pages instead of going in and editing page by page.
You may also use Velo APIs to alter your client-side code and override preset SEO settings.
Wix App Store and Integrations
Wix AppMarket is a one-stop shop for enhancing your website's features and capabilities.
There are hundreds of apps to select from, including social media tools, contact forms, and live chat.
Integrations are also available for prominent business applications, including QuickBooks, Shippo, ShipStation, Printful, Get Funding, Craftybase, Google AdSense, and Mailchimp.
Mobile App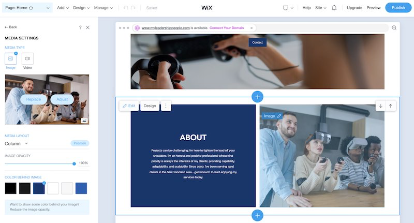 Wix features a mobile app that lets you manage your website while you're on the road.
You may use the app to develop and publish new content, analyze site metrics, manage orders and customers, and provide coupons and sales. The app is compatible with iOS and Android smartphones.
Storage
Storage restrictions range from 2GB to 100GB for each Wix Website Plan. It's Business and eCommerce plans range from 50GB to unlimited for its Business VIP package.
You must upgrade your plan to a higher tier if you require additional storage.
Email Marketing
Wix's email marketing and client management tool is called Ascend. It's a different tool for capturing leads, nurturing customers, increasing traffic, and closing more deals.
Consider it a business management toolset; Ascend contains contacts, email, chat, forms, automation, and Wix invoices.
Its email editor, like its website editor, is drag-and-drop. If you're not a designer, utilize one of its designer templates and edit the colors, fonts, backgrounds, and videos to make it your own before sending it to your list.
Create automatic drip programs and use analytics to track campaign success.
Blogging
Wix includes Everything you need to create, grow, and manage a profitable blog. With the drag-and-drop editor, you can effortlessly add and format text, have images, and create new posts.
Furthermore, there are built-in tools to assist you in managing your blog and growing your readership, such as social media integrations, email marketing, and SEO.
Wix Pricing and Plans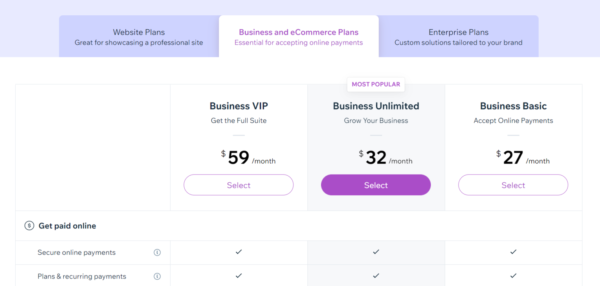 Wix's Business and eCommerce plans enable you to convert your website into an online store.
Wix offers three types of plans: basic website plans, business and eCommerce plans, and enterprise plans.
Wix Basic Plans
Connect Domain
Connect Domain is the most basic package, starting from the far right. This plan costs $4.50 per month and does not include a free domain.
In addition, Wix advertisements will appear on your website. You can still connect your Wix site to an existing or custom domain name. This strategy also includes:
24/7 customer care
Free SSL certificate
500MB storage space
1GB bandwidth
You'll be giving up the option to post and stream videos on your site, as well as the site booster app, social networking logo files, and visitor statistics app (SEO tool).
I only propose this choice if you want to create a small informational website or portfolio for the cheapest price feasible.
However, with severely limited bandwidth, Wix advertisements, and a Wix-branded URL, this site could not rank high on Google. This strategy has extremely few applications.
Combo
This service costs $8.50 per month and is a good substitute for the Connect Domain for a small personal website. This package includes a free domain, or you can connect your own.
This plan includes 2GB of bandwidth, 3GB of storage space, 24/7 customer service, and 30 minutes of video.
You will, however, lose access to social network logo files, visitor statistics software, a site booster app, and a professional logo.
Finally, you're getting a terrific deal on a low-traffic yet well-designed website. If your needs change, you can always switch to a higher plan.
Unlimited
This Wix package is geared toward freelancers and entrepreneurs. It will cost $12.50 per month for ten gigabytes of storage space and unlimited bandwidth.
You'll also get a free SSL certificate, no Wix advertisements, a one-year free domain, one video hour, a visitor analytics tool, and a site booster app.
If you wish to build a professional website or online business, the unlimited plan will meet your requirements better than the Combo plan for a small price increase.
VIP
With the Wix VIP plan, the price rises dramatically. This one will set you back $24.50 each month.
You receive all the features not included in the other plans and some add-ons for the price. These are some examples:
Free domain for one year
Remove Wix Ads
Unlimited bandwidth
35GB storage space
Free SSL certificate
Social medial logo files
Visitor analytics app
Five video hours
Professional logo
24/7 customer care
With these programs, you may sell products, accept payments, and manage your inventory all in one location.
It also provides a plethora of options to assist you in promoting your brand and converting visitors into paying clients.
Wix Business Plans
Business Basic
In addition to the capabilities described above, this plan costs $17 per month and includes 20GB of storage space and five video hours.
Business Unlimited
You get all of the Wix Business Basic capabilities plus an extra 15GB (total storage space of 35GB). This package costs $25 per month and includes ten video hours rather than five. In most cases, the difference in offerings between the two plans is small.
We recommend that you start with Wix Business Basic and only upgrade to Business Unlimited if you have compelling reasons to do so.
Business VIP
This plan is $35 per month. The most noticeable enhancement is proprietary client care. If you value customer service or have nightmares about your website falling down at an inconvenient time, this plan is for you.
Wix Business VIP also allows you to generate personalized reports from the data you collect. This feature is not accessible on other business and eCommerce plans. This subscription also includes limitless video hours.
For established enterprises, we recommend Business VIP.
Wix Business Basic plan lets you take online payments, whereas Business Unlimited allows you to grow and expand your business through product reviews, subscriptions, different currencies, and marketplace selling.
Wix Business VIP subscription includes unlimited dropshipping products, premium customer assistance, customized reports, and a customer loyalty program.
Wix Free Plan
The free Wix plan includes Wix branding on your website's subdomain (for example, yourwebsitename.wix.com).
The free plan comes with 500MB of cloud storage and 500MB of bandwidth.
A premium subscription is required for a more professional website with greater site flexibility and additional features.
Wix provides four paid basic website plans ranging in price from $16 to $45 per month. All plans include a free custom domain for a year and a free SSL certificate.
Wix Pros and Cons
Wix is our top-rated website builder, with a score of 4.8 out of 5 in our research and testing.
It's fantastic if you want a builder that's simple to use, has a ton of extra options, and gives you a lot of creative freedom. Check out the entire list of benefits and downsides below:
Pros
✅ Wix's drag-and-drop building tools make its editor exceptionally simple to use, especially for non-technologists.
✅Wix features superb e-commerce capabilities, making it a top choice if you're trying to start an online store.
✅ Everything you need to expand and scale – Its outstanding capabilities and vast app store ensure that it has the tools you require, regardless of the website size you're creating.
✅There is a lot of flexibility and creative freedom, so you may quickly alter your design to look exactly how you want it.
Cons
❌ You cannot change your Wix website template once your site has been published without starting over.
❌You may have to pay more to install third-party apps for additional features.
❌When you first open the Wix editor, it can be overwhelming because there are so many tools and design options to choose from.
❌Wix's biggest features are restricted to premium plans, so you'll have to pay more if you want to use them.
13 Reasons to Use Wix When Building Your Website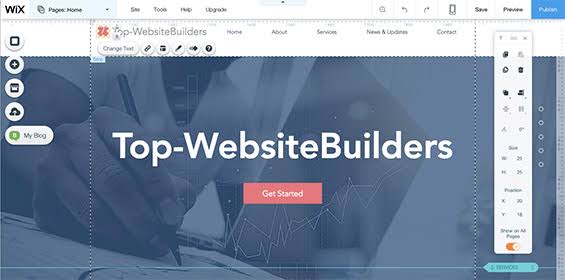 So if you're one of those people, here are thirteen reasons you should probably use Wix when building your website.
1. You Don't Need Coding Skills to Build a Website on Wix
When building a website, you need to have some coding skills and knowledge that can enable you to build an impressive site that meets today's standards.
But Wix understands that not everyone can be good at coding. Hence it offers a pure drag-and-drop editor function that enables the design and publishing of custom websites by anyone, even total beginners.
Wix's drag-and-drop feature is a tool that simplifies the whole process of web designing. This feature lets you design and publish your custom website in minutes.
And unlike other website builders, Wix's drag-and-drop feature is extremely intuitive. This means you can get the hang of it by looking at Wix's interface.
The drag-and-drop editor works by clicking on an element and then dragging it into a premade template or content block before dropping it. This whole process is easy and reeks of simplicity.
So if you're a first-time website creator or someone who wants a simple website creation method, then this is one reason you should check out Wix.
2. You Don't Need to Create Your Own Website Template on Wix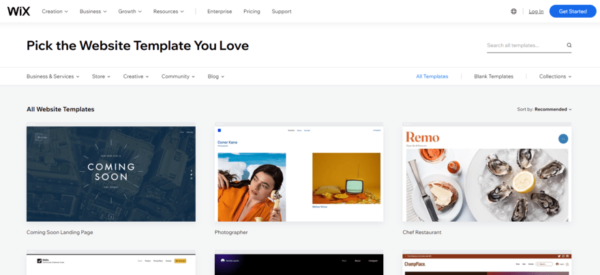 Whether you're building a personal website, a portfolio website, or an e-commerce website, the type of template you use matters a lot.
This is because your template decision affects your website's fonts, colors, responsiveness, background, and more.
Fortunately, Wix has a wide array of customizable pre-built templates that allows you to build an impressive website that keeps visitors stunned.
Wix's about 800+ pre-built customizable template gives it an edge over other website builders like WordPress, Squarespace, Weebly, Shopify, and more.
With Wix's multiple templates, you don't need to consider making your own template, and you definitely don't have to worry about having the same template designs as others.
This is due to the customizable feature of each template.
Wix allows you to tweak and modify templates to fit your brand image. So there you go! Another reason to use Wix.
3. Wix ADI Does Everything for You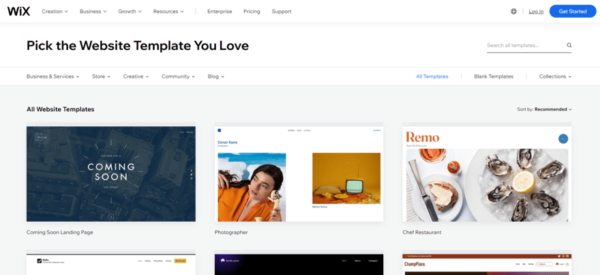 Everything about Wix is beginner-friendly. So whether you're concerned about optimizing your blog for SEO or your web designs, Wix has you covered.
Wix has a feature called Artificial Design Intelligence (Wix ADI) for the setup process. This tool simplifies the whole process of web creation.
With this tool, you can create a website that suits your needs without engaging in any web creation process.
All you have to do is provide this tool with information about your website needs and preference and then watch it create a website that fits your criteria.
Wix also simplifies the whole process of website-building by providing hosting services. With Wix, you don't need to pay hosting companies to host your site because Wix does it for you, even on a free plan.
Wix also caters to the maintenance of your site. So you have nothing to worry about anything. All you need to do is focus on your site and leave the rest to Wix.
Velo by Wix
Although Wix generally aims at people with little to no website expertise, it contains features for novice and experienced web developers.
Velo by Wix gives you more freedom to design your website exactly how you want it. Wix allows you to use your favorite source control tools and code editors while working in your preferred environment or online.
You can also use other data sources or Wix's integrated databases. Velo by Wix is built on an open platform that allows you to connect to external and third-party data sources.
4. Wix Takes Care of All Your SEO Problems
You must be eager to know whether Wix is good for SEO. Well, Yes!
Recently, Wix has been adding a wide range of useful SEO functions to its features, making it a big contender to website builders like WordPress and Weebly.
This implies that your website will have no trouble ranking high on Google search pages when you use Wix.
Here's an analysis of Wix's SEO feature
A. Meta titles: This function tells search engines about your page to enable it to rank higher.
B. Meta Description: This feature gives visitors a snippet of your page's content, encouraging them to click.
C. Headings & Subheadings: This tool reveals to search engines and visitors the structure of your page's content.
D. Custom URLs: With this, you have control over how your page's URL is written. This means you can customize your URL to make the Google search engine understand it.
E. Image alt text: This SEO feature enables you to describe the images that appear on your page's content.
F. 301 redirects: This function informs web browsers of any change in your page's URL and directs them to your page's new URL.
G. Good Site Speed: Web browsers who click on your page will discover that your site loads fast.
H. SSL Certificates and SSL Encryption (HTTPS): With Google search engines having a preference for sites with SSL certificates and HTTPS, Wix provides your site with a secure socket layer and HTTPS.
I. Sitemap: This function gives Google information about the structure of your page's content and tells which part of your content is the most relevant.
J. Google Analytics: Wix's SEO function lets you track your website activities on a premium plan.
K. Google Search Console: this feature offered by Wix tells you your site's performance in search results.
L. Social Media Integration: this feature permits web browsers to share your page's content on their social media accounts.
M. Canonical Tags: this function helps Google search engines to differentiate between your blog's original page and the master copy page.
N. Mobile Friendly: This SEO feature allows you to edit your site's content on mobile and desktop devices.
5. You can Start and Scale Your Business With Wix's E-commerce Platform
If an e-commerce site with a very affordable pricing plan is what you want, then Wix's your guy!
It offers all the essential features you need to sell subscriptions, physical and digital goods, and services online.
In addition, using Wix's e-commerce platform exposes you to benefits such as a user-friendly interface, various customization options, the absence of sales fees, and various advanced e-commerce tools.
Wix's intuitive drag-and-drop allows you to create a stunning product page, and its abandoned cart functionality has become more advanced.
The point-of-sale functionality enables the acceptance of payments from different countries, and a Wix function allows you to integrate and advertise your products on your social media account.
6. You are Covered with Wix One/Stop Shop Blogging Tools
As a blogger, your main goal is to have as many visitors as possible to your site.
And in as much as your blog's content can keep the visitors coming, the way your website looks and its functionality is also important to visitors.
And so, at this time, you have more reasons to choose Wix. This is because of the must-have blogging features of Wix.
Wix's multiple and attractive blog templates give you many choices for your different categories of websites.
Its beginner-friendly interface enables you to input resourceful menus to your site.
Wix also has provisions for email subscriptions, social media channeling, commenting options, blog translation, blog monetization, different posting formats, blog analysis, SEO, security, and more.
7. Wix Helps You Promote Your Business Online With its Marketing Tools
As Wix continues to dominate the world of website building, one feature it has continuously hammered on is its marketing features that help you to promote your business online and bring customers to your door.
Its built-in email marketing services are top-notch, and its lead generation and automation features are very impressive.
With Wix's email marketing function, you can create and send your prospective customers newsletters, product updates, offers, invitations, and more.
With its social sharing tool, you can easily promote your site on social media.
Its video marker features allow you to create promotional videos and sales announcements. And it also has other marketing features, such as coupons that bring in happy customers.
Also, a chat system enables you to connect with your customers and forms that will allow you to gather information about your site visitors and customers.
Wix also enables marketing integrations.
8. You Get Good Value for Money
From the multiple customizable templates it offers to its highly intuitive drag-and-drop editor, from its advanced SEO features to its amazing e-commerce features, there's no doubt that Wix offers services worth your money.
With Wix, you can never feel like you're paying too much for too little. Everything about Wix feels right!
Wix has an eight-pricing plan which includes a free forever plan, and each of these plans contains features that are targeted at different people.
From the connect plan, which costs $4.50/month, to the VIP plan, which costs $35/month, Wix offers you value.
9. You Don't Need to Be a Pro to Use Wix
Everything about Wix exudes simplicity. Everything is done with ease, from your site setup process to the marketing activities you perform.
What use is a website builder with powerful and advanced features if you can't harness its potential due to its steep learning curve? Exactly! Of no use.
This is why you should use a website builder that makes things easy for you while giving you the best. Wix is that website builder!
Aside from Wix's drag-and-drop editor that allows you to create a website of your choice with ease, every other feature of Wix is also built with the aim of making you do your thing with ease.
10. Wix is Always Responsive With Their Help & Support
Before you decide to choose a web builder, one of the most crucial things to look out for is the help and support you can get from the web builder.
This is important if you want to save yourself from a lot of stress.
And Wix happens to be a great provider of help and support. It offers you support through its information-packed forum and educating video tutorials.
Its blog posts, articles, and social media are also packed with information on whatever you might need when building a website with Wix.
With Wix, you don't need to worry about your site. If you encounter any technical problems, you can always send an email to Wix's team, and they'll sort them out for you.
Unlike other web builders, Wix also enables phone and on-page support to help you out when you need help.
11. You are Free to Design Your Website Anyhow You Want With Wix
Another good reason to use Wix is because of the high degree of flexibility it offers you when designing your site. With Wix, you have the freedom to manipulate elements as you like.
Wix's wide range of pre-built templates is highly customizable, so there's no need to worry about having the same look as some other websites.
But if you don't need the templates that are made available, you're free to build your website from scratch.
12. Wix is Not Vulnerable to Hackers
Wix is a closed-source platform that prevents anyone, even you, from accessing their source codes.
Therefore the possibility of hackers having access to your website is very slim.
Wix takes your site's security seriously, so it prevents you from taking part in the technical aspect of your site.
Unlike some web builders, Wix provides you with a free Secured Sockets Layer (SSL certificate) that enables an encrypted connection to your website.
This function keeps your website safe from hackers.
For e-commerce stores, Wix security features come with PCI DSS Level 1, the highest level of compliance that keeps your transactions secure.
Wix also comes with a two-step verification process that prevents unauthorized access to your Wix account.
13. You Don't Need to Update Your Wix Apps Regularly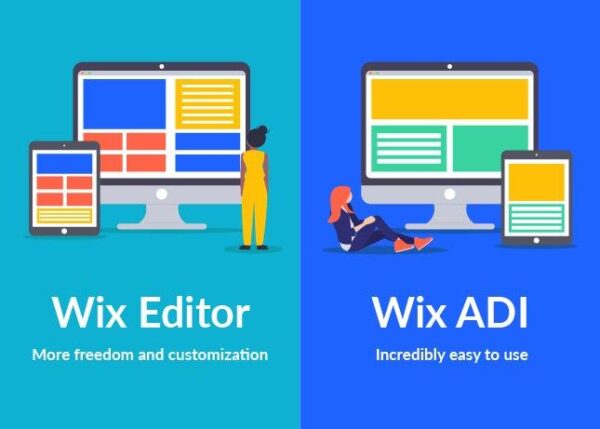 A website builder like WordPress demands that you regularly update your plugins to remove vulnerabilities that allow hackers to access your website.
But this isn't the case when using Wix. With Wix, you don't have to update your Wix apps regularly.
You only make updates when you want to get the updated features of the apps in the Wix App Market.
In addition, Wix does a good job of masking any vulnerable area of your site, so you need not worry about loopholes that can get your site hacked.
Who Should Use Wix?
If you want to start an Ecommerce business that makes money, then Wix is for you.
Wix's eye-catching designs are intended for small companies, restaurants, internet stores, and artists such as musicians and photographers.
They are mobile-friendly and can be enhanced with one of the many apps available from the Wix App Market.
Wix is similar to a prefabricated house in that the basic framework already exists and cannot be changed.
You can, however, paint the walls to your liking (choose a theme) and add your favorite furnishings (picture galleries and other apps – discover how in our Wix video).
Wix offers more flexibility than other website builders we've tested, such as GoDaddy and Jimdo. So, if you're normally satisfied with a more standard-looking web design, you might find it easier using the site above builders.
Is Wix Right for You?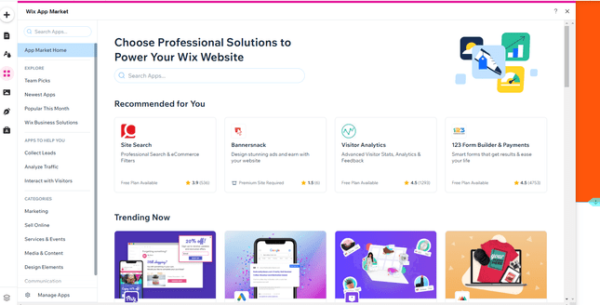 Wix for Personal Use
Wix is great for building a personal online presence for a wedding, shower, or family holiday website.
With Wix, you can create a website in minutes without worrying about hosting or coding. Plus, there are tons of templates and designs to choose from, so you can create a website that's uniquely yours.
Wix for Business Use
Wix was built with ease of use foremost in mind, so the platform is a solid choice for those with limited technical and design experience.
Wix is especially popular with small businesses, consultants, bloggers, and entrepreneurs.
Wix comes with a wide variety of industry-specific templates, including food service, events, fashion, fitness, and professional services.
And, if you need e-commerce capabilities, Wix has you covered with built-in features and integrations.
You Cannot Migrate Your Wix Data Elsewhere Easily.
So you get lucky, your website performs well, and you want to add features that Wix doesn't offer, or you want a huge revamp. You've basically outgrown your website.
If this occurs, removing your material from Wix will be extremely difficult.
If you had a WordPress-powered website, you could preserve all of your content and use a different or customized theme (essentially a layout).
Your website appears to be completely different, but you do not need to re-enter your content.
When you transfer themes, there is still work to be done because each has its own working method, such as various image sizes in different slots, but you can keep all your material.
If you believe you will outgrow Wix, a full web development project may be out of your budget for the time being, but keep that expense in mind for the future.
Wix Alternatives
Wix vs. WordPress
WordPress is a popular open-source content management system (CMS) that can be used to create any website, including a simple business site, an online store, or a blog.
WordPress is free to use, but you'll need to pay for hosting (typically $5 to $25 per month). It gives you the ultimate freedom and flexibility to create any type of site you want, but it's not as easy to use as Wix.
If you're looking for an easy-to-use website builder, Wix is probably a better bet than WordPress (though once you get the hang of it, it's relatively simple to use if you're just posting blog posts).
If you're willing to put in the time to learn WordPress, or you need the freedom to create a truly custom site, WordPress is a better choice.
Wix vs. Shopify
Shopify is a popular e-commerce platform that lets you create an online store. It's more expensive than Wix, starting at $5 per month, but it's designed specifically for e-commerce businesses.
Shopify is probably a better bet than Wix if you need an online store. However, if you just need a simple business site or blog, Wix is a good choice.
While Shopify doesn't have a free plan, it has a new social selling plan that allows you to sell products without a website.
This could be a good option if you just want to experiment with selling products online. You need a paid plan with Wix if you plan on selling, no matter what.
Wix vs. GoDaddy
GoDaddy is a popular website builder and hosting provider. It offers an easy-to-use drag-and-drop editor and is one of the most affordable website builders, starting at free and going up to $44.99 per month.
However, it doesn't offer as many features as Wix, and its templates are not as modern or stylish.
GoDaddy is a good choice if you're looking for an affordable website builder. However, if you need more features or want a more modern design, Wix is a better option.
Squarespace
You should pick Squarespace if you want to start a blog. Their fully responsive designs are sophisticated, and Squarespace's support is more personal and less sales.
The editor feels a bit more complicated than Wix, though. Read our Wix vs. Squarespace article for more information. In our book, it's the top Wix alternative.
Zyro
Zyro is a relatively new contender with very affordable prices. Their website editor feels very similar to Wix's but is lighter on features. We recommend Zyro to anyone looking for a website builder like Wix but doesn't have the budget for it.
They also offer great designs, but you won't find many apps or integrations with external services.
Jimdo
Jimdo is a lot lighter on features but is probably the fastest website builder. Creating your first personalized website draft will take you no more than 10 minutes. Jimdo sites also load very fast. But don't expect features like a blog or advanced SEO settings.
Weebly
Weebly is a great Wix alternative as it's extremely intuitive and easy to use. Its templates are not quite as stylish (or as numerous) as Wix's. Weebly also offers a more structured editing approach than Wix, which some users prefer. Read our Wix vs. Weebly comparison.
Good Read: Wix vs Shopify: Which Platform is Best?
Bottom Line
Wix is an excellent choice for creating a website for personal use or your small business. As you now know, it contains all of the features you require. It is a website builder trusted and used by over 170 million people worldwide. Can't all of these folks be wrong? Unfortunately, the navigation menu cannot accommodate complex site architectures because there is only one sub-level. Weebly or WordPress are usually preferable for large websites. Wix's Content Manager, on the other hand, could be a potential solution due to its use of dynamic pages – but this certainly adds complexity.
Wix has the largest selection of pre-built designs for any industry. Switching to a different theme after your first pick is impossible, as it is with most other website builders. This means you'll have to redesign it yourself or start from scratch. On the other hand, this limitation highlights Wix's best feature: unparalleled independence inside your chosen theme.
Even if you wish to enter into e-commerce in the future, a shopping cart can be quickly installed for a low cost. See our Wix E-commerce review for more information. What Wix has created here is clearly exceptional in many ways, with an almost amazing rate of development. Just try out the free plan before upgrading to a paid plan to see whether it's a good fit for you.
Frequently Asked Questions
Q: Is Wix really free
Yes! Wix offers a completely free plan that you can use indefinitely. It comes with up to 500MB of storage space, 24/7 customer service, marketing tools, and a mobile editor. However, if you want access to the greatest features and tools, such as the removal of Wix advertisements and more storage, we recommend subscribing to a paid plan as soon as feasible.
Q: Can multiple people have access to one Wix account?
Wix enables you to have several editors with varying degrees of authority. You can also restrict particular editors' access to certain portions of your website. If you intend to have a team to help you maintain, edit, or construct your site, this tool is really useful.
Q: Is Wix actually good for SEO?
Yes. If you're concerned about SEO and want to climb to the top of Google's ranks, Wix can help. You have control over page titles, descriptions, 301 redirects, and pretty much anything else.
The 'page speed' of the Wix website builder is where it falls short. While you may impact your website's loading speed, unlike WordPress, Wix does not allow you to change your source code fully. However, if you require this, you are most likely working in a highly competitive industry. In this scenario, you should look into a more sophisticated solution like WordPress. However, remember that it will be much more difficult to utilize.
Q: Is Wix really free?
You can use Wix for free, but your site will contain advertisements. If you wish to remove the advertisements, sell items, or use your domain name, switch to a paid plan. Paid options begin at $16 monthly, with e-commerce plans beginning at $27 monthly.
Q: Does Wix work with WordPress?
Wix and WordPress are two distinct systems for building websites. Wix is an all-in-one solution that handles Everything for you. WordPress is free and open-source software that may be used as a blogging platform (WordPress.com) or a full-fledged content management system (WordPress.org).
Q: Is Wix legit?
Yes, Wix is a legitimate business. Wix is a NASDAQ-listed firm offering a 14-day money-back guarantee on all its premium plans.
The risk of utilizing Wix is minimal because you can check out practically all capabilities with a free plan. Overall, Wix is a reliable firm with which to conduct business.
Q: Is Wix safe?
Wix is a trustworthy website builder. Your website will be hosted on Wix servers and secured with SSL encryption. Furthermore, Wix uses its Site History tool to back up your site data automatically.
Q: Is Wix a good website builder for beginners?
Wix is perfect for beginners! It is a fantastic website builder in general and extremely user-friendly, and creating a website couldn't be simpler owing to Wix's drag-and-drop editor. We also appreciate the help Wix provides as you get started, from step-by-step guides to 24/7 live chat.
Q: Is Wix good for SEO?
While Wix previously experienced SEO challenges, platform upgrades have resolved previous issues that prevented Wix sites from ranking on Google. To optimize your Wix website for search, use the Wix SEO Wiz tool in conjunction with effective on-page and off-page SEO practices.
Q: Is Wix worth the price?
Wix has programs to suit every budget. If your requirements are simple, you can begin with a free plan and upgrade anytime. Paid options run from $16 to $59 per month, putting Wix on par with comparable all-in-one websites builders like Squarespace and Weebly but a little pricier than others like GoDaddy's website builder.
Q: What are the downsides of Wix?
We don't believe any drawbacks significantly outweigh Wix's advantages. However, Wix is let down because you cannot edit your website template once it is online. Given how much creative control you have in other areas, this appears to be a step backward. Wix's editing tools and functionalities can often seem somewhat intimidating at first.
Q: Is Wix good for blogging?
Yes, Wix is a viable blogging platform. It's simple to use and has the functionality you'll need to start a simple blog. Furthermore, there are numerous templates and themes to choose from. However, if you want to blog traditionally and earn a livelihood, you should continue with a self-hosted WordPress site, as this is the platform brands prefer bloggers to use.
Q: Is Wix good for e-commerce?
If you need a straightforward approach to setting up an online business, Wix is the perfect e-commerce platform. It is, however, not the greatest solution for individuals who demand more complex features or greater control over the design of their website. Shopify will likely be a better option if you need an online store than Wix.