Last updated May. 19, 2023 by Charles Zemub
How to Start an E-commerce Business That Makes Money
The process of creating, managing, and scaling up an e-commerce business is the same as any other business.
Starting an e-commerce business is hard, but so is starting any other business. What you need is the right information, mindset, and tenacity to follow through. Setting up an e-commerce business now is way easier than in the past few years.
The concept of e-commerce revolves around selling goods, products, and services with the Internet as the medium of exchange.
Online shopping is advancing greatly over recent years and poses a great opportunity for business owners to break the location barrier and launch their business globally.
Unlike brick-and-mortar business, online business is more flexible, and affordable, and provides the means for business owners to reach a larger audience.
With all being said, the main aim of this article is to guide you through the entire process of setting up, managing, and growing your business's online presence.
At the end of the article, you'll have lots of information about what you need to start a successful e-commerce business in 2021 plus a free review of 5 great e-commerce builders that I personally recommend. Read on till the end.
What is e-commerce?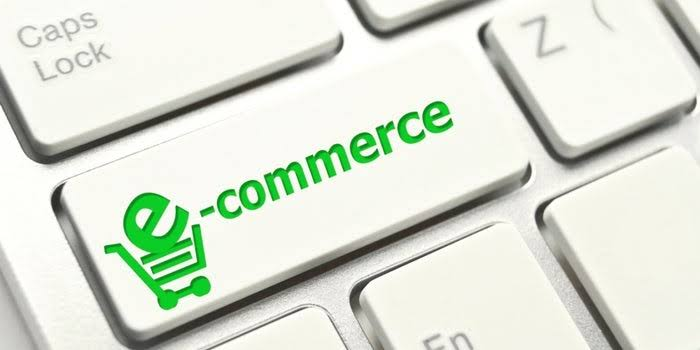 Sometimes known as internet commerce or electronic commerce, e-commerce simply means the process of buying and selling products, services, goods, and other similar transactions on an online platform.
A simpler way to view e-commerce is as a non-physical marketplace (the internet), where you can sell physical products.
Many people use e-commerce and e-business interchangeably which is wrong, as the two are different entities. Online business (or e-business) refers to all aspects of operating an online business while e-commerce focuses on the buying and selling part.
The first-ever record of an online transaction was on August 11, 1994, when a man first sold a copy of a musical CD by the popular American band "Sting" to a friend through his website "NetMarket".
This was the start of a multi-billionaire industry that has now become an essential means of easy and quick business transacting through online stores and marketplaces.
Many solo entrepreneurs, SMBs, freelancers, and even large corporations have reaped a lot of benefits through e-commerce, with results that are not possible with the traditional brick-and-mortar business type.
Here's how to start an e-commerce business that makes money:
Finding an item to sell
The first thing you should do before attempting to sell something is to find what you would sell in the first place. You need an in-depth understanding of the niche, marketplace, and the product you want to sell whether via an online medium or face-to-face with a customer.
You also don't want to try to sell something that most people don't want to buy. Follow market trends, study your target audience, find out their primal needs, and base your product on these.
This is one of the most important things you should take note of before jumping into the world of e-commerce.
Many people skip this process which is why most e-commerce businesses struggle and eventually fail.
I'll be discussing below a step-by-step simple process that you can use to determine the right product for your market.
Evaluate your idea: You already have a product idea you want to market, the question is, do you know if that item or product will sell? Do your homework, and find out whether people are buying the product, why, where, and how they made those purchases.
Find your product: Once you've finally decided on that high-demand product, your next task would be to fashion out a means of having your product readily available for sale. Later on in this post, you would discover different ways you can get your items, with the pros and cons involved in each method of acquisition.
Research your competition: I can't emphasize enough the importance of quality research to the overall success of your e-commerce business. After the product discovery and evaluation stage, and finding a supplier, you should do in-depth research on your rivals to give you an insight into what they do, how they do it, and ways you can improve.
Have a Business Plan: After you've finished researching your competitors, you'll need to draft a business plan. I know, it's cliché but it works. A business plan is more like an action compass that gives you a sense of direction of what you should do and when. Having a business plan is crucial to your marketing strategy and the eventual success of your e-commerce business.
Setting up your business
Naming your business
Aside from sorting out what to sell, another challenging decision is determining your business or brand name and deciding on a domain name.
Creating a logo
Once you've selected a memorable name and registered a corresponding domain, it's time to create a simple logo.
Understanding search engine optimization (SEO)
You're practically ready to begin assembling your e-commerce business. However, before you hop into it, you ought to understand the nuts and bolts of search engine optimization so you can properly structure your site and pages for Google and other search engines.
Building Your Store
With a better understanding of search engines, it's time to work out your store. There are numerous significant elements to consider.
Picking your sales channels
One of the best approaches to reaching new customers is to choose sales channels where they already shop. The correct blend of sales channels will depend on your products and your target customers, however, several great alternatives can complement and support your self-hosted store.
Preparing to launch
As you prepare for the launch of your new business, there are several delivery and fulfillment elements you need to prepare for. This is very important especially when you're choosing an eCommerce website builder.
Post Launch
Securing your first customer
Since you've launched, the difficult work of marketing your products begins. While numerous new store owners ought to consider selling their physical products in person, the rest of advanced marketing rests on doing one thing well: driving targeted traffic. Next, we'll share a variety of marketing strategies that will help you in your first months.
Marketing Your Store
You're well on your way and now likely have a few sales under your belt. It's time to get serious and focused. The accompanying posts will help you zero in on your top-performing marketing strategies or expand into new ones for driving traffic and converting that traffic to sales.
There're different ways and strategies you can use to drive traffic into your e-commerce store:
Driving traffic from social
Driving traffic and conversions from paid ads
Optimizing for higher conversions
Drive More Sales and Revenue with Targeted Live Chat
Utilizing analytics to uncover insights
Is Starting an E-commerce Business Worth it?
Most often, newbies to the world of e-commerce are skeptical when it comes to starting their online business. I can relate to your fear, it's not all rainbows and unicorns but being successful at it is not impossible either.
I'm aware you'll have to go through though long processes of learning, analyzing, and strategizing to ensure that you're on the right track. This can be a major turn-off for most, but let me tell you, it's very rewarding if done properly.
In case you are planning to start your own e-commerce store or online business, my advice to you is that you should be persistent and not let the setbacks you face sway you from your e-commerce journey you'll do well in the long run
Some of the benefits you derive from starting an online business include:
Low Risk When Compared to Physical Business Type
There is always a risk attached when it comes to opening a business, no matter the type. A lot of people have been discouraged due to the fear of losing money. The more money you're investing into your business the more risk you're taking.
One major advantage that online businesses have over traditional physical retail is that they require less capital. You don't have to worry about the cost of rentals, renovating, managerial, and inventory.
You get to save extra on expenses.
This is exactly why e-commerce has become widely adopted by business newbies it requires less capital, the risk is minimal, and it's easy to maintain.
Less Risky
E-commerce poses a minimal risk business venture which is due to its operational cost. You don't need a substantial amount before you create your online store or business. This is not the case when you want to open a traditional brick-and-mortar business.
Potential to Earn Passive Income
With e-commerce, selling has become fun. Since it doesn't require your physical presence, you can afford to have more leisure time for relaxation and occasional vacations.
This is however not possible in the case of the traditional retail shops where you need to invest hours at least the normal working hours (8-5). Online business also allows you to serve your customers 24/7 and they don't have to move an inch before purchasing your product. It's a win-win.
Selling Globally
There's no limit to how far you can reach your online store. You can also sell your products to places where they are not normally available for sale locally. The wide range of possibilities that e-commerce offers to entrepreneurs is limitless. It removes the location barrier that is seen in the traditional brick-and-mortar shop.
One of the reasons why e-commerce is better than physical shops is the ability to sell anything to anyone, anywhere in the world.
Gathering Useful Analytics
This feature is mostly overlooked by many newbies but the pros know the importance of having analysis data on your customers' interaction with your online store. This is not possible with brick-and-mortar stores.
With this information, you can find out more about your customers' needs and behavior. This will allow you to strategize your marketing campaign, increase your ROI, and conversion rates, and most importantly get more sales.
The benefits that having analytic features in your online stores are very important to be neglected.
You can integrate analytics tools like CrazyEgg and Google Analytics into your e-commerce site to have access to data that highlights how visitors interact with your site, where, and how (i.e. through a mobile device or desktop).
Building Trustworthy Relationship
Two factors that determine whether a prospect will buy from you are trust and confidence. You need to show your prospect these two traits if you want to build a profitable business relationship.
One of the ways you can do this is to educate your prospect about your product, giving them the chance to evaluate your business, your offerings, and guarantees.
Also adding customer reviews and ratings to your e-commerce would boost your business integrity off the roof. Customers tend to believe what others say about you than what you say. And what better way to achieve all these than through an e-commerce store?
Trust is the basis of all transactions.
An Opportunity to Build a Marketplace
Another feature of e-commerce I'll like to talk about is marketplaces. Marketplace in e-commerce refers to a platform where many sellers can sell their products online and in turn, pay a small percentage (transaction fee) on every item that they sell through that platform.
These platforms are usually very popular among buyers and offer business newbies and exposure to their traffic which consists of a lot of quality prospects waiting to be converted.
You can set up your marketplace, I'll suggest you, model, after eBay's marketplace as it's very easy to create and maintain.
You can start this omnichannel from a single online store with a single vendor, they grow moving forward. When done properly, marketplaces can be your ticket to success in the e-commerce world.
Related: How to start an e-commerce business in 9 steps
Top 5 Best eCommerce Platforms to Build an E-commerce Website
We've all witnessed first-hand the devastating effect of the business-threatening pandemic (Covid-19) that has shut down many businesses around the world. There's no better time than now for your business to transition into selling online.
The good news is that selling online isn't as hard as it used to be. With the arrival of different e-commerce, selling online would be like a passing breeze for you.
Showcasing your products, receiving payments, and handling delivery are now a piece of cake with these platforms.
I've reviewed a lot of e-commerce platforms comparing functionality, features, customer support, and pricing. These are my top picks:
1. Shopify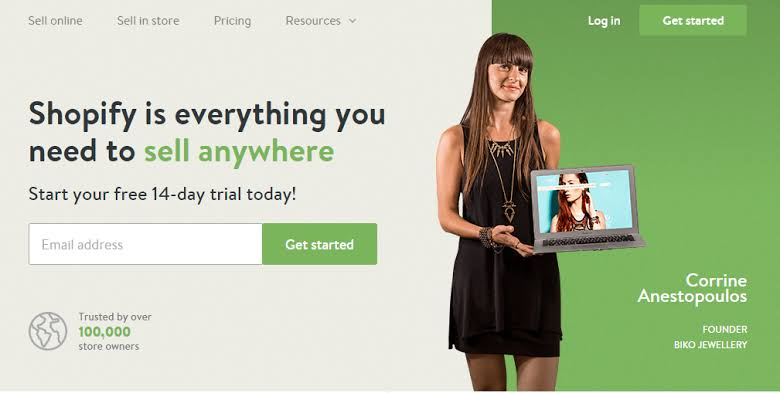 A background view on Shopify reveals a company that was created out of a desire to help others sell growing into the #1 e-commerce tool.
Talk about simplifying the e-commerce store creation process for newbies without pre-knowledge of coding, Shopify excels in this area. Shopify is flexible, easy to use and maintain, comes with aesthetic templates, and is highly scalable.
Shopify easily falls within the budget with a pricing structure with a low of $29 and a high of $299 billed monthly. The features you'll get depend on which payment plan you subscribe to.
Tip: You can take advantage of their payment gateway "Shopify Payments" which removes all transaction fees on the products you sell on Shopify.
You can also read: How to make money with Shopify
2. Squarespace
Squarespace made its debut in the SaaS industry as a DIY website builder and blog host service. As expected of any evolving site builder, square space expanding its service to analytics, domain name services, and e-commerce tools didn't a surprise.
From the onset, Squarespace has always been a site builder for small businesses and the e-commerce store is no exception.
No installations are required, you can get started for free from your browser. The free trial period only last for 14 days after which you'll be required to upgrade to a paid plan. This gives you the chance to personally evaluate Squarespace firsthand.
3. BigCommerce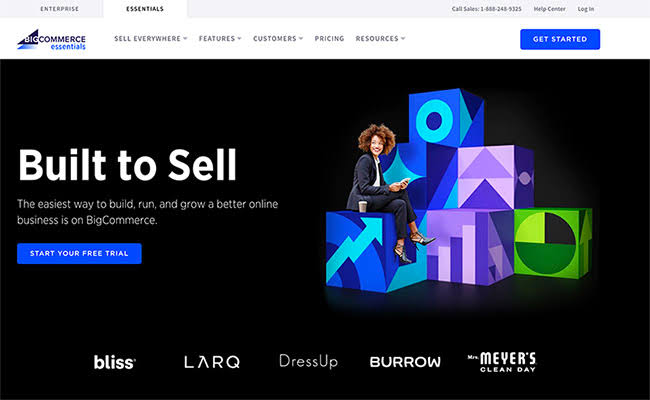 Currently one of the top players in the e-commerce world, BigCommerce boosts to have hosted more than 100k online stores with an annual generated revenue of over $27 billion. One of the big names that trust and use their services is American Express.
BigCommerce is purportedly reviewed to have all that you'll ever need to set up a professional e-commerce business or online store with essential features that boost your success rate.
You can easily develop a visually appealing online store with the help of their customizable pre-made templates. It also contains suites of powerful marketing tools to improve your online store visibility and promote your products.
4. WooCommerce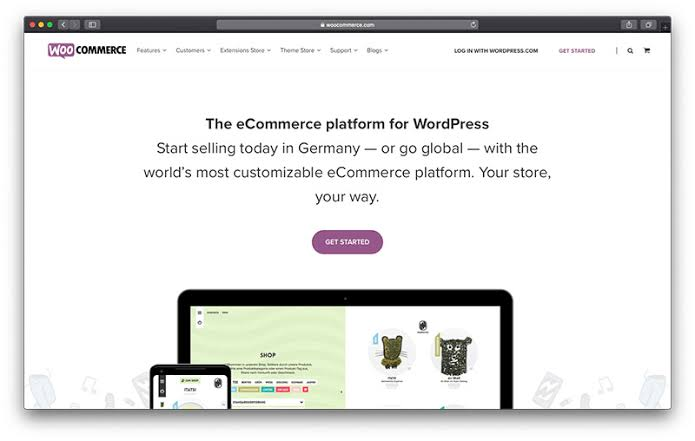 WooCommerce is very popular, especially among WordPress users. WordPress's e-commerce platform is compatible with WordPress and can transform your website into a powerful store.
Although this e-commerce platform is more than capable of replicating great sales revenue like BigCommerce, Shopify, and other competitors, WooCommerce is a free and open-source platform.
5. Wix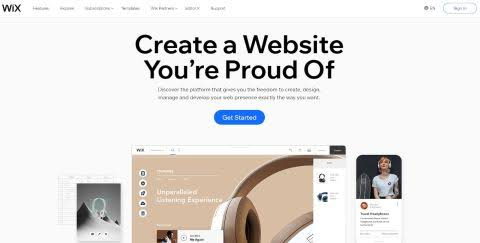 Wix has gained a lot of popularity over the years, which might be due to their aggressive marketing efforts featuring stars like Gal Gadot (Wonder Woman), Jason Statham, and Heidi Klum must have cost a lot.
The e-commerce store builder is easy-to-use even for newbies with no coding experience. You can a simple, powerful online store that's aesthetically appealing with a suite of professionally designed templates to choose from. Wix is self-hosted, which means you don't have to hire a third-party hosting site.
What Makes a Great eCommerce Platform for Small Businesses?
For small businesses simply getting started with selling online, we identified five essential features that every platform needed to have.
Anyone must be easily able to fabricate an attractive, modern store that worked on all devices with the tools and themes offered. There additionally must be enough customization alternatives that they could make things fit their existing brand reasonably well.
Platforms that required you to have some knowledge of code to make use of them or just offered a limited selection of themes with no real way to make changes didn't cut.
The platform needed to enable you to sell what you wanted, where you wanted, how you wanted. This meant they must be able to deal with both advanced and physical goods, integrate with multiple different payment processors, and offer an approach to handle the different public and international sales taxes.
That last point is especially important for small businesses as, on the off chance that you have a physical premise or plan to sell internationally, you might be liable for collecting and recording taxes.
The platform is needed to enable you to manage orders, transport goods, track inventory and otherwise handle the back end of running a store without you needing to resort to spreadsheets or other applications.
We were just considering complete eCommerce arrangements, rather than approaches to simply charge customers.
The platform had to bring to the table approaches to integrate with other services, marketplaces, applications, and the like, either through a healthy module and extension marketplace or implicit features.
Businesses seldom run everything utilizing a single software suite, so applications needed to let you do things like automatically add new customers to your mailing rundown or sell through social media.
Every one of these features must be offered at a reasonable price. Completely customized, done-for-you arrangements are wonderful, however, they cost thousands of dollars per month far outside the budget of a small business simply getting started in eCommerce.
eCommerce platforms charge a little differently than a ton of other services, so working out exactly the amount you'll pay can require a touch of math.
To start with, there's a month-to-month fee. This can be anything from free to hundreds of dollars per month, with around $30 being the standard for an essential arrangement.
Then there are the payment gateway fees. Some platforms, like Wix and Shopify, operate their payment gateways, while others rely on Stripe, PayPal, or another service.
When you charge a credit card, you pay a fee to the gateway; the normal fee is around 2.9% of the overall charge in addition to an extra $0.30, albeit this goes down with volume and higher forthright payments.
At long last, there are exchange fees. These are percentage rate that is charged on top of any gateway fees. A ton of services charge themselves as having 0% exchange fees, yet this merely means there's no extra charge.
Other services charge a 1% or 2% exchange fee on the off chance that you don't use their gateway.
They're additionally many other great services, yet in this article, I avoided any services that I felt had unreasonably high fees, exchange charges, or crazy volume expectations for them to make monetary sense.
Conclusion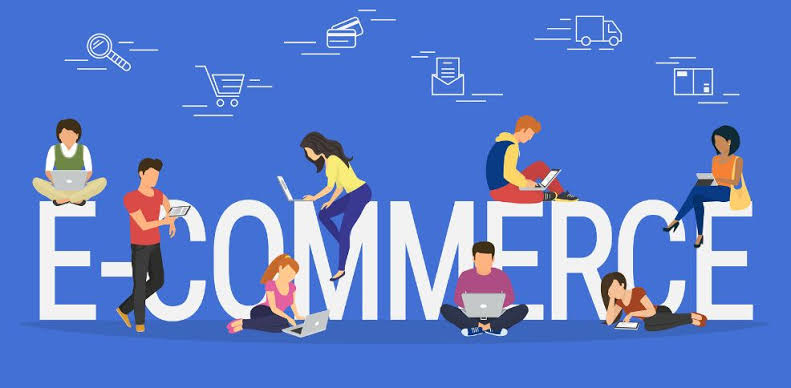 On an ending note, the future of e-commerce is incredibly prodigious. However, beginning an e-commerce business is difficult work and demands numerous steps and decisions that need to come together at the perfect time.