Last updated Jun. 8, 2023 by Favour Chinaza
How To Make Money With Shopify (11 Proven Ways)
One of the most widely used e-commerce systems, Shopify boasts more than 1 million stores.
Store owners have a great opportunity to make a lot of money because more customers prefer to purchase online.
Sellers' reputations slowly improve, and their sales soar when they discover profitable internet revenue streams for marketing their offerings.
Shopify is incredibly adaptable and offers users a variety of options. For example, with Shopify, you may start an online vegetarian store, dropship natural healthcare items, or sell handcrafted items online.
There are a ton of additional ways to use Shopify; these are simply some of the most popular ones at the moment.
What is Shopify?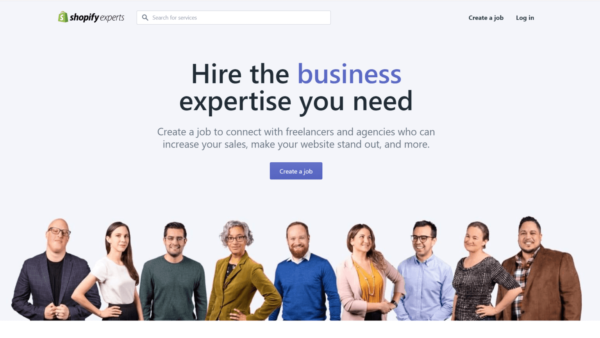 Shopify is a platform where you can generate income by working from home or anywhere in the world.
This platform allows you to create an online store and sell to people worldwide.
It is an e-commerce platform originally created to sell snowboarding gear, now enabling anyone to open an online store. It currently powers millions of online shops in more than 175 nations.
Shopify makes this process straightforward by providing helpful tools like configurable templates to construct your e-commerce business page if you are looking to start an e-commerce business.
Shopify makes it simpler to set up e-commerce fundamentals like inventory management, payment processing, and shipping.
In addition to being simple to use, hosting your online business on Shopify is less expensive than hosting elsewhere and creating a website from scratch.
Many entrepreneurs are attracted to the platform because of its ease of use and low overhead.
The simplicity with which third-party apps may be included in the e-commerce experience and enhance your online business is one of Shopify's major advantages.
Apps like Chatbots that enhance customer care, Shopify-specific email and SMS marketing, and subscription management tools already cover every service your business would require.
Good Read: 27 Best Selling Apps To Sell Stuff Online (How to make some money fast)
Why Become a Shopify Seller?
Customize your web presence: Shopify offers a plethora of layouts from which to pick if you are unfamiliar with coding. In addition, sellers can change their logo, text, photos, colors, and videos to ensure a consistent storefront appearance.
Shopify provides an easy-to-use admin interface where you can manage orders, goods, prices, inventory, shipping, and many other business areas.
Support your marketing efforts: You may utilize Shopify analytics tools to keep track of your daily total sales, how many buyers return to your website, and a variety of other information.
How To Make Money With Shopify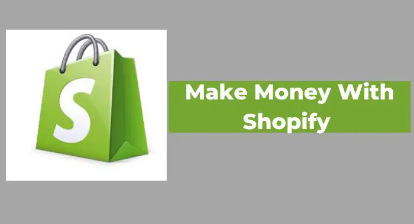 1. Start an Ecommerce Store on Shopify
Opening an online store may be the solution to your question of how to earn money on Shopify. The platform makes it simple for anyone to launch a hassle-free online business and is one of the alternative ways to earn money while working a full-time job.
You have a wide range of possibilities for goods to sell, including handcrafted items, items you resell, and services.
Because it's easy to add things, curate them, and make it straightforward for customers to checkout, Shopify is better for e-commerce than other comparable platforms.
You may also start a blog for your Shopify business to increase organic traffic to your website. And there are many SEO management tools and useful Shopify SEO guide to get you started with the fundamental SEO for your store.
You can utilize Shopify apps in addition to managing a blog to boost your sales. The Shopify app store has a ton of apps and reviews.
You can find the finest upsell tool for your Shopify store and increase sales by upselling products during checkout.
2. Build a Shopify Dropshipping Business
Shopify will easily get you on board with how to start a dropshipping business. These days, dropshipping is very common.
Many Shopify merchants and e-commerce companies profit greatly from it. But, of course, the best benefit is that your inventory won't be under any pressure.
With the help of the dropshipping business model, entrepreneurs can outsource the manufacturing the goods they plan to sell online.
Finding vendors whose goods are identical to or comparable to those in your niche is required. After that, upload your new SKU and watch for orders to come in.
How Much Do Shopify Dropshippers Make?
Top drop shippers can easily earn six figures. However, becoming a top drop shipper takes time.
There have also been numerous dropshipping failures. So, with 10-20% profit margins, a real monthly income for a Shopify store will be around $1000-$1500. This is not a bad result for a domestic company.
One thing to keep in mind is that these average figures may not represent the entire situation. For example, drop shippers can earn 20-30 times the typical income with their stores.
As a result, you should strive for it. In addition, you should keep in mind that Shopify stores are easily scalable. So, if you can scale your firm, you can earn $5000 to $100,000 monthly.
You may earn between $50,000 and $100,000 annually from your Shopify stores. Of course, patience and determination will be required. But it is possible if you choose the right products and are serious about your business.
The following steps can be used to summarize your Shopify dropshipping business:
Step 1: Customers order something from your shop.
Step 2: Your Shopify store automatically notifies your dropshipping supplier of the order information.
Step 3: Your dropshipping vendor takes care of the order, including packaging and labeling (if required).
Step 4: The order is delivered to the customer by your dropshipping supplier.
How Can Shopify Benefits your Dropshipping Business
Shopify dropshipping apps with seamless integration options with the top dropshipping vendors in the world, including Oberlo, Spocket, and DSer, to assist you with managing orders and shipping as well as advertising
Possibility of integration with additional sales channels, such as Facebook Ads, Instagram, or Pinterest, to effortlessly manage your marketing and advertising
3. Start a Niche Product on Shopify
The most common question is, "Can you make money on Shopify?" but, as I'll explain, it's not only about the online store you use to sell your goods.
Of course, there are benefits, but you must understand your niche and how to advertise your goods.
You can create a special niche product that caters to a certain market. This will guarantee that you are aware of your clients' identities and how to address them.
Generating marketing for a narrow target audience is simpler than a big, diversified population.
4. Start Affiliate Marketing on Shopify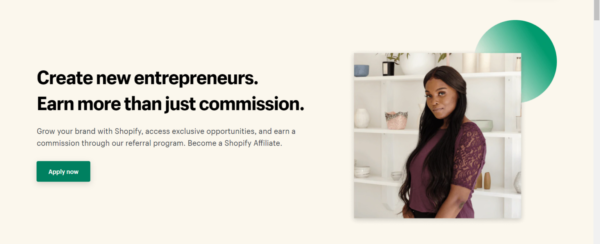 In the affiliate marketing business model, 'affiliates' receive a commission from sales of the recommended goods.
A lot of online retailers, like Shopify, Amazon, and Etsy, provide some of the highest-paying affiliate marketing programs.
Those that sign up are given affiliate links to share with their audience, and for every sale that results from the link, the affiliate gets paid a commission.
You may sign up for affiliate marketing programs at various Shopify stores. If you are approved, you will receive affiliate links to share with your audience.
The more purchases you make using these links, the more money you make.
On the other side, you can launch your affiliate marketing program on the platform if you own a Shopify store and want to take advantage of free advertising and promotion for your products.
You can expand the reach of your store by collaborating with affiliates who have sizable followings or online publications – of course, in exchange for paying affiliates commissions.
5. Monetize Your Social Media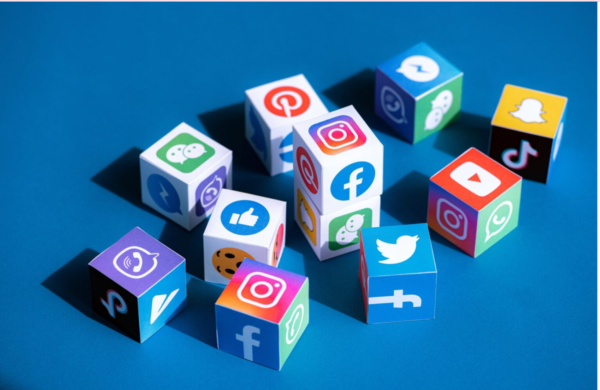 Monetizing social media is a great option for making money on Shopify.
Similar to an affiliate scheme, it essentially allows you to turn your social media following into a source of income. Also, there are a lot of social media management tools to help you make money while monetizing your social media.
The basic Shopify plan emphasizes social selling and lets you include "buy now" links in Facebook and Instagram posts.
It might be a great opportunity to generate extra revenue if you or your company see positive results from your social media marketing activities.
Social commerce has grown dramatically. For example, a purchase via Instagram has already been made by 54% of users, and this number rises yearly.
Because of this, social media platforms are excellent for building your company's presence and brand personality, as well as for product promotion and sales.
You may use Shopify to convert your social media accounts into sales channels and utilize your existing social media following.
You can include "buy now" links in your social media material even if you only have access to the platform's basic plan so that your clients can order your goods right from your profile page.
You may manage your business primarily on social media thanks to Shopify's ability to interface with them, while Shopify handles admin tasks like tracking orders and inventories in the background.
You can locate the integration app you require in the Shopify App Store, regardless of whether you operate your social commerce business through Facebook, Instagram, TikTok, or another network.
6. Flip Shopify Stores
Though the Shopify thrifting option offers many best items to flip for a profit with the Shopify, you'll require more expertise for this Shopify money-making strategy.
You must first create a successful Shopify e-commerce site before you can flip stores on the platform.
Once you've demonstrated that your Shopify store can consistently generate revenue, you may sell — or "flip" — your company for a profit.
Flipping Shopify stores is a successful technique to generate money on the platform if you become proficient at creating e-commerce or drop-shipping stores.
Successful, fashionable Shopify businesses with solid revenue streams can fetch upwards of $1 million.
Building more and flipping them can be a terrific method to generate money on Shopify once you've figured out how to create a profitable e-commerce business on the platform.
7. Create and Sell Online Courses
For a good reason, selling online courses has become a mainstay of online income.
Courses are a theoretically limitless source of passive income because an unlimited number of individuals can purchase them once they've invested the time to produce them.
Any topic can be the subject of a course. However, your teaching skill needs to be in great demand to optimize your course's profitability. This will increase interest in your course and boost purchases.
The best online course platform for learning and teaching will help you get started on the right course to sell
While Shopify isn't intended to host online courses, it has many integration options, including learning management systems like LearnWorlds and SkillSuite.
On learning platforms, these connectors make course creation simple. You can use them to let your courses appear as items on your Shopify store.
When someone is interested, they may click the course, pay with Shopify, and be taken to your website.
8. Start Creating Shopify Freelance Content
Writing is one of the less obvious ways to earn money on Spotify.
For Shopify merchants, you may publish blog posts or even product descriptions.
Blog posts may contain ideas, information, and opinions about goods, how they enhance users' lives, and the values and way of life the business promotes.
Their audience should feel as if they learned something new from them, and they should speak to the reader's interests.
This encourages trust in the company's products by demonstrating that it has a thorough understanding of its field.
Customers need product descriptions to understand what products perform and how they operate.
Online purchases can't be touched, felt for quality, or tried on for fit, and one of the main causes of a high number of returns of online purchases is that the products don't match the descriptions.
To convey this information, a strong product description is required. If descriptions are to result in conversions, they must be lucid, concise, and devoid of filler.
To increase awareness and improve the company's ranking in search engines, blogs, and descriptions must be highly SEO-aware. In addition, the Shopify stores for which you are interested in writing should be browsed.
Next, talk to your chosen retailer and tell them why you want to write for them, what experience you have, and what you can contribute to their Shopify store.
You'll succeed most with Shopify stores that already have a blog.
Make sure to persuade them that this should be you if they don't have a ton of postings, as this shows that they don't have enough time to do it alone and might use some assistance.
9. Start a Clothing Brand on Shopify
Nowadays, earning money with Shopify is simpler than using apps like Printful and Printify.
Designing, producing, and shipping printed clothing is now more efficient and straightforward than ever.
By launching your own clothing brand, you may turn your innovative designs into a lucrative business.
Applications like Printful require you to upload your design, choose the products you want to apply your design and connect your Shopify store.
Products are printed as needed. As a result, once a buyer buys goods, the seller deducts their charge from the money and begins manufacturing the product.
The goods are printed and shipped by them, so you won't have to bother with shipping issues. Very lucrative, wouldn't you say?
In addition, creating an accessories brand is another typical strategy to generate income on Shopify.
You may create a strong brand whether you make the products yourself, drop ship them, or have them created, especially with the aid of effective marketing.
10. Start a Shopify Pop-up Store
Using your Shopify online store to manage a real-world pop-up shop is possible thanks to point-of-sale (POS) software for Shopify. There are various types of pop-up stores. You might:
Rent a space at an art or craft show.
Take out a short-term lease on a vacant shop in a high street or mall.
Construct a booth for a nearby food market.
At a music festival, erect a tent.
Make a mobile store out of a shipping container
Rent a small store with a location similar to Brik+Clik.
After the pandemic, the high street's appearance changed, and many shop locations are now jumping on the pop-up bandwagon and working with short-let agencies like these.
Pop-up spaces help people understand that you might only be testing out a physical version of your online store or hiring a location in a hip neighborhood for a brief product drop.
11. Help Other Business Owners Set up Online Stores
Other business owners could be ready to pay for your time and experience to assist them in setting up their businesses if you have acquired Shopify expertise.
On a freelancer-for-hire website, you can promote your expertise as a Shopify developer, or you can look to collaborate with other web development firms.
Additionally, you can apply to become a Shopify Partner, allowing you to assist Shopify store owners with their stores' development, migration, and troubleshooting.
You can establish a long-term relationship with clients and charge them a predetermined fee or a percentage of their future sales in exchange for continuous business.
Shopify Partners can also set up profiles in the marketplace for experts on Shopify, where merchants can hire them for a range of jobs.
Shopify takes a 10% cut of any flat-rate fees that experts charge for their services.
How Shopify Works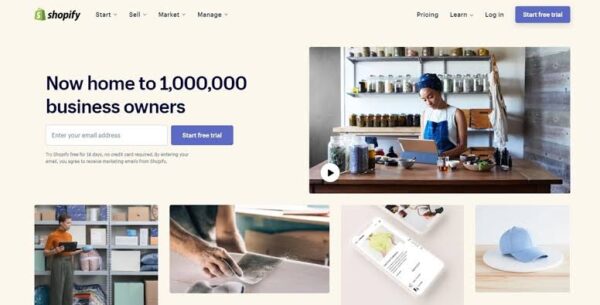 Traditional way: Selling your brand or product. You buy a product in bulk or create one yourself, then sell it on the platform. Shipping of the product to your customers is handled by you and from your warehouse.
Dropshipping: Selling products that are not yours. When the inventory is not yours, you simply list the product in your Shopify store and place the order from the factory or distributor once you receive the order.
The company's product you're selling would be responsible for the shipping when a customer makes a purchase.
And you get to keep the margin between the product's original cost and your sale price.
Pros of Selling on Shopify
● Beautiful storefront themes
They make a website look appealing and professional, which aids in consumer retention. In addition, Shopify offers sellers a variety of theme options for their stores.
Art & Photography, Jewelry & Accessories, Food & Beverage, Furniture, and many other industries are represented.
You may filter them and select whether they are mobile-only or responsive and whether they employ free or premium themes.
● Launch your Shopify store in a matter of seconds
Creating and launching an online store with Shopify is fast. The platform walks you through the process of creating your store, customizing it to your desire, designing it, and eventually adding your products
● You can manage your Shopify store on your own.
Another advantage of Shopify is its user-friendly UI. The platform's basic principle is to simplify any operation so that you can easily operate your store.
● Professional and elegant Pre-made shop designs
Shopify includes 100+ professional pre-made designs compatible with most devices, including Android, iOS, tablets, and computers—not many e-commerce platforms provide the same quality and quantity.
● Connection Security
You will be dealing with sensitive consumer data such as credit card details as well as frustrated customers when running an e-commerce business.
Shopify handles all server maintenance and upgrades, ensuring that your shop and shopping cart are always available and checkout pages load promptly.
● You can open a Shopify store for any business size
Shopify was designed to accommodate all business sizes and types. So regardless of the amount of traffic you receive, the quantity of your inventory, or the value of your investment, all of their payment plans include limitless bandwidth.
Furthermore, your administrator panel is easily accessible through a computer or mobile device, allowing you to manage any process precisely from any location at your leisure.
● Simple internationalization
If you intend to advertise your products on a global scale, Shopify is the platform for you.
Shopify platform offers several features to help your worldwide business, including their payment gateways, which work in multiple languages and take various currencies.
Taxes are calculated, adjusted, and included in your pricing based on the location of your registered business. This eliminates a lot of tedious accounting and data recording.
● Ease of Use
Are you unsure how to open a retail store? Shopify allows you to easily establish a retail site without the headache of web infrastructure and development costs that self-hosted platforms like Magento might incur.
You can also find extensive records and video tutorials on the Shopify website. All you really need is a marketable product.
● Payment Security
One of the features that most Shopify users like is the assurance of strict security that the platform provides.
Because there has been no breach in Shopify's security, it is safe to presume that their statements are accurate.
You don't have to be concerned about the integrity of your data or your client's sensitive information, such as credit card numbers and personal information.
● Lots of informational materials for new Store owners
Shopify has spent significant time and money to ensure you receive high-quality education on selling online and using the Shopify platform.
As a result, videos, tips, articles, and even an "E-commerce University" are available to you.
● Abandoned Cart Recovery
Shopify offers an abandoned shopping cart recovery service that monitors and emails these potential customers to remind them to complete their purchases.
This is actually a simple approach to increase profit potential.
● 24 × 7 customer service
Highly trained personnel who provide distinct customer care are accessible 24 hours a day, seven days a week, to answer your questions.
Also, follow up on your requests, and resolve any technical issues you may have. Only phone, chat, and email support are accessible.
● Marketing and SEO Tools
Shopify Search Engine Optimization (SEO) functions to assist your website to be ranked higher in Google search results so customers can easily access you.
Advanced analytics can also determine where your visitors interact so that you can customize your advertising appropriately.
● Shopify App
The Shopify app store provides access to a plethora of marketing strategies and Advertising tools, such as integration with social media product reviews and email marketing.
Shopify includes the ability to create special offers as basic. At the next level, gift vouchers are available. All themes include social media icons.
And, if you're feeling overburdened by online marketing and the time it can take, Shopify Kit functions as a virtual employee, recommending and carrying out sales activities depending on your brands, audience, and store performance.
Other benefits of Selling with Shopify include:
Generate discount codes.
Sell your products on Shopify, Pinterest, and other social media.
Improve SEO by adding relevant keywords to website pages as well as product descriptions.
Create blogs. Blogging is an inbuilt feature that affects your SEO rankings as well.
Use Accelerated Mobile Pages (AMP) to increase the speed of content delivery to mobile shoppers, thus improving the shopping experience of your customers and SEO prioritization for Google.
Get an automatically generated sitemap, which Google uses to analyze content on all your website pages.
Cons of Selling on Shopify
● Shopify Themes don't come with automatic customization
Some of the features of Shopify are not very customizable. For example, you can use the themes Shopify comes with, or someone else to do the coding for you.
Shopify has its own themes that come in the PHP language called Liquid. However, these themes need to be customized.
The checkout creation tool only allows you to modify the appearance—the default template you get is basically what you'll use.
● Shopify can be expensive.
You can get numerous free features from Shopify; however, if you really want a fully functional website, you'll have to part with some bucks. The least expensive plan costs $29 and can be upgraded to $299.
This figure could rise even become higher if you include the subscription fees required to use certain applications.
For example, you must pay specific fees if you live in a region that requires a third-party access point.
This could be somewhere between 5% and 2% per transaction. But running a small business can make this quickly add up.
● Customer Service only in English
The helpdesk's call center is currently only available in English, as are various parts of its website and informational materials.
This can be a hitch for users who are from other countries and don't speak or understand English.
● No Shopify Email Hosting
Shopify does enable you to have Webhosting. However, they do not have email hosting. So you can get safe email hosting but can't have an email name ending with Shopify or a dot Shopify.
You can also use a third-party email hoisting to set up email forwarding. This means that if anyone sends an email to, for instance, [email protected]".
The mail will be forwarded to your private Gmail, Microsoft, Outlook, or Yahoo account.
Shopify Costs: Pricing and Plans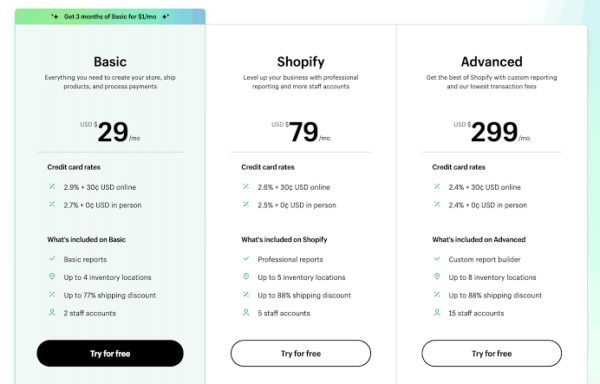 Whether your company is tiny and new or large and established, there is almost certainly a Shopify plan that will meet your goals and budget.
It's also a very scalable platform, so if you start small, you can easily scale up as your business expands.
Standard Shopify platform features include 24/7 support, many tools for entrepreneurs, and automatic changes to orders, products, and inventory.
The higher the tiered plan you select, the more options are available, ranging from shipping discounts and labels to fraud analysis and language translation.
Shopify Lite – $9 per month
The Shopify Lite plan is designed for companies wishing to add a buy button to their existing website or those who sell in person and require a point-of-sale (POS) processor.
As a result, it is not the best option for the average small business trying to create a professional online store.
For in-person purchases, the Shopify Lite plan includes a card reader. However, these transactions are subject to a 2.7% fee, whereas internet sales are subject to a 2.9% plus $30 cents per transaction cost.
Shopify Basic – $39 per month ($29 per month, paid annually)
The Shopify Basic plan includes more features than the Shopify Lite plan. As a result, it is an excellent alternative for small businesses wishing to create a comprehensive online store with omnichannel selling capabilities, including drop shipping.
The basic package includes an online store, as well as a website and a blog. In addition, users can post unlimited things and sell them on online marketplaces and social media channels.
The Shopify Basic package includes options such as card readers for businesses interested in offering in-store transactions.
Online transactions with Basic incur a per-transaction cost of 2.9% plus $30 cents, while in-person purchases incur a 2.7% fee.
Shopify Standard – $105 per month ($79 per month, paid annually
The standard Shopify plan contains everything in the Basic plan, plus performance reports, up to five staff accounts, and support for gift card purchases. You'll also be able to use the abandoned cart recovery tool.
This is the plan you'll need to start selling internationally because it permits you to use country-specific names and currency conversions.
Shopify charges 2.6% + 30 cents for each transaction, less than the Basic plan. The rate for in-person card transactions is 2.5%, with no additional surcharge.
Shopify Advanced – $399/month ($299/month if paid annually)
The Shopify Advanced plan is intended for companies that sell in large quantities both online and in person and require more advanced capabilities.
This package is designed for high traffic, with limitless storage capacity, up to 15 staff accounts, and third-party estimated shipping prices.
Customized reporting options and e-commerce automation will also be available to users.
Shopify Advanced has the lowest fees of any plan, with online fees of 2.4% + 30 cents per transaction. The fee for in-person transactions is also 2.4%, with no extra.
Shopify Premium Costs
Premium themes range in price from $75 to $300, yet they can be cost-effective because they save you time by making site construction quicker and faster.
Here are some of the most common costs associated with using Shopify:
Domain Name: A domain names registrar, such as Google Domains or DreamHost, must be purchased separately for roughly $15 per year.
Premium Theme: While using a free Shopify theme is possible, businesses often opt for a premium theme to make them look exactly how they want out of the gate. Premium themes range in price from $75 to over $300.
Premium Apps and Plugins: Businesses frequently pay to employ premium plugins to increase the functionality of their Shopify store. Pricing varies depending on the plugin but can range from $5 per month to hundreds of dollars.
Time: Building your own internet store will, of course, take time.
Development: In some cases, businesses may employ a web developer or designer to assist with establishing a Shopify site or alleviate any complications.
How to Set up Your Online Store with Shopify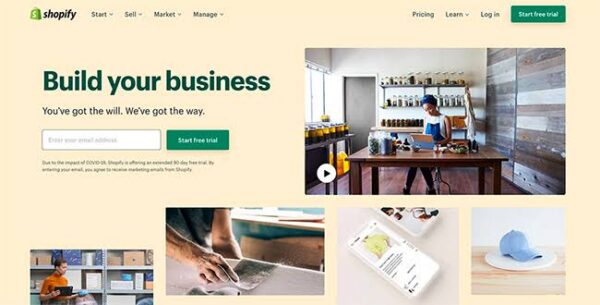 Setting up your Shopify store is very easy. Anyone could do it without the need for a programmer. Here, we'll be discussing the process of creating an online store with Spotify in 9 simple steps:
Step1: Sign up for Shopify and complete the general settings
Go to Shopify.com, click 'start your free trial,' enter your store name, and create your shop.
After registering, go to your Shopify Dashboard and choose "Settings" to begin configuring everything related to your business, including payment methods, shipping methods, items, and more.
Once in Settings, you can fill out all of your e-commerce information under the "General" area.
For example, the brand name, a description of what you intend to offer or promote through your e-commerce, your timetable, the currency you intend to take as payment, your email address, and so on.
If you have one, you must connect Google Analytics to your Shopify account once and for all.
You can Sign up for Shopify Payments by sending your business information, personal details, product information, and bank account number to Shopify.
After all, this tool will provide insights into your Shopify store's performance. Simply paste your Google Analytics code into the Settings section.
2. Add Payment Methods
We recommend using Shopify Payments. It enables you to accept various payment methods, including credit cards, Google Pay, Shopify Pay, etc.
There are also other mobile payment apps for small businesses you can explore.
Shopify offers a variety of payment platforms that you can integrate into your business, a feature that many online entrepreneurs appreciate.
You may have come across various e-commerce stores where we are unable to pay using our currencies.
This can result in the loss of a customer, which equals lost revenue for the company. Unfortunately, Shopify is not one of them.
You can integrate payment platforms like PayPal or Stripe with Shopify to take credit and debit card payments.
Not only that, but Shopify also provides users with its platform: Shopify Payments.
Integration with other platforms is not required with Shopify Payments. You will be able to monitor and handle all of your payments in one location.
This feature is included with any Shopify plan you pick. However, it is important to note that your chosen plan determines the commission you charge for each transaction handled.
Shopify Payments is not yet accessible in all countries. However, you can use it without issue if you are in the United States or another country, such as Spain.
3. Configure the Checkout and Shipping of Orders
The checkout page is critical for completing your online sales transaction with Shopify.
However, the fact that a customer enters your e-commerce site and adds things to their shopping basket does not imply that you have sold.
The number of customers that abandon their shopping carts is simply astounding. One of the causes is the checkout process and the additional fees that are frequently added.
The Shopify checkout has a responsive and well-optimized design, but customization options are limited.
Customers who want to buy from a smart device will be able to do so easily because the company is responsive.
Shopify allows sellers from various countries to change the language of the checkout.
As you will discover, the platform's default language is English. So, if you wish to update it, you may do so effortlessly.
However, when it comes to shipments, you must provide the delivery methods that you may provide in order to avoid future complications.
You can check out many of the best product fulfillment services to help you with shipping orders.
Please note that you can only ship nationwide. If you can ship internationally, list the countries you can reach and the associated rates.
Similarly, ensure to make the associated expenses clear—add VATs to the initial pricing on your listings.
You don't want to surprise your customers with a price that is significantly higher than the initial price they saw while planning to make a buy.
As a result, they will quit the transaction without hesitation. Therefore, it is best to be open and honest from the start.
You might apply certain discounts in order shipment to consumers who spend more than a particular amount. It is a wonderful technique to persuade people to make a large buy.
4. Schedule Emails
Now that we've discussed cart abandonment, it's time to discuss the many forms of the email you may set up for your Shopify store.
Email marketing is vital for increasing sales, but here we are referring to order confirmation emails, which indicate that your product is being produced or has already been shipped.
You can use Shopify to schedule default emails delivered automatically when a customer satisfies specific criteria.
You can get the best email service providers for small businesses if you want to optimize your email marketing.
You can also personalize and edit the preset emails to suit the purpose for which you are sending them.
Consider Paid Advertising for your Shopify Store
Finally, there are numerous paid advertising methods. For example, you can place pay-per-click advertising for your website's target keywords using AdSense or other services.
You can even utilize some secondary keywords to publicize your name.
Similarly, you can purchase display ads on other people's websites or social media platforms.
These can be quite costly, but they are an excellent method to publicize a sale or a new product.
Furthermore, attracting early clients for your new Spotify site is frequently difficult. Therefore, spending a little money on sponsored advertising can result in a good ROI.
Influencer Marketing for your Shopify Store
Influencer marketing is another effective method for driving traffic.
This is where you work with someone with a large social media following or a prominent voice in your field.
The influencer will discuss your items, teach you how to use them, or collaborate with you to create a new product.
Influencers will create branded content for you, such as a contest or event. This approach can be applied in a variety of ways.
5. Set Up Your Domain
If you are going to take your e-commerce seriously and want to outdo your competition, you need to have your domain. In addition, having your domain name will give your brand credibility.
If you already have an old domain, you can connect it to Shopify through your eCommerce control panel and start using it.
In case you need to create one. You can buy it with Shopify for a price of $11/year or buy it with another domain provider.
The domain name you buy from Shopify is automatically configured, and you can select the name and extension you want (.com, .net, .org, etc.).
6. Design your Shopify Store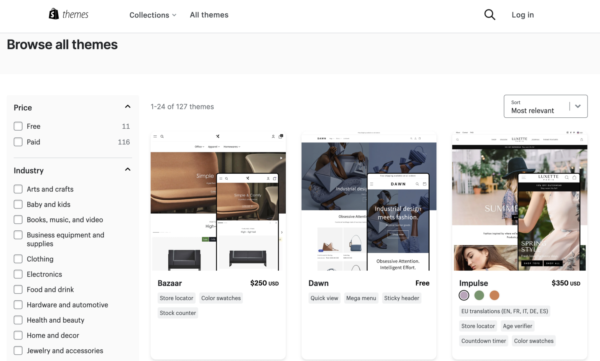 There are numerous free templates available for all payment methods. There are also premium ones available at reasonable pricing.
Shopify has 9 free e-commerce theme templates, each of which comes in two or three different variations, giving you a good percentage of template possibilities from which to choose.
However, the number of bundled templates is restricted Compared to other e-commerce Websites builders such as 3Dcart, Wix, Magento, or Squarespace.
The bundled themes, on the other hand, are visually appealing and 100% responsive, which means they will instantly adjust their layout to meet the size of your screen and device (smartphone, desktop PC, tablet, laptop computer, etc.).
If you don't like the free templates, you can use a paid theme or a Shopify premium version theme, of which there are up to seventy-two to pick from.
These range in price from $100 to $180 and are extremely practical, like the free themes.
If you want to get the most out of the Shopify theme store's free and paid templates, you can easily do so by searching with filters.
Shopify makes it easy to pick a theme
Look for filters like home page type, layout styles like editorial, wide-width content, grid, industry style, and visual features like parallax, slideshows, video, scrolling, and more.
This means you should have no trouble picking a suitable theme for your store. The Shopify templates are all expertly designed, eye-catching, and quite current.
However, if you are dissatisfied with Shopify themes and wish to purchase a premium theme, you must first determine whether Shopify officially supports the theme.
Shopify supports all free themes, but if you use a premium template, you may need to contact the programmer who created it once in a while for assistance with installation or customization issues.
Whether you pay for a template or utilize a free one, the amount of customization or alteration you can apply to your store design is limitless. In addition, you can browse all of the Shopify themes.
7. Add Your Products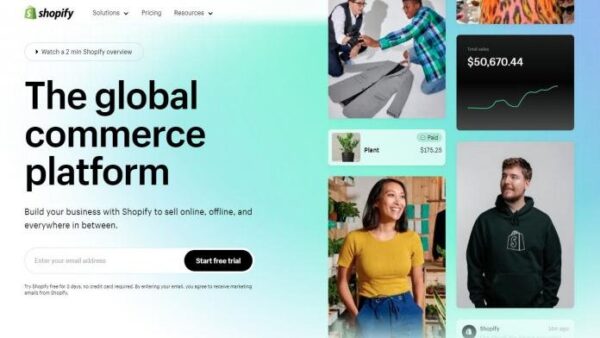 Now that you've decided on the theme that best suits your company, it's time to start adding products. After all, what is eCommerce if not for products? Nothing!
Each of your product descriptions should be visually appealing as well as thorough. The description of your product listings can influence whether a potential buyer makes a purchase.
Remember that the customer cannot physically contact with the product, so you must persuade him through your writing.
The images you upload are also significant. You can't just add images; they must be the best.
They must appear professional and demonstrate all of the product's features. Include photographs from various perspectives. As a result, your buyer will be able to appreciate the product in its totality.
You can change your inventory on the Shopify store
Every online store has an inventory. You will be able to oversee your inventory, know what products are available, which are going to run out, which are the best sellers, and so on.
Shopify handles inventory management for you. For example, if you have 100 shirts and sell 50 of them, Shopify will immediately reduce the sold units from your stock. You are not required to perform any manual tasks.
Similarly, you can build collections with your products or organize them by category. Again, this will allow your consumers to find what they need without wasting time looking.
Finally, if desired, you can only generate discount codes and coupons for special events. Simply select the DiscountDiscounts tab from your menu on the left.
8. Create your Blog and Sales Channel
A blog is required for any e-commerce site. So, if you thought you could bypass this step, you were mistaken.
A blog will boost your brand's credibility, help you attract organic traffic, and sell more.
Creating a blog will also allow you to establish a community where customers can voice their ideas, share their experiences, and much more.
The crucial thing here is to include original information related to the product you are offering and keywords that can help you position your e-commerce on the first page of major search engines.
You might also attempt to author articles with compelling stories to entice your readers. Making people identify with the brand is a great way to turn them into customers.
You can add yours to the "Blogs" part of the "Online Store" menu, create a decent title, and compose your material.
What are the Best Sales Channel for your Shopify Store
The Shopify interface allows you to create and operate a variety of sales channels.' These are some examples:
An online shop is your primary website, which can be hosted on your domain.
Facebook: a tab on your Facebook page from which visitors can search and purchase your products.
Messenger: In Facebook Messenger conversations with customers, you can directly sell to them and make provisions for order and shipping notifications. You can also respond to customer inquiries and questions on Facebook Messenger.
Buy Button: Using 'buy buttons,' you can integrate e-commerce features on any blog or website.
Amazon: Amazon helps manage your Amazon listings and your Shopify items in one place.
Instagram: This enables you to create Instagram posts that viewers can click on or buy from.
9. Integrate Tools that will Boost your Shopify eCommerce Performance
We know you have fallen in love with Shopify and will do it even more when you discover all the additional applications and tools for your eCommerce.
With these apps, you can expand the functionality of your eCommerce to the maximum.
It is true, and some are paid. But it is also true that you can do a lot with the free ones.
What are the Tools to Boost Your Shopify E-commerce Platform?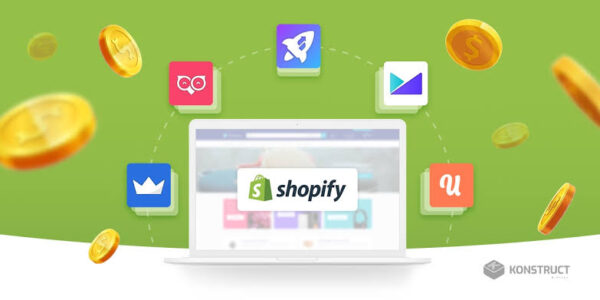 Some of the available options you can explore include:
Reviews are vital to increasing sales. With Yotpo, you can manage customers' comments about your products and share them on your social networks.
In this way, you will increase credibility and convey confidence to your potential customers.
If you have a Shopify store but don't know what to sell, Oberlo is your best option. You can import products directly to your e-commerce and start selling. In addition, Oberlo handles billing and shipping.
It's useless to have e-commerce if you do not receive traffic. And to receive traffic, you need to develop a digital marketing strategy adapted to your goals.
With Kit, you can manage your ads and email marketing campaigns to attract more potential customers while sleeping.
Positioning your eCommerce among the top positions in Google should be among your priorities.
With this tool, you can improve your store's visibility through an analysis that will indicate what is working and what is not to make the corresponding improvements and increase conversions.
Sending specific email marketing campaigns according to your customers' actions in your eCommerce is necessary to segment your email lists.
With Klaviyo, you will be able to program and configure your campaigns and optimize your strategies based on the response of your clients.
What are the Best Products To Sell on Your Shopify E-commerce Store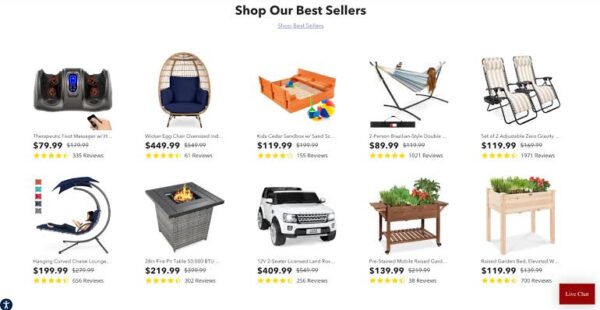 So, what are the products that shoppers are looking for online?
They can be high-demand and popular products (those that everyone wants), or niche products, which are the types that appeal to specific customers and are found within broader categories.
A useful strategy is to offer a combination of products that allows you to appeal to a larger base of buyers.
Some categories you can explore include:
Clothing
Shoes
Hairstyling tools and beauty accessories
Crochet handworks
Electronic
Handheld mobile devices
Books, movies, and games
Cosmetics and body products
Wallets and accessories
Auto accessories like upholstery and car seat covers
Food and drinks
Lingeries and other body accessories
Toilet and bathroom accessories
Kitchen equipment
Audiobooks and PDFs
Home equipment
Sports and outdoor
Home décor and lightning
Toys and baby products
Hobby Products
DIY, gardening, and pets
However, you can offer endless options, such as online courses, products, real estate rentals, or even digital downloads.
How To find the Best Products to Sell On Shopify
Tip #1: Look for Popular Products
As much as we hate to be Captain Obvious, looking at consumer purchasing trends might help you identify things that will sell, like hot cakes.
But how do you find popular items?
You can follow Reddit discussions. You will be given indications about the things that customers are looking for.
Better still, check out Google Trends – it's a goldmine in and of itself. This site can help you discover how frequently certain words are searched in relation to the total search volume, including in different countries and languages.
If you want to conduct a thorough study on a large number of phrases, you may speed things up by using the Google Trends API and scraping Google Trends.
Tip #2: Read Amazon Buyer Reviews.
What are Amazon customers saying about a product? Is there anything else they'd want to see on a product?
Checking out customer reviews on Amazon – or any other online selling site – might help you identify market gaps.
Tip #3: Look For Products That Solve Problems
Many large corporations were founded to address people's problems and make their lives easier.
Applying the same logic to your product search could make you a fortune for yourself.
Tip #4: For Search Queries, use Google Keyword Planner.
Knowing what people search for on Google and how frequently they search can help you uncover things that are in great demand yet have little competition.
For this, you can use the Google Keyword Planner tool.
Can You Sell Multiple Products on Your Shopify Store?
You can mix and run numerous items or services on the Shopify platform. For example, if you give steady online English lessons, you can sell T-shirts or caps relevant to your teaching academy.
You can also make special deals or provide discounts on your courses. Membership sites and inquiry services are two other types of services you might provide.
The latter is a terrific option if you specialize in a certain field. In addition, you can provide consultations online.
Another way to sell on Shopify is through charities, which sell various things in exchange for donations to a specific cause.
You can also sell event tickets as an additional product. But, of course, you are not required to print or send them in person. Instead, you can safely send a receipt to the person who paid for your ticket email address.
As you can see, the possibilities for selling any of your products on Shopify are limitless.
What To avoid when picking products to Sell on Shopify
● Identical product to your competition, but at a lower price
Price competition is an aspect that should be considered, but it should not be the only factor you examine when choosing your prices.
So, avoid the temptation of selling your product at a lower cost than your competitors since this could backfire and lead to failure before you've even tested the sales potential.
This is because consumers do not buy items simply because they are cheaper, especially if they have not determined their worth.
● Selling Products with a very low-profit margin
Although this circumstance is comparable to the low-price competition, when selling any product online, you should keep in mind that the majority of your prospective buyers have no prior experience with the product you wish to sell.
Because they haven't seen it before, setting the price for a larger return percentage is easier. You also avoid incurring additional charges if the goods are returned to you in this manner.
● Avoid selling Restricted products such as Cannabis, Narcotics, and even Vitamins.
These product categories are self-explanatory; they require permissions and are heavily regulated, making them difficult to market. They are also difficult to advertise due to the same constraints, limiting your sales potential.
How Much Can You Make from Shopify
Today, thousands of Shopify store owners are making a lot of money on the platform. But, of course, the amount varies depending on the store owner.
There is no definitive answer to how much you can make on Shopify because various things determine how much profit you can make with a store.
According to statistical analysis, you can earn between $1000 and $1500 per month with the right product, sufficient preparation, and a good marketing approach.
If you combine selling your product with dropshipping, this figure can grow to $10,000 per month.
Tips for Making Money on Shopify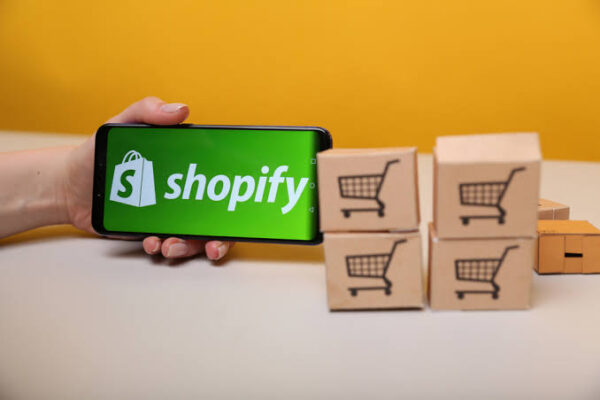 Creating a Shopify store is only the first step in launching an e-commerce venture. Make sure you take these as well.
Tip #1: Find your Niche.
As more people begin selling goods and services online, differentiating your products from the competition becomes increasingly important. So what sets your Shopify store apart from the competition?
Market research should be carried out in order to establish your customer base, learn what they want and where they shop, and then deliver it through those channels.
Tip #2: Clearly Describe your Products and Services.
Giving clients as much information about your things as possible will help protect them from being surprised and, ideally, keep them from returning them.
Clear product images, dimensions, detailed descriptions of how things function, and explanations of specific features are all required.
If you have many color and size options, make them clearly accessible on each product listing.
Tip #3: Provide Excellent Customer Service.
Buyers are more likely to return if they receive good customer service. So make it simple for customers to contact you if they have problems during shopping.
Also, ensure they understand how to ask questions and request refunds and exchanges afterward.
The store management features provided by Shopify can help you provide customer care via Facebook Messenger and WhatsApp, track client shipments, and more.
Tip #4: Be Adaptable and Responsive.
Even if you expect your clients to want one thing, their actions may reflect otherwise.
Shopify apps can be used to generate sales and inventory reports and learn about audience behavior.
Then, when it comes to making changes to your Shopify store, whether it's in terms of what you sell, how you price it, or how you market it, be flexible.
Tip #5: Choosing the Right Product for Your Niche
This is the most critical aspect of your Shopify store's success. You can have a gorgeous store, but if you don't have a great product, you won't be able to prosper.
Tip #6: Promote to the Right Audience or Niche
Most people use Facebook or Instagram Ads to send traffic to their Shopify store.
But are the people that come to your store as a result of your marketing strategy the type of people who would be interested in what you're selling?
The more targeted your audience, the higher your sales will be. You may also employ influencer traffic, but make sure they are people who use the product you are recommending.
Tip #7: Set the Right Prices
Setting the right prices requires knowledge of your product's profit margin, which comes after the cost of the product, logistics, and marketing.
Many people fail because they are unaware of their product's cost structure. Therefore, include any operating expenses linked with the product in this section.
Tip #8: Ensure a Faster Shipping Time
A typical mistake drop shippers make is that the product takes 15-60 days to get from the country of origin to the country of destination.
You risk irritating clients and receiving unfavorable feedback if it takes too long.
You must be transparent about your shipment times so that your customers are aware and do not have unrealistic expectations.
Tip #9: Build your Brand Credibility and Reputation
People like to buy on Amazon because they trust customer service and know they will respond to any eventuality.
That translates into "feedback" or reviews. The better reputation you have, the more customers you will have.
Tip # 10: Make Your Shop Mobile
Most internet users spend more time on their phones than desktops. As a result, you must ensure that the theme you use for your Shopify store is mobile-friendly.
It will also be necessary to develop a mobile and iOS app for it. If you are unable to do so, ensure that your online store is user-friendly so that pages load quickly.
In general, mobile traffic outnumbers desktop traffic.
Making your store mobile-friendly can increase sales through mobile devices and decrease visitor abandonment.
More mobile-specific Google searches can boost your website's ranking; also, clients may easily add things to the basket on mobile and report a better user experience on mobile.
Tip #11: Sell More Products
Consider selling more products if you want to make more money using Shopify.
You can locate new things to sell by researching how to classify your products and what complementary or comparable products you can launch to meet your target audience.
People see more useful and tempting things to buy when browsing your website.
Popular products that merchants are selling successfully can be found. Also, look through Amazon's user reviews to locate some strange things people adore.
To begin, you must extensively investigate your possibilities and ensure that you are versatile in your product offerings.
Always ensure that anything you're selling is highly relevant to your company, but don't limit yourself.
Good Read: Make $1,000 Selling Candles From Home
Bottom Line
Building a lucrative internet business takes time, and failing is an inevitable part of the process. So, yes, successful Shopify retailers did not emerge overnight. But the good news is that you can learn from each failure and progress toward success as you go.
Always remember to remain responsive on social media. Responding to comments on your post is an excellent strategy to increase communication and possible clients. You are also communicating to your clients that you are paying attention to them.
There are numerous benefits to hosting your business with Shopify, including complete control over your goods and audience. In addition, you can start thinking outside the box and breaking standard e-commerce methods with Shopify. You may also combine your business with social networks to boost sales.
What we appreciate most about the Shopify platform is it's constantly inventing and improving its capabilities to benefit its customers—clients like you and me.
E-commerce is expanding and will continue to expand in the future years. So the sooner you start exploring and testing, the sooner you can learn and flourish in this wonderful online environment.
Frequently Asked Questions
Q: Can you really make money with Shopify?
Yes. Shopify's user-friendly interface and extensive feature set have assisted countless businesses in increasing their revenue. Indeed, many top-performing Shopify stores earn six-figure or even seven-figure salaries. Of course, success on Shopify is not assured and necessitates hard work and planning. However, with the correct tools, advice, and hard effort, Shopify may be profitable for budding entrepreneurs.
Q: Can you create an online store with Shopify?
Shopify allows you to set up and sell from your online store in a matter of minutes. First, sign up for a free trial, then start with one of the various themes and templates to make your first sale.
Q: Is Shopify a good fit for small businesses?
Shopify is ideal if your firm largely relies on internet sales. The software supports an unlimited number of products and makes inventory tracking simple. Furthermore, the drag-and-drop website builder is incredibly user-friendly, so you can create a professional-looking website without hiring a designer.
Q: How much does it cost to set up a Shopify store?
Shopify has a $5 monthly starter package ideal for social media selling and a $39 monthly full-service internet business. Shopify took the top rank in our list of the best e-commerce platforms because of its reasonable pricing options (combined with its ease of use and strong yet expandable features).
Q: Are Shopify stores profitable?
There is no assurance that you will make a profit if you use Shopify as your platform, but it is a significant indicator of future success. According to Shopify data, 81% of merchants are profitable after two years, with an average yearly income of $155,00 for a Shopify store.
Q: How much does Shopify make per sale?
For the Shopify account, Shopify charges 2.6% + $0.30 for every transaction. These are the fees for using a credit card online. In-person card transactions incur a 2.5% transaction fee. There is an additional 1% cost per transaction if you use a payment gateway other than Shopify Payments.
Q: How long does it take to make money on Shopify?
How Much Time Does It Take to Make Money on Shopify? Unfortunately, there is no simple answer to when you will begin making money using Shopify—it could take days, weeks, or even months. However, with a planned business and marketing plan, you will have a better chance of making money.
Q: Can you really make money with Shopify?
Flipping Shopify stores is a viable way to generate money on the platform if you grow competent enough at developing e-commerce or dropshipping stores on the platform. Successful, well-designed Shopify stores with a healthy revenue can fetch up to $1 million.
Q: What should I sell on Shopify?
Because you have few options for what to sell on Shopify, stick to what you know and can earn from. Some of the most popular Shopify categories are Travel, beauty, pet accessories, sport & fitness products, and so on. Make money from your handiwork if you are good at it. Just make sure you properly read the Shopify Terms of Service before deciding on a specialty.
Q: How much money can you make in a month with Shopify?
It would be best to keep in mind that Shopify stores are easily scalable. So, if you can scale your firm, you can earn $5000 to $100,000 each month. We believe you may earn between $50,000 and $100,000 per year from your Shopify stores.
Q: Can I Really Make Money With Shopify Dropshipping?
The short answer is that you can make money with your Shopify dropshipping store. Dropshipping is a low-risk business venture in which you do not have to worry about production or shipping. As a result, no operating expenses are required. It's also scalable, with a 15-20% profit margin.