Last updated Mar. 12, 2023 by Favour Chinaza
Getting good at SEO optimization can be hard, especially if you are starting. There are hundreds of SEO tools out there, but we've made it easy to find the best SEO tools by putting them all on the list in this article.
We've tried to review the Best SEO Tools and what keyword tracking tools they liked. Of course, you don't have to use all these tools; you must figure out which works best for your business.
Most SEO tools can only be used for keyword research and rank tracking – which isn't cool! Check out this article if you want to keep an eye on your competitors or know the strategies that rank them higher on Google SERPs.
The search engine optimization tools reviewed here enables you to discover the best SEO strategies, find opportunities, detect loopholes in SEO strategy, and measure the search performance of a keyword in different countries and region.
That's not all! With these SEO tools, you can automate your internet marketing campaign, increase your web traffic, and gain visibility.
What is an SEO Tool?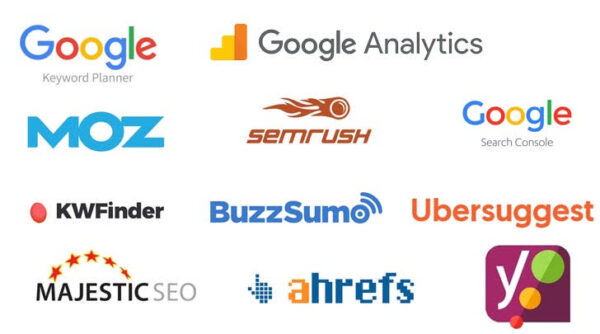 SEO tools help people optimize their websites so that search engines can find and rank them better. With these tools, users can get information about their website's search engine ranking, backlinks, keywords, and much more.
Then, using the data that an SEO tool analyzes, a user can find ways to improve the ranking of their website.
How SEO Works
Search Engine Optimization tools were borne out of the need to rank higher on search engines. Search engines such as Bing, Google, or Youtube all have factors considered before they rank an article high or on the first page of google.
These factors determine the content people view when they search for a keyword. However, a search engine must crawl and index a site before analyzing it against its ranking factors.
Crawling: Search engines use this to discover the number of pages on a site. It also identifies the number of internal links and backlinks a site has.
Indexing: This happens after a search engine crawls your site. Search engines use this to store your web content to make it available when people search for related keywords.
Pages/contents identified as spammy, duplicate, or blocked can't be indexed. However, once a search engine crawls and indexes your site, it will analyze your site against its ranking factors.
Therefore, website crawling and indexing will help determine what content should be ranked the highest on search engine results pages.
A search engine's ranking factors isn't revealed to the public, but from analyzes, here are some ranking factors:
Site Speed
Responsiveness
Backlink Profile
Choice of Keyword
You will enjoy organic, natural, and free traffic if your site meets a search engine's ranking factor.
List of SEO tools
Ahrefs
SEMrush
Moz
Google Search Console
KWFinder
SERanking
Authority Labs
Ubersuggest
GrowthBar
Advanced Web Ranking
SpyFu
WooRank
Majestic
Google Trends
Sitechecker
SEOQuake
Siteliner
Fat Rank
Screaming Frog
Serpstats
SEObility
Keyword Everywhere
Answer The Public
Related: 31 Best Website Traffic Trackers of 2023 (Check Other Website Traffic)
Best Search Engine Optimisation(SEO) Tools (Reviewed)
1. Ahrefs( Best SEO Tool for Nice User Interface)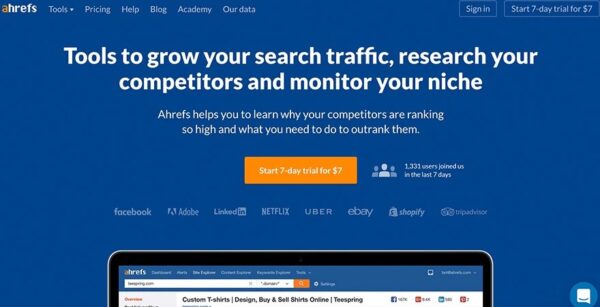 Ahrefs is one of the most highly recommended SEO tools on the internet. Regarding the largest website crawlers, it is only second to Google. In addition, SEO experts love Ahrefs' Site Audit feature because it is the best SEO analysis tool available.
The advanced feature offered by Ahrefs is second to none. It has everything you need to stay on top of your SEO game. With Ahrefs, you can keep track of your competitor's SEO activities and discover top-performing content that will rank you higher.
Ahrefs offers site auditing tools that analyze and optimize your site. It crawls your site, tracks your performance, and allows you to execute Javascript while crawling. With Ahrefs, you can perform the following SEO activities:
Analyze competitor's organic search engines, paid traffic, and backlink profile
Discover Keyword difficulty score, click metric, advanced SEO metrics, and position history
Discover thousands of keyword suggestions
Research ten different search engines
Track your SEO ranking
Facebook, Shopify, Netflix, Pinterest, Linkedin, Uber, Adobe, and other top-performing companies trust Ahrefs.
Pros
Outstanding site-specific and internet-wide crawling capabilities.
Ad hoc keyword research that works.
Comprehensive domain monitoring and comparison.
Improved keyword suggestions.
Comprehensive SERP analysis.
Basic keyword administration
Cons
SEO reporting is limited.
Too Simple user interface.
Ahrefs Pricing:
Ahrefs pricing plan starts at $83/month when billed annually.
Why Go For Ahrefs
Ahrefs is an SEO tool for professionals with powerful features, from managing keywords to analyzing competitors. Even though its interface isn't made for beginners, it's a good choice for digital marketers with a lot of experience.
2. SEMrush( Best SEO Tool for Comprehensive Keyword Research and Analytics)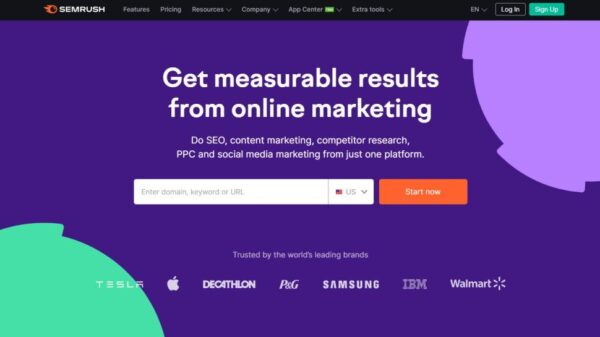 SEMrush is an SEO software well known for its advanced keyword research and marketing tool. Its competitive research tool gives you a detailed overview of your site and provides you with every data you need to beat your competitors.
SEMrush's keyword research tool finds you the best keyword suggestions, and its on-page SEO tool provides you with ideas that improve your SEO performance. With SEMrush, you can track your position on Google Search Engine Pages and optimize your website for local searches.
SEMrush also provides a link-building tool that assists your backlinking process. With its marketing solution, you can develop an effective content marketing campaign and analyze your market to find opportunities.
Other SEO tools provided by SEMrush include social media management tools, content market analytics tools, competitor's PR monitoring, website monetization tools, and PPC research tools. SEMrush will always stand out when users ask which SEO website tool is the best.
Pros
Domain analytics and a comprehensive keyword research tool.
Backlink analysis.
Desktop/mobile search breakdowns.
The project-based SEO campaign structure is extremely beneficial.
Keyword suggestions and proactive SEO suggestions.
Cons
SEMrush does not have a keyword list management feature
SEMrush Pricing:
SEMrush offers a pricing plan that starts at $119.95/month.
Why Go For SEMrush
The SEMrush SEO toolkit gives you a full set of SEO tools. In addition, you can look at detailed keyword analysis reports and a summary of all the domains you are in charge of.
More importantly, the SEO toolkit lets you compare your pages' performance against your competitors to see where you stand. You can, for example, look at the links from other websites to yours. (This is sometimes called "building links").
SEMrush is a solid digital marketing choice for small to mid-sized business users. So, if you are starting, SEMrush is good for you.
3. MOZ Pro (Best User-friendly SEO Tool for Professionals)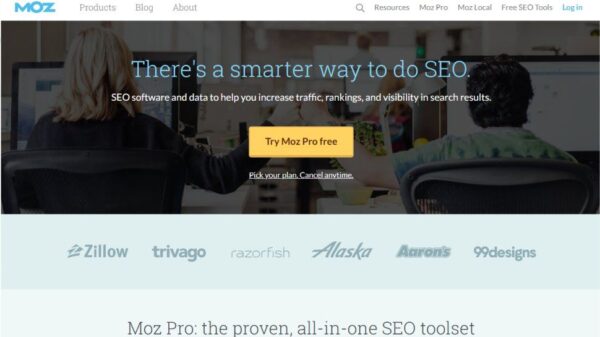 Moz Pro is a powerful SEO tool that enables you to rank higher and attract quality traffic. Moz Pro has a set of SEO tools that help you get more traffic, higher rankings, and more exposure in search engine results. One of the most important tools is the Moz Pro spider, which lets you check your site for problems and gives you suggestions for how to fix them. You can also track how your site ranks for hundreds or thousands of keywords per site.
A keyword research tool can help you determine which keywords and keyword combinations may be the best to target. A backlink analysis tool also uses several metrics, such as anchor text in links and estimated domain authority, to help you figure out which links are the best.
Features of Moz ProKeyword
Research: This tool gives insight into what people actively search for on the internet.
Rank Tracking: With this tool, you can measure your SEO strategies and see what's working. It allows you to discover and track your ranking for a keyword. Moz Pro also allows you to track your competitor's rankings.
Auditing: This tool detects issues that could hamper the progress of your SEO strategies. It also notifies you when it detects issues that could affect your SEO rankings
Optimization: Moz Pro analyzes your site and optimizes it for Google SERPs.
Link Research: To rank higher, you need a strong backlink. Moz Pro enables you to discover where your competitors get links from. With Moz Pro, you can also discover strong backlinks. Another feature of SEMrush is its Reports and Analytics
Pros
Moz Pro has a wide range of tools
It has a huge amount of data
You get a supportive community
Cons
Moz's pricing plan starts at $99/month.
4. Google Search Console (Best Free SEO Tool for New Users)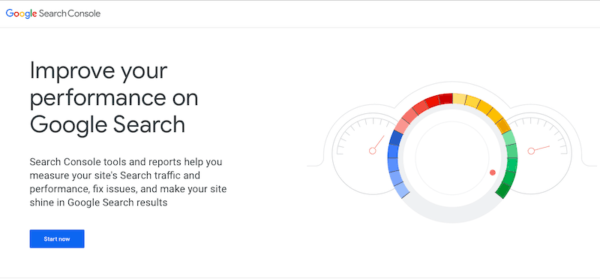 Google Search Console is a 100% free SEO tool created by Google. Google Search Console, available for free to anyone with a website, allows you to monitor and report on your website's presence in Google SERPs.
All you have to do is verify your website by adding a code or using Google Analytics, and then you can submit your sitemap for indexing.
This tool analyzes your site to provide data on its search traffic performance. It detects and fixes issues capable of crippling your website's performance on Google SERPs. Google sends an email notification to you when a problem is detected.
With Google Search Console, you can discover what attracts leads to your site. You can also track your site's clicks, impressions, and position. In addition, Google Search Console allows you to submit your sitemaps and URLs to Google for crawling.
Finally, the URL inspection tool provides a detailed report if you want to know how Google sees your website.
Features
Keywords: Discover which keywords your pages are currently ranking for.
Crawl Errors: Locate any crawl errors on your website.
Mobile Responsiveness: Determine how mobile-friendly your website is and look for ways to improve your users' mobile experience.
Google Index: Check how many of your web pages are indexed by Google (if they aren't, you can use the URL Inspection Tool to submit a page for indexing).
Analytics and Metrics: The metrics related to your websites are most important to you, such as clicks, impressions, average click-through rate (CTR), and average position.
Pros
Ideal for beginners
Easy access to key metrics
Free support
Cons
Google search console does not have information about search ranking for specific keywords
5. Mangools KW Finder (Best SEO Tool for In-depth Keywords Research)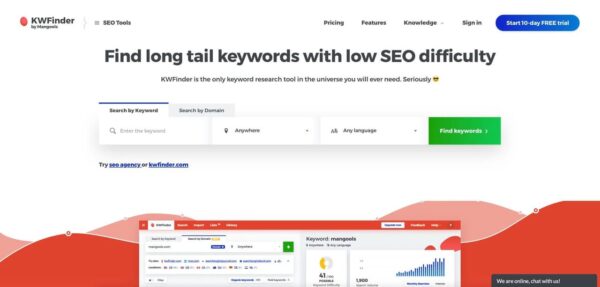 This Keyword analysis and SEO tool allows you to find high-quality keywords that rank. It is packed with advanced and powerful features that work.
Features
Keyword Research Tool: KW Finder enables you to find keywords with a high search volume, low competition, and low SEO difficulty. It also allows you to discover what your competitors rank for and the historical data of search volumes. Local keyword research and SERP analysis are tools it offers as well.
SERP Analysis: With this feature, you can overtake and outrank your competitors. This tool enables you to improve your local SEO and discover the secrets of your competitors.
Rank Tracking: This tool shows your site's daily performance on SERPs. You can also track how a site ranks in different locations and devices. KW Finder allows you to share your rank tracking reports with a link.
Backlink Analysis: This feature lets you discover your competitors' powerful backlinks. It also allows you to find and save the most powerful backlinks.
SEO Metrics and Insight: With this tool, you can gain insight into the overall health of your site. This feature provides reports on any site's SEO authority score. In addition, it reveals a site's backlink health, new market competitors, and content that attracts traffic.
KW Finder offers a pricing plan that starts at $29/month for the Basic plan, $69/month for the Premium Plan, and $129/month for the Agency Plan.
6. SE Ranking (Best SEO Tool Keeping an eye on the competition)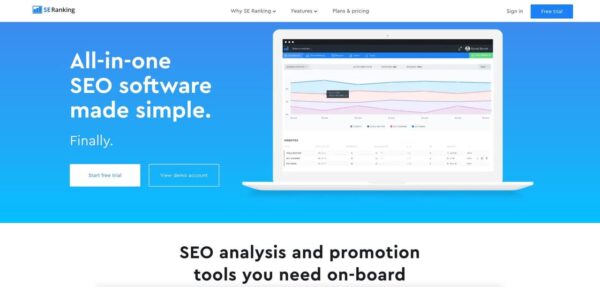 SE Ranking is a marketing and SEO analysis tool suitable for SEO experts, digital agencies, and small business owners. SE Ranking allows you to conduct keyword research, analyze your competitors' online assets, and conduct a thorough website audit.
Features
Keyword Rank Tracker: Tracks your SERP position for a keyword.
Website Audit: Discovers and fixes issues that hinder your site from ranking high. SE Ranking lets you receive notifications when a competitor modifies their SEO strategy.
On-page SEO Checker: Gives reports on how well a page is optimized for Google SERPs
Marketing and SEO Plan: This enables you to create an effective marketing and SEO strategy that works.
Keyword Grouper: Allows for keyword segmentation
Webpage Monitor: Monitors and notifies you of changes on your site.
Backlink checker: Analyze the strength and value of a backlink.
Backlink Monitoring: Tracks all your backlinks to identify bad links.
White Label: Enables customization and control over SEO solutions.
Lead Generator: Identifies and tracks high-quality leads.
SE Ranking offers a pricing plan that starts at $31.20/month.
8. UberSuggest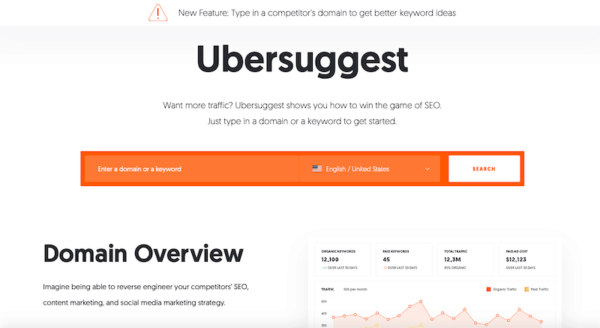 Ubersuggest is a free search engine optimization tool created by Neil Patel – a popular SEO expert. This software provides simple tools that give you an edge over your competitors.
Its domain overview feature lets you view and analyze every aspect of your competitor's site. The features it offers are simple but powerful. For example, with its site auditing tool, you can keep your eye on the health of your site.
Ubersuggests also provides Keyword tools. This tool allows you to conduct accurate but deep research on a keyword. It also suggests keyword ideas and gives you information on a keyword's search volume, trend, and difficulty. In addition, keyword segmentation is a new tool it offers.
Backlink analysis is another feature of Ubersuggest. With this feature, you can analyze a backlink and find backlink opportunities.
Ubersuggest Pricing:
Ubersuggest offers different plans tailored for a different sets of people. Its lowest plan, targeted at individuals, costs $12/month. A lifetime subscription fee costs $120.
9. Authority Labs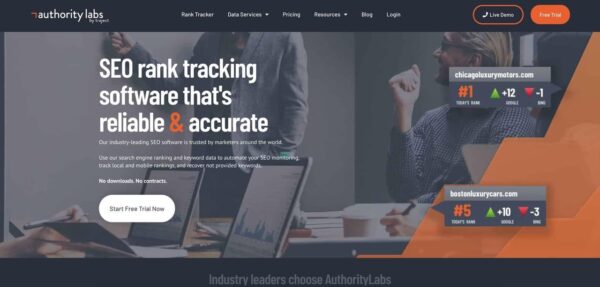 Authority Labs is an SEO software that gives you accurate keyword research data. In addition, this software like other best automating tools automates the SEO activities performed by marketers.
This SEO tool is built around sophisticated crawlers that collect data from the internet and compile it into meaningful reports.
As a result, you can streamline your SEO monitoring practices at any time and track global, local, and mobile keyword rankings. It can also recover organic keywords and boost your marketing campaign.
Features
Rank Tracking: This feature enables you to automate your local, mobile, and global rank-tracking process. It also provides daily updates on your position on Google SERPs.
Competitors Tracking: With this tool, you can compare competing accounts and detect ways to outrank a site.
White Label: Authority Labs provides tools to brand and customize every aspect of your SEO.
Unlimited Users: A total number of employees can access the SEO dashboard. Authority Labs offers no restrictions on users.
Authority Lab's pricing plan starts at $49/month and ends at $450/month.
10. Advanced Web Ranking (AWR)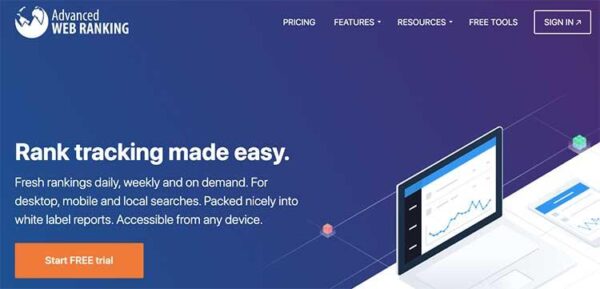 Advanced Web Tracking is a powerful rank-tracking SEO tool. It is trusted by leading companies such as Microsoft, Amazon, Digitas, and more.
AWR offers three main solutions – a web tracking tool, an SEO reporting tool, and a competitor's research tool. Advanced Web Tracking allows you to perform the following:
Mobile and local rank tracking
On-demand rank tracking
SERP performance tracking
Insight into competitor's SEO activities
Discover new competitors
Features
It's a long-standing tool that has been around since 2002.
On desktop and mobile, it delivers hyper-specific local SEO results (country, city-level, or GPS coordinates).
More than 170 countries and 3.000 search engines (also offers support for SEs such as Baidu, Yandex or Amazon & Youtube)
You can white-label reports, export them as PDF or CSV files, make permalinks, integrate with Data Studio, and so on.
It can hold many keywords (which is great for agencies and large in-house teams).
The tool supports unlimited users with varying access levels (admin, team member) at no additional cost.
With AWR, you can customize your SEO reports. These reports can also be shared via links. In addition, integration of third-party reporting tools is allowed on AWR.
Advanced Web Ranking offers a pricing plan that starts at $44/month when billed annually.
11. SpyFu (Best SEO Tool for Broad Keyword Management for SEO Experts)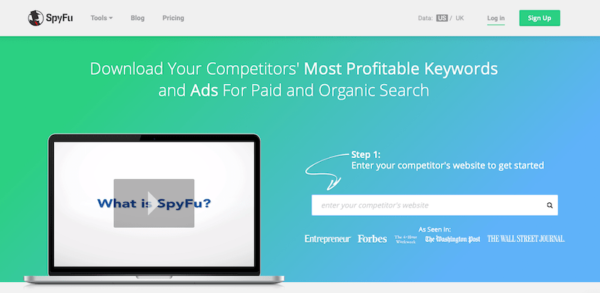 Trusted by Salesforce, Microsoft, and Amazon, SpyFu is an SEO tool that lets you spy on the SEO strategy of your competitors or large websites.
It offers an advanced and powerful SEO solution that enables you to dominate your competitors and discover effective SEO & PPC campaigns. In addition, it has a clean and simple interface.
Features
PPC Ad Rank Tracking – Aids in properly tracking ads and suggests expansion keywords.
Monitor PPC Competitors – Monitors new competitors and their PPC strategies.
Keyword Grouping – Displays keyword groups from competitors' AdWords, allowing you to incorporate them into your SEO strategy.
AdWord Advisor – Suggests beneficial keywords by analyzing your competitors' campaigns.
Keyword Spy Tool – Find out what keywords your competitors use and how many clicks they get from them.
SpyFu offers other features such as ad history, Google ads templates, domain comparison, traffic analysis, scheduled reports, keyword grouping, integration with SpyFu tools, white label, and more.
Pros
Offers a wide selection of keyword search and management tools in an attractive price range.
Interactive reporting, deep PPC/CPC, and paid advertising metrics.
It can track backlinks and offers ongoing site monitoring and unlimited search results.
Cons
SpyFu does not have a web-wide crawling feature
Ad metrics can be complicated for novice SEO users.
SpyFu's basic plan costs $33/month when billed annually.
12. WooRank ( Best For Review and SEO Strategy Monitoring)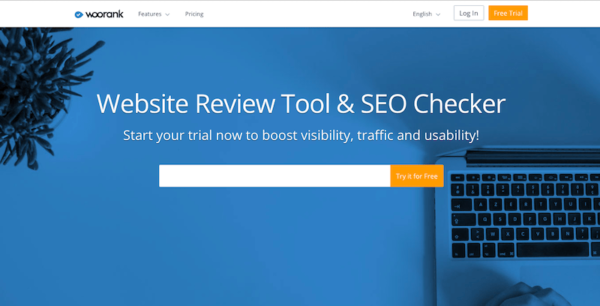 WooRank is an excellent marketing and search engine optimization tool. It also serves as a sales and lead-generation tool. It is not overly complicated but contains all the tools required to complete the task. WooRank is a service that runs in the cloud.
It has aided people in increasing their website's visibility and ranking in SERPs. You can scan your website and analyze the metrics, thanks to WooRank.
You can scan for various SEO and social media, and usability factors. Competitor analysis is another option. Colorful reports will assist you in visualizing your SEO strategy, seeing keyword rankings, and tracking rankings locally and globally.
Features
Keyword Tracking: This feature offers tools that let you track your keyword ranking. It also shows you data on keywords that triggered a featured result. In addition, WooRank comes with a keyword segmentation tool.
Competitors: With this feature, you can analyze a competitor's site, track their rankings, and view the keywords they rank for.
Site Crawl: This feature crawls your site to identify technical issues that could affect your SEO campaigns.
White-label Reports: You can create a detailed report of your SEO activities with its customizable reporting tools.
Lead Generation: WooRank automatically generates new leads for your site with its form builder.
Assistant: This new tool allows for faster webpage analysis and a better user experience.
Pros
Mobile Rendering
Social media data
SERP ranking and backlinks
Website analysis of your competitors
Marketing checklist and site crawl analysis
Cons
WooRank offers a pricing plan that starts at $53.25/month when billed annually. It also comes with a 14-day free trial period.
13. Majestic (Best for Creating Detailed Presentations)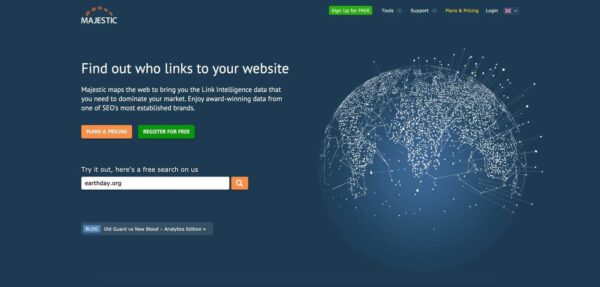 Majestic is a popular SEO tool among SEO experts. However, it is best known for its advanced backlink analysis feature. With this SEO software, you can discover sites linking to your website. This is to help you identify and audit weak or strong sites that link to your website.
With Majestic, you can perform the following activities:
Track your competitor's activities
Use its link context tools to find strong backlinks
Discover the backlink your competitors are using
Features
Site explorer – find trustworthy websites for link building.
Majestic campaigns – track websites and observe metrics.
Link context – identify relevant links and see their description.
Filter report – apply different filters to see the relevant metrics.
Compare metrics – compare any two websites.
Competitor analysis – discover the backlink profile of your competitors.
Majestic SEO tool offers a rank tracker, search explorer, bulk backlink checker, keyword research, and more.
Pricing: Majestic's pricing plan starts at $49.99/month.
14. Surfer SEO

SurferSEO offers SEOs one of the most comprehensive data-gathering experiences available. It simplifies keyword research and gives users an excellent way to see the keywords competitors use to rank on Google.
Users can use the content planner to create an effective keyword strategy. The site audit feature then ensures that your website is free of technical SEO issues. SurferSEO is a well-rounded tool that will help you elevate your SEO game.
Features
Content Planner: it allows you to create an effective keyword strategy for your website.
AI Outline Builder: You can easily create high-quality content optimized for your target keywords using an AI outline builder.
Content Editor: This is an excellent tool for writing articles directly on the platform while ensuring proper keyword density.
The Audit tool: provides a comprehensive overview of your website's technical SEO health and highlights any issues that need to be addressed.
The Surfer Academy: is an excellent resource for those interested in learning more about SEO and how to make the most of the tool.
Pricing
Surfer SEO is free but has a basic plan that starts at $49/month.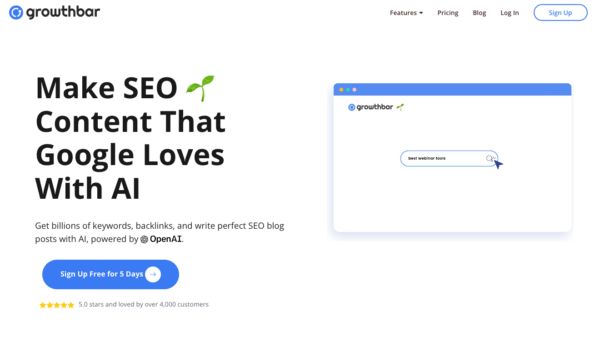 This SEO tool uses artificial intelligence (AI) to provide all your SEO needs. GrowthBar is a tool created with Open AI, the most advanced language model ever created. That means the outcomes and recommendations are the best they can be. It's slick, sleek, and completely intuitive.
It's becoming popular for entrepreneurs, small businesses, and freelancers due to its simple user interface and robust data sets. Customers of GrowthBar include more well-known companies such as Minted, MagicJack, Square, Spekit, and Teepublic.
Its AI tools include AI Outlines, AI Metas, and AI blog posts. The AI blog post tools enable you to write SEO-optimized content in minutes. With the AI Metas, you can generate captivating meta descriptions, blog ideas, and create killer blog titles with high CTR that ranks. The AI Outline tool allows you to create impressive blog outlines.
Features
Organic Research: View millions of keyword suggestions and their competitiveness score.
Content Generation: Generate blog post outlines with proper keywords, headlines, word count, links, tone, and more, all with one button click.
Link Analysis: Get link alerts when your competitor's backlinks change, including new and lost links.
Keyword Tracker: Monitor your keywords' SERP positions and receive notifications when they change.
Competitiveness Metrics: View your competitors' top organic keywords and backlinks, and export any metrics to an Excel-compatible CSV.
Other SEO tools it offers include keyword research tools, keyword tracking tools, competitor's analytical tools, backlinks, and more.
Pros
Bloggers' content creation.
Understand your competitors' top organic keywords, Google Ads keywords, backlinks, and Facebook Ads.
To help you build your content strategy, get word counts, difficulty scores, keyword suggestions, backlinks, and more.
Cons
There is no SEO audit feature
Growth Bar does not have technical SEO metrics
It lacks historical tracking data
This SEO tool is suitable for bloggers, agencies, and marketers. It provides a pricing plan that starts at $29/month with a 5-day free trial period.
16. Site Checker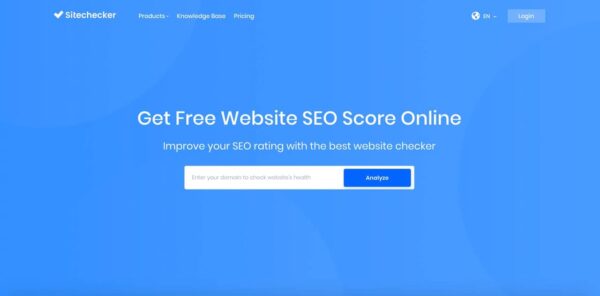 Site Checker is an auditing and SEO tool that offers robust SEO solutions and is suitable for in-house marketers, agencies, and small business owners. Sitechecker is an SEO tool to improve your SEO rating and performance. The software offers detailed SEO audit reports with 100+ parameters with how-to-fix guides. You can easily find mistakes in technical SEO for a specific URL.
Website SEO monitoring helps you to sustain the right SEO strategy by providing you with regular insights on indexing issues, changes in content strategies, and shifts in your SERP ranking. This feature also allows you to evaluate visitor activities, including suspicious behavior like hacking.
Features
Check Your Keyword Rankings: View your keyword rankings (including local and mobile rankings).
Website Change Monitoring: Their continuous website scans audit your site and provide information on changes you've made and how they affect your SEO scores.
Daily Backlink Tracking: Receive notifications whenever new links point to your site (or disappear), allowing you to take action.
On-Page SEO Audits: Sitechecker scans your web pages and reports on issues that need to be addressed.
Website Traffic Checking: You have complete access to competitor site traffic, with other website traffic trackers to gauge your website traffic.
Pricing
Its basic plan costs $41/month and allows for unlimited users. However, this plan only allows you to track three websites, and it allows for the tracking of 3000 backlinks.
The Growing plan, which costs $166/month, offers lesser limitations.
17. SEO Quake ( Best for Quickly Discovering New SEO Trends)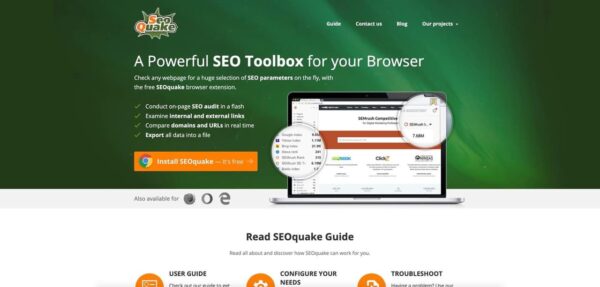 SEOQuake is an SEO plugin that can be installed on your browser. It offers completely free features. You will be able to use it on any site you go to. It gives useful information about SEO metrics, internal and external links, and more. You can also compare two domains in real-time with SEOQuake.
With this SEO Toolbox, you can perform the following activities:
Conduct site auditing
Analyze internal and external links
Analyze and compare competitor's sites and URLs
Control what displays on your screen when conducting an SEO research
Features
Perform a thorough SERP analysis: It provides a detailed analysis of the SERP and allows you to compare your results to the competition's.
SEO Bar: You must navigate the web pages using SEO Bar, which will provide you with quick information.
Keyword Analysis: Generates detailed and structured keyword reports based on proper keyword analysis. After examination, SEOQuake provides reports that result in effective decision-making.
SERP Overlay: It allows you to view a comprehensive analysis of the SERP and export results in CSV format.
Print and Export: You can save data in CSV format from any file.
Pros
Real-time URL and domain comparison
Investigating the internal and external link
Performing an on-page SEO audit
Data export to CSV file format
Cons
The parameters can confuse beginners and new users
Pricing
SEO Quake is free
18. Serpstats (Best For Optimizing and Running Campaigns)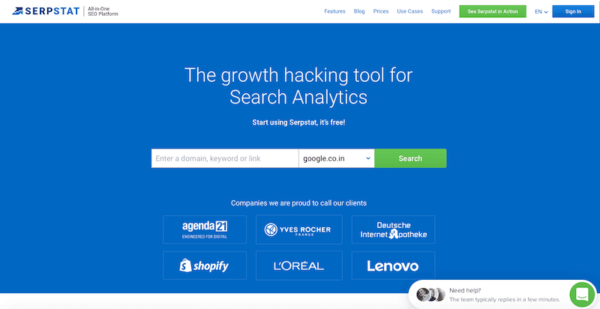 Serpstat is a powerful search engine optimization tool. It comes with everything you need to outrank your competitors. The Serpstat tool does keyword research, research on competitors, PPC analysis, and other things like that.
To keep things simple, the dashboard is smooth and easy to use. It also helps site owners keep track of the backlinks of their competitors.
Features
Site Audit: Cleans up your website, HTML, and page speed while never allowing you to overlook any potential errors.
Website Analysis: Serpstat performs a website analysis by monitoring the domain and URL of the website. In-depth SEO and PPC research are included in the analysis.
Competitive analysis: enables you to track your competitors' keyword strategies and recommend the best tactics to use.
Keyword Research: includes Cluster research, search suggestions, search volume, content marketing, and SERP analysis
Backlink Analysis: Gathers complete backlink data for the previous two years and monitor your competitors' backlink strategies.
Other features include SERP crawling service, search volume crawling service, batch analysis of domains and keywords, checklists, clustering, API, and integration.
Pros
Keyword variations and international data collection
Examining the usefulness of various websites
Keeping track of universal search results
Discovering your competitors' advertising strategies and budgets
Cons
For large websites, site auditing is relatively slow.
It occasionally displays incorrect keywords.
The Serpstat pricing plan starts at $48/month when billed annually.
19. SiteLiner
This SEO tool is best for page optimization. It offers tools that enable Google to rank your site higher. Siteliner acts as a duplicate content checker. It examines your site for similar content.
Similar content hinders higher ranking on Google SERPs, so Siteliner provides a solution that combs your site to find areas for improvement. In addition, Siteliner identifies broken links on your site and replaces them.
Features
Broken Links: Scans the website thoroughly for broken links to ensure that every link works properly.
Download Credible Reports:
Download an accurate report of the website's performance based on Siteliner's analysis.
Page Power: Determines the strength of a page based on the number of backlinks.
Duplicate Content: Siteliner evaluates the same content on the website. Instead of scanning every page at once, it scans 500 pages at once.
Reports: Displays a detailed report for each page and a standard XML sitemap.
Overall, this SEO tool can be used to identify technical issues that affect your site's quality.
Pricing
Siteliner's free plan allows you to analyze up to 250 web pages. But the premium plan allows for analyzing up to 25,000 web pages.
20. Fat Rank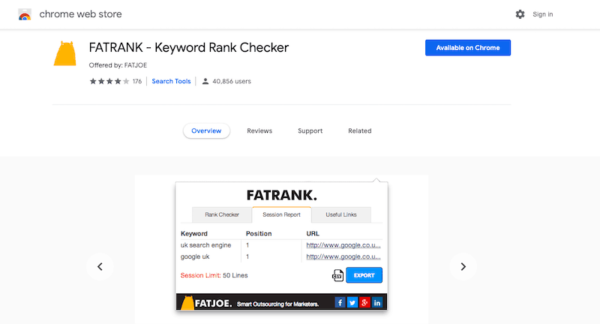 Fat Rank is a free Google Chrome extension that can be used as an SEO tool. It provides simple but advanced features that enable you to make the best out of your SEO strategy. Fat Rank offers an unlimited keyword tool, graph feature, and PDF/CSV reports.
Features
Graph Feature: The graph feature shows how the ranking of web pages has changed over time.
CSV and PDF reporting: Export reports in CSV and PDF formats for further analysis or sharing with colleagues.
CSV and PDF Reporting: It sends the user detailed and robust analytical reports in both CSV and PDF formats.
Unlimited Keywords and Domains: Fat Rank provides unlimited keywords for any website that helps users outrank their competitors.
Countless keywords and domains: Track rankings for unlimited keywords across multiple domains.
Pricing
It is a completely free solution with no price attached.
21. SEObility (Best for Real-time Website Monitoring)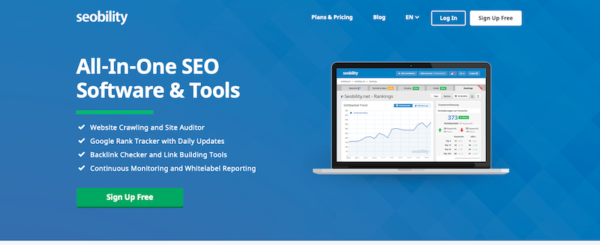 SEObility is another amazing SEO tool that offers a solution called TF*IDF. This solution enables you to spy on your competitor's SEO secrets. In addition, SEObility helps entrepreneurs quickly improve their search engine rankings by giving them daily updates and tools for building links.
It also quickly crawls a website's linked pages and finds problems, like duplicate content and broken links.
Features
Keyword Monitoring and On-page Analysis: On-page crawling and keyword monitoring provide users with appropriate improvement suggestions.
Google's Local Search Results: Users can also evaluate and monitor local search results, which will help them rank higher for a specific targeted group
Rank tracking allows you to monitor daily keyword rankings based on demographics and search engines.
PDF Export and Email Reporting: Create regular reports to show changes in website rankings.
Competitors Comparison: Explores and compare the content of your competitors' websites quickly so you can optimize your process.
Other SEO tools offered by SEObility include On-site Auditing tools, Rank tracking tools, backlink checking tools, and keyword checking tools.
Pricing
It offers a free plan, but its paid plan starts at $50/month.
22. Screaming Frog (Best For Streaming Fast Audits)

Screaming Frog is an SEO auditing tool that optimizes your website and makes it acceptable to Google. You must enter your website's URL, and it will begin crawling to look for broken links, missing tags, duplicate content, and so on.
Screaming Frog notices almost every mistake. In addition, this tool crawls through your website to identify hidden technical issues.
Features
Redirect Audit: Aids in identifying both temporary and permanent redirect chains.
Duplicate Content: Looks for identical content, URLs, and other elements.
XML Sitemaps: Generate XML sitemaps quickly by performing proper advanced URL configuration.
Analyze Metadata: Examine your metadata and page titles to ensure they are of sufficient length.
Robots.txt: Aids in auditing the robots.txt file clearly indicate any problems.
Pricing
It offers a free version with limited functionality, but its paid plan starts at $149 per year.
23. Jasper AI (Best SEO Tool for Content Creators)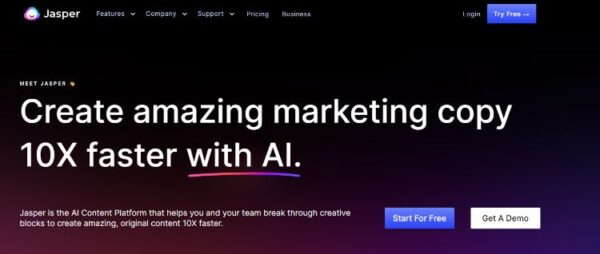 Jasper is an AI content platform that assists you in creating, promoting, and measuring content that is relevant to your audience. Natural language processing (NLP) and GPT-3 AI generate custom-tailored content in seconds, whether for web copy, blog posts, or entire marketing campaigns.
Jasper makes it simple to create SEO-friendly, engaging, and data-driven content. Jasper is an excellent choice for marketers and content creators looking to automate their writing process, with multiple language support, tons of templates, and even its renowned Boss Mode feature that allows you to create content in bulk.
Features
Create AI art and visuals for your blog posts or web copy, or modify existing ones.
Integrate Surfer SEO to make the most of your content.
Boss Mode enables you to create content in bulk by using commands.
Starter mode employs templates to assist you in quickly creating SEO-friendly content.
You can use the Jasper Chrome Extension to create content directly from the browser.
Create content in over 20 languages to reach a global audience.
Pricing
Jasper offers the following pricing plans:
Starter: $42/month+
Boss Mode: $82/month+
Business: Custom plans are available
24. Keyword Everywhere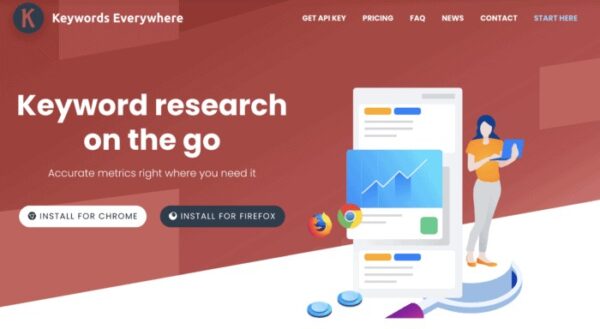 Keyword everywhere is a chrome extension that offers advanced keyword research features. This add-on shows you the monthly search volume of a keyword to enable you to understand your chances of ranking higher with the keyword.
It also shows you the cost per click attached to a keyword and how competitive it is. Keyword Everywhere is a freemium tool that allows you to save or download data related to a keyword.
Features
Traffic Metrics: Keywords Everywhere displays monthly traffic estimates for any page you choose. You can also see how many distinct keywords that page ranks for in search results.
On-Page Analysis: The Keywords Everywhere content analysis tool extracts keywords based on how frequently they appear in the range.
Trend Charts: Trend charts show the keyword's popularity over time. Data is available for both Google and YouTube keywords.
Keyword Research Widgets: Keywords Everywhere has two main keyword widgets. The first is a 'Related Keywords' widget, and the second is a 'People Also Search For' (PASF) widget.
Youtube Metrics: Even with the free features, YouTube metrics are extremely powerful. Keywords Everywhere display the following top search metrics:
The difficulty of ranking
The best channels
Video views on average
The average video age
Popular video tags
Keyword Importation: Keywords Everywhere lets you obtain accurate information about keywords; you can easily import a list of them and see the following:
Monthly search volume
CPC data
Competition level
Trend data
Pricing
Its paid plan offers pricing that starts at $10. For $10, keyword everywhere offers you 100,000 worth of credits. Each keyword research you conduct consumes some amount of credits.
25. Answer the Public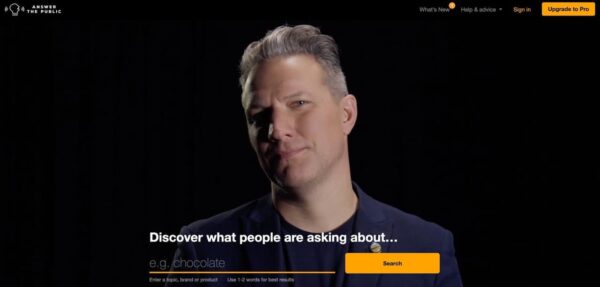 If you have trouble coming up with ideas for content, you might want to ask Answer The Public for help. This tool keeps track of what people search for online all the time.
If you type in the keyword you're interested in, it will show you useful questions or phrases that other people have used to look for that keyword.
Answer The Public is a content-generating tool. It provides you with insight into what people are actively searching for. It borrows data from Google to provide you with popular questions surrounding a keyword.
Features
Discover relevant and natural long-tail keywords – find out low competition long-tail keywords.
Monitor trends in real-time – be updated with and track new trends.
Discover hidden niches – look out for unexplored niches.
Keyword search – choose the best keywords for you.
Search listening alerts – get weekly emails on any topic.
Pros
It reveals questions people search around a topic or keyword
It enables you to create targeted and optimized content
Answer the public allows you to discover questions your prospects have about a topic
What Are The Best Free SEO Tools?
These free SEO tools provide advanced and powerful solutions that meet your individual SEO needs. It is only suitable to be used for personal purposes.
Google Search Console
This SEO tool by Google is completely free. You can access all of its features without restrictions. With this tool, you can audit and optimize your site for SEO. In addition, it allows you to view your site performance and the technical issues that could hamper your SEO progress.
Google Trends
Google trends is a Google product that shows current trends around the world. This site allows you to discover trends before they become hit. In addition, this product comes with a simple and easy-to-use interface. For example, you can discover how trendy a keyword is in a specific location with Google trends.
Google trends use charts to show the popularity of a keyword in the last 12 months. After inputting a keyword into its search menu, Google trends show you topics related to the keyword and related queries. This product is a free tool by Google; therefore, it offers no pricing plan. However, it can be used to conduct keyword research.
SEMrush
SEMrush is a premium SEO tool that offers a free version. Although this free version has limitations, its features are great for personal purposes. SEMrush free version enables you to analyze every aspect of a domain and also enables you to make a data-driven SEO strategy.
Bing Webmaster Tool
This tool crawls your site to identify SEO issues. Then, like Google Console, Bing Webmaster optimizes your site and gives you insight into your site's performance on Bing's search engine.
SEObility
SEObility is a free SEO tool that allows you to track your SEO ranking on Google SERPs. It has a backlink checker, site-auditing tool, and keyword-checking tool. However, the free version contains some limitations.
Google Analytics
Google Analytics is a free product created by Google. This tool provides all you need to create an effective SEO and marketing strategy. It shows you what is working and what's not to enable you to identify technical issues. In addition, Google Analytics lets you track your website's traffic and daily clicks.
What are The Free SEO Tools for Your Keywords?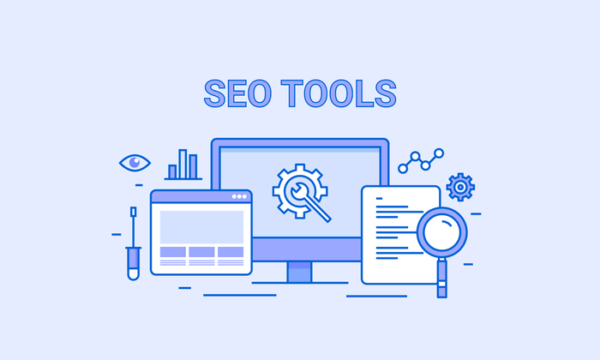 Free keyword SEO tools provide free solutions that aid your keyword research process. Here are the best free keyword tools.
Google Trends
Google Trends is a Google product that tracks trends happening around the world. For example, it enables you to discover the trend surrounding a keyword and how popular it is in different locations.
UberSuggest
UberSuggest is a free SEO keyword research tool created by Neil Patel. It enables you to discover the search volume of a keyword and how difficult it is to rank for a keyword.
Ask the Public
This is a good keyword research and content-generation tool. First, it provides data on the questions people ask around a keyword. Then, with it, you create targeted and personalized content that drives sales.
What is Search Engine Optimization(SEO)
Search Engine Optimization (SEO) is improving every aspect of a web page to attract organic and free traffic. SEO is a practice that aims to improve a site's ranking on Google's search results pages.
What is SEO Metrics
SEO metrics are, in a nutshell, all the things that affect where a website ranks in the search engine results pages. A standard part of any SEO strategy is to look at the current metrics, find ways to improve them and keep an eye on them. Several of these factors can be changed by a single SEO action, so it is very important to keep track of them. This is the best way to determine if the SEO strategy is working and what else can be done to improve it.
What is an SEO Crawler?
An SEO crawler can help you find and fix problems that keep search engines from accessing and crawling your site. It is still an important but hard-to-find tool for any good SEO expert. We talked to Julia Nesterets, the founder of the SEO crawler Jetoctopus, to find out what an SEO crawler is and why it's so important.
If you are a webmaster or work in SEO, this is probably the saddest message you will ever get. Google's bots may ignore your page's content and SEO work and not index it. But the good news is that this problem can be fixed!
Search engines were made to crawl, understand, and sort online content to give users the best and most relevant results. However, the online visibility of a website can be hurt by anything that gets in the way of SEO. So, one of the main goals is to make your website crawlable, which can show you if there are any problems with your web hosting service.
In addition, by making your site easier for search engine bots to crawl, you can help them figure out what your pages are about and boost your Google ranking.
How Can a Crawler Help You With SEO?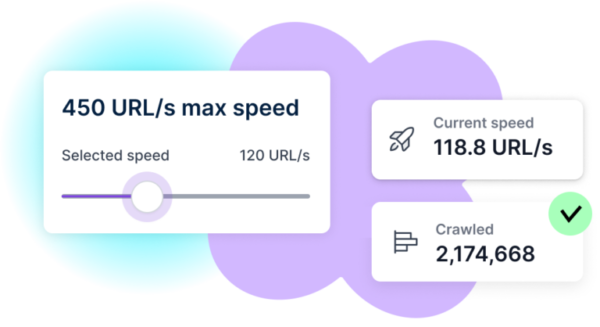 1. It Gives Feedback in Real-time.
AN SEO crawler can quickly crawl your website (some can do it as fast as 200 pages per second) to find any problems. The report looks at the URL, site architecture, HTTP status code, broken links, details of redirect chains and meta robots, rel-canonical URLs, and other SEO issues.
The technical SEO and development teams can easily export these reports and look back at them to decide what to do next. So, an SEO crawler is the best way to ensure that everyone on your team knows how your website is crawling.
2. It Finds Indexing Mistakes Quickly.
Indexing mistakes that are hard to find, like 404 errors, duplicate title tags, duplicate meta descriptions, and duplicate content, often go unnoticed. Using an SEO crawler during regular SEO audits can help you find these problems, which can help you avoid bigger problems in the future.
3. It Tells You Where to Begin
Any SEO professional might feel overwhelmed by the thought of making sense of all the available reports. So, choosing an SEO crawler that focuses on problems and helps you put them in order of importance is best. A good crawler should help webmasters focus on the most important issues by giving them an idea of how big they are. So, webmasters can fix important problems as soon as they arise.
The Top On-page SEO Factors to Consider Before Choosing an SEO Tool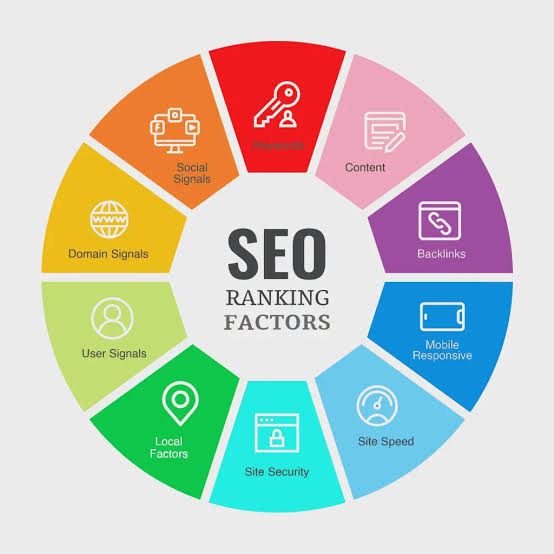 Here are some of the most important on-page SEO factors you should think about and try to improve:
● Title Tag
The title tag is one of the most important parts of optimizing your web page for search engines. Therefore, it should include keywords that are relevant to your domain and be clear and to the point.
● Meta Description
A meta description summarizes search engine results pages under the title tag and URL (SERPs). It helps people decide which link to click before going to a webpage. Your meta description should include relevant keywords that accurately describe what people will see on your website and be interesting enough to make people want to stay.
● Headings
Headings are important because they break up your text and make it easier to scan and read. Make sure that heading tags (H1, H2, etc.) have relevant keywords, but only use them if they make sense in the context of the content.
● Image Alt Text
Search engines can also index images, so don't forget to add an alt tag that accurately describes what the image is about. This will help with SEO and make it easier for people to use your website since even if they can't see the picture because of their browser settings or something else, they'll still know what it's about.
● Internal linking
Linking to other pages on your website is a great way to spread link equity throughout your domain and improve user experience by keeping visitors interested. However, it's important to ensure that the content you link to is relevant and that the anchor text isn't just "click here."
● Page Speed
How long people stay on your site and how likely they are to come back depends on how fast your pages load. Use caching technology, add a Content Delivery Network (CDN), and consider using Google AMP or Progressive Web Apps (PWAs) if relevant.
● Mobile Optimization
Now that mobile devices get more traffic than desktops make sure your website looks good and works well on all sizes of devices. Mobile optimization should include making the site responsive, making buttons and links easier to touch, and ensuring images are the right size.
How Much Should You Spend on SEO?
If you want to hire someone to help you with SEO, it can cost between $75 and $150 per hour ($750 to $1,500 per month) for an SEO expert. High-end digital marketing firms may charge up to $20,000 monthly for complex work on large websites. SEO tools are also free or cost about $99 per month. Calculating your return on investment (ROI) based on your website and niche is the first step in figuring out how much to spend on SEO. You also do SEO on your own, it takes time, but it is sure.
How Long Does SEO Take?
Most of the time, it takes three to six months for your SEO work to pay off. If you just started a blog and your website is brand new, it will take longer to index than a well-known, high Domain Authority (DA) site. For instance, it took me about eight months to get my first 100,000 monthly visitors.
Now that my DA is higher I can write and index a new page, which could show up on pages 2-3 of Google the same day. Overall, the best way to improve your search rankings is to consider each blog post a long-term investment and make regular updates.
How to Choose The Best SEO Tools for You?
Before choosing the best SEO tool for you, you'll need to figure out what you need from SEO. If you're starting, it might be best to choose a tool that's simple, easy to use, and has tutorials for people who are just beginning. But if you're an experienced digital marketer, you'll get more out of a more advanced tool.
It would help if you thought about how big your business is. Small and medium-sized enterprises and large companies will have different needs than people who just got their first website. If you have a lot of people working together on SEO tools, the best tool will be one with good ways to work together.
Also, keep an eye on the user interface and dashboard. You might miss important insights and waste time if the data isn't easy to understand. Last, you must consider your budget and choose a tool based on that.
Related: 31 Bloggers Who Make a Lot of Money
Bottom Line
As you grow your online reach, the most important thing is to find the right SEO tool for your needs. As you can see, there are many options on the market, both paid and free. You could also use two SEO tools since they might have features that work well together.
Before looking for the right tool, you should know your business goals and how SEO can help you reach them. SEO is a long-term process, so being picky is the best way to ensure you choose the right tool to help you in the coming months.
Frequently Asked Questions
Q: How can I Learn SEO
SEO is not difficult to learn on your own. There are numerous trustworthy and valuable learning resources available online. Blogs, YouTube guides, and online learning platforms can all help you learn. In addition, the SEO community is vast and extremely helpful. You can learn the fundamentals of SEO by visiting reputable SEO forums and asking members for assistance when you hit a brick wall.
Q: What is SEO Writing?
SEO writing is writing content that can be optimized for search engines. It involves researching keywords and writing content that can be crawled and indexed by any search engine.
Q: What are the types of SEO?
There are three types/kinds of SEO are:
On-page SEO, off-page SEO, and Technical SEO. Technical SEO deals with site indexing, Off-page SEO deals with backlinks, and On-page SEO deals with keyword-optimized content.
Q: What is SEO in Digital Marketing
SEO in digital marketing is creating optimized content that drives online sales. It is the process of using organic traffic to market a product or service.
Q: Is SEO difficult?
SEO is hard because you need to know a lot about many different things, and search engines are always changing and updating their algorithms. To be good at SEO, you must build your website's Domain Authority (DA) through link-building. You also need to know how to write content that ranks well and be an expert at keyword research, writing, content marketing, WordPress, and more.