Last updated Mar. 12, 2023 by Favour Chinaza
There are so many choices to make when choosing marketing automation software. Unfortunately, when choosing a marketing automation tool, most companies have to deal with this. An internet search of marketing automation tools will lead you to a countless list.
However, you don't need to go through those lists to find the fit for your small business ideas. It can be hard to determine the differences between the tools and the industry landscape. Because we've been there, we know.
What is Marketing Automation Software?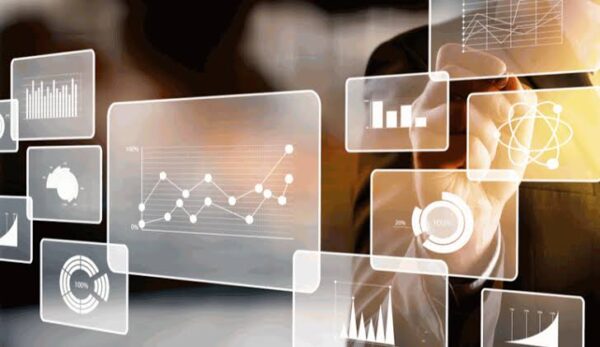 Marketing automation tools use software to do tasks that are done over and over again in marketing. For example, some platforms only have email actions, drip sequences, and CRM updates. Others might help with lead scoring, sales lead rotation, SMS, and more.
By automating your marketing tasks, you can make your business more efficient overall and have more time to work on high-level projects. For example, you can use marketing automation tools to gather useful information that can be used to make marketing campaigns more personalized and increase conversion rates.
This article has researched and reviewed the best marketing automation software in the market. They offer all the solutions businesses need to scale their marketing campaigns.
17+ Best Marketing Automation Software Tools Ranked
1. HubSpot Marketing (Best for Centralizing your tech stack)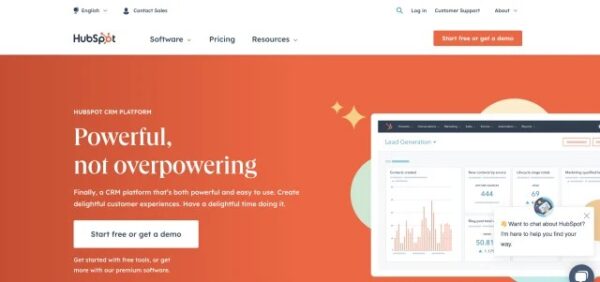 HubSpot Marketing is a marketing automation software widely tagged as the best marketing software due to its tools enabling efficient marketing campaigns. It has a comprehensive inbound marketing solution that accelerates your sales and develops your ROI.
In addition, this marketing software can assist you in creating and expanding your website and regulating your campaigns' efficiency.
HubSpot enables lead generation via multiple channels. In addition, it allows for customization by enabling users to create and design their content and workflows. Some of Hubspot's marketing automation tools include a drag-and-drop editor, landing page builder, and lead management tools.
Hubspot makes it easy to create targeted emails and allows for building and designing triggers. In addition, HubSpot, which is suitable for large businesses, comes with CRM integration and email marketing automation tools.
Key features
Visual automation builder and multi-step marketing workflows
Powerful CRM tool for effective lead management
Landing page builder tool to boost lead generation
A/B Testing tool to find the winning combination
Predictive Lead scoring option
Various CRM integrations with other best CRM software
Clean and straightforward interface
Lead tracking and metrics
Social media management.
Regular lead nurturing
Personalized lead management
Advanced Automation
Pricing
The platform has a free plan for marketing contacts with up to 1,000 people. But if you want to use the tool's advanced automation features, you have to pay for a Professional plan, which starts at $800 per month. But, Its purchase plan begins at $45 monthly.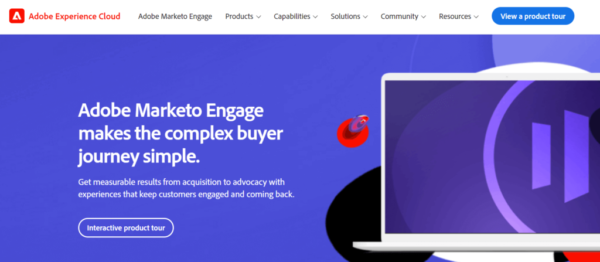 This is one of the top marketing automation tools focusing on lead behavior tracking. It provides useful customer data that aids in the creation of data-driven marketing campaigns.
This marketing automation software enables the easy creation of marketing campaigns and provides insight into your marketing campaigns' impact on sales.
With Marketo, you can connect with prospects via emails and all social media channels. Adobe Marketo includes content personalization tools, lead management tools, and a dashboard. The dashboard provides real-time data for effective marketing campaigns. In addition, Marketo allows for a personalized customer experience, audience segmentation, social media marketing campaigns, marketing automation, and more. It also makes use of Artificial Intelligence for contact segmentation.
Key Features of Marketo
Marketing Impact Analytics
Marketing Data Environment
Sales Partnership tools
Cross-Channel Engagement tool
AI-powered content personalization
Powerful marketing data environment
Landing page builder tool
Dynamic lead nurturing tools
Sales insight
Plug and Play Integrations
Advanced BI Analytics
Advanced Journey Analytics
Who Can Use Marketo Automation Software
Marketo is a great tool for businesses that want to use more than just basic marketing automation. It's not the most expensive tool, but it's also not the cheapest. So if you don't plan to use the system's advanced features, you can get the same results with one of the more affordable tools. But if you want to start with the basics and then move on to more advanced features soon, you might want to start with a tool like Marketo so that you don't have to move all your data and campaigns later.
Why We Love Marketo
We like that Marketo has a large and active knowledge base, a great resource for new users.
3. Ontraport (Best for E-commerce Automation)
Ontraport, unlike other marketing automation tools, is a business automation software designed specifically for entrepreneurs, solopreneurs, and small businesses.
While it includes CRM and marketing automation functionality, it has several other features for running and growing a small business, such as email marketing, landing pages, reporting, and eCommerce.
One of the most valuable features of Ontraport is its emphasis on reporting and insights. While some tools can be a bit of a mystery, Ontraport provides a clear picture of the performance of your campaigns.
Key Features
Customization
Workflow automation
Chat and Email Campaigns
Lead management
Landing Page Builder
Event Tracking
Content management
Project Management
Customer Relationship Management
Analytics and Visualization
Social Media Automation
Shopify Integration
Pricing
Ontraport does not have a free plan but provides a free 14-day trial with each of its four paid plans. The basic plan of Ontraport costs $29 per month and includes unlimited email sending and drag-and-drop marketing automation.
4. Activecampaign (Best For Advanced Marketing Automation)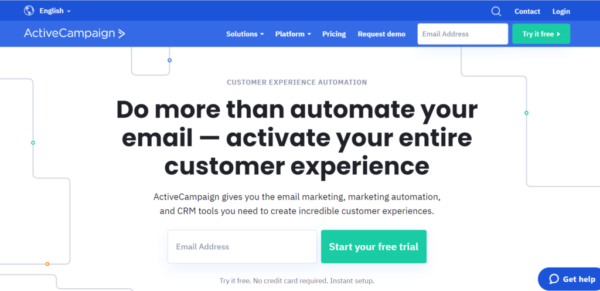 ActiveCampaign software is best known for its advanced marketing automation tools, especially email marketing. It is a B2B and B2C software with everything you need to create effective marketing campaigns.
It comes with CRM and emails marketing functionalities suitable for start-ups and advanced marketers.
In addition, ActiveCampaign offers some free marketing automation tools such as subject line generators, webinar templates, freelancer resources, SaaS homepage audit worksheets, CRM templates, cart abandonment tools, content templates, e-commerce integrations, and more.
Key Features
Drag-and-drop flowchart builder
Event tracking options and hyper-personalization
In-built CRM to assist marketing and sales teams
Reporting and analytics for eCommerce platforms
Customer Behavioral Tracking
E-commerce Functionality
Transactional Email
CRM and Sales Automation
Sales Engagement Tools
Drag-and-drop email editor
Site and Event Tracking
Pricing
Activecampaign offers a cheap pricing plan that starts at $9/month. Its pricing depends on the number of contacts to be managed. The $9/month plan allows for 500 contacts.
5. Pardot ( Best for B2B Companies)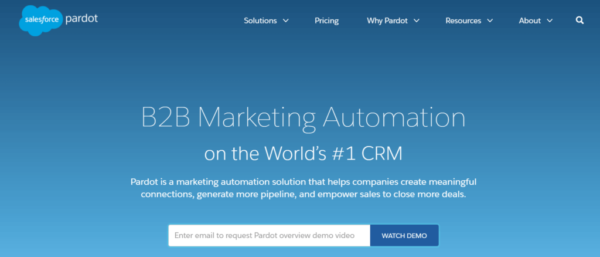 Pardot is a B2B marketing automation software and tool. It assists businesses in automating processes such as lead generation, sales, marketing tasks, and more. Pardot software allows a visual editor to create workflows, and their advanced solutions identify and generate high-quality solutions.
With Artificial Intelligence (AI), Pardot improves the efficiency of its marketing automation and allows you to track the performance of your marketing campaigns across all channels.
It has a customization feature and a 350-degree view of all your leads and contacts. Pardot gives you access to many tools, but it isn't the best choice for small and medium-sized businesses (SMEs) with low budgets.
Key Features
Lead Generation tools
Lead management tools
Email marketing automation tools
Active Tracking options
Integration with popular apps
Sales and Marketing alignment with Salesforce CRM
ROI Reporting
Artificial Intelligence enables lead scoring, campaign insight, and behavior scoring.
Pricing
There is only a free demo of Pardot, which you can find on the site for the tool. Paid plans start at $1,250 per month, with the Growth plan for up to 10,000 contacts billed annually.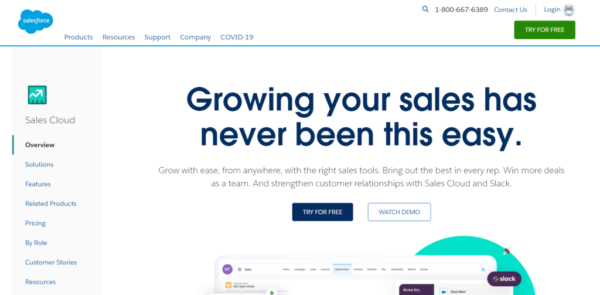 Salesforce is a customer relationship management software (CRM) that performs marketing automation functionality. This software comes with packages that boost every aspect of your business. For example, your business can get a complete view of competitions, quotes, stages, and deals with its opportunity management solution.
Salesforce's Einstein Analytics uses artificial Intelligence to discover useful sales and marketing insights. With Salesforce, you can create and manage multiple marketing campaigns from a single platform. This platform enables you to track your performance, measure the stages of your campaigns, and make predictions.
Key Features
Contact and Lead Management
Activity Management
Pipeline and Forecast Management
Segmentation
Data Management
CRM Lead Generation
Measurement and Optimization of ROI
Pricing
Sales Cloud comes with a 30-day free trial, giving you plenty of time to see if it's right for you. After that, paid plans begin at $25 per month and include the essential features. After that, however, you should choose a higher-tier plan for more advanced sales-oriented features.
7. Act-On (Best for marketing agencies)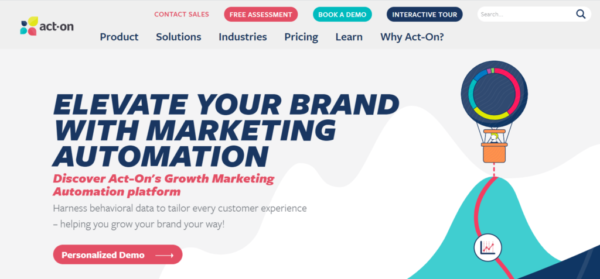 Act-On is a marketing automation tool that includes lead management, email marketing, social media management, and other features. The tool is extremely useful for inbound marketing automation, and it enables marketers to scale their businesses by generating B2B demand.
By automating buying journeys and personalizing messaging and campaigns, marketers can optimize the entire customer journey and drive exceptional brand experiences.
Key Features
Landing page editor with drag-and-drop functionality
Lead scoring, segmentation, and nurturing that are dynamic
Data quality control
Purchase journeys that are automated and adaptable
Pricing
While Act-On does not offer a free trial, it provides a free demo. Paid plans begin at $900 per month for up to 2,500 active contacts, with the Enterprise plan required for account-based marketing and advanced reporting.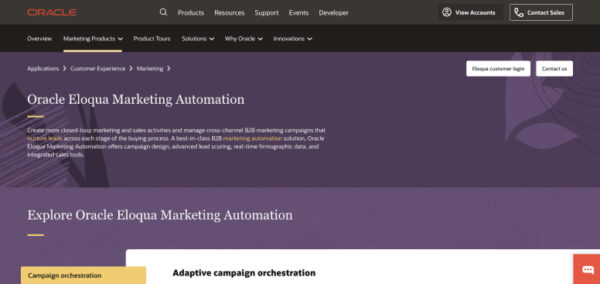 Oracle Eloqua is an automation tool that boosts business growth, revenue, conversion rates, and customer satisfaction. Oracle created a B2B product to provide solutions for sales and marketing teams. With Oracle Eloqua, your team can create and manage marketing campaigns, nurture leads, and convert B2B leads.
Key Features
Audience Segmentation and Targeting
Campaign Orchestration
Lead Management
Asset Creation and Management
Customer Behavior Tracking
Marketing and Sales Alignment
Centralized Dashboard
Pricing
Oracle Eloqua offers a pricing plan that starts at $2000/month. This plan enables the management of 10,000 contacts, limited to ten marketing users & five sales users.
Who should Go For Oracle Eloqua
Don't look at Eloqua unless you want enterprise-level software and have the money for it. Now, if you do, Eloqua is a great choice, especially if you like getting a lot of help from the companies that sell you technology. In addition, if it's important to you to have tight CRM integration, you should also think about Eloqua.
Moosend is one of the best all-in-one marketing automation tools. It has features that will help you automate your work and get more leads. How? Well, the service has an advanced workflow builder, pre-made email newsletter templates, landing pages, lead generation, and an option for integration with other lead generation tools, and forms, making it one of the best marketing tools.
The platform gives you the tools to keep in touch with your audience through email marketing campaigns, grow your list and divide your audience into groups for better targeting, and track important metrics to measure success. Also, the platform's personalization features let you automatically send content that fits each subscriber's needs.
Overall, Moosend is a powerful platform that is both affordable and easy to use. It has tools for marketing automation, lead generation, reporting and analytics, integrations, and more.
Key Features
Advanced marketing automation to help you run your business more efficiently
Automation workflows that have already been created to save time
Personalization features allow for more personalized content delivery.
Lead generation can be boosted by using landing pages and an online form builder.
Real-time reporting and analytics to track your progress
Integrations to link your apps and boost your productivity
Pricing
Starting at $9 per month, you can use all the features, such as email and automated workflow editors, pre-made newsletter templates, an SMTP server, and more. You can also make a free account to try it out (no credit card required).
10.
Constant Contact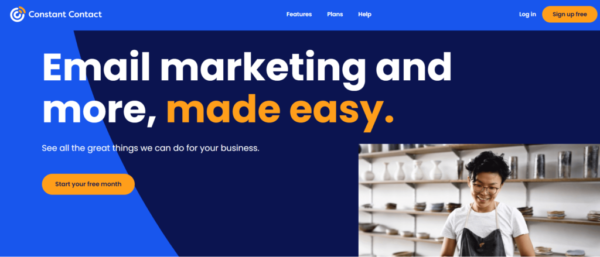 Constant Contact has become well-known because it has powerful tools for managing event invitations unavailable on every platform. The email platform is easy to use, but it's more on the basic side, which is good for beginners but limits the pros.
When it comes to automation, the service lets you use autoresponders and tools for managing email lists to keep everything in order. Constant Contact also helps new eCommerce store owners divide their customers into groups based on how they behave online and what they buy.
Also, the marketing automation software lets you set up automated workflows based on how customers respond to emails, which will help you reach your customers better. However, automation isn't very flexible regarding more complex actions and workflows with more than one step.
Who Should Go For Constant Contact
Constant Contact is for small business owners who want to organize their email marketing quickly and don't think they'll need more advanced features in the future. If you fit this description, the tool is a good choice. However, this isn't the right tool if you want to grow your marketing automation efforts soon.
Key Features
Management tool for advanced event invitations
Online forms to boost lead generation
Simple behavioral data-driven automated workflows
Social media and eCommerce platform integrations
Autoresponders that are simple to use
Email tracking is a performance monitoring feature.
Pricing
Constant Contact doesn't have a free plan, but you can try it out for free for 60 days. After the trial period, you can choose between two paid plans that start at $20 per month.
Why Choose Constant Contact
Overall, Constant Contact will assist you in creating simple business automation. However, if you want more functionality and flexibility, you should look into a more advanced Constant Contact alternative.
11. Sendinblue ( Best for SMS, Chat, and Email Autoresponder)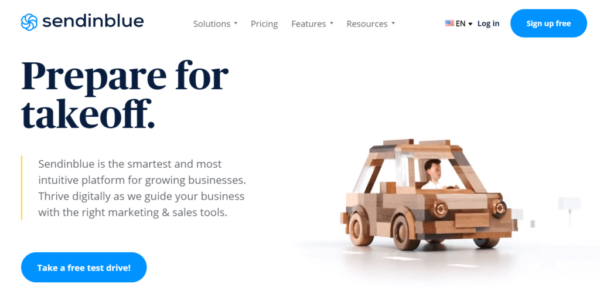 SendinBlue is a marketing automation software tool that makes email and other marketing channels, like SMS, work better together. The automation workflow builder is easy to use and has features for both beginners and experts.
Users can set up drip campaigns when certain things happen, like when someone opens an email or visits a website. So you can send the right message to the right people. Also, you can try out your flows before they go live by using the test workflows feature.
The software for marketing automation also has options for segmentation and personalization. For example, you can use the tool to show your personalized audience content based on their gender or level of engagement. Overall, SendinBlue is a very simple automation service, which makes it one of the best marketing automation software, but it doesn't work well with other integrations like CRM software.
Key Features
Messages from SMS autoresponders
Lead generation tool with a landing page builder
A/B testing to determine the winning variant
SMS and transactional email messaging
Pricing
The free SendInBlue plan only lets you send 300 emails daily to an unlimited number of contacts. After that, you can pay $25 a month for a plan that gives you more features and lets you send more emails.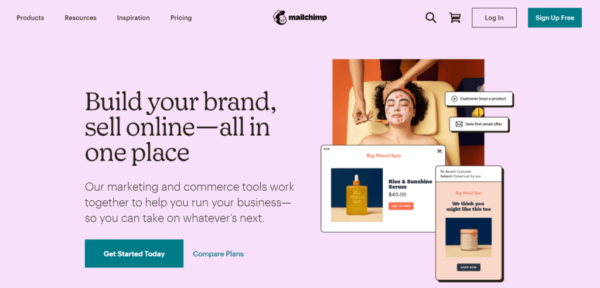 Mailchimp is one of the most popular tools for inbound marketing campaigns. Not only that, but the software is also one of the email marketing tools with the most integrations.
MailChimp lets you use if/then/else logic to automate some of your messages and make them more personal. Still, compared to other platforms, its options aren't as easy to use or good for beginners as you might think.
In the same way, their marketing automation software is made for more experienced users because the automation workflows are hard to understand.
Mailchimp also lets you connect your email marketing strategy with your social media marketing strategy so that you can manage both better. List management and segmentation are also available to set up custom relationships between your contacts based on certain conditions.
Mailchimp will give you the tools you need to set up some good automation workflows for your digital marketing strategy. But, unlike other Mailchimp options, it might be hard for email marketers who aren't very experienced.
Key Features
Behavioral targeting and advanced segmentation
Custom workflows with multiple steps to target your audience
Landing pages for lead generation
Several integrations with popular apps
Pricing
Mailchimp has a free plan that lets you connect with up to 500 people per month. After that, prices start at $20 per month for more, which gives you access to more advanced features for up to 500 subscribers.
13. Keap (Best for B2C marketing automation)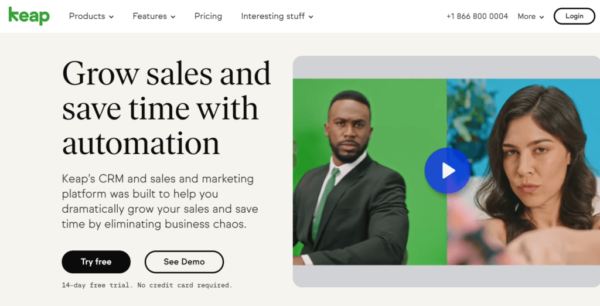 Keap, which used to be called Infusionsoft, is marketing automation software that markets itself as a solution for both small businesses and large ones. The tool is also known for the way it integrates CRM and automation, which lets you make effective marketing campaigns.
More specifically, Keap has combined sales and marketing to give you a single solution to make your business run more smoothly. Even though it's great for small businesses, it might not be the best choice for bigger ones.
Also, the automation builder is very flexible, so you can use it to make automation workflows that will make your work easier. Keap is a good choice for small and medium-sized businesses, but it is hard to learn.
Key Features
Sales and marketing automation that is integrated
Tool for simple reporting and analytics
Smart subscription form creator
Text messaging and phone calls
Pricing
You can try out Keap's service for free for 14 days. After that, you can get easy automation, CRM, and more with paid plans that start at $79 per month. Keap Pro, which costs $149/mo, is needed for more advanced marketing and sales automation.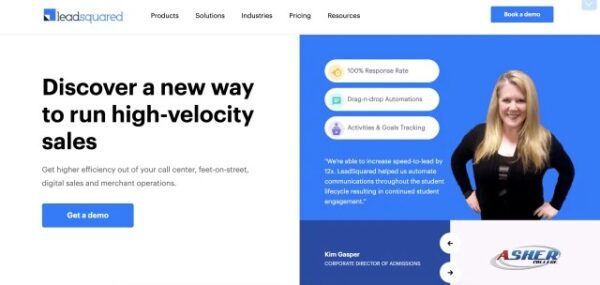 LeadSquared is the best marketing automation software for users searching for a platform with marketing and CRM functionality. This marketing tool enables high sales productivity and advanced integrations. For example, with LeadSquared, you can push a lead down a sales pipeline.
Leadsqaure is most suitable for small and medium-sized businesses tools it offers. Nevertheless, it is a great marketing automation software. You can automate your drip marketing by setting triggers, conditions, and actions, ensuring you never miss an opportunity to move leads closer to a purchase.
Some of the sales of marketing feature it offers to include behavioral insights, drip marketing, segmentation, and personalization.
Key Features
Workflow Automation
Lead Engagement tool
Customer behavior tracking tools
Customizable templates
24/7 customer support
Sales and Marketing Automation
Responsive Landing Pages
Pricing
LeadSquared pricing plan starts at $150/month.
15. Hootsuite ( Best for Social Media Marketing Automation)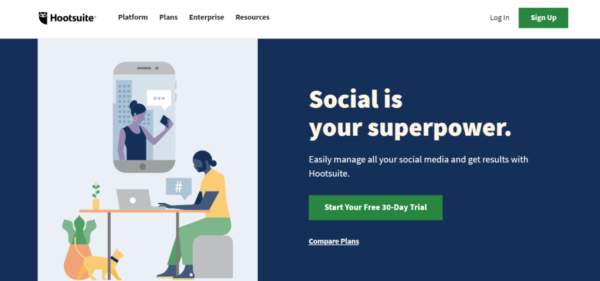 Hootsuite is a well-known social media management solution for small and large businesses. The software helps organizations work together to manage campaigns, handle both free and paid social content, get useful information from social channels, and keep an eye on what customers are saying.
Also, the tool lets you automate posts to reach your audience at the best times to get the most engagement. You also get a lot of information about your subscribers' needs so you can better understand and meet their needs.
In a nutshell, Hootsuite is a great tool for managing your social media strategy and growing your following because it has all the software features you would expect and more.
Key Features
Comprehensive analytics capabilities
Simple dashboard
Promote organic content and manage paid advertisements
A wide range of integrations is available.
Pricing
You can try Hootsuite for free for 30 days to see how well it works. After that, paid plans start at $49 a month for one account and the ability to schedule as many posts as you want.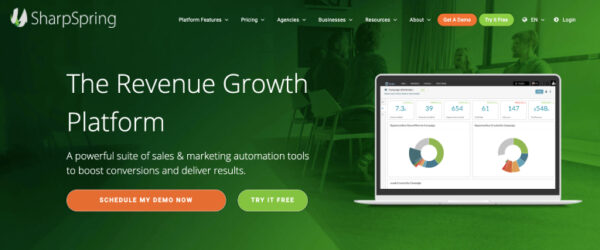 Sharpspring is a marketing automation software that provides all the toolsets needed to boost sales, growth, and conversion. It also comes with solutions that enhance your customer relationship.
Its dashboard is well-built, and it is extremely easy to use. It is a marketing automation tool used by professionals, marketing agencies, and small/medium-sized businesses. Sharpspring also comes with mobile CRM software.
With Sharpspring, you can track the entire journey of a lead. Its pricing plan depends on the size of your business.
Key Features
Customizable Marketing Automation Tools
Lead capturing
Drag-and-drop editor
Sales Automation
CRM
Email Marketing
Campaign Tracking
Third-party integration
Other features offered by Sharpspring include Chatbots, Forms, Analytics, a Sales dialer, a landing pages designer, and more
Pricing
The pricing plan for small and medium-sized businesses starts at $449/month, while the pricing plan for enterprises and Agencies is a custom quote.

AdRoll is an e-commerce marketing automation tool for start-ups and small businesses. This platform enables you to connect and interact with high-quality leads. This platform is trusted and used by leading brands such as Upwork, Zendesk, Spotify, Slack, and more.
Some marketing automation features offered by AdRoll include behavioral tracking, social marketing, ROI tracking, mobile retargeting, and more. With AdRoll, your business can discover good customer behavior that affects decision-making.
Key Features
Customer Segmentation
Conversion Tracking
Actionable Insight
Social Media Retargeting
Account Management
Audience Targeting
Personalization
A/B Testing
Pricing
AdRoll pricing plan starts at $25/month.
Other Best Marketing Automation Software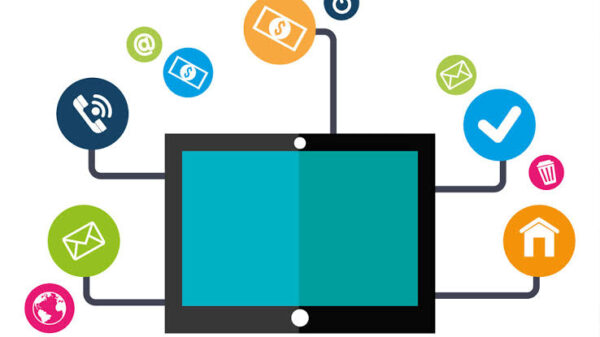 Tool #1: Marketing Creatio
Marketing Creatio is a powerful marketing automation software. It offers a marketing solution that comes with sales and CRM features.
It comes with a lead generation tool that analyzes lead behavior and offers a user-friendly and centralized platform that enables easy access to important files or data.
Marketing Creatio allows you to determine your pricing plan. Its pricing plan depends on the number of active contacts and agents you own.
Other features offered by Marketing Creatio include collaborative tools, business process management, access, and user management, synchronization, integration, AI, and machine learning tools.
Tool #2: Autopilot
This marketing automation software is a unique platform with multiple marketing templates that serve many purposes.
Some of its templates function as a lead nurturing and capturing tool, while others track a lead's engagement, behavior, and more.
AutoPilot comes with a drag-and-drop editor that easily creates email marketing campaigns. It also comes with a tool that separates leads into silos. AutoPilot is best known for its collaborative tools that allow the creation of smooth workflows and effective marketing campaigns.
Its basic plan costs $38.20 per month.
Tool #3: Iterable
Iterable is a marketing automation software that allows for a unified customer experience. It comes with a powerful toolset that creates and measures marketing campaigns. With this software, you can see a customer's interaction with your business as they go through different funnels of your business.
Iterable enables your business to personalize and customize the channels used in connecting with customers. It is a cross-channel, multi-channel, and omnichannel marketing automation software.
Tool #4: RD Station
RD Station is the best marketing automation software tool for small-scale businesses. It makes use of automation to streamline marketing and sales activities.
It helps small businesses to generate and nurture leads, create better campaigns, and achieve better sales results. Over 35,000 companies trust RD Station, which improves workplace productivity.
The features offered by RD Station include contact segmentation, workflow automation, social media management, and advanced analytics. Its pricing plan starts at $19/month.
Tool #5: Campaigner
Campaigner is a multi-channel marketing automation software that offers e-commerce functionality. With this software, your business can boost its sales, revenue, and customer relationship activities. In addition, the Campaigner SEO tool improves your marketing campaigns. Its Reputation Defender solution analyzes your emails to detect anomalies that could hinder lead generation.
This marketing software helps you to orchestrate a customer's journey with your business. With it, you can control a lead's interaction with your business. Additionally, Campaigner enables you to send personalized and targeted messages to prospects. Over 120,000 businesses trust Campaigner because of its powerful marketing automation tools. The campaigner pricing plan starts at $59 per month.
Tool #9: Exponea
This B2C marketing automation tool enables you to reduce the costs of carrying out marketing campaigns. It is also an advanced lead-generation tool that aids the creation of targeted and personalized emails.
Exponea offers solutions that track the behavior of your lead to provide data that enables the creation of an effective marketing campaign. This software also enables communication with leads via multiple channels. In addition, its tools allow you to make accurate marketing predictions and gain insight into your sales performance.
Tool #10: Wishpond
Wishpond is a powerful marketing automation platform marketers use to develop and grow their businesses. It provides marketing automation tools such as lead capturing and nurturing tools, landing pages builder, pop-ups and forms,
This tool, suitable for small businesses, allows users to create a professional-looking landing page that converts. Its pricing plan starts at $49/month and ends at $199/month.
Tool #11: Real Magnet
Real Magnet is an advanced marketing automation software that offers the best automation tools to marketing experts and beginners. It is a straightforward platform with an intuitive design. Real Magnet allows businesses to create and manage email and marketing campaigns.
Tool #12: iContact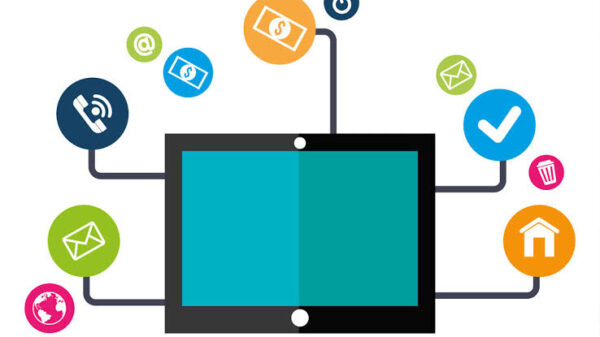 This is an inexpensive marketing automation software that automates your email marketing process.
It is suitable for small businesses due to its simple but powerful features. With its easy-to-use tool, iContact enables you to grow your audience, send personalized/targeted emails, automate your interactions, and build beautiful emails.
iContact comes with a drag-and-drop editor that simplifies your email creation process. Other features it offers include lead scoring, lead capturing, analytics, and more. iContact offers a free version that allows you to manage up to 500 contacts. Its paid plan starts at $23/month.
Tool #13: GreenRope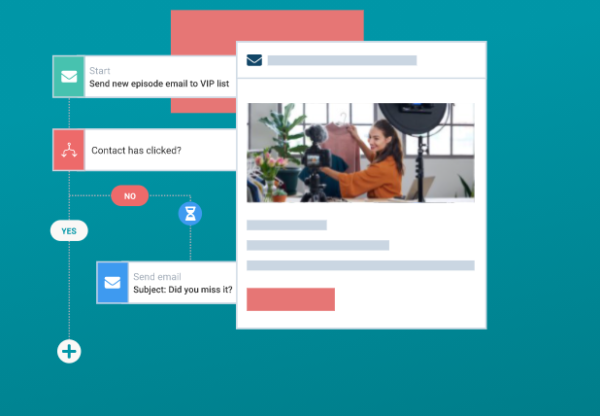 GreenRope is a powerful CRM software with marketing automation functionality. With GreenRope, your business can convert and manage high-quality leads.
It is an all-in-one Customer Relationship Management Software that boosts workplace productivity. GreenRope pricing plan starts at $99/month and ends at $799/MONTH.
Small Business Marketing Automation Tool For Workflow Automation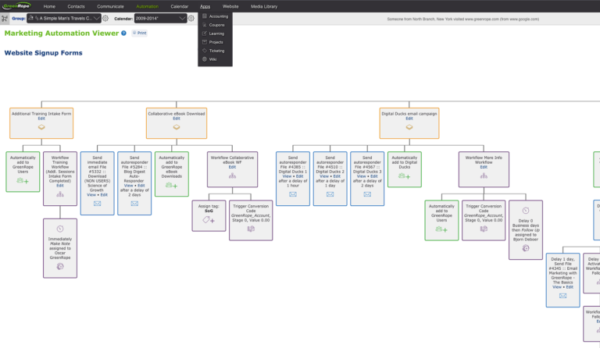 Here is the best marketing automation software for small businesses. With this, small businesses can optimize and manage their marketing campaigns at an affordable cost.
Zapier
Zapier is a web-based automation tool for connecting your apps and services. You can easily connect two or more apps to automate repetitive tasks without writing code.
The user creates "Zaps," actions that are set to repeat when certain triggers occur. Users can also manage all of their "Zaps" from a single dashboard and take advantage of the numerous online templates created and shared by other Zapier users.
While simple, Zapier allows you to create powerful multi-step workflows by integrating over 500 services ranging from email marketing to social media and project management. Overall, Zapier is a simple, powerful, and cost-effective automation solution.
Monday.com
Monday is a project management software that carries out CRM functionality. It is an all-in-one software that can perform countless business activities.
With Monday.com, your business can automate its marketing activities at an affordable rate. This software comes with impressive templates and a centralized platform that enables you to carry out multiple marketing campaigns in one collaborative space across different channels.
Microsoft Power BI
Microsoft Power BI is one of the most powerful tools available when it comes to visualizing data in a user-friendly manner. It enables you to easily create interactive dashboards and reports and share them across your organization.
Compared to other BI tools, Power BI allows you to connect different data sources, mash them up, model, and visualize them in a single interface. As a result, this gives you everything you need to uncover what your data truly means while improving your decision-making processes.
Maropost Marketing Cloud
This is marketing automation with features designed to meet small businesses needs. Marapost provides a centralized platform that enables you to perform web, social media, mobile, and email marketing from one place.
With Maropost, you can connect with high-paying leads on different channels. Maropost Marketing Cloud features include A/B testing, SMS campaign, email marketing, advanced reporting, and more.
Google Data Studio
Google Data Studio is similar to Microsoft Power BI because it allows you to transform data into reports and dashboards. Also, it visualizes them using various interactive elements such as pie charts, line charts, dot plot charts, and so on.
You can easily automate your marketing reports with Google Data Studio because it is easily connected to Google Analytics. However, if you are not using GA Data Studio, you can use Supermetrics or Dataslayer to transfer all of your marketing data to it.
Overall, Google Data Studio is an attractive solution, especially if you use the Google suite; with it, you can create any report or dashboard you need to activate and monitor your marketing actions' performance while empowering your team.
GetResponse
GetResponse is a marketing automation platform with numerous layers and features. Its low-cost Email Marketing plan includes the following:
basic autoresponders
templates
a 1,000-contact list
Drip campaigns
contact scoring
event-based automation
E-commerce tracking and other powerful features are available in GetResponse's more premium plans.
This software is generally simple to use. The tool typically produces good results, but it works best with simpler features like email newsletters. However, working with the platform can become more difficult if you intend to implement complex conditional logic and marketing automation.
GetResponse has a free plan that is ideal for sending out newsletters. GetResponse's marketing automation features, on the other hand, are only available in its paid plans, which begin at $13.30 per month.
Best Free Marketing Automation Tools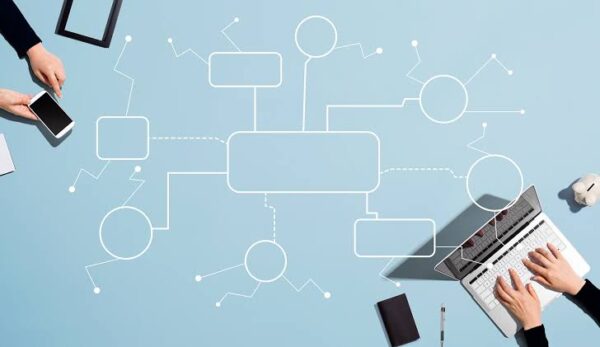 Free Marketing automation tools are tools that provide free automated marketing solutions. Although free, the tools listed below come with advanced features. Check them out!
Hubspot Marketing
Hubspot Marketing is a marketing automation software that offers free automation services. With this software, your team can boost productivity and conversion rates.
Hubspot allows you to create SEO content that converts. It also provides for the creation of responsive landing pages, effective marketing campaigns, and targeted content.The free plan offered by Hubspot allows access to tools such as Facebook leads ads, contact management tools, forms, lead analytics, and more.
Freshmarketer
Freshmarketer is one of the best free marketing automation software. This software offers a wide range of tools that boost any marketing campaign's efficiency. It comes with behavioral targeting and segmentation solution.
Your team can send personalized emails to the right audience with the behavioral targeting tool. The behavioral segmentation feature allows you to organize and classify leads based on their web behavior, demographics, and geographics.
Mautic
On this list, Mautic is the only open-source marketing automation platform. It's also a newcomer, having been founded in 2014. Mautic, on the other hand, has grown quickly and appears to be gaining traction with high-tech companies. Mautic is currently used by over 200,000 organizations and is available in over 35 languages.
Ortto
Ortto is a free marketing automation tool with advanced features. This software allows you to track relevant metrics, generate, and manage leads.
This software comes with a survey and pop-up forms that enables you to gather useful information about your target leads. In addition, its built-in customer journey builder lets you view each lead's interaction stage with your business. It also enables you to deliver a personalized experience as they go through each stage.
Free tools offered by Ortto include audience analytics, management of 2000 contacts, segmentation, activity tracking, dashboard builder, and more.
Most Important Features of Marketing Automation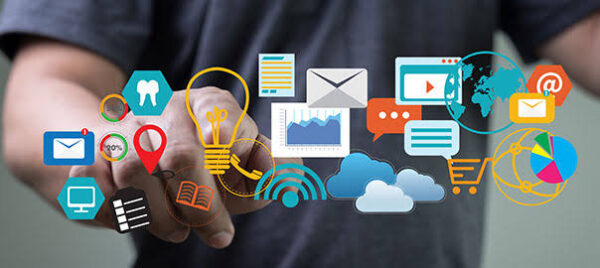 When picking a marketing automation software, there are important features you need to be on the lookout for. However, as a beginner in Marketing Automation, it can be difficult to identify the required features.
And although these features depend on the needs of your business, this article still highlights the most important features every business needs in marketing automation software.
Visitor Tracking: You need marketing automation software that tracks and collects information about your web visitors. Visitor tracking will enable you to create content that grabs their attention.
Lead Scoring: This feature is important in marketing automation software as it enables you to identify high-quality leads that drive sales.
Lead Nurturing: With this feature, your team can turn a low-quality lead into a paying, high-quality one.
Landing Page Builder:
Marketing automation software must come with tools to create a responsive landing page. With a landing page, your business can generate leads.
Email Marketing Tool: An email marketing tool allows you to send personalized and targeted marketing campaigns. It also allows you to segment leads and follow up on a prospect.
Contact Management: With a contact management feature, your team can easily store and retrieve information about a lead. This feature allows you to access real-time data that drive effective marketing campaigns.
Integration: A marketing automation software that allows for integration enables you to integrate with the software you need.
A/B Testing: This feature allows you to identify content with potential. With this tool, your business can push out content that appeals to your target audience.
Reporting: With this feature, you can gain insight into what is working and what isn't. You can also view your marketing performance on different channels.
Social Media Marketing Automation:
Any marketing automation software must come with tools to integrate with your social media. With this tool, your business can generate leads from multiple channels.
How to Choose the Best Marketing Automation Software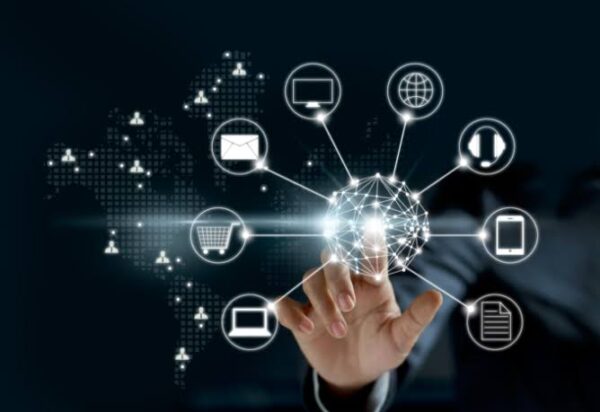 For SMB and B2C companies, a marketing automation product with a narrower focus may work better, but B2B and enterprise companies may need a platform with more features. Here are some important things to think about as you compare marketing automation software to find the right one for you:
1. Determine Your Budget and Business Needs
If you had to sum up the benefit of automation in one sentence, it would be this: It will make you more efficient, so you can focus on the tasks you enjoy that bring in the most money. But remember, you'll want to look at price and ability.
A smaller system might be enough for SMBs and B2C businesses that focus mostly on email. But if you have more complex needs, enterprise software (which costs more) is more cost-effective in the long run.
Make sure to choose a provider with reasonable prices and the ability to adapt to your needs as they change. After all, a key part of scaling well is getting rid of too big operations.
2. Figure out how easy the software is to use.
Automation isn't easy to set up, so ensure the software's interface works with you instead of against you. Check to see if there are screenshots of the UX so you can see if it looks simple and easy to use. Automation can be hard to understand, so look for companies with good knowledge bases, tutorials, and other ways to help customers.
3. Explore Analytics and Reporting Options
You will want to know how well your drip campaigns are doing, so make sure your automation software keeps track of the most important metrics. In B2B and enterprise environments with many stakeholders, you may also need advanced reporting tools like personalized dashboards or automatic reporting via email.
4. Research Integrations
How well does the software for marketing automation work with what you already have? Integrations let you manage your data and use your tools in more ways.
5. Consider Potential Limitations
Some automation software may limit how many actions you can do in a month or how big your database can be. Know how many contacts you have, how many emails you send on average, and what you want the software to do before evaluating it. This will keep you from guessing too low about how much your automation software will cost.
6. Request a Demo
Before making a final choice, you might want to contact the sales teams of each provider and ask for a demo or sign up for a free trial. Then, when you try out a marketing automation tool before you buy it, you can figure out which features will work best for you.
Marketing Automation Software Benefits and ROI
Lower operating costs and ROI from marketing automation software. Automation takes repetitive manual tasks out of the hands of people and puts them in the hands of computers. This lets you do more without hiring more people. Triggered actions are easy for computers to do.
For example, they can send a pre-set email when someone fills out a form, let a team member know when a lead's status changes, or post on social media at a set time.
So even though your team will still have to do some planning to set up automation, you'll save time (and keep your mind on the task at hand) because you won't have to do each marketing task as it comes up. In addition, your operating costs can go down if you are more efficient.
● More data
Because Big Data is useful as a business tool, companies want more data that they can use to learn more about their customers, sales funnels, operations, and finances. Marketing automation systems give you detailed, customer-focused data that can help your teams divide customers into groups, make better campaigns to keep in touch with them, and close more sales.
All this new data can be analyzed in the MA system or fed into BI software to see how it affects the company's overall ROI.
● Reporting and analytics
The best MA software has analytics and reporting tools that keep track of your campaigns and shed light on them. Using these features, your marketing team can make better campaigns that are more personalized and better at reaching the right customers.
While BI software combines data from all over the company, marketing automation analytics focuses on marketing and sales campaigns to give you better insights and prepare your company for growth.
● Centralized marketing tool
One marketing platform to rule them all! That's the dream. MA software can get close to this dream by controlling email, content marketing, contact forms and downloads, social media, and even direct mail and traditional media channels in one place.
But, of course, this depends on how much the marketing platform software costs and how big it is. So before you buy, check the feature lists carefully to ensure you don't pay for things you won't use.
● Improved ROI
Return on investment is a percentage you can find by dividing your net profit by the initial cost of your investment and then multiplying that by 100. For example, if you made $1,000 and your first investment was $200, your return on investment (ROI) would be 500%.
Your investment cost should include the software's subscription fee and the money you spend on training and setting it up. Expect MA software to help your team work more efficiently, bring in more qualified leads, and target the right customers at the right time. These changes should help you earn more money overall.
What is Automated Marketing?
Automated marketing is using technology to simplify the process of carrying out a marketing process. For example, with an Automation Marketing tool, businesses can send targeted and personalized emails.
Automation marketing software also makes it possible for businesses to view the performance of their marketing campaigns. With this tool, companies can discover data that drives an effective marketing campaign.
How Does Automated Marketing Work?
In any business environment, repetitive tasks consume both time and energy. And during the marketing process, some of these tasks hinder your team from achieving a high level of productivity. A marketing automation software identifies all repetitive and manual tasks in your workflow and performs them for you, allowing your team to focus on what matters.
Automated marketing makes use of automation to carry out marketing campaigns. For example, rather than putting you through the stress of generating leads manually, an automatic marketing process identifies a lead, categorizes it based on its behavior, and then sends it personalized marketing campaigns in sequences.
Here's how automated marketing works:
Marketing automation software tracks your web visitors
It proceeds to collect information about them through pop-ups and forms
Marketing automation scores the leads based on their web behavior
It organizes the leads into a list
Every contact in a list receives personalized and targeted emails.
The software begins to nurture the leads
When a nurtured lead makes a purchase, the marketing automation software directs the lead to the sales team.
Marketing Automation Costs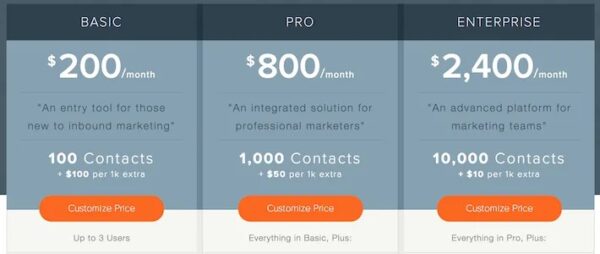 Most marketing automation software prices are based on the number of customers, subscribers, or leads in your contact list. However, there is a wide range of price points in this space.
Basic entry-level plans typically range from $30 to $100 per month. However, prices at the lower end of that range may not include all of the advanced marketing automation features you require.
Top-tier marketing automation software for mid-to-large-sized businesses and B2B organizations costs $800-$1,200 per month or more.
In some cases, signing an annual contract can save you money. In other cases, you will have no choice but to sign a yearly contract. Unfortunately, monthly pricing is not available for all solutions.
What is the Best Marketing Automation Software?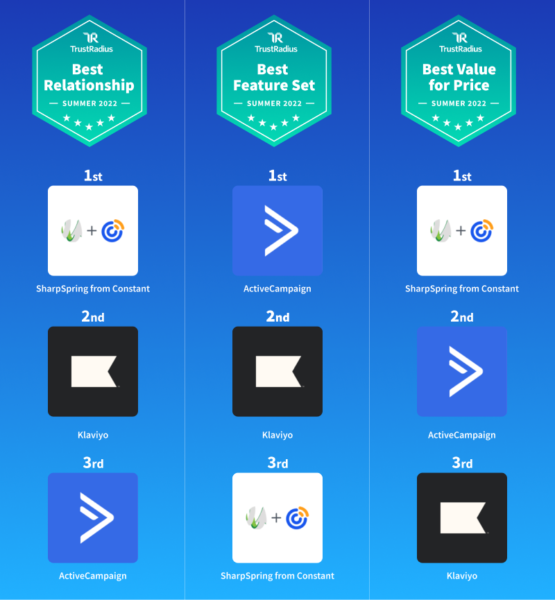 Automating tasks is not an option; it is required to thrive in a fast-paced business environment. As a result, marketing automation is the next step in a flourishing marketing strategy.
To find the best marketing automation service for your needs, consider functionality, affordability, and ease of use in day-to-day operations.
Furthermore, if you're looking for a low-cost all-around service with advanced automation features that scale with your company's growth, sign up for a free Moosend account today and improve your marketing!
Choosing the Best Marketing Automation Software for You
Campaigns for marketing automation are more complex than batch and blast email campaigns. Campaigns can include digital channels other than email, such as social media, SMS, landing pages, and so on. They can also be built with complex logic.
This is the automation component. Based on lead behavior, users can segment leads, personalize messages, and trigger events (such as sending an email or updating a record). After a campaign has concluded, reporting tools can assess its effectiveness. This informs marketers about what worked and what did not.
Some marketing automation platforms are better suited for large businesses than others. Some concentrate on B2C marketing, while others focus on B2B marketing. Most provide inbound and outbound marketing tools, though some focus on one strategy (i.e., HubSpot is an inbound marketing tool).
Before evaluating products, you should assess your use case and marketing challenges.
Bottom Line
There are numerous marketing automation software options available. It all comes down to selecting the best one for your company's needs, budget, and technical expertise.
Do you want something extremely powerful and limitless? Unfortunately, learning may cost more and take more time and effort. In comparison, the less expensive options may have a more limited scale. In the end, it's a trade-off.
Frequently Asked Questions
Q: What are the types of marketing automation tools
The different types of marketing automation tools are email marketing software, sales workflow automation software, social media marketing software, marketing analytics software, Customer Relation Management Software, and Landing Page Automation.
Q: What is the best marketing automation software for Enterprise businesses?
ActiveCampaign is one of the best for enterprise businesses. Their enterprise plan includes all of the boring but necessary features that an enterprise client would expect, such as dedicated IPs and SLAs, as well as SSO and account management. Other enterprise marketing automation tools that check these boxes are Marketo, Pardot, and Eloqua)
Q: What is the best free marketing automation software
Mautic, Freshmarketers, and Hubspot marketing are the best free marketing automation software in the market. They offer free advanced features that streamline your marketing activities and campaigns.
Q: What is the best marketing automation software for medium-sized businesses
ActiveCampaign, Ortto, or HubSpot are medium-sized businesses' best marketing automation software. However, if you want to start an e-commerce business, Omnisend (or Rejoiner if your budget allows) is far superior to the three options listed above.
Q: Is marketing automation right for your business?
Yes! Marketing automation software is right for any small, medium, or big business. A workplace with marketing automation software is bound to experience high productivity.
Q: What is marketing automation in B2C Marketing
Marketing automation in B2C marketing is using technology to carry out marketing campaigns aimed at individual customers.
Q: What are the benefits of marketing automation?
Automation enables you to accomplish more in less time, improve effectiveness, and gain access to far more data. It is ideal for small or streamlined teams.