Last updated Jul. 24, 2023 by Favour Chinaza
7 Best Lead Generation Software (To Get More Leads)
Lead Generation Software has progressed beyond supporting you in building campaigns that produce high-quality leads. Are you focused on mobile traffic? Selling products? Looking to grow your subscriber base? Maybe it's a combination of all three.
Lead-generating tools are critical for grabbing your audience's interest and contact information.
Finding the proper ones for your company can help it grow faster, create important connections, and discover new opportunities.
You can accomplish this through a variety of means, including customer tracking, soliciting consumer feedback, and researching customer connections online.
You can also generate leads directly or indirectly by focusing on sales, marketing, customer relationship management, or all three.
As a result, lead generation systems strive to enhance sales by converting visitors into customers.
Whether you want to convert visitors into customers, gather information from potential buyers of your products or services, or something else, the best lead generation tools can often automate operations for you, making the entire process more efficient.
Instead of manual sales prospects diverting time away from other sales procedures that could drive revenue, you need good Lead generation software to help you.
The prospecting process is automated and fine-tuned by lead-generating software, also known as Lead gen software.
Lead gen software enables sales and marketing teams to bring in higher-quality prospects by automating inbound and outbound lead generation.
We will show you the best lead generation software with extensive features that will relieve your marketing team of their workload.
What Is a Lead?
A lead is simply somebody who expresses an interest in a company's product or service.
Leads are more likely to hear from a company or organization after initiating the contact (by providing personal information for an offer, trial, or subscription) than receiving a cold call from someone who purchased their contact information.
Assume you take an online survey for a couple's vacation while waiting at a ln airport lounge. A few days later, you receive an email from the vacation company that created the survey.
This procedure would be significantly less intrusive than if they called or cold-emailed you.
And, from a commercial standpoint, the information the vacation company gathers about you from your survey responses allows them to personalize that initial communication to address your existing concerns.
Leads are a stage in the process of converting visitors to customers. Not all leads are created equal. Various types of leads depending on their qualifications and where they are in the lifecycle.
Good Read: 7+ Best Help Desk Software Platforms
What's Lead Generation Software?
A lead generation software platform allows you to locate and collect high-intent leads to drive revenue. What precisely is a lead generation system?
Lead generation systems assist sales teams in the following;
creating or identifying sales lead opportunities,
gathering contact information, and
managing prospects as they go through the sales funnel.
Inbound and outbound lead generation are the two types of lead generating, and most software solutions only support one kind of lead creation.
Inbound Lead generating software often includes methods for collecting contact information via online channels like email, social media, landing page interactions, and other website forms.
Through data enrichment, lead scoring, messaging, and meeting scheduling, outbound lead generation software assists salespeople in finding leads and reaching out to the point of contact to offer their product.
Why Do You Need Lead Generation Software?
Lead Generating software and solutions simplify collecting contact information from people interested in your company's product or service. These are known as "leads, " typically generated through your website or other internet sources.
The major benefit of lead generation software is that leads are collected without your involvement.
Essentially, these technologies automate the process, allowing you to concentrate on other aspects of your organization. This is accomplished by providing lead magnets (such as a voucher, downloadable file, or other appealing thing) in exchange for an email address.
Lead generation systems will then collect the email address so that you can follow up with your leads and turn them into paying clients.
Many people find lead generation difficult. Therefore investing in a Lead generation solution or thoroughly analyzing your current lead-generation setup is crucial.
We've worked with a variety of businesses to identify the key drivers of effective Lead generation campaigns. We've compiled a list of the greatest Lead generation tools based on the data and information we've accumulated over the years. You can select the one that best meets your requirements.
What Types of Lead Generation Tools and Software Are There?
Lead generation is not a "one-size-fits-all" procedure. There are numerous methods (and tools) for generating leads. They are as follows:
On-page Lead Generation: Generates leads straight from your website via opt-in forms and campaigns.
Email Marketing: Nurture those leads with campaigns to keep them engaged with your brand
Email Marketing: Connect with people who aren't on your email list
Prospecting and outreach: Gather contact information from anonymous visitors and contact potential leads.
Customer Relationship Management Tools: Connect and track leads throughout the sales funnel
Sales Tools: Convert leads into paying clients while maintaining contact with existing customers.
Communication Tools: People enjoy chatting and communicating. Use this to create leads for your company.
Advertising Tools: Drive traffic to your site from social media and paid advertisements.
There are many types of lead generation software; however, you do not need to use all of them to run a successful lead generation campaign.
It all boils down to the tools you want to use and the types of campaigns you want to conduct.
What Type of Buyer Are You?
Lead generation software may benefit every industry, from student loan providers to restaurants, software sellers, and advertising firms. Buyer segments are often divided into two categories:
B2C buyers
These buyers sell their goods to customers directly. B2C sales cycles are typically short, with leads becoming buyers quickly after their initial engagement.
For example, a person may browse various internet merchants when looking for a new pair of sunglasses.
When people discover a merchant who carries the style they like at a reasonable price, they buy it immediately.
If leads do not convert immediately, lead nurturing software for B2C buyers may serve content such as discount vouchers or information about special deals to potential purchasers.
B2B buyers
Rather than selling to consumers, these purchasers sell their products and services to other businesses.
Because B2B purchasing decisions are frequently decided by more than one person or even a formal buying committee, converting a lead into a buyer takes more nurturing than it does in the B2C sales cycle.
As a result, lead generation and nurturing technologies are frequently used in tandem to assist prospective consumers along the sales funnel.
What Kind of Tools Can be Used to Generate Leads?
Different tools take various ways to generate more leads. Both sales and marketing departments can use Lead generation tools.
Some assist with on-page lead generation, others concentrate on various social media networks, and others assist with lead creation by constructing landing sites.
Some examples of lead generation tools are:
Landing page builders
Popup and other onsite messaging tools
Website personalization tools
Email address finders
Prospecting and cold outreach
CRM tools
Advertising tools
Sales lead generation tools
There's no one best lead generation tactic since which approach works best for you depends on the specifics of your business and sales process.
You'll most likely want to use multiple tools to build a lead generation funnel.
Best Lead Generation Software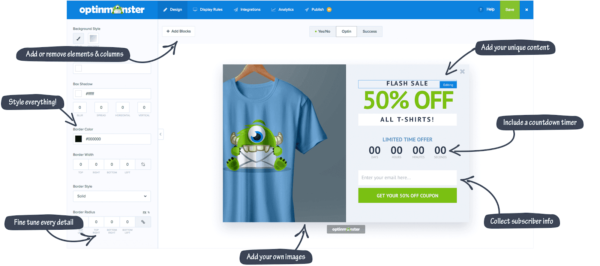 The world's most powerful conversion optimization toolkit is Optinmonster Lead Generation software.
OptinMonster is a Lead generation marketing tool designed for small businesses, bloggers, marketing agencies, and e-commerce websites.
The platform includes various features that help businesses turn website visitors into buyers. Excellent lead acquisition strategies include exit intent detection, landing page designs, and gamified wheels.
OptinMonster also explains its path to success and provides the materials required to help consumers follow it as well. The platform includes everything from landing pages and message personalization with behavior automation to campaign reporting and analytics.
Key Features of OptinMonster
Multiple Pre-made Customizable lead forms.
Multiple Campaign Types include Lightbox Popup, Fullscreen Welcome Mat, Slide-in Scroll Box, floating bar, countdown timer, sidebar forms, inline forms, content locker, coupon wheel option, and playbook.
Drag and Drop feature that enables you to create optimized opt-in forms easily.
A/B testing Function enables you to test multiple campaigns to determine which converts lead the most.
MonsterLink 2-step optin: When visitors click on an image or link on your site, this feature produces a popup that psychs them into making a purchase or subscribing.
Exit Intent Technology: This feature monitors your visitors' activities, preventing them from leaving without making a purchase or subscribing.
Page-Level Targeting feature enables you to segment your leads to send them personalized and relevant campaigns.
Redirect Traffic: With this function, you can redirect visitors to a page on your site and then track their engagement.
Advanced Analytics and Insights feature that provides you with report data of your campaign performance.
OnSite Retargeting and Personalization: This feature shows relevant, personalized offers to new visitors, old customers, and inactive customers at the perfect time.
Geo Location targeting: this feature shows your visitors a relevant campaign based on their location.
OptinMonster allows you to integrate with any favorite tool of yours.
OptinMonster Pricing Plan
OptinMonster offers four pricing plans. They include the Basic plan, which costs $9/month. The Plus plan comes at $19/month, the Pro plan is $29/month, and the Growth plan costs $49/month.
Each of these plans comes with a 14-day money return guarantee policy if you change your mind about using OptinMonster.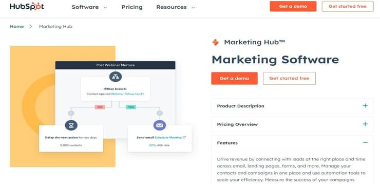 A Powerful Lead Generation Software and one of the best marketing automation software.
According to Hubspot, converting leads into paying customers requires more than spinning ads, landing pages, and kickback emails.
As a result, Hubspot's lead generation solution includes complimentary marketing tools and complimentary Customer Relationship Management (CRM) software.
You can track your site visitors' interactions, automate your marketing process, analyze the performance of your sales team, and streamline your social media marketing operations using Hubspot's single dashboard.
HubSpot Marketing Hub is a business development marketing platform. A lead management system, as well as contact and campaign management functions, are included in the platform.
The Marketing Hub's lead capture platform aids organizations in acquiring inbound leads via online forms, popups, live chat, and chatbots. There is also a free plan with limited lead generation tools.
According to HubSpot, the solution may also be integrated with your preferred CRM software, email system, and customer data platform (CDP).
Key Features of HubSpot
Email Automation feature: HubSpot lets you easily send personalized, customized, and automated emails to leads with the drag-and-drop editor.
Forms: With HubSpot, you can create forms that capture leads data. The lead data can be segmented, scored, and prioritized.
Centralized Dashboard: Hubspot dashboard contains relevant tools for your marketing and sales department.
With Hubspot, you can use data gotten from CRM to engage visitors. You can also leverage the recommendations obtained from the SEO screen to improve your site's ranking on Google SERP.
The adaptive testing section on the dashboard gives you an insight into the performance of your page's different variations. While the reporting screen shows you data on which campaign converts the most leads.
Contact Database: This database contains all information about your leads, your interaction with them, and their position in the sales pipeline. Thereby making it possible for anyone in your team to access the data they need to generate leads.
Ads: This feature promotes your content at the right time to leads.
Multiple Integrations: With HubSpot, you can integrate with WordPress, Weebly, Zapier, Gmail, and more.
In addition, HubSpot enables you to build an impressive website that catches visitors' attention.
It lets you communicate with leads through live chat, embed CTAs and forms into videos, and update video metadata.
HubSpot Pricing Plan
HubSpot offers four pricing plans, as seen below:
Free Forever Plan, which costs $0
The Starter plan costs $50/month.
The Professional Plan costs $890/month.
The Enterprise Plan costs $3200/month.
HubSpot is a bit pricey, but the advanced feature offered by each plan is worth the money.
LeadFeeder doesn't believe in the conventional email campaign method of generating leads. And so, it focuses on other effective ways of generating leads – Website Traffic. Hence it is one of the best website traffic trackers for your website.
The qualified leads can be automatically updated on the CRM, or you can even choose to be emailed. The best thing is, before the leads get qualified, it goes through a filtration process to remove bots and unwanted ones from the list to save you heaps of time.
Here are the four steps taken by Leadfeeder when generating leads.
Step 1. Analyzation of Website Traffic: Upon installation, LeadFeeder analyzes your website traffic to identify the behavior of your page's visitors.
It discovers information such as how your visitors stumbled upon your site, what page content they read, and their intent for visiting your site.
Step 2. Next, it scores their behavior and then segments and prioritizes them.
Step 3. Armed with the relevant data on what your lead needs, LeadFeeder connects to your leads and presents them with an irresistible personalized offer that automatically converts them to paying customers.
Step 4. It then sends and syncs all information about your leads to your Customer Relationship Management software (CRM).
Key Features of LeadFeeder
Sales Prospecting: LeadFeeder helps you spot high-intent leads and assigns these leads to a capable sales rep.
Lead Generation: It analyzes your website traffic to identify visitors who browse your site.
Account-Based Marketing: With this feature, you can track your target audience's behavior and provide campaigns that suit them perfectly.
Website Visitor Tracking: This feature tracks every visitor to your site to get the needed data that enables sales.
LeadFeeder Pricing Plans
LeadFeeder has only two pricing plans: the Lite, which is free forever, and the Premium, which costs $63/month.
The Lite plan has restricted functionality, but the Premium subscription includes all of LeadFeeder's sophisticated features. The premium plan consists of a 14-day free trial period to give you a taste of what to expect from LeadFeeder.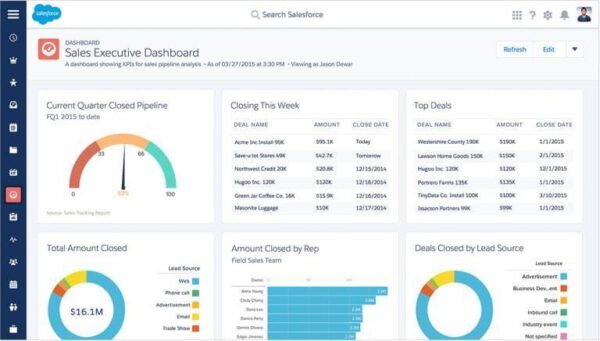 Intercom is a lead-generating platform that uses a bot-based algorithm and real-time chats to produce, engage, and support your leads.
In other words, Intercom assists you in converting leads into customers through communications and engagement.
This lead generation software generates and drives sales exclusively through interactive tools.
Key Features of Intercom
Live Chat: Engaging with visitors as they browse through your site is a very effective lead generation feature offered by Intercom. This feature comes with a messenger inbox tool that enables your team to view and manipulate chats with visitors.
Outbound Messages: With this feature, you can segment your visitors according to their behavior and send them campaigns on a recurring schedule.
Customer Data: This feature collects and stores visitors' contact information for effectively targeted messages.
Chatbots: This feature studies the behavior of visitors and then chats and engages with them in the absence of customer support.
Reports: As Intercom engages with your visitors, you can view the performance of the whole process with this feature.
Integrations: The intercom app store comes well-packaged with over 200 pre-built apps, which you can integrate into the Intercom Lead Generation software.
Pros
Automated multi-channel targeting for your campaigns to find targeted leads
The centralized inbox lets you communicate with prospects via their preferred medium.
Cons
Needs more categories to filter out the tickets
Intercom Pricing Plan
Intercom offers two pricing plans for two types of businesses – Small businesses and Most businesses.
The "Most businesses" pricing plan depends on your requirements, and you'll have to contact the Intercom team for the price quote.
When billed annually, the "small businesses" plan costs $74/month. Add-ons on this plan will incur more costs.
5. Overloop (Formerly Prospect.io)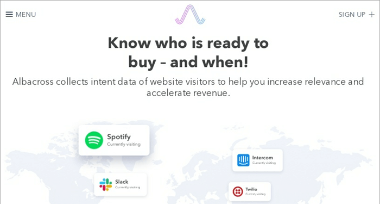 Overloop is a lead generation and sales automation software that uses email campaigns to capture leads.
This software enables you to build an email list, create email templates, monitor leads' replies/clicks/and convert action, send cold emails, and analyze campaign performance.
Key Features of OverLoop
Email/Call Sequencing: Prospect.io enables you to send a series of emails to leads at a recurring time interval until a lead is turned to a paying customer.
CRM integration: You can integrate this software with Customer Relationship Management software to enable you to track the behavior of your lead seamlessly.
Email Automation: This feature sends the right email to the right leads at the right time.
Chrome Extension
Monitor the Open, click, and bounce rate of emails.
A/B testing
List Segmentation tool
Analytical and Report Feature lets you view the emails' performance over time.
Offers both inbound and outbound lead generation features in the same tool.
The automation features for your emails, marketing campaigns, and funnel makes the job easier.
Cons
The UI and UX can be improved to make it more user-friendly.
Overloop Pricing Plan
Overloop offers a base pricing plan that costs $19/month per user.
But the integration of add-ons on this plan incurs additional costs. The Email finder and verifier add-on cost $39/month when billed annually.
The outbound add-on costs $69/month billed annually, and the professional service add-on comes at the cost of $99/month billed yearly.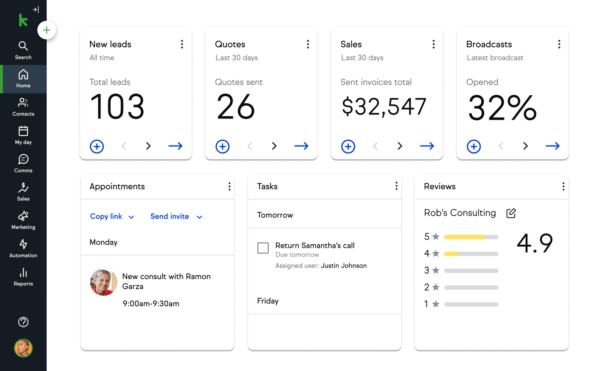 Although Keap is Customer Relationship Management software, it can help your organization retain customers and generate high-intent leads.
This is due to its marketing, payment, contact, and pipeline management strengths.
Keap, highly rated across the internet, helps your organization save time and squeeze more juice out of each visitor through automation.
You can create a tried-and-true sales method that works every time an activity is performed. It can be used to make appointments, track leads, collect payments, etc.
Key Features of Keap
Sales Pipeline: This feature gives you control over a lead's journey with your site or business. With this feature, you can monitor and move a lead toward making a purchase.
You can also know a lead's status with your business and send personalized campaigns that turn them into clients.
CRM: Keap's Customer Relationship Management functionality tracks visitors' interaction with your site and helps you discover their behavior and contact information. It then goes ahead to store this customer data in a centralized, accessible database.
Sales and Marketing Automation: With this feature, you can collect visitor data from the CRM database and send personalized texts, emails, and marketing campaigns.
Payments: With this feature, you don't need the integration of a third-party payment tool. Keap's payment feature lets you add promo codes and enables leads to process payments instantly.
Analytics and Reporting: This feature gives you a sales and marketing performance report.
Lead Management Feature: This feature lets you know the leads' activities in real time, identify leads inclined to make an instant purchase, and engage with leads.
Pros
You get a pipeline management tool, CRM tool, and eCommerce store builder in one platform. It can help shift focus to growth rather than data management for small businesses.
You can sync all the client's conversations in one place and reply to any channel like phone, SMS, and email.
The campaign builder has the most user-friendly interface among other similar tools.
Cons
The commerce platform provides very basic features and design. Only suitable for small businesses.
The appointment reminders can be upgraded to include more attributes to send nuanced follow-ups.
Keap's Pricing Plan
Keap offers two pricing plans. The Pro plan costs $129/month, and the Max plan which costs $199/month.
This lead creation tool may be used to identify website visitors and turn them into B2B leads. Albacross can help you understand more about your website users, their motivation for visiting your site, and their purchasing power.
Suppose you're marketing a product or service to a specific demographic. In that case, you may monitor if anyone in that category is looking through your homepage, particular channels, or other pages before emailing them.
Albacross also allows you to adjust your messaging to attract the desired leads by displaying which types of businesses and individuals visit your website.
A minor disadvantage is that you must be a registered user to receive automated reports (you won't be able to share with a larger team, for example).
Still, the platform is extremely user-friendly and includes a plethora of filters and customization options, allowing users to really zero in on the leads they want to target.
Key Features of Albacross
Lead Source Tracking: Albacross tracks and discovers the sources/channel your leads use to find your business or site. This is to enable you to make better decisions for marketing campaigns.
Lead Segmentation: This feature gathers and collects all your leads into lists based on their behavior. It scores their purchasing intent and lets you identify leads worth pushing down the sales pipeline.
Lead Database: Albacross collects all data about your visitors and stores it in your favorite CRM system, where anyone in your team can access it.
Integration: Albacross allows you to integrate with more than 740 apps.
Reports: You can also view your lead-tracking performance on the Albacross dashboard.
Albacross Pricing Plan
Albacross has no pricing plan. To get a price quotation, you have to contact the Albacross team.
Other Best Lead Generation Software for B2B and B2C Businesses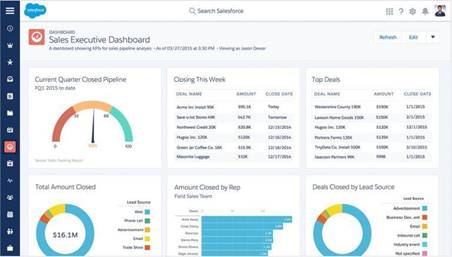 It's unlikely that you haven't heard of or worked with Salesforce if you work in marketing. It is one of the world's best sales and lead management software and a top Enterprise CRM tool too.
It allows you to manage client relationships, automate workflows, track sales pipelines, and locate sales prospects.
What Makes Salesforce a Top Lead Management Software?
It includes tools for managing leads, sales teams, customers, workflows, etc.
Salesforce lets you track all your sales activities, social insights, key contacts, and conversations.
It offers both opportunity management and sales insights. You may automate the sales process, gain real-time insights, check dashboard updates, monitor sales pipelines, see critical deals, analyze rep performance, analyze reports, and much more to boost efficiency.
To avoid confusion, combine all communication channels into a single, easy-to-use interface and manage all interactions with prospects and customers in one place.
You can also set up automatic email notifications, assign duties, and automatically approve discount deals.
Salesforce also provides AI-Einstein to help you search through data, find winning interaction patterns across all channels, automatically execute predictive analysis, and automate workflows to make the sales process easier.
It easily integrates with a wide range of programs, including Slack, Quickbooks, and others, allowing you to maintain data continuity across all your tools instantly.
Pros
One of the world's most well-known and renowned CRM systems.
You may adjust functionality up and down dependent on your needs by using their add-ons. You can add and delete features as you see fit.
It is much more than a customer relationship management system. You can use the applications to integrate customer support and marketing aspects to get the most out of it.
Cons
The setup and settings are fairly involved, and it may require the assistance of a Salesforce specialist to get it up and running.
The number of users determines the fee, and the cost of add-ons makes it a costly tool.
Price: Prices may vary depending on the type of solution required. Prices begin at $25 per month.
The capacity of lead generation tools to ask personalized questions in surveys to understand your prospects so you can follow up properly makes them so powerful in generating leads and nurturing them. Typeform handles this for you.
How Does Typeform Help in Generating Leads?
Create forms, surveys, and fun quizzes for your website visitors using Typeform.
You can create surveys and forms in minutes using pre-built templates, custom layouts, and themes.
You can also utilize conditional logic to give your respondents a genuinely tailored experience. It sends users the appropriate follow-up questions based on their prior responses.
Add the survey to your website, provide a link to it on social media, and email it to your contact list.
Integrates with Slack, Mailchimp, and other services, allowing you to export data to your CRM tool and nurture your acquired leads.
People can use the VideoAsk feature to provide verbal and visual feedback.
Provides an AI-powered conversational chatbot widget for product recommendations, lead generation for software, and more.
Mailchimp is yet another all-in-one marketing and lead management service that lets you create marketing campaigns with email marketing, survey forms, social ads, and AB testing.
It is arguably one of the best email service providers for small businesses out there.
How to Use Mailchimp to Generate New Leads
Use the drag-and-drop builder and pre-built templates to generate appealing emails.
Create social media posts and Mailchimp ad campaigns to retarget website visitors.
Assist your visitors from filling out signup forms to purchasing the product using automatic follow-up emails.
Behavioral targeting allows you to send messages to visitors depending on their actions, such as a welcome message or a suitable product recommendation to a recent customer.
Create and add customizable forms to your website's sidebar and footer to collect contact information.
To create new leads, display popup forms based on conditions and user interactions on your website.
Merge all of your contacts into Mailchimp's CRM.
Examine industry benchmarks to gauge the performance of your efforts by evaluating open rates, click rates, subscription rates, and other indicators.
Allows you to A/B test different subject lines, images, layouts, and other aspects to see which are most effective for your audience.
It simply integrates with LiveChat, Zapier, and other apps.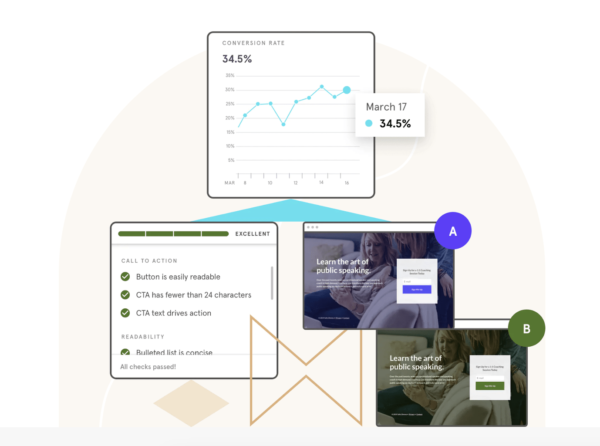 Leadpages provides SMEs with a wealth of options for designing and deploying landing pages as major lead producers.
Furthermore, compared to WordPress, you can create stunning, fully functional websites in half the time.
Because of its optimized templates, A/B testing capabilities, and other CRO features, Leadpages rates high among key CRO and sales lead solutions.
What Makes Leadpages a Top Lead Generation Tool?
Beautiful designs can be found in mobile-responsive landing page templates.
Create quick websites that function 30% better.
Popup forms are provided to increase conversion and collect new leads by targeting visitors' behavior.
To increase engagement, use non-intrusive alert bars to display product updates and new specials.
Comprehensive analytics dashboard for tracking the performance of your website and landing pages.
Provides an integrated SEO optimization toolkit.
It is compatible with over 50 tools.

Pipedrive is a lead generation tool and contact management software for your business.
You can track your sales performance by generating leads, maintaining contacts, and automating activities.
Why Is Pipedrive a B2B Lead Generation and Management Tool in One?
Prospects can be synchronized and pooled from a variety of contact sources, including Outlook, email, and Google contacts.
You can access complete contact information by using only an email address and public data.
In real-time, it lets you import client data from Google, LinkedIn, Twitter, and other social networks into your CRM.
It also offers live chat, chatbot, internet forms, and built-in caller capabilities for automatically taking and storing new leads from your website in your Pipedrive account.
Pipedrive aggregates your contact engagements into a single dashboard, allowing you to qualify leads.
To divide the data, custom labels can also be utilized.
Aeroleads is another lead creation tool that helps you generate new leads using social networking sites like LinkedIn, CrunchBase, and AngelList.
With simply their email address and company name, it can help you find up to 15 data points on your prospects.
How Do I Use Aeroleads to Find New Leads?
Look for data on your prospects on sites like Linkedin, CrunchBase, Inbound.org, AngelList, GitHub, and others.
Get public business information from leads using their email address and phone number, such as their full name, job title, location, generic company emails, and business phone numbers.
Integrate with CRM tools like Salesforce, HubSpot, MailChimp, and Zapier to improve lead management.
Transfer the collected leads to your CRM platform with a simple click.
The information can also be exported to CSV.
Brevo (Formerly Sendiblue SMS)
Sendinblue is a powerful lead generation and experience optimization tool. It comes with a host of capabilities for optimizing your website, enhancing interaction, targeting people for lead generation, and expediting the sales process.
This single program allows email and SMS marketing, website live chat, marketing automation, building landing pages, creating lead forms, and running Facebook ads.
How to Generate New Leads Using SendinBlue
To find new prospects, develop, design, and implement email and SMS marketing campaigns.
Install the live chat widget on your website to provide customer support and generate leads.
Using the drag-and-drop builder, create dynamic signup forms to collect specific information from website users.
Sendinblue Inbox lets you answer your customers in real time via email, SMS, and chat.
CRM is built for managing all of your contacts in one place. All your contacts' information, including applicable papers, can be saved and updated.
Use multiple lists to organize your contacts, such as the source of acquisition, step in the conversion funnel, or any other criterion.
Create tasks, assign them to team members, and assign deadlines to them.
Automate workflows with automatic lead scoring, transactional SMS and emails, and more to streamline your sales process.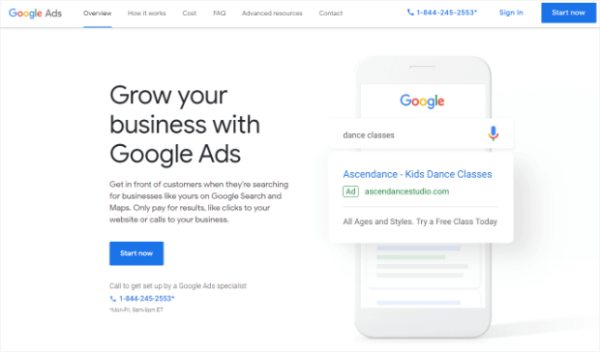 Google Ads advertisements are as old as marketing itself. You may market your company using Google Ads on the world's largest search engine, which receives over a billion daily queries.
Simply design your campaign, and Google will show your advertising to the right people. It gives you complete control over your advertising initiatives.
How Do Google Ads Generate Leads?
Google Ads promotes your brand and products to your target demographic on search engine results pages.
To increase traffic and attract new customers, provide well-timed advertising to your audience based on their searches, browsing behavior, and search history. Reach out to customers when they are looking for similar products or services to yours.
Set goals, monthly budget limitations, bidding rules, targeting options, customized messaging, and other parameters for your ad campaigns.
Real-time analytical indicators such as website visits, total clicks, remaining budget, ad views, underperforming keywords, and quality scores can assist you in tracking the progress of your campaign.
Create Google campaigns for free. You are only charged when someone clicks on your advertisement.
Pros
Targeted ads provide results far faster than other methods, such as content, social media, and blogging.
The optimization cycle is shortened. In a few days or weeks, you can test what is and isn't functioning to make the necessary changes.
You can track the effectiveness of your advertisements using an in-depth dashboard.
Allows for the management of advertising budgets, making it inexpensive for small businesses.
Features of Lead Generation Software
When looking for a lead generation system, the five most critical features to look for are prospecting credits, enrichment credits, email sequencing, lead scoring, pipeline management, and lead management.
1. Prospecting Credits
When a company does not have any existing contact information to work with, it can employ prospecting credits to find new prospects.
This sales interaction tool has the potential to produce a large number of new leads.
Choose a platform that offers prospecting credits to increase your chances of discovering excellent leads and the information you need to close deals with them.
Prospecting credits are vital to Zendesk Sell Sales Engagement features (Reach). Salespeople, for example, can use this app to compile a list of companies to pitch to and then use Zendesk to obtain precise contact information.
2. Enrichment Credits
Enrichment credits might aid your sales team when they need extra data to seal a deal. These credits are a crucial part of Zendesk's Sell Reach capabilities.
Salespeople can use reach enrichment credits to fill in any informational gaps and be ready to present a product or service.
This could include locating contact information for a certain individual, learning about a company and its needs, or gaining other insights that could influence corporate decision-makers.
You don't need much to fill in such essential knowledge gaps:
Enter a company's name and website URL to obtain contact information.
You only need to provide an email address to acquire additional contact information.
3. Email Sequencing
Custom email sequences allow salespeople to reach out to many prospects while remaining personalized.
Email sequences are sales-driven messages businesses send to current and prospective customers regularly. Configure automatic emails and follow-ups, as well as email templates.
4. Lead Scoring
Lead scoring can help you decide whether the prospects you find fit your business well and how likely they are to buy.
To score leads and deals, add the most important variables to Zendesk. The following are some common lead-scoring business guidelines:
Visits to Industry Lead Source Websites
Finally, you can filter the results to identify the most promising leads.
5. Pipeline and Lead Management
Sales lead and pipeline management work together to track a prospect's progress through the sales funnel, while marketing and sales teams work together to close the deal.
Select a platform that enables you to track prospects as they go through the sales funnel, meet lead qualification criteria, consult with a salesperson, and make a purchase.
Lead Generation Software: Inbound vs. Outbound
If you only need an inbound lead generation solution, a simple landing page builder or email-centric solution may suffice.
If you rely on outbound lead generation to create sales, you'll need a more powerful platform, such as Zendesk Sell, to manage your leads.
Outbound Lead Generation
Outbound lead creation relies on sales personnel manually locating and pitching sales leads.
It's a top strategy for B2B sectors since the sales tactics work well with company decision-makers, but B2C sales teams may also use it.
Outbound lead generation is more common in B2B sales, although it is more labor-intensive.
Still, it's a tried-and-true strategy for attracting the attention of those who might otherwise never hear of your goods.
And if you have a product that can save your customer money, you will be in a great position to sell it.
Outbound lead generation involves making contact with people who are unfamiliar with your company. This includes acts such as:
Cold calling
Sales prospecting emails
Direct mailing
Live events
Use sales dialers, contact management software, a sales CRM, emails, and email automation to streamline outbound sales efforts.
Inbound Lead Generation
Inbound lead generation is the process of creating content and advertising to entice potential customers to contact you.
It's more common in business-to-consumer (B2C) industries, where "sales" techniques might appear dishonest or pushy.
Because most inbound lead generation activity is digital, it is more cost-effective.
However, inbound lead generation relies on people finding you and contacting you, which means they may also contact the competition.
Inbound lead generation involves creating content that will naturally attract leads to you. When shopping for software with inbound lead generation solutions, keep the following features in mind:
Landing page building
Web forms
Live chatbots
Survey forms
Visitor tracking
Content creation and delivery
Benefits of Using Lead Generation Tools
Lead Generating software has numerous advantages for all businesses. We'll review three significant benefits that can assist any firm in more detail below.
1. Improve Customer Insights
Customers will not always tell you what they are thinking.
To better understand their pain points—and why they are (or aren't) buying from you—you must ask the proper questions and collect the correct data.
Lead generation programs enable you to swiftly collect more useful data from potential clients, which can assist teams in the following ways:
Focus on the features that individuals enjoy the most.
Make sales content for various customer segments.
Determine your major selling points.
Sales teams can also use a Lead generating technology to identify returning website users and sales leads who are likely to convert, allowing salespeople to:
Determine which leads are most likely to convert.
Personalize your messages and offers.
Discover the motivations behind specific purchase decisions.
The more you know about your consumers, the better you will be able to personalize your sales pitch and funnel to their individual demands.
2. Find More Qualified Sales Leads
More leads aren't always a good thing. More leads imply more labor; if most of your leads are cold or lukewarm, you'll have to work more for lower returns.
Lead Generating software analyzes customer data to discover prospects who are most likely to buy from you.
Lead generation software tracks prospect engagement, personal information, and interactions with your firm to evaluate who is truly worth your time and effort.
Calculating lead value allows you to reach out to the best-qualified leads as soon as possible while they are still fresh in their minds. That leaves out the ones who were just looking around.
3. Reduce Time Spent on Prospecting and Lead Management.
Guesswork depletes your resources, squandering critical time and money.
Lead generation offers sales staff the most relevant customer information, allowing them to spend less time hunting down cold leads and more time selling.
That means spending more time following up on sales leads who are a good fit for your company and are likely to buy.
Mistakes To Avoid When Choosing a Lead-Generating Software
Digital channel competition is fierce, and cutting through the noise is more challenging than ever. It's one thing to drive traffic; it's quite another to convert that traffic into sales-qualified leads.
In this essay, I'll discuss six fatal Lead generating faults I've witnessed repeatedly.
We're not discussing minor details like failing to provide a call to action.
We'll look into fundamental strategy flaws that stymie good lead creation. Making these mistakes will waste your money, resources, time, and energy.
🚫Spreading Yourself Too Thin
When working with a restricted budget, it's vital to learn quickly and double down on the most effective Lead generation sources.
Spreading a small budget across all channels at once will yield statistically negligible results. To draw inferences from data, a large amount of data is required.
Making educated future decisions is difficult with a restricted budget spread across the board.
Furthermore, because each digital marketing channel differs significantly (e.g., Google Ads vs. LinkedIn Ads vs. SEO), comparing apples to apples is difficult if everything is running at the same time. This is especially challenging when you have a small crew.
Iterative testing is highly recommended based on properly defined strategic hypotheses.
You can test multiple channels precisely by adopting a scientific attitude and conducting lead generation research. Of course, knowledge is useful when determining which channels to emphasize.
However, the essential point is to give yourself time to figure out which channels are the most productive rather than blasting out all resources on hundreds of channels in a week.
🚫Failure to Define an Ideal Consumer Profile
Ideal customer profiles (ICPs) might help you target your lead generation outcomes even more than audience personas. This works well for B2B lead generation because it requires creating a profile of your core target accounts.
Defining an ICP (or two to three ICPs) will increase the precision and accuracy of your lead generation strategy.
I've gone into length on how ICP hypotheses are defined and tested, but here's the short version:
Step 1: Make a list of your top current clients.
Step 2: Look for commonalities among your top current customers.
Step 3: Segment your top current customers based on those qualities.
Step 4: For each ICP subgroup, compile a list of comparable organizations to pursue.
Step 5: Validate each ICP's hypotheses by obtaining sales-qualified leads from each ICP.
You can scale your marketing effort if you've demonstrated that the ICP hypothesis helps you produce leads.
🚫Not Starting With Product-market Fit
The failure to achieve product-market fit (PMF) before focusing on lead generation is, in my opinion, the number one reason hyper-growth firms fail.
Simply said, PMF happens when a product meets legitimate market demand. As American entrepreneur Marc Andreessen defines PMF as "being in a good market with a product that can satisfy that market."
According to Andreessen, a startup's life may be divided into two stages: pre-PMF and post-PMF.
The pre-PMF stage is about learning, iterating, and getting as near the problem's victims as possible.
As a company, you should regularly introduce a pre-PMF minimum viable product to demonstrate demand and elicit feedback from early adopters.
🚫Adopting a One-size-fits-all Approach
If you Google "lead generation tips," you'll get millions of results (including this one).
But, if there's one thing I've learned from my time in growth marketing, it's that each firm has its own distinct recipe. There is no pre-packaged solution for lead generation.
Each company serves a slightly different population, and each product treats a slightly different pain issue in a slightly different manner.
Each business is at a different stage of development and has a different marketing budget to deal with.
Even solutions to the same problem may approach it differently, making each "competing" product appealing to different populations, locales, or levels of competence. Of course, this has an impact on the marketing strategy.
Consider the difference between a self-service SaaS product (where a customer can sign up for a free trial and access the product independently) and an enterprise-level SaaS product (which requires installation and integrations).
Lead generation for the former may be more channel-focused, with a high volume of traffic directed to a free trial page.
The latter is better suited to long-term lead nurturing, account-based marketing, and perhaps an emphasis on outbound activities.
It's a simple example, but the complications are far deeper, and you'll need to avoid following advice that doesn't apply to your company.
🚫Underestimating Marketing Technology Needs
You can't do lead generation with one tool. Think about all the different types of software you need:
CRM
Marketing automation
Website visitor identification
Website analytics
In-product analytics
Social media management
Live chat
This only scratches the surface. And these systems must function consistently, generating actions as needed and powering the nurturing funnels.
Although Zapier may help you link all of these apps, the message is that many organizations underestimate the complicated combination of technologies required to establish a competitive advantage in lead generation.
There are ways to negotiate these complications, but remember that integrations require special care. The complications will only expand if you don't pay attention to these tools from the start.
🚫Ignoring Prospects' Problems
It's all too easy to become caught up in navel-gazing, sidetracked by an internal vision, and focused solely on promoting your product or service.
However, by doing so, you completely avoid the most critical item that will bring you customers: pain points.
Successful lead generation content is powered by:
Understanding the pain points of your audience
Adding value by addressing those pain points
If a prospect has expressed interest in an article, video, or podcast regarding a specific pain area, they are likely experiencing that pain.
Remarketing and email nurturing sequences should relate to the same themes and remain consistent with the first spark of interest.
As the prospect progresses down the funnel, you can become more detailed about your product or service's value proposition—in the context of that specific pain issue.
This entails focusing on pain points throughout the journey, beginning at the top of the funnel with a blog post and continuing through onboarding and beyond.
What to Look For in a Lead Generation Tool
There are numerous lead generation tools available. So, how do you make a decision?
Here are some characteristics to look for in a Lead generation tool:
Simple to Use: It is critical that the lead generation tool is simple to use and that everyone in your organization understands how to use it. Otherwise, it's just another unneeded piece of software.
Accessibility: The greatest Lead generation systems are cloud-based, which means you can access your lead-generating campaigns and data from anywhere you have an internet connection. This makes it simpler for the entire organization to participate in lead generation.
Affordability: Nobody wants to spend money on something they aren't sure will work. You also don't want to overspend on a solution that doesn't provide you with all the necessary Lead generation tools.
Solid Support: Ensure that any issues you encounter are handled immediately and professionally. Nothing is more frustrating than investing money in a tool only to have it go unused because there is no assistance when concerns arise.
Targets Your Ideal Audience: Make sure your software allows you to reach the people you want to reach with your lead generation initiatives.
Good Read: 31 Best Website Traffic Trackers of 2023 (Check Other Website Traffic)
Bottom Line
Lead generation software is essential for generating revenue. The software available has various features and ways for generating, engaging, and nurturing leads. Some have already been mentioned.
There is no magic formula for capturing leads (though there are a few things to avoid). However, developing your own lead-generating forms makes a lot of sense if you want to ensure that you capture the most relevant information. With a custom lead generation form, you can zero in on your ideal prospects while saving yourself the time and effort of sifting through tonnes of irrelevant data.
For example, LeadFeeder assists with lead tracking and prospect intent analysis. Optinmonster can help you create campaigns and campaign triggers. Qualaroo helps with exit intent and A/B testing. FindThatLead can help you find confirmed leads. Prospect.io is an excellent tool for creating personalized sales pipelines.
In this approach, each program helps to generate more leads by providing various ways and features, which ultimately help to improve income and business growth. The best lead generation software would be a collection of many lead generation platforms. Your lead generation process should be tailored to your company's needs, so review all of the categories above and identify which apps are lacking from your stack. Connect them, of course, to fully automate your lead funnel.
Frequently Asked Questions
Q: What is Lead Generation?
Lead generation is the process of appealing to and engaging your target audience to the point that they want to give you their information. Your sales and marketing teams will then be able to build relationships with these leads. If you provide true value, aid them in solving challenges, and illustrate how your firm can benefit them, you may be able to convert leads into loyal clients.
Q: Which is Better, free or paid lead Generation Software?
This is defined by the size of your company and its goals. Free lead generation software is usually ideal for small businesses. If you are a small business that does not anticipate or seek quick expansion, you can use a free platform eternally. In contrast, investing in Lead generating technologies can result in more sales and a larger ROI. This means that larger organizations investing in lead generation software will generate substantially more money than offsetting the cost of a commercial lead generation service.
Q: How Does Lead Generation Software Work?
Lead-generating tools are not all made equal. It typically depends on whether the platform generates inbound or outbound leads. However, all platforms use or collect data to offer lead recommendations to organizations. Inbound lead platforms often use web forms on landing pages or product pages to accomplish this. Outbound lead generation systems rely on databases and email finder tools to assist salespeople in obtaining contact information. Agents can then utilize this information to contact potential clients and introduce them to the organization and its offerings.
Q: How do you generate quality leads?
We may generate high-quality leads by focusing on prospects who have demonstrated an interest in our products or services. SEO can be used to attract potential customers. All prospects who are interested in purchasing the linked goods will go to your website. Albacross, Leadfeeder, and other similar tools only target qualified leads.
Q: Why do businesses need lead Generation Software
Lead generation technology, like any other software, is always evolving. As developers push the envelope, the following are some of the upcoming trends to emerge from the lead generation landscape:
Better buyer intent data allows you to create more targeted outreach methods.
Better data exchange and communication tools for sales and marketing teams to generate higher-quality leads
You can target a smaller, more qualified pool of leads with account-based marketing.
Engagement-boosting video content that boosts brand awareness
More advanced automation features, such as AI-powered chat boxes and tool connectors, are available for greater CRM connectivity.
Q: How can I get free leads?
There are various techniques to obtain new leads:
Improve the page's content.
Use quizzes, surveys, contests, and polls to your advantage.
Add freebies to encourage visitors to take action.
On your website and app, use lead forms and surveys.
Engage your users directly through chats, emails, phone calls, and social media.
To handle and qualify new prospects, use a robust lead management solution.
Q: What is the first step in lead generation?
The first stage is to conduct extensive market research and prepare your strategy. You must study the touchpoints of your visitors, map buyer journeys, and evaluate your target audience. Only then will you be able to determine how to contact your visitors to enhance lead generation?