Last updated Jul. 24, 2023 by Favour Chinaza
7+ Best Help Desk Software Platform
As clients use more platforms to contact your company, it is critical to implement help desk software that successfully maintains your customer relationship. Help desk and ticketing software are essential to modern business operations.
Third-party connectors with other critical corporate software platforms, particularly CRM software, will be available in the finest help desk software.
Furthermore, the incorporation of analytics into help desk systems makes them ideal for assessing key performance indicators (KPIs) and assisting in improving overall efficiency and productivity.
Help desk software isn't just for staff ticketing; it may also be utilized for front-facing customer assistance concerns.
The recent pandemic has highlighted this, with firms shifting customer support systems online rather than depending on phone call centers.
However, searching for "Help Desk Software Platform" online would provide hundreds, if not thousands, of results. So how do you sort through all of them to select the best?
Finding the finest help desk and ticketing software for you can be difficult with so many options available. The top available help desk software, features, pricing, and other factors will be highlighted below.
What Is Help Desk Software?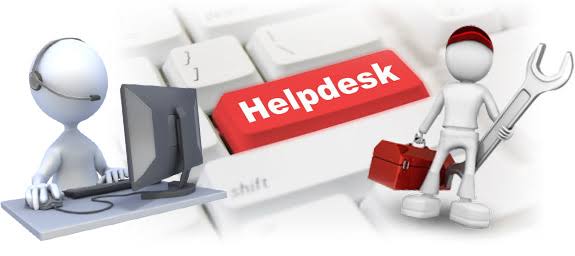 Help desk software is a tool for organizing, managing, and responding to support inquiries. Some help desks handle external client requests, while others handle internal service requests from team employees.
Help desk software is a product used by customer service units and IT teams to help firms streamline their customer relationship management process.
You can use this program to automate manual activities and do them more quickly.
Because it consolidates all of your customer support interactions into one omnichannel tool, using a help desk platform is a great way to improve your customer experience.
75% of customers want a consistent experience regardless of how they engage a company (via social media, in person, by phone, etc.).
A help desk may feature a shared mailbox, knowledge base software, and a live chat solution, among other things. However, not all help desks have all of the tools listed above.
Good Read: 7 Best Lead Generation Software (to Get More Leads)
How Does A Help Desk Software Work?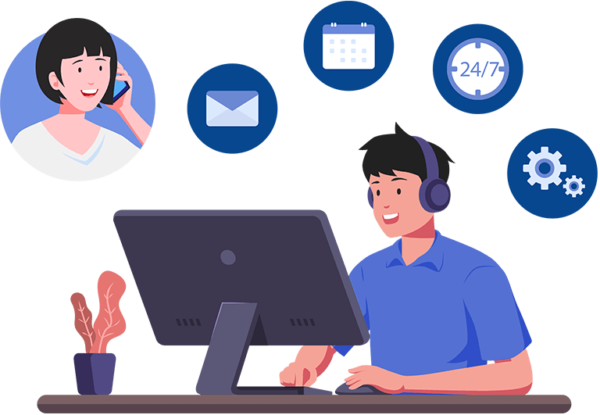 Assume a customer emails you or contacts you on social media. What will happen next is as follows:
– Your help desk tool will record The incoming query as a ticket.
– Each ticket is classified, prioritized, and given to a support representative. (You can automate these operations by setting up automation rules in your help desk software, or you may do it manually.)
– From the help desk software, the agent will view the ticket, gather context from any previous encounters, and respond.
– The agent's response will then be forwarded to the customer via the channel through which the ticket was raised.
Why Use Help Desk Software?
To better serve your customers, help desk software makes it simple to manage customer support queries.
This results in happier customers and more customer retention, which means more money for your company in the long run.
When you're first starting out online, it can be tempting to handle all of your customer service requests yourself using your business email address.
However, when your company grows, it might not be easy to maintain the same level of customer service.
Using help desk software in your organization can improve the quality of your client interactions and provide you with a competitive advantage.
Types of Help Desk Software
1. Cloud-based
The software supplier hosts cloud-based help desk software, which is accessed via the Internet. It supports easy scaling and offers automatic updates and backups. To use the tool, you must first log in to the website or application and pay a monthly or yearly charge.
2. Self-hosted
Self-hosted help desk software is deployed on a company's own servers, providing greater control over data and security.
However, it necessitates more upkeep and is less versatile than cloud-based choices. It could be something you make yourself or something you buy from another company. It is proprietary software, just like cloud-based.
3. Open source
Open-source help desk software is free and configurable, allowing organizations to tailor it to their own requirements. It is, however, more complex to set up and requires technical competence.
Though the following factors may be considered when purchasing an external solution, purchasing an external one will almost always be cloud-based (all options listed below are cloud-based).
There may be times when you purchase a solution that is placed directly on your own servers, but this is not very frequent or viable for most teams due to the cost of the installation and maintenance of the program.
Another — and possibly more relevant — way to consider help desk software categorization is in terms of who you're using it to service. In that situation, there are two types: internal and external.
4. Internal/IT Service Desk
An internal help desk solution is often employed to manage IT-related difficulties. Employees can submit tickets to your IT team directly, making handling and organizing those requests easier.
This program is specifically developed to handle IT services within a corporation. It typically encompasses incident management, problem management, change and release management, and asset management.
Its goal is to provide a single point of contact for any IT-related issues.
5. Ticketing help desk software
This is a system that handles and tracks customer support requests, also known as 'tickets.'
It manages the whole ticket lifecycle, from creation to resolution, to guarantee that every customer issue is effectively addressed and nothing falls between the cracks.
6. Customer Support
Customer support teams typically utilize customer-facing help desk software to manage incoming client contacts.
The functionality of these applications varies, but most feature a shared inbox and some type of collaboration, productivity, and reporting tools.
7. On-premise help desk software
Instead of cloud-based options, self-hosted or on-premise help desk software is stored locally on your company's server.
The most significant advantage of adopting an on-premise support desk system is that you have complete control over where data is stored, ensuring that security is never compromised.
However, most cloud-based help desk software now adheres to international security standards, including HIPAA and GDPR regulations.
Furthermore, changing an on-premise help desk system can be time-consuming, and you may suffer frequent downtimes for updates or maintenance.
8. Enterprise
Enterprise help desk software is designed for larger organizations with more complex needs, such as multiple departments and teams.
It frequently contains complex capabilities such as asset management and compliance with the IT Infrastructure Library (ITIL).
7+ Best Help Desk Platform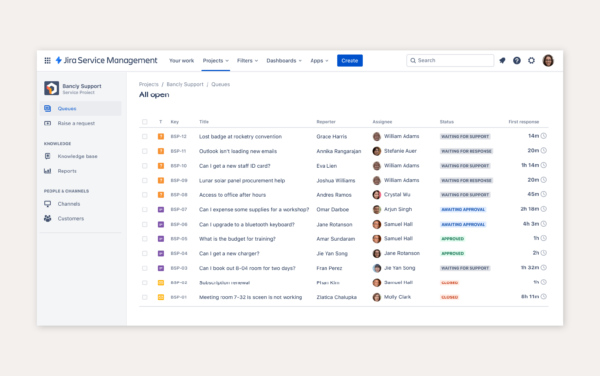 JIRA enables a rapid flow of information among teams, allowing for the rapid detection of events when they occur.
Jira service desk is an assistance and project management software created in 2013.
However, to enable teams to provide a more extraordinary service experience, JIRA launched the JIRA service management software, which performs all of the advanced features of a JIRA's help desk and more.
Jira Service Desk is commonly linked with engineering teams, but many support teams also use it as a location to submit and monitor defects.
Users can design custom processes and forms to ensure projects operate well, and they can assign statuses to specific tasks to keep everyone informed.
Reports can provide support representatives with insights into what's being worked on and the overall workload, providing more context to bug-tracking and requests.
So, if you want a help desk software that also serves as a sophisticated IT service management solution, use JIRA.
Key Features of JIRA
Request Management: This feature enables you to fulfill thousands of customer requests through automation. It also enables you to customize request-type forms.
Incident Management: JIRA allows for a fast flow of information among teams to enable the fast detection of incidents when they occur.
This feature comes with an incident swarming and on-call alerting functionality to enable the smooth resolution of issues.
Problem Management: This feature detects problems and shows them to you in their order of priority. First, it identifies issues with great potential of causing major damage to your customer service activities, and then it gives you detailed analytics of the root cause of it.
This feature also has a problem reporting functionality that gives you an overview of recurring, new, and the number of same-type issues.
Change Management: In the case where a change occurs in your workflow process, JIRA allows you to manage these changes better.
It also allows you to integrate CI/CD tools and Confluence – tools that allow for effective change management.
Asset Management: With this feature, you can manage assets, track assets, discover assets, review assets, and migrate or federate assets.
Configuration Management: this feature gives you an insight into the infrastructure that supports a service or application. It shows you the later-stage effect of a change to enable you to anticipate risks.
Knowledge Management: This feature thrives on reducing the number of requests your team receives by enabling a knowledge base section and online forums where your team members can post how-to articles, FAQs, and more.
Queues: This feature presents the customer's request in a queue format to give you a clear vision of what should be prioritized.
SLA management: This feature enables you to set and manage goals for managing customer issues. With SLA, you can set and track goals like "respond to all requests within two hours."
Analytics & Reporting: This feature enables you to view the progress and status of the activities carried out by your team.
Apps and Integration: JIRA has an app market where you can get apps to integrate with the JIRA service desk.
You can also integrate customer relationship management software (CRM) with the JIRA service desk.
Pros:
Seamlessly integrates with other Atlassian products.
It's suitable for both small teams and large enterprises.
You can track support requests and tickets in real-time.
Its features facilitate effective team collaboration.
It has a strong emphasis on aligning IT teams with other departments.
Cons:
Can be complex and might require a learning curve for new users.
The cost can add up for larger teams.
JIRA Pricing Plan
JIRA has a four-pricing plan which includes a free forever plan. The standard plan costs $20 per agent, and the Premium plan costs $45 per agent.
The Enterprise plan is quotation-based.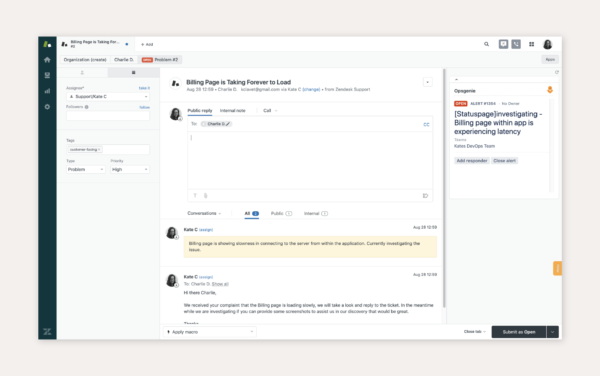 Zendesk Support is widely renowned for having the greatest ticketing system, which allows you to provide excellent customer service. It is also one of the best marketing automation software.
Almost everyone who works in customer service has heard of Zendesk. They create a multi-channel support system with features such as a shared inbox, a knowledge base, and live chat tools.
In addition, they provide more complex AI-based solutions for chatbots and autoresponders (albeit these are only available on their more expensive plans).
You also get a slew of productivity and automation tools and over 1,000+ integrations to connect with other technologies in your support ecosystem.
To be honest, there isn't much Zendesk doesn't do or communication methods it doesn't support.
However, it is a complex and complicated product that demands significant time, work, and resources to get up and operate.
This adds significant additional expenditures on top of the monthly charge. This is because most teams don't require access to all of the capabilities Zendesk provides (do you really need to run those community forums? ), so it's extremely conceivable they could find a solution that meets their needs for less money.
Key Features of Zendesk Support
Live chat and messaging: With Zendesk, you can offer one-on-one customer experience to your customers.
The live chat feature allows customers to communicate with your team and send requests while surfing through your site or app.
The messaging feature contains typing indicators, read receipts, and chat group functionality.
Custom views: This feature streamlines your ticket management process by enabling you to group tickets into lists or queues. This feature also gives you complete control over how you view tickets.
Self-service option: This feature reduces the volume of tickets your team receives by providing a self-service solution for customers to get the help they need.
The self-service options Zendesk provides include a Knowledge base or help center, community forums, customer portal, FAQs pages, and more.
Integrated voice software: You can resolve complex customer issues by integrating your favorite call center solution into Zendesk and using it to communicate directly with customers.
Analytics and Reporting: This feature measures customer interaction with your team and gives you a performance report through charts.
Collaboration tools: Zendesk makes it easier for your internal and external team to collaborate on tasks by providing tools such as Side conversations, Skills-based Routing, Connect, Light agents, and more.
API, SDKs, and app integration: Zendesk App Marketplace lets you integrate your preferred apps with Zendesk help desk software.
Automated Routing: This feature gathers your customer information and then uses it to ensure the customer request gets to the right agent to resolve it.
Custom Branding: This feature enables you to brand your help center and your agent interface.
Omnichannel Support: With this feature, you can offer a stellar customer experience across multiple communication channels while remaining consistent.
Pros:
Enables handling of customer interactions across multiple platforms.
Streamlines support with automated routine tasks.
Efficiently routes tickets to the appropriate service representative.
Allows users to find solutions via self-help knowledge bases.
Provides comprehensive insights into service operations.
Cons:
Can be pricey, especially for small businesses.
Requires time to understand and use its full feature set.
Its customization options may be insufficient for unique service needs.
Zendesk Support Pricing Plan
Zendesk Support offers three pricing plans with a 30-day free trial period.
The Support Team plan costs $19/month per agent.
The Support Professional plan costs $49/month per agent.
The Support Enterprise plan costs $99/month per agent.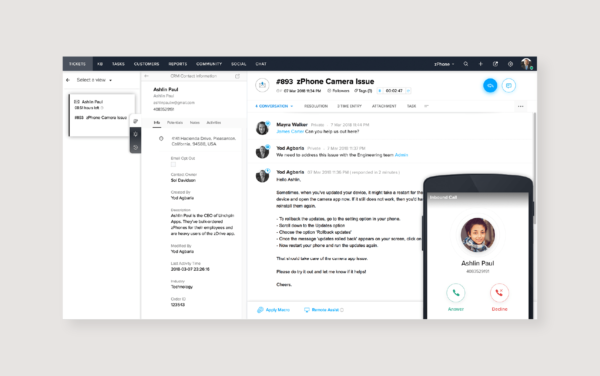 Zoho Desk is one of the services provided by Zoho, including being one of the best accounting software for business. This solution includes a help desk ticketing function that optimizes your team's customer care activities.
You may be familiar with Zoho as a customer relationship management tool, but they also provide a customer support solution.
Zoho Desk contains many of the expected features, such as a shared mailbox and a knowledge base tool.
They also provide more advanced services such as AI-assisted response and complex automation for discussion sorting and tagging.
Zoho Desk connects effortlessly if you already use other Zoho products, such as the CRM tool.
However, their most complex and fundamental capabilities, like live chat, are only available on their most expensive corporate plan, which may be out of reach for certain teams.
Key Features of Zoho Desk
Ticket Management: Zoho's ticketing software enables you to manage customer issues however they reach out to you.
It also enables you to assign tickets, collaborate with multiple teams when resolving issues, automate processes, and detect anomalies.
SLAs & Escalations: Zoho's Service Level Agreements (SLAs) enable you to set ticket time goals. It also gives you an insight into the status of a ticket, the channel the ticket came from, and tickets that needs to be prioritized. With Zoho, you can set rules on when a ticket is due for escalation.
Customer Happiness Rating: This feature allows your customer to reveal their thoughts on the customer service you offer and gives you an insight into your team's performance.
Scheduled Reports: Aside from providing you with a Report and Analytics feature, Zoho also allows you to send reports to internal and external team members and Non-Zoho users. You can also schedule how often the reports are sent.
Artificial Intelligence: Zia is Zoho's AI-powered assistant, sharing information from the knowledge base with customers. This AI-powered function also adds tags to tickets, performs sentiment analytics on customer conversations, assists your team in replying to customers, and alerts your team of any anomalies.
Agent Empowerment tools: This feature offers tools that boost employees' productivity.
Its agent empowerment tools include ticketing efficiency, collaboration, response editor, and work modes tools. Zoho also allows for CRN integrations.
Reports and Dashboards: Zoho's reporting dashboard includes timed-based reporting, employee scorecards, and ticket overviews.
With Zoho, you can also view the number of traffic accumulated by your solution articles.
Self-service: Zoho offers a Do-It-Yourself feature that allows you to install self-service capabilities such as a knowledge base and community forums where customers can get the information they need to solve their problems.
Other features include a multi-brand help center, live chat, telephony, email, and more.
Pros:
Allows customer interactions across different platforms.
Comes with an AI assistant that can automate tasks.
Provides self-help knowledge bases for customers.
Seamlessly integrates with Zoho CRM for increased productivity.
Offers comprehensive analytics and real-time reports
Cons:
Some users might find it complex to navigate its extensive features.
Some users have reported slow response times from customer support.
Zoho's Help Desk Pricing Plan
Zoho desk offers four pricing plans. The Free plan costs $0, the Standard plan costs $12/month per agent, the Professional plan costs $20/month per agent, and the Enterprise plan costs $35/month per agent.
They all have a 14-day free trial period.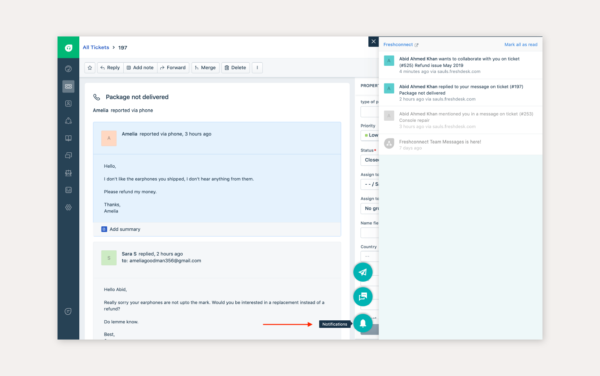 Freshdesk is a multi-purpose help desk that is ideal for larger teams, particularly those in contact centers.
When you sign up, you can access tools for managing support requests, such as a shared inbox, a knowledge base, and chat capabilities.
You also get inbound minutes to manage consumer phone calls (the number of minutes varies depending on the package you choose).
You also receive third-party integrations to keep your support tech stack connected.
Although powerful, Freshdesk's pricing/plans can be perplexing due to the numerous available add-ons. Furthermore, the above-mentioned functionalities are only available on their higher-tier omnichannel programs.
Key Features of Freshdesk
Freshdesk offers four main functionalities, which will be reviewed below.
Ticket Management: With this feature, you can track and manage tickets, discover if multiple agents are working on the same task by mistake, set time goals for resolving a ticket, format replies, check the ticket status, detect a thank you reply, and automate processes.
You can also identify tickets to be prioritized.
Collaboration tools: This feature allows you to collaborate with team members to solve a ticket issue, link related tickets together, and break tickets into smaller parts that different team members can resolve.
Omnichannel Support: Freshdesks also allows you to convert emails into trackable tickets, convert calls into tickets, and communicate live with web visitors.
You can also integrate your social media accounts into Freshdesk, after which you can manage it from the desk.
Self-service: This feature allows you to create help centers, a knowledge base, forums, and more.
Employee's Productivity tools: Freshdesk comes with many built-in tools that give a helping hand to your employees as they deliver customer service.
With Freshdesk, you can easily allocate tickets, chats, and emails to agents based on their skills.
Customization: Freshdesk gives you total control over the look of your support portals, ticket forms, URLs, and more.
Pros:
Comes with a great AI tool that improves ticket routing and can function as a chatbot.
Allows customer interactions across multiple platforms.
Enhances collaboration and facilitates the creation of canned responses.
Offers web forms, personalized content, and rage-click detection to improve user experience.
Provides insights with one-click reports and knowledge-based analytics.
Cons:
The most advanced features are locked behind the higher tiers.
Some of the functionalities can be a bit buggy.
Freshdesk's Pricing Plan
Freshdesk offers two types of pricing plans. The Support Desk plan comes with prices that range from $0 to $79/month per user when billed annually.
The Omnichannel plan comes with three pricing plans ranging from $29/month per agent to $99/month per agent.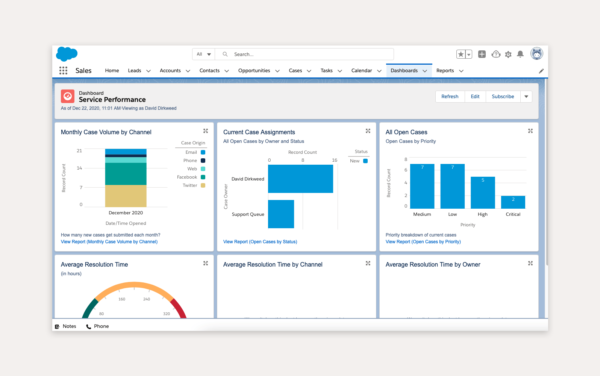 Salesforce help desk is a solution offering extensive help desk capabilities appropriate for small enterprises. It is also a top Lead Generation tool for small businesses.
Salesforce Service Cloud is a customer service platform that offers a centralized view of client data and history.
It uses AI-powered automation, 360-degree customer views, and powerful service analytics to give a simple help desk software solution that provides excellent customer support.
Automated processes, AI-powered productivity tools, and a unified ticketing system help your customer support team to resolve issues more quickly and effectively.
Customers can use self-service alternatives to address difficulties and access help center articles without additional assistance.
Key Features of Salesforce
Customer 360: This feature brings your service, marketing, sales, IT, and commerce team together in a place where they can have a shared view of customer data.
This enables them to easily access the data they need to carry out their services.
Customization of Customer Support Experience: Salesforce gives you control over the customer service you provide by allowing you to configure your workflow and connect with apps from the Salesforce app marketplace.
Case Management: Regardless of the communication channel used by a customer, Salesforce ensures that no two agents work on the same case by accident.
One advanced tool in this feature is the Service Level Agreement tool (SLA).
Reports and Analytics: With Salesforce help desk software, you can gain insight into your team's performance, chatbot's performance, and customer service performance.
Agent Dashboard: Salesforce provides your team with a dashboard that has a comprehensive view of conversation history and every other data you need.
Einstein: Einstein is an AI-powered feature of Salesforce that comes with features such as Einstein Vision, Einstein language, Einstein predictive builder, Einstein Bots, and Einstein discovery.
Other features include Omnichannel routing, 3rd-party integrations, self-service, call center management, workflow automation, asset management, and knowledge management.
Pros:
Offers a broad suite of customer service tools.
Einstein AI enhances customer interactions.
Provides a good deal of community features.
Allows the creation of personalized customer portals.
Integrates well with other Salesforce products.
Cons:
Can be overwhelming due to its rich features.
High pricing for premium features.
Salesforce Pricing Plan
Salesforce offers four pricing plans.
The Essential plan, which offers an all-in-one sales and support app, comes at $25/month per user.
The Professional Plan comes with a CRM feature at the cost of $75/month per user.
The Enterprise plan has a customizable CRM feature and costs $150/month per user.
The Unlimited feature costs $300/month per user and has unlimited CRM power.
Add-ons on Salesforce help desk software incur additional charges.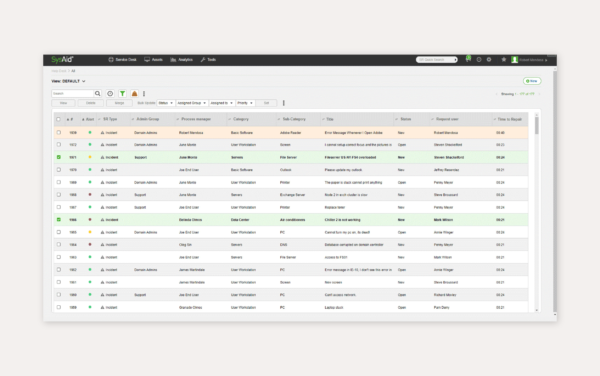 This help desk is an IT service automation program focusing largely on automation to complete customer assistance tasks quickly.
SysAid is a ticketing system for help desks that processes internal IT requests. They provide a range of SLA management capabilities to lower SLAs, such as ticket and workflow automation.
You can also create a knowledge management self-service portal so that staff can handle simple requests like password resets on their own.
You may get started fast with various templates and default forms, or you can design your own custom ones better to serve the needs of your organization and team.
Because most IT products are utilized in tandem, you also gain access to several third-party connectors.
SysAid includes sophisticated asset management tools that simplify managing your network's assets and seeing hardware and software for each end user.
It's one of the best IT service desks on the market, with useful features that can take your customer care to the next level.
Key Features of SysAid
SysAid offers countless features that their function can categorize.
Productivity: Some of SysAid's tools aim to boost your team's productivity level.
These tools include asset management, ticket automation, self-service, automated reporting, and Cloud or On-Premises deployment tools.
Information Technology Service Management Functionality: Tools under this function enable your team to perform work faster and better.
Tools under this functionality include ITIL package, workflow automation, third-party Integration, BI analytics, Business value dashboard, and advanced customizable fields.
ITIL package: SysAids features all come with an ITIL package that standardizes and streamline work processes.
BI analytics: This feature gives you a birds-eye view of your performance. It shows you hidden data and enables you to share data.
Business value dashboard: This dashboard enables your IT department to view the impact of their activities on your business.
Other features include third-party integrations, advanced custom fields, automated reporting, task automation, self-service, and ticket automation.
SysAid's Pricing Plan
SysAid's Pricing plan is quotation-based. There is no fixed pricing plan. The amount you pay for a plan depends on the functionality your business needs.
To get a price quote, contact the SysAids team.
ProProfs is a help desk software that allows companies of all sizes to track complaints, prioritize tickets, send automated responses, and engage with customers.
ProProfs Help Desk is one of the best help desk software programs available today.
This feature-rich help desk software helps an online business track all client issues, requests, and bugs and allows your customer care employees to resolve them in no time.
Other notable features of ProProfs Help Desk Software include child tickets, scripted responses, integrations, and shared inboxes, which aid in ticket resolution and provide a pleasant client experience.
Key Features of Proprofs
Inbox Management: This feature brings all inbox messages to one place, ensuring you never miss responding to an inbox. It also allows you to check the status of a request and the person working on resolving the request problem.
Ticket Management: This feature enables you to customize your availability periods, break down parent tickets into child tickets, export tickets, identify and add spam messages to a spam list, bookmark tickets, recover deleted tickets, and collaborate.
Reports and analytics: Proprofs allows you to view data on your team's performance, the time it takes your team to respond to a request, the level of your customer satisfaction, and more.
Team Management: With Proprofs, you can create teams and assign them roles, check ticket history, allow communication between agents, and insert private notes to tickets.
Omni-channel support: Regardless of the channel customers use in communicating with your business, Proprofs allows you to view all their requests from a single dashboard.
Proprofs also enables you to convert calls and live chat messages to tickets.
Customer support: Proprofs allows you to create delightful customers by enabling file transfer during a conversation with customers, self-service function, and SLA management.
Help Desk Automation: With Proprofs, you can automate your customer responses and the email notifications you send to customers and team members.
Proprofs also enables you to automate all of your workflow processes.
Customization: Proprofs allows you to add more details to a ticket, add labels to a ticket, remove Proprofs branding, and add your business logo to your help desk.
Proprofs Pricing Plan
Proprofs's help desk offers three pricing plans.
The free forever plan costs $0, the Essentials plan costs $15/per month per user, and the Premium plan costs $25/per month per user.
All pricing plans offer a 15-day free trial period, including
multiple chat sessions,
file transfer during responses,
canned responses,
ticket labeling,
private notes attachments in tickets,
customer typing status,
ticket history, and
chat transcripts.
Other Best Help Desk Software
Sprinklr Help Desk Software
Sprinklr is an AI-powered help desk system that gives organizations the tools they need to speed up customer service activities.
Sprinklr, which is trusted by prominent brands such as Samsung and Cisco, provides capabilities such as ticket management, workflow automation, ChatBot, multi-channel support, self-service function, reporting/analytics, sentiment analytics, and more.
Sprinklr does not have a clear pricing structure. It provides a free trial but is a quote-based plan. Contact the Sprinklr staff for a pricing plan.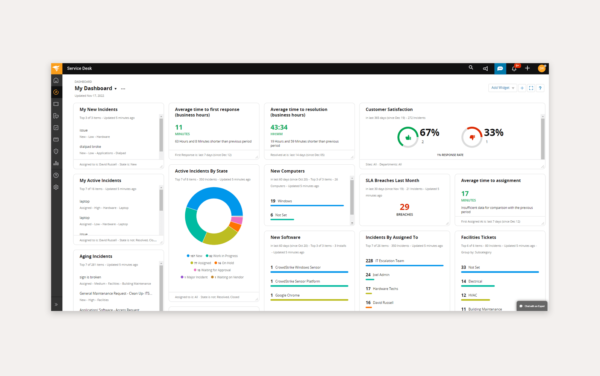 SolarWinds Service Desk software is one of the best remote desktop and software access tools. It can assist you in managing and tracking support tickets from creation to resolution in a single centralized interface.
It has reporting and analytics capabilities that allow you to track tickets and agent performance to see where your teams are effective and where they need to improve.
This IT service management system assists firms in standardizing service requests and processes, resulting in shorter resolution times.
The incident management software allows you to manage tickets received through many channels, such as mobile apps, phone calls, or live chats.
Furthermore, extensive automation tools simplify handling duties such as ticket generation, escalation, and routing.
Key Features
Ticketing system
No-code chatbot builder
Reporting and analytics
Native Integration with Active Directory and LDAP
Automated email-to-ticket conversion
FIPS 140-2 compatibility and security
Automated approval workflows and panel voting
Knowledge base, community forum, and customer portal
Omnichannel agent workspace
SolarWinds Pricing
Team: $19 per technician/month
Business: $39 per technician/month
Professional: $69 per technician/month
Enterprise: $89 per technician/month
Free trial: 30 days
Hiver is a Gmail-based help desk solution that allows organizations to provide excellent customer service directly from the Gmail client.
Hiver is best thought of as an extension to your Gmail account. It allows you to leave internal notes on talks and even assign discussions to individual agents.
Hiver also provides some reporting to help you better assess team performance and acquire insights into the most common reasons clients contact you.
It's worth mentioning that, unlike most of the other tools on this list, Hiver doesn't contain any further tools beyond a shared inbox, which may limit its potential to scale with your team.
Furthermore, several fundamental functions, such as reporting, are only available on their more expensive subscriptions.
Hiver allows you to perform help desk activities such as shared inbox management, workflow automation, reporting and analytics, SLA management, and more from the Gmail interface.
Hiver does not provide a free forever plan. However, all three paying options include a 7-day free trial period.
The Lite plan is $15 per month per user, the Pro plan is $39 per month per user, and the Elite plan is $59 per month per user.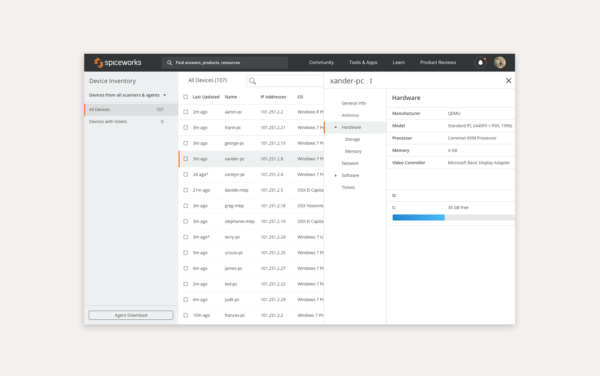 Spiceworks Cloud Help Desk software is a free help desk solution for startups and small enterprises on a budget. This solution lets your staff organize customer requests and daily duties in a single location.
Because Spiceworks is a cloud-based help desk, it handles hosting, maintenance, and data backups for you.
Spiceworks can also be customized. You can use monitors, set alarms, and customize ticket attributes and rules to remain on top of chores.
Reports with vital metrics and ticket information are also available so you can see how you're doing overall.
Key Features
Ticketing system
Reporting and analytics
SLA management
Live chat
Customizable branding
Performance monitoring
Pricing: Free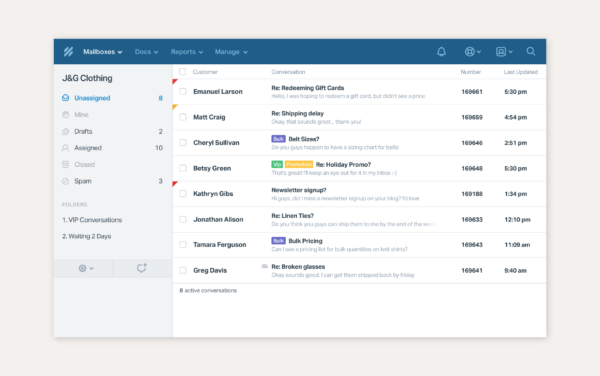 For almost a decade, Help Scout has assisted teams in providing speedier service. This customer service center can assist teams of any size, from small startups to major businesses.
Requests from email, live chat, self-service portals, and other channels are consolidated into a single inbox.
All requests are routed to this centralized location, where they can be marked, updated, and assigned to the best agent for the job. This shared inbox improves team communication, collaboration, and organization.
Key Features
Ticketing system
Reporting and analytics
Shared inbox
Intuitive interface
Easy-to-use customer surveys
Security and compliance features
Third-party integrations
Omnichannel agent workspace
Reporting and analytics
Help Scout Pricing
Standard: $20 per user/month
Plus: $40 per user/month
Pro: $65 per user/month
Other Best Help Desk Software With Good Ticketing Reviews
Kustomer created a one-of-a-kind solution by combining help desk and project management software.
Kustomer provides email, chat, phone, and social account help via multiple channels. You can create, assign, and establish due dates for tasks in project management.
You may also obtain a comprehensive picture of each customer and update various systems simultaneously, saving time and energy.
Though Kustomer has several remarkable capabilities, it is fairly pricey, and the pricing is a little perplexing because there are a number of tools that are add-ons.
If you want to know how Kustomer stacks up against the competition, check out our list of the finest Kustomer alternatives available.
Price: Starting at $89/user per month.
To accept support client tickets, most teams utilize a group email address (e.g., [email protected]) when engaging with customers.
Some teams, however, prefer to interact using personal email accounts while still requiring the capabilities of help desk software. Front allows you to do just that.
Front lets you link your email, SMS, and social network accounts to a single inbox. It also has productivity tools such as internal notes and various automation options to reduce human effort.
They also provide certain analytics and integrations, but only on their more expensive services.
Front also lacks a knowledge page for FAQs and a live chat service for real-time help, unlike some of the other solutions on our list.
Price: Starting at $19/person per month.
Hubspot provides a variety of customer management tools to help business owners enhance customer satisfaction and connections.
It comes with simple help desk software and a ticketing system for tracking long-term customer service requests.
They provide one of the best CRMs for small organizations that combine seamlessly with customer service management software.
All of your support requests are organized into a single dashboard by the service desk software and ticketing system, which your entire staff may view.
You may monitor key support parameters such as ticket volume, agent response time, etc. This lets you see if you're fulfilling your goals and client service level agreements (SLAs).
Additional capabilities include knowledge base software to assist your clients in resolving their own difficulties and routing and automation to save you time.
Furthermore, live chat and chatbot capabilities are included, allowing you to engage with your consumers in real-time.
Pricing: All users have access to a free plan. Paid subscriptions begin at $45 per month and include access to additional automation tools and support for extra team members.
Google Collaborative Inbox could be an excellent alternative if you already use Gmail and wish to organize your support efforts.
Collaborative Inbox is best thought of as a shared folder that numerous users can access from their personal email accounts.
It is pretty straightforward to set up Collaborative Inbox. You create an email address and a Google Group (more on that here if you're unfamiliar) and then invite individuals to that group.
That's all. Everyone in the group can now respond to emails in the group inbox without sharing login details (a significant security benefit).
Aside from that, you can assign discussions to different group members and create different conversation statuses (closed, on-hold, etc.).
You can also assign different permission levels to collaborators, albeit this feature is relatively limited.
Gorgias is an e-commerce-focused help desk solution. Gorgias provides users access to a shared email, knowledge base, and live chat facility.
The integrations with Shopify, Magento, and BigCommerce set it apart from the other options on the list (albeit the Magento connector is only available on the higher-tier subscription).
Through those integrations, you can view order information, alter orders, and even issue refunds right from your help desk, saving your team a lot of time and effort.
However, one significant disadvantage is that all of their plans have ticket limits, which means your costs may change monthly based on volume.
To give you an idea, their base package covers 350 monthly support tickets, which works out to about 12 tickets each day – a figure that most teams would well exceed. You'll be charged an extra $25 for every 100 tickets.
Price: Starting at $60 per month.
Who Can Use Help Desk Tools?
1. Solopreneurs and Small Businesses
A solopreneur differs from a small business in that a solopreneur needs a streamlined strategy to manage customer relations independently.
Limited firms have a limited crew to provide support.
Both require small business help desk software with automation capabilities that allow them to focus solely on answering tickets while mundane jobs are handled.
How a help desk software can benefit small businesses:
Tag, categorize, and prioritize incoming requests automatically.
Remove the need for multiple team members in small firms to share the same inbox, folder structures, and logins.
Allow prefabricated responses for frequently requested questions instead of responding to them again.
2. Medium-sized Businesses
Mid-sized enterprises are nearly entirely concerned with expanding swiftly. As a result, they require everything a small firm wants and additional capabilities that may assist teams in providing fast, personalized service at scale.
How a good help desk tool can benefit medium-sized businesses:
SLA automation ensures that agents meet customer service deadlines. Helpdesks can also automatically escalate tickets to managers if deadlines are not fulfilled.
Prevent numerous agents from responding to the same issue.
Collaborate with third-party vendors while maintaining openness.
Set up self-service options to free up the time of your employees.
3. Large Enterprises
Enterprises require diverse teams to collaborate without interfering with the customer experience.
Enterprises require a method to assess their team's performance and implement initiatives to reduce expenses and effort where possible.
How a good help desk tool can benefit large enterprises:
Manage agent availability across shifts, regions, time zones, and languages, and route tickets to the most appropriate agent for the fastest response.
Integrate with other tools used by the company, such as CRM software, invoicing and payment systems, shipment trackers, and so on, to obtain the information needed to resolve a ticket.
Bring your sales, marketing, and support teams together to improve collaboration and visibility into each other's workloads.
Any good help desk must comply with industry data protection standards such as TRUSTe, ISO 27001:2013, SSAE – 16 & HIPAA, SOC I, II, III, and so on. Make sure the help desk you choose has global data centers and enterprise-class in-product security tools to assist you in managing your data security concerns.
4. Freelancers
A support desk software can assist freelancers in consolidating all client communication into a single mailbox.
A support desk system allows freelancers to keep track of updates in a single thread and better prioritize their work.
How a good help desk tool can benefit freelancers:
Track time spent assisting clients and bill them properly without the need for tedious paperwork to generate estimates or bills.
By employing automation to remind you of deadlines, you can first optimize work hours to focus on high-priority activities.
Document terms and conditions in a knowledge base that clients can access.
How Much Does Help Desk Software Cost?
On average, help desk software costs between $20 to $200 per user per month, with some enterprise-level solutions costing much more.
Remember that pricing might vary significantly based on the exact software package and provider, and any customization, integration, or maintenance requirements is crucial.
The price you should anticipate paying for help desk software depends on several variables, including:
Number of users: Some help desk software is paid per person; therefore, the more users you have, the more expensive the software becomes. Others have a minimum number of users for which you must pay.
Features: Different software packages come with different features and capabilities. More advanced features are usually more expensive.
Type of deployment: Help desk software can be deployed in a variety of ways, including on-premises, cloud-based, and hybrid. Pricing structures can fluctuate depending on the type of deployment.
Customization: Some software is more customizable than others, which might affect the price.
Help: The vendor's assistance can also impact the price.
Integration: The cost of the software may be affected if it is required to integrate with other systems or technologies.
Benefits of Help Desk Software
Businesses and organizations can profit from help desk software in a variety of ways, including:
Addresses customer issues: Help desk software facilitates the generation and management of support tickets, ensuring that all client inquiries and issues are addressed promptly and organized.
Improved communication: Help desk software can increase communication between support personnel and customers by providing a centralized platform for customer care, resulting in faster resolutions and more customer satisfaction.
Enhanced productivity: By automating mundane operations like ticket assignment and response, support workers may focus on more difficult issues and boost overall productivity.
Improved tracking and reporting: Help desk software may provide useful insights into support metrics like response times and ticket traffic, allowing businesses to identify areas for development and analyze progress over time.
Improved collaboration: Help desk software can promote collaboration and knowledge-sharing among support staff, increasing efficiency and quicker issue resolution. Features like internal notes and ticket sharing can help in this regard.
Enhanced customer experience: Help desk software can enhance customer satisfaction by streamlining support procedures, offering quicker resolutions, and assisting companies in forging closer bonds with their clients.
How To Choose the Best Help Desk Software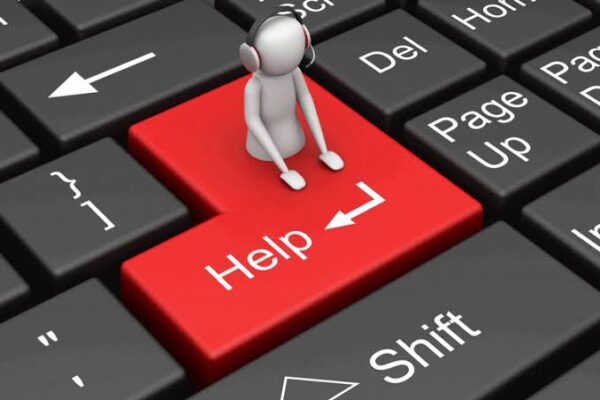 When purchasing help desk software for your company, numerous variables exist.
The most important factor to consider is your required characteristics, but it is not the only one. Integrations, scalability, and customization choices are also factors to consider.
Begin by answering questions about your customer, team, and company to identify the best help desk software for you.
1. Define "Great Customer Service" for Your Organisation.
When you're deep into help desk comparison shopping, it's easy to lose sight of why you're choosing a support desk in the first place.
You do not need to locate the "best help desk software" because there is no such thing.
The best help desk for you is one that enables your staff to service your clients most effectively and consistently.
To determine this, you must first understand the type and level of customer assistance and service you wish to provide. Here are some questions to assist you in understanding.
What kind of assistance do your consumers anticipate?
Your specific customer group will come to you with their own needs.
Do they favor email?
Are they at ease with self-service tools?
Do they expect a response in an hour or a day?
Look for indicators of what your clients want from you and how satisfied they are right now.
What kind of experience do you want to provide your customers?
Consider the perfect customer support encounter from the perspective of your customer.
Is it necessary for them to visit a website to seek assistance, or may they simply send an email?
Can they contact support through multiple channels?
Can people simply answer their own questions utilizing self-service tools?
What kind of experience do you want to provide to your support team?
Charles Schulz, the author of the Peanuts comic strip, liked his favorite pen so much that he purchased the entire stock when it was withdrawn.
While your support team may not share your enthusiasm for help desk software, they will rely heavily on it.
You want to ensure they have the correct service desk tool as the first line of defense for client retention.
Clear, usable, and appealing help desk software can save them time and effort so that they can concentrate on your clients.
2. Determine What Needs to Change About Your Current Support
Whether you're migrating from a shared Gmail mailbox to another help desk solution, this change provides an opportunity to reconsider your customer support strategy.
Many small businesses, for example, use their support inbox for all forms of company interactions, implying that their one.
Or a two-person support team handles everything from sales contacts to domain renewal alerts and advertising offers.
Years later, the sales staff continues to receive email forwards from a much larger and busier support inbox!
Choosing a new help desk is an excellent opportunity to consider streaming items into a separate mailbox or automating their delivery through workflows.
Examine your current customer service efforts and think about the following:
Is this still the best way to solve this issue?
Is this strategy critical to our customer experience, or might we achieve the same outcome in a different way?
What can our team do now that we couldn't do the last time we thought about our tools?
You'll have a goal to measure help desk features against once you've sketched out a clear picture of the customer assistance you intend to provide.
Whatever help desk software you choose, it must enable you to provide the services you have specified.
3. Price
Do you have to pay per ticket or per user, and which is more practical?
Will the pricing be sustainable over time?
Shop around, compare features, read reviews, and then pick which help desk software best suits your company's workflows.
A larger price does not guarantee quality, and if you are just starting, even free help desk software can be more useful than email.
4. Select Your Essential Help Desk Features
It's time to take things a step further and list "must have" and "nice to have" features.
Request that your customer service personnel jot down and categorize all customer service jobs that come to mind.
To evaluate each feature and classify it as necessary or non-essential, ask your team the following questions:
Is building this feature inside the help desk necessary, or could we connect a different application that does the job better?
Are there any legal restrictions we must follow (for example, data storage and privacy controls)?
What benefit does this feature provide to our customers? To our group?
Are there any technological constraints that must be met (for example, data format and accessibility)?
What other products or services must this be linked to? Is it conceivable?
You can now rule out any products that do not cover all your essential features (directly or through tight Integration).
The next stage is to form an evaluation team to put your shortlisted help desks through their paces.
5. Create a Help Desk Software Evaluation Team
The evaluation team might be you ife evaluation team might be you if you're just starting If you have a larger team, we suggest the following combination:
One junior-level customer service representative
A couple of help desk power users
A manager or senior executive
Combining their various demands and experiences will provide you with a more effective technique to determine whether the help desk will be a good fit for your entire organization.
We also urge that the entire evaluation team look at the same tool at the same time rather than each individual analyzing a distinct choice.
It isn't easy to effectively try a help desk because you'll never be able to use the product as you will when dealing with real consumers at full capacity.
For a quick overview, use case studies to observe how clients of various help desks discuss what they like about the program.
When you're ready to dive in and thoroughly assess your help desk choices, proceed to the next few steps.
6. Test the Customer Experience of Each Help Desk Solution
How will your clients engage with the support desk you select? Using some of your most common client questions as examples, conduct a support conversation from the customer's point of view.
What will the client see? How simple is the procedure for them? (Because Help Scout does not have a client-facing interface or ticket numbers, your customer will only get personal emails.)
Consider the experience you want to provide your consumers and run it through each tool.
7. Test Out The Support Desk User Experience
This product will be used by your customer service team all day, every day. How simple is it to browse, how rapidly does it load, and how soon can they discover answers?
The help desk software you select should be as seamless as possible for your team, allowing them to focus their efforts on supporting clients rather than fighting their tools.
8. Consider scalability
Will this solution continue to operate as your company expands?
Request an estimate of the support volume for their larger customers from the sales and success teams of the products you're evaluating.
You don't want to pay the higher prices and complexity of software you don't require, but you also don't want to choose a new help desk in 12 months.
Essential Features To Look Out for in Any Help Desk Software
Ticket Management
A method of tracking and managing client queries, requests, and problems through a single system, ensuring that no requests are neglected and that all customer concerns are addressed promptly.
Easy-to-use Interface
It takes time to learn any new software. Some tools, however, have substantially shorter learning curves than others.
The faster you can teach agents, the sooner they can return to doing what they do best: helping others.
Attend demos for all of the tools you're thinking about, and when you've narrowed it down to a couple, do a live trial if possible.
If possible, include personnel from many fields in the trial phase.
Managers, agents, and operations personnel will all use the tool differently, so any solution you choose must work effectively for all of those use cases.
You should also look at the experience from the submitter's perspective.
Submit a request and engage in a few back-and-forth discussions to truly understand how the tool works from both sides of the conversation.
Multi-channel Support
An omnichannel help desk software may consolidate tickets from several communication channels into a single location.
Support agents can communicate via email, social media, chat, phone, online, and messaging apps from a single inbox.
An omnichannel help desk enhances visibility and transparency by offering a unified view for all agents instead of multi-channel support, where agents must juggle logins and passwords.
Your help desk tool must respond to client enquiries and complaints across several platforms, including email, phone, social media, and chat, so that customers may choose the most convenient channel.
Knowledge Base
A centralized store of articles, FAQs, and other materials that offer self-service alternatives to customers and allow agents to easily access solutions to common issues, lowering resolution time and increasing the customer experience.
Customers nowadays prefer to get answers on their own; thus, help desk software that assists you in documenting FAQs in a self-service portal is essential.
Access to additional tools, such as client portal customization, can assist you in extending your branding to your knowledge base.
Furthermore, a strong knowledge management module will allow you to create an internal knowledge base for your teams to reference and utilize.
Scalability
Whether you're seeking to buy help desk software for your school or your company, one thing is certain: your demands will vary as your workforce grows and changes.
Because transferring help desks is a major undertaking, picking a solution that can grow with you is critical.
Pick a tool that will be useful for at least the next 18-24 months. Anything less, and you may be setting yourself up for future problems. Anything beyond that timeframe becomes extremely difficult to anticipate.
Take note of each tool's pricing structure and whether you must convert to a different plan to suit future needs.
Some tools charge per user, while others charge based on volume. Generally, tools that charge per user are considerably easier to anticipate future expenditures for.
SLA Management
The ability to set and track service level agreements (SLAs) to ensure that customer issues are resolved within defined timeframes and that agents meet performance targets.
Automation
The ability to automate repetitive tasks, such as ticket assignment and routing, allows agents to focus on more complex issues and improve efficiency.
Reporting and Analytics
The capacity to generate reports and analyze data on important parameters such as ticket volume, resolution time, customer happiness, and agent performance, resulting in insights that can assist in optimizing procedures and improving service quality.
If you can access reporting and metrics tools, you can better identify the areas you shine in and where you still have space for improvement.
Look for tools that can help you establish, at the very least, the busiest days and times of day, the most common reasons people contact you, typical response times, and CSAT ratings.
Some applications even provide pre-built dashboards to help with metrics reporting.
It's also useful to have the ability to create custom dashboards to keep your most important KPIs easily accessible.
Integrations
Bringing together different tools and systems, such as CRM software, project management tools, and chatbots, to provide a better customer experience and help agents work faster.
Quality customer support
No matter how simple a tool is, you'll have questions about it at some point.
Though you might expect those who create help desk software to be extremely helpful, this is not always the case.
Once you've narrowed down your list of potential candidates, examine each of their knowledge bases to determine how extensive their information is and how easy it is to explore.
Send a couple of inquiries to their support personnel to evaluate how soon they reply and how helpful they are in your contacts.
Customization
The ability to customize the help desk software to meet specific business needs, such as branding, workflows, and fields, ensures that the software fits the organization's unique requirements.
Collaboration and Productivity Tools
The ability to communicate with others and expedite work are two of the most significant advantages of using a help desk technology.
Access to these tools alleviates the strain on agents, allowing them to devote more time to the people they serve.
Some help desk software, for example, allows you to add additional context to a conversation with private notes, reduce duplicate labor with collision detection, and provide lightning-fast responses to popular questions with saved replies.
You should also look for tools that allow you to automate manual operations, such as assigning and sorting incoming requests.
Tips To Improve Your Help Desk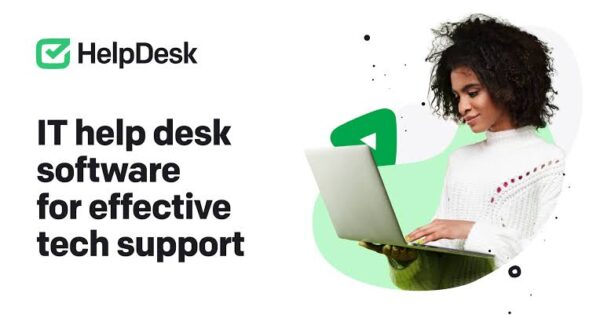 Tip #1. Establish Your Requirements.
Before you begin comparing alternative help desk software options, you must first identify your requirements. Consider your company's requirements, budget, team size, and the features you require from a help desk software package.
Tip #2. Look for Ease of Use
A decent help desk software solution should be simple to use and should require little training.
To deploy to your agents, look for a solution with a user-friendly UI, straightforward navigation, and a low learning curve.
Tip #3. Consider Customization.
Depending on your business requirements, you may need some amount of customization in your support desk software. Look for a solution with custom fields, workflows, and automation.
Tip #4. Evaluate integrations
A solid help desk software solution should work in tandem with your other company tools and software, such as CRM, marketing automation, and project management software.
Tip #5. Check Pricing and Scalability
Examine the cost and scalability of various support desk software choices. Look for a solution that matches your budget and can expand with your company.
Tip #5. Look for analytics and reporting.
A solid help desk software system should give you insights and data to improve your customer support operations. Look for a solution with reporting and analytics tools for tracking metrics like response times, ticket volume, and customer satisfaction.
Tip #5. Consider customer service.
Consider the amount of customer service the vendor gives while considering help desk software choices. Look for a vendor who provides several support channels, such as phone, email, and live chat, and has a reputation for providing responsive and helpful service.
Mistakes to Avoid While Buying a Help Desk Software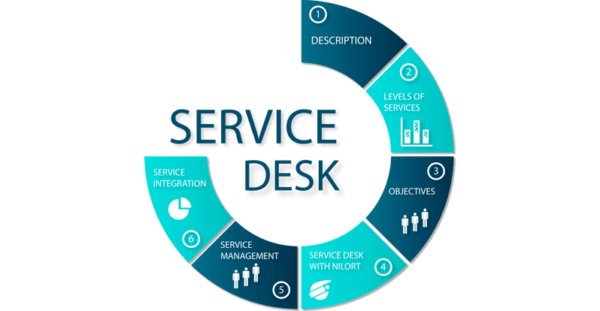 When buying a help desk software, it's important to avoid some common mistakes.
This ensures the software meets your business requirement, can equip your agents with the right tool, and can help deliver a great customer experience.
1. Not Evaluating Your Needs
Understanding your business needs and goals for customer support is crucial before choosing help desk software.
Otherwise, you may end up choosing a help desk software that doesn't meet your requirements, leading to dissatisfaction and a potential switch to another solution in the future.
2. Neglecting scalability
Choosing a help desk software that can't handle growth can be costly. Your customer support needs may change as your business grows, so selecting a help desk software that can grow with your business is important.
3. Ignoring Integration
Integration with other systems, such as CRM and ERP, is crucial for avoiding manual data entry and data silos. Choosing software that can't integrate with your existing systems can lead to inefficiencies and frustrated employees.
4. Underestimating the Importance of User-friendliness
A help desk software that's difficult to use can lead to low adoption rates among employees and customers.
When choosing a help desk software, it's important to consider how user-friendly the software is so that everyone can use it effectively.
5. Not Considering Data Security
Sensitive customer data should be protected, and a help desk software should have security measures in place to ensure that data is protected. Neglecting data security can put your business and customers at risk.
6. Skimping on Training and Support
Training and support are crucial for ensuring employees can use the help desk software effectively. Skimping on training and support can lead to low adoption rates, ineffective use of the software, and frustrated employees.
7. Overlooking Analytics and Reporting
Analytics and reporting capabilities are crucial for gaining insights into customer support trends and improving processes. Overlooking this aspect of the software can result in a lack of visibility into customer support operations and inefficiencies.
8. Ignoring Customer Feedback
Ignoring customer feedback can result in poor customer satisfaction. It's important to consider customer needs and preferences when choosing a help desk software to ensure that customers are satisfied with the support they receive.
9. Failing to Consider Costs
The total cost of ownership for a help desk software can include subscription fees, integration costs, and training and support costs. Failing to consider these costs can lead to unexpected expenses and budget overruns.
10. Not Considering Future Improvements
Help desk software needs to evolve to stay in touch with customer behavior constantly, and it's therefore important to choose a software that can be easily updated and modified.
Neglecting to consider future improvements can result in having to switch to a new system in the future, which can be time-consuming and expensive.
Help Desk Software Market Trends
With a growth rate of 33% per year, the market for help desk software is projected to reach USD 11 billion by 2023.
Organizations are using the help desk automation features to reduce business risks, avoid manual chores, and do more with the same amount of support staff.
For example, larger companies are trying to replace level 1 human agents with chatbots that AI drives.
These chatbots are different from those that came before them because they can understand how people feel, read through long papers in seconds, and switch the conversation to a human expert if the need arises.
Another growing trend is using self-service options to cut down on the number of help tickets and costs.
Businesses are investing money into high-quality help material like how-to videos, guides, etc., so customers can help themselves.
What Is The Best Help Desk For You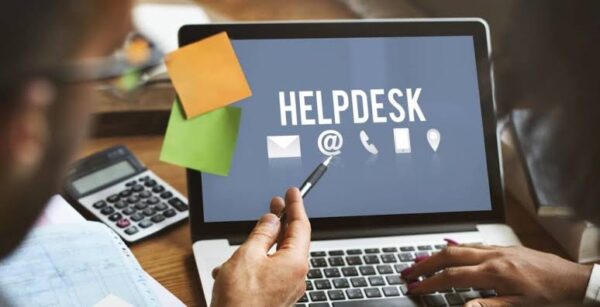 The main goal of help desk software is to speed up the support process and improve things for customers.
The software can be used by businesses of all sizes, from small startups to big corporations, and it can be changed to meet the needs of each company.
Before choosing which help desk software to use, you should think about your real wants.
For example, someone who just wants to talk to a few people on the side may find that email or social media, which are both free, are the most cost-effective way to do so.
But for professional or business use, especially with a large number of people and regularly, you will probably want to look at the higher-end help desk software options to meet your needs and use all of the more advanced tools that are included.
Good Read: 17+ Best Marketing Automation Software Tools Ranked.
Bottom Line
Choosing the best IT support ticket system or help desk ticket software relies on your business's needs, budget, and personal preferences. Even though we decided on Zendesk for Service as our top pick overall because of its wide range of features, ease of use, and low-cost plans, that doesn't mean it's right for everyone.
If you're looking for an option to Zendesk, both Freshdesk and Zoho Desk have strong features that can compete with Zendesk. HubSpot's features might be better suited to the size and scope of SMBs, while freelancers and solo businesses might be drawn to LiveAgent because it's cheap and easy to use. Jira's method of tickets, which is focused on project management, might be just right for agile teams.
Remember that the success of customer service desks isn't just about the software you use but also about how well it fits your business goals and helps your customer service strategy. When choosing a help desk option, you should always think about how your team works, how complicated the problems are, and what your customers expect.
Frequently Asked Questions (FAQ)
Q: What are the benefits of a Help Desk System?
Using a help desk system in your company's customer service unit assures fast support request monitoring, stronger customer relationships, and a strong brand reputation.
Q: What's the difference between CRM and help desk software?
CRM software assists organizations in tracking and analyzing contacts with customers and prospects, whereas help desk software primarily manages and resolves customer support requests and questions.
Q: Do small businesses need help desk software?
Yes, even if they have a limited client base and support team, small firms can profit from employing help desk software. Improved efficiency is one of the reasons why small firms want help desk software. Many manual operations, such as tracking client enquiries and addressing issues, can be automated by help desk software, allowing support workers to work more efficiently.
Q: What actions can I automate with help desk software?
Ticket assignment, routing, escalation, and sending automatic replies, reminders, and follow-up messages to clients are all possible with help desk software.
Q: Is there any Free Help Desk Software?
Yes! There is a lot of free help desk software available, as well as a lot of other software that comes with a free edition. Hubspot, Jira, Zoho desk, Freshservice, Proprofs, and others are among them.
Q: Does my company need help desk software?
Help desk software can be a significant asset if you have more than one person working on customer support. It will help you keep track of customer questions and make work assignments and management easier.
Q: What is the best help desk ticketing software?
Our top three selections for the finest help desk ticketing software are Zoho Desk, Freshdesk, and Jira Service Management. Freshdesk is an excellent choice if you require a large number of integrations. Jira Service Management is best for big enterprises, whereas Zoho Desk is an excellent choice for a wide range of businesses.
Q: Can I use Help Desk Software as a beginner?
Absolutely! Many help desk software packages have an easy-to-use interface that allows even inexperienced users to get the swing of what they're doing.
Q: What features should I look out for when choosing a Help Desk Software?
When selecting a help desk software, check for crucial capabilities such as ticket management, integrations, automation, analytics, collaboration tools, self-service options, and omnichannel assistance.
Q: Is help desk software scalable?
Depending on the product and pricing plan chosen, help desk software can be scalable. Some service providers give adjustable pricing based on the number of agents or the organization's size, allowing firms to scale up or down as needed.
Q: How much does help desk software cost?
The cost of help desk software varies depending on the functionality and number of agents required. Some systems provide free plans, but others charge up to $100 per agent per month.