Last updated Apr. 18, 2023 by Okechukwu Nkemdirim
Disclosure: Some of the links in this article may be affiliate links, which can provide compensation to me at no cost to you if you decide to purchase a paid plan. These are products I've personally used and stand behind.
Anyone who has researched e-commerce business management software online would probably have come across Jungle Scout. There's a lot of misinformation on the internet about Jungle Scout, but we have explained them in this Jungle Scout Review: Everything you need to know.
Mostly, you find some people — usually competitors — downgrading the software, painting it black as inaccurate and inefficient. Also, some other people exaggerate the software's abilities just to hard sell the product to you.
The rest of this article will tell you everything there is to know about the software, help you get a final impression, and decide whether this e-commerce business management solution is for you.
Here's what I would cover in this Jungle Scout Review: Everything You Need to Know:
An Overview of Jungle Scout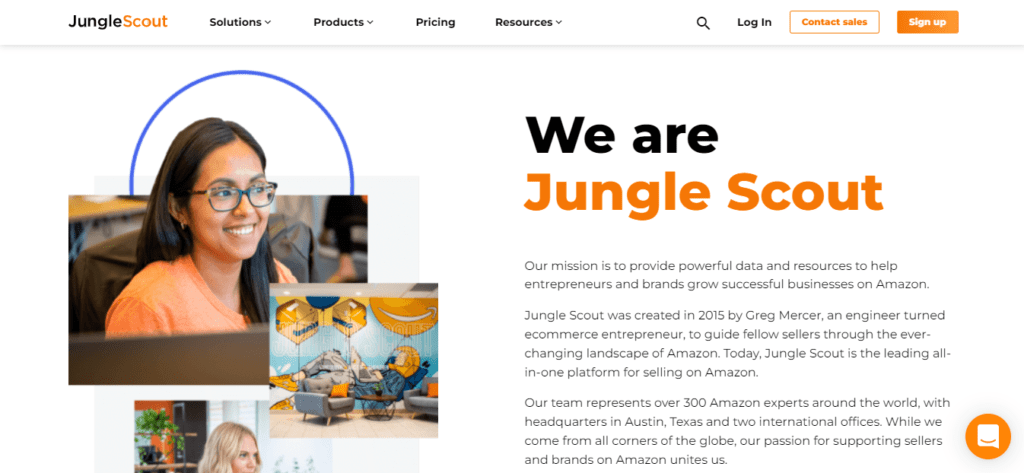 Who owns Jungle Scout and How it started?
Jungle Scout is owned and was actually founded in 2015 by Greg Mercer, an engineer turn entrepreneur, and initially operated as a fully remote company. The company's headquarters is presently situated in Austin, Texas. However, they also have multiple offices in different locations including Shenzhen (China) and Vancouver (British Columbia).
Initially, the company only offered optimizing search tools for Amazon sellers. But today, the software has evolved into a complete e-commerce business management solution that has gained massive popularity over the years. It was even recognized by Forbes Magazine as the Best Startup Employer in 2021.
Previous acquisitions and funding of Jungle Scout

In 2018, Jungle Scout bought Forecast, a demand forecasting, and predictive analytics software, to expand its offerings to sellers and business owners on Amazon.
Their biggest acquisition yet is Downstream Impact, which is a Seattle-based software company that specializes in Amazon advertising technology for a whopping $110 million in growth capital which was raised by Summit Partners.

Technology
Our review of Jungle Scout boasts of a massive database comprising insights and processed data on over 500 million Amazon products across multiple catalogs. Data included in this database range from the sales history of a product to products from the Amazon catalog.
Over the years, the company has developed its capacity to provide Amazon sellers and business owners insights on important information and trends such as global imports, user buying preferences, and behavior, as well as on other sellers on the platform.
What is Jungle Scout?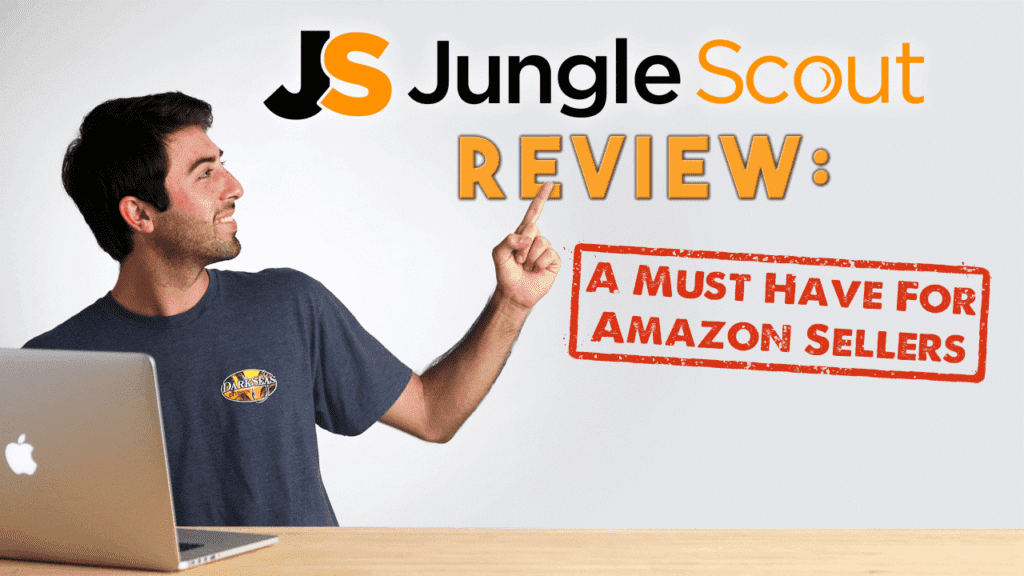 Jungle Scout is a complete suite of Amazon and FBA research tools that helps users keep an eye on their competitors, research keywords, estimate sales, and discover the most sold products using a convenient single, user-friendly interface.
This e-commerce solution provides business growth potential to Amazon sellers and has been linked to being responsible for over 200,000 product launches on Amazon.
Read full Kajabi Software Review here
Why You Need Jungle Scout?
During the pre-Jungle Scout era, numerous sellers still sell their products on Amazon. At that time, e-commerce business owners had to do everything manually or hire a geek to help them
Product research and competitors' analysis were done on spreadsheets and usually don't cover the depth an average Amazon research software database possesses. This shotgun approach was also mostly ineffective and time-consuming.
Why go through the hassle of dealing with boring spreadsheets for hours when you can have all the information you're looking for with a few clicks. That's where Jungle Scout comes in handy, the research process is done almost instantaneously.
In the end, your success as an Amazon seller depends mostly on the quality of your competition's product research. But while you can decide to use any tool, garbage software would ruin your business irrespective of how genius your product ideas are.
Jungle Scout is a recommended software on the market you can trust with your business growth.
Here is an overview of some of the impressive features and offering this software has to offer.
What Does Jungle Scout Have to Offer?
Jungle Scout offers users a plethora of features, hence seen as "the Amazon research tool." Below is some features Jungle scout users have access to:
Product Database
Product Tracker
Niche Hunter
Relevancy Score
Opportunity Finder
Keyword Scout
Keyword Difficulty and Ease of Ranking
Launch emails & promotions
Sales Analytics
Inventory Manager
Product Alerts
Supplier Database
We will be going in-depth on every all the Jungle Scout features, looking at how they work, and how you can apply them.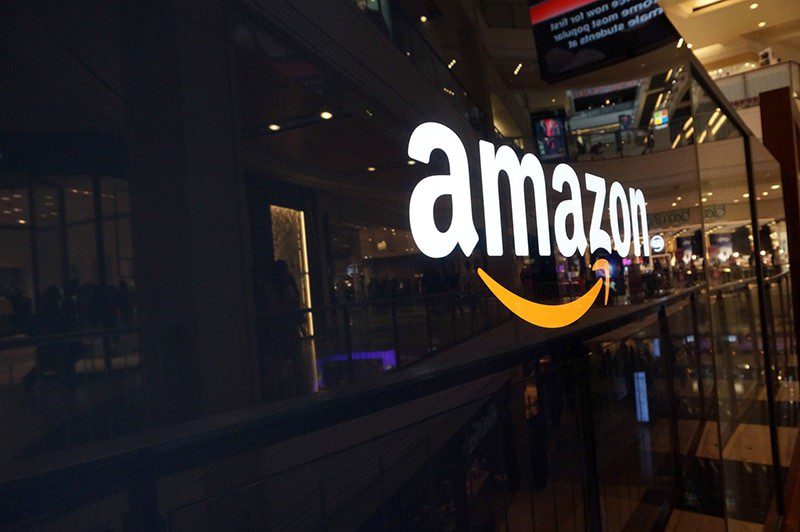 Jungle Scout Features
1. Product Database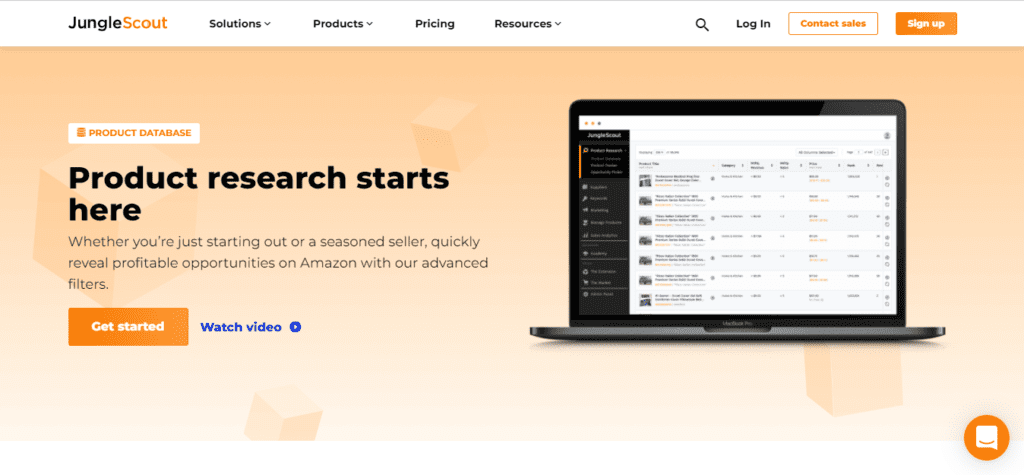 Jungle Scout boasts of a massive product database that covers approximately 70,000,000 Amazon products. It's certainly the software's best tool in the stack. Access to a wealth of important details such as profit and fee calculator(king in the e-commerce world), international marketplaces, and product rankings.
Most novice Amazon FBA product point owners underestimate the importance of the product database.
How does the product database work?
Having a large database is awesome, but being faced with a 70-million-item product list can lead to analysis paralysis. Jungle Scout's product database features come with a pre-installed filter option that allows you to find relevant information faster.
How to use the product database feature?
With the filters option, you can filter product search results by revenue, estimated sales, categories, etc. allowing you to find products with high potential within seconds.
For instance, if your target products are 4-star rated items with a $250 price estimate, using this tool, you'll be able to find an Amazon product that meets those requirements.
2. Product Tracker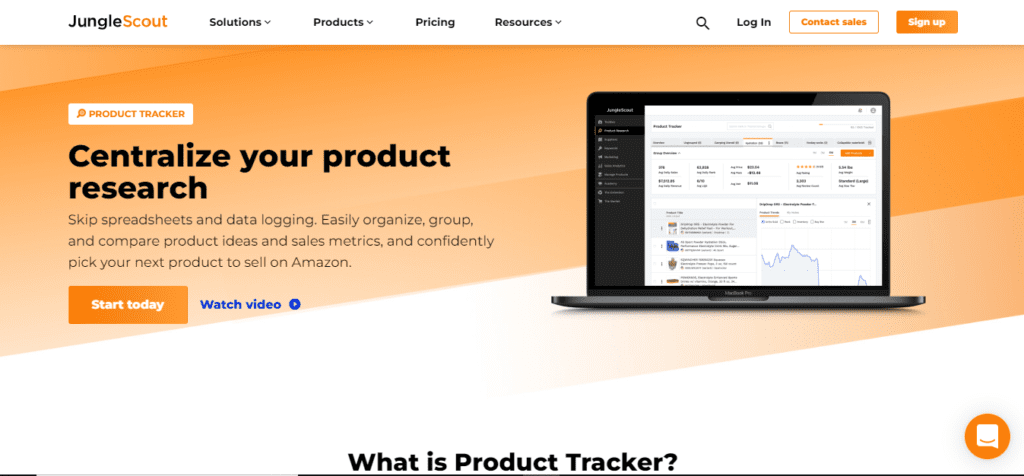 Product Tracker is a convenient tool that provides users with an overview of a product's sales activities. This tool will give you data on sales trends, average price, weight, fees, rating, and search traffic in real time.
How does the Product Tracker feature work?
This tool tracks best-selling products, revenues, sales, and rankings daily. It also analyses sales speed and the product's average pricing. The data generated using this tool would help you improve your launch strategy, improve your bid, and make an informed decision about your business.
How to use the Product Tracker feature?
To start tracking a product, input the product's details into the Tracker features. The tool will generate a comprehensive snapshot showing its history. Metrics generated include reviews, Ranks, Inventory on Hand, Units Sold, Price, etc.
Check out this full Buzzsprout Review and Complete guide
3. Keyword Difficulty and Ease of Ranking
Jungle Scout offers a ranking system on a scale of 1-100 which reflects the difficulty of specific keyword ranking. Keyword difficulty for longer phrases, such as "women's hoodies and caps," ranks low, whereas ranking for specific phrases like "women's shoes" is practically impossible.
4. Jungle Scout Relevancy Score
Jungle Scout has a scoring system that determines a keyword"s relevancy to the original search. Pro Amazon sellers who already know their product/niche well won't find this feature useful. However, newbie sellers would benefit greatly and get to learn new synonyms, slang phrases, or any random niche jargon that can boost the quality score of your listing.
5. Jungle Scout Niche Hunter
Niche Hunter is an impressive feature that comes with Jungle Scout's web app. This feature allows users to discover keywords, products, and great product niches using parameters like average price, listing quality score, opportunity score, competition, and product category.
How does the Niche Hunter feature work?
Assuming the Amazon marketplace can be referred to as an ideal jungle that's filled with hidden treasures, using this tool is a lot like sending out millions of experienced local guides on a quest to retrieve them.
How to use the Niche Hunter feature?
Fill out the parameter and submit it in the Niche Hunter section. Within seconds, the tool will generate a chronology of fascinating keyword suggestions and niches you can explore.
You can then drill down into the statistics to learn more about products that are most popular in each category. This will give you a better idea of the success rate of a niche before investing time and money in it.
How Does Jungle Scout Niche Score Work
When evaluating an opportunity, the Niche Score is used. It ranges from one to ten, with ten representing the greatest potential and one representing the greatest potential. Demand, competitiveness, and listing quality all go toward the final score.
6. Keyword Scout
The Keyword Scout features take away the trial and error process out of the keyword research process. It's an advanced KW tool that provides a more effective, time and money-saving solution to finding proper keywords.
This keyword scout is crucial to the success of any Amazon FBA business and can help users get their products in the face of as many potential buyers as possible. It also helps you to optimize your product listings for certain keywords that appear in search queries.
A fascinating fact about this feature is that the tool was developed according to the specifications of both companies and individual sellers on Amazon.
This means the tool reflects what most users require from a keyword research tool — which makes it even more impressive.
Jungle Scout's Keyword Scout feature does exactly what its name means. Helps users find the exact phrases buyers use in search queries when shopping for a particular keyword.
How does the KW Scout feature work?
Keyword Scout offers users the following peaks:
Access to authentic niche keywords being used by Amazon shoppers in search queries.
Keyword demand metrics include the number of sales, sales revenue, etc.
Insights into keywords relevancy.
Helps you reduce funds expended on PPC campaigns by budgeting
Increase your product rankings faster for popular keywords.
How to use the KW scout feature?
Click the Keywords tab on the left-hand navigation panel.
Select Keyword Scout
Choose your marketplace from the dropdown
Enter an ASIN or keyword in the search field (multiple searches using up to 10 ASIN are allowed)
Click Search
You can narrow down search results or customize the options you want to appear in the searches using the Filters menu and the Columns icon.
7. Opportunity Finder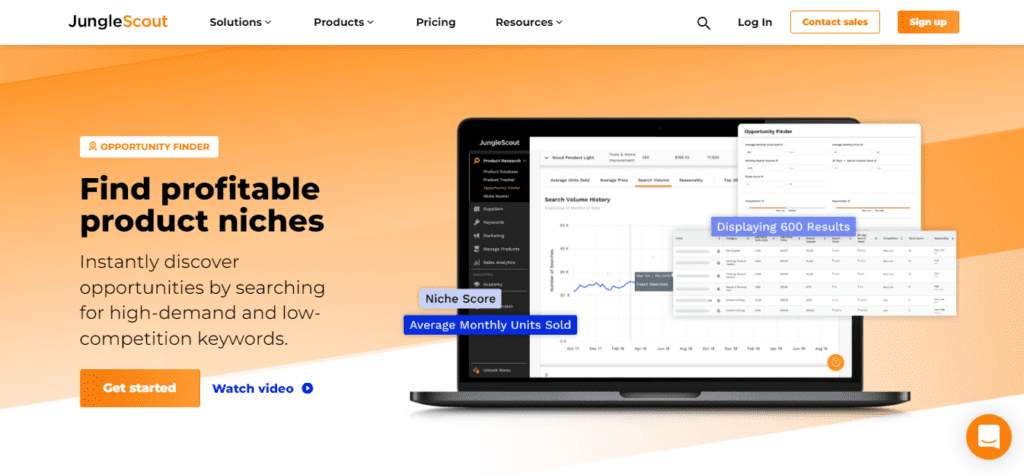 Jungle Scout comes with a powerful opportunity finder that helps users discover rising trends and profitable niches of products. Opportunity Finder is the key to finding the first Amazon-sold product or to expanding your business with unique items.
How does the Opportunity Finder feature work?
Opportunity Finder refreshes Amazon trend keywords with high demand and low competition to easily find profitable product markets. This proprietary algorithm assesses product opportunities with an opportunity score between 1 and 10 based on product needs, competition, and niche lists, and 10 shows the greatest opportunity for new sellers.
For the most part, this formula looks for products with low quality and few reviews that are currently in high demand by the top listing of search engines. For the sellers, this is an incredible opportunity to get in and take advantage of it by improving.
A lower score, on the other hand, indicates that demand isn't as high as it could be because the competition is already doing an amazing job.
You can find the Jungle Scout Opportunity Score in the Chrome extension by taking these guidelines:
Use the Amazon search bar to look for a specific product type. Some examples could be toothpaste, phone accessories, and toys.
Open the Chrome extension for Jungle Scout. Information regarding the niche will be promptly filled up.
Besides the Opportunity Score, you'll get access to a wealth of useful information, such as the average monthly sales volume and rank, the price, the number of customer reviews, etc
Customize your view to display only the data you care about. The columns that appear on your screen can be customized using the menu section at the upper left of the extension's window. You'll be able to see information such as the product's name, estimated sales, price, listing quality scores, a net profit calculator size, and weight, the number of sellers, etc.
8. Supplier Database
Chrome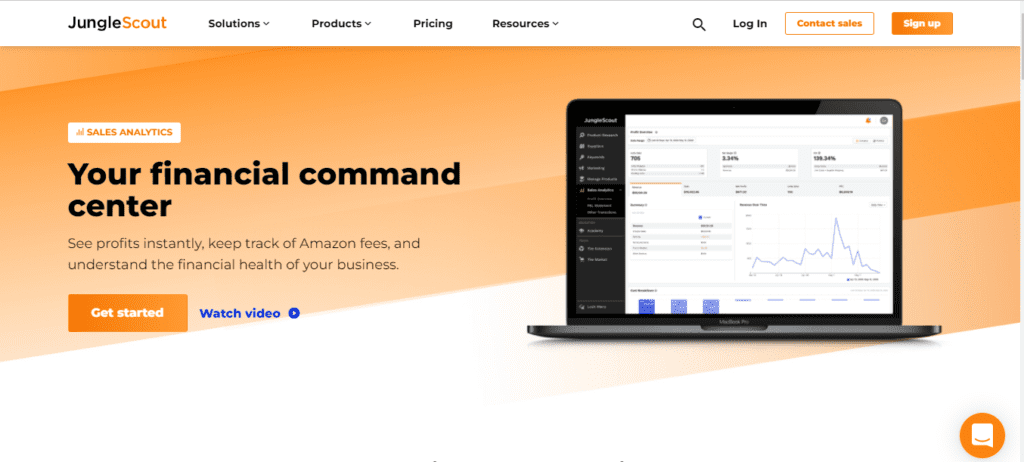 The Supplier Database is a recently trending addition that most Amazon business software has incorporated into their offerings. This function helps you discover and connect with global legal suppliers used by the world's largest brands — leveling the playing field.
Using this feature, Jungle Scout offers users access to huge databases of international suppliers. You can do your research to get the best product for your needs. In addition, there's a built-in mechanism that gives you the supplier's match score depending on the product you're searching for.
You can also use this tool to conduct a manual search for a particular brand, business, or distributor.
10. Sales Analytics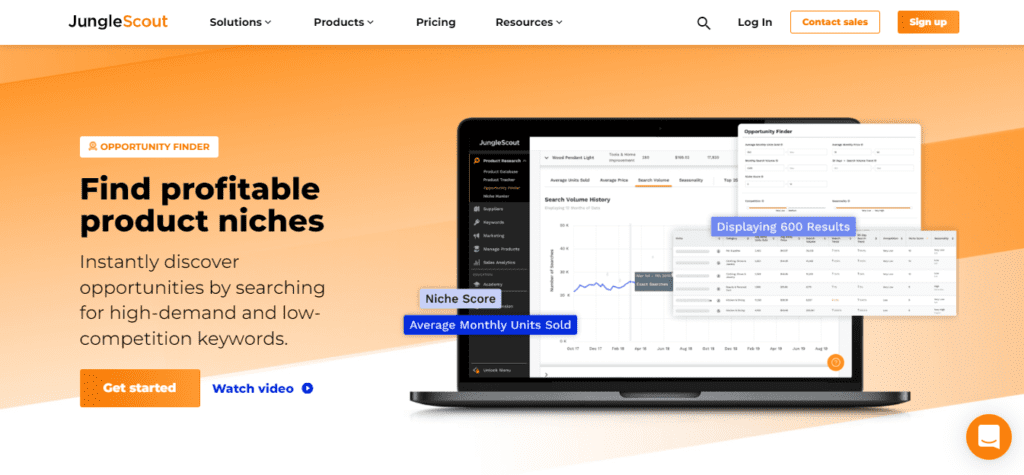 You may use the Amazon FBA sales analysis tool to organize and track all of your Amazon sales data in real time, giving you the power to focus on ways to reduce costs and save money.
To record and view your company's financial situation, Sales Analytics makes available a tool you can use to build a simple profit and loss statement with a professional look. It also displays critical indicators such as operating expenses, sold-goods pricing, hidden costs, and revenue.
To get a thorough picture of your FBA company's finances, you can use the Sales Analytics tool. This tool provides access to both historical and current financial information about your firm. You utilize it in tracking the evolution of your financial patterns and gathering the information needed to reduce costs and increase profits.
Other important metrics of the tool are sales rank, average sales price, and average monthly sales.
How can you benefit from Sales Analytics?
Your Amazon financial indicators may be collected and analyzed with ease using Sales Analytics. What can you anticipate gaining by using this tool?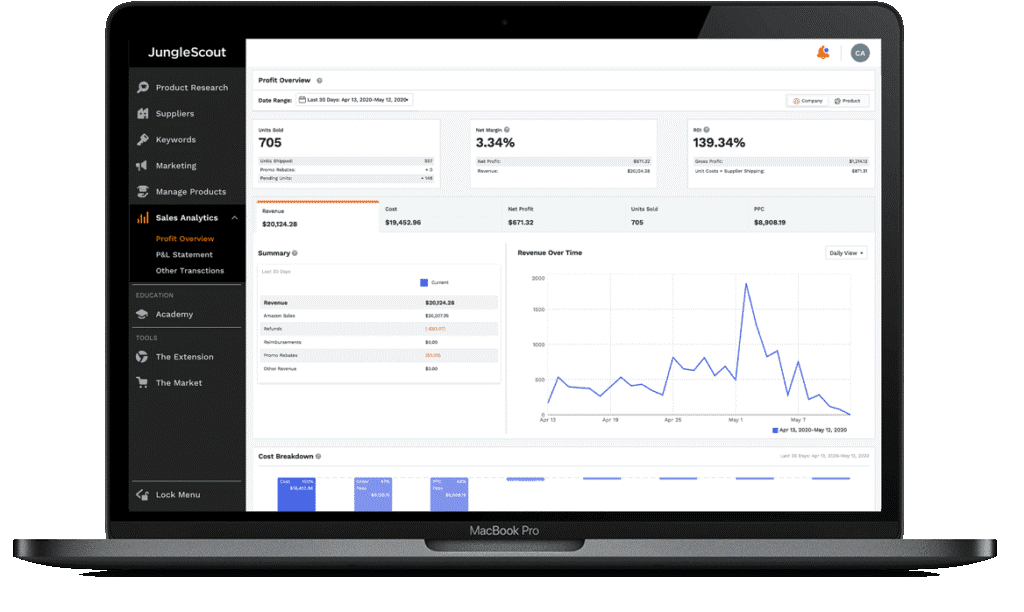 Be aware of the current status of your sales. Whenever Amazon customers buy your products, you can see exactly what they're buying and how they're buying it right there in front of you.
Calculate the margins of your project. Please fill out this form if you'd like to know your net profit. There is a proportion of sales that are returned to the seller in the form of a profit that is displayed in the margin widget.
Discover your return on investment (ROI). Analyze your profit margins, inventory costs, and other expenditures directly related to your investment to determine your return on investment (ROI).
Data on the selling of certain products can be viewed here. To find out how well a given product is selling, you can sort by ASIN (Amazon Standard Identification Number) or SKU (stock keeping unit). In addition to sales and income data, supplier and shipping costs, and PPC campaign effectiveness, you'll find a wealth of other information.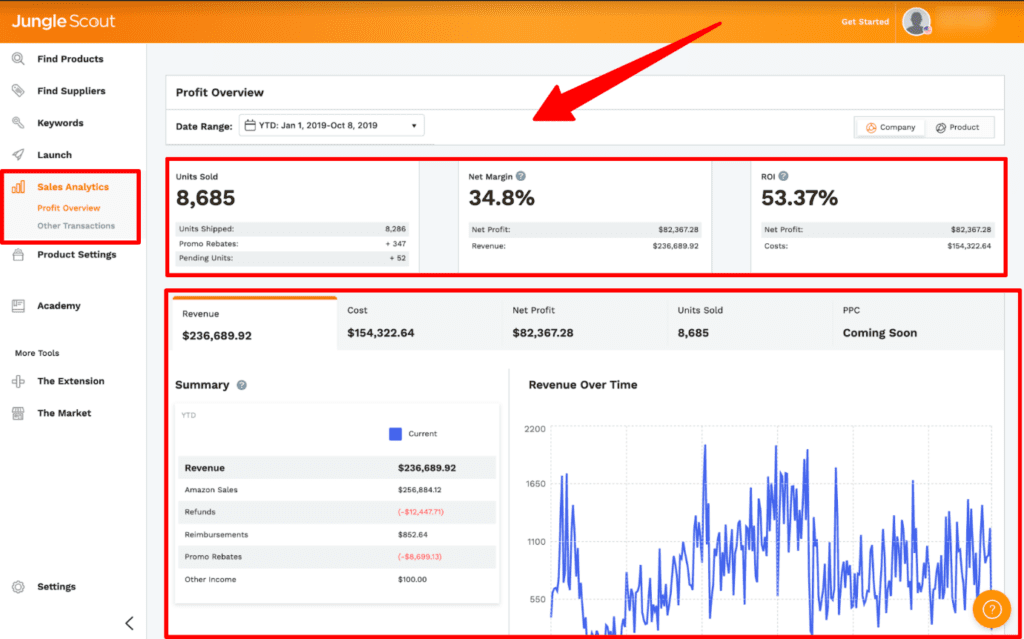 Use historical data to see how sales and profits have changed over time. Want to see how a given product is selling week by week or month by month? Using this tool, you can. See how promotions, refunds, and other variables affect your bottom line by comparing performance measures over time in detailed charts.
Estimate your expenses and make a report. Monitor all costs, both direct and indirect, such as shipping and inventory costs, legal fees and tax assessments, and so on. Custom expenses and transactions can also be entered for your company.
Pay attention to your PPC budget. You need to use Amazon PPC to get your goods in front of as many customers as possible on Amazon. To keep your profit margins in check, Sales Analytics helps you track and manage your PPC budgets. You'll be able to see how much money you make and spend daily.
Keep tabs on the progress of your shipments. Interested in knowing when your stock will arrive at the Amazon fulfillment center of your choice? In addition, Sales Analytics allows you to track your FBA shipments easily.
11. Inventory Manager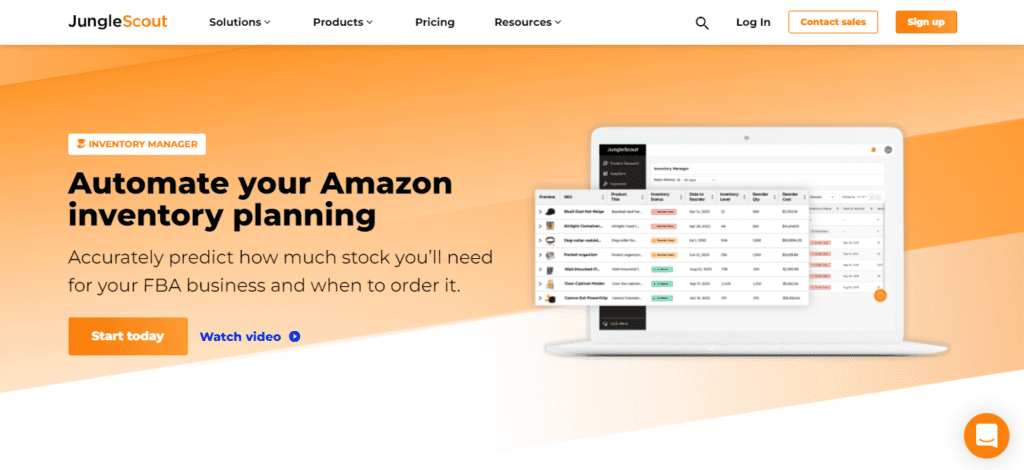 The inventory manager makes use of Amazon's inventory-based data management as its source of data. This feature can help users boost their Amazon sales. It can also help you sidestep unnecessary costs and commissions. Its shining point is its ability to give users a correct estimate of total consumables per order number.
To determine when and how much inventory you need to enhance, you can use Inventory Manager to see how Amazon FBA inventory is performing in real time. Every item on your list has been categorized and is ready for sale. The Inventory Manager uses this information to determine when and how much you should charge for each of the items on your list.
With this in-demand technology, you may assess any KPI at the inventory level, including revenue, cost, profit, average profit, and sales. In addition, it monitors incoming inventory to trace things as they make their way to an Amazon fulfillment center.
12. Product Alerts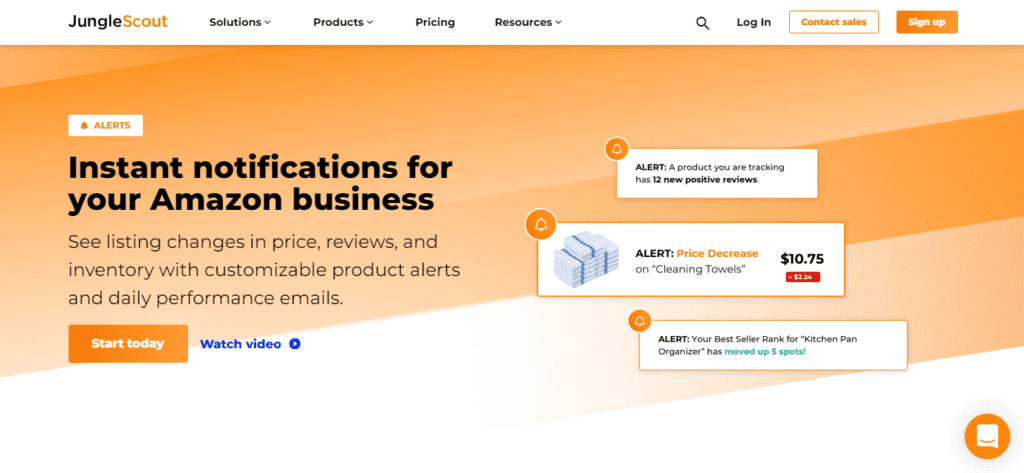 Keep an eye on the price fluctuations, reviews, and more of the items you're tracking or selling using the alert feature. If you're searching for a product to sell or want to maintain your listings ahead of the competition, it keeps you updated on critical product revisions so you can reply promptly.
You can maintain tabs on critical Amazon business data with the help of in-app Amazon product alerts. As a bonus, you'll be able to maintain tabs on Amazon product updates such as name or image changes, category modifications, and fresh sellers. The feature allows you to set custom alert thresholds for price changes, BSR adjustments, and product ratings.
Jungle Scout Badges

You can see which customers have or haven't verified their accounts by looking at the jungle scout badges.
Even though Amazon's terms and review policy prevents you from seeing any information about the person requesting the discount, you can still use these badges to decide which requests you want to manually approve!
The Shopper is not a bot, so it is recommended only for approving requests from people who have both badges on their profiles. Some sellers may feel differently about this, so it's up to you to decide whether or not you want to display this information.
Shoppers may notice two types of badges:
SMS VERIFICATION BADGE
Text verification badge that proves they are not a robot via the SMS text messaging system. This is to make sure they don't have more than one account and that they are a real person, not a robot.
VERIFIED LOGIN WITH AMAZON BADGE
Customers can earn the Verified Login With Amazon Badge by using Jungle Scout to sign in to a verified Amazon profile. The system will only allow one Amazon account to be verified per Jungle Scout profile and once an account is linked, it cannot be used by anyone else even though we are not tracking information from their accounts.
Just because there are no badges next to a request does not mean the customer has yet to complete their verification or that their account is still very new.
How to Use Jungle Scout – A Quick Jungle Scout Tutorial
Getting started with Jungle Scout and utilizing it is simple. Jungle Scout is divided into three portions, which are stated below.
Find Products
Find Suppliers
Keywords
Step One: Finding Products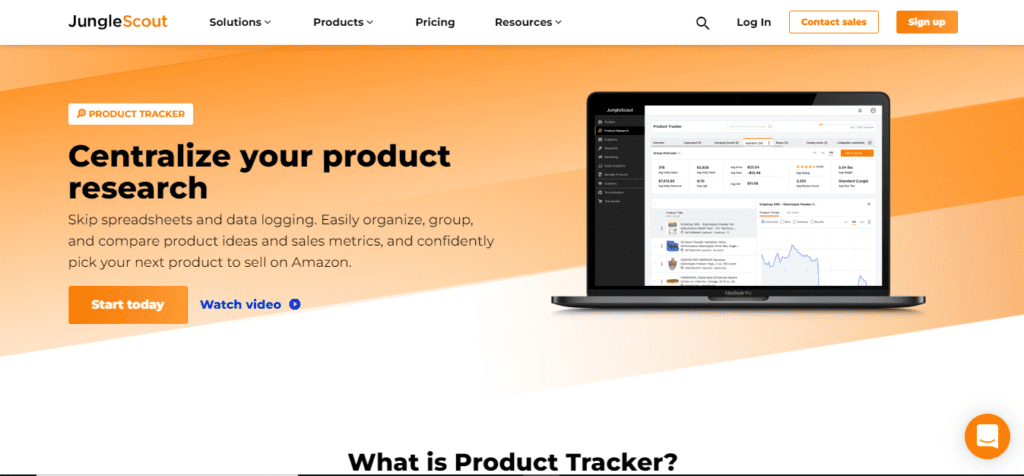 The most critical stage of the product research process is to identify a profitable product to sell on Amazon.
To navigate the product database, you only need to start at its top. Use it to find items to sell. It's straightforward and easy.
Use the Product Tracker to find a product that is suited for testing. When you get to Niche Hunter, you'll be able to use several filters to focus your search.
What Is Jungle Scout Product Research?
Put it differently, product research is the method of determining the marketability of particular products or niches. An excellent technique may be neglected in favor of a product that appeals solely to your personal preferences." An inventive, high-quality, and profitably sold product is the best way to avoid a product crash. Before you begin product research, decide on your business's product specifications.
Create distinct, high-quality goods and then produce at a margin to prevent product crashes. First, determine demand, then analyze your competitor's product.
Consider the following when conducting Jungle Scout Product Research.
Choose profitable items to sell online. Identify your business's product criteria before beginning product research.
Inexperienced or inexperienced vendors should begin with smaller, lighter products. This will cut down on transportation expenses and make inventory management more straightforward.
Ask yourself, is the product you're trying to offer easy to sell? If you're selling electronics, make sure your supplier can deliver high-quality products on time and without any issues.
Consumables or disposables? That is the question you need to ask yourself while making a purchase. Several considerations must be made for these to be successful because buyers will almost certainly replenish their stock of household supplies. Keep in mind some product's expiration dates when determining the appropriate amount of inventory to procure.
What Are the Markings of a Winning Product?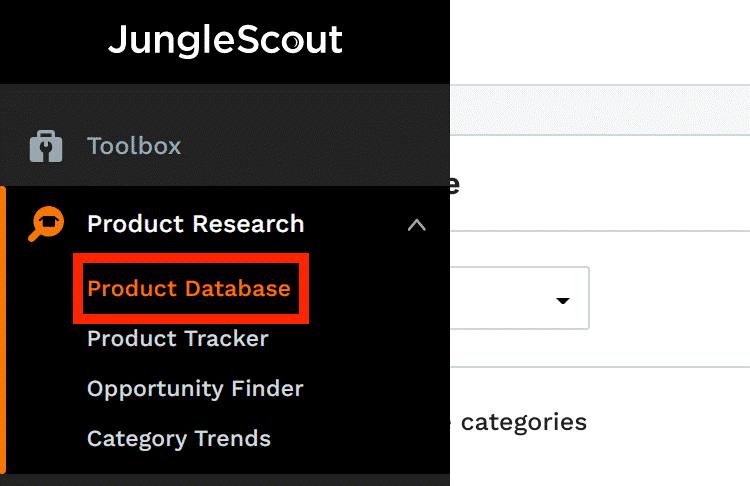 Below are the criteria to spot a winning product immediately it is spotted:
Low saturation: Just because a thing sells a lot doesn't indicate it's good. Getting a foothold in the market is impossible if there are tens of thousands of other companies doing the same thing.
Consistent demand: You should provide products people want. Look at demand history using the Jungle Scout online tool, and ensure you select a product that has a constant flow of clients. If 3,000 units of the core keyword are sold per month, Jungle Scout's founder thinks it's a winning product.
Differentiating value proposition: What sets you apart from the competition? The solution might be anything from a longer warranty to additional battery capacity to a more user-friendly layout. There must be a solution.
There's still an opportunity for your product to be a best-seller: With less than 100 reviews, a product in the top 5 is a good indicator that you'll be able to swiftly rise to the top.
Only one major brand: Major brands in your niche are acceptable. However, only one should be used at a time. Little dogs can compete with big dogs in a variety of ways, such as "Buy from us because we're small!" or by providing better service, a better guarantee, or advice. The presence of numerous big brands should make you look elsewhere.
How to Find Product Fast Using Jungle Scout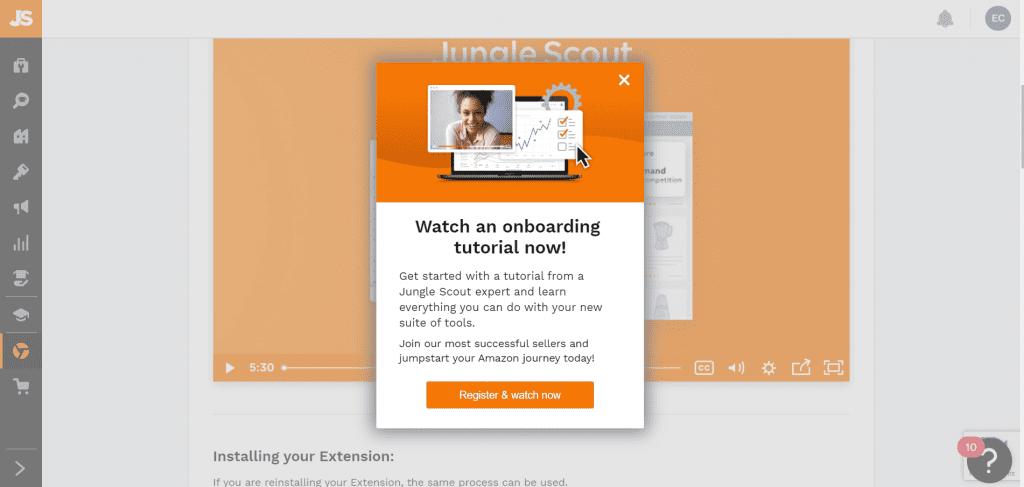 There are a variety of metrics that can be filtered using the Jungle Scout Web App when looking through Amazon products.
You can use the Jungle Scout Product Tracker feature to keep an eye on the sales activity, inventory, Best Seller Ranking, and pricing of products you're considering purchasing. We recommend doing this for a few weeks before making a final decision. Use this information to gain a better understanding of the product's performance.
Another great web app feature we discussed is Niche Hunter, which takes a different approach and aids in the discovery of niche products via keyword searches.
There are a variety of products to choose from when you search for keywords in specific marketplaces and categories. The Chrome Extension let you see the scope of a detailed sale on Amazon in conjunction with the Web Application.
Multiple keywords can be tested using the web app. A "baby toy bag" might be a good opportunity to look into the "baby toys," "baby bags," etc. to get a dynamic view of potential competition levels.
Once you've compiled a shortlist of 30 potential products that fit the bill, ask yourself two questions and conduct a series of tests to help you narrow down your options. You can begin by determining the market's needs for your intended product.
"How many units of this product can I sell in a month?" is the first question you should ask yourself when contemplating a product. Look for a product that has the following features: Multiple vendors competing for customers, rather than just one or two. As long as the top 20 sellers can sell at least 15 units a day for a given product or keyword, that's considered sufficient demand.
You can also inquire about the level of competition for a product idea by asking, "How much competition does this item have?"
The reviews of the competition should be taken into account when evaluating it. This is a great way to see how much competition there is for a product by examining some of these reviews.
In other words, if the top sellers in a particular product category all have tens of thousands of reviews, assume that the market is highly competitive. In contrast, if you find a high-demand product with only a few reviews, it may be worth your time and money to invest in it.
Step Two: Finding Suppliers
In the Supplier Database, you may find the greatest Amazon sellers and distributors. They've got a huge list of vendors, and each of them provides useful information about what they offer.
With their assistance, you can contact producers to find the best sources for your products.
Step Three: Keyword Research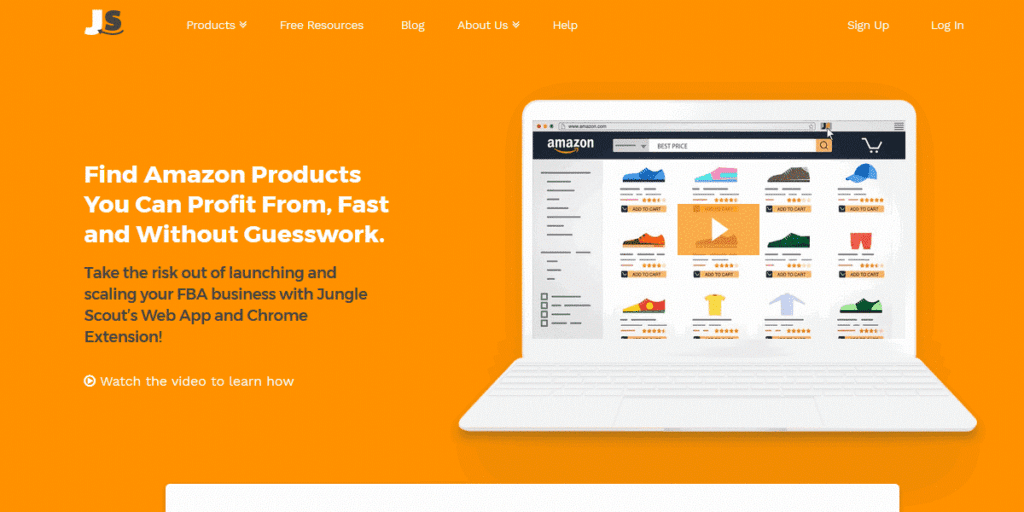 Keyword research is the final step. The Keywords section of Jungle Scout is made up of three modules: Keyword Scout, My Lists, and Listing Builder. Once you've located a product, you can also use these to optimize your product listings. The keyword scout is used for the following:
Analyze the most popular search terms.
To offer you precise and broad term search volumes, Keyword Scout collects millions of data points from many sources. Reverse-searching ASINs for organic and sponsored keyword ranking data is a great way to find high-quality keywords.
Check out the previous year's search volume.
You can view monthly and quarterly data trends for up to two years for keywords. Modify PPC ads and listings based on this data for a more complete view of a product's seasonal demand.
Investigate ASIN groupings for keyword strategy
Up to 10 ASINs can be reverse-searched to see how their organic and sponsored keywords correlate to one another. Use advanced filters to identify the most popular keywords for a set of ASINs that are all competing for the same keyword.
Your PPC ads will run more efficiently if you cut costs.
See how much it costs to click on advertisements for specific, broad, and headline search terms to save money and make your campaigns more effective. Use low-cost PPC campaigns to target low-cost keywords with high-ranking potential.
Amass information on the competition.
Increase your product's sales and revenue by making use of rival knowledge. Investigate your competition's top-performing keywords and use them in your listing. Ad tracking, volume trends, and PPC expenditures are just a few of the performance keyword metrics you'll find.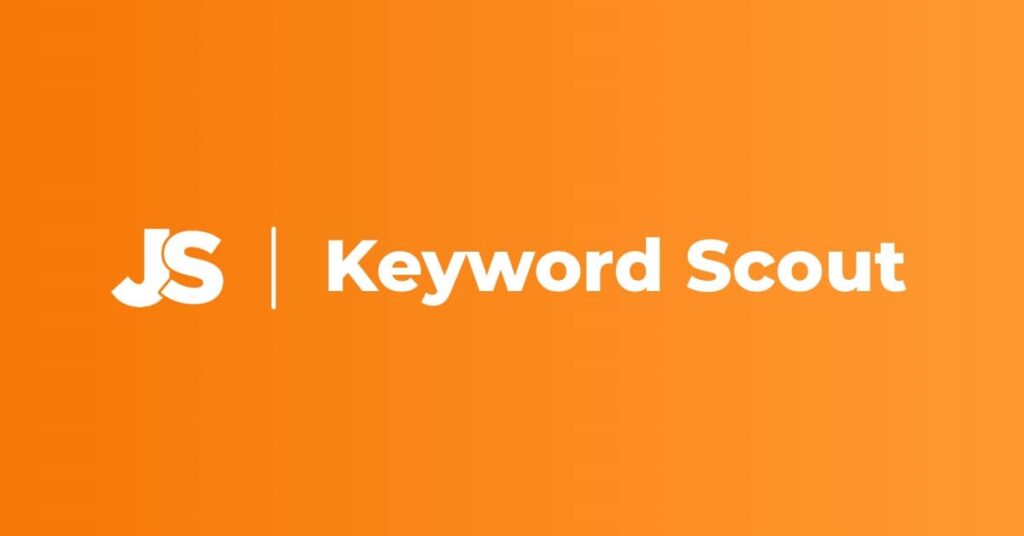 Develop a more focused plan.
Make a list of keywords that will have the biggest influence on your ad campaigns and your listings. Using complex filters, in addition to organic and promoted data, analyze thousands of keywords to design a more targeted SEO plan and remember your filter settings in case of your searches in future
Jungle Scout Web App
Some visitors inquire if there is an app for Jungle Scout. Making better product decisions and setting yourself apart from the competition are both made easier with Jungle Scout's web-based App. With the help of a Web App, you can easily find profitable niches and products from the entire Amazon catalog.
It's possible to search Amazon's whole catalog with the Jungle Scout Web App. Your competitors' activity can now be tracked over time. Limiting the paths to failure will increase success. Having a Web App for your Amazon FBA business is a must.
How to Use Jungle Scout Web App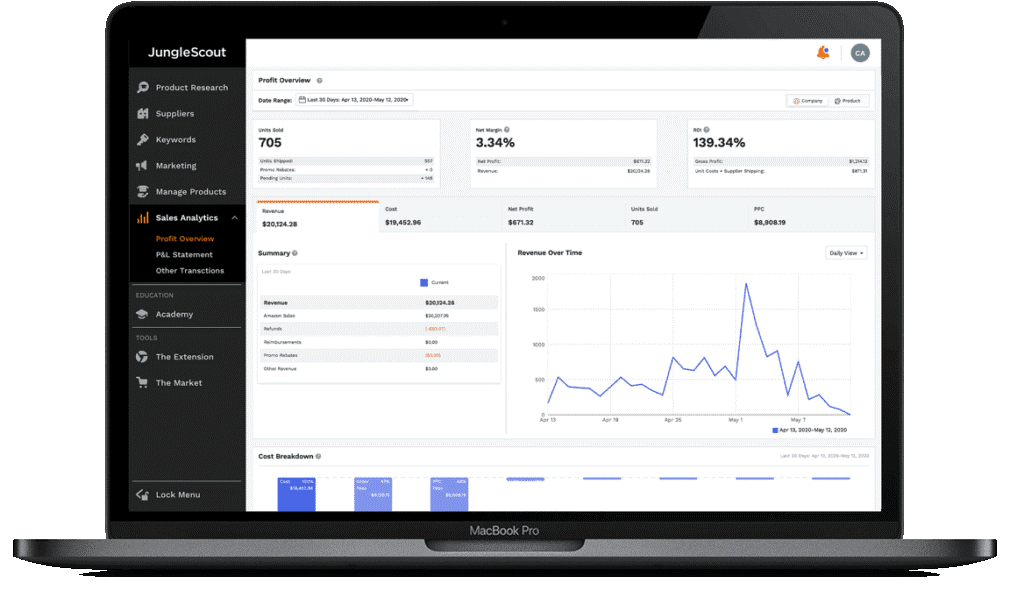 Having a strong idea of what you want to sell before starting the program will help you get the most out of it. You'll be able to make decisions more quickly and effectively as a result of this.
After developing a product concept, you can try it out with Jungle Scout. Using the extended version to uncover successful goods in your niche and then fine-tuning your findings on the web app is a wonderful method.
Your research should be based on metrics like:
Weight
Sales demographics
Price
Monthly sales
Demand
Country
Competition
After collecting all this information about the prospective product, you can now decide which product is worth pursuing.
Jungle Scout Chrome Extension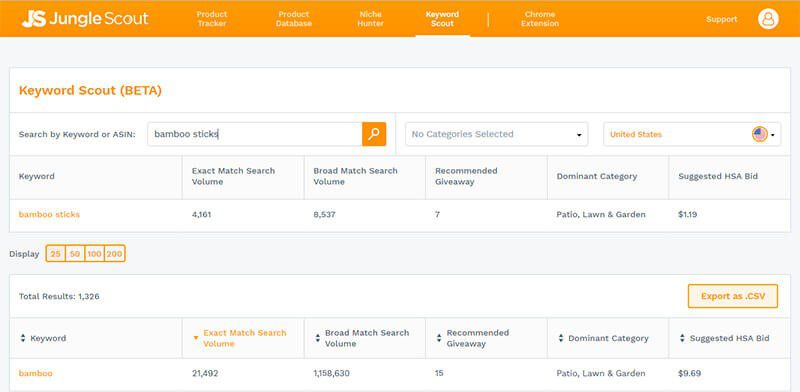 By integrating with the Google Chrome browser, the Jungle Scout Chrome extension speeds up your product searches. It allows you to search for products more quickly and directly within the browser while on the Amazon website.
You can examine product data directly from Amazon search sites and assess their market competitiveness.
The add-on offers a variety of relevant indicators, including best-seller rankings, monthly sales projections, number of reviews, average ratings, and average price, among others. Aside from that, it provides information about:
FBA Costs: Amazon fees linked with each product
Seasonal Trends: expose historical keyword trends for the last few months or years
Profit Calculator: computes the net payout after subtracting Amazon's cut.
Dimensions and Weight: This information is used to calculate the various FBA fees based on the weight and size of the merchandise. (Since heavier products have greater FBA fees, your profit margin will be reduced.)
Over-Size Indicator: tells you if your chosen product is available in high volumes. You can use filtering to narrow down your search parameters and see only what is relevant to you based on the metrics.
What Does the Jungle Scout Pro Chrome Extension do?
It is possible to use the Jungle Scout Pro Extension in conjunction with the Chrome browser to evaluate and investigate hand-held products. When you need to do some fast product research, you may just click on the Jungle Scout symbol.
In a nutshell, you can use the Chrome extension as an extension of the Jungle Scout web application. Look at and export Google Trends data; look at and export keywords; anticipate monthly sales and view prices; track and check basic product stats; etc.
The Chrome extension version offers the following metrics:
Hashtag # of Reviews
Product Category
Historical Price
Historical Rank
Monthly and Daily Sales
Opportunity Score
Price
Rank
Rating
Sales revenue
Type of Seller (FBA, FBM, AMZ)
How Does the Jungle Scout Pro Chrome Extension Work?
The reason most FBA pros prefer the Pro extension version to the web-based application is because of its simplicity and ease of use.
With just a click on the extension icon at the top right corner of your Chrome browser, you can generate tons of stats with metrics including:
Monthly sales
Sales rank
Average price
Reviews
Additional access that comes with the Pro extension version includes a profit calculator, monthly sales stats, and an opportunity score feature.
Most of these features can seem strange at first, but with time, you'll get used to them — the learning curve of this tool is short. Once you grasp a sense of what all these statistics mean, you'll find this tool beneficial.
What's the Difference Between the Pro and Lite Versions?
The Jungle Scout Extension Lite version is a cheaper alternative to the Pro version but with limited functionalities. The Lite version lacks some important features like BSR, Profit Calculator, and Opportunity Score. There are also more additional metrics available on each product on the Pro version than on the Lite version.
We recommend you go for the Pro version because the Lite version isn't worth it — it's extremely limited.
Jungle Scout Chrome Extension vs. Jungle Scout Web App
It's not a question of choosing one over the other. The Jungle Scout Web App and Chrome Extension complement one other effectively. When it comes to product research, they cater to various needs.
The extension will assist you in gathering information from a specific Amazon page or search. When you visit the Amazon website, this extension is installed in your browser and activated.
With a single click of the extension, you can instantly discover a product's pricing, expected sales, and review count – all of which provide useful data for comparison.
You can filter Amazon's database by category, price, sales, and other factors using the Web App. The goal is to assist you in locating possible sales items that can be hidden deep within Amazon's inventory.
You can also use the Web App to monitor a competitor's activity over time. This provides you with some assurance about the possible sales before you invest any money.
Pros & Cons of Jungle Scout
Pros of Jungle Scout
Provides Amazon product sales and revenue statistics
Allows you to simply track product performance and evaluate trends
Allows you to readily discover competition and market intelligence data.
Find cool, high-value product concepts quickly and easily.
Niche Hunter provides an opportunity score for the niche you're looking into.
Find the most effective keywords that are both simple and profitable.
Detailed historical keyword search volume trends are provided.
Compare measurements at the company or product level over time.
Avoid hijackers and keep a close eye on your competitors.
It even forecasts future product demand, saving you time.
Track the product's organic search rank for the keywords you want to use.
Track profits and manage your Amazon finances with ease.
Cons of Jungle Scout
It should include additional information about vendors.
When you have thousands of products to manage, inventory management becomes a little more complicated.
Pricing: How Much Does Jungle Scout Cost? Is it Worth it?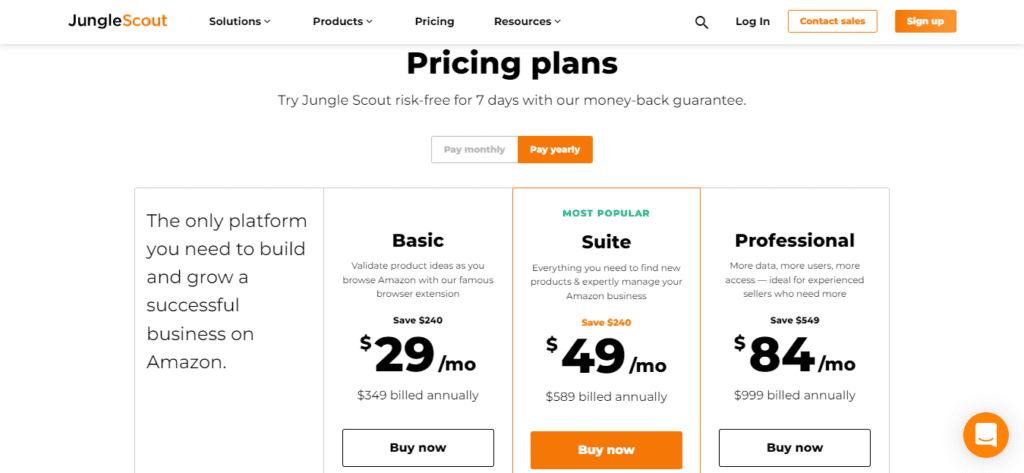 Jungle Scout's price plan may appear convoluted at first, but we'll break it down for you so you know exactly what you're getting and how much it costs.
Jungle Scout's solution is available in three forms: a web app, a Chrome extension, and a bundle. You can also choose to pay on a monthly or yearly basis. There is a discount for a yearly subscription. The number of monthly orders you receive can also affect pricing.
Pricing for Jungle Scout isn't as clear-cut as it is for other products on the marketplace. As a result, let's start from the beginning. Beginner users who haven't yet made thousands of dollars a month will be the focus of this evaluation, so we'll limit our analysis to those who place no more than 500 orders each month.
Here's the main pricing plan:
Basic
Jungle Scout's browser extension is included in the Basic plan so that you can conduct product research and test your ideas.
Cost: $49.00 each month
Basic features include:
License for a single user
The Jungle Scout browser extension is yours to use at your leisure (Chrome and Firefox)
Access to all of the Academy's tutorials and data on sales
Only limited access to the Product Tracker, Opportunity Finder, and Product Database.
2. Suite
Everything you need to expand your Amazon business and find new products is included in the Suite Plan.
MONTHLY COST: $69 (or $589 for the year)
Suite features include:
Increased number of users
Historical product and keyword data that is more comprehensive
A higher level of access to Product Tracker and all of the other tools in the Opportunity Finder suite.
Enhanced seller features, such as Review Automation, Rank Tracker, and Inventory Manager
3. Professional Plan
You'll get even more historical data and users with the Professional plan. It's the best choice for those who are willing to put in the time and effort.
COST: $129 each month ($999 yearly)
All Professional Plan features are:
Six Users.
Historical Product Tracker data for the last six months
Two years of historical keyword data
Ability to track up to 1000 ASINs
Priority enrollment
To learn more about Jungle Scout subscriptions, check out this link
The Jungle Scout Web App pricing is
Jungle Scout (web app) package: Monthly – $49/month | Yearly – $39/month
Chrome Extension package: Monthly – $39/month | Yearly – $19/month
By opting for both plans you can save big and get Jungle Scout's 100% offering.
The Full Package: Monthly – $69/month | Yearly – $49/month.
However, there's a catch.
The price of the Jungle Scout plan increases with your monthly confirmed orders. In other words, the more you sell, the more you pay for Jungle Scout. Note that the price for the Chrome extension doesn't change.
For higher monthly confirmed orders, here is the breakdown of the different payment levels (monthly | yearly).
501 – 2,000: $89/month | $59/month
2,001 – 5,000: $119/month | $79/month
5,0001 – 10,000: $219/month | $139/month
10,001 +: $419/month | $259/month
Now you know the potential cost of using Jungle Scout. The billion dollars question is whether it's worth all the bucks.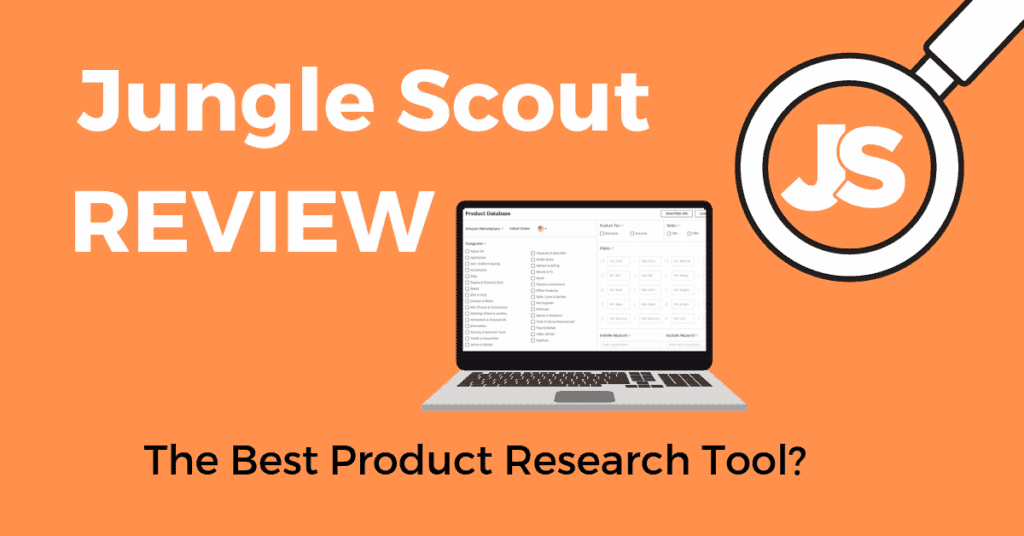 How To Cancel Jungle Scout
You can cancel your Jungle Scout subscription by logging into your account and going to the subscriptions section. What you must do is as follows:
Open a new window in your Jungle Scout account
Under Subscriptions, select Settings and then click OK. Your subscription can be canceled for any number of reasons.
Click on any of the reasons
Click "Cancel my plan" to conclude your request.
Only monthly plans are eligible for this feature. If you've signed up for an annual plan, keep reading to learn how to cancel your subscription.
Send an email to Jungle Scout to cancel your plan.
Or, do the cancellation via customer service. To cancel your Jungle Scout annual plan, contact their customer service at https://support.junglescout.com/hc/en-us via email. Inform them that you wish to discontinue your annual subscription and request confirmation of your decision. If you're having trouble canceling your monthly subscription through your account, you can do the same through their customer service.
You may have to wait a while for them to respond if you choose this method of canceling your subscription.
Use the Jungle Scout Website to Delete Your Account.
There is a contact form on the company's website if you can't cancel your Jungle Scout subscription through your account or have trouble contacting customer service. What you should do is as follows:
Please provide your e-mail address.
"Cancellation" is the topic you will input.
Explain that you'd like to cancel your service.
There is a chance that you will have to pay for another month of subscription before they can cancel your account.
Is Jungle Scout Worth it?
A lot of entrepreneurs getting to know Jungle Scout for the first time and seeing its expensive pricing ask this question a lot.
If you ask me, I will give it a 100% money for bucks guarantee.
Think about it.
For less than $50 a month, you get a tool that:
Find untapped markets for your items by scanning every nook and cranny in real-time.
Predicts your PPC budget
Helps your business find the finest things to sell.
Saves you a lot of time and effort.
shows you exactly what terms to use to optimize your listings for search
You may make well-informed judgments based on a comprehensive view of sales history.
And that's not all, there's much more being offered by Jungle Scout.
As the tool is used more frequently, the price increases, but at what point does this matter? Because the price only rises if you're making more sales, the investment is worth the price of admission.
The one drawback here is that Jungle Scout isn't a foolproof solution on which you should place your entire faith. That is a common blunder made by newcomers. You can get good results if you know what you want. The first thing you need to know is how the market works and how Amazon operates.
If you want to start a free trial or see all of Jungle Scout's pricing plans, click here.
Discount Offer
It also comes with a 14-day money-back guarantee, in addition to the variable price options. That implies you can request a refund within the first 14 days if you don't like the services.
You can get your discount by clicking on this link, Huge Spring Cleaning Sale
What You Will Get for Free with Jungle Scout?
Sales Estimator: Get an accurate estimate of all monthly sales for any Amazon product using this tool.
FBA Calculator: Use this calculator to figure out how to calculate your True profits while also ensuring your business's success.
The Listing Grader: This free tool allows you to assess how well your Amazon listing is optimized. You can also simply see how you can improve and optimize your Amazon listing.
Webinars: Simply register for one of their upcoming webinars or revisit a previous webinar.
Million Dollar Case Study: For their new product launch, the data scientist will undoubtedly reveal all crucial detail.
Collaborative Product Launch: Learn how to quickly generate over $250K with a collaborative product launch. You can attach them anywhere, and the set will be ready when a new product is released.
Jungle Scout Academy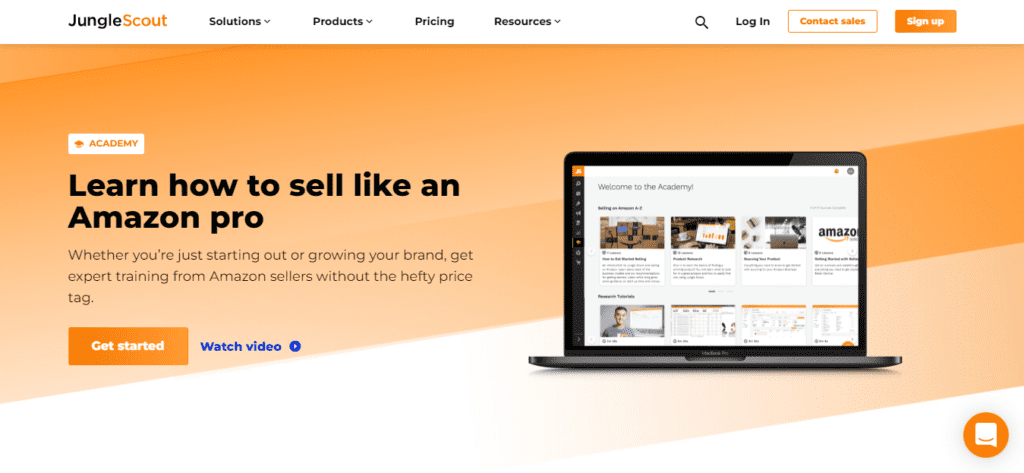 You'll learn how to market like a pro at Jungle Scout Academy. Jungle Scout Academy teaches both fundamental and advanced techniques for selling on Amazon here. It provides educational materials and videos to assist you in locating your first product.
This Jungle Scout's industry-leading training is designed by Greg Mercer, the company's founder, and CEO. He's an eight-figure Amazon seller and the winner of the Seller Awards for best Amazon expert.
There are weekly Q&A sessions where you can ask their specialists important questions. You can also participate in community forums and attend jumpstart workshops for new vendors. Monthly Livestream training sessions are also available to help you improve your skills.
To gain access to free resources such as tutorials, e-books, Jungle Scout University, webinars, etc., follow the link below: Jungle Scout Academy
Jungle Scout AccuSales Reviews
Jungle Scout estimates sales through AccuSales, a customized Amazon sales estimation algorithm, AccuSales is used to estimate Jungle Scout's unit sales and revenue.
They process over 500 million data points every day, which is an important first step. Amazon sellers who have agreed to share their sales data with AccuSales are the most unique source of available information on AccuSales.
In addition, AccuSales data takes into account more than just stock levels and ranking positions. They also account for the product information because it helps them determine which pieces can affect sales.
Each time AccuSales make an estimate, they update their algorithms. These estimates are in Jungle Scout because their systems analyze and test the data collected every day. If their systems detect a significant discrepancy in the records, it updates the final estimated sales immediately.
When there is a lot of volatility, estimates could be updated daily. However, when things are running smoothly, updates can be made every week or two weeks. In the end, these alterations lead to more precise estimates of sales.
See the Best items to sell on Etsy
Jungle Scout Customer Support Review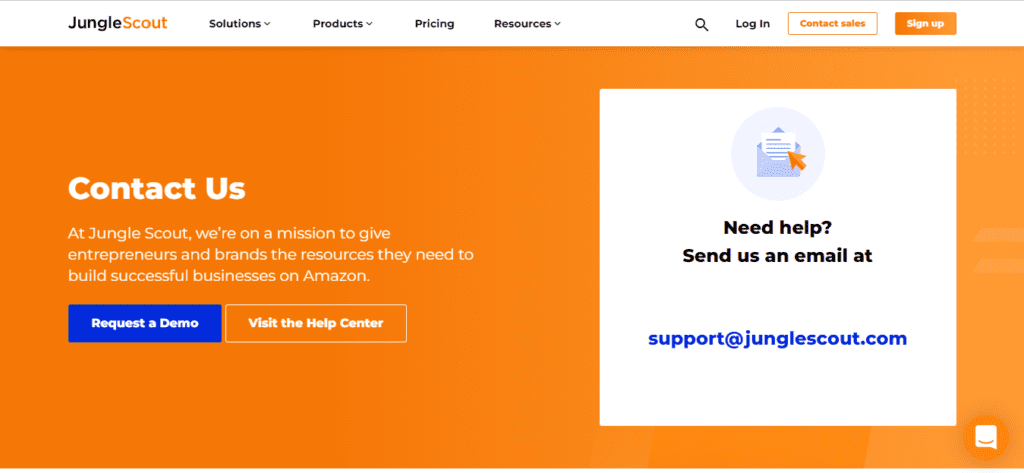 Customer service at Jungle Scout is quick, courteous, and helpful. If you're a first-time user, you're likely to have a lot of questions about the tool and Amazon sales. Their customer service team responds to every question and problem by email with highly detailed and satisfactory responses.
It comes with Jungle Scout Academy, where you can master the art of selling on Amazon and how to use this tool to its best potential, in addition to fast and reliable customer service. There is also a weekly Q&A area in the Academy where you can get immediate answers to your questions.
According to our experience with Jungle Scout, customer service is quick, attentive, and dependable.
Jungle Scout Customer Reviews
The company is trusted by thousands of loyal customers and has hundreds of excellent reviews on Trustpilot, which speaks volumes about its credibility and legitimacy.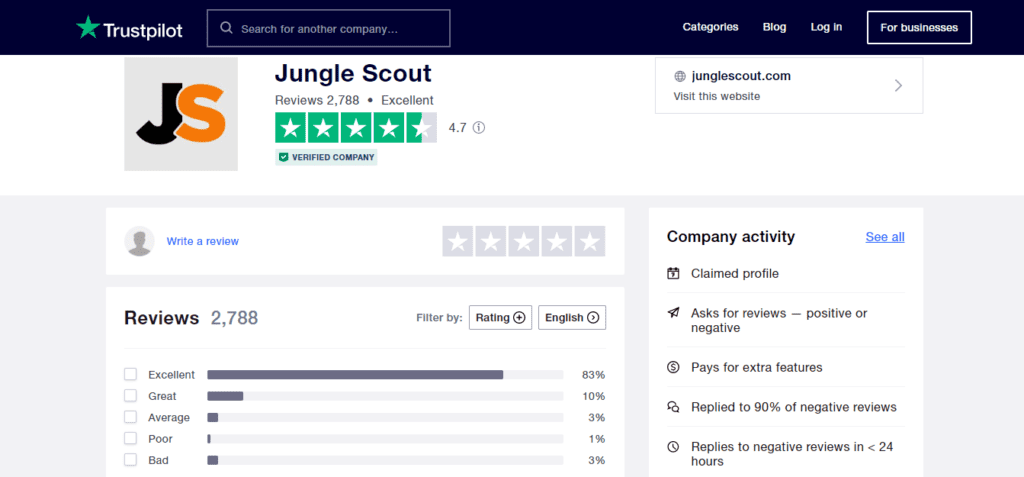 Jungle Scout has a 4.7-star rating on Trustpilot. 83% of previous users that reviewed the software on Trustpilot gave it a 5-star rating.
Below is a screengrab of some of the comments of previous users on the software.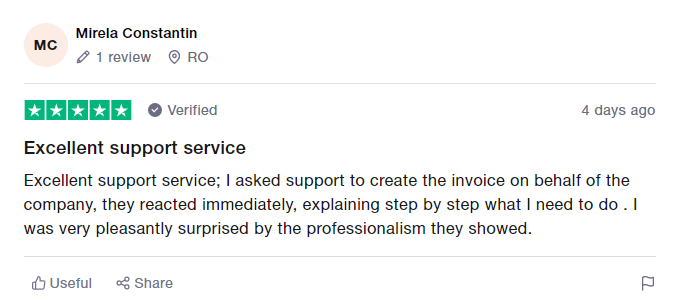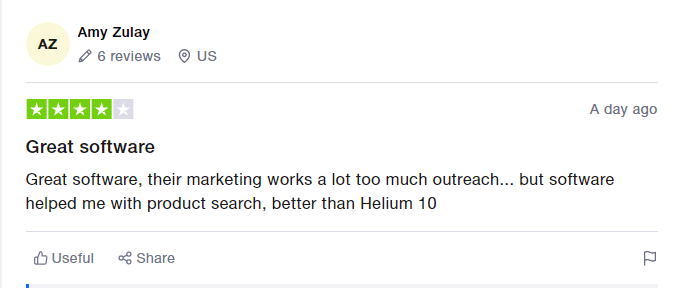 Jungle Scout For eBay
Using Jungle Scout data tools built for other e-commerce platforms helps research eBay products. Jungle Scout's all-in-one toolkit gathers data from Amazon such as daily and monthly sales volumes, historical sales data, and new product potential.
We trust these insights since they are backed up by cutting-edge data analytics, not just gut instinct. However, Jungle Scout's data can be applied to other e-commerce platforms, such as eBay.
With the Product Database tool, eBay sellers can easily search and filter millions of Amazon products for lucrative eBay prospects.
Vendors can choose product categories, minimum and maximum prices, monthly sales statistics, and product weight. After selecting a few filters and pressing the search button, the Product Database will start to fill up.
As you read the statistics, note the Monthly Revenue and Monthly Sales figures. Make a list of popular eBay items and search for them. These things usually perform flawlessly on all major operating systems.
Jungle Scout Alternatives
Our opinion of Jungle Scout hasn't changed. It remains our best choice for Amazon product research software. This tool is perfect for Amazon sellers seeking to expand their FBA business. And there's a reason why it's setting the standards for other research tools.
However, Jungle Scout can be expensive or not suitable for some users. There's other less expensive good Amazon product research tool on the market. Here are some options to consider:
1. Viral Launch v. Jungle Scout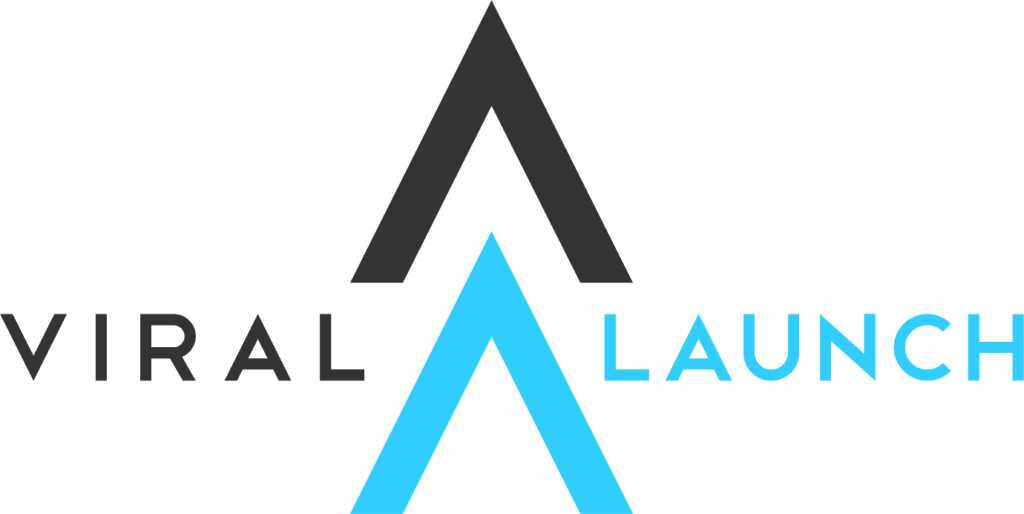 Viral Launch is a robust and effective Amazon growth platform that can generate a lot of revenue for you. You can use this tool to optimize your sales and make an impact hugely on Amazon. It offers "product discovery," "market analysis," "keyword research," "split test," "competitor analysis," "list analyzer," and "product manager," among other tools and services.
To test product ideas, you can also locate the most complex research on Amazon products. Also, quickly make modifications to be original and successful listings right now. It has the most accurate and user-friendly Amazon Keyword Tool for finding the most relevant keywords for your products. Here's a link to our in-depth Viral Launch Review.
Pricing
Essentials, Pro, and Pro Plus Ads are the three price levels offered by Viral Launch.
The Essential Plan is an excellent choice for Amazon product research. When invoiced monthly, it costs $69 per month, and when billed annually, it costs $58 per month.
The Pro Plan includes everything you'll need to start selling things on Amazon. When invoiced monthly, it costs $99 per month, and when billed annually, it costs $83 per month.
The Pro Plus Ads Plan is a one-stop shop for Amazon sales optimization and advertising. When invoiced monthly, it costs $199 per month, and when billed annually, it costs $166 per month.
2. Helium 10 v. Jungle Scout Review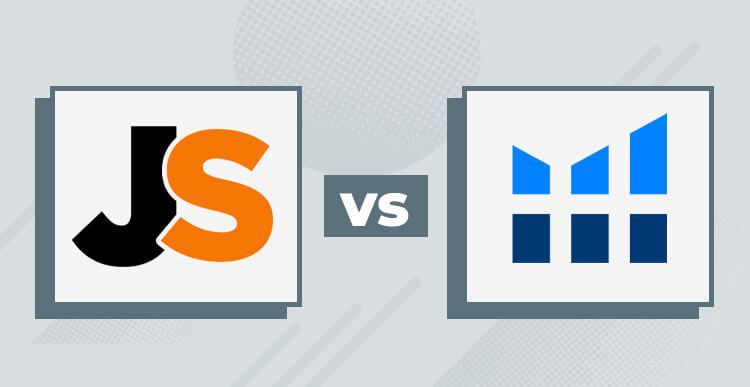 Jungle Scout can also use Helium 10, which is a potent alternative. Helium 10 has over ten powerful Amazon Seller-specific features that make selling on Amazon simple and profitable.
The Helium 10 Toolsuite makes it simple to locate instruments like the black box, x-ray, and magnet. In BloggersIdeas, we've already reviewed Helium 10 and gone through each tool in depth. Here's a link to our in-depth Helium 10 review.
Pricing
Helium 10 offers 5 pricing plans viz Starter, Platinum, Diamond, Elite, and Enterprise. All plans come with a money-back guarantee of 30 days.
The Starter package, which costs $37 per month and $324 per year, includes all of the tools and training need to get started.
The Platinum plan, which costs $97 per month and $970 per year, is ideal for people with a developing business.
The Diamond plan, which costs $197 per month and $1970 per year, is ideal for those who are seasoned sellers.
The Elite plan, which costs $397 a month, can be the best option for advanced-level vendors. You can learn more about the Enterprise Plan by contacting their sales team.
3. AMZScout vs. Jungle Scout Review

AMZScout, a browser extension and web software that helps you identify things to sell on Amazon, is the third option to Jungle Scout.
Here you can uncover things that will make you money if you sell them, as well as to detect current trends, evaluate prospective niche alternatives, review what competitors are selling on Amazon, and forecast future competition.
AMZScout's sales projections are fairly accurate when it comes to determining product profitability. Competitor analysis, a product database, and a keyword tracker are among the features available.
Pricing
Free, Light, Full, and Lifetime are the four pricing options available on the platform.
The Free Plan provides practically all of the basic features that merchants need to increase their sales.
The Light Plan is an excellent tool for researching products. Monthly Billing is $45.99 per month, and Annual Billing is $16.49 per year (for a total of $197.99).
The Full Plan includes everything you'll need to locate products, launch them, and get your Amazon business off the ground. Monthly Billing is $49.99 per month, and Annual Billing is $349.99 per year.
The Lifetime Plan includes all of the necessary tools for locating and selling profitable products on Amazon. It is priced at $1499.99.
As you can see, most Amazon FBA research tools don't come close to Jungle Scout's features.
4. Zonbase Compared to Jungle Scout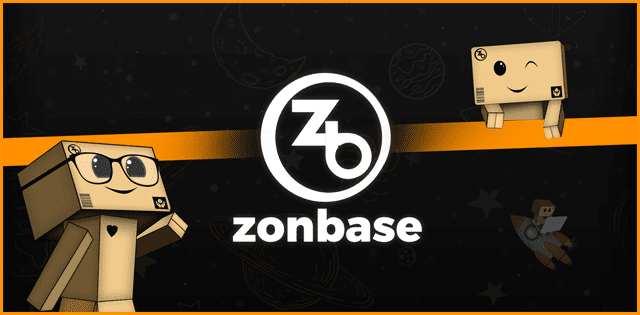 As a result of over 2,000 reviews from three of the most well-known review sites, Zonbase believes it has been voted among the best product finder in the world. Although the company was only founded in 2019, Jungle Scout is already seeing a lot of competition with this, and it is a viable alternative for users who want to pay less.
Because Zonbase's founders worked in e-commerce and Amazon selling, it was just a matter of time before Lewis Civin and Kevin David founded Zonbase.
Initially, Kevin worked as an accountant at a large corporation, but he soon realized that he didn't enjoy working for someone else. During this time, he discovered Amazon FBA, published his first product, and built a thriving Amazon company.
Kevin found that Amazon vendors face several difficulties, including the following:
High-priced computer programs
Uncertainty in deciding what to buy
a lack of understanding about how to improve product descriptions
Seeing and experiencing the anguish firsthand, he teamed up with Lewis to form Zonbase. They created a low-cost, easy-to-use program for Amazon sellers to help them succeed.
Helping sellers find outstanding things wasn't all that they did! Zonbase is an all-in-one solution that aids users in every aspect of Amazon's e-commerce business.
Pros of Zonbase
The app is simple to use.
Identical keywords
Quickly catching products.
Customer service that exceeds expectations
Cons of Zonbase
Anxiety-inducing
Not as organized as Jungle Scout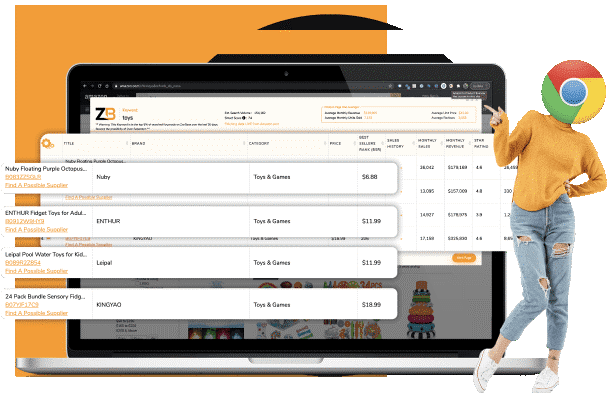 Zonebase Pricing Plans
When compared to other providers, Zonbase's pricing is very competitive.
Monthly payments of $47 for Zonbase's Standard Plan are a great deal. Even if the monthly fee is $37, you can save money by paying for the service in full at once. If you pay Zonbase regularly, the Legendary Plan costs just $97 per month. But if you sign up for a year-long subscription, you'll just pay $67 a month instead of $80.
It's fine to go with the Standard plan if you don't intend to do a lot of research. The Chrome extension is not included with the Zonbase Standard subscription, which is a drawback. The extra $50-$20 each month—depending on whether you opt to pay monthly or annually—is well worth it for those who can't live without the Chrome extension. ZonBase has feature-rich plans and is an excellent option if your budget is screaming at you.
What We Don't Like About Jungle Scout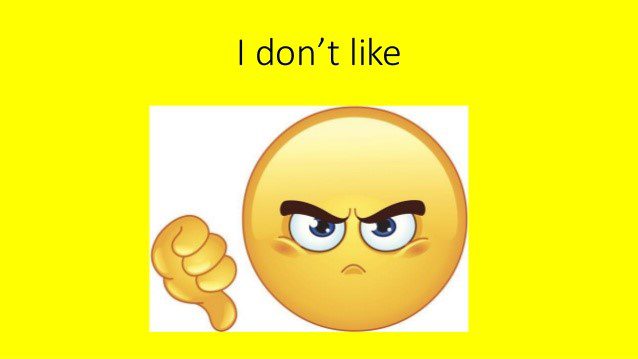 This Jungle scout review: Everything you need to know is not just about singing praises of Jungle Scout's awesomeness. No software is perfect; Jungle Scout is not an exception. Here are some of the few things we feel Jungle Scout should improve in its offering.
Unstable Pricing: It's impossible to forecast how much I'll spend each month because of the sliding scale that raises based on sales. However, because the price rises as you sell more, it might not mean much.
Issues with Opportunity Score: Opportunity Score is a useful metric, but it only makes sense when used in conjunction with other metrics. If you don't know what else to look for, it can be quite wrong.
There is no free trial: A lot of people would be more willing to hop on Jungle Scout's wagon if they offered at least a 30-day free trial period.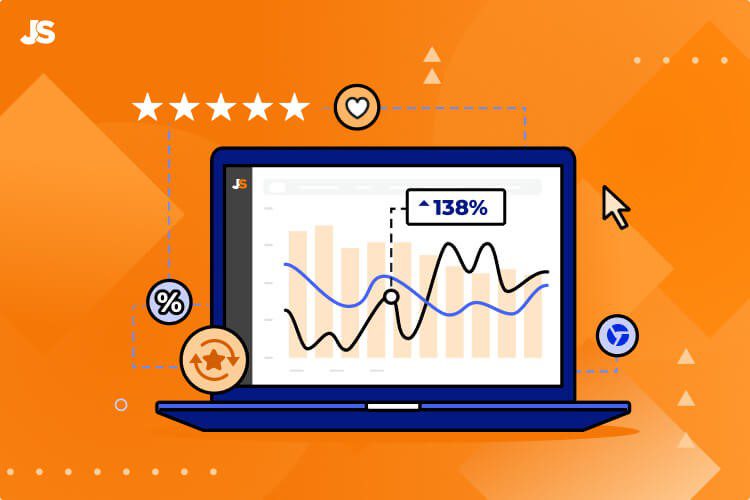 The Bottom Line: Should You Get Jungle Scout?
By now, Our Jungle Scout Review shows you should be able to decide whether you want to adopt Jungle Scout as part of your Amazon marketing strategies or not.
If you're still contemplating whether to delve into the FBA business, our advice to you would be to ignore the naysayers and go for it. It's very much possible to run and manage a successful FBA business. But to do so, you have to be able to conduct product research properly and diligently — and using a tool is advisable.
Your best bet with Amazon research tools on the market is Jungle Scout. You might find its pricing to be on the high side, and there's no free trial to test drive the product. However, we recommend this tool if you're serious about developing your FBA business. It's worth every single cent.
Download this free sure guide to Blog Marketing
Frequently Asked Questions About Jungle Scout?

We've compiled a list of frequently most asked questions on Jungle Scout for search engines and discussion treads. These Q&As can be useful if you still have questions about the software.
Q: Is Jungle Scout Worth it?
Yes, Jungle Scout is well worth your time because it has a comprehensive set of tools for Amazon sellers, including product research, keyword suggestions, research, product tracking, and more.
Q: Is Jungle Scout Accurate?
Yes, Jungle Scout is accurate and, when compared to competitors like Viral Launch and Helium 10, gives the most accurate statistics. The information is trustworthy, up to date, and correct.
Q: Does Jungle scout have any money-back guarantee?
Jungle Scout does not provide a free trial. It does, however, come with a 14-day money-back guarantee.
Q: Is Unicorn Smasher a Free Alternative to Jungle Scout?
Yes, you can use Unicorn Smasher, a free alternative to Jungle Scout. The problem with free tools, though, is that they aren't always precise or reliable. If you require a free tool, though, you can use the free alternative. There are other free alternatives like Viral launch and Helium 10 (free for the first 1000 product lookups).
Q: Which Jungle Scout Plan Should I Buy?
The (Jungle Scout Web + Jungle Scout Chrome Extension) Bundle is the best option because it is cost-effective and includes both the web app and the chrome extensions. You can also check the Jungle Scout Suite.
Q: What is a Jungle Scout?
Jungle Scout is regarded as Amazon's greatest and most distinctive keyword research tool. This tool assists you in locating Amazon's best-selling products and services. You can figure out which products are the most profitable, as well as estimate and analyze your sales. The main goal of Jungle Scout is to save you time and help you succeed over time. Jungle Scout has launched a terrific function called Opportunity Finder, which can keep you up to date on new products and service lines regularly.
Q: How good is the Customer Service of Jungle Scout?
Jungle Scout's support desk is available 24 hours a day, 7 days a week. Every firm must connect with customers regularly and promptly resolve their issues to maintain a positive customer-seller relationship. If a customer is happy with your services, he will remain loyal for the rest of his life.
Q: How Does the Jungle Scout 14-Day trial work?
The Jungle Scout 14-day free trial is given to customers who sign up, with a 100 percent money-back guarantee, to help them better comprehend basic and advanced capabilities. You have 14 days to cancel your membership plan and upgrade your plans at any time.
Q: Can I use Jungle Scout to increase sales?
Yes. However, you need to invest in the right products. Jungle Scout is not a magic wand but by optimizing its features for your product catalog and using the filters well, you can.
Q: When was jungle scout last in the item shop
Trivia.
The Jungle Scout's ID is CID_074_Athena_Commando_F_Stripe. On February 18th, 2021, this outfit was last seen in the Item Shop. The Default Ramirez looks a lot like Jungle Scout.
Style: Clothes
The price tag of 800 V-Bucks.
Extremely uncommon or difficult to come by
Released on February 28th, 2018
Q: Is it worth getting a Jungle Scout Premium Plan?
If you're an Amazon merchant, yes, it's worth the while. It comes with a slew of interesting characteristics. It's an all-in-one package for Amazon FBA businesses. The Premium Plan provides accurate statistics on all of your sales history, product history and rankings, pricing history, competitor products, and pricing plans in all premium plans.
Q: Does Jungle Scout work in Australia
Yes. Jungle Scout works in Australia. Jungle Scout also works in Canada. Here is a list of countries where Jungle Scout works. Amazon US (amazon.com), Canada (amazon.ca), Mexico (amazon.com.mx), Brazil (amazon.com.br), UK (amazon.co.uk), France (amazon.fr), Germany (amazon.de), Netherlands (amazon.nl), Spain (amazon.es), Italy (amazon.it), Turkey (amazon.com.tr), India (amazon.in), Saudi Arabia (amazon.sa), UAE (amazon.ae), Japan (amazon.jp), Australia (amazon.au), Singapore (amazon.sg)
Q: What is an FBA Scheme?
Fulfillment by Amazon is a program that helps vendors sell their goods on Amazon by assisting them with storage, shipping, and packing. Inventory management and maintaining human resources for shipping and packaging become less stressful for sellers who are part of the FBA Program. FBA also provides a toolset, dubbed the FBA toolkit, that allows sellers to learn about numerous product information.
Q: What is Jungle Scout Networth
In a press release on March 4, 2021, Jungle Scout announced that its latest round of funding had been completed. The latest round of funding brings the company's total funding to $110 million. Boston-based investment firm Summit Partners has taken a majority stake in the company as a result of the search.
Q: Does Jungle Scout has good Support and Training?
As a bonus, they provide excellent customer service, training, and content on Amazon selling. We found that Jungle Scout was consistently more accurate than Helium 10 in head-to-head comparisons in nearly every test.
Q: What features do Jungle Scout's basic plans offer?
It contains 1 user license, access to the Keyword Scout to locate all long and short tail keywords, and access to the browser extension as part of the basic subscription. If you sign up for an annual subscription, the basic plan costs
only $228.
Q: What are the benefits of using Jungle Scout?
Jungle Scout delivers wonderful benefits to all users, including comprehensive education and training for all new Amazon sellers, excellent customer service, and a sales analytics function that allows you to keep track of your sales and compare past data with your competition.
Q: Is it beneficial to use a product research tool?
Of course, yes. You'll need the help of a product research tool to locate a successful product for your business in today's world, where online marketers play such a large role in product sales. Jungle Scout is the greatest product research tool for understanding the present and futures markets, which is beneficial to your investment and strategy decisions.
Q: Is Jungle Scout owned by Amazon?
Not entirely. But Amazon does have a stake in it. Jungle Scout, an Amazon selling platform, has received $110 million in funding from Amazon to expand. And it's already used those funds to buy an ad-tech startup called Downstream Impact, which helps companies and entrepreneurs enhance their online operations.
Q: Can you cancel jungle scout at any time?
According to the Jungle Scout Terms of Service, pro-rated refunds are not available after cancellations. You can cancel your Jungle Scout subscription at any time and continue to use your account until the billing cycle ends. Though the company does not offer prorated refunds, it does offer a money-back guarantee.
Q: Is jungle scout the best?
We discovered that Jungle Scout was 99 percent accurate, with only a few units off in most cases. Do not be concerned if the information you obtain from the web app or Chrome Extension is incorrect. The data is good and nearly exact.
Q: Do I need a Product Research tool to locate a successful product?
Of course, yes. You'll need the help of a product research tool to locate a successful product for your business in today's world, where online marketers play such a large role in product sales. Jungle Scout is the greatest product research tool for understanding the present and futures markets, which is beneficial to your investment and strategy decisions.
Q: Which is better jungle scout or helium 10
We found Jungle Scout a better product research tool than Helium 10, by a few points.