Some of the links in this article are "affiliate links", a link with a special tracking code. This means if you click on an affiliate link and purchase the item, we will receive an affiliate commission.
The price of the item is the same whether it is an affiliate link or not. Regardless, we only recommend products or services we believe will add value to our readers.
By using the affiliate links, you are helping support our Website, and we genuinely appreciate your support.
Last updated Jan. 14, 2022 by Peter Jakes
Launching a business online is one thing, however,  ensuring that it flourishes and achieves the greatest feat is an altogether different task that needs a development mentality, which not every business owner possesses.
Entrepreneurs may invest tons of effort and time into setting up a company, only to discover six months later that they are suffering. Why is this so?
Because they lack the distinctive, or possibly the appropriate, resources.  hey need to know that establishing  Digital services or generating digital products, such as online courses, is all about employing the appropriate tools.
The conveyance of data through a structured and systematic route, along with appropriate resources to attract new consumers, will pay off handsomely for your company. But how will this be accomplished? And that is where Kajabi can help.
Having doubts whether Kajabi is the right software option for your business?
Then this review is all you need to get an in-depth look into what kind of software Kajabi is, and whether it's worth spending your bucks on.
In this unbiased thorough review of the Kajabi software, I'll be sharing with you the individual features and benefits available on the platform, the pros and cons, what their customers are saying about them, and my personal opinion about the software.
At the end of this review, you'll have gotten a better understanding of how Kajabi works, what it does (and does not), how much it costs, and other good alternatives you can choose in its stead. This will help you in making a better decision when considering the best software option for your online business—that's the main reason why I wrote this article in the first place.
Review Summary: Kajabi at a Glance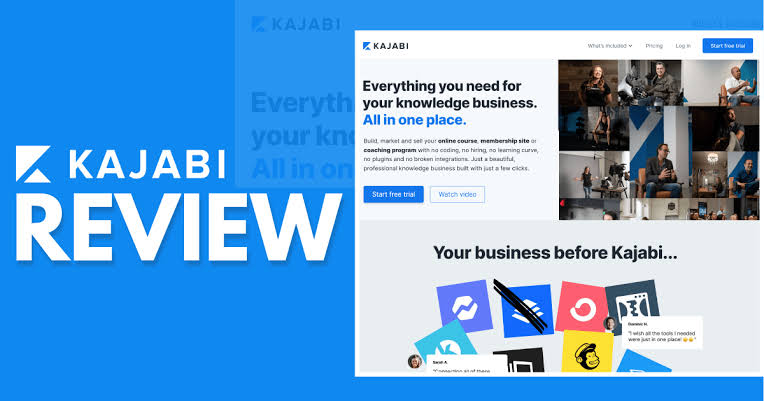 Kajabi is a paid e-course platform that provides a suite of advanced features to creators (like you!) to help them handle the process of creation, promotion, marketing, and selling of online courses, digital or physical products, or membership sites from a single platform.
Kajabi can be used as an independent tool for developing other digital outlets. With Kajabi, you not only create digital products, but you can also host a  personal website for your company and market it effectively using its cutting-edge promotional tools.
Kajabi provides you with the perfect tools and right techniques you need to curate podcasts and also serves as a  viable tool for its users and other e-solutions.
What strikes me at first about the Kajabi software is its impressive customization and marketing tools—which is second to none in the industry by the way. And, selling on Kajabi is not limited to online courses, creators can also sell any type of products (whether digital or physical) and membership sites.
Let me warn you, Kajabi is a bit high up when looking at the pricing but it's not unreasonable either. As they say, you get want you pay for and that's true considering the plethora of features and tools Kajabi is offering under one roof—you don't get that elsewhere.
Kajabi is not perfect, nothing is but it's good knowing that the developers are passionate about improving and adding more features to the software.
This e-course platform is better suited for course creators and business owners who are looking for a complete software solution with multi-functionalities like creating sales funnels, building websites, marketing emails, course creation, and so on. On a summary scale,
In affordability and Pricing, Kajabi is rated 4.5/5. The price of Kajabi is a bit higher than other software offering the same value, and it does not have a trial plan. However, it is a good value for your money.
In Ease of use and User experience, Kajabi is rated 4.7/5. The drag-and-drop down editor in Kajabi software is what makes it very easy to use, including simple navigation of its tools. In fact, it is one of the easiest software to use and users have praised it for giving them a wonderful experience.
In Course creation and Engagement, Kajabi is rated 4.6/5. In Course creation and engagement, Thinkific does a slightly better job. Kajabi has good engagement tools for students that are effective, fast, and can be personalized but Thinkific goes further to entrepreneurs and Business people.
In Marketing and sales, Kajabi is rated 5/5. The Kajabi platform's cream and cheese are sales and marketing. The email and digital marketing and pipeline builders, especially, are fantastic for creating landing sites, collecting email addresses, and selling courses online.
In Customizability and Design, Kajabi is rated 4.8/5. Every design is very configurable, and the sales and the editors handling the landing page provide a great deal of leeway. You may also utilize the code editor if you wish to upgrade to the Pro plan or add the  Kajabi Access to your membership plan.
In Customer care and Training, Kajabi is rated 4.9/5. Kajabi's Customer service is informative, courteous, and quick to respond. The Kajabi University resources library is a fantastic free bonus for members.
Think Kajabi is for you? Try Kajabi for free for 14 days!
Still not sure you're about to make the right choice? Stick to the end of this review as I will be sharing my final thoughts and recommendation about the software and whether it's worth a trial.
Before going into the review, a little background history about Kajabi won't hurt—will it? Let's find out about how the company started, the brain and philosophy behind the software, the company's vision and mission, and some of the many achievements in the past years.
What is Kajabi?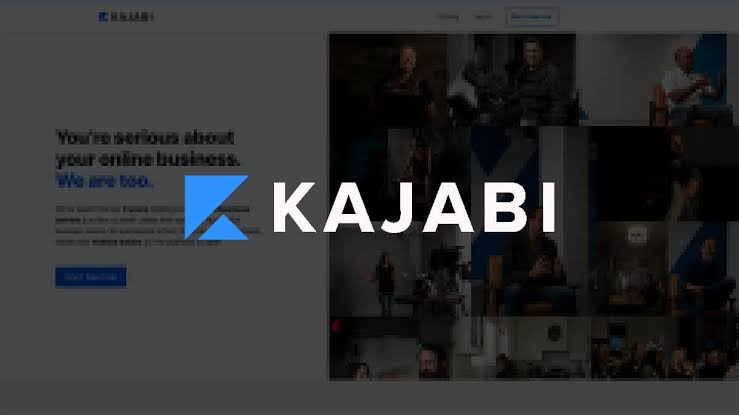 Kajabi was created solely to make the process of creating, running, and scaling an online business easy for knowledge entrepreneurs. The idea of the software was formed and created way back in 2010 by two business partners (Kenny Rueter and Travis Rosser) to help business owners and course creators sell their products and knowledge effectively online—a problem they've struggled with themselves.
Having experienced first-hand how difficult selling your knowledge online is, the founders had a deeper understanding of what knowledge entrepreneurs (like you!) need to start and grow your online business—which led to the birth of the Kajabi software. And, the genius of this software is that you get to have everything you'll ever need under one roof.
It's been a long time coming for the company and they have enjoyed a lot of success over the years which can be attributed to their constant drive towards improving and upgrading the software before it got to what we see today.
Currently, Kajabi has helped over 50,000-course creators from different countries across the globe to sell their courses online through their platform to over 60 million students generating over $1.5 billion in sales.
Click here to learn more about Kajabi.
Getting Started with Kajabi
Kajabi offers its new users a 14-day free trial period to get started. You can take advantage of this trial period to personally review the software (at zero cost) and decide if it's the right choice for your business. Test running the software will help you familiarize yourself with the platform's interface and features. And, if you ever need information or help concerning the software, ask their customer support service—they are available 24/7 through live chat.
What are you waiting for? Start Creating with Kajabi!
Who is Kajabi for?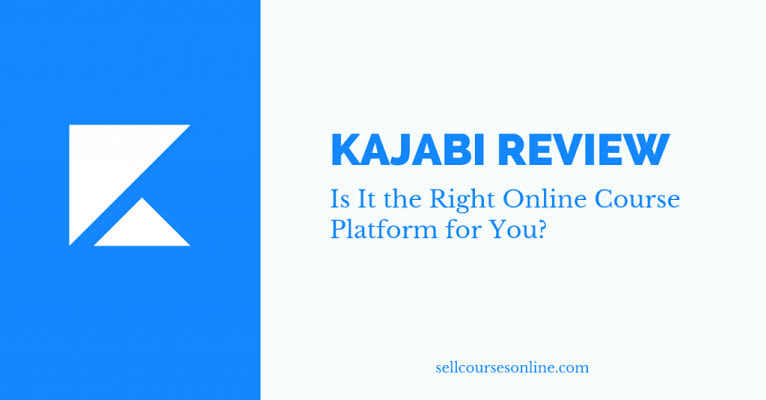 Every online entrepreneur can make use of Kajabi, but the software is better suited for knowledge entrepreneurs who want to create, market, and sell e-courses. Most of the people that use Kajabi include musicians, educators, craftsmen, entrepreneurs, and so on. As long as you have the knowledge to sell, Kajabi is for you.
Big names that trust and make use of Kajabi include Charlene Johnson (Fitness expert and best-selling author), Amy Porterfield (Online marketing expert), Billy Gene (Social Media Marketing Guru), Brendan Burchard (Personal Development Coach), among others.
Kajabi Features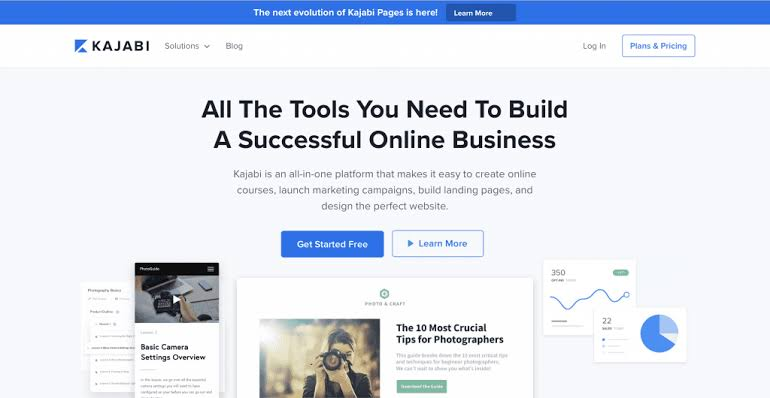 Kajabi comes with a suite of features and tools specially created to handle everything you need when selling your course or products online. We'll be looking into what these features are, what they do, and how they apply to your online business.
1. Course Creation & Student Engagement Tools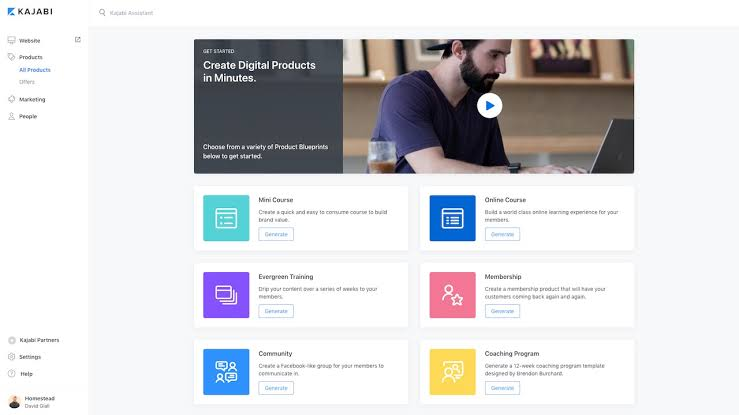 Creating a conducive online learning experience for your students is crucial to the success of your online business especially if you're selling your knowledge. This is possible with some of the features on Kajabi that allow you to create online courses with a great user learning experience.
Here, we'll be looking into some of these tools and features and how they work together to create the best learning environment for your online courses.
Kajabi simplifies the e-course creation process with its intuitive course builder feature. To create an e-course with Kajabi, you have an option to either choose from 3 pre-made blueprints or start creating from scratch. Using the pre-made templates makes things very much easier, all you have to do is upload and add content for the course. You can use Kajabi to create the following courses:
Courses for Beginners. These courses are designed to highlight your skills. Students learn information fast without delving far enough into the woods.
Transformational Courses. There are much more in-depth dives that take pupils to expert-level outcomes. They are more concentrated on a certain topic than courses that change people's lives. These types of courses come out more difficult and time-consuming than introductory courses.
Courses for Accreditation or Certification Courses. You can use your knowledge to certify students in the field you are an expert in. These are usually very profitable courses. They may also include one-on-one instruction and 3rd assessment. Check that you do have the necessary qualifications to give your students the certification.
When using a generated blueprint, the course structure is by default organized by Categories (Modules) and Posts (Lessons). If you're not new to online courses, those terms should be easy for you to understand. The categories are used to organized your course curriculum, while the Posts is where your course content will be.
Supported file format by Kajabi includes text documents, pdf, videos, audios, and PowerPoint presentations. For video files, hosting is through third-party software called Wistia and there's no limit to the amount of data you can upload.
Create Online Courses Easily with Kajabi!
The software comes with a drag-and-drop feature that makes it easy for you to add, remove, or re-arrange elements of your course curriculum.
More important than creating, uploading, and structuring your online course is the look and feel of your course dashboard. This contributes to about 90% of students' first impression about your course and can influence whether they decide to buy your course or not.
Kajabi offers course creators up to 10 professionally created themes which are more options than most other e-course platforms provide. Each theme is different depending on the type of product or course you what to sell on the platform. Whether you are offering coaching services, traditional courses, or membership sites, there is a theme specially designed for you.
The themes can be easily customized to meet your requirement and brand look without disrupting the structure of your online course. You don't have to worry about the mobile compatibility of these themes as they are mobile-friendly.
Kajabi has a mobile app version where students can have easy access to your courses on the go. Their mobile app version works well on Android and iPhone devices. Your course structure and themes are optimized for mobile devices to deliver a great user experience for mobile users. This feature is one of the good qualities of Kajabi that is unrivaled in the industry. Some of the mobile app features are
Access with a Single Touch
When using a mobile browser on your phone to access your content, your clients must recall the URL of your course as well as the login they made when they registered. Your clients may have such bookmarks stored on their home computer, but it won't help them when they wish to listen to a course while taking driving a large distance or doing house chores.
The Kajabi mobile app makes your material accessible with a single swipe, and there are no emails, login codes, or passwords to remember every time you log in.
Push Notifications for Immediate Interaction with users
Push notifications are maybe the most significant engagement win within the Kajabi mobile app as compared to utilizing the web browser experience. They place your essential updates in the middle of the screen where your consumers are most likely to see them, so they are read as quickly as a text message.
You'll never be farther than an arm's length away from connecting with your consumers on the move with the push notifications feature.
A First-Rate User Experience
Before this period, when your consumers accessed digital items via mobile device, they received a web experience that fell short of expectations. This is due to the fact that it was designed first for desktop and later for mobile devices.
This is totally altered by the Kajabi mobile app. It builds a mobile-first experience from the bottom up, so your consumers feel instantly better connected to you.
Student Discussions Forum
One of the impressive offerings of Kajabi is its community features which serve as a discussion forum for students. This is similar to the forums on various websites. You can include the community feature as part of your course or upsell it later (mostly at a yearly subscription rate) at the end of the course.
Students can also join existing forums and topics or create new discussions like traditional forums. There's also a notification feature that lets you know when someone shares their view on the forum you're a participant in.
There's also a comment section below every lesson where students can ask questions and interact with one another. This feature is optional, so you can decide to turn it off or on if required.
Drip & Locking Course Content
For better student engagement and content guarding, the content locking and dripping feature is a very important tool to have.
With Kajabi's Content Drip feature, you get to have control over when and how your student has access to your course content. It takes a lot of setting up but once you're done everything else is automated.
You don't have to worry about someone stealing your course material or skipping through the lessons because of another feature called Content Locking. This feature ensures that your students finish a lesson module before moving on to the next. You have control over which part of the lessons you want to lock which is the main beauty of the feature—locking the important lessons.
Another way to use this feature is to require your student to pass a particular quiz or assessment test before accessing the next lesson.
The Content Locking and Dripping feature are not as complicated as it seems and the setup is pretty straightforward to use.
Like in the traditional learning environment, students are required to take tests and examinations in other to assess their understanding of what they've been taught. This is also possible with Kajabi's Assessment feature, you can create different types of tests or quizzes including paragraph-answer questions tests, multiple-choice tests, and multi-option tests. Creating a quiz is easy, you can also insert them in any section of your course structure and grading is done automatically depending on the answer criteria you set.
Kajabi's assessment feature stands out among others for its multi-purpose function. Apart from the ability to set comprehension quizzes, you can also set tests that accept file upload. This is very useful especially if you want to test your students' ability through a project or an essay submission.
Another creative use of this feature is in taking students' surveys to collect feedback about your course, this can come in handy when planning marketing and content delivery strategy.
Kajabi Automation Triggers
The automation trigger feature let you engage with your student even when you are offline. You create an automated response that is activated when a certain condition is met.
For example, you can set the feature to automatically send an email to check in on a student that has been inactive for 7 days after buying your course. It can also be used to automatically send a cheat sheet to your students' email after the successful completion of a particular module. There are many other creative ways you can use the features.
2. Site Design & Customization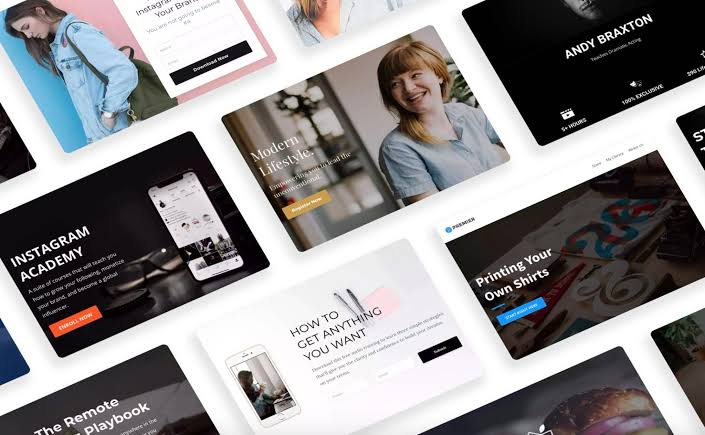 Every brand and business knows the importance of having an online presence in 2021. This isn't the same as your e-course website, I'm talking about a specialized website where visitors can view your blog posts, products & services, about, and more.
Kajabi offers the ability to design a front-end website for your online business as part of its many offerings. Here, we'll be looking at how Kajabi handles site design and customization.
Kajabi offers users the capability to create unique site designs without having prior knowledge of coding. For professional coders who want to customize the CSS or HTML codes, you'll have to upgrade to at least the Growth Plan to gain access to the code editor.
You get a custom domain name across all plans, however, to remove the Kajabi branding from the site and URL upgrade to a higher plan. Also, you can preview any changes you make to the URL before submitting it.
Same as the Kajabi course themes we discussed earlier, Kajabi also provides users with professional pre-designed website themes. These themes blend seamlessly with the style and framework of your site.
Before the addition of new themes to Kajabi, there're over 10 Legacy website themes offered by Kajabi. These themes have been achieved and no upgrades have been made on them till the date of this writing.
Although the Legacy themes are still available to users, they've been replaced by newly developed themes named "Layout Presents".
Unlike the Legacy themes, these new themes were created on the Premier framework providing your website with a clean and modern look. You can also customize your website's framework with their page editor tool.
If you'd ask me, I'll say the "Layout Presents" is an impressive feature coming from Kajabi but I still think there's room for more development. Kajabi is far behind when compared with other web builders such as WordPress with thousands of themes—both paid and free.
Also, Kajabi allows Pro users to create a custom theme from scratch or use to service of a web developer to get one and the ability to import the theme into your Kajabi website.
After choosing your preferred theme, you can customize the pages on your website with the page builder tool. It's an intuitive drag-and-drop editor that gives you the freedom of clicking and dragging your way into a professional-looking site.
There's no limit to the application of this tool. You get to select the sections that appear in your theme including elements within the sections.
The page builder also allows you to preview your page in PC and mobile device view so you can edit and adjust your page look on these devices.
Kajabi did an impressive job on this page builder as it measures up with the same feature provide by Elementor. And to make the feature so simple to use, it's a five-star from me to Kajabi on this.
Kajabi is an all-in-one platform you get a website, an email provider, a funnel builder, an online course builder, a CRM (customer relationship manager), sales pages, landing pages, and (most crucially!) a blog for a single fixed fee. Apart from the front-end website you can create with Kajabi, there's also an in-built blogging feature that allows you to create and publish blogs. The blogs you publish are all listed on a blog index page provided by Kajabi which you can also customize to your liking.
Users may also use Kajabi to construct their own web pages where they can keep all of their courses as well as other vital information. A library of themes simplifies the process of creating a website. Kajabi  Users may even establish their own unique domain name to guarantee that their courses are readily and quickly identified.
The process of creating and publishing a blog is simple. With Kajabi's blog editor tool, you can write your blog posts, insert media (images, audios, or videos), optimize your SEO metadata, update a thumbnail, etc.
It is easier to follow the bandwagon and go to spend a lot of money building a site with Bluehost. However, a lot of people are not ready for the exorbitant fees and thousands of websites are being hacked on Bluehost too. A quick search on 'Bluehost hack" will reveal to you that a lot of websites owners get locked out of their websites, lose their content on the sites and hackers go as far as hiding the links to their contents in pornographic websites. This is where we have been assured that Kajabi blogging feature does a better job.
You can set up your blog by clicking on Start a blog with Kajabi. Click on the start of a free trial. The interface looks like the image below.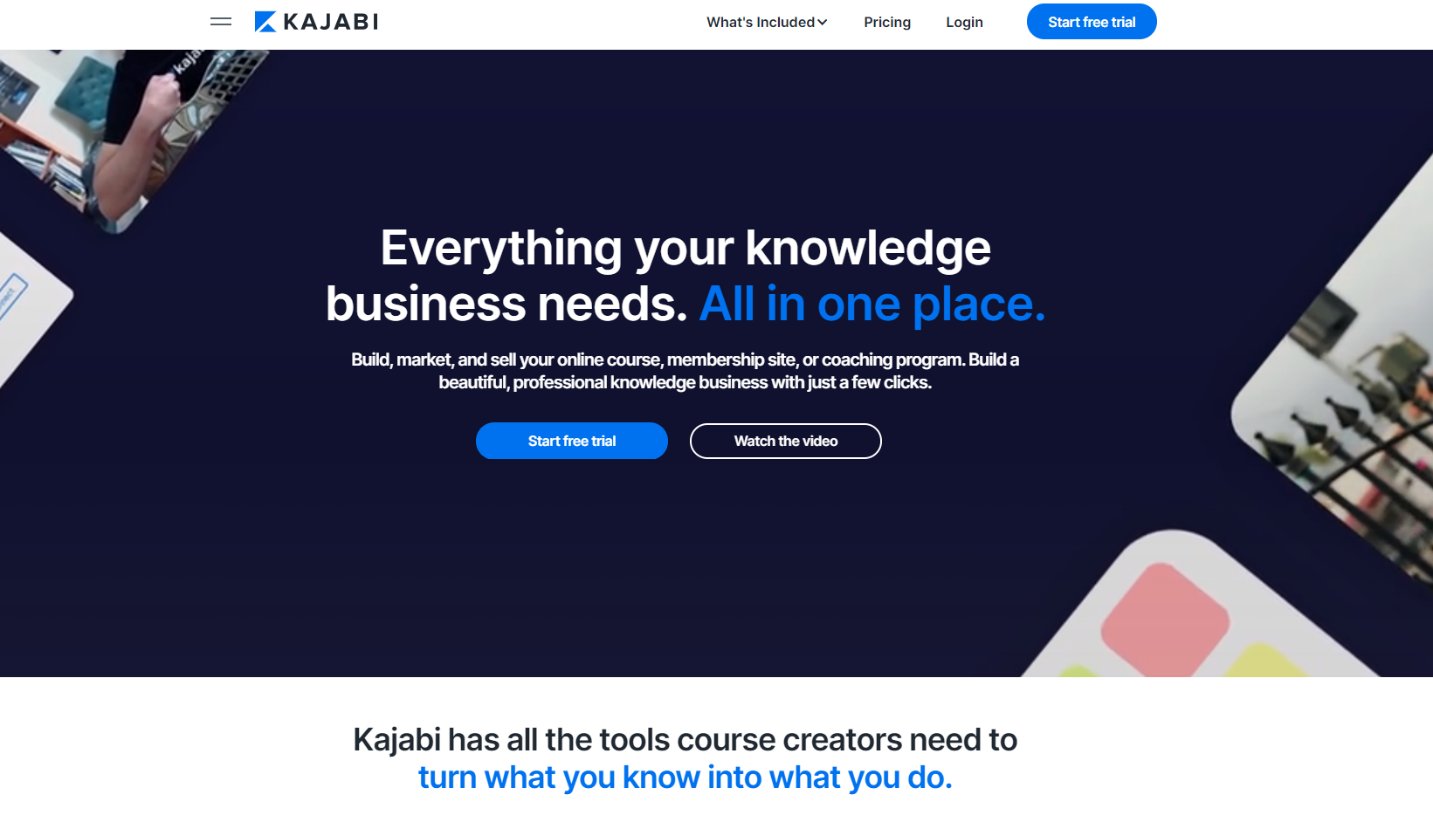 Kajabi will require you to provide some basic information, like your full name, email address, and "how you learned about Kajabi". This last question is required to help Kajabi know where to direct their ads more.  On the screen that pops up after, Kajabi will ask you to provide some additional information, like the account password for your new  Kajabi account, your cellphone number (necessary for the Kajabi support team to be calling you), and card payment details.
You may also pick between a monthly or yearly payment plan on this page. Here's a screenshot of the page.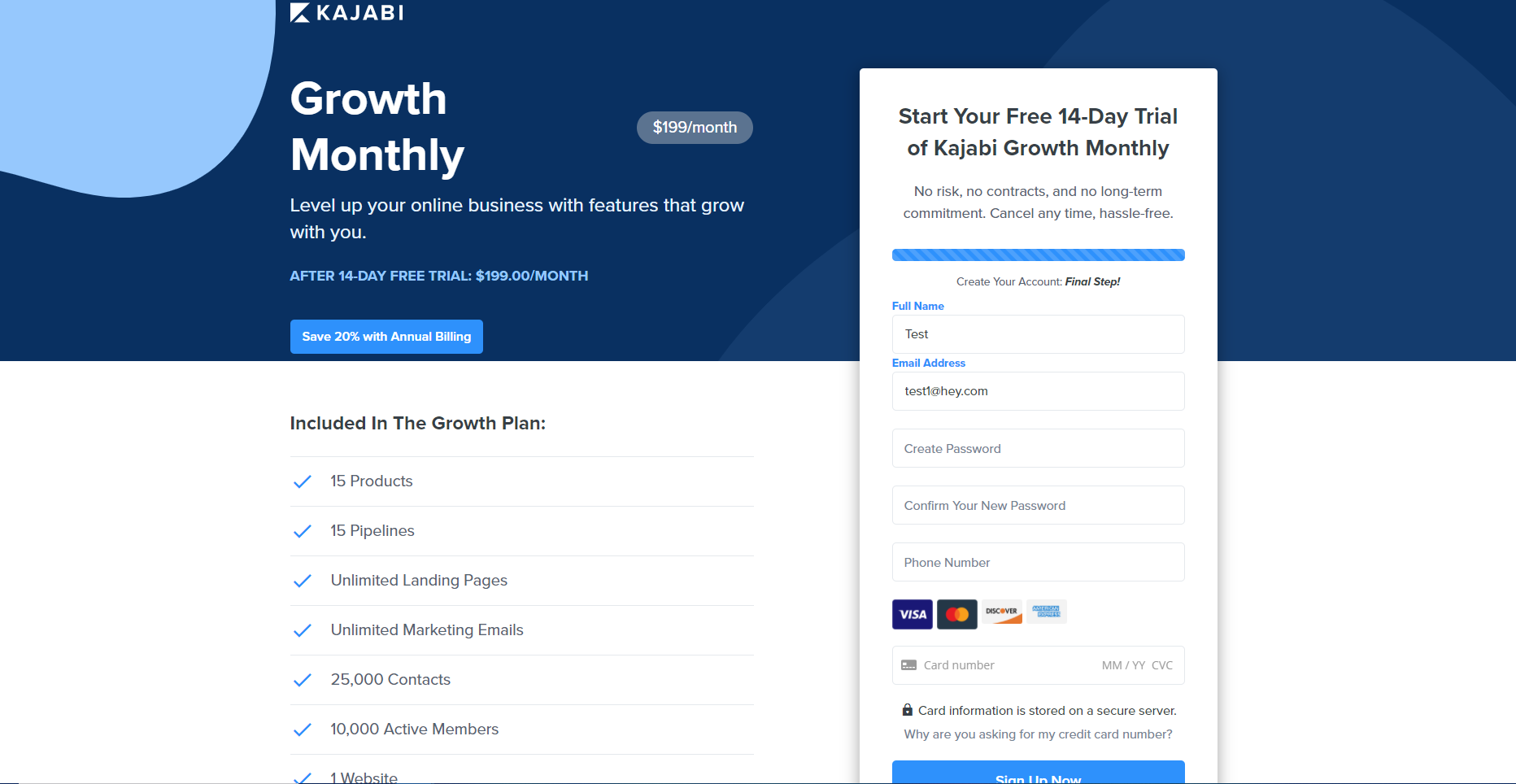 After creating your account, Kajabi will move you to the Blog dashboard. The Kajabi blogging settings help you do the following:
Give your website a name.
Include a subdomain (always endeavor to do this before you link a custom URL like BeautifulBlog.com).
Select your homepage (you can click on the Kajabi blog link to learn about it).
Add branding components like a logo and a favicon.
Choose a color scheme for your website.
Update your Trainer information (this is your "author" profile, where readers may see a photo of you, your blogging name, and a brief description).
Finally, include some important Seo details about your website.
The Kajabi blogging options include the following:
Word texts(with or without columns)
Cards with Special Functions
Galleries
Buttons for Taking Action
Forms of Inquiry
Pricing Cards and Storefront Offers
Videos with Embedded Images
Timers for Countdowns
Custom Coded Blocks and Social Links
Assessments
Lists of Links
Testimonials
With Kajabi, there are no complex integrations, there will be no downloads from shady third-party websites and you won't have any blog hassles trying to get everything to work together. However, there's a limit to what Kajabi's blogging feature can do. If you want more advanced blogging features, I'll recommend you create a blog with WordPress.
Start a blog today with WordPress!
3. Sales & Marketing Features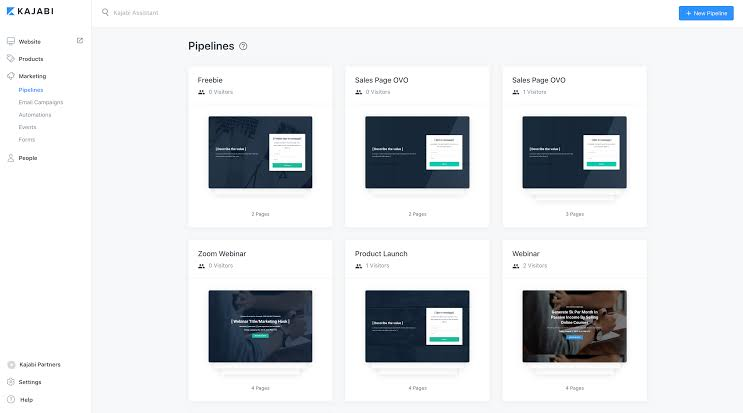 Kajabi's shining point is its advanced sales and marketing features which is what many of their users claimed made them choose the platform. Notwithstanding the pricing plan you opt-in, you get a suite of email marketing tools at hand for your marketing campaign. In case you want to have your email marketing handled by a third-party company, Kajabi supports seamless integration with MailChimp.
Another feature worth mentioning that Kajabi is offering in the sales and marketing department is the Pipeline Builder. This tool gives you access to customizable sale funnel templates which have already been proven to yield results. Customization is possible because of its drag-and-drop editor features that make the creation process a passing breeze.
The only major downside as far as selling on Kajabi is a concern is the limited payment gateway option—the only available option is Stripe. Kajabi can do better by adding more options to its offerings.
Most of Kajabi's offerings are being offered by standalone third-party software but Kajabi offers everything to you under one roof. And, Kajabi's suite of tools trumps most of this third-party software in terms of ease of usability, and functionality, and what is even better is when you are getting them all on one platform.
Next, we'll be looking into individual features and tools that Kajabi uses to handle sales and marketing below.
Pricing Options for Offers
Course pricing on Kajabi is referred to as "Offer", and I'll be using this in place of the former throughout this section.
Creating an offer on Kajabi is simple, you can choose from four different types of pricing options including Multi-Payments, One-Time Payments, Recurring Subscriptions, or you can set it as free. For easy internationalization of your online store, Kajabi supports different types of currencies especially major ones such as Australia Dollar (AUD), Canadian Dollar (CAD), Pounds (GBP), U.S Dollars (USD), etc.
For users who choose to bill by the Recurring Subscription option, you can as well set up a trial period (if you like) and charges the duration to either weekly, monthly, or yearly.
One thing I like about Kajabi pricing is its flexibility, you can decide which of your products your customer gets whenever they purchase a particular offer and when they get it. You can also attach multiple products into a single offer if you like. This is suitable for course creators who have multiple products to offer and would like to offer them in bundle packages.
Want to offer discounts, coupons, or special deals to your customers? Kajabi got you covered. You can create single or bulk coupons, discounts, one-time deals for your products.
Kajabi proves faithful to its philosophies of making it easy for creators to sell the products or course by providing pricing options that help users annex the power of marketing creativity which factors into more sales and growth of the business.
Checkout Pages & Payment Processing
Checkout pages are one of the most important pages for an online transaction. It's where buyers finally make a payment signifying the completion of a business transaction. Kajabi makes the creation process of your checkout page easy with the Kajabi Page Builder tool and lots of customizable templates to choose from. You can also add your cart to your web pages, blogs, and social media.
The freedom to add, delete, or modify elements such as testimonials, guarantees, logos, module, and lesson details, etc., allows you to create a checkout page of your liking.
You also have control over the kind of information that is collected from your customers at the checkout pages. Typically, you'll want to collect information like name, credit card details, and emails, if you are selling digital products or a course but for physical products, the inclusion of an address is important.
Kajabi offers three advanced checkout features which you won't find in any average course platform. These features are:
Cart Abandonment: Retarget people that didn't purchase at the checkout point by automating a follow-up email reminding them of their orders.
Bump Offers: Include additional products or services on your checkout page. For instance, you can add an optional coaching service to your new students for a price of your choice.
1-Click Upsells: You can upsell a side-product after a customer purchases your main product and all with just one click.
Kajabi handles the payment processing like a champ with industry-standard integrations with payment gateways like PayPal and Stripe. And, it's important to note that Kajabi doesn't charge its users any form of transaction fee while most other platforms do.
However, Kajabi doesn't handle EU VAT taxes. You'll have to pay for the service of third-party software like SamCart if you need your EU VAT taxes taken care of.
Marketing Campaigns & Funnels
Users who have ever used Clickfunnels in the past know the joy of having to create a sales funnel with a pre-designed template with everything mapped out for you.
Kajabi aims to provide its users with this same experience with a tool they call "Sales Pipeline Builder" which provides you with diverse templates you can model your campaign after. Currently, there're over 20+ templates made available by the platform.
Each template has been professionally designed and includes all the required pages to build a sales funnel that matches your marketing goal. Let's say you want people to register for your webinar, there are specific templates like the Zoom Webinar OVO templates for that.
The Sale Pipeline Builder tool is capable of creating default landing pages, offers, email campaigns, forms, which you can then customize to your liking. Of course, you can build these landing pages by yourself or hire a professional to create one for you but with Kajabi's Sales Pipeline Builder, you probably won't need to.
When it comes to marketing your digital products, Kajabi trumps over other course platforms with its outstanding features and tools.
Kajabi accepts payments via Stripe and PayPal. Kajabi  Users may also use the e Kajabi email marketing tools and features to promote their courses. Using completely marketing strategies and funnels that are automated, they can also optimize and scale their online business of selling courses. Additionally, Kajabi has analytics tools that allow users to monitor their success and keep improving.
With Kajabi, you don't just get to send broadcast emails to your students or customers as most course platforms offer. You can also automate those emails, tag and segment them, or send discount codes to your new subscribers, etc. If you're worried the tool would be too advanced for you, well don't, Kajabi created this feature specifically for the non-tech-savvy people who need simplicity and ease of use.
with Kajabi email features, you build an email campaign that has a professional look and sounds respectful and professional. Users have gorgeous layouts to choose from and automated subject line validation, so users will need not worry if their emails are ready for sending. Kajabi gives you custom-made emails that are adaptable to every situation. You can p Put out t one-time several emails or you can set up multi-touch sequences of emails based on each client's attitudes.
Kajabi email features help you save time and energy with its different templates tailored for any sort of email your business requires, even if you're sending an event invitation, a product display, or whatever you can think of.
Kajabi's sophisticated visual editor makes it very simple to change and preview your content, allowing you to submit your emails with confidence.  Users can make their r emails shine by using rich content features such as countdown clocks, videos, and images.
Organize your contacts on the same robust platform as you manage all the others, hence the multi-benefits. Just do this by submitting your list through a CSV file with the click of a button.
You may also build new data fields and link each one of them to the place you choose.
If you have your contacts on Kajabi, you can use your contact list in ways you never dreamt of.
This features however has its fallouts and some areas that Kajabi still needs to improve on in the future. The major one being the inability to send email sequences out a few hours after one another. Other than that, Kajabi email marketing tools excel over most other course platforms in every aspect.
Kajabi provides integrations for the following:
Segments: Excellent for providing real-time user data.
Google Analytics: Probably the most widely used analytics tool.
Facebook Pixel: Designed particularly for social media marketing and advertising initiatives. When you integrate these services, a tracking code is immediately added to the header and footer of your web pages. These codes let you measure a variety of SEO data like search results for your pages, visitor traffic, keyword density, visitor demographics, and even more.
Kajabi comes with a suite of impressive features that are extraordinary on their own but some users prefer using third-party software, and Kajabi made sure to leave no stone unturned and lets you directly integrate some email service providers like Drip, ActiveCampaign, ConvertKit, Mailchimp, and AWeber.
Another important feature that comes with using Kajabi is the Affiliate Marketing feature. You can easily set up an affiliate marketing program where your students, internet marketers, or even influencers get paid a certain commission for helping you promote your digital product or online course.
The creation process is simple and most of it is done automatically, Kajabi does most of it for you with little input from you!
One incredible capability that Kajabi offers course creators using the affiliate marketing feature is that you can change the commission percentage as you deem fit.
And, there's analytics data available to you on your private dashboard that shows your affiliate marketers' performance.
Kajabi's affiliate program is not perfect and there's a lot of work to be done. Some of the areas that need improvement include the inability to upload digital assets such as swipe files, banners, logos, etc., absence of affiliate tracking ID, and fixed 30-day cookie duration—apart from these, the feature is impressive.
4. Reporting & Admin Management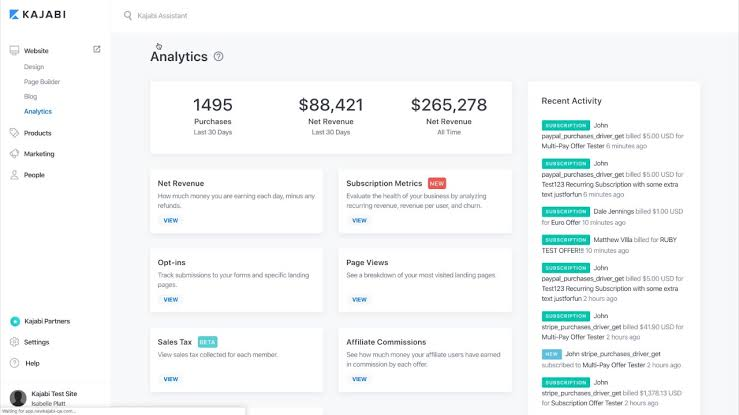 Running an online business (especially for course creators) is filled with lots of activities that need to be tracked and managed. This is why Kajabi provides its users with different tools that allow you to track many things such as student's progress through your course, purchase of your course, sign-ups for your freebies, number of website visits, purchase of your membership sites, and more.
Some of these tools include:
Analytics & Reporting Tools
Kajabi's analytics tools offer you insights such as pages that generated sales, page views, affiliate sales, email list opt-ins, and more, which can be very useful when planning your marketing strategy. You get to see how much revenue you're generating, in short, the nitty-gritty of how well your business is performing.
For course creators planning to upsell a membership site, later on, Kajabi also provides useful analytic data on important information like the lifetime value of a customer, monthly recurring revenue, and churn rate.
And, Kajabi does a great job of arranging all these analytics data in a way that doesn't overwhelm you. There is a filter where you chose which data you want to view by date of purchase, refunds, offer, and more.
Course reporting is also available for course creators to monitor their students' progress in the course, assessment scores, and individual video performance (video analytics).
With the video analytics features, you get an insight into which video lessons is performing when and which one is not, then you can determine which to improve in the future. Metrics available with this feature include play rate, engagement viewer, average engagement, video heat maps, and total plays.
For course creators teaming up as business partners and wants to sell digital products online, it's good to know that you can set administrator roles to each of your accounts on Kajabi.
Each member of the team can be assigned different roles and privileges depending on their function in the group. Presently, you can only set three user roles on Kajabi and they are:
Administrators: This role gives the assigned person all the accesses and privileges of the owner, but with restrictions to the payment gateways connection.
Assistants: The person assigned with this role can delete or modify all contents on the website but is barred from viewing most analytics data especially important ones like sales and revenue reports.
Support Specialists: Access is limited to only replying to students' comments and managing the People section.
5. Customer Support & Training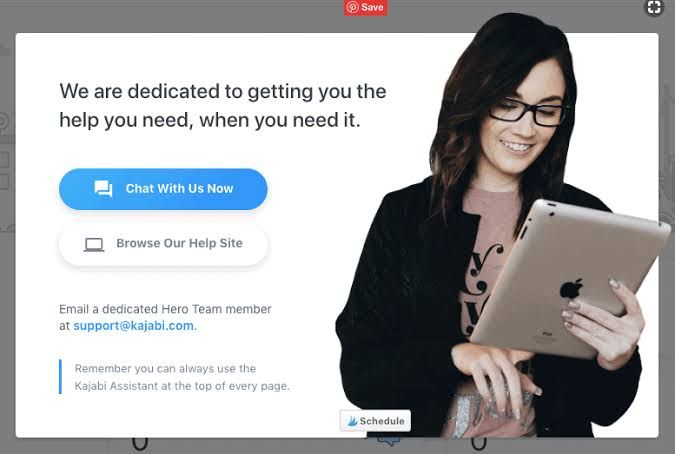 Kajabi offers excellent customer support services to its users through 24/7 live chat support—most other course platforms don't.
When you automate important interactions with clients, it becomes a profitable situation for both you and your customers. They get better, faster service, and you also save time.
Kajabi's customer management software allows you to automate your emails as we said earlier, give you discounts, and helps you access products using simple rules that you just need to put up once. You can with Kajabi customer support keep track of what's important. You can tag your customers, segment them, and filter them based on whatever parameters you choose. With Kajabi, you can keep all of your contacts in one location and arranged. Kajabi makes it simple for you to import data through CSV or enter it manually. When a user has a good understanding of his consumers, the user can give them a better service and generate more money.
Organize your contacts on the same robust platform as you manage all the other activities, hence the multi-benefits. Just do this by submitting your list through a CSV file with the click of a button.
You may also build new data fields and link each one of them to the place you choose.
If you have your contacts on Kajabi, you can use your contact list in ways you never dreamt of.
Users can use what know from their assessment, customer metrics,  engagement of products, and behavior-tagging to improve their products and marketing and automation.
Despite Kajabi's simplicity, there is always a chance you hit a ditch. Whenever you run into a technical problem or are confused about what to do, it's always good to know that Kajabi's got your back at all times.
Part of their training includes a library of support articles, posts, and videos on anything selling online courses/products related.
The platform also has a reward system called "Hero Reward System" that rewards course creators as they hit certain sales milestones e.g. making your first $1k, 10k, or $100k in sales. This motivates online sellers to work more and sell more on the platform.
Also, in addition to their training program, Kajabi offers its users two e-learning institutions "Kajabi Hero University and Kajabi University" for anyone interesting in learning about course creation, selling online, and marketing.
Learn to sell online with Kajabi University!
Kajabi Pros and Cons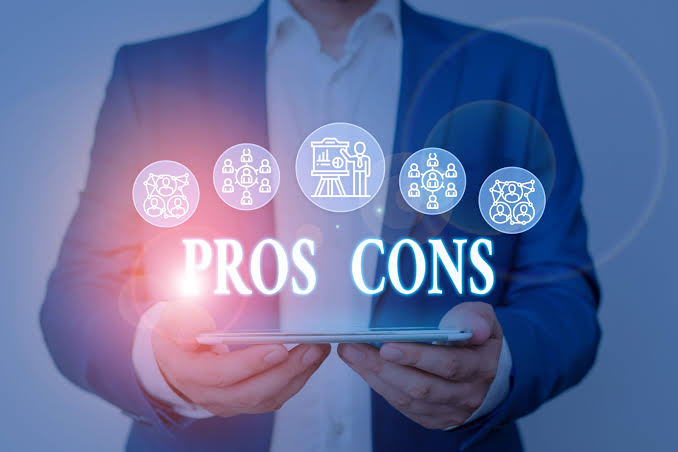 Pros—Why Kajabi Is the Best Option for You
One-in-All Capabilities: Everything you need to successfully run your online business on a single interface. It also saves you money by combining the services into one then paying multiple third-party companies.
Intuitive Website Builder and Editor
10+ Professional Pre-made Themes: Kiss spending hours trying to create a design or paying someone to do it for your goodbye. Go DIY with Kajabi themes template create by profession which you can customize with their intuitive editor to your liking. Create your website with Kajabi!
Email Marketing Tool Integration: Email marketing on Kajabi is automate and comes with lots of powerful features that rivals that of third-party websites.
Sales Pipeline Builder: Step up your marketing campaign with proven pre-designed sales funnel templates. You also get to view how your sale funnel is structured with the visual pipeline and sale funnel editor before adding it to your marketing campaign.
Automation: Engage with your students automatically by setting simple automation rules triggering certain engagement responses whenever a student fulfills the required criteria.
Device Supported: Kajabi software support many devices including PC, Mac, Android, and iOS (Mobile App).
Built-In Payment Processing: You don't have to pay a third-party company to handle your payment processing, Kajabi got it all covered. You can offer student payment options for more expensive courses too.
Transparent Pricing: The pricing is pretty straightforward, there are no hidden charges and Kajabi doesn't upsell any part of their services to you later.
Standard Customer Support: A team of professionals on the desk 24/7 to cater to your technical needs via email and live chat support.
Cons – What I Dislike About Kajabi
Expensive Prices: Kajabi prices are way higher than the market average but with the large suite of tools integrated into one software it's still reasonable pricing. They offer great value for their asking price.
No Certificate: Kajabi does not offer users the ability to create certificates for their students, for this, you'll need a third-party tool such as Acrredible to create one.
Lacking Assessment Tool: You cannot randomize quizzes/test questions on Kajabi which can be disappointing.
Limited Payment Functionality: Kajabi only has one payment functionality, which is with Stripe. For more payment functionality, you'll have to pay for the services of a third-party tool.
Kajabi Pricing
The cost of the Kajabi Software is a bit high when compared to other e-course platforms but as they say, you get what you pay for. Kajabi offers three payment options for its users:
The Basic Plan
This is Kajabi's cheapest plan and it costs a whopping $149/monthly—lower if billed annually. Features that come with the Basic Plan includes:
1 Website
3 Sales Funnels
3 Products
1 admin user
10,000 contacts
1,000 active members.
The Growth Plan
This pricing tier costs $199/month, cheaper if you choose to pay annually. You get more features than the Basic Plan including:
15 products
15 Sales Funnels
10 Admin Users
25,000 Contacts
10,000 Active Members
Affiliate Marketing Tools
Remove Kajabi Branding
24/7 Customer Support
The Pro Plan
This is Kajabi's most expensive plan and it's priced at $399/month—you can get it at a discounted price if billed annually. This plan is not suitable for small businesses or beginner course creators. The only difference between the Pro Plan and the Growth Plan is an increment in the number of products you can sell, sales funnels, admin users, contacts, and active members. This plan is better suited for big organizations and businesses that need to offer multiple courses to large audiences.
Compare Kajabi Pricing Plans Here!
Although Kajabi doesn't have a free plan, they offer a trial period of 14 days for prospective customers to try out their services.
Note: When you sign up for the Kajabi Hero Challenge, you get an increased trial period of up to 28 days.
Final Thoughts on Kajabi
If I'm to describe Kajabi in one word, I'll say "Complete". This software combines all you need as a course creator under one roof without sacrificing simplicity—a good job well done by Kajabi.
The Kajabi team deserves kudos when it comes to the simplicity of course creation, course delivery, student engagement, and assessment, among other impressive features.
Kajabi is a little bit expensive and isn't ideal for beginners with a low budget but if you are capable of paying for their service, I'll recommend 100% that you go for it.
Does Kajabi live up to its name or is it a bluff? Try out Kajabi today with their free trial and see for yourself.
Kajabi Alternative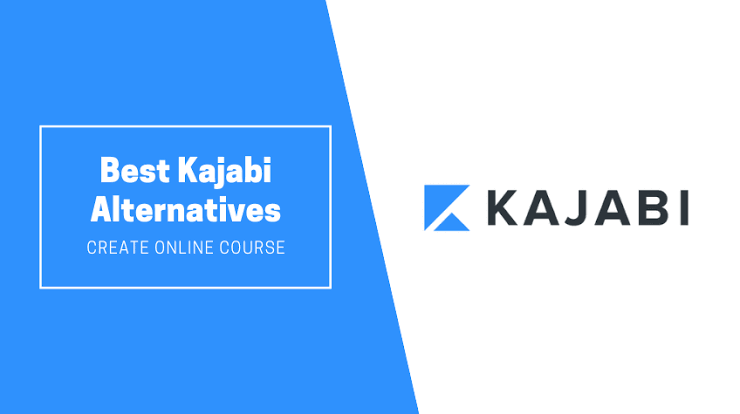 To wrap things up, we'll be looking at some other impressive e-course platforms that are great alternatives to Kajabi. The following are other e-course platforms I'll recommend in place of Kajabi.
Teachable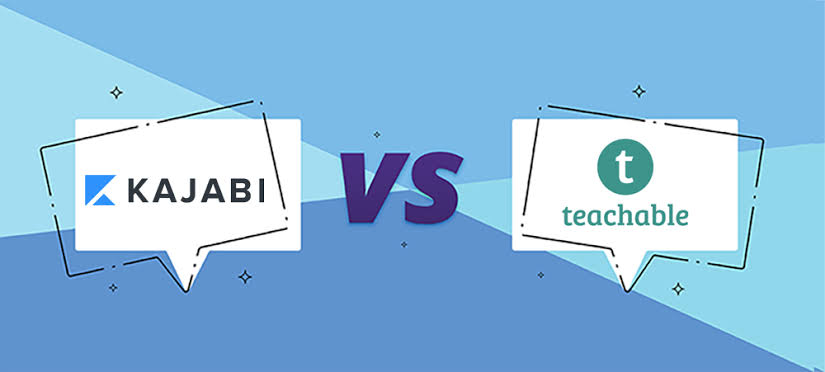 Teachable is another e-course platform that rivals Kajabi in many areas including simplicity, course creation and marketing, student engagement and assessment, and great user experience.
With their course creation tools, you can easily add course contents (text-based and video format), set quizzes, offer completion certificates (not available on Kajabi), and more. It's not far-fetched to say that Teachable has all the essential tools for you to create an engaging course but still falls short of Kajabi in terms of student engagement—the absence of forum community.
Some other areas where Kajabi is better than Teachable include the presence of a native website builder, sales funnel capability, and ease of use. However, you compensate for most of Teachable's shortcomings by using the service of third-party software. Kajabi offers an all-in-one approach to helping users sell their products (including physical products and courses) online while Teachable is only focused on help course creators sell their knowledge.
Teachable won the fight when compared to Kajabi in terms of selling and marketing features. They offer users a powerful drag-and-drop page builder that allows you to create an affiliate program, checkout pages, sales pages, and 1-click upsells for your course.
The major disadvantage that Teachable poses when selling on the platform is the limited sale to funnel abilities, for example, you can't build a landing page on the platform. This won't be an issue if you already have a third-party tool you can use to create landing pages.
Teachable focuses its service on helping course creators deliver and sell courses online, and if this is all you want from an e-course platform, then Teachable might be the platform you've been looking for.
Start Teaching Online with Teachable!
If you are looking for sales funnel capabilities and advanced website building tools, then sign-up with Kajabi.
Teachable and Kajabi are trusted by large numbers of users so it's a matter of personal preference. Both platforms offer great hosting services for selling digital products and online courses.
Thinkific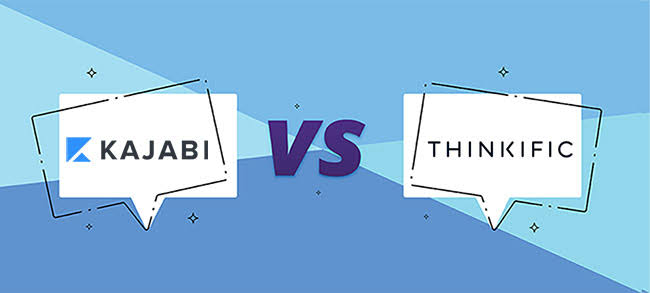 Is Kajabi too expensive? Have you heard of Thinkific?
Thinkific is another great alternative you can consider in place of Kajabi. Their course creation feature is on the same level as Kajabi but that can't be said about other features though. You get a native community area, course builder, advanced quizzes, and assessment tools, which are all basic features available on almost all e-course platforms.
Although their website design feature is not on par with Kajabi, they've done a great job in providing a decent number of professionally-made website themes plus a powerful website builder for their users.
Another area where Thinkific doesn't match up to Kajabi is in terms of sales and marketing features. Even though you can create a standard upsell and checkout page, the result looks outdated and doesn't convert much—one of the reviews about the platform. Also, Thinkific doesn't have a mobile app that is present in Kajabi.
On an ending note, if all you need is a platform where you can host and deliver your course online and don't mind using third-party tools to handle the sales and marketing aspect of your business, then it's a no-brainer, Thinkific may be the right choice for you.
Launch Your First Online Course with Thinkific!
But, if you want an all-around solution where you can create, deliver, sell, and market your course, then you should go for Kajabi or another course platform.
Kartra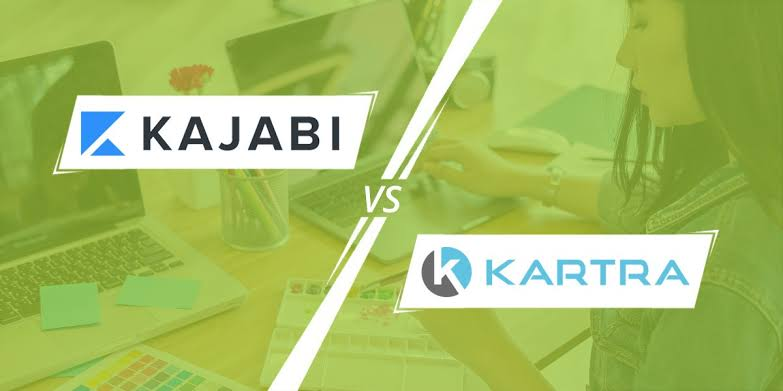 Kartra is another close competitor with Kajabi that also allows you to sell all kinds of products including online courses.
The platform's shining point is its marketing features and sales funnel. With different tools including checkout system, page and funnel builder, website drag and drop editor, and more to make selling effectively on the platform a passing breeze.
A major drawback with Karta is its poorly designed website themes that aren't customizable to match your business look and feel. And, the blogging capabilities of the platform are lacking in terms of functionality.
Course creation with Kartra is simple but with the ending result, there are better options out there. And, their membership builder feature is nothing to write home about.
There's also a limit to the amount of video and text-based content you can add to your course depending on the plan you subscribe into.
Unlike Kajabi, Kartra does not offer a community builder tool, a student's complete notification, or quizzes and assessment features.
With Kartra, you get most of the basic features you need but if you want advanced student engagement or course creation features opt for Kajabi instead. Want more sales and marketing features than you can get with Kajabi, check out Kartra.
On the bright side, Kartra is big on sales and marketing features and rivals popular marketing platforms like Clickfunnels. You can say Kartra is Clickfunnels for course creators.
Get Started with Kartra!
Wrapping it up!
There are many more options to consider apart from Kajabi if you want to sell online products, courses, or membership sites. You can do more research to find out more about these alternatives. Although Kajabi is an expensive option, if you have the budget to pay for their services, it's worth every penny.