Last updated Mar. 12, 2023 by Favour Chinaza
Do you love college football but live in a cable-free home? There are many ways to watch college football without having a pricey cable subscription.
College football is one of the most exciting sports in America. We have an exciting season ahead of us, with top teams going head-to-head on the gridiron!
Follow this updated guide to enjoying a favourite pastime at a fraction of the cost, whether you want to see the current top-ranked team win the national championship or are rooting for an underdog.
Here are your best options for watching college football without cable TV.
What Are The Core Local Channels To Watch College Football Games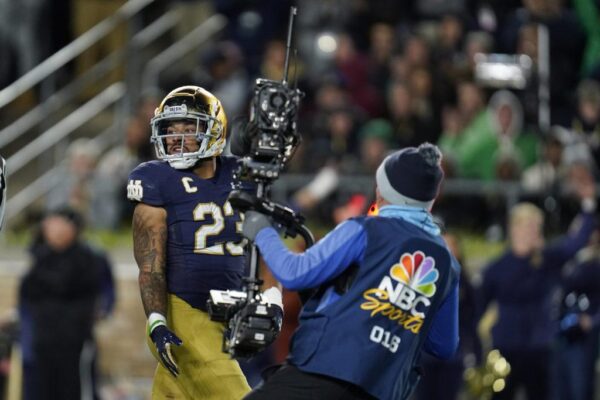 ABC, CBS, Fox, and NBC are the primary local channels that broadcast college football games. ESPN, Fox Sports 1 (FS1), and CBSSN all broadcast select college football games.
College sports networks such as the ACC Network, Big Ten Network, and SEC Network carry additional games.
The number of channels that broadcast college football games can be confusing, so we compiled a list of some of the best ways to watch games without a cable subscription.
What is the Best Way to Watch College Football?
Most college football games are broadcast on major networks such as CBS, Fox, and ABC. In addition, you can watch them on dedicated channels like the SEC Network and the Big Ten Network.
If you aren't a subscriber, don't have access to those networks in your area, or want an alternative to cable TV, you can watch your favorite NFL games for free and also you college teams on streaming services such as FuboTV, Sling TV, and Hulu + Live TV, among others.
Here are some ways to enjoy your favorite sport without overspending each month.
Related: 8 Best Live TV Streaming Services
How To Watch College Football Without Cable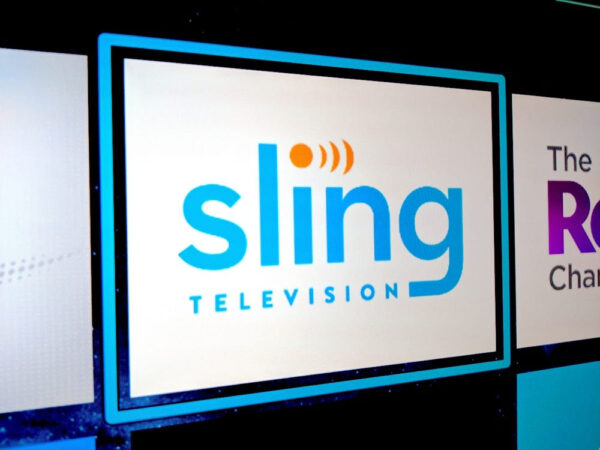 Sling TV is an excellent option for college football fans who want to watch their favourite team without a cable subscription. This TV service lets you watch live sports, news, and other shows on your smartphone, tablet, or computer.
Sling TV's base package includes dozens of channels like ESPN and ESPN2 – which are great channels for watching college football games. If you sign up for the Sling Blue package, which costs $25 per month, you'll be able to access the ABC channel.
Sling also provides several add-on packages like Sports Extra ($5/month), Comedy Plus Extra ($5/month), Kids Plus Extra ($5/month), News Extra ($5/month), Hollywood Extra ($5/month), and more.
You can customize these based on your interests. You can also upgrade to premium channels like HBO, Cinemax, or Showtime by paying an additional monthly fee.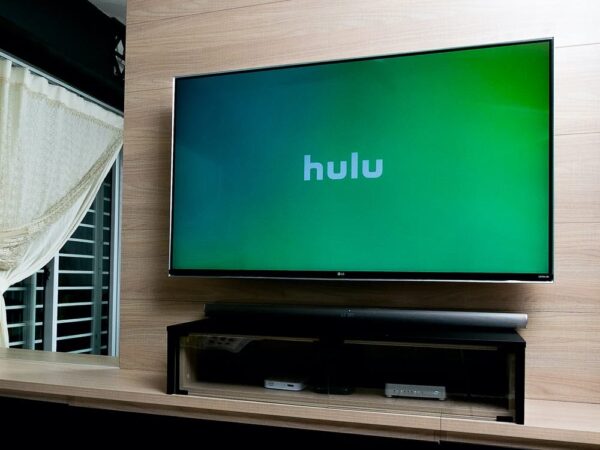 Hulu With Live TV is a great way to watch college football. This TV service enables you to live stream more than 60 channels. These channels include ABC, CBS, NBC, Big Ten Network, and more. Hulu With Live TV has pricing that starts at $40 per month. This TV service doesn't tie you to a long contract. Instead, it allows you to subscribe and unsubscribe at any time.
If you prefer, you can also get ESPN Plus. The ad-supported version of the Hulu + Live TV package starts at $69.99 per month. You'll have to pay $82.99 monthly if you want to avoid advertisements. While this may not be in everyone's budget, sports fans who have it will not be disappointed with the selection available. With Hulu Live TV, you can also get local channels without cable. Hulu airs games from:
Baylor
Kansas
Kansas State
Oklahoma
Syracuse
3. HDTV Antenna
If you're primarily interested in supporting your local college football team, an HDTV antenna is one of the most cost-effective options.
An inexpensive antenna purchased once unlocks access to over-the-air (OTA) signals near you, allowing you to stream any available local affiliates of ABC, CBS, Fox, or NBC.An HDTV antenna is a great, low-cost option for streaming local games because it does not require a monthly subscription.
The main disadvantage is that it does not provide access to games broadcast on cable channels such as ESPN or out-of-market games.
An indoor antenna is a cheap and easy way to get local TV channels without having to pay for cable or a streaming service.Today's antennas are as thin as a sheet of paper and can receive dozens of channels from up to 60 miles away. You can easily install antennas by taping them to the wall.
Others are as small as a salt shaker and can be easily tucked behind your television.Rather than paying a large monthly bill, you can get a good antenna for as little as $19. This low-cost investment will provide you with free access to local stations such as ABC, NBC, CBS, and Fox.
Make use of the PS4 or PS3 controller, hit Home on either device and go straight into the live streaming mode.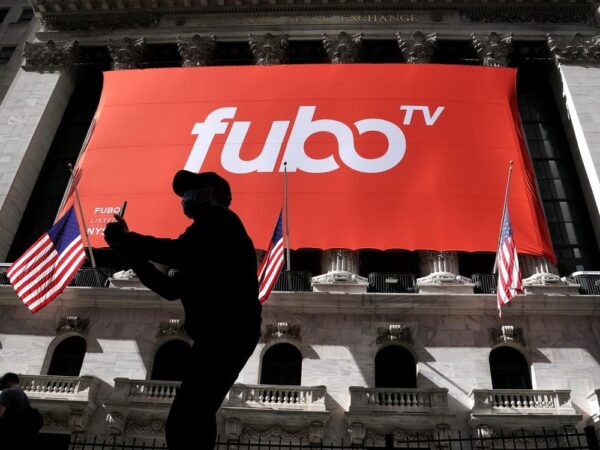 FuboTV stands out from the rest on this list because it has a sport-centric channel lineup. In addition, it's one of the few services that offer local channels in their base package.
For its entry-level package, you can get FuboTV at $34.99 monthly. This package includes over 70 channels like FS1, NBCSN, and CBS Sports Network. It also offers regional sports networks like NESN for Bostonians and NESN Plus for New Englanders.
The Pac-12 (including all regional options) and ESPNU networks are available. However, remember that this requires the "Sports Plus" add-on, which costs an extra $10.99 monthly.
If you enjoy niche sports, fuboTV is worth considering because it offers a variety of add-on packages that provide access to live sports such as biking and tennis.
Its cloud-based DVR can record up to 1,000 hours of content. You also get ten concurrent streams, allowing other household members to watch something else while you watch football.
The service also offers add-ons such as Cinemax ($10), Showtime ($11), HBO ($15), Starz ($7), and more.
5. HSS-TV (Hulu, Sling, Spotify & YouTube) Bundle
Another option is HSS-TV – a TV service with Hulu, Sling TV, Spotify, and YouTube Premium. HSS-TV is available for $40/month. For users who add ESPN to their package, HSS-TV charges $50 per month.
The channel lineup on HSS-TV is similar to PlayStation Vue's. HSS-TV offers over 100 channels, some of which include popular sports and entertainment networks like FS1, Fox Sports 2, AMC HD, TBS HD, and FXM HD. You can also get this value-packed bundle when looking for live streaming TV services.
6. AT&T TV Now
AT&T TV is a streaming service that offers live TV over the internet. It is a good alternative to a cable subscription and provides access to popular sports channels like ESPN, FOX Sports, and CBS Sports Network.
AT&T TV Now is available on various devices like computers (Mac or PC), Apple TV, and Roku players. It also has an Android app. In addition, AT&TV offers functionality that allows you to stream college football games on your phone or tablet.
The service is also compatible with Amazon FireTV devices, Xbox One consoles, and Google Chrome casts. AT&TV offers a free trial period, and its pricing starts at $35 per month.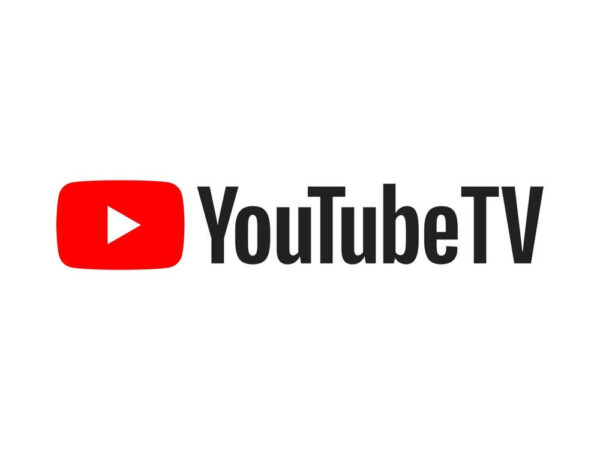 YouTube TV is a live TV streaming service that offers subscribers access to over 50 channels, including all major broadcast and cable networks.
For $40 per month, you can stream live sports, news, and entertainment. In addition, YouTube TV comes with seven days' worth of cloud DVR storage, enabling you to record your favorite show and watch it later.
It is easy to sign up on YouTube TV. All you have to do is sign up with your Google account.
Then, you can stream YouTube TV with Roku players, Apple TV, smartphones, and tablets. There are other streaming software for YouTube and Twitch should you not be satisfied with YouTube TV.
8. WatchCollegeFootballOnline.com
WatchCollegeFootballOnline.com is a free college football streaming site that allows you to watch football games. It has an easy-to-use and beginner-friendly interface.
You can stream this site with your phone, tablet, or computer. This site has no hidden fees, cable cancellation fees, contract requirements, or contract extension fees.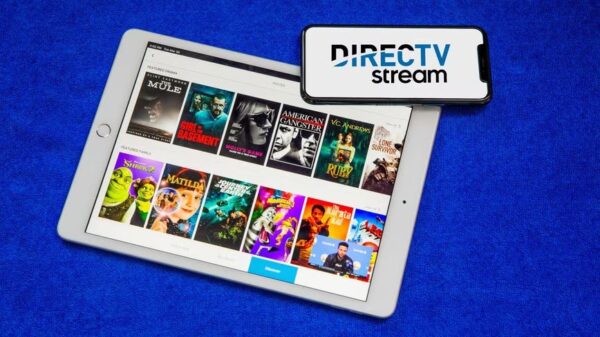 Many channels you'd need for a full college football weekend are available on DirecTV Stream, but most will require you to select at least its premium plan.
There are four packages available on the platform. Prices for 65+ channels begin at $74.99.
The Choice package offers you the following:
FS2
ACC, BTN, and SEC networks
ESPN News
ESPNU
Unfortunately, because higher-end channel packages cost up to $154.99 per month, it's easy to spend even more. If you want more than ESPN, ESPN2, and FS1, you must select the $99.99 per month "Choice" package. Fortunately, this also includes a three-month HBO Max subscription.
Furthermore, the Choice package includes regional sports networks (RSNs). DIRECTV STREAM is the current market leader in the live streaming service space for RSNs, with fuboTV a close second.
10.
ESPN+ Service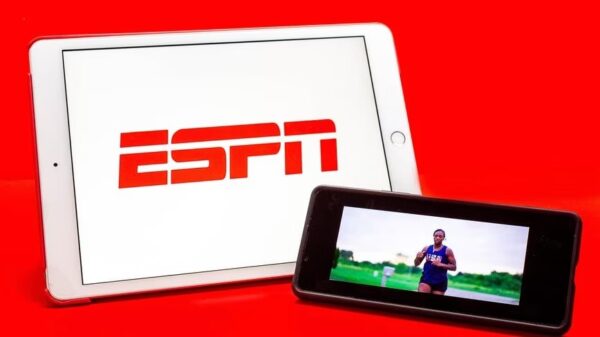 ESPN+ is a streaming service that offers live sports. With ESPN service, you can get the following:
Live sports – ESPN+ covers all your favorite games, from baseball to hockey and everything in between.
Original programming – Watch shows like Barstool Van Talk and more on this app! There's something for everyone. On-demand content – If you want to catch up on your favorite sports moments from the past few months or years, you can find them.
11.
Vidgo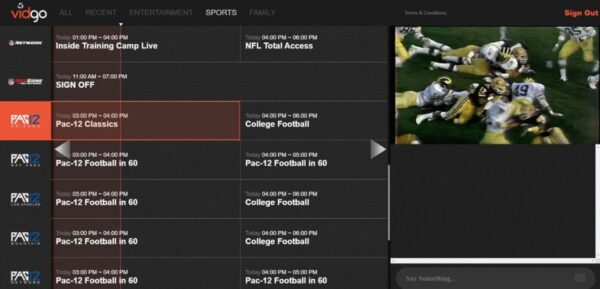 Vidgo is one of the most recent methods for watching college football online without cable and is only $64.95 per month for 100+ channels.
It is the new kid on the live TV streaming block, providing a mid-tier service with many channels at a reasonable price.
Its emphasis on college sports, family programming, and Spanish-language channels has enabled it to carve out a niche in a crowded industry.
Vidgo works as most streaming services do: you pay a monthly fee, they provide TV channels to watch, and usually, some features to enhance the viewing experience.
However, instead of receiving shows through a physical cable or satellite dish, you receive them through the internet.
You probably already have internet service and a screen to view content on if you're reading this, so you have everything you need to get started with an internet streaming TV provider.
Vidge Pricing
Vidgo's subscription plans were simplified about a year ago, with only two options: English and Spanish ($39.95/mo).
They have split the English plan into two parts: Plus ($64.95/mo) and Premium ($79.95/mo). (For more information on the Premium plan, click here.)
The Plus package includes approximately 90 channels, including typical cable channels like Disney, Discovery, and FX. Furthermore, the Spanish package includes over 25 Spanish-language channels from the United States, Mexico, Central and South America, and Spain.
Vidgo is the only streaming TV service that includes all NCAA channels in its base plan, including the ACC, Big Ten, Longhorn, Pac 12, and SEC.
It also includes ESPNU and the pro channels NFL Network and NFL Redzone. This makes it an excellent option for football fans.
12. Free OTA (Over-the-air) TV
The simplest — and least expensive — way to watch live college football every week is to connect an OTA antenna to your TV and scan for channels, which will give you free access to your local ABC, CBS, Fox, and NBC stations.
By purchasing a low-cost, one-time digital antenna, you can watch college football (and NFL) games on those channels for free without ever paying a monthly subscription.
To begin, locate the best antenna for your household based on your location and adjust it for optimal reception.
Antennas are available in various styles and sizes and can be installed indoors and outdoors. For example, newer interior antennas are often flat, so they can be placed in your entertainment centre without being obtrusive.
In contrast, powerful outdoor antennas are frequently mounted on the roof and can receive channels from further away.
NBC's weekly Notre Dame games, CBS's headlining SEC games, and Fox's rotating coverage of major matchups between ranked teams. These teams in various conferences are just a few of the marquee matchups you can look forward to seeing every Saturday for free with your antenna.
Major postseason games, such as the Big Ten and SEC championships, are also broadcast on OTA TV, as are a few bowl games.
13. College Sports Live Service
College Sports Live is a new service that lets you watch your favorite college sports. The service is available in all 50 states and shows sports like soccer, basketball, and hockey.
You can also access live streams of games from conferences like the Big Ten, ACC, SEC, and PAC
This TV comes with pricing that starts at $64.99 per year and can be compared to streaming services like Sling TV or PlayStation Vue
How Can I Watch College Football Without Cable for Free?
College football is a fun sport to watch. But, if you haven't subscribed to a cable, there are free ways you can catch up with the game. Here are two free ways to watch college football without a cable subscription.
Watch College Football Online with Sling TV
Sling TV is an online service that lets you watch live sports streams on devices like PCs, Macs, iPhones, and more. For $20 a month, this service gives access to ESPNU and other popular sports channels.
Watch College Football Streaming Free with an Antenna
While Sling TV will connect you to most games, it doesn't have CBS Sports Network or the SEC Network. So if you're looking for those channels, an antenna could help. This device picks up local channels like CBSSN, SEC Network, and other free networks.
Other Ways To Watch College Football Without Cable
Paramount Plus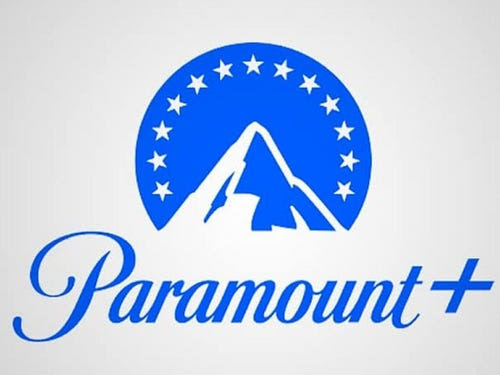 The SEC Game of the Week, the best game from what many consider the best conference in the country, is now available to stream on MTV Plus.
The service also broadcasts games between military academies (Air Force, Army and Navy). It would be best to have a premium subscription to watch college football on Paramount Plus.
Paramount Plus has two plans:
Essential: $4.99 a month
Premium: $9.99 a month
Remember that you must upgrade to Premium to receive your local CBS networks. Four of your local affiliates are included.
Antenna
You can watch free college football games with an Antenna. An antenna is a device that picks up free TV signals.
Modern Antennas can be attached to your TV or streaming device. In addition, antennas are free and do not come with a monthly fee, contract, and rental fee.
Peacock Premium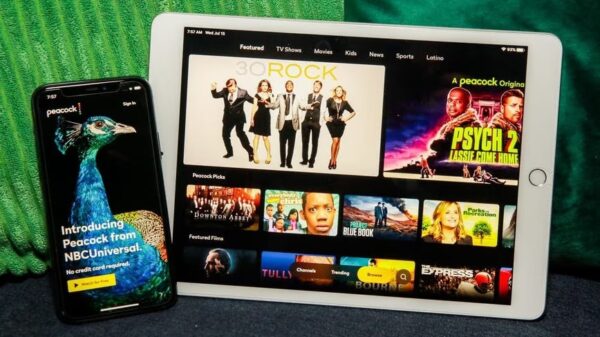 NBC owns Peacock, which provides live sports and on-demand entertainment. For example, users can watch English Premier League soccer, the Olympics, Sunday Night Football, select WWE events, Indy Car races, and some PGA golf tournaments for $5 per month.
In addition to rugby, figure skating, cycling, and track and field, the service broadcasts a few other less popular sports.
Access to Sunday Night Football is fantastic during the season, but the platform best suits soccer and wrestling fans the rest of the year.
Traditional Broadcast TV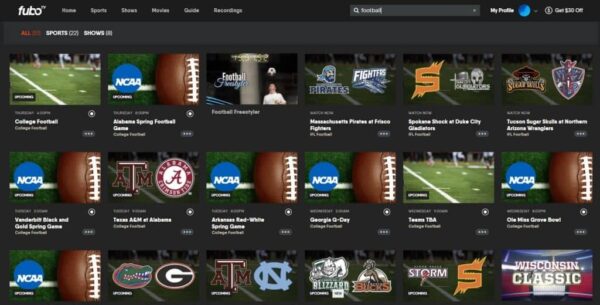 If you want to keep up with the top 25 teams, an over-the-air digital cable antenna will usually get you a few games every weekend.
However, unlike rabbit ear antennas with occasionally erratic signals, modern digital antennas are all-or-nothing propositions. So, test your antenna before game day to avoid an unpleasant surprise.
Today, digital antennas can be found both in-room and on the roof. Antennas at the entry-level can provide a good signal, but boosted, powered antennas are much more expensive. I
f you're having trouble getting a good signal, position your antenna high up, near a window, and ideally away from walls. This Consumer Reports guide will help you place an indoor antenna for the best signal quality.
Can You Watch Live College Football on Amazon Prime?
Hulu and Amazon Prime occasionally broadcast live sports, but their sports offerings are limited. Amazon Prime Video partnered with the NFL this season to stream Thursday Night Football exclusively.
Anyone wishing to watch their team play on Thursday night must be an Amazon Prime member.
This may be important for fans during the season, but the platform doesn't offer much else the rest of the year. Prime shows a few WNBA games during the summer, but that's about it.
While these services do broadcast some sports content, their primary focus is on on-demand entertainment. This may change in the future, but for the time being, they don't have much to offer sports fans.
Amazon attempts to provide more live sports options, but its current offerings are meagre. For example, you can only watch college football games on Amazon Prime if you subscribe to the retail giant's streaming service.
While Prime Video will air Thursday Night NFL games in 2023, the service will not be available to watch college football.
Best Value College Football Live Stream: ESPN Plus
ESPN Plus has made a concerted effort in recent years to become one of the primary streaming destinations for college football.
Every week, there's a full slate of college football on ESPN Plus for subscribers to stream, often featuring teams that wouldn't normally get a national broadcast and occasional games featuring marquee teams from the SEC, Big 12 and more.
Signing up for an ESPN Plus subscription (opens in new tab) is simple, and you can watch games on your phone, tablet, web browser, and, of course, your TV.
Best for the Power Five Conferences: Hulu with Live TV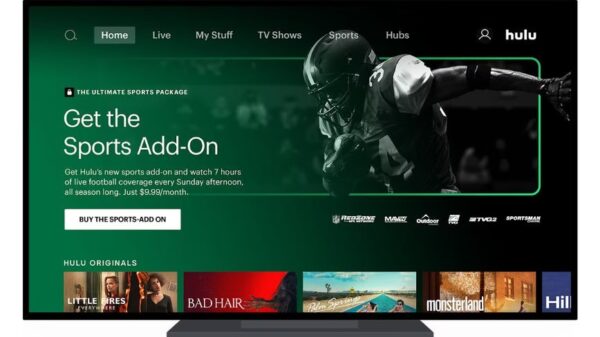 The five major college football conferences known as the Power Five are the ACC, Big Ten, Big 12, Pac-12, and SEC.
The Power Five conferences are typically the best in college football, with the top teams from each conference qualifying for the playoffs regularly.
Hulu with Live TV is the best way to watch all of the action from the Power Five, as their games are frequently part of a network's marque slate of college football games each week, and Hulu with Live TV provides access to almost all of them.
The price is $69.99 per month after a one-week free trial for the ad-supported version and $75.99 per month for the ad-free version.
Local channels on Hulu: ABC, CBS, NBC, Fox, and others. Here you can find your local channels.
Hulu's Power Five football coverage: Yes, Hulu has almost everything you need to watch football games from the ACC, Big Ten, Big 12, Pac-12, and SEC.
Conference Hulu Networks: The ACC Network, Big Ten Network, and SEC Network are all available on Hulu.
Best College Football Streamer: Hulu with Live TV
Hulu with Live TV is the best college football streaming option from coast to coast. Fans can access nearly every network with college football action for $69.99 per month after a one-week free trial, including games on local channels and nationally syndicated broadcasts from cable channels like ESPN.
In addition, Hulu with Live TV now includes ESPN Plus as a standard feature, giving subscribers access to an exclusive slate of live-streaming college football games.
Hulu with Live TV is our pick for the best live TV streaming service for college football because of its broad coverage of channels showing college football, conference networks, and low price.
(It's worth noting that the starting price for Hulu with Live TV will increase to $74.99 per month in December.)
Best for The Group of Five Conferences: YouTube TV
There is more to college football than the Power Five conferences. The AAC, Conference USA, MAC, Mountain West, and Sun Belt are referred to as the Group of Five.
While the Group of Five teams may not be in the College Football Playoffs every year, they play with a high level of intensity, and the games can be exciting.
YouTube TV is the best way to watch Group of Five conferences college football because it includes all of your local channels, major cable sports channels, and subchannels that may carry Group of Five games.
The price is $65 per month after a free trial
Local channels on YouTube TV: ABC, CBS, Fox, NBC and more. Locals can be found here (opens in new tab).
The Group of Five College Football on YouTube TV: ABC, Fox, CBSSN, ESPN, ESPN2, ESPNU, FS1, FS2, and the NFL Network provide comprehensive coverage.
How do I Access These Services on my Devices?
You can download apps for all of the services on this list. You will need a smart TV or a streaming device to watch the content on your TV.
Simply search for the service's name on your smart TV or device, download the app on your TV, and enter your sign-in information to begin streaming.
You can also use these services' apps on your phone, iPad, or Android device to stream music around the house or on the go.
Can I Cancel my Subscriptions When the Season is Over?
Yes. All these services are contractually free, and you can cancel anytime. Some companies provide free trials or special introductory discount memberships that you can only use once.
You will certainly be charged the full amount if you cancel and then return. However, you may not require a particular service all year, making temporary cancellations an appealing way to save a few dollars.
College Football Schedule 2023
While the CFB National Championship is underway, we will return to update this schedule as the 2023 season is announced. Cheers, and enjoy the action in tonight's season finale.
Begin the collegiate season with the best streaming service.
It's simple to watch college football when you're away from Home, whether you're an Auburn fan or a die-hard Dawgs fan. Of course, you can't always be on the couch when your favorite games come on, but with a service like FuboTV, you can stream them from anywhere.
It's one of the best options for almost everything, not just college football. Although it is slightly more expensive than its competitor, Sling TV, FuboTV includes virtually every channel a fan could want.
Is There a Lag or Delay When Streaming Sports Live Compared To Cable?
There is one. The streaming delay is frequently up to 40 seconds, compared to 5 seconds for cable and satellite.
This may be especially concerning for those who use Twitter, group chats, and phone push notifications, where a delay of this length can result in spoilers of big plays.
It could also make it more difficult for sports bettors to participate. If you intend to bet, you should probably watch the game via cable or satellite.
Turning off your phone's notifications and avoiding Twitter will allow you to stream your games without fear of spoilers. Your friends may try to call or text you to brag about the score, but you can always ignore them while you watch.
Related: 17+ Best Streaming Software (For Twitch and YouTube)
Bottom Line
You don't have to subscribe to an expensive cable network to enjoy college football games. Instead, you can watch it online with streaming networks like Sling Tv and Fubo Tv. Both of these services offer packages that start at $25 per month.
Some college football fans only watch college football because they believe it is superior. After all, amateur athletes compete instead of professionals. However, many college football fans enjoy all types of football. Whether the quarterback is playing for a scholarship or $20 million per year makes no difference.
If you believe any football is good, we recommend reading our guide to watching NFL games without cable. The action is just as intense as in college, except it takes place on Sundays. (Well, it happens on Mondays and Thursdays, but Sunday is when NFL fans can relax and watch games all day.)
Frequently Asked Questions
Q: How can I watch college games without cable?
ESPN+ is a premium app that lets you watch live sports, including college football. It also gives you access to professional games from the MLB, NHL, MLS, UFC, and other leagues. ESPN+ does not require a cable subscription to watch games.
Q: Do You Need a Contract To Watch College Football?
A contract is not required for any of the services listed above. Streaming services provide the convenience of having cable channels without being locked into a contract. The best way to save money is to sign up for a service right before the season begins and then cancel when it ends. You can repeat this process each season to ensure you only pay for it when needed.
Q: What is the best app to watch college football?
Hulu (With Ads) + Live TV, now with Disney+ (With Ads) and ESPN+ (With Ads), provides you with 85+ top channels, including live sports, breaking news, events, and current shows.
Q: Does Pluto TV have college football?
No! Pluto TV doesn't show college football. This streaming site offers everything from movies to entertainment content. But it doesn't come with a channel that broadcasts college football.
Q: Which streaming service is best for football?
There are lots of TV service that streams football games. The NFL Network streams Thursday night football games, and the NFL RedZone Tv broadcasts Sunday games. You can also stream Thursday night games on Amazon Prime. Hulu Tv is another good football streaming service.
Q: Does Roku Have College Football?
Roku is an excellent streaming device. It is a useful tool for cord-cutters to watch content in addition to Amazon Fire devices. Unfortunately, a Roku cannot stream FOX Sports or other TV channels. Instead, the devices provide access to a streaming service that includes live TV channels. You must first sign up for a live TV service to watch any games.
Q: Can you watch all college football games on ESPN Plus?
Yes! You can watch all college football games on ESPN plus network. In addition, for $4.99 per month, ESPN enables you to stream live ESPN programs and access on-demand ESPN shows and films.
Q: Can I watch college football on my phone for free?
There is no way to watch the entire NCAA season without paying, but we did find a couple of ways to watch college football online for free. Both fuboTV and DirecTV Stream (which includes several college football channels) provide free trials that allow you to watch live TV without paying.
Q: What are the best ways to stream college football?
YouTube TV is one of the internet's best places to watch NCAA football games. You can watch college games on YouTube TV's local channels (such as ABC, NBC, CBS, FOX, and others) and traditional cable channels such as ESPN, ESPN2, FOX Sports 1, and others.
Q: How can I watch college football outside the US?
All you have to do is get a VPN and connect to a server in the US, which will give you a US IP address and allow you to access US streaming platforms from anywhere in the world. AT&T TV Now, DAZN, Fox Sports, and CBS All Access are other platforms where you can watch college football.