Last updated Aug. 28, 2023 by Favour Chinaza
17+ Best Streaming Software (For Twitch and YouTube)
If you are streaming on YouTube, Facebook, or Twitch, you need the best streaming software you can find.
Whether for entertainment, education, or communication, video streaming has become a crucial part of our lives.
Video streaming technology is improving daily, and people are looking for the most appropriate and proper streaming software that is not expensive or free.
The correct video streaming software would professionally present your video, complete with a bespoke logo, high-resolution streaming, mixed audio, and other features.
While numerous expensive solutions exist, countless free video streaming software options provide significant features and tools for content makers and streamers.
With so much rivalry among software businesses, developers continually strive to create the highest-performing and most user-friendly video streaming software to suit customer requests.
However, with so many options available, selecting the best software for your machine might be difficult.
We analyzed and selected the best streaming software solutions based on their essential features to make your search easier.
Whether you're a novice or an expert, this guide will help you pick the best video streaming software for your needs.
Choosing the Best Streaming Software for YouTube and Twitch
But since there is a lot of streaming software out there, making a decision becomes a bit difficult.
Streaming software is the workhorse of a thriving industry, and it is only getting bigger. In the United States alone, the audience for live video programming is predicted to grow to 164.6 million viewers by 2024.
New live streaming services are constantly appearing — every social network now has one — so sorting through the possibilities and selecting the best streaming software can be difficult.
This post was developed to assist you in choosing the finest live-streaming software by demystifying it.
Good Read: 43 Best Video Editing Software (Edit Videos Quickly)
What is Live Streaming Software?
Live streaming software is a program or app that converts live video input into a digital format suitable for live streaming.
This conversion process is known as encoding, the most fundamental feature every live streaming software should have.
There are two types of streaming software: software you download and install on your computer and browser-based solutions that do not require downloads and function directly from a web browser.
Downloaded software normally necessitates a more powerful computer, whereas browser-based streaming does not necessitate as many resources from your computer.
What Does Live Streaming Software Do?
Most streaming software can do a few things. It is typically used for two purposes: encoding and mixing/production.
Some streaming software is designed for specific purposes, such as simulcasting or chroma keying. Let's take a closer look at these specific types of streaming software.
Encoding
Live broadcasting software uses Video encoding technology to turn your video feed into a digital format suitable for live streaming.
Video cameras generally use recording formats that are not suitable for internet transmission.
Broadcast software is also required for video transcoding or replicating video files of various sizes and quality. It usually makes use of RTMP encoders or the HLS streaming protocol.
Because encoders serve this role, the best HLS-enabled broadcasting software products are frequently referred to as live stream encoding software.
You install and run live encoding software on a desktop computer to use it. A laptop computer can be used for more mobile streaming circumstances.
A PC with a constantly fast internet connection is required to operate live streaming apps efficiently.
Once you've got your computer, you can use capture cards to connect video cameras. The same is true for other specialized gear.
Numerous computers with unique tasks can be used for more complicated streaming scenarios. For example, one technician could work on another computer to develop visuals.
The graphics can then be fed to the main mixing machine via an NDI (network device interface). As a result, your graphics will appear promptly with no lag time for your viewers.
Although it is not ideal, running encoding software on a mobile device is feasible.
Mixing and Production
Live video mixing and editing is the second function of live and pre-recorded streaming software.
The fundamental function of live video mixing software, or live video switching, is to choose and display different sources during a live broadcast.
In a nutshell, mixing is an on-the-fly editing technique utilized by the television industry for many decades.
All the best streaming software we'll review here are streaming tools that can also mix software. These encoders enable you to perform various operations quickly during a live broadcast, which is critical for a successful live stream.
The broadcast overlay program can be used to perform the following:
Changing between various cams
Stream live video and audio from several sources.
During a live broadcast, insert a still image or a pre-recorded video.
Graphics or titles overlaid on top of the video feed
Add transitions and video effects like virtual "green screen" sets.
Mixing is critical to producing an entertaining and well-crafted livestream. In some cases, a single-camera feed with no names, pictures, cuts, overlays, or other finishes may suffice.
On the other hand, a single-camera method is rarely professional or feature-rich enough for a high-quality live broadcast.
That is why you require streaming and broadcasting software to provide your audience with a multi-camera or multi-source experience.
Video streaming software includes tools for converting RAW video data to the proper format for web broadcasting.
Video broadcasting software should also include capabilities for mixing and producing.
Other things a live streaming software can do are:
Capturing. Recording video from your camera and audio from your mic or audio setup. Save your live stream offline so you may manually upload it to multiple platforms afterward.
Editing. Changing the content in any way, from trimming to adding special effects.
Broadcasting. Make your work available to the public on a single platform or across multiple platforms.
Stream Management. Take control of your live stream by switching screens, adding overlays, managing volume, and other similar actions.
Collaborating. Collaboration with another content creator, such as co-streaming.
Scheduling. Plan ahead of time to attract more viewers coming in to your streams.
Analytics. Analyzing your live stream performance in order to optimize future streams.
Integration. Connecting to other services to expand its capabilities while maintaining stream quality.
It's fantastic to have streaming software with all of those features. Unfortunately, streaming software sometimes has to sacrifice other features to emphasize a good feature or two.
So, with the live streaming market anticipated to reach $2.61 billion by 2026, how can you differentiate yourself from the competition? Choosing the best streaming software is a wonderful place to start.
Benefits of Live Broadcasting Software
All the features and integrations you need to produce high-quality real-time content are built into live broadcasting software. Here's how the best solutions can benefit your company:
Improved Performance: Transcode your video content for optimal performance, regardless of your consumer's location, device, or bandwidth.
Rapid Conversion: Convert live video recordings into video on demand in a matter of seconds.
Control latency: Lower your latency for increased real-time engagement (ideal for live chats and interactivity), or increase it to reduce playback buffering.
APIs and SDKs: Use APIs and SDKs to integrate your video content into a website, iOS app, Android app, smart TV app, or OTT app.
Monetization Options: Determine how you wish to monetize your content, whether through AVOD, SVOD, TVOD, or a novel mix.
Controls for Live Streams: Allow your users to hop in live, start from the beginning, rewind, or pause the stream.
Data Rights Management (DRM): You can protect your content from unauthorized consumption and dissemination using DRM technology and proper practices.
Support: Get competent technical assistance when developing your live streaming solutions.
What Is the Purpose of Live Streaming Software?
Anyone who wishes to launch professional-quality live streams, whether for regular events or 24/7 live broadcasts, should invest in live streaming software. The following industries would benefit the most from it:
Gamers
Sports
Education
Publishers
Film and Television
Fitness
What Factors to Consider When Selecting Streaming Software
Most popular streaming software solutions have a few things in common, such as the ability to attach a camera and microphone, record video, and include video editing features.
But there's a lot that distinguishes different streaming options. If you're determined to get the greatest streaming solution, search for the following key features:
Possible Compatibility Issues
Most live-streaming software is compatible with social networks and streaming websites. You should check for compatibility difficulties if you utilize other video hosting services, such as Vimeo, Panopto, or Dacast.
Advanced Features
There are many levels of complexity and features in live streaming software. Some systems allow you to multi-stream to many platforms at the same time.
While others provide additional storage space to keep recordings of your live videos, examine these features before settling on a single piece of software.
Multiple Inputs
Adding more than one video source is essential for live video streaming. For example, you might want to see your screen and yourself if you're a gamer. During your broadcast, your software encoder should allow you to switch between video inputs easily.
Live Mixing Abilities
If you want the creative freedom to integrate other media (audio or visual) in your stream, look into the live mixing capabilities of the streaming software you're considering. Furthermore, if your live stream is branded, look for software that allows for logo customization, transitions, and other features.
Preview Editor
The Preview Editor will help you quickly look at your video clips. You can also make last-minute changes or create a new clip before publishing it.
Extensive Themes/Templates
Customizable themes can easily create a more personalized and immersive live-streaming experience. For example, adding a welcome screen and interval filler might make your livestream appear more personalized.
Local Recording of Your Stream
You could believe that live streaming is all about the live element. The option to record your broadcast in full HD locally, on the other hand, means you may reuse your content and allow your visitors to repeat the stream!
Ability to Include Guests
You may want to invite distant guests in your live broadcast depending on the type of content you're live streaming.
Real-Time Analytics
Access to real-time metrics is critical for gauging the success and engagement of your live stream. To make your live stream more user-centric, you can track all analytics, such as the number of viewers, new subscriptions, and engagement, depending on geography and demographics.
API and SDK
A mobile SDK and API architecture for developers allows you to integrate your live stream with services, cloud video applications, and digital media workflows.
Social Media Integration
Extensive social media integration will allow you to live stream on many sites simultaneously, such as YouTube and Twitch.
Supported Platforms
Although most streaming software supports and is compatible with the major streaming platforms, it is best to double-check this.
You should also seek for streaming software that allows you to simultaneously broadcast to multiple platforms (i.e., a multi-streaming platform). This is critical for increasing your reach and delivering your content to a diverse audience.
There are various tiers of premium software versions, each with its own set of features and degrees of complexity.
Some streaming software allows you to transmit to numerous major streaming sites simultaneously, but other live broadcasting software provides you with greater storage space to record your live videos.
It is easy to fall in love with streaming video software just to learn that it does not operate. Check out these features before settling on streaming software for pre-recorded videos.
Pricing
Some streaming software is available for free. In fact, the most popular options are free of charge or like the low-cost streaming app Philo.
However, keep in mind that paying for a live streaming tool to acquire enhancements and other features can occasionally improve the quality of your shows and make them more interesting to viewers.
Desktop program or Browser-based Solution
Some streaming software, such as OBS Studio, requires you to download and install it on your computer. These programs run on your computer's resources.
Other streaming software is browser-based, so you don't have to download anything and may watch a live stream directly from your web browser.
The resources needed to run browser-based streaming software come from the company's servers, not your computer.
If your computer is less powerful and you're not streaming highly graphical images like video games or animation, a browser-based streaming program is definitely a better option.
Live Chat
An excellent option for increasing the engagement of your live stream is live chat. The live chat tool lets you connect with the audience and answer their questions. Most significantly, you can monitor your viewers' reactions in real time.
Examining these qualities will assist you in eliminating streaming solutions that you absolutely cannot employ.
You should not use them if they are out of your pricing range, do not support the platforms you use, or lack critical functionality.
This article reviews the 17 best streaming software with unique features. You can choose anyone that fits your needs.
17+ Best Streaming Software
Onestream is a great streaming app that lets you stream on more than 40 social media platforms simultaneously.
OneStream is the greatest overall streaming software, capable of broadcasting and recording live and pre-recorded videos and publishing them to over 40 social networking platforms.
Using pre-recorded streaming, you can record and plan your broadcasts on social media platforms up to 60 days in advance.
You can combine OneStream with various streaming solutions for live broadcasting. This application is simple to set up and use. Scheduling pre-recorded films is very simple.
You simply upload your video file, choose a day and time, and choose your streaming destinations, including YouTube, Twitch, Facebook, Instagram, Periscope, etc.
With Onestream, you can pre-record videos and schedule them for live streaming in any social media app. You can schedule it for up to 90 days.
Key Features
Live Spaces: This feature enables you to live stream on your customized web page. With Onestream, you can brand and control your live streaming interface. In addition, it allows you to add a call-to-action button on your live streams.
RTMP Streaming: With this feature, you can multi-screen on multiple platforms and also use tools like Zoom, OBS, and Ecamm.
Playlist Streaming: This feature allows you to create a playlist of videos that have been pre-recorded for live.
Cloud Storage Integration: Onestream allows you to import videos from any cloud storage platform. It also allows you to save videos to Google Drive, Dropbox, OneDrive, Zoom, and more.
Embed Player: You can also embed your live stream videos into your personal website with Onestream.
Multiple Upload Options: OneStream gives you different upload options before live streaming. You can choose to capture your screen for live, upload videos from your device, or record yourself live.
Unified Chats: Onestream provides a centralized platform that enables you to manage all the messages, replies, and comments from different social media platforms.
Other features include Custom RTMP streaming and team management.
Pricing
Onestream offers a free forever version and three paid plans with a 20% discount when you subscribe annually.
The basic plan costs $10/month, the Standard plan costs $39/month, and the Professional plan costs $79.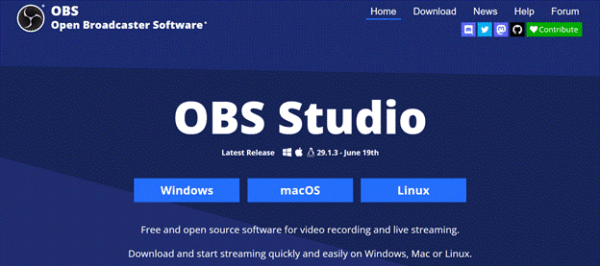 OBS Studio OBS Studio is a free, open-source, and fully cross-platform software for live streaming and video recording compatible with Windows, Linux, and Mac devices. It is one of the best green screen software for your editing needs.
OBS Studio (Open Broadcaster Software Studio) needs no introduction. This excellent streaming program is available for free and provides a wide range of features.
Once installed on your computer, you can begin broadcasting yourself on any platform of your choice, including YouTube, Twitch, and Facebook Live. It is available for users of Windows, Linux, and macOS.
Scenes with various sources can be created and switched between using custom transitions. This streaming program also has simple setting choices, making it ideal for beginners.
OBS Studio is one of the greatest open-source live stream broadcasting software packages and free streaming and encoding tools.
RTMP broadcasting, switching between numerous sources, capture cards, webcams, chroma-key (green screen), video and audio streaming, and application windows are all supported by OBS.
Though it lacks complex capabilities, it is simple to use, especially for people who are new to live broadcasting. It should be noted that OBS does not natively allow any plugins.
However, community users have created several plugins that online broadcasters can employ to add more fundamental OBS Studio functions.
These OBS plugin settings include NDI, which was previously only available on high-end encoders. Another noteworthy plugin lets you pull Tweets into your streams in real time.
If you are a "techie," you will appreciate OBS Studio's flexibility. Those who prefer tinkering with their computers will discover more capabilities than others.
However, because it is open-source, OBS Source lacks the user support that most paid competitors have.
It does have a steep learning curve, but if you're prepared to spend time on YouTube or elsewhere online, you should be able to find a lot of advice from other users.
Please keep in mind that OBS does not support multi-bitrate streaming.
Key Features
'Dock' UI is modular, allowing you to change the layout to meet your branding needs easily. You may also hide the different Dock windows for even more customization.
Hotkeys – Create hotkeys for nearly any action, such as beginning and stopping broadcasts or recordings, flipping between scenes, muting audio sources, etc.
Studio Mode instantly lets you inspect your scenes and sources for last-minute changes. You can even make a new scene right before publishing your content.
Multiview. Allows you to monitor and switch between eight separate situations.
Audio mixer that is easy to use. Filters such as noise gate, suppression, and gain are available.
Screen Capture
Video Broadcasting
Hotkeys
Video Recording
Branding and Personalization
Audio Mixer
Other features include configuration options, video source filters, unlimited scenes, a high-level view feature, quality management, collaboration tools, and screen support.
Pros
Using the 'Multiview' feature, you can monitor 8 separate scenes at the same time. You can even transition between them or give them cues with a single or double click.
It has a robust API for integrating with various plugins and scripts. It also guarantees a high level of customization and usefulness.
To quickly flip between scenes, use customizable transitions. Your stinger video can also be embedded.
It works with Windows, Mac, and Linux.
You get a resource area where you can look into infinite extra features.
Adapts the streaming video bitrate based on your upload speed.
OBS Studio is an easy choice for free streaming software with a wide range of customization possibilities. However, you should be aware that the UI might be intimidating for newcomers.
It is an Open Broadcast Software that provides chroma keying tools, video editing tools, screen casting capabilities, recording, and live streaming tools.
Pricing
OBS Studio is a free video recording and streaming software. It's a great option for a streaming platform with free but advanced features.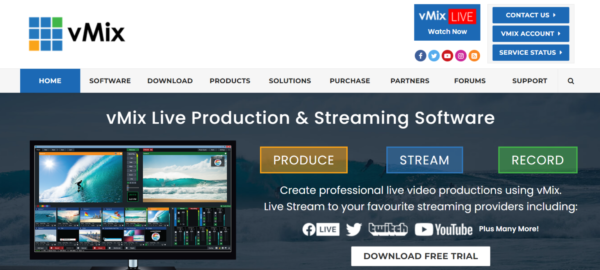 vMix is a platform for live video production, live streaming, and live HD video mixing.
It is a streaming solution that's suitable for all kinds of events. You can use vMix for small and big webcasts, big-budget live concert productions, and more.
With vMix, you can live stream on Twitch, YouTube, Ustream, Facebook, and more. It includes
Video cameras with up to 4K resolution (supporting capture cards) NDI: send and receive HD low-latency video and audio.
Video formats include AVI, MP4, H264, MPEG-2, WMV, MOV, and MXF.
MP3 and WAV audio files are available.
Web Browser, RTSP, PowerPoint, Photos, Solid Color, and other applications.
Webcams, DVDs, playlists, PowerPoint presentations, and other sources
vMix features native multi-bitrate streaming capabilities, which is useful for professional online broadcasters who prioritize user experience.
This software also supports the Network Device Interface (NDI). NDI secure video uploads are sent across gigabit ethernet networks and green screens.
vMix's streaming applications also contain a titling tool with animation capabilities. It also has an immediate replay and slow-motion option.
As a result, it's one of the greatest live streaming software solutions for Windows PCs in the category of high-quality browser-based programs.
vMix supports 3rd party streaming software, Windows 10, webcams, capture cards, and all popular video and audio file formats.
The vMix reference system has system builders that allow you to customize and personalize your streaming activities.
Key Features
vMix Social – Easily include YouTube Live, Twitch, Facebook, and Twitter content into your live stream production.
Live Chat – View and respond to comments from social media accounts such as YouTube, Twitch, and Facebook on your live stream.
vMix Replay – It allows you to display instant replays in HD slow motion utilizing up to four cameras. You can even show the replay from two viewpoints at the same time to improve interest.
It supports all formats, including AVI, MP4, H264, MPEG-2, WMV, MOV, and MXF.
You can use vMix for simultaneous recording, streaming, and output.
It provides 13 attractive transition effects, including Cut, Fade, Zoom, Wipe, Slide, Fly, CrossZoom, FlyRotate, Cube, CubeZoom, etc.
vMix comes with full 3D acceleration, allowing you to create professional HD videos on a simple PC.
You get over 100 in-built animated titles, stickers, and other graphics.
It allows you to add up to 8 remote guests to your live show
Video and Audio Playlist
Simultaneous streaming and recording
Multiple Transition effect
Multiple HD sources for video production
Multiple Customizable Pre-built animated title template
Chroma Keying Capabilities
Screen and Audio Capture
Live video effect
Other features include guest addition to a live show, instant replay, built-in audio mixer, website display on vMix, multiview, NDI capabilities, overlay channels, SRT in and out support, and more.
vMix sees its software as primarily serving as a program Video Mixer and Switcher, utilizing the most recent improvements in computer hardware to deliver live HD video mixing, a task previously only doable with expensive dedicated hardware mixers.
It also serves as live streaming software, allowing you to broadcast your live productions directly to the internet.
vMix can live mix, switch, record, and live stream SD, full HD, and 4K video sources such as cameras, video files, DVDs, pictures, PowerPoint, and more, depending on your chosen version.
Pros
Capture events such as goals with a single click. Tags can also be added to events for better categorization.
Instantly create highlight reels of the event to play in between intervals.
Use the 'Automatic Mix Minus' tool to remove echo from the audio.
Increase the quality of your production by using several virtual sets, overlay channels, and templates.
Begin your live broadcast with nothing more than a webcam and a browser.
It provides a 60-day fully functional free trial.
Pricing
vMix offers five pricing plans, four of which are lifetime license editions.
The plans with a lifetime license are:
Basic HD- costs $60
HD plan- costs $350
4K plan- $700
PRO plan costs $1200
The subscription license plan, which is the MAX plan, costs $50/month.
Gamecaster is a streaming software designed specifically for gamers. It lets gamers go live on YouTube, Twitch, Facebook Gaming, and Restream.
It comes with multiple customizable scene styles that enable you to brand your streaming interface. In addition, Gamecaster also provides you with multiple graphic sets for your different game genres.
Gamecaster began as an XSplit software brand but has evolved into its own thing. Its name implies that it focuses solely on gaming.
You may use it to stream 1080p video to Twitch, Facebook, or YouTube. It uses the most recent NVIDIA and AMD technology to stream without lag.
It includes hundreds of free overlays, such as notifications, trains, goals, and widgets. Overlays that are professionally animated are included. The Scene Editor in Gamecaster makes creating complicated alerts and widgets simple.
Elgato, Spotify, Streamlabs, ReStream, and other live TV streaming services are among the many integrations available in Gamecaster.
Hotkeys is another feature of Gamecaster. This feature enables you to navigate your streaming interface easily.
Gamecaster also supports your streaming activities by providing a "Tipping Option" that enables your viewers to donate to you or reward you.
The achievement tool is another feature of Gamecaster. It enables you to set goals, and it awakens your streaming spirit.
Gamecaster supports only Windows 10 devices.
Other Features of Gamecaster
Audio Mixer
Chat and event management tool
NVIDIA and AND optimization
Multiple Widget
Copyright-free music
Pricing
Gamecaster is a streaming software that offers 100% free services.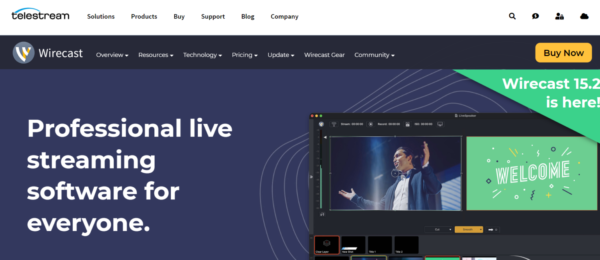 Wirecast enables you to create high-quality live streaming videos for Twitch, YouTube Live streaming, live sports streaming, and more.
It is also an advanced, customizable, and powerful live streaming and production tool that is compatible with Windows and Mac devices.
Wirecast has two paid live streaming software options: Wirecast Studio and Wirecast Pro. Wirecast definitely targets more professional streamers than free software users. Wirecast's tagline is, indeed, "Stream like a pro."
You can broadcast from infinite sources, including cameras, microphones, webcams, IP cameras, and more.
You can also capture a variety of IP sources as well as everything on your computer's screen or the screens of other computers.
Live websites can be viewed using the built-in web browser. It accepts several professional audio sources and allows you to mix up to eight independent audio tracks with FX and processing.
It has over 100 pre-installed images and titles. Wirecast provides direct access to over 500,000 distinct media assets, including films, music, lower thirds, backdrops, and more. If you're into sports broadcasting, Wirecast has replay, scoreboards, clocks, and timers.
You may utilize Wirecast to stream to Facebook Live, Twitter, YouTube, Vimeo Live, or any other RTMP destination at any time.
Wirecast Pro includes all of the features found in Wirecast Studio, as well as extended input and audio capabilities, 7 simultaneous Wirecast Rendezvous guests, 3D virtual sets, PTZ camera control, and more.
Key Features
Media Capture: This feature enables you to create high-quality videos with tools such as multi-track audio, unlimited camera inputs, web feeds, PPT slides, live guests, screen sharing, and more.
Customization Tools: Wirecast gives you endless control over your live streaming activities by providing tools such as layer-based compositing, PTZ control, animated graphics, production automation tools, control surface integrations, overlays, chroma keys, and more.
Easy Streaming: Wirecast offers features that enable you to record your video content while broadcasting live. It also allows you to multi-stream.
It also supports additional outputs and ISO recording.
Support for WASAPI, CoreAudio, and ASIO devices.
Audio Mixer
NDI, desktop, and Web capture.
Other features include controllers, an integrated stock media library, Multi-track audio recording, multiple output options, integrated social media comment moderation, and more.
Pricing
Wirecast offers two License and Subscription-based pricing plans.
The Wirecast Studio plan is a lifetime license plan and comes at the cost of $599.
The Wirecast Pro costs $35+/month when you choose to subscribe monthly. But it costs $799 for a lifetime License.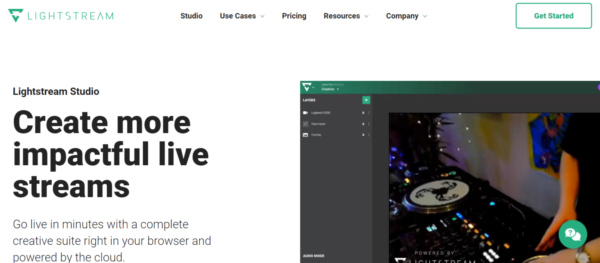 Lightstream is a cloud-powered streaming software enabling you to live stream on YouTube, Twitch, and Facebook in minutes.
It is a streaming software suitable for podcasts, console gamers, talk shows, IRL & travel, musicians, and mobile gamers.
This fully customizable and powerful software allows you to create unlimited scenes, layouts, and projects for your live streaming activities.
It has a drag-and-drop editor with unlimited creative controls, projects, and scenarios. It also includes comprehensive third-party integration for motion graphics, in-stream notifications, and social media displays to assist you in driving engagement.
You may even invite people to watch your live stream. Panel talks, interviews, podcasts, product launches, and other events are all possible.
Even your visitors can share their screens with their own audiences, assisting you in expanding your reach.
Its drag-and-drop editor enables you to customize your interface easily.
Key Features
Easy Setup: Lightstream's setup process is straightforward. It involves no costly download cycle and expensive equipment. All you need is a PC and an Internet connection.
Live Support: Lightstream offers a live chat customer support feature to resolve any challenge you may encounter when using Lightstream quickly.
Third-party Integration: With Lightstream, you can get the most out of your streaming experience by integrating 3rd party apps that solve your issues.
Auto BRB: This Lightstream feature keeps you connected to your viewers even when there is an interruption in your internet service. It enables you to stay live until you recapture your internet connection.
Remote Control of your Stream: This feature allows you to start, end, and even switch between scenes with your mobile device when live streaming.
Other features include fullscreen alert, RTMP sources, PC Screenshare, Custom RTMP destination, unlimited streaming hours, cloud sync & storage, and more.
Pros
Render a live stream in various video resolutions, including 720p30, 720p60, and 1080p30.
Stream for an indefinite amount of time.
It supports Facebook, Twitch, YouTube, Mixer, and custom integrations.
Use the 'Green Room' functionality to invite visitors remotely by providing a link.
You can privately speak with guests in the green room during the live stream.
You should not be concerned if you become disconnected. Lightstream keeps you online and notifies your users till you go offline again.
Pricing
Lightstream pricing depends on what you plan to do with its software.
For Gamers, Lightstream charges $8/month for 720p 30FPS Max resolution, $12/month for 720p 60FPS max resolution, and $16/month for 1080p 30FPS max resolution.
For Content Creators, Lightstream charges $25/month for 720 30FPS max resolution, $28/month for 720p 60 FPS max resolution, and $50/month for 1080p 30FPS max resolution.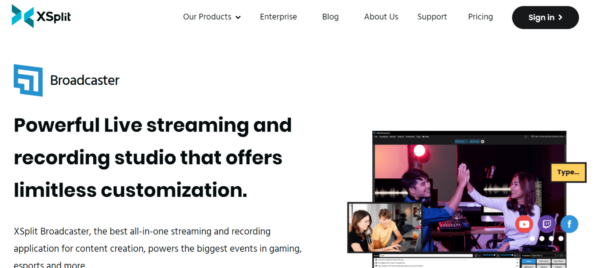 XSplit Broadcaster is a screen recording, live streaming, and video production software that runs only on Windows 7 OS and higher versions of Windows 7 OS.
It enables you to create professional scenes drag, drop & resize media sources. You can also add unlimited animations and effects to your streams.
With XSplit Broadcast, you can add Skype calls to your streaming, change from a solo stream to a multiple guest camera stream, and stream on multiple platforms at the same time.
XSplit Broadcaster also has a noise suppression feature that reduces your background noise when live streaming.
The streaming software has a number of stream management capabilities. It has a range of transition types and allows you to apply unique stinger transitions.
The Scene Preview Editor allows you to edit scenes before they go live. XSplit supports custom scripts and allows you to write nearly any action or sequence of steps.
Key Features
Scene Preview Editor enables you to edit video scenes before broadcasting them live.
NVIDIA NVENC – NVENC options allow you to tailor your settings for maximum quality and performance.
Intuitive Editor – Add subscriber objectives, contribution trains, events lists, followers alerts, tip cups, and other features to make your live stream stand out.
Support for multiple streaming platforms
Unlimited Customization
Record Multiple outputs simultaneously
Built-in chat plugin
Plugins and Extension
Per scene audio
Chroma Keys
NVENC encoding
24/7 Customer support and live updates
Other features include projector output, media slideshow, custom transitions, source masking, split mode, preview functionality, whiteboard, DSP effects, audience analysis tool, live event illustration, gamepad visualizer, and audio mixer.
Pros
You can stream and record in 4k at 60 frames per second.
Broadcast to numerous streaming devices at the same time.
Twitch Chat, Facebook Chat, and YouTube Chat Widgets are all supported by XSplit.
Add bespoke stinger transitions or choose from a variety of preloaded transition styles.
For drawings and live analysis, use Whiteboard and Stream Annotations.
The live status display can track the number of subscribers, new followers, bits, super chats, cheers, and other metrics.
Pricing
XSplit Broadcast offers three pricing plans. The Premium bundle costs $20/month, the VCam Premium plan costs $8/month, and the Broadcaster Premium plan costs $15/month.
NVIDIA is a powerful screen recording and streaming platform that lets you capture and live stream your gaming moments.
Nvidia ShadowPlay is designed for gamers and is included with various Nvidia GeForce graphics cards.
Using it, you may record and share high-quality gaming videos, pictures, and livestreams. It can be used to stream to Facebook Live, Twitch, or YouTube Live.
However, it lacks some of the features found in more specialized streaming software and is likely to be utilized by gamers who want to share their best moments on social media.
It does, however, support cameras and custom graphic overlays to enhance the customization of your broadcast.
ShadowPlay's DVR-style Instant Replay function allows you to store the last 30 seconds of gaming on your hard drive or share it on YouTube or Facebook by pressing a hotkey. You can record gameplay footage manually for as long as you wish.
Because ShadowPlay is hardware-accelerated, it can run in the background. You may also make a 15-second GIF from a ShadowPlay video, add text, and share it on Google, Facebook, or Weibo.
It is tailored for gamers who need software that records gameplay videos. Shadowplay also enables you to stream and share your high-quality video gaming moments on all social platforms.
While gaming or live streaming, Shadowplay can allow you to create a GIF from your game moments, edit it, and then upload it to social media without leaving your game. You can also capture 4K and 8K screenshots.
Key Features
HB Video Streaming
Split/Multi-streaming
Broadcast Recording
Text Overlay
Customization
HD Resolution
Session Recording
Speed Adjustments
Other features include a media library, collaboration tools, performance monitoring, video stabilization, audience engagement tools, event scheduling, and more.
Pricing
NVIDIA Shadowplay offers a quotation-based pricing system.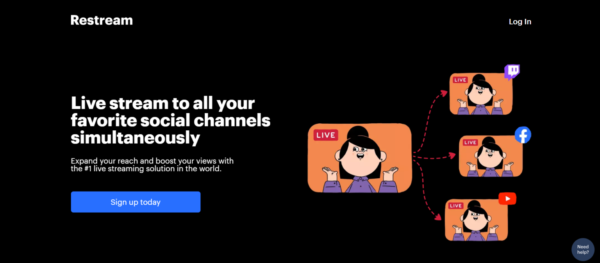 Restream is a live streaming software for content creators, gamers, marketers, and all kinds of people.
It enables you to create high-quality live content and stay at the top of your streaming activities.
Restream also allows you to pre-record videos and schedule them for live streaming.
With Restream, you can add remote guests to your live stream, go live from your browser without a 3rd-party app, and multi-stream on over thirty social media platforms.
Restream also comes with a real-time toggling tool that enables you to end a stream on one platform but continue on other platforms.
Key Features
Restream offers free and paid features.
The free features include multi-streaming, remote guest addition, unlimited live sessions, restream analytics, chats, copyright-free background music, stream monitoring, and real-time channel toggling.
Restream paid features include:
Restream event: This feature allows you to share the link to a video that is scheduled for live streaming.
Custom live streaming destination
Absence of Restream watermarks but the presence of branding and customization tools.
Screen recording and download
Split-track audio recording
Full HD Streaming
24/7 Support
Video storage
Other paid features include proxy streaming, RTMP poll link, Advanced analytics, and a fail-safe stream backup tool.
Pros
They do offer mixing and production tools focused on the broadcaster's experience, such as:
Customize video layout with professional logos, overlays, and backgrounds
Add a call-to-action message overlay
Engage directly with your audience by highlighting messages from your channels
Peer–to-peer streaming support.
Cons
There are a few drawbacks to Restream.
No encoding tools
The reliance on WiFi isn't great
You may experience video quality issues.
Pricing
Restream offers four pricing plan, which includes a free forever plan.
The professional plan costs $41/month, the Standard plan costs $16/month, and for the Enterprise plan, contact the Restream team.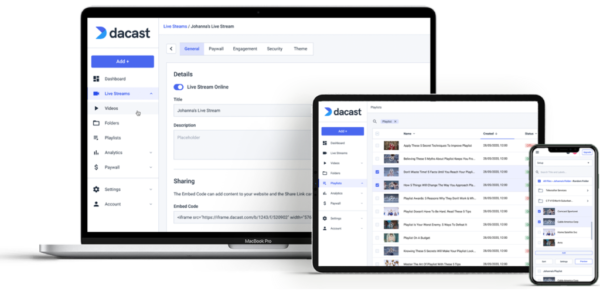 Dacast is another streaming software with powerful and advanced features. It provides tools that enable you to go live in minutes and features that enable a smooth live streaming process.
Dacast comes with an Ad-free HD streaming tool that removes ads and logos from 3rd-party integrations to give you a distraction-free streaming process.
It also offers customization tools that allow you to brand your live streaming interface by adding fonts, colors palette, logos, and more.
In addition, Dacast also enables a secured streaming platform.
Key Features
Secure video streaming, worldwide content distribution, and best-in-class video hosting
All options include email and live chat assistance 24 hours a day, seven days a week.
Password protection and encryption are two video security measures.
Support for live encoding for leading video encoders
Latency is low. HTML5 video streaming channels
Player API access for 3rd party player integration RTMP Encoder for ingesting HLS streaming
Premium plans (event and scale) include video API access.
Streaming at several bitrates
Ad-free streaming in real time
Scale and Custom plans support multiple users.
Zoom live streaming integration for real-time meetings and events
Exhibition 2.0 galleries video portal for virtual reality video experiences
Advanced streaming security with AES video encryption
Advanced API for creating your own video CMS
Multi-CDN for continuous live stream quality
Stream live video from your webcam
Direct live streaming to China
Pricing
Dacast offers four pricing plans that come with a 14-day free trial.
The Starter plan costs $39/month, the Event plan costs $63/month, and the Scale plan costs $188/month.
The Custom plan allows you to decide your features and price tag.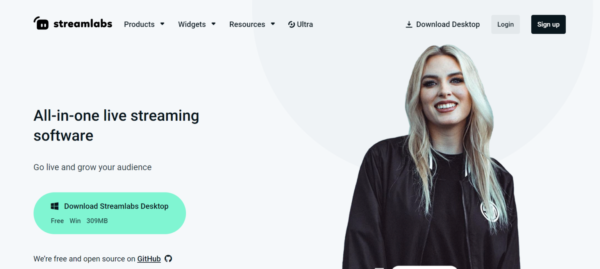 Streamlabs OBS is a free and open-source live streaming software that offers all the features you need to increase your audience, beat your competitors, and be at the top of your streaming activities.
It has a Multi-streaming feature allows you to stream simultaneously on different social platforms.
It also comes with an app store that enables you to find the unique functionalities you need while live streaming.
With Streamlabs OBS, you can monetize your channel, create custom alerts, and own a merch store.
Key Features
Built-in Widgets
FaceMask and Audio Filters
Smart Video Encoding
Overlays and Themes
Open
Other features include video preview, recent events, streamlab dashboard, video editor, Twitch/YouTube Chat, stream labels, and more.
Pricing
Streamlab OBS is a free software. It doesn't require a monthly or yearly subscription to use
VidBlasterX is yet another live video encoding and mixing program. It is a capable, expandable, and configurable product.
VidblasterX Home, VidBlasterX Studio, and VidBlasterX Broadcast are the three packages available from this company. The key distinction between each version is the number of modules it supports.
Each module that follows provides more advanced functionality for professional broadcasters.
VidBlasterX Home is a must-have item. It can accommodate up to seven modules. VidBlasterX Studio has various capabilities for studio video production (thus the name) and enables more adaptable video.
The Studio edition includes HD and television-quality full-screen output and community support.
VidBlasterX Broadcast includes all of the features of VidBlaster Studio, as well as more module capacity, and is ideal for professional broadcast studios. Broadcast provides you with direct email help from the developer.
The Broadcast edition additionally offers priority support, UDP streaming, multiple streaming sources, and recorder modules in a single profile.
Key Features
Modular user interface
Includes macro and scripting capabilities for automating or hot-keying activities.
Overlays and lower thirds are supported.
Support for chroma keys
Up to 4K resolution live streaming and recording
Compatible with social media networks and the vast majority of OVPs (including Dacast).
Pros
Audio mixer Multiview support
Plans for a variety of budgets
Feature-rich and easily customizable
Cons
Not compatible with macOS
Inexperienced live streamers should avoid it.
Slightly complex
Pricing
VidBlasterX comes in three flavors. Each of the choices listed below is charged on a yearly subscription basis:
Home: $9/year; 7 modules supported.
Studio costs $99 per year and supports 25 modules.
Broadcast costs $999 per year and supports 100 modules. This version also allows for the use of several recorder and streamer modules in a single profile.
The difference between the versions is the number of modules that can be active at the same time.
Home editions offer up to seven modules, which is sufficient for basic live broadcasting.
The Studio edition can accommodate up to 25 modules, while the Broadcast edition can accommodate up to 50 modules.
These increased restrictions enable professional users with numerous displays to configure and manage complex workflows.
The Broadcast edition additionally offers priority support, UDP streaming, multiple streaming sources, and recorder modules in a single profile.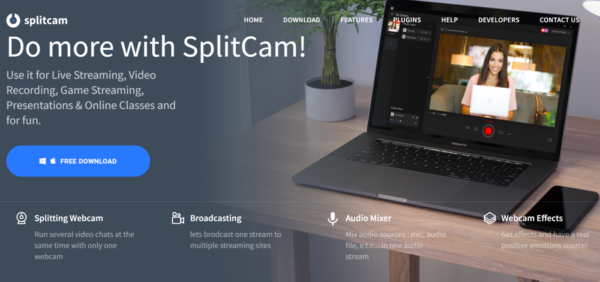 SplitCam Webcam software is a great streaming platform that offers amazing features for your streaming.
This software allows you to perform various activities all at the same time. The software will enable you to video chat with friends, live stream videos, and split your webcam video stream.
It also comes with amazing webcam effects that add fun to your streaming. With Splitcam, you can split your webcam to various platforms and apply 3D realistic masks to your streaming videos.
SplitCam supports multiple social platforms to enable you to stream on all your favorite social platforms.
In addition, SplitCam supports multiple video resolutions, multiple video sources, and Zoom video.
Switchboard Live allows you to stream high-quality videos on multiple social channels at the same time.
Switchboard also allows for unlimited destinations and a quick setup process.
With Switchboard Live, you can embed your live stream on your website to attract viewers to your site.
The Switchboard Streamshare feature helps you gain more audience by allowing others to share your stream with their audience.
Key Features
Live Polling
Event Scheduling
Broadcast Recording
Audience Engagement
Multi-streaming
Multi-camera Feed
Video Monetization
Pros
Switchboard Live is simple and easy to use, making it accessible to content creators.
Users can enhance their brand identification by customizing their live streams with logos, overlays, and visuals.
It is a dependable and secure platform with 24-hour assistance and strong security features to safeguard user data and content.
Cons
Switchboard Live's cost can be high in comparison to other live streaming providers.
For beginners, the site can be difficult to utilize. Users must customize their settings for each destination and ensure all their equipment is properly configured.
Some users have noticed connectivity and stability concerns during live feeds, which can have an impact on the quality of their broadcasts.
Pricing
Switchboard Live offers three pricing plans.
The Indie Unleashed plan, suitable for individuals costs $29/month, the Pro Unleashed plan for professional live streamers costs $59/month, and the Business Unleashed plan costs $99/month.
Streamyard is a live streaming software trusted by Microsoft, SEMrush, WooCommerce, Hootsuite, and more.
It is a YouTube streaming platform for everyone, from content creators to companies. We discovered that adding your own branding and customization to your live feeds was simple.
You may customize Streamyard by adding colors, overlays, logos, and even your green screen and backgrounds.
The free edition of this YouTube and Twitch broadcasting software includes screen sharing, banners, on-screen comments, brand colors, a green screen, and 6 on-screen participants. We found the free version's streaming limits of 20 hours per month to be manageable.
You cannot, however, multi-stream unless you subscribe. The Basic plan allows you to multi-stream to three distinct destinations.
The Professional plan allows you to multi-stream to eight destinations, including Twitch, YouTube, and custom RTMP outputs.
It enables you to create professional and fun streaming videos. Streamyard is suitable for content creators, marketers, influencers, politicians, and all kinds of people.
Key Features
Chroma Keying
Multi-stream
Guest Addition
Interaction with Viewers and Display of Comments on Screen
Stream Pre-recorded videos
Full HD
24/7 Customer Support
Downloadable Recordings
Screen Sharing
Video Layout Templates
Separate Audio Files
Overlays and Background
You may quickly invite up to ten on-screen visitors to share their screens using the browser-based software.
Multi-stream to YouTube, Facebook, Twitter, Twitch, or a custom RTMP (up to three destinations concurrently on the Basic subscription and eight locations concurrently on the Professional plan).
StreamYard allows you to add unique branding and logos, banners, backgrounds, and overlays to your broadcast to give it a more finished look. You can respond to social remarks from all platforms in a single chat window and see them in your stream.
Pricing
Streamyard offers three pricing plan, which includes a free forever plan.
The basic plan costs $25/month, and the Professional plan costs $49/month.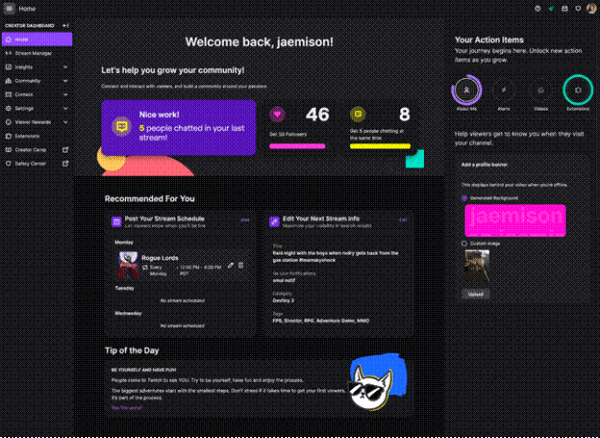 Twitch Studio is a free streaming software that supports Mac, Windows 8, and newer devices. It enables content creators to create high-quality videos for sharing in communities.
Are you a musician, gamer, or vTuber interested in streaming online on Twitch? Twitch Studio is an excellent choice.
This streaming software is Twitch's proprietary software that is available for Windows and MacOS and allows new streamers to set up and begin broadcasting easily.
If the customizing features of another live streaming software, such as OBS Studio, terrify you, the simplicity of Twitch Studio's interface and functions will encourage you to get started.
It offers a simplified setup process that allows you to stream with ease. Twitch Studio also offers pre-built customizable templates and overlays to enable your stream's branding and personalization.
One thing to note about Twitch Studio is that it is only designed for people who want to stream on Twitch alone.
The stream application will automatically recognize your camera, recording microphone, and screen resolution. This saves time when dealing with regular settings.
It will, however, provide several templates and simple controls for manipulating the audio in your stream.
Key Features
The setup is simple. Assist you in setting up your streaming environment in minutes.
Twitch Chat is built-in. Allows you to interact with your viewers without the need for separate displays.
Alerts have been simplified. You will be alerted of any new followers or subscribers.
Tweak in real time. Allows you to fine-tune your personalization even after you've gone live.
Multiple Screen and Layouts
Enables copying, pasting, and duplication of layers and scenes
Addition of count-down timer and chat overlays.
Dual PC setup
Drag-and-drop tool to control your panel
This Twitch streaming software is a must-try because it provides a simple setup with typical functionality to stream online on Twitch exclusively. Keep in mind that it might not be appropriate for advanced streamers.
FFsplit is a completely free live streaming and video production software. It comes with features that capture and record your live streaming videos.
FFsplit comes with features such as hotkeys, webcam, and overlays. It also enables multiple video resolutions, audio and video bitrate, and frame rates.
FFsplit is only available for Windows. The software is a freeware program that allows you to record desktop activity and stream high-resolution video.
It quickly records the actions that are taking place on the desktop and allows you to stream further through other websites. FFsplit also includes the ability to save the streaming for future use.
With FFsplit, you can stream on YouTube, Twitch, Ustream, Hitbox, and other social channels.
Key Features
The Hotkey feature makes the process extremely simple and convenient for newcomers.
Simple access to a camera that provides a wide range of describes the demands of professionals.
Pros
It is completely free to use.
Allows for numerous live streams
The interface is straightforward and ideal for Facebook live streaming.
Less storage and processing power are required.
Cons
Only available on Windows.
Fewer features than the other tools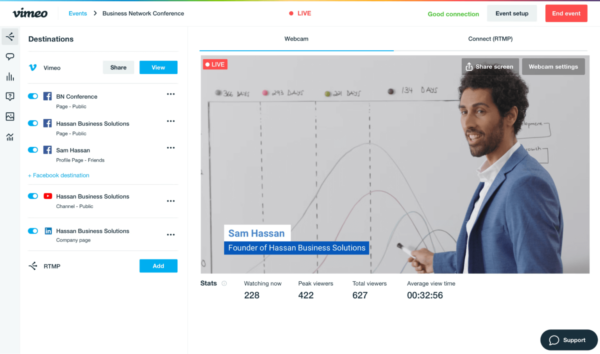 Vimeo is a customizable streaming software with which you can create high-quality, ad-free videos. If you are considering the best YouTube alternatives, you can check out Vimeo, too.
It allows you to gain control over your streaming process and enables you to monitor and back up streams.
You can also engage your viewers with live audience chats, Q&As, and poll tools.
Its other features include marketing and video monetization, live stream recording, live and VOD hosting, multi-media hosting, post-production and collaboration tools, OTT streaming, Integrations, and more.
Vimeo offers a 30-day free trial period and four pricing plans ranging from $7/month to $75/month when billed annually.
Other Best Streaming Software
Adobe Flash Media Live Encoder is well-known among experts for routinely based live streaming and audio and video files.
The software has many advantages, including transmitting high-quality video and a simple setup process.
It is built primarily for use with Adobe Flash Media Server, making it an excellent choice for people who demand high-quality video and audio streaming.
Key features
High-resolution video and audio signal processing.
Widely used for live streaming events such as education, business, and sporting events.
Pros
It is free to use.
Use this code to embed on your website.
Supports HD resolution and is available for both Windows and Mac.
Cons
Complex installation procedure
It is difficult to utilize.
If you are using macOS and wish to stream, podcast, or give a presentation online as a professional, Ecamm Live is a good option. Many services, including Amazon Live, LinkedIn Live, Twitch, and Facebook, offer multi-streaming.
Ecamm Live is well-known for its ease of use and support for a wide range of devices, including DSLR cameras, DeckLink, and NDI sources.
In brief, this streaming software can serve as your professional suite tool for producing high-quality streams (up to 4K) that will attract your audience.
Do you want on-screen replies and comments? Do you like to invite others to your live stream? Ecamm Live will make it simple for you to do so.
You can also take advantage of the green screen support features, making your backdrop replacement flawless.
Key Features
Incorporation of Social Media. Link to Facebook, YouTube, and Twitter with ease.
Monitoring in real time. Check that your stream works properly by watching it directly with an AirPlay Device.
Scheduling in real time. Allow you to pre-schedule a live stream.
Effects on the sound. Sound effects can be added to make the stream more entertaining.
Replay Recording: This allows you to record replays of your stream and publish them directly to YouTube.
One of the best live streaming apps for Mac users, with 4K capability and various inputs and outputs.
Unlike other streaming tools, Gecata by Movavi 6 is primarily intended for gamers who simply want to record and broadcast their gaming on any device.
This software allows you to live stream a variety of games, including Apex Legends, Roblox, and World of Warcraft.
This streaming program eliminates all the difficulties frequently associated with sophisticated streaming software. Gamers may concentrate considerably more on the gameplay this way.
Gecata by Movavi 6 is a simple game recording program. However, it has useful features that will allow you to produce tutorials or stream your gaming experiences.
After downloading and installing the software, you can experience high-quality screen recording with configurable frame rates and live streaming possibilities.
Do you want to polish your recording before uploading it? You certainly can. The software contains a video editor with which you may cut, crop, and add effects to your recordings.
Key Features
Designed for gamers. To guarantee that the recording and live streaming went successfully, a variety of popular games were tested.
Overlay game. While recording, display real-time FPS and system information.
Commentary in the form of a voice. Allows you to record your voice while playing the game to make it more immersive.
Game Mode: Improve system performance for more fluid gaming recording.
Hardware augmentation. Allows you to exploit the hardware acceleration of your graphics card to encode video four times quicker.
This streaming program is suggested for players who simply want to stream their gameplay.
It offers a simple user interface that is ideal for beginners. However, it is only available to Windows users.
CyberLink Screen Recorder 4 is a powerful screen recording and live streaming application created by CyberLink.
It is designed for all streamers, from gamers to YouTubers and pros, who use Twitch, Facebook, and YouTube.
What's amazing about this streaming software is that you can simultaneously move the stream to five other platforms. You can reach a global audience using custom servers and major platforms.
Key Features
Personal Server. Allow you to stream to your viewers utilizing custom streaming servers.
Resource-Efficient. Reduce the use of processing power to avoid any disruption to the streaming.
Objects Overlaid allows you to include a logo and a watermark for branding purposes.
HotKeys that can be customized. With designated keys, you can quickly take full control of your recording.
One of Cyberlink's greatest devices, featuring excellent functionality for live broadcasting. Although it claims to be resource-light, you must manually install it on your PC.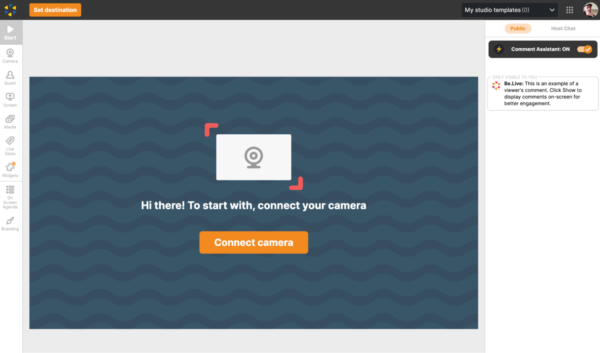 Be.Live is yet another web-based live streaming service on our list designed for professional live streamers.
Unlike Lightstream or Twitch Studio, which focus on gamers, this streaming software is designed for professionals who wish to focus on audience engagement for professional objectives such as product promotion or webinars.
Be.Live, a web-based professional streaming program offers the ability to stream directly to Facebook and AmazonLive, with up to ten individuals on screen.
You may even use branded logos, overlays, and schedule streams to increase the number of viewers for your marketing campaigns or live classes.
Furthermore, you do not need to bother about your regular streaming setup because this streaming software does not need to be installed on your computer.
Be.Live cloud technology allows you internet access to anything.
Key Features
On-Screen Reactions. During the live stream, display the remarks of your viewers.
Analytical Advancement. You can quickly assess the performance and engagement of your stream.
Product Display. Allows you to import your Amazon app products to show to your visitors during a live stream.
Widgets that change on the go. There are awesome dynamic widgets available to keep viewers entertained, such as the "Snake" widget, which highlights stream commentators.
With no installation required and an easy-to-use dashboard, this streaming software is an excellent choice for any professional streamer looking to reach an online audience through superb live broadcasting.
However, customization options for specific needs are restricted.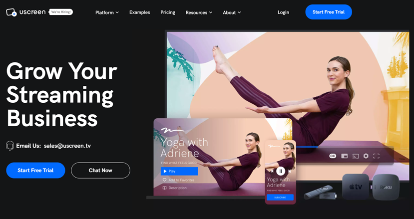 Uscreen is a software that enables you to create a personal video streaming website easily. It comes with customization tools that allow for branding and the personalization of your streams.
Uscreen is ideal for experienced creators and instructors who wish to provide their audience with on-demand and live video material.
The platform is user-friendly and simple to use, focusing on audience involvement for live video streaming.
Uscreen assists content providers in diversifying their content approach to engage their members better, develop relationships, enhance retention, and sustain revenue growth.
Key Feature
Boost Engagement and Retention
Uscreen makes use of Akamai CDN, a global and well-known content delivery network. This enables low-latency streaming and high-quality video delivery, giving viewers a seamless and engaging experience even during peak traffic hours.
This implies you can be more adaptable in terms of content and delivery. You can host a variety of live broadcasts, including Q&A sessions, seminars, live podcasts, and behind-the-scenes glimpses of your creative process.
Uscreen also comes with a video library feature that captivates your viewers and allows for monetization and audience engagement. Count-down timer and live chat are also available on Uscreen.
UScreen Pricing
Uscreen offers two pricing plans that come with a 30-day free trial period. The Basic plan costs $79/month, and the Growth plan costs $159/month.
How to Utilize Your Streaming Software to its Full Potential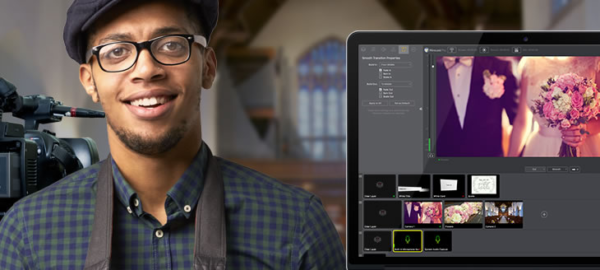 Even the best streaming software will only get you so far without sufficient technical preparation. Here are a few more technical aspects to consider.
Network bandwidth
Always check your network's upload bandwidth. No matter how good your streaming software is, your stream will fail if your Internet connection isn't up to par.
A decent rule of thumb is that your optimal streaming bandwidth should be at least 1.5 times the streaming bitrate.
Connecting Video Sources
A capture card will most likely be required to connect your camera or other video source to your streaming computer. Check out our AV.io capture cards for simple and dependable SDI and HDMI video capture.
Streaming Software System Requirements
Consider the minimum system requirements for each streaming software. Each streaming app's website should have a list of them.
Consider whether your streaming machine will share CPU resources with other processes (for example, a backchannel chat messenger, browser, or email).
Other apps will divert processing power away from encoding, which is a resource-intensive process in and of itself.
Consider putting up a machine dedicated entirely to live streaming to reduce the likelihood of stream failure.
Adopted dedicated streaming hardware for your productions for increased reliability. Hardware encoders such as the Pearl Nano, Pearl Mini, and Pearl-2 are designed specifically for live video streaming and recording.
They are thoroughly tested to ensure that they provide consistent streaming 24 hours a day, seven days a week.
Hardware Encoders vs. Live Streaming Software
Some broadcasters have requirements that exceed the capabilities of live broadcasting software and may need the use of a hardware encoder.
As the name implies, a hardware video encoder is a dedicated physical device (rather than downloadable software) that acts similarly to a software encoder.
When establishing access to mobile streaming services, some broadcasters choose hardware encoders.
Why? Hardware encoders can connect to cell networks and work with the majority of live stream programs.
Hardware encoders are typically substantially more expensive than software encoders.
Similarly, depending on your streaming arrangement, they can be physically taxing. They are, however, more effective because they are dedicated devices.
Components of Live Streaming Tools
A proper live stream configuration is made up of numerous elements. Establishing your streaming will be simple if you are familiar with and understand the principles.
Although the broadcast video is the most important aspect of your live stream setup, there are four other key live streaming tools to consider.
The HD cameras, laptops, and necessary supplementary equipment are the most expensive aspects of your system.
You will require a variety of audio equipment.
The video encoder is the most important piece of equipment for live streaming.
The software used for live broadcasting is known as "streaming destination." A good internet connection is required for live streaming and broadcasting software.
For live streaming, you'll require a specific procedure. Connecting your encoder to your streaming destination and configuring your audio and video components, connection, and live stream would be advantageous.
Once everything is connected, you may start a live broadcast, and your audience can view it right away.
How to Choose the Best Video Equipment
One of the most important components of your live video podcast is selecting the correct camera. Choosing the ideal camera, on the other hand, can be difficult. On the market, there are numerous cameras with streaming capabilities.
Regardless of the trade-offs, choosing the greatest camera with the proper features is critical, as it is with many other technical items.
If you're new to podcasting and live streaming, you should invest in a low-cost video camera. Beginner cameras are significantly less expensive and more portable than other kinds.
Prosumer video cameras are an excellent mid-range alternative for live streaming if you wish to upgrade a little.
With HDMI as a regular feature, the camera's total video quality will be considerably improved, as will networking.
Professional video cameras provide everything you need but come at a high price. These professional cameras are equipped with pro-level connections.
How to Choose the Best Audio Equipment
Although some editing is required, the audio equipment that many people use for their podcasts dramatically improves your video podcast.
The built-in microphone on entry-level and prosumer cameras is considered low- to medium-quality equipment.
Many people utilize their cameras in addition to audio equipment, which is beneficial if you have a low budget.
Medium to high-grade devices include USB and 3.5mm microphones and built-in microphones on professional live video cameras.
Professional-grade microphones are the highest level of equipment and can greatly improve professional-level productions.
How to Choose the Best Mixing Equipment
Mixing equipment is essential when putting up your podcast for a live stream. Using mixing equipment, you can record numerous audio or video streams. You can also change your sources during a live broadcast.
When looking for video mixing equipment, consider the following:
The dimensions
User input and output Internet connectivity and automation
Best for Streaming and Recording
If you want to record your stream, be sure you have software that can capture high-resolution video.
In this instance, it's advisable to select software that records locally so that your internet connection doesn't degrade the quality of your recordings.
Riverside is a good option for this. You can multi-stream to many platforms and enable audience members to participate in live call-ins without affecting recording quality.
Riverside allows you to record in up to 4K resolution, with independent tracks for audio and video files for each livestream participant. If you want to record, this is a good option.
Best for Budget Livestreamers and Beginners
There's no need to be concerned for individuals on a tight budget! You can still stream using good software.
Although OBS has a learning curve, it's an excellent alternative for individuals on a budget because it provides many functions for free.
Streamlabs is the way to go for newbies who may find OBS a little intimidating, or you can choose Twitch Studio.
Best for Professional Events
If you're organizing a live streaming event, you'll need a platform that can accommodate a huge audience while providing interactive interaction capabilities. Wirecast or Riverside are your greatest options here.
Best for E-Sports, Gamers, And Console Gameplay
You'll need live streaming software that supports high-quality screen recording and webcam and audio recording for gamers. Some live stream gamers also like extra effects and template tweaking.
You might try Lightstream Studio, vMix, or X-Split Broadcaster from our list for E-sports or gaming streaming.
Best Live Editing Software
Even if you're streaming live, you may still modify as you go. You might combine stuff live or simply add special effects.
Riverside, vMix, and X-Split Broadcaster are other live video editing software alternatives, while most of the solutions above contain some live video editing features.
How Much Does It Cost to Build a Live Streaming App?
This question goes in tandem with asking questions like how much Twitch streamers make. The average cost of developing a live video streaming app ranges between $26K to $48K.
However, there is no set price, and the scope of work determines the cost of developing a live streaming app or MVP, the number of hours required, the design complexity, the number of platforms, and the rates charged by your software supplier.
There is no set amount, and you cannot create a live streaming app for free. The scope of work determines the cost of developing a live streaming app or MVP, the required hours, and the design complexity.
Good Read: 15 Best Audio Editing Software (Best Audio Editing Software for Podcasts)
Bottom Line
Choosing the best video streaming software for your PC can be a time-consuming and stressful process. It would necessitate testing all other software to see which works best for your system. The best software must have features like support platforms, user support, games, input source options, etc. Describe the above streaming software that would perform best for your system and requirements while keeping these crucial qualities in mind.
If you're looking for an open-source solution, OBS Studio and Streamlabs OBS are great possibilities. While both programs are free, they include most of the features required for live streaming and substantial integration capabilities. Wirecast and vMix are best suited for larger organizations that seek to produce large-scale live events.
XSplit Broadcaster, on the other hand, is a wonderful alternative for gamers who need to live stream efficiently on a tight budget. Before making a final decision, carefully consider your requirements and budget.
Frequently Asked Questions
Q: What is a Streaming Software?
A Streaming Software application lets you stream live video and audio content online. With it, you can live chat with fans and get paid.
Q: What streaming software should I use in 2023?
The answer is dependent on what you're looking for. Why not use StreamYard or Twitch Studio if you're seeking for a professional and effective solution? If you're on a tight budget and searching for simple streaming software, try OBS or Streamlabs OBS.
Q: Can I use free streaming software for commercial purposes?
You can utilize free streaming software for commercial reasons in most circumstances. It is, however, critical to review the software's licensing and terms of use to ensure that you are using it legally.
Q: Do I need a high-performance computer to use streaming software?
It is determined by the software and the level of streaming desired. Some software may necessitate a higher-performance computer to meet the demands of live streaming, while others may be more lightweight and run on lower-performance devices. Check the software's system requirements before downloading it to ensure compatibility with your computer.
Q: Where can I stream live for free?
You may stream live for free on platforms like YouTube, Facebook, and TikTok, which all have free built-in live streaming functionality.
Q: Is OBS better than Streamlabs?
Streamlabs is an OBS upgrade that is essentially a redesign of OBS to provide more streamlined software with a better user experience. This makes it easier to use but has the disadvantage of increasing CPU requirements. On the other hand, OBS is open-source software that is always being enhanced to provide a better live streaming experience. However, it can be difficult to use, especially for novices.
Q: What is the cheapest way to livestream?
The most cost-effective option to live stream is to use a free platform and broadcast from your phone or an existing webcam.
Q: What software do streamers use?
Depending on the streamer's need, many software options are available for streamers to use. This includes:
OBS
Gecata by Movavi
Twitch Studio
Streamlabs
FFmpeg
NVIDIA ShadowPlay
OneStream
Wirecast
XSplit Broadcaster
vMix
Lightstream
Restream
Q: Where can I stream privately?
To stream discreetly, utilize a platform like Uscreen and password lock your streams, allowing only authorized users to access the event.