Some of the links in this article are "affiliate links", a link with a special tracking code. This means if you click on an affiliate link and purchase the item, we will receive an affiliate commission.
The price of the item is the same whether it is an affiliate link or not. Regardless, we only recommend products or services we believe will add value to our readers.
By using the affiliate links, you are helping support our Website, and we genuinely appreciate your support.
Last updated Jun. 19, 2022 by Favour Chinaza
If you are streaming on YouTube, Facebook, or Twitch, you need the best streaming software you can find.
But since there is a lot of streaming software out there, making a decision becomes a bit difficult.
This article reviews the 17 best streaming software with unique features. You can choose anyone that fits your needs.
#Onestream

Onestream is a great streaming app that enables you to stream on more than 40 social media platforms at once.
With Onestream, you can pre-record videos, and schedule them for live streaming in any social media app. You can schedule it for up to 90 days.
Feature of Onestream
1. Live Spaces: This feature enables you to live stream on your customized web page. With Onestream, you can brand and have control over your live streaming interface.
In addition, it allows you to add a call-to-action button on your live streams.
2. RTMP Streaming: With this feature, you can multi-screen on multiple platforms and also use tools like Zoom, OBS, and Ecamm.
3. Playlist Streaming: This feature allows you to create a playlist of videos that have been pre-recorded for live.
4. Cloud Storage Integration: Onestream allows you to import videos from any cloud storage platform. It also allows you to save videos to Google Drive, Dropbox, OneDrive, Zoom, and more.
5. Embed Player: You can also embed your live stream videos into your personal website with Onestream.
6. Multiple Upload Options: Before live streaming, OneStream gives you different upload options. You can choose to capture your screen for live, upload videos from your device, or record yourself live.
7. Unified Chats: Onestream provides you with a centralized platform that enables you to manage all the messages, replies, and comments that come from different social media platforms.
Other features include Custom RTMP streaming and team management.
Pricing
Onestream offers a free forever version and three paid plan that comes with a 20% discount when you subscribe annually.
The basic plan costs $10/month, the Standard plan costs $39/month, and the Professional plan costs $79.
#OBS Studio Streaming Software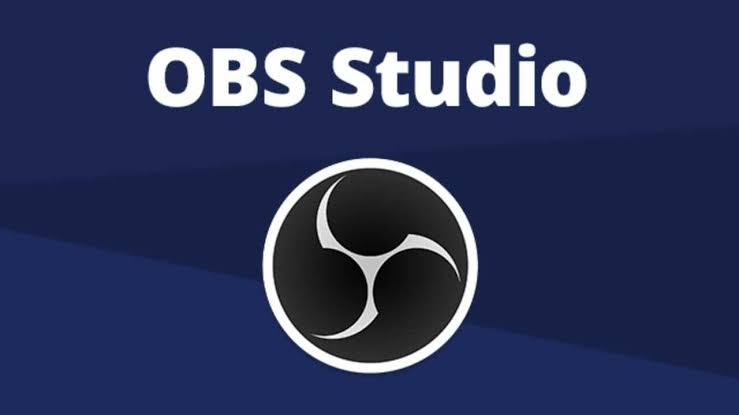 OBS Studio is a free, open-source, and fully cross-platform software for live streaming and video recording that's compatible with Windows, Linux, and Mac devices.
It is an Open Broadcast Software that provides chroma keying tools, video editing tools, screen casting capabilities, recording, and live streaming tools.
Features of OBS Studio
Screen Capture
Video Broadcasting
Hotkeys
Video Recording
Branding and Personalization
Audio Mixer
Other features include configuration options, video source filters, an unlimited number of scenes, a high-level view feature, quality management, collaboration tools, and screen support.
Pricing
OBS Studio is a free video recording and streaming software. It's a great option if you want a streaming platform with free but advanced features.
#vMix Streaming Software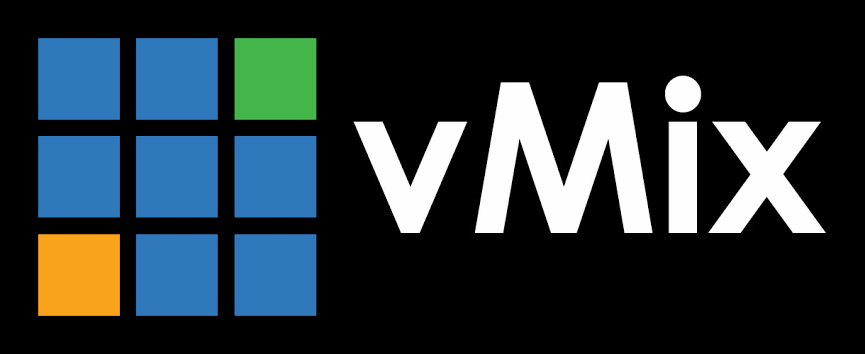 vMix is a platform for live video production, live streaming, and live HD video mixing.
It is a streaming solution that's suitable for all kinds of events. You can use vMix for small and big webcasts, big-budget live concert production, and more.
With vMix, you can live stream on Twitch, YouTube, Ustream, Facebook, and more. It also enables you to record live in 4K, HD, MP4, AVI, MPEG-2, and SD.
vMix supports 3rd party streaming software, Windows 10, webcams, capture cards, and all popular video and audio file formats.
The vMix reference system has system builders that allow you to customize and personalize your streaming activities.
Features of vMix
1. Video and Audio Playlist
2. Simultaneous streaming and recording
3. Multiple Transition effect
4. Multiple HD sources for video production
5. Multiple Customizable Pre-built animated title template
6. Chroma Keying Capabilities
7. Screen and Audio Capture
8. Live video effect
Other features include guest addition to a live show, instant replay, built-in audio mixer, website display on vMix, multiview, NDI capabilities, overlay channels, SRT in and out support, and more.
Pricing
vMix offers five pricing plans with four of them being lifetime license editions.
The plans with a lifetime license are:
Basic HD- costs $60
HD plan- costs $350
4K plan- $700
PRO plan costs $1200
The subscription license plan which is the MAX plan costs $50/month.
#Gamecaster Streaming Software

Gamecaster is a streaming software designed specifically for gamers. It enables gamers to go live on YouTube, Twitch, Facebook Gaming, and Restream.
It comes with multiple customizable scene styles that enable you to brand your streaming interface. In addition, Gamecaster also provides you with multiple graphic sets for your different game genres.
Hotkeys is another feature of Gamecaster. This feature enables you to easily navigate your streaming interface.
Gamecaster also provides support for your streaming activities by providing a "Tipping Option" that enables your viewers to donate to you or reward you.
The achievement tool is another feature of Gamecaster. It enables you to set goals, and it awakens your streaming spirit.
Gamecaster supports only Windows 10 devices.
Other Features of Gamecaster
1. Audio Mixer
2. Chat and event management tool
3. NVIDIA and AND optimization
4. Multiple Widget
5. Copyright-free music
Pricing
Gamecaster is a streaming software that offers 100% free services.
#Wirecast Streaming Software

Wirecast enables you to create high-quality live streaming videos for Twitch, YouTube live streaming, live sports streaming, and more.
It is also an advanced, customizable, and powerful live streaming and production tool which is compatible with Windows and Mac devices.
Features of Wirecast
1. Media Capture: This feature enables you to create high-quality videos with tools such as multi-track audio, unlimited camera inputs, web feeds, PPT slides, live guests, screen sharing, and more.
2. Customization Tools: Wirecast gives you endless control over your live streaming activities by providing tools such as layer-based compositing, PTZ control, animated graphics, production automation tools, control surface integrations, overlays, chroma keys, and more.
3. Easy Streaming: Wirecast offers features that enable you to record your video content while broadcasting live. It also allows you to multi-stream.
It also supports additional outputs and ISO recording.
4. Support for WASAPI, CoreAudio, and ASIO devices.
5. Audio Mixer
6. NDI, desktop, and Web capture.
Other features include controllers, an integrated stock media library, Multi-track audio recording, multiple output options, integrated social media comment moderation, and more.
Pricing
Wirecast offers two License and Subscription-based pricing plans.
The Wirecast Studio plan is a lifetime license plan and comes at the cost of $599.
The Wirecast Pro costs $35+/month when you choose to subscribe monthly. But it costs $799 for a lifetime License.
#Lightstream

Lightstream is a cloud-powered streaming software that enables you to live stream in minutes on YouTube, Twitch, and Facebook. It is a streaming software suitable for podcasts, console gamers, talk shows, IRL & travel, musicians, and mobile gamers.
It is a fully customizable and powerful software which allows you to create unlimited scenes, layouts, and projects for your live streaming activities.
Its drag-and-drop editor enables you to easily customize your interface.
Features of LightStream
1. Easy Set-up: Lightstream's setup process is easy and straightforward. It involves no costly download cycle and expensive equipment. All you need is a PC and an Internet connection.
2. Live Support: Lightstream offers a live chat customer support feature in order to quickly resolve any challenge you may encounter when using Lightstream.
3. Third-party Integration: With Lightstream, you can get the most out of your streaming experience by integrating 3rd party apps that solve your issues.
4. Auto BRB: This Lightstream feature keeps you connected to your viewers even when there is an interruption in your internet service. It enables you to stay live until you recapture your internet connection.
5. Remote Control of your Stream: This feature allows you to start, end, and even switch between scenes with your mobile device when live streaming.
Other features include fullscreen alert, RTMP sources, PC Screenshare, Custom RTMP destination, unlimited streaming hours, cloud sync & storage, and more.
Pricing
Lightstream pricing depends on what you plan to do with its software.
For Gamers, Lightstream charges $8/month for 720p 30FPS Max resolution, $12/month for 720p 60FPS max resolution, and $16/month for 1080p 30FPS max resolution.
For Content Creators, Lightstream charges $25/month for 720 30FPS max resolution, $28/month for 720p 60 FPS max resolution, and $50/month for 1080p 30FPS max resolution.
#XSplit Broadcaster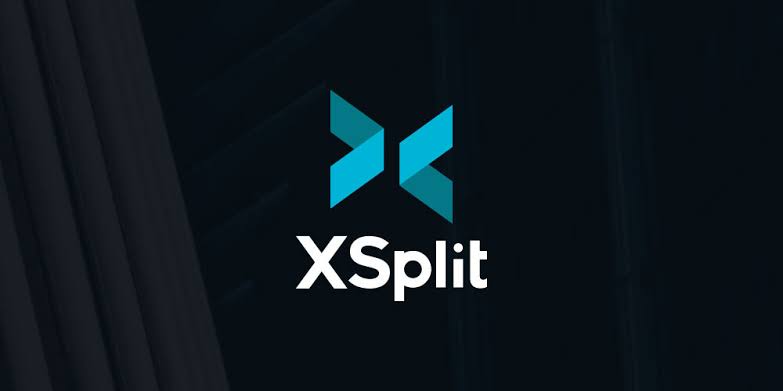 XSplit Broadcaster is a screen recording, live streaming, and video production software that runs only on Windows 7 OS and higher versions of Windows 7 OS.
It enables you to create professional scenes, drag, drop & resize media sources. You can also add unlimited animations and effects to your streams.
With XSplit Broadcast, you can add skype calls to your streaming, change from a solo stream to a multiple guest camera stream, and stream on multiple platforms at the same time.
XSplit Broadcaster also has a noise suppression feature that reduces your background noise when live streaming.
Features of XSplit Broadcast
1. Support for multiple streaming platforms
2. Unlimited Customization
3. Record Multiple outputs simultaneously
4. Built-in chat plugin
5. Plugins and Extension
6. Per scene audio
7. Chroma Keys
8. NVENC encoding
9. 24/7 Customer support and live updates
Other features include projector output, media slideshow, custom transitions, source masking, split mode, preview functionality, whiteboard, DSP effects, audience analysis tool, live event illustration, gamepad visualizer, and audio mixer.
Pricing
XSplit Broadcast offers three pricing plans. The Premium bundle costs $20/month, the VCam Premium plan costs $8/month, and the Broadcaster Premium plan costs $15/month.
#NVIDIA Shadowplay

NVIDIA is a powerful screen recording and streaming platform that allows you to capture your gaming moments, and live stream them.
It is tailored for gamers who need software that records gameplay videos. Shadowplay also enables you to stream and share your high-quality video gaming moments on all social platforms.
While gaming or live streaming, Shadowplay can allow you to create a GIF from your game moments, edit it, and then upload it to social media without leaving your game. You can also capture 4K and 8K screenshots.
Features of Shadowplay
1. HB Video Streaming
2. Split/Multistreaming
3. Broadcast Recording
4. Text Overlay
5. Customization
6. HD Resolution
7. Session Recording
8. Speed Adjustments
Other features include media library, collaboration tools, performance monitoring, video stabilization, audience engagement tool, event scheduling, and more.
Pricing
NVIDIA Shadowplay offers a quotation-based pricing system.
#Restream

Restream is a live streaming software for content creators, gamers, marketers, and all kinds of people.
It enables you to create high-quality live content and stay at the top of your streaming activities.
Restream also allows you to pre-record videos and schedule them for live streaming. With Restream, you can add remote guests to your live stream, go live from your browser without a 3rd-party app, and multi-stream on over thirty social media platforms.
Restream also comes with a real-time toggling tool that enables you to put an end to a stream on one platform, but continue on other platforms.
Features of Restream
Restream offers free and paid features.
The free features include multi-streaming, remote guest addition, unlimited live sessions, restream analytics, chats, copyright-free background music, stream monitoring, and real-time channel toggling.
Restream paid features include:
1. Restream event: This feature allows you to share the link to a video that is scheduled for live streaming.
2. Custom live streaming destination
3. Absence of Restream watermarks but the presence of branding and customization tools.
4. Screen recording and download
5. Split-track audio recording
6. Full HD Streaming
7. 24/7 Support
8. Video storage
Other paid features include proxy streaming, RTMP poll link, Advanced analytics, and a fail-safe stream backup tool.
Pricing
Restream offers four pricing plan which includes a free forever plan.
The professional plan costs $41/month, the Standard plan costs $16/month, and for the Enterprise plan, contact the Restream team.

Dacast is another streaming software with powerful and advanced features. It provides tools that enable you to go live in minutes, and it also provides features that enable a smooth live streaming process.
Dacast comes with an Ad-free HD streaming tool that removes ads and logos from 3rd-party integrations in order to give you a distraction-free streaming process.
It also offers customization tools that allow you to brand your live streaming interface by adding fonts, colors palette, logos, and more.
In addition, Dacast also enables a secured streaming platform.
Features of Dacast
1. Secure Video Hosting
2. Video Monetization
3. 24/7 Customer Support
4. Live Stream Recording
5. Unlimited Number of Viewers
Pricing
Dacast offers four pricing plans that come with a 14-day free trial.
The Starter plan costs $39/month, the Event plan costs $63/month, and the Scale plan costs $188/month.
The Custom plan allows you to decide your features and price tag.
#Streamlabs OBS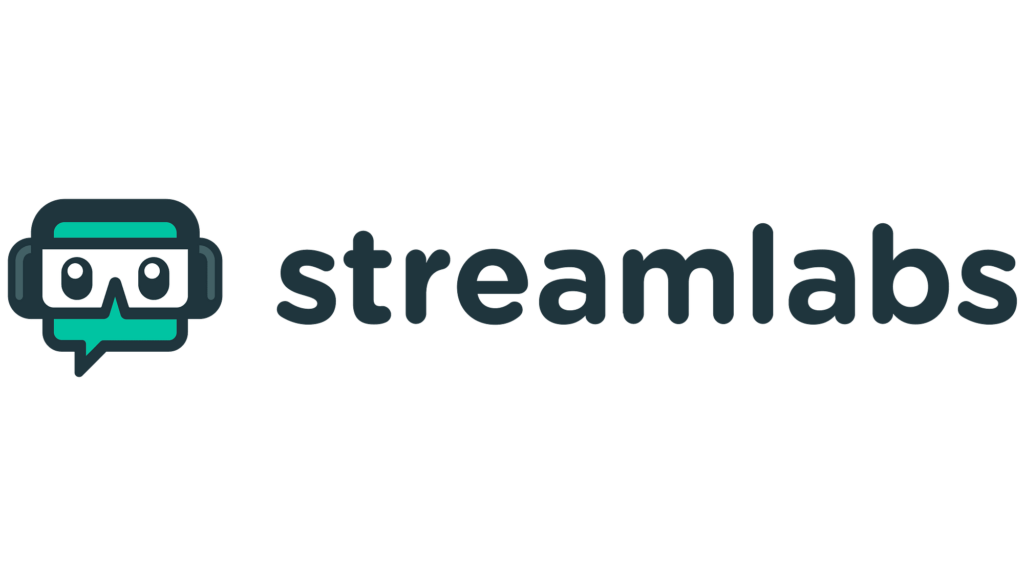 Streamlabs OBS is a free and open-source live streaming software that offers all the features you need to gain an increase in audience, beat your competitors, and be at the top of your streaming activities.
It comes with a Multi-streaming feature that allows you to stream simultaneously on different social platforms. It also comes with an app store that enables you to find the unique functionalities you need while live streaming.
With Streamlabs OBS, you can monetize your channel, create custom alerts, and own a merch store.
Features of Streamlabs OBS
1. Built-in Widgets
2. FaceMask and Audio Filters
3. Smart Video Encoding
4. Overlays and Themes
5. Open
Other features include video preview, recent events, streamlab dashboard, video editor, Twitch/YouTube Chat, stream labels, and more.
Pricing
Streamlab OBS is a free software. It doesn't require a monthly or yearly subscription to use.
#Twitch Studio Streaming Software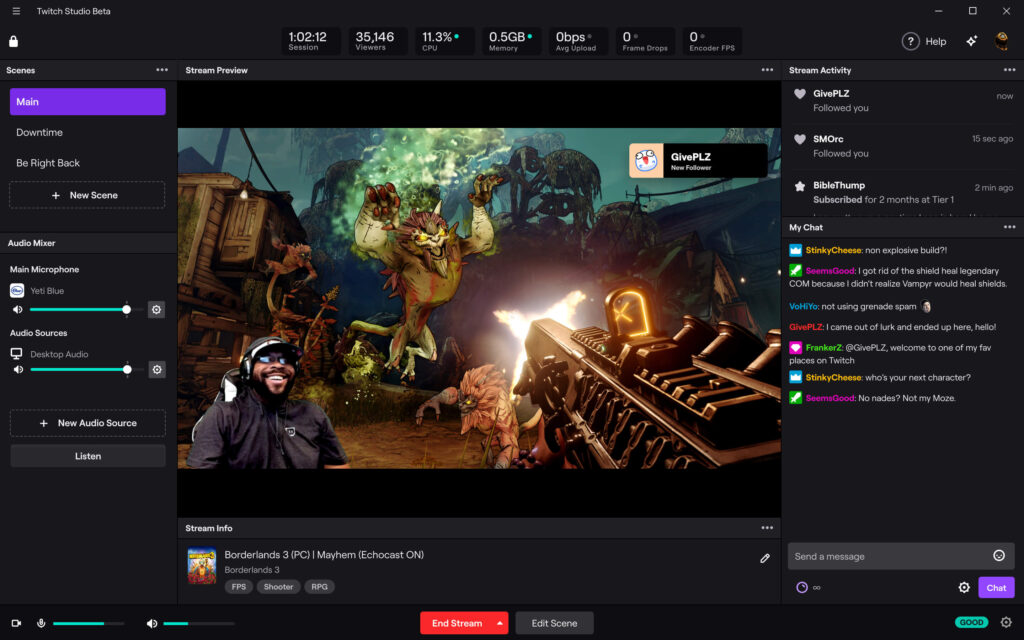 Twitch Studio is a free streaming software that supports Mac, Windows 8, and newer devices. It enables content creators to create high-quality videos for sharing in communities.
It offers a simplified setup process that allows you to stream with ease.
Twitch studio also offers prebuilt customizable templates and overlays in order to enable the branding and personalization of your stream.
One thing to note about Twitch Studio is that it is only designed for people who want to stream on Twitch alone.
Features of Twitch Studio
1. Multiple Screen and Layouts
2. Enables copying, pasting, and duplication of layers and scenes
3. Addition of count-down timer and chat overlays.
4. Dual PC setup
5. Drag-and-drop tool to control your panel
#SplitCam Streaming Software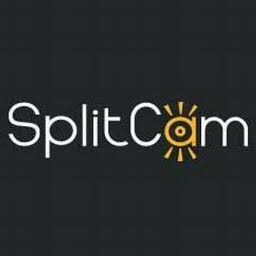 SplitCam Webcam software is a great streaming platform that offers amazing features for your streaming.
This software allows you to perform various activities all at the same time. It is a software that allows you to video chat with friends, live stream videos, and split your webcam video stream.
It also comes with amazing webcam effects that add fun to your streaming.
With Splitcam, you can split your webcam to various platforms, and you can apply 3D realistic masks to your streaming videos.
SplitCam supports multiple social platforms, this is to enable you to stream on all your favorite social platform.
In addition, SplitCam supports multiple video resolutions, multiple video sources, and Zoom video.
#Switchboard Live
Switchboard Live allows you to stream high-quality videos on multiple social channels at the same time.
Switchboard also allows for unlimited destinations and a quick setup process.
With Switchboard Live, you can embed your live stream on your website in order to attract viewers to your site.
Switchboard Streamshare feature helps you to gain more audience by allowing others to share your stream with their audience.
Features of Switchboard Live
1. Live Polling
2. Event Scheduling
3. Broadcast Recording
4. Audience Engagement
5. Multi-streaming
6. Multi-camera Feed
7. Video Monetization
Pricing
Switchboard Live offers three pricing plans.
The Indie Unleashed plan which is suitable for individuals costs $29/month, the Pro Unleashed plan which is for professional live streamers costs $59/month, and the Business Unleashed plan costs $99/month.

Streamyard is a live streaming software trusted by Microsoft, SEMrush, WooCommerce, Hootsuite, and more.
It enables you to create professional and fun streaming videos. Streamyard is suitable for content creators, marketers, influencers, politicians, and all kinds of people.
Features of Streamyard
1. Chroma Keying
2. Multi-stream
3. Guest Addition
4. Interaction with Viewers and Display of Comments on Screen
5. Stream Pre-recorded videos
6. Full HD
7. 24/7 Customer Support
8. Downloadable Recordings
9. Screen Sharing
10. Video Layout Templates
11. Separate Audio Files
12. Overlays and Background
Pricing
Streamyard offers three pricing plan which includes a free forever plan.
The basic plan costs $25/month, and the Professional plan costs $49/month.
#UScreen

Uscreen is a software that enables you to easily create a personal video streaming website. It comes with customization tools that allow for branding and the personalization of your streams.
Uscreen also comes with a video library feature that captivates your viewers and allows for video monetization, and audience engagement.
Count down timer and live chat is also available on Uscreen.
UScreen Pricing
Uscreen offers two pricing plans that come with a 30-day free trial period.
The Basic plan costs $79/month and the Growth plan costs $159/month.
#Ffsplit Streaming Software
FFsplit is a completely free live streaming and video production software. It comes with features that capture and record your live streaming videos.
FFsplit comes with features such as hotkeys, webcam, and overlays. It also enables multiple video resolutions, audio and video bitrate, and frame rates.
With FFsplit, you can stream on YouTube, Twitch, Ustream, Hitbox, and other social channels.
A bonus streaming software that offers advanced and powerful features is Vimeo.
#Vidmeo
Vimeo is a customizable streaming software with which you can create high-quality ads-free videos.
It allows you to gain control over your streaming process and enables you to monitor and backup streams.
You can also keep your viewers engaged with live audience chats, Q&As, and poll tools.
Its other features include marketing and video monetization, live stream recording, live and VOD hosting, multi-media hosting, post-production and collaboration tools, OTT streaming, Integrations, and more.
Vimeo offers a 30-day free trial period, and it also offers four pricing plans that ranges from $7/month to $75/month when billed annually.
What is a Streaming Software?
A Streaming Software is an application that allows you to stream live video and audio content over the internet. With it, you can live chat with fans and get paid.