Last updated Jun. 26, 2023 by Charles Zemub
11 best alternatives to youtube
YouTube is the undisputed leader among video portals and can therefore be safely described as the top dog in the industry: according to its statements, and with over a billion users, almost a third of all Internet users browse for videos on YouTube.
As a result, there is little doubt as to why the platform has been regarded as a powerful marketing tool.
Users can easily upload videos with a few clicks, and we are grateful for the HTML generated automatically; you can easily copy and paste them on any external website page. The question then becomes if there are any YouTube alternatives, and if so, what are they?
Whenever we think of video sharing or watching videos, online "YouTube" comes to mind. And why not? Because YouTube allows people to share videos and earn money. But have you ever thought that some YouTube alternatives are available that allow you to share and watch videos as well?
I'm not saying there is an issue with YouTube; some tech site says DMCA is the issue. But actually, it's the best thing that motivates the content creator to create more original content. But continuing to learn about the YouTube Alternative is essential in case YouTube is inaccessible or you want to explore more options.
You must now be looking for options. Some YouTube-like sites allow the user to upload or watch videos.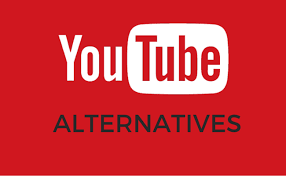 1. Vimeo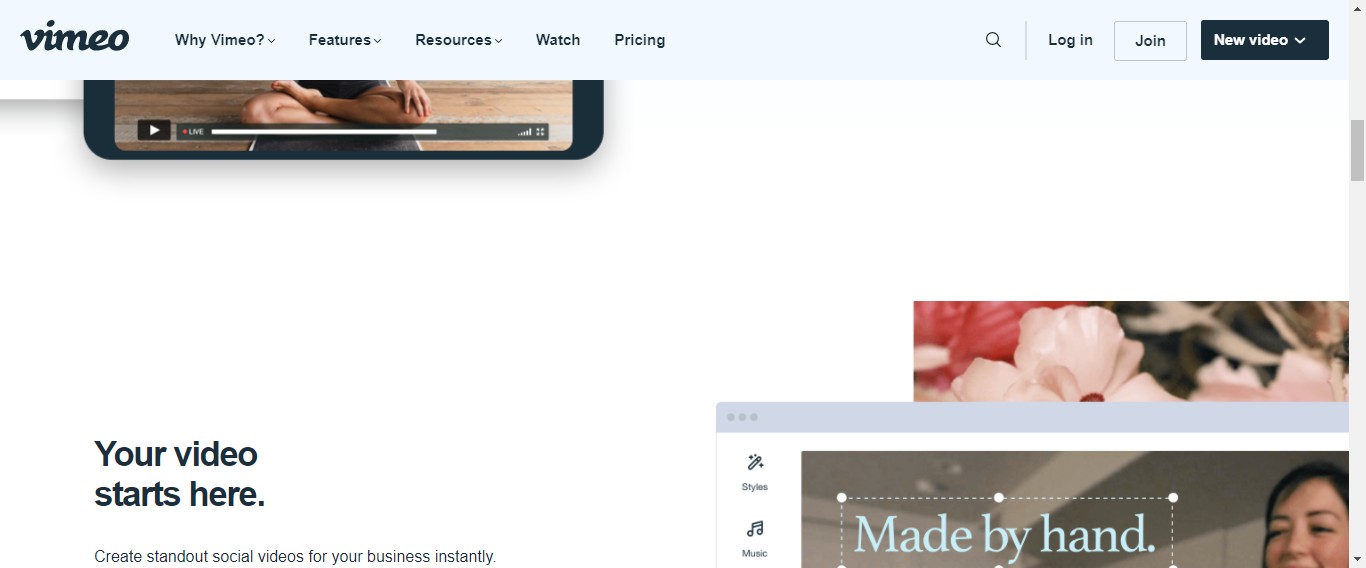 Vimeo is a video service based in the United States that was established in 2004 and focused on artistically challenging content. It's not shocking, given that the company's founders are filmmakers whose aim was to provide a distribution channel for directors' private and professional content.
As a result, Vimeo has evolved into a platform for showcasing outstanding short films, documentaries, and music videos.
Vimeo provides a high-quality YouTube alternative if you are interested in independent video making of any sort. However, Vimeo's numbers clearly lag behind its competitors.
In Spain, its active reach in 2015 was around 4 percent, ranking third behind Dailymotion and YouTube.
Vimeo has clearly identified a market niche in which complicated and sophisticated content is in demand by users claims to be an innovative exchange platform, and this is instantly mirrored on its home page, where employees curate the platform's content on a regular basis, as though it is an interactive exhibition.
As a result, Vimeo gives its users a wide range of options for uploading videos while allowing them to show their best-quality video content. Vimeo has a variety of payment accounts.
Although the free version permits you to upload up to 500 MB each week, with "Vimeo Plus," you can upload up to 5 GB per week, and "Vimeo Pro" allows you to upload up to 10 GB per week.
As a result, short films in 4K Ultra HD resolution can now be published with ease. To put it another way, audiovisual producers would have few restrictions for technical accounts. You'll just notice that the data stream automatically decreases when the load reaches 60 frames per second.
You can add up to three team members to the Pro version, customize the video player, and more. The owner is responsible for 90% of the transaction fees in the above case.
A comprehensive set of tools, program analysis, and an ad-free interface are also available to the user. If you are a commercial provider, you may use "Vimeo Business" to store up to 5 TB (terabytes) of data space on a single server.
With such an account, up to ten team members may be using workflow, analytics, and marketing tools.
Vimeo has a number of different usage options: For your wide range of needs, it has free and paid registration options with ad-free bundles.
On the other hand, Vimeo has a wealth of tutorials for exporting files from the most common video editings programs, such as Windows Live Movie Maker, iMovie, and QuickTime, in its help section. With regards to "quality over quantity," which is sadly no longer a priority for the online video giants, this is the main difference between Vimeo and YouTube.
Vimeo mostly comprises artists, aspiring filmmakers, and advertisers, which means that some of YouTube's core roles have changed.
The free edition, on the other hand, provides users with creative content and access to various applications. Vimeo is compatible with devices such as Apple TV, Xbox 360, Chromecast, and Smart TV providers such as Samsung, Philips, and Panasonic and is available for mobile OS such as Android, Windows, and iOS.
Through this, they can reach out to a supportive community that can provide valuable assistance or constructive criticism of the content they publish.
The main goal of this website is to keep high-quality videos in various genres and categories. You can find click-bait content on YouTube, but on Vimeo, all videos are genuine and HD.
Pros
Allows you to upload 500MB of content with a free account.
the first platform to allow HD video replay
Best to upload or watch series
All videos on Vimeo are completely ad-free; you will not see ads between or at the beginning of the videos
You can get an upload limit of 5GB per week, and you need to pay about 10 USD to get it.
Cons
Uploading and watching videos on Vimeo is partially free.
Lack of maintenance of video quality
Free single videos, but you have to pay for the series.
Only for the serious video creators
You can start your video here
2. Dailymotion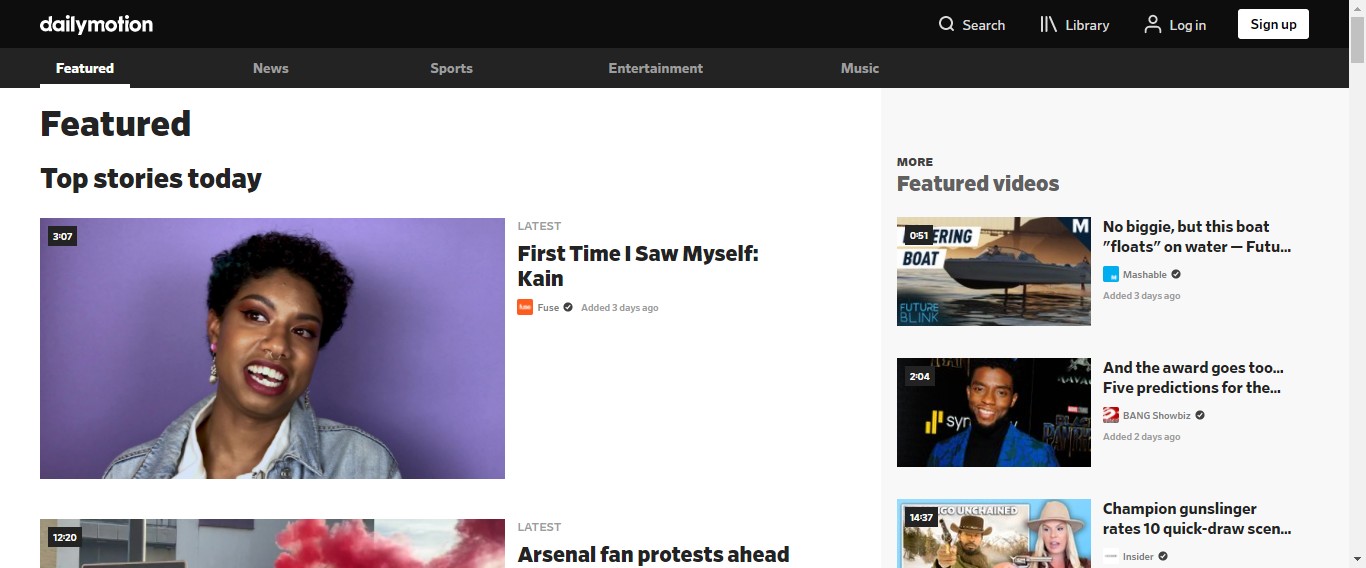 Dailymotion is a video platform of Frenc origin that, in terms of user statistics, is actually one of the best alternatives to YouTube in its home country, with a 23 percent active reach in 2015.
On the international scene, it is available in 18 languages, and this makes it one of the highest platforms with considerable value. Dailymotion ranks second in France with an active reach of 57 percent, and this website comes second only to YouTube in other countries.
The company's global user base is estimated to be about 300 million, with over 3.5 billion videos watched each month. In August 2015, only 6% of Spaniards were reached through
Dailymotion stands out because of its upload requirements: you can upload a 2GB file size, and it lasts up to 60 minutes. It also supports a wide range of video and audio formats, allowing users to select from.mov ,.mpeg4 ,.mp4 ,.avi, and .wmv files.
For a frame rate of 25 frames per second, H.264 is recommended as the video codec, along with an ACC audio codec. A resolution of up to 1080p is also supported by the platform (Full HD). As a result, this portal is particularly useful for users that want to upload quality videos where large files and exceptional image quality is accepted.
With its reduction in blue and white, its interface is clear, intuitive, and attractive. The layout of the elements is largely comparable to that of its main competitor YouTube, allowing newbies to get familiar with the platform quickly.
It's also simple to insert and exchange videos on other platforms: you can automatically generate the HTML code with just one click.
Dailymotion has a big format video teaser on its home page, which is clean and uncluttered.
YouTube is not the only platform to earn money; hence DailyMotion has additional features and functions at its disposal.
Dailymotion also lets you use your analytics tool to allow video monetization, customize the player, and track your revenue. As a result, as a YouTube alternative, Dailymotion is particularly appealing to bloggers who would like to monetize their content or provide premium services to their followers.
As a result, someone who wants to earn money with Dailymotion can either sign up for the service or insert a provider-specific widget in their channel. National Geographic and the EFE news agency are some of the two of the most well-known users on this website.
Another significant benefit is the large number of Dailymotion applications available. This YouTube alternative has apps that work with a variety of Smart TVs, Sony Play Station 4, and SetUp Boxes enabling users to access videos from the community from the luxury of their couches. This service is also available for Android, Ios, and Windows-based mobile devices.
If there is any site that can take the place of YouTube, it is Dailymotion. Because there is no question it is the second-largest online video site.
Besides YouTube creators, they also upload videos on Dailymotion. If you want to expand your content and earn some extra money with the same content, then Dailymotion is the alternative.
By uploading videos on Dailymotion, you can earn cool bucks. Like YouTube, Dailymotion also has the potential to go viral because it has more than 150 million unique monthly visitors. Start uploading for free!
Pros
Large load capacity
Free video uploads
Files can be up to 2GB and 60 minutes long
Allows monetization of videos
It has applications for different output devices
Cons
maximum video size is 60 minutes in length
The maximum video upload size is 4 GB
3. MetaCafe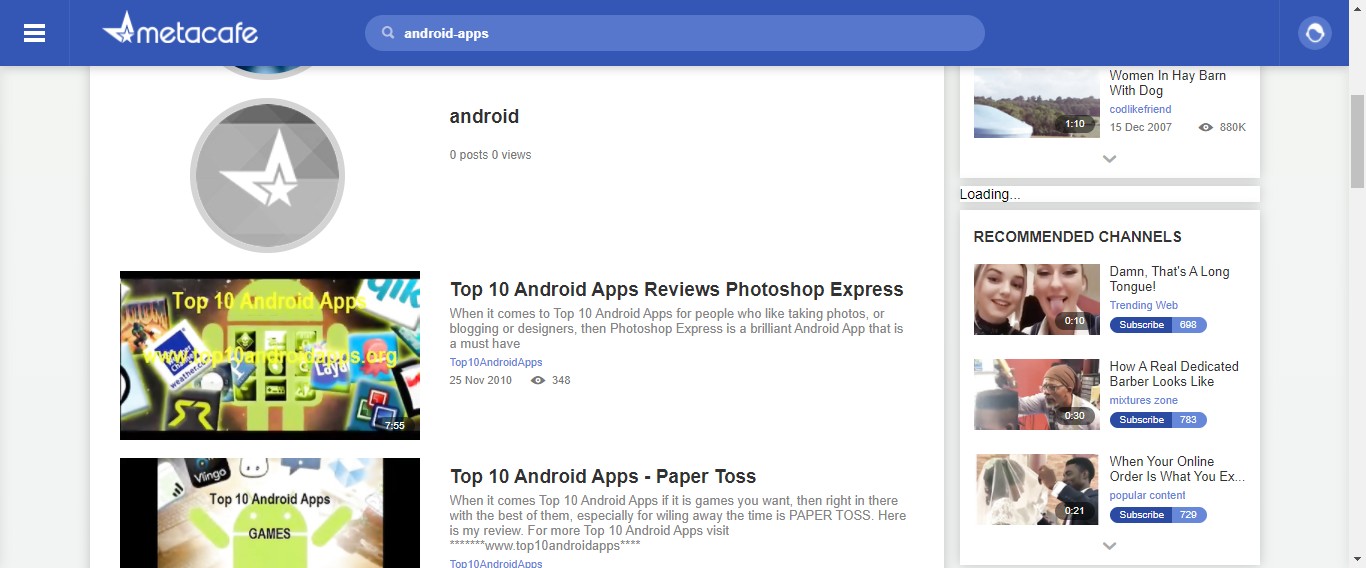 Metacafe is a website for sharing short videos (average duration 90 seconds) on topics such as movies, music, video games, television, and sports. It was established in 2003 in Palo Alto, California, and has offices in Tel Aviv.
You wonder if MetaCafe is older than YouTube; it began as early as the 2000s. Even after the launch of YouTube, this platform continues to attract 50 million unique visitors every month. You won't likely find videos longer than 3 minutes on the web because it is known for short videos.
This platform, which was created as a competitor to YouTube and Dailymotion, has almost the same interface as YouTube; it allows users to comment, post, and "like" or "dislike" videos.
It also includes a personalized search feature and content navigation with categories like movies, animation, pets and animals, science and technology, humor, sports, and more. Metacafe has 12 million unique visitors every month and 40 million visitors generally.
Unfortunately, the platform is only available in a desktop version and does not have any application for mobile phones or other devices.
Between 2007 and 2009, Metacafe tried to implement a monetization program called "Producer Rewards," with which it sought that the content producers would receive some income by uploading their videos to the portal.
The only requirements were to own the video and its audiovisual components and have appropriate content for all audiences.
With this initiative, the platform paid $ 5 for every thousand views (then reduced it to two dollars), and, to become part of the program, the video would have to reach 20,000 visits and have a rating of at least 3 points.
Although it seemed profitable and, according to statements by its directors, the platform tried to maintain the program for a year, the project failed because it did not have sufficient funds to continue subsidizing the program.
The platform supports advertisements and features both user-generated and expert content from media partners. Advertisers can use video clips to present their brands and goods. Advertisers in the consumer, hi-fi, food, telecommunications, entertainment, and automotive industries can profit from the bid.
Metacafe hopes to distinguish itself from other video sites by providing unrestricted video loading. Registration is free and can be done directly on the Metacafe website or through a Facebook account. On Google Play, Android users can download an app.
Like YouTube, MetaCafe also has its trending section, and all the videos are in good categories. If you want to download videos from the Metacafe trending section, all you will do is just click on the trending section.
MetaCafe may not be widely known as its alternative, but still, it is a video site like YouTube because of some unique videos. You can check out some of the trending videos here.
4. Twitch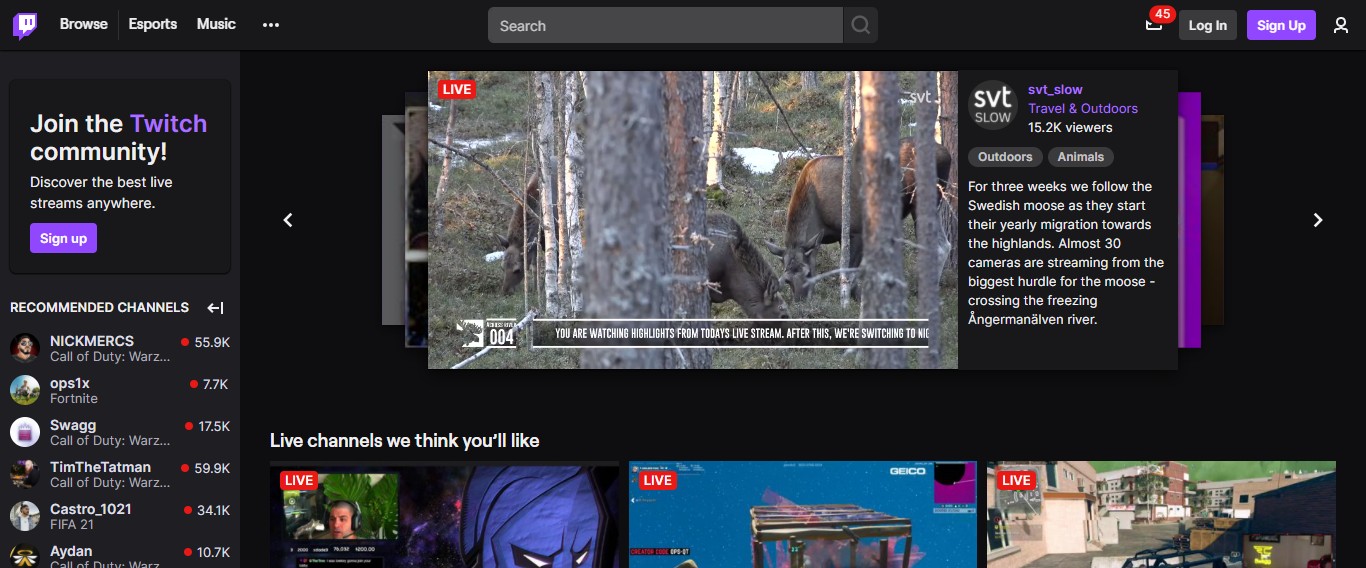 Gamers have their own YouTube substitute. Twitch is a live streaming platform that focuses primarily on video games and eSports. Twitch. Tv was released as a beta version on June 6, 2011, and two years later, it had certified 45 million monthly viewers on about 6 million channels. In the year 2014,
Amazon paid $ 970 million for the company, and Amazon Prime members have had access to Twitch Prime since 2016, including free subscriptions and games, reward boxes (game loots), and ad-free streaming.
Since 2015, the portal has hosted TwitchCon, an annual conference held in the fall in many North American cities.
Twitch's core principle is similar to YouTube's in the sense that everyone can freely access the content. Other features, such as following channels, adding friends, and using the chat options, are available after you register for free with your email or Facebook account. Twitch is a forum that places heavy emphasis on sharing and community links.
Any authorized user can stream the content. If you don't have a PlayStation 4 or Xbox One, you can still do it with a compatible program like Open Broadcaster Software.
Since 2016, there has also been an IRL function, which enables members of the group to share and discuss video moments from their personal lives.
Twitch, the Promised Land for Gamers. In addition to all these, the most influential channels have the possibility of monetizing their fans via the "Twitch partner and affiliate program," which invites streamers based on certain criteria, such as the regularity of the channel broadcasts and a group of fixed viewers
In exchange, the streamer may benefit from the partner program by selling subscription packages or engaging in the cheering program. Users can buy so-called Bits and use them to help their favorite networks.
Thanks to the partner program's option to integrate advertisements, twitch is a lucrative forum for gamers with quality content and ambition.
Twitch is distinct from YouTube in that it shows live streams rather than just video recordings, and even though it is a social media platform, the majority of the content broadcast focuses on gaming and online sports.
Users of Counter-Strike, League of Legends, Overwatch, World of Warcraft, and other game fans and teams will find it very useful. Even users without an interest in games may still find it interesting. Are you a gamer? sign up here
5. 9Gag Video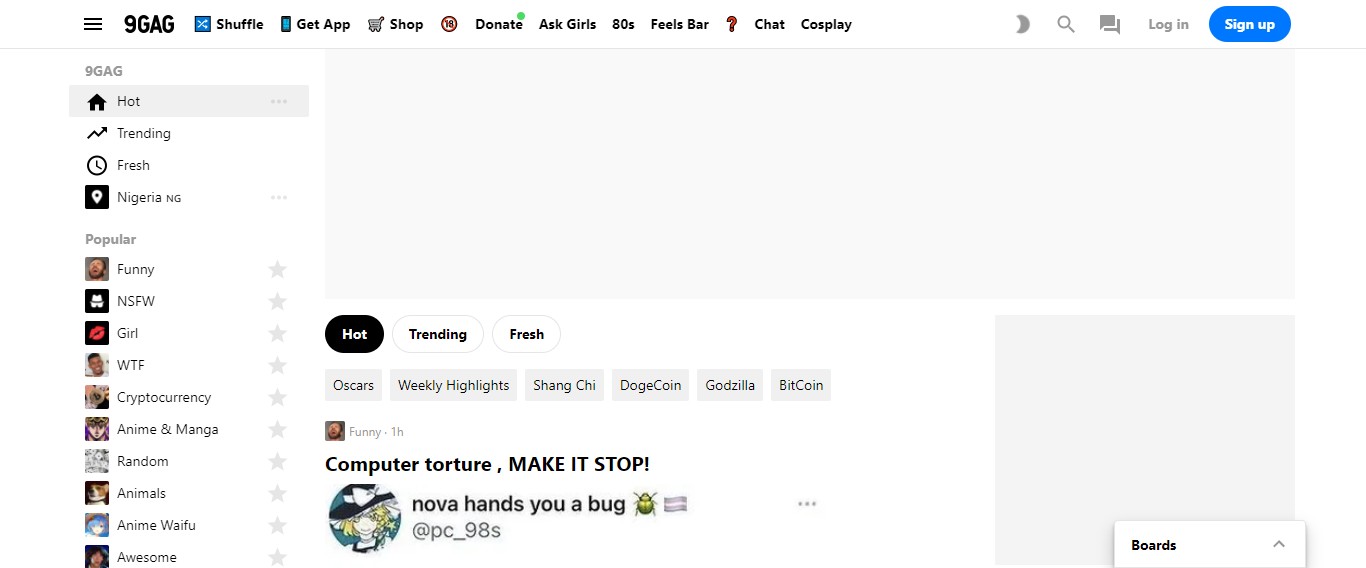 I won't call 9Gag a perfect or one of YouTube Alternatives, but still, it's a website like YouTube. The 9Gag site is dedicated to providing all kinds of fun-related things like GIFs, photos and videos, and much more.
The video section contains some NSFW videos, so avoid them in the workplace. The website also has a trending section that is filled daily with fun and unique things.
If you are getting bored and looking for a site to view rich content, then 9Gag is useful.
6. Vidme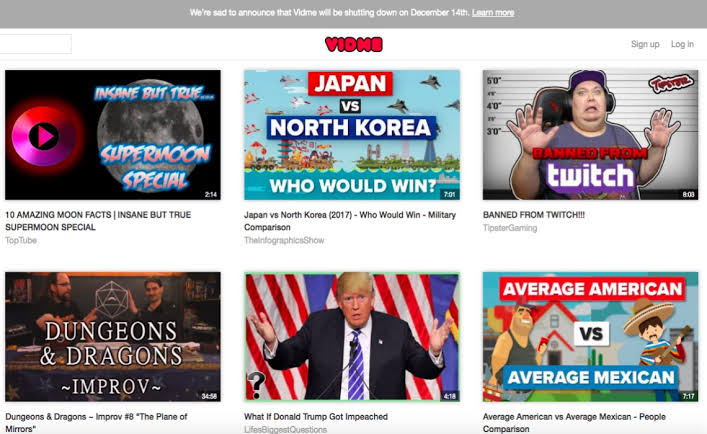 If you want to make money uploading videos, Vidme is also an alternative apart from YouTube. This site is dedicated to uploading videos and making money, but only original and genuine content.
You will receive money from your visitors or fans through monthly subscriptions and tips. Easy transfer from YouTube is also available, which allows transferring YouTube videos to Vidme. Also, you can show ads on your videos and get 70% of the ads earned directly to your bank account.
There are two categories, one for a random creator that you will appear in if you upload something. And another is for the professional channel, which means that they are creating quality content for their fans.
I think it handles well in place of YouTube, which is why it is also an alternative. Download it here on Google Play store and start watching!
7. VidLii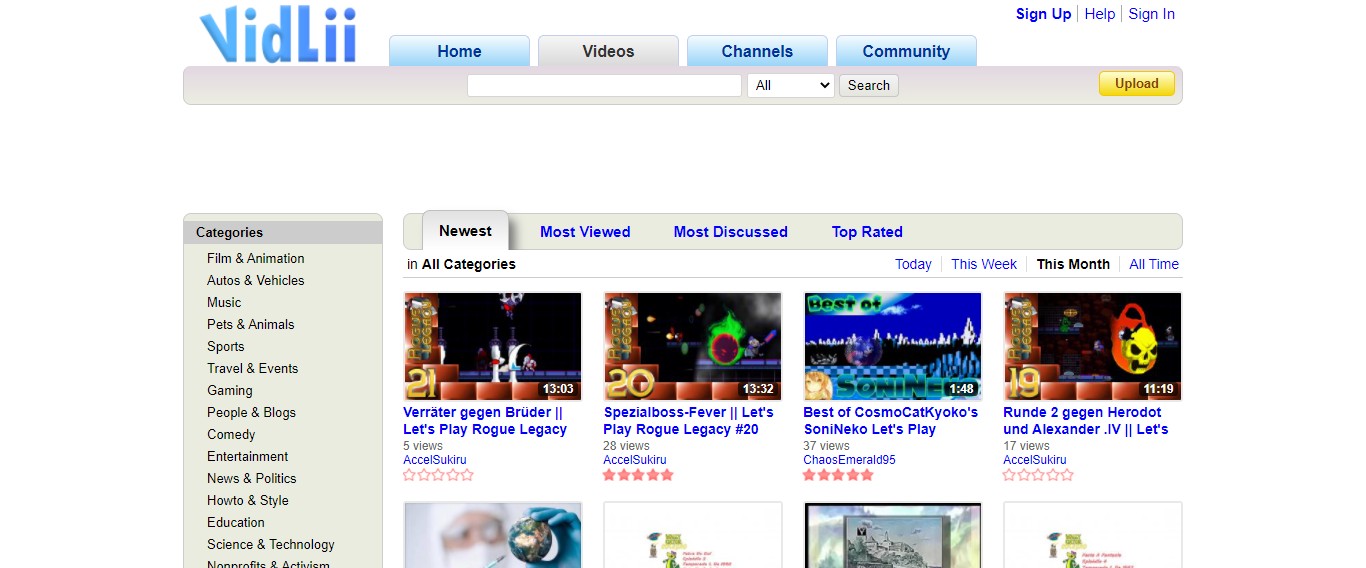 Traveling before 2008 is out of the question. With VidLii, you may feel as if you've traveled back in time in a matter of seconds, as the video page dates back to the YouTube platform's early days in terms of features and aesthetics.
The viewer who visits VidLii instantly understands why the website was created: they will look for exquisite videos with professional lighting in vain but instead will find a jumble of clips and amateur videos.
VidLii elicits the imaginative and creative spirit of Web 2.0, which was pushed into YouTube at the time with all possible categories: technology, news, vehicles, and entertainment. There is also a music group that does not include any information about the music platform.
VidLii was first created in 2015 by a college student with the name ClipBits, still sporting the YouTube look from 2005 at the time. ClipBits became VidBits, and then VidLii in 2017.
Usability is obviously a top priority for its founder. He thinks that It should be simple and enjoyable to upload and share videos in Vid. If you are registered on the site, you may create your public video channel or share your videos with only your family and friends if they register.
Users can also subscribe to other channels and rate themselves using a star system similar to what was available on YouTube in the past.
VidLii can be an alternative but definitely not a competitor to YouTube. For instance, for users who miss the early days of young YouTube and those that are not really interested in monetizing their videos, VidLii may be a good option. However, if you are looking for relevant and quality content, this platform is not your portal.
VidLii does not boast a lot of subscribers like Youtube. Still, this YouTube-like video application is still taking its baby steps and could evolve in the future.
Pros
It has a lot of User-generated content
There is a diversity of topics
Also, it is relatively free.
8. Dalealplay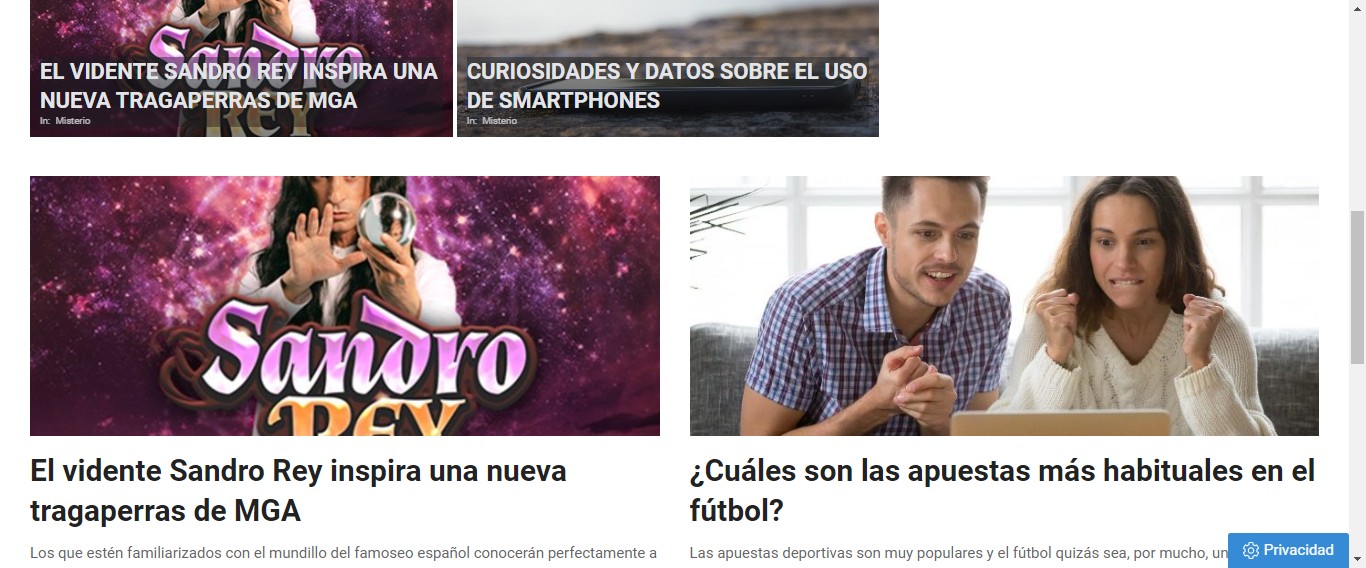 Dalealplay, which was launched in October 2006 as a member of the Prisa group, has positioned itself as a Spanish-language website for sharing, downloading, and watching videos.
Its presence is, therefore, of great relevance for the Spanish and Latin American markets, as well as the Hispanic market in the United States. This portal has a somewhat different but equally intuitive interface as an alternative to YouTube. Users who want to share their videos will only need to register.
Some of the supported formats include .avi, .mpg, .mpeg, .flv, .mov, .wmv, and .mp4, and the maximum length allowed is ten minutes, and the size limit is 50MB.
You can include a title, a short description, and tags or hashtags so that users can easily find them. Because this video portal is related to news portals, on its main page, you will find prominent channels such as Europa Press, The Huffington Post, and many more.
The difference concerning YouTube playlists is very few, and the format is very similar. Navigation in Dalealplay includes categories such as art and animation, sports, documentaries, entertainment, and many others, and although, in the traditional sense, content is not generated by users, news and other current affairs are well received within the community.
This video platform has applications for iOS, Android, and Smart TV.
9. Crackle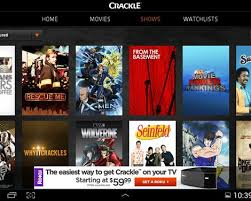 Crackle is an alternative website where you can watch movies and free online shows. Chicken Soup for the Soul Entertainment owns Crackle, a video streaming website. It has both original content and acquired programming in its catalog.
Sony Picture Entertainment formed Crackle, making it the ideal platform to stream original Television programs and classic Hollywood films. Paranormal Activity, Animal House, and Rudy are among the films available on this platform.
Crackle also has videos from well-known studios such as Funimation Films, Tri-Star Pictures, Columbia Pictures, and others. It is one of the viable Youtube alternatives. Sign up to find some classic Hollywood movies.
10. DTube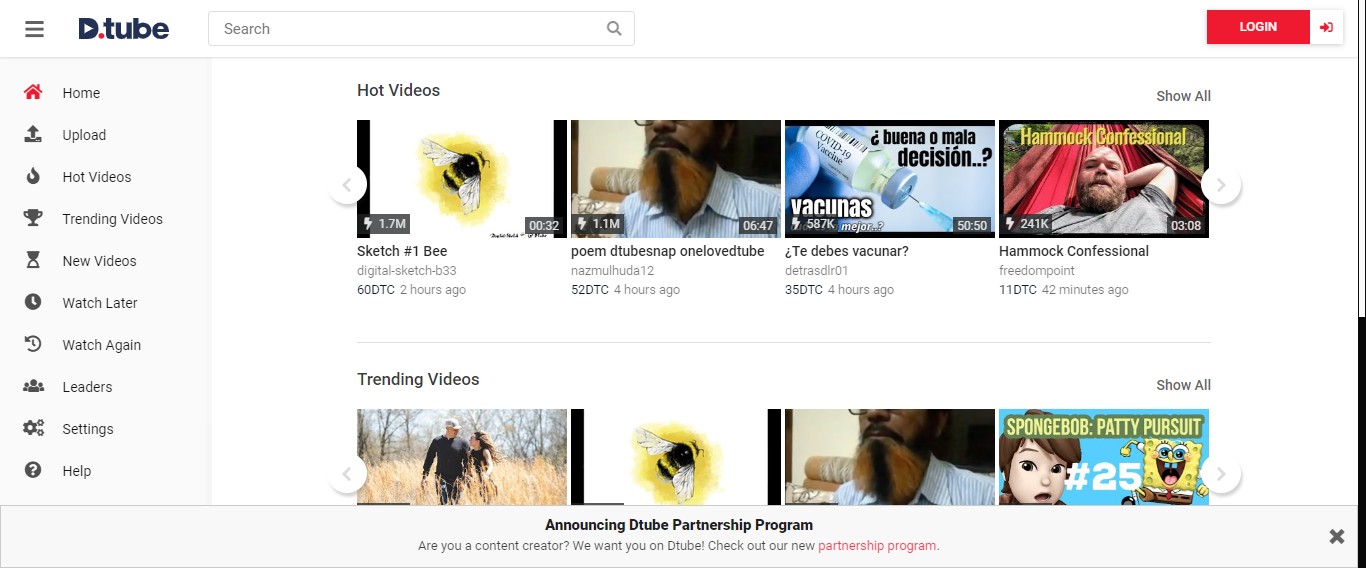 Some YouTubers have been using it to take full advantage of DTube's differences from YouTube. So, what exactly is DTube, how is it different from YouTube, and why do brands, YouTubers, and content creators choose it
If you want to understand DTube, it is necessary first to discuss and comprehend Steemit, a social media platform based on blockchain that launched in 2016.
It's basically a Reddit-style platform where everyone can earn points by uploading, curating, and upvoting related content.
The monetary incentives are paid out in STEEM, a cryptocurrency token, and Steem Dollars, which are US dollar-pegged tokens. Consider Reddit (where users post links and vote positive content up while voting negative content down), but every user who participates gets a monetary reward.
Decentralized Tube, otherwise called DTube, is a Steemit-based video network that works similarly to YouTube. However, it's on the same site as Youtube, with the same guidelines, but tailored to video content only. In essence, users create and upload videos and are paid for doing so.
YouTube vs. DTube: What's the Difference?
Both Steemit and DTube are blockchain-based platforms. Bitcoin is based on the Blockchain, which you've already heard of. Essentially, it enables the storage of a stable, decentralized record list.
A peer-to-peer network handles the data, and it's naturally immune to alterations. DTube would be able to make use of the blockchain.
The blockchain's benefits and drawbacks include being decentralized, which means that no one body regulates what users upload and submit. Because of copyright and some other reasons, no video on Dtube can be blocked from being watched. This feature appeals to many users because it allows them to express themselves freely.
Brands and media outlets, on the other hand, would be surprised to find that they cannot access videos posted by other users.
There are no ads on the Steemit website, which is another fantastic feature. Viewers would be able to enjoy a fully uninterrupted viewing experience free of advert breaks.
Instead of YouTube, you can opt for DTube which is one of the strongest privacy-focused video platforms available. It's totally customizable, which means that, unlike Youtube, DTube videos are just not uploaded and streamed from a single main server.
All the contents in DTube are stored on the blockchain. This means that hackers will have a hard time tampering with any video material on the website, users' personal information will be very hard to leak, and the group will control the site.
DTube also encourages free speech though its content is moderated by the DTube community. Also, all content creators have the opportunity to earn rewards in cryptocurrency. It has the same setup as Youtube so that it won't be a problem for regular YouTube users.
If you are a diehard Youtuber, you will have no trouble switching to this site from Youtube. DTube is where you post videos without worrying about them being tampered with.
DTube has a collection of films, documentaries, and videos that you won't find anywhere else. You can find videos through the search keyword, the language, the topic, or the date the video was uploaded. You can also add videos to your account. For those who are learning to be video upload experts, this is a nice YouTube substitute. Install it now!
11. Viddler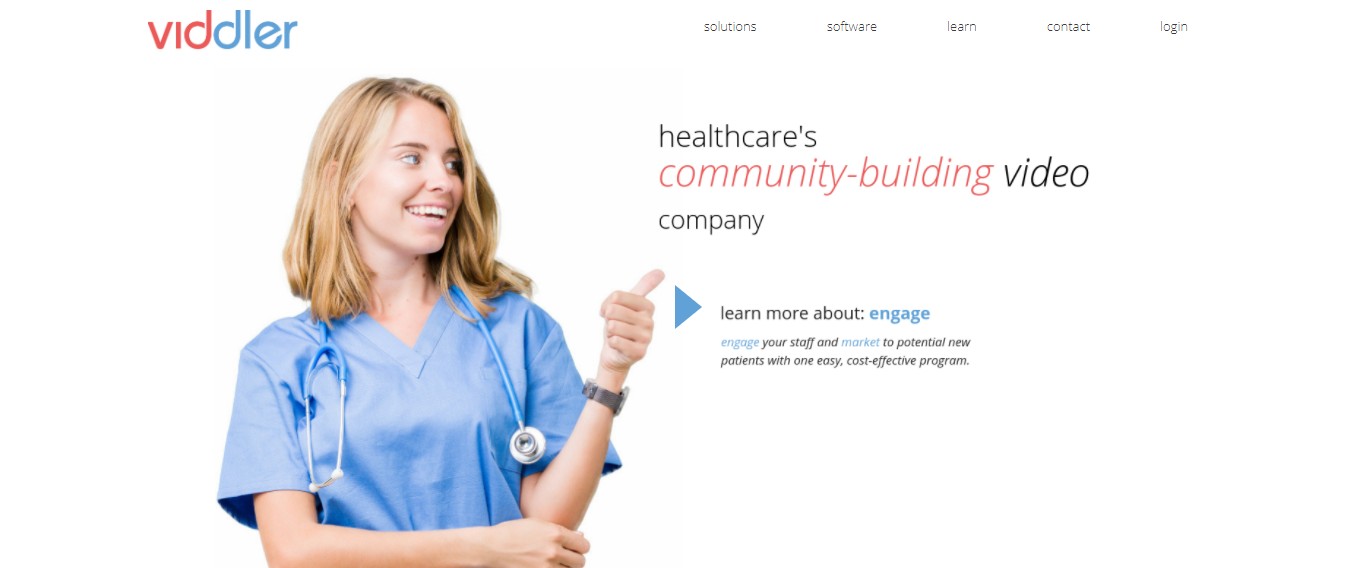 Though you cannot compare all video platforms on the same scale, thus Viddler platform is still a worthy comparison. Viddler, as an alternative to Youtube can
be used for custom branding and applied, and the commenting feature will help with affiliate marketing.
Viddler is more suited for instant contact, anonymity, and internal messaging, even though YouTube is VaynerMedia's primary platform of choice. It is not primarily a messaging platform.
To summarize, YouTube is really good for video sources; however, it cannot exist in monopoly. A trial of these other alternatives like Viddler may open your eyes to some other features you are missing.
There are several simple player choices, such as Vimeo, if you just want to embed videos on a website. Viddler is one of the best online tools for creating interactive videos and managing protected video assets for your knowledge base and controlled content.
Why should you bother looking for Youtube alternatives?
By using Youtube as a video uploader, you are providing Google with even more information, allowing it to create a more accurate user profile.
This may give you more ads; however, Youtube won't have much more information than what you provide with your profile. Same as a viewer, other alternatives will give you more variety.
Do not just get stuck on Youtube; explore. Just like Google believes it knows what you want and provides search results tailored to your profile and interests. Any other data is left outside the filter bubble. Try other search engines the way you will try other alternatives to Youtube.
Make an effort to broaden your horizons. Youtube may be broad and widely used, but it does not have any of the high-quality videos available on the internet.
Why not check out DalealPlay if you're looking for new ideas for a fun project? Maybe you like old movies that you can't find anywhere else.
If you want to explore your varieties, why not start with the alternatives now?
Conclusion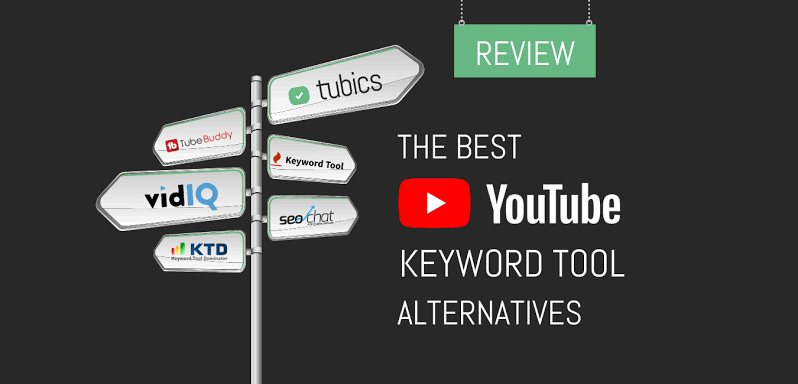 Web platforms like Youtube and others are vital to keeping any business going. That is why investing in these media to improve your content visibility and significance is becoming more common and used daily.
Gone are the days when you might make your idea meaningful by using old strategies. Today, YouTube is one of the best sites for searching for video content.
However, how many times have you skipped over any video because the links don't show a considerable amount of likes, shares, and comments? The truth is that even when subscriber referrals and likes are high, users feel more motivated or driven.
Your content is certainly excellent, maybe even superior to that of other outlets. Still, it must not only be excellent, but it must also be visible on an appealing video platform.
YouTube attracts millions of daily visitors, making it a viable option for expanding your audience. It is possible to achieve a higher ranking in this way, and it is possible to rank higher in search results on both YouTube and Google.
The reason is that this is that Google uses a search algorithm that favors YouTube content, and in this selection, the number of visits and "likes" plays a key role.
As an uploader, the success of your uploaded video content is favored in relation to the number of likes you receive. Eventually, this could lead to an increase in the number of users eager to consume the video content.
In short, "More Likes" is directly proportional to "more subscribers, so you can get more views and more content to view by exploring other video alternatives.