Some of the links in this article are "affiliate links", a link with a special tracking code. This means if you click on an affiliate link and purchase the item, we will receive an affiliate commission.
The price of the item is the same whether it is an affiliate link or not. Regardless, we only recommend products or services we believe will add value to our readers.
By using the affiliate links, you are helping support our Website, and we genuinely appreciate your support.
Last updated Jan. 21, 2022 by Peter Jakes
If you are on a tight budget and hosting on a free web host is the only option for you, we have carefully reviewed and selected the 11 best free website hosting sites you can find around.
Free is great but sometimes free might not be the best option for you. It is good though to try free web hosting especially if you are a beginner and you want to try your hands at having or building a website. With this, you will save some costs and be on the safer side should you not continue with your plans.
When building a website, using free web hosting may seem like an excellent way of cutting down costs but at what price? This article is for you to choose the best free web hosting sites, however, you should know that doing this means you are advised to use the website just as a learning curve.
 As a beginner, you can always start with them and migrate when you have the wherewithal to get good-paid hosting.
The Advantage of free web hosting is that as a beginner, it gives you the opportunity unity to learn all the nitty-gritty of initially starting a website. You learn at relly no cost incurred. Free web hosting is always good when you are starting a personal website, just a space to share your thoughts and learn Webhosting bit by bit.
Another beautiful thing about free web hosting is that it is user-friendly. It is not parked with a lot of intricate features. It is simple and hence, a good way of learning how to manage a simple website.
Non-profit organizations will also find free web hosting an excellent choice as they are not out to make money. The website can be used mainly for communication, sharing information, and uploading the organization's activity updates.
There are many disadvantages of using free website hosting sites including no customer support, poor or no security, and not up to standard hosting services. As the saying goes, "You get what you pay for"—in this case, nothing.
We do not recommend you choose a free web host if you have the means of paying for a premium version because free web hosting has limited storage, so if you intend to upload a lot, this option is definitely not for you. Besides the hosts can use your website for unnecessary ads to make money.
If you are on a tight budget and hosting on a free web host is the only option for you, we have carefully reviewed and selected the 11 best free website hosting sites you can find around.
1. Hostinger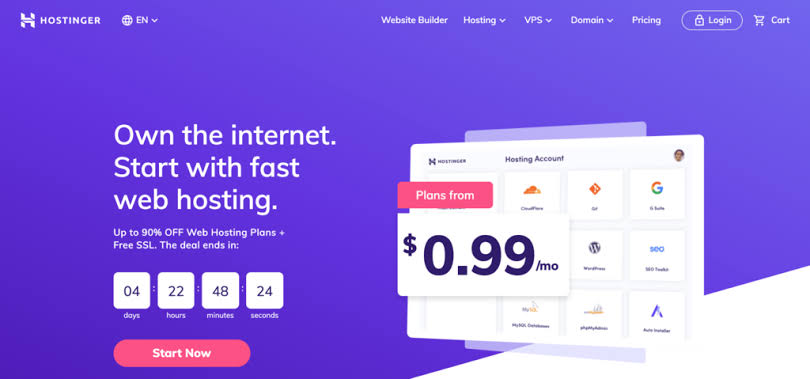 Our first pick, Hostinger is not a free web hosting site. It is one of the cheapest web hosting sites in the world with a pricing "next-to-free" making it a great alternative for free web hosts
This web hosting company was created in 2004. Hostinger now has various offices in different locations around the world with over 28 million international users.
Some other amazing things that Hostinger offers with their hosting services include a hpanel Control Panel, 1 MySQL Database, 100GB Bandwidth, 30 GB SSD Disk Space, 24/7 Live Chat Support, Email Hosting Accounts, Auto Installer (Joomla, WordPress, etc.), and a Website Builder.
Speed is not a problem with Hostinger and it promises an average uptime of 99.95%.
You can get Hostinger shared hosting plan for a "too-good-to-be-true" price of $0.99/month. There is also an option to upgrade to a higher plan for additional features like more domains, auto daily backup, etc.
2.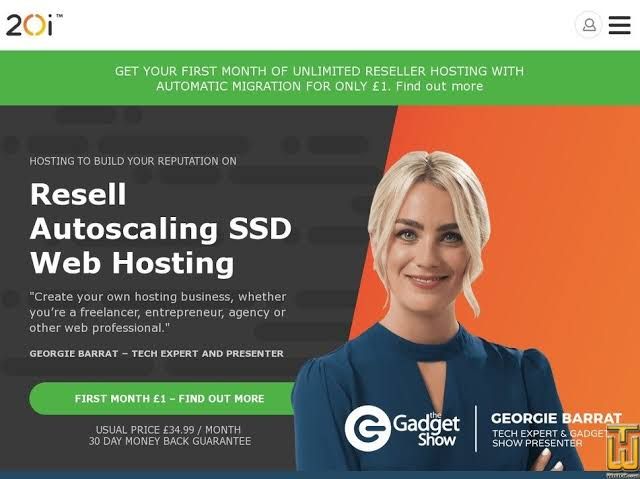 The first totally free web hosting site that we will be recommending is 20i. The UK-based web hosting provider is a new player in the field of web hosting but the founders are well known and has a proven track record that can be trusted.
Although they are nowhere near big names like Bluehost and HostGator, they manage to provide a decent hosting service.
20i comes with My20i Control Panel, easy app installation, free wildcard SSL, SSD storage, 10GB disk space, 250MB bandwidth, ad-free hosting, a free CDN service, and allows website monetization. This is very impressive, especially for a free plan. The only downside to their so-called "free plan" is the limited bandwidth space—a measly 250MB each month.
There is an option to upgrade to any of their paid plan which increases the number of features, disk space, and bandwidth.
3. Dreamnix
We won't say Dreamnix is a free web hosting provider but rather an "almost-free" web host. This is because their purported free plan is riddled with tight limitations that only allow you to test their product and nothing more.
The web hosting provider provides some amazing features like PHP & MySQL database support, Ad-free hosting, Auto Installer (WordPress), SSD-powered servers, Cpanel Control Panel, 1 MySQL database, 1GB disk space, 1GB bandwidth, and much more.
Dreamnix seems to be sure of its capability as it emboldens its money-back guarantee on its site. Our review shows that it is reliable and offers decent uptime.
The only noticeable failings of Dreamnix are in its limited-sized data centers—three locations. They however make up for this with their large network of servers that spans across the globe.
For the free plan, you can get started without any credit card information required—only for their paid plan. Upgrading to their paid plan means more features like mailing lists, access to Cron jobs, unlimited disk space and bandwidth, and more. Their lowest plan is priced at $2/month-$4/month depending on how long you are willing to commit to their services.
4. Googiehost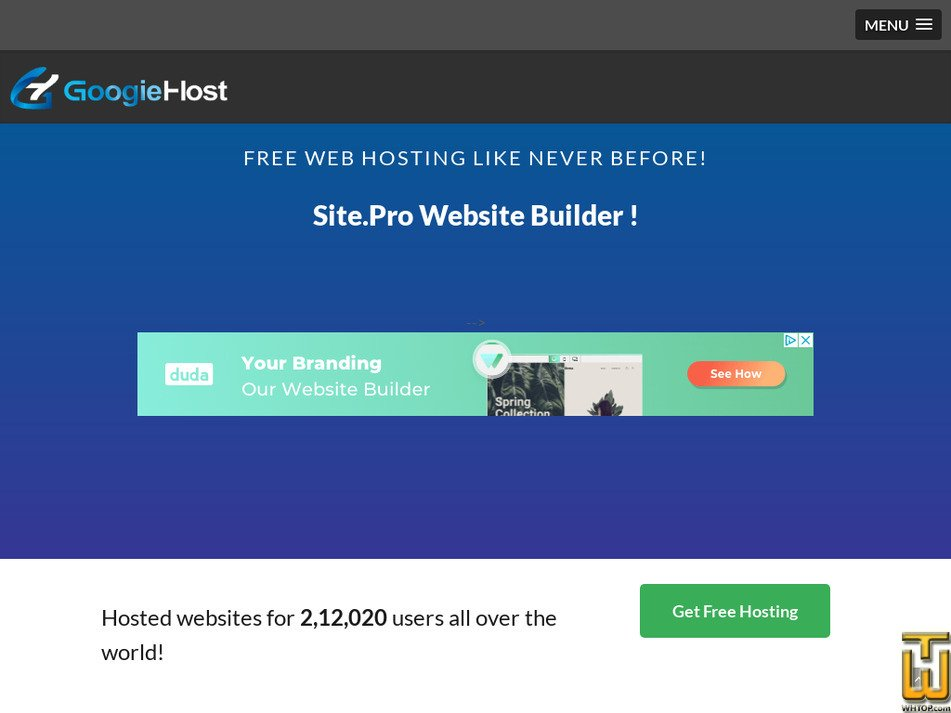 Googiehost can be easily mistaken for Google host—more like a clickbait—but they are two different web hosting providers. This web host is not popular but has been around for over 8 years and passes as a better catch in a sea of not-so-great free web host options.
Presently, the web hosting provider claims to have a user base of over 212,000 users around the globe.
This web hosting provider doesn't strike you as a top brand in the web hosting industry. It is hilarious that you get to see silly grammatical mistakes on the site like 'Powerfull, Trsusted, Lastest', among others. There are also cases of security issues as Chrome seems to identify the website as insecure with the "your connection is not private" popping up anything you try to access the cPanel.
On the bright side, this web hosting provider is the only web hosting site that offers their free user Cloudflare and cPanel features. Also, they don't force ads on their user's sites but show occasional ones on their site.
Their free plan comes with 2 MySQL databases, 2 FTP accounts, 2 email accounts, unlimited subdomains, 1GB disk space, and more.
Apart from their inability to project trust and concerning security problems, Googiehost offers decent free web hosting services. There is an option to upgrade to a paid plan after you have out-grown the free plan.
5. Awardspace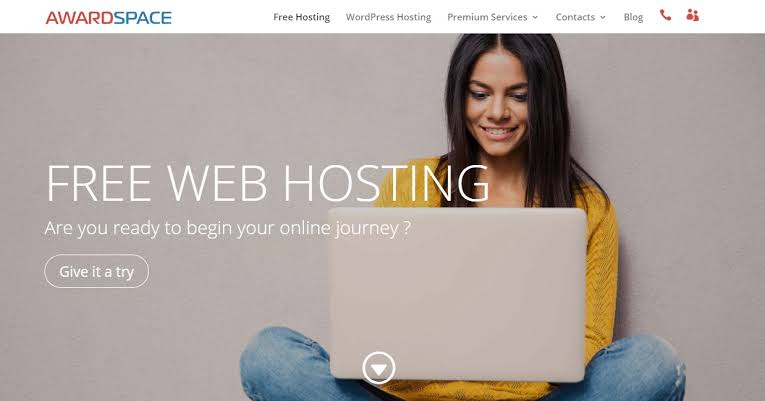 Awardspace has been in the web hosting business for quite some time. Since its inception in 2004, the web hosting provider has managed to compete with big names in the industry and survive up till now. They are very innovative with the services and always strive to improve. Their recent update featured a complete redesign of their website and streamlining of their services.
The web hosting provider is big on features and security and offers spam protections, 1 MySQL Database, ad-free hosting, auto installer (Joomla, WordPress, etc.), free website builder, advanced control panel, 1GB disk space, 5GB bandwidth, and many more.
There is no guaranteed uptime available for the free version, this is only available on their paid plans. They claim to offer 99.9% for the paid version which the free version won't be far behind this. They also offer a no-questions-asked 30-day money-back guarantee for unsatisfied clients—confident in the services.
If you ever feel the need to upgrade to a paid plan, there are three plans for you to choose from. Their cheapest plan starts at $5.20/month and can go as high as $10.30/month.
Awardspace is incredibly cheap for the first-time subscriber with an amazing 98% discount, this slashes the price down to as low as 9 cents/month.
6. InfinityFree.net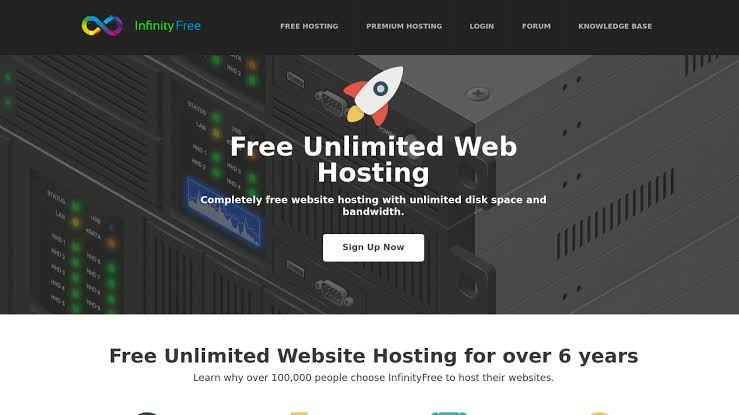 The phrase "free" wasn't added to InfinityFree just for the show. Web hosting makes an effort to render as many hosting services as it can provide for $0. Their website design and content relay trust and confidence. Although the upload speed of the free version isn't great, the general service offered by this hosting provider is amazing.
This web hosting company has been around for quite a while now and boasts of a user base of over 350,000.
InfinityFree is very generous when it comes to bandwidth and disk space which is unmetered plus an amazing 50,000 daily traffic. They claim to offer an uptime guarantee of 99.9%. You also get one FTP, up to 10 email accounts, and unlimited domains.
Some amazing features include a Softaculous Script installer, 400 MySQL databases, free Cloudflare CDN, SSL, and DNS service.
There is also an option to upgrade to their paid plan for a low price—not the cheapest though. Their paid plan comes with unlimited of everything and starts at $6.90/month. You get additional features like Railgun when you subscribe to a paid plan.
7. FreeHostingNoAds
With FreeHostingNoAds, you get exactly what you see on the wrap—free web hosting services with no ads. This free web hosting provider was created by an existing web hosting company, Runhosting, popular for providing unlimited traffic and disk space for a cheap price of $2.49/month.
Like every other free web hosting provides, there are some limitations in terms of disk space, bandwidth, and several domains. There also seems to be a similarity in features offered and dashboard between FreeHostingNoAds, Batcave, and FreeHosting EU.
Some of the features available for free include an SSL certificate, Zacky Tools Installer (Control Panel and One-Click Install for Joomla, WordPress, and Grav).
The web hosting provider is completely free. If you want to access the benefits and features that come with a paid web host, there is an option to migrate to their parent company Runhosting.
8. 000Webhost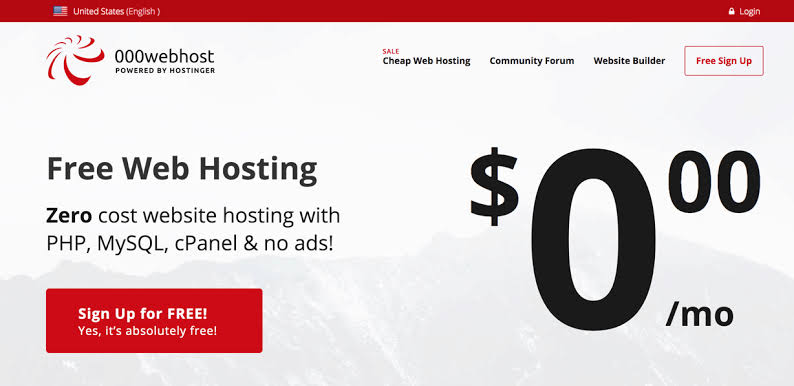 000Webhost is a Hostinger-owned free website hosting provider which has been around for over a decade now. At a time, this web hosting provider boasts of a massive userbase that numbers in millions which changed after a successful hack on their entire database resulting in over 13 million accounts being compromised. There has been a lot of upgrades to the security but a lot of the past users are skeptical about using the web hosting provider.
Some of the features that come with free web hosting include 300MB disk space, 3GB bandwidth, a WordPress auto-installer, ad-free hosting, a website builder, cPanel, PHP, MySQL database, and many more.
The major drawback of the web hosting provider is that it does not offer support via tickets, email accounts, subdomains, and SSL certificates. There is also the issue of the compulsory one-hour sleep time per day which means you or your visitor won't be able to access your website during this period.
As expected, 000Webhost is created in such a way that you will need to upgrade to their parent web hosting provider—Hostinger.
An upgrade to Hostinger starts at $7.19/month for their one-month plan and prices decrease depending on how much time you are willing to commit with the web hosting provider.
9. FreeHostia.com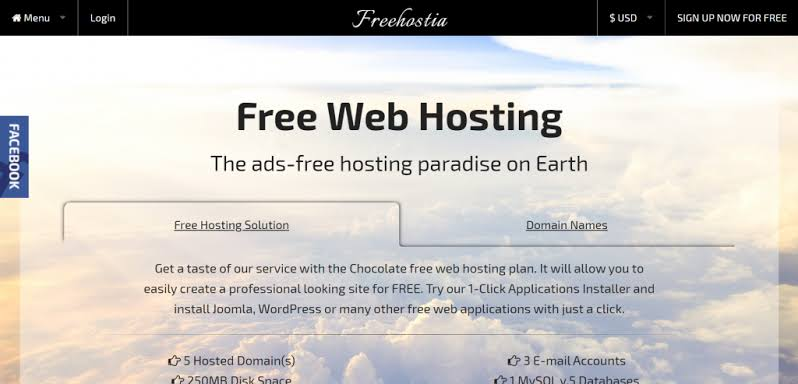 FreeHostia is a large-sized web hosting company that has been in business for over ten years and prides itself on its load-balanced cluster technology. This big web hosting provider offers different types of hosting services including dedicated servers. Unfortunately, they only have data centers in one location—Chicago.
The web hosting claims to offer an uptime of 99.9% for its free version which indicates the paid version would be better.
With FreeHostia, you get a cPanel control panel, ad-free hosting, Auto-Installer (Joomla, WordPress, etc), 6GB bandwidth, 250MB disk space, free website templates, among others.
There is an option to upgrade to FreeHostia's paid version which is between $14/month and $65/month.
10. FreeHosting.com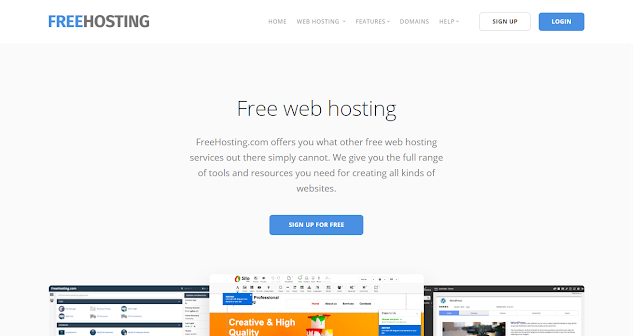 This web hosting provider has the word "Free" written all over it but the features available are limited. A glance at the features they offer on their website can be misleading as the long list is just a compilation of both the features available in their free and paid plan.
Some of the features FreeHosting offers include unlimited bandwidth, 10GB disk space, cPanel control panel, 1 MySQL Database, ad-free web hosting, Auto-Installer (Joomla, WordPress, etc), a free website builder, and more.
One red flag we pulled from this free hosting site is that they do not indicate any form of guaranteed uptime, this can be concerning.
Their pricing model is pretty simple while straightforward with only two options—free and paid. You can get the paid version for $7.99/month which comes with unlimited of everything.
11. Byet Host
Saving the best for the last! Byet Host is purportedly the most fastest free web host in the world. This web hosting brand is a subdivision of Byet Internet, a web hosting company that also offers reseller and domain name services. They claim to have hosted an impressive 1 million+ websites around the globe.
Features available at the free level include VistaPanel control panel, 50GB bandwidth/month, 1GB disk space, 24/7 customer support, access to their knowledge base and community, and many more.
When it comes to features and customer support, Byet Host is the most generous to free users. But what's the catch? To have access to more advanced features, free domains, SSD, and cPanel control panel, you'll have to upgrade to their paid plan which ranges from $4.99/month to $7.99/month.
Conclusion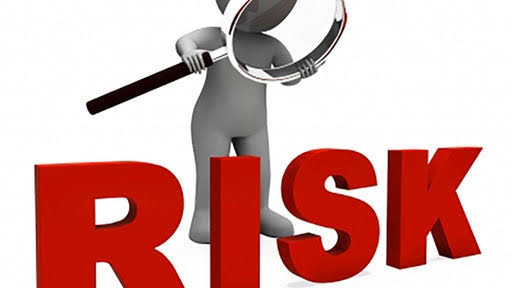 Be warned! Using a free hosting site has its disadvantages and risk, but there is always an option to upgrade to a paid version with these web hosting providers. Also, you should know that most of this so-called "free website hosting site" offers below-standard hosting service which doesn't cut it if you want to make the most of your website.
Some of the limitations that come with free web hosting include limited features, low uptime guarantees, traffic, site speed, server space, among others.
The reason most free web hosting sites are riddled with many limitations is that they were created as a strategy to upsell their paid version.
If you are looking for a better experience, functionality, or support, you should consider some alternative options that provide decent services for cheap price tags.