Last updated May. 24, 2023 by Charles Zemub
15 best audio editing software ( Best Audio Editing Software for podcasts)
Sometimes you will get the perfect audio for whatever needs you have, but just a "pinch" of background noise or some unwanted elements ruins it. In this instance, audio editing is necessary to get the best sound quality.
Even though you got the right information regarding that audio, editing your audio is the perfect solution to getting great, quality audio that will come out well. However, if you lack the necessary tools to do that, all your efforts and intended results may be in ruins.
Knowing and understanding what audio editing software is and the right one to use at the time will help achieve a very good sound quality for your audio file. This leads us to what audio editing is and all it entails.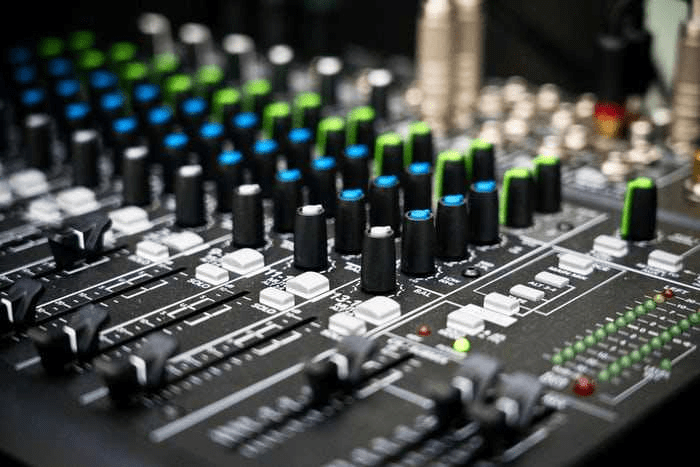 A very crucial process in producing music is audio editing.
It relates to the DAW (Digital Audio Workstation) undertakings that you must execute in audio documents before they are available for blending.
Regardless, it can be exhausting if you are a novice to audio editing. Most DAWs need time to understand the tips and tricks required to be an editing expert.
However, you do not need to struggle that much with it.
Audio Editing For Beginners?
The manipulation of captured audio files in a musical arrangement, film score, or broadcast is known as audio editing. Engineers used to cut and splice analog tape manually, but nowadays, most of the audio editing is done in DAW software.
The following are the most crucial tasks of audio editing:
• Changing the way audio clips show in the timeline
• Removing every pollution and flaws
• Choosing various takes to improve a musical performance
• Slicing individual clips to manipulate audio
Audio Editing Software
Audio editing software gives users the right to edit, make and create audio files. Audio editors and engineers use these tools to mix, add or delete audio segments.
Editing and rearranging audio areas, recording, and generating new audio elements are also made possible with these tools.
Audio editing software may also include effects for modifying the sound of audio files in various ways. Generally, audio editing software complies with multiple file types, including WAVE, MP3s, MPEG-4, Windows Media, FLAC, and many more.
Audio engineers and music producers often use software for audio editing – editors, sound designers, and mixers for use in films, music, and even television shows. Also, it is often in conjunction with video editing software and a video production crew.
If you are a beginner in audio editing, there is also much software for music-making that serves as solutions for editing audio. Any product that must qualify to be included in the audio category must do the following:
• Give users the right to upload and record audio files
• Provide the necessary tools for clipping, manipulating, and even arranging audio
• Allow users to save and export their completed files in one or more of the file type
So here are the 15 best audio editing software you can check out, with their popular features. The list also contains free and paid(commercial) software
1. Adobe Audition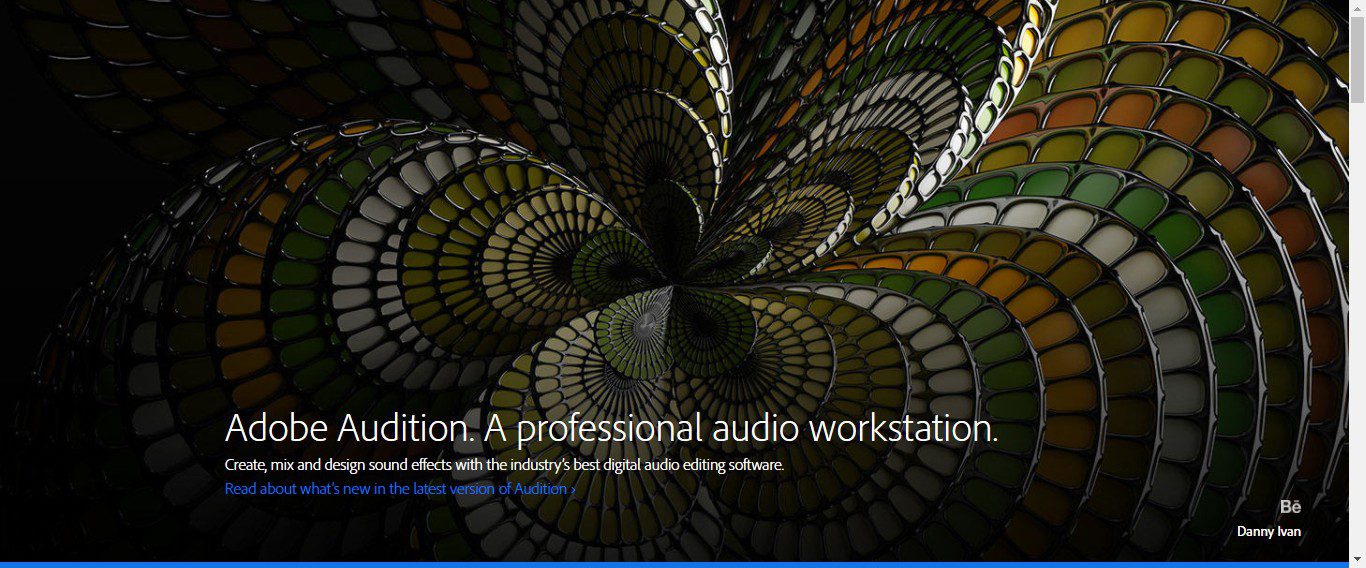 Adobe Audition is among the best audio editing programs available and one of the most widely used in the market.
It enables you to customize the design to your specific workflow. In addition, this program includes the latest and most important resources for editing and finishing every audio project.
Adobe Audition is a complete multitrack recording device, mixer, and multitrack digital audio clip editor used in Windows OS with many features.
When this software is combined with a Windows sound system, the user can access a fully functional digital music studio for experimentation.
Adobe Audition is among the few programs allowing multiple sources to be recorded in different tracks simultaneously. This aids the postproduction tasks like editing and the processing of effects. It also comes with good recovery software that simplifies fixing old or damaged recordings.
Adobe Audition is available for $20.99 a month. You can pay a weekly, annual, or multi-year fee to use the software.
It also comes with an Adobe Cloud subscription, particularly useful for editing videos or photos. In addition, discounts are available for teachers and students and organizations that require several licenses.
Sound Quality: Adobe Audition software produces high-quality audio, particularly using MATLAB codes. It's also good for making music because it looks different from a Garageband.
Features
• Allows for recording, editing, and integrating music clips with ease
• Enables the user to integrate music clips within the audio recording to sound professional
• Allows for mixing audio content for the podcast
• Audio breaks can be repaired with a touch of perfection
• Exports and imports multiple audio formats
• It enables you to get the best oomph effect to your audio
Pros
° It has strong tools for restoring sound quality
° Suppresses noise and reduces noise
° Powerful editor with stereo waveform
° Useful visual image instrument
° Follows audio and video standards for television and film broadcast
° Impressive UI
Cons
° Only accessible and available via subscription
° Doesn't allow CD burning
° MIDI support not available
° Not a good fit for people looking to produce standard music
° Too many features for starters to easily comprehend and make use of
Operating System: Windows and macOS
What plugins does AdobeAudition support?
Audio plugins in VST 2.4, VST 3.0, and Audio units for macOS are supported by Adobe Audition.
The ease with which it can be used
This program is neither the most complicated nor the most user-friendly. It's designed to be used in a professional environment. A free trial is available here
2. Audacity
Audacity is a software package for editing music that is free on both Windows and Mac OS. It is widely acknowledged as the most common audio editor for Windows. The User Interface (UI) isn't very attractive, but it ensures that you find it easy to edit software. Also, its silky nature will speed up the workflow.
Audacity will show you some simple editing functionalities for free if you're having trouble editing podcasting apps. It's a fantastic place to start.
This program includes a wide range of add-ons plus editing effects, all conveniently accessible from the main menu.
Even though the controls seem to be as old as the user interface, they are easy to understand. Some of it even has pre-orders available to get you on track.
A tool for noise reduction is also available. This software includes controls for downscaling and sensitivity, which aid in manually removing noise.
In addition, before making any changes that may be destructive to your audio file, you can use the preview feature to double-check your changes.
Features
• Can be manipulated using a keyboard
• Provides actual-time preview that shows sound effects
• Allows visualization of the selected frequency
What type of plugin does this software support?
Adobe Audacity is an excellent software that allows the usage of VST plugins.
Sound Quality
Audacity can be used to make a shot, remove noise, cut and mix clips, add special effects, and produce a professional-looking video.
Pros
• It is a completely free software
• The audio editing is quite advanced
• Supports many audio file formats
• Has multiple effects
• Supports VST plugin
• Pro-friendly with every other available feature
• Online community help
Cons
• Some inconsistent design tools
• Outdated interface
• Random crashes on Mac, sometimes
• Multitrack support for audio is extremely basic
Audacity software is also easy to use, and is good for beginners because it is easily accessible.
Operating system: macOS, Windows, and Linux
3. Logic Pro X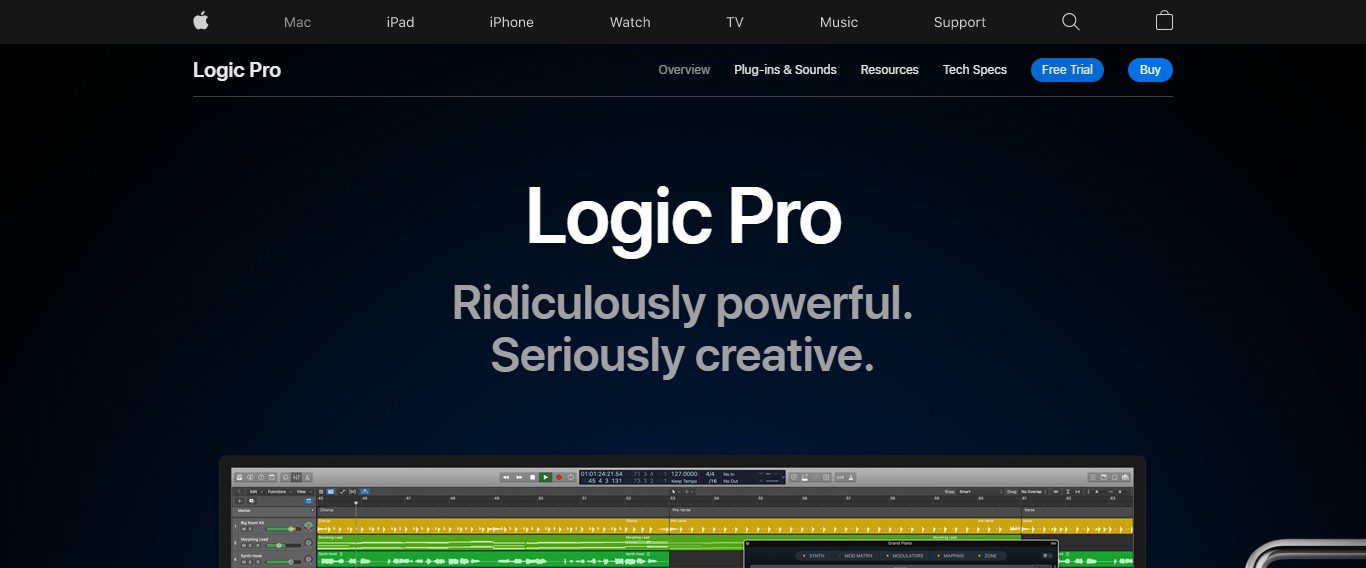 Logic Pro X is an Apple product. It is Apple's DAW for systems that run macOS.
It has some great features, making it a great audio editing software for professional and beginning editors. Every basic part available in Logic Pro X is all that will be needed in audio editing software.
It is accompanied by advanced features such as automatically pairing the duration of various tracks in an audio project using Smart Tempo.
It also lets you edit the duration of a single note in a waveform individually using Flex Time without subjecting yourself to the stress of cutting it off the clip itself. This editing software supports audio file formats such as AIFF, PCM, ALAC, CAF,2AV, MP3, RCY, AAC, and others.
If you're a budding audio editor looking to produce beautiful tracks, this software can assist you in learning the basics of audio editing. You'll be ushered into a world where even the most basic beats can become beautiful. You'll find that some of the studio effects will turn a simple song into a major hit.
Features
° Plugin organizer
° Region-based automation
° Real-Time fades
° Electronic Drum manipulation interface
Pros
• Rich and variety of plugins available
• Lots of tutorials available
• Control over a single note
• Awesome array of bundled tools and effects
• No copy protection
• Runs smoothly on Mac
• Excellent value
Cons
• Mixer could use larger faders and meters
• Quite costly
• Can be overwhelming
• Works only on Mac
• No fast clip gain style audio editing
Operating system: macOS only
Price: $199.99
4. Ableton Live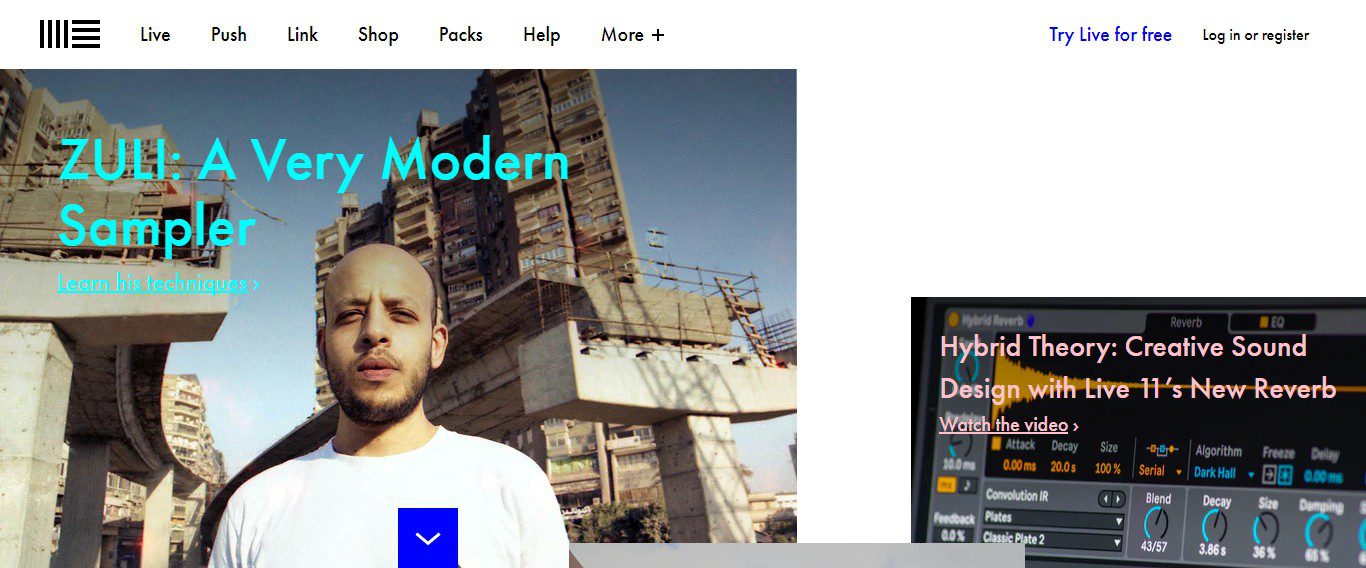 Ableton Live comes with an incredible plethora of features. For beginners, Ableton Live supports limitless audio tracks and MIDI, making it possible for an editor to add as many layers of ways into his audio project.
In addition, you also get up to 70GB of prerecorded sounds you can use in any of your projects, up to 15 software instruments, and 46 audio effects.
The features available on Ableton Live are not commonplace in most other audio editing software. This audio editing software supports almost every audio file format, including AIFF, FLAC, WAV, MP3, etc
Pros
• Fully feature-packed
• Supports limitless tracks
• A leading brand in the electronic production
• Huge library of prerecorded sounds you can use anytime
• Fast navigation
• Powerful automation
Cons
• Tasks like adding fades are more difficult on this software
• UI quite below when compared to others
• Some basic features not available, e.g., pitch correction.
• `No tracking comping
• Notation viewing is not available
Operating system: Windows and macOS
Price: A month free trial, pricing starts at $99.
5. FL Studio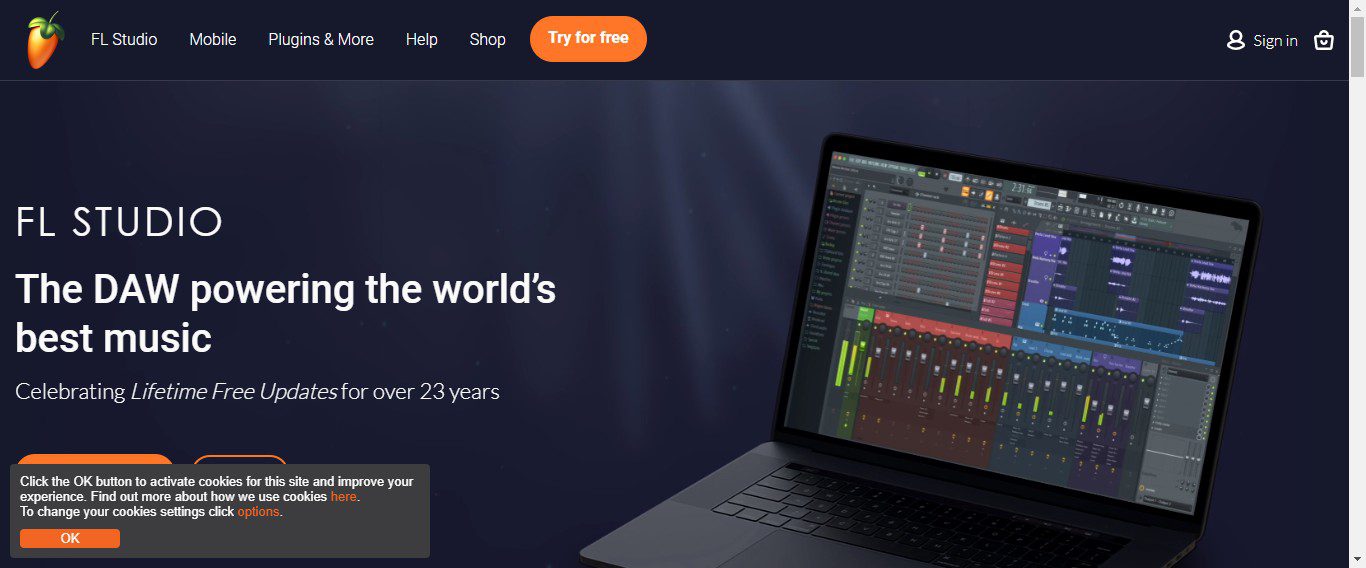 FL Studio Is a top-notch software for editing audio files. It supports multitrack recording, pitch shifting, and time stretching. This audio editing software includes a mixer that offers features such as automation, effects chains, delay compensation, etc.
Also, this software has over 80 plugins available for users, including those for compression, synthesis sample manipulation, and other additions.
FL Studio supports VST standards, and there are also many tools in it that you can use f in your track. In addition, it supports the following file formats: MID, DWP, DS, WAV, FLAC, MP3, SYN, AIFF, etc.
You can take lessons here if you're unsure how to use this software. The resources on the site will certainly point you in the right direction, and you'll soon be perfecting the craft.
Features
° More than 80 plugins
° It enables you to render 4k videos
° User interface can be resized
Pros
• Awesome for music production and not just for editing audio only
• Supports VST, thereby making it possible to use any 3rd party plugin
• Packed with features
Cons
• Intimidating to start with
• Not having the best UI
• Lacks notation editor
Operating system: Windows and macOS
Price: Free trial available. The license starts at $99
6. Studio One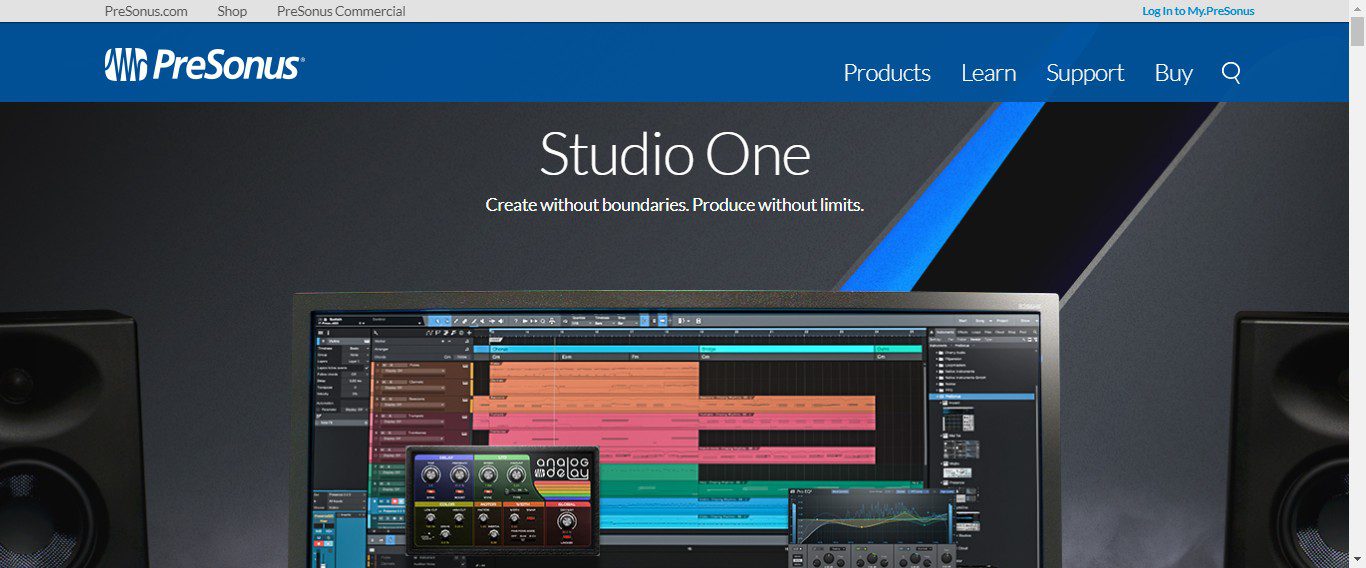 Studio One is a cool and versatile DAW that comes with useful features. For example, this software supports multiple tracks, and with the Studio One chord track feature, making a quick prototype of songs is easy.
The chord tracks have features like chord substitution, key modulation, and others, making it easy to prototype.
Studio One can identify the chords from your available audio track, which enables you to even drag a section of the track to the chord track for reference purposes.
Furthermore, this studio editing software comes with a brand new impact XT drum module. It brings over 20 new functionalities like quantization of beat and stretching of real-time, thereby permitting you to add creativity to your song with beautiful moments and loops.
Features
° Supports MIDI
° Provides printable notations
° Reduces repeated tasks of creating music
Pros
• Many features to keep track of
• Capable of automatically identifying chords from your music
• Plugin scanner available to ensure safe operation
• Great free version
• Quick workflow for music composition and recording of audio
Cons
• Not meant for starters
• Cluttered interface
• Hard to save track templates
Operating system: Windows and macOS
Price: Free version available. Pricing starts at $99. Check out the prices here
7. Sound Forge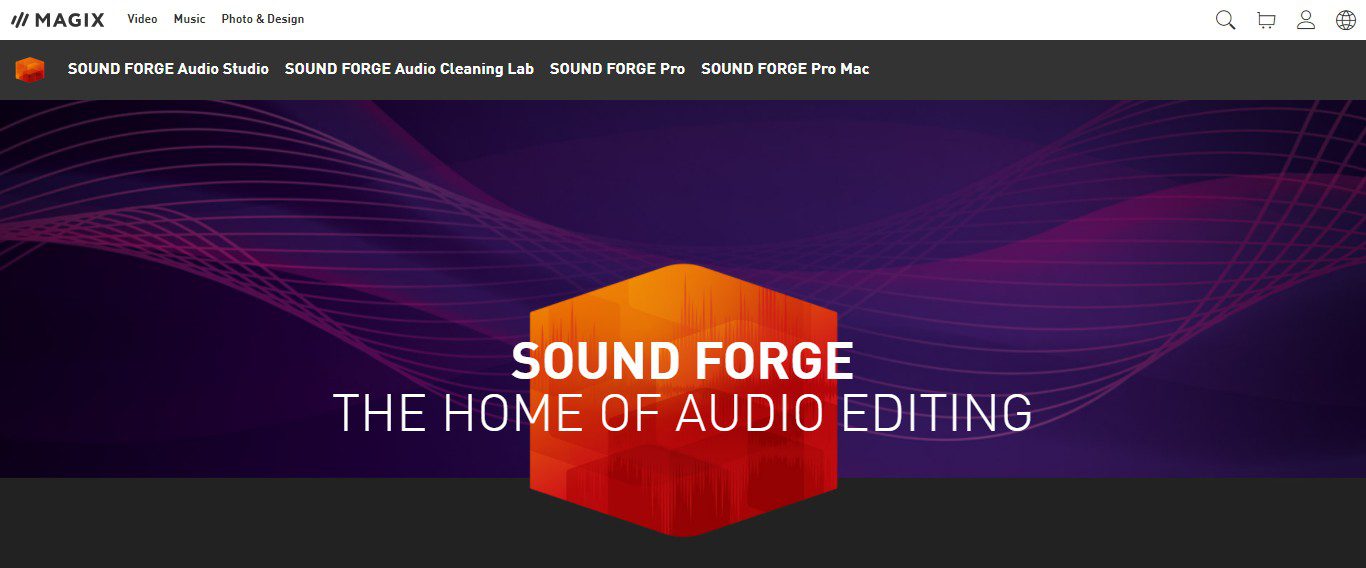 Sound Forge is audio editing software that offers powerful high-end tools for professionals though beginners and enthusiasts will still find it easy to use.
There are a lot of versions of Sound Forge software currently available. The first on the list is Sound Forge 14, while the other is Sound Forge Audio Studio 15. Another one that is available is the Sound Forge Pro Suite, which comes with more whistles and bells.
This software is a well-known audio editor. It provides audio editing, recording, audio mastering, and processing.
Professionals have the Pro/Pro Suite designed for them, and this offers multitrack or multichannel recording, Disc Description Protocol/export, and voice activity detection using AI(Artificial Intelligence).
At the same time, the Audio Studio is targeted at enthusiasts and offers tools to record, edit, restore, and even master songs and audio files with awesome professional effects.
The Sound Forge Pro permits users to record, restore and edit their audio material in ultra-high quality. It also comes with many pro-level tools, advanced editing functions, and high-end plugins to make masters for broadcast, CD, or streaming in the ultimate ne plus ultra.
It supports file formats such as DSF(DSD), AVI, WMV, MPEG-1, AA3/OMA(ATRAC), etc.
Pros
• Great list of features for professional audio editors and fully customizable
• An intuitive user interface
Cons
• Product versions are usually expensive
• Relatively hard for newbies to understand
Operating system: Windows and Mac
Price: $59.99 for Audio Studio, $249 for Sound Forge Pro, and $349 for Sound Forge Pro Suite. Click to start editing!
Good Read:43 best video editing software (edit videos quickly)
8. Reaper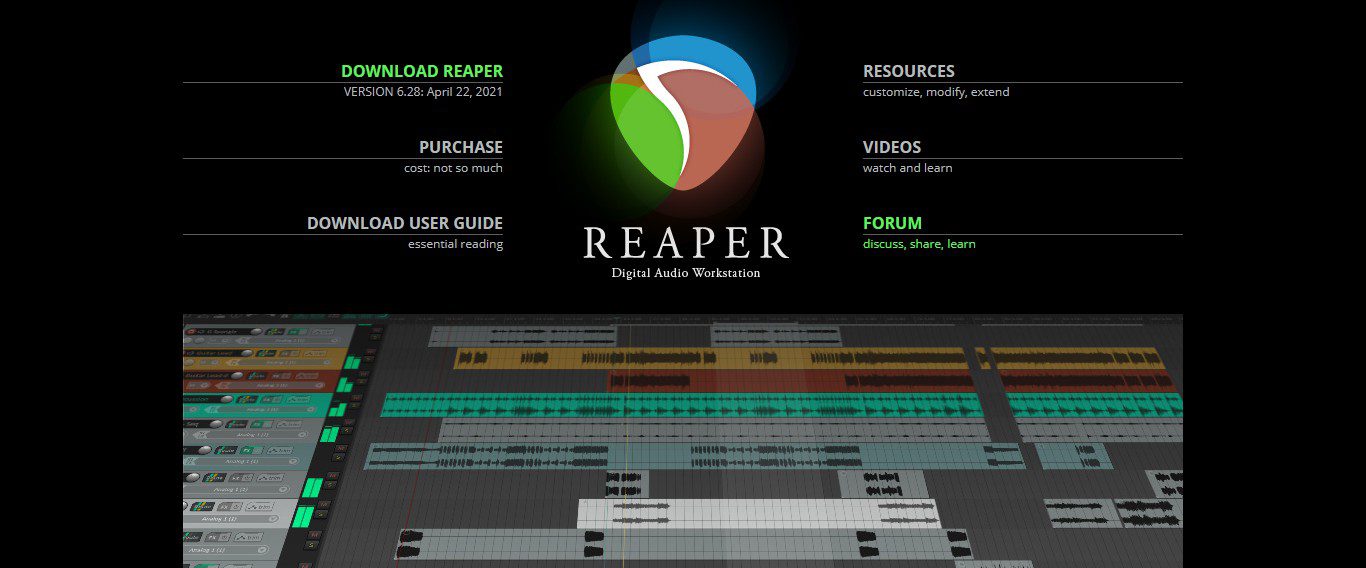 Reaper is another audio editing software embedded with rich features while being comparatively less expensive than some of the other options on the list.
Reaper has support for multiple tracks and amazing multichannel support, with 64 channels in each of the ways. This is available for beginners.
With this software, you can directly record audio to mono, stereo, or even multichannel audio files. Also, it allows you to record many disks simultaneously for data redundancy.
This software allows users to apply audio effects in a real-time, nondestructive way and insert almost any MIDI or third-party plugin.
ACID, CDDA, MOV, MP3, WMV, SYX, OGG, AVI, and FLAC are some of the file formats Reaper supports. Also, the interface of this software can be completely customized to appeal to your fancy.
A lot of users have been enamored with this software. It is also affordable
Features
• Allows recording of audio in any format
• Ability to copy or move regions
• Reaper supports over 64 routable channels
• Tempo can be handled without any hassle
• Application of effects in real-time
Pros
• Rich features
• Less expensive
• Comprehensive tutorials
• Fast
• Extremely light memory footprint
Cons
• Uninviting interface
• Not targeted at beginners
• No built-in instruments
Operating system: Windows, macOS, and Linux
Price: Free trial is available; the license starts at $60. Click to activate the free trial
9. WavePad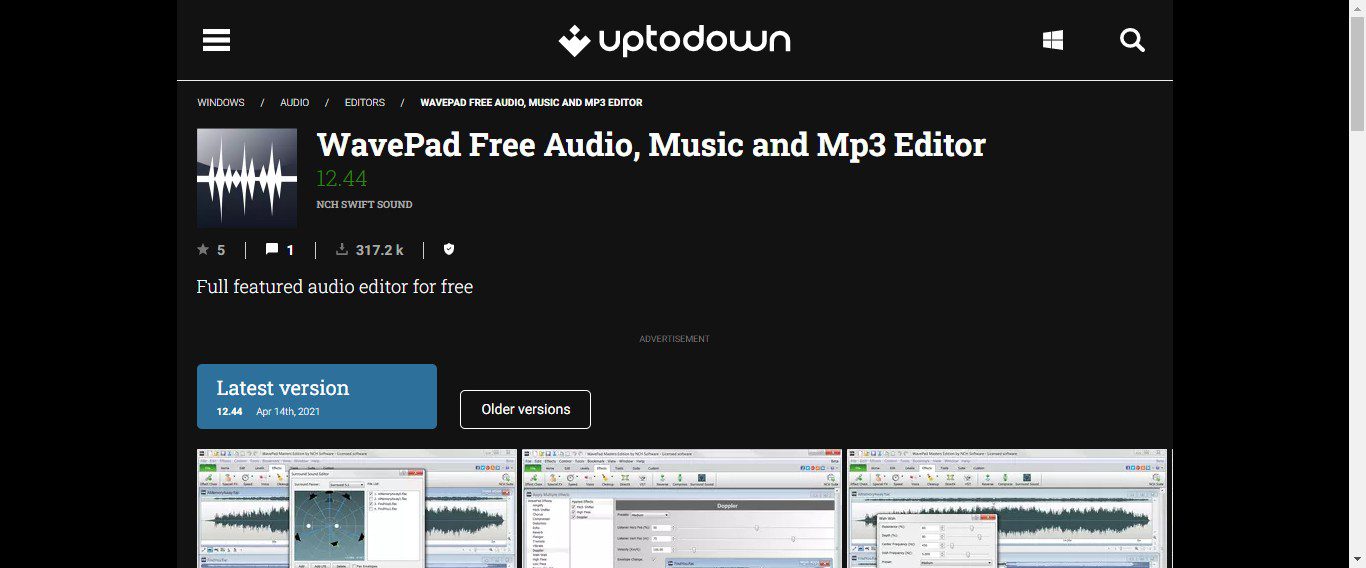 WavePad is a complete-featured professional audio and music software for Mac and Windows. This software has a highly intuitive interface that enables the user to use it without stress and is arguably one of the choice audio editors for amateurs and enthusiasts.
The program permits you to do audio recordings and editing and also lets you cut, copy and paste different parts of your audio recordings. With this software, You can also add effects like noise reduction, amplification, and echo.
WavePad is often used as an MP3 editor or a WAV but we should also be aware that it also supports different file formats including real audio, FLAC, WMA, VOX, etc.
The software is available for free users who are not editing for commercial purposes and coupled with the fact that the full version has almost all the features.
WavePad editing cool includes cut, copy, paste, silence, insert, delete, pitch shifting, audio trim, etc. However, the audio effects include normalizing, amplifying, reverb, echo, equalizer, and others.
WavePad Audio editing software also has advanced editing tools like Spectral analysis(FFT), voice changer, and speech synthesis ( text-to-speech). WavePad supports almost all audio and music files and includes,ng FLAC, MP3, AAC, GSM, AU, WMA, AMR, etc.
Features
• Easy to load files
• Compress audio files without hassle
• Export and share audio with others
Pros
• Available trial version has a wide range of functionalities and features
• Easy to use for amateurs and beginners
• Affordable full-featured software for professionals
Cons
• Mac software is not highly optimized like its Windows version
• No cutting-edge features
Operating system: Windows, Mac, IOS, Android
Price: There's a free version. Standard Edition costs $29.99,, while Master's Edition is priced at $49.99
10. Ashampoo Music Studio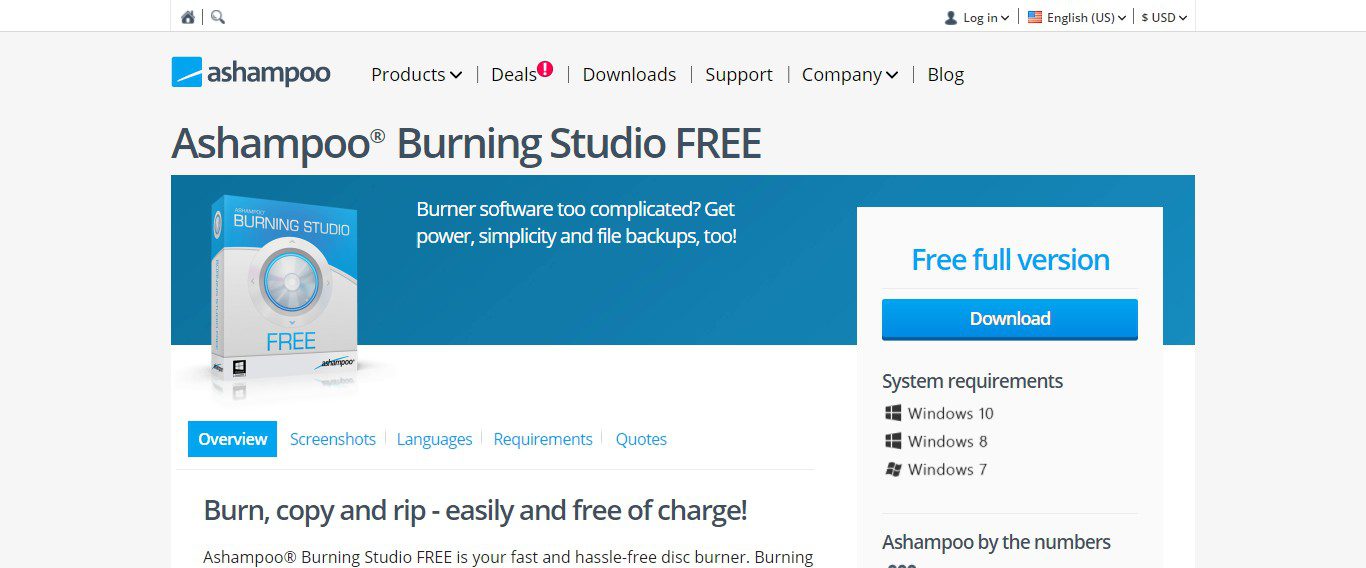 This software is a full-fledged multimedia system that is higher than an average audio editor. Ashampoo Music Studio is a software application developed specifically for music audio editing and voice editing software. It comes with several extra resources for reading and even handling all of your tracks.
You can also use this audio editing software to make playlists by importing individual tracks or a complete folder and extracting videos from audio.
In addition, users can edit metadata tags, convert popular formats, and check for missing or corrupted metadata in files with Ashampoo Music Studio.
Whether it's your track or someone else's, this software will let you do it all and have complete control. The best part is that some of the features are designed to be so simple that anyone with a basic understanding of audio editing can use them.
Features
• Comes with tools for media management
• Allows mixing and splitting of sound
• Well-designed and not difficult to use
• Allows editing of metadata
• Supports volume adjustment
Pros
• It can be utilized for different purposes. For example, users can extract audio files from audio CDs to the computer or audio device.
• Ability to burn your music to discs.
Cons
• Due to the graphics of this software interface, it requires lots of CPU resources and memory.
• Only for Windows
• Paid software
Sound Quality: After conversion, the audio outputs have quality sound
Ease of use: The software is not difficult to navigate
Can the software support VST plugins?
This software is compatible with Vista, Windows XP, and 7 OS and can also run on 32 and 64-bit systems. Install Now!
11. Avid Pro Tools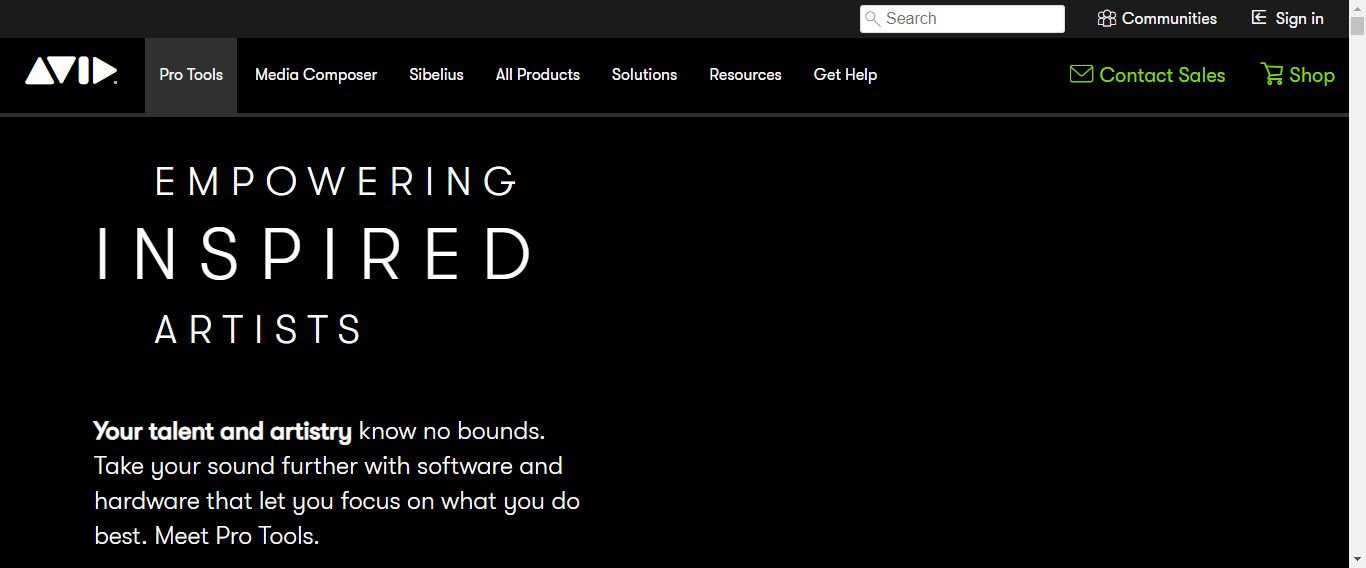 Avid Pro Tools is both feature-packed and intuitive. In all probability,, the software has the neatest audio editing interface that can blend into any workflow comfortably because of its strong 64-bit recording and mixing technology; it's also good at increasing editing efficiency.
Pro Tools effectively manages wide sessions by allowing users to group files inside folders and color code objects, making navigation relatively simple.
Pro Tools contains a unique virtual instrument for making incredible sounds, the UVI Falcon 2. It also has a huge library of more than 750 voice audio tracks, making it less difficult to produce awesome mixies and allowing you to find enthusiastic artists' music and cooperate with them.
This audio editing software has 3 variants: First (opensource), ultimate,, and standard. The trial version is for starters, while the top variant is just for professionals. It supports different audio formats,, including SI, MP3, M4a, SD2, etc.
Features
• Offers cloud collaboration
• Editable MIDI
• More than 23 plugins
• Supports effects like mute and solo
• Nondestructive editing
Pros
• Fast recording and mixing engine
• Highly proficient virtual instrument
• More than 750 audio voice tracks
• Collapsible folders
• Clear audio editing workflow
• Robust and useful track freeze and commit options
Cons
• No inbuilt pitch correction
• Does not feature instrument track presets
• Lacks AU or VST plugin support
• Monthly fee required for new software patches past one year
Operating system: Windows and macOS
Price: Free version, the Standard version is available for a $29.99 yearly subscription (monthly payment is acceptable), and the ultimate performance is a $79.99 annual subscription (monthly payment is good). Try it now
12. Ocenaudio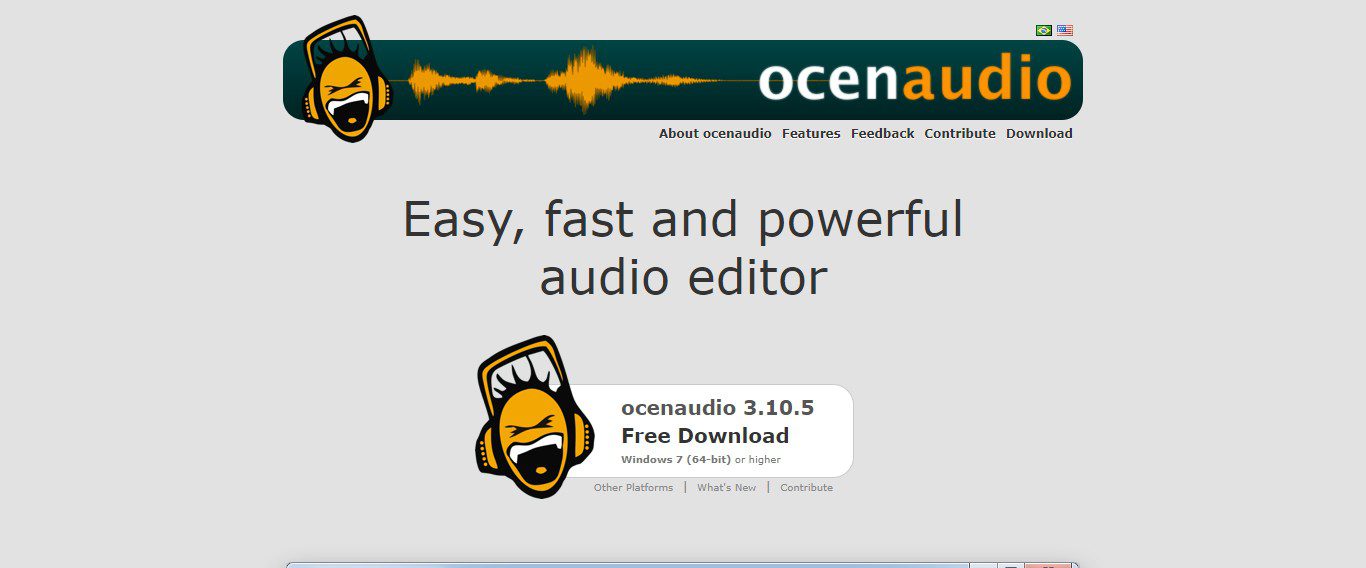 Ocenaudio is another strong but simple and easier-to-manage audio editor. This software is found on various platforms like Mac, Linux, and Windows. Although it doesn't have a variety of features, it is an awesome tool for daily audio editing.
Ocenaudio's's real-time effects enable you to work faster by allowing you to work with locally saved and open io line files. Besides, the unusual editor interface is simple to work with.
This software can come in handy if you want to make money by recording soundtracks. You can begin by editing some simple audio and then distributing them as samples. Money will start flowing if you master the painting, and artists will become addicted to your workshop.
Features
• Wide selection of filters.
• Clear interface
• Absence of stacking effects
It offers a nice range of effects with other available accessories. For example, it enables you to move your work to your iPhone as ringtones.
Pro
• Great choice of filters
• Useful files
• Crystal clear interface
• Free to use
• Allows users to compress parts of a track.
• Easy to learn and use
Cons
• It does support effect strings
• Lack of open source
• Doesn't allow multiple tracks of complicated files to be edited
• No rich features
• It is destructive
Operating system: Mac, Windows, and Linux
Sound Quality: The audio editor is free for amateur musicians and podcasters.
Easy to use
Taking and editing audio readings with this software is pretty easy.
Price: Get it for free here
13. Acoustica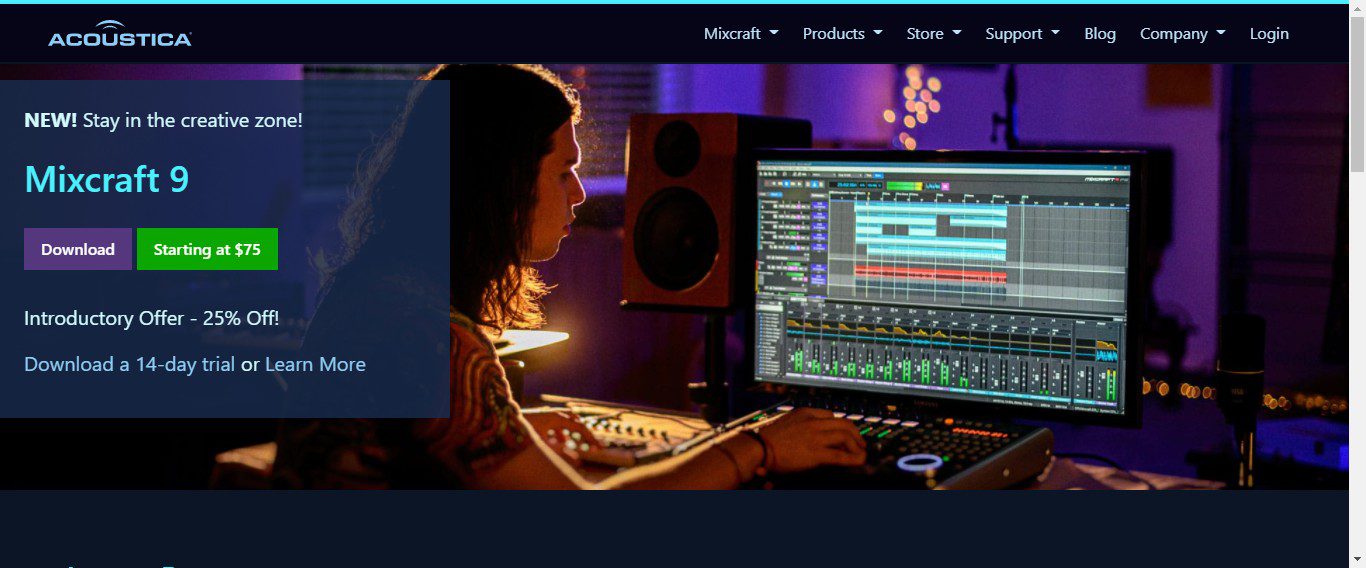 This is an innovative free audio editing software used for complicated tasks. Acoustica is another great audio editor with features comparable to Audacity, and Acon Digital produces it. Unfortunately, this audio editing software is a premium subscription product, with no trial version of the latest – Acoustica 7.
Nevertheless, you can install the older versions like Acoustica 6 if you want a free version. The feature of this software can be expanded by initiating VST or Direct plugins,, and it gives you access to varieties of new sound effects that can assist in blending your tracks to produce the desired results.
Acoustica has an "Effect Chain" area where the user can layer up several audio filters and apply the mix to many tracks. The software can give your audio file an excellent sound quality.
People value good audio, especially when it comes to music. Constant usage of this software will help sell your podcasts and audio recordings.
Features
• Supports unlimited tracks for editing
• Recording of MIDI available
Pros
• Well-designed interface
• Easy to move
• Effect overlay
• Nondestructive checks
Cons
• The free version of this editor is no longer being developed
Operating system: Windows.
Windows and macOS for the standard edition.
Price: £49.99 – £169.90 if you want the full version. Start your free trial today!
14. Garageband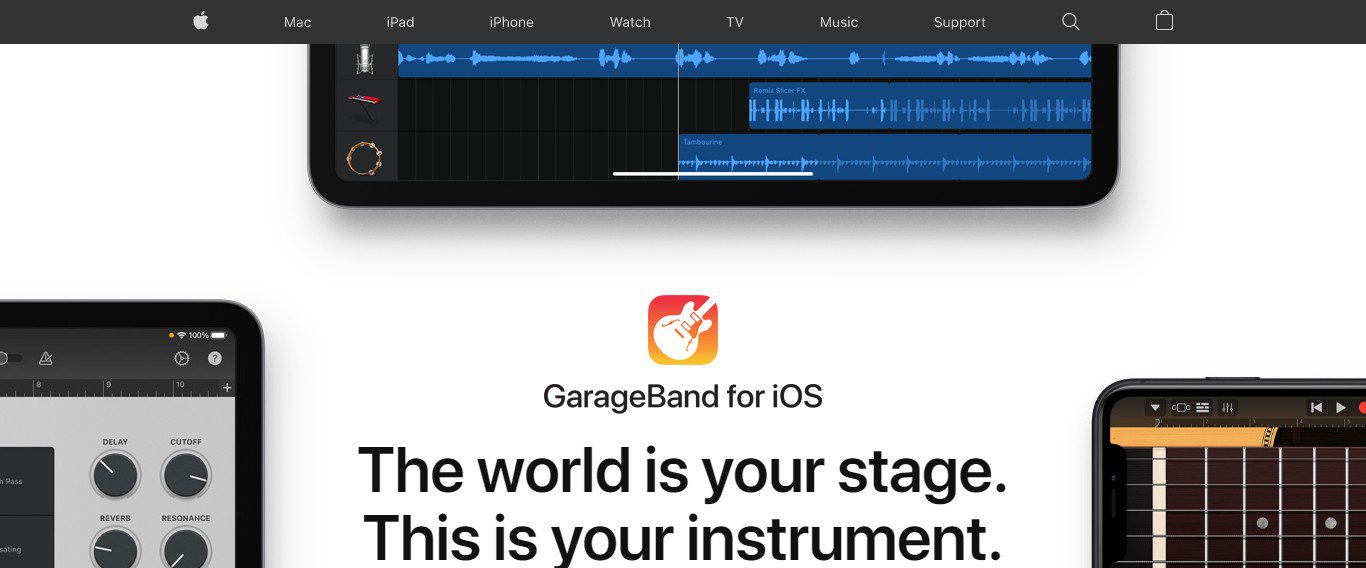 Garageband is a fully packaged music creation studio that comes with Mac. This audio editing software is carefully designed for total newbies but is also powerful to handle some major products. This software supports the following formats: AIFF, WAV, and MIDI. In addition, it can export songs to AAC, MP3, MP4, or AIFF format.
Features
• Audio recording
• Virtual software instruments
• Cultural features
• MIDI editing
. Music Lessons
Pros
• Easy to use
• Great audio result
• Supports 24-bit reading
• Professional interface
Cons
• Built mostly for music
• Lacks logic power
• Only for Mac users
Click to start
15. Magix Sequoia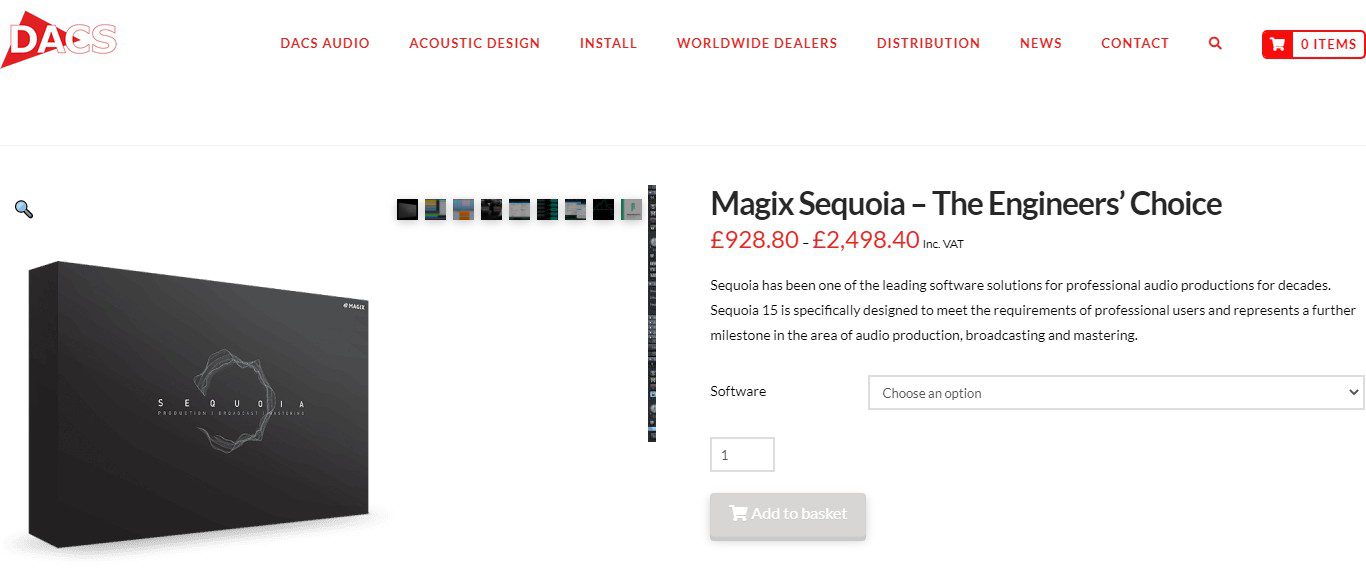 Magix Sequoia is a one-stop shop for high-end software. Thanks to its ability to excel in major aspects such as audio processing, transmission, and even mastering, this audio editing program has an advantage over many competitors.
In addition, the software has advanced source-target cuts and multiple synchronous cuts features, allowing you to merge multiple concert recordings into one easily.
On the broadcasting front, Magix Sequoia provides a direct connection to broadcast CMS and automation systems for a smoother experience.
The software's powerful engine allows you to edit files even while recording live, and it comes with a variety of tools like a powerful object editor, top-notch plugins, comprehensive phase, peak meters, and native audio restoration.
Regarding compatibility, it offers fully integrated AAF/OMF assistance, facilitating project exchange across all major programs and platforms.
Sequoia seems to be overpriced compared to other audio editors at $2975, but if you're looking for top-of-the-line equipment, this app won't disappoint you.
The best part about this software is that it simplifies setting up a studio. Unlike in the past, when complex devices had to be purchased, this software would be inexpensive to buy while also assisting you in producing even better audio recording performance.
Pros
• Sound audio engine
• Strong object editor
• Top-notch features for some destination cuts and synchronous cuts.
Cons
• A Steep learning curve
• Too expensive
• Some sluggishness, even on a fast PC
• Cluttered UI
Operating system: Windows
The price of MagixSeqouia starts at $928.0- $2,498.. Check it out right here.
Why should you edit your audio?
Modern manufacturing methods have progressed so that every song you hear appears to be a single case. Most of the tracks in professional productions have been painstakingly edited to fit together perfectly. A large part of the magic of a great-sounding track is audio editing.
While mixing and mastering is essential, you won't get a polished sound if you skip the crucial editing stage.
Editing tracks easily takes some practice. However, there are some time-saving tools you can use in your workflow. You can do this with the top ten audio editing tips for cleaner, quicker results in your tracks.
Tips For Audio Editing
1. Fades in batches
A critical task of audio editing is applying fades. Just the available audio you use in your combination should be used in the clip, so trim every area on your timeline.
Even if the end of a region appears to be nothing but space, careful listening reveals that these segments produce additional noise.
Trim them out and add fast (5-10 ms) fades to eliminate clicks and pops in the transition from silence. However, adding fades to each clip takes time in a busy session. Batch fades are helpful in this case.
To add fade-ins, outs, and crossfades to all of your clips at an equal duration, choose them all on your timeline and open your DAW's fade dialogue.
2. At the play head, split
For clean edits, it's critical to split regions into precise locations. Attention by ear is also the easiest way to determine where to trim. Only the available audio in your combination should be used in the clip, so trim every area on your timeline.
Mostly all DAWs enable you to make a modification right where the play head is. So give attention to the track when using this element, park the play head at the editing stage, and press the primary command to break areas.
3. Combine regions
Extending a region rather than splitting it is often more efficient. This is most common when retaining audio components in sync and using the grid sectors on the timeline is needed. But what if your tape doesn't begin on a bar or beat? If the clip is shifted from its actual location, it will become out of sync.
One option is to incorporate areas of stillness into audio clips. Pick the prior bar with snap-to-grid enabled and park the play head at the outset of the clip.
Expanding a region rather than cutting it is often more efficient. Centralize the silence between the bar and the film. When you combine the two areas, your track will begin on the bar.
4. Switch to transient mode
A very crucial aspect of audio editing is slicing percussive content. To tighten up the sound, most creators manually align some percussion beats to the grid. Even if there is a need to focus on a few words, slicing at each drum hit will be too time-consuming.
Many DAWs have a tab to a transient option that scrutinizes transients and is among the play head to the next one on the timeline with the main command. From there, you can use the primary command from tip 2 to cut at the play head or execute any other editing operations you want.
5. Accesses the folders/playlists
In audio editing, combining several takes and selecting the best moments from each is a crucial step. It's known as "comping." The name came about to make a composite track out of the individual takes.
For capturing multiple takes and editing between them, most DAWs have a particular workflow. It usually works by documenting each successive take into a different path in a "folder" track and then promoting selected takes to the main take.
However, the takes folder (also known as the playlists folder) will do a lot more. Create a copy of the audio file in your takes folder before making any disruptive adjustments so you can return to it if anything goes out of place.
Likewise, before making any detrimental modifications to your audio, keep a copy in your takes folder as a backup in case anything goes wrong.
6. Remove the silence
As previously said, eliminating unused components in your regions is critical for good editing. Strip silence is a mechanism that can assist you. This aspect recognizes periods of silence in a clip and eliminates them automatically.
If you want to automate many editing tasks, you can select the limit for what to trim and set padding values for the beginning and end.
7. Modify the nudge values
In audio editing, moving audio positions through the timeline to improve a musical moment is prominent. With several pacing, the feel of a musical signal can distort dramatically.
With different pacing, the feel of a musical gesture can alter dramatically. As a result, you will sometimes need to switch regions in incredibly small increments. You can nudge audio ahead or back by the same proportion per duration with the nudge control.
It's usually limited to a few samples or milliseconds. However, the nudge duration can be adjusted to whatever meaning you want to help move regions on your timeline more precisely.
You can get ultra-surgical with your edits by setting a small nudge value in samples. Using the nudge function with larger values, you can make surprisingly high-level location changes.
8. Loop areas
Most of the producers are familiar with their DAW's loop component. By dragging out the right intersection of an area on the timeline, you can extend its length indefinitely. However, if other methods of performance correction aren't working, looping a section may be a smart editing decision.
Looping repetitive lines or sections that don't sound cohesive or sealed to the groove or rhythm is a beautiful idea.
9. Crossing from snap to zero
If you are familiar with the next editing tip, you must have heard an irritating click or pop over an edit point. Some DAWs allow you to snap edits to the nearest zero crossings. This is what that means.
An audio surge is simply a progression of peaks and valleys in a signal's voltage. The voltage ranges from positive (peaks) to negative (troughs) (valleys). This is how your headphones or studio monitors understand which way to shift to reproduce the tone in the signal.
If you make a slice near a sharp peak or a deep valley, you can hear an artifact activated by the sound suddenly cutting off.
Fortunately, a few areas in the audio file have no good power in any path. These are directly on the zero crossings, which is the standing center of the waveform.
The sound from this center crosses from gloomy to positive. Positioning the edits over these points can help minimize clicks, pops, and other editing items.
Active tip: The snap element can automatically track zero crossings for you, but if you want to find them manually, you can always zoom into the entire settings.
10. Mutes by region
You may already be informed that you can tone down audio tracks and MIDI; however, are you aware that you can also mute clips on the timeline? Region mute may be a good way to delete audio information from tracks when other strategies fail temporarily.
This can occur when the muted material's visual reference is advantageous in acquainting yourself in the session. The goal of every engineer, singer, and songwriter is for their songs to sound good. It's as simple as that.
However, it becomes difficult since you cannot have an ultimate qualifier for a "nice album" and no "perfect combination" to keep the bar.
Maybe you're like some editors who think, "Man, half of these mixes aren't even that amazing!" after listening to Spotify for a while.
So, what's the common denominator in all these commercial tunes? How can I make my music sound professional instead of amateurish? Now that we have the above, let's look at the secret sauce to a professional song.
Editing encompasses a wide variety of audio acts. It usually occurs between the recording and mixing stages.
After the audio has been captured, there are numerous options for "cleaning" or "tightening" it up.
Delete the "blank" space where you have unwelcome sounds and no one is playing, for example.
Fade any audio clips to stop those annoying pops and clicks that can annoy listeners.
After you've "cleaned up" your songs, you can move on to rhythm editing to tighten up the band's sound.
This entails several strategies to ensure the entire band performs at the same pace and rhythm. A professional-sounding song needs to ensure that everyone is playing on time and in harmony.
Following rhythm editing, pitch editing (also known as voice editing) completes the editing process.
Why should I edit my tracks?
This is how consumers consume music: The bulk of the world's population does not listen to music that focuses on the mix. 99 percent of people don't think to themselves, "Man, this song might have been amazing if they had just done one or two edits like turning down 'snare 1dB' and compressed the drums(parallel) and side-chained Yama Yama Yama…" while listening to music on a radio.
Editing your song before mixing will get you much closer to that "pro feel" you're looking for. It would also most definitely help the mixing process go more smoothly!
What to note before editing my audio
A poor arrangement or melody cannot be repaired with editing. That is entirely up to the artist. Editing does not make mixing obsolete. It makes mixing simpler, in my opinion.
Regrettably, no singer is flawless (as we have explained in the post). Although all audio tracks should have some variation, listeners are accustomed to listening to songs that sound pretty close to flawless as possible.
As we previously stated, several mixes on different platforms can only sound "okay" or "pretty decent." Consumers have become used to hearing lower-quality mixes, however, they nevertheless concentrate on the song's words and emotions.
Although 99 percent of listeners are unaffected by individual mix choices, 99 percent of listeners can tell whether a band isn't playing together.
An average listener will find out that something is wrong if the guitarist isn't hitting his chords on the right beat or if the bass isn't hitting with the right snare and kick.
This is particularly true of the vocals. An average listener won't be able to say what kind of vocal compression was used. They will, however, notice if the singer is singing off-pitch and will most likely miss the song.
To hammer home my point, the average listener can't tell the discrepancy between a good and a great mix. However, they can tell the dissimilarity between an inexperienced and mediocre singer and a professional band with a great singer.
Although editing won't magically turn a bad band or singer into a decent one, it can make them sound a lot more professional and "on par" with other songs on the radio!
What Are the Steps in Making a Perfect Audio Edit?
Are you unsure what you need to do to finish editing your song? Take a look at this helpful checklist that has been put together:
Organize the session properly: Editing is difficult if you don't know where to place everything.
Make a rudimentary volume balance: It doesn't have to be perfect. When you're mixing, you'll do the actual volume balance.
Ensure your tracks are clean: Remove any silence that noise, clicks, lip smacks may cause, or bleeding from other instruments in between lines.
Sync the phase of your tracks: should you have any instruments that were captured with several microphones (such as a drum set), ensure their phase is matched.
If your tracks aren't grouped, you won't be able to do any editing on stereo-miked instruments.
Fix your rhythm section's timing issues: The mix won't sound professional if the performance isn't locked in. Edit with your hands or with elastic editing.
Replace drum hits with samples: This is an optional step, but if you think your drums could use a boost, adding drum samples could help.
Comp for vocals: Blend the best parts of all of your vocal takes to produce the best performance possible.
You don't need to tune your vocals too much. Simply ensure that there are no distracting notes that detract from the score.
Fix any vocal timing issues: Make sure your vocals are placed in the right way. Either hand or elastic editing can be used.
Your harmonies should be timed to your vocals: the closer the harmonies are, the better they will sit in the audio mix.
Create your fades: At the inception and end of every cut area, use a very short fade or crossfade (e.g. 5ms).
Place everything properly by bouncing it: Export each edit as a separate audio file. This will save you a lot of CPU.
Many people are hesitant to use editing software because of the unintended consequences of tuning. You don't want to sound out of track in most sound trackers. I understand.
That's more than fair. However, there are various ways to fine-tune your audio using the software mentioned and edit while preserving the original audio tone.
Since the vocal is the most crucial aspect of a track to the average listener, editing your audio file will get you great results.
Benefits Of The Software Used In Audio Editing
Audio editing software will come in handy to:
Make music with your hands. Using the app, you might create a unique voice for a local radio station, a website, or even for personal use.
Audio recordings can be restored. Damaged audio recordings can be restored using advanced filters in the app. You may also use the apps to cut out unwanted sounds from an audio file.
Edit the audio file. Copy and paste applications are among the techniques used in this process. When you edit any audio, you're left with the music quality you need.
You can convert audio files. Any file format can be converted so that you can enjoy them from the most comfortable sources.
You can easily record your favorite audio shows and save them for later use on your computer.
When it comes to purchasing software, you should exercise diligence and make sure that you are purchasing something that will assist you in achieving your objectives.
As a result, you can check to see if you're purchasing a product that's simple to use and can provide a range of services, as we mentioned.
You can get audio editing tools for free from the internet. Some of the sources also have it for free. However, you must ensure that you install the most recent and modern versions so you are not disappointed when editing your audio.
Audio Editing Software: What to Look for
Today's audio software can perform a number of tasks, including fine-tuning the audio tracks on your video product, sprucing up your musical creations, and restoring and digitizing analog audio formats.
You can make intricate, multitrack tunes with a variety of sound effects using a PC/MAC and editing software.
A good audio editor will give you all the tools you need for both sound editing and music production, such as rearranging tracks, eliminating background noise, and smoothing out tones. Most editors allow you to record real-time audio by connecting instruments and microphones directly to your PC (or Mac) soundcard.
You can then add effects, voice-overs, and other enhancements before exporting the finished file as an MP3 or WAV file to burn to a CD. They also support the Musical Instrument Digital Interface (MIDI), which allows you to write music to a common standard.
Look for audio editing software from Sony or Adobe Audition, and they are closely integrated with video editing tools if you need to improve or build audio tracks for use in a video. A standalone audio editor should suffice if you just need to tweak your recordings or digitize and clean up an analog album.
Many editing software support Virtual Studio Technology (VST) plugins to improve the functionality of your apps.
These plugins will make your software sound like classic instruments or give you access to more effects than it comes with out of the box. If your audio needs to evolve, make sure your software supports VST plugins.
Conclusion
There's a lot you can achieve with audio editing software.
You can manipulate your audio files with good software to achieve your desired results. When purchasing any of the audio editing software above, it's always important to keep in mind the need for the software.
It is also good to consider the following:
Many audio editing programs need more processing power than many video editing programs. There's also a possibility that your audio card will need to be upgraded. As a result, an external audio system could be a simple solution.
Other variables, such as your computer's operating system, can play a role, as some DAWs are OS-specific. In reality, some of these audio editing programs have requirements for the OS version.
The software, for example, will operate on Windows 7 but not on Windows 10. If you're considering using an audio editing plugin, ensure it'll work with your host apps.
Some audio editing software is more advanced than others, so before you purchase, think about how your needs and the software's capabilities align.
There are several features that all of these software options have in common. There are, however, several resources that are relevant to each piece of software.
If a specific issue with a project needs to be solved, most editors start using a DAW. As a result, the function that provides that solution could impact your decision the most.
Audio editors, on the other hand, usually continue to use their DAW for greater audio power. Finally, there is no one-size-fits-all DAW; the best DAW for you would be the one that meets your needs and fits your budget.
Therefore, having gone through the above-listed tips on how to edit audio better and software that can give you the desired result you want, take the step to get the one that best suits your need.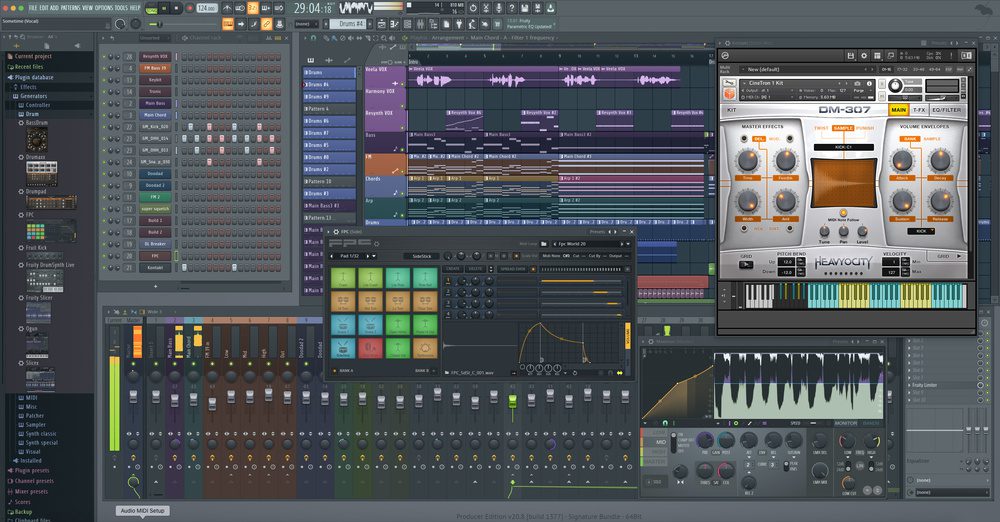 Furthermore, having seen, known, and noted the importance of audio editing, paying attention to them is necessary.
Never put your audio files out without proper editing, as this will make it stand out. Even if it's for your personal use, follow the right process well.
Also, always remember why you want to edit that audio and give it the best shot to produce a quality and admirable file.