Last updated Apr. 26, 2023 by Peter Jakes
Postmates Driver is an online delivery service sponsored by Uber. It employs drivers to deliver food and other grocery items to customers who place orders.
Founded in 2011, Postmates operates on a completely legitimate platform, and it has recently been acquired by the well-known transportation company Uber. So here's all to know about Postmastes in this review.
Postmates Driver Review: Origin and Acquisition
In 2020, Uber acquired Postmates, recognizing the growing demand for on-demand delivery and consumer convenience. Originally founded as a ride-sharing and carpooling service, Postmates expanded to include various delivery options, including meals and goods.
The underlying concept behind this acquisition is to make food delivery more accessible and cost-effective for consumers. And also simultaneously provides earning opportunities for drivers and a platform for businesses to promote their products.
In essence, the aim is to create a seamless and convenient experience for everyone involved in the delivery process.
Is Postmates Legit?
Based on customer feedback, Postmates has received a low rating of 1.13 stars from 847 reviews, indicating that most customers are generally dissatisfied with their purchases. The most common complaints from reviewers are related to issues with customer service, high delivery fees, and problems with credit card payments. As a result, Postmates ranks 153rd among Food Delivery sites.
However, some positive reviewers have praised Postmates for being a reliable app with a diverse selection of restaurants to choose from for delivery. Other users have described the app as a legitimate site that pays on time.
Despite this, some drivers have expressed concerns about the platform's lack of reliable customer service and payment delays. Nevertheless, while there have been some complaints and negative reviews, Postmates is still considered one of the top gig job apps available.
It's worth researching and weighing the pros and cons before deciding if it fits you as a driver or customer.
How Does Working for Postmates as a Delivery Person Work?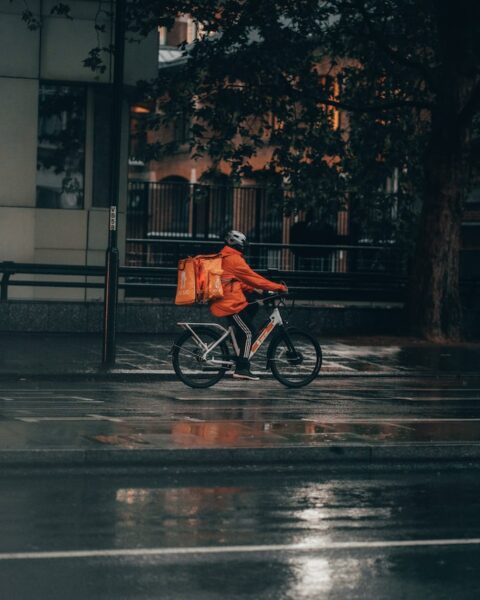 When you work as a delivery person for Postmates, you are called a Postmate. To get started, you must be online and ready to accept delivery jobs sent to you through the Postmates Fleet app.
The Postmastes Fleet app is like a one-stop shop for everything related to your delivery work. Ranging from accepting new jobs to navigating to the pickup location, picking up the orders, and finally dropping them off to the customers.
It's available for both Android and iOS users, making it accessible to everyone. And the app guides you through every step of the delivery process, starting with the offer to accept a new job.
If you want to work for a specific number of hours, you can use the auto-accept feature, which automatically adds new deliveries to your route until you pause it. Separate deliveries may require different steps, but the company has made the process easy to follow.
Some orders may already be purchased and ready for you to pick up when you arrive. Others may require you to place the order with the merchant directly or even pay for it using the prepaid card provided by Postmates.
The app will guide you through each step, so you can focus on completing as many deliveries as possible in the shortest time.
How to Become a delivery driver for Postmates
Becoming a Postmates delivery driver is a relatively easy process. First, download the company's fleet app on your phone or visit fleet.postmates.com.
From there, you will be asked to provide some basic information, such as your name, contact information, location, and driver's license number. It's worth noting that you can also use a bicycle, motorcycle, or scooter to make deliveries.
Next, you'll need to authorize a background check by entering your Social Security number, signing the company's work agreement, setting up direct deposit to your bank account, and activating your prepaid card. Once these steps are completed, you'll be ready to start delivering with Postmates and create your own schedule that works for you.
By using the Postmates Fleet app, you'll be able to easily accept delivery jobs and navigate to the pickup and drop-off locations. And as a Postmates delivery driver, you'll be free to work when it's convenient for you, whether during the day or at night.
How To Fully Maximize Working for Postmates
If you want to maximize your earnings as a Postmates delivery driver, there are several strategies you can employ.
#1. Drive in city hotspots.
One is to work in hot spots, areas with high demand for deliveries. You'll see that these areas are highlighted in orange and red on the Fleet app, with darker shades indicating greater demand. 
Once you complete your first delivery in a city, you'll be able to see these hot spots.
#2. Stay online, especially on peak hours.
Another way to increase your earnings is to go online during peak hours, which Postmates usually calls "Blitz" pricing. During these times, which typically include lunch and dinner rushes and weekends, delivery prices increase.
To receive notifications about Blitz pricing in your area, turn on your notifications.
#3. Speedy Workrate
Working quickly is another key to maximizing your earnings. Postmates offers a "Crushers" bonus, which rewards drivers who complete a certain number of deliveries within a set timeframe.
To qualify for this bonus, providing excellent customer service is important, ensuring you get orders right, and accepting as many orders as possible. While you'll often have to wait for restaurants to prepare orders, you can use this time to stack orders and deliver them to nearby customers.
That allows you to fulfill more orders per hour and increase your hourly rate.
The Postmates Driver App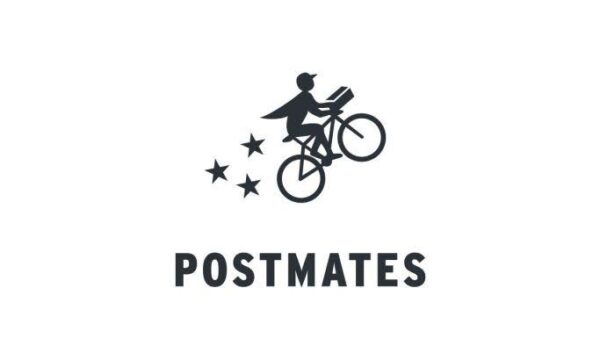 Postmates has a mobile application for customers and its drivers like other food delivery services. It offers two applications that serve different purposes.
One of its applications is created for drivers, while the other is meant solely for customers. Both applications are free for downloads.
The Postmates drivers app/ Postmates fleet app helps drivers connect with customers needing food delivery services. With the application, drivers on Postmates can accept or decline customer requests and get food delivered to homes.
In addition, the Postmates drivers app aids drivers in picking orders and delivering orders successfully.
After acquiring Postmates in 2020, Uber officially announced that the Postmates driver app would be closed, and customers were directed to the next step.
Postmates Pros and Cons
Here are some pros and cons of Postmates:
Pros
Healthcare Insurance: Due to its partnership with Stride, drivers on Postmates can access affordable healthcare plans.
Incentives: For every 30 delivery requests you accept, Postmates will provide you with a $500 reward bonus.
Flexible Working Schedule: Postmates allows its drivers to decide their working hours.
In-app Chat: This feature provided by Postmates allows its drivers to communicate easily with customers while delivering orders.
Cons
Low Waiting Rates: Postmates pays its drivers 10 cents every minute they wait to pick up an order.
Postmates don't cover expenses that involve gas and car repair.
Do Postmates Drivers Eat Your Food?
There have been lots of reviews from customers who claim that their Postmates drivers taste their food before making a delivery.
According to a study conducted by US Food – a food supply company, it was discovered that 28% of food delivery drivers take a bite of a customer's order before delivery. To reach this conclusion, US Food interviewed about 500 food delivery drivers.
So, do Postmates drivers really eat your food? Not really! There's only a 28% chance that a delivery driver would eat your food.
If you're worried about your food being eaten by a stranger, you can request a tamper-proof label on your food from the restaurant taking your order.
Can Postmates Be Trusted?
Yes! Postmates can be trusted. However, it is no longer in operation. After its acquisition by UberEATS, Postmates has shut down all of its activities.
Founded in 2011, Postmates was a direct competitor to UberEATS. However, it was acquired by UberEATS in a bid to gain control of the food delivery industry. As a result, drivers on Postmates have to apply to become UberEATS drivers.
Before its merger with UberEATS, Postmates could be trusted. It had millions of customers across the United States and was in partnership with various restaurants.
In addition, Postmates carried out criminal and vehicle checks before employing its drivers. It also uses a Secure Socket Layer (SSL) to protect its customers' information.
Is Postmates Worth Doing?
If you need a well-paying job with a highly flexible schedule, yes! Postmates is worth doing.
On average, drivers on Postmates can earn up to $25 per hour, but this depends on many factors. For example, the amount you receive from Postmates depends on the following.
Pickup Rates: For each order, you make from a restaurant/grocery store, Postmates will pay you a flat amount. This amount differs from state to state.
Mile Rates: Postmates also pays for the miles you drive when picking up and dropping off the order.
Drop-off Rates: This amount depends on the city you reside in. For each order you successfully drop off, a flat amount will be paid to you.
Tips: 100% of the tips belong to the drivers.
Per Minutes Rate: Postmates pays its drivers each minute they wait to pick up an order.
Service: Many individuals say the service is worth the try. Although some customers note that their order wasn't delivered on time or other small issues, the brand is quick to offer solutions—but that's just something to keep in mind.
Some Postmates Alternatives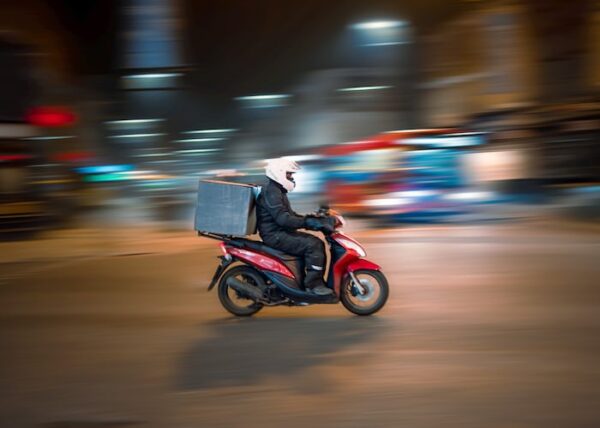 You can read here about a few alternatives to Postmastes like Doordash, Uber etc.
Postmates vs. DoorDash vs. Uber Eats
If you're considering working as a delivery driver for a food delivery service, you might be wondering which one best fits you. Postmates, DoorDash, and Uber Eats have unique features and benefits, so it's important to consider what you're looking for before deciding.
Firstly, check which services are available in your area, as this will affect your options. For example, you may find that only one or two of the services operate in your location, or other apps could dominate the market.
The amount of money you can make with each service is another crucial factor to consider. For example, DoorDash offers drivers base pay based on factors like distance, time, and job popularity, with less popular locations paying more.
On the other hand, Postmates and Uber Eats have done away with their minimum pay-per-order system. Instead, Postmates pays drivers base fees for pickup, delivery, waiting time, and mileage for each delivery. In contrast, Uber Eats pays a flat fee for pickup and drop-off, a mileage rate (not available in some markets), and a per-minute rate for time spent on each delivery.
When deciding which service to work with, it's important to research their requirements and commitments. Other important factors you should consider are how much time you can commit to the job, your goals, and what kind of earnings you're looking for.
By gathering all of this information, you can make an informed decision on which food delivery service is the best side hustle for you.
Is Postmates Better Than Doordash?
Postmates and DoorDash are two of the industry's most reliable food delivery services. Here's a comparison to determine which is better than the other.
Availability: Postmates is available in over 5000 United States and Mexico cities. However, DoorDash is available in over 7000 cities in Germany, Australia, Canada, Japan, and the US.
Ease of Use: They both come with an easy-to-understand interface and a straightforward process of placing orders.
Pricing: They both have similar pricing systems. However, Postmates offers a "Postmates Unlimited" service that allows you to save money if you place orders regularly.
Restaurant Options: Both Postmates and DoorDash partner with a good number of restaurants. However, Postmates doesn't limit you to their partner restaurant. You can decide to order from wherever you want to.
Customer Service: They both offer email and phone support services.
Uber Eats Driver Reviews
UberEATS is a popular food delivery service that allows its users to order food from nearby restaurants. Once an order is placed, it gets delivered to the customer by an UberEATS driver.
The wage you receive as an UberEATS driver depends on the number of requests you accept, the time of order, the location, and other factors. On average, an UberEATS driver can earn between $12 and $ 20 per hour.
UberEATS pays its drivers once every week via direct deposit. Here're some requirements to become an UberEATS driver:
Must have a clean criminal record
Must be of legal age
Must be a resident of the United States
Must own an insurance
Must possess a valid driving license.
Which is Better, Uber Eats or Postmates?
Before its acquisition by UberEATS, here's a comparison between Postmates and Uber Eats.
Availability: UberEATS is available in over 3500 cities and over 13 countries. However, Postmates is only available in Mexico and the United States.
Walker Courier Service: For deliverers without a car, Postmates provides an opportunity to still make money by making deliveries on foot or bike. However, this service is not readily available on UberEATS.
Background Check: UberEATS and Postmates conduct background checks on their drivers before employment.
Rating System: UberEATS and Postmates employ a "thumb up and Thump down" system of rating drivers.
How much can you make on Doordash in a day?
Like Postmates, DoorDash is a platform that pays drivers to deliver customers' food and grocery orders. It is available in thousands of cities across the United States, Australia, Germany, Japan, and Canada.
As a customer, placing an order on DoorDash is straightforward. Once you download the DoorDash app and create an account, you can place an order after entering your address. Your order will be made available to you in minutes.
As a driver, DoorDash is a great platform to make cool money. It allows you to keep 100% of your tips. You can earn an average of $15 to $17 per hour, depending on the number of orders you take.
Final Words
Postmates is a great on-demand food delivery service allowing customers to order drinks, food, and groceries. However, it has seized operations after its merger with UberEATS. As a result, all clients of Postmates will be redirected to UberEATS.
Frequently Asked Questions On Postmates Food Delivery Service
Does Postmates pay daily?
No! Postmates does not pay its drivers daily. Instead, it pays once a week and makes payments via direct deposit.
How much can you make on Postmates in a day?
According to various research, you can make up to $200 a day on Postmates by taking deliveries during peak hours and being available in hotspot areas.
Can you walk for Postmates?
Yes, you can deliver for Postmates on foot. However, it's important to note that you might earn more money if you use a bike or a car instead.
But, if you live in a densely packed area with short distances between pickup and delivery locations, walking might be a more efficient option.
Is Postmates like Uber?
To some extent, Postmates and Uber are similar. While both apps are separate, Postmates has a user interface that closely resembles Uber Eats, and you can link your Uber account to it. In addition, the restaurant options available on both apps may also be similar.
How long does it take to get paid from Postmates?
As a delivery driver for Postmates, you will receive your payments weekly via direct deposit. It usually takes around 2 to 3 days for your earnings to reflect in your bank account. You can check your daily or weekly earnings on the app's dashboard.
Is Postmates only available in the US?
Postmates is a leading on-demand delivery service that operates in over 3,500 cities across the United States and Mexico. So whether you need something delivered to your doorstep or a meal from your favorite restaurant, Postmates can help you get it quickly and efficiently.
Which delivery company pays its drivers the most?
Instacart is ranked at the top of the list as the best food delivery service for drivers due to its pay structure. Other highly paid delivery services include Amazon Flex, Uber Eats, Postmates, Shipt, Favor, GoPuff, and DoorDash.
Why am I receiving emails from Postmates?
Postmates emails customers when they login to the Postmates app from a new device or browser. This is a security measure that helps to ensure that your account is protected.
How does Postmates compare to DoorDash?
For drivers who want to make frequent deliveries within their local area, DoorDash is the better option. However, if you plan to make long-distance deliveries or during lunchtime, Postmates may be preferable.
Is Postmates only available in California?
No, Postmates now operates in over 3,500 cities across all 50 states in the US, serving more than 70% of households. In addition, they have recently expanded to cities such as Pensacola, FL. Santa Cruz, CA, Jacksonville, NC; San Luis Obispo, CA, Lawrence, KS. Stillwater, OK. And many more.
Does Postmates work in other countries?
Postmates operates in over 6,000 cities across 45 countries and continues to expand its services worldwide.
Do you need a credit card for Postmates?
Yes, a prepaid credit card is necessary for Postmates deliveries, as some orders require the driver to pay for the order at the store or restaurant. Postmates provides this card to drivers to cover the costs of purchases.
Are Postmates drivers rated?
Postmates does not use a rating system to evaluate its delivery drivers. Instead, it uses a thumbs-up or thumbs-down rating system for customer feedback. The company states that it is to avoid the negative impact of situations beyond a driver's control on their ratings.
Can you use a debit card for Postmates?
Yes, Postmates now allows drivers to use an eligible US debit card for instant access to their earnings any day of the year.
Can I pay Postmates with PayPal?
While Postmates does not directly accept PayPal, it is possible to use Google Pay as a workaround, which can be linked to your PayPal account.
Does Postmates Refund Money?
Yes! Postmates offers refund services. However, the amount you receive as a refund depends on how fast you cancel an order. For example, if you cancel before Postmates forwards your order to a restaurant, you will receive a full refund with no charges attached.
You can request a refund via the Postmates delivery app or website. In addition, the Postmates customer service support team is available to deal with issues related to delivery, refunds, and more.