Some of the links in this article are "affiliate links", a link with a special tracking code. This means if you click on an affiliate link and purchase the item, we will receive an affiliate commission.
The price of the item is the same whether it is an affiliate link or not. Regardless, we only recommend products or services we believe will add value to our readers.
By using the affiliate links, you are helping support our Website, and we genuinely appreciate your support.
Last updated Nov. 25, 2022 by Benedict Osas
It might be challenging to choose whether rewards and cash-back websites are worthwhile, given the abundance of options. However, this is why we're bringing to you Tada Review.
Tada is a comparable affiliate marketing company that links its users with external advertisers and goods. You can look for cash-back offers, get discounts, or print coupons using the Tada app or website before going to the store.
Read the article to learn about the app and how to make money.
Tada Meaning
Prodege is the owner of Tada, a cash-back app that was once known as ShopAtHome. Due to its ownership of well-known rewards websites on the internet, such as Swagbucks, InboxDollars, and MyPoints, you may already know Prodege.
The largest firm in the online incentives sector owns and runs Tada, a legitimate cash-back and rewards website.
However, according to our analysis, it consistently provides payout rates for cash-back, surveys, and "money maker" offerings that are somewhat below average.
TADA is valuable since it allows customers to receive rewards on every purchase. The incentives cover online and in-store trades, making the cash-back chance tough to pass up. TADA offers numerous opportunities to earn cash-back. For instance, you can receive a $10 sign-up bonus and up to $50 for completing surveys.
Unfortunately, the TADA chat window is a letdown, as most users need real-time assistance. Although the issue may seem trivial, it may discourage customers. Nevertheless, TADA is a terrific software for anyone trying to make passive income and one of the best cash-back websites.
Swagbucks Review
Users of Swagbucks can earn reward points by completing quick online tasks. Things like watching videos, surfing the web, and finishing paid surveys. You'll receive "pay" as Swagbucks points, often known as SBs. You can exchange it for money or gift cards.
They sell gift cards from over 1,500 merchants, including Amazon, Caffè Nero, and Tesco. In addition, you can transfer Swagbucks points directly into your PayPal account to earn more cash. Or, if you're feeling charitable, you can donate.
Your Swagbucks donations would benefit various charities, such as Unicef, the Wounded Warrior Project, The Humane Society, and the Breast Cancer Research Foundation.
On Swagbucks, there are numerous ways to earn points that helps you exchange for gift cards or cash. Becoming a member is the initial step. You can use your email address to sign up for Swagbucks; membership is free. By participating in your chosen activities, you can begin accumulating points.
What is Tada Cashback?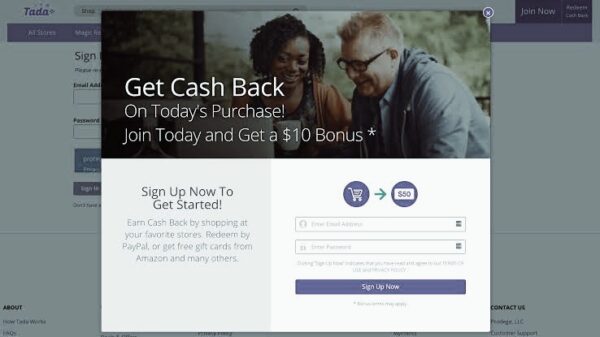 Tada is a free reward and cash-back software that compensates you for your online and in-store purchases and applies coupons and promo codes.
You can shop at your favorite stores and allow the deals to find you as you shop. Tada can get you great prices by negotiating with thousands of well-known stores (including your preferred brands). Tada works in the background to enable you to
Save money at a huge variety of retailers. Coupons, discount codes, and cash-back offer—Tada has it all. Shop using the app, and discounts and vouchers will appear on demand. So you won't need to keep searching your wallet or shady websites for that promo code.
You receive cash incentives for using coupons, discount codes, and cash-back shopping to save money. Redeem your winnings for PayPal cash or gift cards.
Tada Cash-back Online Shopping
When you visit Tada, select the "All Stores" option to view the available cash-back deals.
The alphabetical list of retailers includes the number of available coupons. Additionally, you may see how much cash-back you can get. Keep in mind that it's not all of the listed stores that have a cash-back promotion.
Instead of going to the list, you can search for particular stores.
Most cash-back promotions are a few percentage points, although some range from 10% to 15%.
How Do You Get Money From Receipts?
Scanning Receipts
Make it a routine to upload your receipt as soon as you can after finishing your purchase. In most circumstances, you have 30 days to post it.
In some circumstances, you can connect your loyalty card to avoid having to upload your receipt. For instance, you can link your account with the Kroger brands. As a result, you will never need to upload a receipt because your data will propagate immediately following a purchase. If you feel comfortable doing this, it can save you time. If not, all you have to do is use your phone to snap a photo.
They usually award your account with points right away after uploading.
Which Receipt App Pays The Most?
It differs depending on your shopping habits and the app experience you're looking for in the app. For example, what you want from a receipt scanning app is sustainability (i.e., something straightforward to use).
However, the best receipt app goes to Rakuten.
You may get cash back at more than 2,500 stores for electronics, clothing, games, athletic goods, and other items through this Tokyo-based corporation.
Major merchants pay Rakuten a commission for suggesting potential customers like you. In exchange, Rakuten gives you cash back in the form of a portion of their commission.
Install their Chrome extension (Cash Back button) and create a Rakuten account.
Do your shopping on your desktop and let the Button find the best deals. You can receive payments by cheque or PayPal as your cash-back balance increases.
How much you can make: Cash-back of up to 40% per purchase (plus a referral bonus if you refer friends)
Payout options: check or PayPal (totaled and paid quarterly)
Ways To Earn Money On Tada App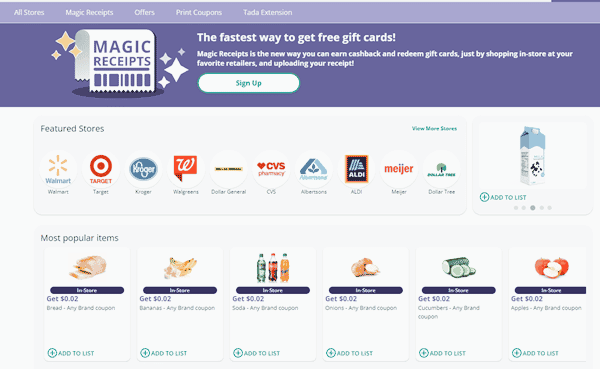 Provided below are some ways you can earn some cool cash on the Tada App;
Tada offers incentives for printing and utilizing paper coupons.
You can print up to fifty coupons each day from the Tada coupon section and receive $0.01 for each one that you do. In addition to the savings associated with the coupon, you will also receive a bonus of $0.10 for redeeming it. Therefore, you may often save between $1 and $4 for each transaction using Tada coupons. Most of them are for regular expenditures like groceries, cosmetics, household goods, etc.
Numerous cash-back websites provide a plugin or extension that monitors your online purchases. That's referred to as the Tada Extension with Tada.
Install the Tada browser extension if you'd prefer to avoid shopping online using the Tada app.
The background-running program notifies you immediately or adds a promo code to your shopping cart if a cash-back offer is available from a particular merchant.
As you might anticipate, Tada's functionality is similar to Protege's other browser add-ons.
With Magic Receipts, a feature included on most Prodege platforms, you can still receive retroactive cash back if you need to print your coupons or make purchases through Tada directly.
You may upload pictures or photos of your in-store or online receipts to the Magic Receipts app and get your money back into your Tada account.
The feature, nevertheless, is limited to some product groups, such as food and drink. For example, the majority of the big grocery shop companies accept receipts.
To cash out your Tada balance, you must have at least $10 in your account. Then, when you have sufficient funds, you can exchange your profits for gift cards, PayPal Cash, or a physical check in the mail.
Tada offers popular gift cards like Amazon, Starbucks, Target, etc.
If you were to shop at any of the hundreds of merchants they partner with, like Target, Walmart, Home Depot, and countless others, you could also receive cash back on their main desktop website.
It's as straightforward as simply clicking on a unique link so that it can monitor your transactions and then complete the purchase as you usually would, much like the many cash-back websites available.
After you have completed the purchase, you can receive the cash-back stated, often between one and 15%.
The main desktop website appears to be the only place where you can now get cash back, but this may change.
You can start cashing out once you have at least 110 SB rewards. Even though the prizes are a mere $1, you can easily cross this barrier. One of the lowest minimum requirements in the sector is this.
The Tada app's fantastic feature is that you can exchange points for almost anything, including PayPal cash or gift cards, to virtually any cafe or store. So even though the list is too long, chances are strong that any restaurant or retailer you can think of is on that list.
Additionally, even though it will cost at least 110 SB to cash out, I advise waiting until you reach at least 500 to 1,000 SB to maximize your earnings.
Pros Of The Tada App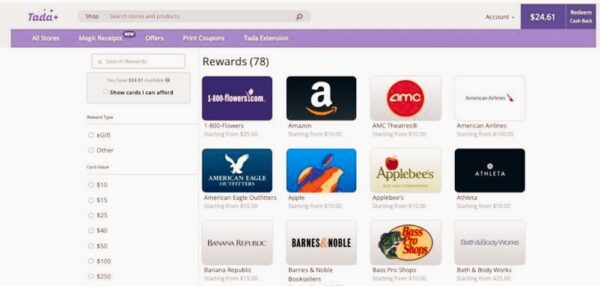 Supported by a very respectable company
Very user-friendly
Offers a substantial bonus, often reaching $20 or more, that can frequently result in receiving the things for free
It has a lot of benefits, like PayPal and Amazon
Cons of the Tada App
The website or app may have bugs preventing tracking your receipts.
The bonus may occasionally have strict conditions.
The cash-back shopping rates were substantially lower than those of competitors.
You must spend $25 within 30 days before being allowed to enjoy the sign-up bonus.
It has a high minimum withdrawal amount.
Frequently Asked Questions On Tada Review
Where Can I Sell My Receipts?
Coupons.com is one of the apps where you can sell your receipts to make money.
To take advantage of the money-saving incentives, you can use the app to take a picture of your receipt. Then, you receive the reward in your PayPal account.
Can I Earn Money By Watching Videos?
Many websites pay you to see advertisements, previews, and other content, including movies and TV episodes.
You can watch videos on the website to gain points (SBs). Although most rewards begin at $3, each SB is worth approximately one cent, and there is no minimum withdrawal amount.
Gift cards from well-known companies like Amazon, Target, and Walmart, as well as actual money transferred to your PayPal account, are available as payment alternatives.
Can I Use Swagbucks and Tada?
Because Prodege, the firm that owns both Swagbucks and Tada, controls both, their operations are highly similar. However, you need different accounts for each because they are independent platforms.
Tada compensates in Swagbucks (SBs), which makes it easier for you to reach the $3 cash-out level on Swagbucks.
Is Tada a Legit App?
Tada is undoubtedly not a Ponzi scheme because it always offers discounts and other benefits it advertises whenever you use the app to make a purchase.
It is a legit cash-back and rewards site.
How Does Tada Earn Money?
Tada has no sign-up or welcome bonuses because it is free to use. There's always a catch, though.
Tada is a sizable affiliate marketing website that generates revenue by linking customers like you with its affiliated merchants. Tada receives a commission every time a user registers or purchases something on a partner website.
In light of this, Tada's actual cost is the sum required to earn money back.
Pro tip: Tada platforms work best for finding discounts on items you're already purchasing. You're veering off course if you have to spend more than usual merely to maintain your Tada balance.
Final words
Tada is a trustworthy platform for customer loyalty and cash back.
Thanks to Tada, you can now have an easy way to make a little more cash. Of course, you will need more money from Tada to give up your day job. However, every dollar you save moves you closer to financial independence.
Tada is not a legitimate side business, as you have to spend money to receive cash back. In addition, it has fewer features than Prodege's leading apps (e.g., Swagbucks, InboxDollars, and MyPoints). Additionally, compared to services like Rakuten, Tada's network of affiliate retailers is relatively more minor.
Nevertheless, you can think highly of Tada as a service.