Last updated Sep. 16, 2023 by Jessica Green
With the countless numbers of cashback and reward apps, it can be difficult to differentiate between legit and scam apps.
If you're curious about how legit the Tada app is, here's a review that covers all you need to know about the app.
What is Tada Cashback?
Tada Cashback is a free application that compensates users with cashback for any online and in-store purchases made via its app. It also offers coupons, promo codes, and deals that reduce expenses.
Tada Review
Tada is owned by Prodege – popularly known as ShopAtHome. It also knows other popular and well-known cashback apps like Swagbucks, InboxDollars, and MyPoint.
Owned by one of the largest online incentives firms, Tada provides top-notch and legitimate cashback and rewards services.
Tada offers numerous opportunities for its users to earn cashback. It provides rewards to users on every purchase. Its incentive covers both online and in-store trades.
Users can earn a $10 signup bonus and up to $50 for completing surveys.
Although the app offers tons of benefits, its customer service chat window is a letdown. Nevertheless, Tada is a great website for anyone trying to make passive income through cashback.
Shop
Tada is affiliated with tons of retail stores. Hence, you can shop at your favorite store and enjoy promo deals via the Tada app. Tada is well-known for offering lower prices than goods sold at other stores.
Its affiliation with multiple brands and stores enables it to negotiate lower prices on your behalf.
Save
Tada enables its users to save money and cut down on costs when shopping for items. Coupons, discount codes, and cashback offers – Tada has it all.
Once you download and register on the app, shop for items via the app to receive discounts and vouchers.
Reward
Tada offers cash incentives to users who make use of its coupons, discount codes, and cashback services. For every reward-eligible activity you perform, you will receive points that can be redeemed for gift cards or cash via PayPal.
Tada Cashback, How It Works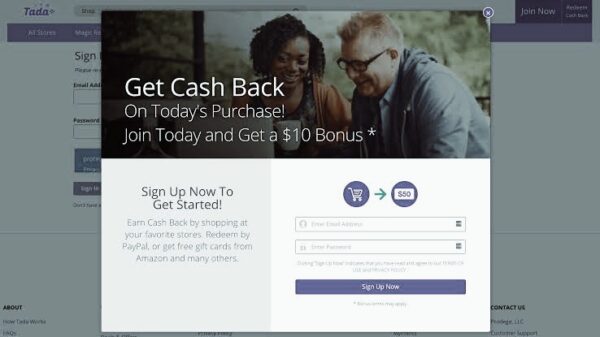 To get started with Tada Cashback, download the app and register. Once your registration process is complete, navigate to the "All Store" menu/option to view all available cashback deals.
The "All Store" menu will redirect you to the number of available coupons and an alphabetical list of all retailers affiliated with Tada. You can also view cashback rewards associated with each purchase you make.
Not all listed stores on the Tada app offer Cashback rewards; hence, the Tada app lets you know which purchase you make is eligible for rewards.
If you cannot go through the list of stores affiliated with Tada, use the search menu to find your favorite store.
Another Interesting Article: 30 Best Cashback Rebate Sites
Tada Digital Rewards
You must accumulate at least $10 in your account to cash out your Tada balance. Once you reach its minimum threshold, you can exchange your earnings for gift cards, PayPal cash, or physical check via the mail.
Tada offers popular gift cards like Amazon, Starbucks, Target, etc.
Ways To Earn Money On Tada App
Here are some of the ways to earn money on the Tada application:
Coupons
Tada offers incentives to users who print and utilize its paper coupons.
You can print up to fifty coupons daily from the Tada coupon section. Tada pays $0.01 for each coupon you print out. It also pays $0.10 when you redeem the coupons.
Using the Tada coupon service lets you save between $1 and $4 for every purchase you make on groceries, cosmetics, or household items.
Tada Extension
If you prefer shopping directly from your favorite online store, you can install the Tada plugin/extension that monitors your online purchases with your phone.
Suppose you don't have the Tada app but want to make money, install the Tada extension. In that case, this extension monitors your online purchases and rewards you with cashback when you shop in any of its affiliated stores.
Once installed on your device, the Tada extension will notify you and add a promo code to your shopping cart if there are cashback offers available from a particular merchant.
Magic Receipts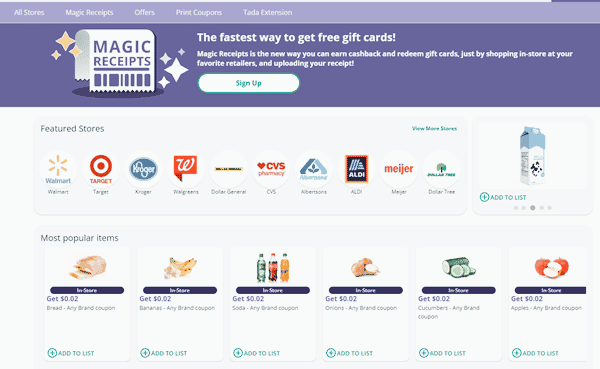 Magic receipt is a feature included in most of the money-making applications owned by Prodege. This feature enables you to receive retroactive cashback when you upload pictures of your online or in-store purchase receipt. It also offers rewards when you print your coupons or make purchases via the Tada app.
The Magic Receipt feature is limited to some products. It only allows you to earn money from uploading receipts from your groceries, food, and drinks receipts.
How To Earn Cashback On Tada
If you shop at any of the hundreds of stores that partner with Tada, you will receive cashback rewards. Some retail stores affiliated with Tada include Target, Walmart, Home Depot, and more.
The process of earning is simple and straightforward. All you have to do is make a purchase via the Tada app or install the Tada extension that monitors all your online purchases.
Once you complete a Tada purchase, you will receive 1% to 15% cashback.
Scanning Receipts
Scanning or uploading purchase receipts is another way to earn on Tada. You can earn a reward for every in-store purchase you make with any of Tada's partner stores. However, the receipt must be uploaded within 30 days of the purchase.
Sometimes, you can connect your loyalty card to avoid uploading your receipt for every purchase.
Tada Rewards
Tada allows its users to cash out once they accumulate up to $10 worth of points. It has one of the highest minimum withdrawal amounts for cashback apps.
When you upload a purchase receipt or make a purchase via the app, you will receive points as a reward – these points can be exchanged for PayPal cash or gift card of any kind.
Pros Of The Tada App
It is supported by Prodege – a reputable money-making company.
Very user-friendly
Offers a substantial bonus
It enables users to convert points to cash via PayPal
Cons of the Tada App
Most users complain of bugs that prevent the app from tracking receipts and purchases.
It has a high minimum withdrawal amount.
Eligibility criteria for the bonus are strict
You must spend $25 within 30 days of signing up to enjoy the signup bonus.
The cashback shopping rates were substantially lower than those of competitors.
How Does Tada Earn Money?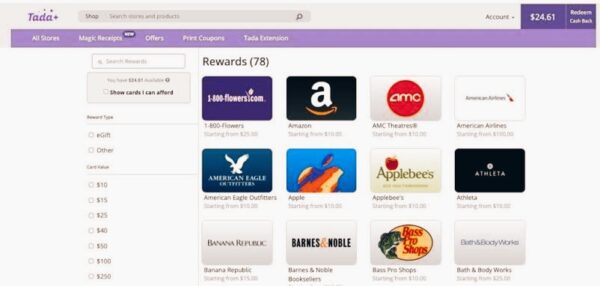 Tada is free to use and has no signup or hidden costs. So how does it earn money?
Tada is a sizable affiliate marketing platform that generates revenue by linking customers like you with its affiliated merchants. It receives a commission each time a user registers or purchases something via its app.
So, each time you purchase via Tada, the app will receive a commission from its partner store. Part of this commission will be given to you as a reward.
Which Receipt App Pays The Most?
There are tons of receipt apps that offer similar services as Tada. Most of these apps pay more and offer better services than Tada.
Which receipt app pays the most? Rakuten!
Rakuten is a well-known platform that offers Cashback services and lets you receive rewards for uploading photos of your purchase receipt. It is affiliated with over 2,500 stores, including electronic stores, clothing, games, athletic goods, and more.
To get started with Rakuten, install its Chrome extension or create an account on the Rakuten application. Once you shop via the app, you will receive cash rewards via cheque or PayPal.
Rakuten offers up to 40% cashback on each purchase. It also provides a referral bonus when you refer others to the app.
Swagbucks Review
Swagbucks is an app that offers similar services as Tada. Users on this app can earn rewards by completely quick online tasks such as watching videos, surfing the web, participating in online surveys, and more.
Swagbucks offers rewards to users in points, also known as SBs. Once you accumulate enough points, you can exchange them for money or gift cards. You can transfer Swagbucks points into your PayPal account as cash or convert them to gift cards for stores like Amazon, Caffè Nero, and Tesco.
Swagbucks lets its users donate points to charity organizations such as Unicef, the Wounded Warrior Project, The Humane Society, and the Breast Cancer Research Foundation.
Download the app and sign up with your email address to start earning on Swagbucks. Membership is free, so you can participate in any of its money-making activities to earn points.
Another Interesting Article: Swagbucks Review: Here's How To Earn $1000
Final Words
Overall, Tada is a trustworthy platform to earn money. However, it is not a get-rich-quick scheme. You can only earn passive income with the app, not a huge sum. It is legit, safe, and recommendable if you plan to earn through cashback.
Frequently Asked Questions On Tada
Where Can I Sell My Receipts
Tada, Rakuten, and Coupon.com are some of the best apps to sell receipts to. Simply scan your purchase receipts on any of the apps and wait for approval.
Can I Earn Money By Watching Videos
Yes! You can earn money by watching videos. Sites like Swagbucks and InboxDollars reward users for watching ads and videos on their sites. Rewards are in cash or gift cards for Amazon, Target, and Walmart.
Is Tada a Legit App?
Yes! The Tada app is legit and not a Ponzi scheme. Users can access discounts, coupons, and cashback rewards once they complete tasks on the app.