Last updated Feb. 24, 2023 by Favour Chinaza
This is not a myth; you can actually earn up to $1000 With Swagbucks. Swagbucks is rapidly becoming everyone's favorite site for making quick cash. This is due to the various money-making services it offers. This Swagbucks review will show you just how.
Even then, not everyone knows the secret to earn huge from Swagbucks. And so, this article guides you on how to earn more than $750 with Swagbucks.
This article also highlights major reviews and questions asked by Swagbucks users.
Related: TaskRabbit Review: Is it A Good Option to Make Money?
What Is Swagbucks?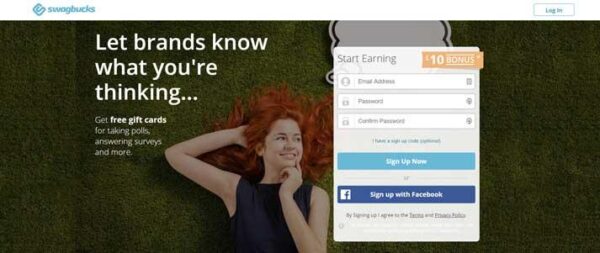 Swagbucks is a free rewards program that you can join online. It allows regular people to make money online using a laptop, desktop computer, smartphone, tablet, or other internet-connected devices.
A Swagbucks member can do different things online to earn gift cards and PayPal cash. Take online surveys, shop online, use Swag codes, play games, search the web, and more.
Members need an email address and a password to join. And once a member's account has been verified, they can start earning SB points, which are the Swagbucks rewards currency.
Even if members only have 110 SB, they can use those points for a free gift card. They can also choose to get paid through PayPal, get a check in the mail, or give all (or some) of their money to charity. The donation can be made right from the Swagbucks site.
You can earn points by participating in online surveys, viewing movie trailers, playing games, and purchasing items. These points can be converted to gift cards that can be used in multiple online marketplaces.
Swagbucks points can also be converted to cash which is paid via checks or PayPal
Is Swagbucks a Safe and Legitimate Website?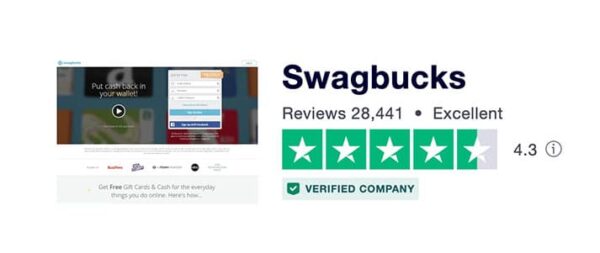 Yes! Swagbucks is a safe and legitimate site. It is owned and run by Prodege, LLC – a California-based corporation.
Prodege, Swagbucks' parent company, has an A rating with the Better Business Bureau. Swagbucks also has over 25,000 Trustpilot reviews, with an overall rating of 4.3 stars (out of 5).
With 14 years of experience and an A+ rating from the Better Business Bureau, Swagbucks has earned its legitimate title.
More than $405 million in rewards have been given out by Swagbucks to users who participate in its programs.
There are also numerous write-ups on the internet attesting to Swagbucks' legitimacy. A simple Google search for Swagbucks Reviews yields numerous results from various review sites, all of which state unequivocally that Swagbucks is not a scam.
What is The Swagbucks Program and How Does it Work?
Using Swagbucks is a simple process. To begin, you must create a free Swagbucks account. After that, Swagbucks rewards $5 to new users.
Once you have completed the registration process, you can sign up to participate in surveys. You can also earn money on Swagbucks by watching videos, playing games, shopping, and using the Swagbucks search console.
Once you have earned points on Swagbucks, you can convert them to cash or gift cards. Swagbucks gift cards can be used online and in brick-and-mortar sites like Swagbucks and stores including Amazon, Home Depot, Target, and Starbucks.
How To Earn up to $1000 On Swagbucks
In as much as you can earn up to $1000 On Swagbucks, using Swagbucks won't make you rich or even give you enough money to live on. So think of it as more than just pocket money.
Most surveys take about 20 minutes, which can give you an idea of how much you can earn. But you also have to meet the requirements for each survey. Depending on the site, it can take a few minutes to fill out a form only to be disqualified.
This cuts into the number of surveys you can take in an hour. So expect to make about a little less than a dollar an hour.
This adds up to a few dollars at the end of the month. However, consistently making tens of thousands of dollars is possible for people who work hard and have a lot of time.
There are more ways to make money with Swagbucks than those listed above. Here are some ways to get SB points:
Cashback when you shop
watch videos, and
get deals (Swagbucks Discover)
Print coupons for groceries
You can still use Swagbucks even if you're not at your computer because they have a mobile app. So when you're waiting in line or have a little extra time, pull out the app and make some money.
Depending on the activity, you must ensure you have about 20 minutes to spare.
The major ways to earn up to $1000 with Swagbucks are:
1. Watch Videos With Swagbucks
Just like the way you get paid to watch movies, when it comes to earning money on Swagbucks, one of the quickest and most straightforward methods is to watch short videos on entertainment, sports, health, personal finance, food, and other topics.
You won't earn much from each short video you watch. But over time, the points add up.
Video Tip: You can do two things simultaneously when watching a video. You can watch the video in the background while you search or fill out a survey. This gives you two ways to earn points at the same time.
2. Complete Surveys at Swagbucks
Participating in online surveys conducted by Swagbucks is another easy way to make money.
When you sign up on Swagbucks, you'll be asked to provide some basic demographic information about yourself and your family. With this information, Swagbucks can determine surveys that interest you.
The longer the length of a survey, the bigger the compensation you are given.
Survey Tip: When you look at surveys, the ones that pay the most and take the least time are the best ones to do. You can sort surveys on Swagbucks, which makes it easy to find the ones with the best value.
3. Shop Online with Swagbucks and Earn Cashback
When you purchase items via Swagbucks, you become eligible for the cashback services offered by Swagbucks. Swagbucks is one the best paid cashback sites to earn money after shopping.
Log into your Swagbucks account and choose an online retailer to purchase items. After purchasing your everyday items, Swagbucks will credit your account with points after a few days.
The online retailers affiliated with Swagbucks include Amazon, Target, Walmart, Groupon, Macy's, Kohl's, Old Navy, Home Depot, Etsy, and more.
4. Get Paid to Search the Web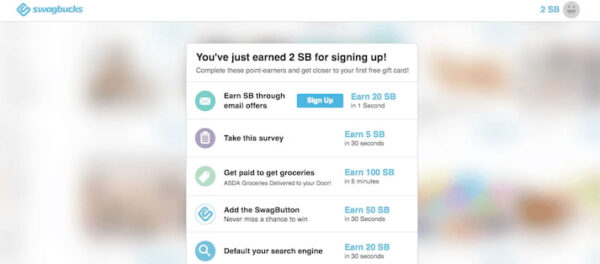 Swagbucks will pay you to look for things online. No, Swagbucks does not have a search engine of its own. Instead, Swagbucks has a search engine that Yahoo powers that let you look for things on the Web. If you start with Swagbucks, you may learn how to become a search engine evaluator.
If you use the Swagbucks search engine, you'll not only get good results but you'll also get paid for each search you do. You can even choose to use the Swagbucks search engine every time you search.
Many people who use Swagbucks will use both Google and the Swagbucks search engine. You get various search results, and it's another way to make more money online. Swagbucks will pay you to do different things online, but searching the web is one of the easiest.
How Does the Swagbucks Browser Extension Works?
Swagbucks provides a free browser extension to install on your Chrome browser. (When you use the internet, you can add a small tile or icon near the top of your search bar.)
The SwagButton is the Swagbucks browser extension. It is compatible with the Chrome browser. Google created the Chrome browser to help users search the web; it has red, green, yellow, and blue icons.
Install the SwagButton to receive an SB reward. It will also help you earn SB automatically when you are online.
Cash Back Alerts: When you're on a merchant page (for example, Best Buy), the SwagButton will automatically notify you.
It will tell you how much cash back that site offers and ask if you want Swagbucks to apply that discount to your account. (Of course, you do.) With just one click, you can ensure that you can earn cash back on your visit.
Coupon Alerts: The SwagButton will also send you coupon and promo code alerts.
Assume you're shopping at Kohls.com. The SwagButton will notify you of any available Kohl's coupon codes. And with a single click, the SwagButton will test all of the coupon codes and apply the best one that will give you the best discount for the items in your cart.
5. Make Money Playing Games with Swagbucks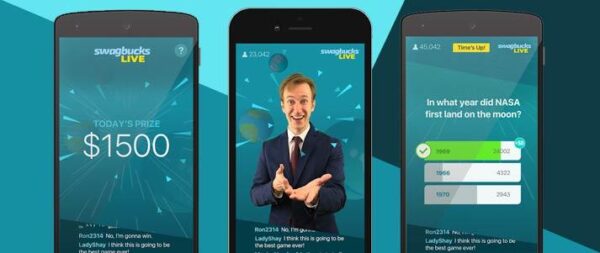 Swagbucks wants its members to spend as much time as possible on its website, so it pays them to play games. Not just that, you make money playing games on Swagbucks too.
Companies that make games and apps want more people to play them. So they ask Swagbucks for help. When Swagbucks sends them new players, they pay Swagbucks, and Swagbucks shares some of the cash with you. So, that's how you can make money by playing games.
Some games may require buying something inside the app to get the reward, but that's not very common. Most games, though, offer in-game purchases to improve gameplay and make it easier to move forward.
Play Live Trivia on Swagbucks and Win up to $1000
Swagbucks Live is the name of the game that most people play. It's a live trivia game show that airs Monday through Thursday at 8 p.m. Eastern and 5 p.m. Pacific.
For each game you play on Swagbucks, you can win up to $1,000. Over 20,000 people play each game, all trying to win a piece of the grand prize.
The Swagbucks Live app on the Apple App Store has almost 12,000 reviews, with an average rating of 4.8 stars (out of 5). And over 6,000 reviews of Swagbucks in the Google Play Store have given it an average rating of 4.6 stars (out of 5)
6. Get Paid to Scan Receipts on Swagbucks
Members of Swagbucks get paid to scan receipts from grocery stores, convenience stores, and pharmacies. Download the Swagbucks app and take a picture of your receipt from inside the app to make money by scanning it.
You must buy certain daily items at certain stores, scan your receipt, and upload it to your account to get the SBs added. Some offers are small, like 2 SB for broccoli, but others, like 1,000 SB for eggs or laundry detergent, are much bigger.
7. Get Paid to Try Products on Swagbucks
Yes, you did read that right. There are many companies that pay you to test or try products. Many businesses use their marketing budgets to "pay" people to try their products without risk. Swagbucks members, for example, get paid to try out services like Hulu, Disney+, StashInvest, and ButcherBlock.
You can get cash back or a cash bonus if you sign up for a new service (trial membership) or try new products sent to you.
These are usually small packages of things like deodorant, shampoo, coffee filters, or food. The people who make them want you to like them so much that you'll buy them in stores and tell your friends about them.
8. Discover Deals with Swagbucks Discover
Some of the best ways to earn SBs take more time and planning. For example, the "Discover Deals" program gives points when trying new things or opening new credit card accounts.
With these kinds of programs, you must ensure you're not buying something to get the rewards.
But if you've been thinking about getting a new credit card or trying out a new meal delivery service, Swagbucks can help you get cash back from these choices. Some offers give you a few thousand SBs, which you could turn into a decent amount of money.
9. Entering Swag Codes
Get the SwagButton browser add-on to find out when new "Swag Codes" are available. Swag Codes are secret words or phrases the company gives out to get people talking about the website and back to the homepage.
The browser extension will send notifications telling you where to find the code. Then, type it into the "Swag Code" box in the page's left sidebar. Very easy to get SB points right away!
People who use Swagbucks often will see a Swag Code every once in a while. The site hides these little strings of codes here and there, like bonus points in a video game. Just enter the codes to get SB points for free.
10. Printing Coupons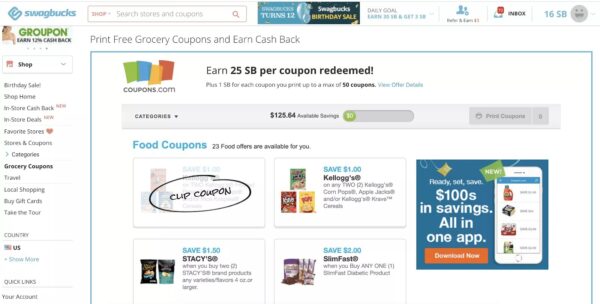 Swagbucks also has coupons you can print and use at your favorite stores. For every coupon you redeem, you can earn 25 SB, but for every coupon you print, you can only earn 1 SB.
The offer isn't very good, and the most SBs you can get a day for printing them is 50. But coupons save you a lot more money, so why not use both?
Print Paper Grocery Coupons
Paper coupons from the past can also help you save money at the grocery store.
Swagbucks lets you print up to 50 coupons per day, and for each one you print, you'll get 1 SB. Then, you'll get an extra $25.
It's easy to use Swagbucks coupons: just move your mouse over each offer and click "Clip Coupon." Then, click "Print Coupons" when you're ready.
Note that you can't use the Swagbucks app to get digital coupons, even though the ad in the screenshot above says you can do that. This is because you can only get coupons from the website and use them on paper.
Also, remember that it takes about 12 weeks for SBs to be added to your account after you redeem them.
11. Referring to Friends
Referring friends to Swagbucks is one way of earning passive income. For example, you can earn SB points while you sleep if you use your referral code to get your friends to join Swagbucks.
If you tell a friend about SB, you could get a 10% commission on that friend's SB points forever! This is where passive income is a favorite topic for personal finance bloggers.
If you told a few friends about Swagbucks and they used it to make extra money online, your own points could go up even if you didn't log in. You'd only log in to get money.
So, why not go on social media and invite everyone you know to join? Because you wouldn't get any more SB points for doing this. For your friends to connect to your profile, they need to use the code you gave them.
You would have to invite friends one at a time using the "Refer and Earn" tool on your account page to get credit. Yes, it takes more time, but getting some friends to help you get more points is worth it.
12. Enter Competitions
If you feel you have a good chance of winning contests, sign up for Swagbucks' limited-time giveaways (called "Swagstakes").
Prizes can be anything from tech gadgets like Apple products to a bigger stack of SBs. Of course, this is a little bit of a gamble since you have to spend SBs to enter each contest.
You could, for example, enter a contest to win 50 SB, but it might cost you 2 SB to do so.
Has Swagbucks Paid Out Up to $1000?
You may wonder if Swagbucks can pay you as much as $1000. The amount of money paid out to Swagbucks members is perhaps the most telling indicator of whether the company is legitimate or a scam. Swagbucks has paid me in excess of $1200, let alone other users.
Many people have earned between $5 and $1000. However, some incredible examples of Swagbucks members have made thousands of dollars.
Check out the profiles of some members who have made a lot of money with Swagbucks!
Tim, aka Chesapeakejet, has nearly $2,000 in earnings.
Chelsea, aka CAHern614, has made over $3,000 so far.
Diane, also known as DMRidley51, has earned nearly $3,500.
Suzanne, alias CasaDega, has earned more than $5,000.
Jona, alias JoanDe, has made over $12,000!
Swagbucks is completely legal. It has distributed over $650,000,000 to its members. In addition, Swagbucks has helped countless members earn up to $12,000 in cash. Swagbucks is even a safe way for teenagers to earn some extra money.
Swagbucks has an A rating and has been in operation since 2008. The parent company also has a skilled and experienced management team.
According to the Swagbucks Wikipedia entry, its CEO was the former CEO of Fandango and Shopzilla and an executive at Disney Online.
What are the Swagbucks Reward Options For Cashing Out?
There are numerous ways to earn money on Swagbucks, as well as numerous ways to cash out that money.
PayPal cash: Have your earnings deposited into your PayPal account as PayPal cash.
Charity donations: Donate all or a portion of your SB earnings to a charitable organization such as Unicef, the Red Cross, or Doctors Without Borders. You are not required to give away all of your extra money. You can give as little as 5SB ($0.05) to charity.
Swagbucks gift cards can be redeemed for gift cards to Amazon, Target, Starbucks, Walmart, Best Buy, and hundreds of other popular retailers.
Check: We can mail you a physical print check. This option is popular among members. They prefer checks, or they enjoy the discipline of saving their extra money rather than spending it online.
You can redeem one gift card for 12% off each month as an added bonus. The standard gift card limit is $25. However, this means you can buy one Amazon gift card at a 12% discount every month.
Also available at Target and Walmart. It's like getting even more money for nothing.
Is Swagbucks Better than Its Alternative Rewards Sites? Of course, there are a lot of best sites like Swagbucks. However, Swagbucks stands out from others in many ways.
Swagbucks distinguishes itself from competitors by allowing users to cash out with as little as $1 in earnings, offering Live Trivia, and offering a wide range of ways to earn rewards online.
However, regarding the competition, Swagbucks wins other reward sites. Swagbucks is better because of the following:
It is easiest to get your money on Swagbucks: Unlike many other rewards and survey sites, Swagbucks allows you to cash out with just $1 in earnings.
The best surveys can be found on Swagbucks.
Swagbucks, along with its parent company Prodege and other Prodege brands, has over two decades of experience in the online survey space.
Market research partners (large brands and agencies) believe in it and provide us with the most surveys.
You earn from Many Options on Swagbucks. Swagbucks isn't just about surveys like other companies like Survey Junkie. Members can earn money by searching the web, playing free games, shopping online for cash back, and much more. Swagbucks provides more opportunities to earn money than any other loyalty rewards website or app.
Swagbucks gives you better options for Cashing Out: When it comes to cashing out your earnings, Swagbucks provides the most cashing out options.
Gift cards to your favorite retailers, PayPal, prepaid Visa cards, or even a paper check you can deposit into your bank account are all options.
Swagbucks comes with the Best Reviews: Swagbucks has received five-star ratings on Google Play, iTunes, TrustPilot, and other consumer review sites.
Swagbucks is Legit: Swagbucks has the best reputation for being on the level. Large, reputable news outlets frequently promote Swagbucks as a legitimate way to earn money online and encourage their readers to join.
Swagbucks App
Swagbucks, of course, has a sleek app for iOS and Android users to take online surveys. You can use the app to track your SB points, take surveys, and purchase gift cards; it provides mobile access to everything on the Swagbucks website.
We include the app because there are now app-specific ways to earn SBs. For example, Swagbucks LIVE allows you to earn SBs by answering trivia questions correctly and watching movie trailers. Other Swagbucks-specific apps include:
Swagbucks Answer is a survey app on its own. Gold Surveys are also available in the main app, but this one has a slicker, more user-friendly interface. It also lets you sort surveys by popularity, completion time, and SB payout.
Furthermore, if you allow the app to use your background location, you may receive notifications for location-based surveys. These are known as "Missions," They will appear at the top of the Surveys list as soon as they become available.
This is the main Swagbucks app, one of our favorite money-making apps.
It allows you to manage your account, search the web, shop online, take surveys, vote in the daily poll, and watch videos.
Can I Save Money With Swagbucks?
Members use Swagbucks to earn (and save) money throughout the year, then withdraw it for special occasions such as Christmas or holiday shopping, trips to Disney, car repairs, or other large purchases.
They save money in their Swagbucks account to use as a rainy day fund. Swagbucks is thus an easy way to save money. And cashing out your funds is not entirely automatic.
For example, it will take at least a day or two for those funds to appear in your PayPal account. This makes it easier to stick to your savings goals in your Swagbucks account.
Is Swagbucks Worth Your Time?
If you have a few minutes of free time here and there and want to earn some extra money on the side, Swagbucks is a great place to start.
Get money for doing things you already do, such as searching the web, shopping online, playing games or answering Trivia. And you can earn even more by exploring all the other online tasks that pay.
With over $650 million in gift cards, PayPal, Visa cards, and other rewards distributed, you'll also want a piece of the action.
Related: Fluz Review: A Cashback App For Stacking Rebates
Bottom Line
The key to making up to $1000 on Swagbucks is taking advantage of most of its earning opportunities. You can also let Swagbucks reward you for things you already do, like shopping online, buying gift cards, surfing the web, and watching videos.
You can do extra work by taking the daily poll, signing up for free trials, and answering surveys. But you shouldn't make Swagbucks your main job because it's not made to pay that much.
When a website like Swagbucks has given its members more than $650 million, it's easy to wonder if it's real or not. But it turns out that Swagbucks is 100% real, and hundreds of thousands of people are happy with it.
Swagbucks gives tens of thousands of its members free daily gift cards and PayPal cash.
Frequently Asked Questions
Q: How do I earn SB (Swagbucks Points)?
Earn SB points in the various ways outlined above. But here's a quick recap of how you can earn SB points again. (There is 100 SB to $1.00.)
Q: How Do You Get Paid on Swagbucks?
Swagbucks offers a variety of online activities such as surveys, online shopping (cash back rebates), games, and the redemption of Swag codes.
When you complete these activities, you will earn SB points. For example, 100 SB equals $1.
Taking online surveys
Inviting friends and family (Swagbucks Referral Program)
Trying free samples and new services (free trials, freebies in the mail, etc.)
Trying new apps
Playing games
Shopping online (cash back rebates)
Searching the web
Scanning receipts
Playing live Trivia
Redeeming Swag codes
Q: Can you make $50 a day with Swagbucks?
Swagbucks allows you to earn rewards by playing games, taking paid surveys, and searching the web. If you're like me and only spend your spare time there, you can expect to earn less than $50 per day.
Q: How Do I Redeem my SB Points
It's easy to redeem points or SB. To redeem your SB points:
Step 1: Tap or click on your profile.
Step 2: Select "Redeem your SB."
You'll be directed to a page that shows all the different gift cards and reward options.
Step 3: Select the reward option you want.
Q: Can I cash out my Swagbucks Points with Amazon Gift cards?
Yes, Once you've earned $1, you can cash out for a free Amazon gift card. If you prefer a different reward option, you can cash out $3 to $5 for various other available gift card options.
Q: Is there a limit to how many Swagbucks you can earn in a day?
Not at all, but there are limits to how much you can make in each part of the site. For example, printing coupons can only get you 50 points per day.