Last updated Jan. 3, 2023 by Favour Chinaza
TaskRabbit is a platform that provides a place to start a flexible and scalable business. The site connects service providers, also known as Taskers, with people who are willing to pay. This article TaskRabbit Review: Is it A Good Option to Make Money? We will explain all you need to know about making money on TaskRabbit.
You set your rates and schedule, so working around an existing job or other responsibilities is easy. Taskers are paid almost immediately via direct deposit. TaskRabbit can be picked up or set down as it's needed.
TaskRabbit is available in these countries:
Spain
United Kingdom
Germany
Italy
France
Canada
Portugal
What Is TaskRabbit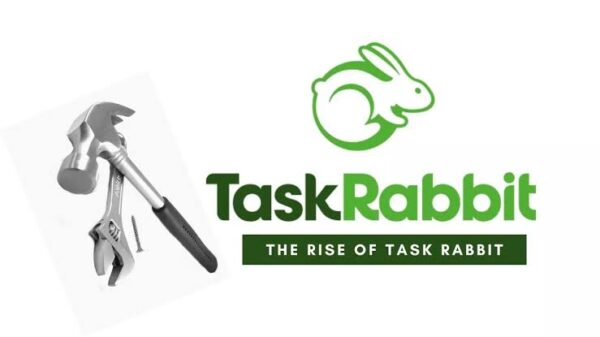 TaskRabbit was launched in 2008 by Leah Busque as RunMyErrand when she encountered an issue getting to the store to purchase food for her dog. It was designed to be a neighbors-helping-neighbors type of service, and it continues to strive for that vibe. It changed its name to TaskRabbit in 2010, and Ikea acquired it in 2017. The main difference from that acquisition was adding a furniture assembly service.
TaskRabbit is a platform connecting people who want to do jobs or tasks with people who want to pay to have these things done. Typically, they publicize these tasks as odd jobs, but they can span from something as tiny as sticking a photo to much larger projects, including lawn care. There are even people who will pay you to line up and wait.
Related: Stash Review: Pros, Cons, Cost, and More
How Does TaskRabbit Work?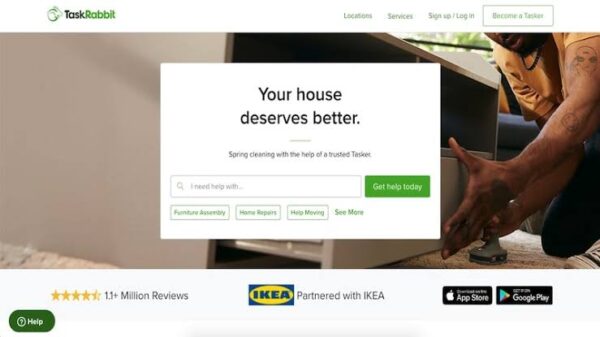 Once accepted as a Tasker, you can set up your profile for as many services as possible. You can also give each service a different price.
You'll get a message when someone in your area posts a task that matches a service you're set up to do. You will only get these alerts if you set your profile to "available." You can use the TaskRabbit website or app to do tasks and exchange money. Like most services, once the task is done, the person who asked for it can leave a review.
Taskers get their money by having it put straight into their checking account. Most payments are approved 24 hours after a task is done, but it can take three to five days for the money to show up in your bank account.
TaskRabbit makes money by charging a service fee from clients. The service fee won't cut into your pay, so you'll get your total rate plus any tips. No cost is taken from a Tasker's reimbursements, like when they pay for something while grocery shopping.
How to Get Started with TaskRabbit
1. Complete the Registration :
Fill out the form on taskrabbit.com to sign up. It will ask for your name, email address, ZIP code, and phone number and tell you to make a password.
2. Complete the information session:
You'll get an email with a link to click on. To finish the New Tasker Info Session, tap on it. Finally, pay your TaskRabbit registration fee.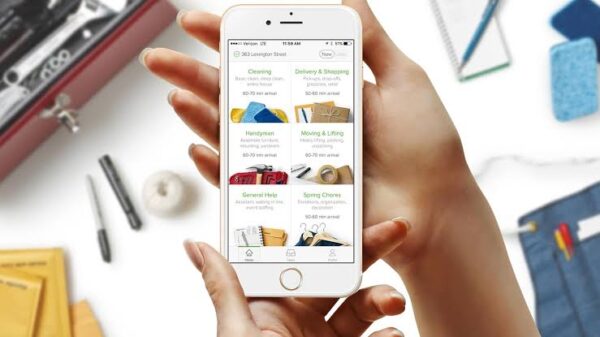 3. Download the app:
Download the Tasker app to your smartphone.
4. Set your work area:
Choose your work area and set your availability for tasks. You can assign different tasks.
5. Complete your profile background check:
Check your email for details on finishing your criminal and identity checks.
See also, StockTwits Review: A Twitter For Stock Traders
How to Start Making Money With TaskRabbit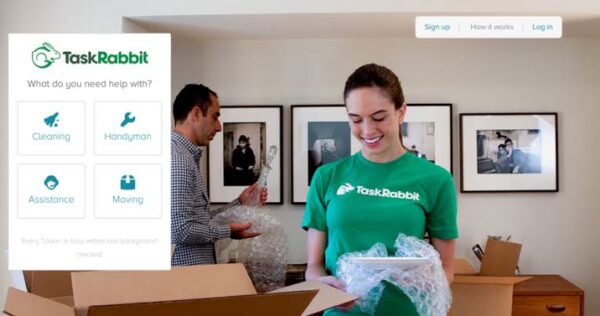 ● Set up a unique profile
Your profile is your chance to show what you have to offer. Post a clear picture of yourself for your profile, and use the profile to talk about your experience and work ethic. Add a link to your professional website if you have one. If you need help, check out the profiles of TaskRabbit's Elite. They are Taskers with favorable ratings of 98% or higher who finish numerous tasks every month.
● Pick different tasks
Don't be hesitant to try out a lot of different things. Taking on other jobs can increase your chances of making money.
● Learn different skills
Most of the time, skilled jobs pay more than other jobs. If you can, learn skills like painting, putting together furniture, or being a handyman.
● Increase your rates
When you're just starting, you'll probably have to charge a low hourly rate to get your first jobs. But once you've done tasks and gotten good reviews, you can raise your prices and make more money.
How Much Do Taskers Make?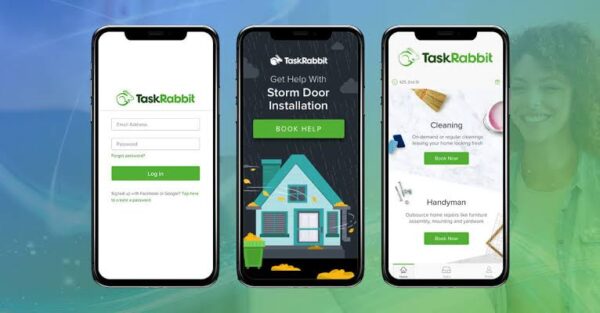 Taskers set their prices, but if you want to get jobs, you'll need to know the going rate for that service. For example, if you charge $200 an hour for work that other Taskers do for $50, and you don't have any reviews, it's unlikely that anyone will hire you.
Most of the time, average prices depend on the service and location. For example, near Denver, the average hourly rate for putting together furniture is $39, the average hourly rate for full-service moving help is $47, and the average hourly rate for waiting in line is $24. So on average, it costs $37 an hour to put together furniture in Baltimore, $38 an hour to get full-service help moving, and $21 an hour to stand in line.
In short, Taskers can make different amounts of money, but unlike some other platforms, TaskRabbit isn't a race to the bottom. Even though the ceiling is lower if you can only charge by the hour, TaskRabbit rates are still more than what a pizza delivery driver makes in their first hour on the job.
Tip* How much you can earn with TaskRabbit depends on your skill set, location, and the type of jobs available.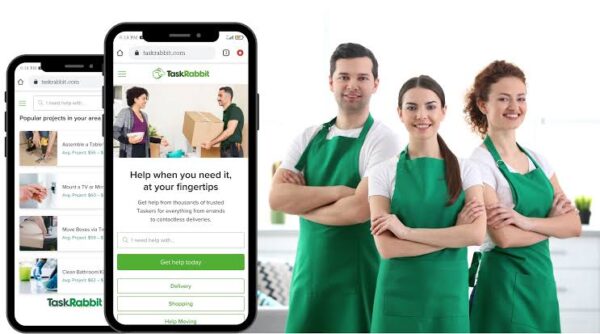 For example, cleaners in the Orlando, FL, area charge $21 to $40 per hour, whereas painters can charge $104 to $200 per hour to paint one bedroom. In Las Vegas, you could pay $18 per hour to stand in line at an event's ticket booth. You could organize someone's closet for $18 to $30 per hour.
That can add up over time. For example, you could earn $800 per month if you worked 10 hours per week and were charged $20 per hour.
And, aside from the initial $25 registration fee, TaskRabbit does not charge you anything else as a Tasker. All fees are levied against the clients who schedule the services.
You can increase your earnings by providing excellent service. For example, clients can tip Taskers on TaskRabbit, and you get to keep 100% of any tips you receive.
When you finish a task, you submit an invoice via the TaskRabbit app. Depending on where you live, taskers are paid via direct deposit through Braintree or Stripe. Clients can also reimburse you for any expenses directly through the app.
Related: Stock Rover Review: A Good Stock Screener?
Taskrabbit Review: TaskRabbit Horror Stories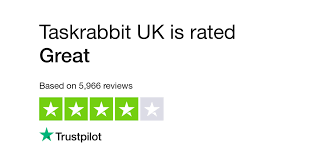 The TaskRabbit service has a Trustpilot score of 3.9 out of 5 stars. However, there have been some TaskRabbit horror stories from users. It boils down to thoroughly vetting your worker and reading reviews on their profile before choosing them. On the other hand, TaskRabbit has good customer service, and we saw them respond well to their users and do things to fix problems.
Most comments focus on the service's high cost and the lack of recourse available to customers when a Tasker fails to meet their expectations.
The good reviews say a lot about how qualified Taskers are. Using this information, you should only offer services for tasks you are sure you can do well to get good feedback.
TaskRabbit Jobs To Consider
Below are a few examples of how you can make money on TaskRabbit. Remember that some types of tasks might only be available in certain cities.
Do you like getting dirty in the garden? Help someone who doesn't know how to do it or doesn't have time. Taskers can get paid to mow lawns, rake leaves, shovel snow, trim trees, plant flowers, and more. The TaskRabbit website says that an average yard job pays at least $64 at the very least. But you can set an hourly rate that considers how skilled you are, how careful you are, and how good your lawn and garden tools are.
Not many people enjoy cleaning. So, it makes sense that the average cleaning job on TaskRabbit pays between $70 and $155. You can get that money if you buy a mop and some cleaning supplies, do a good job and get known for it. You can get a one-time cleaning job or a job that you repeatedly do, depending on what the person wants.
The dry cleaning is ready. Send things to the post office. Get prescriptions filled. Most people find it hard to figure out how to do these things. However, TaskRabbit says you can help them and make between $26 and $66 per project.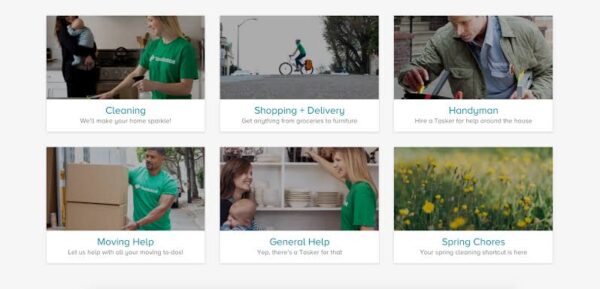 On TaskRabbit, delivery jobs are some of the most sought-after. Delivering groceries to a busy household, doughnuts to an office meeting, and beer to a party are just some things you might be asked to do.
The TaskRabbit website says that most Taskers make between $22 and $62 per delivery project. Most of the time, to do delivery jobs, you need to have access to transportation. Also, you won't get money back for parking or gas.
Yes, you can get paid to wait in line, on a field, or for delivery. In Washington, D.C., for example, Taskers make an average of $30 per hour by getting someone a table at a hot new restaurant or holding a field for a recreational sports team. It would be best if you had a good book, a blanket or chair, and a couple of hours to yourself.
Use your creative skills to make money on the side. For example, you can help decorate for a wedding or a house party, help people hang pictures, or put up holiday lights. TaskRabbit says that your decorating skills can earn you $60 to $124 per project.
Putting Ikea furniture together is a skill people want that pays well. Unfortunately, the average cost of an assembly project is between $59 and $170. Unless they tell you otherwise, you will need to bring your tools to finish the job.
Event jobs as bartenders, servers, or caterers are available on TaskRabbit. Taskers may also be asked to greet visitors and assist with setup and cleanup. However, some party staffing requests may be more unusual, especially around Halloween, when Taskers can sometimes get gigs that essentially require them to accessorize in costume and socialize with guests.
Read also, StudySoup Review: Is This a Legit Way to Make Money in College?
Is TaskRabbit Good for Making Money?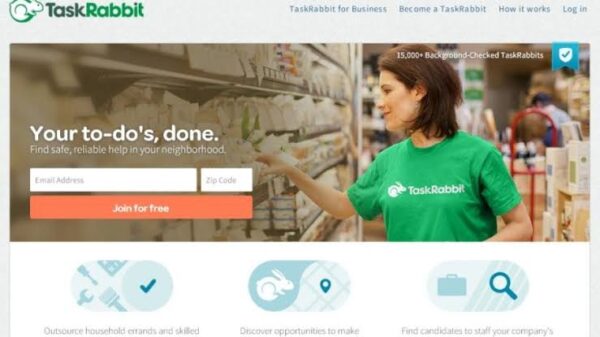 A Tasker side gig can supplement your income, allowing you to increase your savings or pay down debt. Completing odd jobs as a TaskRabbit Tasker is one of the best side hustles. You have the freedom to work when it is convenient for you, and you can earn a decent hourly wage.
How to Stay Safe As a Tasker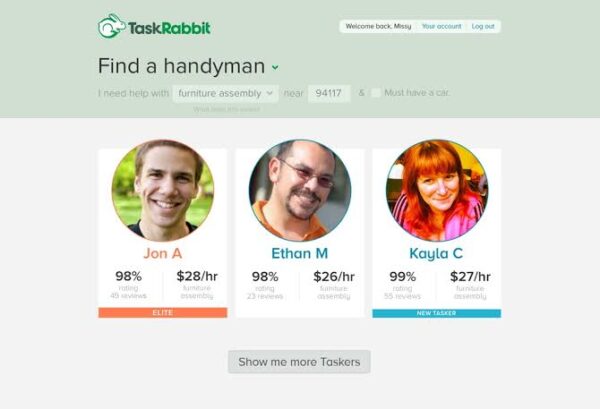 TaskRabbit has been around for a while, but you should still be careful as a Tasker. Being cautious is important because the job requires going into the homes of people you don't know.
Tell a friend or family member where you are going ahead of time, and send them a text message when you get there and when you leave so they know you are safe. Leave immediately if you feel unsafe at a client's place and call TaskRabbit's Tasker Support team.
TaskRabbit has a Happiness Pledge for its clients that protects them in case of theft, damage to their property, or injury. But you might want to get your insurance so that you are covered in an emergency.
Taskrabbit Review: Is TaskRabbit Legit?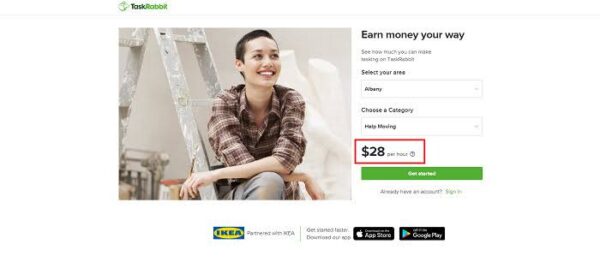 Certainly, TaskRabbit is a legitimate way to make money by helping people fix their homes and businesses.
Personal shopping and making small deliveries can pay as much as delivery apps. Even better, you don't need special skills to do these things. However, to make money, you will need to live in a city that is taking part and wait for clients to invite you.
Related: SurveyClub Review: Is it Legit or a Scam?
Is TaskRabbit a Good Side Gig?
Yes, TaskRabbit is a good side gig to make money. Completing odd jobs as a TaskRabbit Tasker is one of the best side hustles. You have the freedom to work when it is convenient for you, and you can earn a decent hourly wage.
TaskRabbit was an early adopter of the gig economy. And, in the beginning, it was chastised for terms that coerced workers into taking jobs and for charging freelancers exorbitant fees. Since then, the site has been completely revamped and is now one of the more appealing places to look for work.
Signing up here gives you access to millions of potential clients as well as the ability to set your rates and availability. The tasks available range from deep cleaning to assembling IKEA furniture; from providing tech support to doing light construction.
How To Get Good Reviews on TaskRabbit
Be professional: When communicating with the client, whether through the mobile app or in person. Be friendly and polite, and dress neatly when you visit them at home.
Arrive on time: If possible, try to arrive a few minutes early so you can begin work on time. Being on time is very important in your reviews.
Perform your best work: Even if it's a side hustle, treat each task as if it were an assignment at your full-time job. Make every effort to meet or exceed your client's expectations.
Related: Sweatcoin Review: Is it a Scam or Legit?
Do You Pay Taxes on TaskRabbit?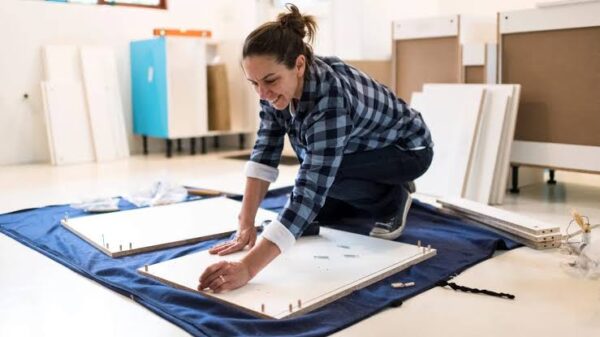 On your federal tax return, you must include all the money you make as a self-employed worker. TaskRabbit is not an employer, so it does not give you a W-2 form at the end of the year. The company must, however, send you Form 1099-K.
For tax years starting in 2022, if the company handles $600 or more transactions for you, it should give you a 1099-K. For tax years before 2022, the threshold takes care of more than $20,000 and 200 transactions.
Even if TaskRabbit doesn't send you 1099, you still need to report your earnings. Log in to your TaskRabbit account and go to "transactions" to see how much money you've made. Each state has its own tax rules for independent contractors, so make sure you know what those rules are in your state.
Is TaskRabbit Worth It?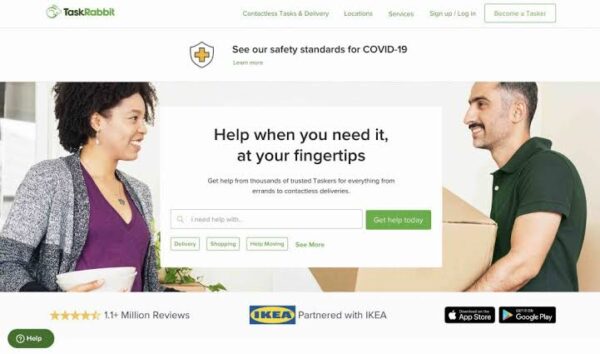 When deciding whether TaskRabbit is worth your time, numerous factors exist. This TaskRabbit review gives it 4.6 out of 5 stars because of its flexibility in setting your schedule, rates, and services to offer.
How Much Does TaskRabbit Charge Per Hour?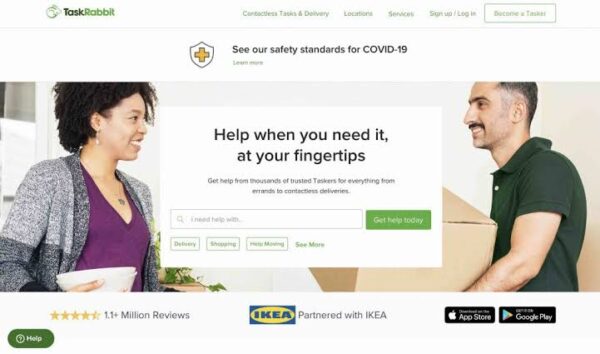 Prices range from $17 to $80 per hour on TaskRabbit. Taskers set their rates, but the average hourly rate for services related to moving is $35. Be aware that prices change based on how many taskers are available and how much they quote.
If you want to do the heavy lifting yourself but could use a few extra hands for a few hours, using TaskRabbit is much cheaper than hiring a full-service moving company, especially if you shop around for the best hourly rates.
See also Swagbucks Review: Is it Worth Your Time?
TaskRabbit Alternatives
TaskRabbit vs. Retail Arbitrage
Retail arbitrage might be a better job than being a Tasker if you like finding great deals on things people might want to buy.
With retail arbitrage, you buy and sell things to make money. As a result, your earnings can differ depending on the following:
what you buy,
how much you pay for it, and
how much you can sell it for.
It can be a great way to make money on the side without having to work for someone else, but it takes time to learn. So, to be successful, you must be willing to put in the time and effort needed.
TaskRabbit vs. Rideshares
To be a rideshare driver, you must be at least 21 years old and have a newer car with four doors. To use an app like Lyft or Uber, you must also be at least 21 years old. Aside from having the right vehicle and a clean driving record, you don't need special skills to transport people.
Rideshare could be a good side job for you if you like to talk to people or want to work in the evenings. However, most rideshare requests can be made at night, when people are out enjoying the nightlife and other popular events.
Rideshare can also be a good choice if you live near an airport or a city with many tourists. Your pay can be comparable to other delivery apps, and customers can tip you.
See also, Survey Junkie Review: Is it a Scam or Legit?
Bottom Line
TaskRabbit is your best bet if you already have an idea or a hobby that you want to turn into a side hustle. You can select services most similar to what you already enjoy and use the platform to network. In addition, because TaskRabbit has a built-in user base, it can take a service startup less time to get clients than if you tried to market your services on your own.
TaskRabbit has the most affordable moving labor prices we've seen. The company is an online marketplace where you can find clients looking for tasks ranging from furniture assembly to cleaning. In addition, TaskRabbit.com has a secure payment system that allows you to review your client satisfaction ratings.
Don't miss this Tally Review: Pay Off Debt Faster
Frequently Asked Questions on TaskRabbit
Q: Is TaskRabbit safe?
Although TaskRabbit is a secure platform, it does collect personal information such as your name, address, email address, and bank account information. The company keeps your data for as long as you are a user.
Your password protects your account. TaskRabbit also takes precautions to ensure the security of your data by backing it up on separate drives and employing public key access encryption and firewalls.
Q: How long does it take to get approved for TaskRabbit?
It only takes a few minutes to fill out the TaskRabbit application. But people who want to be Taskers have to undergo a background check, and they can apply at any time. Depending on where you live, the check could be done and approved in a few days or even longer. When you're done, TaskRabbit will let you know whether you were accepted.
Q: How can I earn fast money?
There are a lot of quick ways to make money. Some of them are:
Cash in on the food delivery boom
Earn cashback and rewards.
Sell your location data.
Teach English as a second language online.
Take paid surveys.
Sell your textbooks.
Drive with Uber.
Q: How much can you earn on Tasker?
About $110 is what the average Tasker makes each month. However, even though this is the average, it doesn't mean that this is all you can earn. Some Taskers make between $6,000 and $7,000 a month, and some even make as much as $12,000 in a single month.