Last updated Mar. 15, 2023 by Benedict Osas
ThredUp is arguably the biggest online thrift and consignment platform enabling you to sell your clothing and accessories from the comfort of your home. In addition, it provides a convenient way to make money from selling clothes.
As an e-commerce platform, ThredUp also offers cheaply prized second-hand and luxury items for sale. So if you're considering using ThredUP, you might wonder if it's the right choice.
This ThredUP review offers insights into purchasing options on the platform and alternative options to help you access fashionable items at affordable prices.
What is ThredUP?
Thredup is an innovative startup established in 2009 by James Reinhart, Oliver Lubin, and Chris Homer in Cambridge, Massachusetts. The company's headquarters are in downtown San Francisco, while its distribution centers span various locations in the United States.
As a privately-owned entity, Thredup has revolutionized the industry by offering unique services that are designed to cater to the evolving needs of its customers.
Is ThredUP A Good Option to Sell Clothes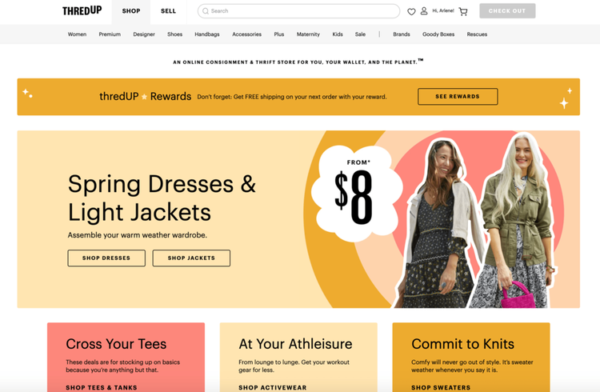 If you need more commitment to sell an item online, ThredUp will be a great option for you since it handles processes like shipping, pricing, and packaging on your behalf.
In addition, ThredUp accepts all types of women's and kid's clothing like tops, sweaters, pants, jeans, shoes, belts, bodysuit skirts, scarves, wallets, coats, plus size clothing, handbags, kids costumes, vests, shorts, swimwear, sunglasses, backpacks, vests, maternity material, watches, and more.
Although ThredUp is a platform that sells clothes, it's better known as a consignment store rather than a marketplace, and it keeps a lot of commission to itself after selling your item.
Unlike platforms like Poshmark, which takes a fixed 20% of your total earnings, ThredUp pays you based on the price your item is sold for. The higher the price your item is sold for, the greater your commission but the lower the price your item is sold for, the lower your commission. Payments on ThredUp are made via PayPal or Stripe.
Nevertheless, ThredUp is a good place to sell your clothes online if you do not want to deal with the stress of packaging, shipping, and pricing.
How Does ThredUp Work?
To sell your clothes on ThredUp, you must sign up for a free account using your Amazon, Facebook, or email credentials. Once you've created an account, you can request a ThredUp Clean Out Bag, which is also free. However, you'll have to pay for the shipping costs to send the bag back and forth, which will be deducted from your earnings.
The cleanout bag is a large bag you'll fill with the clothes you want to sell. ThredUp has some guidelines for the types of clothes they accept, such as preferring higher-end brands and clothes in good condition with only minor flaws as long as they are not too noticeable. You can also use your own box to send your clothes and request a free mailing label.
Once you receive the cleanout bag, you can fill it following ThredUp's guidelines, neatly folding items until the load reaches its capacity, then seal it shut and attach the provided return label. Then, you can drop the cleanout bag off at the post office or schedule a pickup online, and ThredUp will take care of selling and shipping your items for you.
After your bag arrives at its destination, it may take a while for the items to be processed. ThredUp only accepts an average of 40% of clothing sent to them, and items not accepted are either sold to third-party sellers or recycled. However, you do have the option to buy them back.
For items that are accepted, you'll receive payment after they've been sold and have passed the 14-day return window. Afterward, ThredUp will either buy the items outright or place them under consignment terms, depending on how quickly they sell.
The consignment terms have a set date after which you won't receive any profit. After that, you can either cash out or use the total towards a purchase on ThredUp. If your items are not accepted, they may be sold to third-party sellers or recycled, and you can buy them back.
Some Requirements You Should Know About
The ThredUP evaluators seek certain qualities in clothing and items. Below are some tips to assist your search for their requirements.
The first requirement is that the items should fit into one of the specified categories.
ThredUP accepts over 35,000 brands, and there is no list of brands that are not accepted. Nevertheless, some brands stand out as favorites, including Baby Gap, Crewcuts, and more, within the 35,000 accepted brands.
Moreover, the items must be in impeccable condition, without any stains, holes, pilling, or other signs of wear, as such items won't make the cut. Additionally, clothing, shoes, and other items that are considered on-trend, fashionable, hip, or hot are highly favored.
Thredup Pros And Cons
With ThredUP, you can sell your gently used clothing and earn a commission of up to 80% of the sale price. However, like any other platform, ThredUP has its own set of advantages and disadvantages. Let's take a look at them.
Thredup Pros
Thredup provides an easy and convenient way to sell your used clothing, as they handle the items' photographing, selling, shipping, and returns process, saving sellers from the hassle of managing these aspects themselves.
Moreover, the cleanout service is entirely free, making it a great option for those who want to declutter their closet without any cost.
Thredup Cons
Firstly, ThredUP may not accept all items, so sellers might be unable to sell everything they send.
Additionally, there is no guarantee of profit margins, which means that sellers may earn less than expected.
It can take a long time for ThredUP to process the items, which can be frustrating for those looking for a quick turnaround time.
If a listing expires, the seller will not make any money from the sale.
Is Thredup Legit
With over one million downloads with a 4.5 rating from 60,000 people on Google Play Store, ThredUp is known to be a legit app that helps you declutter your wardrobe.
Founded in 2009 by James Reinhart, Chris Homer, and Oliver Lubin, ThredUp has grown to become a globally recognized consignment store. It has a headquarter in Oakland, California, USA, and is popularly known as a million-dollar tech company.
In the first quarter of 2022, ThredUp recorded over 1.7 million active buyers and sellers on its platform, making over 70 million dollars in total revenue.
With its increasing popularity and success, it's no doubt that ThredUp is a legit site where you can sell and buy cheaply priced but second-hand designer clothes.
Thredup Review Ratings
Although ThredUp has built a good reputation and foundation in the e-commerce space, there are still a lot of negative reviews by sellers on the platform.
Trustpilot, a site that reviews tons of businesses worldwide, records that ThredUp has a rating of 2/5. On Reseller Rating, ThredUp has a rating of 1/5 and a 1.1/5 rating on Better Business Bureau.
According to SiteJabber.Com, ThredUp has a customer rating of 3.2/5 from over 5000 reviews. On SiteJabber, ThredUp received a three-point rating for its service, three points for its value, three points for its shipping service, 2.5 ratings for its return policy service, and three points for the quality of its overall service.
How much will ThredUp pay?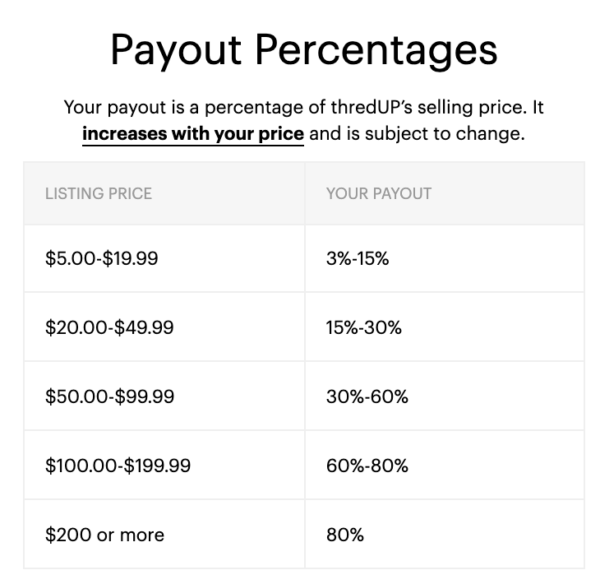 The amount of money you receive from ThredUp depends on the selling price of your clothes and accessories. After they receive your item, it is verified, and sold. You will receive between 5% to 80% of the item's selling price.
Here's a breakdown of how much ThredUp will pay you:
For clothes sold at a price that ranges between $5 to $19.99, ThredUp will pay you 5% to 15% of the selling price. For clothes valued at $20 to $49.99, you will receive 15% to 30% of the selling price.
You will receive a 30% to 60% commission when your item values from $50 to $99.99. For example, for clothes valued at $100 to $199.99, you will receive 60% to 80% of the selling price.
If your item is valued above $200, you will receive 80% of the selling price. The higher the price value of a cloth, the higher they'll pay you.
Poshmark: A ThredUp Competitor
Poshmark vs. Thredup
Poshmark and ThredUp are two competing online platforms that allow you to buy and sell clothes of any kind. Although they provide similar services, they're both different in several ways – here is what makes them unique.
Sign Up Process
Selling clothes on Poshmark is as easy as filling out your name, address, and items you want to sell, whereas selling on ThredUp requires you to order a Clean Out bag that you fill in with the items for sale.
Listing Process
After receiving the Clean Out bag from you, ThredUp handles the listing and selling process; however, Poshmark demands that you provide photos of your item, product description, product category, product price, and more.
Selling Process
ThredUp supervises the selling process of your items, and they'll give you a share of the selling price whenever a sale is completed. Poshmark, on the other hand, puts everything in your hands by allowing you to handle the packaging, pricing, and shipping processes.
What Is The Best Way to Sell Clothes?
The best way to sell clothes is through an eCommerce platform. Here are the best e-commerce spaces to sell your clothes:
With millions of visitors, this online platform allows you to sell anything. However, there's a 12.8% charge on all sales you make.
This platform will charge you 10% of each sale you make. However, it's a safe way to sell your second-hand clothes easily.
This is a platform for serious clothes sellers. It offers everything you need to kick-start a new business, but it charges 20% on each sale you make.
This platform charges its buyers rather than sellers. Regardless, it's a great place to sell your clothes easily.
#5. Facebook Marketplace
Listing your clothes on Facebook marketplace allows you to find local clients without paying a commission after sales.
Some Frequently Asked Questions On ThredUP Reviews
How Do I Get my Money from ThredUp?
You can get your money from ThredUp via PayPal or Stripe. Simply visit the CashOut Menu and select a preferred method of redraws. After the redraw, the money will be deposited into your account in one to three days
ThredUp does not adopt the use of cheques and cash.
Who Pays for Shipping on ThredUp?
If you are a buyer on ThredUp, ThredUp will not be responsible for your shipping costs. There are lots of shipping options available for you – bundle shipping, standard shipping, expedited shipping, and separate shipping.
These shipping options come with different prices and conditions.
Can I adjust my listing prices once my item is live?
It is possible to adjust the prices of your listings on ThredUP as frequently as desired, provided that the item is not already in a shopper's cart. This allows sellers to optimize their pricing strategy based on market demand and adjust prices to reflect current trends.
What items does ThredUP not accept?
ThredUP has a list of items it does not currently accept, including men's clothing, formal gowns over a decade old, jewelry, items with signs of wear, and counterfeit items. This policy ensures that only quality and in-demand items are available for purchase on the platform.
How long do items stay on ThredUP?
When selling on ThredUP, it's important to be aware that items will remain live on the platform for a period of 60-90 days, depending on the brand. After this period, items will expire and become the property of ThredUP. Therefore, sellers must claim their items within the 7-day window before they expire to ensure that they can be reclaimed and relisted on the platform.
What are the most popular clothing brands sold on thredUP?
ThredUP's top 10 clothing brands include Ann Taylor LOFT, Lululemon Athletica, American Eagle Outfitters, Madewell, Free People, BCBGMAXAZRIA, Theory, GAP, and more. These brands have gained popularity among thredUP's customers due to their quality, style, and affordability.
Why is thredUP so successful?
ThredUP's success can be attributed to its unique concept of offering a wide selection of premium and luxury second-hand clothing at significantly discounted prices. In addition, by providing a fun and convenient shopping experience, thredUP attracts customers who value affordability, sustainability, and fashion.
ThredUP's commitment to making fashion accessible and reducing waste also appeals to socially conscious consumers.
Is thredUP only for the US?
Currently, thredUP only ships to customers in the United States and Canada. The company has not announced any plans to expand to other countries at this time.
Unfortunately, customers from other countries cannot access thredUP's website due to restrictions.
Does ThredUp Pay Right Away?
Immediately after they sell your items, they'll deposit your commission into your ThredUp account. You can choose to shop on ThredUp with the money, or you can make redraw it via PayPal or Stripe.
In other words, ThredUp will immediately pay you after they sell your items. However, you won't receive any payments after sending your items to ThredUp. Payments are only made after your products have been listed and sold.
If you chose the Expedited processing and Return assurance policy when signing up on ThredUp, they'll deduct a certain amount from your ThredUp account when you get paid.
How Safe is ThredUp?
ThredUp is a registered and legit business operating with a headquarter in California, USA. It is restricted to individuals in Canada and the US.
Since its founding in 2009, there has been no stolen customer data and information. However, some customers need help with misplaced goods and payment errors.
When signing up on ThredUp, you must provide information about your credit card, shipping address, and payment information. This data is protected by encryption, and ThredUp does not use cookies to track your information.