Last updated Mar. 11, 2023 by Peter Jakes
What is Stock Rover
Stock Rover is a reliable website for investment screening and analysis. Members can use tools like investment data, charts, research reports, ratings, screeners that can be changed, and custom alerts.
The study focuses on stocks, exchange-traded funds, and mutual funds. This article, "Stock Rover Review: Is it a Good Stock Screener?" will explain all you need to know before using the Stock Rover app.
It provides a set of investment screeners and analysis tools to users. A premium account also allows you to quickly create customized screeners, analysis tables, advanced charts, and fine-tuned alerts to keep you updated on the most important details of your portfolio and potential investments.
Check out our Stock Rover review to learn more about how it works and decide if it's right for your investment goals.
Stock Rover integrates with your existing brokerage account, analyzes your portfolio, and assists you in screening various asset classes for trading opportunities. In addition, the platform provides both paid subscription options and a free version.
With its powerful suite of research tools, Stock Rover can be a valuable resource for helping you plan your investment strategy, especially when combined with one of the best online brokers.
See also Figure Home Equity Review: My Personal Experience
Stock Rover Pros
Extensive investigation — Get access to a comprehensive analysis of most North American stocks, ETFs, and mutual funds.
Customizable — Create your stock screeners.
There are numerous charting tools — Stock Rover includes many advanced data, charting, and comparison tools.
There is a free option — A free account is available, but it has fewer features than the paid version.
Stock Rover Cons
Stock Rover pricing is expensive — It is a little pricey for the highest-level premium accounts.
Not for newcomers — The platform may be challenging for newer investors.
There is no mobile app support — There is no smartphone or mobile app support.
You can't ask for refunds — Stock Rover has a no-refunds policy.
How Does Stock Rover Work?
Stock Rover App uses your web browser. The site supports the latest Chrome, Firefox, Safari, Internet Explorer, and Microsoft Edge versions. However, it does not have a mobile version.
Stock Rover best uses a large computer monitor for the best user experience. Stock Rover suggests a screen resolution of at least 1266 x 768. However, you can use a resolution as low as 1024 x 768 on a tablet.
All premium features are free for the first 14 days for all new users. So you can try it out for free to ensure it meets your needs.
How Do I Open an Account With Stock Rover?
Through Stock Rover's free signup link, you create an account. Just give a valid email address and a username and password. To open an account, the email address has to be confirmed.
Once you confirm, you can use all Premium Plus features for 14 days without a credit card. You can keep using all the features if you pay before the trial ends. If you don't, your account becomes free after two weeks.
It's not a place to put money to grow. So you don't have to give more personal information when making a new account.
Who Should Choose Stock Rover?
Stock Rover is a sophisticated tool for looking at stocks and analyzing portfolios. It has charting and news alerts.
In addition, with a few notable exceptions, like forex, futures, options, and cryptocurrencies, it gives in-depth research and analyst ratings for various investments.
Whether you're a seasoned day trader or starting, you can use Stock Rover's useful, high-quality tools and data, which go above and beyond the default brokerage platform settings.
The platform has both a free version and paid subscriptions that can be paid for monthly or annually. As you might expect, the more you pay, the more you get.
As a result, serious investors may be able to justify the higher prices of the platform's more comprehensive plans, while beginners may get by with a basic or even free plan.
Users need a separate brokerage account because Stock Rover doesn't offer brokerage services and can't handle trades.
Beginner investors who want to keep things simple may not always want to open a brokerage account and a Stock Rover account.
More experienced traders may prefer a trading platform with all the necessary tools and research resources.
Read also Arcadia Power Review: Is It Legit & How Much Can You Save?
Stock Rover Review: Key Features
Stock Comparison
You can use the Table tool on Stock Rover to compare stocks. It works a lot like an Excel spreadsheet.
One of the best things about the table is that you can load ticker symbols onto your screen or even download your portfolio into the table to get instant financial metrics and equations.
The Stock Rover spreadsheet can also do basic things like sort, filter, and color.
Stock Rover Future Simulations
Future Simulation is a new tool that Stock Rover just added to its platform. Future Simulations let you run a test to see how your portfolio might do in the future over a certain amount of time.
Monte Carlo simulations, a type of simulation that tests what could happen when random variables are present, are used to do the tests.
Basically, the model would put your portfolio through hundreds or thousands of tests while mixing up the factors that could affect it. Then, you'll be able to see all the possible outcomes and how likely each one is.
Stock Charting
Stock Rover has some basic charting features that aren't great for day traders but can help you learn more about your portfolio and what it can do.
You can chart your portfolio against a benchmark to look at peaks and valleys, at statistics like the P/E ratio, and even do technical analysis with indicators like simple moving average, relative strength index, and candlesticks.
Stock Rover Watchlists Feature
On the Stock Rover platform, you can also use watchlists. For example, you can keep an eye on stocks that might be a good fit for your portfolio by putting them on a "watchlist." The watchlist lets you see how they're doing.
You can use custom criteria to make your watchlists or choose one of the custom watchlists that Stock Rover has already made. In 2022, Stock Rover gave its users some new watchlist.
You can use these watchlists to keep track of stocks in categories like Best and Worst S&P 500 Performers for the Past Year, Dogs of the Dow, Fifteen Large REITs, and Top 25 ETFs by Volume and Market Cap!
Related: Stilt Loans Review: Personal Loans For Immigrants And Visa Holders
Stock Rover Review: Customer Support
Customer Service:
Stock Rover doesn't have a live chat or phone support. To get in touch with customer service, you can use the website's many tools or send an email to [email protected].
Users on the Free plan are not assured of an email response. However, for an extra $50 per year, Premium and Premium Paid Plus subscribers with one-year or two-year plans can add priority hotline phone support to their plans.
Customer service is open from 9 a.m. to 5 p.m., Eastern time, Monday through Friday.
Mobile App
There isn't a mobile app, but you can get to the Stock Rover platform from an iOS or Android device.
Stock Rover works on PCs, Macs, tablets, and smartphones. It doesn't need to be set up; it just works. Unfortunately, the market data, scoring, ranking, and analysis are only for the United States and Canada.
Stock Rover Security
Stock Rover's servers and your browser only talk to each other through the secure HTTPS protocol. That means all network traffic is encrypted, and you can read them, even by people who shouldn't be able to. Unfortunately, multiple layers of firewalls are also used on company servers, and only a small number of authorized users can get information.
Is Stock Rover Safe?
Stock Rover is a website that uses encryption and doesn't keep much of your personal information or any of your money. So you can use it without too much worry.
Financial data company Yodlee, which has been in the business for a long time and has a good reputation for security, handles connections to investment accounts outside the company.
Stock Rover Screener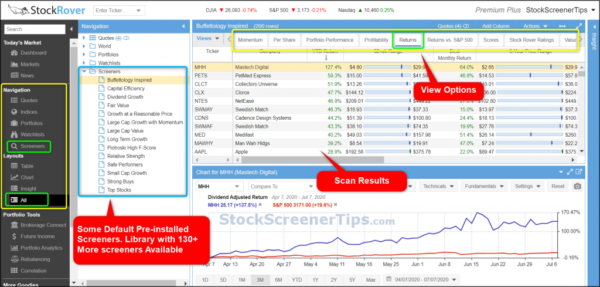 Stock Rover has a great stock screener based on fundamentals and powerful scans. For each of the built-in scans, there is an explanation and a formula for the criteria.
Many of them go into a lot of detail. Users can also customize their scans to change the requirements.
Stock Rover is the only place you can find unique scans like Buffettology Inspired, Piotrosky-High F-Score, Capital Efficiency, and Small Cap Rockets. You can use these scans to find great ways to trade and invest.
You can also make custom screeners if you want to find a certain kind of opportunity. Stock Rover has a lot of criteria for searching that you won't find on most other platforms.
You can make a lot of different screeners to see different kinds of chances (value, momentum, etc.). I like to start with my custom screeners when looking for new investment opportunities.
Here are some of the supported fundamental metrics:
Analyst Estimates
Profitability
EPS Estimate Trends
Price Details
Valuation Yields
Margin of Safety
Technical Indicators
Fair Value
Related: Steady App Review: Is It Legit?
Stock Rover Portfolio Management
So far, we've talked about the features of Stock Rover that help you find and evaluate new opportunities. Stock Rover also has tools that can help you look at the performance of the stocks you already own.
Stock Rover works with the most popular brokerages, such as Charles Schwab, E*TRADE, TD Ameritrade, Fidelity Investments, T. Rowe Price, Morgan Stanley, Merrill Lynch, Merrill Edge, and Vanguard Investments. There are more than 1000 brokerages that are supported, so you can likely link your account.
Once you connect your brokerage account, you can look at your current portfolio using several tools.
How Does Stock Rover Calculate Fair Value?
Stock Rover calculates a company's Fair Value using a discounted cash flow analysis to determine the Intrinsic Value.
Then, for each Sector, we rank firms based on their Intrinsic Value to find a value well suited to current market multiples.
Our Fair Values imply a 30% drop in price for the worst stocks and a 45% gain for the best stocks over the long term.
How To Get Started With the Stock Rover Free Trial.
Dashboard
This effective stock research platform should be easy and quick for new users to learn how to use. So, the start page, or "dashboard view," has a clear graphic design and the usual navigation in the sidebar.
First, a clear overview of the whole market in clear blocks is an excellent place to start. For example, the performance numbers for a portfolio should be at the top left, along with the essential indices and other markets.
Market Movers and Sector Performance
The system lists the "Market Movers" and "Sector Performance" in two blocks beneath. You will find the "most traded" and the "winners" and "losers" by a percentage on the left.
The table to the right shows individual sector gains and losses after five days and positioning within a 25-week range.
Check out Stansberry Research Review: Is the Service Worth It?
Portfolio Charting
The dashboard page's lower section is dedicated to "Portfolio Charting," which shows the evolution of one's own or proposed portfolio in charts based on key figures (for example, "dividend-adjusted yield" or "performance").
Performance and Comparisons for Stocks and ETFs
Below is a list of the performance after further time comparisons and an overview of the portfolio positions of the fundamental analysis platform.
● Sidebar Navigation
The well-organized sidebar navigation lets you get to any function quickly, either through the sidebar navigation or an extra column on the left of the main content area.
● Tables
Also, the menu items in the "Main Content" area are arranged clearly in a single-column or multiple-column window ("Table Displays"), and tables and charts can be changed or made more prominent.
● Quotes and Portfolios
Quotes, Indices, Portfolios, Watchlists, and Sreener give much information about Table Displays. They also provide a complete and up-to-date overview of the market and news. Through the "Layouts" topic, users can quickly get to tables, charts, insights (facts, key figures, analyses, and news), and a general overview ("All").
The "Portfolio Tools" menu has four options: Brokerage Connection, Portfolio Analytics, Rebalancing, and Correlation.
Analyst Ratings and Earnings
Under the "More Goodies" menu, Stock Rover has unique features like Stock Rover Ratings, Metric Browsers, Ideas, an Earnings Calendar, Alerts, and a library of stocks and ETFs.
How Much Does Stock Rover Cost?
Stock Rover offers one free (completely free) plan and three paid plans: Essentials, Premium, and Premium Plus. Each paid plan has a different level of features and is priced differently.
The Essentials plan pays $7.99/month or $79.99/year.
For the Premium plan, you pay $17.99/month or $179.99/year.
For Premium Plus, you pay $27.99/month or $279.99/year.
Head to Stock Rover's free plan description to learn more about the free plan. To learn about the premium plans, see our premium plans comparison page.
To check out Stock Rover's in-depth plans compare page, see the complete list of differences between the three premium membership plans. Note regardless of which plan you sign up for, including the free plan, and we protect the privacy of your email address by not distributing it to any third parties.
See also Titan Investing App Review: Investment Management for Everyone
Does Stock Rover Have an App?
No software is required to be downloaded and installed. Stock Rover is a browser-based game. Stock Rover is compatible with the most recent versions of the browsers listed below. Chrome, Firefox, Safari, Internet Explorer, and Microsoft Edge are all supported.
Stock Rover Best Alternatives
Seeking Alpha
One of the best alternatives to the Stock Rover app is the Seeking Alpha Basic which is free and comes with price charts and news updates sent to your email in real-time.
In addition, seeking Alpha subscribers can upgrade to Seeking Alpha Premium or Pro for more in-depth analysis.
These plans give you access to Stock Quant, author, and performance ratings that you can't find anywhere else. Pro also gives you access to unique content and newsletters.
MorningStar
MorningStar is a well-known leader in providing data about investments. It has detailed information on most stocks, ETFs, and mutual funds. Also, it has ratings for each one. And many people invest in funds based on MorningStar ratings. Premium membership comes with a lot of features for a fair price.
Motley Fool
Motley Fool is a stock-picking service that helps you understand the analysis and reasoning behind stocks in a diverse, long-term portfolio that Motley Fool's founders and analysts recommend. It has different membership plans that are geared toward different kinds of supplies and investment goals.
Bottom Line
Stock Rover provides compelling features that make it an invaluable investment analysis tool for serious investors.
Stock screeners and investment data distinguish themselves from competitors as high-quality, valuable tools with the potential to improve your investment strategy and results. And with a free trial — no credit card required — there's no reason not to sign up and give it a shot.
Webull Review 2023: Pros, Cons, Free Stock & More
Frequently Asked Questions
Q: How do you use a Stock Rover Screener?
To begin, choose a table from the Start Menu on the left. Then, in the Navigation Panel to the right of the Start Menu bar, expand the Screeners folder, which lists the available screeners. Any screener in the list can be run by clicking on it. And the results will be displayed in the table.
Q: Who is the best Stock Advisor?
Motley Fool's Everlasting Stocks.
Zacks Investment Research – Best for Daily Trade Recommendations.
Morningstar – Best for Fundamentals-Driven Investors.
Mindful Trader – Best for Swing Trading Advice
The Maley Report – Best for Comprehensive Investment Advice.
Q: Can I be a Stock Rover Member if I'm not in the U.S.?
Yes, any country can use Stock Rover. There are no geographical restrictions: Stock Rover can be used anywhere in the United States and from any country on the planet.
Q: Do Stock Rover offer Refunds or Credits?
No. This rule is stringent. No matter what, we never give money back. You can stop using the service anytime, and your credit card won't be charged. You will have full access to your paid services during the contract period.