Last updated Mar. 6, 2023 by Peter Jakes
There have been some of the biggest gains in the stock market's history. During this time, the S&P 500 has only had three years in which it lost money. Macrotrends.net says that 2018 was the worst year, but it only went down by 6.24 percent.
The three best years all saw gains of over 25 percent. In the other ten years, growth was about 10% or more, and most years were in the teens. This article will answer the question "Stansberry Research Review: Is the Service Worth It?"
Investing in stocks has, of course, attracted a lot of new people and money from small investors.
Still, investing in individual stocks can be exciting, but it can also be very hard, even when the market is good. Because of this, a whole industry of stock advisors has grown over the years, and many of them have made returns that are hard to believe.
Stansberry Investment Advisory Pros:
Stansberry Research has been helping people with their investments for over 20 years. They also have more than a million people who subscribe to them.
You can stop using the service whenever you want and only pay for the months you've used it.
You won't get ads for third-party services as you do with some investment advisories.
Even if you don't pay for a premium service, you can still sign up for Stansberry Research for free and get access to several services.
It offers a variety of portfolio models and investment newsletters to meet the needs of investors with different investment styles and budgets.
Some products from Stansberry Research can be tried for free for 30 days.
See Tiller Money Review: Automated Spreadsheets To Make Budgeting Easier.
Read Tiller Money Review: Automated Spreadsheets To Make Budgeting Easier
Stansberry Investment Advisory Cons:
Stansberry Research is not a service that helps you manage your portfolio. They give you suggestions for investments, which are sometimes changed, so you must keep making changes to your portfolio.
Made for semi-active investors, not passive investors who just buy and hold.
Many of Stansberry Research's plans and services can be out of reach for small investors because of how much they cost.
The service doesn't give investment returns for their portfolio models, only sample returns on the best investment picks.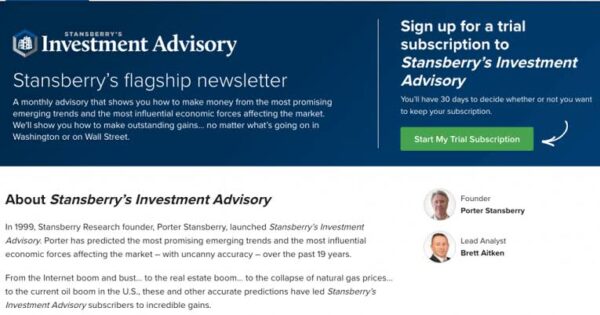 The stock market has experienced some of its most significant gains in the 13 years since the 2008 financial crisis.
The S&P 500 has only experienced three years of negative returns. According to macrotrends.net, the worst year, 2018, only dropped 6.24%, while the most incredible three years achieved more than 25% yearly advances. The other ten years experienced a 10%+ increase, with the majority of years in the teens.
Needless to say, stock investing has attracted new audiences and funds from a broad range of ordinary investors.
While investing in individual stocks can be thrilling, it can also be tricky, especially in favorable conditions. That is why a large industry of stock consultants has sprung up over the years, with many achieving incredible returns.
Stansberry Research Review
Frank Porter Stansberry started Stansberry Research in 1999. It is a company that researches investments. More than 1 million people buy investment advice from a company in Baltimore, Maryland.
It's best to buy research on the stock market and investment advice from professionals you can trust and who have a good track record. Stansberry Research hasn't earned a place in that group, though.
Key Features of Stansberry Research
Stansberry Research researches investments. The company has four portfolio strategies and 28 different newsletters that advise on how to invest. Each one can be bought on its own, so you only pay for what you use.
Newsletters for Most Types of Investors
Stansberry Research offers 28 newsletters, including at least one for almost every investment strategy. Although many alternatives exist, most of the company's newsletters favor the value investment strategy.
Some newsletters cover dividend investing, options trading, precious metals, growth investing, and alternative investments such as cryptocurrencies and art.
Each newsletter includes stock choices or trade ideas and all of the data used by the research business to generate the investment or trade tip.
See also, Thrive Market Review: Is it Really a Good Way to Get Groceries?
A-La-Carte Pricing
Stansberry Research sells each service on an a la carte basis. Most newsletters cost $199 each year. Because you only pay for and have access to the services you intend to use, a la carte pricing makes the service more convenient and less expensive.
Invite-Only Bundle Memberships
You can buy a bundle membership if you want to sign up for several Stansberry Research newsletters at once and use a wide range of investment strategies in your portfolio.
Even though "invite only" is written on the bundle memberships, anyone can access them. You must call the company and tell the person you talk to that you want more than one newsletter. Then, the person on the other end of the line will "invite" you. It's mostly just another way to sell something.
Still, if you want to work with Stansberry Research and are okay with making a large, one-time payment, this is the best way to do it. You only have to pay $99 to access each newsletter for life, so in the long run, you pay less for more information.
Stansberry Research on YouTube: Free Stock Market Advice
Before paying for Stansberry's research, watch free videos of Stansberry Investor Hour on YouTube to get a sense of the tone and level of study you can expect from a premium subscription.
Dan Ferris interviews guests who are experts on the current economic condition. He discusses dynamic themes such as inflation, finding gains in resource stocks, and identifying long-term trends among inflated values.
You may get real-time investment information by subscribing to Stansberry Research's YouTube channel.
Who Should Subscribe to the Stansberry Research Investment Advisory?
The Stansberry Research Investment Advisory is best for investors with bigger portfolios. The portfolio models say you should have at least $100,000 in investable assets for the most benefits.
How Much Does Stansberry Cost?
Whether or not you use Stansberry will depend on how much the services cost. For example, a $199-per-year newsletter might make sense if you're managing a $50,000 portfolio, but the expected gains wouldn't justify a $5,000 newsletter.
Even if you have $100,000 to invest, it's hard to see why you should pay for the more expensive newsletters.
Is the Stansberry Research Investment Reputable?
Many businesses and people say they can help you choose suitable investments. But you will have to pay for that service if you want a reliable winning pick source. But it can be hard to figure out how valuable the investment advice from investment newsletter services is.
It's not clear if Stansberry Research consistently picks winners. And it would be hard to know unless you signed up for the service and consistently used its picks. Some of the services, though, can be tried for free for 30 days.
When it comes to investing, however, 30 days is not enough time. But at least with monthly subscriptions, you don't have to pay for the rest of the year if you stop using the service.
As with any other investment advisory, the main benefit is that it gives you a steady stream of advice that you can use to manage your portfolio. You pay Stansberry Research a fee so that you don't have to do your research on the stocks you want to buy.
Related: Rebaid Review: Is It Legit?
Is the Stansberry Research Investment Advisory Safe and Legitimate?
Stansberry Research has an A+ rating from the Better Business Bureau, the best possible on a scale of A+ to F. In the last three years, the agency has received 86 complaints about the company, with Stansberry responding 100% of the time.
Trustpilot has given the company a rating of 2.2 out of 5 stars, or "bad." However, this ranking is based on the opinions of only nine people.
Stansberry Research does provide mobile app access, albeit participation is low. The software received 3.5 out of 5 ratings from 55 Android users on Google Play and 2.6 stars from 63 iOS users on The App Store.
According to the company's website, SEC restrictions prohibit Stansberry Research from providing personalized financial advice. They are not investment counselors or certified brokers, but rather financial journalists.
The service's objective is to alert you to investment opportunities; it is up to you to decide whether or not to invest.
What is Stansberry Research Recommending?
According to Stansberry's Investment Advisory, an initial investment of $1,000 is recommended to begin investing in stocks in generally long-term transactions of one year or more, with some short-term trades also recommended.
This investing advising newsletter is suggested for beginning investors and those considering retiring.
Who owns Stansberry Research?
Stansberry Research is an American publishing company that is privately owned. Frank Porter Stansberry started it. The company's main office is in Baltimore, Maryland, and there are also offices in Florida, Oregon, and California.
The company's main information service product is a line of monthly and bi-monthly advisory newsletters written by various financial editors. The company focuses on investment research.
How much is a Stansberry Subscription?
Like all Stansberry Research newsletters, the subscription is $199 per year with a 30-day trial.
Good Read: ThredUp Review: Is It A Good Option To Sell Clothes?
How Do I Cancel My Stansberry Account?
Cancellation: You may cancel your Stansberry Research membership anytime by logging in to your account at https://members.stansberryresearch.com and visiting the "My Account" page. You can cancel your subscription by following the "My Account" procedures.
Stansberry Investment Advisory Alternatives
Stansberry Research is not the only company that gives investment advice. There are many other options if you don't think Stansberry Research suits you.
Motley Fool Stock Advisor
One of the most well-known Stock advisory services is Motley Fool Stock Advisor. The company says its portfolios have done much better than the S&P 500.
Subscribers get two new stock picks each month and can always look at about ten recommended stocks. The service also comes with tools for investors, such as allocation and simulator tools, a watchlist, and access to the Motley Fool community.
Seeking Alpha
Seeking Alpha is another well-known investment information site widely cited in the industry. They offer advanced investment knowledge, tools, and resources. You can choose from three plans, including one completely free.
Seeking All of the services of the free version are included, as well as unrestricted access to premium material and investing ideas, stock ratings, performance ratings, earnings and conference calls, alerts on upgrades and downgrades of securities in your portfolio, and much more.
Seeking Alpha PRO features all of the services found in the Premium version, plus top ideas, PRO material and newsletters, VIP service, and more.
Morning Star
Morning Star is another well-known investment advisory service. In reality, Morningstar, the parent firm, is one of the leading sources of information and analysis on investments and individual securities.
However, Morningstar does not offer personalized investment recommendations. Instead, they offer in-depth research of equities, mutual funds, ETFs, and benchmark performance comparisons. Based on that information, you can make your own investment decisions.
Morningstar Investor is priced at $249 per year. In addition to using the website's capabilities, you will receive newsletters with the most recent investment research and recommendations.
Check Fluz Review: A Cash-Back App For Stacking Rebates
The Bottom Line
Is the Stansberry Research Investment Advisory Worth It?
The harsh reality is that selecting investment advice is a gamble as investing in any security. That is as true of Stansberry Research as it is of any other investment firm.
Unless you try it out, there is no way to know if Stansberry Research is the appropriate fit for you. Their recommendations may be successful in a rising market, but in a declining market, they perform no better than the overall market.
However, Stansberry Research has the advantage of allowing you to start utilizing the service for free. If you like what you see with the free version, you can upgrade to one of the premium services for as little as $199 per year. If you don't mind picking your investments, that may be a minor price.
Frequently Asked Questions
Q: Is Stansberry Research Publicly Traded?
Stansberry Research does not have a stock exchange listing. Frank Porter Stansberry started Stansberry Research, a privately held American publishing corporation.
Q: Who is Daniela Cambone?
Daniela Cambone is a seasoned journalist widely respected in the precious metals industry. Ms. Cambone is Stansberry Research's Editor-at-Large and Chief Anchor.
Q: Is Stansberry Digest Free?
The Stansberry Digest takes readers "inside the room" at Stansberry Research to share the most important news, ideas, and opportunities we follow daily. Stansberry Research only lets people who pay for it access the Digest in real time. But you don't have to pay to look through our public archive.
Q: Does Stansberry Digest Manage my Money?
Stansberry Research Investment Advisory is NOT a money manager, broker, or any other type of fiduciary.
Q: Who is Dr Steve Sjuggerud?
Dr. Steve Sjuggerud is the founding editor of DailyWealth and the editor of True Wealth, an investment advisory that focuses on safe, non-Wall Street investments. He thinks you don't have to take risks to make a lot of money.