Last updated Apr. 18, 2023 by Favour Chinaza
If you shop online, sites or apps that give you cash back can be helpful. Their offers will provide you with some cashback based on how much you spent on the item.
Rebaid is a legit cashback site that offers a very high cashback percentage for certain items on Amazon and other platforms.
But there aren't many things to choose from, so finding what you're looking for can be hard.
But Rebaid offers one thing, every time you shop, you'll have the chance to make money.
Rebaid works differently than most other cashback sites. In this Rebaid review, we'll talk about everything there is to know about the platform.
We'll also discuss whether Rebaid is the best place to get cash back for your shopping.
What is Rebaid?

Rebaid is a cashback website that offers rebates for completing their offers. They intend to provide exciting product deals and an efficient method for small brand owners to reach the pinnacle of success on Amazon and other related platforms.
It is an online marketplace where you can get cash rebates on a variety of items from various product categories, such as:
Beauty and makeup
Jewelry
BabyClothing and jewelry
Health supplements
Snacks
Cooking Utensils
Home and Garden
StickersToys
Pet supplies
When you buy a promoted item and verify your purchase, sellers can offer you a discount of up to 100%. Every month, approximately 3,000 products are launched, according to Rebaid.
The platform primarily offers Amazon-sold items. However, product rebates can be found at Target, Walmart, eBay, and Etsy.
We'll review its earning opportunities to understand how well you can earn from this site fully.
Good Read: Fluz Review: A Cashback App For Stacking Rebates
How Does Rebaid Work?
Step 1: Sign up for Rebaid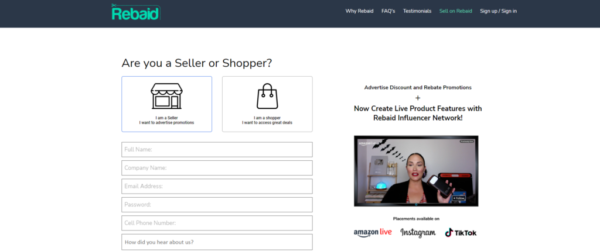 If you live in the United States, you can join Rebaid and take advantage of their cashback offers.
Click "I am a shopper," then enter your name, email address, and password.
Step 2: Search Through Rebaid Deals
After you've created your account, you can begin looking for a product offered on Rebaid.
If you already know what you're looking for, you can narrow your search by selecting a related category.
Alternatively, scroll down and browse the numerous available deals. These can be sorted by price, percentage of discount, and popularity.
To see what's available, you can also click the 'Sweepstakes' or 'Codes and Coupons' tabs.
Step 3: Click To "Redeem Offers"

After you've found a fantastic deal, click the 'Redeem Offer button. You'll be asked whether you want to be refunded via direct deposit or check.
You will then be directed to the store where the item is sold to complete your purchase.
You can only use the deal once per product and have access to 10 rebate promotion offers in your first month on the Rebaid platform.
In the coming months, you will be able to access a greater number of offers and keep an eye on your limits in the shoppers' dashboard.
Step 4: Confirm Your Purchase
After buying the product, return to Rebaid and copy and paste your order number into the box displayed on the deal page.
This will trigger your rebate, and the cashback will be returned to your account.
Step 5: Receive Your Rebaid rebate

Rebaid will authorize your cashback amount.
Your first two rebates will be sent by check, and after that, you can opt to receive cashback via a direct deposit which incurs a $1 fee.
To receive direct deposits, however, your account must be at least five weeks old and have redeemed at least two offers.
How To Earn on Rebaid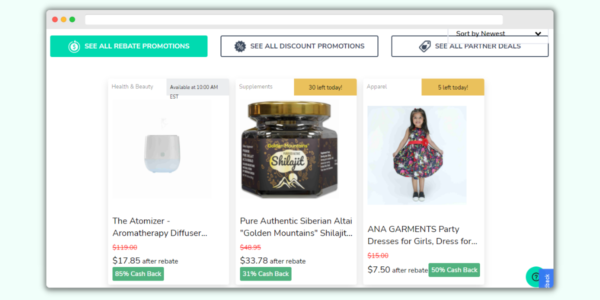 1. Cashback Offers
The primary of earning rewards on Rebaid is by taking advantage of their cashback offers.
Like other cashback rebate sites, you only need to browse the many product offers with rebate discounts that reach up to 100% of the purchase price.
Then, click the "Claim Rebate" link on the offer page, and you'll be redirected to one of their partner stores, such as Amazon, to make the purchase.
After completing the purchase, return to the Rebaid website to confirm your order number. After confirmation, your rebate will be processed. It's as easy as these simple steps!
There is Enough Cashback Amazon Offers
However, unlike other cashback sites, Rebaid primarily deals with Amazon. It is one way to get free Amazon gift cards. As a result, you could only find Amazon deals exclusively on the platform when it was launched.
But the site has since expanded, and now you can also find deals from other platforms like Etsy, Walmart, eBay, and Target.
The good thing about this is, as you may already know, Amazon is the most popular online store today. So, you'll find offers that'll be of interest to you. It is these factors that make the cashback site beneficial.
No need to Review Products on Rebaid
That's because if a cashback site offers more interesting deals, there's a high chance you'll be interested in availing of the said offers. Therefore, you'll be able to get more rewards.
Also, a very important thing to note about Rebaid is that it is not a platform where you get paid to review items – so you're not required to leave any reviews of any product you get.
2. Referral Program
Like Rebaid, there are a lot of apps that pay you to refer friends. Most, if not all, online rewards platforms reward shoppers with referrals.
In Rebaid's case, you can invite friends or family to join the site and get a referral bonus as a reward. You will receive $10 for each successful invitation.
However, the person you invite must join the site using your referral link to become your referral. In addition, for you to qualify for the referral bonus, you must redeem at least one offer.
As a result, ensure that the person you invite is interested in receiving cashback rewards and signs up through your link.
Withdraw Referral earnings after referral redeems an offer
Furthermore, you can withdraw referral earnings only 38 days after the referred person redeems an offer.
The referral payment is made via check, which is mailed to your registered address.
How Do Users Get Paid on Rebaid?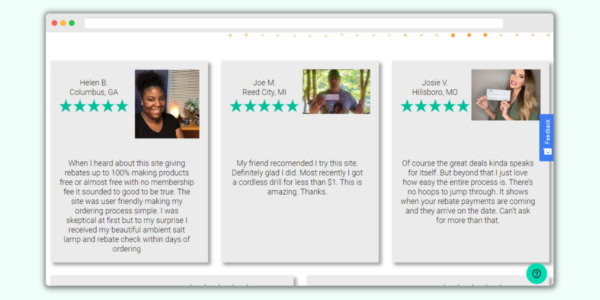 One of the benefits of using Rebaid is that the platform will pay you in USD for each rebate you receive, and you will receive the payment as soon as you complete the purchase.
As a result, you do not need to reach a certain amount to withdraw your earnings.
Your rebate will be processed as soon as you confirm your purchase. Following that, you can receive the payment via direct bank transfer or mailed check.
However, as a new user, you'll have to make do with check payments until you've redeemed two product offers. It is part of their security and agreement to ensure no one cheats.
After you've redeemed two product offers and have been a member of Rebaid for more than five weeks, you can begin receiving payments via direct bank transfer.
Rebaid deducts 1% fee from your redemption amount
If you choose to receive payment via direct bank transfer, however, a 1% fee will be deducted from the amount you will redeem.
So, if you choose direct bank transfer as a payment method, don't be surprised if you don't receive the full amount.
Every payment on Rebaid is guaranteed. After your purchase, a rebate payment will only be canceled if you fail to confirm your order number on the (Rebaid) site.
Alternatively, if you enter a fictitious order number, cancel a transaction, or return your order for a refund.
Rebaid payments by check typically take 5 to 6 weeks to arrive at your door. So it's going to be a long wait.
On the other hand, direct bank transfer payments will reach you within five days of redemption. This is another reason to choose direct transfer as soon as you qualify.
How Much Can You Make on Rebaid?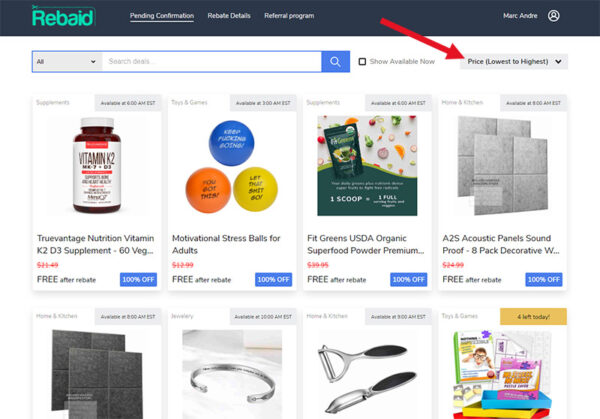 As with most cashback sites, how frequently you shop determines the amount you can earn.
So, if you redeem product offers more frequently, you have a better chance of earning a large sum. But, of course, you can make money in other ways, like trading and selling those Amazon gift cards and checking other best coupon sites for discounts.
However, you must ensure that the product offer you will redeem is useful to you. For example, it is counterproductive to redeem offers solely to earn rewards.
Your cashback percentage influences how much you get
The percentage of your cash back is another factor influencing how much you can earn on a cashback site. In this regard, Rebaid has a fairly high cashback rate.
Their rebate percentages typically range between 25% and 80%. You may also receive a 100% rebate offer from time to time.
Product selection on Rebaid is limited
However, the product selection is quite limited, and you may be unable to find the required products.
There is also a monthly limit to how many items you can get a rebate. It begins with ten monthly products and gradually increases based on your platform activity.
Rebaid Review: Key Features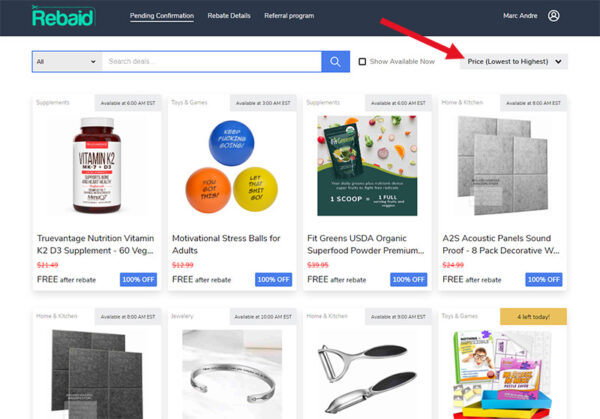 Here are some of the benefits the Rebaid platform offers.
Rebate Promotions
Cash rebates are available in a variety of product categories.
There are hundreds of rebates available, some of which are worth up to 100% of the purchase price—though you will still have to pay sales tax and shipping. In addition, there are online retailers that offer free shipping you can check out right away.
You can receive your rebates via paper check (a mailed check sent within five weeks with no fees) or direct deposit (a rebate sent to a linked bank account in three working days with a $1 fee).
Rebaid gives discount codes at Checkouts
Finally, you can receive discount codes (receive discounts at checkout using the promo code). Imagine using the Rebaid cashback to get free amazon gift code without a survey.
The discount code feature is novel and unusual. You'll usually need to copy and paste your order number into the rebate promotion page to verify your purchase and claim your rebate.
While this cashback site necessitates some effort, it is far less complicated than most mail-in rebate sites, which require users to mail or upload a copy of their store receipts.
The rebate offer will usually direct to the product page on Amazon or another participating marketplace.
Some sellers, however, may require you to search for a product using a specific keyword to claim the offer.
Redeem Multiple Offers Monthly with Rebaid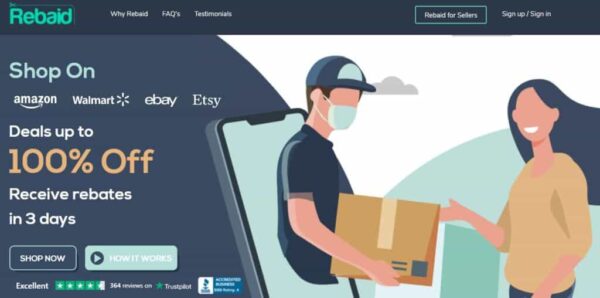 Monthly rebates are available for ten promotions. However, you are only permitted to claim one rebate per product for other users to benefit from the savings.
Each offer is also given when the offer terms and conditions are met.
Essentially, you agree not to return or sell the product and not to enter incorrect order numbers.
Rebaid Constantly Releases new offers
New offers are constantly being released, and you can also check when the redemption window opens to be one of the first to claim it.
Furthermore, the platform displays the daily redemption claims available for a specific product.
You can use these details to look up the most popular offers and then use your remaining redemptions to get other interesting items.
No Redemption Minimum with Rebaid
Rebaid does not have a redemption minimum to cash out your earnings.
If you choose paper checks as your payment method, you will receive your rebate within five weeks, and direct deposits will take no more than three days.
However, if you claim multiple rebates at the same time, you may receive multiple payments.
Rebaid Search Filter
Given the many pages of cashback offers, a customizable search filter can help you quickly find the best deals.
The search features include the highest discounts, keyword searches, the lowest purchase price, the newest offers first, and the most popular promotions.
However, there is currently no filter for non-Amazon promotions. By clicking the offer page, you'll be taken to the marketplace where you must purchase the product.
Again, 99% of the Rebaid promotions are on Amazon, so you rarely buy from a non-Amazon seller.
Rebaid Partner Offers
The rebate promotions are the benefits of using Rebaid because they offer the greatest savings potential.
More discounts, however, can be found if you participate at their partners' online sites like Amazon, Target, Walmart, and Nordstrom.
These discounts can help you save money on electronics, candy, gifts, and other household items.
Some of these Rebaid discount codes are only available through Rebaid and may be greater than the standard discount offer for new customers if you use those other merchants' websites directly.
Rebaid Referral Program
Refer friends or family members to Rebaid and receive a $10 cash bonus after their first rebate redemption.
So, after trying it out for yourself and confirming that it's a legitimate cashback site, you can refer your friends to use the platform and earn money in the process.
Family, friends, and acquaintances can join through your unique referral link. Rebaid, however, only allows one Rebaid account per household.
Deal Notifications on Rebaid
As a Rebaid user, you can sign up for a weekly email newsletter highlighting the best deals, such as 100% free deals.
When you forward a request, you may receive real-time notifications from the service for other offers.
Rebaid won't choke you with unnecessary emails
One advantage of this platform is that it will not clog your email inbox with unnecessary emails that may crowd out your important communications.
Unfortunately, many similar platforms send so many messages that you may want to create a separate account just to receive product offers.
In addition to the regular email summaries, the platform's Facebook page allows you to browse and find the most recent promotions.
These two sources can help you stay current, so you don't miss out on a great rebate.
How Much Does Rebaid Cost?
Rebaid costs $2.95 per redemption at the moment. The funds only cover the most basic redemption features. There are two pricing options available.
The Basic service is $2.95 per redemption, and no monthly fees exist. Otherwise, you can pay $79 per month and $2.95 per redemption to upgrade to a Pro account.
More advanced ones, such as SFB instructions, search-find-buy campaign creation, and messaging, require Rebaid, which costs $79 per month.
Is Rebaid Legit?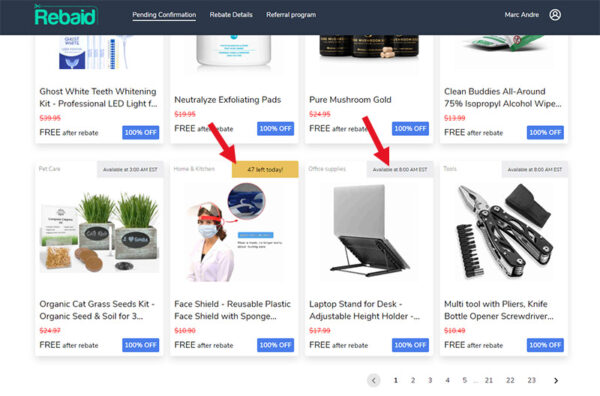 Rebaid is a legitimate and trusted cashback site that provides rebates when you complete their offers.
They intend to provide compelling product deals and an efficient method for small brand owners to reach the pinnacle of success on Amazon and other related platforms.
Rabid is a secure platform that ensures you get your cashback rebates.
After completing a purchase, the seller may forward text messages, but the site does not sell or disclose your personal information or shopping history.
Easy Credit Card Rewards with Rebaid
Here's a method for making Rebaid even more appealing. You will pay full price for the products you find through Rebaid and then receive a rebate later.
That is, you will receive a check or direct deposit from Rebaid after earning cashback or credit card rewards on purchases.
When you buy items with a 100% rebate offer, you will earn credit card rewards (if you use a rewards card) and receive a free product.
With the Citi Double Cash card, you'll earn 2% cashback on all purchases, including these. That's a great way to earn credit card rewards and qualify for signup bonuses.
Rebaid for Amazon Sellers
If you're an Amazon seller looking to increase product exposure or launch a new product with a bang, be sure to check out Rebaid.
You, as a seller, have complete control over the rebates you offer and how many you offer each day.
There are two pricing options available. The Basic service is $2.95 per redemption, and no monthly fees exist.
Or, for $79 per month plus $2.95 per redemption, you can upgrade to a Pro account.
You'll get more features with a Pro account, such as sending SMS messages to people who claim your rebate.
Rebaid Review: Pros and Cons
Pros
Easy payout methods and multiple payment options.
Free to use
There are hundreds of cashback offers available.
There is no minimum payout threshold.
Excellent user experience.
Rebate offers are available in many categories, so you should have no trouble finding a product that suits your needs.
High cashback rate: Many websites only provide cashback rates ranging from 1% to 10%. Rebaid, on the other hand, offers up to 100% rebates. This is one of the highest rates in the country.
Easy to use: You can easily browse offers and filter by what you want. You can even type in the name of the desired product. It's also simple to redeem. Simply click the link and save the order number to confirm your purchase and receive your rebate later.
Legitimate platform: Rebaid is not a deception. It's a legitimate website with excellent customer feedback. Many customers on Trustpilot praise how simple it is to get cashback with Rebaid. You do receive the rebates.
Receive payment fairly quickly: With no minimum cash-out threshold and direct deposits as a payment option, you could have your rebate in as little as 48 hours. As a result, you won't have to wait forever to cash out your earnings.
Cons
The first two payments are made by check: This means you'll have to wait more than a week to get your money. It's not a big deal, though, because, after the first two payments, you can request that future rebates be paid to you via direct deposit.
Only available in the United States. Other countries, such as the United Kingdom and Canada, will be unable to sign up for Rebaid and access the rebates.
Rebate offers can go fast: Each product is available in a limited quantity. As a result, some products, particularly high-value rebates, can sell out quickly. Still, hundreds of rebates are always available, so you won't have trouble finding deals there.
You'll have to wait several months to receive multiple payout methods.
The site's check method of withdrawal isn't so convenient for many shoppers.
Who is Rebaid Best For?
Rebaid is best for anyone who shops on Amazon, eBay, Walmart, or Etsy and wants to save money. The rebate process is easy to complete; you don't need to be internet-savvy.
You'll need patience since it takes time to receive rebate payments.
This is particularly true for paper check rebates. If you dislike waiting, you can switch to direct deposit and receive your payments more quickly.
Is Rebaid Secure?
Rebaid has an A rating with the Better Business Bureau and an Excellent rating on Trustpilot. According to user feedback, the site is safe and secure to use.
To access the site, you must first create a password. In addition, you'll be asked to verify your account with two-factor authentication when you first sign up.
You only need to provide your name and mailing address to redeem orders by check.
For direct deposits, you must enter your bank account and routing number.
If you don't feel comfortable providing this information, you can stick to checks.
Rebaid Alternatives
TopCashBack
TopCashBack is another well-known cashback site that was founded in 2005. It is one of the mobile coupon apps to save money while shopping.
The website is free to join and use, and it can be accessed through the website or by downloading their app from Google Play or the App Store.
Once you've signed up, you can access cashback offers from over 4,000 major retailers, including Groupon, Walmart, and Amazon.
Their cashback rates are among the highest in the industry, and you can redeem your rewards through PayPal, direct deposit, or gift cards.
MyPoints
MyPoints, founded in 1996, is one of the most established rewards platforms.
It works with over 1,900 retailers to provide cash back on various everyday purchases.
You can take advantage of many rebate deals by shopping through the MyPoints platform, and you can even earn more by completing other simple tasks.
Swagbucks
Swagbucks is a legitimate, get-paid-to site that offers numerous ways to earn money, including online shopping, answering surveys, browsing the web, and watching videos.
They've partnered with over 1,500 popular merchants, including Target, Amazon, Walmart, Starbucks, and others, to offer cashback when you shop through the Swagbucks website.
You can choose to be paid in PayPal cash or gift cards and earn $5 just for signing up.
RebatesMe
You'll get a free $10 just for signing up with RebatesMe!
When you shop at any of their 4,000+ partner stores, you can earn up to 40% cashback.
To use RebatesMe, install their Chrome Extension. Additionally, you can click on any available cashback offers when shopping on store websites. You can also browse their website for hundreds of deals and activate any that catch your eye.
Good Read: 10 Simple Money Moves You Can Make Today
Bottom Line
Rebaid is a legitimate way to find free or discounted items online. This platform is an easy way to save money on items you will buy if you're willing to pay full price and wait for your rebate to arrive.
The ability to redeem multiple offers per month, as well as the quick payment options, make this an exciting platform for online shopping.
While it is not one of the best rebate sites available, Rebaid is a really cool rebate website where you can get high cashback rates or even free stuff!
I mean, there are so many 100% cashback offers available there, so this is great if you want to get freebies while saving money.
If you want to earn 100% cashback, try Rebaid.
Frequently Asked Questions
Q: Is Rebaid Only For the US?
Yes, Rebaid is only available and accessible in the US. So, this platform is not for you if you don't live in the US. Rebaid is also unavailable in countries like the UK and Canada as the platform is still working on expanding its reach. Therefore, users can not use Rebaid outside of the US for now.
Q: Can you Receive your Rebaid rebates via PayPal?
Rebaid does not currently offer PayPal rebates. However, they offer Direct Deposit rebates, which are deposited directly into your checking account. You are eligible for Direct Deposit if you have had your Rebaid account for at least five weeks and redeemed two promotions. When redeeming a promotion, all you have to do is choose Direct Deposit as your payment method.
Q: Can I Return Items I purchased via Rebaid?
Any item purchased through Rebaid can be returned. However, they request that you use the provided link to report the return and cancel your rebate. If you've already received your rebate payment, contact Rebaid for return instructions.
Q: Can You Get Rebates From Amazon?
You certainly can. To be eligible for an Amazon rebate, you may be required to submit proof of purchase documentation, such as your Amazon.com sales receipt and the product UPC. Additionally, keep the product packaging until the rebate arrives. You can print an invoice from your account if you require a receipt. Go to Print an Invoice to do so.
Q: Does Rebaid Violate Amazon's Terms?
No, it doesn't. Amazon does not permit sellers to offer discounts or free items in exchange for a review; reviews are not required on Rebaid. However, you can leave a review if you wish, but it's not a requirement on Rebaid.
Q: Are You Required to Leave a Product Review on Rebaid?
No. It is optional to leave a product review on Rebaid. However, most sellers will value your candid feedback. Rebaid, Amazon, and other similar marketplaces prohibit sellers from requesting customer reviews in exchange for rebates to reduce fraud and dishonest reviews.
Q: Can I Use Coupons on Rebaid?
Yes. You can use additional product coupons and gift cards to complete your purchase. However, you must agree not to cancel your order, exchange, or return the promoted item after claiming the rebate.