Last updated Mar. 12, 2023 by Favour Chinaza
Amazon.com has become one of the biggest and most popular e-commerce sites in the U.S. and globally, if not worldwide. It has done this by offering good functionality and customer service, letting users buy and sell, and offering a wide range of goods (including some exclusive to Amazon itself).
But the prices of things on Amazon can be high, especially when you consider the cost of shipping and the fact that you can't bargain over them. Even though you can track your Amazon order, it may still be a guessing game when it will arrive, especially if you order from another Amazon user instead of Amazon itself.
In the past few years, Amazon has focused more on being a place where small businesses can sell their products, and businesses worldwide have flocked to the site to take advantage of this. But the site has problems, like competition, inability to control it, and charging fees.
What Are the Best Amazon Alternatives to Shop Online?
There are many good online stores you can use instead of Amazon. These online stores have a carefully chosen selection of goods, so you don't have to swipe through thousands of options. People who care about the environment and social justice will also be glad to hear that many of these companies are B corporations. Therefore, they must be open and accountable and follow strict environmental and ethical standards. Read on to find out where we like to shop online that isn't Amazon.
Amazon may be the world's largest online marketplace/retailer, but other sites like Amazon offer cheaper and better retailing services. Though there are ways to get Amazon discounts, if you want to avoid shopping on Amazon, there are a few sites that offer bargains and discounts. There are listed and reviewed below.
Related: 4 Amazon Review Sites to Get Free Products
1. eBay (Best for Online Bidding)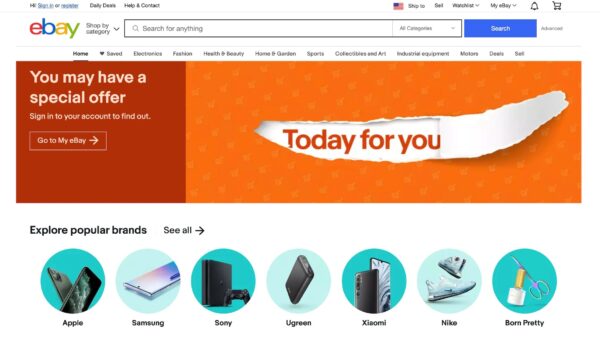 Best for: Bidding to get unique items and the best deals
eBay is one of the best Amazon alternatives if you want cheap deals. Thousands of sites similar to eBay have come and gone since the founding of eBay in 1995, yet eBay remains one of the largest e-commerce platforms in the world. It is one of Amazon's most formidable rivals and competitors. It provides similar services offered by Amazon.
Unlike Amazon, eBay does not produce or sell its goods. It is solely a marketplace where users can buy and sell to one another. Some items are up for auction, while others can be purchased outright. Using the bidding feature, you can pay whatever you want for many of the items you see. If no one makes a higher offer, the item is yours. It's an excellent choice for shopping online for the following reasons:
Free delivery is available on a variety of goods.
eBay Bucks Rewards Program for loyal shoppers
It provides affordable costs.
You get access to a large number of items in one convenient location.
Returns are available if the seller approves
You have the option of bidding on products or purchasing them directly.
How Fast is eBay Shipping and Delivery?
Shipping is always immediate, while eBay delivers between 1-30 days. However, most sellers ship within 2 days. So eBay doesn't ship; the sellers on eBay do the shipping. However, eBay pressures them to ship fast, and for any delay, items are marked as "overdue" on these dashboards.
Contact a buyer beforehand and ask for quicker shipping; don't just take their word for it. Ask them to update the handling time on the listing to reflect how quickly you need the item shipped.
2. Target (Best For Groceries and Faster Delivery)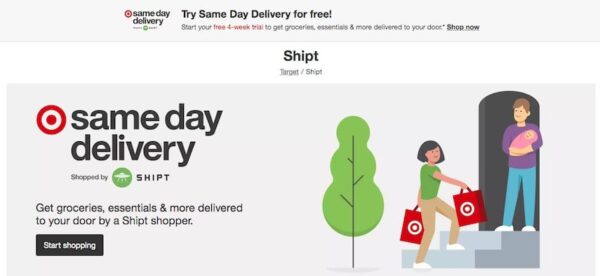 Target excels as one of the best Amazon alternatives for your groceries and faster delivery. Target makes it simple to order your toiletries like deodorants, body wash and body butters, groceries, and bath towels online. Then, you can pick them up in-store or via its Drive Up option (wait in your car, and store staff will bring your purchases to you) or have everything delivered the same day using Shipt's same-day service.
In addition to its extensive inventory, the mass retailer offers a 5% discount when you use its RedCard debit or credit card. Don't forget Target's smartphone app, which features additional Target Circle deals. Target's price policy is also a good reason to shop with them.
Here are some reasons you should shop online with Target:
With the Target Red coupon, you may save a 5 percent discount on your purchases.
Delivery is possible on the same day.
Prices are quite inexpensive.
Several promotions are available, including a 25 percent discount and a free gift card with purchase.
How Fast is Target's Shipping and Delivery?
Target's shipping is the same day, while their delivery is within 2-3 business days or less because they use Shipt logistics. If you choose standard shipping, your items should arrive between 3 and 5 business days after they have been shipped. Standard shipping is free when you spend more than $35 or pay with a RedCard. I noticed Target ships faster than they always promise.
3. Walmart (Best For Home Care and Commercial Supplies)
Walmart is one of the best Amazon alternatives because it is Amazon's most significant competitor. Compared to apparel and electronics, Walmart has a large selection of groceries, home supplies, home care, and commercial supplies. There may be times when you must purchase a set of products rather than individual items.
Don't let the forced combinations deter you from shopping there. Most of the time, you'll walk away with some fantastic deals. When you shop at Walmart, you can expect a high-quality brand experience.
The only complaint customers have about Walmart is its limited selection. Unlike Amazon or eBay, they do not have almost everything under one roof. But let us not dwell on it. Aside from this minor inconvenience, Walmart is on par with the Market's other e-commerce behemoths.
While Amazon remains the undisputed king, Walmart is closing in on it thanks to rapid expansion in countries such as India. As a result, it isn't easy to compare the two titans and declare a clear winner. The fierce competition, however, ensures that one party is never on the losing end: customers.
Walmart consistently ranks first, particularly after the introduction of Walmart Plus, a Walmart-brand equivalent to Amazon Prime membership.
Here are some reasons you should shop online with Walmart:
You can buy things at really cheap costs.
Free delivery is offered on any purchase that is above $36.
They have numerous super deals, sales, and promotions, including fashion under $15 and 20 percent off children's toys at the time of writing.
How Fast is Walmart Shipping and Delivery?
Walmart offers immediate shipping and 1-2 day delivery. That's a lot for their free shipping. With their express delivery, you can receive your items within 2 hours in the United States. Customers value free or low-cost shipping options in addition to fast shipping, with 42% looking for products with the lowest shipping price and 31% choosing to purchase on Walmart.com over other possibilities because Walmart offers free shipping.
4. AliExpress ( Best for Bulk Buying and Cheap deals)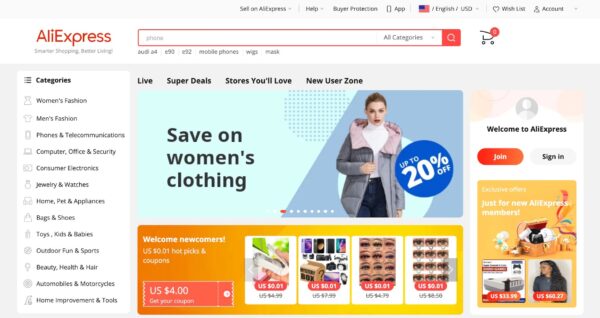 Another option to explore is AliExpress, which offers free delivery for more than 75% of the products available in its marketplace.
Why you Should Try AliExpress
There are dozens of brands and millions of things available on the app. Moreover, the costs are reasonable. The buyer protection policy on all purchases protects you.
However, there is one caveat: many of the manufacturers and retailers on AliExpress are based in China. If you live in another country, you may have to wait days or weeks for your order to arrive. So make sure that any orders you place through this Amazon alternative aren't time-sensitive.
Here are the reasons to Shop online from AliExpress'
Massive selection of products
Comprehensive buyer protections
Helpful and responsive customer service
Coupons, discounts, flash, and super deals are often available and can save you more money!
How Fast is AliExpress Shipping and Delivery?
But there is one thing to keep in mind: many of the manufacturers and sellers on AliExpress are from China. Your order may not come for days or weeks if you live in a different country. So make sure that any orders you make through this Amazon alternative aren't time-sensitive. Their standard shipping is affordable and within 28 days. When fast, you can get delivery in 2 weeks. Shipping always happens within 7 days.
5. Overstock (Best for Home Goods)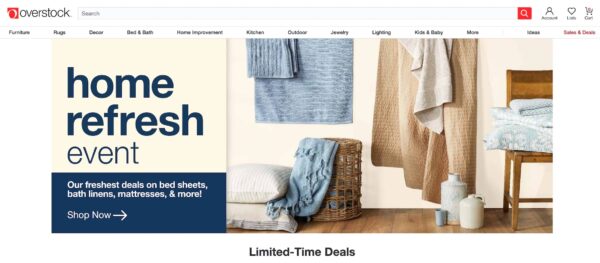 Many people regard Overstock as a "Conservative alternative to Amazon" due to their dissatisfaction with how large Amazon has become and their policy changes
Whatever your reason for wanting to shop elsewhere, Overstock is a fantastic option if you're looking for household items.
Overstock, unlike Amazon, has limited supplies, which means that not everything is always available. However, when it comes to after-sales service, Overstock ranks alongside Amazon. It's simple to return or replace a product, for example. Call or email them, and they will resolve the problem in no time.
Here's why you should shop online with Overstock
It provides free delivery on the majority of products purchased.
When you sign up for newsletters, you will receive a 15% discount and access to exclusive deals.
There are sections for sales, clearance, and flash deals, among other things.
On the site, several discounts are available, including a 20% discount on purchased items.
You can also use the site's rewards program to get even more discounts. The following are the Overstock Rewards program's features:
Returns are always free of charge.
The price match guarantee is still active.
You can earn up to 40% cash back on purchases at the Club O Extra Rewards Store. In addition, new items are added to the site every week. As a result, you may be eligible for additional prizes when you purchase new products.
How Fast is Overstock Shipping and Delivery
Most standard orders are sent out within one to two business days. During checkout*, you can see your final shipping cost and an estimate of when it will arrive. Please note that some items may take longer to ship out and arrive. For example, once an item is oversized, it may take 1-4 weeks to arrive.
6. Etsy (Best for Handcrafted Goods)
Though Etsy is known as an online store for jewelry and accessories, it also has a large selection of handmade and vintage goods. Its artistic products, which cover fashion, home decor, entertainment, handmade items, and much more, will make your stay and look at its unique collection. Etsy has collections of clothing and art, but it also has things to help you plan a party or a wedding.
Etsy also sells vintage items that amaze you with their creativity and uniqueness. They are a global online marketplace that is one of a kind and focuses on helping small businesses. Even though Amazon has many handmade goods and works of art, Etsy has more options.
7. Newegg (Best for Free shipping)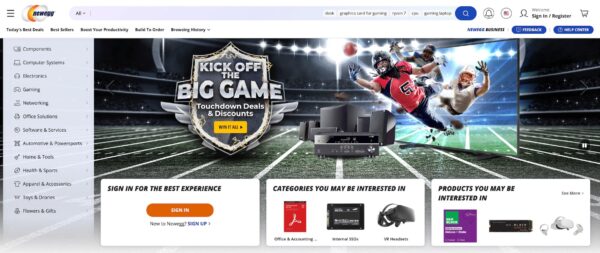 Best For Only deals with electronics and tech.
Has a deal every day
Free shipping on all orders in three days or less.
Newegg.com is another online marketplace like Amazon, focusing on electronics like desktop computers, laptops, TVs, digital cameras, and more. Newegg has become one of Amazon's biggest competitors by focusing on fast shipping and good customer service. With a price match guarantee and free shipping in 3 days or less, you can find a good deal on Newegg and get your new item quickly.
Just like Amazon's fast delivery, Newegg also has an amazing shipping service, and your products will be delivered to your doorstep within one to two business days. In addition, you will find detailed descriptions of every product and customer review, similar to that of Amazon. You can also buy open-box, clearance, and refurbished electronic products at a discounted rate.
Liaison Interactive, a Chinese technology company, owns the majority share of newegg.com. It was founded in 2002 by Fred Chang, a U.S. immigrant from Taiwan and is headquartered in California, and has more than 38 million daily visitors on its site.
Related: Target Price Match Policy (Including Amazon Price Match Guidelines)
Other Best Alternatives to Amazon for Online Shopping
Best for: charity House goods, with customizable options.
The Little Market started as a nonprofit fair trade shop based on the idea that everyone has the right to a safe workplace and fair pay. Since 2013, the team has worked with more than 70 artisan groups in more than two dozen countries.
The brand has also given people with disabilities, refugees, and survivors of sex trafficking more than 1.25 million hours of work with dignity. Now, you can find everything from hand-poured candles to hand-woven laundry baskets and more to give your home an artisan look, where each item has its own story.
Earth Hero's mission is to empower you to make informed decisions about your online purchases. Through its five-step sourcing process, this certified B Corp discovers curated brands while ensuring that every product you order is as sustainable and safe as possible.
There are thousands of thoughtful goods to consider, from zero-waste kits to sustainable denim to baby essentials (including strollers and toys!). Earth Hero also offsets your order's carbon footprint and is a 1% For The Planet partner, donating to environmental causes. With just one order, you can consciously update your lifestyle.
Regarding gifts, the best alternative to Amazon is to buy unique items. You can find accessories, handmade jewelry, jackets that don't use leather, and gourmet condiments here. In addition, it cares about the environment and sustainability, making it an even better place to shop for all our gifts.
Many of the Uncommon Goods items are made by independent artists, making them even more interesting as gifts. You can buy gifts there based on the event or the person who will get the gift (mother, father, friend, girlfriend, and so on).
If gifts aren't enough for your loved ones, they also have "Uncommon Experiences" that are one-of-a-kind. For example, you can learn how to make wine, take painting lessons, go to a romantic gateway, and so on. You're sure to find something here that will make the person you care about feel special and happy.
Wish is one of the best money-saving apps for shopping and groceries.
Here are some reasons why you should give Wish some thought:
You will find products with a 60% to 90% discount.
Excellent for clothing, shoes, household products, and various other products.
You may earn points for every purchase you make and exchange them for reward vouchers at a later time.
Better World Books
As the name suggests, Better World Books is a great online store for people who want to buy used books. It is a business focusing on the environment and sustainability that makes money. It also wants to give money and help to nonprofits that work on literacy and education, and it has more than $9 million to do that.
It keeps the books out of landfills by collecting different books from several libraries, bookstores, and college campuses. Then, it sells the used books online and gives a portion of the money it makes from each sale to support education and literacy. Books that aren't selling are given to people in need in the United States. It also offers shipping with no carbon emissions.
Geek is a site like Amazon, but for those looking for tech products, Geek is an excellent place to start your search.
It has a lot to offer, including the following:
Products with discounts ranging from 50 percent to 80 percent
Deals on a variety of technology products and automobiles.
While shopping for gadgets, it's a useful app on your phone.
Rakuten.com, formerly known as Buy.com, was purchased and renamed in 2010 by Japan's largest e-commerce company of the same name (The Rakuten Group, Inc.). Rakuten, like eBay.com, does not have its goods inventory, preferring to connect businesses with potential customers directly.
Besides new shoppers asking if Rakuten is a scam or legit, this app has nice user reviews. They also have a few other notable features, including video reviews of specific products and a "Super Points" program that allows you to earn store credit for purchasing particular products and then use that credit to save money on future purchases.
Barnes and Noble might be a good place for you if you like to shop online. Barnes and Noble is one of the best sites that pays you to read books. Barnes and Noble is one of the fortune 500 companies with more than 600 stores in the United States.
Barnes and Noble are giving Book Depository, which Amazon, a tough time in the book business, owns. You can buy books, toys, gifts, games, collectibles, art supplies, and decorative items on their online store.
Thrive Market is a certified B corporation, launched in 2014 with a cause-driven mission to provide organic and natural groceries and other sustainable products at reasonable prices. The membership-based online grocer offers up to 50% discounts on over 6,000 products, including healthy foods, meat, pantry staples, wine, bath and body products, beauty and skincare, baby care, supplements, and home goods.
Thrive Market Membership plans start at $5 per month. You can shop by diet and lifestyle (vegan, vegetarian, non-GMO, keto, paleo, raw, and more) and values like non-toxic, EWG-verified, certified organic, cruelty-free, and others.
We enjoy shopping at Thrive Market for grocery and pantry items, household goods, and everyday necessities. The site also carries hard-to-find organic and specialty brands that aren't available at big-box stores or on Amazon. So begin your shopping at ThriveMarket.com.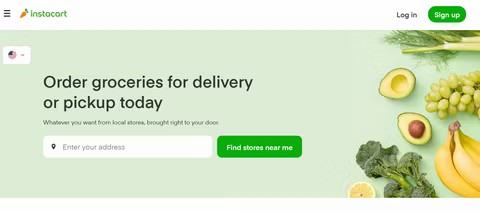 Instacart is the best alternative to Amazon when it comes to fresh goods. The site and app have more things to choose from than Amazon Fresh, but the delivery times are still very fast.
Instacart offers same-day delivery from almost 600 national and local stores, like Sprouts Farmers Market, ALDI, Costco, Publix, Wegmans, Jewel-Osco, Shaw's, The Fresh Market, Fresh Thyme Market, and more. And it's not just food and drinks; Instacart can now deliver flowers, home decor, and even beauty products from Sephora in as little as an hour.
Signing up for Instacart is free, but if you want free delivery, you'll need an Instacart Express membership. Otherwise, we've seen delivery fees between $1.99 and $9.99. You can now sign up for a free trial of Instacart Express here to see if the service is right for you.
BuyDig is one of the Amazon alternatives if you're looking for electronic goods. In addition to consumer electronics, it sells luggage, mattresses, bedding, and software. It was established in 1983 and began selling online in 1997.
It is an authorized dealer for most of the top brands and offers its customers the best pricing and discounted deals. It also has a return policy similar to Amazon, so you can get a full refund if the product you ordered is defective or for any other legitimate reason.
Products such as televisions, cameras, phones, laptops, audio systems, home theaters, and so on can be found here. You will also find home appliances and products such as air purifiers, humidifiers, fans, portable air conditioners, etc. Sports and fitness products such as bedding, massagers, suitcases, trolleys, and backpacks are also available.
The prices for new and used items on the online auction site eBid are some of the best in all product categories. As of 2023, more than 4.7 million items are for sale on the site. eBid has 28,000 types to choose from and sells items like:
Football jerseys
Antique lamps
Vintage Jewelry
Bicycle parts
iPhones
Designer cologne
Nursery bedding
On Facebook's Marketplace, you can sell almost anything. It's a site like Craigslist in that it's easy to find people in your area who want to buy what you're selling. But Facebook Marketplace is less anonymous because you can see the buyer's photo and profile.
On the other hand, unlike Craigslist, payments can be made and received through Facebook's messenger. To add your debit card, click on the Profile icon in the Messenger app, then scroll down until you see Payments.
What to Look for When Shopping for Best Sites like Amazon
Online stores that want to compete with Amazon have to be great, but aside from customers asking if Amazon takes EBT, that should not be enough.
If you're looking for an Amazon alternative, you should choose a site that is great at selling online and meets a few other needs that Amazon doesn't.
● How transparent is the shopping company is
Amazon is a big company with some drawbacks, like the fact that customer service won't be tailored to your small business, but it also has some advantages that any good alternative will have to match.
For example, you can be sure that Amazon will work how they say they will and their terms of service are clear. If you choose a site other than Amazon, make sure that buyers and sellers can trust it and that its rules are clear. Make sure there is accountability for payment processing, and you will get the help you need to deal with any problems.
● The Shoppers' User experience and Reviews
Managing the user experience is important, so any Amazon alternative needs to help you with this part of your business. It should have an easy-to-use interface for both buyers and sellers so that the experience is good for both.
The site should have resources for support and help with fixing problems. One thing an Amazon alternative might be able to do better is to listen to and act on customer feedback (you).
● If they are Eco-friendly
For example, you might be interested in finding Amazon alternatives that are better for the environment. Sustainability is becoming more important to sellers, and the demand for eco-friendly products and services is increasing. Also, as part of your brand, you may want to use a platform that has eco-friendly internal processes. If so, check out online stores that specialize in this.
How to Save Money on Sites like Amazon
Amazon is the big one for online stores that can help the average shopper save more money. Amazon is hard to beat because it has a huge selection of products in every category. In addition, Amazon coupons are easy to find, and there are many other ways to save money (like getting free Amazon gift cards through paid online survey sites). Plus, shoppers know and trust the Amazon brand.
But that doesn't mean they can't or won't. Other online stores are catching up to Amazon Prime by offering membership plans like Walmart +, Target RedCard, and Wish Plus that offer similar deals and discounts (sometimes even better than Amazon's already low prices) and free two-day shipping.
All of this is great news for you, the shopper. Prices go down when there is competition.
Why You Should Use Amazon Alternatives
Shopping online is easy and can be done by people who don't live in big cities or don't have access to sustainable stores nearby. So even though Amazon has made a lot of people's lives easier over the years, it's not the most moral choice when it comes to online marketplaces.
And if you need something specific, like hardware, electronics, or gardening tools, talk to local businesses and thrift shops. They'll have what you need, and you won't have to use as much energy to get it. Below are reasons to use amazon alternatives/
When you shop on Amazon, you forego the opportunity to support a small or independent business.
Some cool products and services are not available on Amazon but are sold by independent sellers (like our Goodnewspaper, for example).
Related: 7 Easy Ways to Get Free Amazon Gift Cards in 2022 (Up to $100 or More)
Bottom Line
Whether you're looking for great deals when shopping online or want to sell items for your eCommerce business, or just around the house, Amazon isn't your only option.
It's important to keep in mind that you can still find many Amazon items on other sites. Most of the Amazon alternatives listed above could be a better and cheaper place to shop than Amazon. If you want to try something different than your usual online shopping, these alternatives to Amazon could be good choices! All of them offer free trials, so you can try them out before you buy them.
Frequently Asked Questions
Q: What is the best alternative to Amazon?
Either eBay or Walmart.com is the best alternative to Amazon. Both of these online shopping sites compete with Amazon the most. They offer pretty much the same variety of goods as Amazon and have the best customer service with fast shipping. Even Target, which provides the same services as Amazon, is competing to be the best alternative.
Q: Are the price of items on Amazon alternatives cheaper?
As Amazon has dominated the Market, some of their prices are higher than other best sites like Amazon. Users have noticed that some prices of goods are 34% higher on Amazon. Always compare prices before purchase.
Q: Which Is The Safest Amazon Alternative App?
For the safest shopping experience, only buy from trusted retailers like Target, Walmart, Overstock, Zappos, Nordstrom, or Macy's, who ship and sell items directly. (However, most third-party sellers are safe to shop with; reading reviews of the thing or the seller is a good way to determine how trustworthy they are and how good the product is.)
Q: What popular items can I purchase from Amazon alternatives
Online shopping is a popular way to buy clothes, toys, and products for kids, pet supplies, beauty products, and electronics. Also, many products have subscription services that make online shopping easier (and sometimes even cheaper) for people who sign up.
Q: What are the Cheapest Amazon alternatives for online shopping
Wish is recognized for being one of the cheapest places to shop online. There are a lot of items to choose from, all of which are very cheap. But not all orders come with the right items, so people who shop online can also look for cheap items at places like Amazon or eBay.