Last updated Apr. 18, 2023 by Peter Jakes
There are several ways to get a free Amazon gift card. Here are the easy and best options available to get a free Amazon gift card worth $100 or more. Companies frequently use these incentives to encourage users to complete small tasks.
For example, you can earn free gift cards by completing online surveys, playing games, or doing regular shopping. In exchange, these companies receive consumer behaviour data or, in some cases, a percentage of the money you spend at specific retailers.
How do Amazon Gift Cards Work?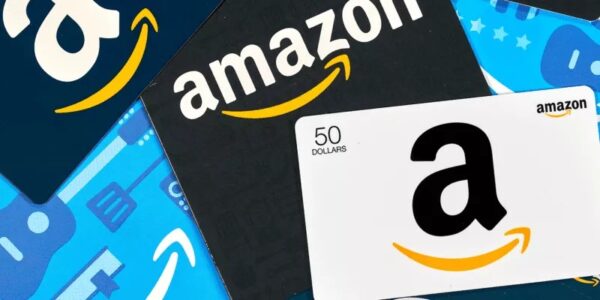 When you get a free Amazon gift card, the person who gave it to you will probably send you Amazon gift card codes or a link in an email.
If it's a link, all you have to do is click on it, and it will take you to Amazon and automatically add the money from the gift card to your Amazon account.
If it's an email code, you must go to your Amazon account, find the section for gift cards, and add the code. Then you'll know if it went through and how much Amazon money you have. It's easy to use, and add these free Amazon gift card codes to your account.
Most of the time, I do this to use the gift card as soon as possible.
If you'd rather get paid in other ways, many of these platforms and reward programs will also pay you in PayPal cash. So, while you still need to do something to get these free Amazon gift card codes, each task takes very little time and effort.
Related: 10 Legit Ways To Get Free Walmart Gift Cards
Easy Ways to Get Free Amazon Gift Cards
1. Get Amazon Free Gift Cards Directly From Amazon
While most people have heard of doing online surveys for rewards and cash-back shopping apps to earn free Amazon gift cards, the simplest way to get them is directly from the source.
Reload an Amazon Gift Card
Currently, Amazon offers a fantastic deal: reload an existing gift card with $100 or more and receive a free $10 bonus.
So if you regularly shop on Amazon and have $100 to reload or purchase a gift card, it may be worthwhile to take advantage of the free money.
Consider the Amazon Prime Visa Rewards Card
If cash-back is your thing and you shop on Amazon frequently, the Amazon Prime Rewards Visa Signature Card might be for you. Upon approval, you will receive a free $150 Amazon gift card.
After that, get 2% back at restaurants and gas stations, 10% back on select Prime purchases, and 1% back on everything else.
This isn't a code you want to use often. We wouldn't suggest doing this if you're not looking for a new credit card.
If you can't pay off your credit card in full every month, you'll pay more interest than you get back in perks.
Trade in your electronics and books at Amazon
If you no longer use an old smartphone or tablet, you may be able to get paid for it through Amazon's Trade-In program. It purchases smartphones, tablets, video games, e-readers, and books.
You must send in your products for evaluation, but shipping is free.
If accepted, you will receive free Amazon gift cards for the item's appraised value. If not, it will return your items, and you can try to sell them elsewhere.
2. Take Online Surveys
Doing paid online surveys won't get you rich; however, there are far better ways to make money online — but if you can't find a better option, you can use them to earn free Amazon gift card codes in your spare time and cash out through PayPal or other payment method.
To access the gift cards on the high paying survey sites, you must first create a free account. In addition, some websites provide new members with sign-up bonuses that can be exchanged for Amazon gift card codes.
Fill out your profile completely and answer the qualifying questions as accurately as possible for each site you decide to use.
As a result, you will be matched with relevant surveys and will spend less time answering pre-survey questions only to be disqualified.
Survey Junkie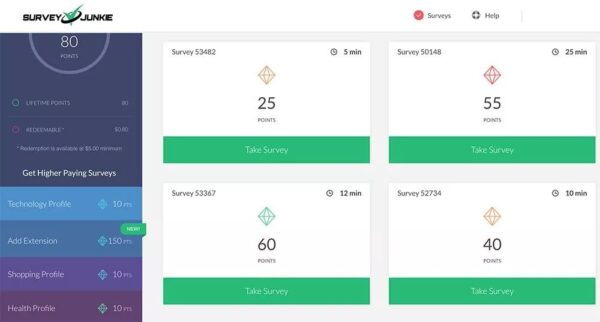 Survey Junkie is a legit survey site that pays for your opinion on a topic. In addition, it pays you with gift cards. This site requires that you take two to three surveys per month.
For each survey you partake in, you can earn points that can be converted to an Amazon gift card. These gift cards are usually worth $10 and can be converted to cash with PayPal.
LifePoints
The main way to make money with LifePoints is to fill out online surveys. But you can also take part in mini-polls and test products when those opportunities arise.
When you sign up for a free account, you'll get 10 LifePoints right away as a welcome bonus. You can use those points to get anything in the
LifePoints rewards catalogue, including free Amazon gift cards. Cash, gift cards for other stores or restaurants, and merchandise.
IPSOS I-DICI
IPSOS is a platform that pays individuals who partake in surveys, and it also pays for product testing.
It also rewards survey participants with bonuses ($5 Amazon gift voucher) for each survey. In addition to paying for surveys and product testing, IPSOS offers free vacations if you win competitions.
InboxDollars
InboxDollars works with companies like Target, Walmart, and Netflix to get feedback from customers who do short tasks like filling out online surveys.
Most of its surveys can be done in three to twenty-five minutes and pay between 50 cents and five dollars. But some pay up to $20 if you fit the type of person they are looking for.
You can also make money by watching videos like short movie trailers, playing games like Solitaire and Candy Jam, shopping online, reading its promotional emails, and redeeming free coupons.
You can turn in your points for an Amazon gift card, a prepaid Visa card, a donation to charity, or a check in the mail. They are giving new members a free $5 sign-up bonus right now.
So far, InboxDollars has paid out more than $57 million, making it one of the most reliable ways to make money online for free. It's free to sign up for and use; anyone over 18 can do it.
3. Check Online Rewards Programs
There are a lot of Reward programs that can give you free Amazon gift cards.
Swagbucks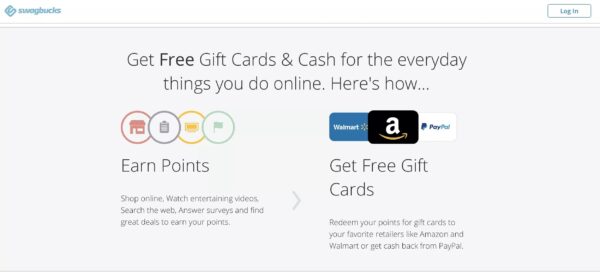 Swagbucks is a legit online platform to earn free online gift cards. This website pays you gift cards for testing products, browsing, playing games, and shopping. In addition, it also pays you for playing and completing small tasks.
With Swagbucks, you earn money for completing simple tasks. For example, if you have up to $3, Swagbucks will allow you to redraw it as a gift card. Other sites enable redraws when you reach a $10 balance.
Swagbucks also offers gift cards to Target, Starbucks, Walmart, and dozens of other major retailers and the option to exchange your points for PayPal cash. They even provide a $10 sign-up bonus to incentivize users to download their app and use the site.
MyPoints
The same company, Prodege, LLC, owns both Swagbucks and MyPoints. You can earn points as a member by watching videos, shopping online, buying a Groupon, or filling out surveys.
MyPoints is also giving new members a $10 sign-up bonus right now, and you can use those bonus points to get a free Amazon or Visa gift card.
It also gives members who sign up to get deals by email through its BonusMail program. Often, you can earn points just by clicking the link in the email, even if you don't buy anything.
Then, you can use your points to purchase gift cards to Amazon, Best Buy, or another store you like, or you can cash out through PayPal.
PrizeRebel
PrizeRebel gives users points daily for watching videos, taking part in challenges, and doing simple tasks. Since it began in 2007, the company has given out more than $19 million in prizes.
The site lets you choose from more than 500 different rewards, such as gift cards to Amazon, Walmart, CVS, Xbox Live, PayPal cash, and many more.
You can also use your points to buy raffle tickets for chances to win big cash prizes.
4. Set Your Credit Card Earnings to Autopilot
It's hard to know where to start when it comes to getting free Amazon gift cards. But in addition to setting your savings on autopilot, you can put your earnings too on autopilot.
Start with things that are easy to do, like getting gift cards for something you already do. That's shopping for a lot of people. If that sounds like you, Swagbucks, Rakuten, and Ibotta are all good choices.
After you set up your free accounts, you can automatically earn rewards at each site.
Then, move on to the choices that most interest you. For example, if you like learning about new games, you might want to look into an app that gives you points for doing this.
On the other hand, if you like to share your opinion and have an impact on brands, paid online surveys might be the best choice for you.
Some apps may not be worth your time, especially if you could make more money with a legal side job.
If so, drop it and move on to the next one. But if you want to earn Amazon gift cards in particular, there are many ways.
5. Redeem Grocery Cash-back
Even if you don't do much shopping online, you can get free Amazon gift cards for your grocery purchases using these apps.
Ibotta
Ibotta is a good platform for online grocery shopping. It offers you a cash or gift card reward for shopping on its platform. In addition, its Monthly Prizes Page gives directives on how to earn cash or gift cards on the website.
Some popular stores affiliated with Ibotta are Walmart, Target, Best Buy, Walgreens, and Gap. In addition, Ibotta offers a $10 welcome bonus to first-time users.
Receipt Hog
With the Receipt Hog app, you can take pictures of your receipts and send them in to get rewards. Receipt Hog will trade your shopping information for either coins or spins, no matter where you shop or what you buy.
You can get free Amazon gift cards, cash, or magazine subscriptions by turning in your coins. Spins allow you to play the Hog Slots and win more coins. You can also fill out surveys to get more coins.
Receipt Hog has a limited number of spots, and sometimes you must put your name on a waitlist to join. However, you can get the app and sign up to be told when the program starts again.
GetUpside
You can use GetUpside points to get Amazon gift cards for free. GetUpside's free app for iOS and Android phones gives people real-time, personalized cash-back deals at gas stations, grocery stores, and restaurants and ways to get free gas.
The GetUpside app is very easy to use and gives out gift cards that can be used to buy things. For example, if you use it to buy gas, you get BOTH a discount AND points.
You can save up to $0.45 per gallon using the code MM20 to get a $0.20/gal bonus on your first gas receipt. GetUpside is also great because it works on top of credit and debit card rewards programs so that you can earn rewards twice as fast.
6. Play Games on Your Smartphone
Online surveys aren't the only way to earn Amazon gift cards; some apps let you earn rewards by playing games instead.
These apps reward you with points you can exchange for cash or gift cards to your favourite places.
Mistplay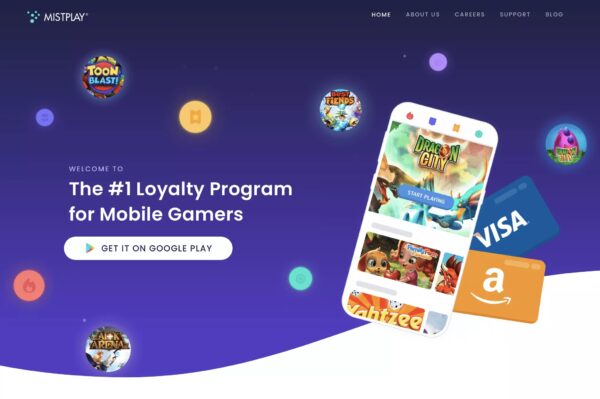 Mistplay is a loyalty platform for Android gamers that can help you get paid playing games.
Mistplay lets you earn points you can turn in for gift cards to places like Amazon, iTunes, and video game stores. You can get these points, called "units and gems," by playing mobile games and making purchases within the game.
Different stores have different rules about how many points you need to get a gift card.
AppNana
AppNana pays you to test and rate mobile apps that you download. You still get points even if you decide to delete the app. But you can keep the apps that make your life easier and that you like.
You can also get points by playing games and watching videos. In addition, with just $1 in your account, you can get a free Amazon gift card.
This user experience will likely be good if thousands of happy reviewers say so. Also, the site says it has given out more than $10 million worth of game gift card credits.
If you're unsure if this platform is real, those numbers should help put your mind at ease. Both iOS and Android devices can use AppNana.
7. Use Specific Shopping Apps
If you don't have time to complete surveys or play games, you can get free Amazon gift cards for doing something you already do – shopping online with apps.
Honey
Earn cashable points that can be redeemed for Amazon gift cards, Honey. Honey allows you to earn points while doing your regular shopping and redeem them for free Amazon gift cards (among other rewards).
Honey is a free browser extension that saves money by searching for the best coupon deals when shopping online. This includes Amazon gift cards at a discount!
Most people are unaware that, in addition to discounts while shopping, Honey Gold allows you to accumulate "Gold" with each purchase, which can then be redeemed for free gift cards.
Honey also has a smartphone app that will enable you to earn Gold while shopping on your phone. Simply go to the Apple App Store or Google Play and download.
Rakuten
Rakuten is an online shopping Rebate site that gives you cash back on purchases of up to 40%. You start by going to the Rakuten website, searching for the store you want to buy from, selecting any coupons you want to use, and clicking "shop now." The cash-back offer will be added to your Rakuten account if you buy something.
Installing the Rakuten browser extension will make it easier for you to get cash-back deals.
When you shop on a site that offers cash-back through Rakuten, a pop-up will remind you to activate the deal before you check out. Just click on the reminder and keep shopping as usual.
Cash payouts happen every three months and come in the form of a check in the mail or a deposit to your PayPal account.
In addition, you can buy Amazon gift cards with cash or buy Amazon gift cards through the Rakuten portal and get cash-back on your purchase.
Mobee
Mobee is an app for "mystery shopping" that gives you tasks in stores near you. First, open the map to see any secret shopper jobs near you.
Then, choose your mission, go to the store and answer some questions about it in the app. Mobee will then look at your feedback and decide in 48 hours whether to accept it.
Through achievements, the app lets you earn extra points. As you finish more missions, you get closer to getting an achievement and getting more rewards. About one cent is worth one point.
For example, to get a free Amazon gift card, you need 2,500 points, but you need 5,000 to cash out via PayPal.
Shopkick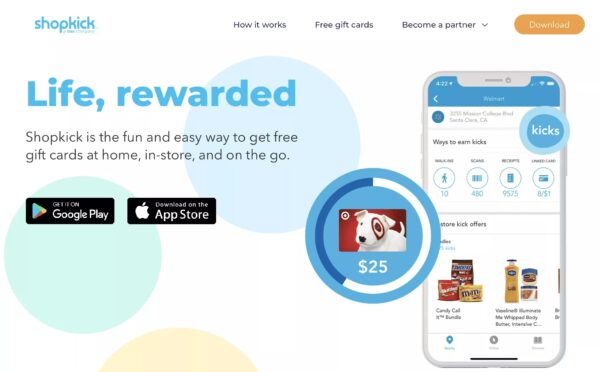 Shopkick gives users eight ways to earn "kicks," which are like rewards. For example, you can get kicks by walking into certain stores and getting more kicks when scanning certain items' barcodes.
Letting the app use your location as you would with dozens of other apps will automatically record when you are near an eligible store. Also, you'll get kicks every time you buy something with a linked card.
Piñata
Piata is the first rewards program for renters in the world! You get rewards, save money on everyday costs, and build credit for a better rental experience.
These days, we get loyalty rewards for almost everything, but not for our biggest expense, rent. Tenants who pay their rent on time and in full get a Pinata.
Also, if you pay your rent on time, they feed someone who needs it. You also get opportunities to find places for cheap RV rentals.
Win Amazon Gift Cards In Giveaways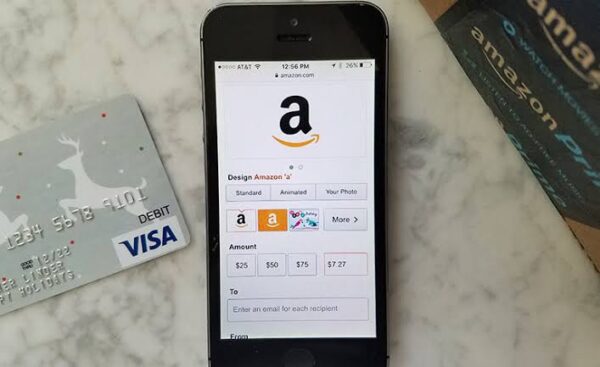 Your chances of winning big national sweepstakes are very low, but there are a surprising number of smaller giveaways where your chances are much better.
And as prizes, many of these smaller giveaways give away Amazon gift cards.
Small businesses often use giveaways to promote their social media accounts, and companies sometimes work with bloggers and influencers to give gift cards as part of their marketing campaigns.
However, most of the time, only a few dozen people enter these contests.
Instagram is a great place to look for these kinds of giveaways. For example, #AmazonGiftCard has been used in over 132,000 posts.
You can also use these hashtags to find Amazon gift card giveaways: #Giveaway (over 40 million posts)
#Sweepstakes (over 2 million posts)
#FreebieFriday (over 185,000 posts)
#FreeGiftCards (over 58,000+ posts)
#GiftCardGiveaway (over 90,000+ posts)
Most of the time, you must follow an account and then like, share, or comment on a post to enter.
Most of these giveaways are real, but some posts are spam or scams. So before entering a giveaway, check the number of followers and the account's history of posts to make sure it belongs to a real, active user.
And, of course, you should never give out more personal information than is necessary to get your prize if you win.
Work for Amazon (Amazon Mechanical Turk)
If you're looking for a flexible side hustle, Amazon offers Mechanical Turk (or MTurk), a marketplace for online work.
Companies look for workers to complete online tasks in exchange for payment, and workers look for online jobs that match their skills and interests.
Data entry, video processing, creating written content, transcribing data, and even taking surveys may be assigned. You can receive payment via an Amazon gift card or deposit your earnings directly into your bank account.
Amazon Mechanical Turk is a way to make extra money (gift cards) by completing online tasks. Registration for this program is free. This platform pays you for browsing the internet and partaking in surveys.
The surveys offered by this platform are different from others on this list. You'll need to be an expert in a field to partake in the survey. Amazon Mechanical Turks pays in cash or with Amazon gift cards.
How Do Amazon Code Generator for Gift Cards Work?
An Amazon gift card generator is a great way to get free Amazon codes. The codes for these tools are randomly picked from a list of values that have already been set. The code is then sent to your email address, and you can use it to buy things on Amazon.com.
A generator can be a great way to get free stuff, but only if you use it safely and responsibly.
There is no link between these tools and Amazon in any way. This means that if you use one of these tools, there is always a chance that your personal information could be stolen.
Make sure only to use trusted code generators and sites that Norton Safeweb and Google Safe Browsing have checked out.
How to Spot a Free Amazon Gift Card Scam

Fraud can happen with Amazon gift cards just like it can happen with cash. Someone trying to trick you into paying with a gift card because they say you have unpaid debt or back taxes is a scam.
Scammers will try to convince people they've won money but need to pay fees with an Amazon gift card first.
You might also hear about fake ads for items that need to sell quickly, electronic devices that have been hacked, a family member who needs help, or ads for services like cable TV or the internet.
If someone calls or emails you and says you can pay for any of these things with an Amazon gift card, hang up or delete the message. And if something seems like a scam or sounds too good to be true, it probably is.
Also, be wary of sites that say they can make you a "free Amazon gift card." There is no such thing as a generator, and any offer or promotion you see on these sites is a scam.
Most of the time, you'll see ads for "lists" of Amazon gift card codes in exchange for your contact information, which is then sold elsewhere on the web.
Don't Give Out Your Account Information:
If a site wants your bank account number or other sensitive information, go elsewhere.
For example, you can always use PayPal instead of a direct connection to your bank account to move money from a survey site to your bank account.
Don't Use the Same Passwords for all your accounts: I know it's easy to use the same password on multiple sites—almost everyone has done it. But you should put in the extra time and effort to use different passwords on different sites.
For example, it would be a pain if someone knew your Fetch Rewards password. But if the hacker used the same password to get into your bank account, that would be a bigger problem.
Be Careful with Public Computers:
You probably don't need to log into sensitive accounts on public computers anymore, but if you do, remember to clear your browsing data when you're done.
For example, if you check your opinion Outpost balance in a library or campus computer lab and your password gets saved in the browser, the next person to use the computer could also log in to your account.
How Can I Get a Free Amazon Gift Card Without Surveys?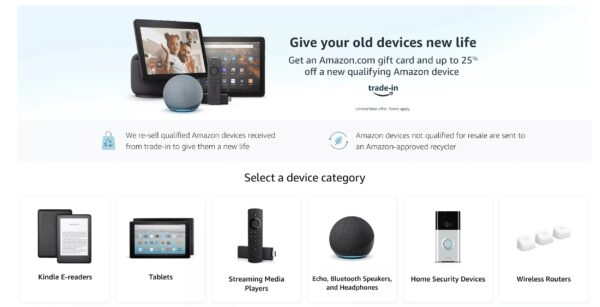 If you don't take surveys or answer questions for market research companies, you can get free Amazon gift cards.
As was said above, this is what the Amazon Trade-In service does. With Amazon's trade-in program, you can trade your used items and devices for Amazon gift cards.
So, for example, you might be able to trade in electronics like smartphones, tablets, laptops, video games, video game consoles, books, cameras, and more.
Another way is to use the Ibotta app when you go grocery shopping. You can use Ibotta by making an account, unlocking rebates and rewards, going shopping, verifying your purchases, and then getting cash.
Rebates can be redeemed at over 230 stores, including Walmart, Target, Kroger, Publix, Walgreens, CVS, and other grocery stores.
And it's money for nothing! You can also get free gift cards from many other companies by playing games online, getting cash-back, watching short movies, or redeeming coupons online.
How Do I Redeem My Free Amazon Gift Card?
Once you have a gift card, sign in to your Amazon account and go to My Account -> Account -> Gift Cards. You will then have the option to Reload an existing gift card or Redeem a new one. Click the Redeem a new gift card button.
Enter the Amazon gift card code, which is typically 14 or 15 characters long and contains both letters and numbers.
To reveal the promo code on a plastic gift card, gently scratch or peel off the protective coating on the back of the card. The Amazon gift card code for eGift Cards will be in your email notification.
Once the gift card funds have been applied to your balance, the money will automatically apply to your next Amazon purchase. You can also use Amazon.com gift cards to buy groceries at Whole Foods Market!
Related: 7 Best Ways to Get Free Target Gift Cards
Bottom Line
There are a lot of websites that explain how to get free Amazon gift cards in the best way. The problem is that many of the solutions they suggest involve going through a lot of trouble to make a few cents.
Some sites can also be spammy or intrusive, or they can feel fake. For example, on some sites, you have to watch videos or play games, which can take a long time. Or, on some sites, it could take weeks to get enough points to cash in, whether you want Amazon gift cards, PayPal cash, or something else.
Frequently Asked Questions
Q: Is there an Amazon Rewards program?
The Amazon.com Rewards Visa Card offers rewards on every purchase, both on and off Amazon.com. With the Amazon Rewards Visa Signature Card, you can earn 5% or 3% back at Amazon.com and Whole Foods Market, including Whole Foods Market 365 stores and www.wholefoodsmarket.com.
Q: What are the most popular sites that give out free Amazon gift cards?
Swagbucks, Survey Junkie and InboxDollars are some of the best-known sites in this area that offer free gift cards.
Q: How Long Does It Take To Earn A Free Amazon Gift Card?
This depends on how much time you want to devote to these earning activities. You could get your first free gift card in as little as 10 minutes if you take advantage of the initial welcome bonus offers. However, some sites will require a few days or even a week of activity to earn a gift card.
Q: Do these sites give codes or a physical Amazon gift card?
Most of the time, these sites don't give out physical Amazon gift cards. Instead, they give out redeemable codes. So if you want a physical gift card, you might be best off just asking for one.
Q: How to get a 200-dollar Amazon gift card?
If an Amazon Prime member applies for and gets the Amazon Prime Rewards Visa Signature Card, they will immediately get an Amazon gift card for $200. Unlike many new credit card offers, you don't have to spend a certain amount to get the bonus.
Q: Do these sites give codes or a physical Amazon gift card?
Most of the time, these sites don't give out physical Amazon gift cards. Instead, they give out redeemable codes. So if you want a physical gift card, you might be best off just asking for one.