Last updated Mar. 11, 2023 by Peter Jakes
If you want to make some additional money in your leisure time, Survey Junkie is an excellent site to check out.
This website will connect you with online surveys that you can do from the comfort of your own home.
The article "Survey Junkie Review: Is it a Scam or Legit?" is the best? Will it compensate you for your opinions?
While you won't get much money per survey (typically between $0.50 and $3), it's simple to accumulate many points if you take surveys frequently and complete all the ones you're eligible for.
Continue reading to learn more about Survey Junkie, its benefits and drawbacks, and how to sign up and get started.
What Is Survey Junkie?
Survey Junkie is an online market research community owned by the consumer insights platform DISQO. It gives data and analytics to the market research industry.
More than 10 million people have joined Survey Junkie to share their opinions and be heard by taking online surveys. Each survey gives points you can turn in for cash or free gift cards.
Related: SurveyClub Review: Is it Legit or a Scam?
Survey Junkie Review – The Pros
Redeem points for a gift card, PayPal Cash, or a bank transfer.
Even surveys for which you do not qualify get you points.
Signing up with Survey Junkie is entirely free.
Points have a more extended expiration date than on other sites.
Survey Junkie Review – The Cons:
Despite not being disqualified, specific survey incentives are not credited to your account.
Given how small the rewards are, the cash-out threshold is relatively high (meaning it will take a lot of effort to cash in your Survey Junkie rewards)
Good surveys (with the biggest rewards in the least amount of time) are challenging to find.
There is insufficient information to determine whether Survey Junkie is worthwhile.
Every survey requires you to pre-qualify.
They give users far too few questionnaires.
The overall payoff is low.
Only United States, Canada, and Australian residents are eligible to participate.
Survey Junkie Review: How It Works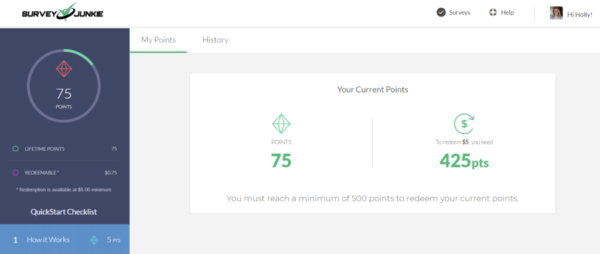 As we've already said, Survey Junkie is a website that helps people find surveys from well-known brands and service providers.
Signing up for Survey Junkie is free, and so is getting started. But, of course, you can also do all your "work" on a desktop computer, a phone, or both.
Online Surveys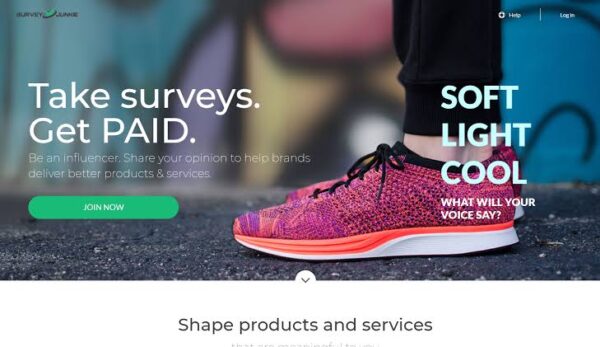 Online surveys could be an excellent way to make easy money if you have some spare time. Start-up costs are low, and almost anyone can qualify for some surveys based on the information they put in their profile.
Survey Junkie pays about $0.50 to $3 for each completed survey, which isn't much, but many questionnaires take 20 minutes or less and aren't demanding or stressful. Also, some surveys pay more "points" than others.
Most of the surveys you can take right now are worth between 80 and 150 points, and each point is worth one cent. All you have to do to join Survey Junkie is click "Join Now" on the website's main page.
From there, you can start your application by signing in with your Google or Facebook account and giving more information like your zip code, date of birth, and gender.
After you make an account, you can start filling out your profile by answering questions about yourself.
Getting Started with Survey Junkie
Plan ahead of time to answer inquiries regarding your:
Living situation
Income
Shopping habits
Pets
Education level
It is important to note that you may only redeem Survey Junkie rewards after accumulating at least $5 in your account. Although you can exchange your points for PayPal cash, you can also choose to redeem gift cards from well-known retailers such as Amazon and Target.
Check out StockX Review: Is It Legit or a Scam?
Survey Junkie App Review: Key Features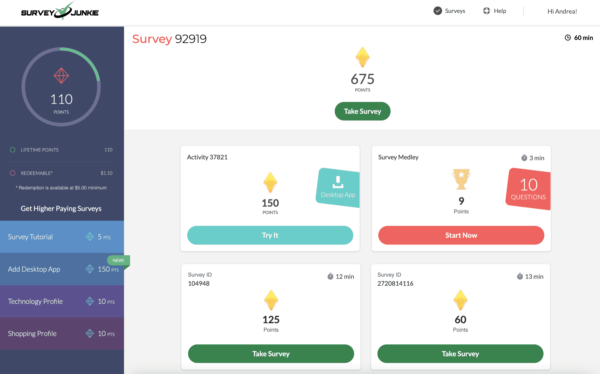 Survey Junkie's products and services are not hard to understand at all. Creating an account is free, and when you take surveys for which you are eligible, you get points.
Once you have $5 worth of rewards, you can turn them into PayPal cash or gift cards.
Before you sign up, you should know about the following exciting features:
● More points via the Survey Junkie Pulse app
You can earn more points if you download the app or add the browser extension to your device. It also makes it possible for you to take more surveys.
● Get points for doing extra tasks
For instance, Survey Junkie gives extra points for answering more profile questions.
● Use your influence
While you will be compensated for answering simple questions, the information you supply Survey Junkie will be used to influence brands you care about. This platform not only pays you for your time, but it also allows you to help design the products and services of the future.
Survey Junkie App
The survey app is easy to use on mobile devices, so you can take surveys whenever you have a few minutes to spare.
It's great that you can download the Survey Junkie app and use it to find surveys while you're on the go.
The website is also fully optimized and works well on mobile, so if you don't want to download the app, you can use your phone's browser to log in instead.
So, if you want to take surveys while you're out and about, you can do so with Survey Junkie.
Is Survey Junkie Legit?
You might be wondering if Survey Junkie is even real at this point. After all, it seems odd that a company would pay you, even a tiny amount, to answer simple questions.
The good news is that Survey Junkie is a real company that millions of people trust. in fact, nearly 40,000 user reviews on Trustpilot have given the platform an average rating of 4.3 out of 5 stars.
Since 2017, the Better Business Bureau (BBB) has also recognized the company with a "B" rating. Reviewers on the BBB also gave Survey Junkie an average star rating of 4.32 out of 5, which is very good given the source.
Even with that, you should know that Survey Junkie has both good and bad reviews. For instance, some users have said they take surveys but never make much money from them. Or, they complain about starting surveys only to find out they don't meet the requirements.
See also StudySoup Review: Is This a Legit Way to Make Money in College?
Survey Junkie Complaints

We discovered that a few users encountered issues using Survey Junkie on TrustPilot. However, it's worth noting that Survey Junkie reacted to the problem within a day and proposed a possible remedy.
This is frequently the case when people have issues they want to discuss, and it's crucial to understand why.
Most of the complaints we received were from consumers who felt they were not receiving enough surveys or earning enough money.
Regarding paid surveys, it's critical to have realistic expectations. And practically all survey sites will have questionnaires for which you do not qualify.
If you don't know this, you may be disappointed. However, the overall ratings for Survey Junkie on Trustpilot are very positive. The overall rating is four stars, based on over 14,000 reviews.
Is Survey Junkie Safe To Use?
The Survey Junkie app will, of course, ask you for a lot of information. For example, if you want to join a panel, you must give some personal information.
In some situations, you may be asked for more sensitive information so that targeted surveys can be more accurate. However, you voluntarily give out all this information, and Survey Junkie is mostly reliable.
Survey Junkie does use cookies. Some go away when you close your browser, but others stay until you delete them. These cookies are packets of information. They won't hurt your computer, but they will gather information. You can delete those cookies if you don't want this to happen.
The Survey Junkie website is safe because it has an SSL certificate.
How Much Can You Earn Using The Survey Junkie App?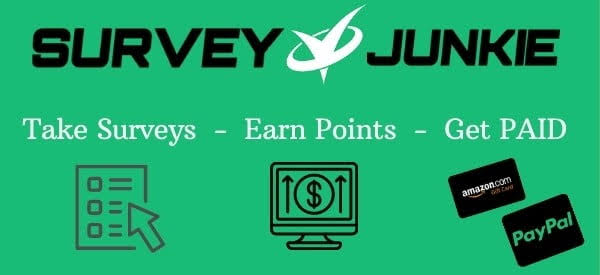 Now that we know whether Survey Junkie is real, let's talk about how to make yourself real. What does it mean for you that Survey Junkie pays out more than $40,000 every day? It depends on which surveys you fill out.
A few things should be kept in mind about how Survey Junkie pays. Starting, you can make between $0.50 and $3 per survey. Then, of course, you will make more money the more surveys you do. And some surveys pay more than others.
Here's the catch. You can't just take every survey and run through the survey quickly to get the money. For surveys to be helpful to the company and give the company useful information, they need to target the surveys. So your chances are better if your profile is more detailed.
You also need to pay attention to how trustworthy you are. For example, ensure you give each questionnaire the time it says to, or you could get flagged.
In theory, there are a lot of chances to take a survey. But you have to think about these things, which can slow down your earning rate.
When you take surveys and get paid, you earn points that you can turn into cash through PayPal or a bank transfer. You can also discounted buy gift cards from places like Walmart, Amazon, iTunes, or Visa.
Related: Stash Review: Pros, Cons, Cost, and More
How Long Does it Take to Cash Out on Survey Junkie?
A PayPal transfer from Survey Junkie can be completed in a second. Then, as soon as you're ready, you can redeem your rewards for electronic gift cards.
We're taking internet surveys to get some more money in our pockets. So, here's how to pay out your points for gift cards or cash.
One point equals one penny in Survey Junkie. When you reach 500 points, you've reached the cashout barrier of $5.
Cash
Then you can choose whether to send the money as cash to your PayPal account or as a bank transfer to your bank account.
Gift Cards
If you would rather have a gift card, Survey Junkie will send you cards to major stores like:
Amazon
Groupon
iTunes
Sephora
Starbucks
Target
Walmart
Is Survey Junkie Really Paying?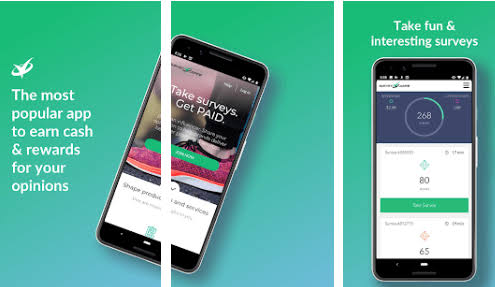 Indeed, most surveys on Survey Junkie pay between $0.50 and $3, and how much you make depends on how many surveys you take. If you take every survey, you can make between $20 and $50 a month.
Why Does Survey Junkie Need My ID?
To make Survey Junkie and its members safer, we are starting a new verification process called "Photo ID verification." It will be a one-time tool for our panelists to make sure they are who they say they are.
How Does the SJ Pulse Program Work?
After making a profile on Survey Junkie, you can get the most out of the rewards you earn by bringing the Pulse app. With this browser extension, you can earn more points for every survey you complete and get special tips by sharing what you do online.
In addition, if you have this browser add-on on your computer, you'll be able to take more surveys in general.
Related: StockTwits Review: A Twitter For Stock Traders
How to Earn Points on Survey Junkie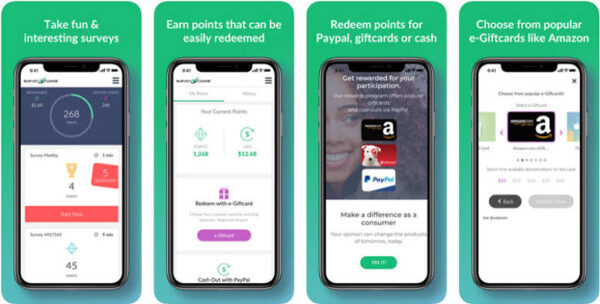 When you sign up for Survey Junkie, you'll be asked several questions about yourself and your shopping habits. In addition, there are questions about your hobbies and activities and how much money your family makes.
Once you set up your account, you'll see a list of surveys you could qualify for, each with different points. Next, you can see how many points you can get for each survey, so you can decide if it's worth your time. Most surveys also tell you how long they should take to finish, which is another thing you can use to choose which ones to take.
To earn points, click "Take Survey" and get going. When you finish a survey, the points you were promised will be added to your account.
Remember that each point is worth one cent, so a survey that gives you 95 points is worth $.95. Remember that you need at least $5 in rewards to cash out your account. So you'll have to spend some time doing surveys to earn enough points to get cash back or gift cards.
Do You Really Get Paid From Survey Junkie?
You can use your points to get cash or gift cards from Survey Junkie. Getting paid with Survey Junkie is possible because your opinion, along with the opinions of thousands of other people, is valuable to companies that are making new products and services.
These companies hire Survey Junkie to find out how their new products would do in the market before they spend time and money creating them.
And Survey Junkie needs your help to get what it promised: public opinion. (That's why it's willing to pay you for your time.) Of course, public opinion isn't the only thing that product researchers look at, but it's an essential piece of the puzzle.
Is Survey Junkie Worth My Time?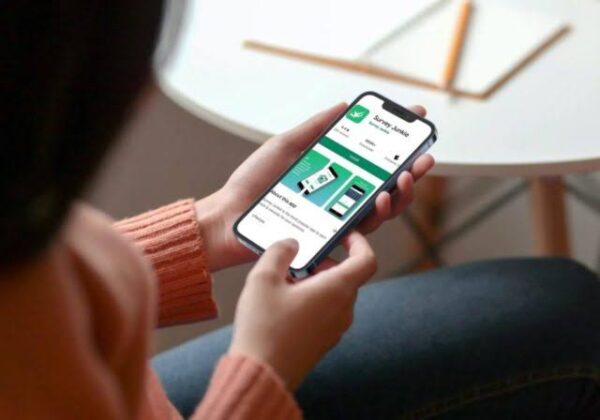 Survey Junkie is designed for people who enjoy sharing, particularly those who buy a lot. In that sense, I'd put it in the refund category rather than the making money area. You receive money back based on your purchasing history. That means the more you buy, the more money you can make from surveys.
It is a crucial distinction since Survey Junkie is not a substitute for developing good spending habits or working on your budget. Because earnings are directly related to consumer activity, the less you spend, the less your time is worth.
Survey Junkie explicitly pays you for purchasing something. They learn from your habits to help businesses offer their products or services more effectively. It is still a valid option to supplement your income.
Related: Stock Rover Review: Is it a Good Stock Screener?
Survey Junkie Alternatives
Bloggers love Survey Junkie, especially those of us personal finance bloggers who write about side hustles and passive money. However, here are some of the finest survey sites where you may start making money right away:
Branded Surveys
Earn points by taking surveys, with payouts ranging from $0.50 to $500 for each survey based on length.
Inbox Dollars
You will be compensated for taking surveys, viewing films, playing games, reading emails, shopping, and other activities.
Swagbucks
Swagbucks, another huge brand in this sector, pays you to take surveys, view videos, shop online, and even, in certain situations, visit specific websites.
LifePoints
Earn points by participating in surveys, recording behaviors in diary entries, product testing, and participating in weekly drawings.
Bottom Line
Survey Junkie, like any other survey site, will not replace your full-time employment; nevertheless, it is an entirely legitimate way to supplement your income in your spare time. Survey Junkie is one of the most established and trusted survey websites. They provide exact point and time estimates and various payout possibilities. Overall, Survey Junkie has more advantages than disadvantages, and we recommend it.
Although the dollar signs aren't huge and won't replace your full-time job, we're talking about some extra cash here. And you only need a few minutes every day to earn a couple of hundred dollars per month.
Consider what you could buy with a few additional dollars each month. The second cup of coffee. A beer for you and your companion. A portion of your phone bill.
Don't miss Stilt Loans Review: Personal Loans For Immigrants And Visa Holders
Frequently Asked Questions
Q: Is Survey Junkie photo ID verification safe?
Photo verification for Survey Junkie People has accused Survey Junkie of stealing, credit card fraud, and other unlawful actions, despite their safe ID.
Therefore, you must use caution when signing up. Survey Junkie shares your profile information and survey responses with other businesses so that they can benefit from your knowledge. It is a legitimate survey site with good prospects and is also quite simple.
It has good benefits, and whether you live in the United States, Canada, or Australia, it is worth enrolling.
Q: Do You Have to Verify Your Email Address with Survey Junkie?
One good thing is that you don't have to verify your email before logging in to your Survey Junkie account and taking surveys. However, you will have to confirm your email before you can get customer service or cash out.
Q: What survey Junkie app pays the most?
The survey apps that pay the highest include Branded Surveys, Swagbucks, and Survey Junkie. Other survey applications with high remuneration are:
Toluna
Opinion Outpost
OnePoll
LifePoints
Q: Which is better, Swagbucks or Survey Junkie?
It all depends on your search criteria. If you only want to do surveys, you can visit a site like Survey Junkie, Pinecone Research, or Branded Surveys. If you want more variety, reward sites such as InboxDollars and Swagbucks provide tasks other than survey-taking.
We like Swagbucks because:
You get a 500 Swagbucks sign-up bonus, which is worth $5.00.
The payout barrier is minimal – for as little as $200 ($2.00), you can receive an electronic gift card to numerous stores (or Paypal). Swagbucks
There are numerous high-paying survey jobs available.
Swagbucks can be earned in various methods other than surveys, including purchases, video viewing, web searches, and more.