Last updated Apr. 18, 2023 by Favour Chinaza
Everyone loves to buy discounted gift cards. According to a survey by the National Retail Federation, gift cards are the most sought-after gifts by the American people. But unfortunately, due to the high demand for gift cards, finding any offered at a discounted rate is almost impossible.
Buying discounted gift cards online helps you save money and reduce your monthly spending if you teach yourself not to spend them like free money. Also, be aware that inventory and discounts on gift cards can vary greatly from one site to the next, and you could spend a significant amount of time trying to hunt down the best deal.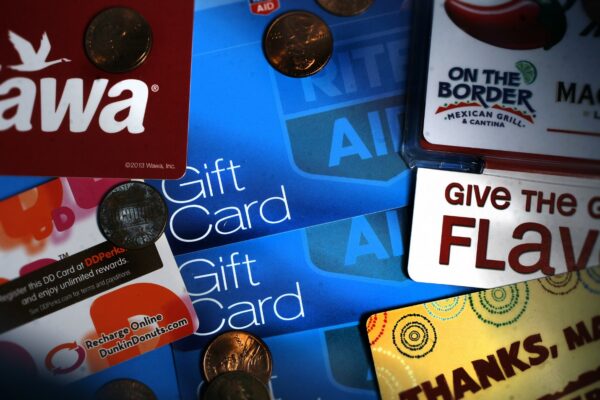 Fortunately, some sites help you find the best deals and save the most money on the specific cards you're looking for. Some of these sites are the best places to sell gift cards online especially if you have unused gift cards you'd like to sell for cash.
This article reveals the 9+ best places to buy discounted gift cards.
Related: 10 Ways To Earn FREE Starbucks Gift Cards
Best Places to Buy Discounted Gift Cards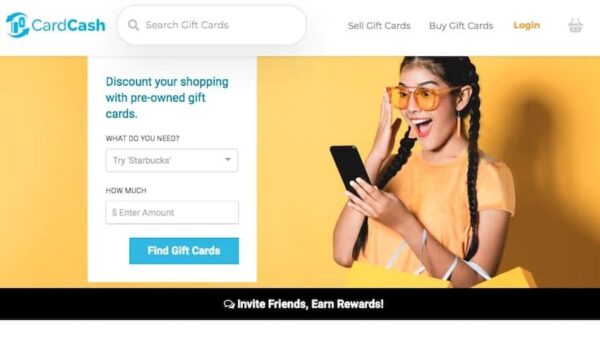 CardCash gives discounts of up to 35% on gift cards from more than 550 merchants. The site sells both paper gift cards and e-cards that can be printed out. Standard USPS shipping is free, and your physical gift card should arrive in one to five business days.
Whole Foods gift cards worth between $9.29 and $256.19 are sold at a discount of between 2% and 2.7% as of writing. Again, best Buy was well-represented, with more than 100 cards with discounts ranging from 2% to 3.14% and values from $5 to $60.55.
There were also a few dozen Gap gift cards with 10% to 12.02% discounts. Additionally, over 90 Target gift cards with at least 6% discounts ranging in price from $5 to $82.59 each were recorded.
For Home Depot, there were more than 100 gift cards with discounts of 1.0% and amounts ranging from $5 to $199. In addition, dozens of Autozone gift cards with discounts from 30.3% to 31.62% for cards worth $6.38 to $1,255. These cards could only be used in-store and not online.
You can make money playing games and some of your gaming rewards can be in the form gift cards. Gameflip offers discounted cards for PSN, Xbox Live, Amazon, iTunes, and Google Play if you're a gamer looking to save money on gift cards. They also offer gift cards for companies like Netflix, Starbucks, Lyft, and Amazon, and you can even find ones for products like Microsoft Office.
You have to search the website or mobile app to find what you're looking for. When you find one you're interested in, click or tap on it to view the full listing. On the card listing, you'll be able to review the seller's rating, the type of delivery (auto or mail), the original amount of the card, and the percentage off. There's even a method for asking the seller for additional information before you buy.
3. Used Marketplaces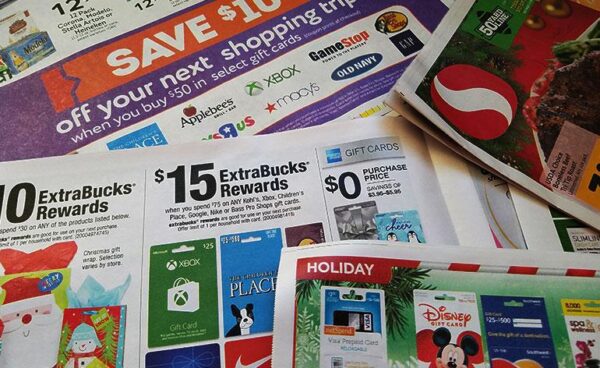 People will try to sell unwanted gift cards on any used market, especially eBay, and sometimes at lower prices. You can find some great deals this way, but there are also some risks.
Unlike the card resellers we just talked about, there isn't as much security here to keep you from getting scammed. However, eBay gives buyers a lot of protection, and if you paid with PayPal, you could always turn to them as a last resort to solve a problem.
Still, looking for gift cards on used marketplaces is a good idea. Keep an eye on the seller's review score and ensure you can get your money back in case it's all a lie.
Cardpool offers discounted gift cards in retail stores like Macy's and Walmart. Its retailers offer up to 35% discount. In addition, Cardpool allows you to buy both physical and electronic gift cards.
Its electronic gift cards can be redeemed online or printed as physical copies. It takes three to seven business days for its physical gift cards to arrive. Delivery is free! Cardpool also offers a service that pays you $5 for referring a friend to the site.
As of the time of writing, Cardpool sold a few dozen Best Buy gift cards and codes starting at $15, with a 5% discount on all of them. In addition, a 5% discount was offered on dozens of $15–$25 Uber email gift cards that could be used for rides or UberEats.
They have a lot of Petco gift cards with a 4% discount that ranges from $25 to $100. Gift cards for restaurants like Subway, Red Lobster, and TGI Friday's were discounted by between 4% and 17%. Many stores, like Costco, Walmart, and Target, didn't have gift cards available.
5. Bulk Retailers
Stores like Sam's Club and Costco are known for having deals on items because they sell them in bulk, and gift cards are no different. Most of the time, you only save 5% to 10%, which isn't huge, but it's still worth checking out these stores when card resellers don't have what you want.
One big problem with Sam's Club and Costco is that you have to be a member to buy anything from them. Unfortunately, memberships to either store aren't cheap ($50 a year for Sam's Club and $60 a year for Costco), so buying cards from either store only makes sense if you're already paying for a membership.
If you shop at those stores often or at another bulk retailer, this is a great way to save a little bit of money. Also, remember that these are real gift cards, so if you need to ship them, you'll need to plan ahead. You can get discounted gift cards below at Sam's Club and Costco:
Sam's Club
Five $25 Outback Steakhouse Gift Cards for $100 (save $25)
Three $25 Aeropostale Gift Cards for $56 (save $19)
Five $15 Ruby Tuesday Gift Cards for $56 (save $19)
Two $25 Steak n' Shake Gift Cards for $37.50 (save $12.50)
Three Cold Stone Creamery Gift Cards for $20.79 (save $9)
Costco
Two $50 Romano's Macaroni Grill Gift Cards for $75 (save $25)
Four $25 Crumbl Cookies Gift Cards for $79.99 (save $20)
Two $50 Spafinder eGift Cards for $80 (save $20)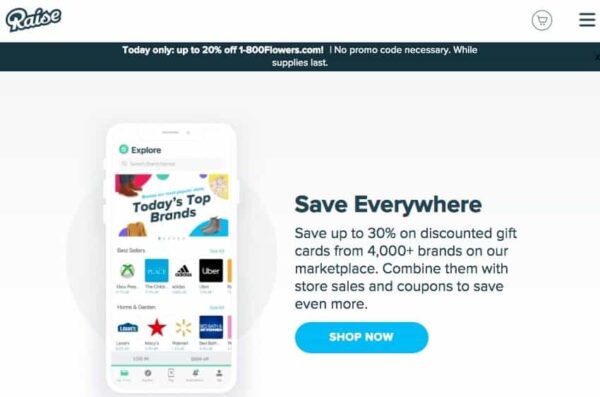 Raise offers discounted gift cards to retailers. To find a discounted gift card on Raise, you must register and browse the website for different gift card deals. Each gift card listed for sale shows the card's actual monetary value and the discount you will receive.
Raise offers physical and eGift cards. The physical card will be mailed to you free of charge. At the same time, the eGift card will appear in your Raise's account. According to Raise.com, some eGift cards can be printed and used in stores. If you are looking for where to buy IKEA gift cards, Raise is one place to check.
Raise also provides a 1-Year Money-Back Guarantee, which provides a refund if the card purchased is delivered as a different brand, is not received, does not have the value promised, or is inactive. It covers the card's purchase price but not buyer's remorse or cards purchased in error.
Raise charges sellers a 15% commission on all gift cards sold on the platform. In addition, if the gift card sold is a physical gift card, they will charge the seller an additional $1 or 1% of the balance (whichever is greater).
7.
GiftCards.com
Giftcards.com is one of the largest G.C. retailers on the Internet. This site was listed in Magazone Inc's 5000 fastest-growing private companies worldwide.
According to GiftCards.com, you can purchase gift cards with a 30% discount. GiftCards.com, both physical and online gift vouchers. The online gift voucher comes in the form of coupon codes that can be used to purchase online.
The shipping cost of a physical gift card is $2. It takes about 7 to 10 days for your physical gift card to arrive at your desired location.
Cardecash is affiliated with more than 1000 retail stores. Each of its affiliated stores offers up to a 35% discount on the sales of gift cards. This site sells both physical and electronic gift cards. The E-card can be redeemed online and printed and used in-store.
The site offers free shipping for its physical gift cards. These cards arrive in one to five business days.
9. Kroger Gift Cards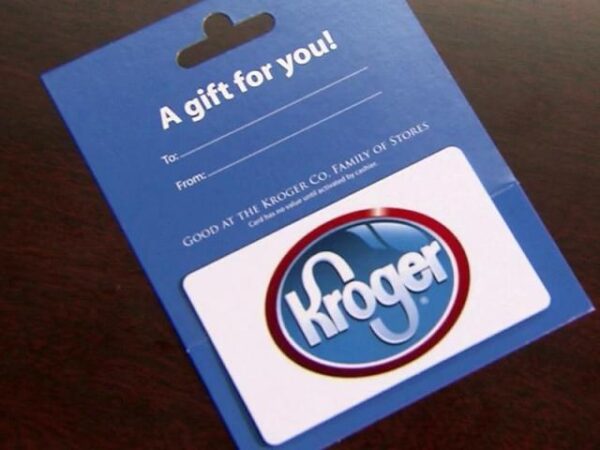 Kroger.com lets you buy gift cards, just like PayPal. In the form of "perks," they often offer discounts. These perks are called one thing at Fred Meyer grocery stores and something else at Kroger or the Piggly Wiggly. But the idea is that if you buy their gift cards, you'll get more fuel points or other perks.
The Kroger website lets me get 15% more when I buy $50 worth of Giving Good eGift Cards and 4x the fuel points. Since Giving Good gift cards can be used at any of the stores or restaurants on the card, you can choose the card with the merchants you want.
For example, -the Wounded Warrior Project gift cards can be used at GameStop, Lowe's, Subway, Fanatics, and many other places. Plus, the charity on the card gets 3% of the price of what you buy. That's a great way to do more holiday shopping and save a little money for yourself this year.
If Kroger isn't your usual grocery store, check to see if your regular store has gift cards on sale for less, fuel perks and other rewards that can be added to the savings.
Other Places to Buy Discounted Gift Card Vouchers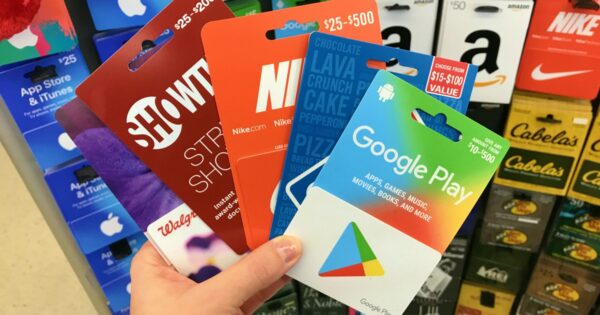 Get Discounted Gift Cards From Your Mobile Phone Apps
It shouldn't be a surprise that office supply stores, online auction sites, and other physical and digital stores are selling discount gift cards these days. So where else can you buy new discount gift cards that haven't been used? Using only your phone. You can purchase other gift cards for less with the Verizon Messaging App, the United Plus Messaging App, and Samsung Pay.
When you buy gift cards through apps, they are sent to you digitally and can be used immediately. One of the best ways to remember to use your gift cards is to store them electronically on your phone.
For example, Samsung Pay lets you buy new gift cards at a discount and add existing gift cards to your mobile wallet. Then, when you load a gift card and enter the card number, the app will confirm the card's balance and let you check the balance at any time. This discount method works for many gift cards.
GiftCardRescue.com has appeared in well-known media, like The New York Times, The Wall Street Journal, and NPR. It offers gift cards to over 400 popular retail stores. Some of which include Lowe and Urban Outfitters. The website provides both physical and electronic gift cards with 35% discounts.
Get Discounted Retail Stores Gift Cards at GiftCardGranny.com.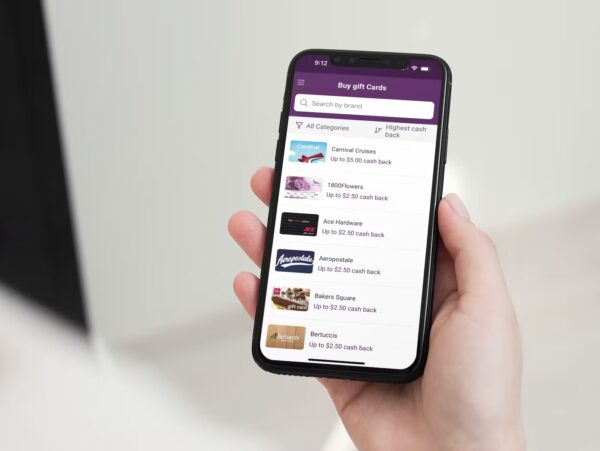 Stores like Starbucks and Home Depot have their discounted gift cards on GiftCardGranny.com. This GiftedGranny site caters to the gift card needs of over 1000 retail stores with discounts of over 50%. Electronic and physical gift cards are available at Granny Gift Cards.
Unlike other websites like Raise and CardCash, GiftCardGranny.com does not ship or sell gift cards. Instead, it connects buyers and sellers of discounted gift cards. You can also sell your Amazon gift cards for cash and at a higher value on GiftCardGranny.com that you don't want to redeem.
Get Worldwide Shipping of Discounted Gift Cards at Card Hub
Card Hub is a website that offers gift cards at a discounted price. Unlike most gift card redemption sites, CardHub ships to non-US countries such as the U.K. and Canada. On Card Hub, you can get a 50% discount on any gift card.
Buy Free Discount Gift Cards Swagbucks
One of the best places to get free and discounted gift cards is Swagbucks. This site rewards its members with points for doing random things online. These points can be converted to gift cards or cash. Additionally, Swagbucks rewards its new members with $5 worth of gift cards.
Get Discounted Prices on Gift Cards Rakuten
Rakuten is a popular cashback platform that offers gift cash at a discounted price. You'll receive cashback bonuses if you shop from one of Rakuten's 3500 stores. Each store affiliated with Rakuten sells its gift cards at a discounted rate. In addition, Rakuten offers a $10 welcome bonus to all its new signees.
Take Advantage of Your Credit Card Reward Program and Get Discount Gift Cards
Are you participating in a reward program at your bank or with your credit card company? Chase and United Mileage Plus often offer ways to cash out discount gift cards. For example, my bank recently posted an offer saying I could transfer reward money to my account or buy gift cards for less than their face value. So, for example, for the same $50 reward, I could get either a $50 cash credit to my account or a $60 gift card, which is a $10 bonus.
Look for similar options when it's time to cash out your rewards. For example, you can save money if you want to give gift cards instead of cash for a party.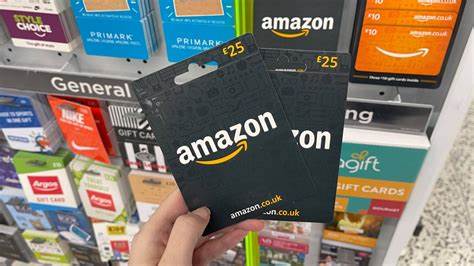 Amazon.com has the most eGift cards than any other site. Amazon has more than 400 kinds of egift cards for their brand. In addition, Amazon now sells gift cards for different brands at a discount. Even though the discounts are good, one tricky thing about buying gift cards on Amazon is that the website doesn't post all the discount gift cards simultaneously as other stores do.
Amazon instead puts out a "deal of the day." So, if you want an Amazon.com gift card at a discount, you'll need to look for gift cards as they become available. Aside from getting Their gift cards, you can find different places to get free Amazon gift cards.
One of my favourite places to look for cheap gift cards is CardBear.com. Why? Because they compare the prices of many resellers, you can see who has the best deal. They'll also let you know if you should buy the discounted gift card or wait for a better deal later.
On CardBear, you can find gift cards for up to 33% less than their face value. Want to save money on Disney gift cards? Lowe's? Target? Starbucks? Or Olive Garden? No problem. They have gift cards for a lot of different brands. And CardBear is THE place to look first if you want to buy an Apple gift card. They currently have Apple Store gift cards for up to 10% off.
CardBear even lets you set up alerts for certain brands when they have sales. So, if a brand you love has a better gift card discount, you'll be the first to hear about it. By looking at their discount histories, you can also see how the rates for different gift cards have changed over time.
Most of the time, Groupon lets you buy gift certificates from stores or restaurants. Like the other things it sells, gift cards can be purchased at a discount. But they also have a lot of other great deals for small businesses in the area. So even though the deals aren't exactly gift cards, they still give you a lot for your money compared to regular prices.
You can also get discounts on things that online stores send you in the mail. Some examples are makeup, clothes, and home decor. In addition, you can find other places to get cheap home decor and save money. You can even save money on hotels and activities through the platform.
There are no fees to buy. You can become a Groupon merchant for free if you own a small business. Check out other sites like Groupon that offer discounts to find more ways to save money.
Why Should You Purchase Discounted Gift Cards?
Although most people associate gift cards with birthdays and Christmas, they can also save money on everyday items at stores where they already shop. For example, assume you're looking for a few new pairs of jeans. Prices are typically highest at the end of summer, but you can still save money by purchasing a discounted gift card to your favourite clothing store.
For example, if you buy a $40 gift card for $30, you save 25% on your next purchase. Combine these discounts with in-store sales or online coupons to maximise your savings.
What are the Redemption Policies on Discount Gift Cards
Whether you buy a gift card for full price or at a discount, it's important to know how the store handles redemption. You don't want to buy or get a gift certificate and then have trouble using it. The best thing to do is to call the store and ask about their redemption policies.
Some may only be good for a certain amount of time, and others might not let you use them online. In addition, some of the above platforms may not allow you to see their redemption terms. So the best way to keep yourself safe is to go to the store and ask what you can redeem.
How to Beware of Discount Gift Card Scams
Many gift card resellers have gone out of business in recent years due to an inability to prevent gift card fraud or tightened security measures implemented by stores and restaurants that make it difficult to automatically check the balance of gift cards.
While this has reduced the number of ways to safely buy and sell discount gift cards, there are still a few viable options. More information about gift card resellers can be found on my website.
Do not buy discount gift cards from strangers. Online auction sites and social media are examples of this. To use the value, you do not need a physical gift card. You only need the figures. For instance, you could pay for a gift card that someone else still has access to.
Some scammers try to get you to buy gift cards for a variety of illegitimate reasons. So just be cautious because these are gift card scams. Only purchase gift cards from reputable companies. Remember, no legitimate business or government agency will ever accept gift cards as payment. Here are some suggestions for avoiding gift card scams.
Related: 18 Sneaky Ways to Get Free Gift Cards in 2022
Bottom Line
It is possible to get not just gift cards but buy them at a discount or even get them free if you go to the right places. The number of gift cards in stock is always changing. There is no best place to buy discounted gift cards because each site has different discounts and stock. However, we have outlined some websites that sell discounted gift cards, and they are Giftcards.com, Cardpool, Raise, and CardCash.
A few others offer the same basic service: a way to buy retail store gift cards for less than their face value. At the time this was written, only Giftcards.com charged for shipping.
Frequently Asked Questions
Q: How do I avoid discounted gift cards scams
To avoid discounted gift card scams, try not to purchase cards you don't need. Likewise, make sure you keep track of them. You'll spend more money than you save if you buy cards you lose or don't want just because they're offered at a discount. And don't forget to use other money-saving options like Honey or Rakuten, credit card rewards points or free Amazon gift cards to buy other gift cards.
Q: Is there a way to buy discounted gift cards?
Yes, there are so many legit ways to buy discounted gift cards. Many websites sell discounted gift cards, including Giftcards.com, Cardpool, Raise, and CardCash. There are several others, all of which provide the same basic service: a way to purchase retail store gift cards for less than their face value.
Q: Where is the safest place to buy a gift card?
The safest place to buy discounted gift cards is from retailers, chain restaurants, or other issuers. Criminals cannot easily obtain those cards. This is especially important when purchasing a high-value gift card.