Last updated Feb. 8, 2023 by Peter Jakes
Amazon is practically a one-stop shop for a wide range of products, making their gift cards a highly sought-after and popular item. And using Amazon gift cards when making a purchase on Amazon is a good way to save money too.
But there's a limit on what you can do with an Amazon gift card. There may be times when you receive an Amazon gift card that you don't want or need and would prefer to receive its cash value instead. So, how would you convert it to cash? That's what I'll explain in this article. Feel free to read till the finish.
How You Can Sell Your Amazon Gift Card For Cash
While gift cards are great, nothing beats having cash. If you want to sell or trade your Amazon gift card for cash, here are the best places to visit. Most of the places listed below will offer you 10% more than their face value.
#1. Reddit
Reddit is a great platform for various types of online sales, including Amazon gift cards. There's a dedicated subreddit at reddit.com/r/giftcardexchange, where you can post ads and participate in the exchange and trade of unwanted gift cards.
When it comes to payment, Reddit users typically use PayPal. To increase the chances of a successful sale, once you create a free Reddit account, navigate to the gift card subforum. Make sure to include details about your gift card, such as its value and the terms of your offer, in your post.
Adding some personal information or context about why you're selling the card can also make your post more appealing to potential buyers. The Reddit community is active, so you can expect to receive offers quickly.
#2. Craigslist
Craigslist is a place that allows you to find all kinds of items. It is a popular online platform for buying and selling a variety of items within a local area. If you're looking to convert your Amazon gift card to cash, Craigslist can be a great option.
On this site, you will be able to sell a $500 Amazon gift card for $450 or $430. With local transactions, you have the opportunity for a quick and secure meeting with a potential buyer. Additionally, Craigslist provides information about the current market value of your gift card, allowing you to make the most of the sale.
Creating a listing on this platform is quick and easy, requiring only a Craigslist account. You can decide to sell it for whatever price you like. Craigslist gives you control over the price of the product you're selling.
#3. Purchase On Amazon And Flip For Profit
If you're seeking a method to convert your Amazon gift cards into cash while putting in a bit of effort, retail arbitrage may be a suitable option. This strategy involves buying items at a discount and then reselling them for a profit. To utilize your Amazon gift card for retail arbitrage, follow these steps:
Search for discounted or on-sale items on Amazon, particularly in the "Today's Deals" section, where you can find significant savings and coupons. Use your Amazon gift card to pay for the selected items. Once the items arrive, resell them online for a higher price than what you paid for them.
While this method requires a bit more effort than others, it remains an effective way to turn your Amazon gift cards into cash.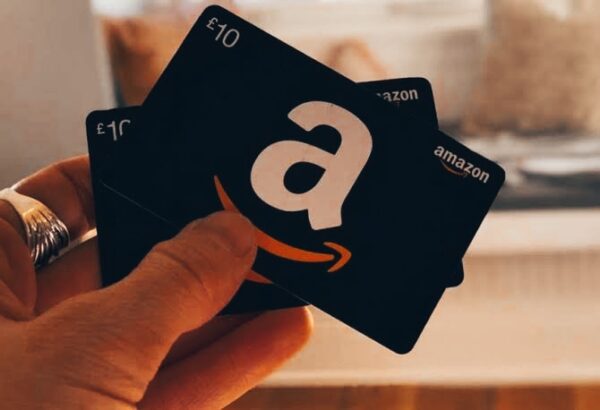 #4. Cardpool
Cardpool, one of the leading players in the gift card industry, has taken over the traditional machines in many convenience stores that previously exchanged loose change for bills.
The platform is a gift card exchange service that allows consumers to buy, sell, and trade their unwanted gift cards for cash, or purchase discounted gift cards from popular brands such as Amazon, Walmart, and Target.
The process of selling your Amazon gift card through Cardpool is straightforward and simple. Just find the nearest Cardpool kiosk and enter your gift card information and ID. The machine will then provide an offer, which can be up to 85% of the gift card value, for your Amazon gift card.
You have the option to either accept the offer and insert your gift card into the designated slot to receive cash, or you can choose to cancel the transaction and walk away.
#5. eBay
eBay is one of the biggest online markets that enables people to buy and sell different kinds of products. If you want to sell your gift card for a good price, list it on eBay for sale.
On eBay, you can sell your Amazon gift card for more than its face value. International buyers are willing to buy it regardless of the price. When you sell your gift card on eBay, you will be protected by the eBay seller protection benefits.
When selling on eBay, avoid emailing the gift card code to the buyer until payments have been completed.
Sell Amazon gift cards for some cash today on eBay
#6. Bitcoin Purse
Purse is a marketplace that allows you to sell your gift cards in exchange for bitcoins. If you are in need of Bitcoin rather than cash, this is a good site to visit.
Purse was created specifically for the purpose of allowing individuals to trade Amazon gift cards for Bitcoin. Here's how it works:
Bitcoin owners create a list of items they desire from Amazon. People who have unused gift cards purchase the order in exchange for bitcoin.
The platform uses escrow to ensure that both parties receive their intended items. This makes the process safe and secure. The bitcoin owner will receive their bitcoin and the gift card holder will receive their desired Amazon products.
This site provides a convenient way for people to trade their gift cards for bitcoin, making it an excellent option for those who want to exchange their unwanted gift cards for a different currency.
Other sites like Paybis also allow you to exchange your gift card for Bitcoins or other cryptocurrencies. All you have to do is enter your Amazon gift card code into Paybis.
Paybis will quote the exchange rate for bitcoins and process your payment. The value of your gift card will immediately be deposited into your digital wallet.
Trade Your Amazon gift card for cash today.
Well, as one of the leading online shopping destinations, Amazon boasts an impressive collection of over 600 million products. This vast array of offerings makes it easy for anyone to sell their unused Amazon gift cards without any hassle.
This article has provided a comprehensive guide on various methods that can be used to turn those unused cards into cash. And with the help of these simple techniques, you can effortlessly find a buyer for your gift cards and make the most out of them.
Frequently Asked Questions On How To Trade/Sell Amazon Gift Card For Cash
Can I convert an Amazon gift card to cash?
You can maximize your Amazon gift card value by selling it to your trusted network. By reaching out to friends, family, or colleagues, you can quickly turn your gift card into cash. Offer a fair price and you may even secure a better deal compared to posting the sale online."
How can I sell my Amazon gift card?
You can quickly and easily turn your unused Amazon gift cards into cash by using Gameflip. This platform specializes in the sale of prepaid and non-reloadable gift cards, including Amazon, Steam, PSN, Xbox Live, iTunes, and Google Play cards.
With a simple and straightforward process, you can sell your unwanted gift cards in no time."
Can I convert Amazon gift card to PayPal?
Unfortunately, it's not possible to directly transfer your Amazon Gift Card balance to PayPal. However, you can still use your gift card with PayPal by adding it to your PayPal account. Additionally, you can redeem your Amazon gift card by making purchases on Amazon.
Can I transfer my Amazon gift card to my bank?
Amazon provides the option to transfer funds from your PayPal wallet to your linked bank account. Additionally, if you have received money through an Amazon gift card, it can also be redeemed and transferred to your bank account.
It's important to note that this feature is only available to users who have completed their KYC process.
Can I add my Amazon gift card to Google pay?
On the Google Pay platform, gift cards can be sent and shared via email or SMS through the Woohoo virtual store. There are a variety of brand gift cards to choose from, including Amazon Pay Gift Cards, Flipkart Gift Cards, Uber E-Gift, and Google Play Gift Code.
Can I transfer gift cards to Google Pay?
Google Pay allows you to keep digital versions of your loyalty, rewards, membership, and gift cards in one place. It's worth noting that Google Play gift cards are not supported. If your gift card bears a network logo such as Mastercard or Visa, it must be added as a payment method instead.