Last updated Mar. 1, 2023 by Peter Jakes
If you are a shopaholic like me? Why not make money with your hobby? Shipt is one of the most popular grocery delivery apps today.
It is a legit shopping app that pays you to go grocery shopping and deliver goods to customers. This Shipt review will explain all you need to know about making money wit Shipt Shopper.
Shipt Shopper is a grocery delivery service that is rapidly growing its independent contractor team. Shipt could be a great way to make good money (about $25 per hour) on your schedule if you're interested in earning extra money in the sharing economy.
Of course, as with all sharing economy jobs, earning less than the minimum wage is possible if you are inefficient with your time. However, its nationwide expansion could be a good fit for you. Here's what you should know before applying.
This article covers Shipt Shopper and everything you need to know about it.
Related: 10 Best Money-Saving Apps for Shopping & Groceries
Shipt Shopper: What is It?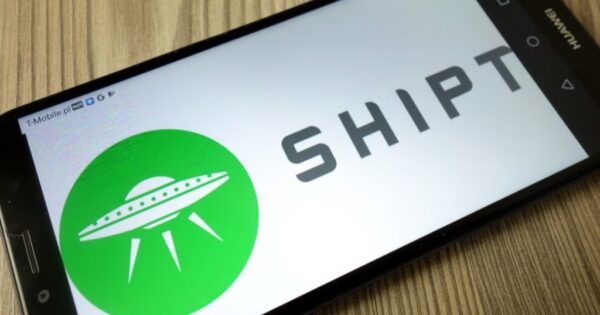 Shipt is a supermarket delivery service allowing users to place orders for goods and deliver them directly to their residences. This shopping app, founded in 2014, was bought by Target in 2017 and is now a subsidiary of Target Corporation.
Even with its headquarters in Birmingham, Alabama, Shipt operates in other states. Shipt enables consumers to get food from well-known retailers such as Costco, PetCo, and CVS delivered to their homes and allows individuals to make additional money via the service.
Join the Shipt Shopper program and earn money by delivering groceries to people who made an order. Alternatively, there are other best food delivery services you can work for together aside Shipt Shopper.
How Does Shipt Shopper Work?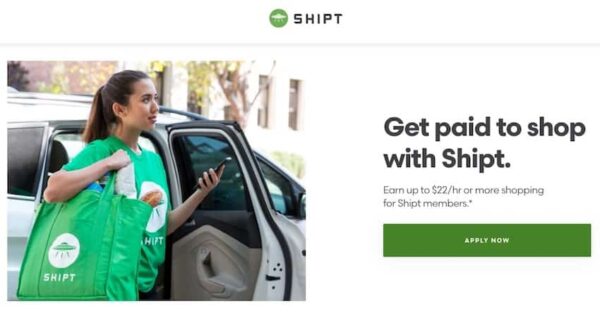 If you are a regular shopper, then get acquainted with Shipt. For instance, as a chronic shopper, I looked into grocery delivery services and discovered that Shipt was ideal. You pay only $99 per year for unlimited grocery delivery (from the major grocers in my area).
You can have a grocery list saved in the app and update it weekly based on sales and family meal plans, for example. Then, when you complete your order, you submit it and wait for a Shipt shopper to claim it.
That's where you come in if you become a shopper.
Tip* As a shopper, you can "put yourself" on the shopping schedule up to five days in advance.
Adding yourself to the schedule indicates you can shop for specific orders in your area. Shipt customers can shop in a single zone (a few-mile radius with at least one grocer) or multiple zones.
You'll start to see shops come through once you're on the schedule. The order size, the store where you'll shop, and the final destination are all visible in the shopper app.
You are not required to accept (claim) every order in your zone, but Shipt tracks your acceptance rate. You may lose your ability to contract with Shipt if you reject too many orders.
When you accept an order, you drive to the grocery store, select items from the store, pay using the app at the register, and deliver the food to the customer. You can shop for multiple orders at the same time.
You will be paid a commission for each order you deliver.
How to Sign up for Shipt
Visit the Shipt shopping app.
Fill in your name, email, and phone number. Then, select "Apply Now."
Answer a few questions to demonstrate your ability to make decisions, solve problems, and communicate effectively.
Respond to additional questions with video responses.
The Shipt shopper agreement must be read and signed.
Wait for approval.
Install the app and place your first order.
Pros of Working for Shipt
Free Shipt membership. If you work for Shipt, you can get a free membership and hire someone to shop for you when you don't feel like it.
You Get paid per order. Each order will include an estimated pay rate based on the time it will take to complete. So per order, you can earn up to $22.
Create your own schedule. You can work whenever you want because Shipt allows you to set your schedule. This is ideal if you have a full-time job, children, or other obligations.
Accepts tips. Customers can leave tips after you deliver their groceries so that you can earn extra money in addition to your hourly rate.
Cons of Working for Shipt
You pay for your own gas. Unfortunately, Shipt will not reimburse you for mileage, so you must pay for your own gas. However, you can deduct mileage as a business expense on your taxes.
You can't see the exact items of an order. Shipt will only show you the price of an order before you accept or reject it. This means you might end up with an order requiring you to pick up 15 heavy cases of water.
Delivery may take longer than expected. If there is a traffic jam or an unexpected thunderstorm, completing a Shipt order may take longer than expected and become less profitable.
Pay for your own phone and data usage. You will also be responsible for your phone and data usage, as Shipt does not reimburse these.
You shop alone. You cannot bring your children or friends on a Shipt shopping trip because the company requires you to complete orders independently.
You might enjoy shopping for Shipt if you don't mind driving or grocery shopping and are looking for a flexible side hustle.
Who can Earn With Shipt?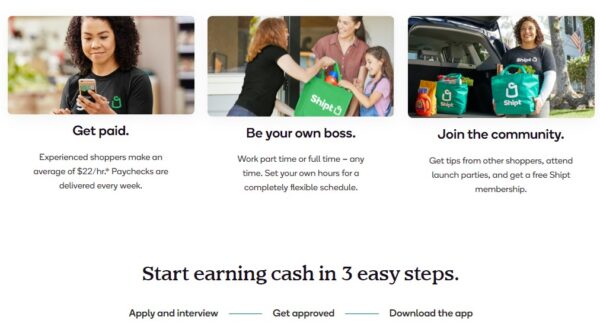 Shipt screens its personal shoppers by having them answer simple questions and provide video responses. However, to be considered for the interview, you must:
You must be at least 18 years old.
Have an up-to-date mailing address
Have a current auto insurance policy and a valid U.S. driver's license.
Have a dependable vehicle (1997 or newer)
Have a basic understanding of produce selection
You must be able to lift 45 pounds.
Do you have a smartphone? (iPhone iOS 10 or newer or Android 5.1 or newer)
Shipt delivery drivers must also pass a background check. Because the Shipt onboarding process is more extensive than some other gigs, it is best for people willing to invest a little extra time.
You should also be a people person who knows how to provide excellent customer service. Of course, it also helps if you enjoy shopping.
How to Earn Money With Shipt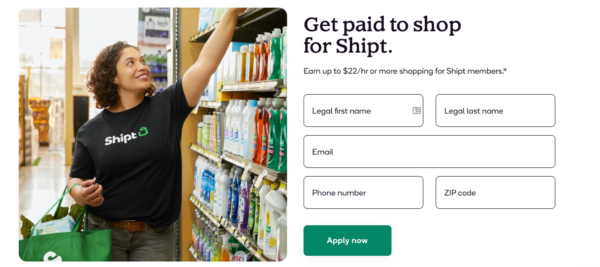 Earning money with Shipt is easy. This section provides a step-by-step guide on how to make money from delivering food on Shipt.
Step One: Get Registered on Shipt
Visit the Shipt official website and get registered as a Shipt shopper. It takes a few minutes to do this.
To become verified as a Shipt Shopper, you must meet the eligibility requirements listed below:
Must be above 18 years before registration and
must have a valid driver's license and vehicle insurance
You must have a car in good condition
Must have a thorough understanding of produce selection
The applicant must be able to lift items above 40 pounds
Must possess an iPhone (iOS 10 or newer) or an Android smartphone (5.1 or newer)
To be verified, you'll need to enter some information about yourself. In addition, to become a Shipt Shopper, you'll need to possess problem-solving, communication, and decision-making skills.
As part of the application process, you must upload a video file where you tell Shipt about your communication skills and app knowledge.
As part of the process, you'll be required to sign the Shipt Shopper agreement, which explains the ground rules for achieving success as an independent contractor for Shipt.
Once you've completed the application process, you will receive a response from the Company's Recruiting Team after some days.
Step Two: Get Started
Once you have been verified as a Shipt Shopper, you will be mailed a Shipt card with a Shipt Shipt at no cost. You'll usually receive this package within three to five business days after being accepted.
According to the company, wearing the Shipt customized shirt isn't a must. But it is important to be differentiated and recognized by clients who place orders.
Download Shipt App
To start as a Shipt employee, you must download the Shipt mobile app.
Once approved, you can download the app and begin accepting orders. The app is compatible with iOS and Android devices.
Remember that providing excellent customer service is the key to success with Shipt. Therefore, Shipt makes it clear that it rewards customers who offer excellent customer service.
You can access preferred shopping times and additional work if you provide excellent service.
After signing up, an invitation to join the Shipt Shopper Hub will be sent to you.
This invitation contains guides on getting started, links to an optional online course, and everything you need to know.
After receiving this invite, you can start as a Shipt Shopper.
Step Three: Get Paid
Shipt pays its Shoppers every Friday by direct deposit, a convenient payment method. In addition, customer service representatives are compensated on a per-order basis and are given the option to earn tips and incentives.
Note that Shipt does not deduct any taxes from your weekly wages. As a result, you are an independent contractor who is responsible for your tax preparation and filing.
How Much do Shipt Shoppers Make?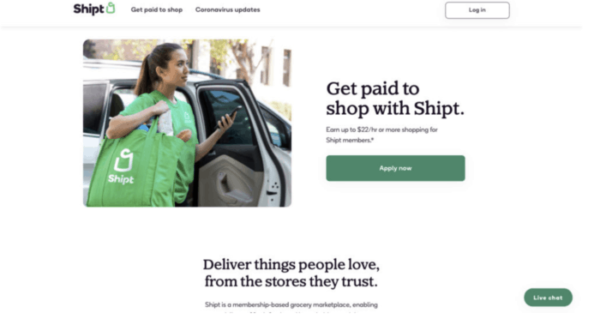 According to Shipt, experienced personal shoppers can earn between $16 and $22 per hour, but actual earnings will depend on your location and how efficiently you shop.
Shoppers who have completed over 100 orders can earn up to $24 per hour. In addition, when you shop with Shipt, you can also get discounts on car insurance, phone plans, and other services.
You will be paid per Shipt order and keep 100% of your tips as an independent contractor. Payments are made via direct deposit, so you'll receive money in your bank account every Friday for orders placed the previous Monday through Sunday.
How Shipt Shoppers Get Paid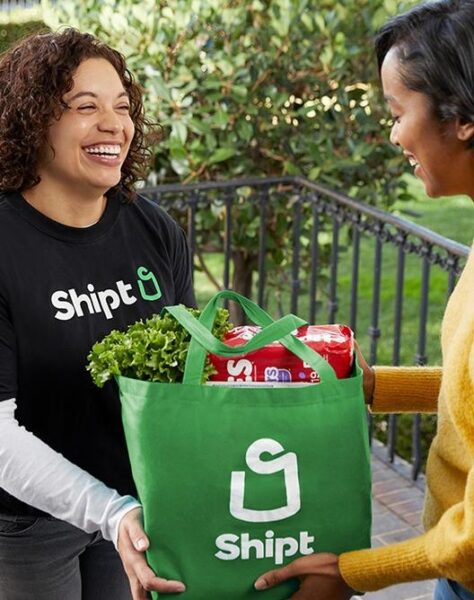 The most common way shoppers are compensated through commissions. The commission is currently $5 plus 7.5% of the order amount. So completing a $100 transaction will result in a $12.50 commission. An order of that size could take up to an hour to complete.
Shopping for Shipt appears to be a farce (especially considering that you must drive your car to deliver). However, shoppers also earn tips. This is where the real money is made. Many Shipt customers are either disabled or working parents with children.
They appreciate Shipt's convenience and are willing to tip shoppers. This is especially true if you take the time to walk the groceries into the kitchen and set them on the counter.
Most Shipt shoppers say tips increase your average hourly wage to $15 or more. In addition, when you have completed several shops, you will be able to claim multiple orders at the same time.
You can earn $25 per hour or more if you complete these tasks on time.
Is Shipt a Better Option for Drivers than Instacart?
Instacart full-service shoppers have reported earning anywhere from $10 to $15 per hour on Glassdoor, but actual hourly rates can vary significantly.
Instacart is similar to Shipt in that you can set your own hours, accept deliveries with pay estimates in the app, and shop and deliver orders to customers.
Shipt is unique because it is membership-based, so you deliver to repeat customers. And, while pay varies depending on location and shopper efficiency, Shipt offers better rates for shoppers than some competitors.
Is Shipt Shopper Legit?
Yes, Shipt Shopper is legit. Shipt is a Better Business Bureau-accredited company with an A+ rating. On Glassdoor, customers have mostly positive things to say about working for Shipt.
Shipt is a legitimate company that offers its members a valuable same-day delivery service and a fun way for shoppers to earn money.
The company collaborates with organizations such as Feeding America and the Cam Newton Foundation to give back to the community.
Is Working for Shipt Worth it?
Whether or not you should work for Shipt depends on what you want. Shipt app is one of the best gig economy apps that pay you real money compared to other jobs. You can also set your hours and take breaks whenever you need to.
And many Shipt shoppers get to know cashiers at local stores, get to know members, feel good about helping people who need it, and meet other shoppers at special events.
If Shipt seems like a fun way to make money on the side, it will be well worth your time.
Shipt Shopper Perks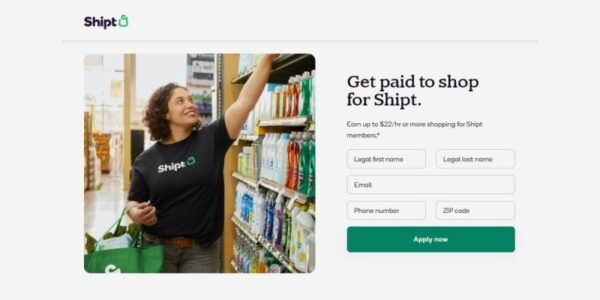 Working with Shipt comes with numerous benefits. The company offers a variety of benefits to its contractors. Here's what you'll get as a Shipt customer.
Discounts on Tax Preparation
It is common knowledge that side hustling entails additional tax obligations. As a result, it may make sense to seek the advice of a professional when it comes time to file your taxes.
Fortunately, Shipt provides a 50% discount to customers who file their taxes with TaxSlayer. The service also offers free tax filing, making it an excellent choice for Shipt contractors.
You can use the Shipt delivery service at no cost. As a result, you will have more time to shop for others and earn more money.
Sign up for a free membership through the Shipt app using the same email address as your shopper account.
To be a Shipt Shopper, you'll need a dependable vehicle. As a result, Shipt wants to ensure that your vehicle remains in top condition without breaking the bank.
As a Shipt driver, you'll have several opportunities to save money on auto insurance, maintenance, gas, and other expenses. GasBuddy, for example, can save you up to 25 cents per gallon. The Tire Kingdom also offered 10% off tires and discounted oil changes.
● COVID-19 Financial Assistance
COVID-19 is a continuing global concern. Shipt is taking this threat seriously and is assisting its customers.
Shipt can provide up to two weeks of financial assistance to active shoppers for COVID-related reasons.
You will be eligible for this assistance as an active shopper if you test positive for COVID-19 via a medical professional, public health authority, or lab test.
If a public health authority imposes a mandatory individual quarantine or a member of your household tests positive for COVID-19, you will be eligible for assistance.
Healthcare, Fitness, and Well-Being
Finding appropriate healthcare benefits as an independent contractor can be difficult. Shipt recognizes this challenge and assists in its collaboration with HealthSherpa and ScriptSave.
Additionally, Gympass provides access to a free gym membership.
Shipt provides its shoppers with security-enhancing benefits to offer peace of mind. In addition, All states provide identity theft protection to customers.
Customers can also get low-cost pet insurance from Pet Benefit Solutions and Liberty Mutual Pet and legal assistance from RocketLawyer.
Is Shipt Shopper Safe?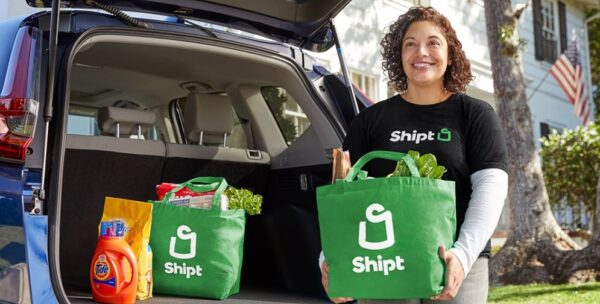 Shipt strives to provide its customers with a secure shopping experience. Contactless delivery options, 24/7 shopper support, and phone number protection are just a few ways the company promotes shopper safety.
If an unsafe incident occurs, you can also request assistance from the Trust and Safety Team.
How to Stay Safe With Shipt
Shipt is safer than many gig jobs because you don't have to let people into your car. Most of the time, you won't even have to go into their homes, and you'll never have to if you're uncomfortable.
Still, there are steps you should take to stay safe, both during and after the pandemic.
Trust your gut. If you feel bad about something, call someone and don't go into the customer's home.
Keep your distance while remaining friendly. If the customer asks, leave the order at the door and step back until you're at least 6 feet away. Before you leave, make sure to wave and wish the customer well.
Wear your personal protective equipment. Shipt is working with Target to give shoppers a pair of gloves and a mask every day. Make sure to wear your gear to help stop the spread of COVID-19 to yourself and other people.
Always have your phone with you. Shoppers can get help from Shipt at any time, but you'll need a phone to call for help. You should also dial 911 if you feel you are in danger.
Tips For Maximising Your Earnings on Shipt Shopper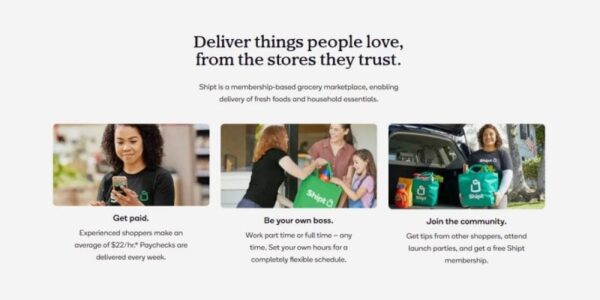 #1. Don't overlook small orders
Small orders may only pay $6-$7 in commissions, but tips on these orders can quickly add up. Small orders also make it simple to shop for multiple orders at once. More orders equal more money.
#2. Remember to keep track of your miles.
As an independent contractor, you can deduct your mileage from your earnings to lower your taxable earnings. Keep track of your mileage with Everlance.
#3. Offer Amazing Customer Service
Tipping is a significant part of your compensation, so provide excellent customer service.
You can go the extra to introduce yourself and be nice. For instance, "My name is _______, and I'm shopping for you today," you say. Do you want to add anything else to the order?" Of course, this increases your commission but also benefits scatterbrained customers.
Many orders contain substitutions. You can use your best judgment and text customers pictures of substituted items to ensure they are happy with the substitution.
Finally, when you arrive at your customers' homes, greet them and bring groceries inside, placing them on the countertop.
#4. Prioritize Mondays and Sundays
Sundays and Mondays are extremely important days for Shipt. Make a point of scheduling yourself on these days to claim as many orders as possible. When you can claim multiple orders, ensure to claim them all at once.
#5. Check for bounties when you have time
Even if you're not on the Shipt schedule, you might want to check in occasionally. Shipt offers "bounties" on orders that go unclaimed in a specific area.
The larger the bounty, the closer you are to delivery time. So log in now to see if you can make some serious money in your spare time.
#5. Focus on earning tips.
Shipt customers keep all of their tips. You'll more likely earn extra money if you provide friendly service.
#7. Use a fuel-efficient vehicle.
One disadvantage of a driving gig is the cost of fuel and maintenance. However, driving a fuel-efficient vehicle reduces the costs associated with your job.
#8. Take the optional educational courses.
Shipt provides free learning materials and FAQs to assist you in becoming a more efficient shopper. You can also take advantage of online course platforms. You may be able to raise your hourly rate using these resources.
Shipt Shopper Alternatives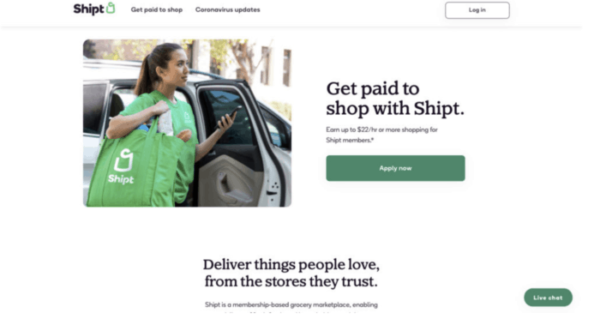 You might not be eligible to work for Shipt, or you might not enjoy grocery shopping.
Instacart
If you don't have a car but still want to shop orders, Instacart is a grocery delivery service that offers part-time jobs for in-store shoppers that don't require driving.
You must schedule your work hours in advance with Instacart, and you can choose to be an in-store shopper only or a full-service shopper, which includes order delivery to the customer.
Saucey
Saucey offers an alcohol-only on-demand delivery service. As a result, drivers can be compensated for delivering alcohol to homes and parties throughout town.
Amazon's Flex
Amazon Flex is a delivery service that allows drivers to pick up and deliver Amazon Prime items to customers all over town. Download the Flex app and start making on-demand deliveries for customers in your area.
DoorDash
DoorDash is a delivery app that connects drivers with local businesses and allows them to pick up items from multiple stores.
Grubhub and Uber Eats are two other competing services to consider.
Rover
Instead of shopping for others, alternatively, you may decide to spend enough time grocery shopping each week for yourself and would prefer to spend your free time with dogs and cats.
The Rover Review shows it is an app you can use to provide pet-sitting and dog-walking services at your own rates and schedule. Your customers (the furry ones) will be delighted to see you, and you will be able to relieve some of the burdens on pet parents.
Postmates
Postmates is an on-demand delivery app that allows drivers to deliver household and office supplies to customers all over town.
Related: Postmates Driver Review: Is It Legit?
Bottom Line
Working for Shipt is a side hustle that can help you supplement your income. A flexible gig job is a sure way to make extra money in your spare time. The best part about becoming a Shipt Shopper is that you can do it whenever it is convenient for you.
It not only has a large selection of ingredients to choose from, but it's also a quick and easy way to get your groceries delivered.
This shopper app could be a good option for people who frequently order products online and appreciate the convenience of having their groceries delivered every week.
Shipt delivery provides job opportunities seven days a week. We write many reviews; this is the place to be if you're looking for jobs like Shipt.
Frequently Asked Questions
Q: What other apps can I use for Grocery Delivery?
Shipt complements other side hustles such as UberEats, DoorDash, and even driving for Uber and Lyft. Work for as many companies as possible if you're driving for money. This allows you to quickly determine where you will earn the most money in any given hour of any given day.
Q: Does Shipt pay mileage?
Because Shipt does not reimburse shoppers for mileage, you must factor the cost into your total take-home pay. However, you can deduct the expense from your taxable income when you file your tax return.
Q: How much does Shipt pay its shoppers?
According to Shipt, seasoned personal shoppers can earn anywhere from $16 to $22 hourly, but actual earnings will vary based on your location and the time it takes you to fulfill orders. As a Shipt shopper, you can earn up to $24 per hour after completing over 100 orders.
Q: How does Shipt make money?
Shipt makes money by charging a membership fee of $99 per year or $14 per month. On orders under $35, the company also charges a $7 delivery fee. Select retailers also charge service fees at the checkout.
Q: Is Shipt Available in Every Location?
Shipt's reach has grown since Target acquired it in late 2017. Their service is now available in over 100 markets across the country. See if it's available in your area by visiting the Shipt website.
Q: Shipt vs. Instacart: How do they compare?
Another popular grocery delivery service is Instacart. However, Shipt has a more generous referral program than Instacart, which only offers referrals for $10 credits. In addition, Shipt has a larger geographic footprint than Instacart and can serve customers in more cities.