Last updated Apr. 18, 2023 by Favour Chinaza
The demand for doorstep food delivery is on the rise. It means many delivery drivers are needed to meet the increasing demand, hence, an opportunity for you to earn as a delivery driver either part-time or full-time. Many of these delivery companies want delivery drivers to deliver food to their customers. These 15 Best Food Delivery Services To Work For (Delivery App Companies Paying $250/Day) can end your search for the best delivery service that pays well.
So if you are a good driver and want job flexibility, consider working for a food delivery company. Similarly, food delivery is an excellent option if you're looking for ways to earn money as a side hustle.
One primary reason for delivery jobs being great is most of these companies have apps that'll help you to do your job easily and stress-free. Basically, your job is to drive to the place of delivery and deliver the food.
What Are The Best Food Delivery Services To Work For In 2023?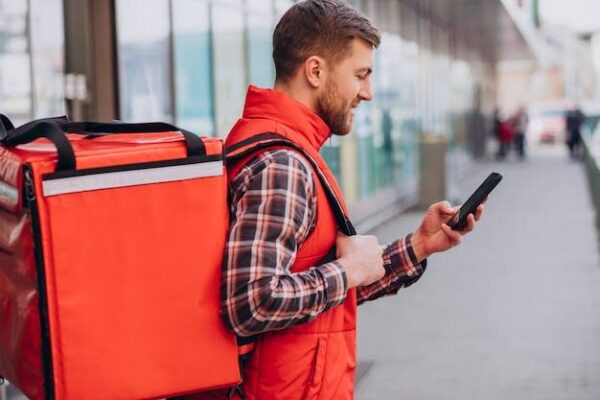 Independent contractors like delivery drivers can work full or part-time in the gig economy, but what are the best food delivery apps to work for in 2023?
In the last two years, there have been a lot of changes in the food delivery business. First, Uber bought Postmates, and Doordash bought Caviar. It means that two companies are now one.
With so many changes, it can be hard to remember which companies are still "hiring" drivers. Paypant.com helps with this. We're curated this article to help you find the best food delivery jobs and determine how to get them. You will also learn what each jobs pay and if working for each delivery service is worth it.
How to Pick the Best Food Delivery Service
There are so many good delivery app jobs that it can be hard to decide which one to take. Of course, the best one is the one that best fits your needs, which could be anything from being flexible to having the chance to make more money. So, before you choose the best delivery app job, here are a few things to consider.
#1 Is the Delivery Job Available in my City?
Not every app for a delivery service is available in every U.S. city. Check to see if the delivery app is available in your area (and is popular there with the high demand).
#2 Do I meet the least Requirements?
Not every app needs the same things. Some places want you to be 18 years old. Some people raise the age to 21. Some people need to have experience driving, but others don't. Check the rules to make sure you meet them.
#3 Does it fit my work lifestyle? Most apps give you complete freedom over when you work, but this may not always be the case. For example, lunch and dinner are the most popular times for restaurant delivery. Services that deliver alcohol and marijuana are open late at night.
#4 Do I know where I'm going?
If you can deliver quickly, you have a better chance of making more money. Some apps say they can get things to you in 30 minutes or an hour. This means you need to know the area well if you want to do well.
Also, remember that you can work for two or three companies at once. So, if you can't decide between a few good-looking delivery apps, why not try them all?
Related: 25 Awesome Apps For Free Food [With Bonuses]
15 Best Food Delivery Services To Work For (Delivery App Companies paying $250/Day)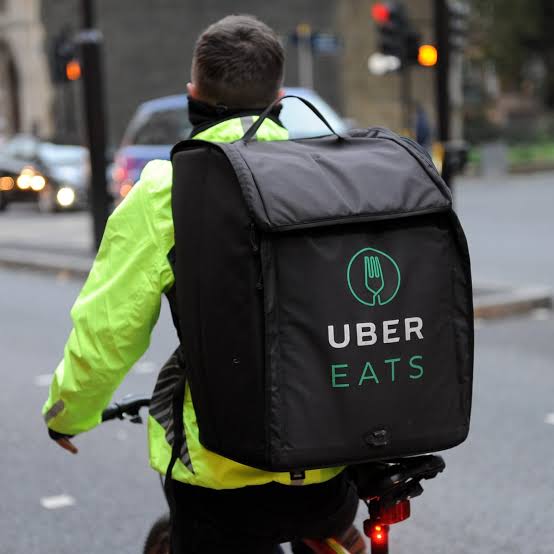 Consider working for Uber Eats if you're looking for food delivery jobs near me. Uber Eats is an American online food ordering and delivery platform. However, the company also has a presence in almost every major city in Europe, Africa, and the Middle East.
You can earn money as an Ubereats food delivery driver by working around your schedule. However, to work with them, you must first register at Deliver with UberEats.
You can also keep track of your payments by downloading the Ubereats driver app. The platform makes payments quickly and easily, usually weekly. You can, however, cash out at any time.
Requirements to Work for UberEats
The company gives it's delivery drivers three options: car, scooter, and bike.
For car deliveries, you must:
Meet the minimum driving age in your city
Have a driver's license
Have a 4-door or 2-door delivery car
Have at least one year of driving experience
For scooter deliveries, you must:
Have a motorized scooter with a maximum of 50cc
Be at least 19 years of age
Have a valid driver's license
Have auto insurance for the scooter under your name
For bike deliveries, you must:
Be at least 18 years of age
Have a government-issued I.D.
How Much You Can Make Delivering for UberEats
There is a one-time guaranteed income for drivers new to Uber Eats. When you sign up, you will earn a certain amount of money IF you make a certain number of trips in a certain amount of time4. The number of trips varies from city to city, but it usually takes 90 days5 to do them all. So if you make the number of trips but feel you don't make enough money to reach the guaranteed pay, Uber Eats will make up the difference
.
As for regular driver pay, Uber Eats figures out earnings based on base pay, distance driven, and customer tips, among other things. You can generally expect to make between $15 and $17 per hour. Using perks like Boost and Quest, you can make more money with Uber Eats.
Pros and Cons of Delivering for UberEats
Pros
Uber Eats is one of the best-paying food delivery services, making it great for part-time and full-time delivery drivers.
It has incentives like Boost and Quest to help drivers make extra money.
The all-in-one Uber platform allows drivers to accept food delivery and rideshare requests.
Uber Eats has an Instant Pay tool, which lets drivers take a payout up to five times per Day.
It doesn't require drivers to schedule shifts. This means you can choose your hours for making fast food deliveries.
The Uber Eats driver app has a built-in tipping feature to encourage customer tips.
Most states allow Uber Eats drivers to deliver in other states.
Cons
Uber Eats doesn't allow on-foot deliveries. To be an independent contractor with the company, you must have a car, scooter, or bike.
Although Uber Eats has a base pay based on your pick-up and drop-off locations, it does have a fare reduction feature in some markets. This can lower your overall earnings.
California, Pennsylvania, and Mississippi drivers cannot deliver in other states.
Is Working for UberEats Worth it?
If you already have a car, scooter, or bike, Uber Eats is a great way to make extra money. Delivery drivers can earn up to $34,948 per year, but those who work in high-demand cities like New York can make up to $42,0687.
If you're unsure about Uber Eats, you can also check out Postmates. Uber Eats owns it, and just like Uber Eats, Postmates lets delivery drivers take orders from customers for food, groceries, and drinks from local restaurants and stores. Before tips, Postmates drivers make between $11 and $15 per hour on average, but the exact amount depends on the city.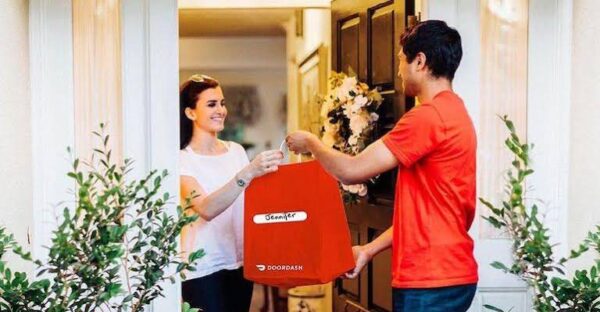 Doordash, based in San Francisco, is a logistics company that provides on-demand food delivery services from restaurants. The company offers services in over 4000 cities across the United States and Canada, but only in select locations.
To work as a dasher (delivery driver) for them, you must be at least 18 years old, own a car, scooter, or bicycle, have a valid driver's license, and have a social security number (only in the United States). You can join the platform when you apply, select driver orientation, and agree to a full background check at Doordash.
Furthermore, after becoming a dasher, you must download the Doordash app and select the delivery time slot you are comfortable working in. You can occasionally work full-time, part-time, or as an independent contractor.
Requirements to Work for DoorDash
DoorDash is a more flexible food delivery app because you can deliver orders in select metro areas by car, bike, scooter, or walk. The following are the prerequisites for becoming a DoorDasher:
You must be at least 18 years old.
If you intend to use a vehicle for deliveries, you must:
Have a driver's license and insurance.
Completing an online orientation will result in the receipt of an activation kit.
Clear a background check
How Much You Can Make Delivering for DoorDash
Doordash pays, on average, $10- $25 per hour (for full-time workers). And any tip you get, you can keep it for yourself. Dashers are usually paid weekly for the deliveries made between Monday to Sunday of the previous week.
Pros and Cons of Delivering for DoorDash
Pros
DoorDash pays its delivery drivers one of the highest rates in the industry.
As a DoorDash delivery person, you can deliver by foot, bicycle, scooter, car, or truck.
Dashers who schedule shifts ahead of time receive guaranteed requests.
Prolific DoorDash drivers gain access to DoorDash Drive, which allows them to make exclusive requests, place larger orders, and receive special bonuses.
DoorDash is available 24 hours a day, seven days a week, meaning delivery people can earn money any time of Day or night.
Cons
DoorDash pays delivery drivers once a week. With Instant Pay, there is a $1.99 fee for an early payout. To use this feature, you must also have a debit card.
While scheduled, DoorDash shifts pay more and are in high demand. Therefore, to have a chance at getting them, you must claim them early on. Otherwise, you will be forced to work your hours, which is convenient and inefficient.
Is Working for DoorDash Worth it?
Yes, DoorDash has one of the highest hourly rates for Dashers. Delivery drivers earn up to $25 an hour, much higher than the Federal minimum wage of $7.25.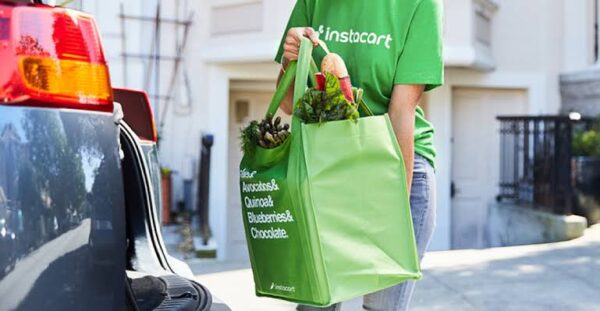 Instacart is a technology company that provides delivery and same-day grocery pick-up. It has over 350 regional and national retail partners whose groceries it helps deliver on-demand across the United States and Canada.
Shoppers are Instacart's delivery drivers. They take orders from the Instacart Shoppers app, shop, and deliver groceries.
To become a Shopper, you must first register with Instacart. But instead, you must be able to lift at least 50 pounds with or without accommodation and have a vehicle, license, phone, and so on.
You can shop whenever you want without worrying about working hours, whether you are a full-service or in-store shopper. As an Instacart Shopper, you can earn between $10 and $25 per hour. They just like other online jobs that pay weekly, pay you weekly, but it also depends on the order size, the driver's mileage, and other factors
. You can, however, choose a daily cashout option for a fee of $0.50.
Requirements to Work for Instacart
a minimum of 18 years old
Are allowed to work in the U.S.
Having constant access to a car
You should always have access to and be able to use a modern smartphone (iPhone 6s or later or Android 5.0 or later).
Capable of lifting 50 pounds with or without help
How Much You Can Make Delivering for Instacart
Instacart has a guaranteed earnings promotion program for its delivery drivers. Under this program, they assure you to earn a set amount of money if you complete a certain number of batches. For example, a promotion could be such that you make a guaranteed $80 if you finish 6 batches. If your deliveries don't earn $80, Instacart will pay you the difference. Customer tips do not count toward batch payments.
Even better for Instacart shoppers in California, the platform has an entirely different payment model. With the passing of Proposition 22, Instacart introduced a guaranteed minimum earning of at least 120% of the state's minimum wage and $0.30 for each mile that you spend shopping
Instacart shoppers and delivery drivers in other states make up to $20 per hour, making it arguably the best food delivery service to work for.
Pros and Cons of Delivering for Instacart
Pros
Instacart shoppers can create a schedule and choose their hours for shopping and delivering groceries.
Instacart generally pays more per order than other food and grocery delivery services.
It allows you to enjoy a bit of exercise (in the form of shopping) while earning some extra money.
An "Instant Cash Out" feature allows you to take an instant payout for a $0.50 fee.
The Instacart app displays pick-up and drop-off locations upfront before you accept an order.
Cons
Instacart requires drivers to create a schedule beforehand. Unfortunately, this can come in the way of proper freelancing, where you log into the app and start working whenever you want.
Extended checkout queues and traffic jams may cause delays and impact your ability to make money.
Is Working for Instacart Worth it?
With an hourly rate of over $20, Instacart is a great app to make some extra cash. However, you may find that the orders are far between. Therefore, it's best used as a side hustle app or in combination with other food delivery services.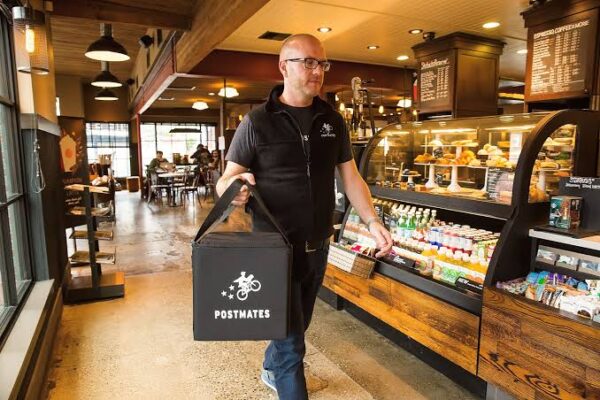 PostMates is a delivery company that hires delivery drivers for various gigs such as restaurant orders, groceries, liquor, etc. To work for this company, you must have a car, motorcycle, bicycle, and smartphone. Furthermore, you must undergo a background check and have a valid driver's license held for at least one year.
As usual, the payment differs due to various factors; it ranges between $14 and $25 per hour. One of the downsides is that the service is available in only a selected number of cities. However, their app for drivers will make it easier for you to reach the delivery location. Plus, there are no work-time commitments; you can work with your schedule.
Requirements to Work for PostMates
Multiple Postmates requirements must be met before being approved to drive.
These include:
Be at least 18 years old.
Have a valid U.S. driver's license.
Have a valid Social Security number.
Have a mailing address.
Live in (or near) a city that Postmates operates in.
Be able to upload a profile photo upon request. This must be a clear headshot.
Be able to pass a background check.
How Much You Can Make Delivering for PostMates
The Postmates driver pay calculation is pretty standard for the industry.
Drivers are paid on the amount of food they deliver, which ranges from city to city. As a result, drivers can expect to make around $11-15 per hour before tips.
It is far from the $25 per hour that the company advertises, but to be fair, these numbers vary so widely between cities that you should research your city before taking these figures as fact.
Pros and Cons of Delivering for PostMates
Pros
Postmates doesn't charge commission fees like the apps above. Instead, it pays a flat fee for every pick-up and drop-off, plus cash for every minute you wait and every mile you drive. You can request accurate payment if your estimated wait time is wrong.
Postmates offers Blitz pricing for high-demand times, "Crusher" bonuses for completing a set number of deliveries, and limited-time guaranteed earnings offers.
Diversification: Customers can order food, dry cleaning, office supplies, and alcohol using the Postmates app. This job takes you beyond fast food chains and restaurants.
Postmates drivers can cash out for 50 cents with an instant deposit.
You can drive 24/7 as long as restaurants and customers are available.
Drivers must contact customers if a restaurant is out of an ordered item. This can delay the driver and reduce daily deliveries.
The Drivers sometimes must place an order and wait while preparing it.
Drivers must sometimes pay with a Postmates pre-paid card. This extra duty is annoying.
Uber Eats is more widespread than Postmates.
Cons
Postmates couriers' future is unknown. Uber Eats acquired Postmates Fleet in July 2020, so a separate app may be discontinued soon. However, you may want to join if Uber Eats is available in your market.
You may need extra time shopping for requested items if they send you to a grocery, convenience, or drug store that doesn't pack deliveries. It's a hassle compared to most food delivery drivers' quick pick-up orders.
Postmates automatically adds a tip to the bill to encourage tipping. Customers who go out of their way to remove the added amount are more likely to tip.
Postmates wasn't originally a rideshare app, so their vehicle requirements are straightforward.
You can request non-food items: Customers can order groceries and school supplies, which increases Postmates' customer base.
Delivery drivers don't need trucks, cars, or vans. Postmates sometimes accept scooters and bikes.
Drivers can earn extra cash through their referral program.
Is Working for PostMates Worth it?
Yes, working for PostMates is worth it. Delivering for Postmates is an excellent way to make extra money if you want to do something simple and flexible. It is especially true if you can avoid using your car and paying for gas by working as a bike courier.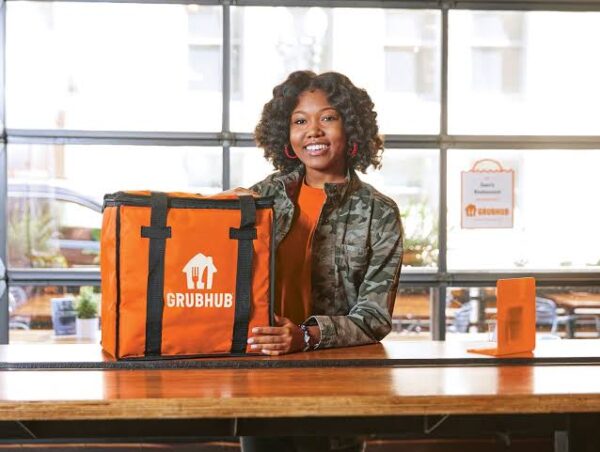 Grubhub is another good platform for delivery jobs. It is a Chicago-based American online food delivery company that helps connect diners with local restaurants. It offers its services in over 2000 cities in the United States.
To become a delivery person with Grubhub, you must be at least 19 (21 and above if in Chicago or Las Vegas), have a valid driving license (for at least two years), auto insurance(if car), a valid State ID ( if using cycle), own an iPhone or Android device.
Working with Grubhub offers you the freedom to set your work hours. You can do this by downloading the Grubhub for Drivers app and starting earning. You can make nearly up to $12 per hour and have the right to keep the tip for yourself. Grubhub typically pays its drivers weekly on Thursdays.
Requirements to Work for Grubhub
If you want to get approved to earn as a Grubhub delivery driver, you must:
Be 19 years old (21 in Chicago and Las Vegas).
Have a valid driver's license.
Have at least two years of licensed driving experience.
Own a car or motorcycle with valid auto insurance.
Be able to pass a background check.
Own a smartphone with a data plan compatible with the Grubhub for Drivers app (iOS 11, Android 5.0, or later).
Bikers must have a valid state I.D.
How Much Can You Make Delivering for Grubhub?
Several things come into play regarding how much Grubhub drivers make. First, if you have to work slower shifts because you have to be at your regular job during peak meal delivery times, you probably won't make as much as other Grubhub drivers. You may also live where Grubhub isn't used as much.
If you live in an area with many people, you can expect to make an average of $23 to $27 per hour. This rate won't be a steady income. There will be busy shifts and shifts with almost no orders. However, using the tips below, you can add a little bit to that estimate. You can also make more money driving for multiple food delivery apps simultaneously.
Pros and Cons of Delivering for Grubhub
Pros
Grubhub has no hidden fees. It pays based on your estimated driving distance and wait time. Some U.S. cities offer hourly guarantees.
Grubhub guarantees more requests and higher earnings for delivery blocks.
Program benefits: High-performing drivers get more delivery blocks and catering orders.
Grubhub drivers receive Seamless requests in shared markets like DoorDash drivers receive Caviar requests. This could mean more requests without switching platforms.
Grubhub's Instant Cash Out feature lets you request up to $500 per Day for 50 cents or free if you have a Chase checking account.
You can deliver 24/7 as long as restaurants are open.
Cons
Limited bonuses: Unlike DoorDash and Uber Eats, which both include promotions in their pay models, Grubhub does not place as much emphasis on bonuses.
No surge pricing: Because Grubhub has never used a surge pricing model, the best way to earn extra money during peak times is to snag delivery blocks before they're gone. Unfortunately, top-tier couriers in the Driver Recognition program can access higher pay before you.
Many restaurants on Grubhub have in-house delivery drivers, which means that independent contractor drivers have fewer opportunities to serve those who order food.
Is Working for Grubhub Worth it?
At the start of 2022, Grubhub made the most money per trip. Grubhub paid more per trip, on average $10.28, than either DoorDash or Uber Eats. But when it came to how much Grubhub drivers made per hour, the average was $15.65.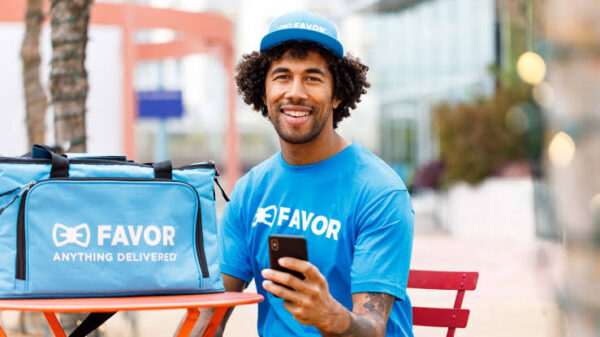 Favor is an on-demand food delivery platform launched in 2013. They deliver anything in less than an hour across 50 cities in Texas. They deliver anything from groceries, tacos, dry cleaning, etc.
A delivery driver for Favor is called "a Runner." You can either work as a full-time or part-time runner, depending on your flexible schedule. However, to be a Runner, you must be at least 18 years of age, have valid, reliable means of transportation with a clean record, and a smartphone,
Averagely, a runner earns about $10-$18 per hour. You'll, in addition, get 100% of your tips. On this platform, you can also earn by referring your friend(s) as a runner(s). Favor processes payments five days a week. And you can monitor all the payment deposits on the Runner app.
Requirements to Work for Favor Delivery
To become a runner for Favor,
You must meet be at least 18 years old
Own an iOS or Android device
Have a valid U.S. driver's license and own a personal vehicle with valid auto insurance
Have a bank account to process direct deposit
How Much You Can Make Delivering For Favor Delivery
The pay for Favor drivers is generally the best of all food delivery services. They have a fair payment system:
You keep 35% of the delivery fee
You save 100% of customer tips
Earn $100 when you make 10 deliveries
Hourly guarantees are also offered incentives for runners who schedule themselves ahead of time during busy areas and peak times, averaging closer to $12-18 per hour.
Favor offers perks to its employees, such as discounts at Jiffy Lube and three months of Everlance Premium expense tracking software. Another bonus is runners are automatically covered with third-party liability and contingent collision coverage while running an active Favor.
Favor personal assistants earn a base pay of $9 per hour. If you schedule shifts, the company will pay you that $9 each hour you are active, regardless of whether you made a delivery. Overall, drivers can expect to make between $10 and $18 hourly
Pros and Cons of Delivering for Favor
Pros
Guaranteed minimum pay rate for scheduled hours
Discounts at Jiffy Lube
3 months of Everlance Premium expense tracking software
third-party liability and contingent collision coverage while running an active Favor
Cons
Only available in Texas
Only available in 100 cities in Texas
Bicycle runners are only available in Austin, Texas
You are responsible for wear and tear on the car
Is Working for Favor Worth it?
Favor itself does not pay well; most work is done for tips. Driving around consumes a lot of gas, which is not reimbursed. When people have a small order, it's not always worth the hassle. This delivery job is remarkable because, as other reviews have stated, you can choose your hours.
Read also, 40+ Best Fast Food Apps With Free Food (Find Restaurant Apps)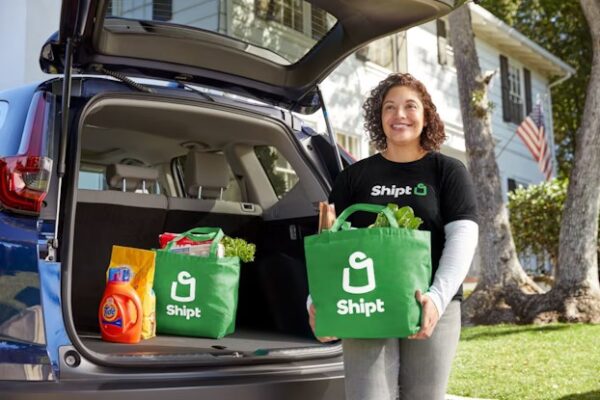 Shipt is a delivery company owned by Target Corporation. And it delivers home products, groceries, and certain selected electronics. If you like interested in Instacart's job description, then it is more likely that you'll like Shipt, too, because it also primarily deals with grocery shopping and delivery. However, while the eligibility criteria are similar to Instacart, they will Interview you before your application on Shipt is approved.
Requirements to Work for Shipt
You must be at least 18 years old.
A current mailing address is required.
A valid U.S. driver's license and auto insurance are required.
A dependable vehicle (1997 or newer).
Understanding of product selection.
Capable of lifting 45 pounds.
iPhone (iOS 10 or later) or Android smartphone (5.1 or newer).
How Much You Can Make Delivering for Shipt
Since the introduction of the Earnings Standard, Shipt shoppers are now guaranteed a minimum of $16 per hour16. Those in high-cost areas stand to make more than $27 per hour. And this is just the base pay. Shipt shoppers get to keep the tips they get, and they can also earn extra cash by participating in promos.
Altogether, a Shipt shopper gets offer pay –a function of the time and effort it takes to complete a delivery– along with promo pay and customer tips. This summation comes to an average of $15 to $17 per hour, with more seasoned Shipt shoppers hitting figures as high as $35 per hour
Pros and Cons of Delivering for Shipt
Pros
It's flexible. As a Shipt shopper, you can either schedule shifts ahead of time or open the app and pick up orders at your convenience.
Shipt guarantees a minimum of $16 per hour with its Earnings Standard. But remember that you get paid per order, not per hour.
Store shoppers working with Shipt get to keep all the tips they get from customers.
You can choose delivery-only trips if you don't want to be a store shopper.
The job is easy because the Shipt app provides all the information you need to complete a delivery.
Cons
Not ideal if you don't like physical work that involves carrying bags.
The pay can be low in some cities, especially if you don't participate in promos.
Is Working for Shipt Worth it?
Thanks to a guaranteed hourly rate of $16, Shipt is well worth the consideration of any delivery driver. You can earn decent pay working full-time or part-time.
At Shipt, an experienced shopper usually earns about $22 per hour. Shoppers at Shipt say Shipt is worth it as receive paychecks weekly.
8.
Caviar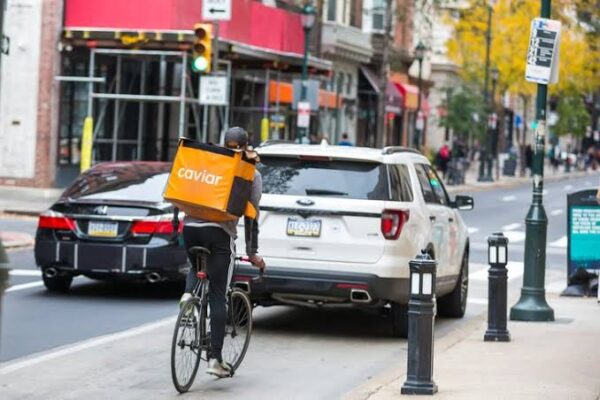 Caviar is an American-based online delivery platform launched in 2012. They connect customers with local diners and provide their services in most major U.S. cities.
At Caviar, the food delivery job is known as a Caviar Courier. Couriers get the payment deposited into their bank accounts weekly. In addition, they will be given a task-based fee after every successful delivery. The couriers can also choose to receive payment instantly through the Cash App. Typically, a Caviar courier earns up to $25 per hour.
Requirements to Work for Caviar
Be at least 18 years of age
Have a car, truck, bike, scooter, or motorcycle capable of making deliveries
Have at least two years of driving experience
Have a smartphone capable of running the Caviar courier app
Have a current driver's license (all drivers) and current vehicle insurance (if delivered with a vehicle that requires it)
How Much You Can Make Delivering Caviar
Caviar advertises that drivers can make up to $25 per hour, but existing data from drivers suggest that the number is usually around $16 per hour.
Pros and Cons of Delivering Caviar
Pros
Before you even accept an order, drivers can see how much money will be earned by completing the delivery.
Since Caviar works with more expensive restaurants, they pay drivers well.
Caviar offers drivers parking ticket reimbursement! Couriers can be reimbursed for one parking ticket for every 100 deliveries.
Caviar couriers make about $25 an hour on average.
Cons
Unlike the other prominent players in the food delivery industry, Caviar is not well-established (yet). This food delivery app has a minimal delivery area, focusing primarily on wealthier markets like New York City, Chicago, Boston, Los Angeles, Seattle, and Washington, D.C. Meanwhile, major markets like Denver and Atlanta are still missing from the service (though that will likely change as Caviar continues to expand).
Couriers have reported that not many restaurants use the service. So even if you can be a Caviar driver, there may not be any deliveries to make
Is Working for Caviar Worth it?
Yes, working for Caviar is worth it because, aside from the increased pay, you get lots of free food and a great working environment. Initially, Caviar drivers earned less ($20-22 per hour), and when DoorDash acquired it, we expected earnings to fall even further. However, Caviar couriers who are currently delivering say they are earning $24-32 per hour driving for Caviar – a sign that Caviar is one of the best food delivery companies to work for!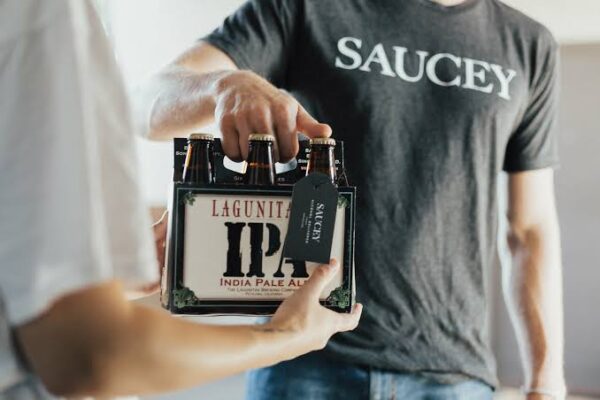 Saucey is an American-based alcohol beverage delivery app that offers an opportunity to make money delivering food. The service is available in over 40 cities nationwide, including Chicago, Dallas, Los Angeles, New York, San Diego, and San Francisco.
As a delivery driver, you deliver beer, spirits, cigars, wine, and snacks to customers right to their door. Work starts between 8:00 a.m. and 2:00 a.m., and you have to deliver in a maximum of 30 minutes.
Requirements to Work for Saucey
To work for Saucey,
you must be 21 years or older, have a Valid driver's license and insurance,
Agree to a background check, own a smartphone, and have
access to a vehicle.
How Much You Can Make Delivering for Saucey
Saucey drivers earn about $10-12 per hour. However, you can receive tips to increase your earnings. However, you can't withdraw earnings while driving for the app.
Pros and Cons of Delivering for Saucey
Pros
Throughout the year, there are high-paying opportunities.
Reasonable hourly rates.
The app is simple and works with Android and iOS interfaces.
Signing up and using the service is completely free.
Cons
Some retail establishments do not pay.
You are in charge of paying your taxes.
Is Working For Saucey Worth It?
Some drivers said that Saucey was the best because it had jobs and gigs that could be done at any time of the year. Others liked the platform's affiliate program because it made them a lot of money like other high paying affiliate programs.
But some drivers complained that the company didn't pay for car repairs and mileage. In addition, some stores, like Binny's Beverage Depot, did not pay on time, which caused problems for other drivers.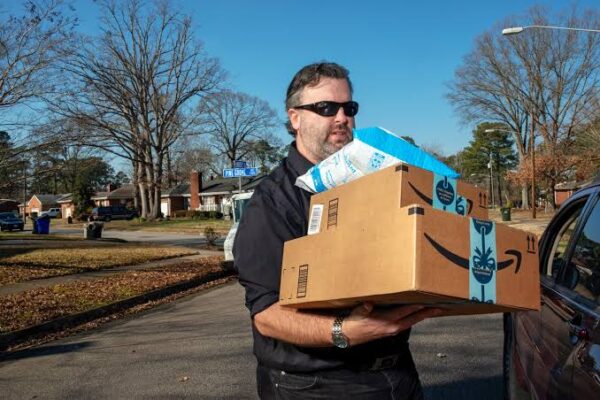 Amazon Flex is one of the best food delivery platforms to work for if you want to earn good pay. Though it's not a food delivery service, it has some upsides.
Amazon pays better than most delivery jobs and is pretty flexible. If you're interested in working for them, fill out the online application form and sign up for a gig if there are openings. Once the background check is complete, you can choose your time slots.
The average pay on Amazon Flex ranges from $15 to $25 per hour. However, some time slots offer more pay, and you can keep all the tips.
Requirements to Work for
Requirements for Working for Amazon Flex
To work for Amazon Flex, you must:
Be at least 21 years old.
Have a valid driver's license.
Have valid auto insurance.
Own a qualifying vehicle.
In addition, you must have a smartphone and pass the background check.
How Much You Can Make Delivering for Amazon Flex
Amazon says flex drivers make between $18 and $25 per hour. However, according to Indeed, the average Amazon Flex pay is $21.36 per hour.
But your accurate Amazon Flex salary will depend on several things, like:
Where you are
How long it takes you to make your deliveries
How many offers can you sign up for, as well as many other things?
How much you get in tips
Within 48 hours of delivery, customers can give you tips. To increase your chances of getting tips, you should always provide excellent customer service.
The base pay for an Amazon driver is $18/hour, with or without tips. This is true whether you are waiting for your packages at an Amazon pick-up location or making a delivery. Drivers keep 100% of any customer tip. Payment is made twice a week via direct deposit.
Pros and Cons of Delivering for Amazon Flex
Pros
You will be in charge.
Compared to similar jobs, the pay is high and stable.
Low customer contact, flexible schedule
Cons
It's hard to keep getting shifts.
Unlike ride-sharing apps, you must compete with hundreds of other drivers to get shifts.
It may not always be possible to fit more deliveries into the time blocks.
Is Working for Amazon Flex Worth it?
If you want a flexible side job that pays around $20 per hour on average, you should work for Amazon Flex. It's also a good side job if your car gets good gas mileage and you'd instead deliver packages than food or drive for a rideshare service. Whether you're waiting at an Amazon pick-up location or out on a delivery, the base rate of Amazon driver pay is $18/hour, with or without tips.
Opportunities will be available throughout the week, so there will always be a chance to earn.
11.
Eaze
Eaze is a marijuana delivery company that hires drivers who are paid hourly. Unfortunately, Eaze is currently only available and hiring in California.
When we delivered weed with Eaze, we found drivers could make around $15 and up, which makes it one of the best delivery apps to work for.
Drivers are not employees of Eaze, but they aren't necessarily independent contractors either.
Requirements to work for Eaze
Drivers are hired and employed by independent licensed retailers. To use Eaze's driver app, retailer drivers need an iPhone 5 (or newer) or an Android (3 years old or more recent).
Regulations require that all retailer drivers be 21+ years of age and have a valid driver's license, registration, and auto insurance.
How Much You Can Make Delivering for Eaze
An Eaze driver's hourly wage is approximately $16 per hour.
When you factor in tips, the average Eaze delivery driver earns around $35,000 annually. You could work part-time or full-time on the Eaze platform because you set your schedule.
According to the Eaze driver job posting, delivery specialists can earn up to $26 per hour.
Pros and Cons of Delivering for Eaze
Pros
Higher guaranteed hourly rate.
Eaze pays out your mileage reimbursement every two weeks. The payment can make a big difference in your earnings, as seen in this income comparison with DoorDash below.
Cons
Eaze is only available in California.
Eaze Interview Process: You may need an interview and training to get hired. The interview isn't bad unless you hate interviewing or feel rusty. The onboarding process is longer than other companies on this list so you won't earn money as quickly. Since Eaze delivers a newly legalized substance, a few more compliance issues must be considered.
Is Working For Eaze Worth It?
Based on the anonymous reviews of over 142 employees, Eaze has an overall rating of 2.5 out of 5. 24% of employees would tell a friend to work at Eaze, and 19% are optimistic about the business. Employees get paid time off, flexible spending accounts, and complete medical, dental, and vision care coverage. There are stock options, 401(k) plans, and life insurance, among other perks.
Related: 12 Best Food Delivery Jobs & Apps for Making Money Fast
Other Best Food Delivery App Companies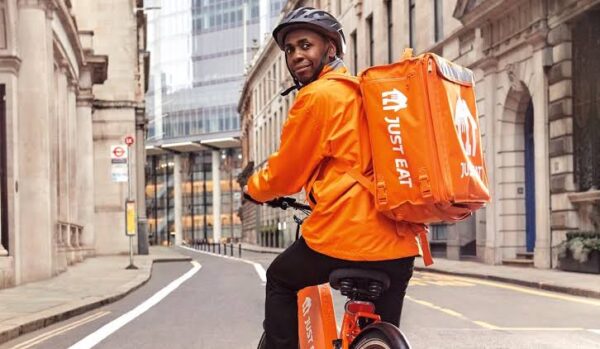 Just Eat is another food delivery app that hires workers. Originally founded in Denmark, the company is now available on four continents. Over 12,000 restaurants are open in the U.K.'s Just Eat delivery companies network! The pay for Just Eat drivers is minimum wage, plus other bonuses – which could be decent pay.
The use of the company's vehicles makes Just Eat an exceptional workplace. While you can use your car or bike, you can also use the company's e-bike, as long as you have a driver's license. In addition, using the company's car and the accompanying gear is free – provided you return it to the central hub at the end of your shift.
13.
GoPuff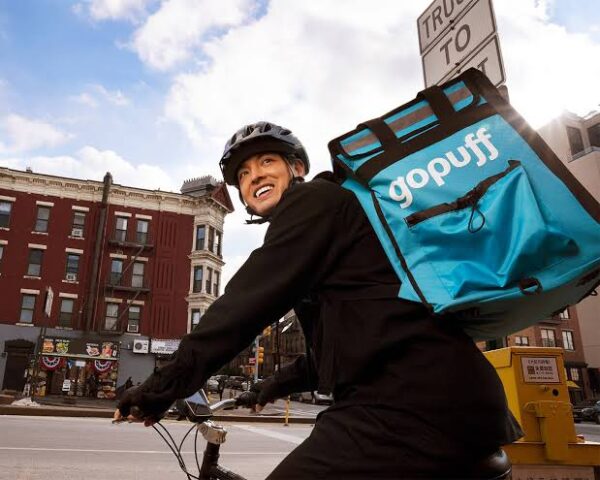 GoPuff hires driver-partners to deliver snacks, medicine, drinks, and more. So GoPuff is kind of like a mobile convenience store. Their drivers can make about $14 per hour, and extended shifts can earn them extra money.
You will go to the GoPuff warehouse near you and wait for orders to be delivered. When you deliver a customer's order, they have to sign for it, so you can't just leave it at the door as you can with Amazon Flex.
Requirements to work for GoPuff
Be at least 21 years old
Have a valid U.S. driver's license
Vehicle insurance and registration
Own a smartphone
Be willing and able to pass a pre-paid alcohol delivery training course (where applicable)
Pros and Cons of Delivering for GoPuff
Pros
One of the best things about working for GoPuff is that you can deliver items from a central location. This means that, like many of these other apps, there are limits on how far your deliveries can be. However, it can help you save money on gas and wear and tear on your car.
Make your schedule. Even though you have to sign up for shifts with GoPuff, the company is open 24/7 in most markets so that you can pick a shift at any time of Day.
There is a set minimum rate per hour for drivers.
Cons
Some GoPuff drivers get paid and tipped in cash, which can be hard to keep track of and slows them down when picking up and delivering orders.
GoPuff is unavailable in every city, but the company is snowballing.
Is Working for GoPuff Worth It?
If you need money and don't mind driving, this job is for you. So far, especially around the holidays, I've had trips that were only 10 minutes away, and I even received a $13 tip on one of the orders in addition to the $3.50, so $16.50 to drive 10 minutes away wasn't so bad.
14. Spark: Walmart Delivery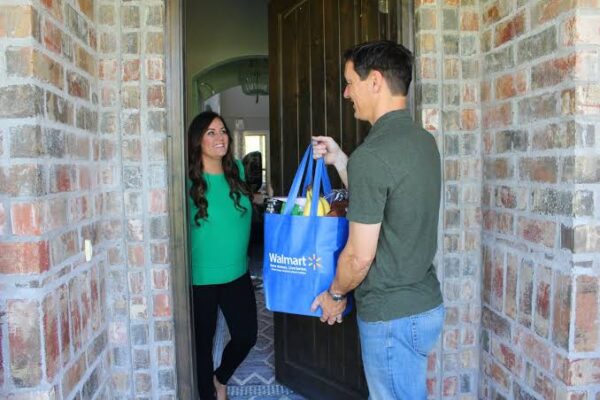 Spark is the name of the group of Walmart drivers who make deliveries. Even though it's not as common as other delivery services, you can use it in over 600 cities. Spark will send online orders from Walmart and other stores to shop for and bring to the customer.
Everything, including payment, is done through the Branch Wallet app. For example, every Tuesday at 5 p.m., you can cash out your earnings from the previous Monday through Sunday. You can also pay an extra fee to get paid faster.
Requirements for Working for Spark
To deliver with Spark, you must meet the following requirements:
At least 18 years old
Have a car and valid insurance. You can't deliver for Spark on a motorcycle, scooter, or bicycle, but you can drive someone else's car as long as you are on the insurance policy.
Fill out the application online.
Check out your past.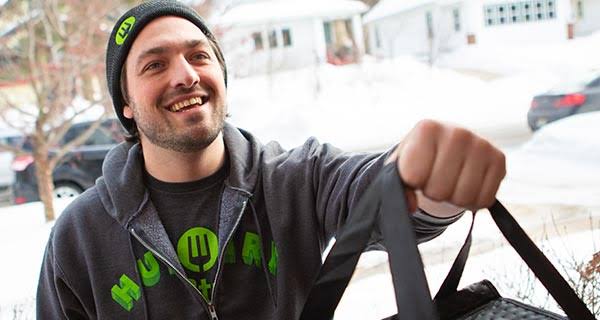 EatStreet is one of the best companies to work for if you want to deliver food. The platform also lets you work whenever you want with its flexible scheduling feature. So, you can work as a delivery driver full-time or just on the side.
After making 20 deliveries, new delivery drivers on the platform get a $50 bonus. After making 200 deliveries, they get a $200 bonus. You can make more money on the platform by taking advantage of these perks.
Also, the delivery driver app has one of the best pay rates on the market. Food delivery drivers can make between $17 and $30 per hour using the app. Plus, you get to keep all the tips from customers.
Other Best Delivery Job Apps That Pay Well
Beelivery, unlike other apps, does not deliver food from local restaurants – at least not directly. Instead, it is a grocery delivery app that offers customers a quick and convenient service, which is especially important in these times.
Beelivery drivers must deliver groceries from grocery stores within 60 minutes of receiving the order – enough time to complete several orders at once.
There are numerous advantages to working for Beelivery. The hours and days of the week are flexible, and the pay is excellent. However, the payment varies depending on the size of the order and the distance traveled. The salary ranges between $7 and $20 per delivery.
Beelivery grocery deliveries can be made by car, bike, or company vehicles. However, you'll need a smartphone, a valid driver's license, and the proper vehicle insurance policy for work.
OrderUp is a delivery service based in the United States. Grubhub, one of the most well-known food delivery platforms, owns it.
The company is present in over 37 markets. Drivers for OrderUp earned an hourly wage ranging from $9 to $26. Joining the platform is simple, and the schedules are adaptable to your needs. OrderUp is your best bet if you're looking for the best food delivery jobs near me.
Thistle is a nutrition and organic company that delivers healthy meals and beverages to its customers' homes. It is a company based in the United States founded in 2014 and has retail locations in the East Bay, San Francisco, Los Angeles, and West Bay.
Thistle's requirements are very similar to those of other food delivery jobs. It is, however, less flexible than the others; you must be willing to commit to a regular schedule of 2-3 days per week.
A delivery driver at Thistle is paid $15 per hour plus $0.58 per mile. Please visit the Thistle website for additional information and applications.
What Skills Do you Need as a Delivery Driver?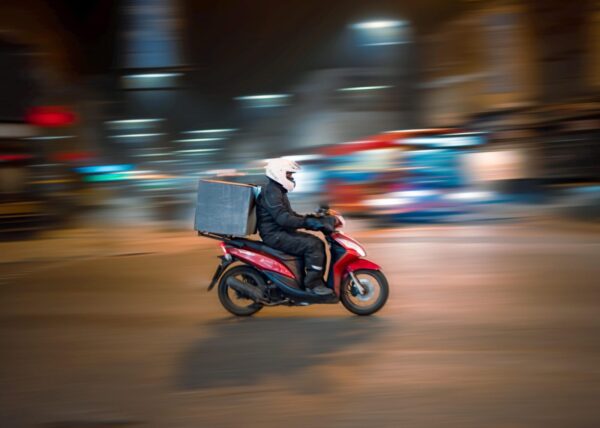 Although these skills aren't necessary, here are a couple of things that will help you out as a delivery person:
Relating well with customers can help you get better tips and ratings, and driving skills are always a plus.
Multi-tasking or Working on Multiple Apps
Instead of just working for one delivery business, you can make the most money by working with multiple delivery apps simultaneously. But this can be confusing, so you must be good at Multi-tasking without confusing different delivery customers and locations.
Local Consumer Trends Knowledge
To make as much money as possible, you must know what trends are growing in your area. Also, if you work as a gig worker, you must know how customers tip.
Conversant with Delivery Routes and Google Maps.
Study your delivery routes as this will help you save a lot of time, use shorter routes and save gas too.
How Do You Earn Extra Tips As A Delivery Driver?
Order Delivery for Yourself
You can learn a lot by going through the process of being a customer. Find out what other drivers do right and what they do wrong, and write down anything that stands out.
Show Your Customers You Care
Customers care most about how quickly and well their food is delivered. So, if the delivery is going to be late, let the customer know and say you're sorry. Tell them you're doing your best and try to be kind.
Use good tools for delivering
Make sure your car or bike has a safe place to hold the food, so it gets there in good shape. You might need to buy straps or a box for this, but you'll make that money back in tips.
● Study Delivery Routes
It's essential to get there on time, so take the fastest and most efficient routes. Many delivery drivers have modern map apps on their cell phones that let them know when there is traffic and help them find the best routes.
Give the customer a compliment
If you see a cute dog or a nice holiday decoration, tell the person how much you like it. Keep it short and sweet, and showing appreciation for things they like or have worked hard on will make you seem like a nicer person.
Most of the time, the best customer tips come during the busiest delivery times. So as you keep doing delivery app jobs and gain more experience, keep track of the tips you get and which times pay the most.
Don't Take Things Personally
Customers don't always leave tips because they forget to, don't like to, or are just having a bad day. Remember that it might not be about you, and don't let that change how kind you are.
Can You Make a Living With a Delivery App Job?
Let's say you work full time (8 hours a day, 5 days a week) and make an average of $20 an hour, including tips. All of this comes out to $41,600 per year.
Since the average salary in the U.S. is around $30,000 per year, most people could use delivery apps full-time to make a living. But it's also a good idea to work only when you have time and turn that work into a great way to make extra money.
Tips to Save Money on a Delivery Job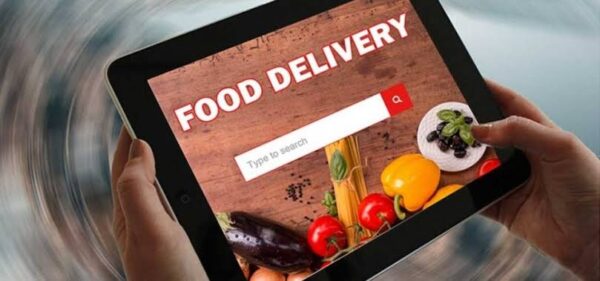 Be sure that you have insurance:
You'll need auto insurance if you use your car to make deliveries. And since you'll be driving for business, you'll need to choose one of the best car insurance companies offering rideshare endorsement or buy commercial car insurance.
Earn rewards on gas:
Because you'll be driving a lot, you might want to get one of the best gas credit cards to earn rewards, along with a cashback app like GetUpside.
Get a working smartphone:
If your phone is too old or unreliable, it'll prevent you from reaching your full potential in a delivery job. Make sure you have a working smartphone, either Android or iOS, and a way to display it on your dash so you can follow GPS directions easily.
Work for multiple services:
Many delivery drivers choose to work for more than one of the best food delivery apps. Deliveries could be slow on one app, while another offers a bonus, so getting on board with more than one company may be advantageous.
Keep your money in order:
You'll have to pay taxes every three months as a self-employed worker. However, you can deduct some expenses to lower your overall tax bill. Using a service like Keeper Tax can help you keep track of your money coming in and going out.
Which is the Highest Paid Food Delivery App?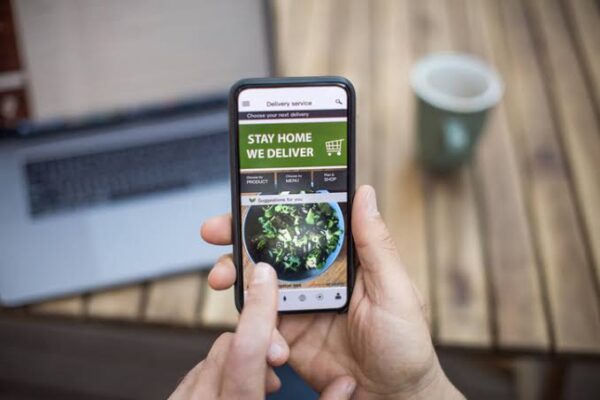 Instacart is the highest-paying food delivery app, with drivers earning up to $30 per hour. Instacart has the best perks in addition to the best pay. Furthermore, you can work for the company whether or not you own a car. Because it is a grocery delivery service, you must be a professional driver. The company also provides employees access to Perkspot, where they can get discounts on travel, hobbies, and other items.
Which Is The Best Delivery Company to Work For?
With its popularity and good pay, DoorDash is considered one of the best delivery companies to work for. The company does restaurant meal deliveries, but dashers (as they call delivery workers) can also pick up goods or groceries from local drug stores, gas stations, or other retailers.
DoorDash is available in well over 7,000 cities in the U.S., Australia, Canada, and Japan, meaning you can find many work opportunities even outside major cities. Dashers are not limited to working in their hometown, as well. They can also pick up deliveries to any town they find themselves in.
Which Food Delivery App Is The Best To Partner With?
Related: 4 Best Apps to Get Food Delivered to Your Home
Bottom Line: Which Delivery Apps Should You Work For?
Given the above pros and cons, it's clear that there is no one-size-fits-all app for delivering food, packages, snacks, and household items in the gig economy. The excellent aspect of having multiple shopping apps is the variety. When Uber or Lyft are slow, delivery apps are a great option and delivering also allows people with children to work in the gig economy.
If you don't want to deliver restaurant meals, consider delivering packages for Amazon Flex or groceries for Instacart. It probably won't hurt to sign up for a few of these apps so you can try out the features and see how much you can earn in your market.
Frequently Asked Questions
Q: Does DoorDash Pay Gas?
No, the DoorDash company does not pay for gas. Dashers are responsible for their vehicle and fuel costs as independent contractors; unlike employees who occasionally get their gas expenses reimbursed by their employer, Dashers, as independent contractors, are essentially acting as their small delivery business.
Q: Which food delivery app is best for employees?
The best food delivery app to work for is DoorDash. It began with fast food and restaurant deliveries but has since expanded to include groceries, pet supplies, flowers, gifts, and other items. Because of the increased demand for drivers, it's one of the best delivery app jobs for having consistent work and good pay.
Q: Is it better to work for DoorDash or Grubhub?
Working with Grubhub and DoorDash is a great way to make extra money. However, you may make more cash with DoorDash if you time your hours with the promotional bonuses occasionally pop up.
Q: Who Pays More, Uber Eats or DoorDash?
Though both companies pay almost the same for every order, DoorDash pays more, considering the volume of orders and dashers. On the other hand, Uber Eats is faster in food delivery. According to DoorDash, dashers earn $23 hourly while out on deliveries, while Uber Eats drivers earn about $17 per hour.