Last updated Mar. 12, 2023 by Peter Jakes
Everyone likes food, but free food is even better. So though cooking at home is the cheapest way to save money on food, you should still eat out once in a while and have fun. And we don't mean just ordering delivery. We have listed the 40+ Best Fast Food Apps With Free Food (Find Restaurant Apps)
Restaurants have more to offer than good food and Instagram-worthy pictures. They are easy to get to, have a pleasant atmosphere, is an excellent place to meet people, provide entertainment, and have food you might not normally eat. (Or maybe you don't want to smell like fish in your studio apartment.) But the costs can add up if you eat out a lot.
How to Get Free Food Online
It is easy to get free food online. There are a lot of apps for restaurants that can save you money at your usual spots and also help you find new places you might not have known about.
Try to discover a coupon or offer to help you save money when you decide to make a night of it and find beautiful meals for you and your family. Read on to see some of the finest restaurant discount apps and fast foods for finding cheap meal deals and free food.
Is it Cheaper to Eat Out or Eat at Home?
If you want to know if it's cheaper to eat at home or go out for the night, there are a few things to think about.
The price difference between eating out and cooking at home can depend on many things.
If you're going to a restaurant where you sit down, you need to figure in the cost of tax and tip.
Also, do you have something to drink with your meal? This will make the price go up even more. Wellio did some research and found that the average cost of restaurant delivery is almost five times as much as cooking at home.
Their research broke down millions of recipes into various ingredients and matched those ingredients to things you can buy at local grocery stores.
Want to know how well meal kit services did? Even though they are cheaper than cooking from scratch, they still cost almost three times as much to use.
One more thing to think about is drinking alcohol. For example, a bottle of red wine may cost $10 at the grocery store, but it will cost you between $30 and $40 at a restaurant.
When you buy wine by the glass, it costs even more. When you eat dinner at home, you can have a nice meal and a glass of wine for a fraction of what it would cost to eat out. But there are ways to eat out for less money.
Cheapest Places to Eat Out and Get Free Food Vouchers
Though it can be expensive to eat out, we enjoy a nice meal at a restaurant where someone else cooks and does the dishes. Again, the good news is, you get some free food!
This list of fast food apps the offer free food has both online fast food and places where you can sit down and eat.
If you want to eat out the next time you're hungry, try one of these places where you can eat for cheap and still be full.
Stack Your Dining Savings with Rewards Credit Cards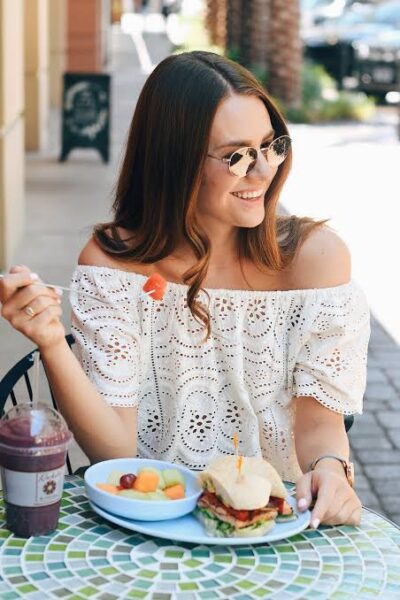 You can save a lot of money if you have a credit card that gives you points.
If you have a rewards credit card, you can use a restaurant app to save money and then pay for your meal at a restaurant with your rewards card to get double the rewards.
Some rewards credit cards also let you choose how you want to spend your money to get more significant discounts.
For example, if you know you eat out a lot and have a rewards card with different rewards based on the categories you choose, you might want to choose the restaurant category as your higher level to get even more rewards.
Related: 8 Cheapest Grocery Stores Near You: Shop Quality Food on a Budget
How To Get Free Fast Food Online With No Money
Fast food places often give out receipts with surveys at the bottom that promise free food if they are filled out.
This is something that many restaurants do, like McDonald's, Firehouse Subs, Wingstop, Five Guys, and Papa Murphy's. So all you have to do to get free fast food from these restaurants is fill out a survey.
40+ Best Fast Food Apps With Free Food
Here below are 40+ food apps that may offer you free food:
1.Restaurant.com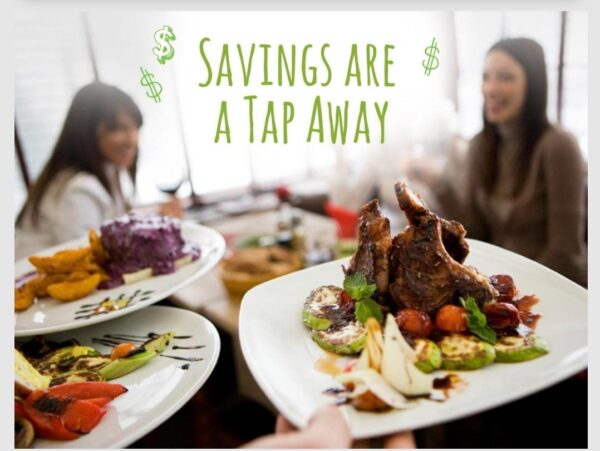 There are a lot of good things about the Restaurant.com app. You can often find coupons for as much as 50% off, and you can use them all right from your phone to get free food online. In addition, you don't have to print anything out first. This makes it the best way to save money when you're out to eat at the last minute.
Restaurant.com also has a $25 Dining Discount Pass that can be used at dozens of national chains to get free food online and other discounts. So if you like to eat out a lot and only want one deal app, this is the one for you.
2. Mogl
If you want to get paid to eat or drink at popular restaurants, you can do so with the help of this free food app Mogl. Mogl is a simple app for your phone that lets you get paid cash to eat and drink at 100s of nearby places.
You can get up to 10% cash back on your total bill at restaurants that take part. Next, open the Mogl app and look for participating offers in your city that will let you earn cashback.
Lastly, use the linked card to pay for the meal, and check your account in a few days to find your rewards. This service makes getting rewarded for eating out easy, so you don't have to tell your server or mess around with the app while you're out.
3. Groupon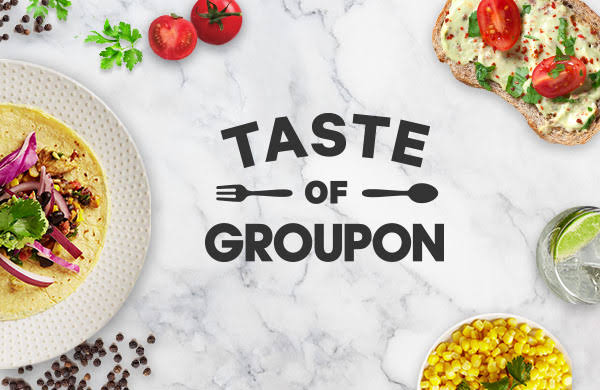 Groupon is a top-rated app for finding cheap dining deals. There are more than 100,000 deals on the site at any given time. Best of all, you can narrow down the deals by where you live and sign up to get free meal deals in your inbox. For example, Groupon has a lot of restaurant discounts, from a few dollars off to savings of more than $50.
4. DiaryQueen
Dairy Queen is a great place to stop on a hot summer day. With warm weather coming soon, download the Dairy Queen app to find out about cheap dining deals like buy one, get one Blizzards.
5. Hooch
Many apps we've already looked at give you rewards for doing specific things. However, one app offers you many of these kinds of rewards in one place. So, for example, you can book a table at your favorite restaurant and get special meal deals when you eat there.
Secondly, Hooch is an app that lets you earn up to 10% back in TAP dollars when you eat out. It also gives you access to special deals in the travel, shopping, and dining categories.
You can save up to 70% on hotel rooms when you book them through the app, which is a great way to save money for your next trip.
6. Dunkin Donuts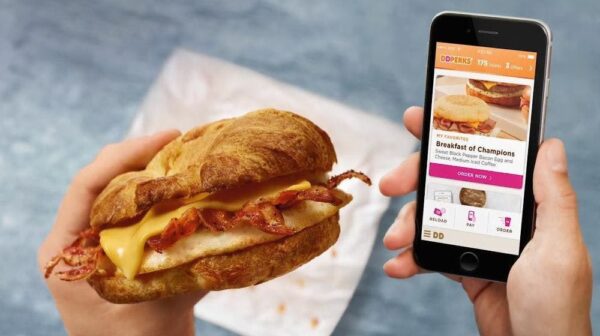 This free app for food has a high reward rate. For example, when you download the Dunkin Donuts food app, you get a free drink, and for every dollar you spend, you get 5 points. When you reach 200 points, you get a free drink again. That equals one drink for every $40.
6. Sonic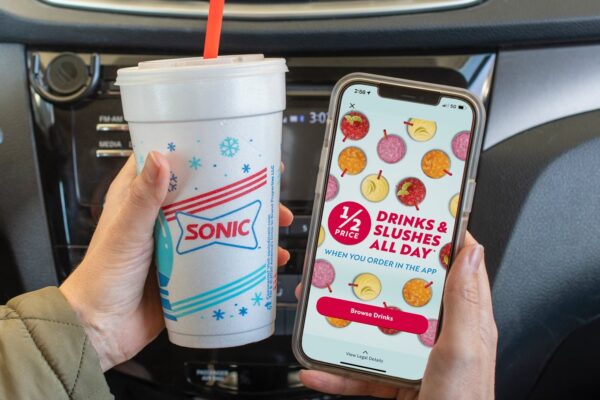 Sonic, famous all over the country, has an app that lets you get cheap dining deals and specials every day.
Sonic is one of the most well-known fast food places, and the way you order from the car hop is a popular choice for people who want a cheap meal.
The Sonic app gives you access to a fully interactive menu, special deals, and even online ordering so that your food is ready when you pull up.
This app is great for discovering deals like half-priced drinks during happy hour and specials on corn dogs.
7. Chili's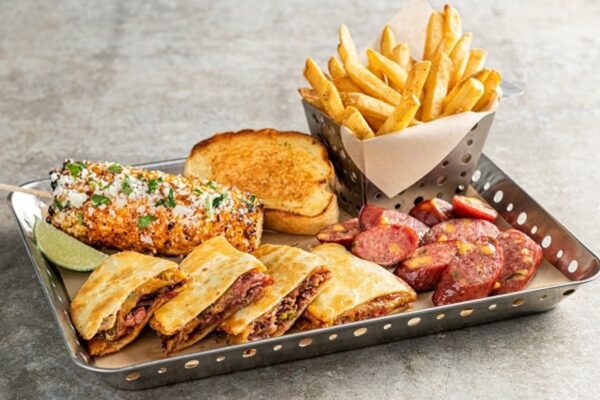 You should get the app if you like Chili's cajun pasta as much as everyone else. Every time you go, you get free chips and salsa or a free drink, and on your birthday, you get a coupon for a free dessert.
Join My Chili's Rewards and go to Chili's once every 60 days to get free chips, salsa, or a non-alcoholic drink. You can use the offer if you spend at least $5.
8. Spotluck
You "spin" a digital wheel on Spotluck to get deals at your local restaurants. The discount amount depends on the day, time, and weather. You get one free spin per day in each neighborhood. Each spin gives you a discount and a random restaurant.
If you don't want to go to that restaurant, you can still save at other places that are part of the program. You can also get bonus spins by collecting points.
You can learn about new places in your area using the spin feature. Spotluck only works with restaurants in the area (not chain restaurants). Spotluck is available in:
New Jersey
New York
Pennsylvania
Virginia
Maryland
Washington, D.C., and
Delaware.
9. Buffalo Wild Wings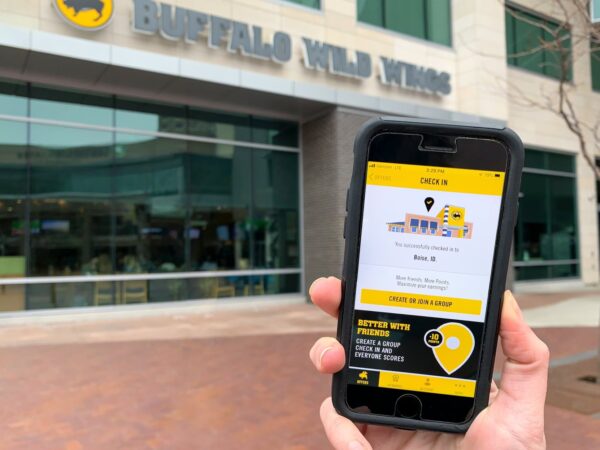 With Buffalo Wild Wings, you can eat free food, watch the game at your favorite sports bar and hang around with friends.
You can save money and get free food or affordable restaurant deals, and the Buffalo Wild Wings app is excellent for this. When you check in, you'll get 10 points, and for every $10 you spend, you'll get 100 points. With these points, you can get free food.
10. Starbucks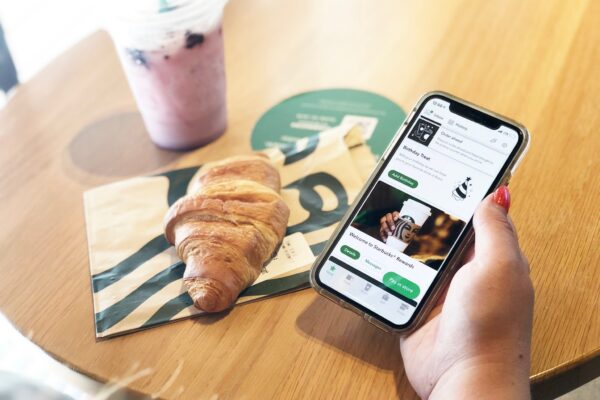 There's nothing better than a hot cup of coffee in the morning to wake you up and get your day started.
The only way that deal could be better is if you got it for free.
Using the Starbucks app, you can earn enough points to get a free coffee just by buying coffee like you always have.
By signing up through the Starbucks app, you can join Starbucks Rewards, a loyalty program for people who go to Starbucks often.
This program lets you earn "stars" when making app purchases. You can use these "stars" to get free coffee, free food, or even items from Starbucks' website.
11. Panera Bread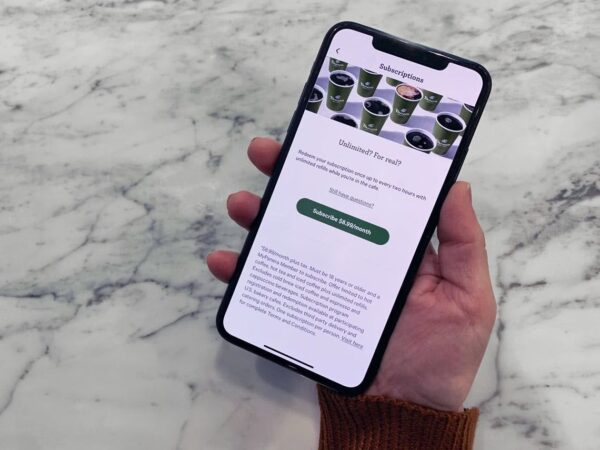 Panera Bread has great soup and coffee and is a great place to work in the afternoon. If you like to work in restaurants, download the Panera Bread app to get a free pastry online and earn points with every purchase.
12. Applebee's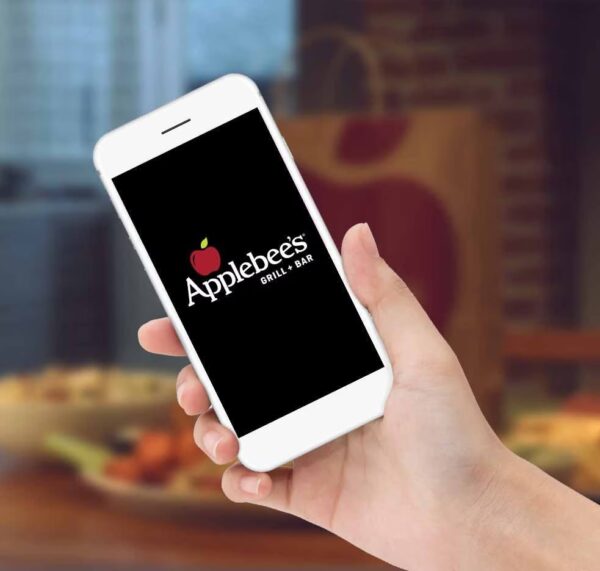 Applebee's app lets people get free food coupons and discounts on main courses. You can also get a free main dish every year on your birthday. The rewards program isn't the best, but a few dollars here and there is better than nothing.
Next time you go out to eat, whether at a restaurant or a drive-thru for fast food, use one of these apps to look for coupons for free food online and meal deals. There's no reason to pay the total price if you don't have to.
Sign up and get a free appetizer from Applebee's when you buy a main dish.
13. McDonald's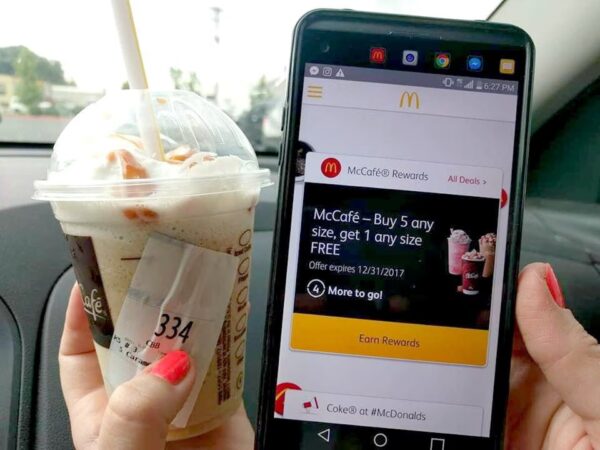 As one of the most popular fast food chains in the United States, McDonald's is always one of the first to try new things in the fast food world.
One of these new ideas is the mobile app, which can be found in both iOS and Android.
With the McDonald's app, you can get special deals and coupons, check out their menu, and even order online if you're in a hurry.
I've seen deals like cheap coffee, a dollar off of food items, and even a digital punch card for coffee that lets you get a free coffee after buying 5 cups.
You can choose from several free food deals with the McDonald's app. For example, get a free 10-piece Chicken McNugget right now when you sign up.
14. Gambeal
Gambeal, one of the first cashback restaurant and food apps lets you see what's popular, help restaurants by leaving reviews, and make money. This Gambeal fast food app, is one of the simplest ways to make money at restaurants.
Gambeal meal works with an extensive network of top-rated restaurants to help them improve their customers' experiences by paying you to tell them what you think.
You can look at a list of restaurants that will pay you to give them quick feedback about your daily visits.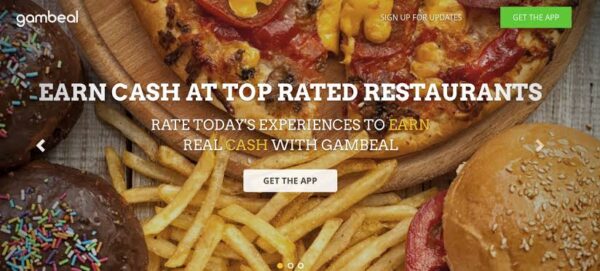 You can look at a list of restaurants that will pay you to give them quick feedback about your daily visits.
This helps you get cash back and allows the restaurant or business to improve their services and products so that everyone has a better time.
You can also send in your receipts from restaurants that qualify to get cash back on those. You can cash out once you have $20, and you can do this through PayPal.
15. Gebni
Gebni New York's brilliant food delivery app lets you order food from restaurants and have it delivered or picked up (as well as a way to lower food waste). If you order an item when there aren't many people who want it, the price will be less than what it says on the menu.
You will pay the regular menu price if you order during busy times. There is no downside to this pricing because even when demand is high, you will never pay more than the regular price. Gebni can only be used in New York City right now.
16. Seated
With the Seated Restaurant app, you can see a list of the best restaurants near you. Then you make your reservation, show up, and upload a photo of your receipt. In addition, you will get a rewards code from Seated that can be used for gift cards and experiences.
Seated is currently showing in New York City, Chicago, Boston, Philadelphia, and Atlanta (with plans to add San Francisco, Washington, D.C., Miami, Austin, Los Angeles, and Denver). Most of the restaurants that Seating "serves" are high-end ones.
7 Legit Ways to Get Free Toothbrushes
17. OpenTable
When you use OpenTable to make a reservation and then eat at the restaurant, you get Dining Points. You can turn these points into Dining Rewards that you can use to book meals through the app.
Look for Bonus Points reservations on the app to earn Dining Points even faster. Dining Rewards can be used at over 20,000 restaurants in the U.S. that are part of OpenTable Restaurants. OpenTable is available in all 50 states in the U.S. and 40 cities around the world.
18. MealPal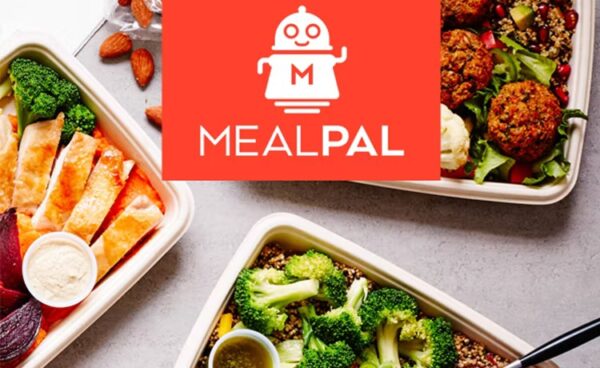 MealPal lets you order lunch from more than 1,000 local restaurants and skip the line for a fixed monthly fee. In New York City, for example, the 12-meal plan lets you get up to 12 meals every 30 days for $6.39 per meal.
MealPal is available in Austin, Boston, Brooklyn, Chicago, Denver, Los Angeles, Miami, New York City, Philadelphia, Portland, San Francisco, Seattle, and Washington, D.C. It is also available in Auckland, London, Manchester, Melbourne, Paris, Singapore, Sydney, Toronto, and Wellington.
There are also dinner subscriptions. The cost of lunch in many big cities has gone up to over $10 per day, so if you don't usually bring your lunch to work, the subscription can save you money (and give you a chance to try something new).
19. HungerPass
With HungerPass, you can use the app to look for restaurant deals and choose whether to eat in or take out. Then, when you check in at the restaurant and activate your HungerPass membership I.D., you have to show it to your server or cashier to get a discount off your entire bill (including drinks). Right now, you can get HungerPass in New York City.
20. Perks at Work
Some employers offer benefits, perks, and incentives to work out or go to the gym. Some of these companies also provide benefits like discounts and rewards when you buy things, even at restaurants.
One of these programs is Perks at Work, which gives employees access to discounts and rewards from more than 30,000 brands that are only available to their company. These discounts apply to many things, like eating out.
Check to see if your job gives you these kinds of discounts and rewards you can use at restaurants. There's no harm in asking.
40+ Easiest Things to Flip for Profit
21. LivingSocial
The prepaid model is used for restaurant discounts in the LivingSocial app. You can use that money to pay for your meal at one of the partner restaurants if you spend a certain amount.
Most of the time, the value of the voucher you get will be 40% to 50% more than what you paid. If you like meal kits like Blue Apron and EveryPlate, you should know that LivingSocial also offers big discounts on these services if you pay for them ahead of time.
22. Yelp
The Yelp Restaurant app helps you find the best restaurants and gives you cash back on what you spend. You can get some money back when you link a debit or credit card to your Yelp account and then eat at certain restaurants.
Use the "Cash Back" filter to find restaurants currently offering deals. You can get your cash back by activating your deal, paying with the linked card when you eat out and getting a refund on your card.
23. Coupon Sherpa
You can get a free appetizer or dessert at Red Lobster, and you can save a few dollars at Papa Murphy's. In addition, you can find digital coupons and special deals at dozens of chain restaurants and popular restaurants to help you stick to your budget. So you don't have to look too hard, the mobile app uses GPS to find coupons for restaurants nearby.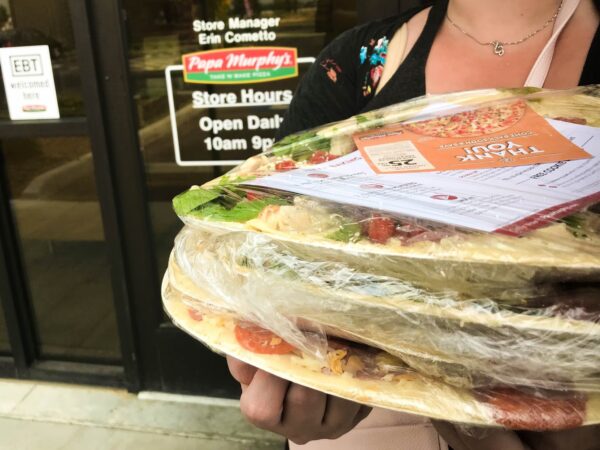 24. Valpak
The Valpak app is another way to find great deals in your area and learn about new places to eat. You can get special coupons at restaurants that are taking part, and you can use the built-in passbook to keep track of your coupons.
If you're feeling kind, you can send coupons to others via email or Facebook if you want to. For the transaction to go through, the restaurant only needs to see the coupon on your phone.
10 gas stations that cash checks (open near me)
25. Forks
If you want an easy way to see the latest mobile offers and discounts from sites like Groupon, LivingSocial, Valpak, and Restaurant.com, use this Fork free food app.
You can scroll through the latest offers with a few swipes and taps. In addition, you can find the latest deals in one place and then use the site you chose to earn rewards or discounts.
26. The Domino's Pizza app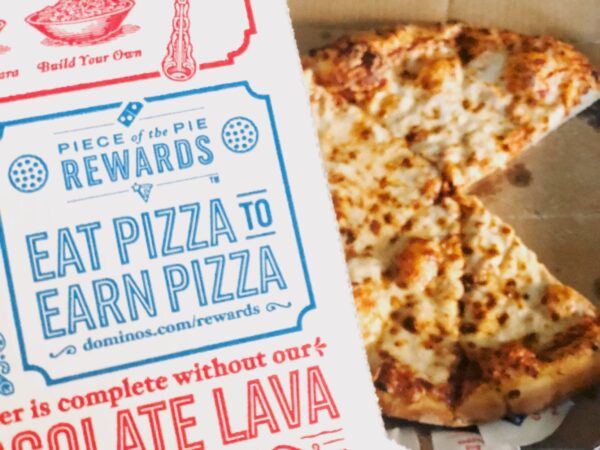 You can find ways to earn points at Dominos through the Piece of the Pie rewards program. For example, if you place one order, you'll get 10 points. You get a free pizza when you reach 60 points.
Once you choose a Domino's near you, the app also has deals based on your location. Here are some of the deals I got:
Any large specialty pizza for $12.99
For $10.99, you can get any large, medium, or gluten-free pizza with five toppings (carryout only)
Two or more large pizzas with two toppings each cost $11.99.
27. Jimmy John's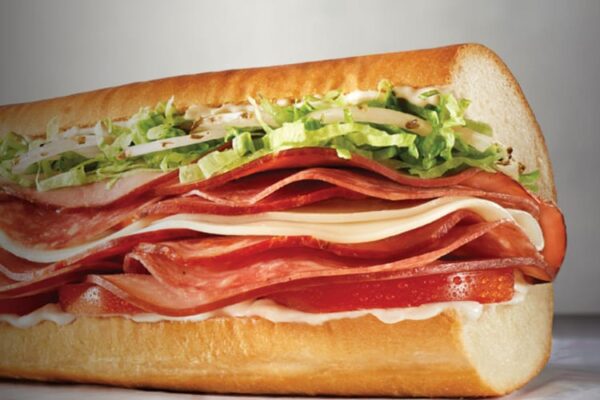 Sign up for the restaurant's Freaky Fast Rewards program and get deals in the Jimmy John's (Android | iOS) app. For example, when you use the app to place your first order, you get a free sandwich.
As a member of Freaky Fast Rewards, you'll also find out about new deals first and get a treat on your birthday. Here are some more places that give you something on your birthday.
Sign up for Freaky Fast Rewards at Jimmy John's, and after your first purchase, you'll get a free 8-inch sub.
28. Steak 'n Shake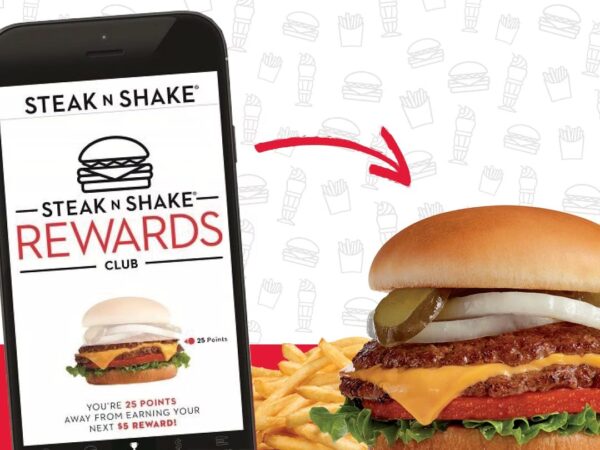 With the Steak' n Shake app (Android | iOS), you can earn points and get $5 in rewards for every $50 you spend, which you can use on future orders.
You can earn points in the Steak 'n Shake rewards club by making purchases and giving your friends a code to join.
Join the rewards club and get a free milkshake.
29. Popeyes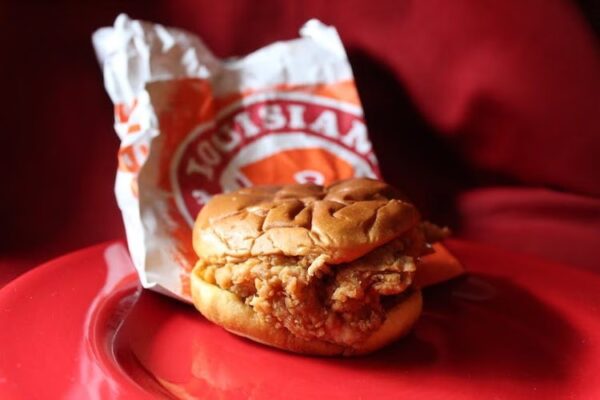 The Popeyes app (Android | iOS) lets you earn points that you can trade in for discounts. You can also get 50 bonus points for every combo meal you order through the website or app.
Here are some top deals:
For every dollar you spend online or in the app, you get 10 points.
When you sign up for the Popeyes Rewards program, you get a free regular side, small drink, or apple pie.
100 bonus points for all family meals bought online or through the popeyes food app
30. Chik-Fil-A
Chick-Fil-A is one of my favorite fast food places to get free food online. Our readers love their food and like that they are honest about how many calories everything on their menu has. This lets me put together a meal that fills me up and doesn't exceed my calorie limit.
You can save money and get free stuff using the Chick-Fil-A app. When you sign up for an account for the first time, you should get something free as a thank you (I did!).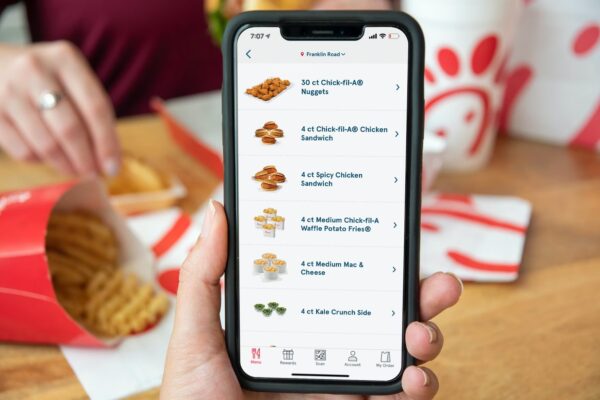 Join their rewards program so that every meal you eat there earns you points. With the points, you can get free food online.
Also, local Chick-Fil-A franchise owners like to reward customers who keep coming back. I get a notice about a free treat from the Chick-Fil-A near me every one to two months.
This can buy anything from free fries to free chicken nuggets or a sandwich.
You'll also get a free treat during your birthday month, so tell them when you sign up for their loyalty program that your birthday is.
10 best survey apps to make extra money in 2022
31. Chuy's Tex-Mex
Chuy's is a sit-down Tex Mex restaurant in the southern United States. The happy hour special at Chuy's is the key to eating out for less money Monday through Friday. The hours may differ in different places, but the one near our house is open from 4 to 7 pm, making it a great place to stop on a Friday afternoon after work.
Chuy's has a good nacho car where you can build your nachos and some great drink specials. In addition, they have chips, meat, cheese sauce, and other things.
You can eat the free nacho car or combine it with something from the appetizer menu to make a very filling dinner for a fraction of the price of a full meal.
32. Olive Garden
Olive Garden is an excellent place to get lots of cheap carbs if you like Italian food. One thing that makes Olive Garden stand out is that each meal comes with unlimited salad and breadsticks.
Order the endless salad and soup combo if you want a lighter meal that will still fill you up. You can even try a new soup each time you refill.
The buy-one-take-one deal that Olive Garden runs regularly is another excellent choice. This is your chance at getting free food online.
This deal lets you order one pasta dish from a special menu and get to choose another dish from a different menu to take home.
Because the dishes are so big, two people can share one and still be full. Don't forget the salad and breadsticks, which make an excellent addition to the meal.
33. Taco Bell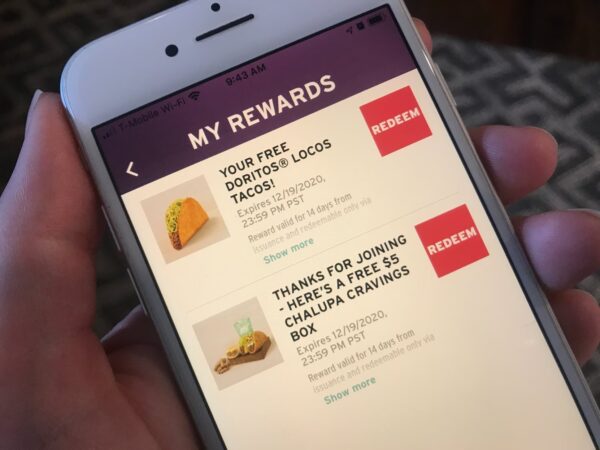 Say what you want about Taco Bell, but I say, "Hello, Taco Bell!" The Mexican fast food chain that has been around for a long time has great cheap deals for breakfast, lunch, and dinner.
Many items on Taco Bell's menu cost less than or about $2, like the bean burrito, a soft or hard shell taco, or a cheese roll-up.
There are $5–$7 meal deals and happy hour deals on soda and other drinks. Want to eat more healthily?
The Power Bowls from Taco Bell is similar to the bowls from Chipotle. They come with rice, beans, guacamole, lettuce, tomato, cheese, sour cream, and either chicken or steak.
10 Best Internet Freebies: Free Stuff You Don't Want To Miss out On!
34. Red Robin
From burgers to pizza to chicken at Red Robin. You can also get free food online at Red Robins. We also like Red Robin's shakes, as shown in the picture below.
Family Burger Bundles from the chain can be a cheap way to feed the whole family. Or, get a free meal for yourself and separate meals for your kids.
35. EatClub
With EatClub food delivery, you can choose from a buffet of discounts and save up to 50 percent (or maybe even 70 percent) at several restaurants in Australia.
Find local restaurants and bars with empty tables with the EatClub app. If there are any last-minute deals, use them before the time runs out to save money on your bill.
Then, send your booking information to the place you want to go. Make sure to show your digital coupon when you get there to get the discount.
36. Bring Me Home – Food Rescue App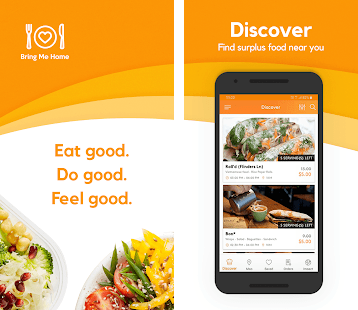 Bring Me home helps you save food from waste and gets you out of a bad case of "hanger." With this app, you can buy any leftover food from local stores for less and pick it up at a time that works for you.
The company says these deals are meant to cut down on food waste since one of every five meals is thrown away because it wasn't sold. The app is also said to help people eat well and save money, with some places offering discounts of up to 70%.
Bring Me home encourages people tired of eating the same couple of menus every week to try new stores and support local businesses. You can also give to organizations like OzHarvest and SecondBite on the app.
10 Best Companies to Follow on Twitter for Deals (& Possibly Free Stuff)
37. Hey You
Hey, "You had me at hello," but "free food and drinks" actually did it for me. Hey You is one of the newest apps that lets Australians order ahead and skip the line. They can also earn and use points to get a free meal.
This discount food app gives you a bunch of deals on lunch and coffee based on where you are, and you can pay with your phone, so you can quickly go to the store to pick up your order. But, unfortunately, hey You is only available in some parts of Sydney, Melbourne, Brisbane, and Perth.
Where can you use the Hey You discounts?
Sydney
Melbourne
Brisbane and in
Perth, there are some cafes and restaurants that stand out.
38. Cudo
Kudos to Cudo for serving various daily deals to Australian customers. Some of these deals can save diners up to 80% on their meal.
This app is like Groupon in that it has deals on things like:
Food and wine
Shopping
Travel
Health and fitness, and
Services like first aid classes and house cleaning.
Cudo is available in Sydney, Melbourne, Brisbane, the Gold Coast, Perth, Adelaide, and Canberra.
Where can you use the Cud discounts?
Uber Eats
Zambrero
Sheraton Grand
Sydney Hyde Park Hard Rock Cafe
Surfers Paradise
Blue Range Estate Wines (Rosebud, Victoria), and many more.
39. Foursquare
It's a great way to find new places to eat, as well as to find cheap food. In addition, you can follow people whose tastes you trust so that their tips and suggestions for what to order show up first.
You can also tell the Foursquare restaurant app what your favorite meals are, and it will ensure that only the places you want to see show up in the results. But, of course, it's never been so easy to find a good taco.
40. EAT24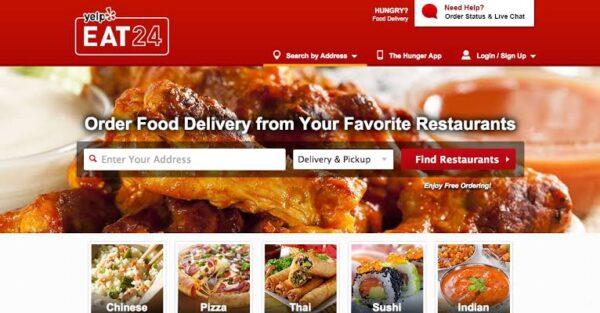 Not every time you go out, you want to eat at a restaurant. Sometimes you want to stay in and have food brought to you. This is an excellent opportunity to get free food online.
You don't have to get dressed (or at all).
In this situation, you need the EAT24 app, which lets you order food from more than 25,000 restaurants in more than 1,500 cities. You can search for specific cuisines, but what's more impressive is that you can look up particular dishes. Then, you can look at pictures of delicious food to see what sounds good.
You can safely store your credit card numbers on EAT24, so you don't have to worry about remembering them. It's perfect for that Netflix marathon and an opportunity to take advantage of cheap dining deals.
9 Ways to Get Free Stuff on Facebook
41. Moe's Southwest Grill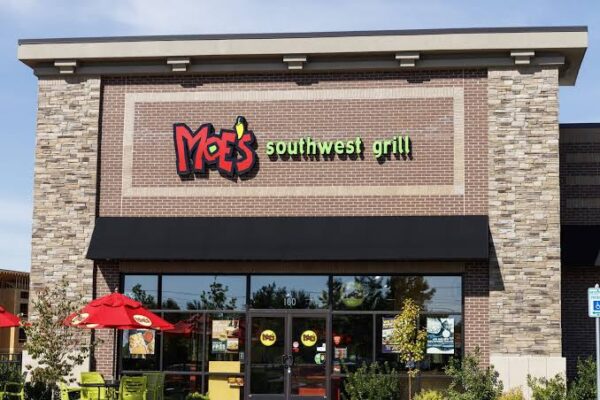 The Moe's app is one of the best fast food reward apps. Not only does it offer regular deals at your local restaurant, but it also lets you earn points for purchases at Moe's. For every $100 you spend, you get $10 back in rewards.
Even though 10% cash back isn't something to sneeze at, the rewards get even better! Every year on your birthday, you get a free burrito; as you earn points, you can get better deals. The levels of premium are:
1000–3499 points: Get local deals.
3500–5999 points: Get access to high-end local deals
6000–499,999 points: For every 1,000 points, you also get a chance to win a prize.
500,000+ topics: $20 to enter the Rock Hall of Fame and a free Moe's Rewards T-shirt.
You finally get something for telling people about Moe's app.
When you sign up, you get a free order of queso, and on your birthday, you get a free burrito.
42. Get Free Food at Your Local Cafe, Deli or Restaurant
Don't pass up local cafes, delis, or restaurants that aren't part of a chain if you want to find cheap places to eat or get free food online.
Local restaurants are often your best bet regarding your budget because they have low costs and are easy to run.
A deli is close to me that serves lunch daily for between $5 and $10. So even in this time of high inflation, home-cooked food is still cheap.
Please stop by the restaurants near you to see what they have and how much they cost. You never know; you could find a new favorite!
5 Places to Shop Open Box Deals (Home Décor, Electronics, Fashion, etc.)
Best Places to Get FREE Food Online Via App or Email Sign Up!
Get free food online by signing up for these apps. Many restaurants give free food if you join their eClubs or download apps. So if you sign up, these restaurants will provide free food like ice cream, appetizers, and even burgers. On top of these free things, when you sign up, you can also get a lot of free food online on your birthday.
Best Apps For Free Food Online In 2022
Wendy's: Get Wendy's app for online free food offers almost weekly. Also, you'll get a free 10-pack of Nuggs and 150 extra Rewards points with any purchase.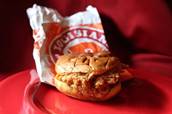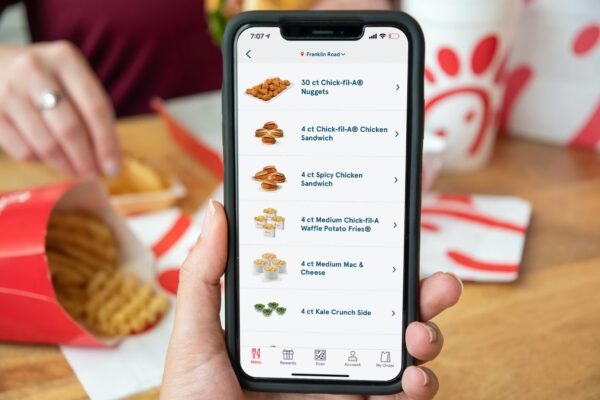 A&W: If you join the A&W Mug Club, you can get a free root beer float on your birthday.
Baskin Robbins: Get a free scoop of ice cream if you download and sign up for the Baskin Robbins app.
Mimi's Cafe: Sign up at Mimi's Cafe to get a free treat on your birthday.
Einstein Bros. Bagels: You can get a free bagel and shmear when you buy something and a free egg sandwich on your birthday when you purchase something.
B.D.'s Mongolian: Take $5 off your next order at B.D.'s Mongolian and get a free meal on your birthday.
B.J.'s Restaurant & Brewhouse: Sign up for the rewards program at B.J.'s Restaurant & Brewhouse and get a free Pizookie®.
Abuelo's: You'll get a special gift when you sign up.
Carvel Ice-cream and Cake shop: This ice cream shop no longer gives free rewards, but every Wednesday, you can buy one sundae and get one free.

Black Angus Steakhouse

: Sign up at Black Angus to get a free steak dinner and dessert on your birthday.
Auntie Anne's Pretzels: Get a free pretzel after you buy something for the first time.
California Pizza Kitchen: When you sign up for CPK Dough rewards at California Pizza Kitchen, you can get a free small plate and a $5 bonus reward. Plus, on your birthday, you'll get a free dessert.
Caribou Perks: Sign up for Caribou Perks, and after your first visit, you'll get a free drink of any size.
Checker's Drive-in: Sign up and get 250 free points when you buy something.
Backyard Burger: Sign up to get a free Backyard Classic burger
Cheddar's Scratch Kitchen: Sign up for Cheddar's Scratch Kitchen to get free chips and homemade cheese dip.
Corner Bakery Cafe: Sign up for this eClub at Corner Bakery and get $5 off your next order.

IHOP

: If you sign up for the MyHop rewards program, you'll get free pancakes when you sign up, on your birthday, and on the anniversary of when you signed up.
Del Taco: Join Del Taco's e-club by downloading the Del Taco app and get two free Del Tacos. On your birthday, you can also get a free shake.
Jamba Juice: When you sign up for Jamba Juice, you can get 50% off any smoothie.
Bo-Berry Biscuit: Get a free Bo-Berry Biscuit and a coupon for a free half gallon of iced tea on your birthday at Bojangles.
Longhorn Steakhouse: Sign up and get a free appetizer.
Marble Slab Creamery: Sign up and make your first purchase to get $5 off your next purchase.
Buca di Beppo: Join this restaurant's eClub and get a $10 gift card.
Burger King: Every week, there are new offers for free food online when you buy something from Burger King. Check out the offers page.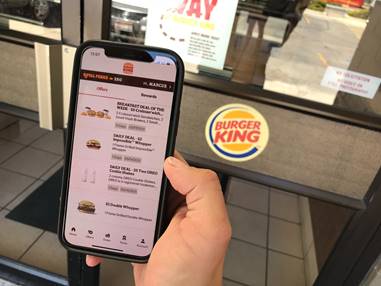 O'Charley's: Join the O'Club at this restaurant to get a free appetizer and food on your birthday.
Hardee's: Sign up for their email list and buy an Angus burger to get a free small fry and drink.
On The Border: If you join, your next order will come with a free dessert.

Yogurtland

: Sign up for a Real Rewards account and get 50 bonus points and a free treat on your birthday.
Taco Cabana: Sign up for the Cabana app at Taco Cabana today and get a $5 reward, a $3 Ground Beef Taco, a Margarita, and 50 free points.
Ruby Tuesday: Get $5 off your next order at Ruby Tuesday and a free burger on your birthday.
Papa Gino's Pizzeria: Join this restaurant's rewards program for a free 10″ small cheese pizza.

Raising Cane's

: Join the Caniac Club at Raising Cane's and get a free box combo.
Rubio's Coastal Grill: Get free food on your birthday at Rubio's Coastal Grill!
Quiznos – Earn a free small sub or Gyro Flatbread with any purchase after downloading the app. You will also earn a free replacement once your account reaches 70 points. In addition, you can earn 10 points by connecting through Facebook, and one point for every dollar spent.
Sizzler Family Restaurants: Join the Real Deal eClub at Sizzler and get a free meal.
TGI Friday's: Sign up at TGI Friday's and choose a free appetizer on your next visit; on your birthday, you'll get a free dessert.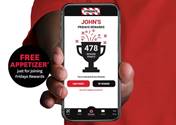 Which Wich: When you sign up, you get a free drink, and on your birthday, you get a free Wich.
Pizza Inn': If you sign up for Pizza Inn's email list, you can get a free medium chocolate chip Pizzert and a free dessert on your birthday.
Wild Wing Cafe: Sign up at Wild Wing Cafe and get six free wings when you spend $5.
Tips to Help You Get Free Food From Restaurant Discount Apps
1. Look for Coupons and Discounts on Fast Food Sites
There is a lot of competition in the restaurant business. As a result, many restaurants offer coupons and discounts regularly to bring in new customers.
Check out the mail and magazines in your area for coupons for restaurants. Some restaurants also send coupons to people who live in the area. So keep your eyes open for coupons, and you'll soon start to see them everywhere.
Instead of just throwing away deal magazines and coupon packs you get in the mail, look through them to find restaurants that look interesting. We've found some cool, cheap new places to eat and added them to our usual list.
2. Sign up for Restaurant Apps Loyalty Program.
Customers who stick with a business are rewarded with extra perks and discounts. Join the email lists of your favorite restaurants and follow them on social media. You'll be the first to know when the restaurant has sales or changes to its menu. Some restaurants also give free food and other perks to people who eat there often, like discounts on their birthdays.
4 Legitimate Ways to Get Free Netflix
3. Look at Fast Food Deal Sites
One of my favorite ways to find deals on eating out is to look at the best coupon sites, like Groupon and LivingSocial.
You can eat out for less money and try a new place simultaneously, which is always a win-win situation.
Keep in mind, though, that not all deals are the same. Make sure to read the fine print so you know what minimums you must meet to use the coupon.
Don't buy a deal if you're not sure you can meet all the requirements before it ends. If you don't use it, it will cost you money rather than save you money.
4. Get Cash Back on Restaurant Discount Apps
Did you know you can get your money back when you eat out? You can now link a credit card to your account on sites like Groupon and get cash back at certain restaurants. Then, when you use the registered card to pay for your meal, the money will be put back on your statement as a credit.
Also, some credit cards will give you cash back when you buy food at a restaurant. I've gotten money back from some cards when I ate at restaurants that had a deal with the card issuers.
Other credit cards give you extra points when you eat at a restaurant. In addition, you can use your points to get free travel or gift cards to big stores.
It's a great way to save money on eating out without using coupons.
Tips to Help You Get Free Food Online And Eat On A Budget
Now that you know some of the best places to eat free food, we have other tips to save money when eating out.
You must get the most out of every meal on a tight budget. However, you can eat out a few times a month using some tips below.
3 best places to sell your unwanted Christmas gifts cards for cash
1. Go for Fast Food Happy Hour Specials
You can eat out for less money during happy hour. In addition, many restaurants have deals during happy hour, making going out to eat much cheaper.
Check the restaurant's website to see if it has a special "happy hour" menu. You can also quickly search the Internet to find out about the hours and deals.
Some restaurants have double happy hour, which we've taken advantage of more than once. For example, they have a happy hour from 3 to 6 pm and 9 to 11 pm.
You can take advantage of the late-night happy hour by going to a movie and then to the restaurant for drinks and snacks at a fraction of the price of the regular menu.
2. Drink (Free) Water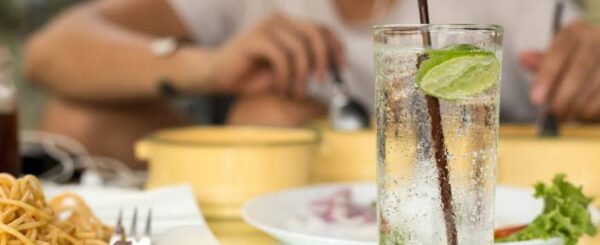 A typical soda costs between $2 and $3, while tap water is free. And if you compare the price of a drink with the price of water, you can save even more.
You might want to reduce the number of sodas or alcoholic drinks you drink with your meals. Or you could just skip them all, order water, and save more money. If you order a drink with alcohol, stick to one glass and try to go during happy hour.
When you go out for drinks, try to get things that are hard to make at home, or you don't want to make. An example is a margarita.
3. Stick with Ordering Appetizers
Ordering only appetizers is another way to save money when you eat. Often, appetizers are just the right size to make you feel full without making you feel too full.
You could also order soup and salad together.
Most of the time, both of these options are cheaper than ordering a full meal. Many restaurants have a few appetizers that are lighter versions of full meals. For example, you can order appetizers like sliders instead of a whole burger and fries. Or, if you want to save money, order the quesadillas as an appetizer instead of the taco platter.
4. Split a main dish
A study published in Critical Reviews in Food Science and Nutrition says that there is evidence that portions have grown a lot in the last 30 years.
And the U.S. is not the only country with this problem. Tufts University looked at many countries and found that restaurant portions are getting more extensive everywhere.
Because of this, you can share an entree instead of ordering two separate dishes. Still on a budget? Check these 40+ Fantastic Stay-at-Home Date Ideas
This is a great way to save money and makes restaurant meals lower in calories.
When you share an entree, you will have plenty to eat and never go away hungry. When you go out to eat with your kids, you can share some of your meals with them instead of ordering a kid's meal.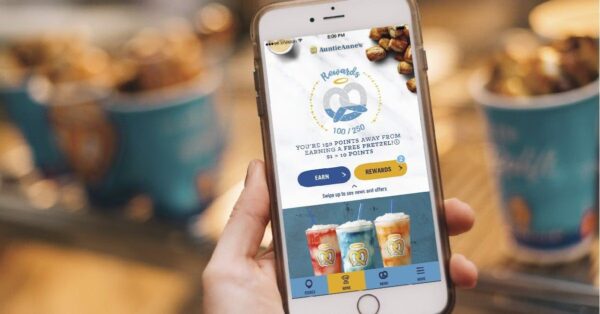 You could also each order a main dish and plan to take half of it home. But most of the time, you may forget about the leftovers and throw them away. Hence, paypant.com advise you instead just split a meal and eat the rest at the restaurant.
If you go out to eat at a place that gives you free bread or chips, you might already be pretty full by the time your food comes. When you share a dish, you save both money and calories.
5. Don't eat dinner; have lunch instead.
Going out for lunch instead of dinner is another way to save money. Most of the time, lunch costs less than dinner, and you can still get many of your favorite dishes.
You can also often find lunch specials that make it even cheaper to eat out at lunch.
You can try to go for lunch as often as possible to save money. Always plan to eat at some of the restaurants on your list for lunch instead of dinner, especially during vacations.
This will save you money because you're less likely to order expensive cocktails for lunch.
6. Look for Kids' Deals On Restaurant Discount Apps
If you take your kids out to eat, either shares part of your meal with them or look for a place where kids eat for free.
At some restaurants, a child's meal is free when an adult buys a meal. Depending on your kids, this can save you a lot of money.
If you're eating at a fast food place, you might want to order something from the kids' menu.
You can often find better deals on smaller portions, saving you money and calories.
At some of these fast food places that give free food, We've found that ordering the kids' version gives just the right amount of food without making you too full.
Earn Free Crypto: 19 Fast Ways to Earn Free Crypto
How to Use Voucher Barcode to Get Free Food Online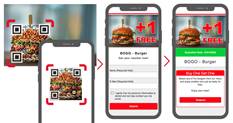 If you join a discount restaurant's rewards program or are a member, you probably have some vouchers and gift cards. Vouchers are great to use when eating out because you can simultaneously get a discount on your meal and earn points for your loyalty program.
Most of these vouchers and gift cards have barcodes, making getting the gift card's value easy.
This guide will show you how to scan a barcode with your phone or tablet to get your free meal. It's not hard to figure out! It's easy to follow:
Get the app on your phone or tablet.
Get the barcode here (usually attached to a card)
Find a restaurant near you that is running the same deal.
Scan the barcode with the app.
Get food for free!
Start a Food Diary
Writing down everything you eat and drink is one of the best ways to ensure you don't overeat. This can be done manually or with an app.
A food diary lists everything you eat, how many calories it has, and how healthy it is. You should also write down any foods that make you sick or feel sick after eating them. Then, if it happens again, this can help (like if it happened before).
Some people like to write down what they eat on paper, while others want to use an app. If you use an app, make sure it has a lot of food choices and is easy to use.
With this list of places that give away free food, you'll never go hungry again. So whether you've lost your wallet, left your cash in your other jacket, or don't want to spend too much right now, these offers will help you get food for free.
Where is the Best Place to Get Free Food Online in 2022
Examine the food courts of various restaurants, particularly the ones we listed.
My favorite location to grab a cheap supper is Costco. There is a lot of inexpensive, ready-made food, such as the well-known rotisserie chicken.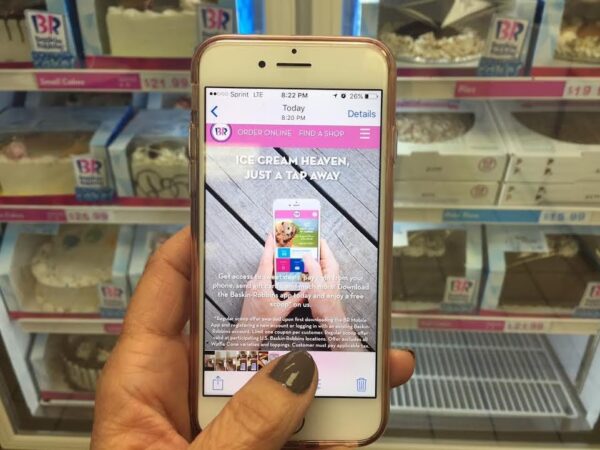 If you only want a short bite, you can grab one of the sample carts and enjoy a range of delicious dishes. A food court is an excellent option if you're still hungry because it offers some of the best pizza and hotdogs at highly affordable costs.
Even the vending machine water bottle costs 25 cents. You cannot beat such costs for the quantity and quality of meals. Also, if you reside somewhere with excellent weather like Hawaii, you can enjoy the outdoor food court without becoming a member.
Bottom Line
Everyone loves free or where they can eat for less, and many fast foods and discount restaurants offer free food. Almost always, cooking at home is much cheaper than eating at a restaurant. But, on the other hand, restaurants give us a break from our daily lives and draw us in with new tastes and experiences.
But if you eat out too much, it can hurt your budget. You could try restaurant apps if you want to spend less at restaurants but don't want to stop eating out altogether. These apps can help you satisfy your taste buds and save money simultaneously.
So, if you have a favorite restaurant or restaurant, check to see if they have an app that sends deals straight to your phone. Then, you might be able to go to that restaurant more often.
Frequently Asked Questions
Q: Where can I get the most food for $5?
We decided what to get based on what
It had a high caloric content because it's crucial to feel energized after eating cheeseburgers,
The food tasted fantastic, and
It would go well with other menu items to make a packed lunch for $5.
The following restaurants offer $5 meal discounts:
Taco Bell
Wendy's
Arby's
Panda Express
McDonald's
Chipotle
Burger King
Panera Bread
Q: How do you eat out on a budget?
If you're on a tight budget, the best way to save money is to make your lunches and dinners at home and put them in containers. But you don't have to eat too soft peanut butter and jelly.
Follow these steps to save money when you eat out:
Buy gift cards for less than what they are worth. You get more for your money when you buy restaurant gift cards for less than their face value.
Request a discount.
Come with the group.
Make intelligent menu selections.
On national holidays, eat out.
Take a poll.
Make some room in your budget.
Q: How do you get food when you have no money?
Your local food bank can help you find food today. With 200 food banks and 60,000 food pantries and meal programs, the Feeding America network serves every community in the United States. Even if a food bank looks far away, they can help you find food closer to home.
Q: How can I get free food on the Internet?
Find out how to get free food online, whether you want free groceries or meals.
Complimentary Appetizers: Wild Wing Café Loyalty Club Membership.
Free Birthday Burritos: Moe's Southwest Grill App.
Free Coffee: Dunkin' Donuts DD Perks App.
Free Food Delivered: Uber Eats App.
Free Food Samples: SampleSource.com.
Q: Are there discount restaurants that won't give me free food online for downloading apps?
Sadly, not every restaurant that offers an app will give you a freebie just for downloading their app.
Applebees
Baskin Robbins (they offer discounts but no free offers)
Chipotle (you get free food when you sign up for their text notifications)
iHop
Olive Garden
Panda Express
Red Robin (Red Robin's app is no longer available to download, but you might still be able to get free food online by joining their online Royalty program.)
Taco Bell (there is an offers page, but no free food offer when you download the Red Robin app)
Wing Stop