Last updated Jun. 28, 2023 by Charles Zemub
 25 best money-making apps(apps you need to make money)
Wondering if it's possible to make cool cash online through apps? You are not alone in this quest. Many people like you search the internet every day for opportunities to make money.
Having an extra source of income has become a necessity today due to the increasing level of financial insecurity.
There are many online money-making apps compatible with both Android and IOS devices that people can make money from. However, the problem lies in separating the wheat from the shaft and knowing which app is profitable and the one you should avoid.
Here's the good news:
We've researched hundreds of so-called money-making apps and came up with a list of awesome apps ; 25 in total :that are legit and pay their users.
The apps listed below are ideal money generators for people who want to stay in the comfort of their homes and make some extra bucks. And it doesn't matter whether you are a student or working, you'll find one that's better suited for you.
Now, let's explore some money-making app options.
1. MetroOpinion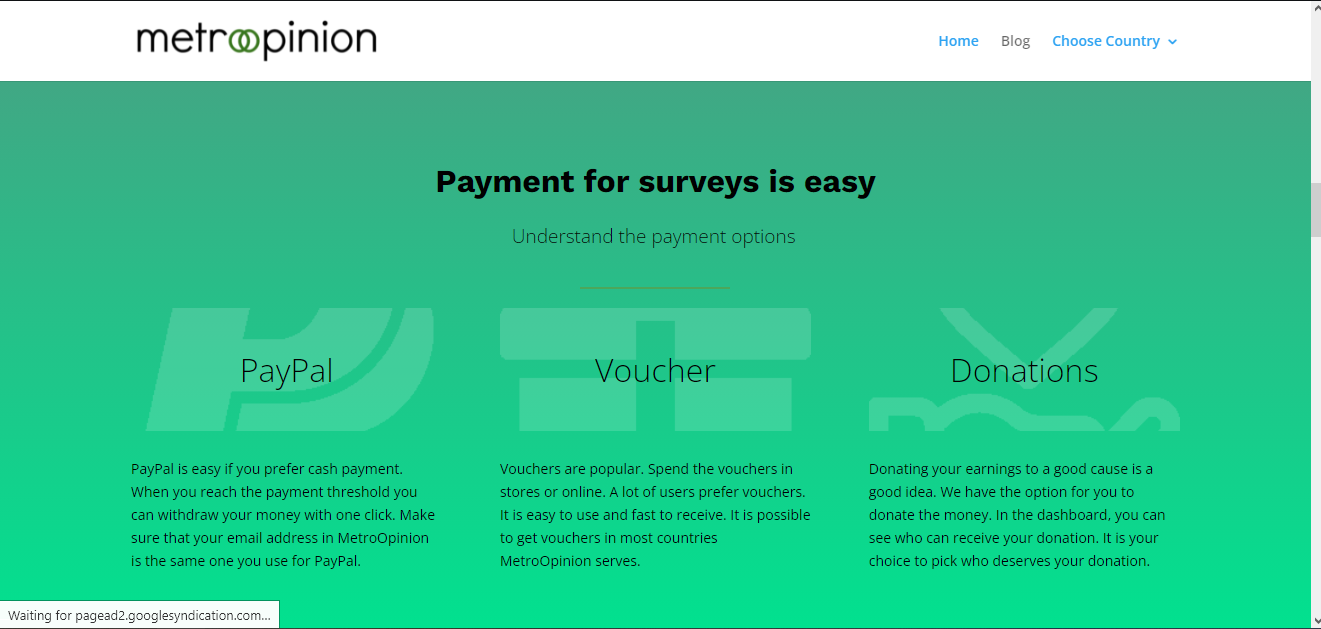 Website: www.metroopinion.com/
MetroOpinion is a free survey app where you can earn money by taking daily surveys. Participants must provide answers to different questions based on their opinions on familiar topics. The platform is available to other users in more than 20 countries and has over 170,000 survey takers.
The surveys placed on the app are used to collect public opinions, which are useful to their partners in evaluating what users think about their products or services and what they can do with some little improvements. These partners pay MetroOpinion for authentic feedback, which MetroOpinion then pays its users.
How to Get Started with MetroOpinion
Like the prospect of earning extra cash taking surveys online on MetroOpinion? Here is a step-to-step guide to registering on the platform as a member:
Visit the official website of MetroOpinion
As a first-time user, you must select your location by clicking on the "Choose Your Country" tab. This will take you to their webpage specific to the country you selected.
You will find a sign-up form on their website,, which you'll be required to fill out to get started.
Submit an active email address, create a password, re-enter the password, select a gender, input your date of birth, enter your postal code, and then click the "Sign Up" tab to complete the registration.
You'll receive a confirmation link in your email; activating the link will complete the sign-up process.
After registration, what's next?
Before you can start taking surveys, you'll have to log in to your account and complete your profile. Your profile plays a major role in the type and number of surveys you'll be eligible to participate in. Demographics, background, and topic interest are vital factors determining your eligibility for certain surveys.
When you qualify for a survey, an invite link for the survey will be sent to your email. Information you'll see in the invitation includes the time required for completion and how much you'll get for the survey.
It's important to note that the amount of surveys you can take on MetroOpinion is limited to two daily. The chance of you seeing a survey invited depends on your profile, location, and results from previous participation.
Getting Paid on MetroOpinion
The rate per survey is between 1-5 dollars depending on the complexity and length of the survey. Members can choose between getting paid in cash through Pay Pal or in the form of vouchers. These vouchers can be used to purchase goods or services online or at stores that accept them.
MetroOpinion is ideal as a side hustle but would not pass as a full-time income option.
2. Fiverr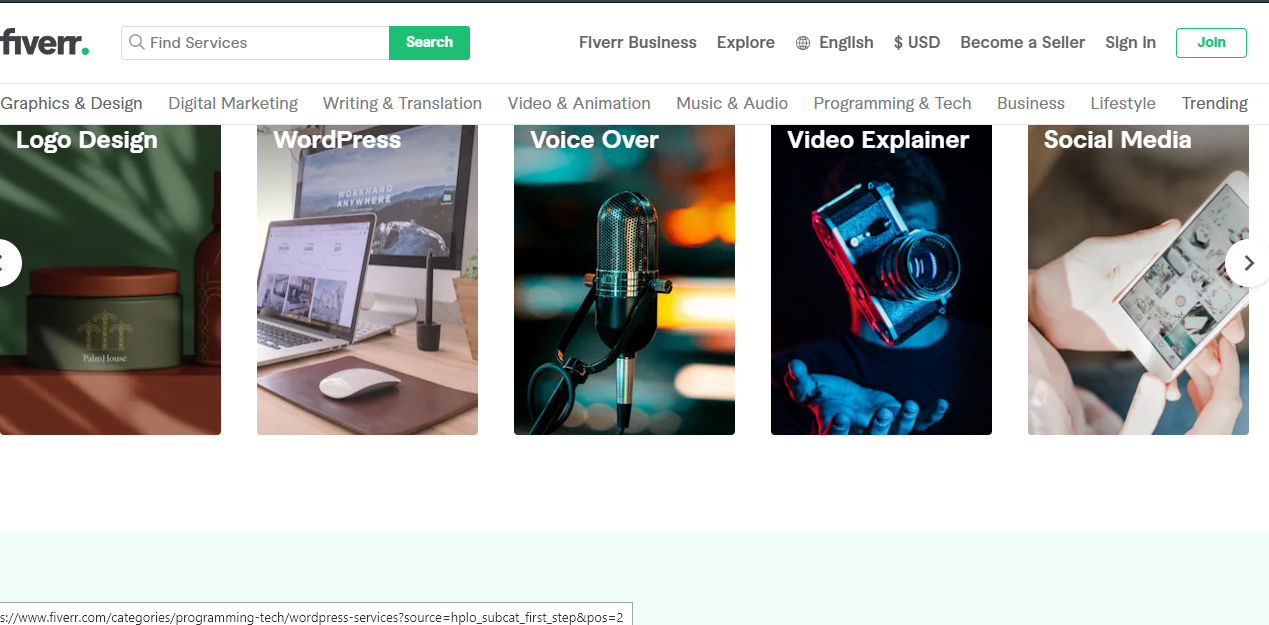 Website: www.fiverr.com
A great app where you can earn money by offering freelance services online is Fiverr.
Fiverr is a freelancing platform that connects people offering certain skillsets or expertise for sale to buyers who require those services. The marketplace features gigs (freelance services) in over 200 categories, including programming editing, virtual assistant, writing and editing, and many more.
How Does Fiverr Work?
Interested members create a seller profile and set up gigs that showcase their services or solutions at a displayed price. Guests, known as "buyers," can click through these gigs and place orders.
Members will get paid after successfully completing and submitting the work and confirmation at the buyers' end.
Signing Up on Fiverr
Sign up using either your email address, Google profile, or Facebook profile. You will need to create a username, and remember that you won't be able to change it in the future. After you activate your account, you will be able to use Fiverr and all of its features.
After opening an account on Fiverr, click the "Become A Seller" button to start selling. You'll need to complete five simple steps:
1. Set up your seller's profile.
2. Create your gig.
3. Add a video introduction (not mandatory).
4. Offer a package (a great way to boost your earnings).
5. Offer extras for your gig (helps increase the revenue).
Please note that It's mandatory to go through the first two-step. The last three steps are optional but will help you generate more traffic and boost your profit.
How to Withdraw your money from Fiverr?
Payment can be made to your bank account (only for US customers), credit to a Fiverr Revenue Card (a prepaid card), or via Payoneer.
The minimum payout required varies depending on your seller status, and depending on your payment method choice, you may be charged a withdrawal fee.
It's important to note that Fiverr deducts a 20% commission from its users' earnings per gig sale. There's also a standard 14-day waiting period before you can withdraw your earnings after completing an order.
3. iBotta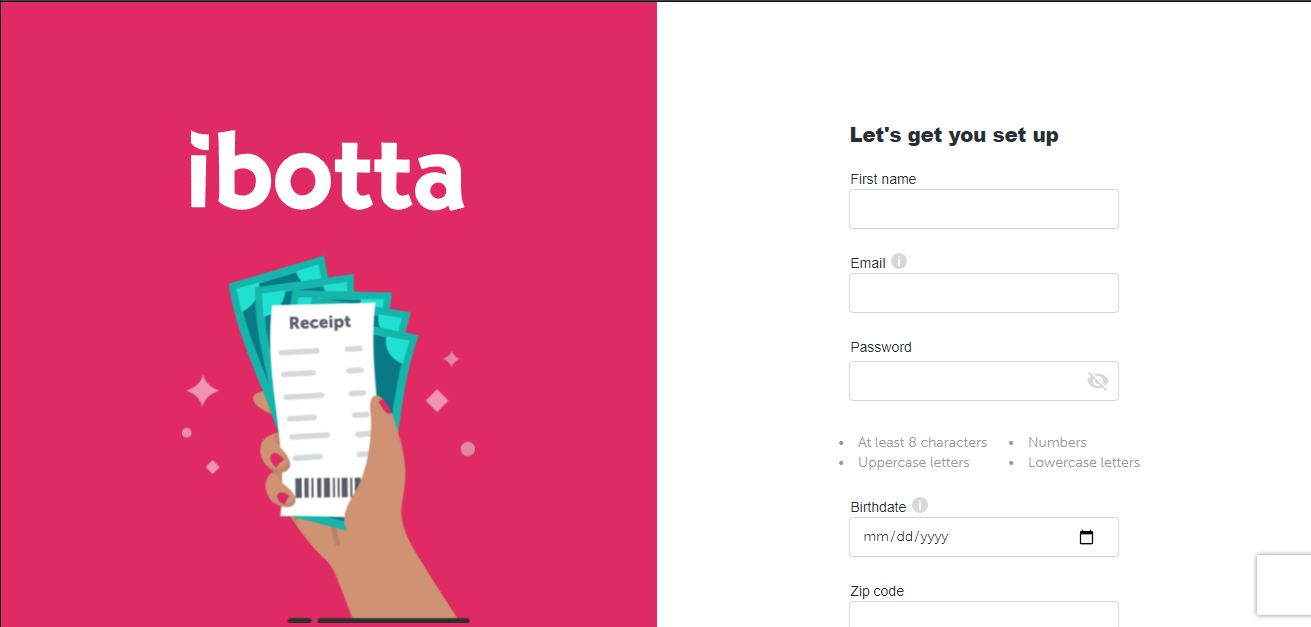 Website: https://home.ibotta.com/
No matter how much you spend on groceries regularly, there are always methods to save money. Earning cash back with an app like iBotta is one way to save a lot of money on groceries and other necessities over time.
Simply download the app or add the browser extension to your browser, claim deals, and shop as usual to earn cash back on eligible purchases.
iBotta allows its users to earn cash back on in-store and online purchases at different retail chains and brands. The platform initially supported groceries items only but has expanded to include other orders such as pet supplies, entertainment, vesture, and more.
How Can I Make Money with iBotta?
With iBotta, there are three possible ways to earn cashback in stores:
By adding offers and then submitting the receipts in the app after a shopping trip,
Linking your retailer dedication accounts to the platform, and
Purchasing a retailer gift card via the Ibotta app.
The time it takes to get cashback when shopping online varies per retailer. In some cases, it could take up to a month or longer for you to get credit for your purchases. Macys.com, for example, has a 90-day waiting period at the time of this writing.
Users can transfer their balance directly into their bank account after they've reached the $20 threshold.
4. Rakuten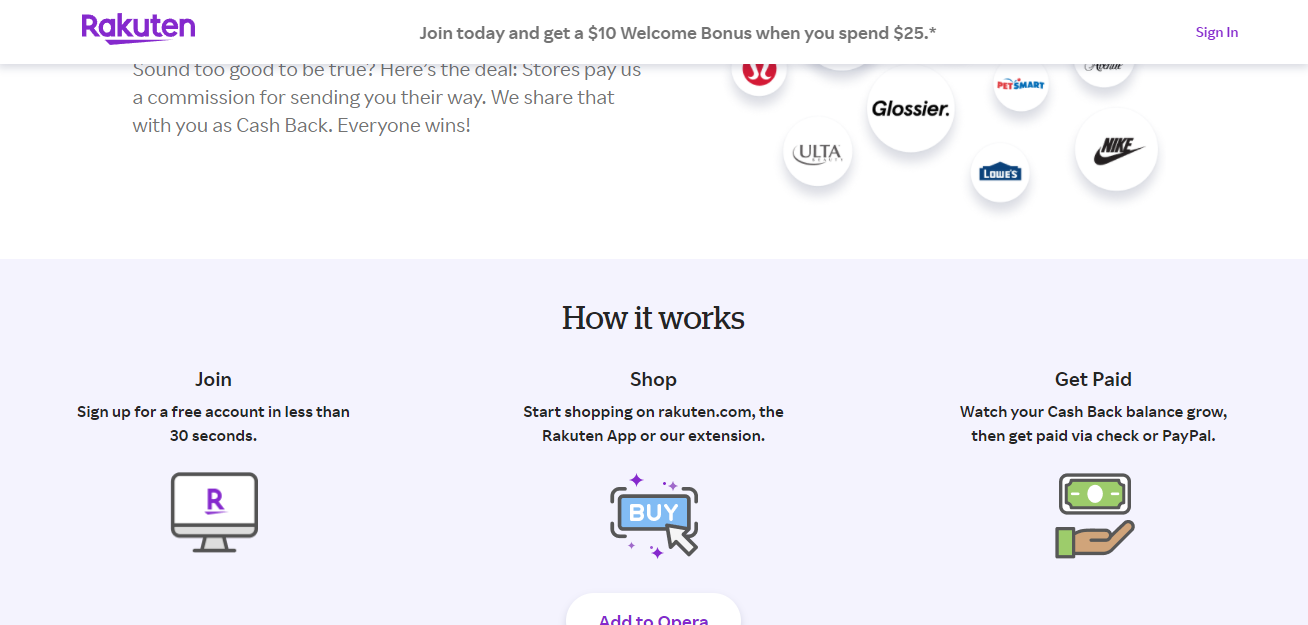 Rakuten is a cashback company that will reimburse you for purchases made through their website or their browser extension. On practically any purchase made through Rakuten, customers can earn anywhere from 1% to 40% cashback.
Over 2,500 retailers have partnered with them, including huge brands like Nordstrom, Walmart, Amazon, Sephora, and Target. Almost every purchase you make regularly could be eligible for cashback with Rakuten.
Rakuten's Sign-Up Process
It's really easy to create a Rakuten account. All you have to do now is enter your email address and create a password. Unless you intend to redeem the in-store cashback, you are not needed to link bank accounts or credit cards.
Once you've logged in, you can look for discounts and specials at a specific store or on their website. Shopping by category, popular offers, double cashback businesses, and more is simple with Rakuten.
Rakuten is a completely free service. There are no fees or hidden costs. You'll have to supply a mailing address or a PayPal account to earn your cashback benefits, but you don't have to worry about them covertly billing your card or anything.
The only snag is that Rakuten only pays out once every quarter, according to the timetable below:
| | |
| --- | --- |
| Purchases Made | Payment Issued |
| January 1 – March 31 | May 15 |
| April 1 – June 30 | August 15 |
| July 1 – September 30 | November 15 |
| October 1 – December 31 | February 15 |
While Rakuten is an excellent tool for making extra money, people who expect instant gratification may be turned off by the quarterly payment scheme.
5. Swagbucks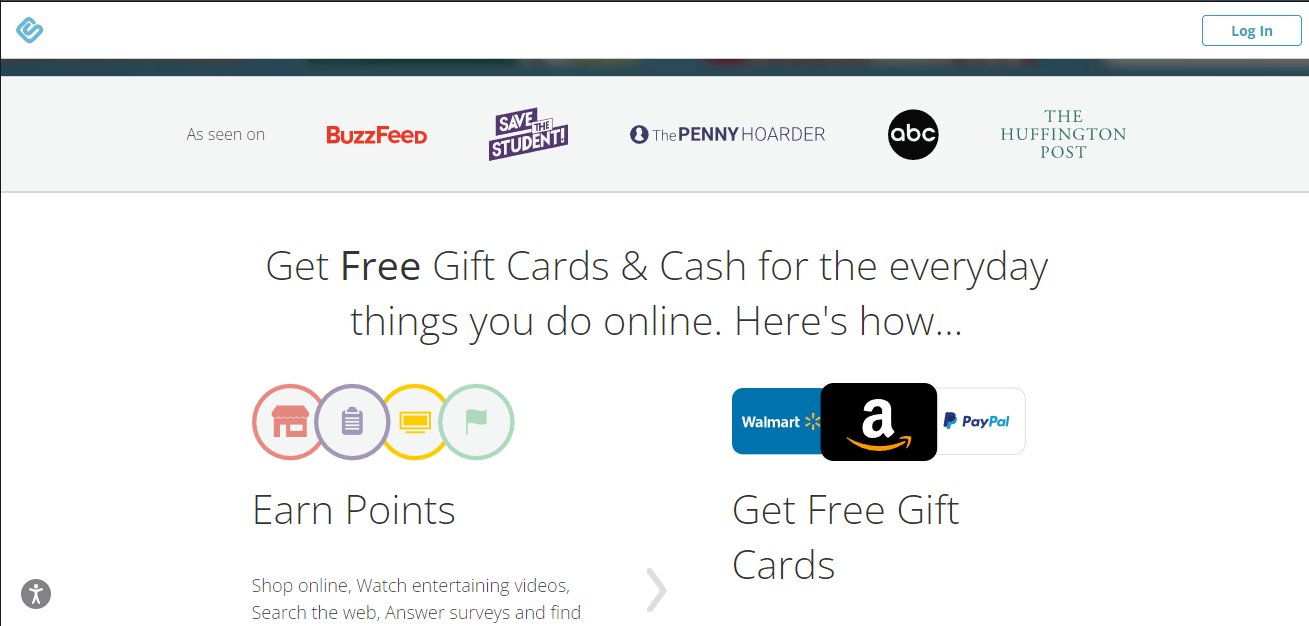 Website: www.swagbucks.com
Swagbucks is a rewards and cashback app. Swagbucks rewards you with "SB" points for doing activities, playing games, watching movies, taking surveys, and purchasing.
The points can be exchanged for gift cards or applied to the user's PayPal account. The total points vary based on how long it takes to complete the activity and how difficult it is.
Swagbucks provides a variety of simple ways to earn SB points, including:
Cashback Shopping
Print Grocery Coupons
Special offers (Swagbucks Discover)
Watch Video Clips
To get started, go to swagbucks.com and sign up for a free account. Just for signing up, you'll get a $5 incentive.
Unlike other cashback programs, there is no time limit on when you can cash out. After redemption, payments are usually received within 10 business days. When you join, you can also get a $10 bonus if you make a qualifying $25 purchase.
You should be aware that Swagbucks is a low-paying site; one SB is worth around a penny. It's not a get-rich scheme, and it'll take a lot of time and work to make a significant amount of money doing a variety of activities worth cents.
However, if you're looking for a legitimate way to make money on your phone, Swagbucks might be right for you.
6. Upwork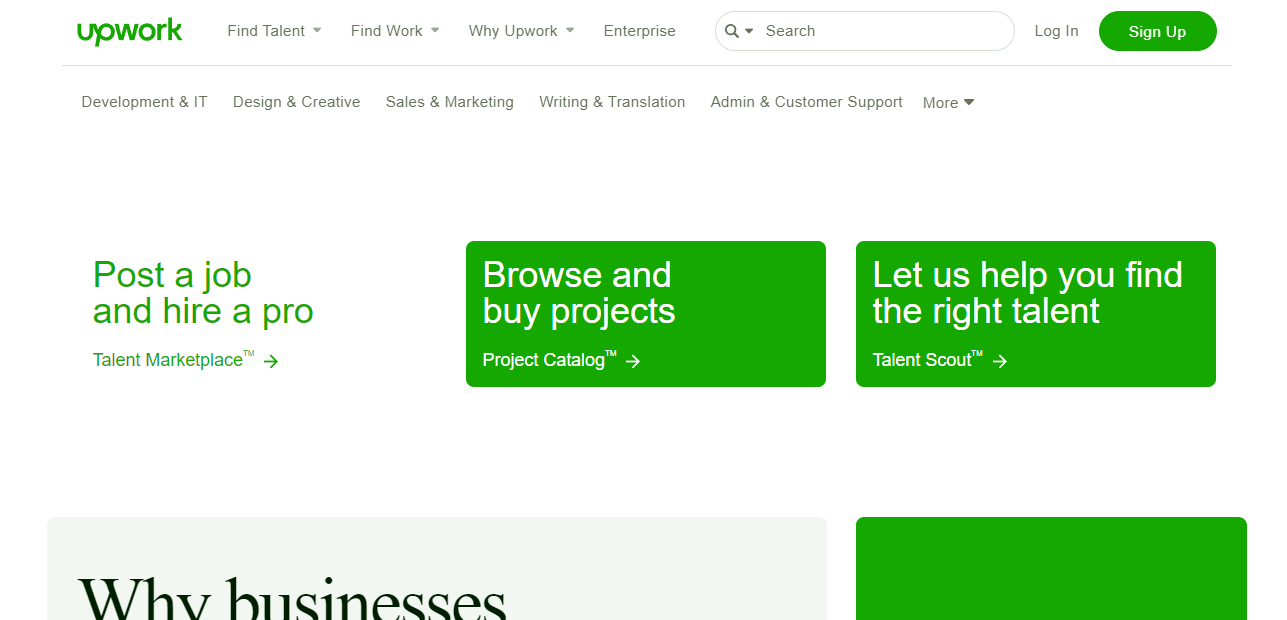 Upwork is a marketplace that connects freelancers with jobs in writing, design, marketing, and other business areas to potential clients around the world. Freelancers can engage with clients in two ways:
They can read through suitable job opportunities listed by clients and submit proposals to apply for the ones they desire.
Clients may search for freelancers and contact them directly with job offers and invites to apply based on their profiles.
Each proposal submission will cost a nominal fee (in the form of "connects"), however, guests will not be charged when they communicate with the seller.
Signing up and setting up your profile is easy with Upwork; however, your account needs to be approved before you can start selling on the platform. This usually takes 1-3 business days.
Upwork has become stricter on who they accept due to its rising popularity among freelancers. This is to avoid overcrowding on the site and the problems; such as high competition, that come with it.
Users have several options for receiving their payments, each with varying fees and location requirements.
ACH transfer to U.S. bank: free
Direct to the local bank: $0.99 per transfer
Instant pay with debit card: $2.00 per transfer
Payoneer: small fee per transfer depending on location
Paypal: small fee per transfer depending on location
Wire transfer: $30 per transfer
Upwork serves as a great tool to help you through the full freelancing process once you've signed up, been accepted, and are ready to start looking for jobs.
Over 18 million freelancers trust the platform and has built a reputation for protecting both their freelancers and clients from scams and unfair transactions.
7. OfferUp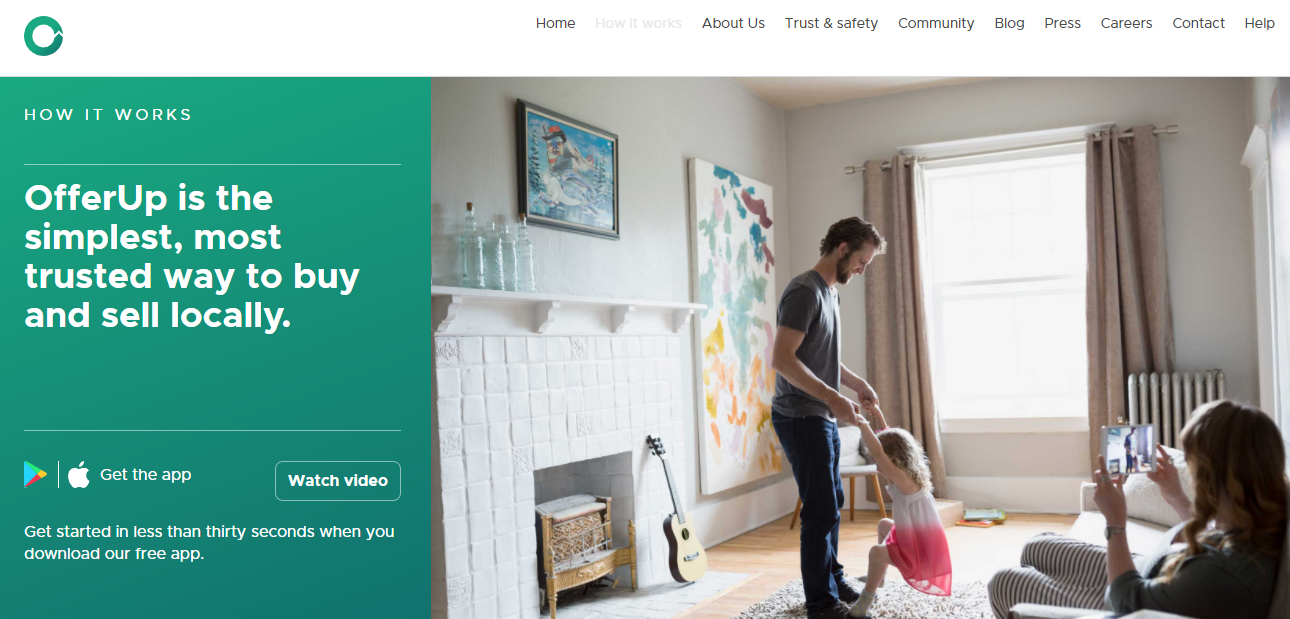 OfferUp is a free site and app that allows you to sell personal items, ranging from musical instruments and furniture to clothing and books. Users are required to be over age 18 to use the app, and young users under age 18 must have parental supervision.
OfferUp allows you to sell everything from clothing to cars without any required cost to list items. However, if you want your item to get more attention, you can pay to have it "featured" or "bumped."
You can easily download the app on their website on search on the play store. Sign-up is easy; you'll only be required to submit basic information such as contact info, date of birth, location, etc.
Users can process payment transactions through the Stripe app for an affordable processing fee. Due to a history of transaction fraud, the platform advises its users to avoid buyers who insist on paying outside the platform with prepaid cards, cashier checks, or personal checks.
Most of the time, these buyers are scammers trying to take advantage of sellers , don't fall for those schoolboy tricks!
8. Poshmark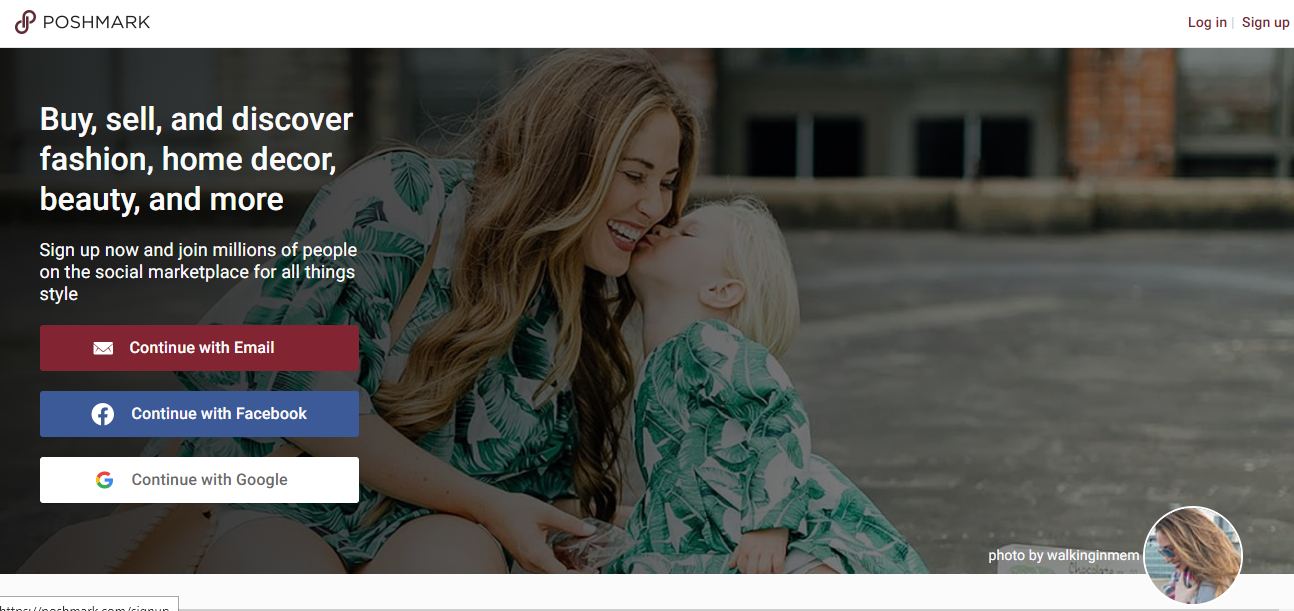 Poshmark is an online consignment shop, similar in many ways to ThredUp and Mercari. Sellers use the platform to list items for sale, which buyers then browse.
When Poshmark launched, it was originally focused on shoes, accessories, and clothing, but the platform has since expanded to include home goods, art, children's toys, and jewelry.
The platform has a knitter-made app specifically for dealing with clothes and accessories. To get started, sign up on their website with your Google profile, Facebook profile, or valid email. After signing up, you can now upload images of your items, fill out a description, and add a price tag.
You can also feature your items in the app's "Posh Parties," which are virtual shopping events centered around particular themes, orders, and brands.
After making a purchase, you'll get a notification for repaid shipping marker from Poshmark via email. Also, you can choose the option of self-delivery.
There's no information about any transaction or delivery fee offered by Poshmark on their website ; you'll have to contact their support team.
9. YouGov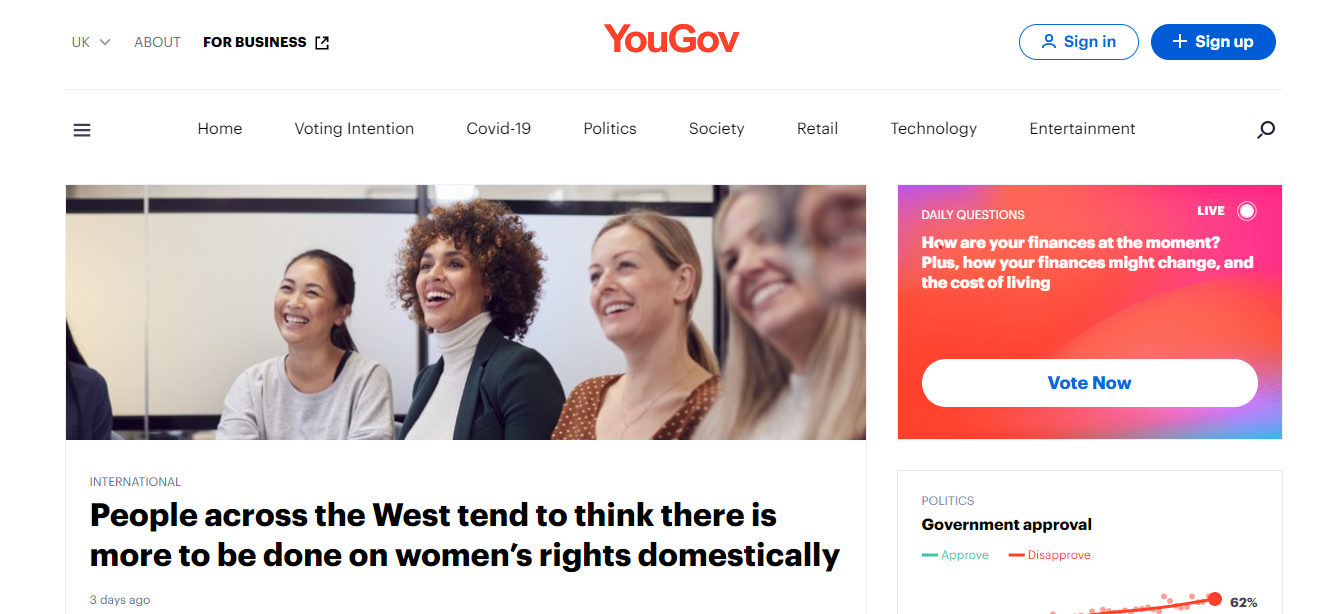 YouGov is a market research firm that rewards users for taking surveys on their websites. The firm offers advice on a variety of topics, including the stock market, banking, products, the present economy, information technology, the automobile industry, and much more.
YouGov began in the United Kingdom but now has offices in North America, Asia Pacific, Europe, and the Middle East. People who want to express their opinions on controversial themes, current events, societal attitudes, and consumption patterns can use the website.
The survey is updated regularly on the website, using data provided by members, and the information gathered is used to encourage the use of their poll by governments, institutions, and businesses.
Signing Up to Participate
In most countries, participants must be 18 years old or older to participate. In the United Kingdom, the minimum age is 16, while in the United States, it is 14. To join, you must be a resident of one of the participating nations.
You can register on YouGov if you live in one of the following countries: the United Kingdom, the United States, Norway, Mexico, Denmark, Brazil, Sweden, the Netherlands, Finland, Germany, France, the United Arab Emirates, Japan, and China. On YouGov, the signup process is rather simple:
Sign up for the site.
Confirm your email.
Get started right away with your first survey to create a basic profile.
Take full-length surveys to earn points.
Redeem points for branded products, gift cards, items, etc.
You create an account with a registered email address and a password. You can also sign up using your Facebook account. After you've filled out the required information, you'll receive an email with a confirmation link. To confirm your registration, click the link.
The registration procedure is free. After you've signed up, you have two choices. You can either begin by filling out a survey that will request basic personal information to create your profile. The second alternative is to go straight to the website to figure out how to navigate.
The first survey is usually personal, with questions such as your gender, race, and birth date. The survey will also assist you in determining which studies are most intriguing and relevant to you. You'll receive email notifications when new surveys are available.
In addition to earning points for completing surveys, you will be entered into a drawing to win fantastic prizes.
Although signing up and getting started on YouGov is simple, accumulating enough points to earn any prizes you may be interested in can take some time. Patience is essential.
The points obtained can be traded for a variety of prizes. Your prize is determined based on your country of residency.
Points can only be exchanged for products or gift cards in some countries, while you will be paid in cash via prepaid Visa cards or PayPal in others.
10. OfferDown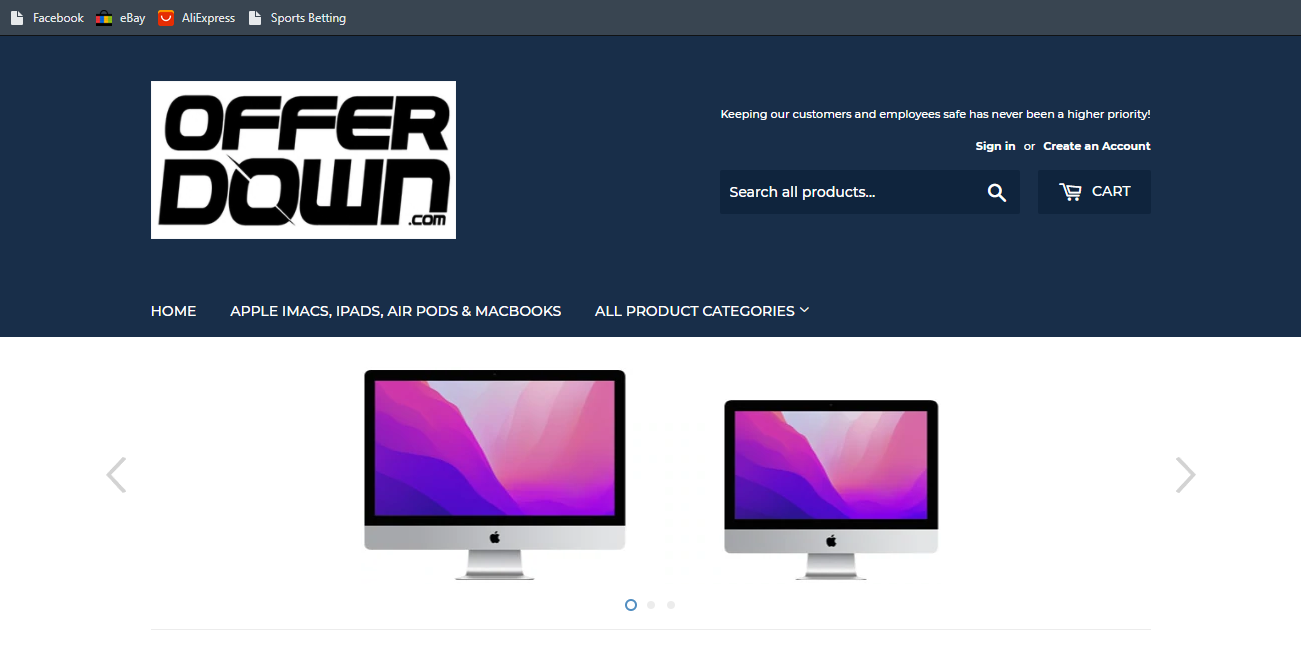 Offerdown takes an ultramodern approach to the Craigslist's conception by allowing anyone to sell new or used items through its online business. Offer down ease dealing online through its simple and easy-to-use design.
The platform is one of the best money-making apps in this review for dealing with old goods due to its streamlined table process and the ability for users to sell their items both locally and internationally.
Users can list a new product by uploading a picture, entering a description, and setting a price. You can choose to set a fixed price open to the first willing buyer or an asking price with room for negotiation.
Potential buyers can directly communicate with the dealer through the app to ask questions or express interest.
Offer down substantially facilitates original deals, but users can also transport products. Shipping an item incurs an a12.9 figure (or a$1.99 minimal figure)
Rather than cover offers and dispatches, one can set an item to "buy now" with a set price for shipping. Because utmost deals take place locally, buyers typically pay in cash.
After a packed item arrives, buyers have two days to estimate it before the trade is perfected. Merchandisers also admit payment within five business days.
Promoting his or her particulars helps implicit buyers find them. One can choose to promote his or her item by either paying in a one-off sale or copping a class. There are two class categories, allowing one to promote one or five particulars at a time.
Users can corroborate their identity by attesting contact information or linking a Meta account. For original deals, OfferUp protects users by recommending safe public match-up locales grounded on factors like lighting, surveillance, and more.
11. Drop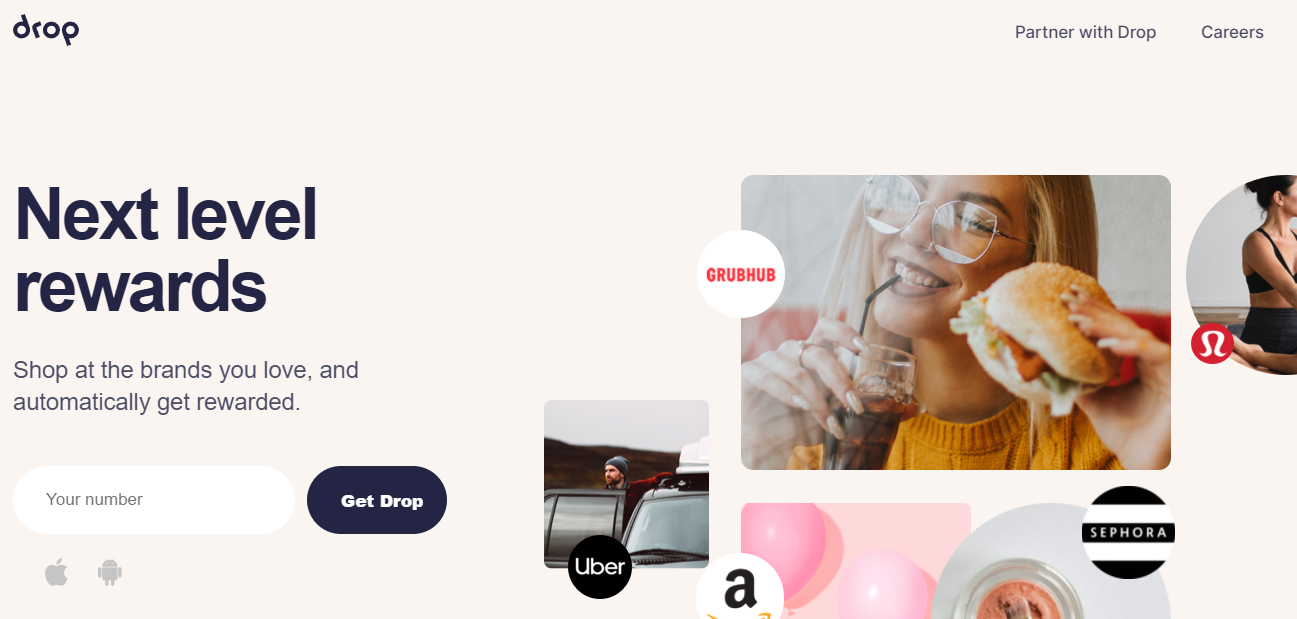 The Drop app is a loyalty rewards program that rewards you for shopping and completing other basic tasks. Drop is similar to Rakuten in that it does not require users to upload their purchase bills to receive cashback.
When a user protects one of the app's many offers, money is automatically added to his or her account.
Drop is a lifestyle app that is accessible on iOS and Android smartphones and is one of the most popular in the category. The app has over 3 million users who earn points when they shop through it and can use those points to get various incentives.
How to Join Drop
It's simple and free to sign up for Drop. To begin, go here to get the app ($5 bonus link). There is no need to use a coupon code. After you've installed the app, add your credit and/or debit cards, then go about your typical purchasing routine to earn points.
You must be at least 18 years old and a resident of Canada or the United States to join.
How Does the Drop App Work?
Drop automatically tracks your transactions after you add your card, unlike cashback applications like Checkout51, which need you to scan and upload your purchase receipts. The following are the five basic ways to earn rewards on Drop:
Shop: The app is linked to over 300 brands and merchants, and you earn points when you make a purchase.
Play an Arcade Game: Members earn points by playing a variety of arcade games accessible on the App Store or Google Play. Several games award up to $30 in points for playing and completing certain levels.
Complete Surveys: Earn points by answering surveys from Drop's partners. Survey points are variable and may or may not be worth your effort.
Find Deals: Deals on the Drop app are a great way to earn extra points. Take a peek at what's on offer because they may include bargains with big points.
Refer friends: After confirming your email and linking a credit or debit card, you will receive a $5 bonus if you join using our Drop referral link.
Gift cards from well-known brands such as Amazon, Best Buy, Starbucks, Whole Foods, Walmart, Target, Dunkin' Donuts, Lululemon, Adidas, Nike, and others are popular redemption alternatives. To redeem points, you must have a minimum of $25.
12. Checkout 51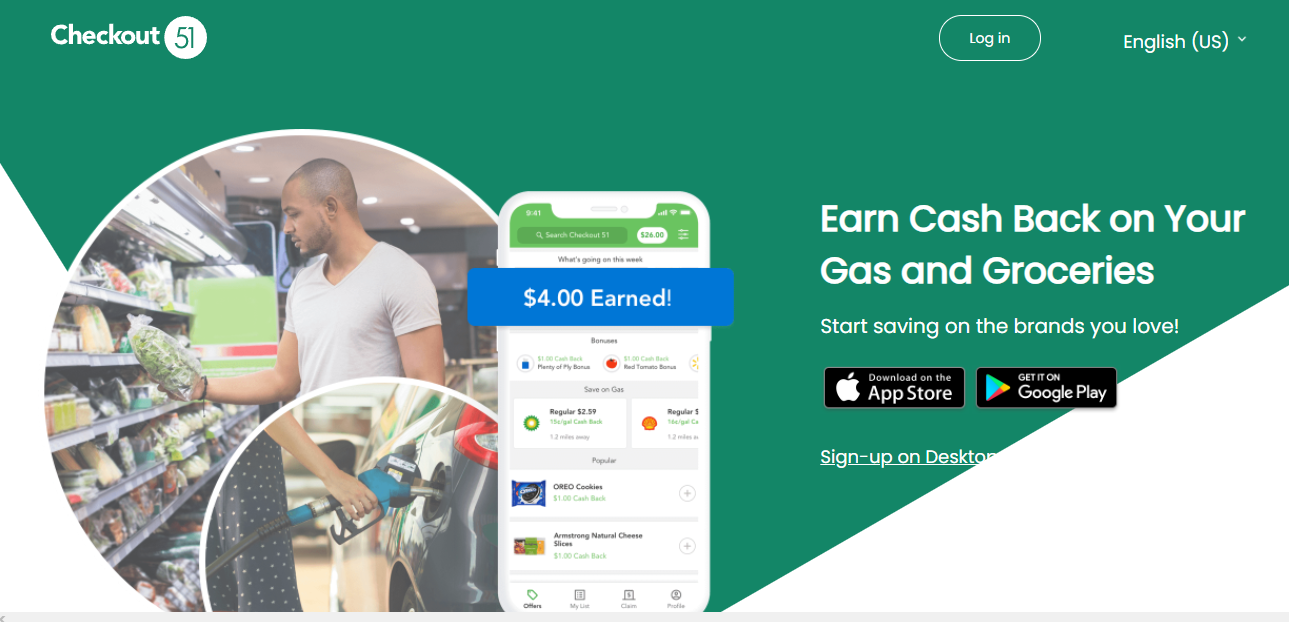 Checkout 51 is a payback app that rewards users for grocery stores, gas stations, and online purchases. This is a free program that is simple and easy to use.
Within the app, you may browse and select offers before uploading a photo of your receipt to validate your purchase. You will receive cashback rebates as a result of this.
Checkout 51 highlights supermarket deals that aren't limited to a single retailer. Any grocery store, drugstore, big-box store, or convenience store can fulfill an offer. There are store-specific specials from time to time, but they are indicated.
Checkout 51, unlike many of its competitors, gives rewards on gas purchases. All gas station promotions are unique to each location. You can browse local gas stations for offers that work for you, add the offer to your account, and then upload your receipt.
On top of that, you can get cashback on your online purchases. Once your product arrives, you must upload a photo of the packing slip to claim credit for online purchases.
You only have two alternatives when it comes to cashback: Checkout 51 will send you a check, or PayPal will send you the money. A paper check has no fees, although it normally takes 15 to 30 days to arrive.
13. TopCashback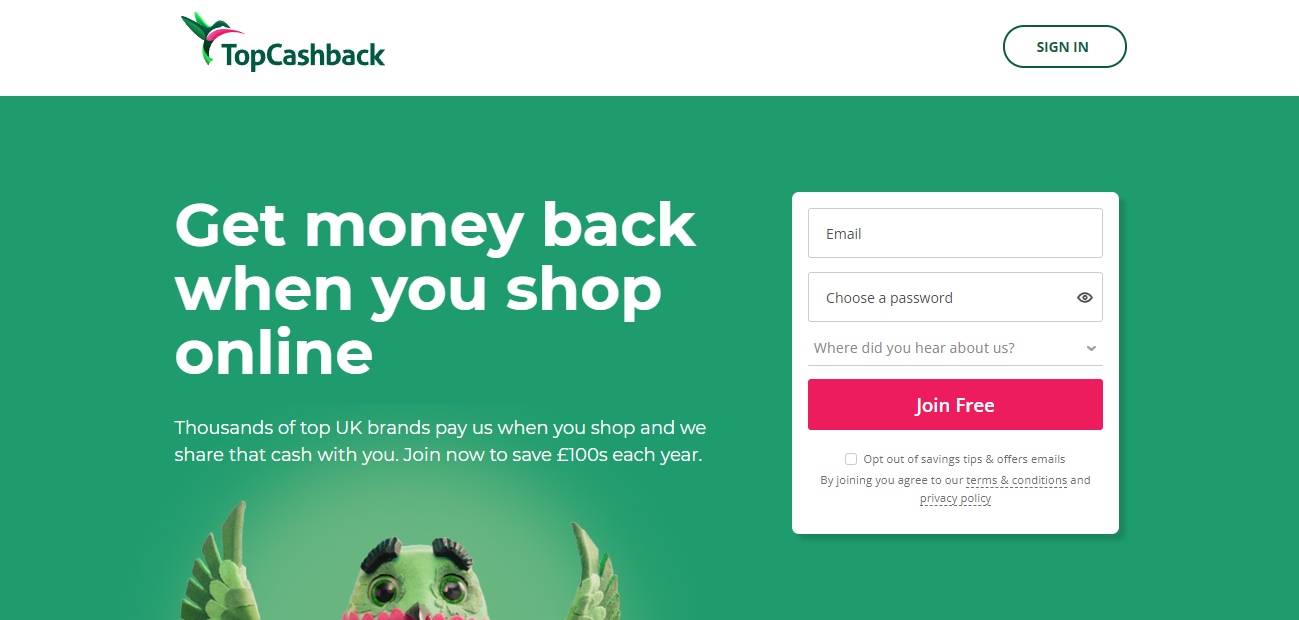 When compared to today's top cashback apps, TopCashBack is an older site. It began in the United Kingdom in 2005 and expanded to the United States in 2011. With over 11 million global users, TopCashBack is currently one of the most popular sites in the country.
TopCashback does not profit from user purchases through commissions. The site relies on affiliate connections, sponsorships, and adverts to make money. On their website, these links are classified as 'zero cashback links.'
Each time a person clicks on one of those links, they get compensated. In addition, anytime TopCashBack generates large, high-profit sales for them, their partners pay them. This allows them to return all of their earnings to their users while still receiving compensation from their partners.
Regardless, this income does not adequately compensate them for the commissions they share with their users. As a result, several features you might find on other sites are unavailable on TopCashBack. They do not, for example, provide a signup incentive.
Furthermore, the site collaborates with over 4,500 stores across the United States.
You can collect cashback from Walmart, eBay, Amazon, Overstock, and other well-known retailers through TopCashBack. That means you can save money on practically everything you buy.
Become a member of TopCashBack by filling out the form below.
The TopCashBack signup process is simple and takes no more than two to three minutes. You can use their website to log in or download their mobile app.
They'll ask you for your email address and password, and you'll be a member in no time. Once you've completed the process, you'll have full access to a list of TopCashBack retailers and their deals.
TopCashBack does not limit rewards to a single payment method. Instead, you have a variety of choices for withdrawing the funds in your in-app account. If you want to withdraw your savings in cash, you can do so by PayPal or an ACH transfer.
You may also use your savings to purchase Amazon gift cards and receive discounts on your purchases. The advantage of using Amazon gift cards is that you will receive a 2.5 percent bonus.
The platform, on the other hand, is slow to payout. You'll have to wait at least 14 days for each method's payout to be processed.
14. Survey Junkie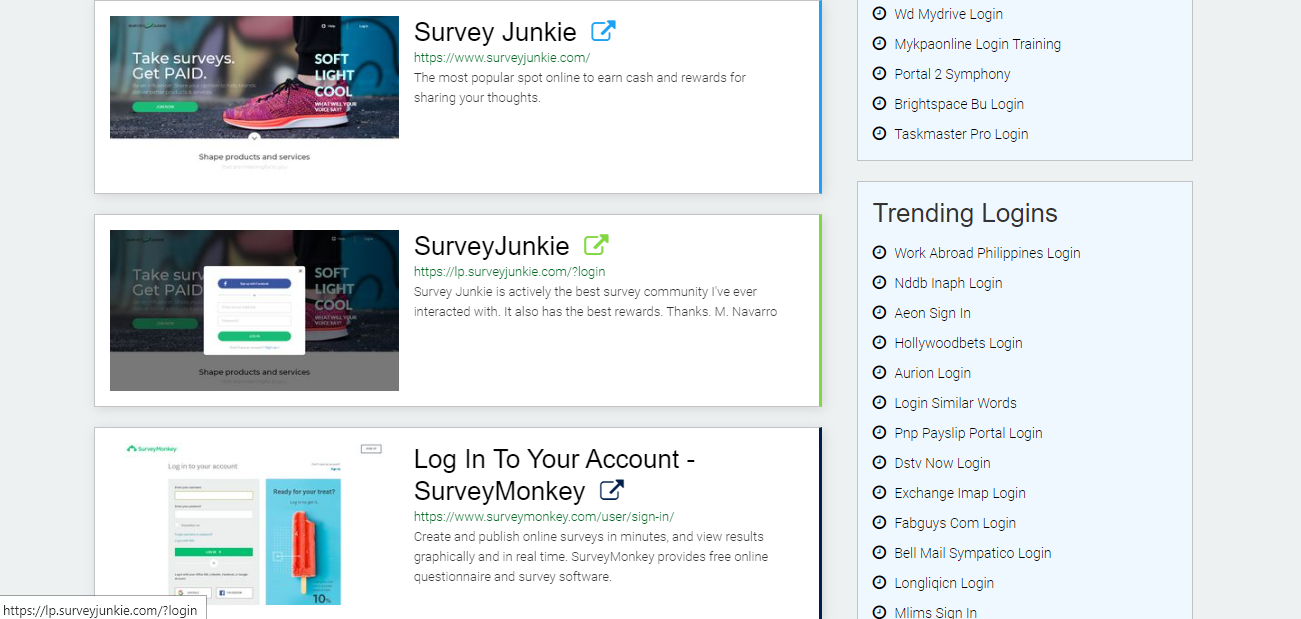 Website: www.surveyjunkie.com
Survey Junkie is a website that rewards consumers for participating in online surveys. You may take Survey Junkie surveys at any time of day or night using your computer or mobile device.
It is completely free to join Survey Junkie. All you have to do to join Survey Junkie is click "Join Now" on the website's homepage.
You can then start your application by logging in with a Google or Facebook account and providing other information, such as your zip code, date of birth, and gender. You'll start filling out your profile by answering questions about yourself once you've created an account.
As you begin the process, make a list of questions you'd like to answer regarding your:
Income
Level of education
Living situation
Pets
Shopping habits
By downloading the Pulse app after creating a profile, you can maximize the benefits you earn.
You can earn additional points for each survey you complete with this browser extension, and you can also gain access to unique incentives by sharing your browsing history. If you install this browser extension on your computer, you'll be eligible for more surveys in general.
The pay is low, ranging from $0.50 to $3 for each completed survey, yet many questionnaires take 20 minutes or less and are rarely difficult or demanding.
Also, keep in mind that some surveys pay out more "points" than others. The majority of contemporary polls are worth between 80 and 150 points, with each point costing one penny.
It's worth noting that you may only redeem Survey Junkie prizes once you've accumulated at least $5 in your account. Although you can exchange your points for PayPal cash, you can also use them to purchase gift cards from popular retailers such as Target and Amazon.
15. InboxDollars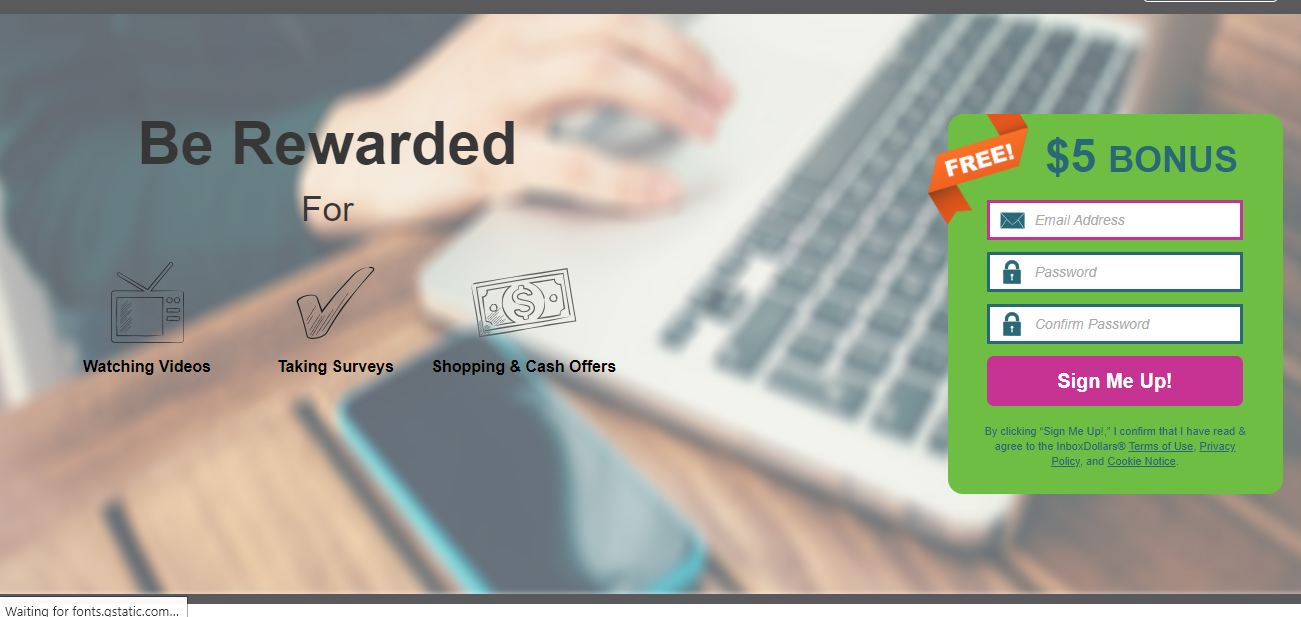 InboxDollars is a website that rewards you for simple tasks like playing games, watching movies, and taking surveys.
InboxDollars.com is mobile-friendly, so you may use it on your smartphone or tablet. The app has a lot of amazing deals to help you increase your revenue.
These offers change frequently, but right now, the platform includes several excellent Android deals that you can complete from your mobile device to make at least $5 in 5 twinkles.
While some of the offers can be completed in a short time, it may take 3-7 days or longer for your earnings to be credited to your account. With InboxDollars, users can earn money in a variety of ways. These are some of them:
Participating in scratch-offs
Playing games
Shopping online
Taking surveys
Trying offers
Using Inbox Dollars' search engine
Watching videos
If InboxDollars has a flaw, it's that it has a relatively high cash-out minimum. You will not be able to request your first payment until you have earned $15. Additional payment requests, on the other hand, can only be submitted once you have a $10 rewards balance. You can cash out with PayPal, an eGiftCard (such as an Amazon gift card), or a prepaid Visa once you've earned $15.
16. MobileXpression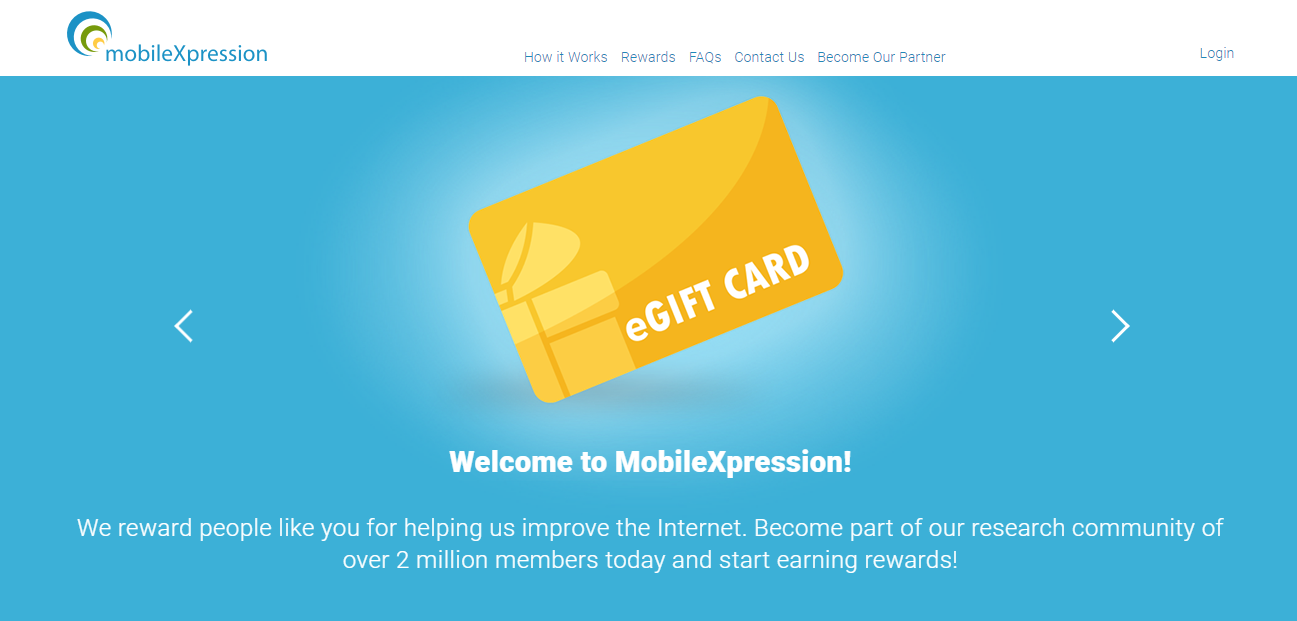 MobileXpression is a market research firm that rewards you for merely downloading and installing their app on your smartphone. The app tracks the patterns and habits of people who use their smartphones to access the internet.
How to Get Started with MobileXpression
You must be at least 18 years old and have a mobile device that is compatible with the MobileXpression app to become a member. You should also be able to use your phone to access the internet.
After you've signed up and installed the app on your phone (or tablet), it collects information about your mobile phone usage in the background. The websites you frequent, your buying habits, app usage, and other aspects of your life are all tracked.
The app sends your internet traffic through a virtual private network (VPN) for data collection. When properly installed, the app is virtually maintenance-free.
You may receive surveys from the company regularly.
You can win a $10 Amazon gift card if you keep the app installed for one week (7 days). You will continue to earn credits for the app installed each week if you stay an active member after the first week.
You can use these credits to buy gift cards from places like Amazon, Home Depot, and Dunkin Donuts. Sweepstakes are also held by MobileXpression, with prizes ranging from $1,000 to $100,000.
Finally, if you keep the app loaded for 90 days, they will give a tree to Trees For The Future. They have planted around 18 million trees as of this writing.
17. MyPoints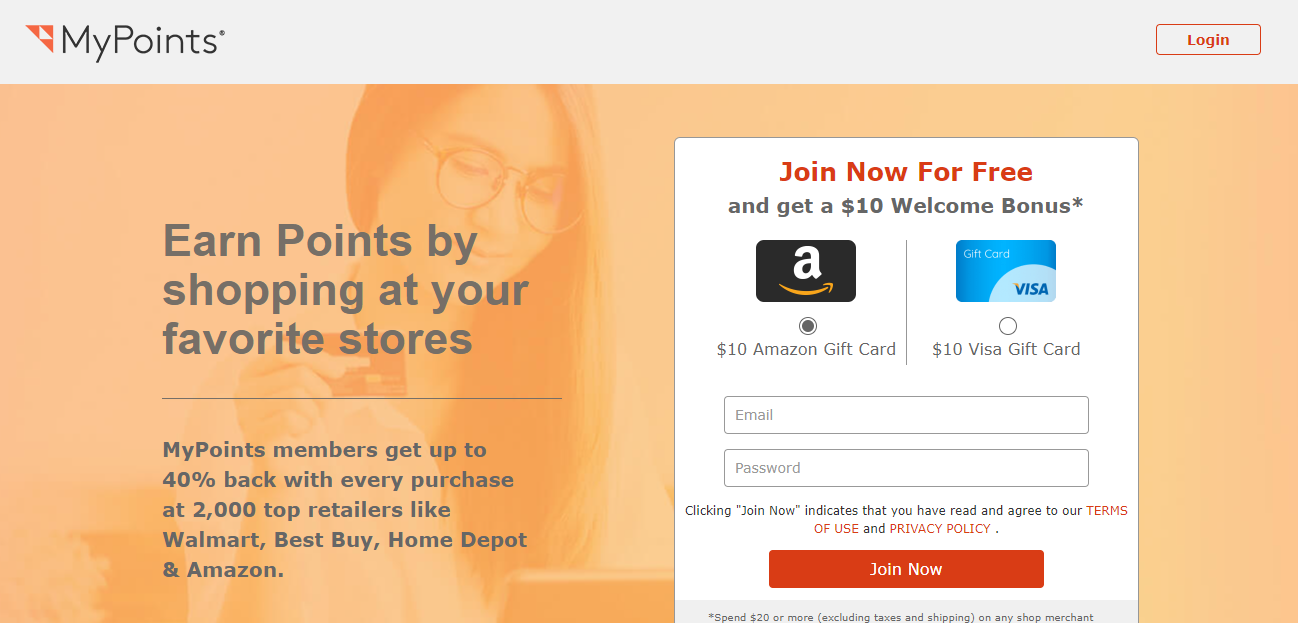 MyPoints is an online rewards program that gives points for online shopping, surveys, viewing movies, and playing games. They have about 20 million active members and have been around since 1996.
MyPoints is available online and as a free mobile app. Signing up with MyPoints is free, and you can earn points immediately.
Points can be redeemed for cash, gift cards, or credit to your United MileagePlus account using PayPal. Popular shops such as Amazon, Barnes & Noble, iTunes, and others provide gift cards. The value of the points is determined by how they are redeemed.
It is completely free to join MyPoints. You'll also get an extra 1,750 points if you spend $20 through MyPoints at any partner merchant within the first 30 days of membership , enough for a $10 gift card! Simply by signing up, you can receive one of the greatest amounts of points we've seen.
You can exchange your points for gift cards, PayPal cash, and other items. You can even get a credit to your United MileagePlus account when you redeem.
MyPoints is perfect for couponers, those trying to make some additional money, people who enjoy expressing their ideas, people who spend a lot of time online, and internet shoppers.
18. Mistplay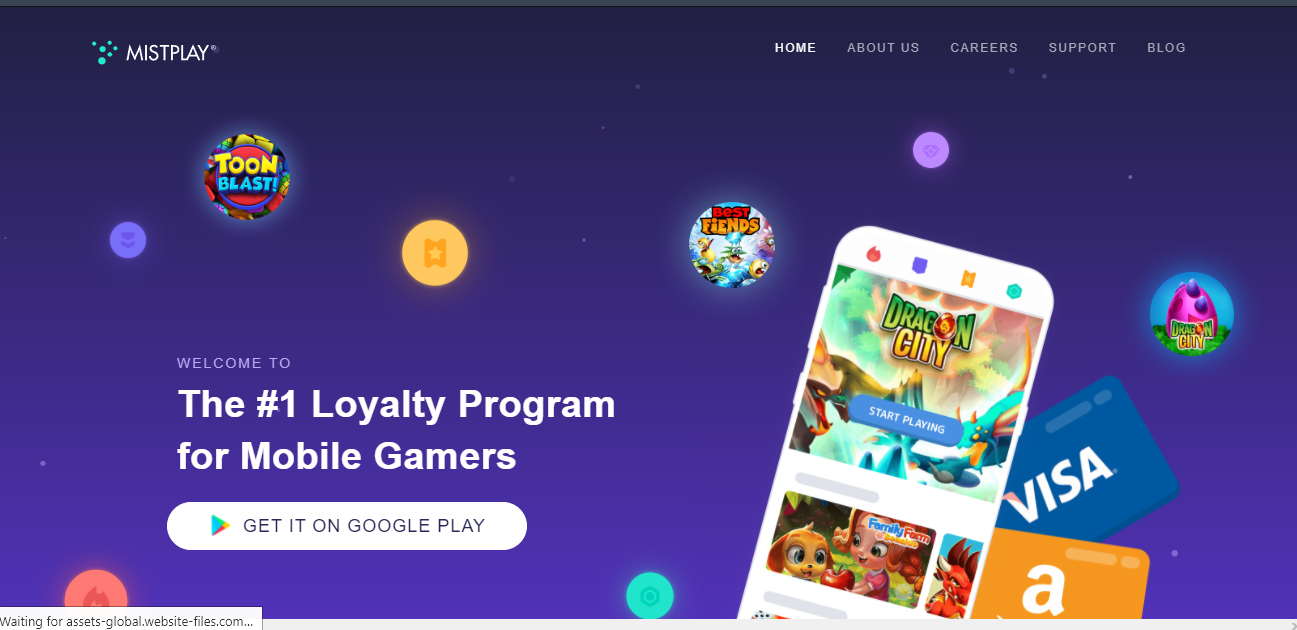 Mistplay is a game app allowing users to play various games. Mistplay isn't a game in and of itself but rather a platform for gamers to discover new games and earn money while doing so. The site has a loyalty program that rewards players in the form of points.
These points can then be redeemed for prizes like gift cards and Steam credits, among other things.
There isn't much room for new games in the mobile app sector, which is extremely saturated. Game creators are aware of the issue and use reward platforms like Mistplay to promote their games to a larger audience.
The game developers pay for Mistplay in exchange for their games being featured on the Mistplay platform. Developers also use Mistplay to conduct research and collect feedback from gamers.
How To Get Started With Mistplay
To begin using Mistplay, go to the Google Play Store and download the Mistplay app to your Android phone to begin earning money.
After you've completed this step, you'll need to make a few changes to your phone's settings for the Mistplay app to work properly. These modifications are as follows:
Allow Mistplay to be displayed above any other apps that are running
Make sure that your phone's power-saving mode is disabled.
Collecting points allows you to earn money and earn points by playing games. After you've accumulated the required number of units, you can use these points to redeem a range of gifts.
You don't want to waste time installing and signing up for the Mistplay app if you're not qualified to earn or play. You must live in one of Mistplay's approved countries. The United States, Canada, Singapore, and a large number of European countries are among them. Also, Mistplay is rated T for teens ;so anyone 13 years and older can use the app.
Once you've accumulated a certain number of units, you may easily exchange them for rewards. The Tango card, which is Mistplay's companion, can be used to conduct this exchange.
You may exchange your points for in-app credits or gift cards from a variety of online stores and businesses. To obtain access to specific games, in-app credits are used.
Within Mistplay, 1500 units are worth $5.00 when exchanged for a Visa card, and 3,000 units are worth $10.00 in Steam Credit. Some of the gift cards can be used at Amazon, Xbox, PlayStation, GameStop, and Google Play, among other places.
19. Lucktastic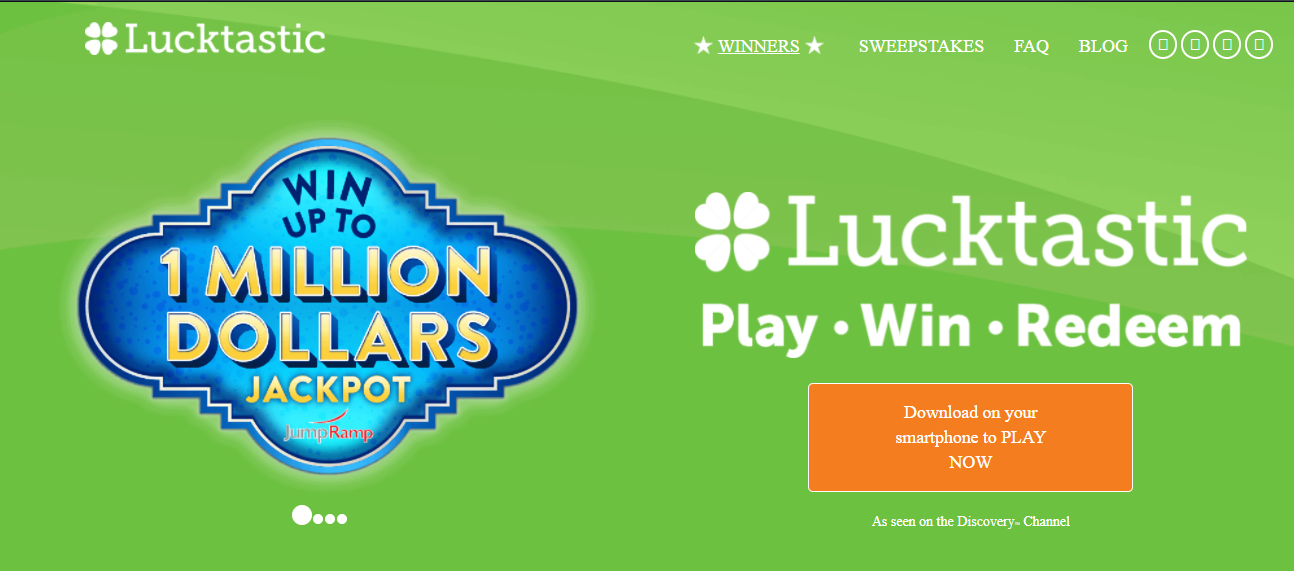 Lucktastic is a game and scratch ticket app that allows users to sign up and start playing games and scratch tickets for prizes.
Users gain tokens or cash for each game they play on Lucktastic, which is completely free to play. The average game lasts about 30 seconds, and users must view a 30-second advertisement before playing.
Lucktastic is a legitimate app that has rewarded over 220,000 individuals with prizes. While significant winnings are rare, ordinary users can cash out several hundred dollars in prizes each week.
Although this technique of earning money from your smartphone is less consistent than surveys and other methods, Lucktastic offers a bigger payoff than some other apps.
It's simple and quick to get started with Lucktastic. In just a few minutes, you may start earning money and prizes.
Getting Started
The first step is to get the Lucktastic app on your phone. To get started, all you need is your zip code and to be in the United States. After that, you can start earning prizes and cash by playing games and scratching tickets.
Of course, your registration isn't complete at this time. You can, however, 'try drive' the app before completing the enrollment procedure to ensure that you enjoy it.
As long as you have the app on your phone, the app will save any coins and cash you earn while unregistered.
You can register at any time, but you must do so before you can receive any incentives. You can register using either your email address or your Facebook account. You'll only need to provide your name, address, and password to begin making money today.
This app allows users to earn both cash and tokens. Simply by signing up, you can earn $1. You can cash in your award right now if you've earned at least one dollar.
Some scratch tickets are redeemable for cash, while others are redeemable for tokens. You must use the Dwolla app to cash out. This app is free to download and may be used to send money to your PayPal account or direct bank transfer.
20. Sweatcoin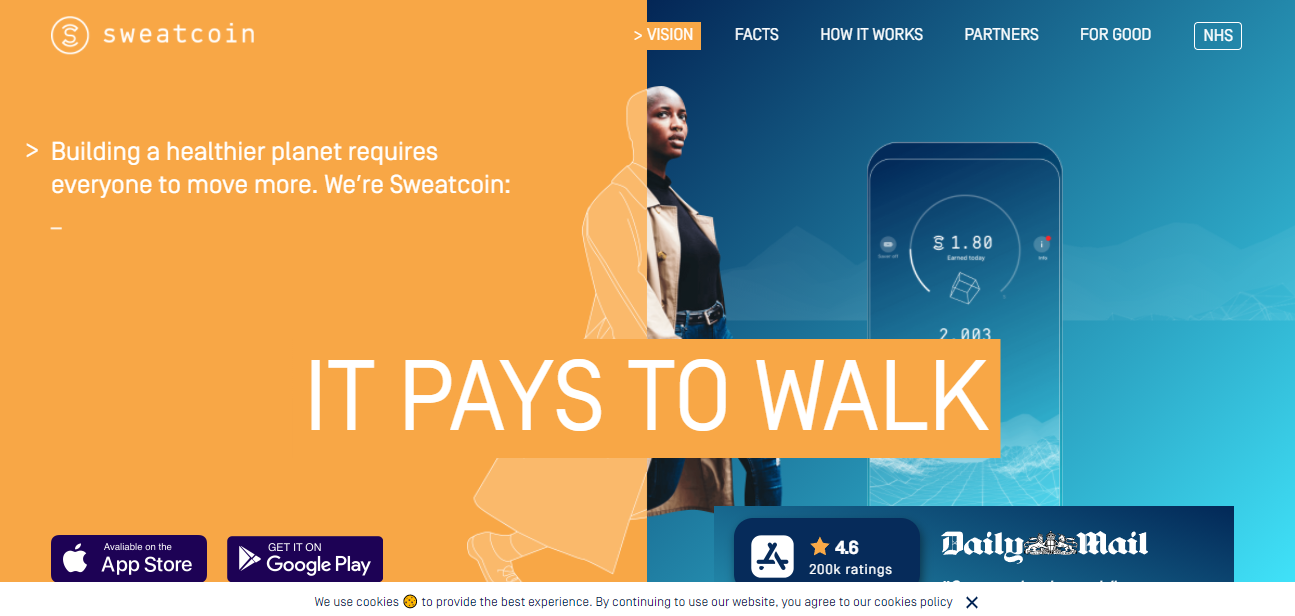 Do you know that you may earn money by walking? Isn't this fascinating? Getting paid to perform something as trivial as walking, which most people do daily.
First and foremost, you must download and install the app on your smartphone. You can, and you'll be ready to start earning sweat coins in a matter of minutes. You can start walking when you've set up the app. Allow the app to track your steps in the background by allowing it to run in the background.
Sweatcoin will track how many outdoor steps you take and award you with 0.95 sweat coins for every 1,000 steps. Of course, this isn't a huge sum, but if you keep the app running, each step adds up, and you'll be able to take advantage of one of the deals in a few weeks.
When you've accumulated enough sweat coins, you may trade them in for one of the various incentives available in the daily deals.
Sweatcoin began by focusing on fitness-related products. However, it has since expanded to include holiday vouchers, restaurant discounts, and even incredible deals on items such as a Samsung TV, an Apple Watch, or an iPhone with 20,000 sweat coins.
21. Trim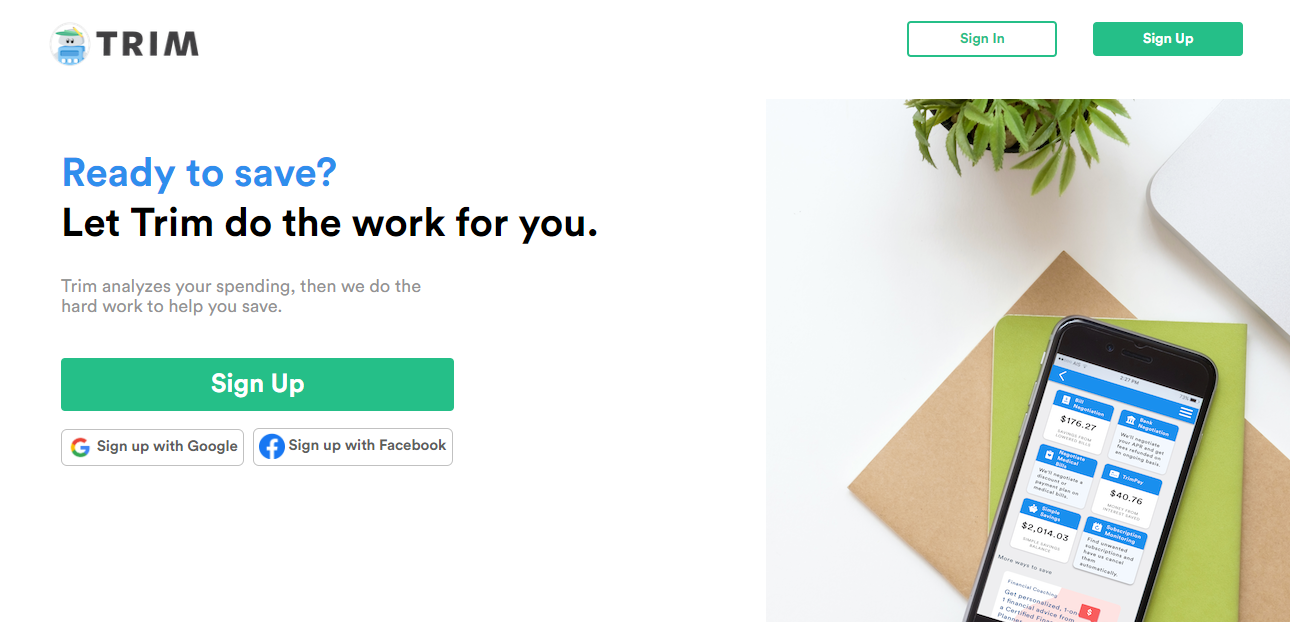 The best way to make money is to save money ; that's what Trim helps you to do. There are a plethora of budgeting apps available to help you save money but Trim is different in that it analyzes your bank account for ways to minimize spending you may not even be aware of.
Trim was created to assist you in saving money by acting as your financial advisor. Many people refer to Trim as a money-saving app, yet it isn't available on the App Store or Google Play.
To register, go to www.asktrim.com. Trim would then communicate with you via SMS text messaging or Facebook Messenger. It feels like you're having a conversation with someone about your finances, but it doesn't take long to realize you're conversing with artificial intelligence.
Trim can help you discover new ways to manage your finances and save money, often in ways you didn't realize were possible.
22. Nielsen Computer and Mobile Panel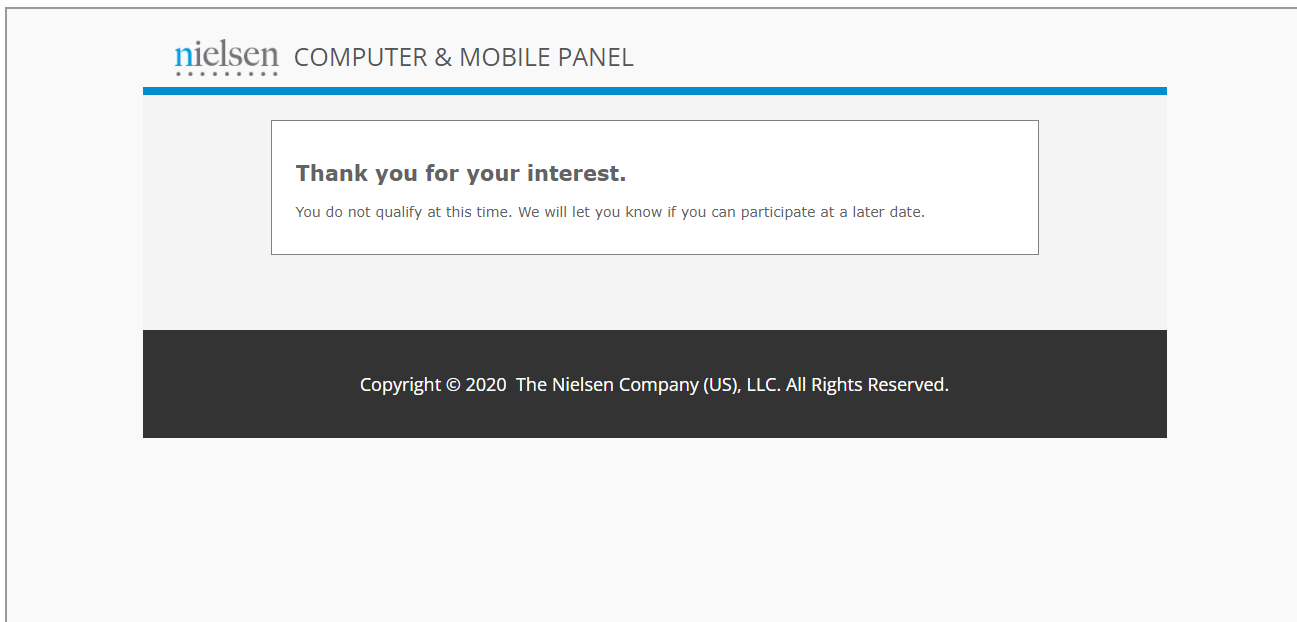 The Nielsen Mobile Panel is a smartphone and tablet app that tracks how people use their internet-connected devices. This software is known as the Nielsen Digital Voice Panel in some countries.
Nielsen Computer & Mobile Panel is one of the most passive money-making apps available. It compensates you merely for downloading and installing the program on your mobile device. The program runs in the background, gathering and transferring statistics about your internet usage to Nielsen.
Your information is stripped of any personally identifiable information and combined with that of other panelists. You'll probably forget about the app once it's been installed. App usage does not degrade the performance of your device or deplete the battery.
Furthermore, how much or how little you use your smartphone makes no difference. Regardless of what data is accessible, the software captures it and compensates you the same.
To get started, you simply:
Sign up and confirm your email address.
Answer a few questions about your demographic information.
Indicate how many devices you have and which ones you want to register (you're not required to register them all).
Install the app on your devices.
For individuals that download the app on their mobile devices, Nielsen offers a points-based reward system. Users earn points that may be used for gift cards at places like Amazon, Target, and Starbucks.
Your points can be tracked on your profile page. Before you can cash out, you'll need to earn roughly 800 points (equal to $5). Unfortunately, PayPal does not offer a cash option, but you may always sell your gift cards on a site like Raise.
23. YouTube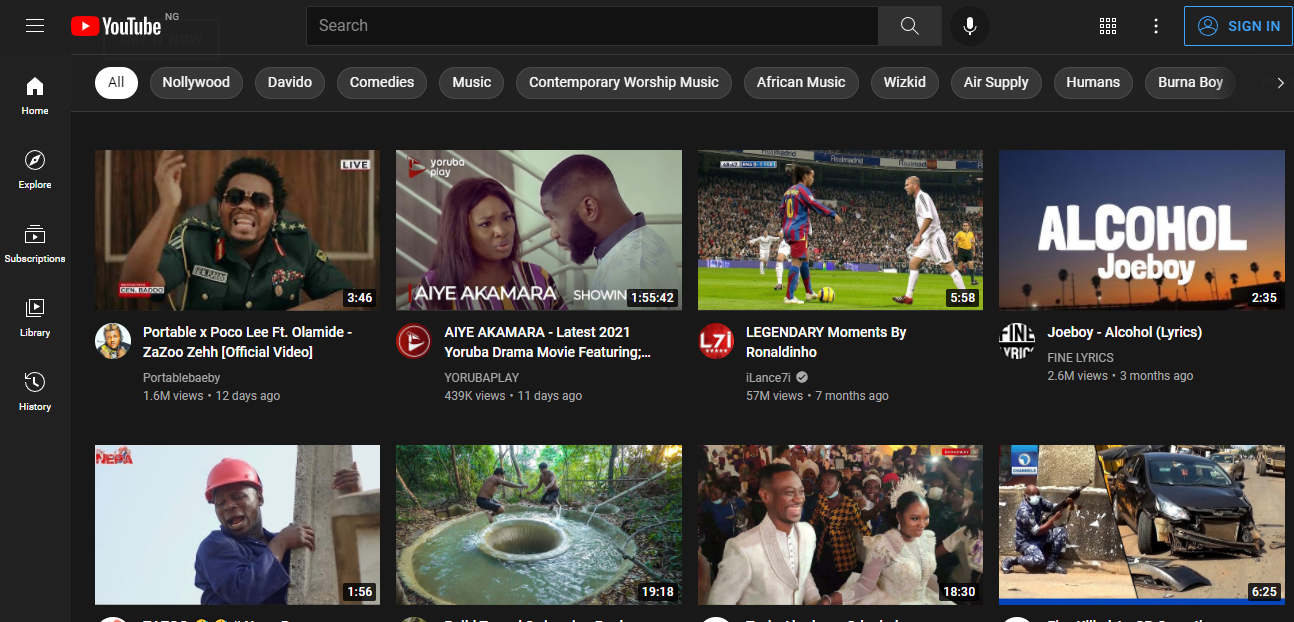 Creating a YouTube channel and nurturing it till it gets millions of views and subscribers is one of the biggest trends when it comes to making money through apps.
You can turn YouTube into a legitimate career-building platform with an exceptional strategy and dedication. People are making tons of money producing YouTube videos every day.
How to create a YouTube channel?
Getting a new channel set up is a simple and quick process.
1. Go to YouTube and sign in.
Head over to YouTube.com and click 'sign in' in the top right corner of the page. Then log in using the Google account you'd like your channel to be associated with.
2. Head over to your YouTube settings
In the top right corner of the screen, click on your profile icon and then click "Create a channel."
3. Create your channel
Next, you'll have the option to create a personal channel or create a channel using a business or other name. For this example, we'll choose the "Use custom name" option recommended for small businesses and brands. Next, you'll name your channel.
After this step, you'll have the chance to customize your channel further. You'll see options for:
Uploading a profile picture
Adding a description of your channel
Adding links to your sites – this can include custom links to a website or blog as well as social links to Instagram or Twitter.
Congratulations! You've just created a new YouTube channel!
How to make money on YouTube?
Once you start a YouTube channel, you can join the YouTube Partner Program to get access to special monetization features, including the capability to serve advertisements, display products, and more. While joining is fully voluntary, it gives one access to various channels for making money, including Premium subscription freights and a wares shelf.
Another way to make money on YouTube is by dealing with the merchandise. You can promote other people's products, sell your own, or even create a new collection based on content. It's important to note that making deals through your videos is only effective when you have a large following.
Produce patronized content
One of the most popular ways YouTube influencers make money on YouTube is by creating patronized content. Many businesses and brands pay a hefty amount to famous YouTube for creating a video that are dedicated to selling their products.
24. Facebook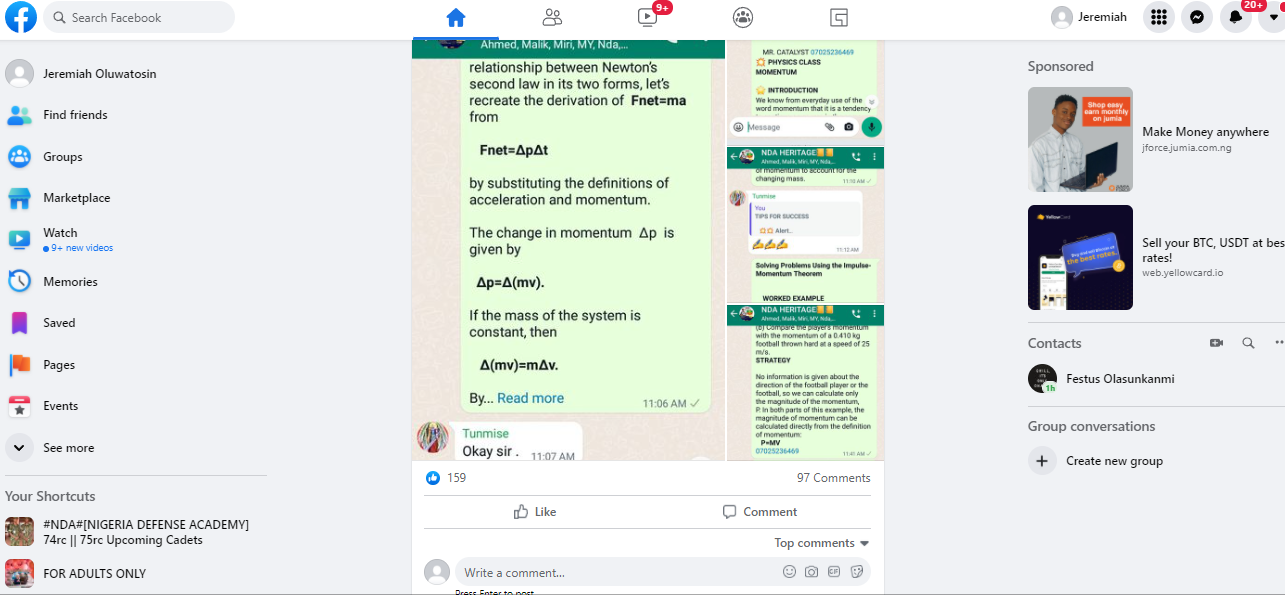 Facebook is the most popular social media platform that teems with millions of users around the group. More than being just for fun and communicating, this platform offers many money-making abilities which are mostly overlooked by many.
The best way to make money on this platform is by leveraging on a large audience base and active followership. You can increase the number of your audience by consistently engaging relevant, useful information that your type of followers needs.
How to make money on Facebook?
Here are some ways you can cash out on Facebook:
Promote Affiliate Products on your Facebook page
If you have a Facebook group or page with lots of followers, it's time to start cashing out by promoting another business for a commission.
You simply just have to place the link in one of your posts to your audience and help them see the benefit of buying based on your recommendation.
This strategy works effectively if your product is related to your audience's interest. Note that you can also sell your product on Facebook and utilize the app like an e-commerce store.
Produce a Simple Facebook app.
The app doesn't have to be a complex one. You can come up with the idea and create simple, fun apps that users on Facebook would enjoy using frequently. You can make money through in-app purchases or announcements.
Digital marketers, businesses, and brands are on the lookout for Facebook influencers with massive followings for paid ads. You make money when you share their ads with your audiences. The more engagement you have with your followers, the more you're likely to be offered.
Get people to pay you for patronized likes and shares
Many people are looking for ways to get lots of likes and shares on their videos or posts. You can earn lots of cash by promoting other people's social links on your group or page. You earn more based on the number of likes the other person gets.
Publish videos on Facebook.
Watching and streaming videos on Facebook is similar to that of YouTube. You can also create and upload videos on Facebook and earn money for included ads. Facebook offers 55% of the profit generated to the content creator and keeps 45%.
Related : 15 ways you can make money with facebook
25. Cost Prices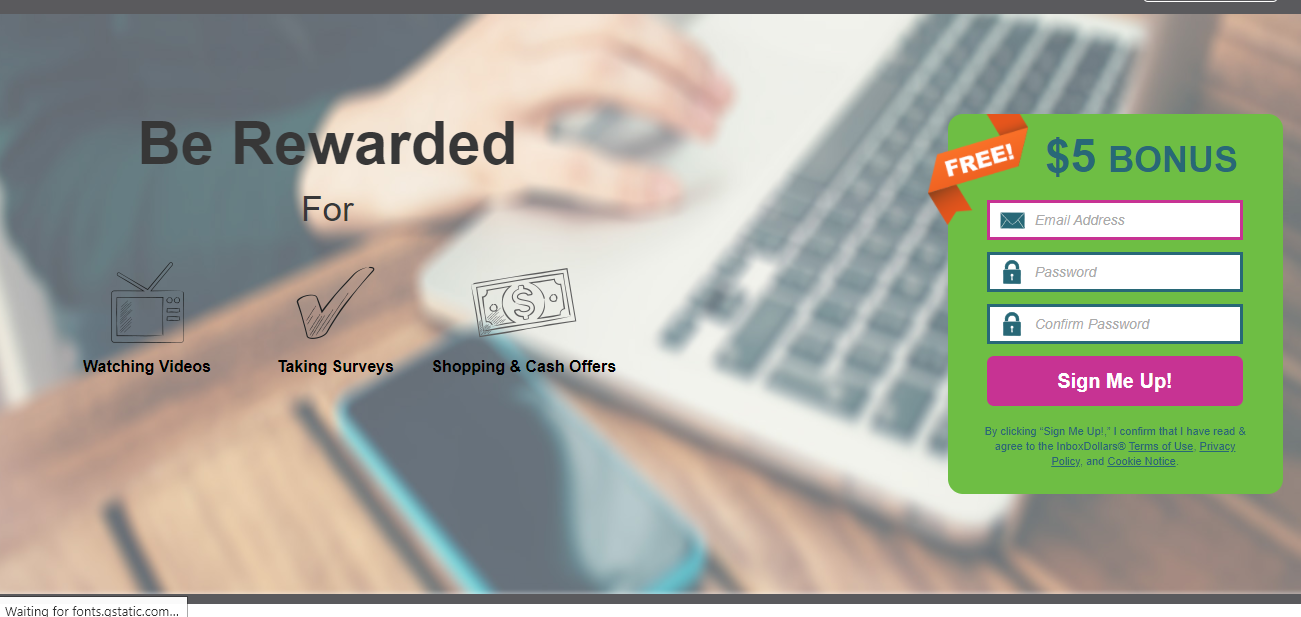 This is another free grocery savings app simulator for iBotta. Save cash on grocery bills by uploading the receipts on the app and earn points you can redeem for hundreds of different gift cards, including eBay, Amazon, Nike, Target, Macy's, Cabela's, and more.
You get free points (worth $3 in value) when you sign up using the promo code "APREWARDS."
Cost prices allow its users to earn cashback on online and in-store purchases at retail chains and brands. While it initially covered only groceries, it has expanded to include pet supplies, entertainment, venture, and other orders today.
The offers available on the app can be retailer or item-specific and some can be applied automatically. For others, you may be required to complete a simple task, from taking a bean to watching a video.
Conclusion
Depending on your needs and preference, you can explore many great options in the list compiled above. Some are more passive than others; some pay more but take more time. Whatever works for you, the choice is yours.
Also, there're tons of other great money-making apps out there; you can do further research online but beware of scam sites or apps. Conduct thorough research on an app to assess its legibility before joining.
Like I've said countless times in the article, these apps are not get-rich financial options but rather a means of earning extra cash.