Last updated Mar. 12, 2023 by Favour Chinaza
Do you want to find out how many people visit a website? Website traffic trackers are great free tools that give you an idea of how many visitors visit a website. In this article, 31 Best Website Traffic Trackers of 2023, we'll talk about the best website traffic checker tools, the information you can get from them, and how to use them in your marketing campaigns.
Keeping track of who visits your website can tell you important things about:
How people use your site, like which buttons they click, which pages they visit, and which paths they take.
Key statistics and metrics about your site's traffic include page views, bounce rates, traffic sources, and demographic information about your audience.
The businesses that visit your site and how they act.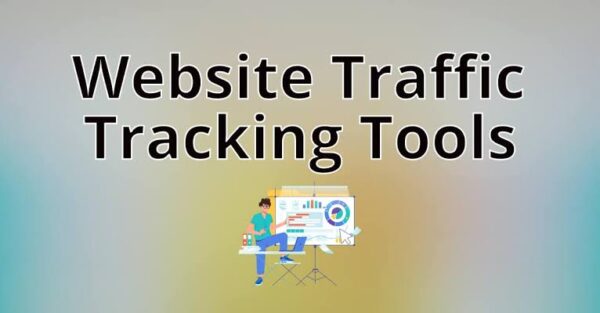 Website Traffic Tracker Tools
Traffic checker tools that show you how much traffic your competitors get won't give you exact numbers. However, they can help you understand how a website is doing and what keywords it ranks for.
To track live website data, use the right tool. Here, we've put together a list of real-time website checker tools that protect your privacy and give accurate data.
Google Analytics is the first tool to mind when tracking live website traffic. Any website owner can use it to track who visits their site (or live users on their website).
Google Analytics has changed, though. Google has already released GA4, which is different from Universal Analytics (or GA3), especially when measuring things in real-time.
Can You Get Your Competitor's Website Traffic?
Because most websites do not publish their statistics to the public, obtaining accurate figures for your competitors' web traffic is difficult. As a result, it makes analyzing your competition difficult, if not impossible.
With this in mind, you can look for a website's "advertising page." It may contain marketing materials, demographic information, and monthly traffic data.
If you have a website and want to see how much traffic it receives quickly, some specialized tools called traffic checkers or trackers can assist you.
Since you cannot obtain web statistics from your competitors' websites and they won't provide them, you can use various free/paid tools to learn more about them and how you can outperform their campaigns and strategies.
These tools will also assist you when advertising on a website because you will know ahead of time if it will fit with your campaign.
Related: Wix vs. Squarespace: Choosing the Best Website Builder
What is Web Traffic?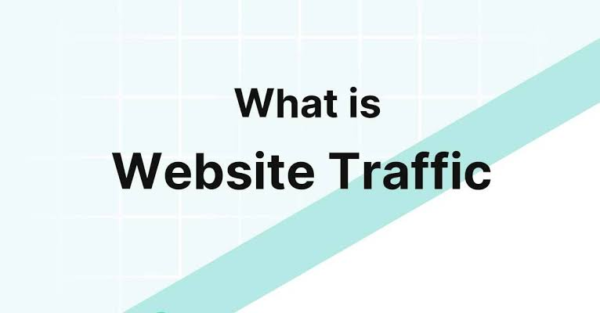 Before taking a closer look at the different tools for the analysis of web traffic that you can find, it is necessary to define the term "traffic" when we talk about the Internet.
The word "traffic," in the internet context, means the number of visitors a web page gets. And this is a quantity that is used to measure how successful any page is.
How does traffic enter your website? Is there a way to increase it? These are some essential questions that need answers to become famous online. You can obtain these relevant data through specialized tools to analyze web traffic.
These analytics tools are handy when checking the web traffic on your page. Also, plenty of free online services can give you an overview of the traffic on another website—which you can use to better your content, advertising, and marketing strategies.
Why Should You Check the Web Traffic of Your WebPage?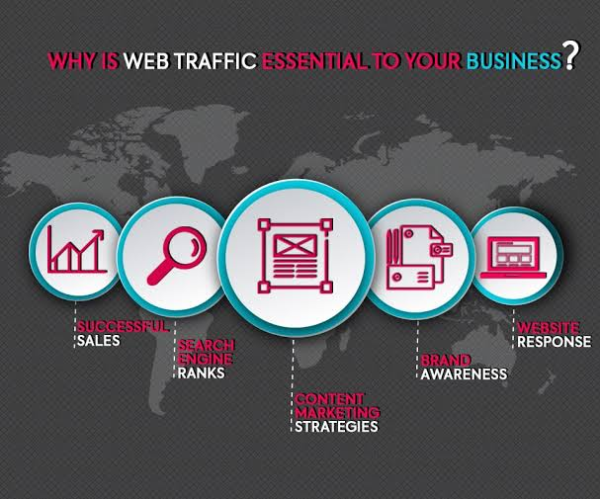 How popular a web page's content, products, or services are can be seen by how much traffic it gets (or how much traffic a website receives in general). As a business owner or web analyst, you can use this number to determine how much traffic your website needs before you can call it successful.
For example, if you want to create a blog on a particular topic, you should first find out how much traffic your significant competitors' sites get.
A detailed analysis of your competition lets you see what strategies they use, what works (which you can copy), and what doesn't (which you can change or improve on your site) so you can come up with a better strategy can use on your website.
You can also improve your marketing and advertising campaigns using analytics data from another website. For example, this will let you put ads on pages and blogs that your target audience reads, increasing the number of people who buy from you.
You can also look at how many people visit these pages to see if it's worth investing in them. The more people visit the page, the more your ads will be seen, which means more people will see them.
The Advantages of Using Website Tracking Software
Enabling tracking software on your website has numerous advantages. Most notably, you can use this software to:
Discover how many people have visited your website.
Determine which pages on your website users have visited and where they have come from (source and geographic location)
It tracks any action on your content and collects identifying information to assist you in following up with a visitor as a potential lead.
The good news is that these tools are not intrusive and do not violate privacy laws because users consent to have their information tracked on your website by accepting your cookie pop-up.
Furthermore, much of this information is in the public domain, meaning anyone can access it. As a result, you can use this information to attract more customers and increase sales for your company.
How Do I Check Website Traffic?
A web traffic checker like SEMrush, Ahrefs, or Google Analytics is probably the easiest way to see how many people visit a website.
Depending on your tool, there are different ways to check website traffic. Many of these tools only require you to type in the website's URL and click a button. For example, Neil Patel's Website Traffic Checker only needs you to type in any website's URL and click the "Check the Traffic" button.
Once you've chosen a tool to track web traffic, you might want to set up a tracking schedule. This schedule will let you keep an eye on web traffic without getting in the way of your work. Don't forget that you can use these tools to look at what your competitors are doing and your website traffic.
31 Best Website Traffic Trackers in 2023
1. SERanking Traffic Tracker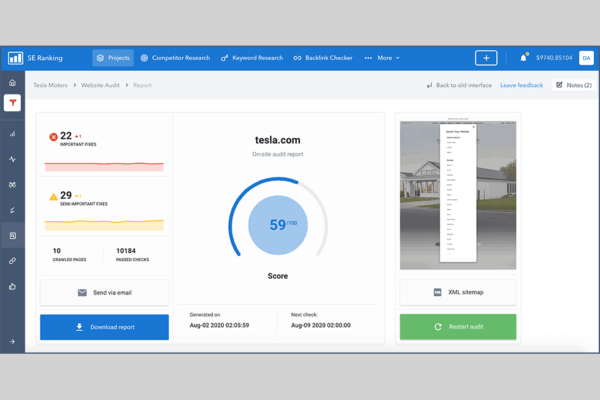 Price: Starts at $39 to $189 per month
G2 rating: 4.7/ 5
Best for Real-time Analytics
On the list of our 31 Best Website Traffic Trackers is SE Ranking, a powerful SEO software. The tool performs a deep SEO analysis of your and your competition's websites. SERanking assists you in determining where you're doing things correctly (or incorrectly in the case of your competition's website). Also, it shows you where you can improve at all levels, resulting in a detailed report that is extremely useful.
This is made possible by its technology and the ability to connect the account to Google Analytics and Google Search Console. Allowing users to conduct a comparative analysis of the competition on scales like:
traffic forecasts
average position of high-quality keywords, and
level of organic traffic.
This website tracking tool has advantages and disadvantages, but it should be your top priority if you want accurate and detailed website traffic reporting.
SE Ranking Plans and Pricing
The SE Ranking has reasonable pricing for the features it provides. Pricing ranges from $39 to $189 per month.
SE Ranking has three user pricing tiers: Optimus, Plus, and Enterprise Plan. The Enterprise plan is the most comprehensive option, as it includes every function that SE Ranking has to offer, including:
Tracking of 20,000 keywords on an unlimited number of websites
Monitoring of 700,000 pages per site and other backlinks.
Unfortunately, SE Ranking does not have a free version. However, they provide first-time users with a demo account and a 14-day free trial period to test drive the tool before deciding whether it's worthwhile to purchase. Begin your free trial here.
2. Google Analytics Traffic Tracker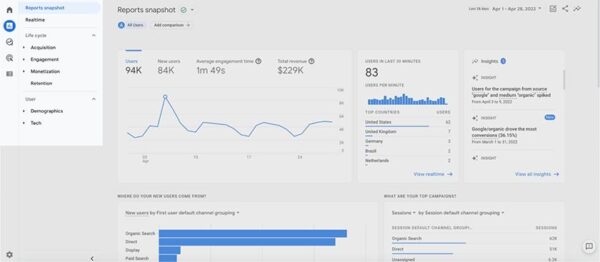 Price: Free
G2 rating: 4.5 / 5
Best for Real-time analytics
If you've looked for website analytics tools on the Internet, you've probably come across Google Analytics. Because of the name, you can tell it's a Google tool, hence its wide use.
Regarding features and functions, Google Analytics has done a great job. For example, the tool has several ways to find sites that aren't doing well. One of these is funnel visualization, which shows the following:
where visitors are coming from
where they live, and
how long they stay on the site, etc.
Another essential part of Google Analytics is the Cohort Analysis feature. This feature lets you know how your users act and give you information that big companies pay a lot of money for.
You'll also get a lot of advanced features, like Custom Visitor Segmentation.
What Can You Track with Google Analytics?
Real-Time: You get real-time analytics reports about the activity on your website, including who just visited or clicked on a page or product.
Audiences: Demographic information about your users is recorded and reported.
The acquisition: You get to see where your users are coming from, primarily through your SEO, SEM, Social Networks, and other communication channels. It helps you determine which medium works best to increase your website's traffic.
Behavior: Here, you can see where users have browsed, what specific pages they have visited, and other data related to the user experience.
Conversions: Your users' engagement with your website is being tracked. It means you know how many people signed up for your newsletter, purchased your product, etc.
Google Analytics Pricing and Plans
There are both free and paid versions of Google Analytics. Small business owners can use the free version without spending a dime. However, if you want more advanced features, pay for the paid version (Google Analytics 360).
But Google Analytics 360 is very pricey. An annual subscription can cost up to $150,000.
Related: 10 Best Websites for Making Money Online for Students
3. CRAZY EGG Traffic Tracker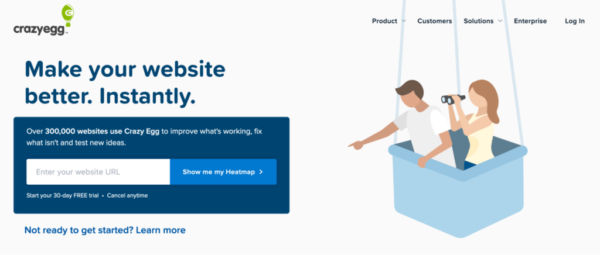 Price: Starts at $29 per month
G2 rating: 4.2 / 5
Best for: Recording Sessions and tweaks to the website
Crazy Egg is a fantastic tool that provides a bird's-eye view of how your website's visitors interact with it. The tool gives you data about how your visitors interact with your website via:
Recordings
Heatmaps
Snapshots
Snapshots include which pages they visit, where they came from, and other information. All this information helps improve the user experience of your website.
What We Love about CRAZY EGG
What we love about the Crazy Egg website tracker tool is its heatmap, recording, and A/B testing capabilities. They are some of CrazyEgg's best features.
One innovative approach they provide is the ability to change the website elements on which they are installed. Consequently, it helps customers act directly on the user behavior data they receive. So, in addition to learning about user behavior (how users click, move, and scroll), you can directly edit your web design to respond to those patterns.
The Website traffic tool is more appropriate for business owners and online entrepreneurs. It has all the features needed to develop effective business strategies and automate the process while preserving your input.
Since Crazy Egg does not suffocate you with technical "stuff," you can easily learn to use the tool whether you are an online business newbie or an expert.
Crazy Egg isn't some "new kid on the block" website analytics tool; they've been in the business for a while, and their services are trusted by some of the world's top companies—a testament to their effective solutions.
CRAZY EGG Plans and Pricing
The website tracker does not come with a free version. However, there is a free trial period during which you can personally evaluate the tool. After that, their pricing starts at $29 per month. After that, the price can go up to $189 per month, based on your specific needs and the plan choice.
If Crazy Egg's pricing fits your needs, go for it! It's a reasonable price to pay for the features they provide. Check out the traffic tool by clicking here.
4. UberSuggest Traffic Tracker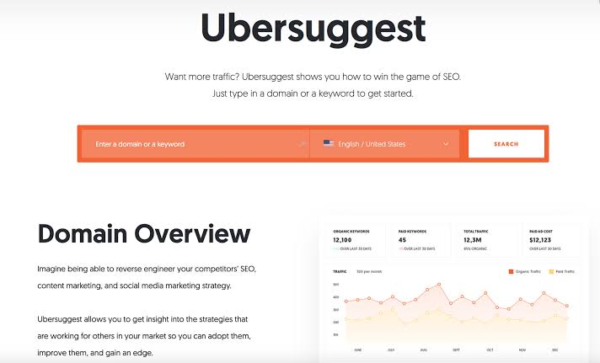 Price: Starts at $29 per month
G2 rating: 4.5 / 5
Best for: SEO tracking
Neil Patel's Ubersuggest is possibly the most affordable SEO tool available. The tool provides detailed keyword analysis, helpful information about your competitors, keyword suggestions for your content, and assistance finding new content ideas.
Despite being free, Ubersuggest competes with primary paid tools such as SEMRush, Moz, Ahrefs, and others. However, the free version includes features for freelancers and most small to medium-sized businesses.
You'll need to upgrade to the premium version for more advanced features. However, the Pro version of this SEO tool costs only $29 per month, which seems reasonable for what Ubersuggest provides.
Their customer service is excellent, but it is only available through a live chat widget on their website. Furthermore, the tool's developer is constantly updating and improving it so you can give it a shot. So start checking your SEO Analytics right now.
5. MIXPANEL Traffic Tracker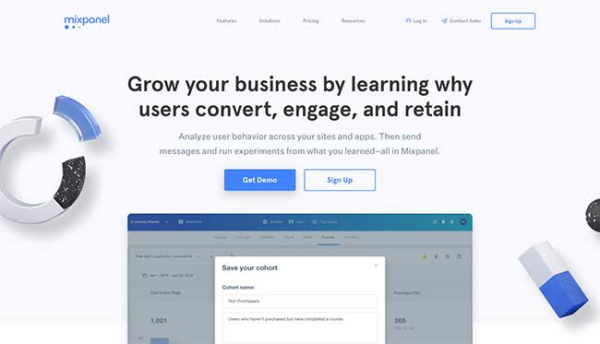 Price: Free plan; paid plans start at $89/month
G2 rating: 4.2 / 5
Best for Advanced Monitoring and Analytics
Mixpanel provides an online web analytics service for both websites and mobile apps. This tool elevates website analytics to a new level by taking a unique approach to website and app analysis—making it even more intriguing.
Mixpanel Key Features
You can analyze your users' engagement with your web page or app, such as when they:
Upload an image
Share a post
Stream a video, and
Measuring visits to your website.
Mixpanel's multipurpose design makes it a better choice for companies and corporations with the budget to pay for effective monitoring. It's also helpful in analyzing users' behavior to improve their marketing campaigns.
Mixpanel is bringing to the table what was previously only available to large companies and corporations with the budget to pay for advanced monitoring and analytics software. Consequently, small businesses can use the same customer behavior tracking tools as large corporations at a lower cost.
Mixpanel Pricing And Plans
Mixpanel is free to use and has basic features and functionalities. More advanced features can cost up to $999 per year.
6. ALEXA Traffic Tracker
Price: Starts at $149 per month
G2 rating: 4.4 / 5
Best for: SEO and competitive analysis solution
Alexa is a popular online service that you use to track the traffic and popularity of a website. This tool is widely used, and its user base grows daily.
The tool provides data such as:
percentages of users by country
keywords for which you rank well in search engines,
socio-demographic data, etc.
Why Alexa is Widely Used
Alexa's popularity stems from its ability to create a global classification of websites globally, including by country. It also lets you see your website growth (by comparing the year's report to the previous year). You can also determine whether your ranking has improved or deteriorated.
To utilize Alexa well, we recommend paying for the premium version rather than the free online service.
You can utilize the 7-day free trial. However, you will be required to provide your credit card information, but if you don't wish to continue using the service after the seven-day free trial period, you are free to cancel.
Alexa Pricing and Plans
Alexa's pricing begins at $149 per month, though there is a free version. The good news is that you have the option to cancel at any time. So begin your free trial now.
7. SimilarWeb Traffic Tracker

Price: Contact SimilarWeb for pricing information
G2 rating: 4.4 / 5
Best for: Total traffic estimate
SimilarWeb is a well-known and widely used web traffic analysis tool developed by the SimilarGroup technology company. To begin using SimilarWeb, enter the domain and get access to the domain analysis report you requested quickly.
SimilarWeb, in terms of data processing and scope, gives you a sense of déjà vu if you've used Google Analytics before.
Pros of Using SimilarWeb
● SimilarWeb Website Analysis presents results clearly and comprehensively.
For example, you can see the segmentation of your website's traffic based on periods and channels such as direct traffic, social networks, or email.
● SimilarWeb is simple to use
When you enter a website's domain into the SimilarWeb search engine, you get three types of data:
Global classification
Country classification
Category classification.
Metrics such as:
monthly web traffic
average visit duration
pages visited per session, and
bounce rate, which will be included in the analysis reports.
SimilarWeb Key Features
1. SimilarWeb's "Top Websites Ranking" Feature
This feature provides information about the websites with the highest ranking. Instead of you searching by domain, choose an industrial sector (such as fashion, fitness, or electronics). Additionally, it searches for websites with the most industry traffic by each country, which benefits local businesses.
SimilarWeb TrafficMeterTM Feature
It is a browser extension version of SimilarWeb, free to use, and provides on-the-go access to essential traffic data and other insights. However, if you want to know the specific figures, you must purchase a paid version.
SimilarWeb Pricing and Plans
SimilarWeb Pro costs between $199 and $799 per month and includes some advanced features not available in the free browser version. Sign up here to see all of your competitors' traffic.
8. SEMRush Traffic Tracker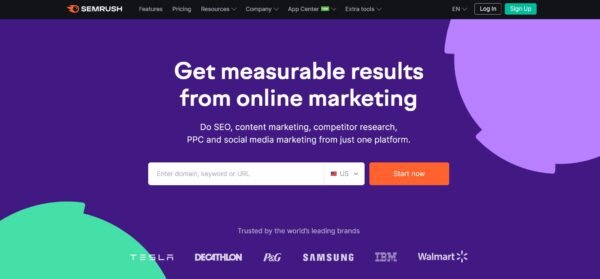 Price: Starts at $199.95 per month
G2 rating: 4.6 / 5
Best for Competitor traffic metrics
SEMRush is a powerful SEO tool that helps website owners find and target keywords that will increase traffic from search engines and other sources. As a typical web user, you can use it to find out what kind of search traffic a site gets.
What Information Does SEMrush Provide?
You can learn more by looking at the information from traffic reports, such as:
Audience Insights: To learn more about the people who visit a competitor's site, check out the other sites they visit.
Traffic Journey: Find out how your competitors get people to visit their websites and which sites send them the most traffic. You can also see the top places people go when they leave a competitor's website.
Top Pages: A report of a website's best pages can help you figure out what is working best for it. You can also see what products or services the business promotes and through what channels.
Geo Distribution: Find out where most of a website's traffic comes from and how user behavior differs from country to country.
This website traffic tracker platform overviews how a website ranks for the keywords that make up its name. It will also look at the positions of the content linked to these keywords on Google and other major search engines. The statistics in this tool are separated by country and region.
Cons of SEMrush
One problem with this traffic checker tool is that its analysis service is only available for websites in Google's top 20.
SEMRush Pricing and Plans
There are both free and paid versions of this tool. Unfortunately, when you use the tool for free or during the trial, you can't get as much out of it. Instead, pay for one of their payment plans to learn more about your competitors' web traffic.
Customers can pay for SEMRush in three different ways.
The Pro Plan, which is the least expensive, costs $199.95 per month.
Medium plan, Guru, costs $229.95 per month.
The Business Plan costs $449.95 per month, which is the most.
If your business or organization needs a more robust solution, you can get a custom quote from SEMRush.
9. Quantcast Traffic Tracker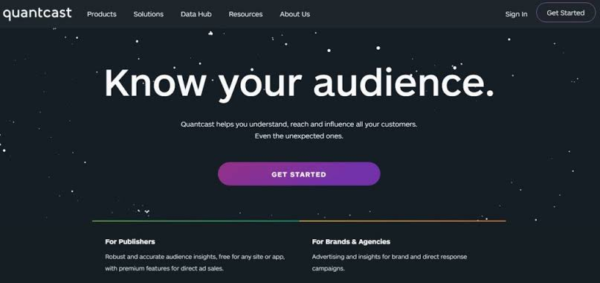 Price: Free
G2 rating: 4.3 / 5
Best for Direct measurement
Compared to competitors such as Similar Web and SEMRush, Quantcast Analytics is a young company that provides high-quality web analysis services. However, despite its inexperience, the Quantcast tool has performed admirably, and they regard it is as the most accurate traffic estimator in the world—a difficult feat.
The data obtained from Quantcast is not 100% accurate, but it is as close as it can get. The tool provides the following metrics about your audience:
Demographic information (gender, age, and salary)
Data that is cross-platform (mobile, web, desktop)
Interests (purchases, media) (purchases, media)
Geographical details
Aside from being accurate, users appreciate Quantcast's ability to provide detailed data analysis about their users' behavior.
One of the significant disadvantages of using Quantcast is that the data it provides is "minimal" compared to other web traffic tools such as SimilarWeb or Alexa.
Why is Quantcast data Limited?
Quantcast requires a website to configure the source from which data is collected, allowing the tool to calculate web traffic. However, the Web tracker accurately estimates if a website does not complete the setup.
Quantcast is a good option if you want to analyze the web traffic of large and well-known pages because it provides exact data. In addition, detailed information on the target audience is also beneficial and adds value to the tool.
Quantcast Pricing and Plans
Surprisingly, the Quantcast tool is free, which is fantastic considering everything they bring to the table. You could say it's the best free website analytics tool available. Begin by clicking here.
10. Bitly Traffic Tracker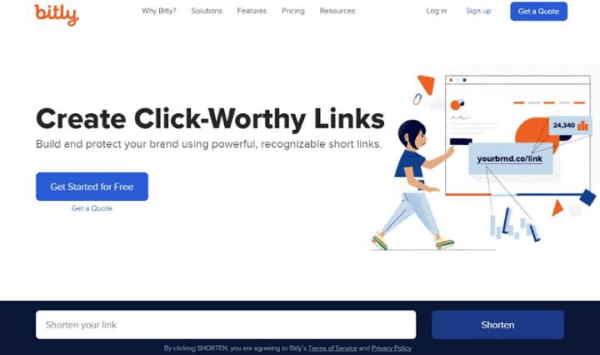 Price: Starts at $35 per month
G2 rating: 4.5 / 5
Best for: Checking Site Links
Bitly is an online service that lets you shorten long, complicated URLs. It also does other things. For example, each link on Bitly has an analytics page where you can see how well the link is doing.
Some of the metrics you can look at are:
the percentage of clicks
total number of clicks for all Bitly links that lead to similar content
the number of clicks on your link, and more.
Bitly helps you customize and shorten your URLs so that your marketing campaigns are more likely to be successful. The best thing about Bitly
Features of Bitly Website Traffic Checker
Enterprise features include the ability to route and reroute visits based on location, connection type, device, and IP ranges. In addition, its analytical panel is easy to use because it shows both numbers and graphs to show statistics.
Bitly makes it easy for beginners and experts to keep track of the traffic on their websites.
The platform's enterprise plan features are excellent, making it a valuable tool for an expert.
Metrics for reporting are easy to get and look at.
With Bitly, it's easy to make many URLs at once.
Bitly doesn't give you an overall look at your website's traffic, but it does give you a bar graph view of your link, which helps you see how well your content is doing.
Bitly Pricing and Plans
Bitly doesn't have a free version, and it doesn't give new users a free trial. The tool, on the other hand, costs only $35 per month, which is a fair price.
Related: 11 Free Website Hosting Sites (11 websites to host for free)
11. SiteWorthTraffic Traffic Tracker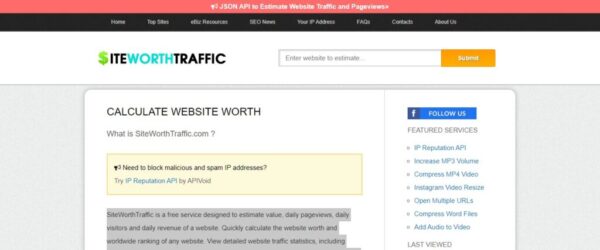 Price: Free
G2 rating: 4.2 / 5
Best for Daily Page views
SiteWorthTraffic is a free traffic estimation service that does the following:
calculates the value of a website
daily pageview
visitors
daily revenue.
SiteWorthTraffic calculates the worth of a website and its global ranking in a matter of seconds.
The Website tracker examines detailed website traffic statistical data such as:
Alexa statistics
Most recently shared on Facebook or other social networks
Location of the webserver,
The IP address of the website, earnings per month
Website's annual revenues.
This Web tracking software is free to use and requires no registration.
How Does SiteWorthTraffic Work?
SiteWorthTraffic requires no registration to use. Instead, enter your website's domain into the search bar on their website and click "Analyze" to get an analysis of it. Within seconds, you'll have access to your website's analysis report and estimated value—the same goes for your competition's website.
This tool can also analyze the most popular web pages on the Internet. So if you've ever wondered about the worth of some popular websites, this tool will tell you everything you need to know.
If you want a detailed website analysis, SiteWorthTraffic is not for you. It can only give you a quick overview. If details are important to you, we recommend using other analytics tools such as Quantcast, SimilarWeb, or SEMRush.
12. VisitorsDetective Traffic Tracker
Price: Starts at $159 per month
G2 rating: 3.7 / 5
Best for: Total Page views
VisitorsDetective is an internet spy that provides valuable information about your website or a competitor's website. The tool is very simple to use: enter the domain name of the website you want to analyze, submit, and you will receive your results.
VisitorsDetective's issue is that the information it provides is overly simplistic. Other tools, such as Quantcast, provide detailed website traffic analysis reports. VisitorsDetective's analysis report includes the following metrics:
Every day visits
Details about the website
Country-specific traffic
Social networking sites
Inbound hyperlinks
Features of VisitorsDetective Website Traffic Checker
VisitorsDetective is an excellent choice for easy access to website analysis data, but it falls short in terms of providing detailed analysis and reports.
1. This tool allows web admins to discover the websites of their visitors and those of their competitors.
2. You can learn about your competitors' visitors and country distribution.
3. VisitorsDetective can be used for:
research
cross-checking traffic data,
deep data analysis
comparing multiple websites, and
checking their traffic history.
4. Investors also use it to do the following:
assess site popularity and trends
category and dominance
historical traffic trends
the marketing competition analysis and
making informed acquisition decisions.
The Website tracking tool can also help you:
learn how to improve your website's visibility
analyze your website's backlinks
compare websites based on keywords, necessary SEO data, compare site load speed, and
learn how to improve your website's performance.
The visitorsDetective tool can also be used to double-check your traffic data. However, it is not the most accurate website analysis tool, as there are better options.
13. Ahrefs Traffic Tracker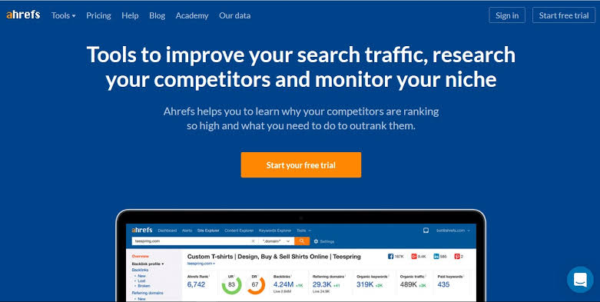 Price: (Free) Starts at $99 per month
G2 rating: 4.6 / 5
Best for Organic traffic estimate
Ahrefs Website Traffic Checker is a powerful tool that allows you to investigate traffic (both paid and organic) for any website using Ahrefs' own site Explorer tool.
You can:
view traffic data from 171 countries
Identify top competitor websites
Analyze the competition's best-performing content to see which pages or sections of their website receive the most traffic
Identify traffic-driving keywords.
The Ahrefs Website Traffic Checker also allows you to check website traffic for up to 200 websites simultaneously.
Ahrefs is a highly effective search engine optimization tool for web admins. When companies ask for recommendations, it is common for experts, specialists, or SEO technicians to recommend it, with others such as SEMrush.
Screaming Frog is one of the tools that any SEO consultant must use, but only for auditing and not for functions like measuring website traffic. Contrarily, Screaming Frog is more helpful in optimizing SEO titles, slugs, and meta descriptions to increase CTR (Click Through Rate).
What Information Does Ahrefs Provide?
With Ahrefs, you can learn about a website's monthly web traffic and your competitors. You can also get to more specific and concrete levels, like traffic origin or keywords that attract traffic and visits.
Similarly, Ahrefs examine backlinks to determine the frequency with which other websites link, also, how links change over time.
Ahrefs Pricing and Plans
Ahrefs does not have a free version, but they offer four payment options to its users:
Lite Plan ($99/month)
Standard ($179/month)
Advanced ($399/month)
Agency ($999/month)
Start improving your website traffic now
14. Ontolo Website Traffic Tracker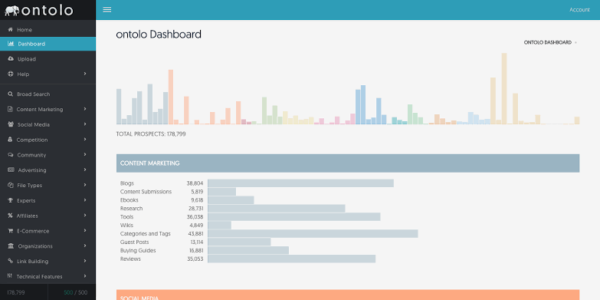 Price: Starts at $97 per month
G2 rating: 4.0 / 5
Best for Automating Website Research Process
Ontolo is another excellent website analytics tool that assists users in locating new potential backlinks. Garrett French (who left the company to start his own "Citation Labs") and Ben Wills created the backlink discovery tool.
The highlight of this website tracking tool is its ability to automate most of the discovery process, potentially reducing the research process by up to 80%.
Regarding generating backlinks for your website, Ontolo is one of the best tools available, and it is a valuable asset for large corporations, marketing agencies, and search optimization firms.
Ontolo Pricing and Plans
The website tracker does not offer a free plan. The pricing begins at $97/user/month.
15. Matomo Analytics Traffic Tracker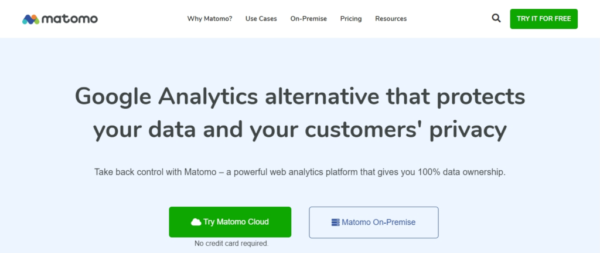 Price: Free
G2 rating: 4.2 / 5
Best for Data Protection and Online Privacy
Regarding online privacy, Matomo Analytics, formerly known as Piwik, is an excellent alternative to Google Analytics. Matthieu Aubry and some of his friends made Matomo (then called a) in 2007 to have better performance, better architecture, modern graphics, a cleaner UI, and full API support.
Millions of websites around the world use the Matomo tool. Because it is an open-source service, Matomo can be tweaked. As a result, you can help the software grow by paying for a bug fix or new feature.
Why is Matomo a Good Alternative to Google Analytics (GA4)?
Matomo gives you analytics data similar to Google Analytics. However, the Google analytics alternative takes visitor privacy seriously and provides complete data ownership. GA4, on the other hand, does not comply with GDPR. Matoma also does not use third-party cookies. Instead, it employs machine learning to track user data and provide 100% accurate reports.
If your website visitors find out that Google is using their information for its "own specific purpose," you risk losing their trust and hurting your reputation.
Choosing the moral option, Matomo, won't put your site's security or privacy at risk. Even if you don't have permission, you can use Matomo Analytics.
Matomo Key Features
Matomo Analytics tells you what keywords and search engines people use to find your page. In addition, the Web tracking tool will show you the user's native language so you can learn more about how people are using your content.
It shows which pages each user went to. This can help you determine where most of your traffic is going and which pages aren't working with your target audience.
You can also keep track of your website visitors' screen resolutions, any links they click on, and files they download.
It has heatmaps, a feature that shows where people click on your page the most. Matomo can help you see how well your layout works and even find cases of "rage clicking," which could mean that the site is too slow or has a broken feature.
With the paid service, you can also record sessions. You can use this feature to see how people interact with your pages repeatedly. Also keep track of users' IP addresses to learn more about their demographics.
People who use WordPress can add Matomo to their websites. Most of Matomo's services are also free, which is nice.
Matomo Pricing and Plans
The Matomo web analytics platform has a free 21-day trial that doesn't require a credit card.
There are two ways to set it up: on-premise or in the cloud.
On-premise implementation: they do it for free on the client server.
Cloud disposal: It is done on Matomo servers. The cost of cloud disposal depends on how many hits the site gets.
16. Spyfu Traffic Tracker
Price: Starts at $33 per month
G2 rating: 4.2 / 5
Best for Website Ranking History
SpyFu is an AdWords competitor keyword research tool that supports projects, searches, and exports. You can look up any competitor's keywords and download them. In addition, you can learn the SEO and PPC strategies used by your competitors.
You can view the ranking history of any page or website for a specific keyword. In addition, SpyFu includes features for PPC competitor research, SEO competition research and keyword research tool, domain leaders and top lists, and more.
SpyFu Key Features
SpyFu provides recommendations to increase clicks on your SEO or AdWords campaigns.
You can track your SEO and payment rankings on Google, Bing, and Yahoo.
SpyFu filters for search volume, CPC, SEO difficulty, number of advertisers, etc.
It provides a Keyword Grouper tool for organizing keyword lists into groups and giving search volume and CPC data.
SpyFu includes functions for locating specific ranking factors for each keyword.
Itcan be an alternative to Google's keyword search tool for generating keyword suggestions.
SpyFu recommends 100% safe backlinks that Google will actively index.
SpyFu Pricing and Plans
SpyFu provides a free trial.
The paid versions include the following:
Basic ($33/month), Professional ($58/month)
Team ($199/month).
All of these prices apply to annual billing. There are also monthly plans available. In addition, Spyfu guarantees you a 30-day money-back guarantee for their services. Start the free trial here.
17. OpenWeb Analytics Traffic Tracker
Price: Contact for Quote
G2 rating: 4.5 / 5
Best for: Generating New Metrics
OpenWeb Analytics is a free, open-source website analytics tool that allows you to measure and analyze your customers' engagement with your applications and websites in various ways.
OpenWeb Analytics Key Features
It has all the functionalities of Google Analytics, adding heat maps (heatmaps) and ClickTale click-streams.
The tracker is an excellent option to turn into a tool for In-house Web analysis by investing a little money in hardware.
OpenWeb keeps client data under the domain of the client. Hence, it is an alternative to consider for clients who are constrained due to data protection or protocols.
The Analytics can work with event queues. It means that events (page views, visits, etc.) are not processed when the user loads. It allows them to imagine different scenarios for mounting the system in a scalable manner that can grow in tandem with your website.
It also allows you to create new panels and generate new metrics based on the data saved by the tool.
Begin using Open Web Analytics right away.
What is the Difference Between OpenWeb and Google Analytics
Open Web Analytics includes a heatmap tool to track where users click and mouse movements. You must first install the Page Analytics extension to view heatmaps in Google Analytics.
Open Web Analytics supports unlimited website tracking, whereas Google Analytics is limited to 50 profiles per account.
CMS integrations are built into Open Web Analytics. Google Analytics, on the other hand, only allows integrations via third-party plugins.
18. AWStats Traffic Tool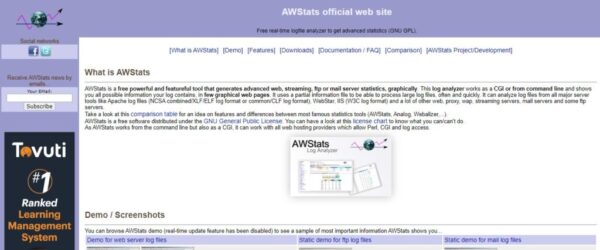 Price: Free
G2 rating: 4.3 / 5
Best for: Number of website visits
AWStats is an open-source website analytics tool that was first released in 2000. It assists users in gathering and analyzing data from FTP servers, mail, streaming media, and the web. Analytics data is displayed in the form of bar graphs and tables. Over the years, the website tracking tool has undergone numerous upgrades and improvements, and it is still being updated regularly.
AWStats Key Features
1. AWStats displays metrics such as:
Authenticated users
Last authenticated visits
Visit Duration
Previous visits, unique visitors, and more.
2. AWStats' primary source of information is web server logs, which include visits from both human and non-human visitors.
3. The AWStats tool does an excellent job distinguishing and excluding non-human visitors, but it isn't accurate. It accomplishes the following:
The number of visits, as well as the number of unique visitors,
Users who have been authenticated, their most recent authenticated visits Weekdays, and rush hours (pages, hits, KB for each hour and day of week)
Search engines, keywords, and key phrases used to find your website
List of hosts, last visits, and unresolved IP addresses
Visitors' domains/countries (pages, GeoIP detection)
Individualized reports based on URL, URL parameters, and the number of times your site has been added to bookmarks."
The number of supported browsers
Load-balanced server ratio
Type of file and Statistics on web compression
The operating system in use (pages, hits, KB for each OS, 35 OS detected), Browsers used (number of pages, hits, and KB for each browser and version)
Robotic visits most visited pages, entry and exit pages,
Worms are attacking, and HTTP errors
The Web tracking tool is free and distributed under the GNU General Public License. Check the website here.
19. Woopra Traffic Tracker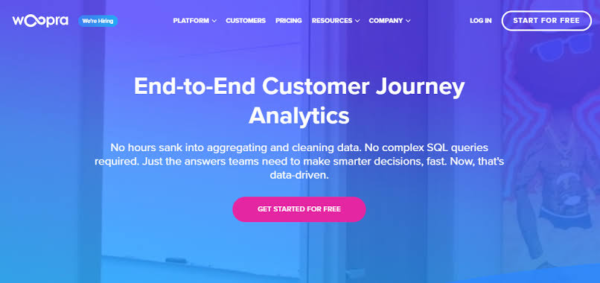 Price: Starts at $79.95 per month
G2 rating: 4.4 / 5
Best for: Real-Time Metrics
Woopra is a robust website analytics tool that provides real-time customer behavior data. The Web tracking tool tracks your visitors across digital touchpoints (marketing automation, help desk, mobile app, website, and so on). Consequently, it results in a unique behavioral profile for each user.
Woopra's building blocks are these profiles used to generate:
retention analytics
funnel analytics,
custom analytics reports, and more.
Woopra is compatible with WordPress websites and vBulletin forums. Aside from the easy access to information and the excellent desktop application, the fantastic thing about Woopra is the alerts. You can configure the alerts to give you information about geography, titles, IP addresses, etc.
Woopra Pricing and Plans
Woopra has a free version, but like any other analytics tool, it has limitations. Opt-in for one of their subscription plans for more advanced functionality.
Pricing begins at $79.95 per feature/month. New users can use the tool for free during the trial period.
20. Mint WebsiteTraffic Tracker Tool

Price: Free
G2 rating: 4.2 / 5
Best for Popular pages and referrers
Mint is a self-hosted, extensible analytics software that provides helpful information about your customer's interactions with your website. The program is simple to use and has an easy-to-use interface.
You can see detailed insights into vital analytics information such as popular pages, searches, referrers, and visits on their dashboard. Its user interface is an exercise in simplicity. Visitors, referrers, popular pages, and searches can all be seen at a glance on Mint's flexible dashboard.
Mint Tracker Key Features
It displays the previous day, week, month, and year site activity in the form of total page views and unique visitors.
Searches filter out top search engine referrals, which can then be classified as web or image search engine results.
Bird Feeder displays feed subscription patterns from the previous week, month, and year and click-throughs from personal feed items.
Although Mint lags far behind other website analytics solutions, like Google Analytics, it is still a viable option.
Mint Pricing and Plans
Mint is an entirely free website analytics solution. Begin using Mint right away.
21. HotJar Traffic Tracker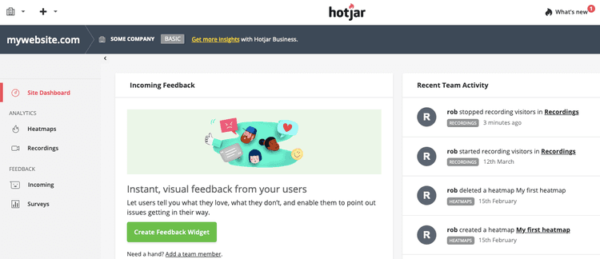 Price: Free for 35 sessions/day
G2 rating: 4.3 / 5
Best for: User Behaviour
HotJar is a user feedback and behavior analytics software that helps you understand why visitors take specific actions on your site. It also gets the voice of the customer (VoC) feedback from visitors.
What you can track: aggregated visitor clicks, scrolls, and mouse movement using heatmaps; individual user browsing behavior using session recordings; and user feedback using on-site surveys and a Feedback widget.
Hotjar Key Features
User Feedback: Users can tag and comment on any part of a page with feedback.
When to use it: Feedback lets you get feedback from users on any page without setting up a survey. Instead, the feedback enables you to track what people like and dislike, find problems, and find ways to improve things.
Hotjar Session Recordings: It shows how each visitor uses one or more pages.
When to use it: Session recordings let you see how people use your site and discover what made them convert or leave.
Hotjar Surveys are targeted pop-up surveys that let you get information directly from your users, who are the best data source.
When to use it: Use surveys to keep track of customer satisfaction (CSAT surveys), customer effort (CES surveys), and how likely they are to recommend your products or brand (NPS surveys) over time.
Hotjar Heatmaps: Heatmaps add up all the clicks, taps, scrolls, and mouse movements on a page (from a website or single-page application).
When to use it: Use heatmaps to track how people use your website and get a visual idea of what content is being looked at and isn't. Make changes to your pages based on what you've learned to improve UX.
Hotjar Pricing and Plans
Price: free for 35 sessions per day.
Hotjar Pricing and Plans
A free version with limited functionality is available. You can upgrade to the Pro version for more advanced features, which costs $29.95 per month. Contact the company for a custom quote if your company is large, corporate, or enterprise. Download the Hotjar free version here.
22. StatCounter Traffic Tracker
Price: (Free) Starts at $9 per month
G2 rating: 4.0 / 5
Best for Analysing Traffic trends
StatCounter is a still free and reliable web tracker, highly configurable hit counter, and source of detailed real-time web statistics. Aodhan Cullen created the Ireland-based tool in 1999, and all you need is to insert a simple piece of code on your website or blog, and you will be able to analyze and monitor all the visitors to your website in real-time.
The data provided by this tool is accurate and 100% reliable. And the interface is intuitive and has a short learning curve, even for non-tech-savvy users.
Also, the analytics report of your website is maintained for an extended period. It means you can get your website's analytics data from far back, for example, how it performed ten years ago. It is not possible with many website analytics tools that limit how far back you can go.
StatCounter Pricing and Plans
There is a free version of StatCounter, but you only get the essential services. For advanced services, the starting price is at $9.00/month. StatCounter offers a free trial here.
23. Yandex Metrica Traffic Tracker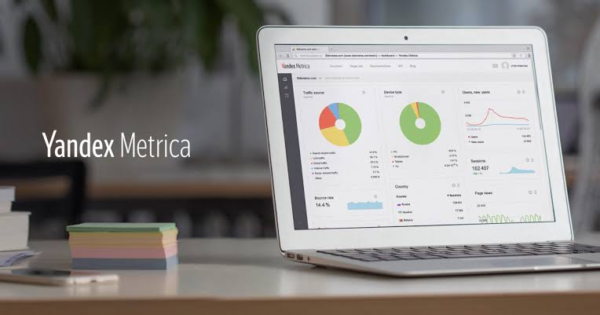 Price: Completely free
G2 rating: 4.2 / 5
Best for: Visitor Behavior
Yandex Metrica is a free-to-use web analytics solution powered by Yandex that allows website owners to track and analyze their website's traffic and visitor behavior. The online service was created in 2008 but made publicly available in 2009. And Yandex Metrica is one of the world's most widely used analytics and reporting tools.
The metrics offered by Yandex Metrica include the following:
Orders
Conversions
Content quality
page analysis
Audience behavior
traffic sources, and
site performance, all of which you can view, filter, and segment on their intuitive interface.
Best suited for entrepreneurs, investors, marketers, and small business owners. Learn more here
24. Kissmetrics Web Traffic Tool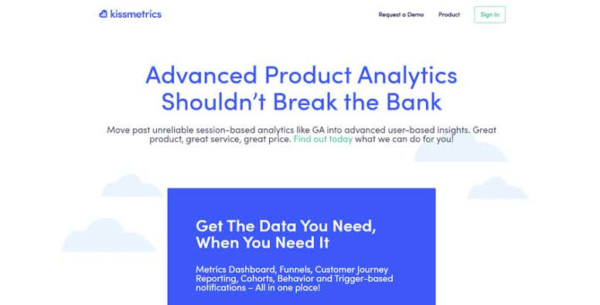 Price: Starts at $239 per month
G2 rating: 4.2 / 5
Best for: Deployment
Kissmetrics is an analytics tool that focuses on the individual. It gives its users essential website metrics that can be used to find, understand, and improve their online business.
Kissmetrics makes it easy for business owners to get the data they need to improve their products and make better marketing decisions. So what else do you need from website analytics software? It's easy to set up and gives you quick access to analytics data.
KissMetrics, on the other hand, is not free. New users get a 30-day free trial, but if you want to keep using the service after that, you'll have to sign up for one of their paid plans.
Kissmetrics Pricing and Plans
The Silver Plan: costs $299/month for up to 10,000 unique visitors per month, with email and in-app chat support
The Gold Plan: priced at $499/month for up to 25,000 unique visitors with email, in-app chat, and phone support.
For large enterprises and corporations with over 25,000 unique visitors per month, contact Kissmetrics for a custom quote.
25. Baidu Analytics Traffic Checker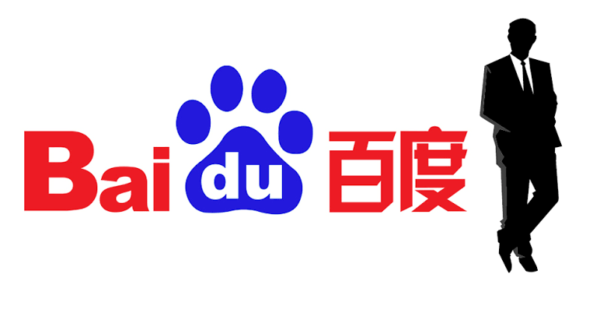 Price: Free
G2 rating: 4.2 / 5
Best for: Analysing Visitor Behavior
Baidu is an analytics tool by Chinese for the Chinese. Though Google's search engine works in China, it's not the biggest search engine in China; Baidu is. And to provide analytics data about website users in China, the company created Baidu Analytics in 2009.
Baidu Analytics is a powerful web analytics tool that helps China website owners understand and analyze their Chinese visitors' behavior. It is powered by the biggest search engine in China, "Baidu." Being a local online service, Baidu Analytics trumps Google Analytics in terms of accuracy and reliability.
Baidu Analytics tool is an excellent choice for businesses who want to:
Track visitors to their sites
Look for on-page issues that need to be fixed
Check on conversion rates
See what pages are being visited
Get visitor demographics and more.
Some of the major functionalities that Baidu Analytics is offering to include the following:
Track visitor data
Audience Insights
Ad tracking
Inbound SEO
E-Commerce Tracking,
On-Page SEO
Heat Map.
Baidu Analytics Pricing and Plans
The Baidu Analytics is free-to-use. Start using Baidu here
26. WebTrends Traffic Tracker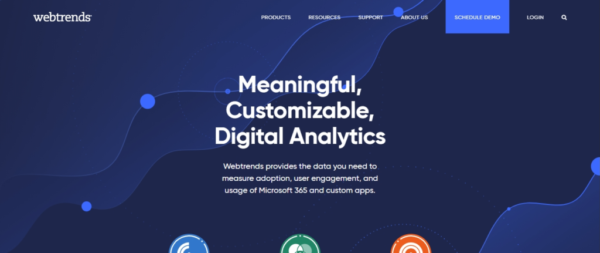 Price: Contact WebTrends for a custom quote
G2 rating: 4.2 / 5
Best for Data Measurement and testing user experience
WebTrends Analytics is an online analytics service tool made in 1993 by Francisco Partners, an Oregon-based private equity firm. The company helps more than 2,000 companies using its web analytics.
The Website analytics service helps users measure, analyze, and test the website's overall user experience, including usability and content marketing.
Website tracking helps increase the conversion rate, keeping readers interested and improving the overall user experience. WebTrends analytics tool also gives you the information you need to measure:
how custom apps and Microsoft 365 are used
The engagement of users, and
how widely they are adopted.
This website analytics tool gives you information about user clicks, visitor sources, website traffic, and more.
WebTrends Analytics Pros
WebTrends obtain user-specific adoption metrics and tracking to ensure that your users use your website. It also helps to improve interaction plans to promote overall adoption.
The tool help develop long-term engagement strategies and collect information on the platform. It also gets content engagement tailored to the specified user, location, division, and other status information.
WebTrends, ensure that content is viewed, remains relevant, and is easy to find using insights into usage and engagement.
It quickly identifies and gains valuable intelligence into your website using standard and personalized reporting or export data to Excel, XML, and Power BI.
WebTrends Analytics Core Features
The number of custom dashboards and custom reports you can create is unlimited.
By dragging and dropping, you can add dozens of box reports
Reports are designed specifically for Microsoft 365.
Data can be viewed in a user interface using customizable reports.
You can export schedules to standard formats like CSV and PDF and export data into tools like Power BI.
Standard measures apply to Web Apps and Microsoft 365.
WebTrends have tracking that is adaptable and customizable to your specific situation.
There are on-premises and SaaS options available with encryption from start to finish.
WebTrends is ready for single sign-on and data privacy
WebTrends Pricing and Plans
The company does not provide pricing for WebTrends; you must contact WebTrends for a custom quote.
27. Adobe Analytics traffic Tool
Price: Contact for Quote
G2 rating: 4.5 / 5
Best for: Real-time Analytics
Adobe Analytics is one of the best website analytics solutions in the industry. It has been praised and criticized as the best alternative to Google Analytics for acquiring real-time analytics. The tool provides accurate analytics on the real-time visitors to your business website and your customer's behavior.
Cons of Adobe Analytics Traffic Tool
A disadvantage of Adobe Analytics is its complexity and lengthy learning curve. However, if you master the use of the features, it'll be worth it a million times over.
Adobe Analytics is NOT a cheap analytics service. The service can cost more than $100,000 per year, depending on the number of monthly visitors to your website. Furthermore, some tools and features are billed separately, adding up to seven figures per year.
Adobe Analytics is better suited for large corporations and businesses that can afford the cost of a comprehensive website analytics tool.
Adobe Analytics Pricing and Plans
Unfortunately, there is no free version. There are no free trials available.
28. Chartbeat Traffic Trackers Tool
Price: Starts at $7,000/year.
G2 rating: 4.4 / 5
Best for: Real-time Analytics
Chartbeat Content Analytics is also a forerunner in the website analytics industry. Since its inception in 2009, the technology firm has grown to be regarded as a worthy competitor to Google Analytics in terms of providing real-time website data analytics services.
This analytics tool is trusted and used by many large and mid-sized businesses, including
Freelancer.com
BBC News (Web)
CNN
Kickstarter
Foursquare
Starbucks, and
Accenture, etc., with over 5 million monthly page views.
Chartbeat Pricing and Plans
The Chartbeat pricing model is based on the monthly traffic to your website.
Chartbeat pricing plan begins at $7,000 per year.
There is no free version of Chartbeat, but there is a free trial period for new users to evaluate the tool. Begin your free trial here.
29. ShinyStat Internet Traffic Tool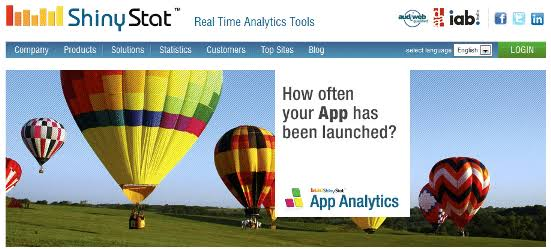 Price: Contact for Quote
G2 rating: 4.2 / 5
Best for: Measuring Visitors' behavior
ShinyStat ShinyStat On-Site Analytics is an internet traffic measurement service developed by Shiny Srl in 1995. The analytics tool is a powerful traffic analyzer that provides real-time web analytics to assist businesses and website owners in improving customer and audience relationships and increasing market share.
ShinyStat provides accurate insights into your website visitors' behavior, traffic, ROI, and performance. You gain access to critical metrics such as bounce rate, visit duration, origin, campaigns, conversions, etc. It's also simple to use for non-technical users.
ShinyStat Pricing and Plans
The analytics tool has a free version but only provides essential services. To get advanced services, subscribe to one of their paid options.
Currently, there is no information from the company about the actual price of the tool; you will have to contact ShinyStat for a quote or try the free version.
30. LeafFeeder Analytics Tool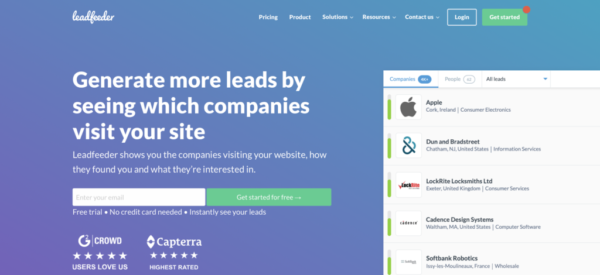 Price: Free plan; paid plan starts at $55/month
G2 rating: 4.7/ 5
Best for: Visitor Identification
The identification and visitor tracking software from Leadfeeder help marketing and sales teams find more leads and turn them into customers. Leadfeeder is a B2B lead generation software with account-level visitor identification. Whenever an employee stops by, LeadFeeder links the company name to that visit.
Also, popular CRMs like Hubspot, Salesforce, Pipedrive, and LinkedIn Sales Navigator, Leadfeeder can be integrated. Additionally, sales reps can add known website visitors to their outreach process.
Leadfeeder Pricing and Plans
Free Plan: A free version of Leadfeeder called "Lite" has limited features and keeps data for seven days.
Paid Plans: start at $79 per month and include premium features, unlimited data storage, and a free 14-day trial.
31. SerpStat Traffic Tracker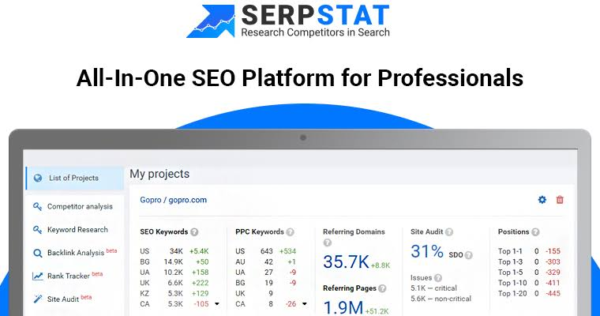 Price: Contact for Quote
G2 rating: 4.5 / 5
Best for: Multipurpose Analytics
Serpstat is a set of SEO software that SEO experts and marketers use. Oleg Salamaha made the software in 2013, and it started as a simple keyword research tool. Since then, it has become a "growth hack tool" that is an all-in-one solution for SEO services.
SerpStat Analytics is an excellent alternative to tools like SEMRush and SpyFu, also used for analytics. In addition, its competitor analysis tool gives you accurate information about how well your competitor's website does.
Serpstat is a set of tools for analyzing websites that includes many great SEO tools.
SerpStat Pricing and Plans
Serpstat is not free, but it is not too expensive either. The price starts at $55 a month. However, there is a free trial for people who have never used it. Look here for the free trial.
Related: 23 Best SEO Tools (Honest Reviews and Free Options)
Important Website Traffic Metric to Analyze
So, what should you look for when you look at how many people visit a website?
Several important metrics give a lot of information about how well a website is doing and what strategies the business uses. Some vital website traffic statistics to look at are:
Unique visitors: the number of people who visited a website at least once in a given period.
Pageviews: the number of times someone visits a website and looks at one or more pages.
Organic search traffic: the number of people who find a website by typing something into a search engine.
Average Visit Duration: The average time each visitor spends on a website.
Bounce Rate: The number of people who visit a website but don't look at a second page before leaving.
Top traffic sources: the online channels that bring the most people to the site.
Bottom Line
There is no perfect tool for analyzing other websites' traffic and ranking, but this list will give you the best website trackers over the net. One disadvantage is that they usually do not provide the most reliable data on web traffic if they are free. The more powerful tools for obtaining data from organic traffic, social networks, paid campaigns, referrals, and so on, the more expensive it will be.
Tools like SE Ranking, Ahrefs, or SEMrush, will provide you with traffic data from your direct competitor but not from your business competitors. Instead, they give you data from the competition of websites that write content for the exact keywords or keywords you. Note the difference between business competition and another is SEO positioning competition.
Frequently Asked Questions
Q: Why is website traffic important?
By looking at how many people visit your website, you can learn more about them. Traffic lets you make changes to your web strategy and website to get more traffic and give your site visitors better, more personalized experiences. Also, keeping an eye on web traffic lets, you keep up with trends and find out what your competitors are doing.
Q: How do I track user activity on a website?
Using a heatmap or a session recording tool like Hotjar, you can track what people do on a website. Heatmaps will show you where all users click (or tap), scroll, and move their mouse. Session recordings will let you see what each user did while browsing so you can figure out what made them convert, leave, or get stuck.
Q: How do I track clicks on a website?
Setting up a heatmap with a tool like Hotjar allows you to track clicks on a website. A click heatmap displays the most (and least) popular locations where users click (on desktop) or tap (on mobile).